This Easy Vegan Chocolate Bread is a rich + decadent sweet indulge for any season. It's perfectly sweet and moist, a balance between soft and crunchy, and 100% delicious with the perfect amounts of the Superfood of all Superfoods----Cacao Nibs + Cacao Powder. It takes less than 10 minutes to whip together and comes completely dairy-free + Vegan. Gluten-free option.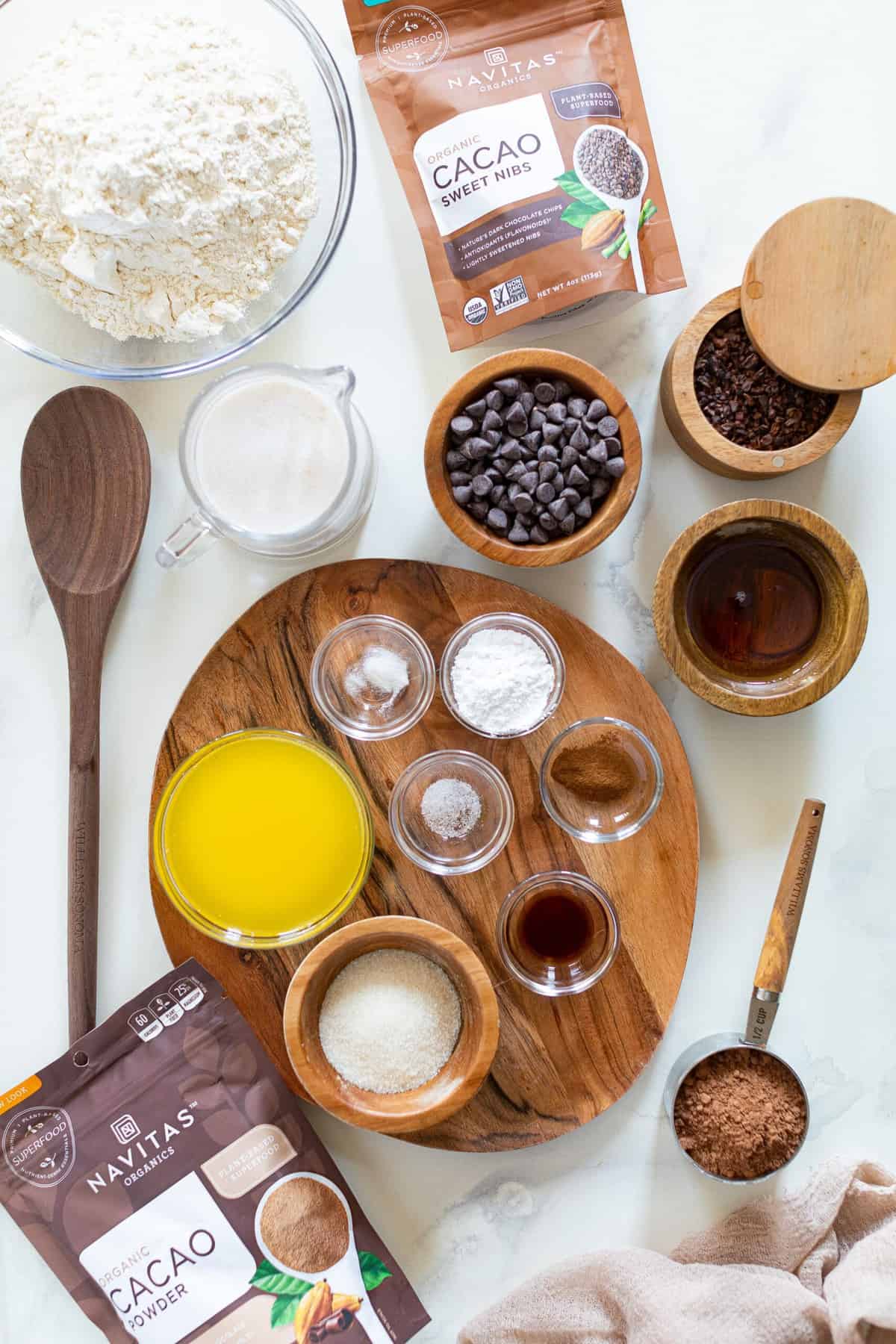 This post contains affiliate links + sponsored links by Navitas Organics.
Easy Vegan Chocolate Bread. Now that we're well into the Fall  season, I've been feeling so in the mood for everything Fall + Holiday. To say the least, I love whipping together banana breads, but every once in a while, I enjoy creating other breads that highlight other flavors. This Chocolate bread was certainly something that I couldn't wait to attempt and boy, must I say—-this bread is DELICIOUS.
Besides, it is #ChocolateWeek on Orchids + Sweet Tea, so I had to share this easy bread with you guys!
'Chocolate Makes Everything Better + More Worth It' is the Theme.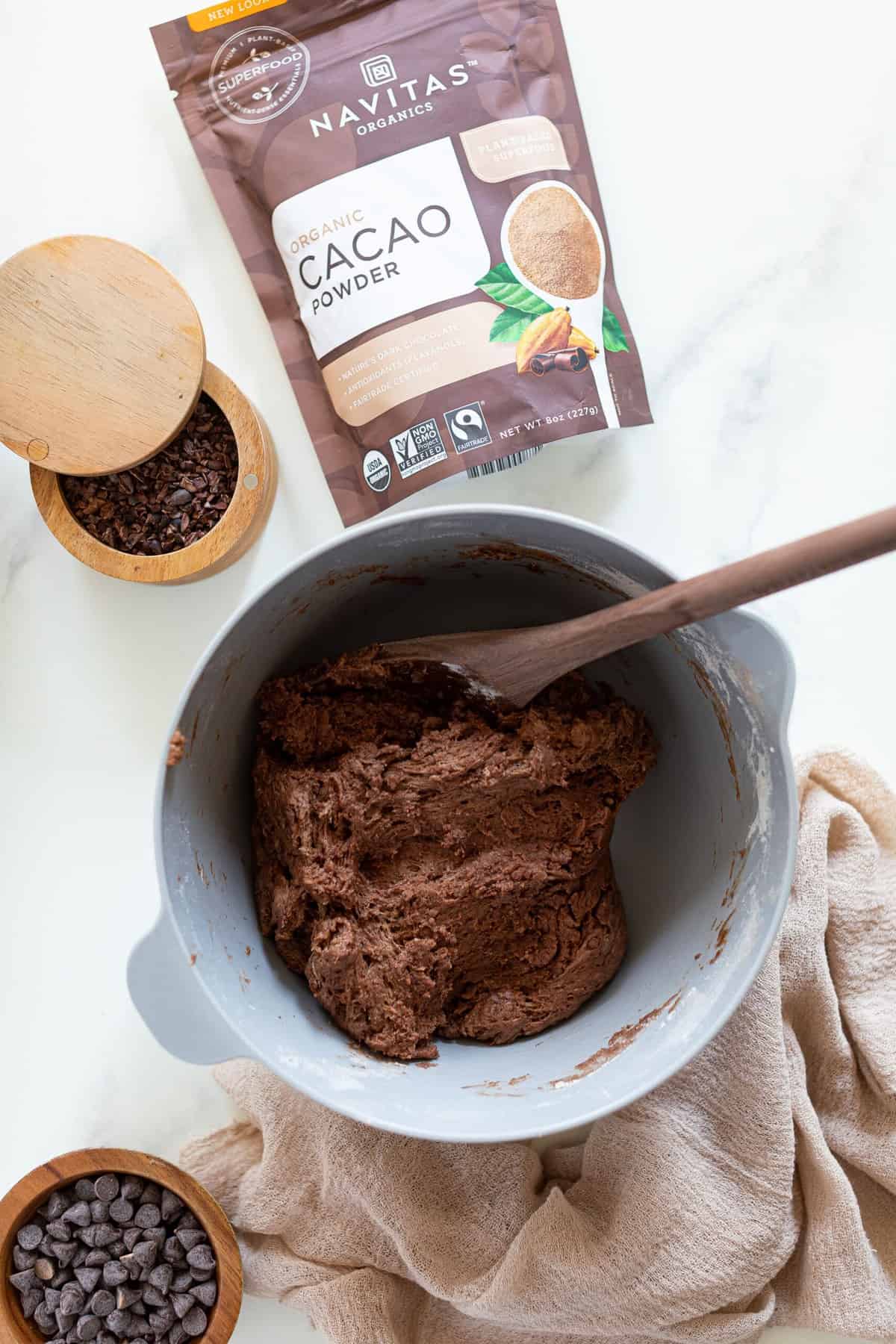 With this week's theme, I am excited to bring out all of the sweets! Haha.
But more importantly, I love the option of using healthier versions of chocolate such as Cacao.
What is Cacao Anyway? Cacao vs. Cocoa.
OK, so can we talk about Cacao for a sec? Did you know that Cacao AND Cocoa are the same thing?
I know. Insane. I was totally confused about this for a long time and honestly assumed that once was healthier than the other. However, it's come to be determined that they are just used interchangeably.
Chocolate is actually made from Cacao beans (or seeds). It's said that companies who use the term 'Cacao' are referring to the beans, pods, or ground up version of the beans. However, the term Cocoa is often referred to as the powdered version of it all (which is formed after the fat is pressed out of the bean).
Of course there's a whole process that happens and you can find out more about that here.
However, be mindful that since Cocoa has the fat removed for it to be powder-like, it does make Cacao a greater option in terms of health benefits.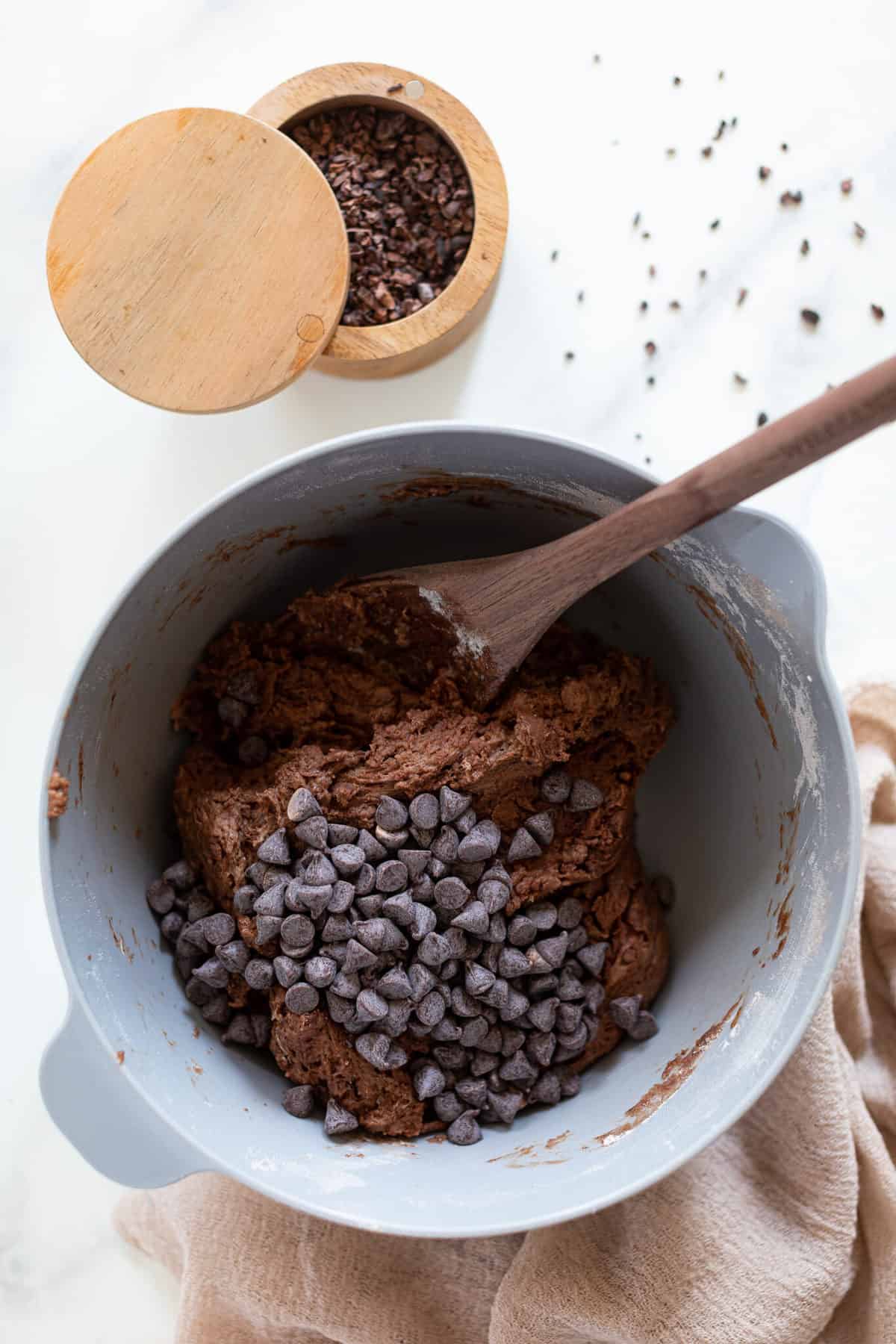 Cacao has a host of health benefits which include: antioxidant properties, heart-protective and anti-cancer properties, contains iron and tryptophan (which is an amino acid that helps the body make serotonin—a relaxing chemical).
So of course, it's always best to go with a brand of Cacao that contains those nutrients and are premium to ensure that your body actually receives all of those boosters. Navitas Organics' version of Cacao not only does that, but it's so delicious as well! You can always purchase it on their site or through a large retailer like Amazon.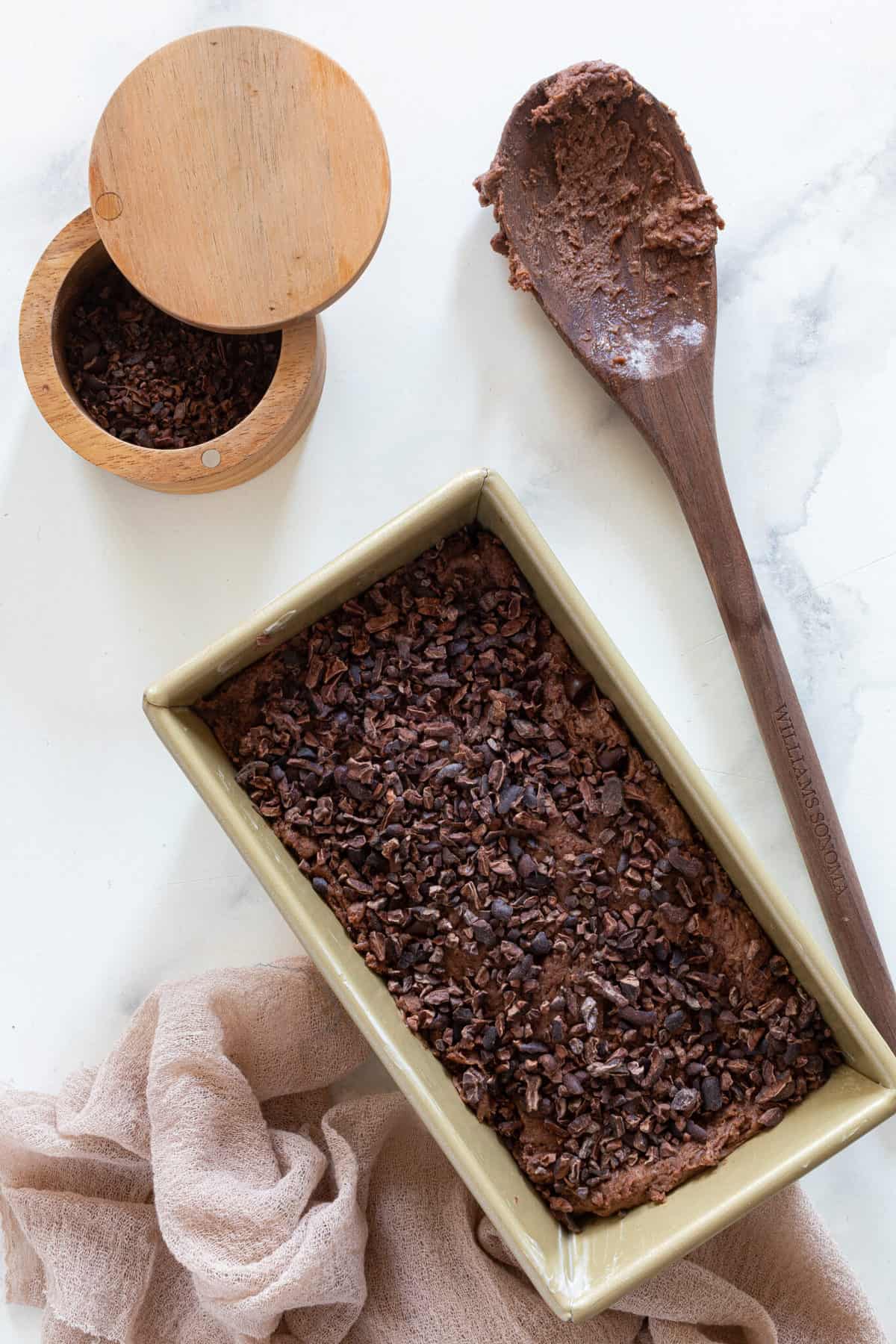 When it comes to using cacao powders or any version of cacao, I really love sticking with Navitas Organics.
With that being said, I'm a huge fan of Navitas Organics and often use so much of their products. Navtias Organics has so many great options when it comes to eating healthy and this powder is just ONE of the amazing flavors available.
In case you aren't too familiar, Navitas Organics has an array of options which include Cacao, Goji Berries, Maca Powder, Superfood blends, Turmeric, Chia Seeds, Mulberry Berries, and so much!
What's So Great About This Cacao Powder?
Yes, so in case you haven't noticed, Navitas Organics recently updated their cacao powder's packaging to reflect their 'Superfoods with Purpose" story. In addition, I am a huge fan of their cacao powders + nibs because of it's high quality element and added health benefits.
Firstly, their powders are made from unroasted, non-alkalized, and Fairtrade certified organic cacao beans. Through their cold-pressing process, all of it's nutritious minerals and antioxidants are retained including fiber, and magnesium.
Plus, their cacao powder is so rich in taste and easy to incorporate in anything. It's a win, win!
When purchasing any of Navitas Organic's products, be sure to use the code: ORCHID for 30% off.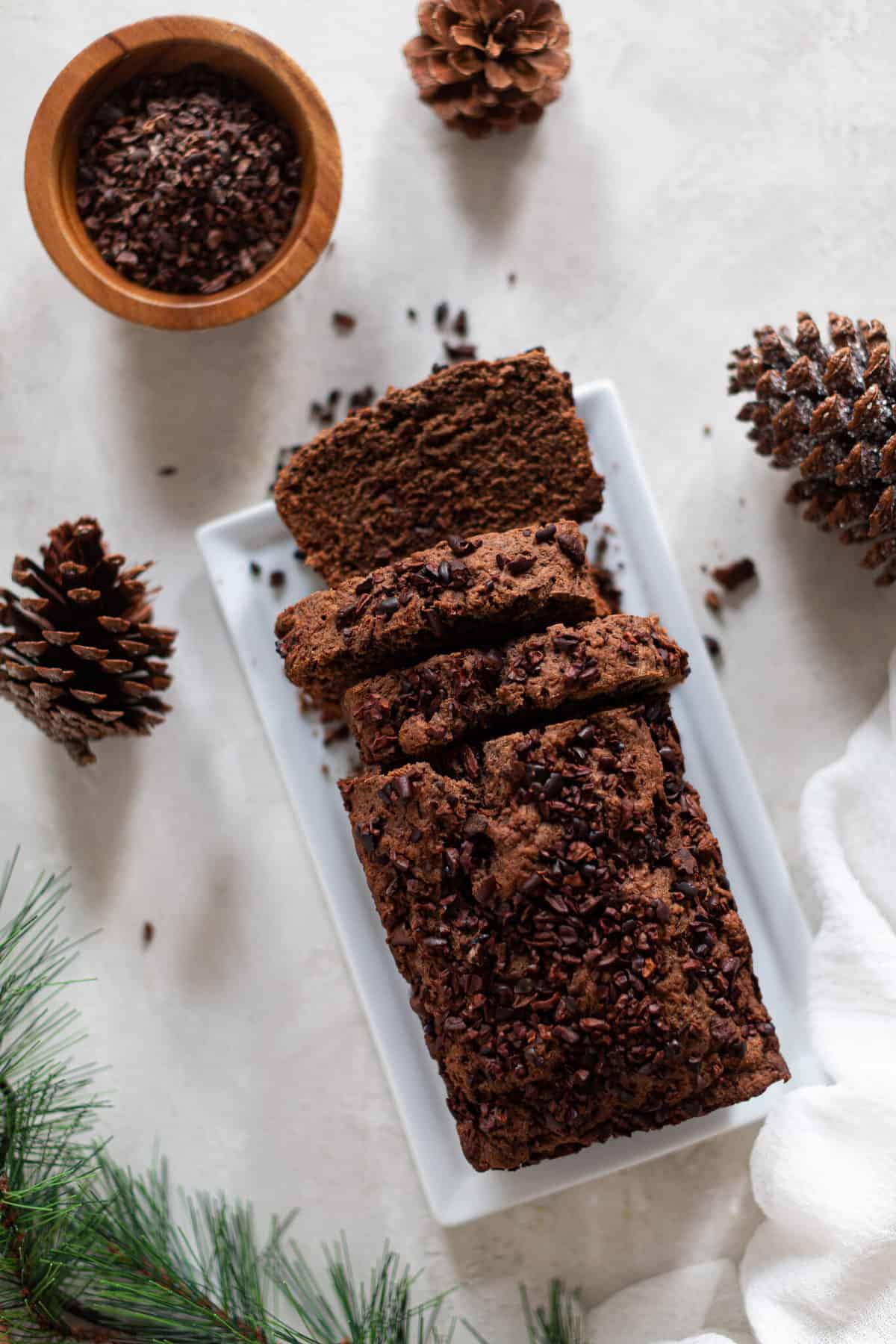 WHAT DID I USE IN THIS CHOCOLATE BREAD RECIPE?
All-Purpose Flour
Baking Powder
Baking Soda
Salt
Cinnamon
Brown Sugar
Vanilla
Almond Milk
Coconut Oil
Agave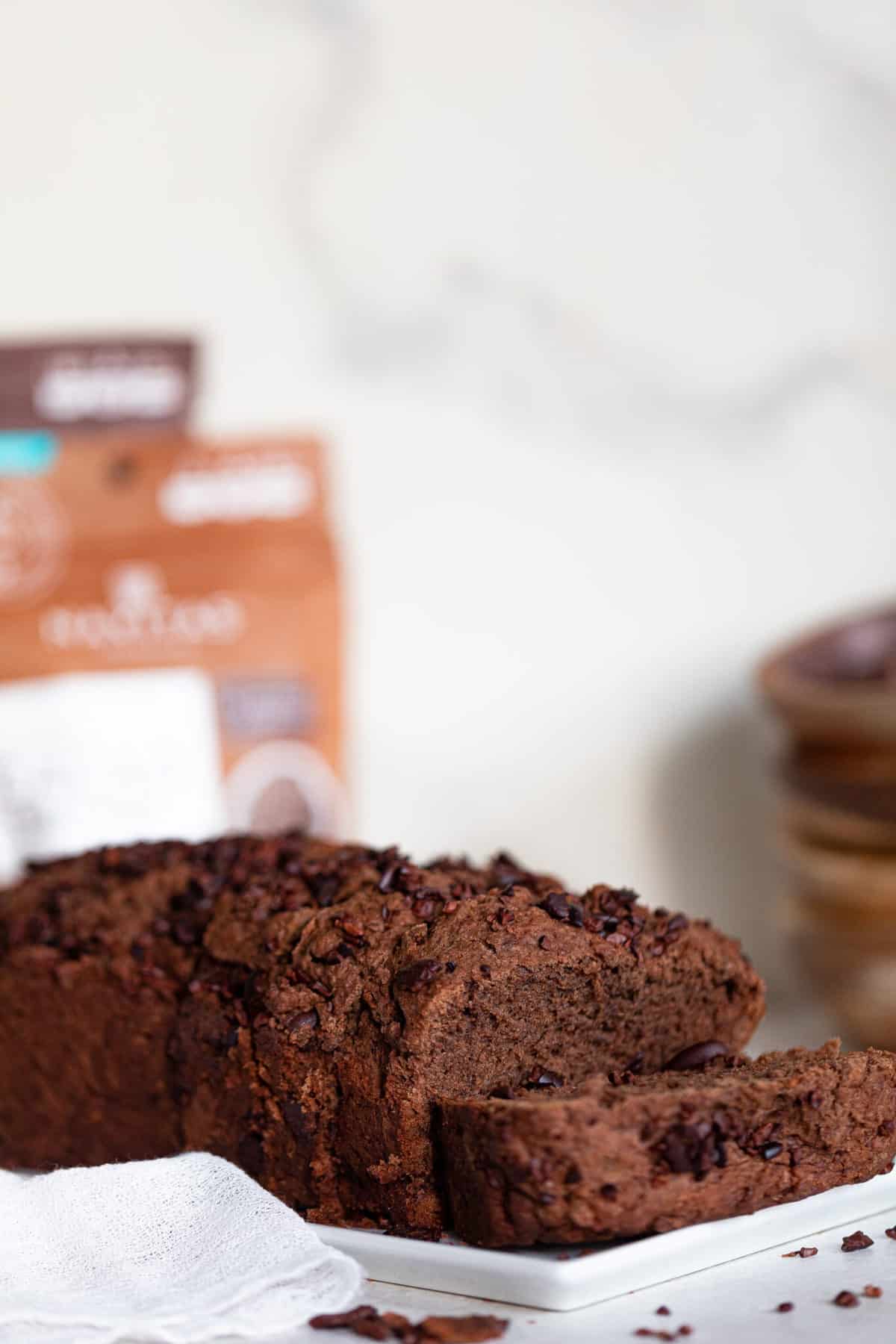 How Do You Store Leftover Bread?
Refrigerate leftover bread by tightly wrapping it in foil paper or keeping it fully covered in a cake stand—lasts up to a week. Can also be stored at room temperature for up to 2 days and if needed, it can be frozen for up to 3 months. Just ensure that your bread cools completely before placing it in the refrigerator or freezer (stored in a freezer safe ziploc).
How to Ensure that Your Bread Bakes Through.
OK, so one of the major complaints from readers are that their bread sometimes cooks faster on the outside than inside. To combat this, I usually poke small holes all around the tops of my bread to further allow heat to pass through the crumble into the batter. You can simply do this successfully by using a toothpick. Do this step twice during different intervals of the baking process and you'll get a nicely cooked through bread.
Why I Love using Maple Syrup or Agave as a Sweetener.
When it comes to both syrups, I often use them interchangeably, although I love to use pure maple syrup mostly. Agave is said to have a lower glycemic index, which makes it perfect for those with diabetes. On the other hand, pure Maple syrup has tons of antioxidants because it comes directly from a plant's sap.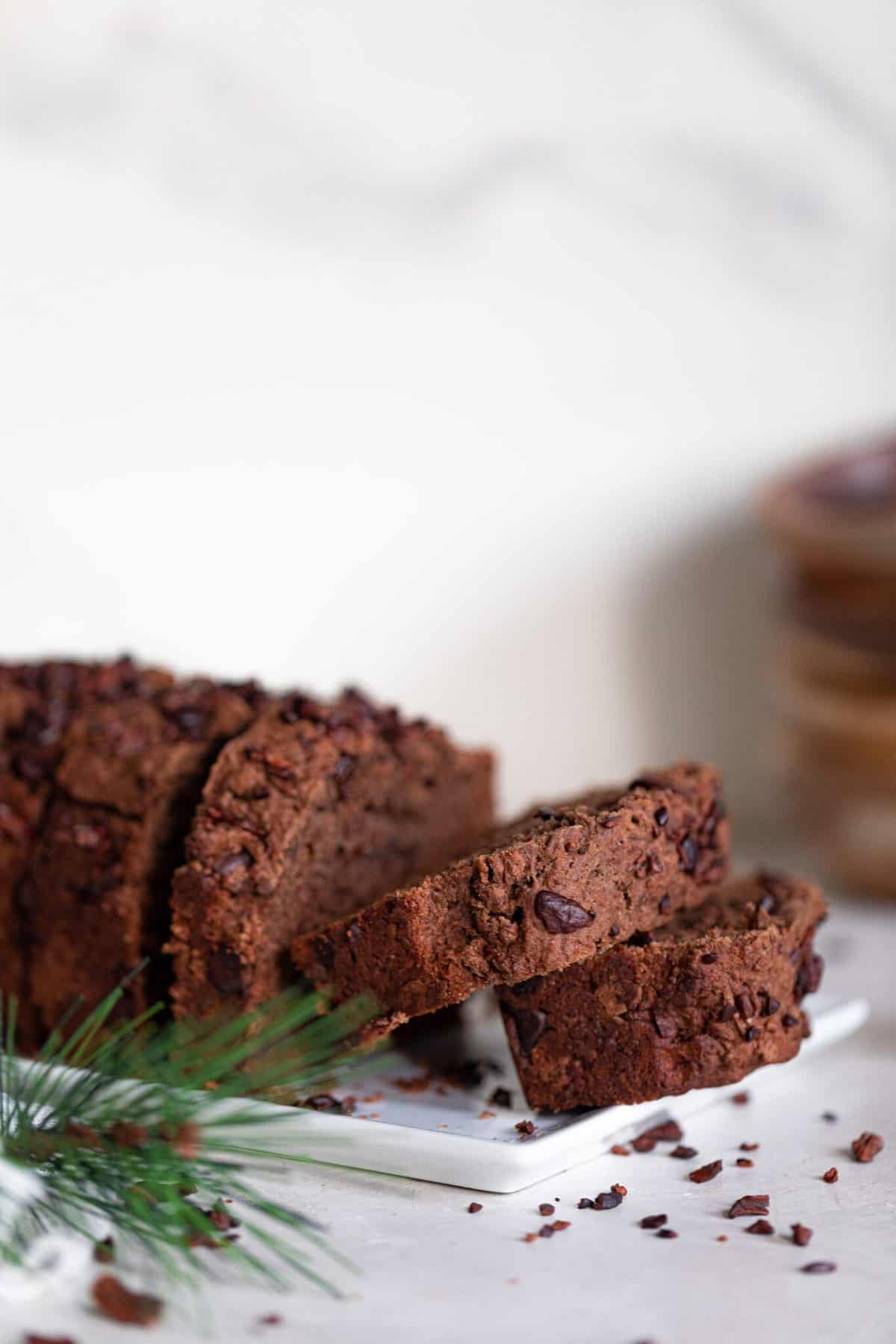 Great Ways to Incorporate Navitas' Powders.
This Vegan Chocolate Cake + Chocolate Buttercream is a healthier option to the decadent classic—Chocolate Cake! Not only is it completely moist + fluffy, but it's also filled with an airy Cacao buttercream that when paired with this velvety vegan chocolate (cacao) buttercream, they all work amazingly together. A definite crowd-pleasing cake for any occasion, celebration, or 'treat yo' self day!
These No-Bake Cacao Date Loaded Energy Bars are loaded with nutrient-dense ingredients like Cacao, Cacao Butter, Dates, Chia Seeds, Cashew Nuts, Coconut Flakes, Pumpkin Seeds, and Maple Syrup. They make for an awesome packable snack, breakfast replacement, or even dessert if you're into something healthy as a sweet treat. Full of bold flavor, chewy, and super easy to make. Vegan and Gluten-Free.
This Vegan Chia Seed Maple Banana Bread is super moist, tasty, packed with healthy nutrients including superfoods like Chia Seeds, and 100% delicious! It takes less than 10 minutes to whip together and makes for a great healthy alternative for a little sweetness in the morning for breakfast or even for dessert after dinner. All vegan ingredients, entirely kid-friendly, and a gluten-free option available.
These Chocolate Chip + Coconut No-Bake Energy Bites are a super easy, quick way to enjoy a healthy snack. Best way to satisfy our taste buds without the unhealthy sugars and additives. These bites are an awesome option for boosting energy, increasing fiber in take, and a great source of healthy nutrients. Packed with bold peanut butter, chocolate chip, and coconut flavors.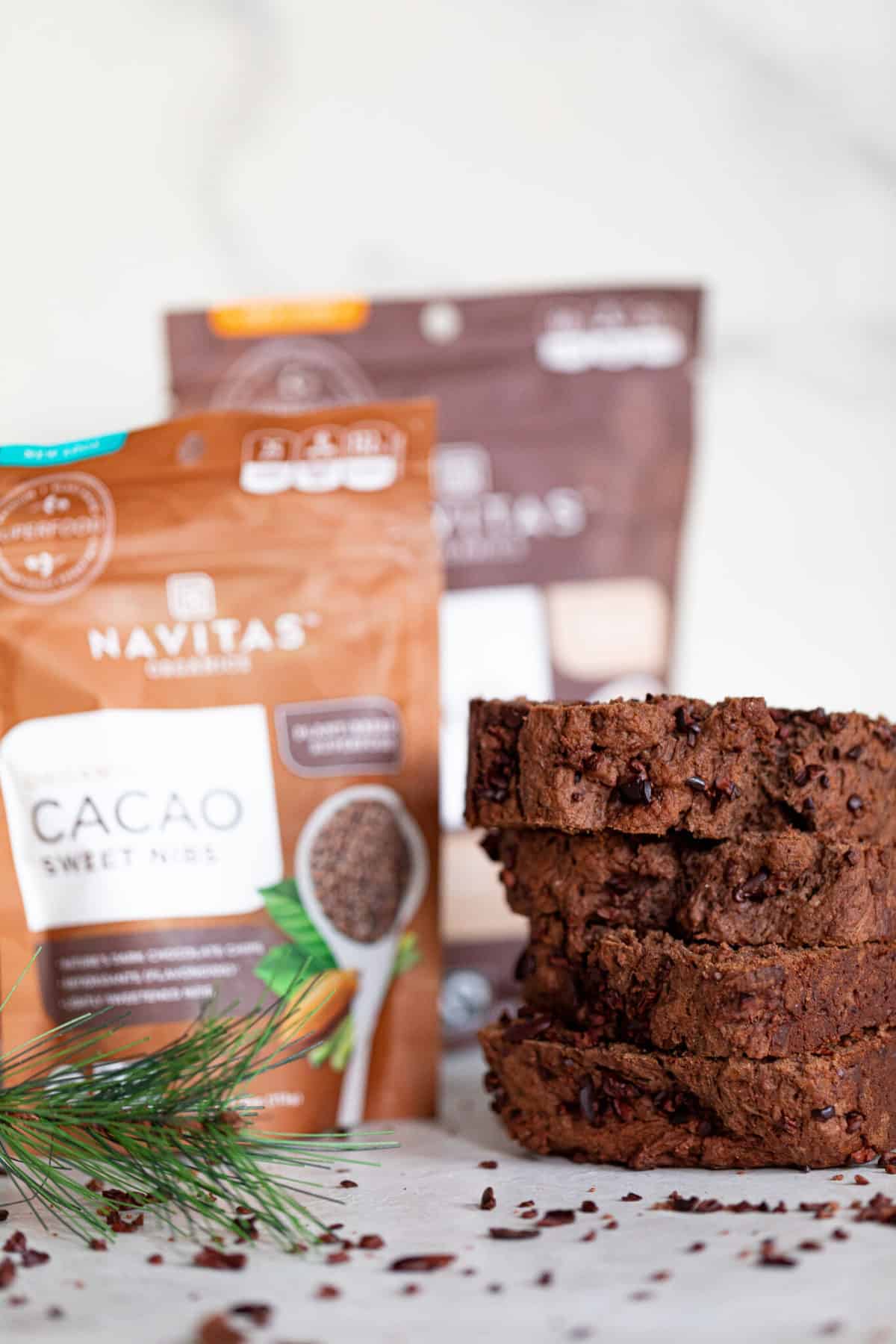 Total Time:
1

hour
10

minutes
BREAD:
½

cup

Navitas Organics OrganicCacao Powder

(See Notes!)

1

cup

Navitas Organics Sweet Nibs

(See Notes!)

1

cup

chocolate chips, unsweetened

2

cups

All-Purpose Flour 

2

tsps

baking powder

½

teaspoon

baking soda

pinch of

sea salt

1

teaspoon

cinnamon 

½

cup

organic brown sugar 

1

teaspoon

vanilla extract

¾

cup

Almond milk + 1 teaspoon AppleCider Vinegar 

¼

cup

coconut oil 

(See Notes!)

¼

cup

Agave 

(See Notes!)
TO MAKE THE BREAD:
Preheat your oven to 375 degreesFahrenheit and line a loaf pan with parchment paper and lightly grease it using vegan butter or coconut oil.

In a large bowl, combine the oil, Agave, vanilla, and Almond milk-AVC mixture, whisking them together until well combined.

Next, stir in flour, cacao powder, baking powder, baking soda, organic brown sugar, cinnamon, and sea salt and mix until well incorporated! Fold in sweet nibs + chocolate chips. **NOTE: DO NOT OVER-MIX!**

Pour batter in the prepared loaf pan (evenly spreading it out) and sprinkle with additional cacao nibs.

Bake for 55-60 minutes, or until a toothpick or knife that is inserted in the middle comes out clean. **NOTE: Midway, I like to poke VERY SMALL holes all over the bread to allow heat to penetrate through and to ensure it cooks through. **

Once done, remove bread from oven and let it cool for 10-15 minutes before gently removing it from loaf pan to cool completely.

Once cooled, slice and enjoy!
STORAGE: Refrigerate leftover bread by tightly wrapping it in foil paper or keeping it fully covered in a cake stand—lasts up to a week. Can also be stored at room temperature for up to 2 days and if needed, it can be frozen for up to 3 months. Just ensure that your bread cools completely before placing it in the refrigerator or freezer (stored in a freezer safe ziploc).
CACAO: You can purchase the Navitas Organic's Cacao Powder + Cacao Sweet Nibs via the links.
SWEETENER: If you choose to opt out of Agave, you can always substitute with pure maple syrup or Date syrup as well.
GLUTEN-FREE VERSION: To make this bread GF, I recommend using a GF Flour Blend (Bob's Red Mills has a great version!). **NOTE: If the bread mixture is too 'thin + runny', simply add additional GF flour, ¼ cup at a time.**
OIL: Instead of vegan butter, you can also use coconut oil or vegetable oil, if preferred.
Calories:
414
kcal
|
Carbohydrates:
52
g
|
Protein:
8
g
|
Fat:
25
g
|
Saturated Fat:
16
g
|
Polyunsaturated Fat:
1
g
|
Monounsaturated Fat:
4
g
|
Sodium:
214
mg
|
Potassium:
239
mg
|
Fiber:
10
g
|
Sugar:
20
g
|
Vitamin A:
1
IU
|
Vitamin C:
1
mg
|
Calcium:
145
mg
|
Iron:
5
mg