Vegan Apple Cinnamon Crumble Bread is sweet, moist, and perfectly balanced between soft and crunchy. This quick bread takes less than 10 minutes to make for a healthy breakfast. Oil-free, gluten-free options available.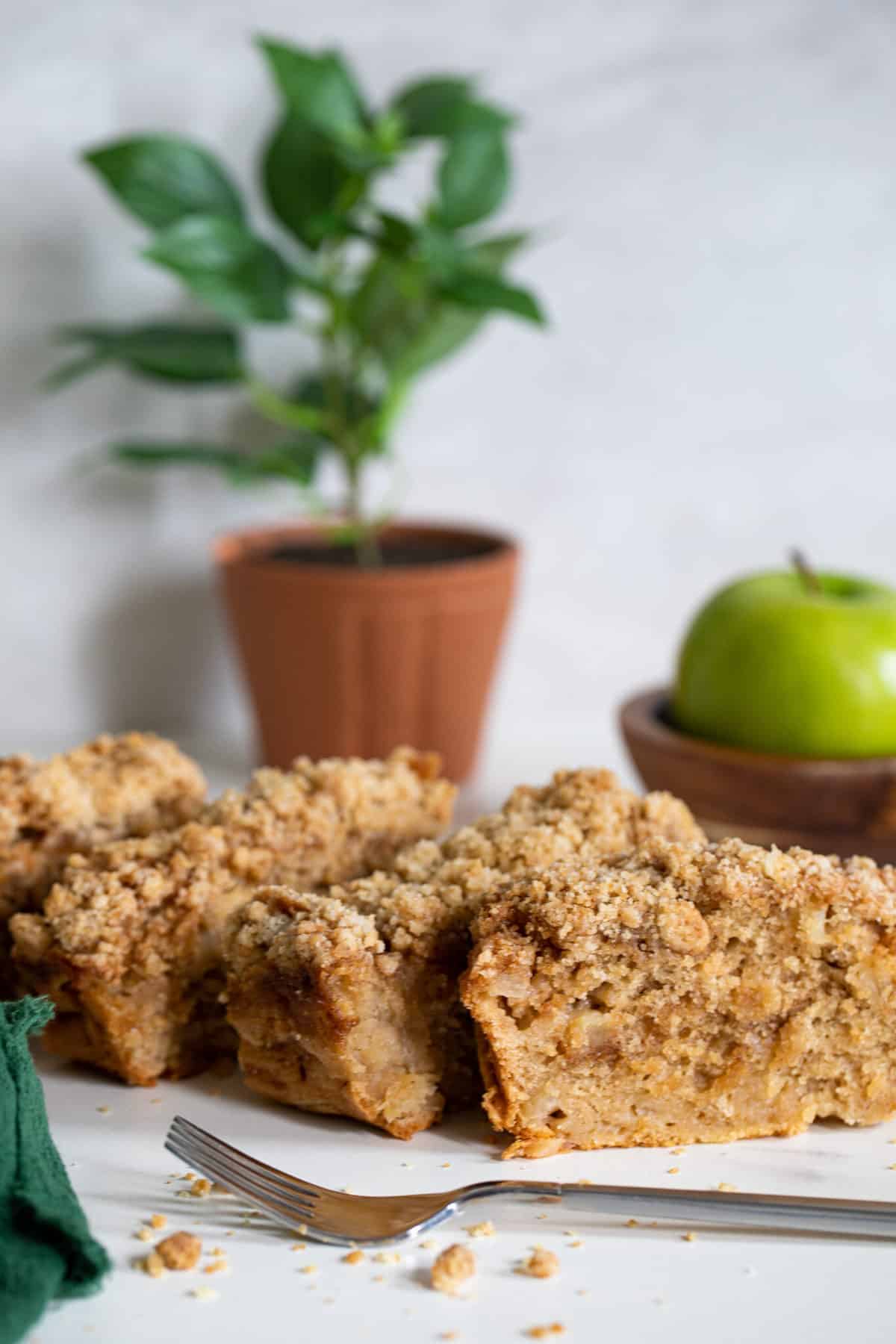 I've always loved making quick breads like Vegan Chocolate Bourbon Banana Bread or Cinnamon Maple Peach Bread. There's something about fall that makes me want to bake and share a sweet treat for breakfast.
This apple bread is peak fall. It has warming spices and a soft, moist center with a bit of crunchy streusel on top.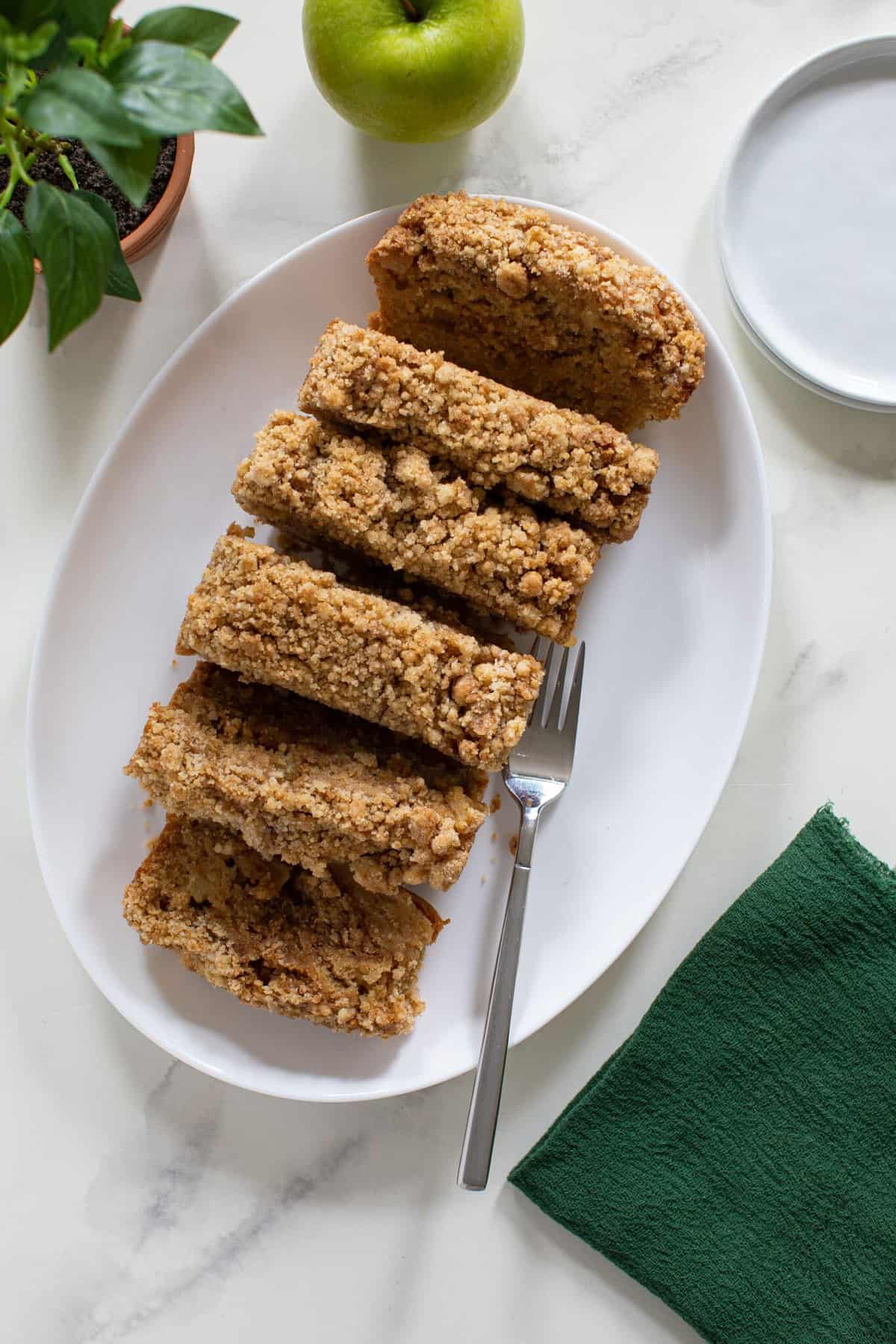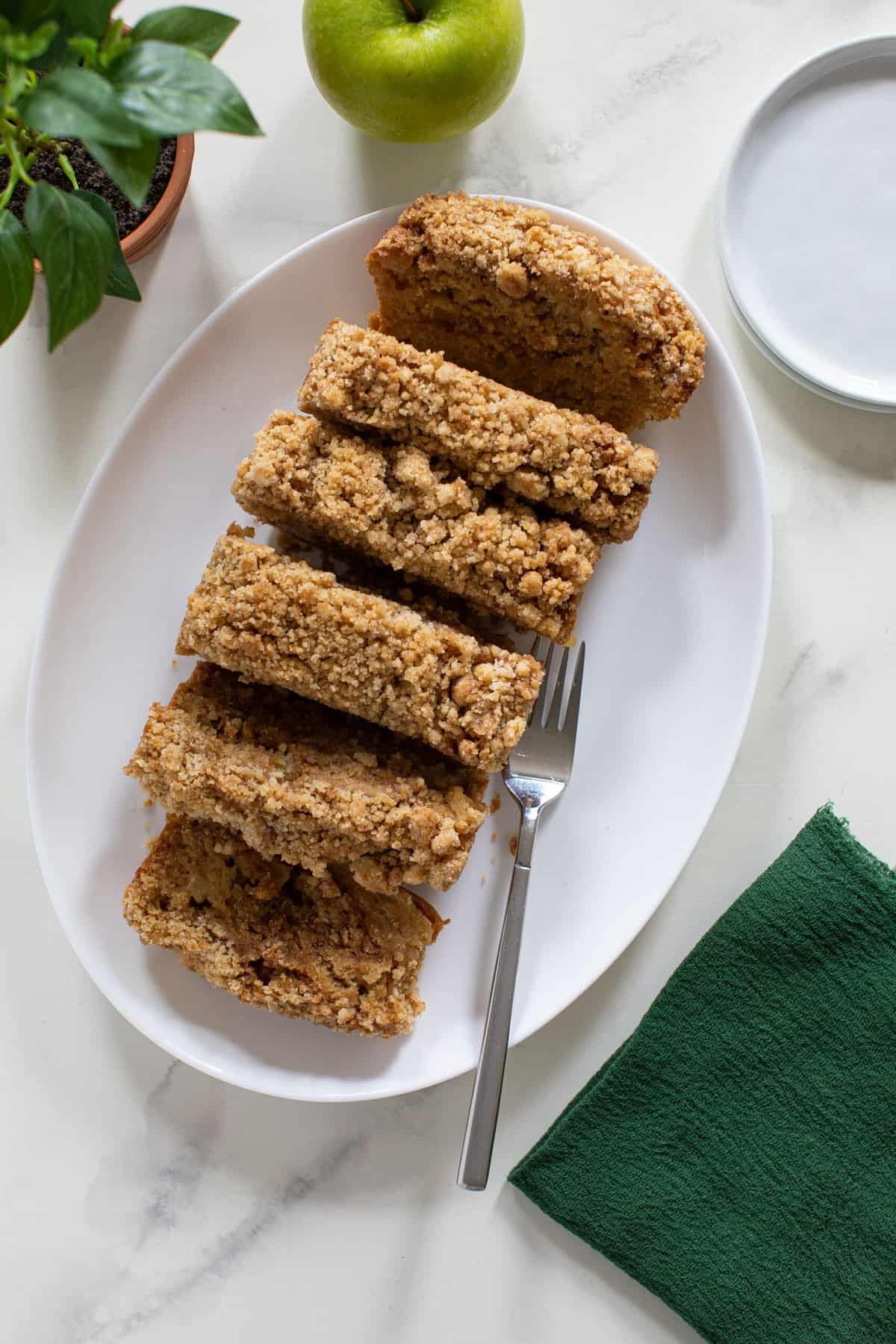 How To Make Vegan Apple Cinnamon Crumble Bread
This is a quick and easy recipe. The hands-on time is only 10 minutes. You'll start by making a quick apple puree. This adds tons of moisture and natural sweetness to the bread. Then finish the bread dough, and finally make the quick nutty crumble topping.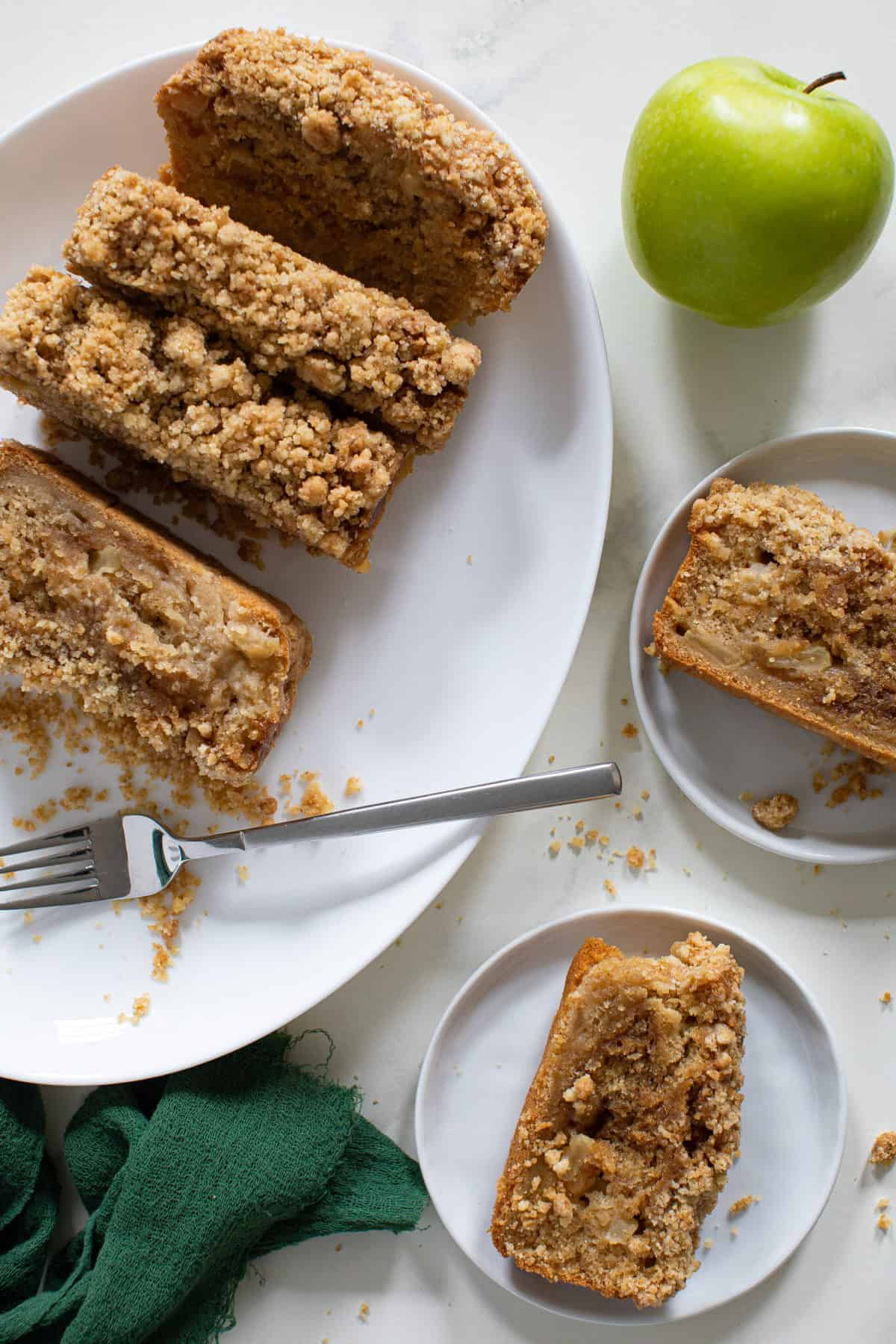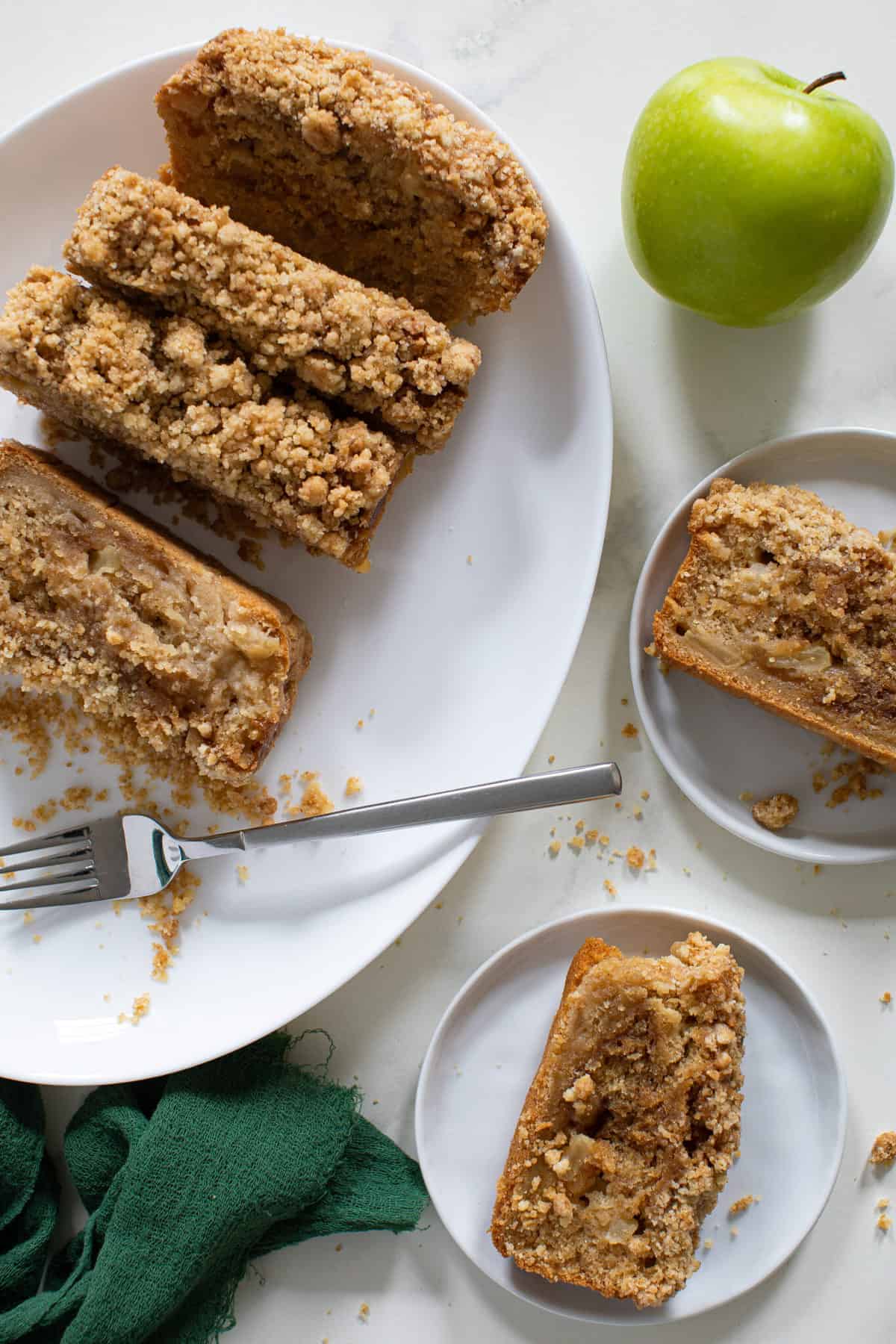 Ingredients
Here's what you need for this quick apple cinnamon bread:
Apples. Use a firm, tart apple like Granny Smith for best results.
All-Purpose Flour. I like Bob's Red Mill organic flour.
Baking Powder and baking soda. These help light the bread as it bakes.
Spices (Cinnamon, Cloves, Allspice + Nutmeg) for warming fall flavor.
Sea Salt to balance out the sweetness of apples and brown sugar.
Vanilla
Almond Milk. Feel free to use any milk you like.
Apple Cider Vinegar. This is the key to making vegan buttermilk!
Vegan Butter. I like Earth Balance Buttery Sticks for baking.
Agave. You can also use maple syrup.
Brown Sugar. Make sure it's organic for vegan.
Pecans and walnuts. You can use all one kind of nut if you prefer.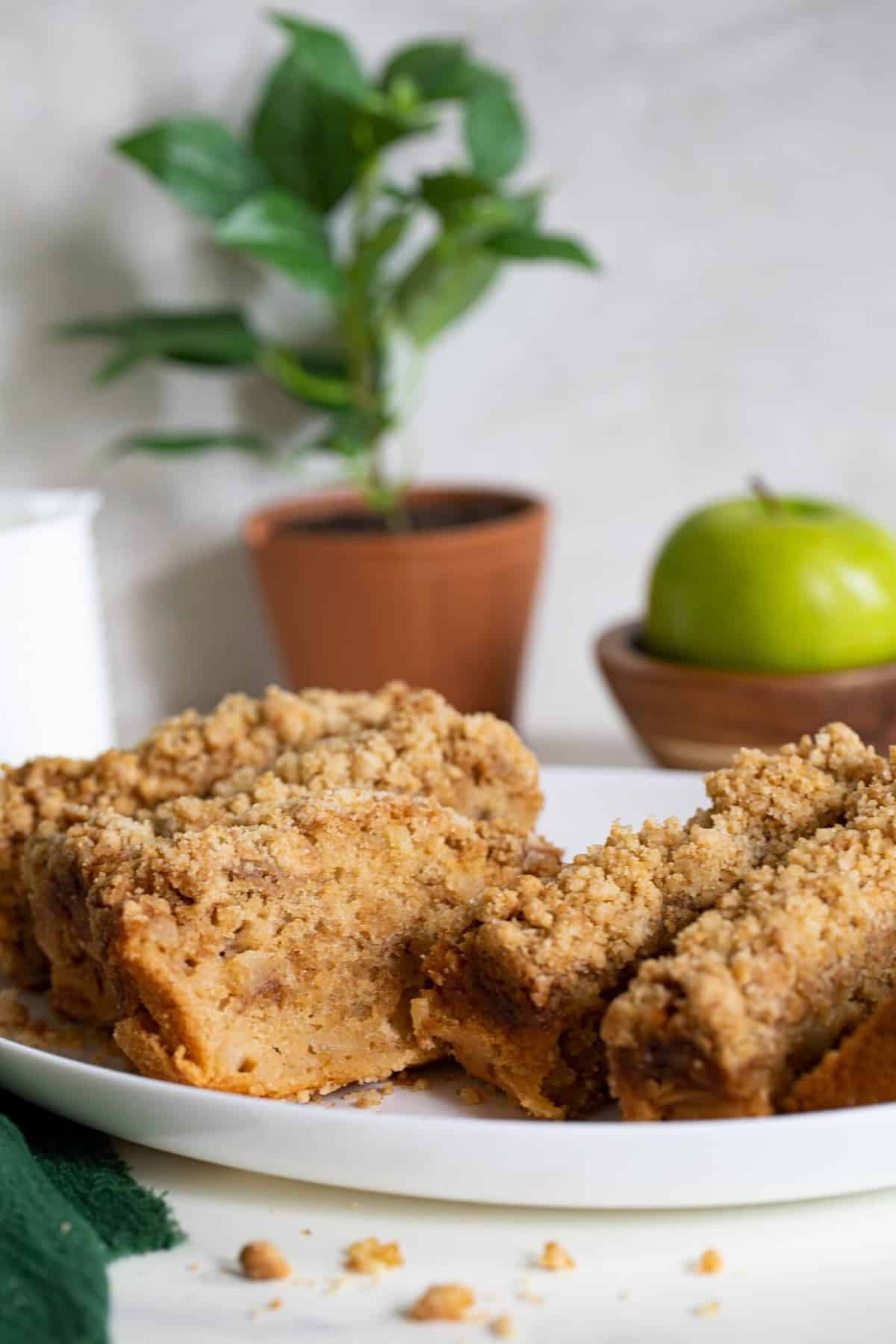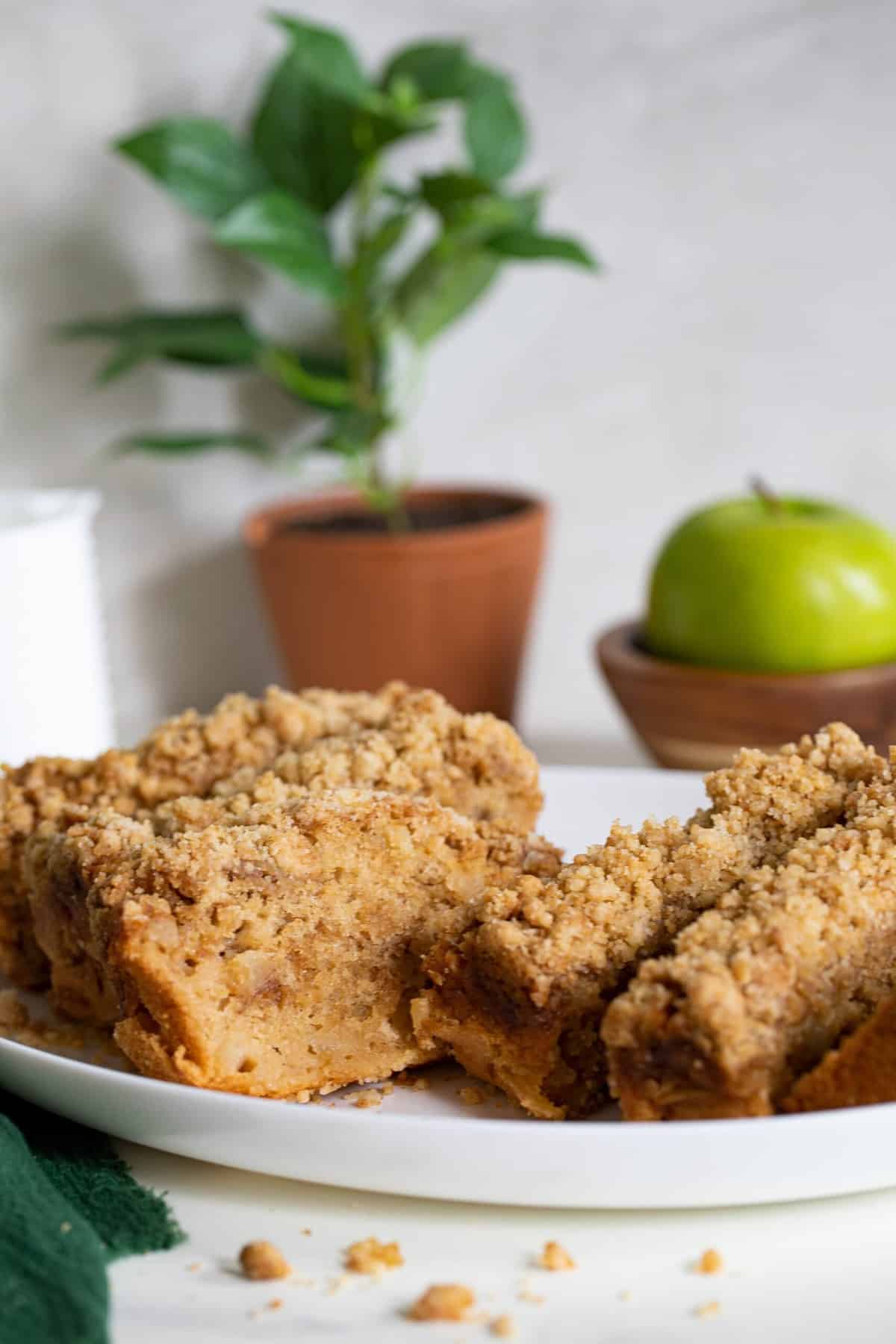 FAQ's
What Kind of Apple is Best for Quick Bread?
Honestly, because I choose to puree my apples for this as well as add little chunks inside, I love using apples that hold up together well once cooked. These apples usually include: Granny Smith, Gala, Honeycrisp, Fuji, etc. However, if you are tight on time and don't have time to make a puree out of your apples, you can always substitute the apples with applesauce and just add chopped apples in for the chunks.
How Do You Store Leftover Bread?
Refrigerate leftover bread to keep it fresh. First wrap it tightly it in foil or keep it fully covered in a cake stan. It will last for up to a week.
You can also keep the bread at room temperature for up to 2 days. Or freeze the apple crumble bread for up to 3 months. Just ensure that your bread cools completely before placing it in the refrigerator or freezer (stored in a freezer-safe Ziploc).
How to Ensure that Your Bread Bakes Through.
One of the major complaints from readers is that their bread sometimes cooks faster on the outside than inside. To combat this, poke small holes over the top of the bread before baking. This allows heat to pass through the crumble into the batter.
You can simply do this with a toothpick. Poke holes again halfway through baking. You'll get a fully cooked loaf of apple cinnamon bread.
Tips For Making The Perfect Crumble Topping.
Making the perfect crumble just means ensuring that the butter-to-dry ingredient ratio is JUST RIGHT. That means crumbly instead of super wet or super dry.
You literally want to feel the crumble in your hand without needing to rush over to the sink to rinse it off because it's so wet.
I also love grinding up my nuts a bit so that they make for the perfect bite and less weight on top of the bread.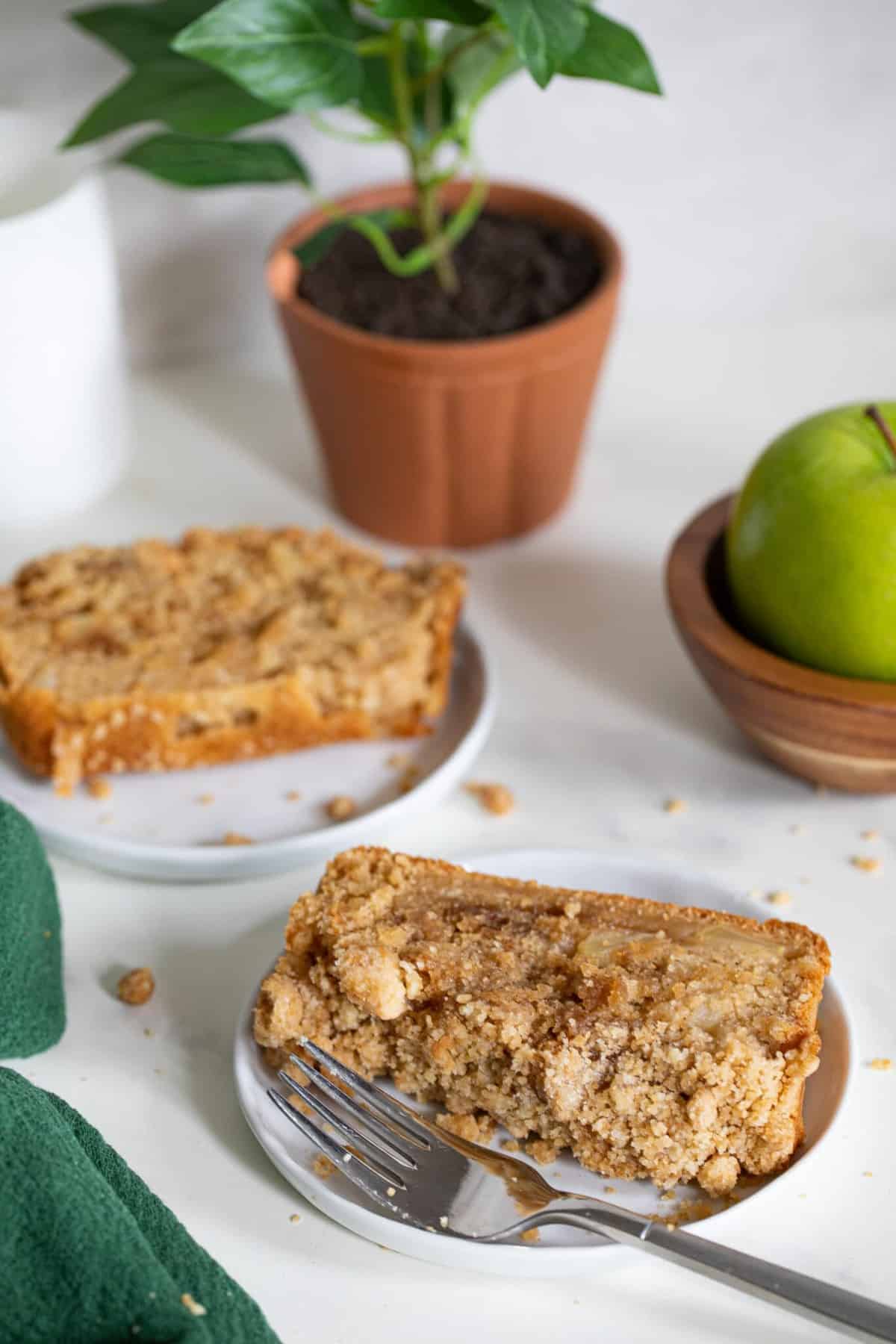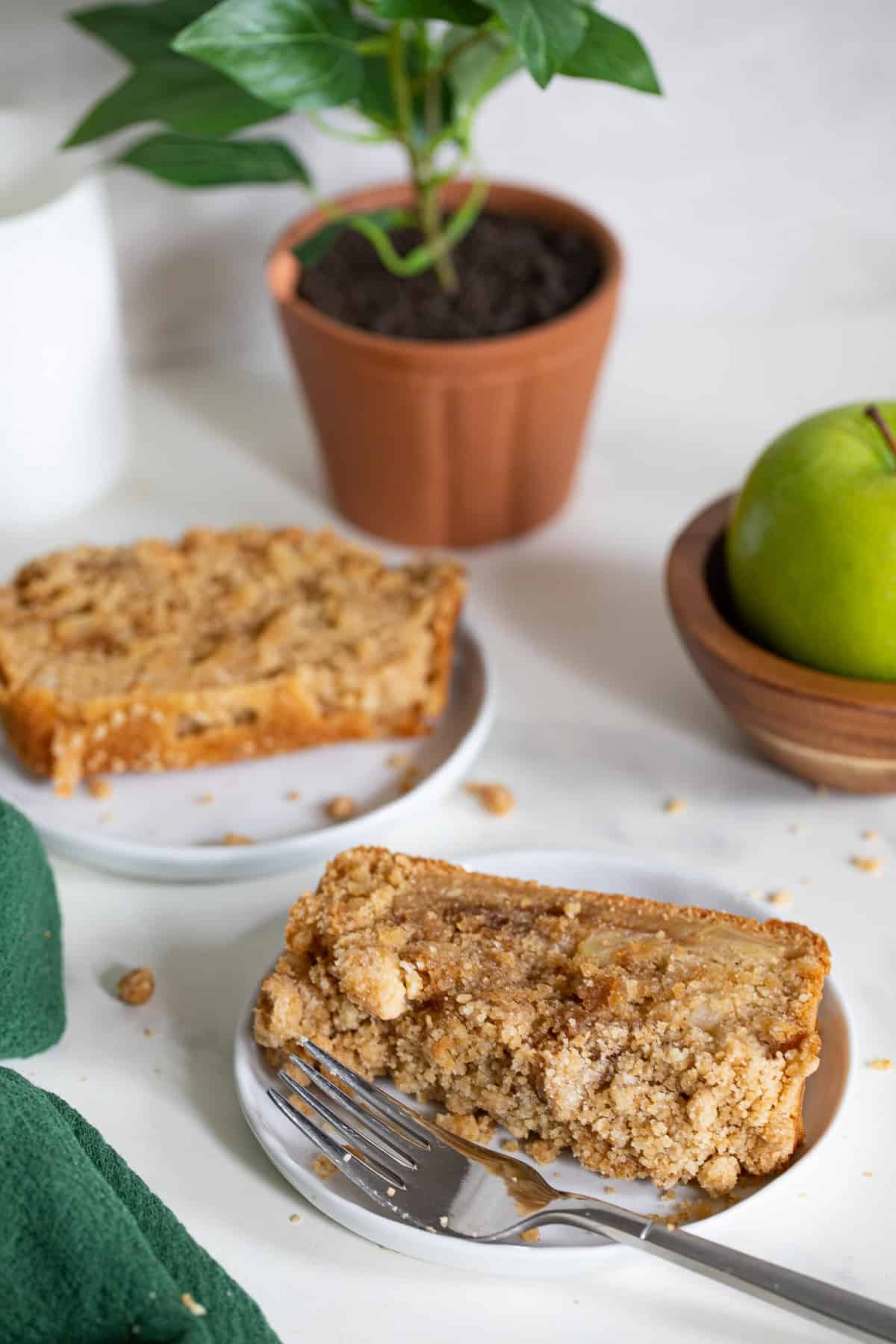 Gluten-Free Apple Cinnamon Bread
To make this recipe gluten-free, simply swap the flour with gluten-free all-purpose flour, like Bob's Red Mill.
More Vegan Baking Recipes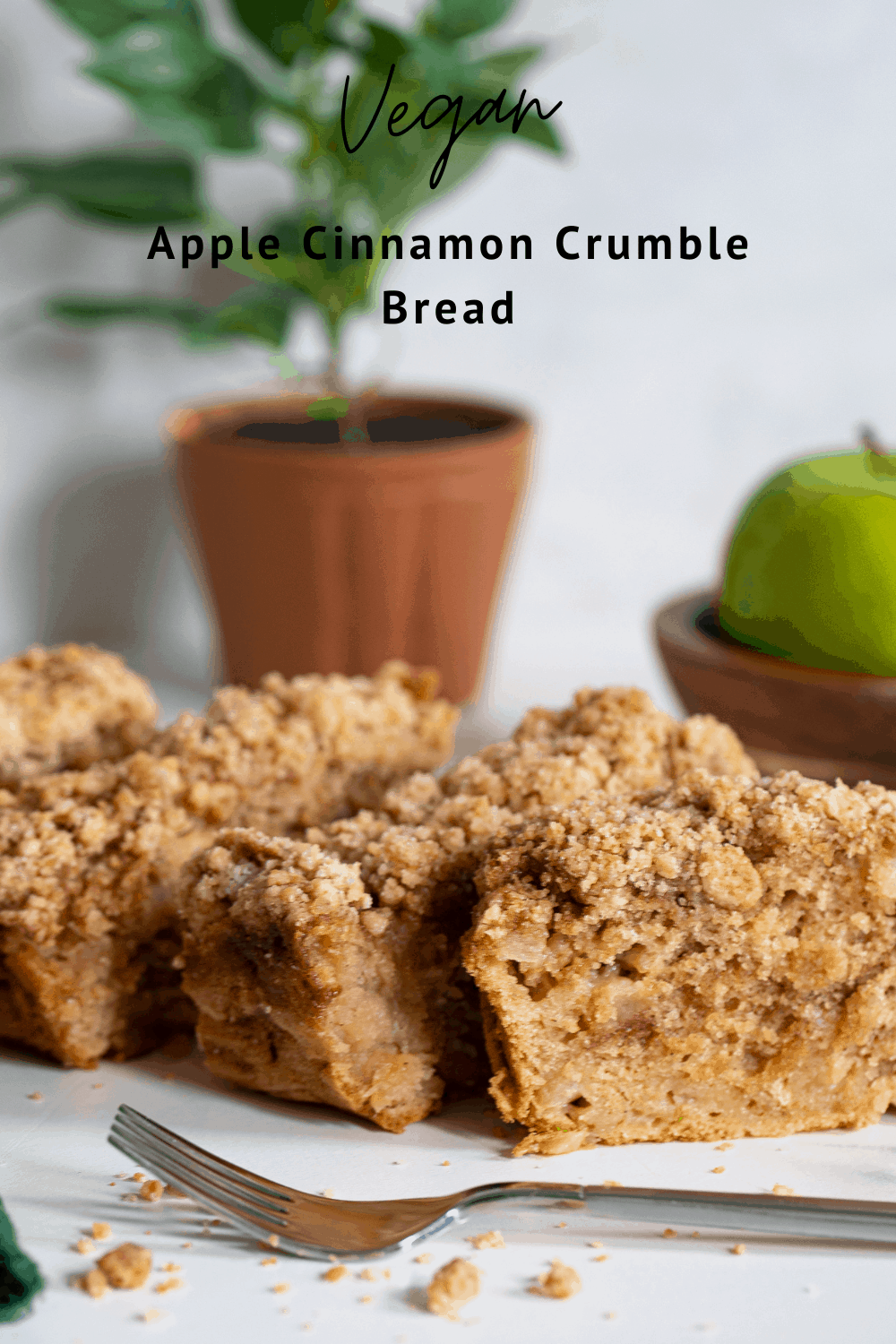 WP Recipe Maker #18928

remove

Vegan Apple Cinnamon Crumble Bread Vegan Apple Cinnamon Crumble Bread is an essential part of the Fall season. It's perfectly sweet and moist, a balance between soft and crunchy, and 100% delicious with the perfect amounts of Apple + Spice flavors! It takes less than 10 minutes to whip together and makes for a great healthy alternative for a little sweetness in the morning for breakfast or even for dessert. Oil-free, Gluten-free option available. Course:: Breakfast, Brunch, Dessert Keyword: apple, apples, baked, bread, breakfast, brown sugar, brunch, cinnamon, classic, crumble, dairy-free, dessert, easy, fall recipe, fluffy, gluten-free, healthy, healthy bowl, homemade, indulge, pecans, plant-based, recipe, soft, spices, sweet, vegan, walnuts Prep Time:: 10m Cook Time:: 60m Total Time:: 70m Servings:: 8 servings Creator: Shanika | Orchids + Sweet Tea BREAD: – 1 1/2 cups organic All-Purpose Flour – 1/2 cup organic brown sugar – 2 tsps baking powder – 1/2 tsp baking soda – 1 Tbsp ground cinnamon – 1 tsp ground nutmeg – 1/4 tsp ground allspice – 1/8 tsp ground cloves – pinch of sea salt – 1 tsp vanilla extract – 1/2 cup Almond milk + 1 tsp Apple Cider Vinegar – 1/4 cup vegan butter, melted (See Notes!) – 1 medium Gala Apple, peeled + chopped small – 2 Tbsps Apple butter, homemade or store-bought (See Notes!) PECAN CRUMBLE TOPPING: – 1 cup pecans, roughly chopped – 1/2 cup organic all-purpose flour – 1/2 cup organic brown sugar – 1 tsp ground cinnamon – 1/4 tsp ground allspice – 1/4 cup vegan butter, partially melted TO MAKE BREAD: 1) Preheat your oven to 375 degrees Fahrenheit and line a loaf pan with parchment paper and lightly grease it using vegan butter or coconut oil. 2) Add the Almond milk and apple cider vinegar together in a small bowl, stirring together until combined and letting it sit for 5 minutes until it becomes "slightly thickened" and activated. 3) In a large bowl, combine the melted butter, apple butter, vanilla, and Almond milk-AVC mixture, whisking them together until well combined. 4) Next, stir in flour, baking powder, baking soda, brown sugar, cinnamon, nutmeg, allspice, cloves, and sea salt and mix until just combined. Fold in chopped apples. NOTE: DO NOT OVER-MIX! 5) Pour batter in the prepared loaf pan (evenly spreading it out) and make the crumble topping! TO MAKE PECAN CRUMBLE TOPPING: 1) Add the flour, brown sugar, chopped pecans, cinnamon, and allspice into a medium bowl, combining them together using a pastry blender. NOTE: This helps to breakdown the nuts into smaller pieces as well, if preferred. 2) Add the partially melted vegan butter and using a spatula, mix until well combined and 'crumbly-like'. 3) Now, evenly sprinkle the crumble topping atop your batter until fully covered and place it in the oven. Bake for 55-60 minutes, or until a toothpick or knife that is inserted in the middle comes out clean. **NOTE: Midway, I like to poke VERY SMALL holes all over the bread to allow heat to penetrate through and to ensure it cooks through.** 4) Once done, remove bread from oven and let it cool for 10-15 minutes before gently removing it from loaf pan to cool completely. 5) Once cooled, slice and enjoy! 6) Bon Appetit! STORAGE: Refrigerate leftover bread by tightly wrapping it in foil paper or keeping it fully covered in a cake stand—lasts up to a week. Can also be stored at room temperature for up to 2 days. APPLES: Best apples to use for this bread are: Granny Smith, Gala, Honeycrisp, Fuji, etc. GLUTEN-FREE VERSION: To make this bread GF, I recommend using a GF Flour Blend (Bob's Red Mills has a great version!). **NOTE: If the bread mixture is too 'thin + runny', simply add additional GF flour, 1/4 cup at a time.** OIL: Instead of vegan butter, you can also use coconut oil or vegetable oil, if preferred. APPLE BUTTER: If you'd like to make the apple butter, see my Cinnamon Roll recipe for the process.
Vegan Apple Cinnamon Crumble Bread.