This Vegan Chocolate Bourbon Banana Bread is decadent, fudgy, moist, and totally dairy-free and egg-free. This is the best way to upgrade your quick bread game with serious flavor. Banana bread is the epitome of comfort food for me. The fact that a slice is acceptable at any time of day is probably my favorite part of it. It's the ideal snack food. Banana goodness, anyone? Gluten-free + Oil-free options available.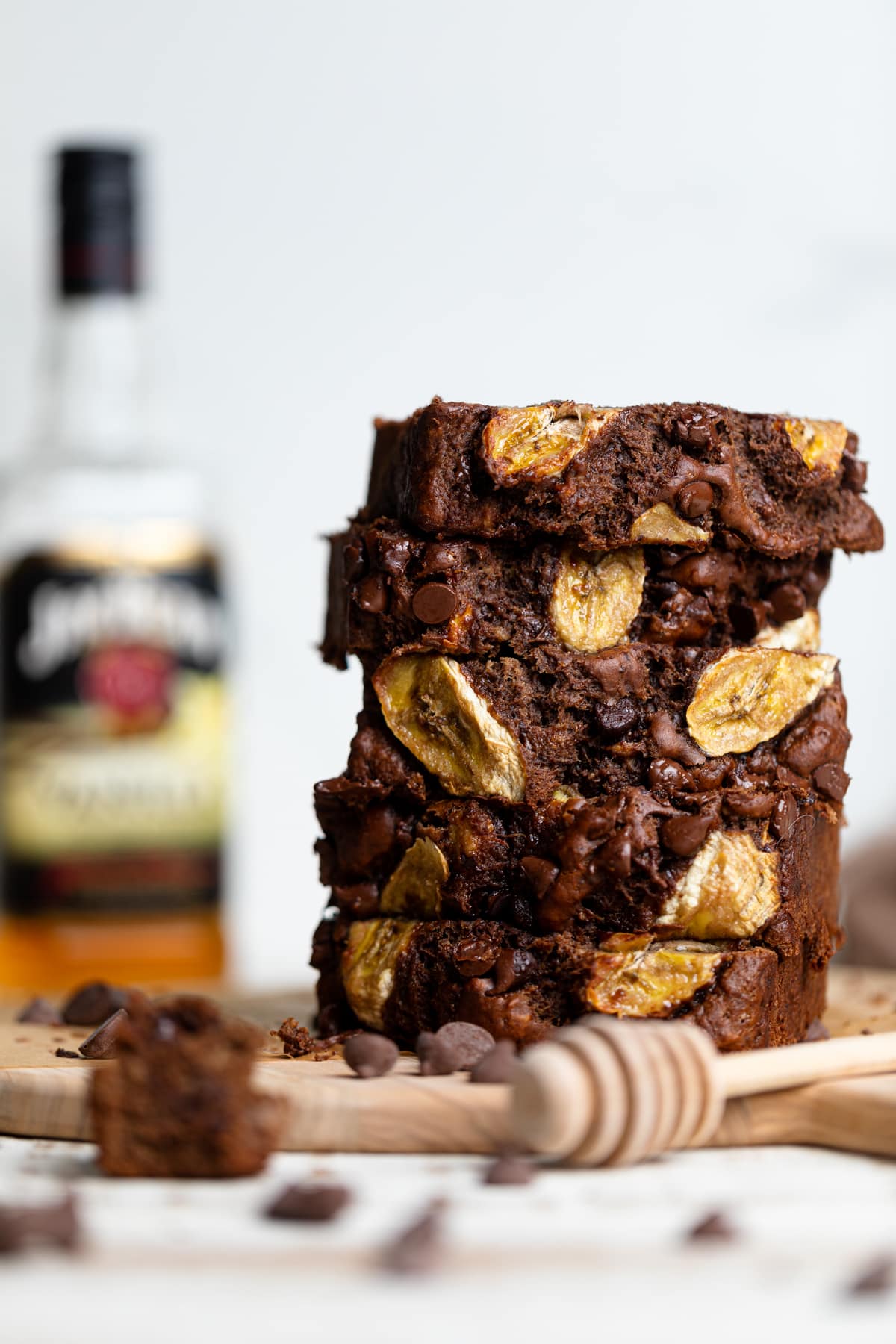 The Southerner in me just loves baking with bourbon. Once I made these Vegan Red Velvet Cupcakes + Bourbon Vanilla Buttercream, I knew I was on to something with the flavor and then proceeded to make Vegan Southern Bourbon Pie, and then alas, the Vegan Chocolate Bourbon Banana Bread was born!
It's slightly sweet and rich, so it's the perfect pairing with chocolate. And to add an extra level of moisture and dense texture, I had to add sweet ripe banana.
Out came this delicious and over-the-top good chocolate bourbon banana bread. And guess what? It happens to be completely Plant-based and Vegan! And can be easily made Nut-free and Gluten-free too!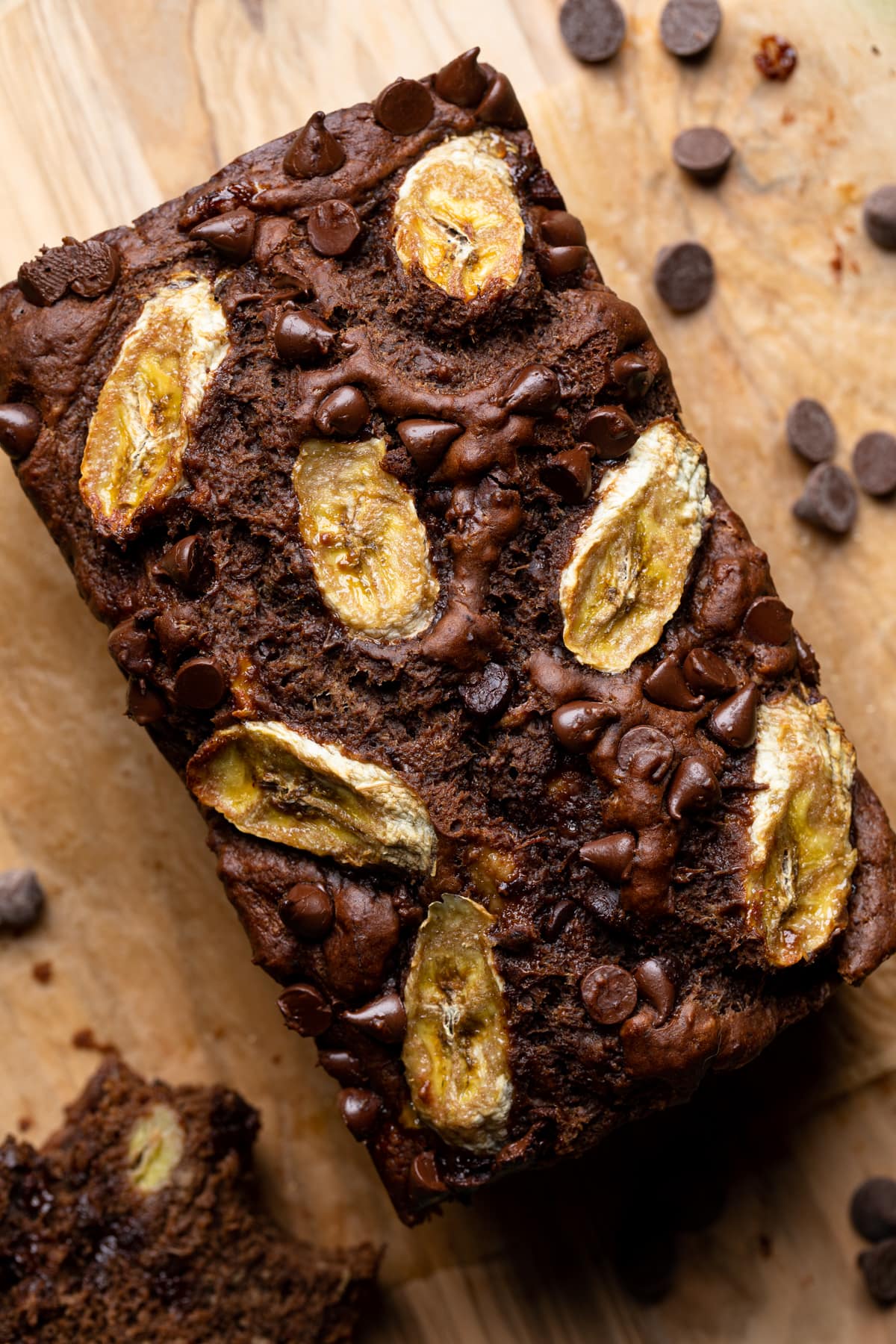 This Vegan Chocolate Bourbon Banana Bread will have you eating it nonstop until the entire loaf is gone...So it's not exactly the same as your Mom or Grandma used to make (Although we do have a delicious traditional Banana Bread recipe if that's more your style).
While the original is simple, nutty, and comforting, this brazenly rebellious variation takes things a step further by incorporating chocolate chunks and a touch of bourbon. For those who become tipsy easily, bourbon serves mostly as a flavor enhancer rather than an intoxicant, so don't worry!
It acts similarly to vanilla extract. (You can substitute vanilla extract for the alcohol if you prefer it alcohol-free)
If you, like me, are trying to eat less dairy or eggs, then you'll love this dairy-free fudgy, rich chocolate banana bread. It's also super easy to make and the perfect way to use leftover spotty bananas.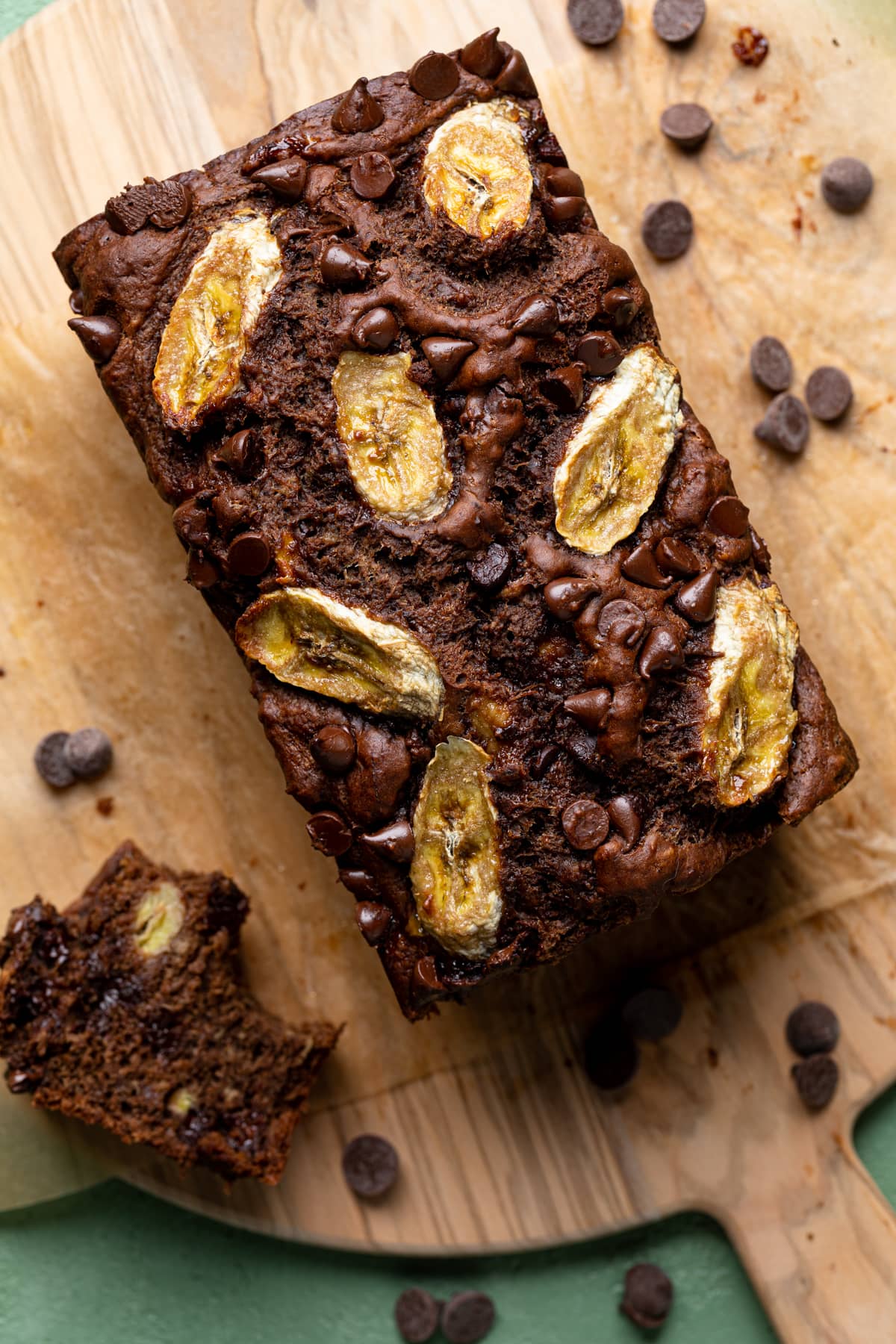 How to Make Chocolate Bourbon Banana Bread
This is a simple recipe to make. And chances are you probably already have the ingredients on hand.
Here's what you need to know about the ingredients for Vegan Chocolate Bourbon Banana Bread.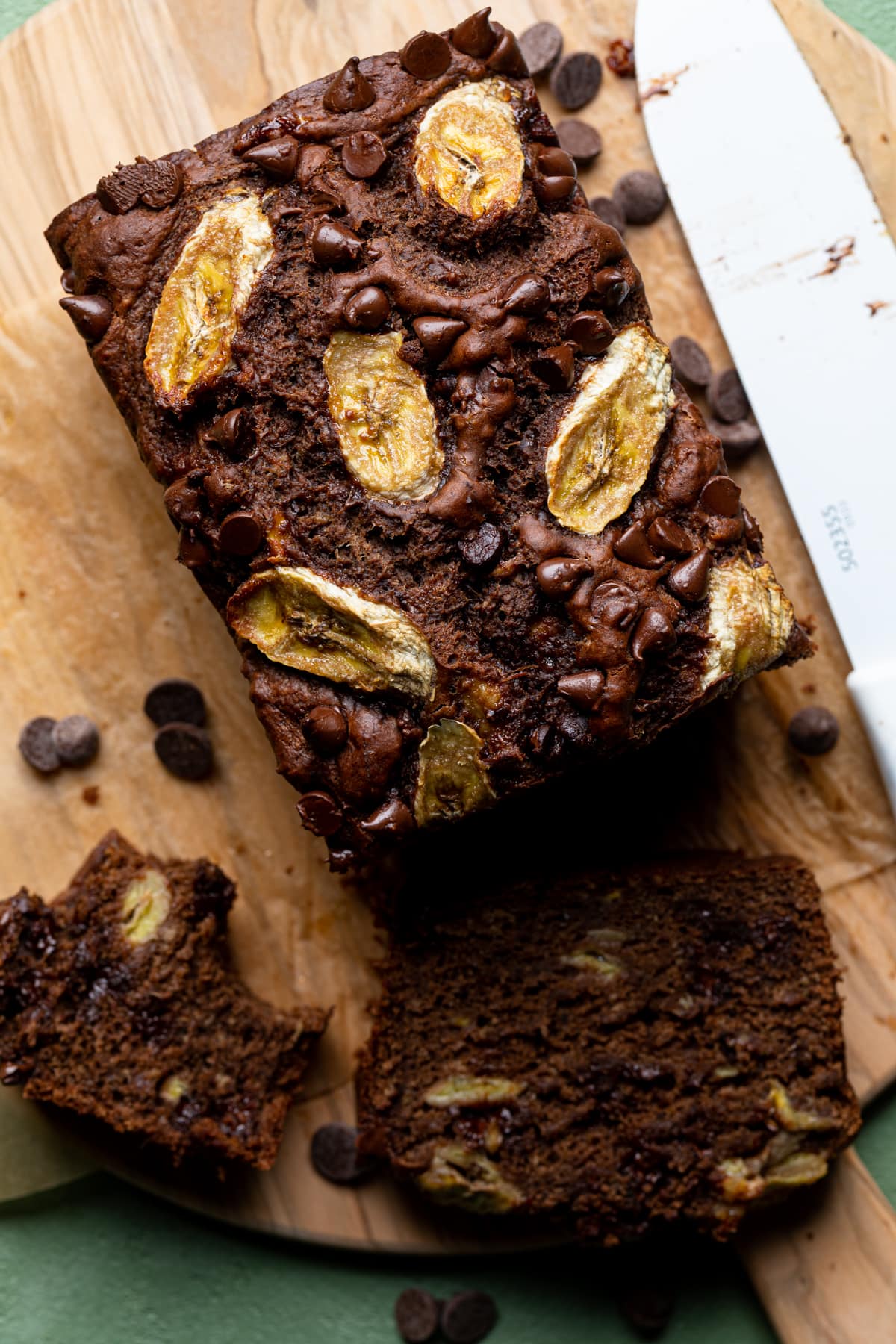 Ingredients
Bananas. You'll want to use really ripe bananas for the densest, sweetest flavor.
All-purpose flour. I like Bob's Red Mill organic flour, which is certified vegan.
Brown sugar. Again, choose organic to make sure it's vegan.
Almond milk. You can use any plant-based milk, including a nut-free option like oat or soy milk.
Apple cider vinegar. My trick is to combine vegan milk with some ACV to make vegan "buttermilk." It's tangy and acidic, which helps the baking soda rise. You can also use white vineger.
Vegan butter. I like to bake with the buttery sticks from Earth Balance, they're easy to measure.
Maple syrup. You can also use agave, but I love the warming flavor of maple in this banana bread.
Vegan chocolate chips. I like semi-sweet, but if you prefer bittersweet or dark chocolate, go for it.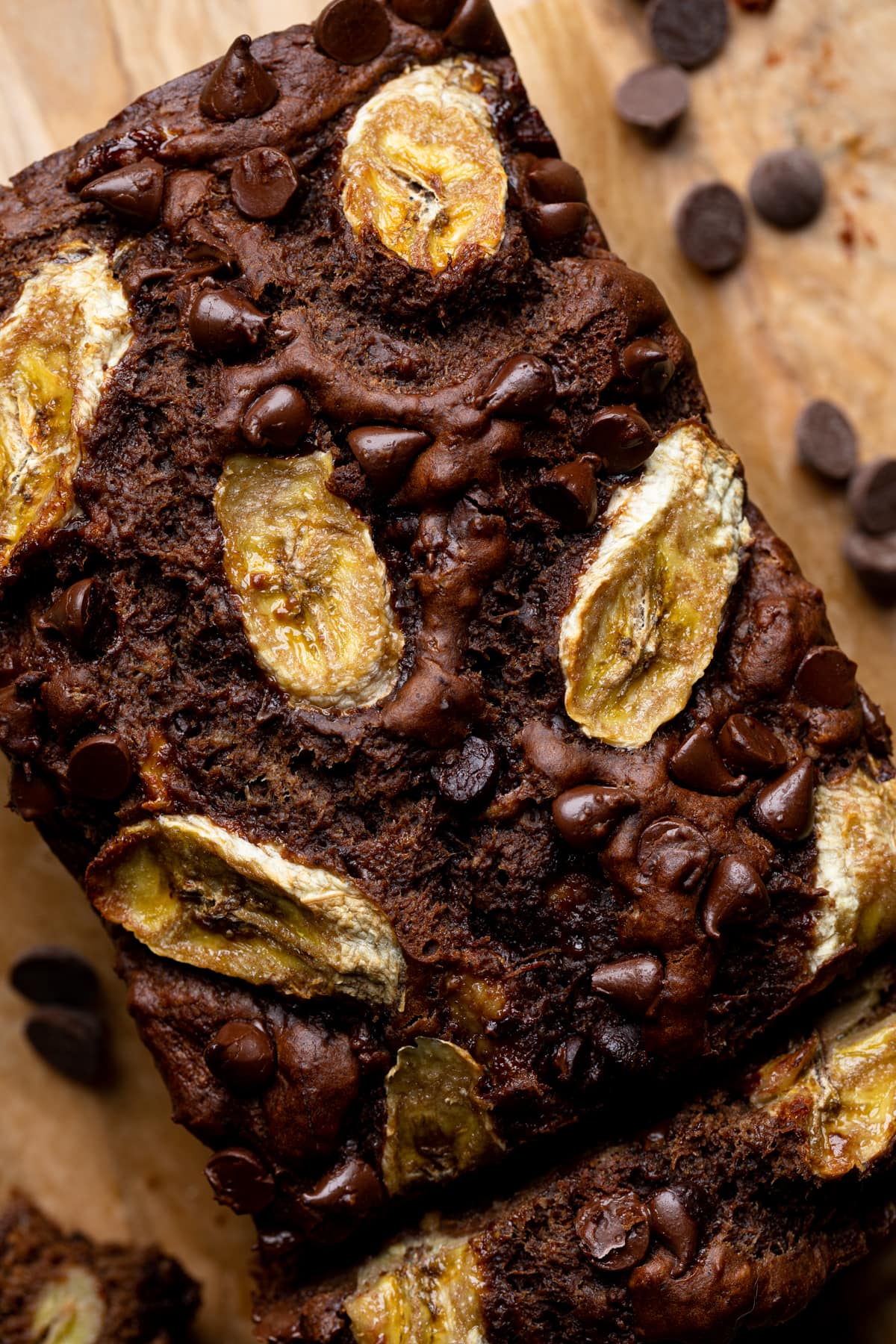 Can I Make Gluten-Free Bourbon Banana Bread?
Usually when turning my breads into gluten-free bread, I simply swap regular all-purpose flour for the gluten-free all-purpose flour or 1-to-1 baking flour from Bob's Red Mill. I recommend using a GF Flour Blend (Bob's Red Mills has a great version!) for greater ease. However, if using only GF All-purpose flour, be sure to add Xanthan Gum so that it acts as regular flour would.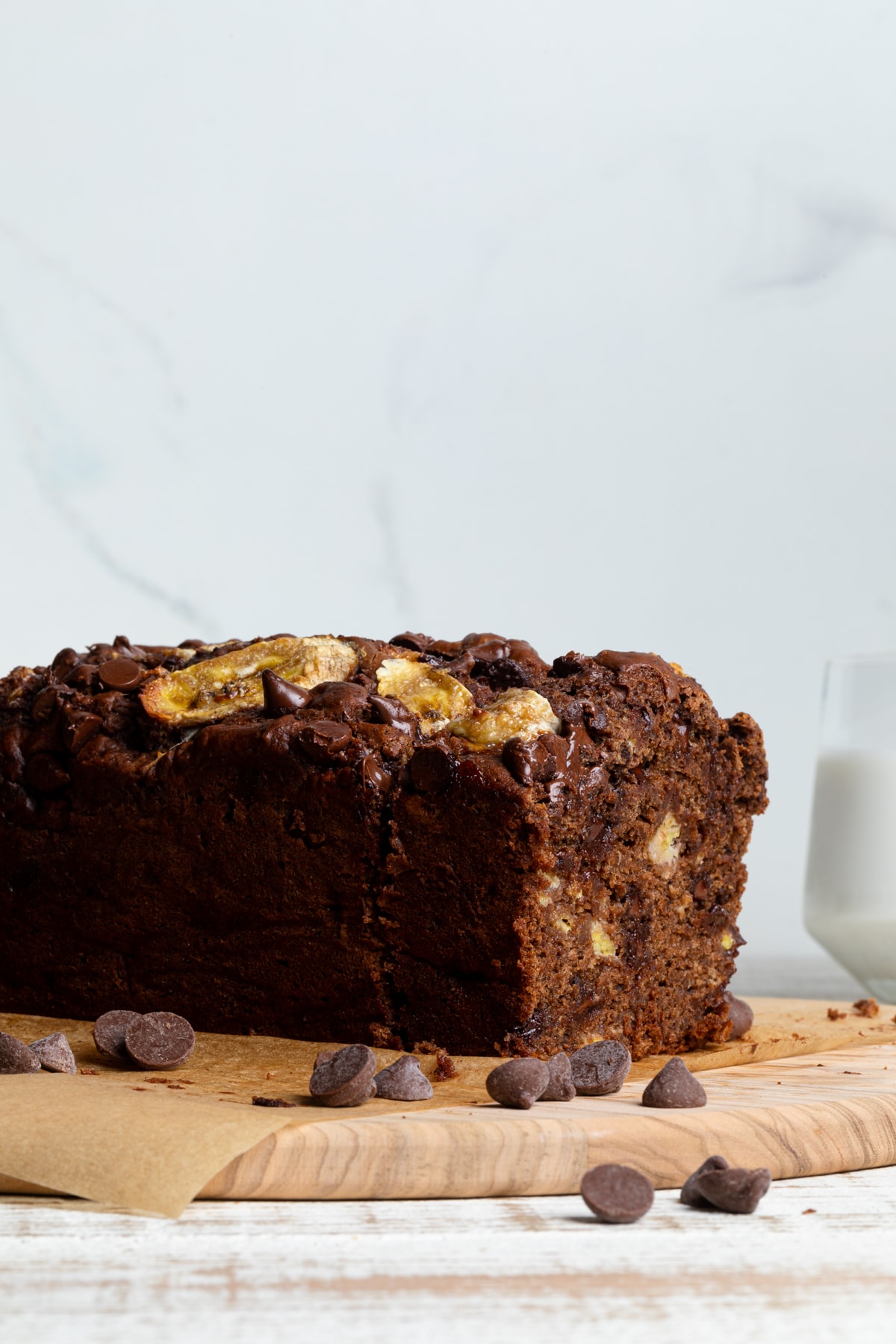 Is the Banana Bread Nut-Free?
Yes, as long as you use nut-free plant-based milk, this bread is very allergy-friendly!
Can I Use Another Plant-Based Milk for Banana Bread?
Yes, you can use any dairy-free milk you like to make this Vegan Chocolate Bourbon Banana Bread. Here are some easy recipes to make your own milk that is cheaper and so easy to whip up!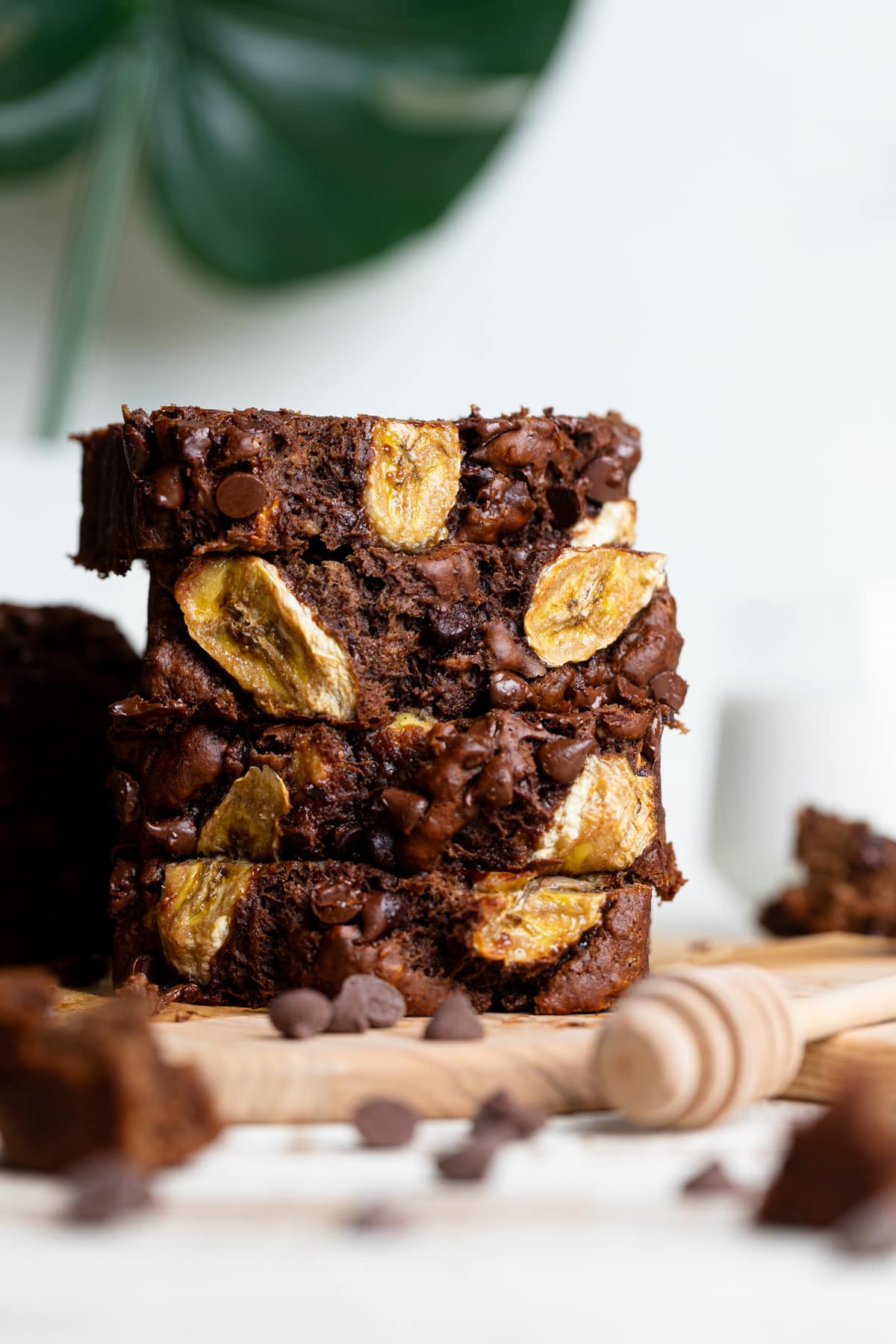 How Ripe Should Bananas be for Banana Bread?
When it comes to making banana bread, the level of ripeness of your bananas matter. I've made my banana bread with both types of bananas and to be honest, the VERY ripe bananas have made the BEST banana breads.
Very ripe bananas make for a sweeter and more moist bread and the mashing is also a lot easier.
How to Ripen Bananas for Banana Bread
Have you ever had bananas that weren't fully ripe, but you were dying to make a banana bread? Well, I totally understand. I've definitely been there. Luckily, I've come across a few hacks to help you ripen your bananas if you're in a pinch and here's what you can do:
Keep the banana bunches together to avoid the ripening process from stalling.
Store your bananas in a warm place like near a heater or atop your refrigerator. This helps them to ripen faster.
Using a paper bag, add your bananas inside and fold it over to close it. The gases from inside the bag once shut tight will ripen the bananas within 24-36 hours.
If you're looking to ripe your bananas more quickly for baking purposes then you can do one of the following:
Oven Method: Preheat the oven at 300 degrees Fahrenheit and place bananas (with peels on) unto a baking sheet and let them bake for 15-20 minutes or until skins are black. The bananas at this point should be soft and sweet.
Microwave Method: Poke holes into the peel bananas (all around) and microwave for 30 seconds at a time until the bananas are soft enough.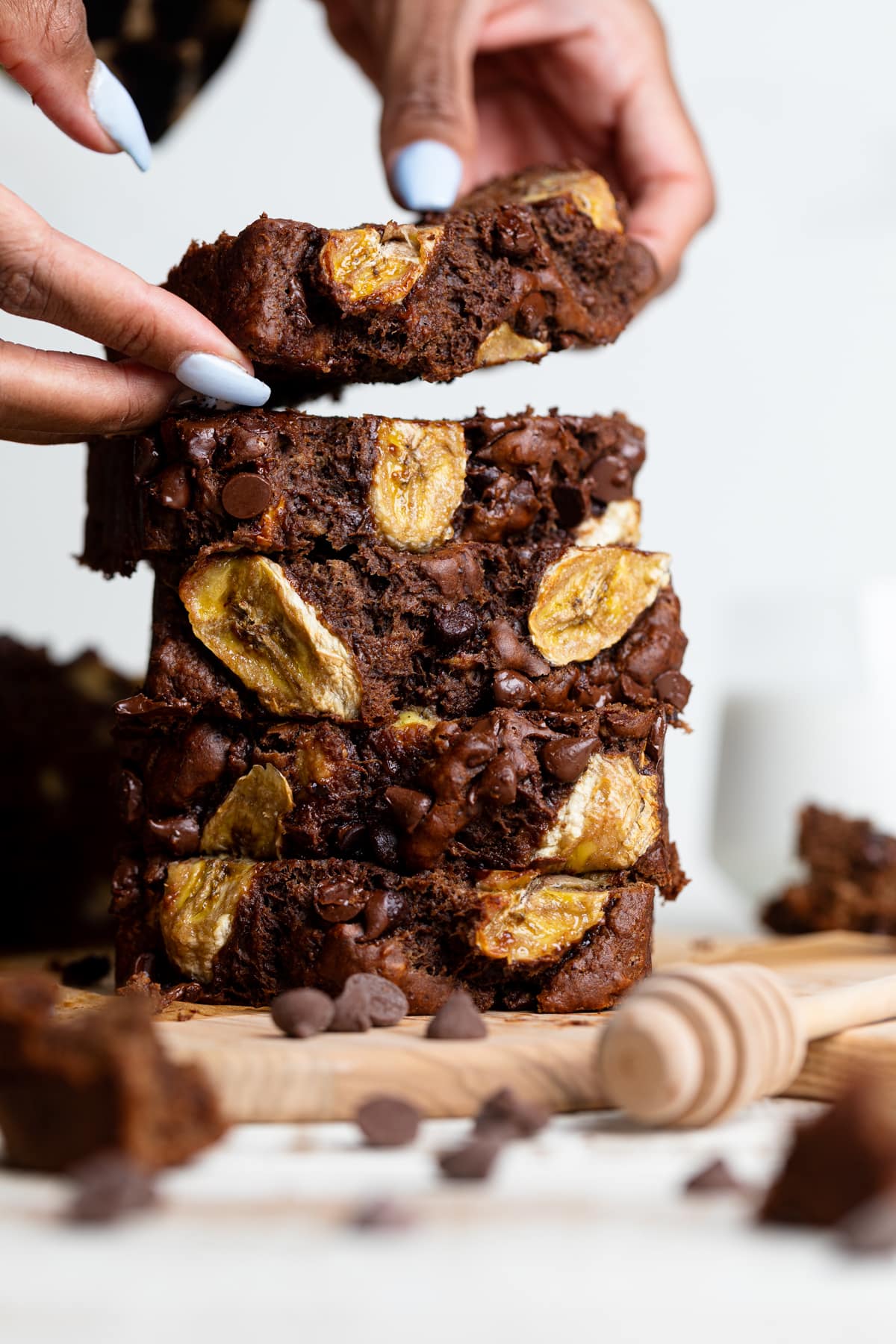 How to Store and Freeze Vegan Banana Bread
Refrigerate leftover banana bread by tightly wrapping it in foil paper or keeping it fully covered in a cake stand—lasts up to a week. Can also be stored at room temperature for up to 2 days. You can freeze leftovers by wrapping the whole loaf in aluminum foil. Store it in a zip-top bag. Squeeze as much air out as you can without smooshing the bread.
WHY YOU WILL LOVE THIS RECIPE
TASTE - Banana, bourbon, vanilla, and cinnamon make for a sweet and soothing flavour combination.
TEXTURE - This is a rich, moist bread that is the perfect amount of crispy on the outside and smooth and crumbly on the inside.
TIME - Easy simple uncomplicated steps to follow.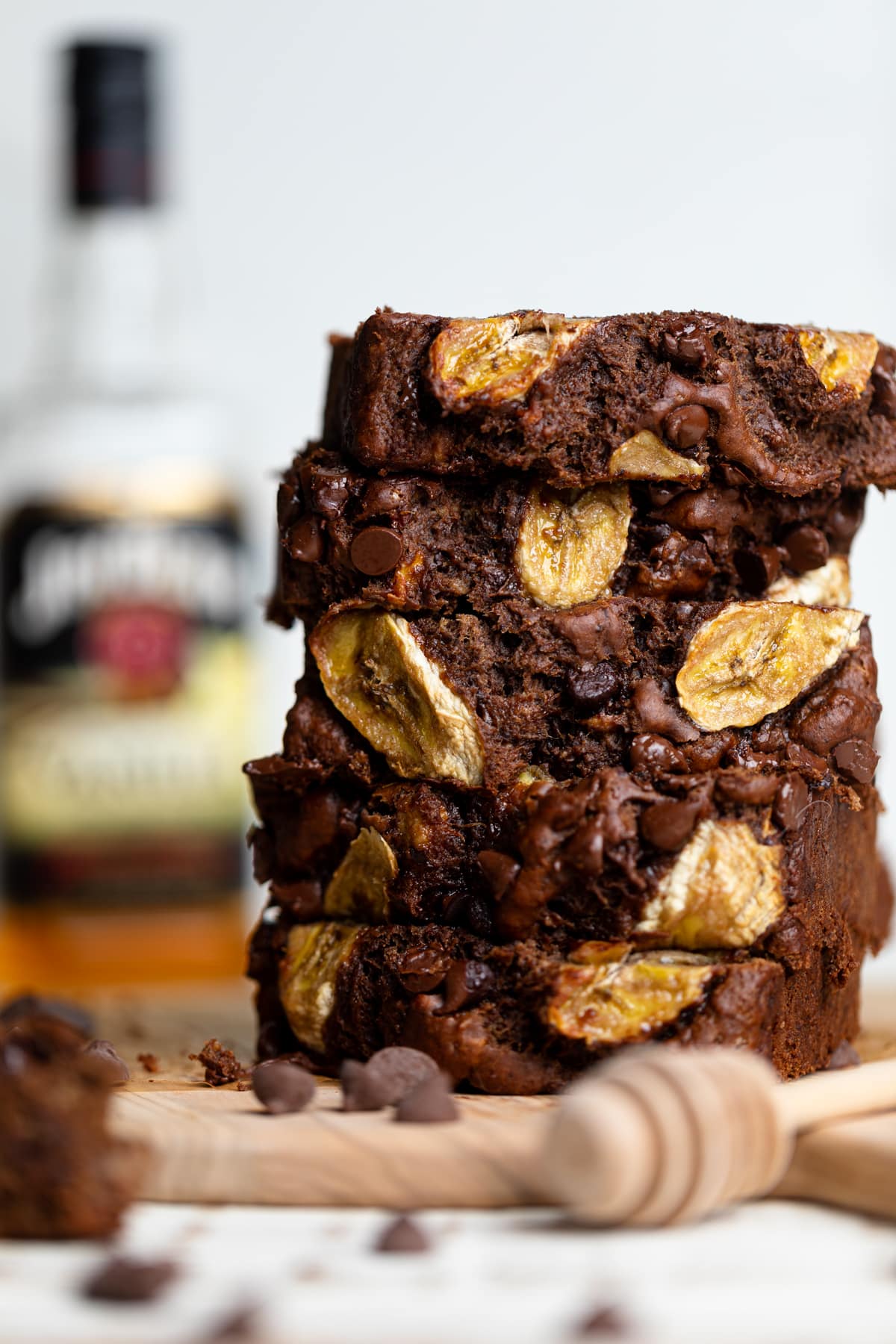 More Delicious Banana Recipes
MADE OUR RECIPE(S)?
If you make this Vegan Chocolate Bourbon Banana Bread or any other recipe from us, be sure to tag us on Instagram at #Orchidsandsweettea so that we can share the love, rate, comment below, + share!
Total Time:
1

hour
15

minutes
BREAD:
3

VERY ripe Bananas, fully mashed

1 ½

cups

organic all-Purpose Flour

½

cup

unsweetened cocoa powder

½

cup

organic brown sugar, lightly packed

2

tsps

baking powder

½

teaspoon

baking soda

1

teaspoon

ground cinnamon 

½

teaspoon

ground nutmeg

pinch of

sea salt

½

cup

Almond milk, unsweetened

(You can use your favorite plant-based milk)

2

Tbsps

bourbon

1

teaspoon

apple cider vinegar

1

teaspoon

vanilla extract

¼

cup

vegan butter, melted

(See Notes!)

2

Tbsps

pure maple syrup

(See Notes!)

1

cup

vegan chocolate chips, semi-sweet
TO MAKE THE BREAD:
Preheat your oven to 375 degrees Fahrenheit and lightly grease it using vegan butter or coconut oil and line with parchment paper, leaving a hanging over on the sides for an easy "pull-out".

In a bowl or measuring cup, add the milk and apple cider vinegar together, whisking until combined. Let it sit for 5-10 minutes until the mixture slightly thickens.

In a large bowl, combine the mashed bananas, melted butter, maple syrup, bourbon, vanilla, and Almond milk-AVC mixture, whisking them together until well combined.

Next, add in the flour, cocoa powder, baking powder, baking soda, brown sugar, cinnamon, nutmeg, and sea salt into the wet ingredients, stirring until just combined. NOTE: DO NOT OVER-MIX!

Pour batter in the prepared loaf pan and evenly spread it out.
TOP THE BREAD + BAKE:
Gently place the banana slices on top of batter (lightly pressing them in so they stay in place) and sprinkle the top of batter with a bit of chocolate chips, gently pressing them in as well.

Now, evenly sprinkle the crunch topping atop your batter until fully covered and Bake for 55-60 minutes, or until a toothpick or knife that is inserted in the middle comes out clean. NOTE: Midway, I like to poke VERY SMALL holes all over the bread to allow heat to penetrate through and to ensure it cooks through so that the centers aren't uncooked.

Once done, remove bread from oven and let it cool for 25-30 minutes before gently removing it from loaf pan to cool completely.

Once cooled, slice and enjoy!

Bon Appetit!
STORAGE: Refrigerate leftover bread by tightly wrapping it in foil paper or keeping it fully covered in a cake stand—lasts up to a week. Can also be stored at room temperature for up to 2 days.
SWEETENER: If you choose to opt out of maple syrup, you can always substitute with Agave syrup or Date syrup as well.
GLUTEN-FREE VERSION: To make this bread GF, I recommend using a GF Flour Blend (Bob's Red Mills has a great version!). **NOTE: If the bread mixture is too 'thin + runny', simply add additional GF flour, ¼ cup at a time.**
OIL: Instead of vegan butter, you can also use vegetable oil, canola oil, or coconut oil, if preferred.
OIL-FREE: Instead of using oil, you can substitute with apple sauce.
WHAT PLANT-BASED MILKS ARE GOOD FOR THIS RECIPE? You can always use your fave plant-based store-bought milk or one of the following: Almond, coconut milk, homemade oat milk, homemade cashew milk, flax milk, potato milk, quinoa milk, etc.
Calories:
378
kcal
|
Carbohydrates:
62
g
|
Protein:
6
g
|
Fat:
14
g
|
Saturated Fat:
6
g
|
Polyunsaturated Fat:
2
g
|
Monounsaturated Fat:
3
g
|
Trans Fat:
1
g
|
Sodium:
245
mg
|
Potassium:
299
mg
|
Fiber:
5
g
|
Sugar:
33
g
|
Vitamin A:
30
IU
|
Vitamin C:
4
mg
|
Calcium:
139
mg
|
Iron:
4
mg
Vegan Chocolate Bourbon Banana Bread.