These Vegan Red Velvet Cupcakes + Bourbon Vanilla Buttercream are the perfect way to indulge your sweet tooth this season without the dairy! They are filled with decadent, rich flavor and comes completely fluffy, moist, and incredibly airy. Whipped together in the matter of a few short minutes, these cupcakes are an easy treat for everyone involved----adults that is! Enjoy these as traditional cupcakes or transform them into a cake! All vegan ingredients. Entirely oil-free.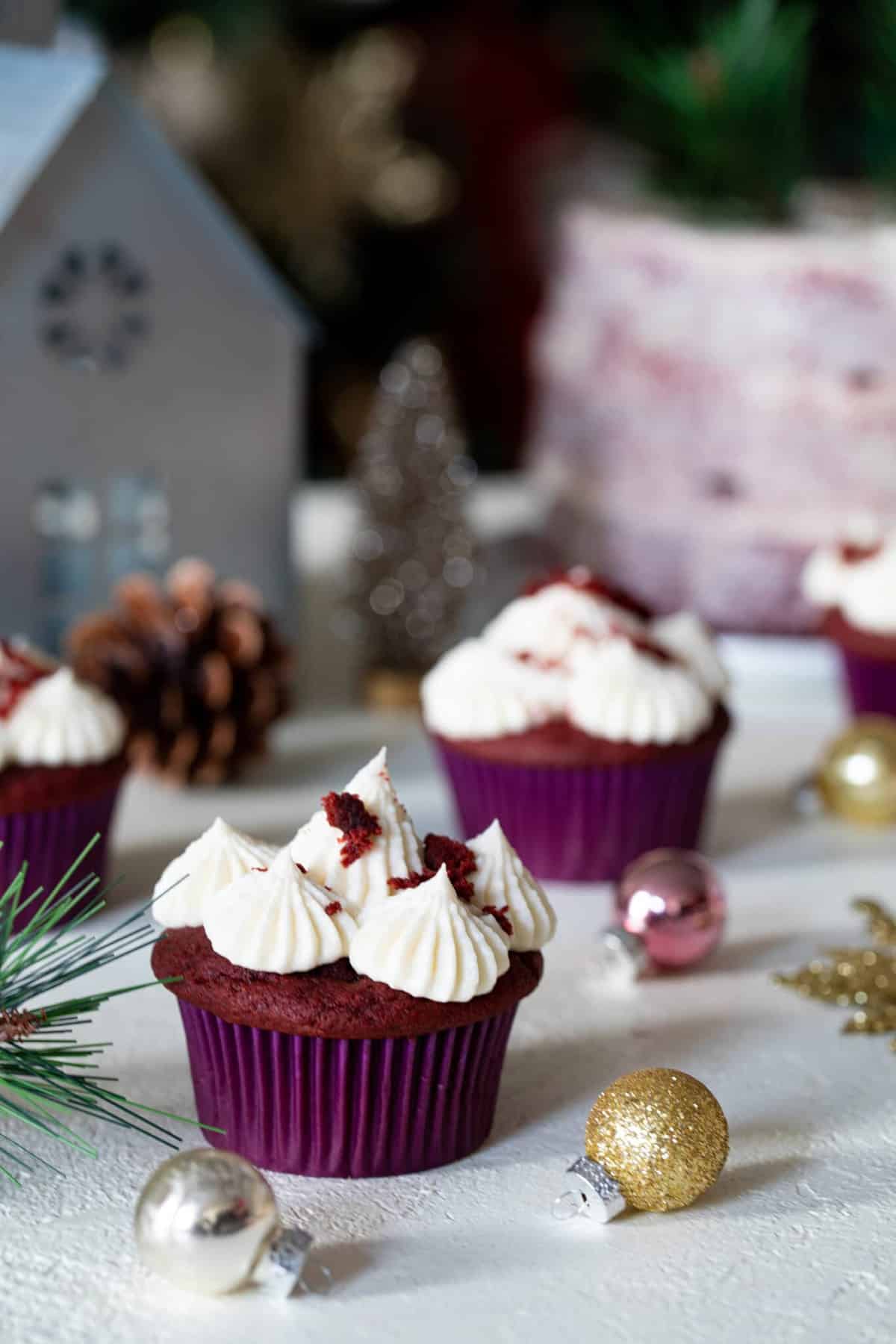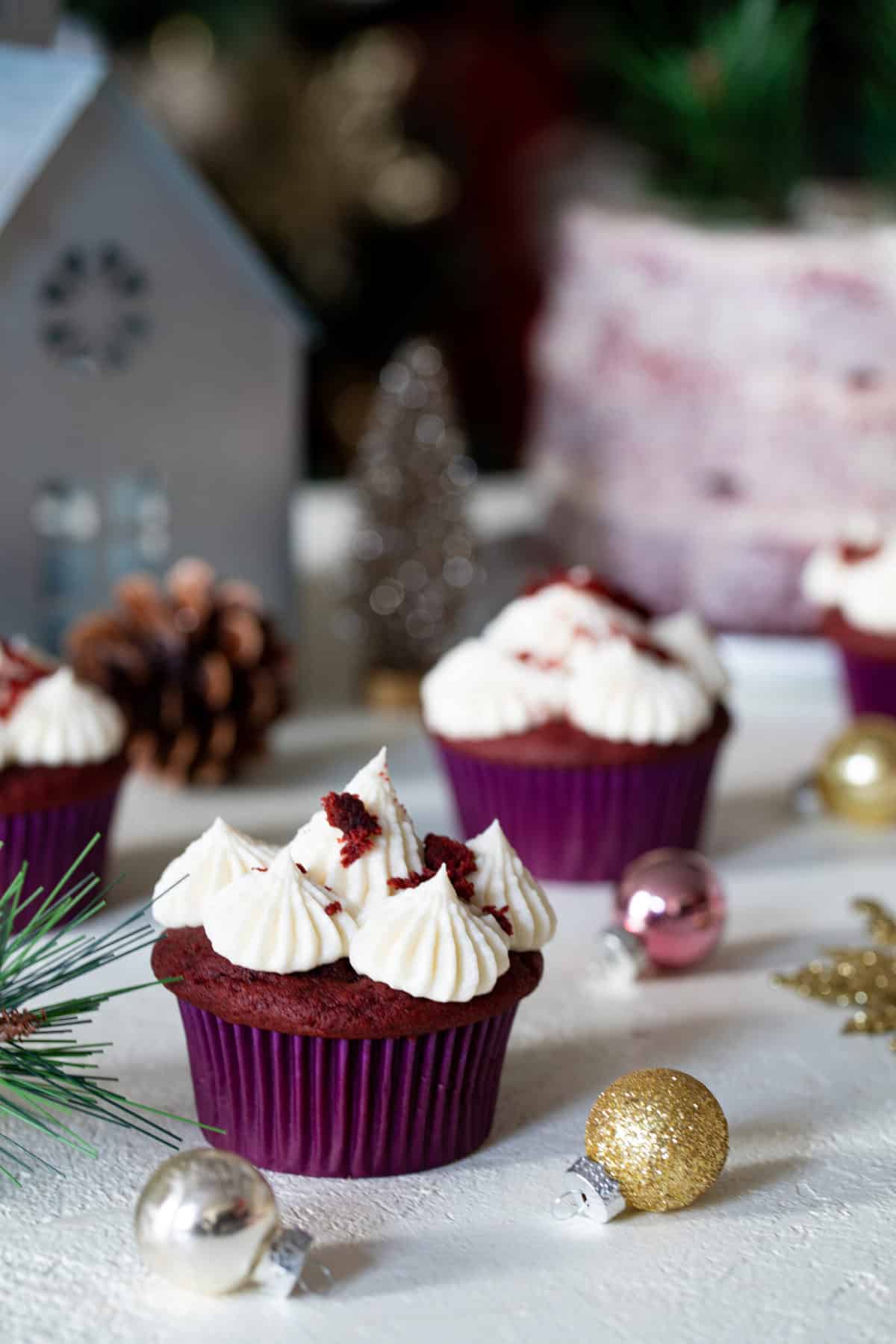 This post contains affiliate links via Amazon + sponsored links by Wholesome Sweet.
Why Vegan Red Velvet Cupcakes + Bourbon Vanilla Buttercream?
OK, so when it comes to Red Velvet, you're aware that this classic recipe is something truly special, especially around the Holiday season. There's nothing like a delicious piece of Red Velvet ANYTHING which often comes paired with a beautiful Cream Cheese topping----am I right?
Well, the awesome thing about this recipe is that although it doesn't use the traditional Cream Cheese topping, this Bourbon Vanilla Buttercream doesn't miss a beat at all when it comes to satisfying those taste buds. This buttercream is totally creamy, fluffy, and has a nice "rich bourbon-vanilla" taste. Of course, you can always omit the bourbon to create a traditional Vanilla buttercream for the kids to enjoy along with you! It'll still taste just as satisfying.
Over the past year or so, I've really made it a mission to perfect vegan cupcakes and cakes. If I'm honest, those were the two type of desserts that I struggled with when starting this recipe development journey, however, I have learned a TON a long the way and wanted to include a few tips that might be of great help to you as well!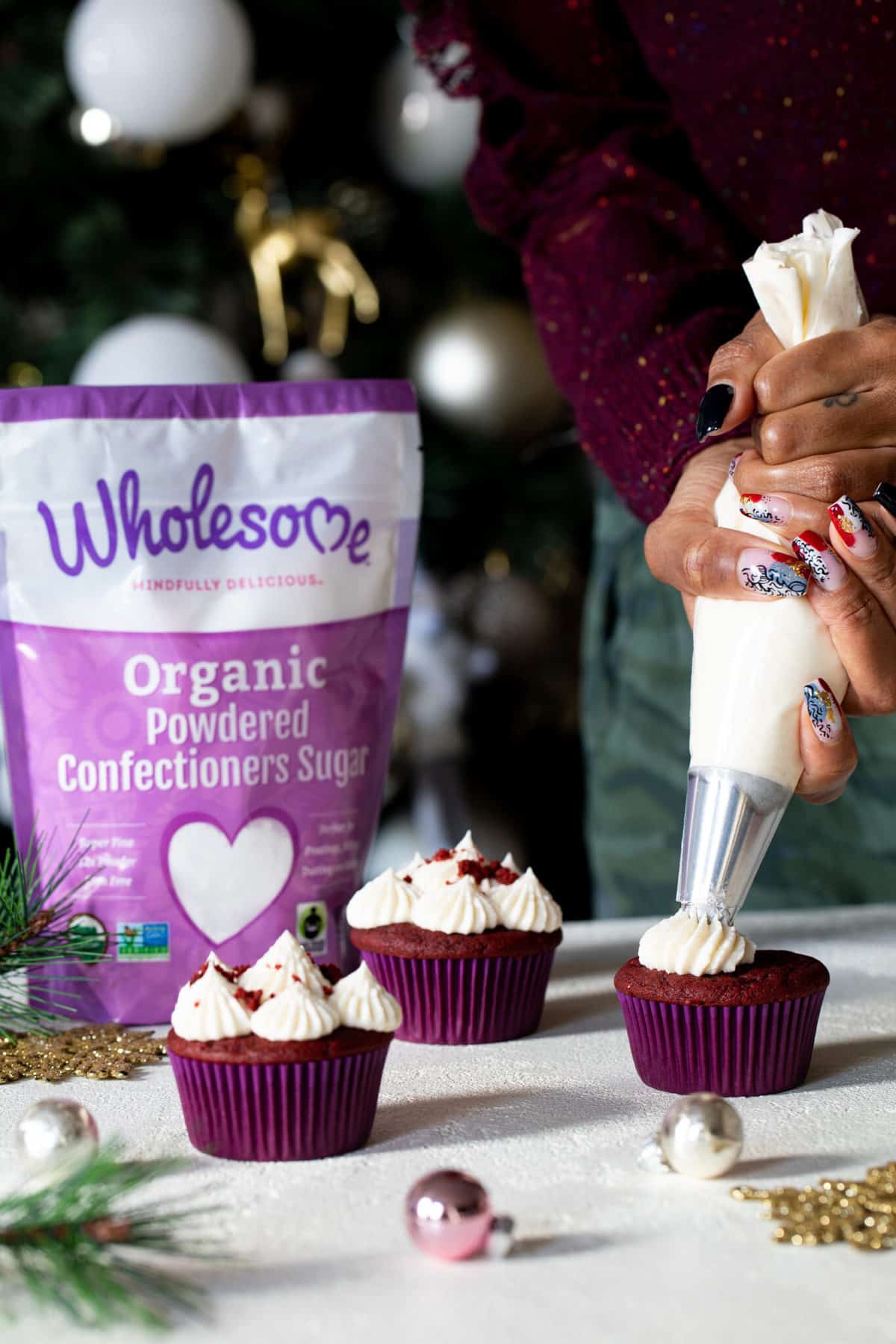 5 TIPS TO MAKING PERFECT CUPCAKES.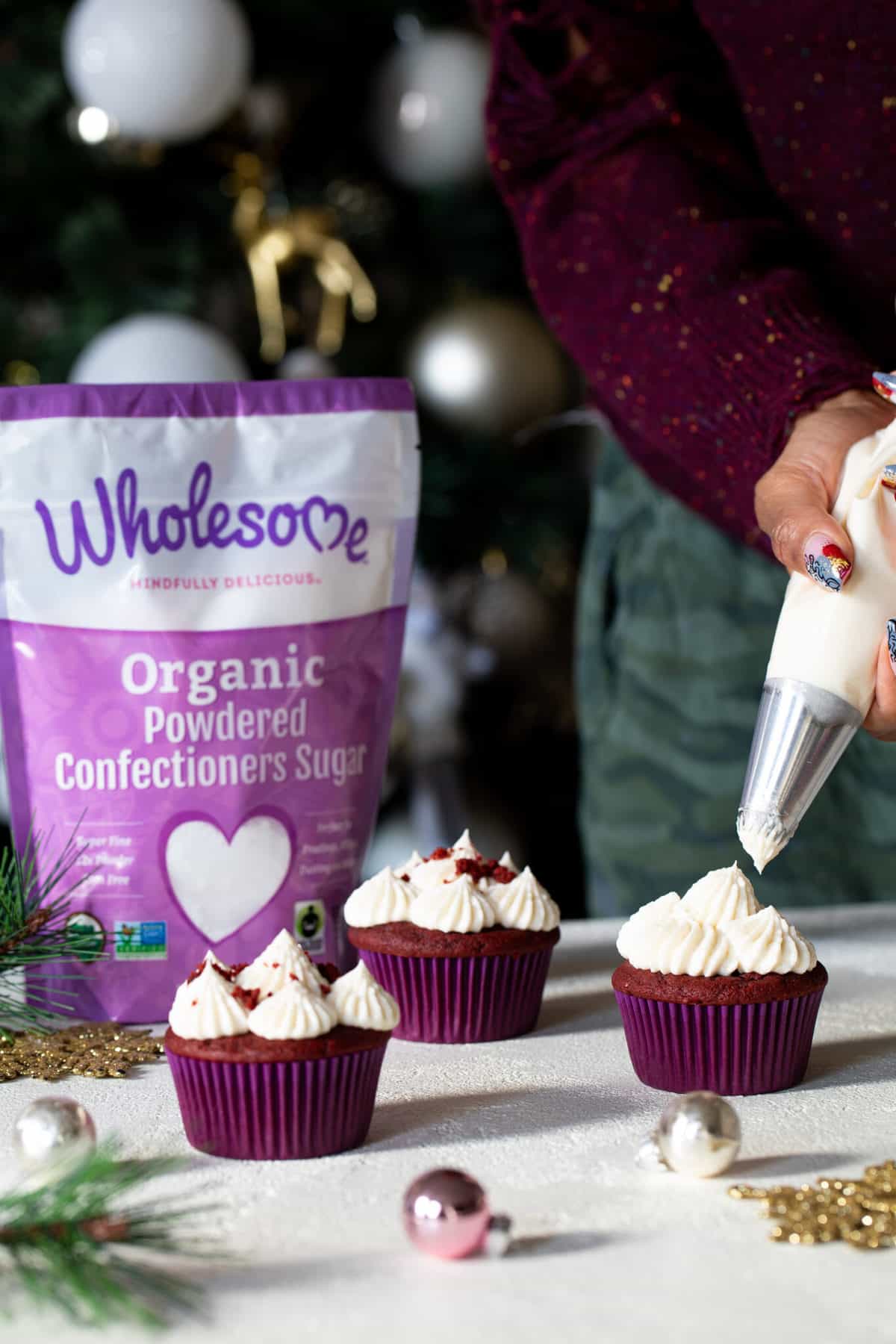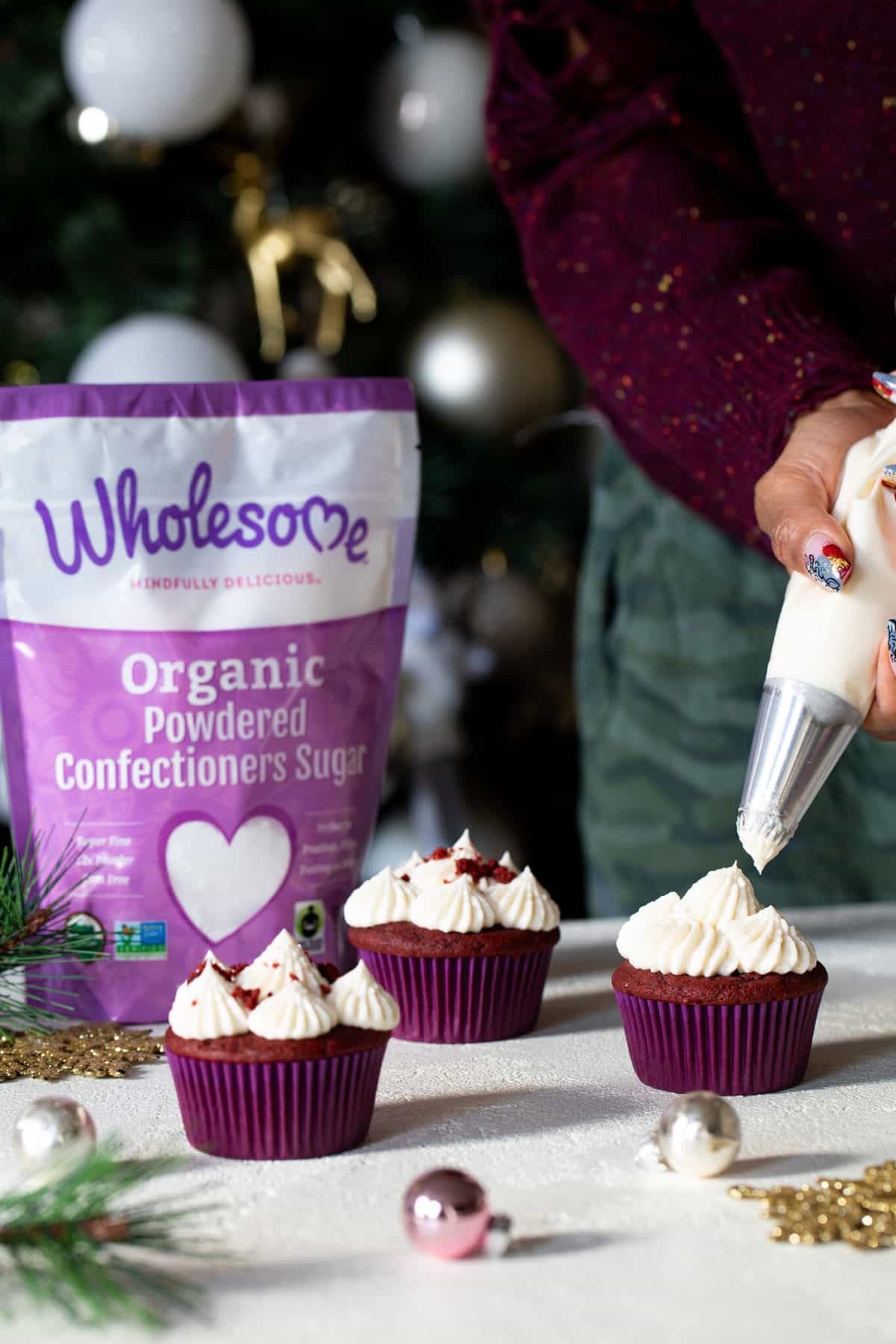 #3: ALWAYS KEEP THINGS FRESH!
I know that this is a common mistake, especially for those of us who aren't daily bakers. Ensure that your ingredients (flours, etc.) are fresh and haven't been sitting there for months improperly sealed, etc.
Also, ensure that your leaveners (baking power + baking soda) are fresh. This is super important and often is the culprit in flatter baked goods.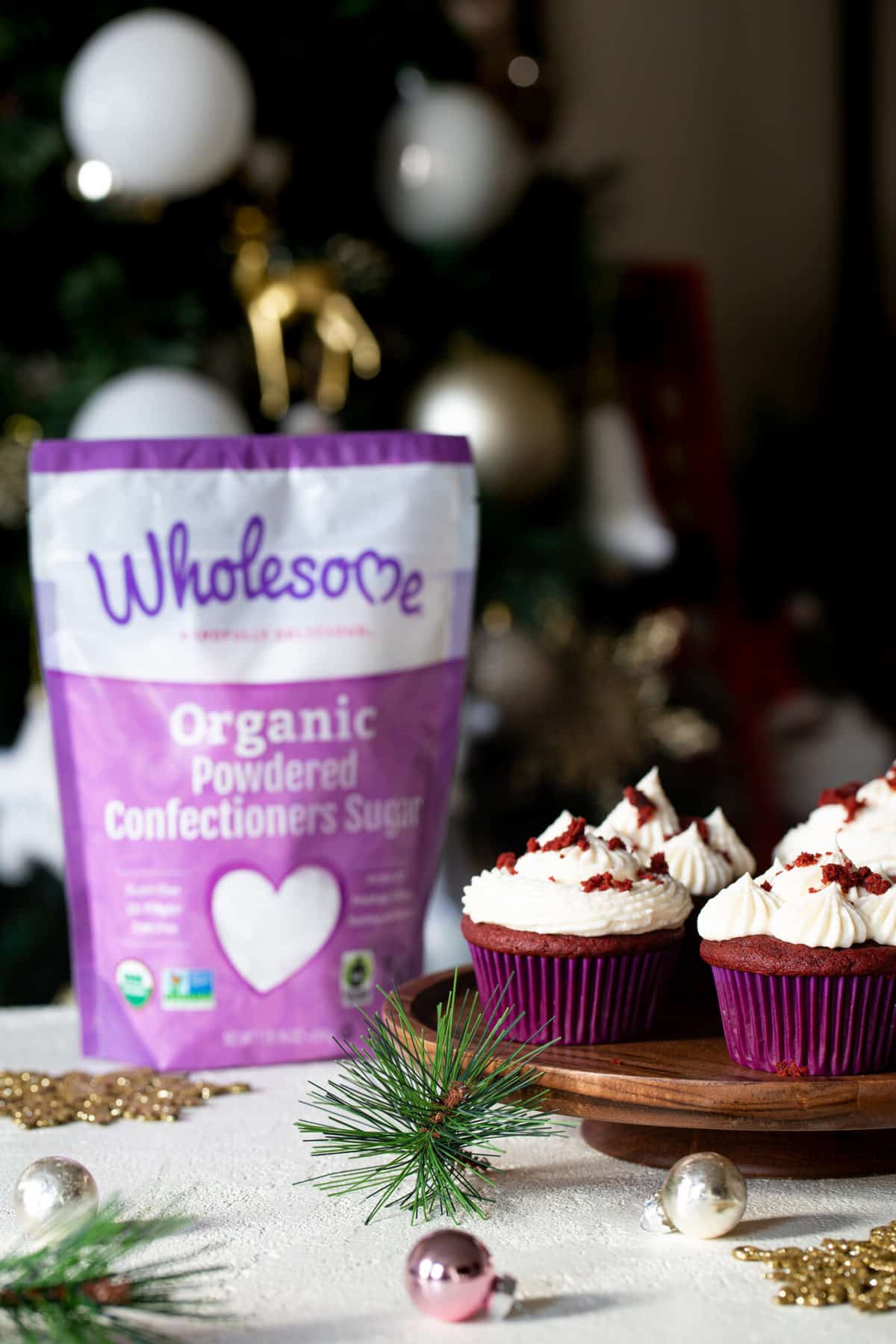 #4: DOUBLE PROTECTION IS BETTER THAN ONE!
While using cupcake liners are a huge lifesaver when making it easier to remove your cupcakes after they are ready, ensuring that you not only use high quality liners, but that you also lightly spray the inside of your liners with a cooking spray HELPS A TON! Don't you just hate when your cupcake inevitably gets stuck on one of those cupcake liners?
#5: WHEN IN DOUBT, THROW THEM OUT. Haha.
Last but not least, always ensure that your batter is JUST RIGHT. With cupcakes, your batter should be slightly thick and not extremely watery. This allows them to come out fluffy and not too wet. Therefore, always slowly add in the wet ingredients (while mixing) to ensure that your batter isn't too crazy liquid-y to the point that it looks like your scooping up milk. When it doubt, throw it out and start again. Trust me, it's best that way!
Believe me, after making small adjustments (like the ones mentioned in my tips above), I began perfecting cupcakes, which has been the best feeling in the world! Haha.
What You'll Need For These Cupcakes?
Wholesome Organic Cane Sugar – A great sweetener option using all organic ingredients
Wholesome Organic Powered Sugar – The base of your buttercream
Cake Flour – Creates a nice airy, fluffiness to cupcakes, BUT all-purpose flour can be substituted
Almond Milk – Makes things nice + soft; Sub with your fave plant-based milk
Cocoa Powder – The epitome of Rich chocolate flavor
Vanilla – A great addition of flavor and marries everything together
Bourbon – A nice note of vanilla, oat, and caramel flavor
ACV — Mixed in with the milk to act as an acid agent for the leaveners to activate
Baking Soda + Baking Powder — Very important leaveners for your cupcakes. You can sub baking powder with arrowroot
Vegan Butter — Creates a beautiful fluffy, velvety buttercream
Vegetable Shortening — Together with vegan butter, creates a beautiful fluffy, velvety buttercream
Vegan Butter (melted) – The best sub for an oil-free cupcake. Can be subbed with vegetable oil
Red Food Coloring – The color agent that adds the beautiful redness to Red Velvet. Vegan-friendly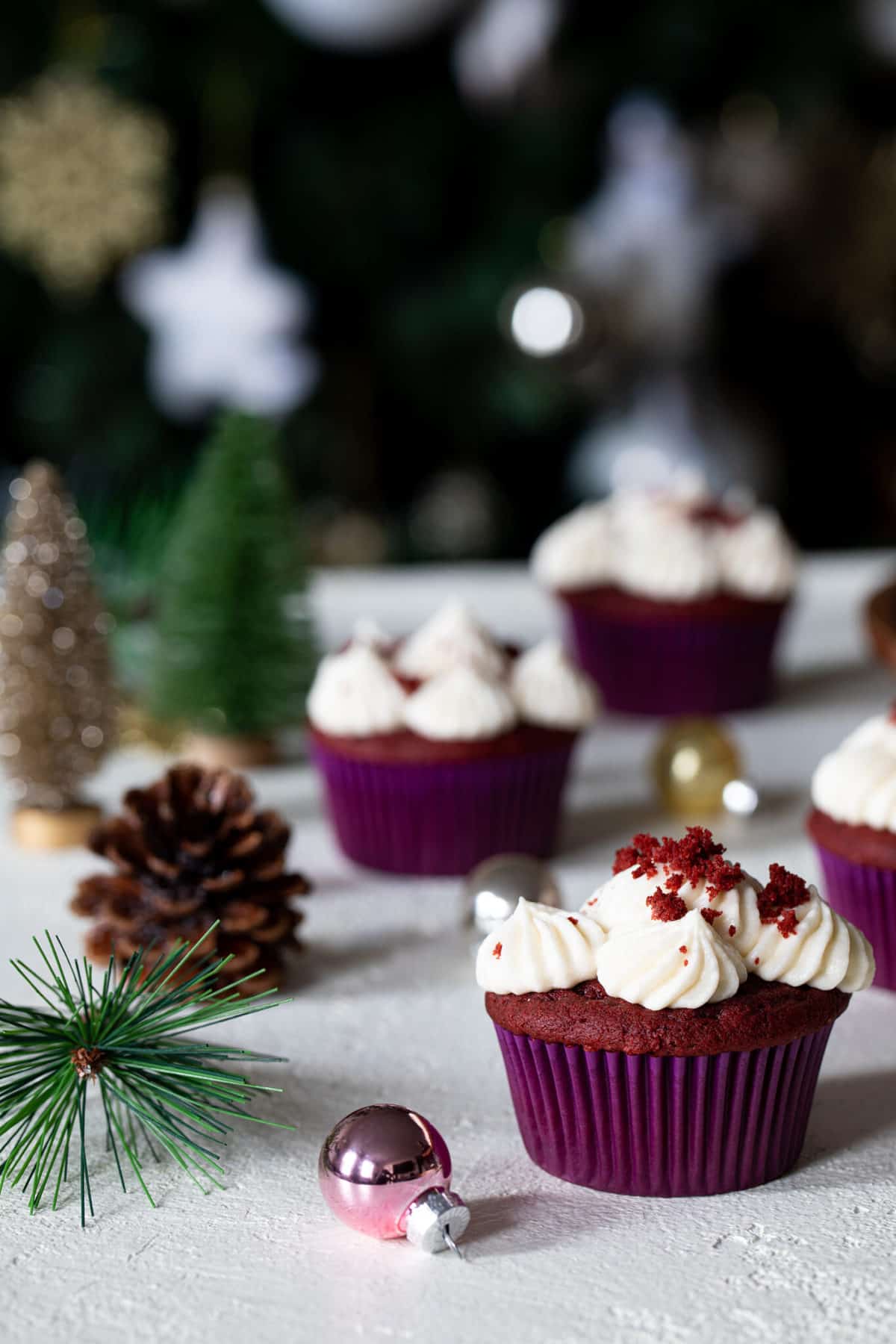 Who is Wholesome Sweeteners? Why Try Them?
So, of course, I needed to take a moment to talk about my friends at Wholesome! If you've been an avid follower of Orchids + Sweet Tea, then you're probably already familiar with their products since I use and list their products in my recipes pretty often!
I'm a huge believer in using quality, organic ingredients for my recipes and Wholesome believes in the same mission when creating their products.
As a whole, Wholesome believes in Real Taste, True Choices, and a Promise for a Better World, which not only affects us as consumers, but also the farmers and beekeepers which is so important. Of course, you can read more about their story on their site.
Which Wholesome Sweetener Option Works for these Cupcakes?
With these cupcakes, I used both Wholesome's Organic Cane Sugar and Organic Powdered Sugar. Of course, you can choose to sweeten your cupcakes with a non-granulated sweetener such as their Organic Blue Agave as well. Either way, Wholesome has you covered with a variety of sweetener options which include Honey, Syrups, Molasses, Brown Sugars, Zero Calorie Sweeteners, and the list continues.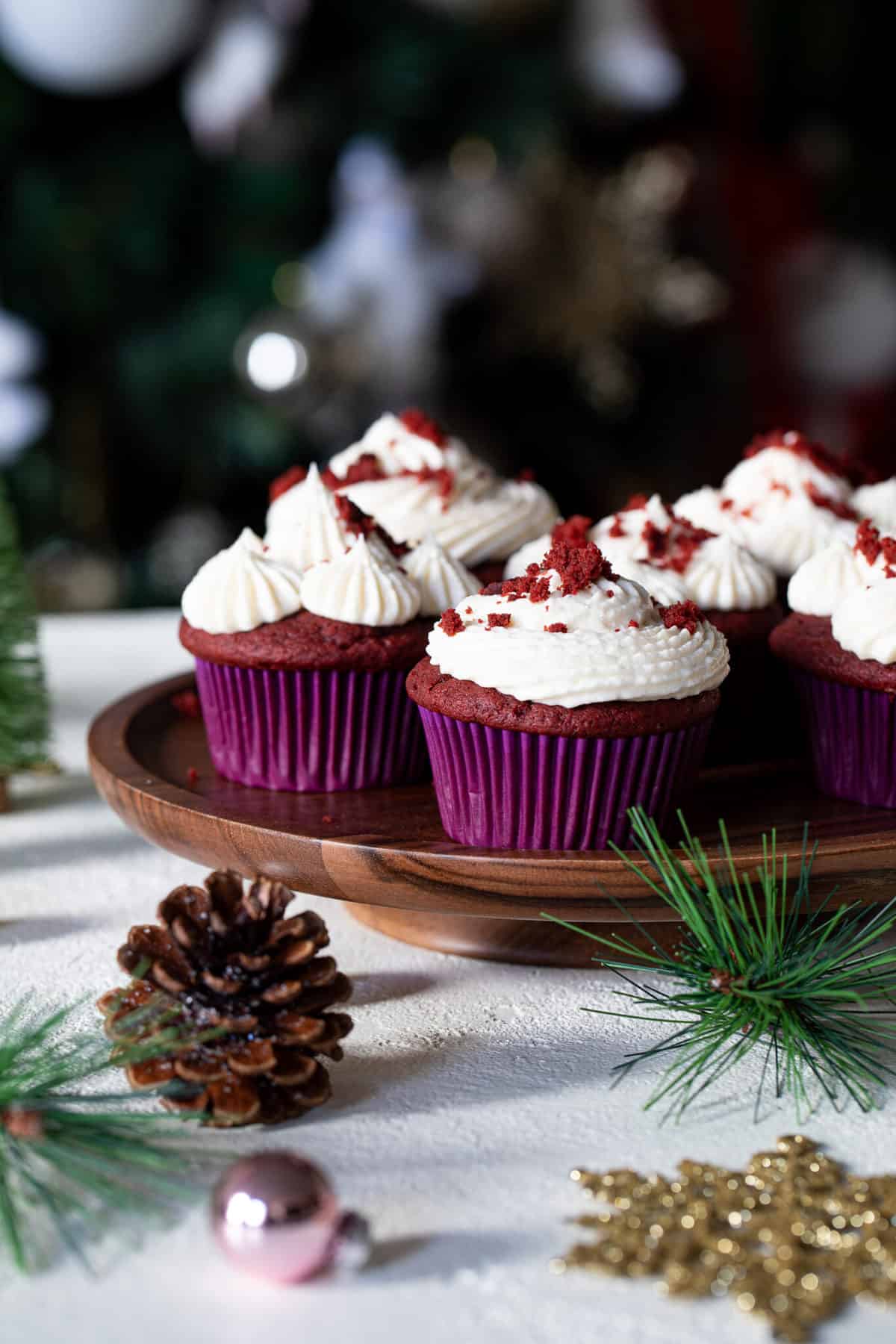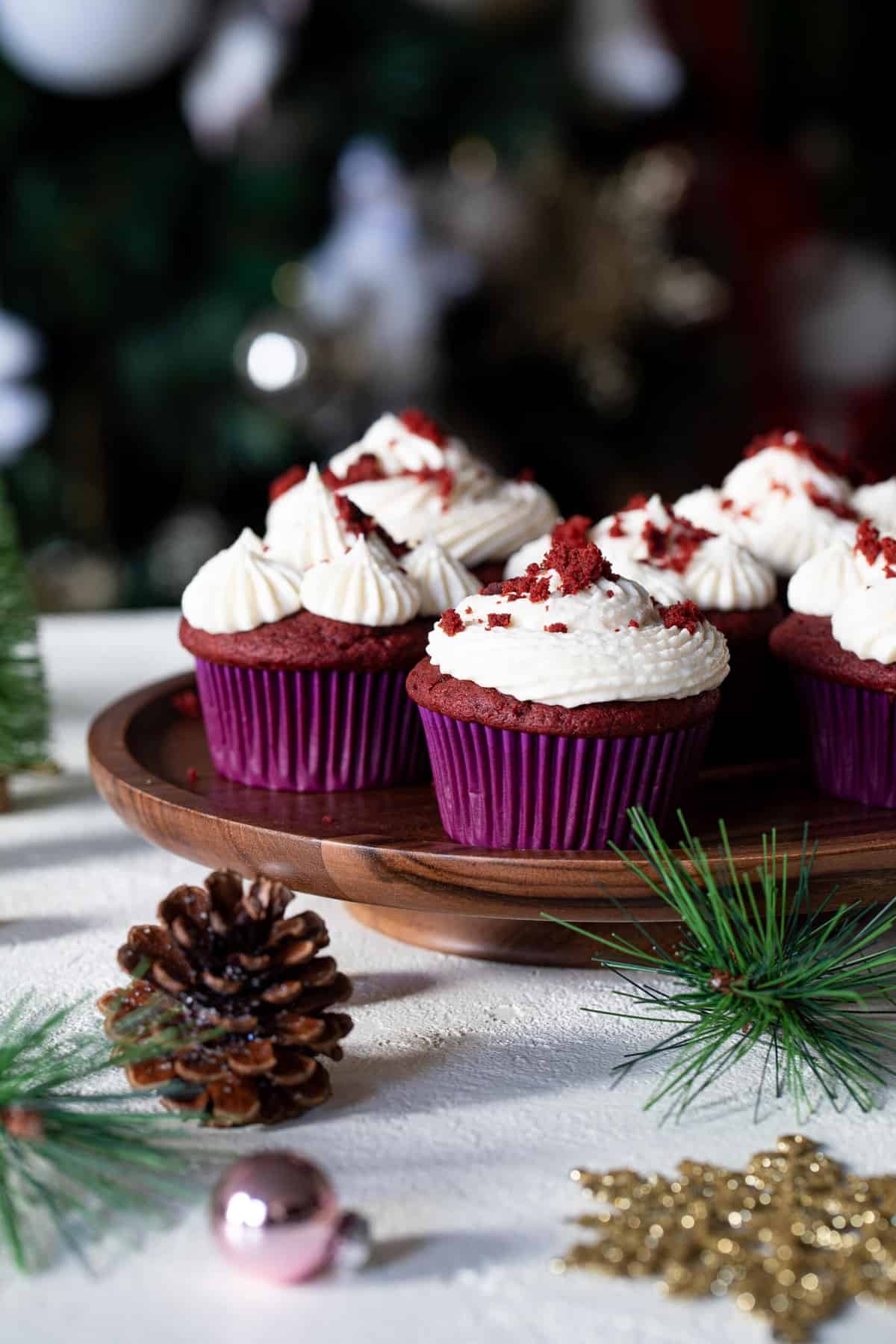 So, How Can I Make these Cupcakes Red + Healthy?
Achieving the red color requires some form of 'dyeing' your batter. In this recipe, I chose to use a Vegan approved food coloring to make things easier, however, there are other great ways to achieve the same color without any extra chemicals:
Use beet puree (there are plenty of recipes on making your own beet puree to add in!)
When it comes to making a beet puree, you simply roast them and place them in a food processor like you would any other type of puree (sweet potato, pumpkin, etc.).
The awesome part is that by using pureed beets, you can come out with a naturally, perfect red color for any red velvet recipe that you chose!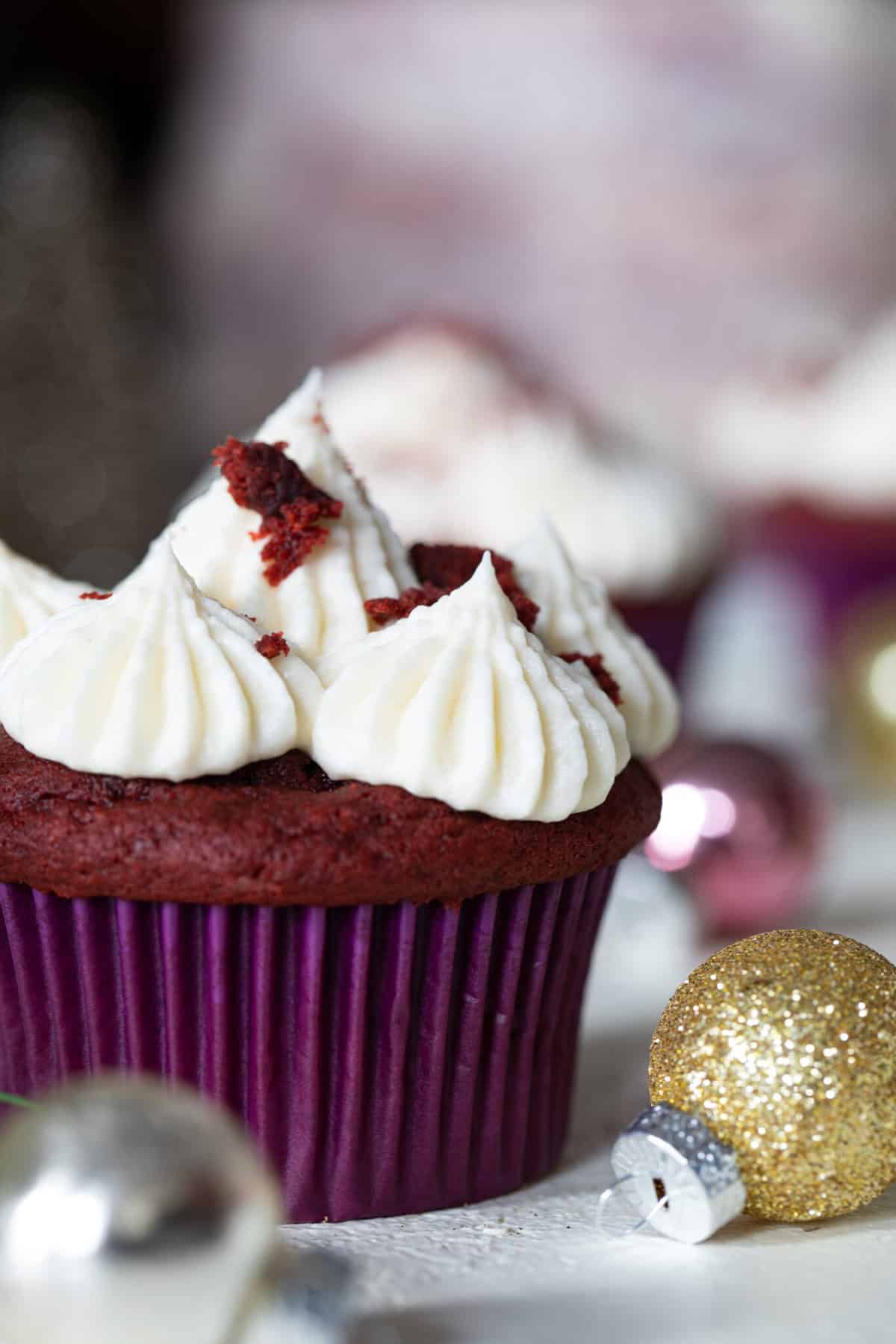 What You'll Love Most About These Red Velvet Cupcakes.
Very easy to whip together. Literally one-bowl needed for cupcakes.
Ready in less than 30 minutes TOTAL—-including prep.
Warm and comforting with EVERY SINGLE BITE.
Super moist + fluffy on purpose.
Loaded with decadence and delicious Holiday flavors.
All dairy-free, vegan, + entirely oil-free.
Makes for the perfect sweet treat for adults + kids alike (minus the Bourbon).
Did I mention—–just delicious?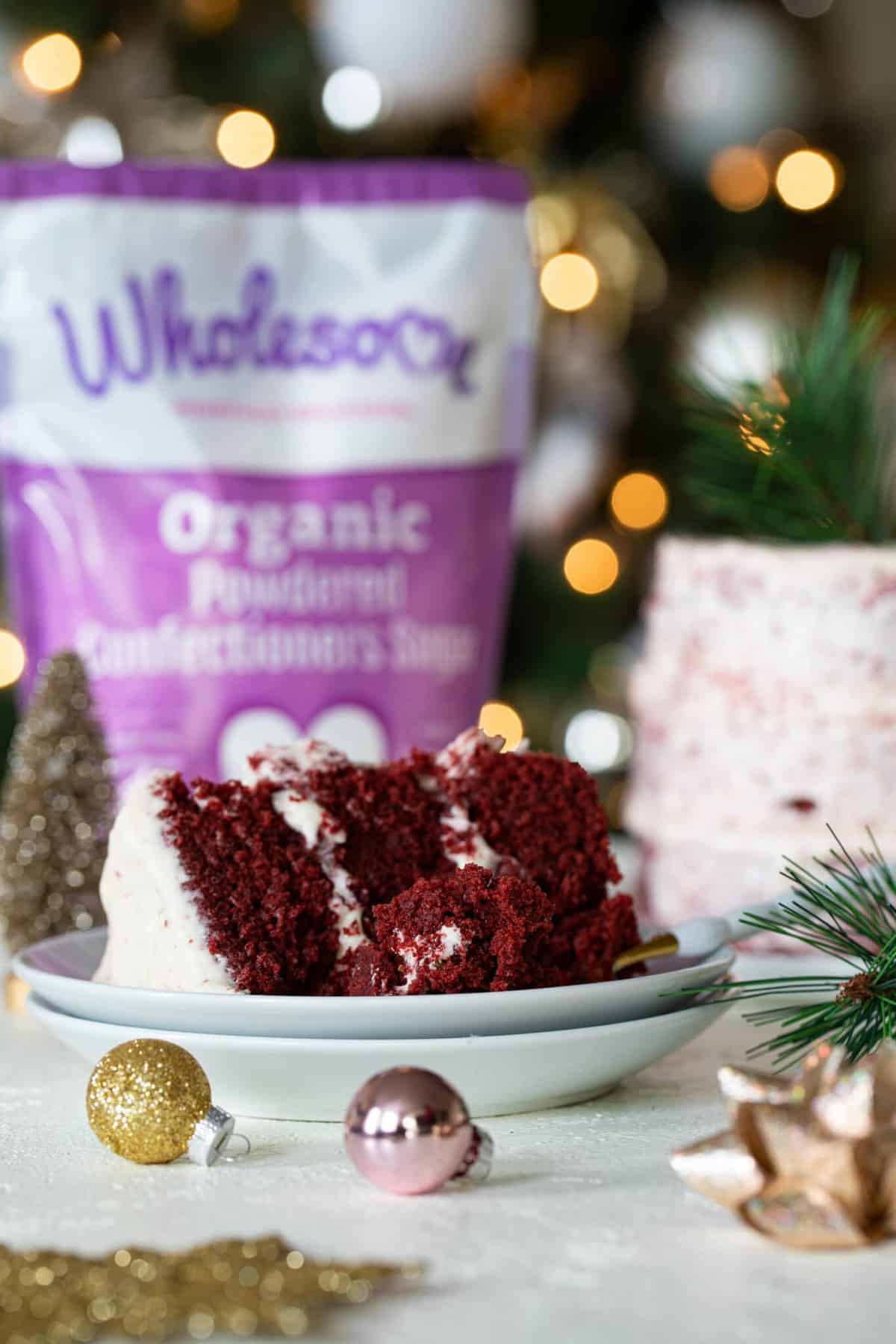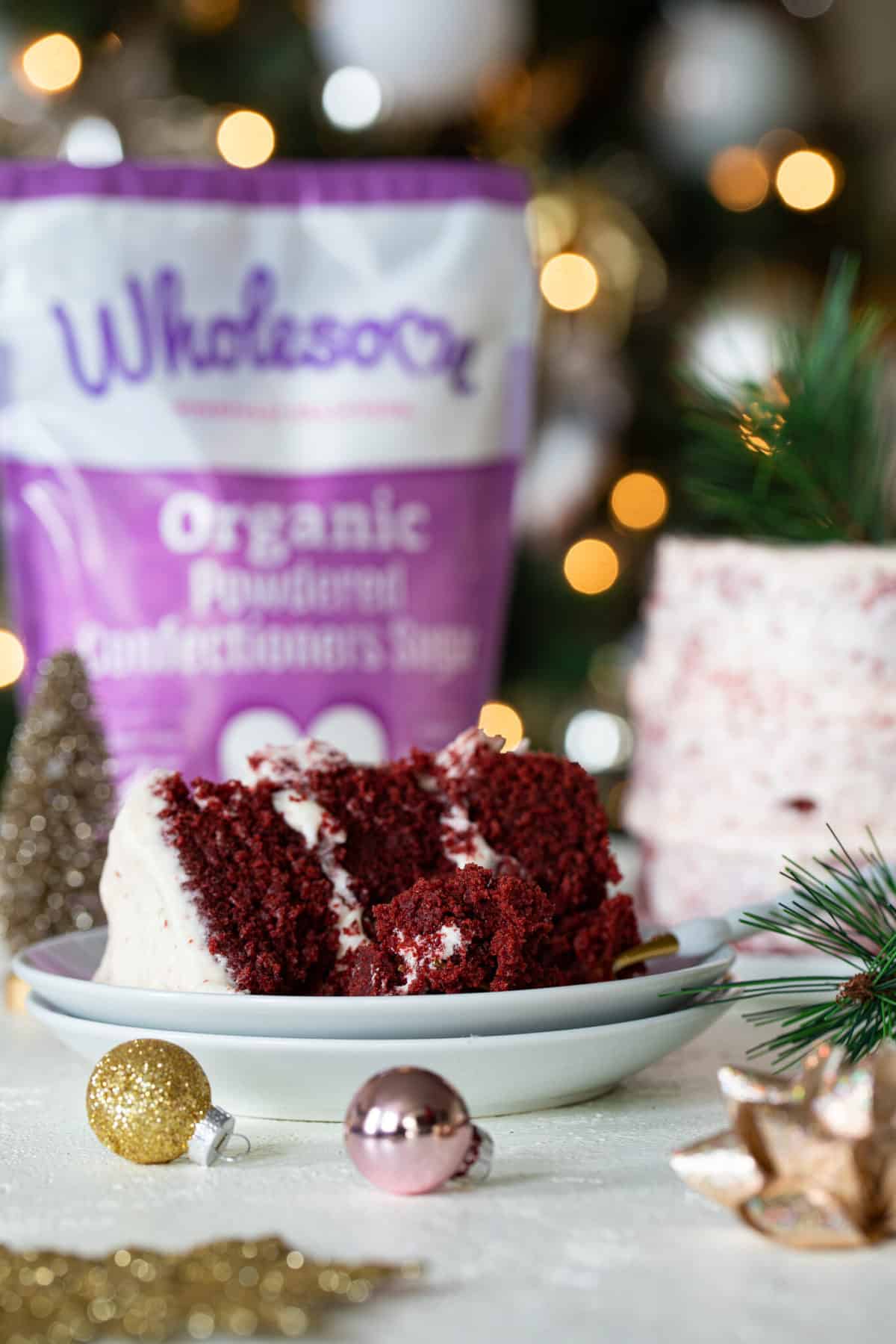 COMMON Q + A'S ABOUT THESE CUPCAKES.
HOW LONG WILL THESE CUPCAKES LAST FOR?
When tightly wrapped + refrigerated, these cupcakes can be stored for 3-4 days. However, you can freeze them for up to 6 months (unfrosted) and then thawed, heated, and then cooled before adding buttercream.
CAN THESE CUPCAKES BE MADE AHEAD?
Absolutely! You can always bake these cupcakes the night or day before and let them cool, tightly wrap, and refrigerate until ready to use. The buttercream frosting can also be made prior and tightly wrapped and stored in the fridge as well. When ready to serve, let cupcakes sit at room temperature for 30 minutes to an hour, frost, and enjoy!
DO I NEED CAKE FLOUR?
In all honesty, I tend to use Cake Flour by itself when I decide not to mix it in with All-Purpose Flour. Using Cake Flour alone makes your cake/cupcakes even more soft, fluffy, and moist! Of course, you can always use All-Purpose Flour solely if you don't have Cake Flour.
WHY ARE THE INGREDIENTS AT ROOM TEMPERATURE?
When it comes to ingredients, especially in baking, it's always best to have cold ingredients at room temperature to ensure that the mixing process is more seamless and even. Please note that microwaving your butter last minute if you forget to leave it out at room temperature isn't recommended. Microwaving often changes the consistency of the butter which doesn't create a nice 'creaminess' when mixed.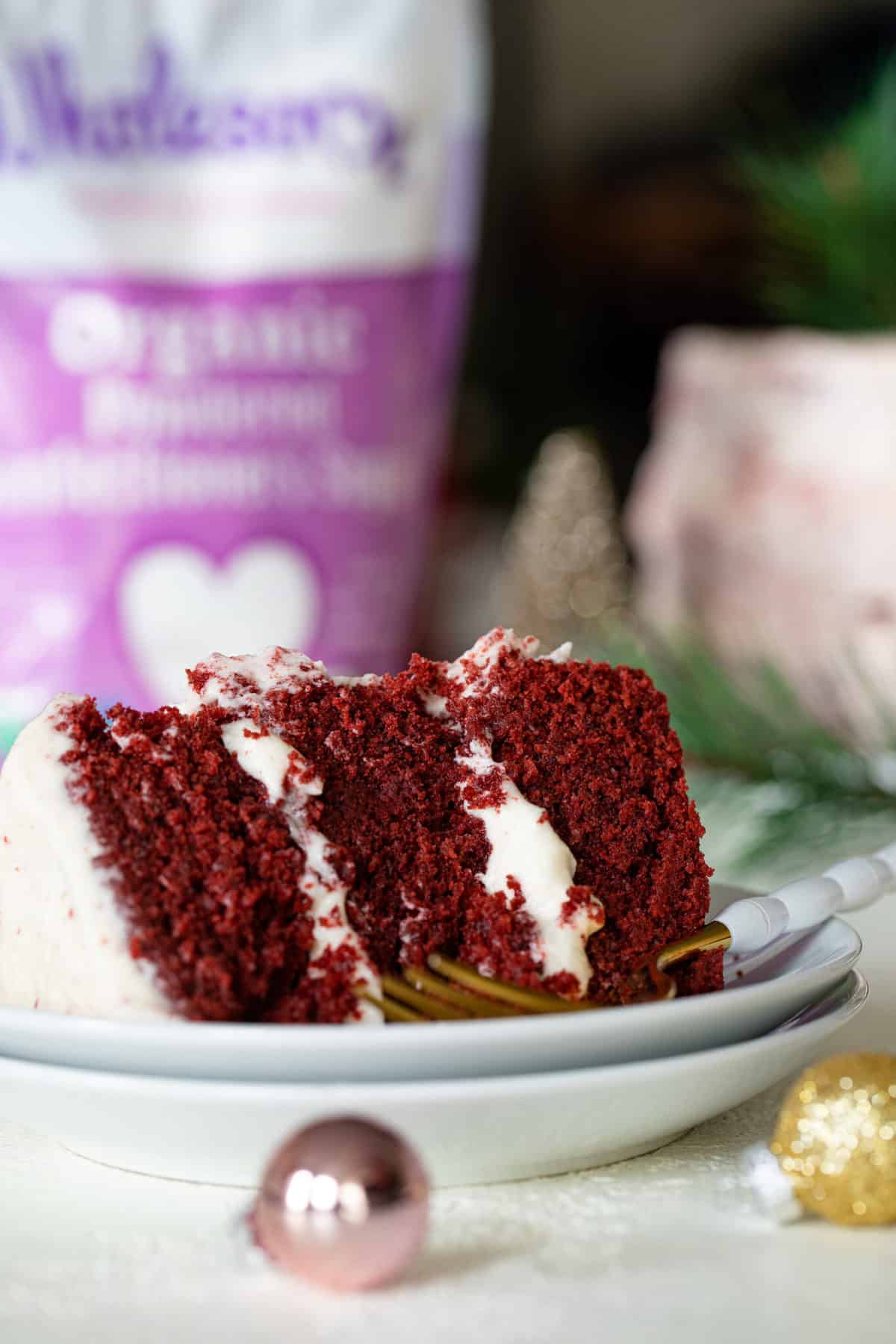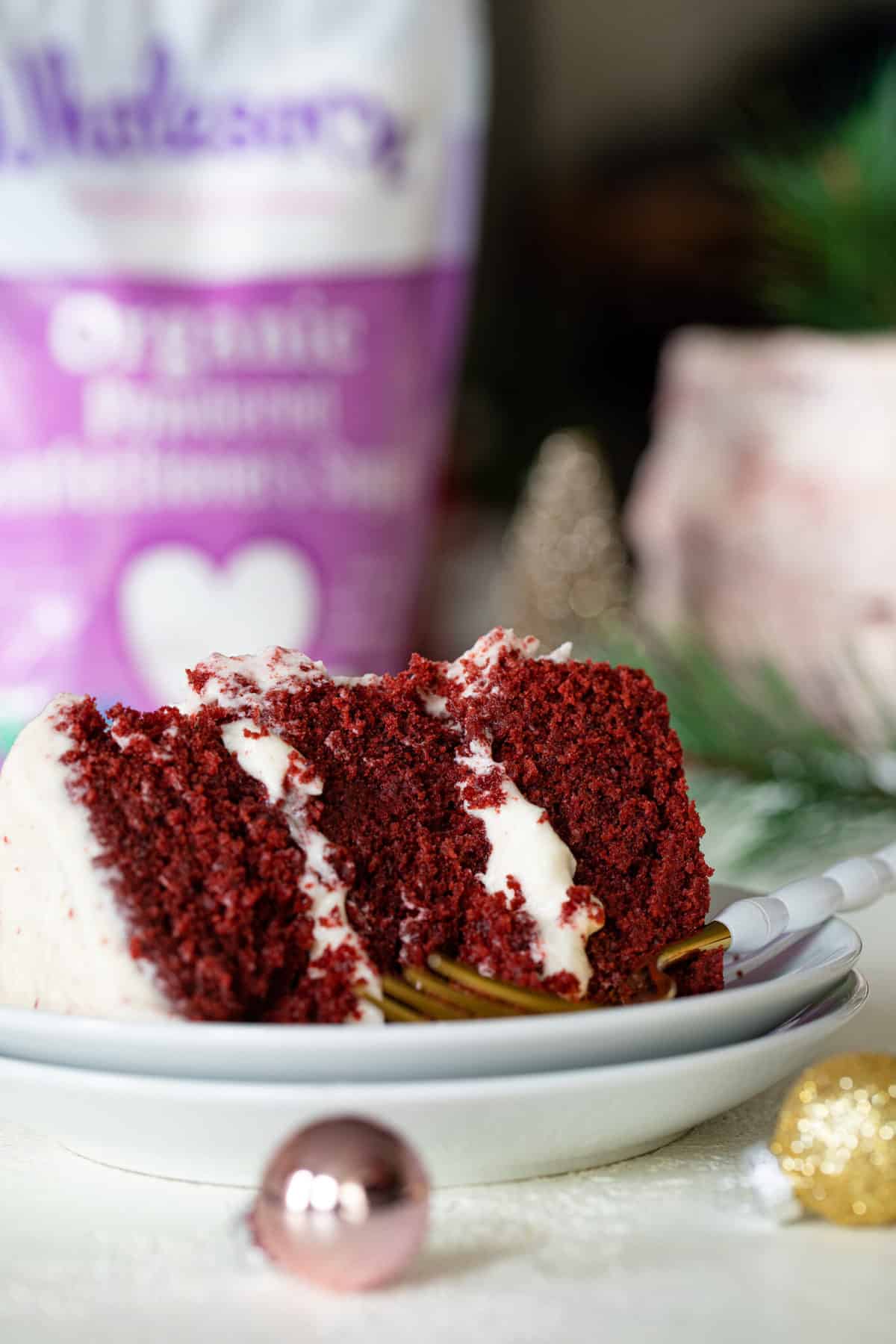 CAN TURN THESE CUPCAKES INTO A SINGLE OR 2-LAYER CAKE?
Absolutely! You can always use the same measurements of the ingredients to create a nice single layer cake OR double the ingredients for a beautiful 2-layer. The bake times will vary slightly (only a few minute longer), but the transition is pretty easy + simple.
WHAT MAKES RED VELVET DIFFERENT FROM CHOCOLATE?
Although both Red Velvet + Chocolate Cake contain cocoa powder, there is a distinct difference. Unlike Chocolate Cake, Red Velvet contains a combination of vinegar and 'buttermilk', which is super important for the texture and taste. In addition, Red Velvet is a lot more rich and fine in taste as opposed to Chocolate.
WHAT FROSTING FLAVOR GOES WELL WITH RED VELVET?
As mentioned earlier in the post, Red Velvet often comes paired with a Cream Cheese Frosting. However, there are so many other pairings that work perfectly with Red Velvet, such as: Classic Vanilla, Bourbon Vanilla (as this recipe), Chai, White Chocolate, and Cookie + Cream.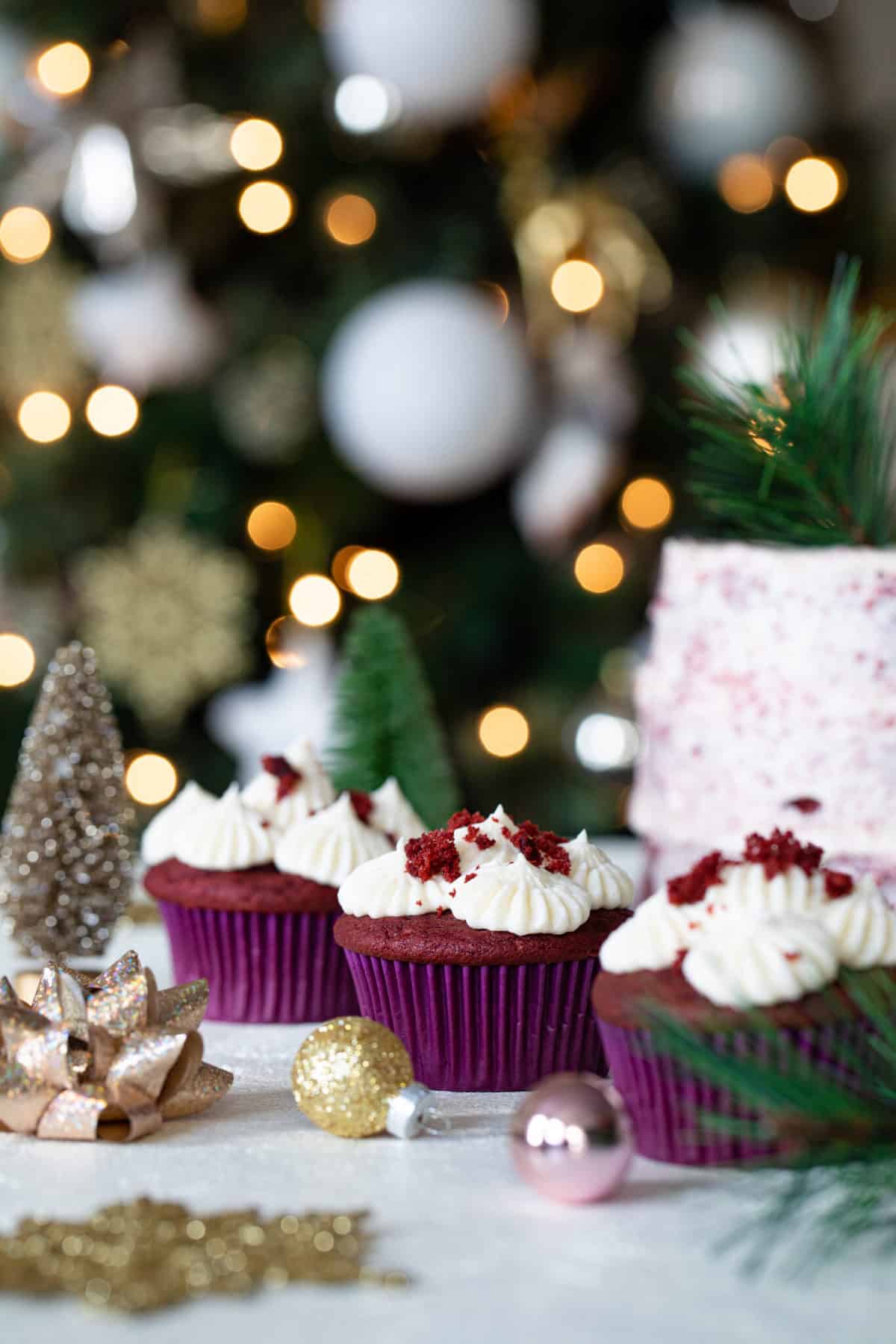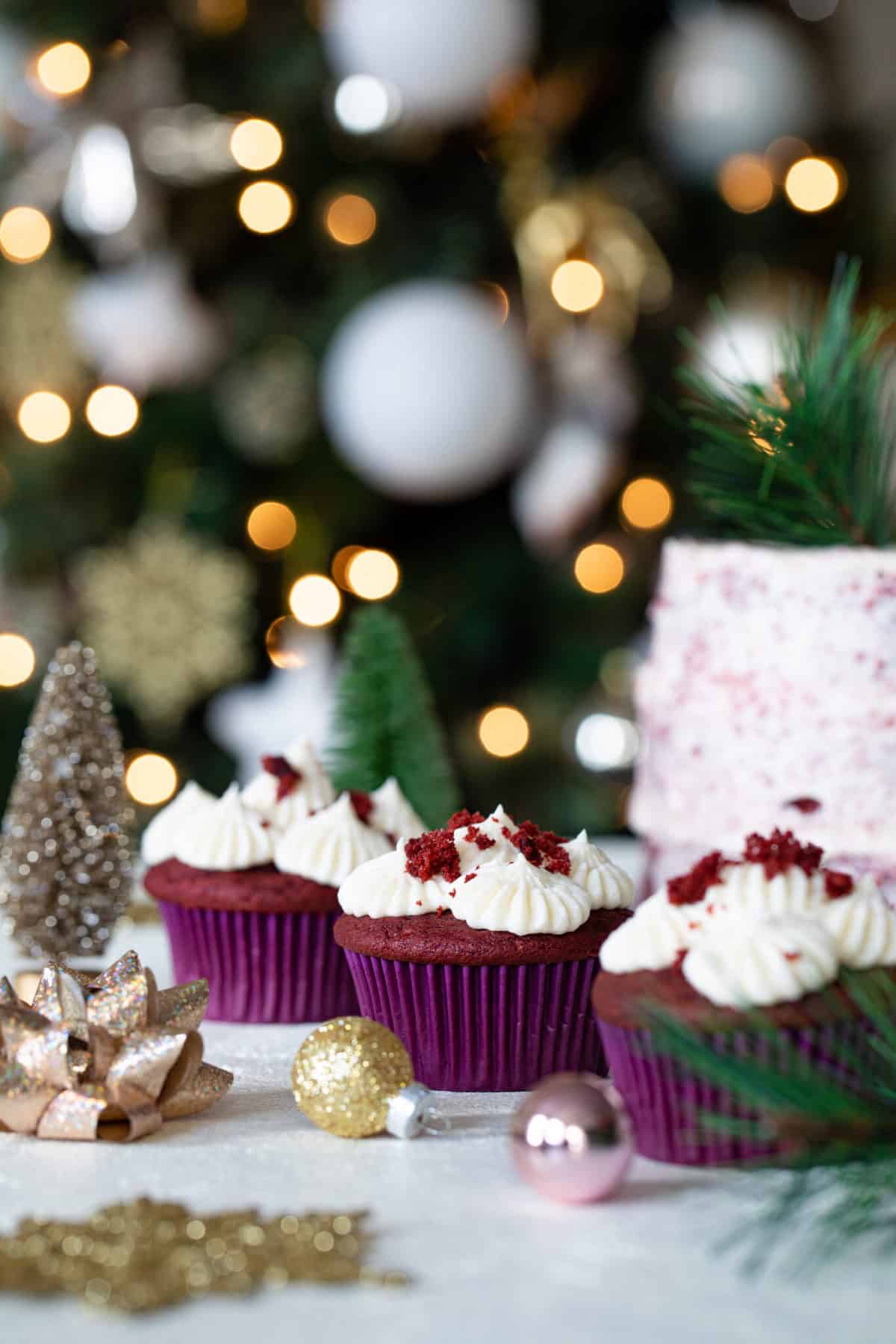 4 Fun Facts About Red Velvet.
Did you know that there were interesting facts about Red Velvet? Yup and of course I had to share my finding from Food and Wine:
Red Velvet Cakes dates back to as far as the 19th Century!
It wasn't originally accepted!
The "Red Color" idea came from a Guy who wanted to sell more food dyes.
A study shows that Red Velvet is a part of 4.3% of all items on menus in 2013. That's A LOT!
NEED CUPCAKE IDEAS? TRY THESE RECIPES.
These Easy Pumpkin Chai Cupcakes are a delicious flavor battle between two classic flavors—-pumpkin + chai.
These Vanilla Cupcakes with Sprinkles are the best + most favorite cupcakes I've made. Soft, fluffy, + extra moist, these cupcakes are bursting with bold vanilla flavor in every bite.
These Best Banana Cupcakes + Maple Buttercream are classic flavors that never get old, but together they are even more PERFECT!
These Homemade Vegan Funfetti Sprinkles Cupcakes are a tasty, healthier option to your classic childhood favorite—funfetti Birthday Cake!
Vegan Red Velvet Cupcakes:
¾

cup

Wholesome Organic Cane Sugar

1 ½

cups

 Super fine cake flour

(I use Bob's Red Mill; See Notes!)

3

Tbsps

cocoa powder, unsweetened

1 ½

tsps

baking powder

½

teaspoon

baking soda

½

teaspoon

sea salt

1

cup

Almond milk + 1 Tbsp! 

(You can use your fave plant-based milk)

1

tablespoon

apple cider vinegar

3

Tbsps

vegan butter, melted

(See Notes!)

1

teaspoon

vanilla extract

1-2

Tbsps

organic red food coloring, vegan-approved

(See Notes!)
Bourbon Vanilla Buttercream:
4-5

cups

Wholesome Organic Powdered Sugar, sifted

¼

cup

vegan butter spread

¼

cup

organic vegetable shortening

1

teaspoon

vanilla extract

2-3

Tbsps

bourbon

1-2

Tbsps

Almond milk

pinch of

sea salt
Preheat your oven to 400 degrees Fahrenheit and prep your cupcake pan with liners + spray.

In a measuring cup, add the Almond Milk and Apple Cider Vinegar, mixing until well combined and let it sit for 10 minutes.

In a large bowl, whisk together the flour, baking soda, baking powder, cocoa powder, cane sugar, and sea salt. Set aside.

Add the Milk-ACV mixture, melted vegan butter, red food coloring, and vanilla and using a rubber spatula, mixing until everything is well combined (and smooth) and no lumps are visible. DO NOT OVER-MIX!

Scoop the batter into each cupcake liner (¾ full) and bake at 400 degrees Fahrenheit for the FIRST 5 minutes. Then reduce temperature to 350 degrees Fahrenheit and continue baking for another 14-17 minutes or until a toothpick comes out clean in the center.

Once done, turn off oven and keep cupcakes inside with the oven door slightly open for about 2 minutes before taking them out.

Let them cool COMPLETELY before frosting.
Bourbon Vanilla Buttercream:
In the bowl of an electric mixer (attached with a paddle), beat the butter and shortening on high speed until smooth and creamy, about 2 minutes.

Turning the mixer on low, add ½ the powered sugar along with the milk, vanilla, bourbon, and salt, mixing them together until well combined. Add the remaining powered sugar mixture and mix until well combined. **NOTE: If buttercream is too 'runny', add additional powdered sugar (1 Tbsps at a time); if too thick, add additional heavy cream (1 tablespoon at a time).**

Add buttercream to a piping bag and pie onto cooled cupcakes. 

Bon Appetit!
STORAGE: Best kept if stored in an air-tight container in the refrigerator for up to 7 days (unfrosted) and 3-4 days when frosted. Also, can be frozen for up to 6 months when unfrosted and thawed. RED COLOR: If you chose to opt out of red food coloring, you can always naturally dye your cupcakes by using pureed beets. For this, you would need 1 cup of pureed beets; In addition, ensure that you only use ½ cup of Almond milk + ½ teaspoon of Apple Cider Vinegar when using this option instead of recipe amounts. MAKE AHEAD: You can always bake these cupcakes the night or day before and let them cool, tightly wrap, and refrigerate until ready to use. The buttercream frosting can also be made prior and tightly wrapped and stored in the fridge as well. When ready to serve, let cake sit at room temperature for 30 minutes to an hour, frost, and enjoy! OIL: If you want to substitute the melted vegan butter, you can always use vegetable or coconut oil.
Vegan Red Velvet Cupcakes + Bourbon Vanilla Buttercream.