Vegan + Gluten-Free Apple Plum Crisp—the epitome of warm, sweet, rich Fall spices, and everything nice. Based with tenderly cooked apples + plum and comes well coated with Fall spices; this crisp is topped with toasted gluten-free oats and is a guaranteed staple for the entire family. Made in just 45 short minutes and is a great Fall favorite!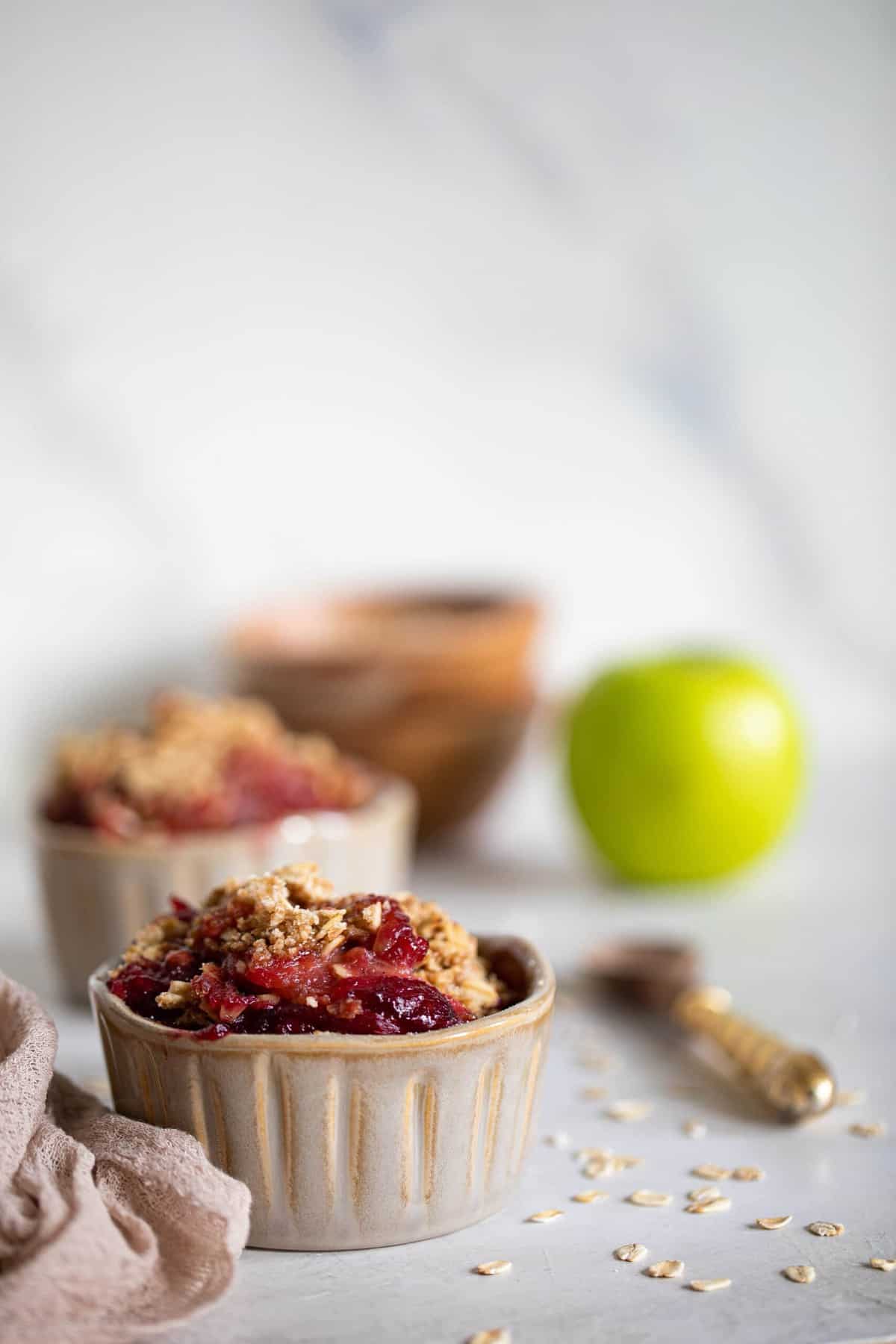 Disclaimer: This post contains affiliate links via Amazon for products that I wholeheartedly love.
Vegan + Gluten-Free Apple Plum Crisp. The best crisp I've had in awhile besides my recently made Homemade Gluten-Free Apple Crisp. A comfort food classic, get ready for the smell of gooey cinnamon apples wafting through the house!
Yup, this crisp is truly legit, ya'll. I just the apple spice flavor throughout, however, the slight tartness from the plums really do pull together the sweetness of everything well.
Ugh, so sad to see #AppleWeek come to an end, however, that doesn't mean that you won't see any apple recipes pop up here and there. If you missed out on all the apple goodness, then I recommend scrolling down to see a quick recap!
Why Flour Lasts Longer When Refrigerated
To be refrigerated or to not be refrigerated? That is the question. And it's not always an easy one. In fact, whether to refrigerate certain foods or not is a question that has many people wondering what the "right" thing to do is. If you start typing in "Should ketchup…" into Google, every single one of the autofill options are questions about whether America's favorite condiment should be left in the fridge. Well, today we're going to answer why flour lasts longer when refrigerated, plus some awesome gluten-free options.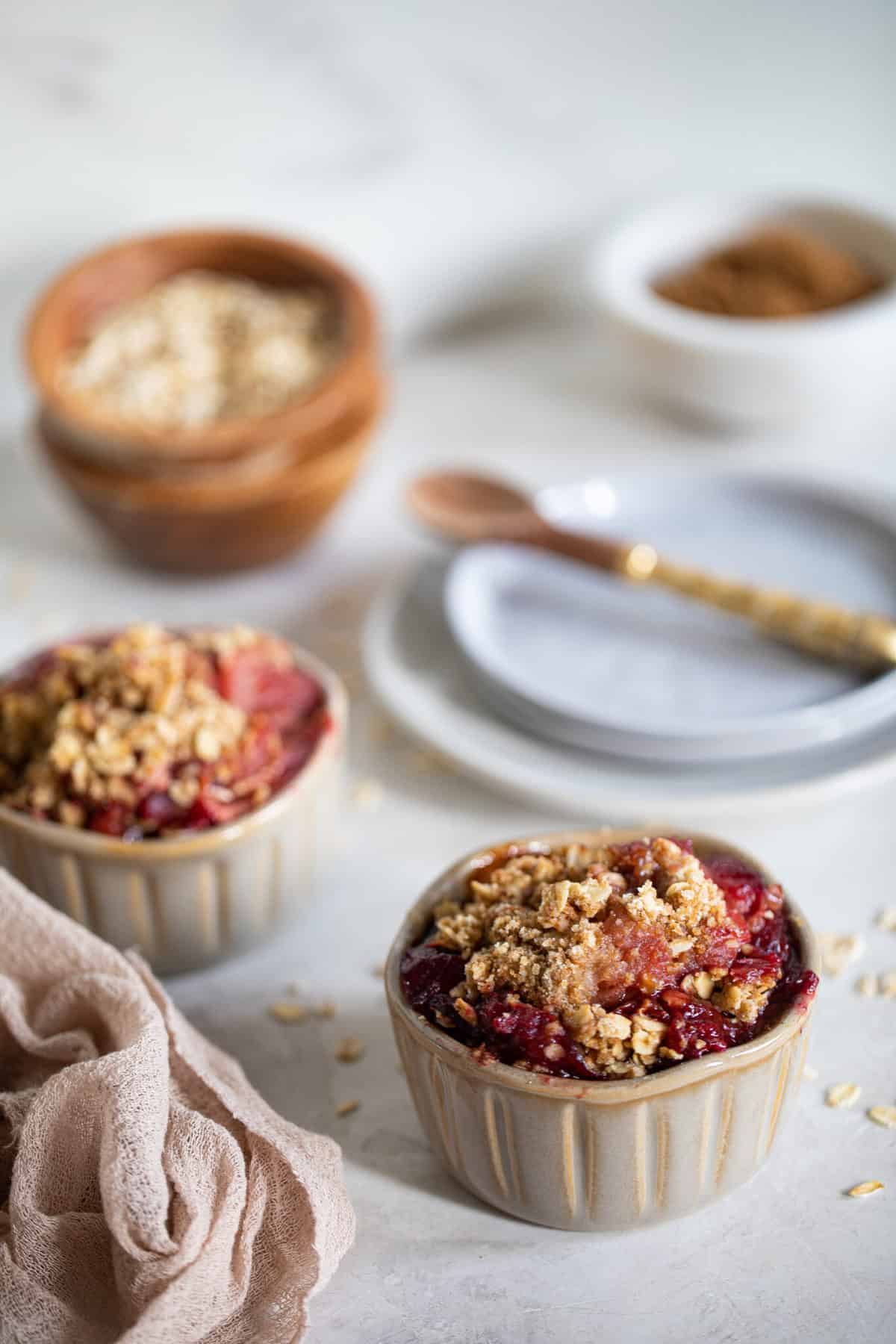 Apple Spice + Everything Nice has been the theme. 
To recap, thus far, I've created a few delicious Apple recipes that truly showcase classic dishes and fun twists on the way that you can use apples. Everything from savory to sweet and in between.
This Sheet Pan Maple Apple Chicken + Veggies recipe is the perfect easy weeknight meal on any given day for the entire family.
This Easy Warm Apple Chai Latte is made with only a handful of ingredients and is the perfect warmth + coziness during the cooler season.
When it comes to these Fall Harvest Apple Bacon Crostinis, the word 'delicious' is an understatement. This simple in method, yet complex in flavor recipe is the perfect little bite for any occasion or gathering, especially during the Fall season.
Vegan Apple Cinnamon Crumble Bread is an essential part of the Fall season. It's perfectly sweet and moist, a balance between soft and crunchy, and 100% delicious with the perfect amounts of Apple + Spice flavors!
Of course, I have a ton other apple recipes on the blog in which you can easily search!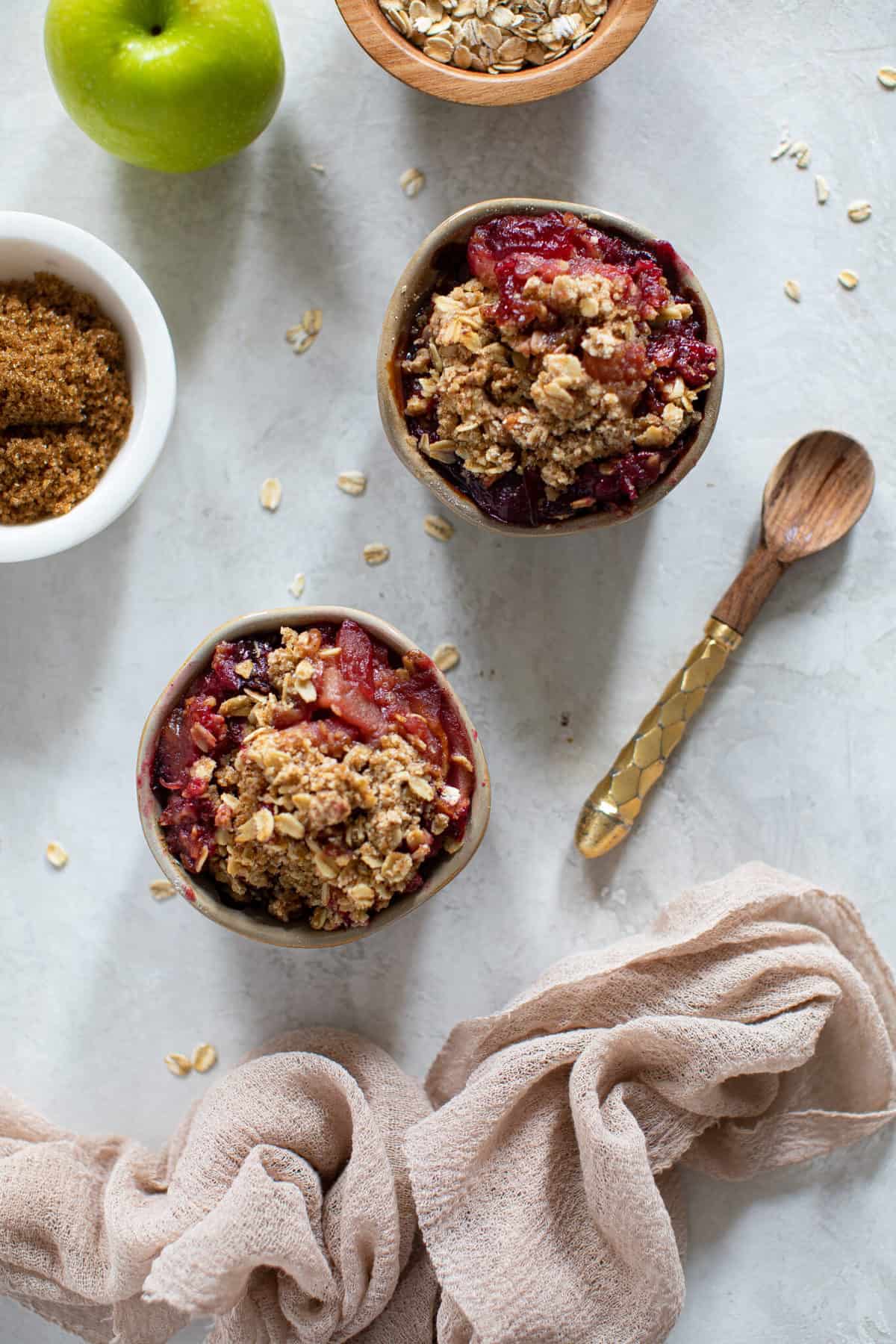 What You'll Need For This Crisp?
Apples — The absolute star of this dish; I tend to mix Gala Apples with Granny Apples for a nice ying-yang of flavor
Plums — A great tart + sweet addition to this crisp. Marries perfectly together with apples
GF Flour or Starch – Adds thickness to the tops while keeping things gluten-free
Brown Sugar – Creates a beautiful caramelization and sweetness to the top layer
Vegan Butter — Allows the topping to golden best; can be substituted with coconut oil
Agave — Used as a sweetener and creates a nice creaminess to apples. Can sub with brown sugar or pure Maple syrup
Fall Spices — the epitome of Fall flavor, including: cinnamon, nutmeg, allspice, ginger, cloves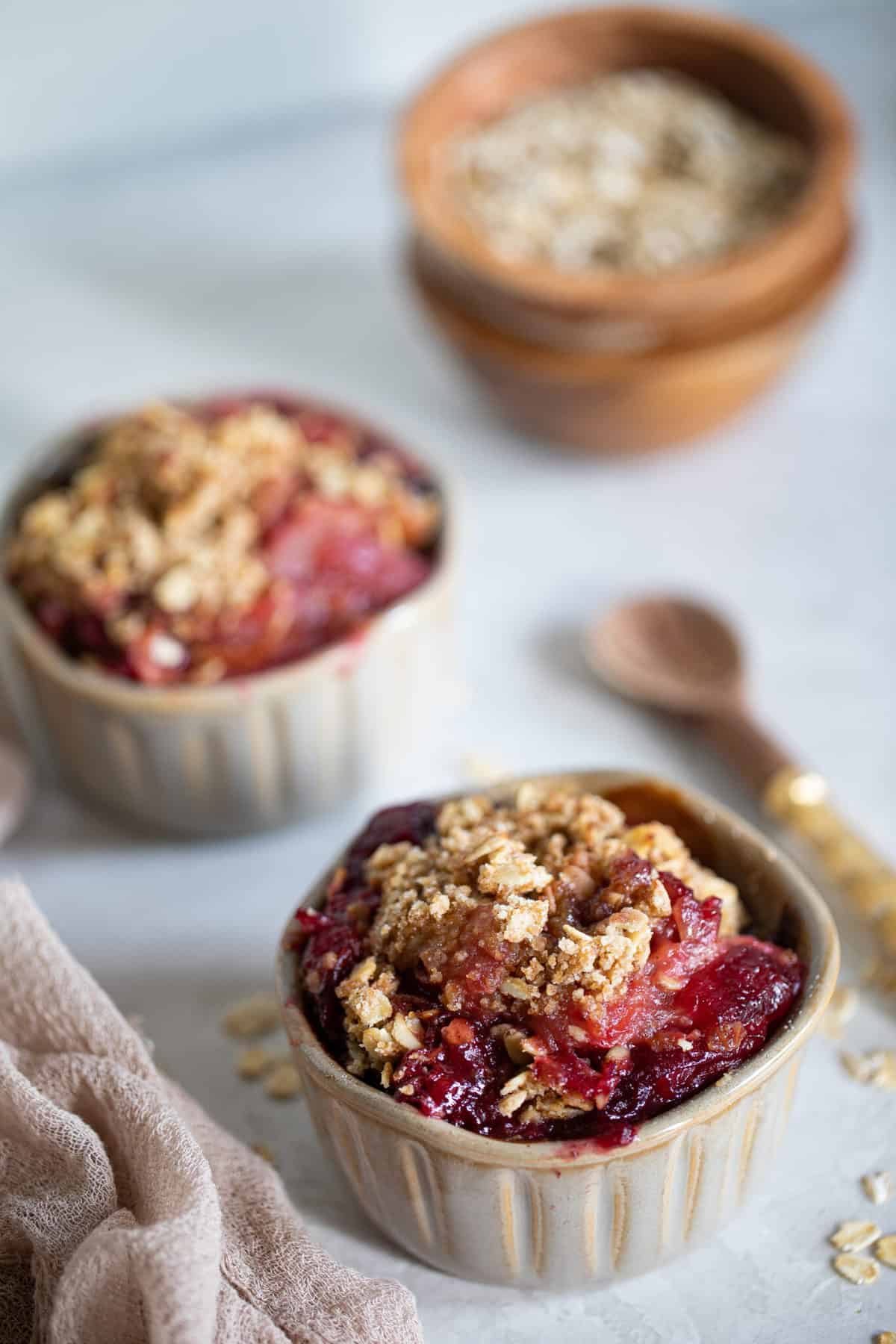 Common FAQs for about Crisps.
HOW DO YOU STORE LEFTOVERS?
Leftover apple plum crisp can be stored in an airtight container in the refrigerator for 1-2 days at most. Personally, I find that it's best consumed within the same day, however, you can simply reheat your crisp in the oven once ready to serve again.
CAN I MAKE THIS AHEAD?
Absolutely! Simply prep all your ingredients separately: slicing the apples + plums and tossing them in a tablespoon of lemon juice + spices and storing them in a separate bowl and adding the oats and spices in a separate bowl. Once ready to bake, simply add the prepped fruit in your baking dish, skillet, or ramekins and top with oats and drizzle with vegan butter. Wallah!
HOW MANY SERVINGS CAN THIS MAKE?
Honestly, it's really up to you. This standard recipe can be up to 4 servings, depending on how many scoops you choose to indulge in (I'm guilty of eating this stuff massively. Haha). However, to increase the servings, simply make twice as much or triple the amount of the ingredients.
CAN I REMIX THIS CRISP WITH OTHER FLAVORS?
Definitely! I'm a huge believer in making tweaks based on your tastebuds and this recipe is no different. Simply, add blueberries, apricots, or cranberries for a little pizzazz instead of plum OR keep things classic with just apples.
More Delicious Vegan Desserts to Try!
MADE OUR RECIPE(S)?
If you make this Vegan + Gluten-Free Apple Plum Crisp, tag @orchidsnsweettea_ on Instagram and hashtag it #orchidsandsweettea!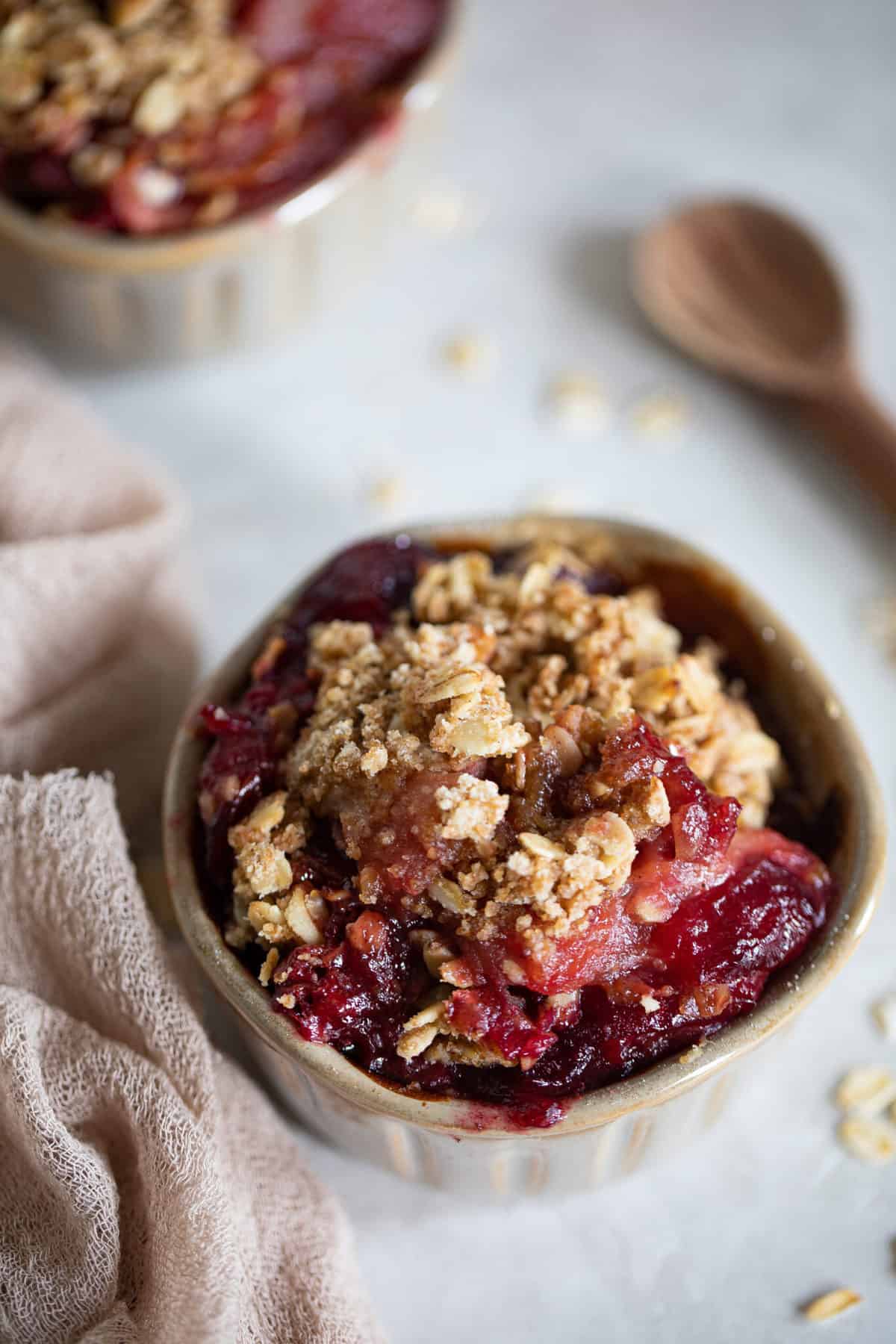 FILLING:
3

organic apples, peeled + sliced

(I like to use Granny Smith + Gala apples)

4

small

plums, sliced

(That's about 2-3 cups)

½

cup

pure maple syrup

(You can also use organic cane sugar or brown sugar, if preferred)

2

Tbsps

Arrowroot starch

1

teaspoon

ground cinnamon

½

teaspoon

ground nutmeg

⅛

teaspoon

ground ginger

⅛

teaspoon

ground allspice

pinch of

ground cloves

Pinch of

sea salt

1

teaspoon

vanilla extract
CRUMBLE TOPPING:
1

cup

Gluten-free thick-cut Rolled oats

(I like to use Bob's Red Mill)

½

cup

organic brown sugar 

¼

cup

Gluten-free 1-to-1 Baking Flour 

½

teaspoon

ground cinnamon

¼

teaspoon

ground nutmeg

4

Tbsps

vegan butter, partially melted
TO MAKE THE FILLING:
Preheat the oven to 375 degrees Fahrenheit and lightly grease a medium baking dish (or mini cocottes) with vegan butter.

In a large bowl, add the sliced apples, plums, maple syrup, arrowroot, cinnamon, nutmeg, ginger, allspice, cloves, salt, and vanilla, stirring everything together until combined and the apples are completely coated. Set aside.
TO MAKE THE CRUMBLE TOPPING:
In a bowl, add the flour, oats, brown sugar, nutmeg, and cinnamon, stirring until combined. Add the partially melted butter and using a spatula, mix until combined and 'crumbly-like'.
ASSEMBLY:
Spoon the coated apple-plum filling into the bottom of your greased standard square baking dish or evenly in mini cocottes and top with topping mixture. Bake for about 35-40 minutes or until apple filling becomes bubbly and topping is golden brown.

Once fully baked, remove from oven and let it cool for 5 minutes or so. Serve warm and enjoy with a scoop of your favorite dairy-free ice cream or Cocowhip!

Bon Appetit!
STORAGE: Best if served on the same day of making crisp. If made ahead of time (a few hours before serving), simply re-warm in the oven at 375 degrees Fahrenheit. Leftovers should be stored in an air-tight container in the refrigerator for 1-2 days.
APPLES: Best apples to use for this crisp are: Granny Smith, Gala, Honeycrisp, Fuji, etc. See Post for more info!
EQUIPMENT: Here, I've 

curated a list of bakeware essentials

that I use to achieve my favorite baking treats, especially with this Vegan + Gluten-Free Apple Plum Crisp. Everything from my fave mini cocottes, baking sheets, parchment paper, mixing bowls, and more.  

SEE THEM HERE!
Calories:
374
kcal
|
Carbohydrates:
68
g
|
Protein:
1
g
|
Fat:
12
g
|
Saturated Fat:
2
g
|
Polyunsaturated Fat:
3
g
|
Monounsaturated Fat:
5
g
|
Trans Fat:
2
g
|
Sodium:
103
mg
|
Potassium:
138
mg
|
Fiber:
2
g
|
Sugar:
51
g
|
Vitamin A:
3
IU
|
Vitamin C:
0.1
mg
|
Calcium:
84
mg
|
Iron:
1
mg
Vegan + Gluten-Free Apple Plum Crisp.