These Eggnog Cupcakes + Cream Cheese Frosting are the epitome of enjoying the warm, satisfying feeling of drinking a nice cup of eggnog in cupcake form! They are filled with rich eggnog flavor, hints of spices, topped with a velvety eggnog cream cheese frosting, and comes completely fluffy, moist, and incredibly airy. Whipped together in the matter of a few short minutes, these cupcakes are an easy treat for everyone involved! Entirely oil-free. Vegan option.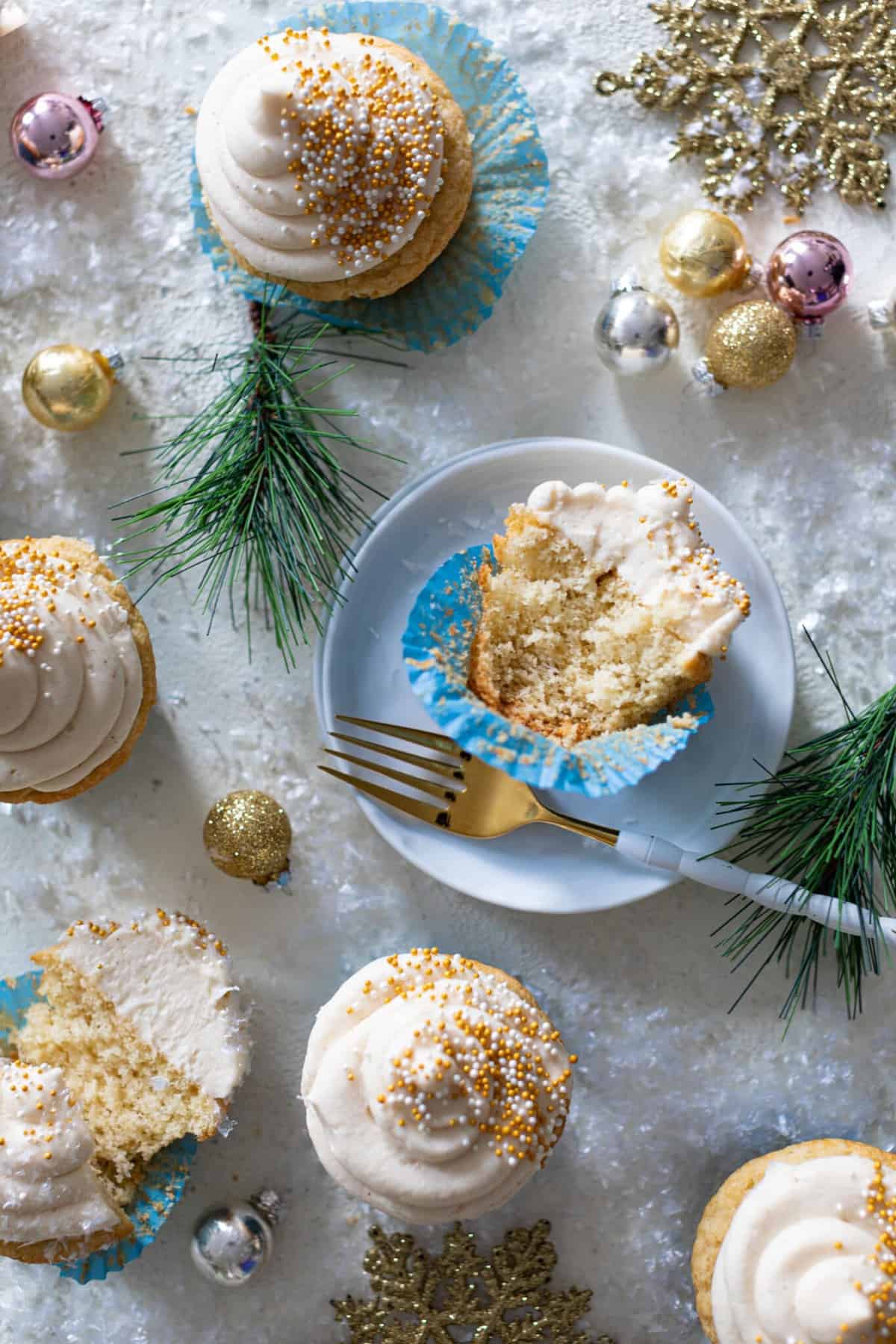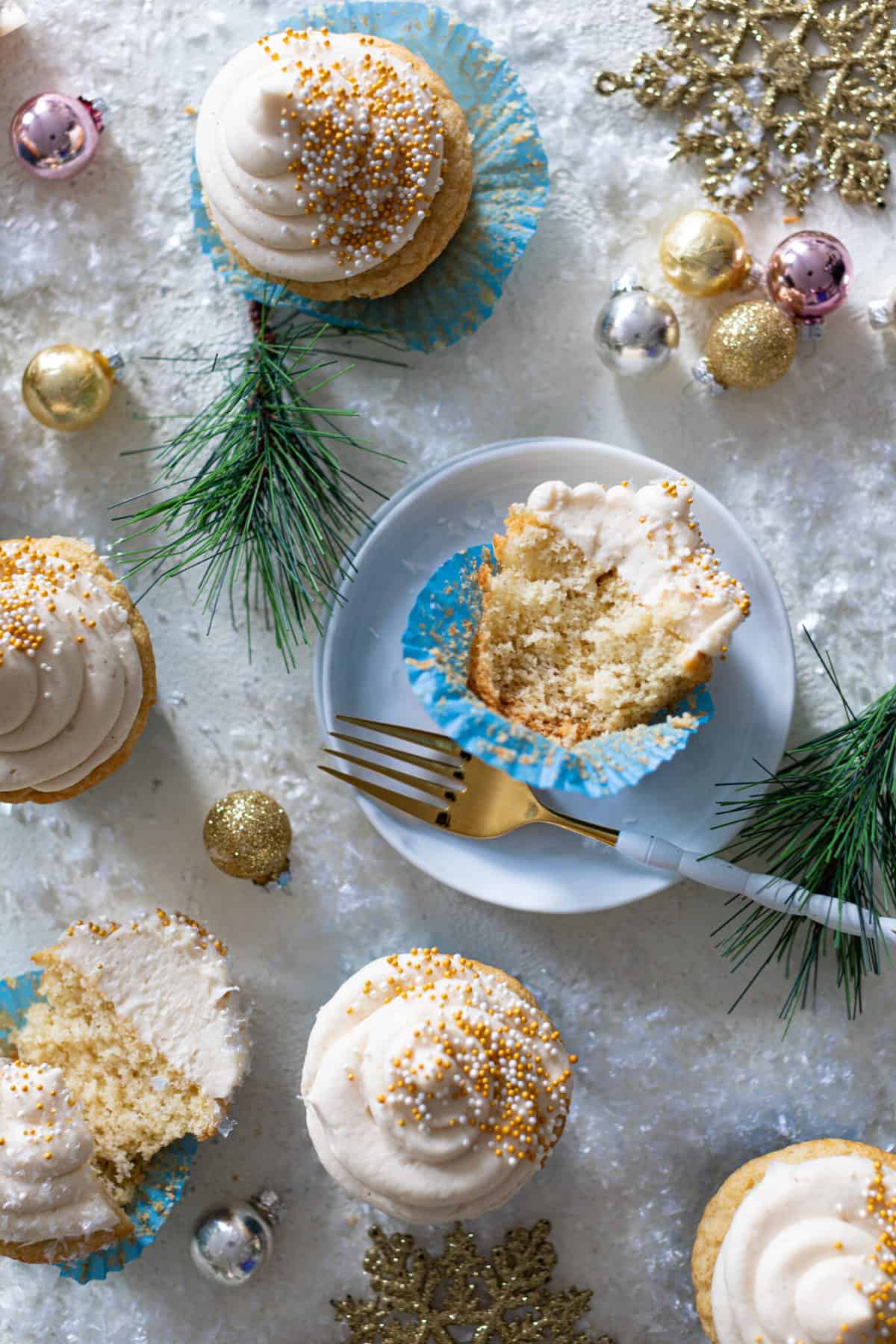 Eggnog Cupcakes + Cream Cheese Frosting is the epitome of Christmas!
If I'm honest, I must say that these cupcakes might be one of my ultimate faves! Growing up, I never had the tradition of drinking eggnog around the tree or playing Christmas music as we opened gifts or even a warm, comforting Christmas breakfast that was designated for that day.
However, my husband has come from that household and one of our traditions each year has been to drink a warm cup of Hot Chocolate or Eggnog on Christmas morning as we gather around the tree and open gifts (mostly my 5 year old---Haha).
Ever since trying eggnog, I've been hooked so it was only understandable that I would be hooked on these cupcakes.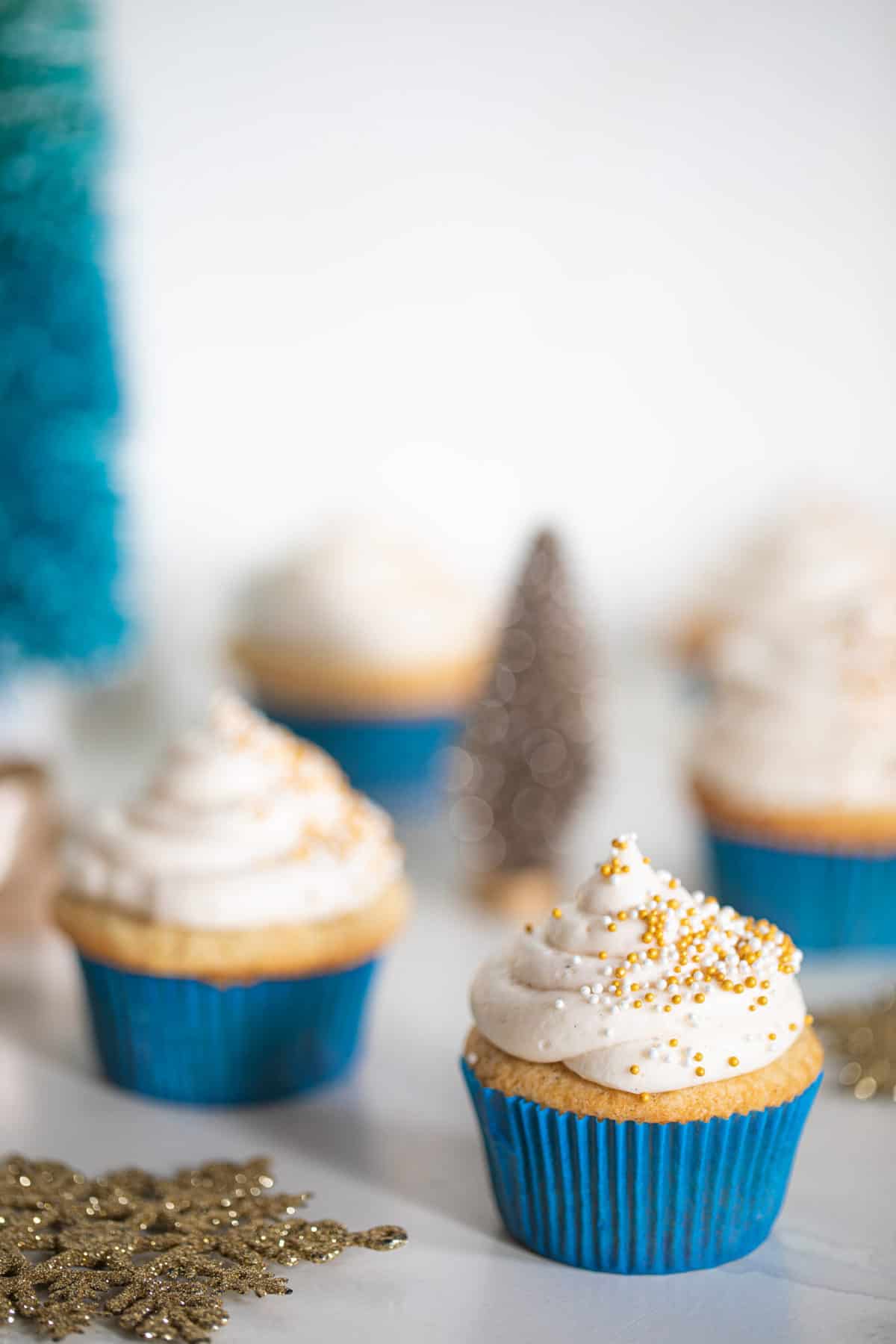 What You'll Need For These Eggnog Cupcakes?
Organic All-Purpose Flour – Works together great with cake flour
Cake Flour – Creates a nice airy, fluffiness to cupcakes, BUT all-purpose flour can be substituted
High Quality Eggnog – Makes everything taste like melted ice cream; adds a depth of creamy flavor
Vanilla – A great addition of flavor and marries everything together
Spices – Adds a warmness and spicy undertone: cinnamon, nutmeg, + clove
Eggs— Works as a binder for everything
Baking Powder — Very important leavener for your cupcakes. You can sub baking powder with arrowroot starch
Unsalted Butter — Creates a beautiful fluffy, velvety buttercream
Sea Salt — Brings out the sweetness
Unsalted Butter (melted) – The best sub for an oil-free cupcake. Can be subbed with vegetable oil
Cream Cheese — Creates a beautiful velvety buttercream/frosting and adds a mild sweet tang flavor
Powered Sugar – The base of your buttercream/frosting
Organic Cane Sugar – A great sweetener option that creates a lightness to cupcakes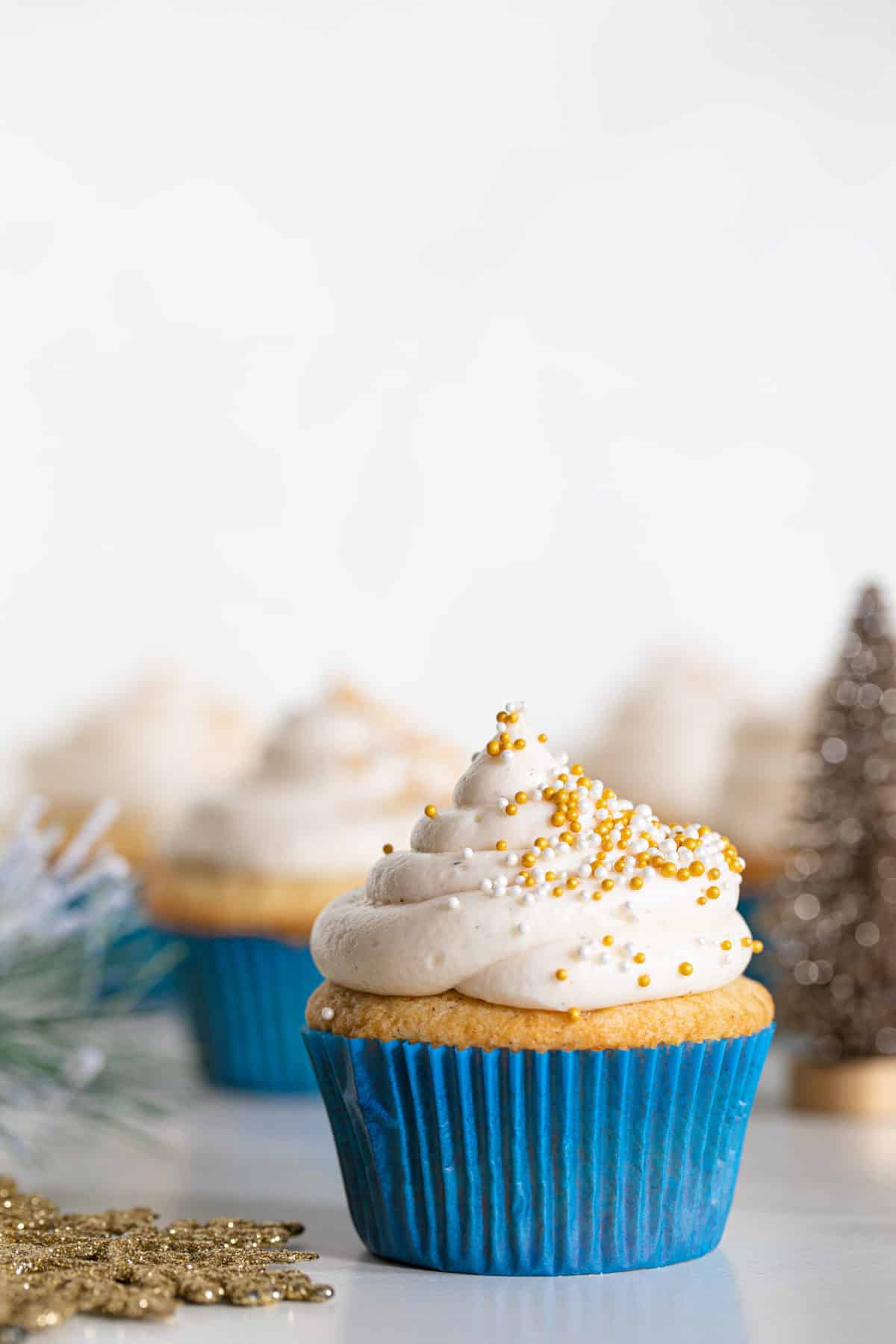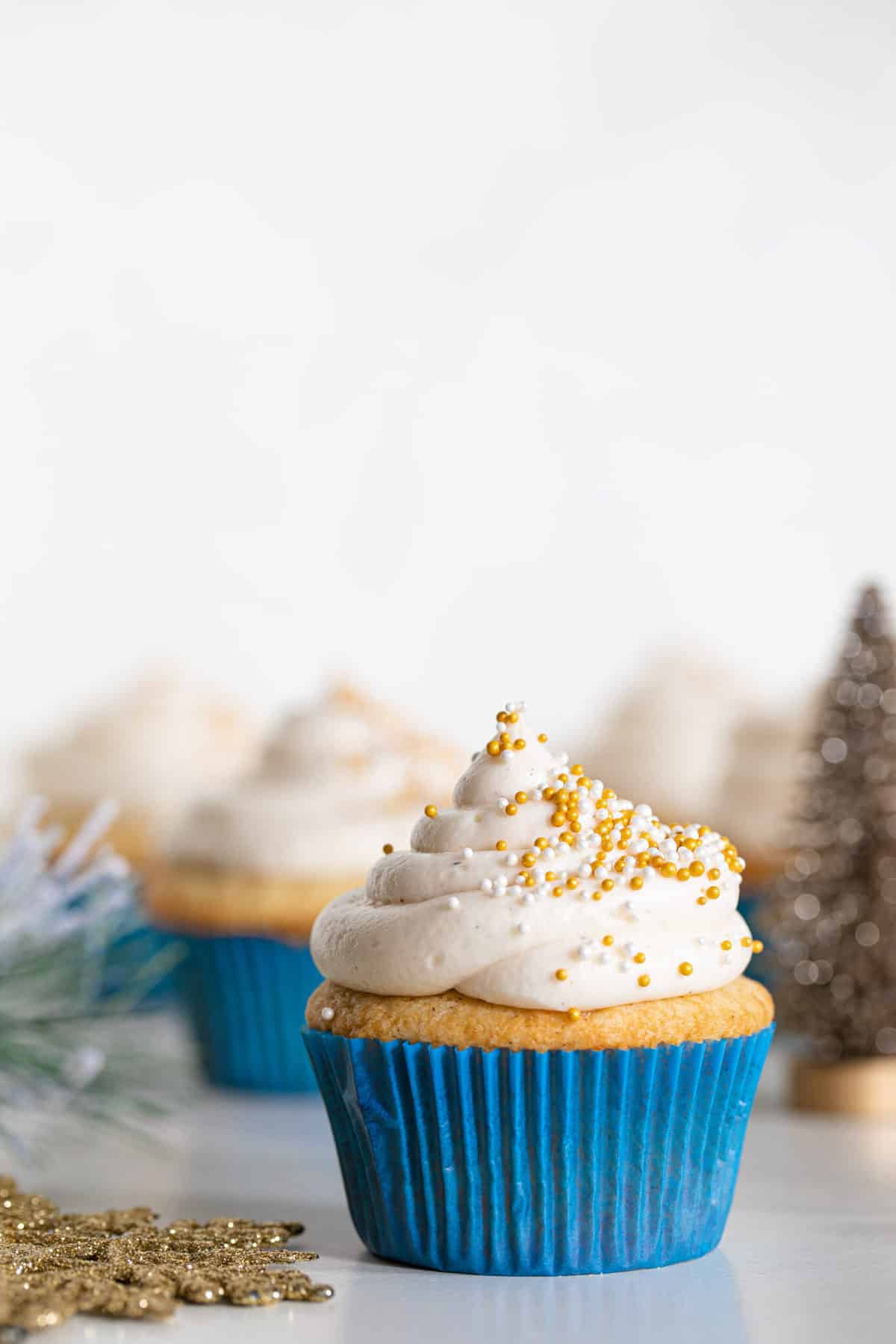 5 TIPS TO MAKING PERFECT CUPCAKES.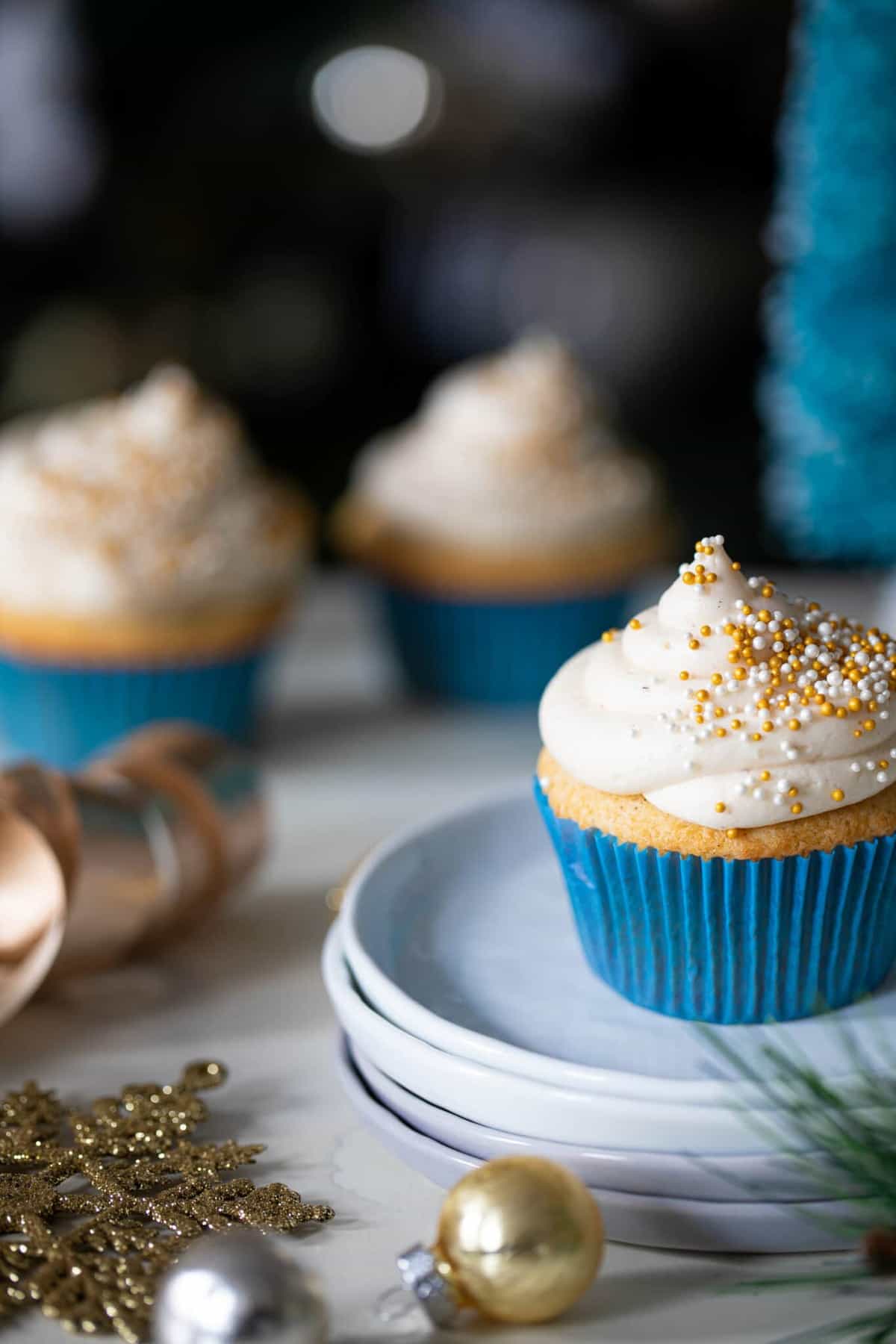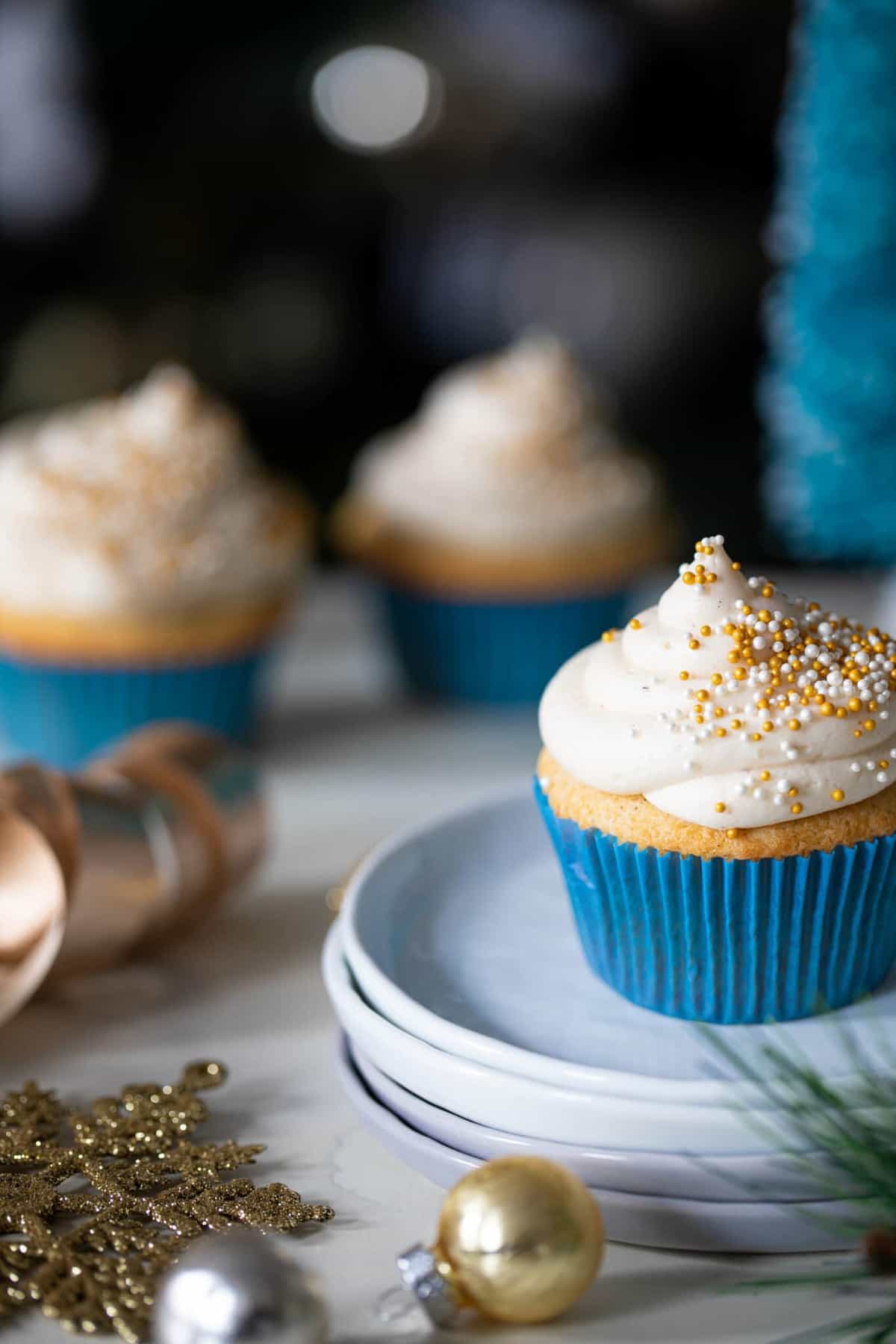 #3: ALWAYS KEEP THINGS FRESH!
I know that this is a common mistake, especially for those of us who aren't daily bakers. Ensure that your ingredients (flours, etc.) are fresh and haven't been sitting there for months improperly sealed, etc.
Also, ensure that your leaveners (baking power + baking soda) are fresh. This is super important and often is the culprit in flatter baked goods.
#4: DOUBLE PROTECTION IS BETTER THAN ONE!
While using cupcake liners are a huge lifesaver when making it easier to remove your cupcakes after they are ready, ensuring that you not only use high quality liners, but that you also lightly spray the inside of your liners with a cooking spray HELPS A TON! Don't you just hate when your cupcake inevitably gets stuck on one of those cupcake liners?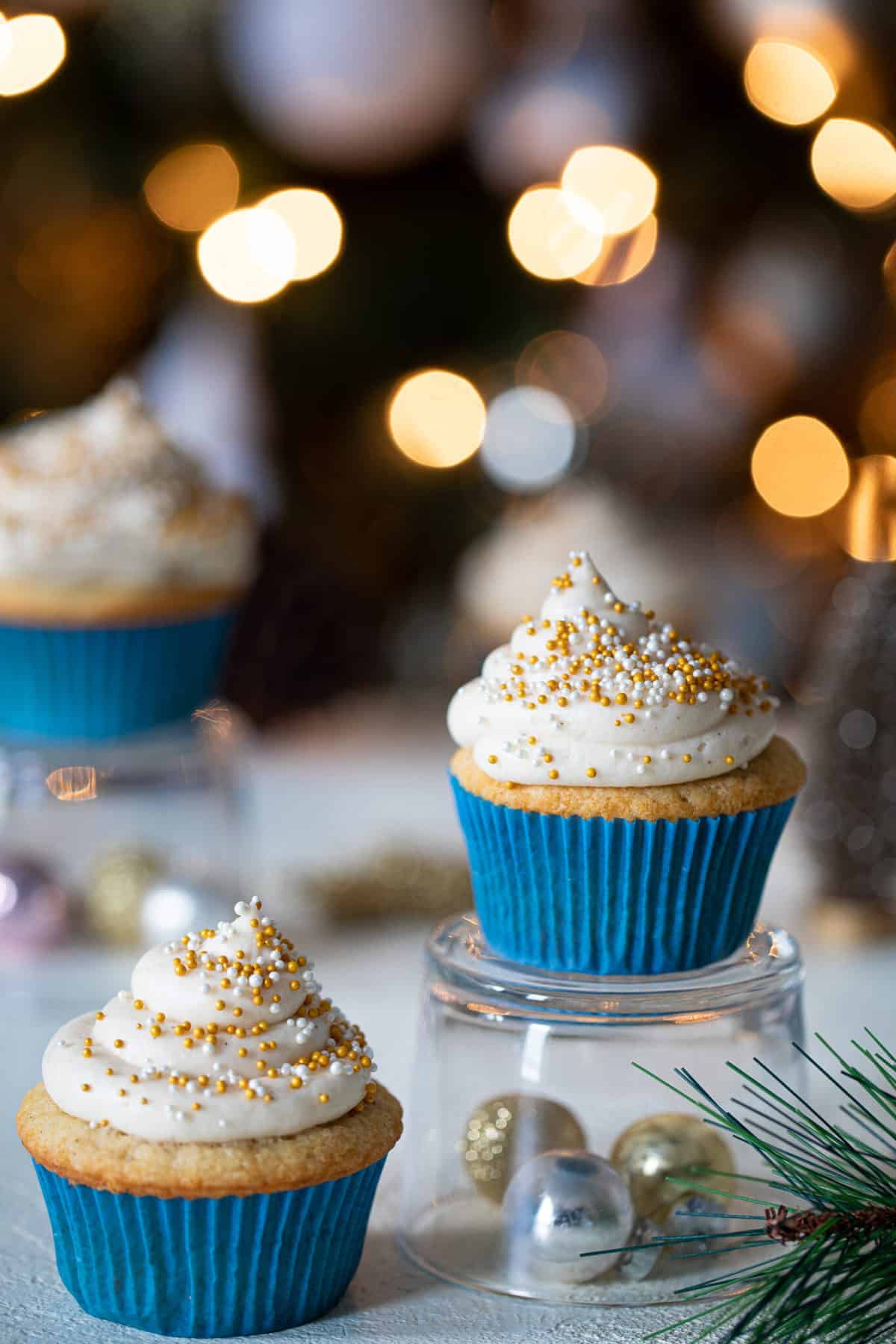 #5: WHEN IN DOUBT, THROW THEM OUT. Haha.
Last but not least, always ensure that your batter is JUST RIGHT. With cupcakes, your batter should be slightly thick and not extremely watery. This allows them to come out fluffy and not too wet. Therefore, always slowly add in the wet ingredients (while mixing) to ensure that your batter isn't too crazy liquid-y to the point that it looks like your scooping up milk. When it doubt, throw it out and start again. Trust me, it's best that way!
Believe me, after making small adjustments (like the ones mentioned in my tips above), I began perfecting cupcakes, which has been the best feeling in the world! Haha.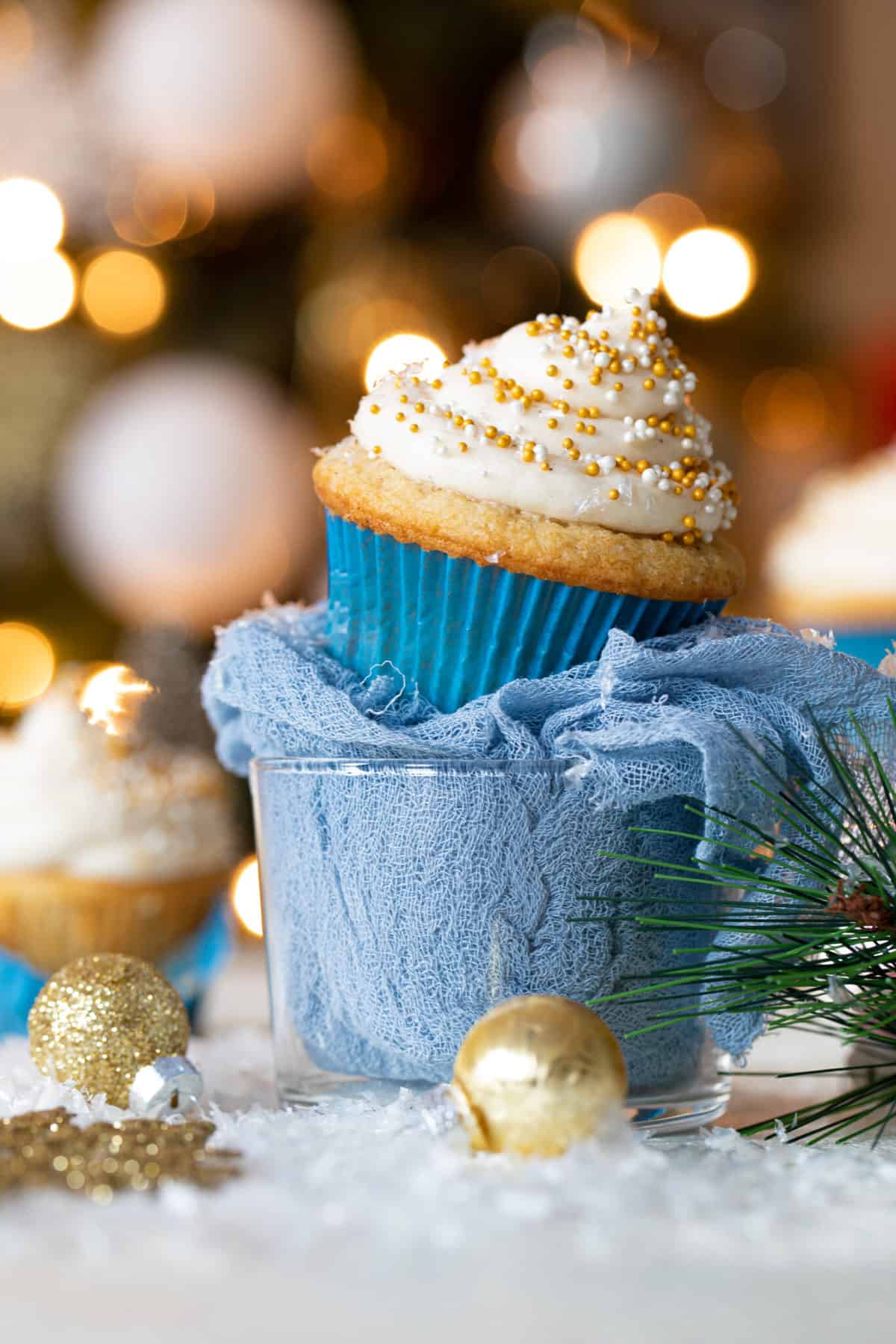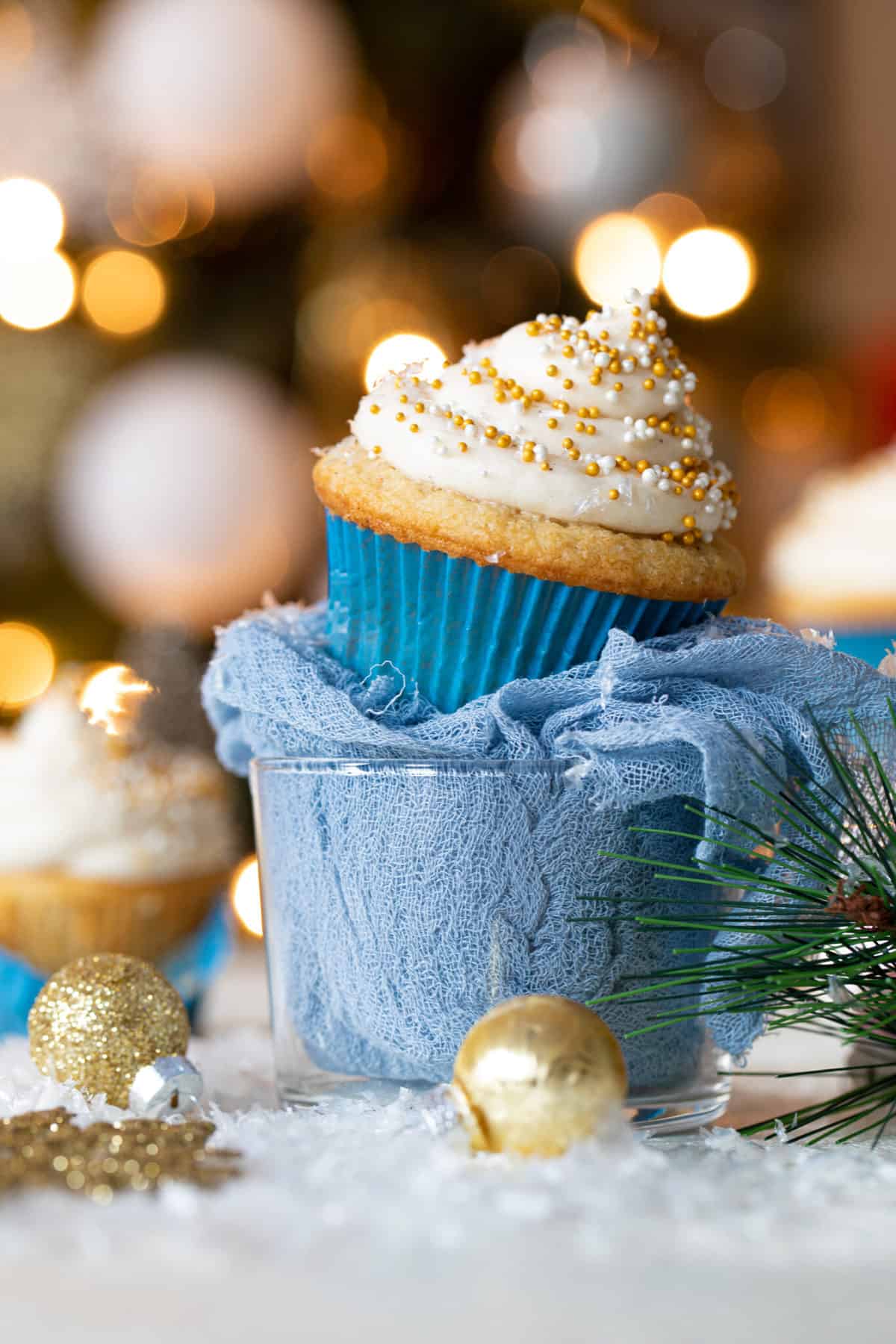 Feeling Everything Eggnog? These are Delicious Options!
If you're a lover of warm, comforting flavors, then these Fluffy Overnight Apple Butter Eggnog Cinnamon Rolls are the best thing you'll ever taste–seriously! Not only are they super thick, fluffy, tender, brioche-like rolls, but they come completely bursting with apple butter flavor and smothered in a rich, but light eggnog cream cheese glaze. Hands down——these cinnamon rolls will be the newest Holiday craze! Easy make ahead and overnight dessert choice.
'Tis the season to be jolly and there's no better way to indulge in great joy + lights than with this Creamy Homemade Vegan Eggnog. This delicious eggnog is made from cashews, plant-based milk, amazing warm spices, and comes completely naturally sweetened and with a pinch of turmeric for added nutritional value. The perfect Holiday drink made in just 5 minutes and is perfect for the entire family. All vegan + GF.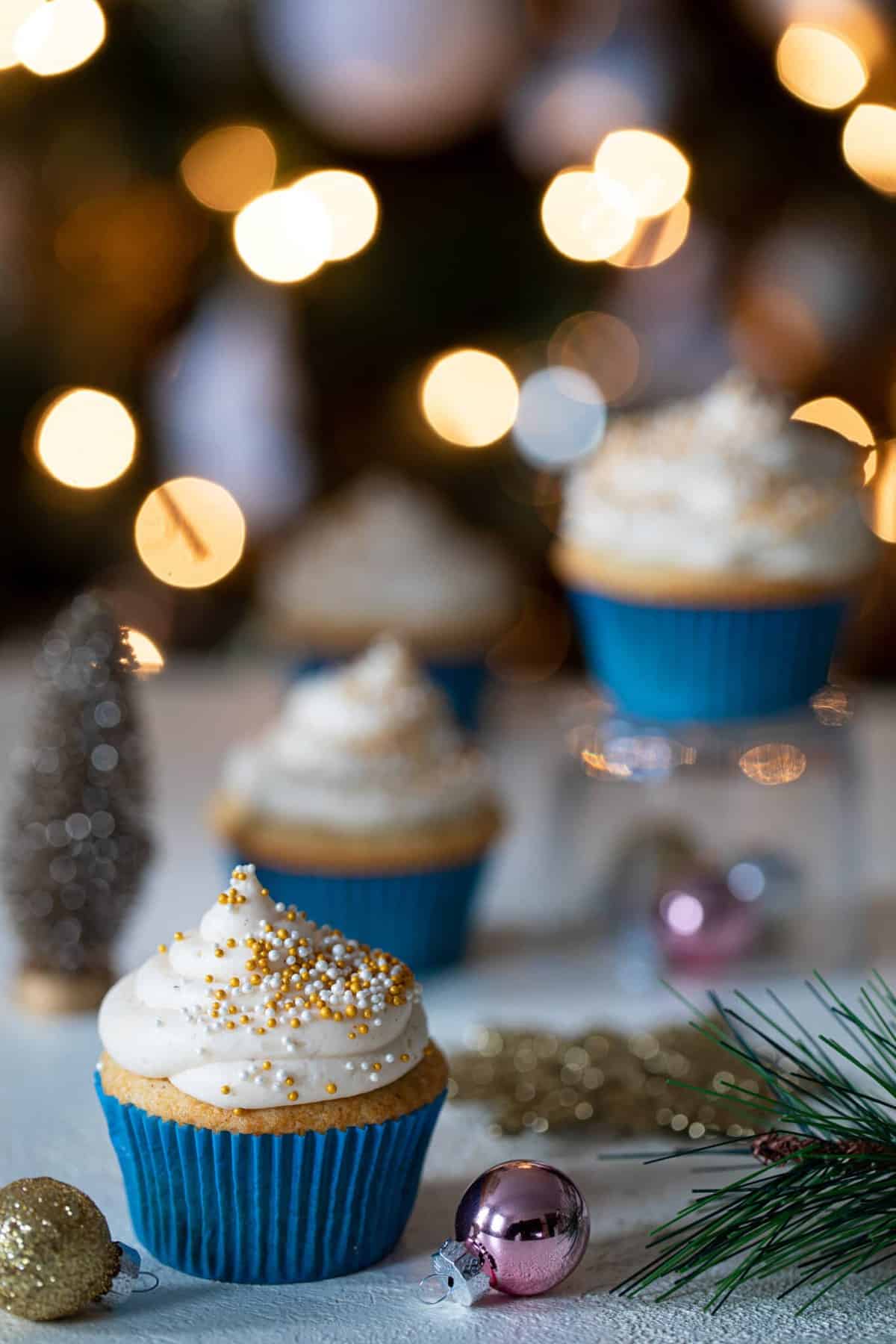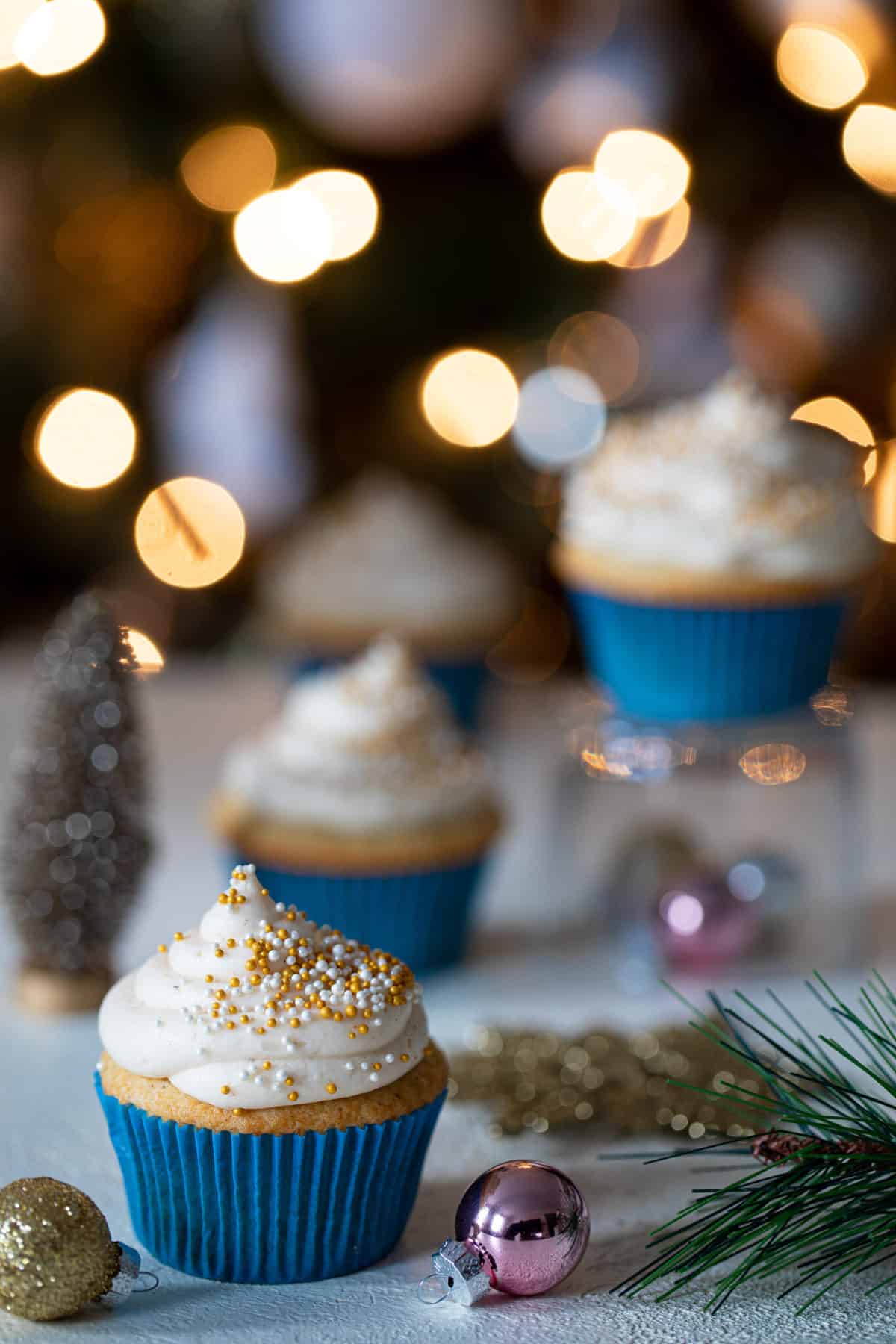 NEED CUPCAKE IDEAS? TRY THESE RECIPES.
These Easy Caramel Coconut Cupcakes are melt in your mouth coconut cupcakes that come popular by demand.
These Vanilla Cupcakes with Sprinkles are the best + most favorite cupcakes I've made. Soft, fluffy, + extra moist, these cupcakes are bursting with bold vanilla flavor in every bite.
These Best Banana Cupcakes + Maple Buttercream are classic flavors that never get old, but together they are even more PERFECT!
These Easy Pumpkin Chai Cupcakes are a delicious flavor battle between two classic flavors—-pumpkin + chai. Together, however, they are even more PERFECT!
These Vegan Red Velvet Cupcakes + Bourbon Vanilla Buttercream are the perfect way to indulge your sweet tooth this season without the dairy!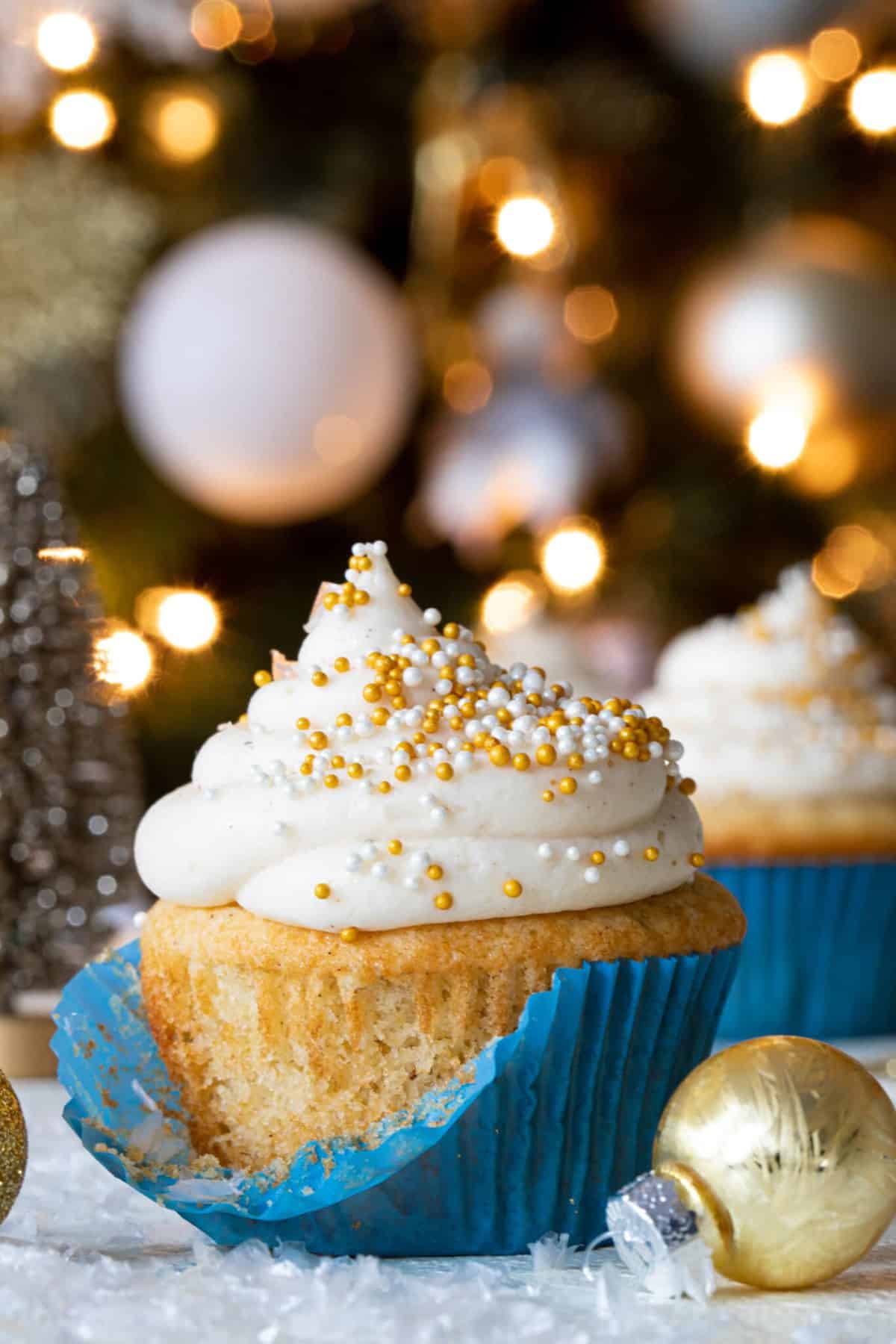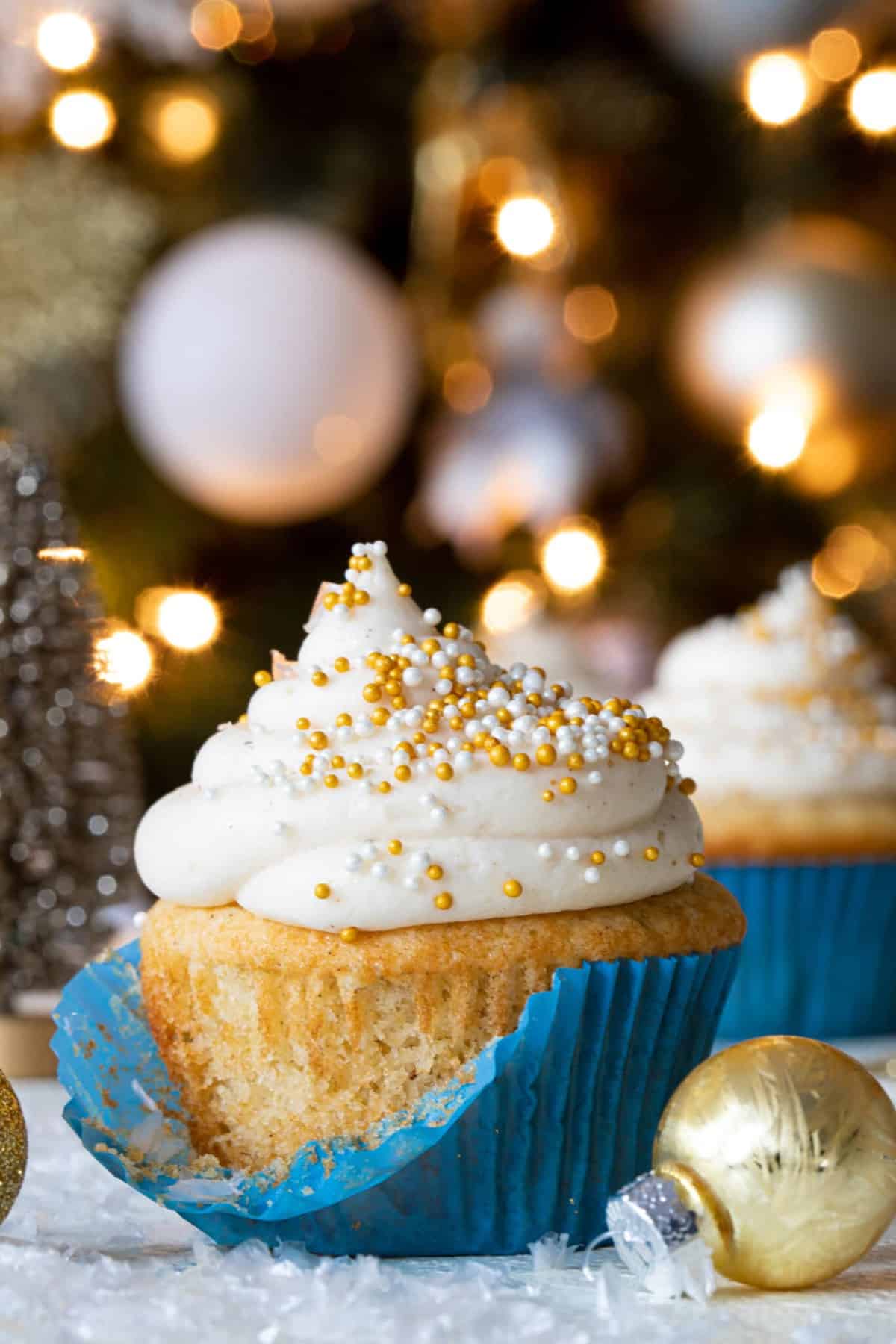 COMMON Q + A'S ABOUT THESE CUPCAKES.
HOW LONG WILL THESE CUPCAKES LAST FOR?
When tightly wrapped + refrigerated, these cupcakes can be stored for 3-4 days. However, you can freeze them for up to 6 months (unfrosted) and then thawed, heated, and then cooled before adding buttercream.
CAN THESE CUPCAKES BE MADE AHEAD?
Absolutely! You can always bake these cupcakes the night or day before and let them cool, tightly wrap, and refrigerate until ready to use. The buttercream frosting can also be made prior and tightly wrapped and stored in the fridge as well. When ready to serve, let cupcakes sit at room temperature for 30 minutes to an hour, frost, and enjoy!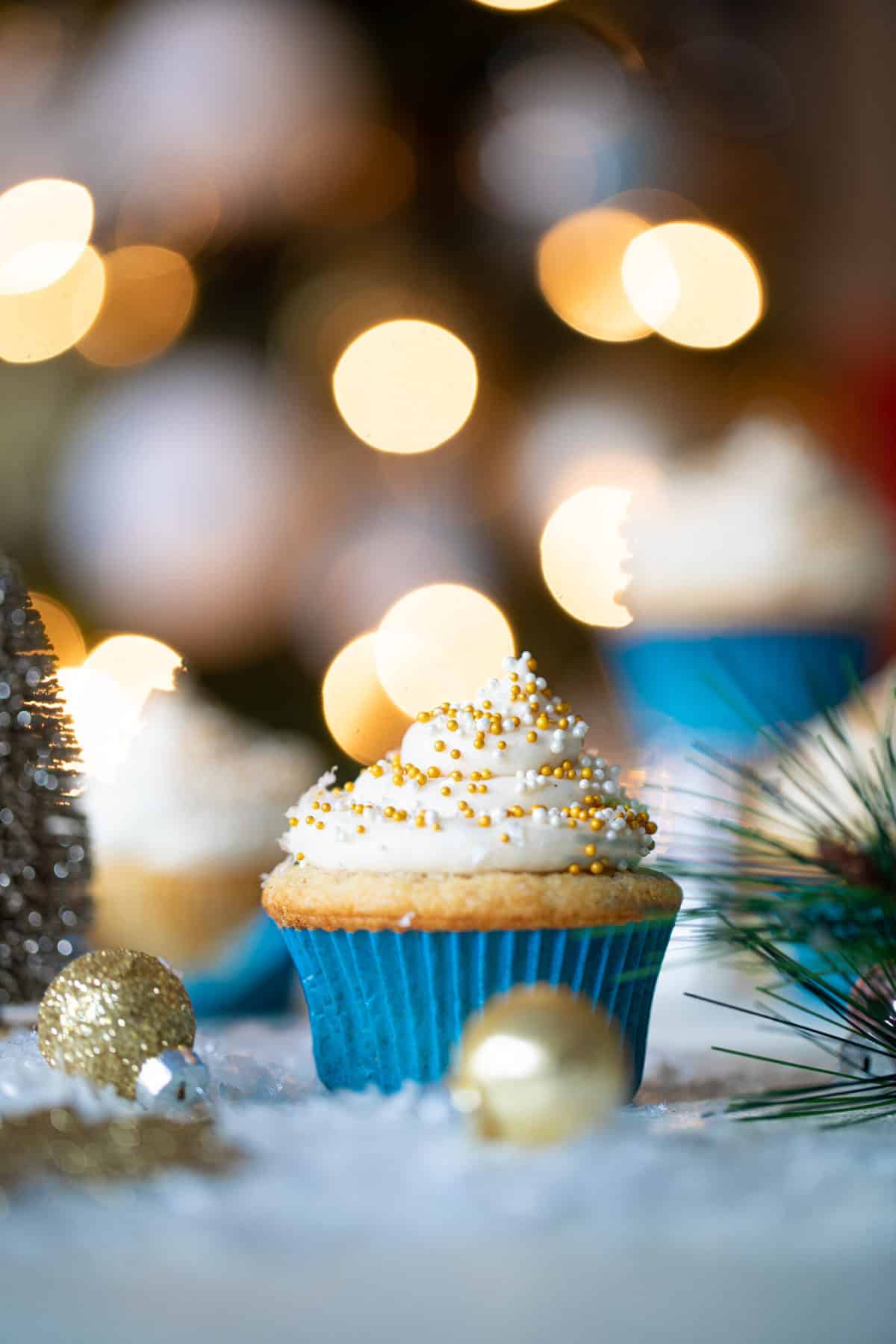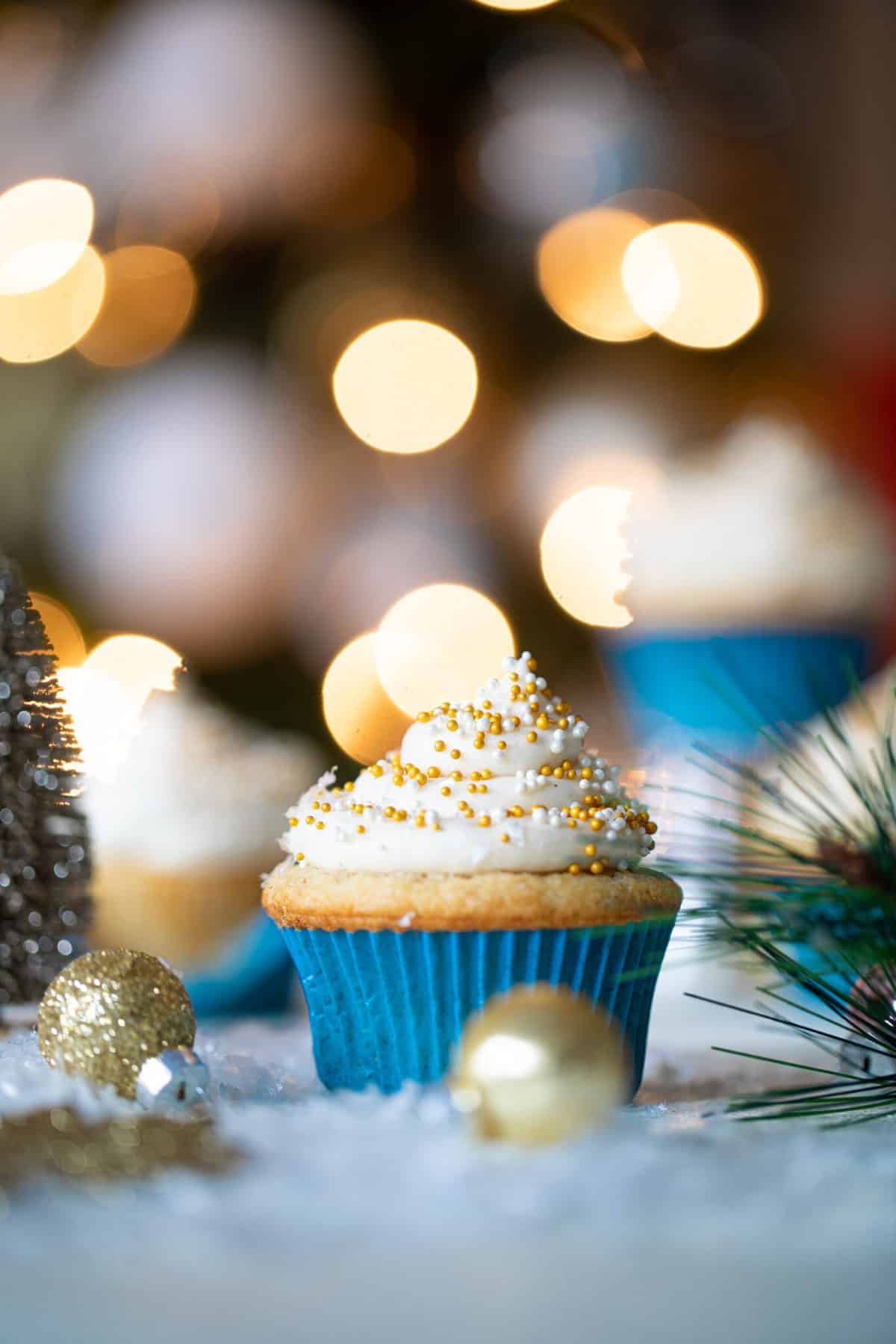 DO I NEED CAKE FLOUR?
In all honesty, I tend to use Cake Flour by itself when I decide not to mix it in with All-Purpose Flour. Using Cake Flour alone makes your cake/cupcakes even more soft, fluffy, and moist! Of course, you can always use All-Purpose Flour solely if you don't have Cake Flour.
WHY ARE THE INGREDIENTS AT ROOM TEMPERATURE?
When it comes to ingredients, especially in baking, it's always best to have cold ingredients at room temperature to ensure that the mixing process is more seamless and even. Please note that microwaving your butter last minute if you forget to leave it out at room temperature isn't recommended. Microwaving often changes the consistency of the butter which doesn't create a nice 'creaminess' when mixed.
CAN TURN THESE CUPCAKES INTO A SINGLE OR 2-LAYER CAKE?
Absolutely! You can always use the same measurements of the ingredients to create a nice single layer cake OR double the ingredients for a beautiful 2-layer. The bake times will vary slightly (only a few minute longer), but the transition is pretty easy + simple.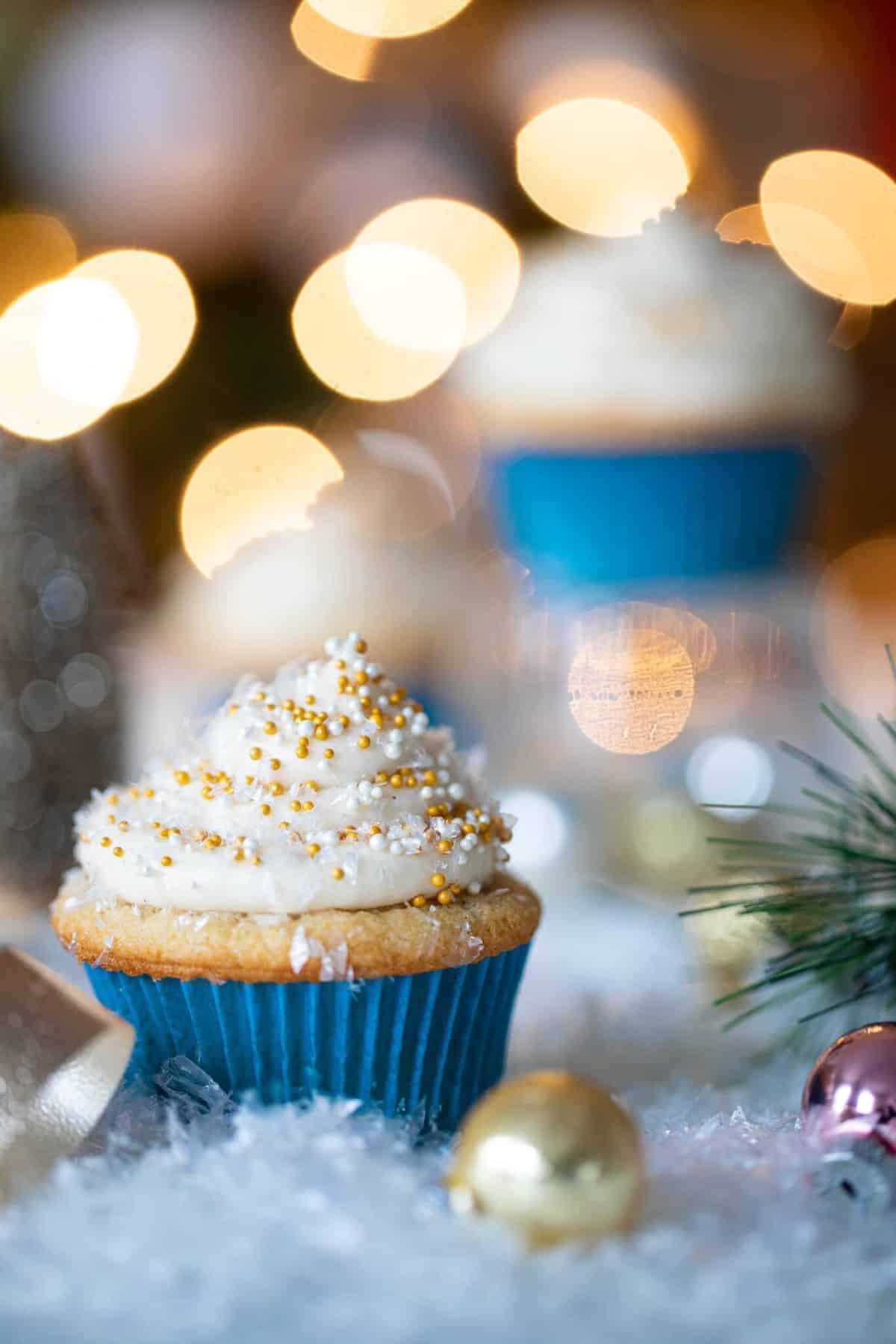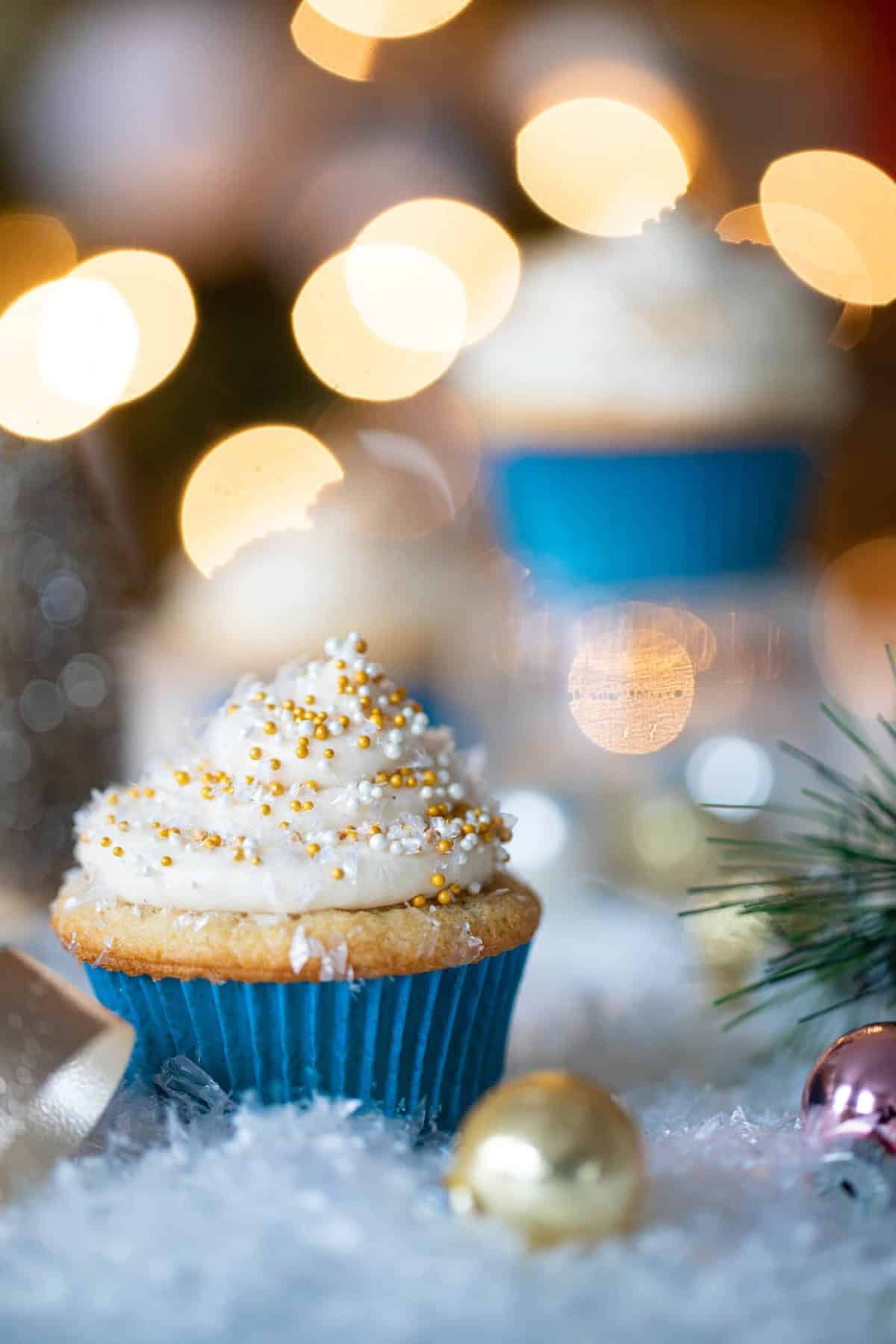 WHAT DESSERTS CAN I ADD EGGNOG TO?
Honestly, when it comes to adding eggnog to desserts, I'd dare to say you can add it to just about everything. Haha. But seriously, I find that eggnog works amazing in cheesecakes, french toast, oatmeal, lattes, biscuits, pancakes, waffles, mashed sweet potato---you name it. Whether it's just a splash of eggnog or a full cup, there are so many ways to incorporate it into your Holiday menu.
CAN I MAKE THESE EGGNOG CUPCAKES VEGAN?
Absolutely! To start, you can substitute the unsalted butter for vegan butter, omit the eggs and add ACV (apple cider vinegar) to your milk-based ingredient, and ensure that you purchase dairy-free eggnog. Have no clue of great vegan eggnog options? No worries----I thoroughly enjoy Eggnog by Califia Farms and So Delicious Dairy-Free for starters.
Of course, you won't be using cream cheese in the frosting, however, for added flavor you can always add more eggnog instead.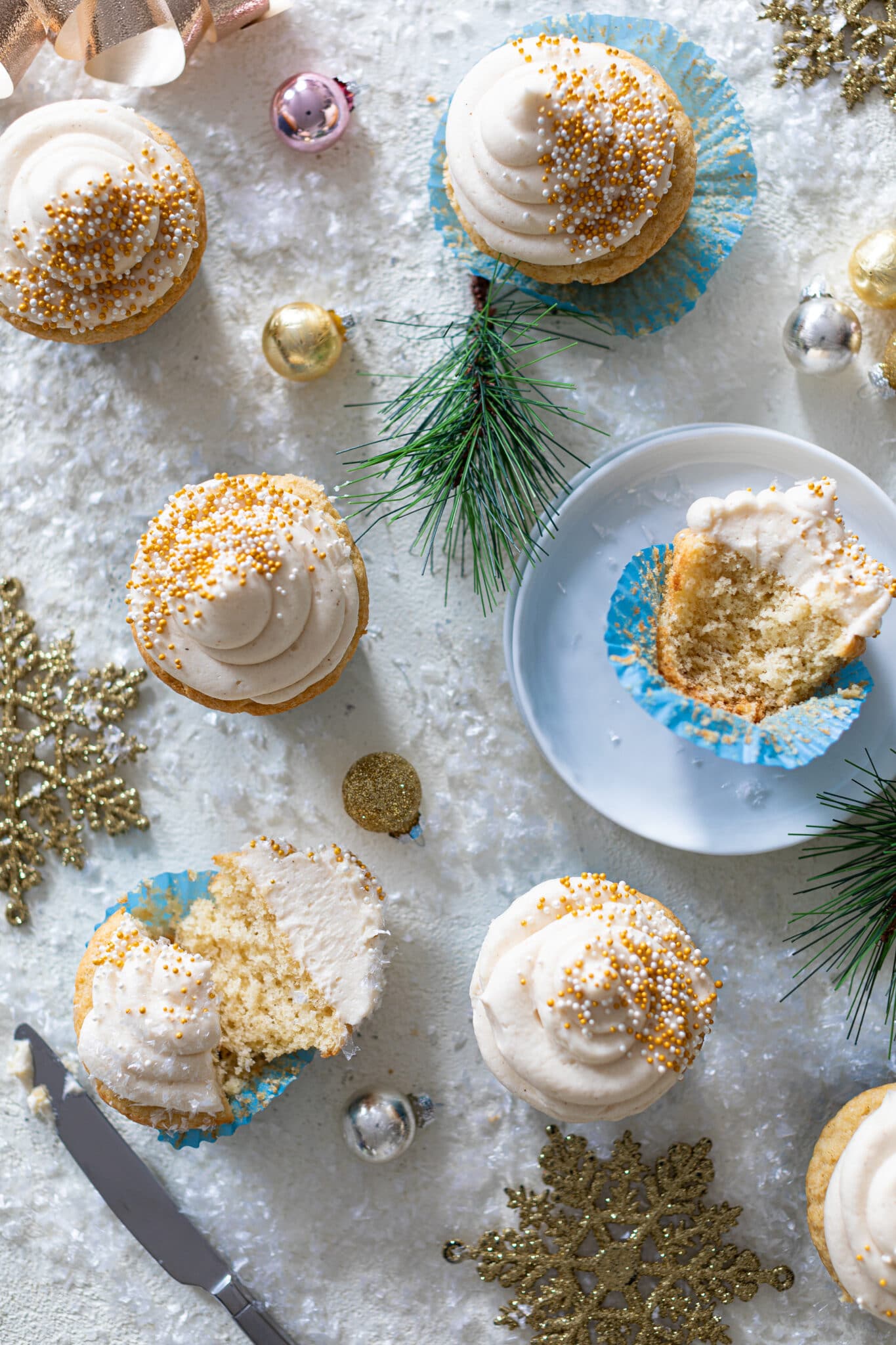 Eggnog Cupcakes:
1

cup

Organic all-purpose flour

(I use Bob's Red Mill; See Notes!)

½

cup

Super fine cake flour

(I use Bob's Red Mill; See Notes!)

1 ½

tsps

baking powder

¾

cup

organic pure cane sugar

(I use Wholesome Sweets)

¼

teaspoon

sea salt

1

teaspoon

ground cinnamon

½

teaspoon

ground nutmeg

⅛

teaspoon

ground cloves

6

Tbsps

unsalted butter, melted

2

large

eggs, room temp.

(I use Organic Valley)

1

teaspoon

vanilla extract

½

cup

high quality eggnog + 1-2 Tbsps!

(I use Organic Valley)
Eggnog Cream Cheese Frosting:
4-5

cups

organic powdered sugar, sifted

4

oz.

organic cream cheese, at room temp. 

2

Tbsps

unsalted butter, softened 

2-3

Tbsps

high quality eggnog, warmed slightly 

(I use Organic Valley)

½

teaspoon

vanilla extract

½

teaspoon

ground cinnamon

¼

teaspoon

ground nutmeg

pinch of

ground cloves
Eggnog Cupcakes:
Preheat your oven to 400 degrees Fahrenheit and prep your cupcake pan with liners + spray.

In a large bowl, whisk together the flours, baking powder, spices, and sea salt. Set aside.

In the bowl of an electric mixer (using a paddle handle attachment), beat together the butter and sugar on medium-high speed for about 1-2 minutes, until light and fluffy. Scrape down the sides as needed using a rubber spatula.

Add the eggs, eggnog, and vanilla, reducing the speed a little at this point.

Now, reduce the speed to low and slowly add in the dry ingredients and mix until incorporated. NO OVER-MIXING!

Scoop the batter into each cupcake liner (¾ full) and bake at 400 degrees Fahrenheit for the FIRST 5 minutes. Then reduce temperature to 350 degrees Fahrenheit and continue baking for another 14-17 minutes or until a toothpick comes out clean in the center.

Once done, turn off oven and keep cupcakes inside with the oven door slightly open for about 2 minutes before taking them out.

Remove from oven and Let them cool COMPLETELY before frosting.
Eggnog Cream Cheese Frosting:
Simply combine the cream cheese and butter in the bowl of an electric mixer & beat together on medium-high speed until fluffy.

Add powdered sugar, vanilla extract, pinch of cinnamon, nutmeg, cloves and eggnog, continuing to mix on medium speed until you reach the desired consistency. **Add more eggnog (1 tablespoon at a time if too thick) or powdered sugar (for more thickness).*

Add buttercream to a piping bag and pie onto cooled cupcakes. Sprinkle with Holiday sprinkles, if desired.

Bon Appetit!
STORAGE: Best kept if stored in an air-tight container in the refrigerator for up to 7 days (unfrosted) and 3-4 days when frosted. Also, can be frozen for up to 6 months when unfrosted and thawed.
MAKE AHEAD: You can always bake these cupcakes the night or day before and let them cool, tightly wrap, and refrigerate until ready to use. The buttercream frosting can also be made prior and tightly wrapped and stored in the fridge as well. When ready to serve, let cake sit at room temperature for 30 minutes to an hour, frost, and enjoy!
OIL: If you want to substitute the melted butter, you can always use vegetable or canola oil.
VEGAN BUTTERCREAM: To make this buttercream vegan, simply use ¼ cup organic vegetable shortening + ¼ cup vegan butter (at room temp.) instead of unsalted butter. Reduce powdered sugar to 2 ½- 3 cups and leave out cream cheese. Follow remaining steps.
FLOUR: If you don't have cake flour, you can always just use all-purpose flour entirely instead. 
Calories:
225
kcal
|
Carbohydrates:
68
g
|
Protein:
4
g
|
Fat:
12
g
|
Saturated Fat:
7
g
|
Polyunsaturated Fat:
1
g
|
Monounsaturated Fat:
3
g
|
Trans Fat:
0.3
g
|
Cholesterol:
68
mg
|
Sodium:
151
mg
|
Potassium:
71
mg
|
Fiber:
1
g
|
Sugar:
14
g
|
Vitamin A:
433
IU
|
Vitamin C:
0.2
mg
|
Calcium:
68
mg
|
Iron:
1
mg
Eggnog Cupcakes + Cream Cheese Frosting.