This Apple Cheddar Thyme Pie is absolutely everything! What makes this one truly so special is the bursting of cheddar + herb flavors that pops through the buttery crust which all ties together well with the great balance of tartness from the granny smith apples. Just like with your other favorite pies, a generous scoop of  ice cream (or not) is optional for more goodness. A true family staple on any given day or during the Fall season + Holidays.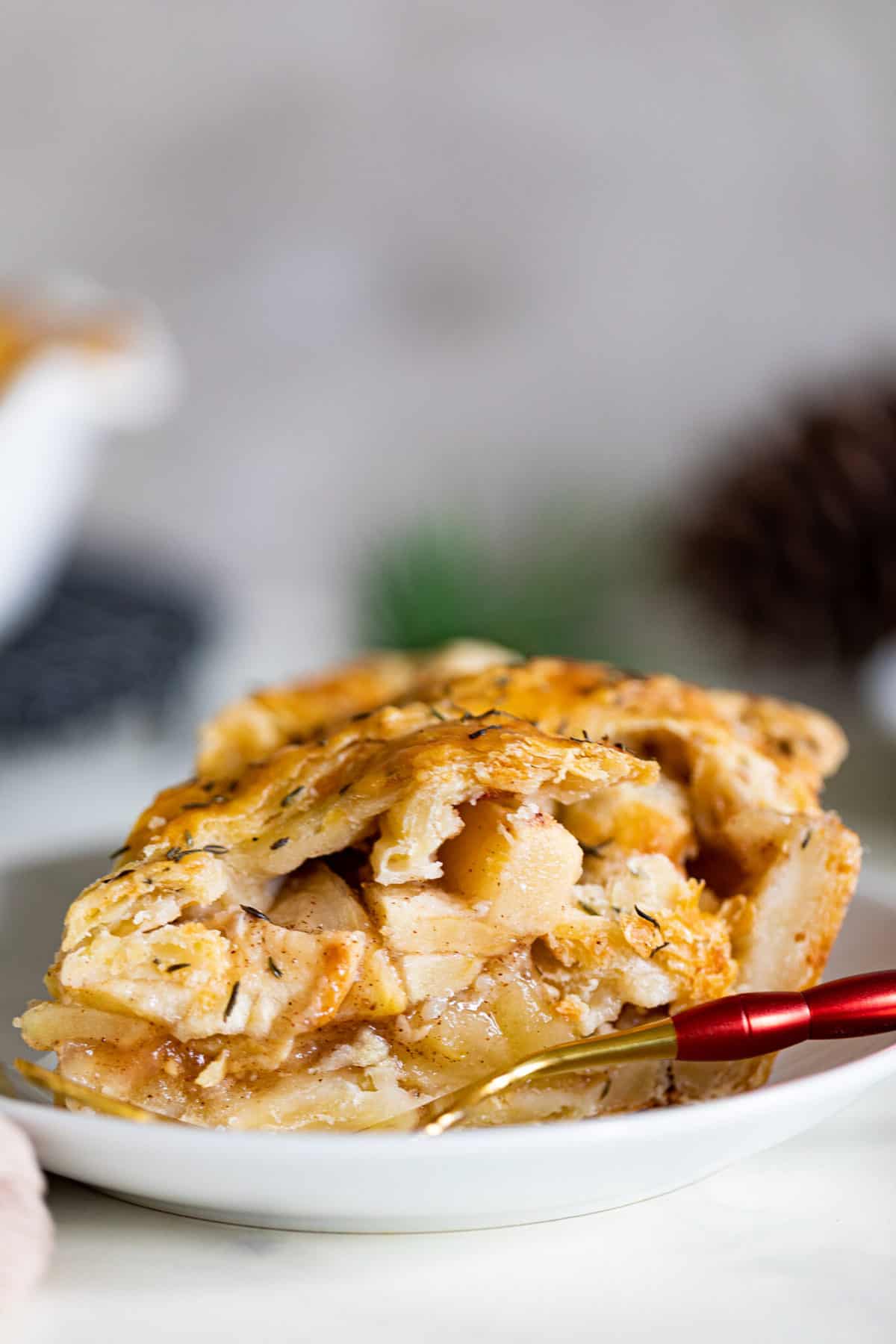 This post contains affiliate links.
Apple Cheddar Thyme Pie. What more is there to say? These four words give such great meaning to one slice of pie as it should. This thickly sliced pie that you see is just TOO GOOD not to make on your own.
I can't even find the words to describe the feelings that you feel once you take that first bite.
Apple + Cheddar + Thyme is the PERFECT TRIPLE COMBO!
If I'm honest, pies are MY THING. I mean I honestly love pies over cake. I know----don't throw all of the tomatoes at me. Haha.
But I'm sure that someone can relate.
Personally, when I bake cakes and cupcakes, I tend to eat the first slice and then leftovers mostly get eaten by my husband. I just don't indulge that much in cakes. However, when it comes to pastries like pies, pop tarts, galettes, etc.----I'm all game!
I don't know. Maybe it's the balance of the crunchy, buttery crust that gets me every time. Haha. What is it for you?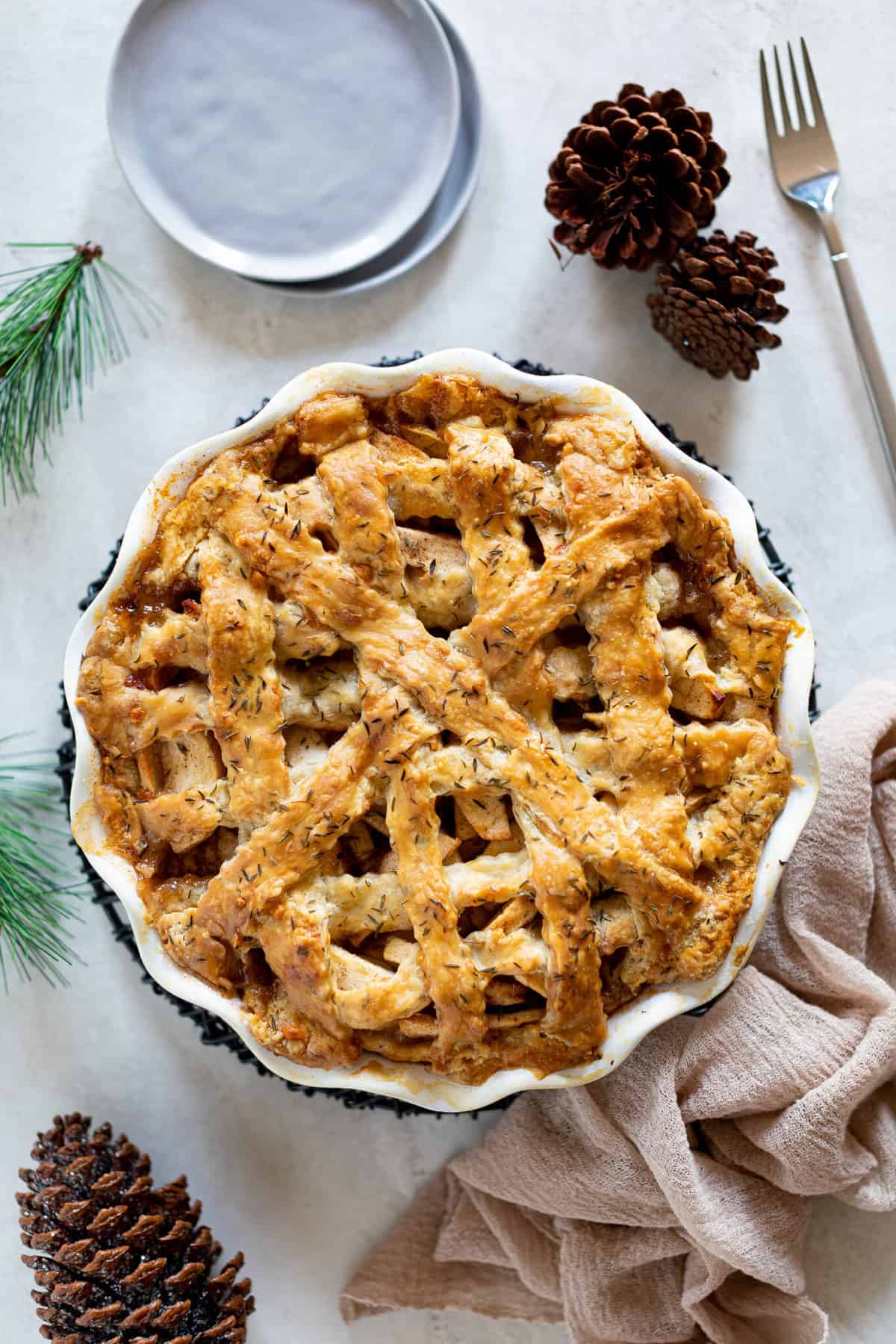 OK, so back to this pie specifically. Funny thing is, I planned on doing a traditional Apple Pie on Orchids + Sweet Tea this year, because believe it or not, I still haven't had such a staple recipe on the blog. I know, crazy!
Yes, so in my planing on incorporating a traditional apple pie, I came across the latest trend of adding cheddar to the crust.
Automatically, when I saw this the Southern girl in me said, "Yassssssss!". Haha.
If you're Southern or ever been around someone who is Southern, then you know CHEESE IS LIFE! While, I've done a tremendous job in minimizing dairy in my diet for the past year or year and half, I do enjoy some good ole' cheese whenever I make recipes like these.
With this recipe specifically, I chose to use Mild Cheddar cheese because I personally love the burst of and savoriness of the cheddar flavor----shoutout to Organic Valley for truly being my staple brand when it comes to this cheese!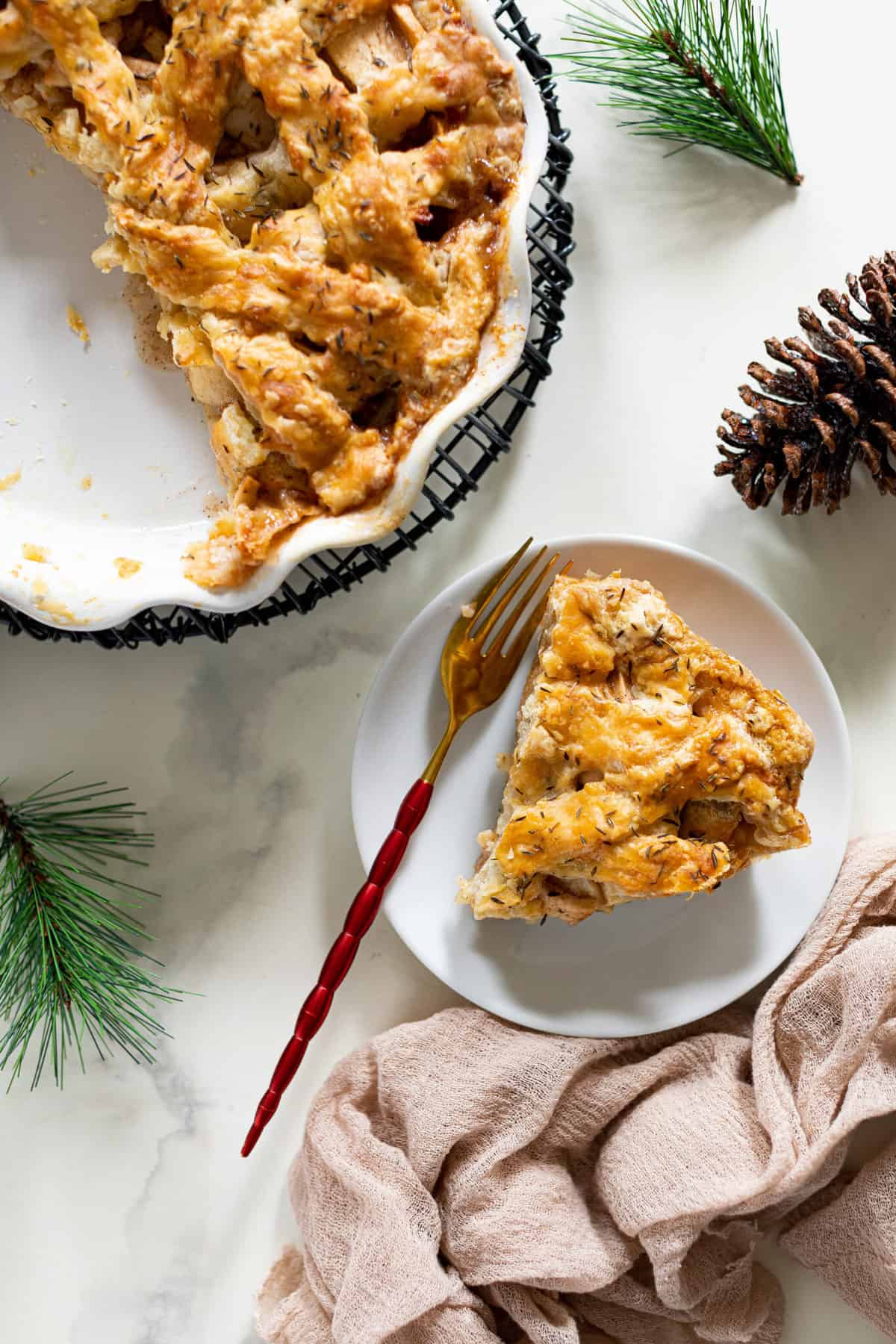 FOR A BEAUITFULLY BUTTERY CRUST:
When it comes to ensuring that the crust is nicely crisp and absolutely buttery, it requires only a few ingredients and short steps. What you'll need:
1 cup Almond milk, very cold
1 ½ cups Organic All-purpose flour
1 ½ cups Organic Pastry flour
1 cup freshly Shredded Mild Cheddar Cheese
½ teaspoon sea salt
1 tablespoon dried thyme
Pinch of cinnamon
1 cup unsalted butter (That's 2 sticks; Make sure that they are very cold and cut into cubes)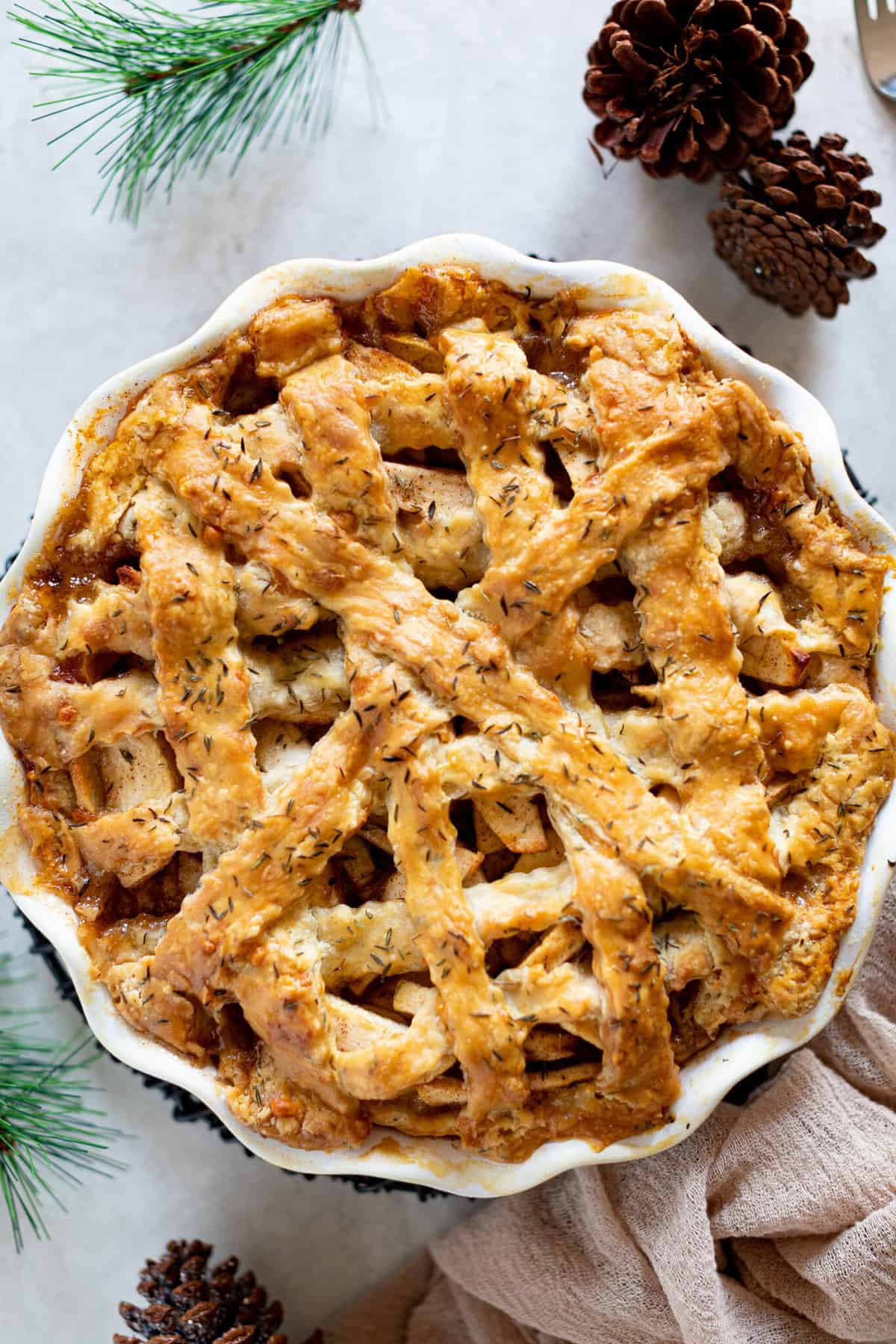 TIPS FOR A FLAKY, BUTTERY CRUST EVERY SINGLE TIME:
TIP #1: The butter is SUPER important. When it comes to the vegan buttery sticks, ensuring that they are COLD and of course from a great brand is key! For Vegan pastry crusts, I generally go for Earth's Best Buttery Sticks which will have you believing that you've used actual unsalted butter.
TIP #2: Adding Shortening works too! Although, I tend to use buttery sticks alone, adding shortening or lard adds great wonders as well. All you need is half shortening and half butter.
TIP #3: Fridge time is Important time! Chilling your dough for an hour at minimum is so imperative to a flaky crust. Even slightly longer makes for a great advantage.
TIP #4: Your Flours matter big time! While different brands of flour actually hydrate different (causing for a slightly different result), ensuring that you mix in all-purpose flour with pastry flour is also just as important. Believe it or not, pastry flour actually makes a difference and serves a greater purpose!
TIP #5: SLOWLY pour in water, don't dump it! Ensuring that you lightly pour water-acv mixture while creating dough is so imperative. I generally slightly pour ¼ at a time and work the dough with my hands to eyeball how wet or dry everything is.
TIP #6: Dough can be made in advance, too. If making your crust ahead, you can always store it in the refrigerator for up to 2 days. No longer!
TIP #7: Not too Thick or Thin. Ensuring that you roll out a good enough crust is of course a must. Most go by the rule of thumb being ⅛ of an inch thickness or even slightly thicker. This helps your crust to the perfect thickness to carry the weight of your filling without compromising flakiness.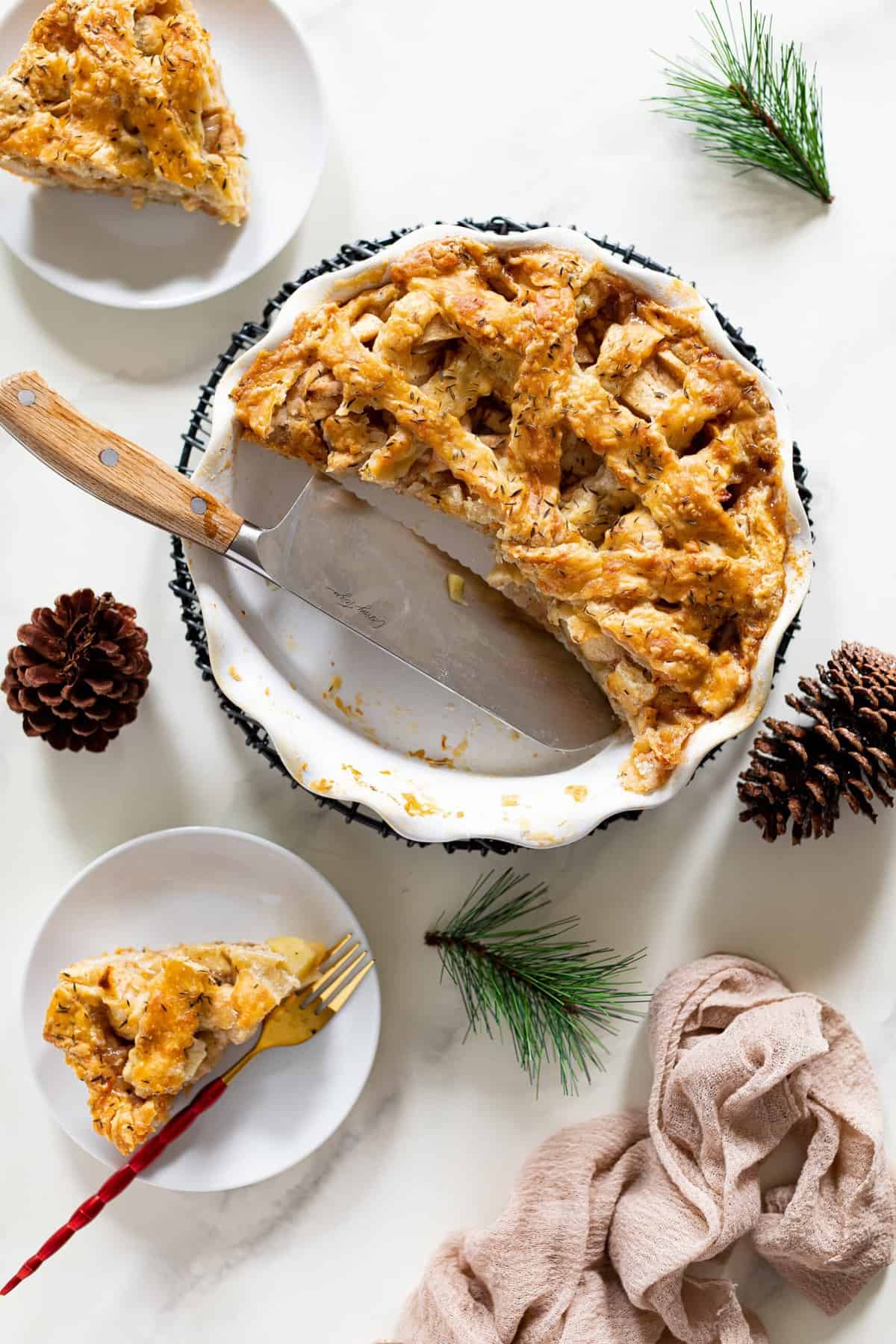 What You'll Love Most About This Homemade Apple Pie.
Very easy to whip together and uses minimal main ingredients.
Ready in a little over 1 hour and WORTH THE WAIT.
Warm and comforting with every bite.
Loaded with delicious Apple, Cheddar, + Herby flavor.
Thickly packed with apples for a nice bite.
A great twist on the traditional Apple Pie.
Makes for the perfect sweet treat for the entire family.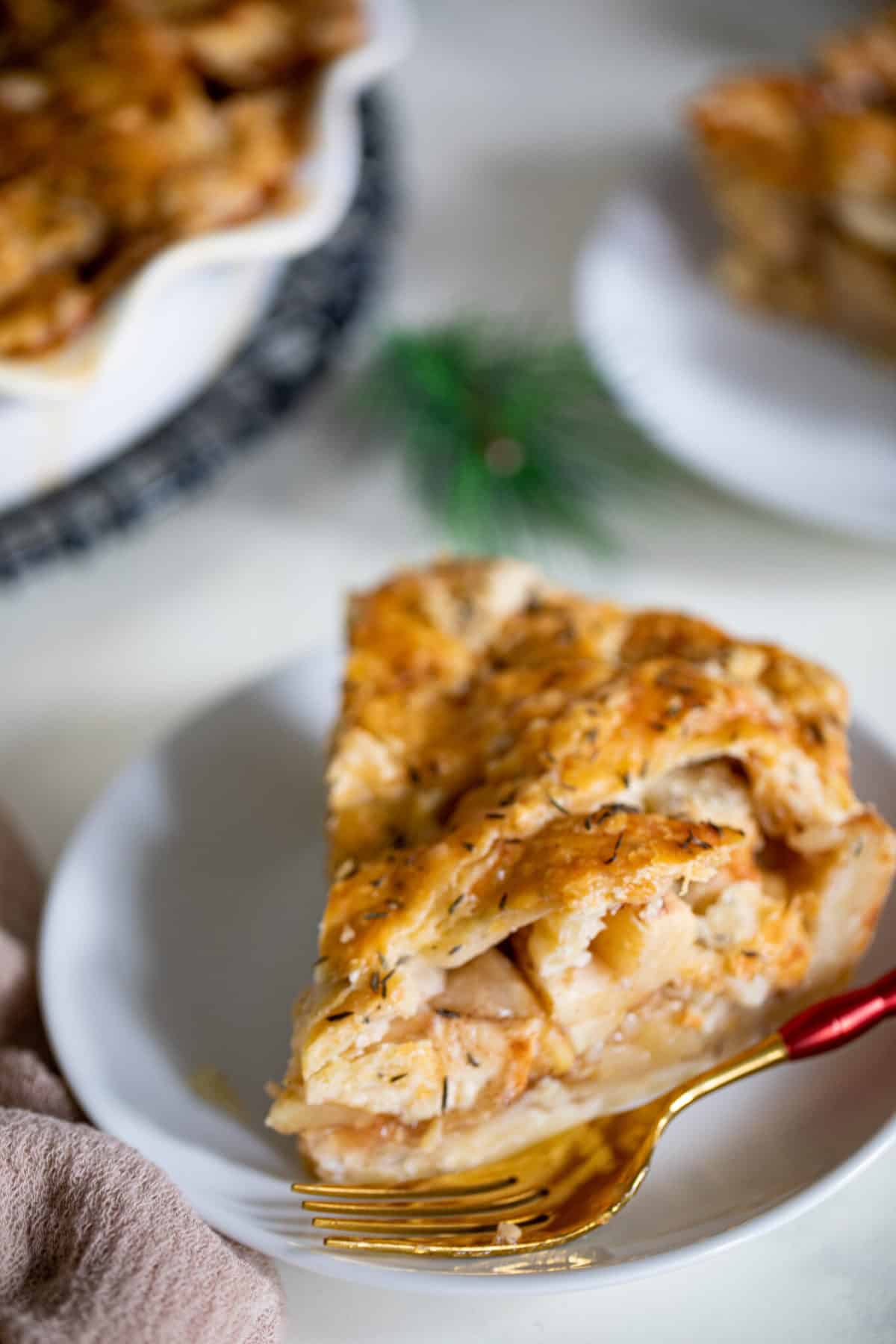 Need Other Delicious Ways to Use Apples?
These Warm Vegan Apple Cinnamon Pancakes are the perfect, healthy twist to kick start your day! Completely fluffy, airy, and oil-free, these pancakes are truly irresistible—especially with the burst of Fall spices and bold apple flavor.
Homemade Gluten-Free Apple Crisp—the epitome of warm, sweet, rich in Fall spices, and absolutely creamy. Based with tender cooked apples + well coated in creamy coconut cream and Fall spices, this crisp comes topped with toasted gluten-free oats and is a guaranteed staple.
This Fall Harvest Pizza with Apples, Candied Bacon, Broccolini, + Kale is absolutely the most perfect family-friendly recipe for the Fall season! It comes topped with spicy chipotle olive oil base, and topped with mild cheddar cheese, apple slices, sautéed broccolini, kale, and candied turkey bacon. So much savoriness and sweetness in one pizza pie. The best weeknight meal option for everyone.
When it comes to these Fall Harvest Apple Bacon Crostinis, the word 'delicious' is an understatement. This simple in method, yet complex in flavor recipe is the perfect little bite for any occasion or gathering, especially during the Fall season. Lightly crisp sliced french bread topped with vegan 'cream cheese' made from cashews, candied bacon, sautéed spiced apples, and a pinch of thyme.
Vegan Apple Cinnamon Crumble Bread is an essential part of the Fall season. It's perfectly sweet and moist, a balance between soft and crunchy, and 100% delicious with the perfect amounts of Apple + Spice flavors! It takes less than 10 minutes to whip together and makes for a great healthy alternative for a little sweetness in the morning for breakfast or even for dessert. Oil-free, Gluten-free option available.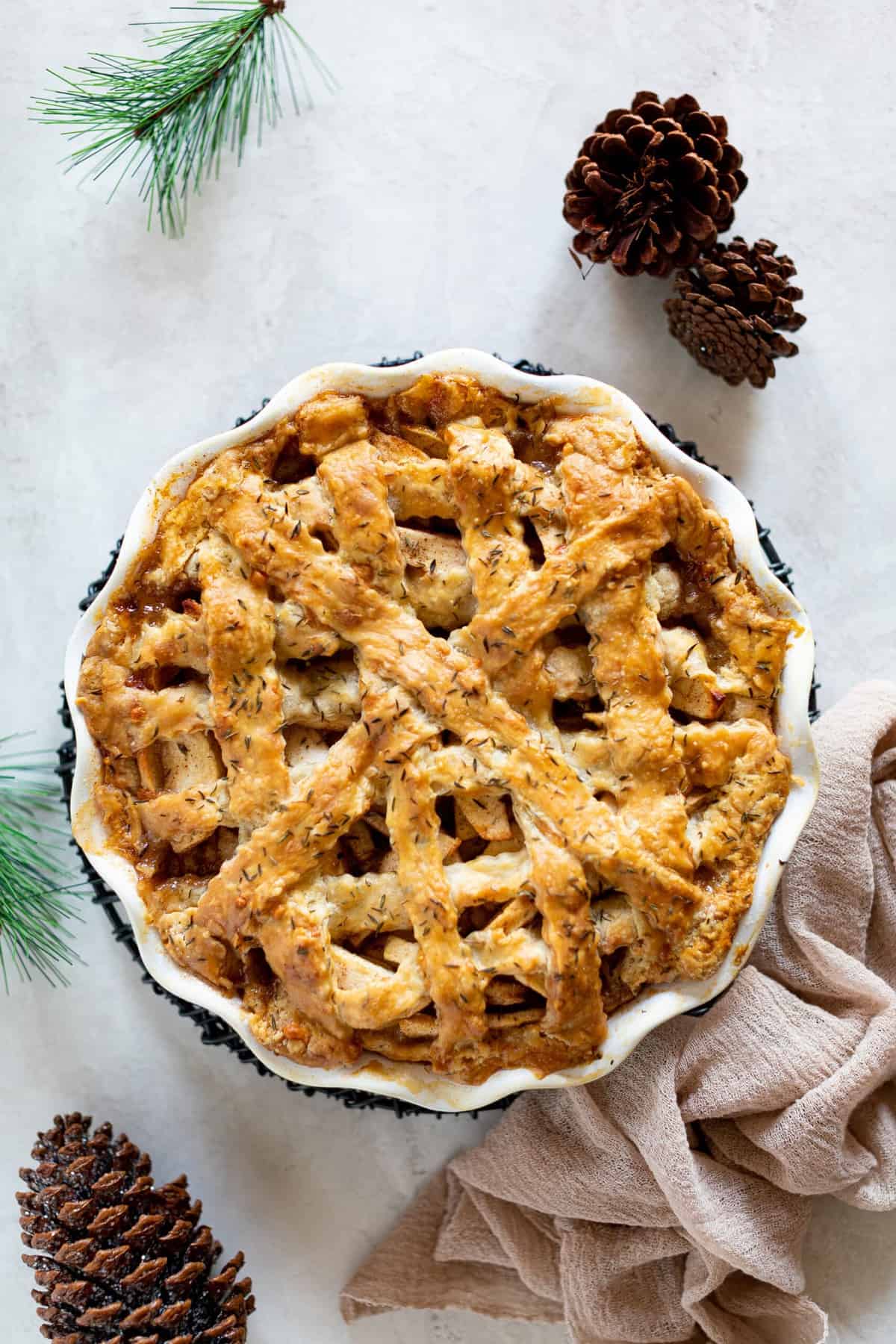 Common Q + A's About This Apple Pie.
CAN I MAKE THIS AHEAD OF TIME?
Absolutely! When it comes to make most pies, you can make the crust a day or two in advance and refrigerate it until you're ready to use it. For longer chill times, you might need to let your crust sit at room temp for a few minutes before you begin rolling it out. For the filling, you can simply add all of the ingredients together and stir them in a bowl, wrap the top of bowl tightly, and store in the refrigerator overnight.
WHAT OTHER INGREDIENTS CAN I ADD?
When it comes to the filling, you can spruce things up a bit by using various types of apples----a mix of Granny Smith, Gala, HoneyCrisp, Fuji, etc. for extra flavor. In addition, you can always add a bit of smokiness to the filling by adding Gouda cheese or bacon. I mean---why not? Haha.
HOW DO YOU GET A PERFECTLY DESIGNED PIE CRUST?
Honestly, when it comes to my pies, I am pretty traditional with the design. While there are many types of designs for your crust, including braids, lattice, cutouts, etc., I chose to keep it simple with a wheel decorator cutter tool.
Of course, there are so many other tools which help you to create a great looking crust such as dough blender, pastry wheel, pastry tamper, and if you're really technical----a dough rolling bag which has measurements.
HOW DO YOU BEST ROLL OUT YOUR DOUGH?
Rolling out my dough was once a challenge that took practice to master for true evenness. Honestly, it wasn't until I began using this french rolling pin, that I started to feel the ease of rolling out my dough evenly. Of course, ensuring that you cute your dough in half since you'll be needing a top + bottom with pie along with having a bit of flour readily available to add to the surface to avoid sticking are other things that help too!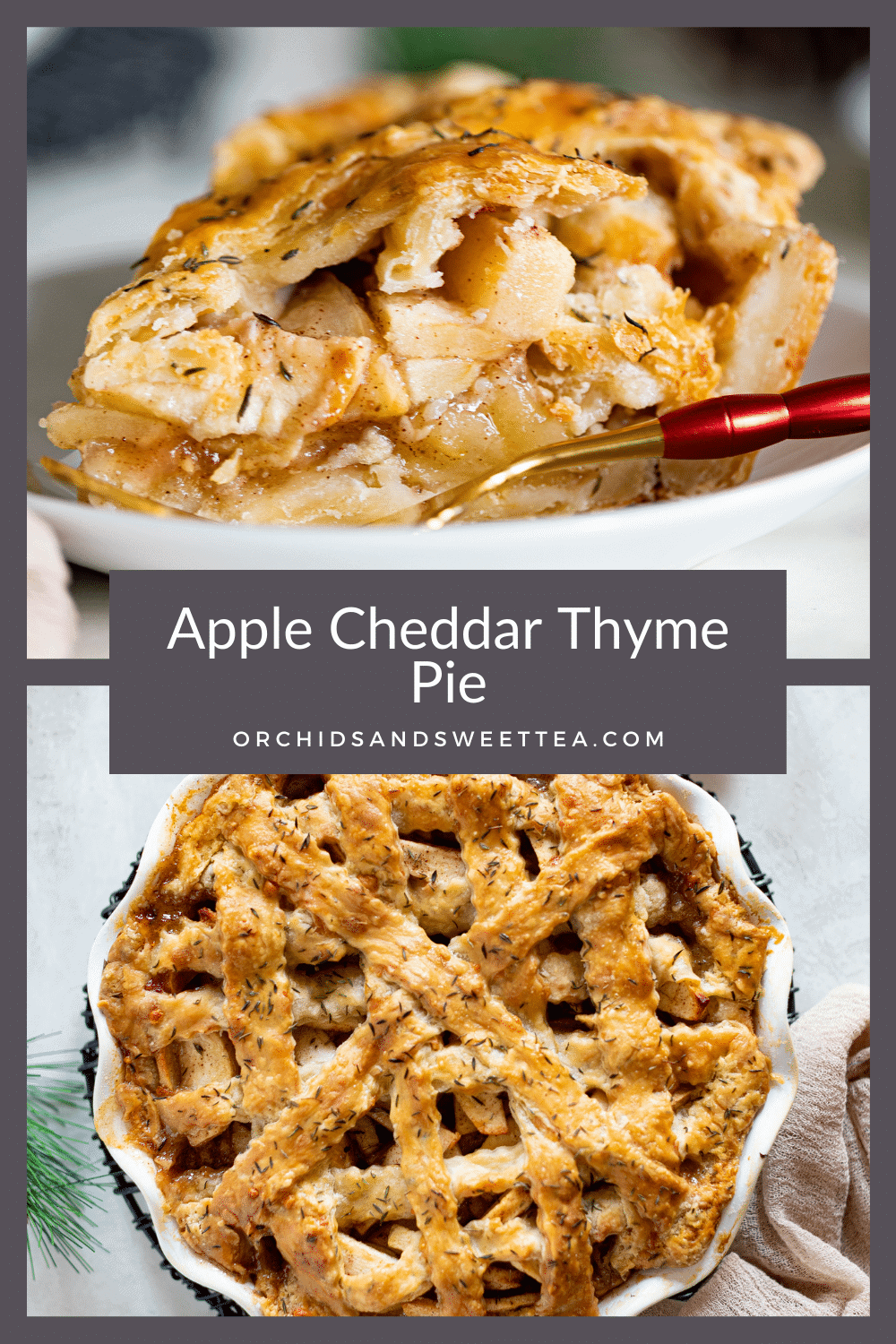 Total Time:
2

hours
30

minutes
FOR CHEDDAR + THYME CRUST:
1 ½

cups

organic all-purpose flour

(I use Bob's Red Mill)

1 ½

cups

organic pastry flour 

(I use Bob's Red Mill)

1

cup

unsalted butter, cold + cubed

(That's 2 sticks!)

1

cup

Almond milk, cold

(See Notes!)

½

teaspoon

sea salt

pinch of

ground cinnamon

1

tablespoon

dried thyme

1

cup

Shredded Organic Mild Cheddar Cheese

(I use Organic Valley; You can use regular Cheddar)
FOR FILLING:
6-7

large

Granny Smith Apples, peeled + sliced

(See Notes!)

½

cup

organic pure cane sugar

(I use Wholesome Sweets)

¼

cup

Arrowroot starch

(See Notes!)

1 ½

Tbsps

ground cinnamon

1

teaspoon

ground nutmeg

½

teaspoon

ground cloves

½

teaspoon

allspice

½

cup

Shredded Organic Mild Cheddar Cheese

(I use Organic Valley; You can use regular Cheddar or Gouda)
In a large bowl, add the all-purpose flour, pastry flour, sea salt, pinch of cinnamon, dried thyme and shredded cheddar, whisking them all together.

Add the cubed butter and using a pastry blender, blend butter into dry ingredients until the mixture becomes "peas-like" and crumbly.

Pour the cold milk (slowly) and stir (working it together with one hand) until the dry ingredients are moistened. **NOTE: If the ingredients feels a little too dry, add 1 tablespoon of cold milk at a time, until it's moistened BUT not too wet!**

Once you're able to form it into a ball, cut in half into 2 separate balls and wrap them in plastic wrap (individually) and refrigerate for 1 hour (minimum), up to 1 and a half hours or of course overnight.

In the meantime, make the Pie Filling.
TO MAKE PIE FILLING:
In a large bowl, add the sliced apples, sugar, starch, spices, and cheese, stirring everything together until well combined. Set aside.
ASSMEBLY:
Preheat your oven to 400 degrees Fahrenheit.

Remove dough balls from the refrigerator and place them on a lightly floured surface. Roll out first dough ball (not making it too thin), about ½-inch thick and gently placing it in your pre-greased (with butter) pie crust baking pan; working it around evenly. Next roll out 2nd dough ball (about the same thickness as first one) and leave it there until ready to use.

Add the apples and minimal amount of juices from the bowl to the center of the crust, evenly spreading it out until evenly spread.

Now go back to your set aside flattened 2nd pie crust dough and using a sharp knife or wheel pastry cutter, cut dough (longways) into eight to ten 1⁄2-inch-wide strips. To make the strips easier to transfer, gently fold them over, then place them on top of the pie and unfold them, being sure to place the longer strips in the middle and working the shorter ones toward either side of the pie.

To create a lattice pattern, place one long strip of dough perpendicular to the parallel strip, then unfold the folded strips over the perpendicular strip. Lay a second perpendicular strip of dough next to the first one with some space between them and unfold the folded parallel strip over the second one. Continue with each strip until a complete weave is made over the top of the pie.

Make sure to pinch each end together with bottom crust to ensure that both top and bottom crust stay in tact. Be sure to do any folding or tucking for any excess pie crust. Then using the last two strips from the dough, twist and add it around the edges of the pie until fully all around.

Once done, lightly brush the top of pie crust with egg wash and place in the oven to bake for 45 minutes to 1 hour, until top is golden brown and apples are bubbling through. 

Remove from the oven and let it cool COMPLETELY----about 2 or so hours.

Slice pie and serve with a few scoops of ice cream, if desired.

Bon Appetit!
STORAGE: Keep leftover pie tightly wrapped with heavy duty plastic wrap or foil and refrigerated for 3-4 days. Re-heat each slice when serving.
FLOUR: If you don't have Pastry Flour available, simply substitute for All-Purpose Flour.
MILK: You can substitute Almond milk with your favorite plant-based milk, regular whole milk, or water.
FOOD PROCESSOR FOR CRUST: If using a food processor to incorporate water to flour/butter mixture, ONLY ADD ¼ cup of water AT A TIME to your dough, keeping it on "pulse" to avoid the dough from breaking down too much and it becoming "watery". With this method, you may not need the entire 1 cup of water.
APPLES:Best apples to use for this bread are: Granny Smith, Gala, Honeycrisp, Fuji, etc.
STARCH:If you don't have arrowroot starch (which is a great GF starch), you can substitute with regular starch, tapioca flour, or regular all-purpose flour.
Calories:
615
kcal
|
Carbohydrates:
76
g
|
Protein:
12
g
|
Fat:
32
g
|
Saturated Fat:
19
g
|
Polyunsaturated Fat:
2
g
|
Monounsaturated Fat:
8
g
|
Trans Fat:
1
g
|
Cholesterol:
105
mg
|
Sodium:
340
mg
|
Potassium:
336
mg
|
Fiber:
8
g
|
Sugar:
30
g
|
Vitamin A:
1073
IU
|
Vitamin C:
8
mg
|
Calcium:
247
mg
|
Iron:
3
mg
Apple Cheddar Thyme Pie.