These Chewy Brown Butter Pecan Cookies are the epitome of the best cookies ever with a rich, sweet, + nutty twist! Unlike standard cookies, these little handheld favorites are full of rich flavor from the nice balance of brown butter and toasted pecan charm, which work perfectly together. Plus, their crinkled look and thick, chewy bodies make for a real sweet indulge + obsession. A guaranteed adult + child favorite.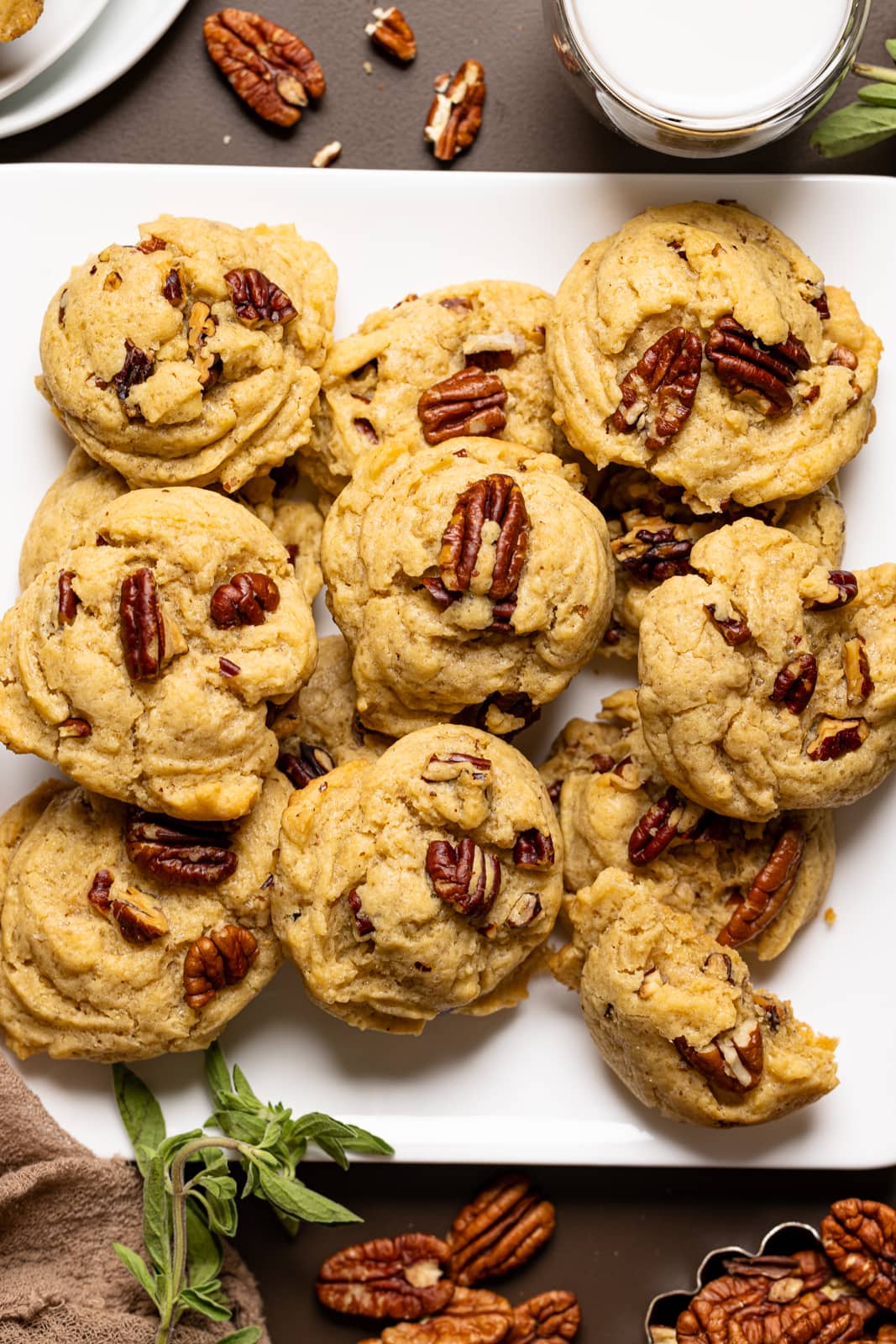 Disclaimer: This post contains affiliate links via Amazon for products that I wholeheartedly love and receive commission from.
I don't know about you, but when it comes to cookie of any kind, I'm such a sucker for their soft, chewy little bodies. And these Chewy Brown Butter Pecan Cookies don't disappoint at all. Maybe it's just me, but I think that Butter Pecan is such an underrated flavor. Don't you agree? I remember my first time attempting homemade ice cream with this No-Churn Butter Pecan Ice Cream and thinking---"wow, this tastes great!". So, now that I've made these cookies, I can surely attest to how great butter pecan really is and I can see why it's one of the popular flavors out there!
Growing up, I've never been an avid butter pecan kind of girl, however, my husband loves it and truly influenced my love for it now. Believe it or not, but in the beginning of my baking journey, I would always avoided cookie recipes because I felt that although the steps were easy, the turnout just never matched my expectations. Haha. And if you're like me, then really easy cookie recipes are a lifesaver and these Big Bakery-Style Oatmeal Chocolate Chip Cookies, Oversized Crinkled Chocolate Chip Butterscotch Cookies, and Soft + Crisp Crinkled Butterscotch Cookies are a must bake!
What Flavor is Butter Pecan?
Basically, butter pecan is a flavor that merges the nutty notes of pecan with a bold, richness of butter and a hint of sweet vanilla. The distinctive flavor of the pecan is hard to pinpoint – even for experts – but it's best described as having sweet and roasted undertones.
Jump to: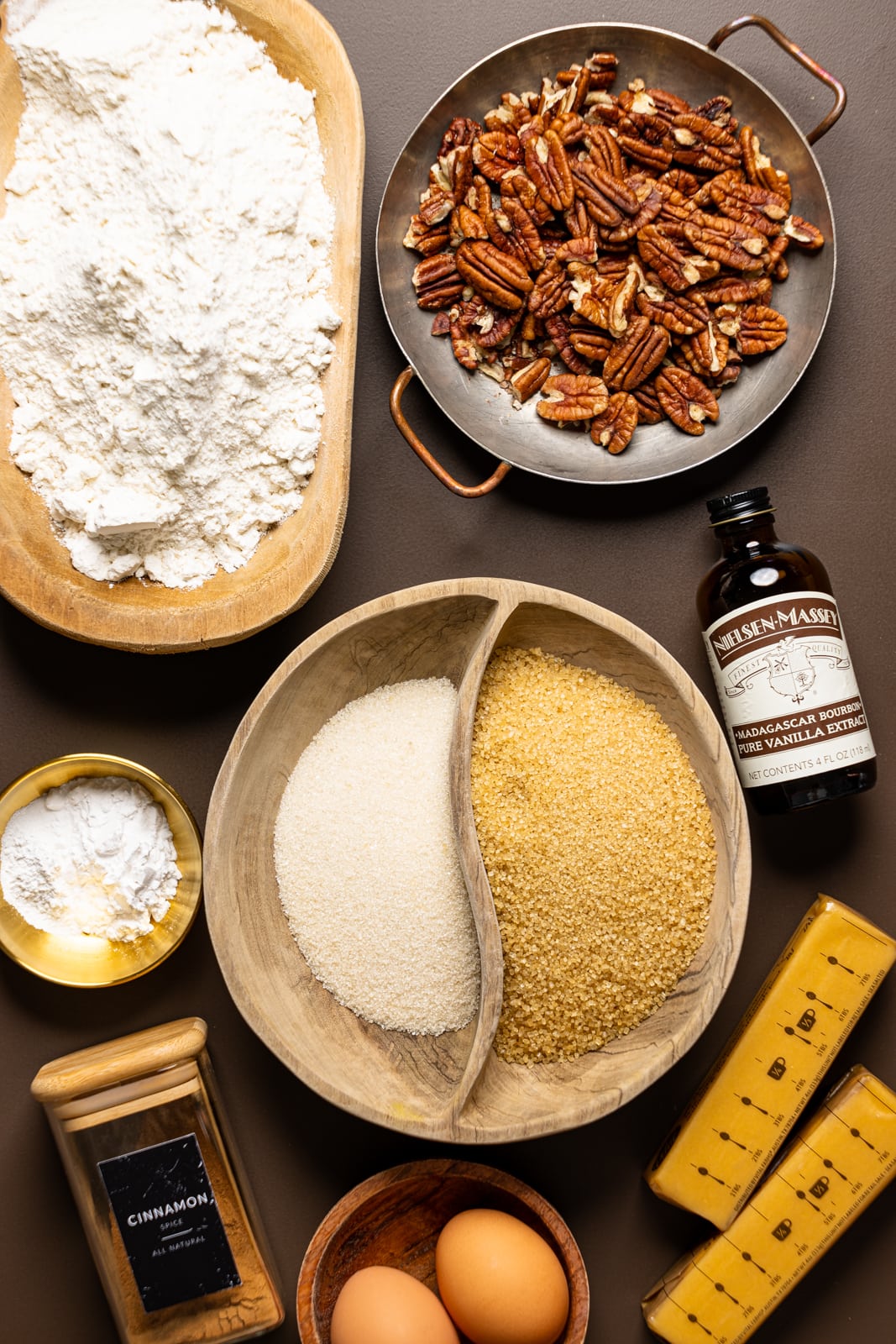 How to Make Brown Butter Pecan Cookies
These Brown Butter Pecan Cookies take just a little over 30 minutes (in total) to whip up. You'll need a few important ingredients to achieve the thick, chewy texture perfectly, chill them for at least 1 hour for the best structure/texture, then bake them to perfection!
Ingredients for Cookies
You'll need a few important ingredients to achieve the thick, chewy texture perfectly for these cookies:
Unsalted butter. No need to have the butter at room temperature. You can take it right out the fridge if needed because you'll be melting it in a skillet until darkened and fragrant.
Brown sugar. Choose organic sugar to ensure it's vegan and healthier. This helps to create a caramelized flavor to the cookies.
Cane sugar. I like to use organic cane sugar as well. Using this hand in hand with brown sugar allows the cookies to have a nice color, spread nicely, while keeping firm as well.
Vanilla. To balance the rich butter and pecan flavors. Adds a nice sweetness to the cookies.
Egg. This is the binder for your cookies. You'll always need these at room temperature.
Flour. I use Bob's Red Mill or King Arthur Flour all-purpose (organic) for the best results and taste. The quality of your flour matters!
Baking soda + baking powder. To help your cookies rise in the oven perfectly.
Cinnamon. Helps to enhance the butter and pecan flavors in these cookies. Just a pinch is needed.
Arrowroot. Adding this can really help lighten up the texture of these cookies.
Pecans. Use pre-chopped to skip a step or chop halved pecans. They are more pronounced in flavor once toasted, so it's recommended.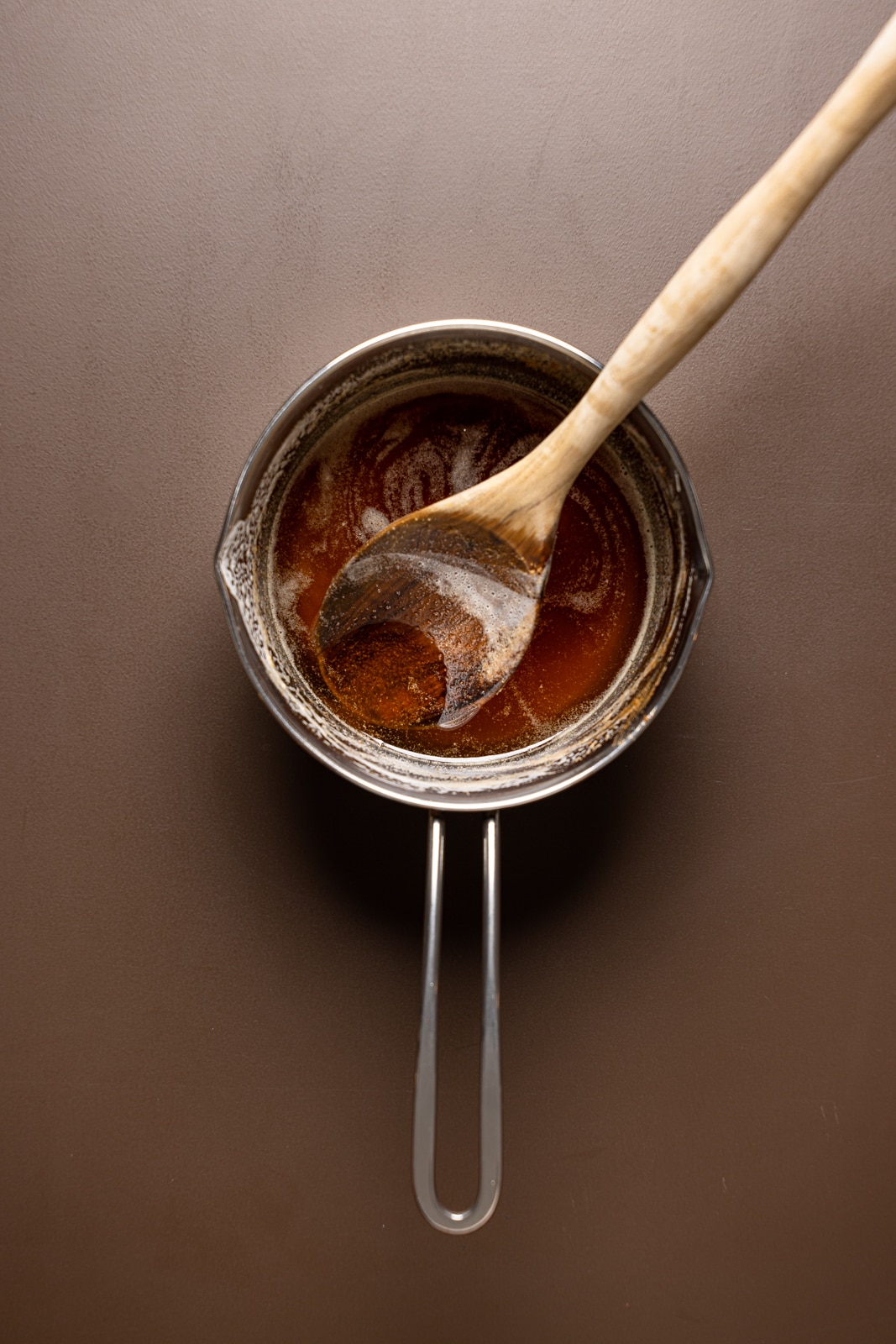 Why You'll LOVE These Butter Pecan Cookies
TEXTURE - I'm not exaggerating when I say these are SOOO soft, chewy, + crispy all at once. Traditionally, cookies are always soft + chewy so I had to keep things traditional, even in the presence of their chunky structure thanks to the pecans. The perfect amount of chewiness.
MAKE AHEAD - You can prep the cookie dough or bake the cookies in advance and even freeze the dough for quick butter pecan cookies in a pinch.
FESTIVE & FUN - I love getting my family involved in decorating these cookies with pieces of pecans (or sprinkles if you're feeling extra fancy), the kids LOVE it and it gets everyone in the mood for childhood nostalgia.
TASTE - Sweet, nutty, rich, and salty from the pecans and brown butter------YUM.
EASE - This cookie recipe is foolproof, and gets you ready for the Spring season or any season without any hassle!
How to Brown Butter
Once you get the hang of browning butter, the process becomes second nature. At first, however, it might be a challenge to perfect the technique on your first try. Butter can burn quickly and easily, so you cannot step away during this process!
First, melt your butter in a skillet over medium to medium-low heat.
Once the butter has melted completely, allow it to begin bubbling. If the butter spatters, the heat source is too hot!
Allow the butter to cook for 3-4 minutes until you begin to see toasted bits at the bottom. This is the milk solids browning!
Once a rich brown color has been achieved and the butter smells nutty, it is ready. Remove the butter from the heat immediately.
Allow to cool and store in the fridge. Or, use it right away!
The Secret + Tips to Chewy + Crisp Cookies
Short answer: The banging process.
The trick about everything is in the banging. During the baking process, you have to bang the baking sheet with your cookies a few times before they are fully baked. Therefore, the "crinkling" comes as a result of the center of the cookies falling inward, pushing the rest of it outward. I know, it sounds pretty crazy, but it's so cool!
Combining this "crinkling" process with the flavor combo of brown butter and pecans is like "Heaven on Earth" with each bite.
Who Created This Banging Method, Exactly?
I originally saw the "crinkled" cookie recipe about 2-3 years ago in the New York Times, which was originally by Sarah Keiffer, a baker and blogger of The Vanilla Bean Blog.
This variation of a cookie is such genius idea and while it can be intimidating to execute due to the process of getting them done right, it definitely is worth the try.
What's the Difference Between Butterscotch and Butter Pecans?
Believe it or not, there's a difference between the two. Butter pecan is a flavor that offers rich, buttery notes, with the nuttiness of the pecans. Whereas, butterscotch is a sweeter flavor that offers a more creamier feel and the sauce is made from butter and brown sugar----very similar to caramel.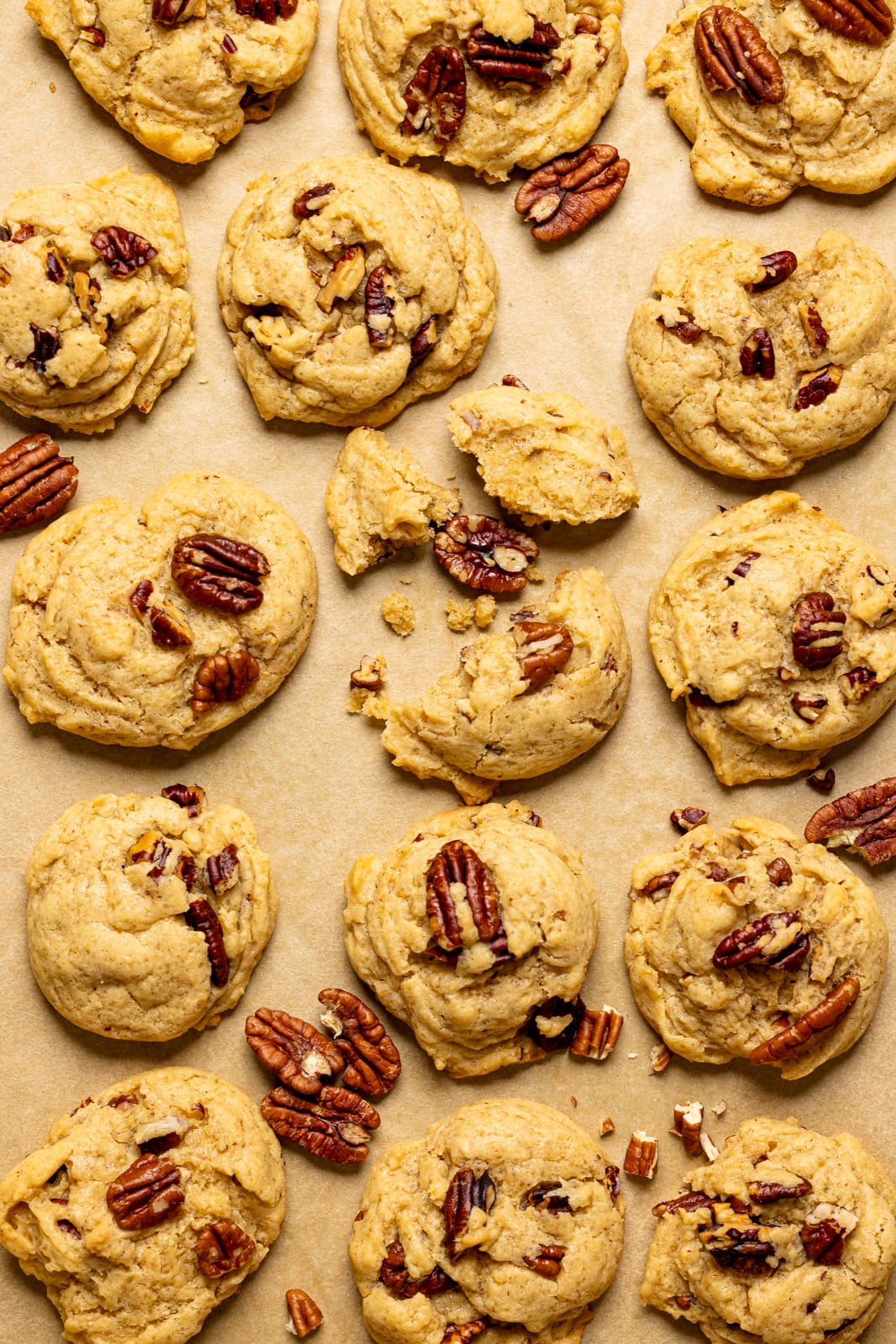 Common Q + A's for these Cookies
How to store leftover butter pecan cookies?
Once properly stored in an air-tight container, cookies last for 3-4 days at room temperature or in the refrigerator for a little longer. Reheat slightly (a few seconds) in the oven, toaster oven, or microwave when ready to serve.
Can I freeze these cookies?
Absolutely! You can also freeze your cookie dough (once formed into a ball) so that you can store them longer and bake as needed.
How many cookies does this recipe make?
This recipe makes 2 dozen cookies, which is about 24. To make more cookies, simply double or triple the amount of ingredients!
Is butter pecan the same as praline?
In general, praline flavor has a sweeter taste with added praline candy pieces and a smoother texture, making it great for mixing with other desserts or toppings. However, butter pecan has a more caramel-like flavor with a chunkier texture due to the added pecan pieces.
Why is butter pecan called butter?
The short answer is the incorporation of butter and brown sugar, which together creates a rich, buttery flavor when paired with the bits of pecans.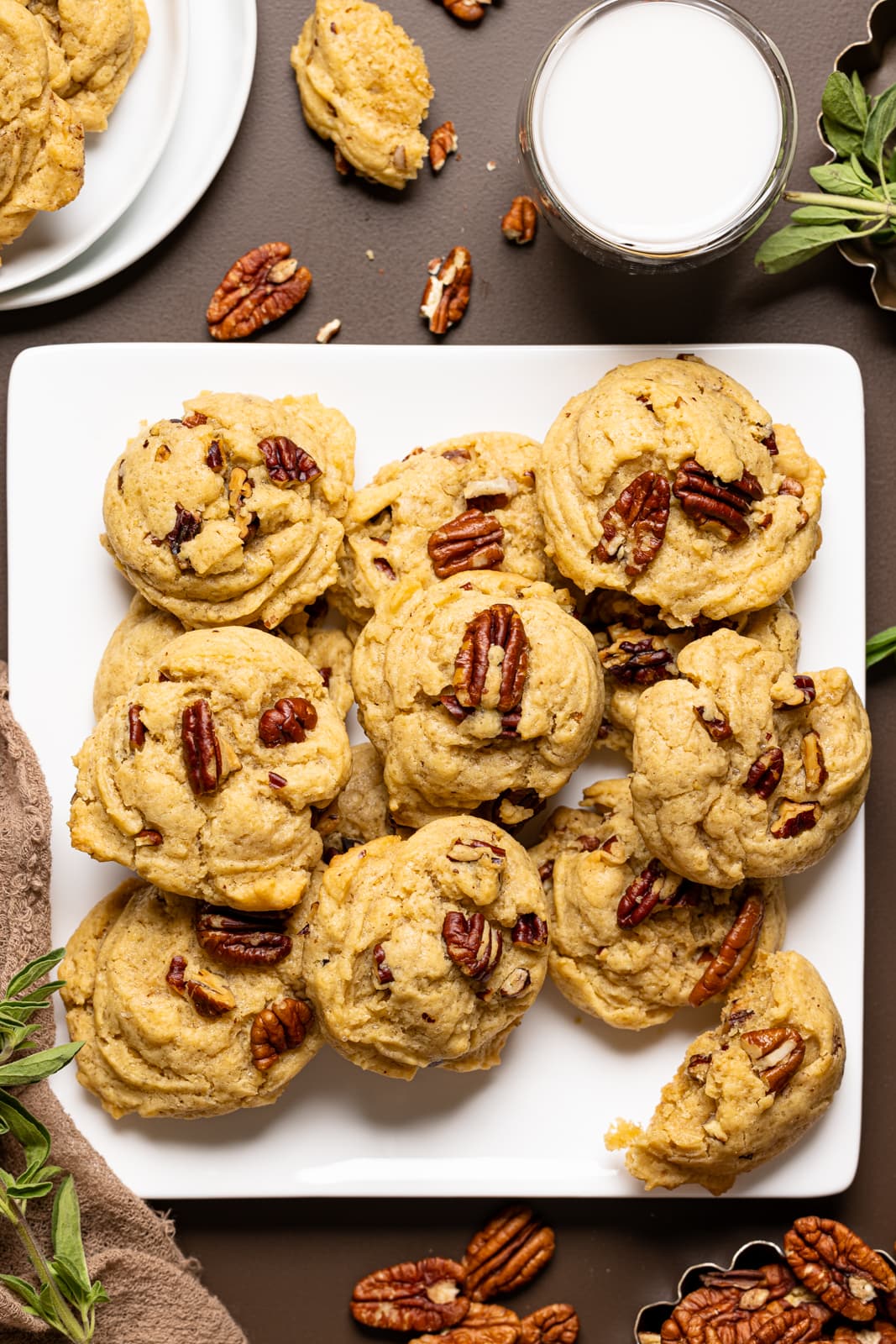 More Pecan Filled Recipes to Try!
Now that you're on a pecan baking kick with this butter pecan cookie recipe, give these recipes that your entire family will love a try next:
MADE OUR RECIPE(S)?
If you tried this Chewy Brown Butter Pecan Cookies recipe or any other recipe on my website, please please leave a 🌟 star rating and let me know how you go in the 📝 comments below. I love hearing from you.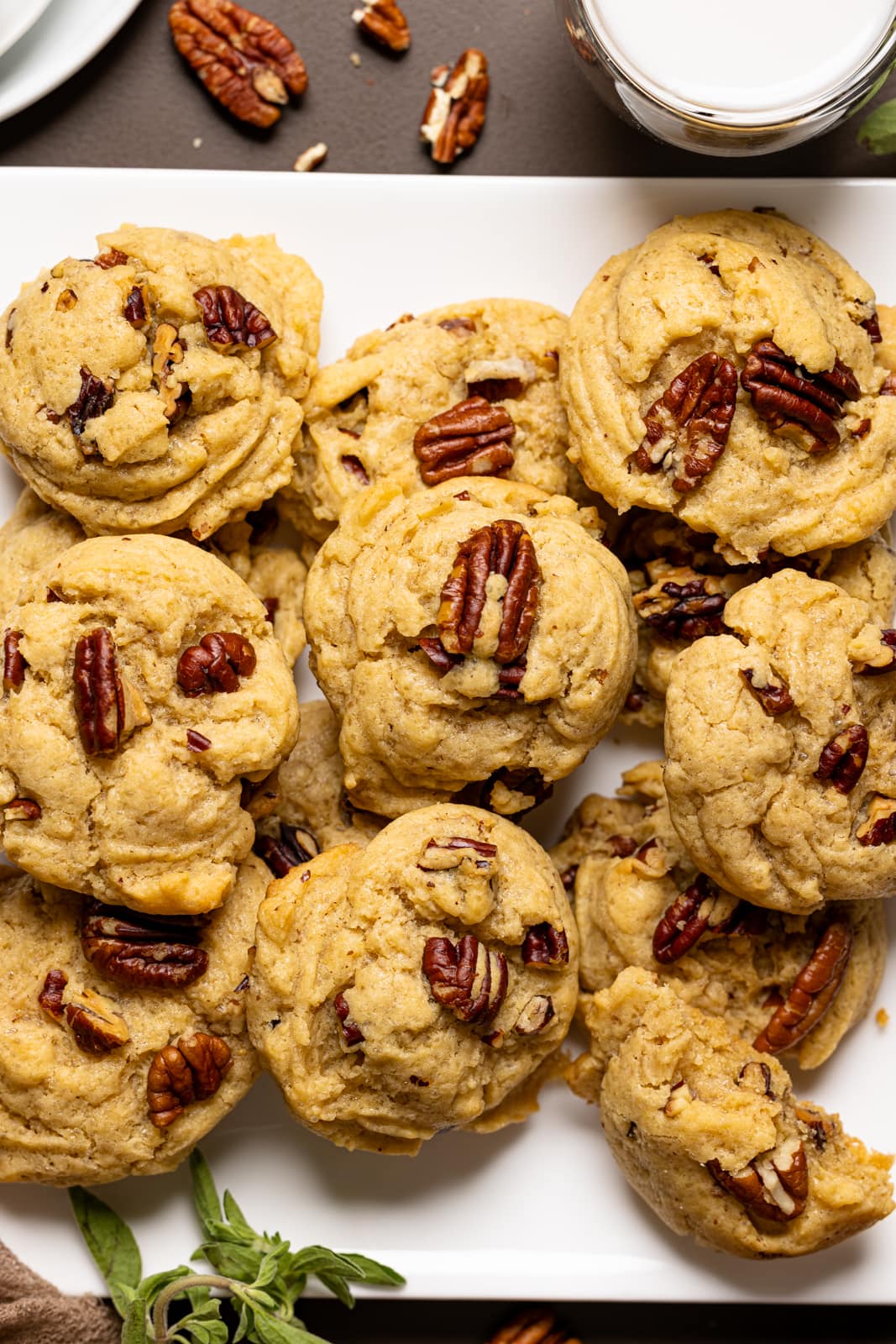 COOKIES:
2 ¼

cups

organic all-purpose flour

1

cup

organic brown sugar

½

cup

organic cane sugar

1

teaspoon

baking soda

1

teaspoon

arrowroot starch

(You can also use cornstarch)

½

teaspoon

baking powder

½

teaspoon

sea salt

Pinch of

ground cinnamon

1

cup

unsalted butter

2

tsps

vanilla extract

2

large

organic eggs, at room temp.

1 ½

cups

chopped pecans, toasted
TOAST THE PECANS:
Preheat the oven to 400 degrees Fahrenheit and line a baking sheet with parchment paper. Place the chopped pecans unto the baking sheet, ensuring that they are evenly spread out and toast them for 10 minutes, tossing them halfway to prevent browning on just one side.

Remove from oven and let them cool completely.
TO MAKE THE BROWN BUTTER:
TO MAKE THE COOKIES:
In a large bowl, add in the cooled brown butter and both sugars, beating them together using a hand mixer (or electric stand mixer)until the mixture looks smooth and fluffy. Add in the eggs and vanilla, and continue to mix until combined.

In a bowl, add together the flour, baking soda, baking powder, arrowroot, cinnamon, and salt, whisking together until combined.

With the mixer on low-speed, add in the dry ingredients to the wet ingredients, mixing until the mixture becomes smooth, moistened, and holds together well. Fold in the cooled toasted chopped pecans.

Using a standard cookie scoop, scoop each cookie dough onto a prepared baking sheet with parchment paper, leaving 1-2 inches between each cookie for spreading when they bake. Add a few pieces of chopped pecans in the centers, if desired. Repeat until all dough is made.
CHILL THE COOKIE DOUGH:
NOTE: For chewier, less spread out cookies, be sure to chill your dough for 1-2 hours before moving to the next step!
BAKE THE COOKIES:
Remove the cookies from the fridge and preheat the oven to 375 degrees Fahrenheit.

Bake for 11 to 13 minutes (checking it after about 10 minutes), or until the edges are golden brown and the centers are baked through.

Remove the cookies from the oven and cool cookies onto the baking sheet for a few minutes before transferring them unto a cooling rack to cool completely.

Enjoy with your favorite glass of dairy-free milk.

Bon Appetit!
STORAGE: Once properly stored in an air-tight container, cookies last for 3-4 days at room temperature or in the refrigerator for a little longer. Reheat slightly (a few seconds) in the oven, toaster oven, or microwave when ready to serve.
FREEZE: You can also freeze your cookie dough (once formed into a ball) so that you can store them longer and bake as needed.
BANGING METHOD: I love making my cookies chunky, however, if you chose to use the "banging method" in this recipe to avoid cookies from being too puffy, it's definitely optional-----this is only needed if you decide to chill the dough prior to baking. NOTE: Because these cookies are so big + thick, you might not see much change when doing this method.
LARGER BATCHES: To make more cookies, simply double or triple the amount of ingredients!
Calories:
2514
kcal
|
Carbohydrates:
279
g
|
Protein:
29
g
|
Fat:
152
g
|
Saturated Fat:
65
g
|
Polyunsaturated Fat:
21
g
|
Monounsaturated Fat:
56
g
|
Trans Fat:
4
g
|
Cholesterol:
430
mg
|
Sodium:
1352
mg
|
Potassium:
720
mg
|
Fiber:
11
g
|
Sugar:
161
g
|
Vitamin A:
3151
IU
|
Vitamin C:
1
mg
|
Calcium:
280
mg
|
Iron:
10
mg