These Chewy Brown Butter Pecan Cookies are absolutely the best cookies you'll ever make! They come exploding with crunchy toasted pecans and a salty + sweet brown butter flavor----an awesome combination in my book.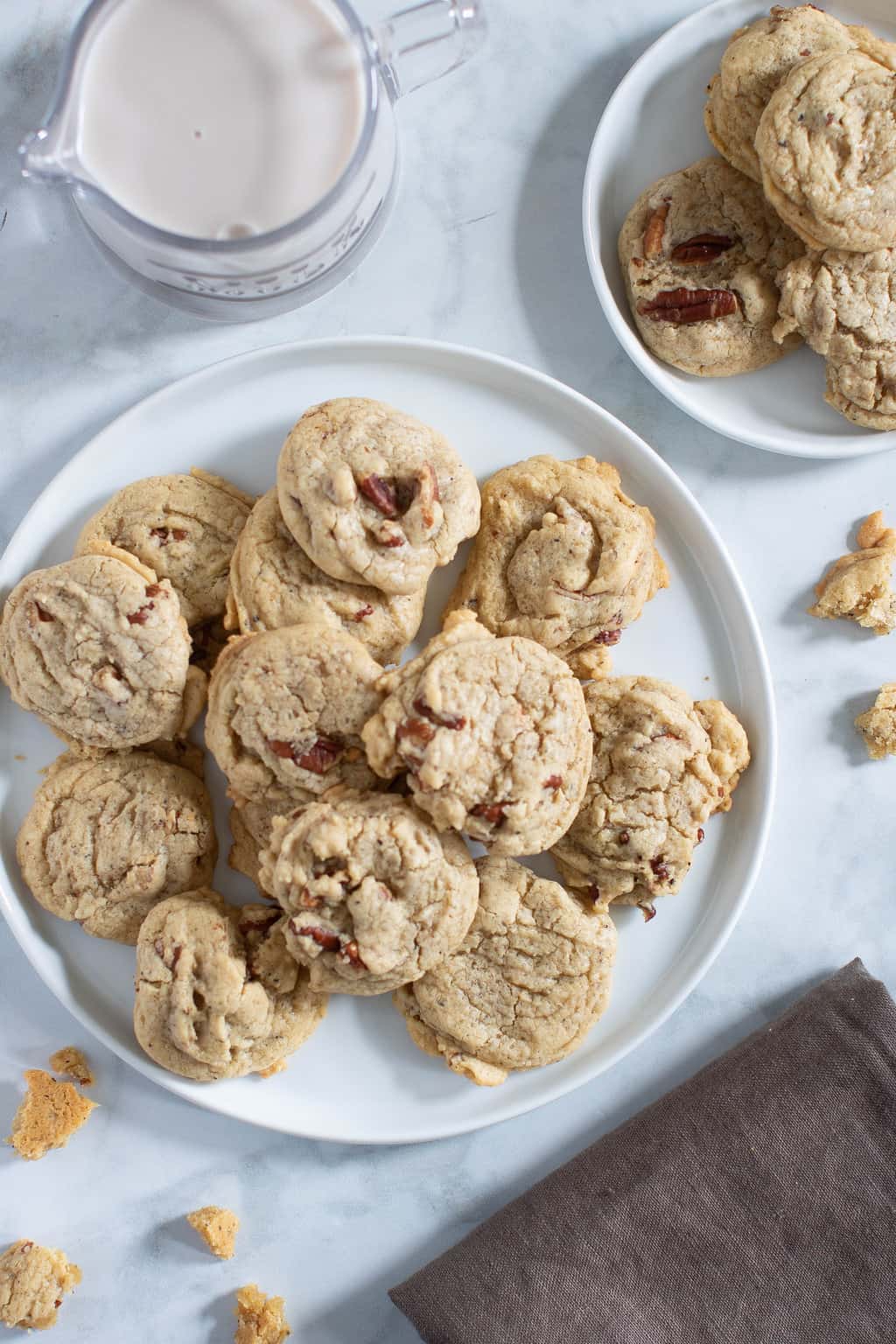 Why, Hello.
I don't know about you, but I have a full weekend ahead, so although I'm cheering it on, I'm also prepping myself for no relaxation! Haha.
Of course, I'll do my best to get a few resting moments in.
Maybe it's just me, but I think that Butter Pecan is such an underrated flavor. Don't you agree?
I remember my first time attempting homemade ice cream with this Butter Pecan + Almond Ice Cream and thinking---"wow, this tastes great!". Now that I've made these cookies, I can surely attest to how great butter pecan really is!
I've never been an avid butter pecan kind of girl, however, my husband loves it and truly influenced my love for it now!
And believe me--I understand just how much I was missing out!
Since I've made baking an intricate part of my life, I feel confident in my mastering of cookie recipes.
Believe it or not, but in the beginning of my baking journey, I would always avoid cookie recipes because I felt that although the steps are easy, the turnout just never matched my expectations.
However, my husband would make them and MASTER it! Oh and he still does! Haha.
Thankfully, I've learned a few tips/tricks from him since then, and I find myself getting better. Thoughts?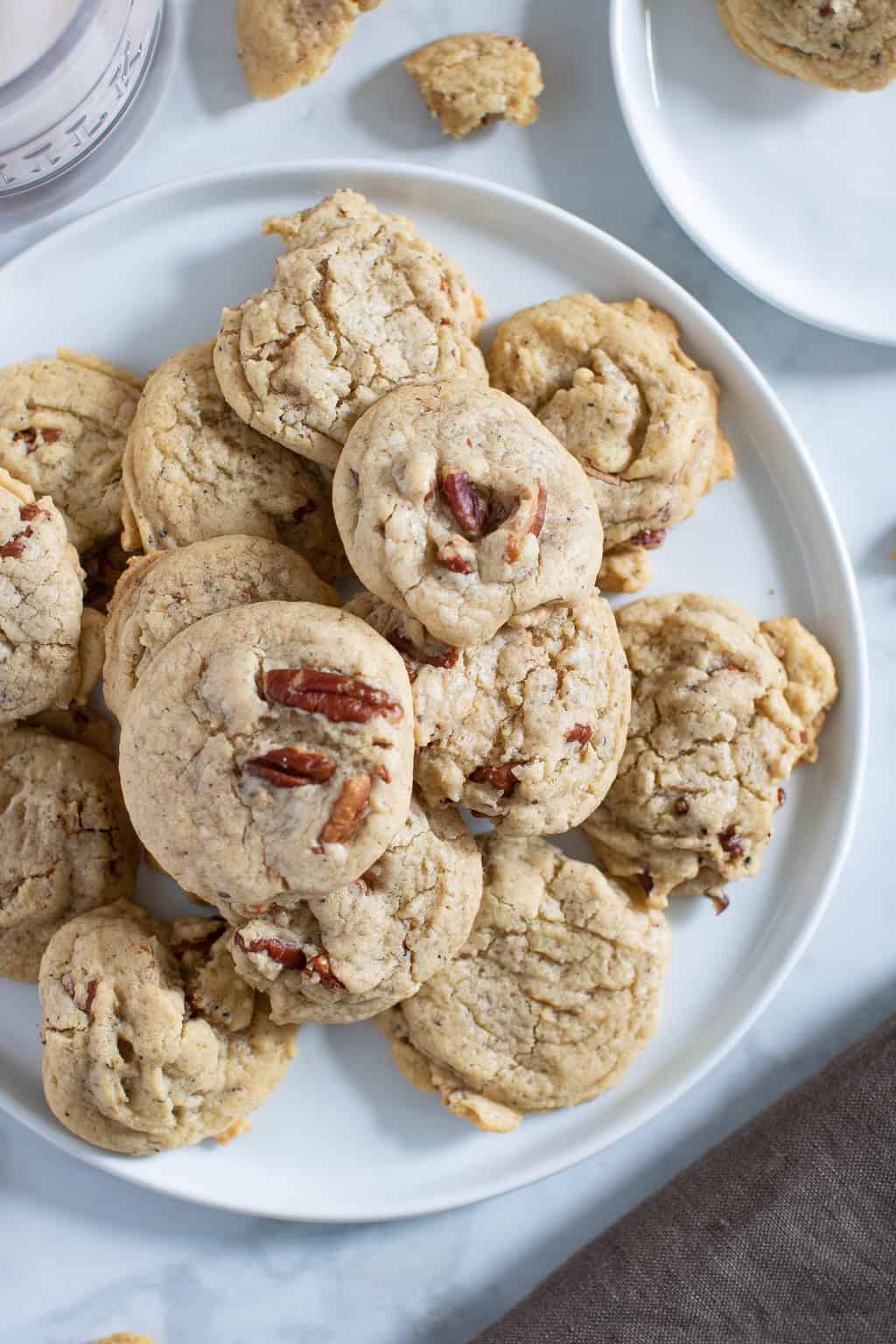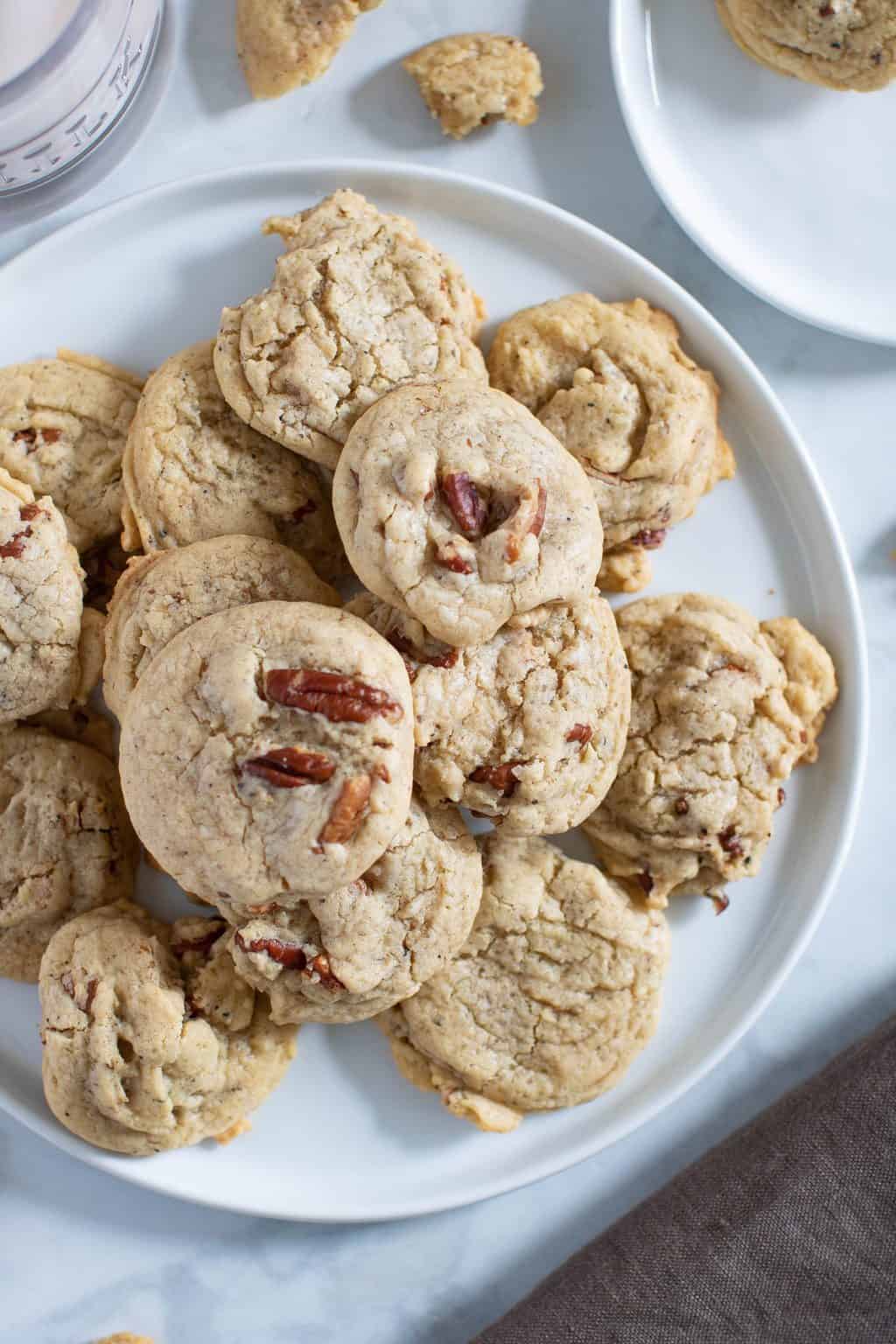 This year, I vowed to try new things, textures, flavors, etc. and I have been sticking to it thus far!
Need More Cookie Ideas?
Oversized Crinkled Chocolate Chip Butterscotch Cookies: These cookies are the epitome of the best chocolate chip cookies ever! Unlike standard chocolate chip cookies, these large handheld favorites are full of sweet flavor from the nice balance of chocolate-y sweet and butterscotch charm, which work perfectly together. In addition, their crinkled look and thinly crisped bodies, make for a real obsession.
Gooey Marshmallow Chocolate Chip Cookies: There's not much that can be said. Extra thick, but soft, these cookies are the perfect sweet treat for any sweet tooth and a glass of milk is far from cliché with this batch.
When it comes to these Dairy-Free Chocolate Chip Pecan Cookies, there isn't much that can be said–they are JUST PERFECT! Super soft, crumbles in your mouth, extremely easy to make, and completely dairy-free; these cookies make for a great sweet treat for those early mornings where you can't help yourself to something sweet before breakfast, or after lunch or dinner.
These Vegan Chocolate Chip Cookies are THE Best! Don't believe me? Try them for yourself. More importantly, the use of applesauce (Yes, you read it right!) gives these cookies a nice chewiness, softness, + gooeyness that will leave you wanting just one more cookie (or maybe 2 or 3! Haha!). Super easy to make and whipped together in 20 short minutes.
These Chunky Vegan Chocolate Chip + Pretzel Cookies are nothing short of amazing! They provide a great balance of salty + sweet from the marrying of the chocolate chips and pretzel pieces.
These Vegan Superfood Breakfast Cookies are a healthy, satisfying and energizing option for the perfect grab-n-go breakfast on any given day. Made from thickly cut oats, oat flour and jam-packed nutrients from the superfoods, raisins and a natural sweetener; these cookies are super easy to make and is perfect for the entire family. All vegan and Gluten-Free.
Don't worry---for other great flavors, you can always check out our cookie archives.
The Secret to These Chewy + Crisp Cookies?
The banging process.
The trick about everything is in the banging. During the baking process, you have to bang the baking sheet with your cookies a few times before they are fully baked.
Therefore, the "crinkling" comes as a result of the center of the cookies falling inward, pushing the rest of it outward. I know, it sounds pretty crazy, but it's so cool!
Combining this "crinkling" process with the flavor combo of brown butter and pecans is like Heaven on Earth with each bite.
Who Created This Banging Method, Exactly?
I originally saw the "crinkled" cookie recipe about 2-3 years ago in the New York Times, which was originally by Sarah Keiffer, a baker and blogger of The Vanilla Bean Blog.
This variation of a cookie is such genius idea and while it can be intimidating to execute due to the process of getting them done right, it definitely is worth the try.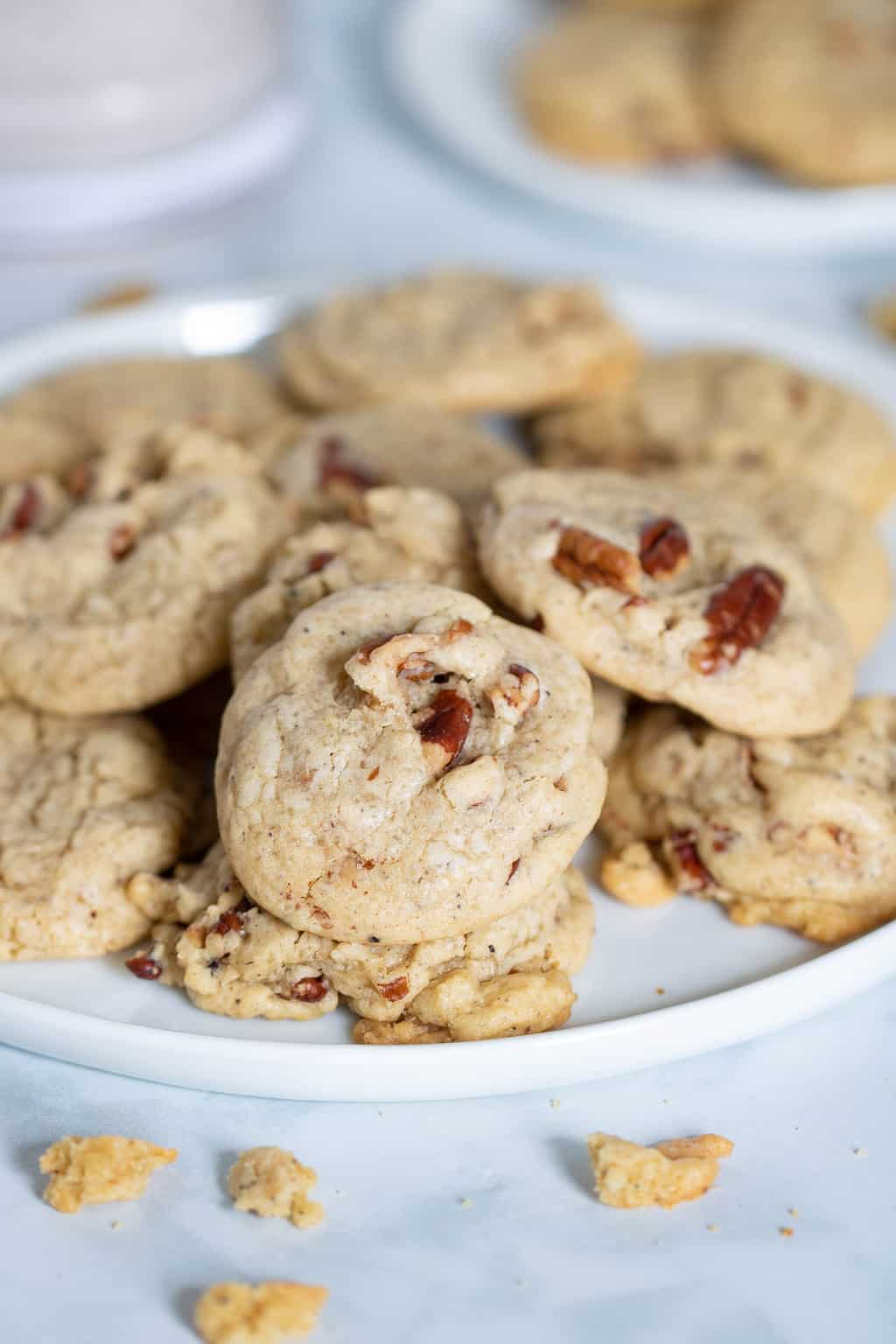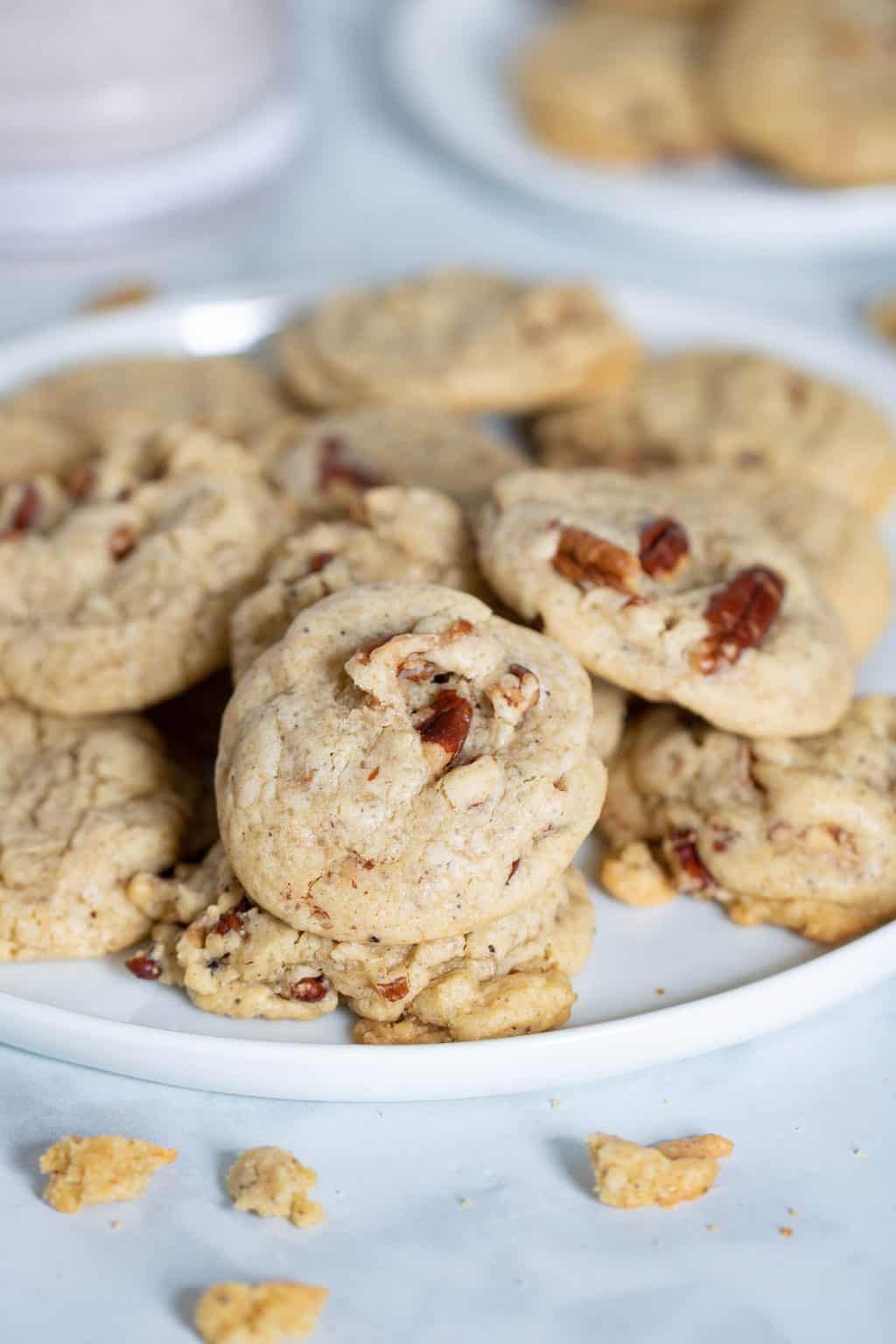 Now, let's dig right into this recipe, shall we?
Begin by toasting the pecans in the oven (375 degrees Fahrenheit) on a baking sheet lined with parchment paper for 10-15 minutes, tossing them halfway to avoid burning on one side. They should be fragrant and slightly darker than their original color.
Once pecans are toasted, remove from oven and set aside. **NOTE: Be sure to keep the oven on to preheat for the cookies; prep a baking sheet with fresh parchment paper as well.**
In the meantime, using a saucepan on medium-high heat, melt the butter, stirring occasionally and letting it cook for 3-4 minutes, until dark bits begin to form and the entire butter becomes fragrant and darker.
Once done, remove from heat and let cool for a few minutes before refrigerating it so that it is MOSTLY cooled, about 10 minutes.
In the bowl of an electric stand-mixer (using the paddle attachment), add the cooled brown butter and sugar and beat until well combined.
In a separate medium bowl, add the flour, baking soda, pinch of cinnamon, and sea salt and whisk together. Set aside.
Continuing to mix on medium-high, add in the eggs, one at a time, and then the vanilla extract. Continue beating for 1 minute.
With the mixer now on low-speed, slowly add the dry ingredients to the mixture, until well combined.
Add the toasted pecans and fold in for another few seconds until they are nicely tucked away and peaking through the batter.
Scoop about 1 tablespoon of dough using a cookie scoop and place it onto the baking sheet. Repeat until baking sheet is filled and ensure that cookies are at least 1 inch apart.
Bake the cookies for the first 3-4 minutes (cookies should be slightly puffed in the center), lift baking sheet and let it drop against the rack. Repeat about twice if needed. This allows the edges to set and the inside to fall down. Then 3 minutes later, repeat the process again and then for the final time after 3 minutes again.
Remove the cookies once slightly brown around the edges. **NOTE: The center of cookies may still look soft, BUT they will set and harden more once cooled.**
Let them cool for 5 minutes while still on the baking sheet before transferring them to a cooling rack to cool completely.
Once all cookies are made and cooled, to serve--simply grab a cookie or two, pour a little milk in a glass, and ENJOY!
Bon Appetit!
MADE OUR RECIPE(S)?
If you choose to make these Chewy Brown Butter Pecan Cookies or any other recipe from us, be sure to tag us on Instagram at #Orchidsandsweettea so that we can share the love!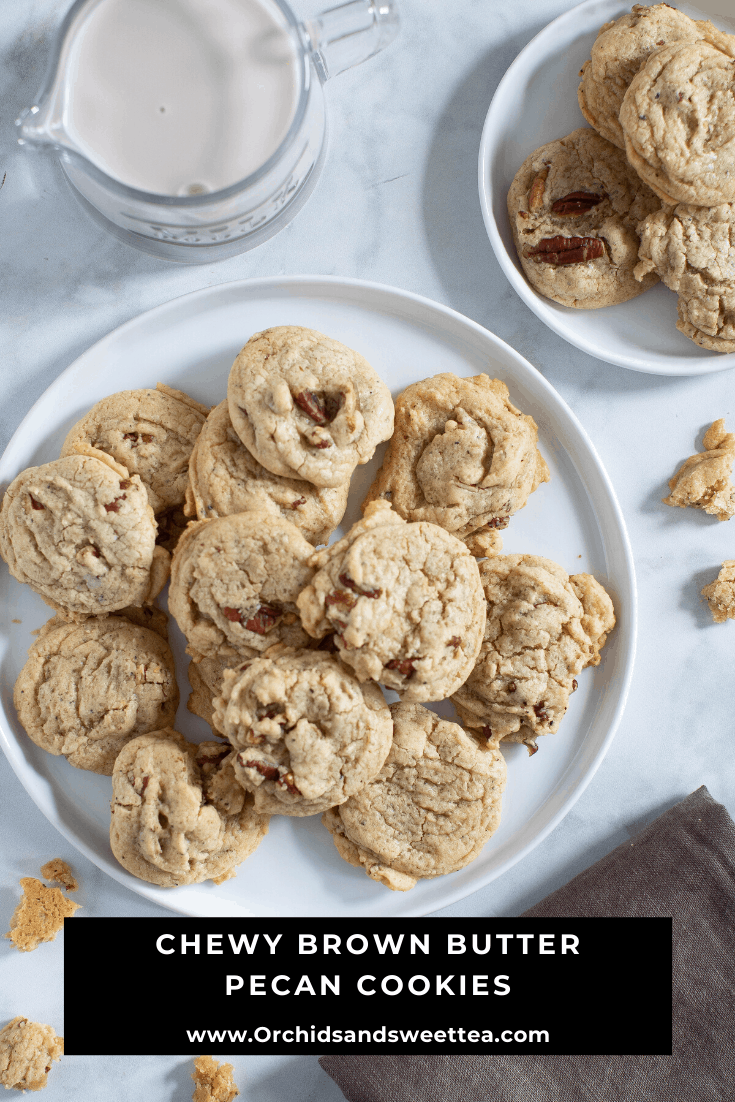 2

cups

chopped toasted pecans

(I use Diamond Nuts)

2 ⅓

cups

organic all-purpose flour

(I use Bob's Red Mill)

1

teaspoon

baking soda

(I use Bob's Red Mill)

pinch of

cinnamon

(I use McCormick Spices)

1

teaspoon

sea salt

1

cup

unsalted butter

(I use Land O'Lakes; That's 2 sticks!)

¾

cup

organic brown sugar + 1 Tbsp!

(I use Sugar in the Raw)

2

large

organic eggs, room temp.

(I use Organic Valley)

2

tsps

vanilla extract

(I use McCormick Spices)
STORAGE: Leftover cookies can be stored in a tightly covered container for up to 1 week or refrigerated for slightly longer freshness; Cookie dough can remain refrigerated for 2-3 days; Already Baked cookies can be frozen for up to 3 months.
Calories:
2425
kcal
|
Carbohydrates:
207
g
|
Protein:
32
g
|
Fat:
170
g
|
Saturated Fat:
66
g
|
Polyunsaturated Fat:
26
g
|
Monounsaturated Fat:
66
g
|
Trans Fat:
4
g
|
Cholesterol:
430
mg
|
Sodium:
1820
mg
|
Potassium:
774
mg
|
Fiber:
13
g
|
Sugar:
85
g
|
Vitamin A:
3165
IU
|
Vitamin C:
1
mg
|
Calcium:
216
mg
|
Iron:
11
mg
Chewy Brown Butter Pecan Cookies.