This Vegan Peanut Butter + Pecan Milkshake is a real recipe gem. Full of peanut buttery + pecan creaminess, double thick, ultra smooth, rich, and is a sure sweet tooth satisfier for the entire family; this recipe is the best way to add a nice sweet kickstart to your day. Completely dairy-free and vegan.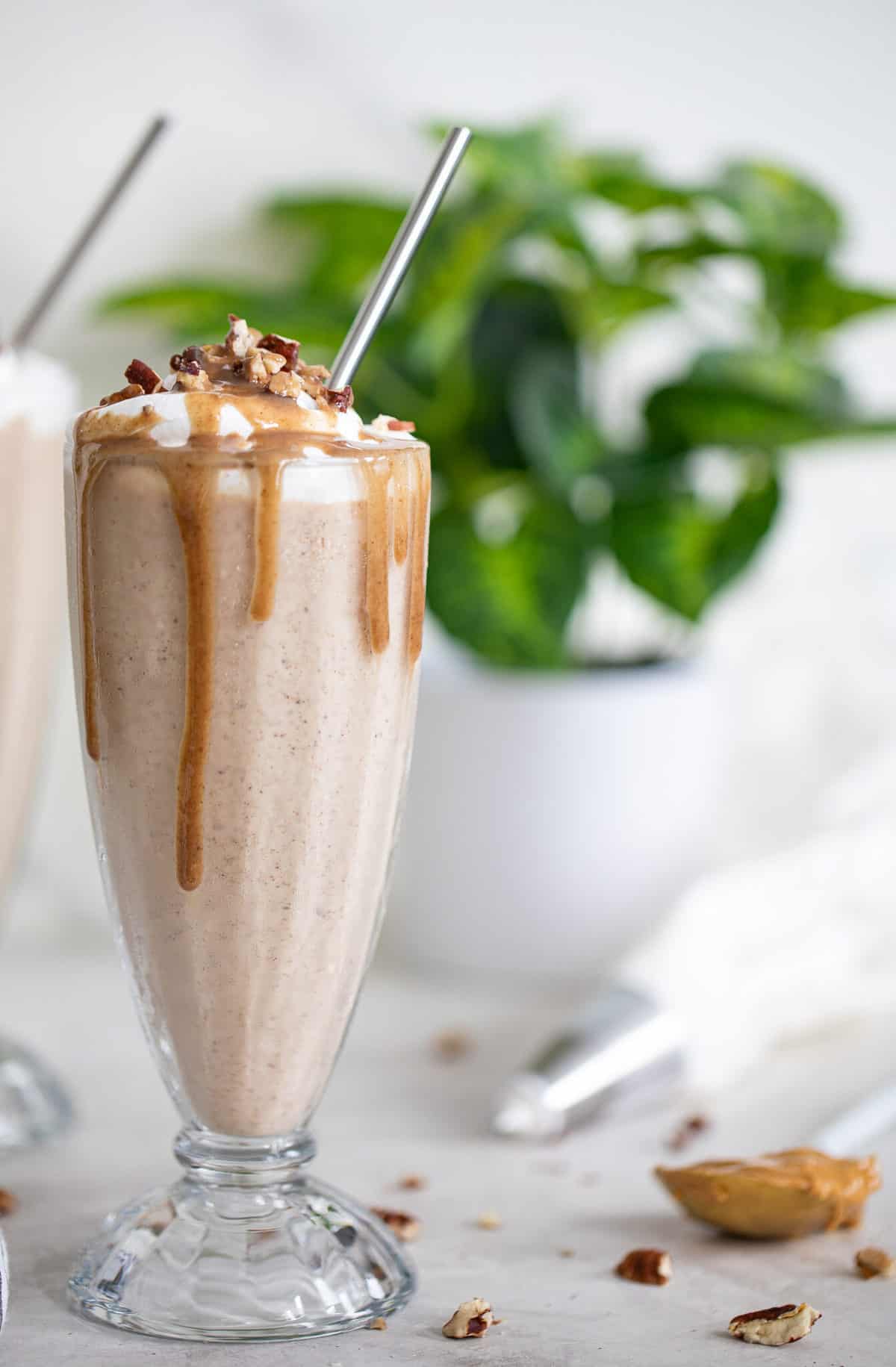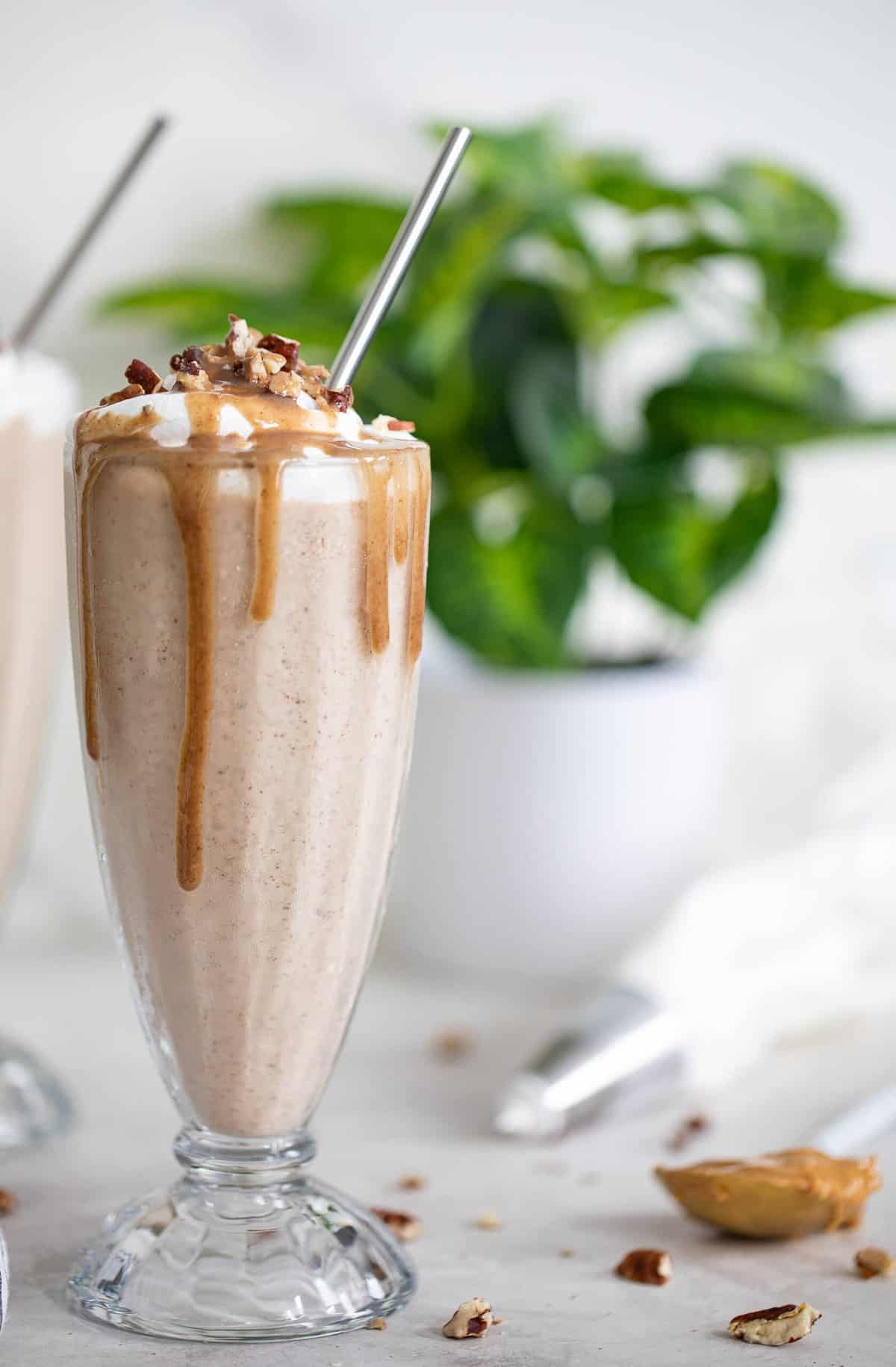 This Peanut Butter + Pecan Milkshake is ridiculously good, Ya'll!
I haven't consumed that many milkshakes in my lifetime (I'm more of a smoothie lover!), BUT this milkshake is a game-changer for me. I think I just might consume a lot more milkshakes after this one. Haha.
Funny thing is, I've always thought that milkshakes weren't the thing that brought REAL satisfaction. Haha. But I stand corrected.
The best thing about this recipe (especially for me) is that it is completely dairy-free and vegan. Double YES!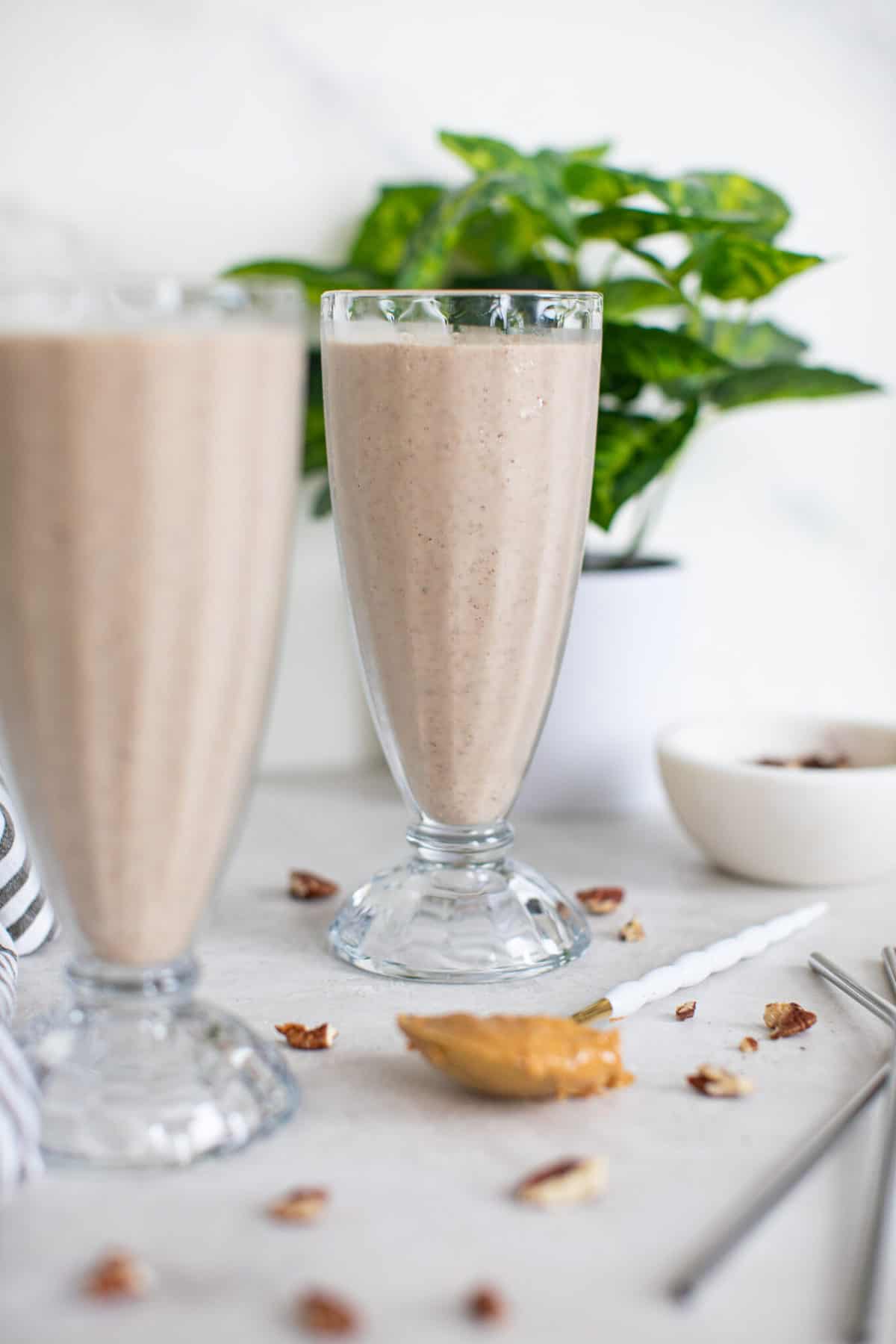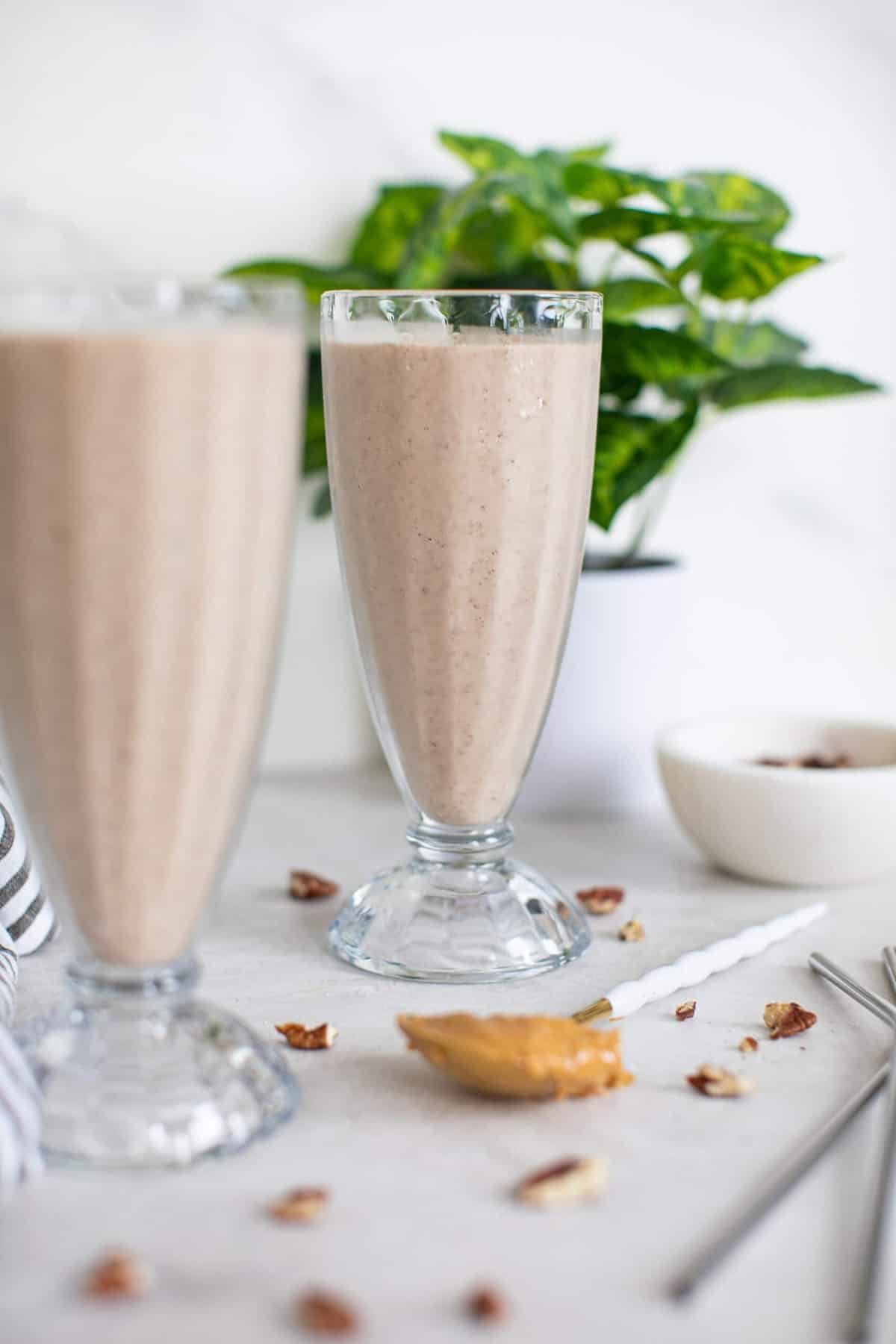 Now that I make my own milkshakes, I am a believer!
Plus, I love being able to choose my personal favorite ice creams (my go to's– Talenti, Haagen Dazs, and So Delicious Dairy-Free) to include in my milkshake, depending on the dietary type.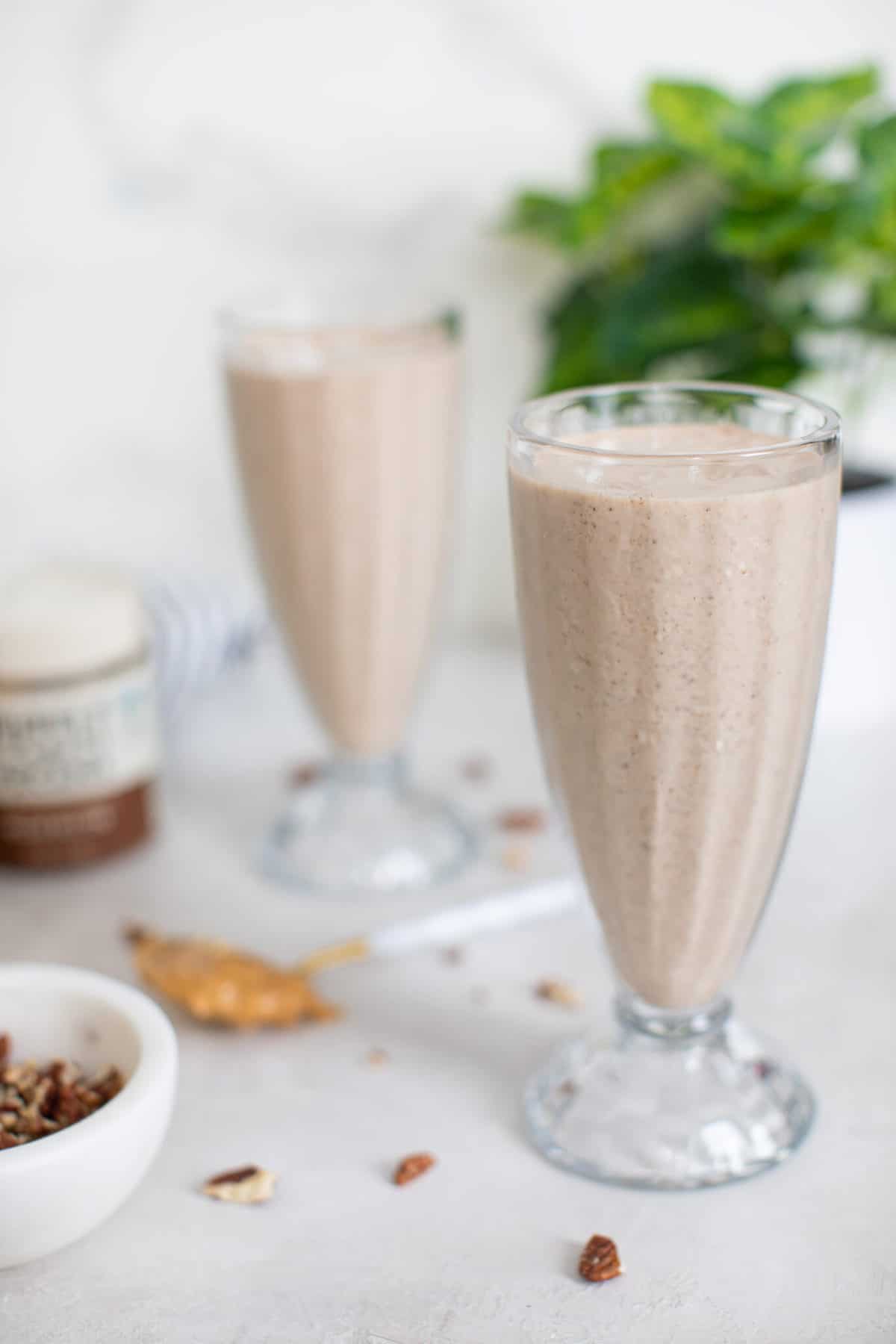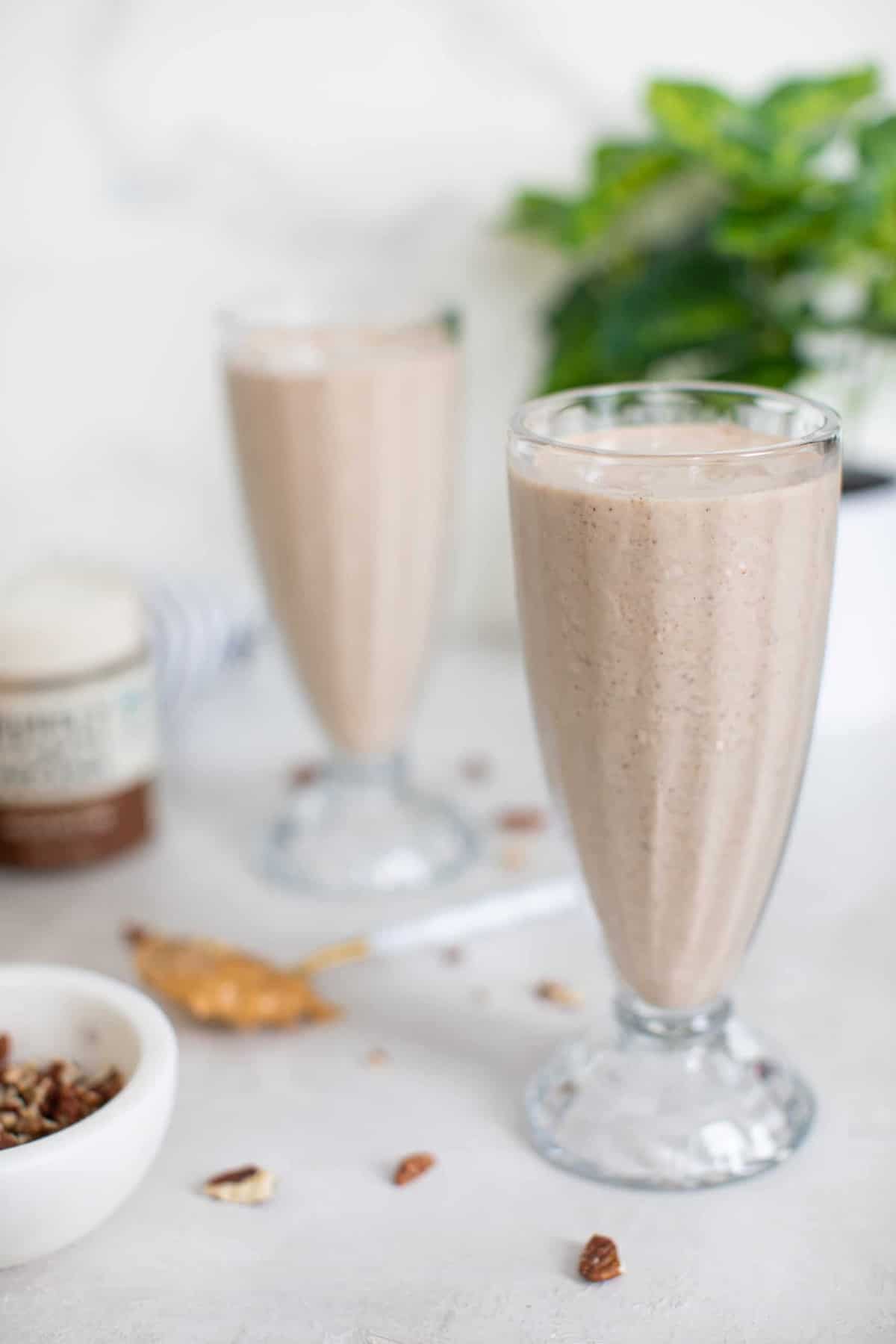 Secondly, I enjoy making my own milkshakes because I am able to fully customize the rest of the ingredients since most of my recipes are catered to being dairy-free or vegan.
If you've been an avid follower of Orchids + Sweet Tea, then you'll know that this isn't my first milkshake recipe (although it's been a while) and it probably won't be my last. Haha.
Good news! For more delicious Milkshake recipes that are currently on the blog, simply search "Milkshakes" in our site's search bar.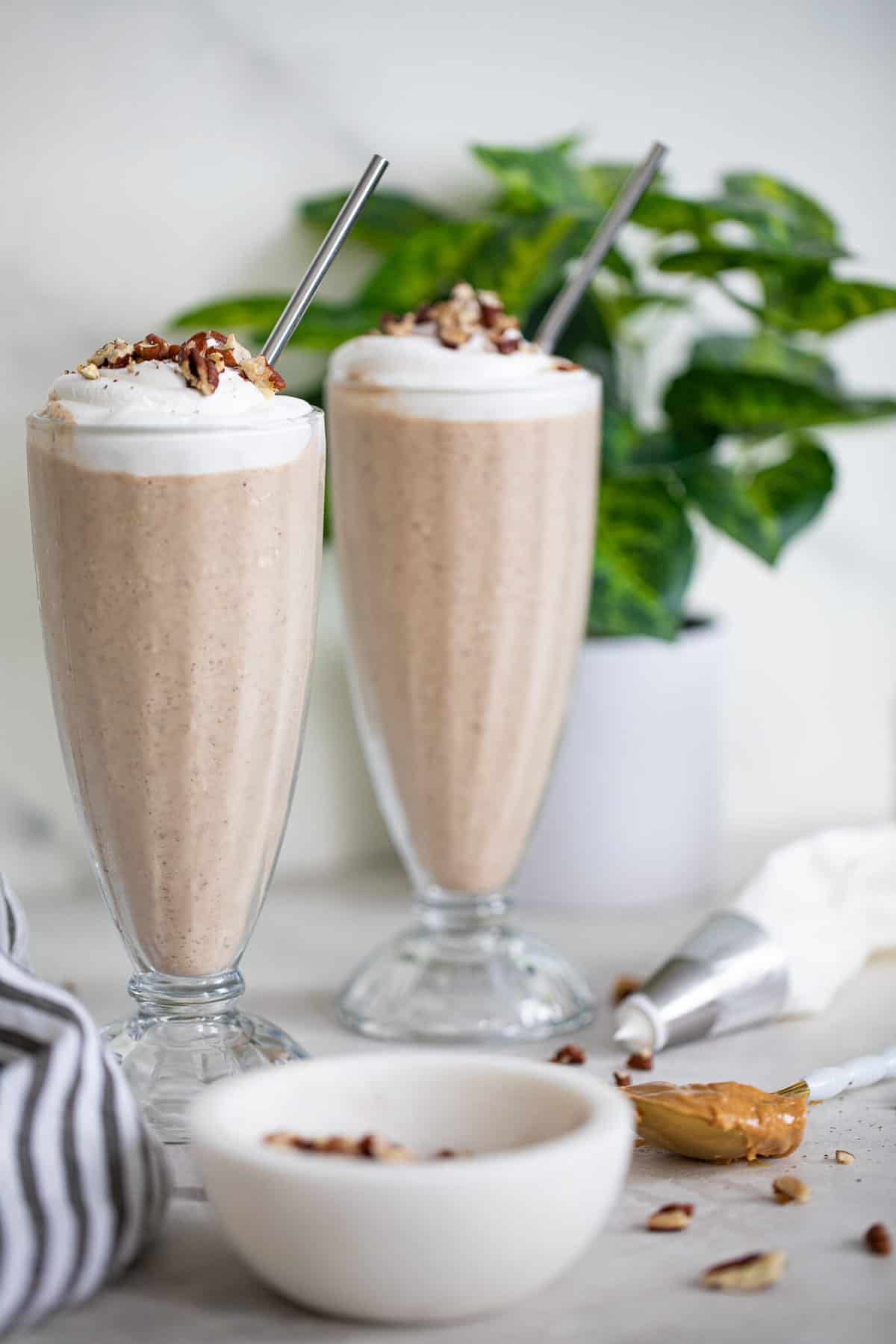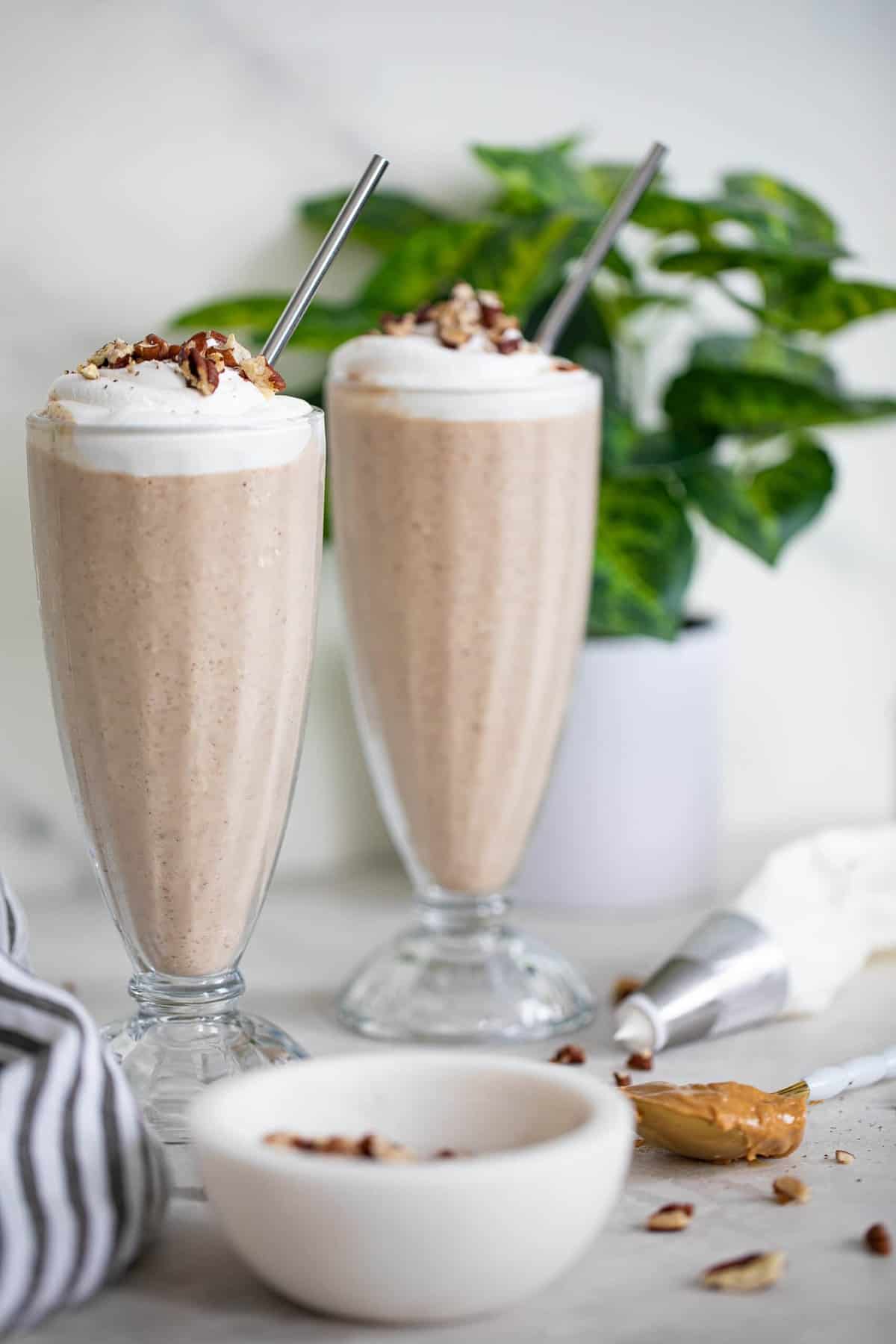 WHAT INGREDIENTS ARE NEEDED?
To make this milkshake, all you'll need is a dairy-free vanilla ice cream (as your base), peanut butter (vegan-approved of course!), your favorite plant-based milk, pecans or pecan butter (Yes, it's a thing), and an additional flavor of dairy-free ice cream, if desired.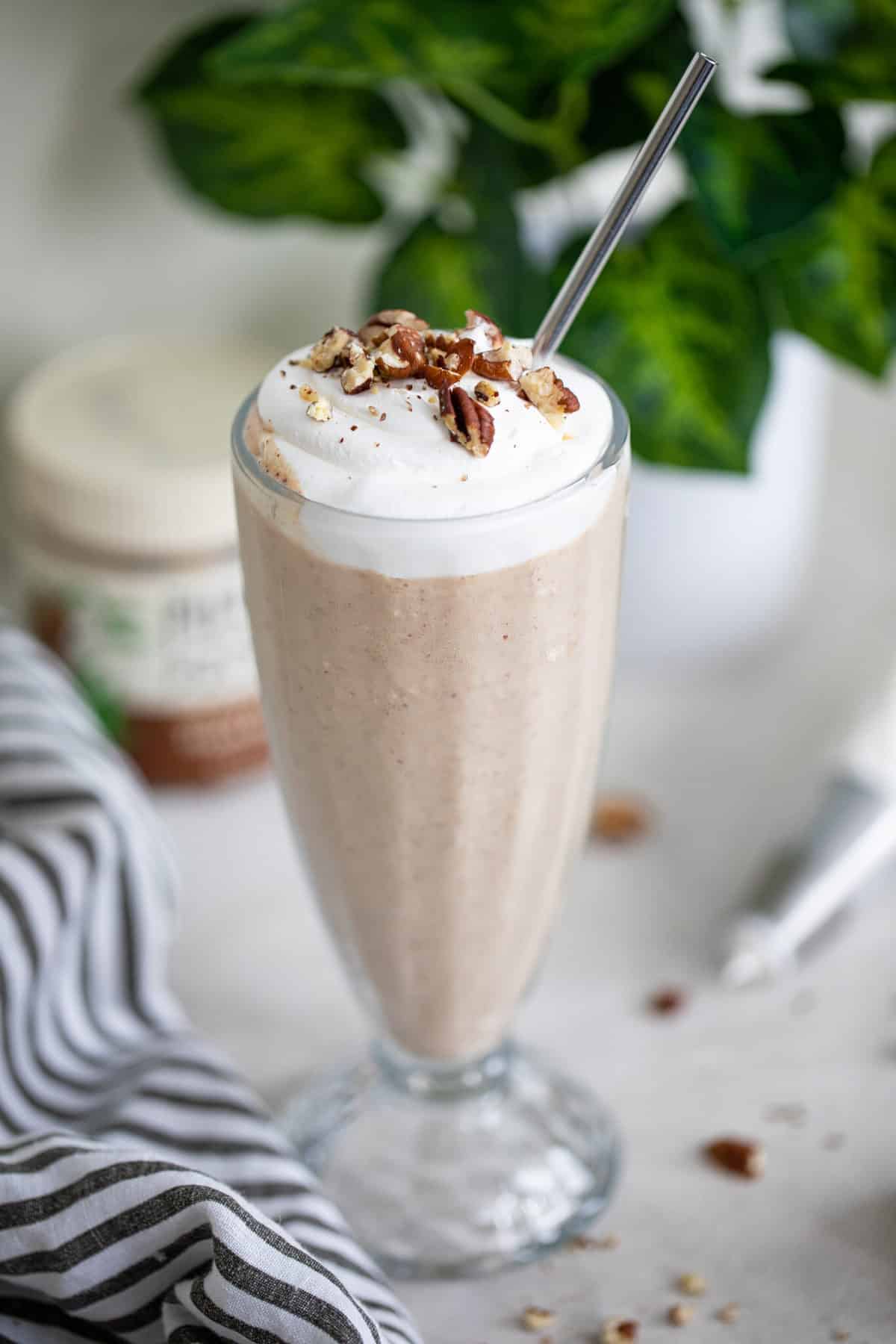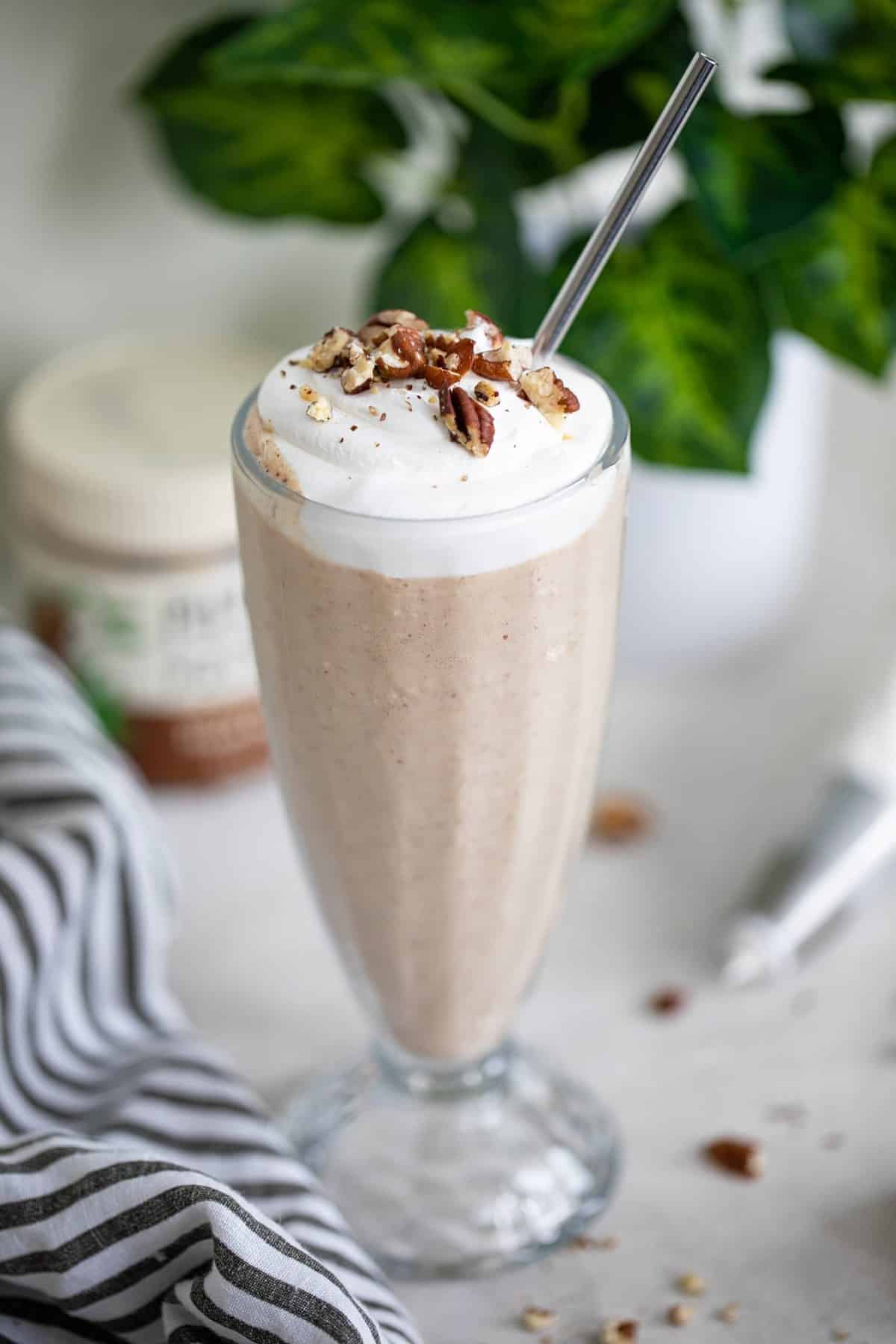 Now, let's dig into this tall glass of goodness, shall we?
Add the dairy-free ice cream, your favorite non-dairy milk (I used So Delicious as well), pecans or pecan butter, and peanut butter to a blender and blend on medium-high speed, until smooth, about 1-2 minutes.
Once milkshake consistency is met, pour milkshake into tall glasses, and top each milkshake with CocoWhip! (also from So Delicious) or homemade (See Notes!), drizzle a bit of pecan butter around the sides of the glass and top of milkshake, and end it topped with chopped pecans, if desired.
Add a straw and sip away and enjoy!
MADE OUR RECIPE(S)?
If you choose to make this Vegan Peanut Butter + Pecan Milkshake recipe or any other recipe from us, be sure to tag us on Instagram at #Orchidsandsweettea so that we can share the love!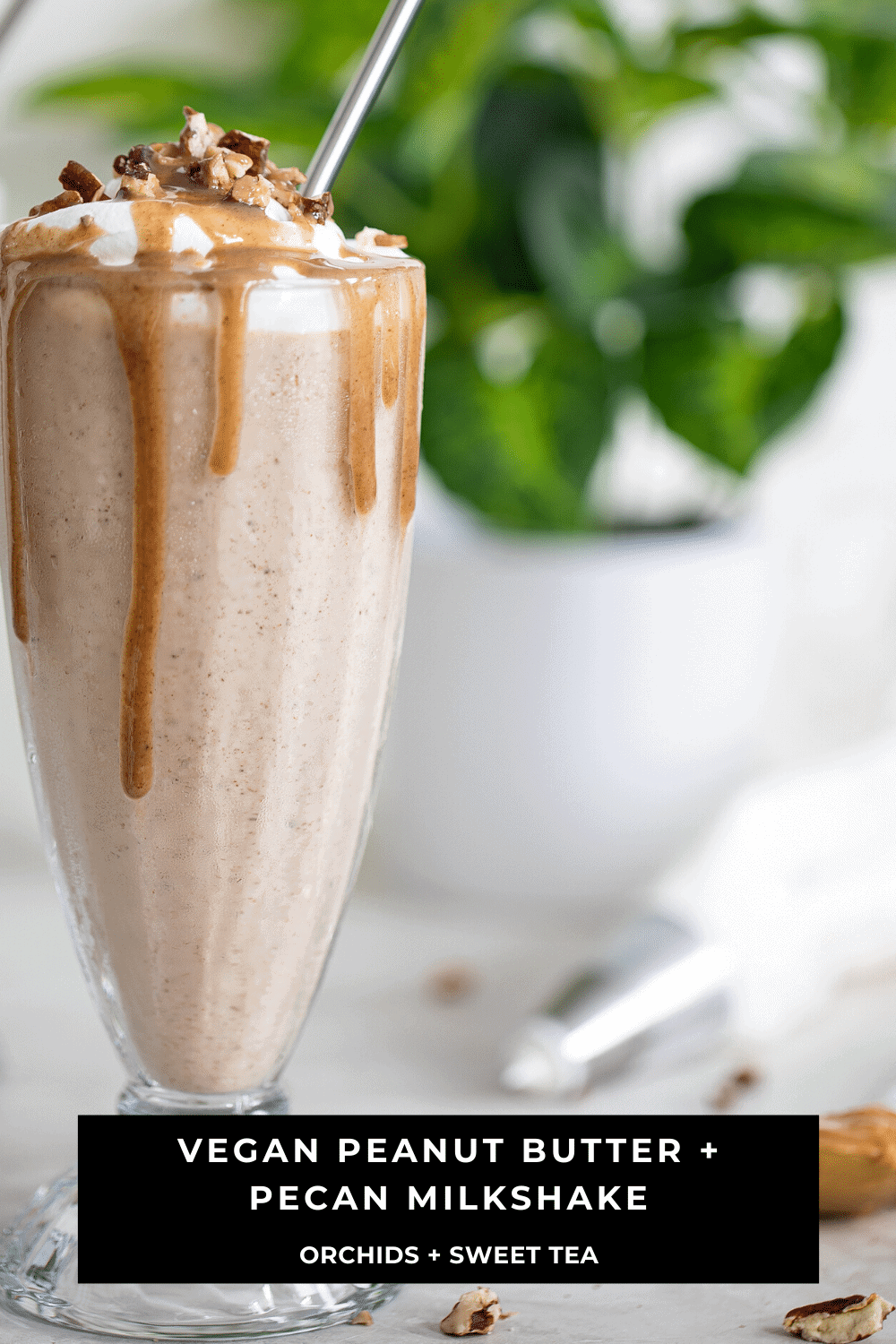 3

cups

Dairy-Free Vanilla Ice Cream 

(I use So Delicious Dairy-Free; You can use your fave)

2

cups

Dairy-Free Ice Cream, Other Flavor

(I used Salted Caramel Cashew version; See Notes!)

3

Tbsps

peanut butter, vegan-approved!

(I use Earth's Balance)

1

cup

Almond milk

(You can use your fave plant-based milk)

½

cup

pecans, chopped or 4-5 Tbsps pecan butter

(I use Purely Pecan; See Notes!)
STORAGE: Best if consumed right away. If not, ensure that milkshake is stored in an air-tight container or mason jar and kept in the freezer. To thaw out, remove milkshake from freezer and place in the refrigerator for 30-40 minutes for a creamy consistency.
DAIRY-FREE ICE CREAM: You can use So Delicious' Cashew Milk version or their Almond Vanilla or Soy Milk version. 
PLANT-BASED MILK: I love using Almond milk, however, you can use your own personal favorite—Coconut, Oat, Soy, etc.
COCO-WHIP!: You can purchase So Delicious' Coco-Whip topping or make it homemade. Great homemade recipe by leelalicious.
PECAN BUTTER: You can purchase various flavors of pecan butter via Purely Pecan's website. For this recipe, I used the Nuttin' But Pecan flavor.
Vegan Peanut Butter + Pecan Milkshake.