This Vegan Peanut Butter Pecan Milkshake is a real recipe gem. Full of peanut buttery + pecan creaminess, velvety, thick, ultra smooth, rich, and is a sure sweet tooth satisfier for the entire family; this milkshake recipe is the best way to add a nice sweet kick to your day with added nutrients. Kid-and adult-approved. Completely dairy-free and vegan.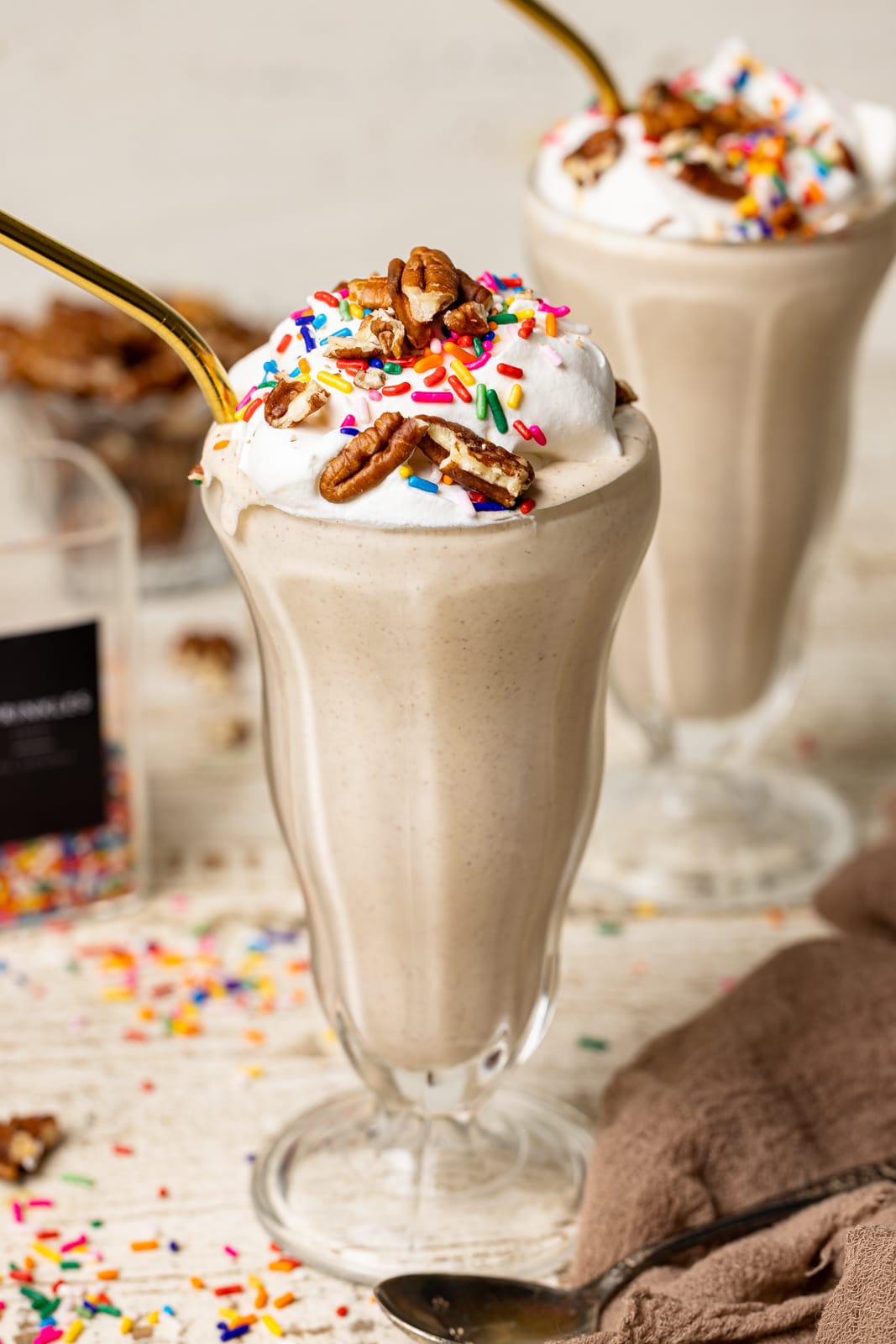 Disclaimer: This post contains affiliate links via Amazon for products that I wholeheartedly love and receive commission from.
There's just something entirely nostalgic about a milkshake, especially when it's poured into a classic milkshake glass and topped with fun ingredients for the best sip! This Peanut Butter Pecan Milkshake is ridiculously good and although it's not made with cookies or any of the really fun ingredients, it's still very decadent and the flavor combo of pecans and peanut butter are perfection.
I haven't consumed that many milkshakes in my lifetime (mostly because they're often full of dairy), BUT this milkshake is a game-changer, especially if you're looking for a dairy-free way to enjoy a dessert in a glass. You'll love these dairy-free milkshakes, which all offer different levels of decadence: Dairy-Free Peanut Butter Chocolate Milkshake, Dairy-Free Salted Caramel Chunky Milkshake, Dairy-Free Cookie Dough Milkshake, and Classic Dairy-Free Strawberry Milkshake.
Plus, milkshakes like this one are super easy to make and only require a few thing: a good blender (I'm obsessed with the Beast Health blender), chopped pecans, vanilla, cinnamon, plant-based milk, dairy-free ice cream, and peanut butter. When it comes to a vegan option for ice cream, you can always find great flavor options similar to the ones used in this recipe by brands like So Delicious Dairy-Free and Van Leeuwen.
Tips for Making the Best Vegan Milkshake:
To make your vegan milkshake creamier, you can add in full-fat coconut milk (refrigerated overnight) or cream instead of plant-based milk.
If your milkshake is too thick, add additional milk to make it more thin. If too, thin, a few additional scoops of ice cream should help.
Using a premium dairy-free ice cream is so important for the best results! You shouldn't go for ones that say "frozen dessert", since they're made with vegetable oils and won't create the best creamy factor.
Never add ice to your milkshake like you would a smoothie. Ice will only water down your milkshake. Instead, try freezing your glass(es) before making your milkshake so that it remains chilled for a longer period of time.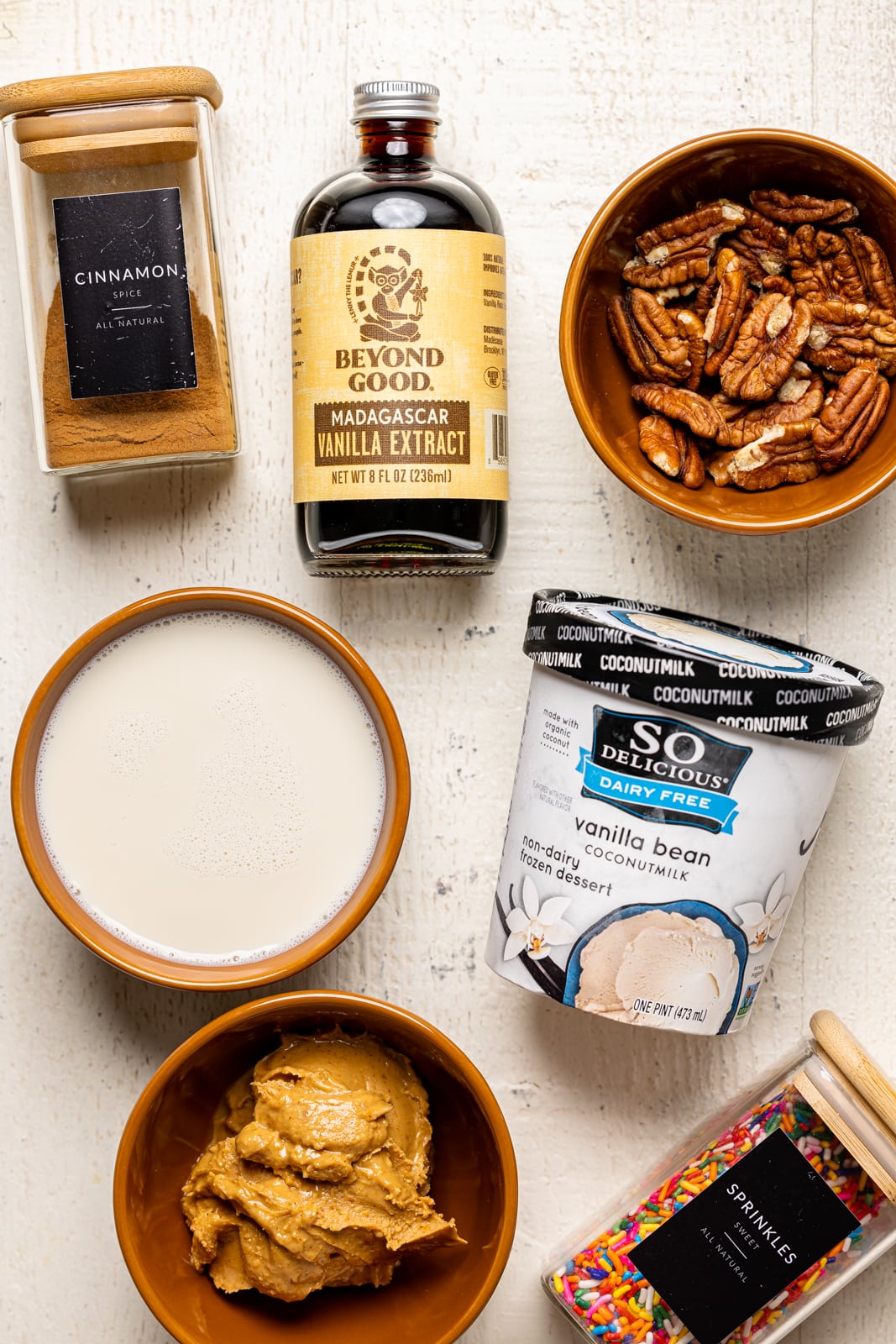 How to Make a Milkshake at Home
While milkshakes seem fancy when they're from a creamery, they are so easy to make yourself. All you need is a high-powered blender and some of your favorite ingredients.
All milkshakes begin with ice cream. You can make the ice cream yourself or use your favorite store-bought variety. Make sure to use a type of ice cream that you really enjoy, as it is the base for the milkshake. Check out my no-churn vanilla ice cream recipe if you aren't restricted to dairy-free.
Next, you'll need to decide on flavorings. If you want additional elements, add them here. You can add chocolate, vanilla extract, fruit, candy, flavored syrups, or anything else you enjoy---depending on the recipe. Of course, for this one, you'll be adding pecans or pecan butter, peanut butter, vanilla, and a bit of cinnamon.
Ingredients for Vegan Peanut Butter Pecan Milkshake
The ingredients for this creamy, decadent Vegan Peanut Butter Pecan Milkshake are simple and easy to find. Here's what you need:
Vanilla-based ice cream. I love premium dairy-free ice cream like Ben & Jerry's, Van Leeuwen's or So Delicious Dairy-Free.
Milk. You can totally use your fave plant-based milk. Choose unsweetened. I recommend making easy homemade almond milk (my recipe doesn't require soaking!)
Vanilla extract. Use a dash of pure vanilla to optimize the flavor.
Cinnamon. For a dose of warmth that works great with the pecan and peanut butter flavors.
Pecans. Use pre-chopped to skip a step or chop halved pecans. They are more pronounced in flavor once toasted, so it's recommended. Also, you can substitute with pecan butter if desired. I love organic and/or raw pecan butter like this one from Purely Pecans and Artisana.
Whipped cream. For a nice smoothness after every sip, I like to top with coconut whipped cream. Make your own or use a store-bought version.
Peanut butter. Use organic, smooth peanut butter for this milkshake. This also works as a vegan option.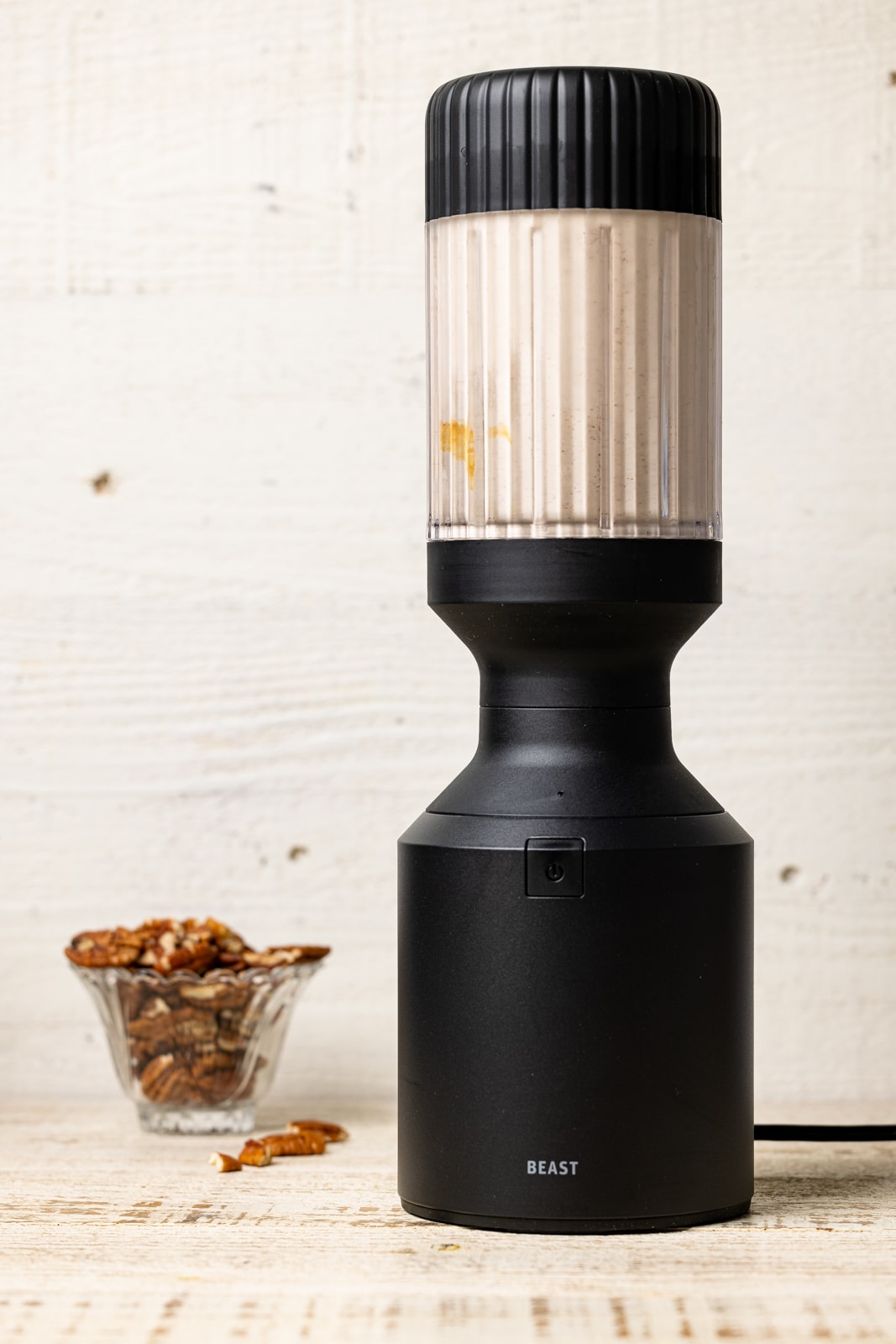 How to Make This Milkshake without a Blender
If for any reason you aren't able to use a blender, you can still enjoy this delicious Vegan Peanut Butter Pecan Milkshake. Instead, you can use a hand-mixer and have a perfectly whipped milkshake on hand.
To start, simply crush the pecans and add them in a deep bowl with the milk. Let them sit for 2-3 minutes so that they soften a bit. Next, using an electric hand-mixer, whip on low-speed until pecans are blended in. Then add softened ice creams, vanilla, peanut butter, and cinnamon and whip again until smooth and combined.
Add your Vegan Peanut Butter Pecan Milkshake to your fave glass(es), top with ingredients and wallah!
What Kind of Milk For this Peanut Butter Milkshake
When it comes to vegan milk options, there are so many possibilities. From oat milk (which I use in this recipe) soy milk to nut milk to the newest trend, potato milk, you can find a delicious plant-based option you love. And what makes these milks even better? You can make them from scratch at home! All of these dairy-free milk recipes will work for this Vegan Peanut Butter Pecan Milkshake recipe:
Common Q + A's for Vegan Peanut Butter Pecan Milkshake
Is milkshake basically ice cream?
Not at all. Basically, a milkshake is a beverage that is usually made of milk, ice cream, and other flavoring and is blended or whipped until foamy and smooth.
What toppings can I use in this milkshake?
To top off each teat, I recommend a generous scoop of dairy-free CocoWhip and an extra drizzle softened peanut butter or pecan butter. You can also add toasted chopped pecans, vegan-friendly rainbow sprinkles, vegan marshmallows, caramel sauce, crushed cookies, you name it!
Can I make this milkshake ahead of time?
Honestly, I highly recommend making your milkshake once you're ready to drink it, however, you can make it a few minutes prior to consuming and refrigerate it. I always recommend a quick stir before consuming it.
How do I make different flavors?
Just a few tweaks and you can have a completely new flavor and drinking experience. Always start with your base, which would be a different flavor of ice cream and then make tweaks to the remaining ingredients like swapping the peanut butter with chocolate, strawberry, caramel sauce, and so forth. Mix and match as you please---the possibilities are endless!
Is peanut butter good for you?
Yes! Peanut butter is loaded with so many good, health-promoting nutrients, including vitamin E, magnesium, iron, selenium and vitamin B6.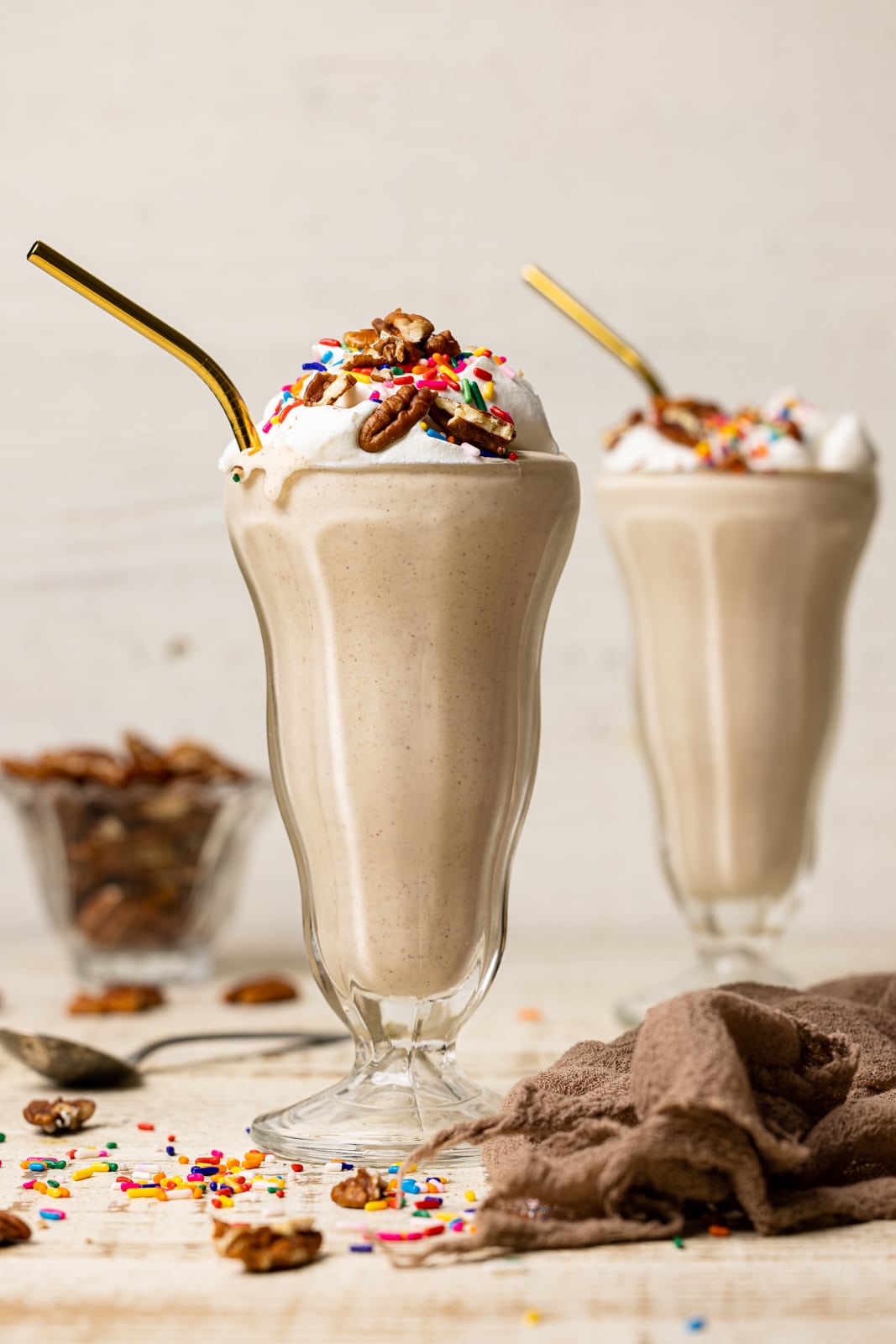 More Sweet Summer Vegan Recipes to Try!
Now that you're on a dairy-free kick with this milkshake recipe, give these recipes that your entire family will love a try next:
MADE OUR RECIPE(S)?
If you tried this Vegan Peanut Butter Pecan Milkshake recipe or any other recipe on my website, please please leave a 🌟 star rating and let me know how you go in the 📝 comments below. I love hearing from you.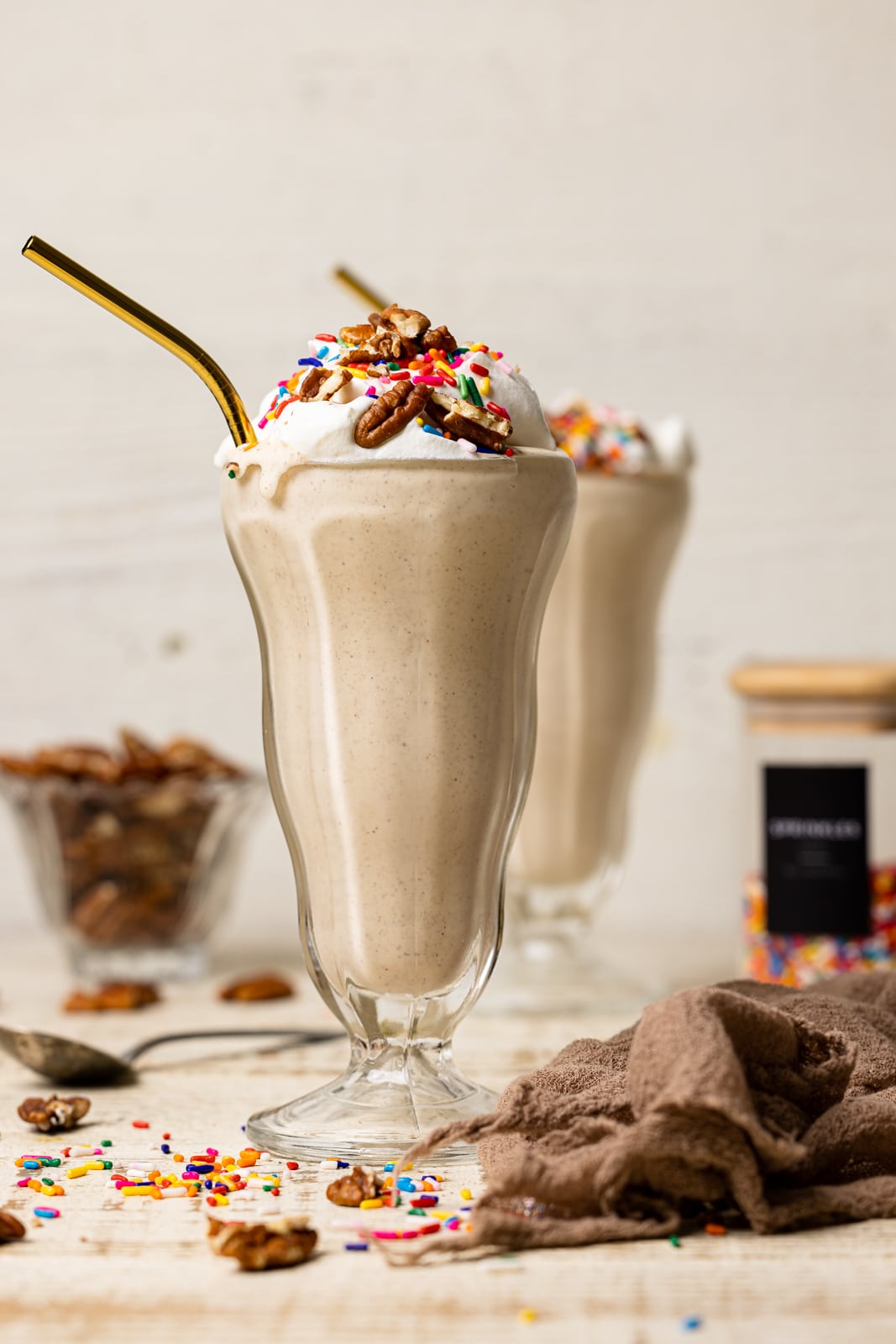 MILKSHAKE:
3

cups

dairy-free vanilla ice cream, premium

1

cup

Almond milk

(You can use your fave plant-based milk)

1

teaspoon

vanilla extract

½

cup

organic peanut butter

(Ensure that it's vegan-friendly!)

½

cup

toasted pecans

(See Notes; You can also sub with pecan butter)

½

teaspoon

ground cinnamon
OPTIONAL TOPPINGS:
Coconut whipped cream

Chopped pecans, toasted

Softened peanut butter, drizzle

Rainbow sprinkles

(Ensure that it's vegan-friendly!)
HOMEMADE COCONUT WHIPPED CREAM: In the bowl of an electric mixer on medium-high speed, whip the full-fat coconut milk (3-4 cups), using the whisk attachment for 4-5 minutes, until fluffy peaks begin to form. NOTE: When it begins to thicken after the first 2-3 minutes, gradually add in 1 tablespoon vanilla extract and a pinch of sea salt. Once fully fluffy, remove from mixer bowl and continue recipe. 
PECAN BUTTER: If you don't want to use pecans or just don't have them handy, you can easily substitute them with pecan butter. I love organic and/or raw pecan butter like this one from Purely Pecans and Artisana. 
Calories:
581
kcal
|
Carbohydrates:
19
g
|
Protein:
17
g
|
Fat:
52
g
|
Saturated Fat:
8
g
|
Polyunsaturated Fat:
14
g
|
Monounsaturated Fat:
27
g
|
Sodium:
439
mg
|
Potassium:
470
mg
|
Fiber:
6
g
|
Sugar:
8
g
|
Vitamin A:
15
IU
|
Vitamin C:
0.3
mg
|
Calcium:
204
mg
|
Iron:
2
mg