This Dairy-Free Chocolate Chip Cookie Milkshake recipe is completely decadent in flavor. It is the perfect Summer (or Year-round if you're the ultimate foodie) treat with a nice burst of chocolate chip flavor, creamy dairy-free base, and topped with a velvety coconut whip cream. Super easy and quick to make, with only a handful of ingredients.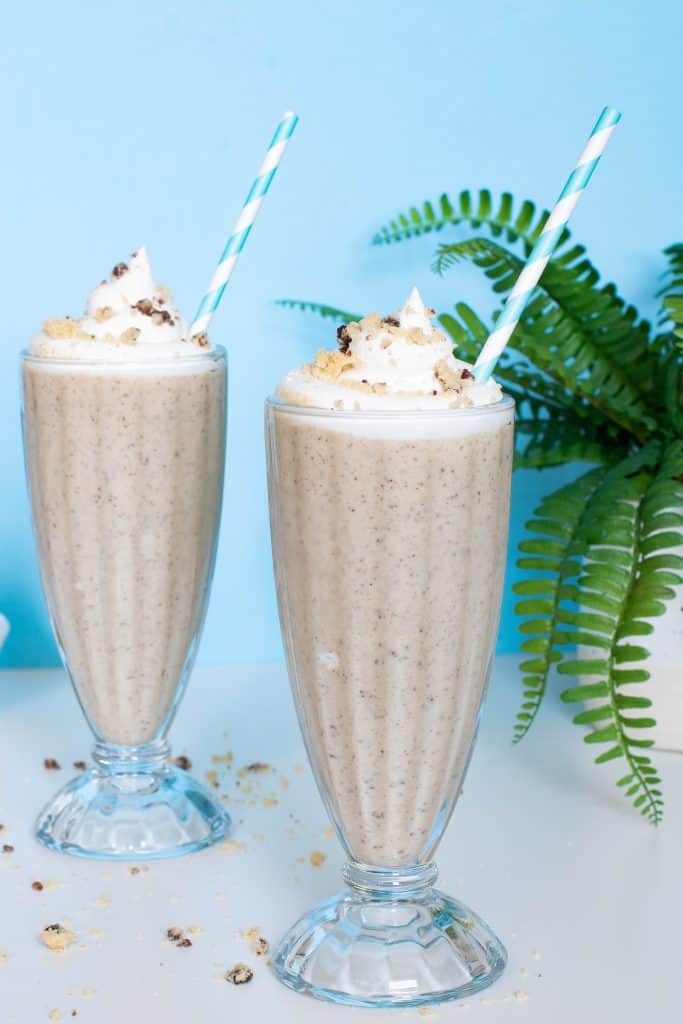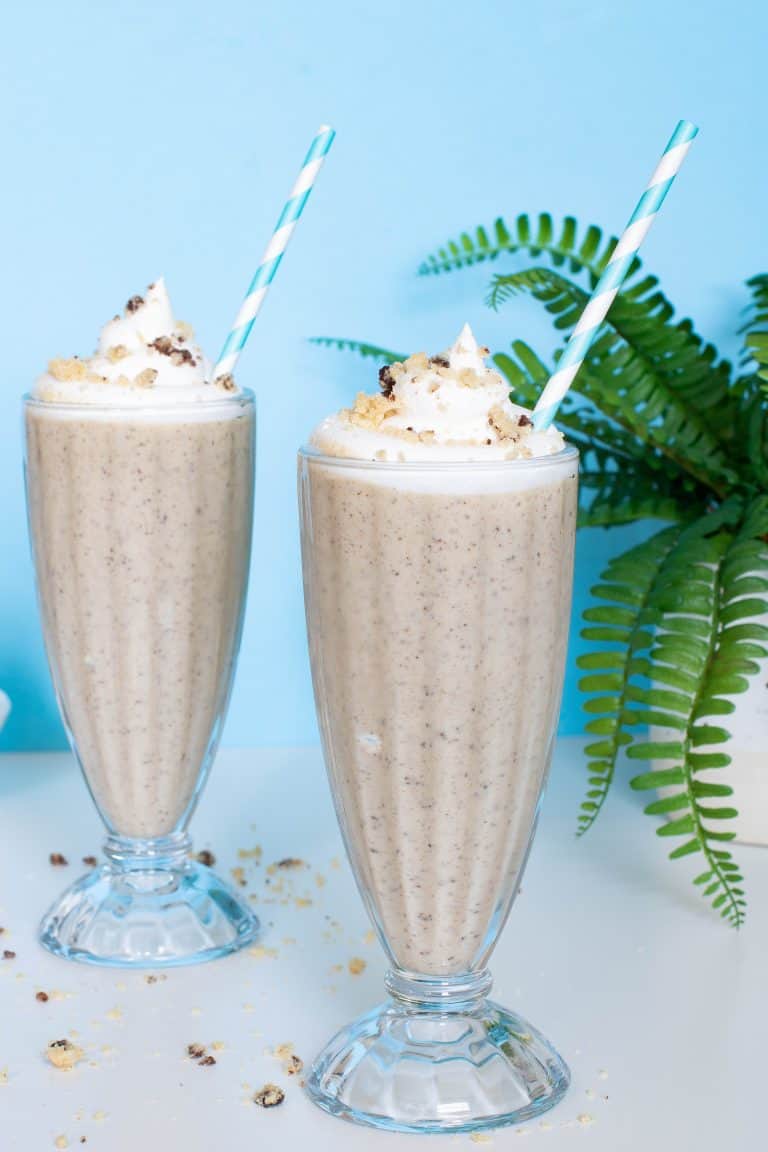 We're officially in the month of August and summer is unfortunately drawing to a close. I can admit that I've enjoyed creating new summer-inspired recipes and re-creating old ones, however, it's time to begin prepping for the Fall season and all the spices/flavors it entails.
If you've been an avid follower of Orchids + Sweet Tea, then you'll know that this isn't my first milkshake recipe (although it's been a while) and it probably won't be my last. Haha.
I just love milkshake recipes because they are SUPER EASY to make, but also just so damn good. Don't you agree?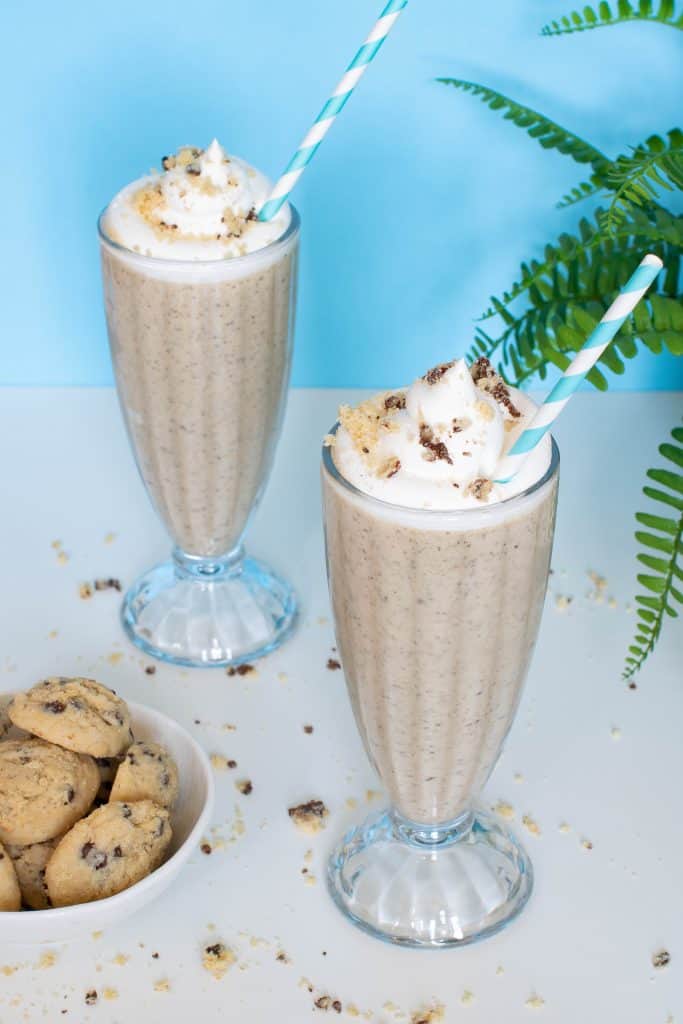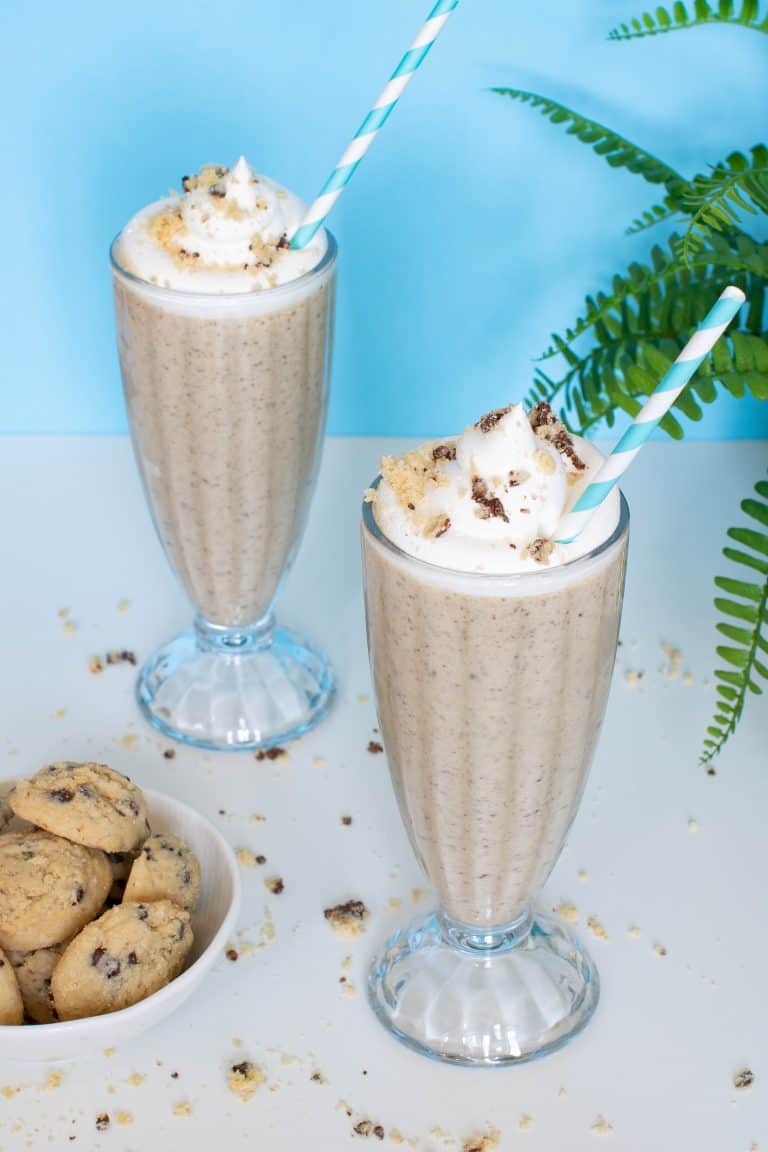 This milkshake in particular was inspired by my Perfect Dairy-Free Chocolate Chip Cookies which are actually the cookies included in it!
Trust me----they're even more perfect in this milkshake!
While I originally thought about creating an Oreo milkshake, I figured that Chocolate Chip Cookies are just sometimes better so why not! And if you're feeling even more fancy, you can add a nice nutty flavor by incorporating these Dairy-Free Chocolate Chip Pecan Cookies instead. It's solely up to you!
OK---so let me talk about these cookies for a sec, since they are the MAIN STAR in this milkshake. The texture and flavors are super important with these cookies to better ensure that this milkshake tastes AMAZING!
The Secret to the Airy, Chewy texture?
One word—-arrowroot! Instead of baking powder, I used arrowroot starch (or powder) as an effective thickener to add great texture. Plus, it's grain-free (awesome for Gluten-Free options) and does an awesome at lightening up the texture while it thickens.
In addition, you can add ½ cup of oatmeal flour along with the all-purpose (being sure to reduce it's amount in the process) to add a bit of fiber or to make things even more healthy. That's my newest trick for my little guy who's obsessed with these chocolate chip cookies!
Why Arrowroot Powder?
It's Grain-free, Gluten-free, and Paleo-friendly!
Perfect thickener to replace regular cornstarch, baking powder, or flour (when using as a thickening agent).
Very versatile (Not just used in baking, but also in grilling or frying).
Great health benefits—-more fiber, perfect for those with digestive sensitivities (gluten, etc), and contains a great source of needed Vitamins + Nutrients.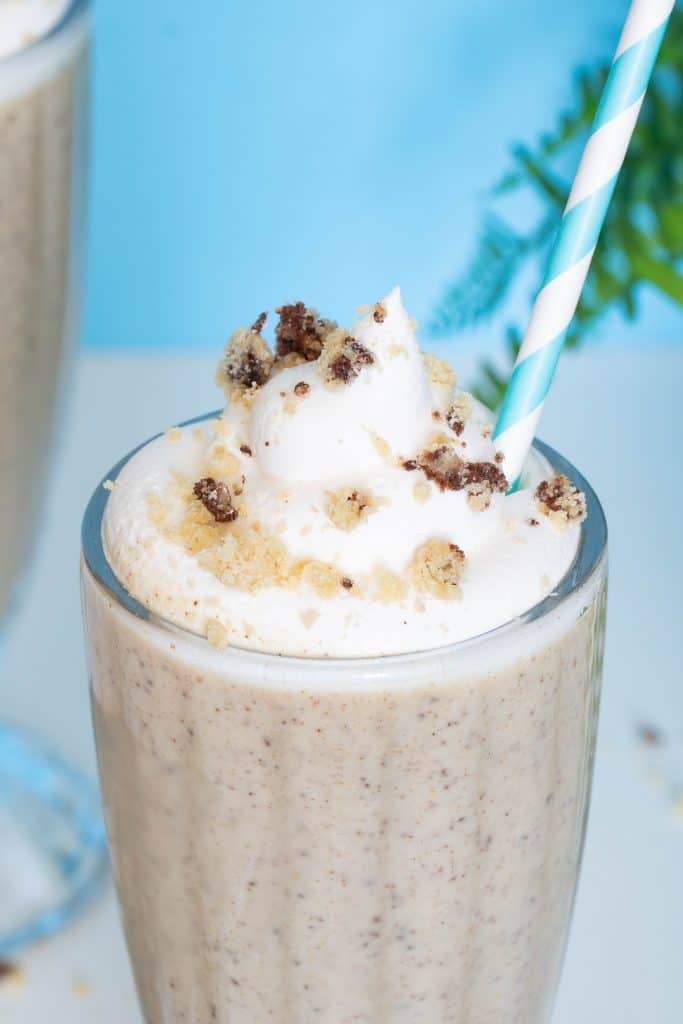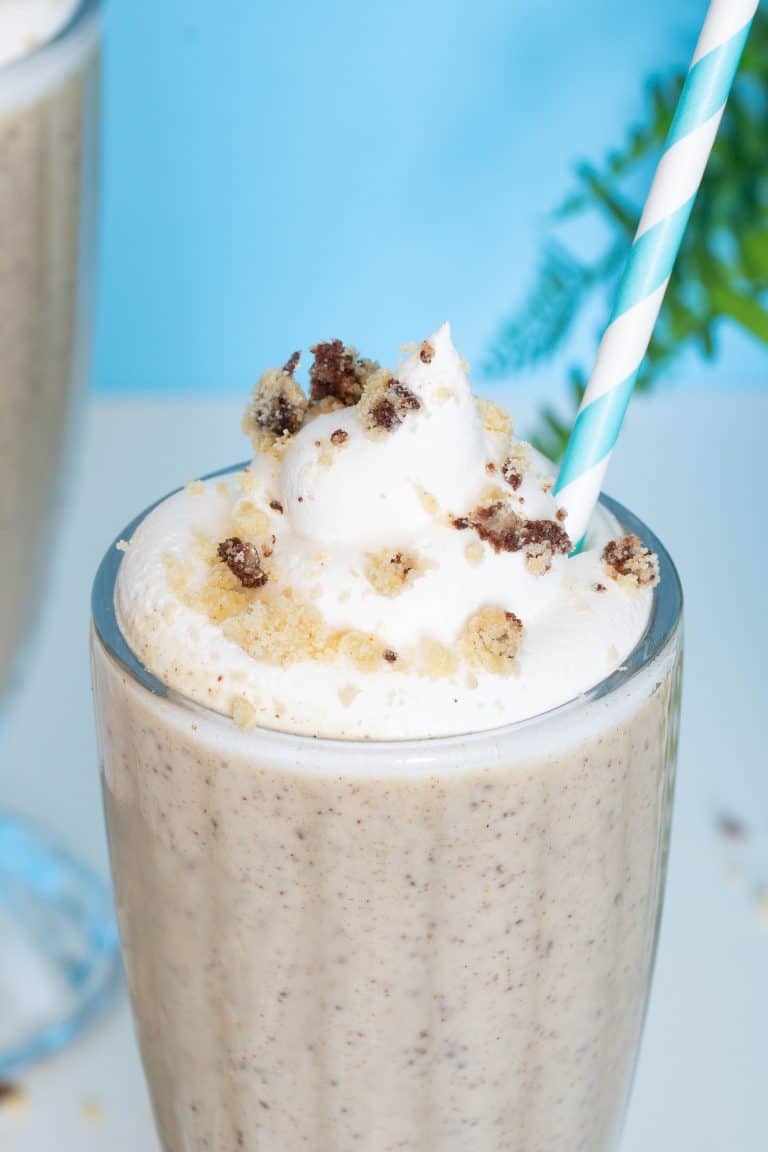 However, if you have other days where a milkshake isn't needed, but you need a GOOD PIECE OF COOKIE, I've got you covered too!
These Oversized Crinkled Chocolate Chip Butterscotch Cookies are more of a remix on chocolate chip cookies. Unlike standard chocolate chip cookies, these large handheld favorites are full of sweet flavor from the nice balance of chocolate-y sweet and butterscotch charm, which work perfectly together. In addition, their crinkled look and thinly crisped bodies, make for a real obsession.
Oh and let's not forget these Chunky Vegan Chocolate Chip + Pretzel Cookies, which are nothing short of amazing! They provide a great balance of salty + sweet from the marrying of the chocolate chips and pretzel pieces. In addition, the use of applesauce (Yes, you read it right!) give these cookies a nice chewiness, softness, + gooeyness.
These Soft + Chewy Butter Pecan Cookies are absolutely the best cookies you'll ever make! They come exploding with crunchy pecans and sweet brown sugar flavor—-an awesome combination in my book.
These Vegan Chocolate Chip Cookies are THE Best! Don't believe me? Try them for yourself. More importantly, the use of applesauce (Yes, you read it right!) gives these cookies a nice chewiness, softness, + gooeyness that will leave you wanting just one more cookie (or maybe 2 or 3! Haha!). Super easy to make and whipped together in 20 short minutes. PLUS, they are one of our most popular vegan cookies to date!
These Soft Oversized Crinkled Sprinkle Sugar Cookies are so good, they'll leave you indulging in two or three before you even realize it. Super soft and tender with a slightly crispy edge, these sugar cookies are nothing like the traditional, yet are so easy to whip together. Perfect sweet treat for the entire family, especially during the Holidays.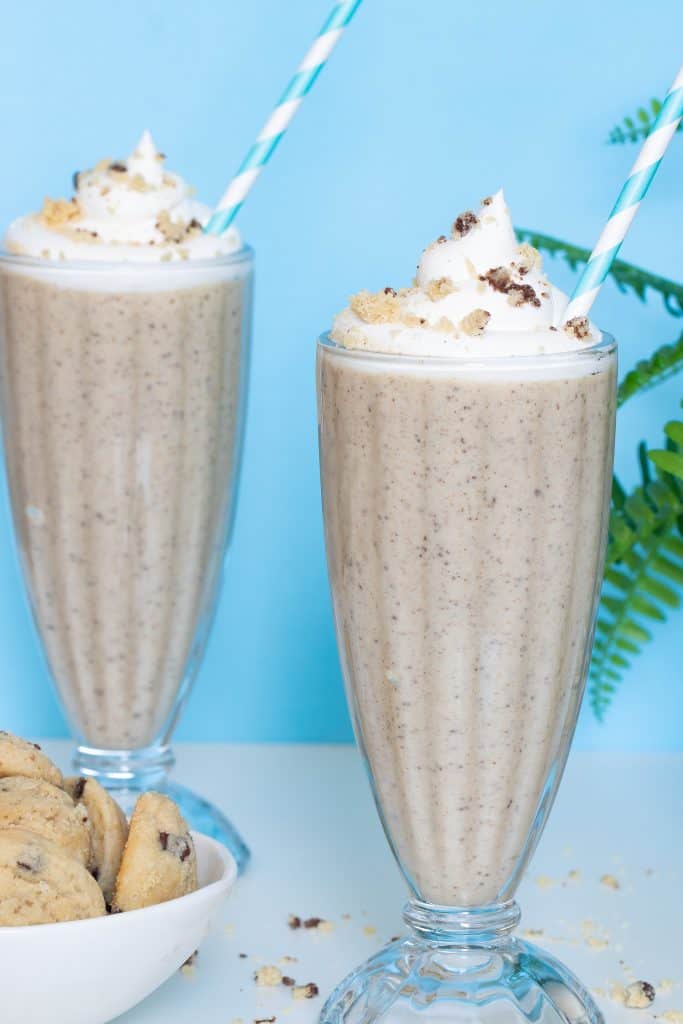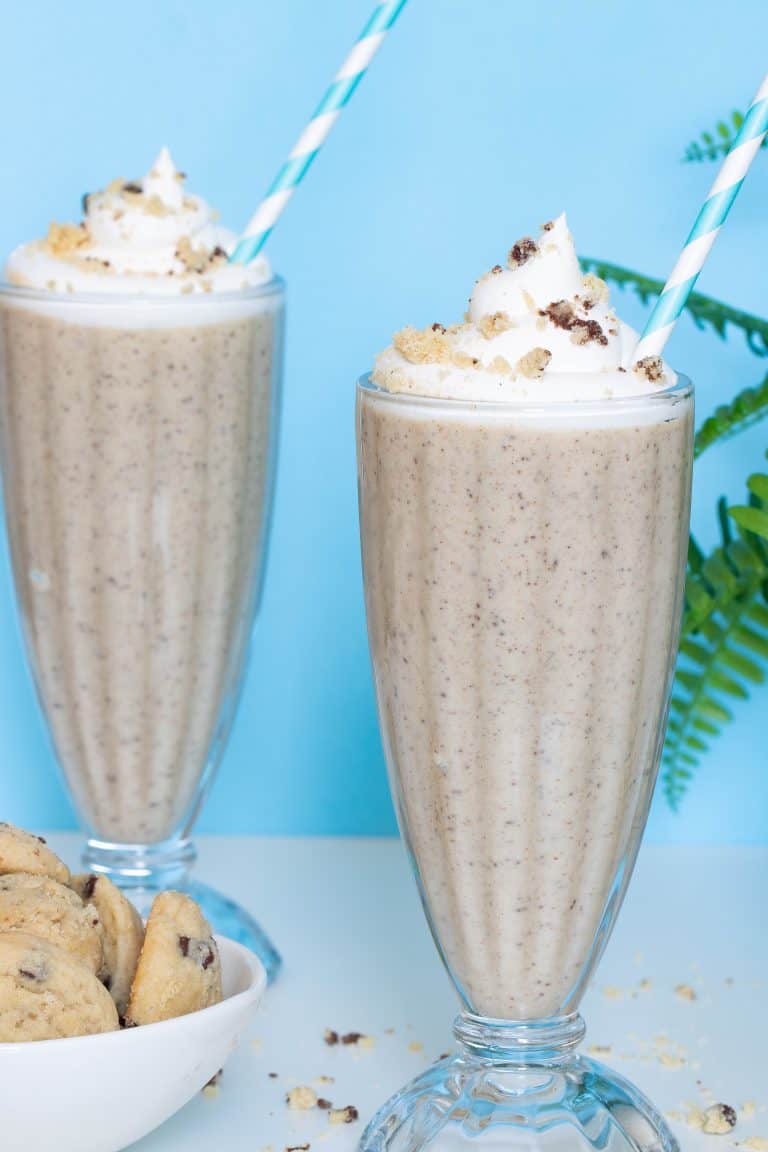 Now, let's dig into this tall glass of goodness, shall we?
Start by adding the So Delicious dairy-free ice cream, your favorite non-dairy milk (I used So Delicious as well), and vanilla extract, to a blender and blend on medium-high speed, until smooth, about 1-2 minutes.
Next add in your chocolate chip cookies and blend again for a few seconds, just until smooth (with little chunks visible).
Once milkshake consistency is met, pour milkshake into tall glasses, and top each milkshake with CocoWhip! (also from So Delicious) or homemade (See Notes!) along with chopped pieces of chocolate chip cookies, and peanut butter, if desired.
Add a straw and sip away and enjoy!
MADE OUR RECIPE(S)?
If you choose to make these Dairy-Free Chocolate Chip Cookie Milkshake or any other recipe from us, be sure to tag us on Instagram at #Orchidsandsweettea so that we can share the love, rate, comment below, + share!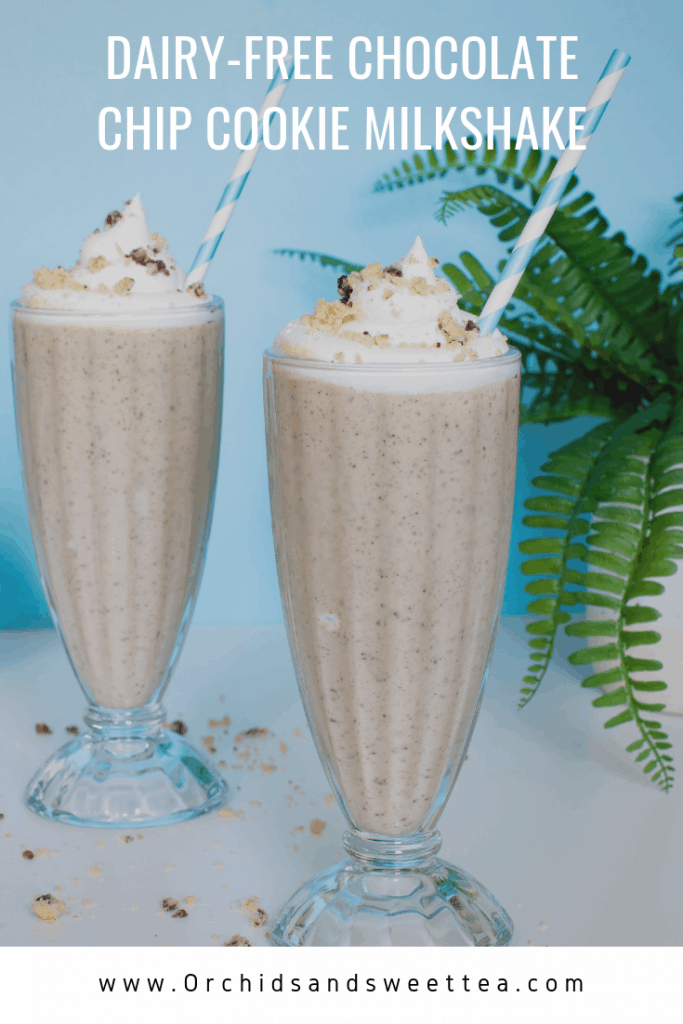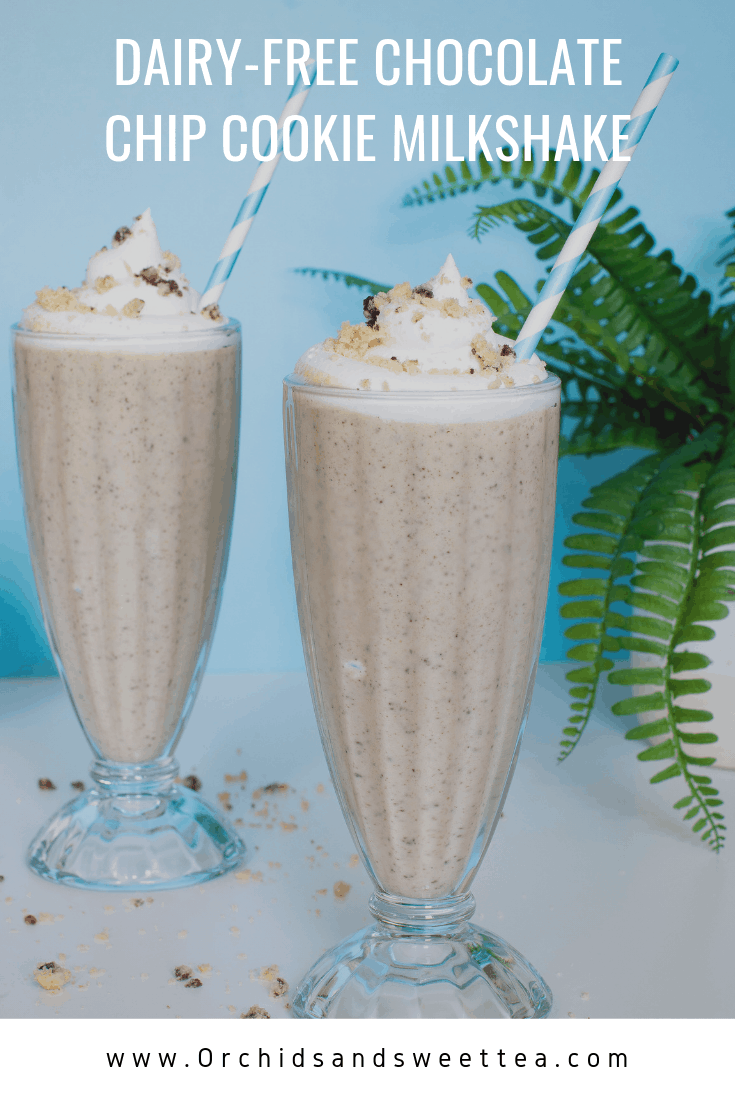 Serves:
2
Glasses of Milkshakes
3

cups

So Delicious Cashew Milk Very Vanilla Ice Cream

(See Notes!)

½

cup

Almond Milk

(See Notes!)

1

tablespoon

vanilla extract

1-2

cups

 Dairy-Free Chocolate Chip Cookies, homemade

(See Notes!)

1

cup

Coco-Whip!

(See Notes!)

vegan Peanut Butter, optional

(See Notes!)
STORAGE: Best if consumed right away. If not, ensure that milkshake is stored in an air-tight container or mason jar and kept in the freezer. To thaw out, remove milkshake from freezer and place in the refrigerator for 30-40 minutes for a creamy consistency.
DAIRY-FREE ICE CREAM: You can use So Delicious' Cashew Milk version or their Almond Vanilla or Soy Milk version. 
PLANT-BASED MILK: I love using Almond milk, however, you can use your own personal favorite---Coconut, Oat, Soy, etc.
COOKIES: While you can use your own store-bought vegan or dairy-free chocolate chip cookies, this recipe tastes best with these Perfect Dairy-Free Chocolate Chip Cookies.
COCO-WHIP!: You can purchase So Delicious' Coco-Whip topping or make it homemade. Great homemade recipe by leelalicious.
PEANUT BUTTER: If you choose to add peanut butter for a nice nutty flavor, I recommend using Earth's Balance Creamy Peanut Butter (which includes flaxseeds)---my personal fave!
Dairy-Free Chocolate Chip Cookie Milkshake.