Get ready to experience pure chocolate bliss with this Chocolate Oat Milk recipe. Learn how to make chocolate oat milk and elevate your dairy-free milk game with a velvety blend of wholesome oats, decadent cocoa + the warmth of vanilla, and the cozy touch of cinnamon. Savor the perfect marriage of creamy goodness and chocolaty delight in every sip-- Kid + Adult approved! Completely Gluten-Free, Nut-free, Vegan & No Added Sugar!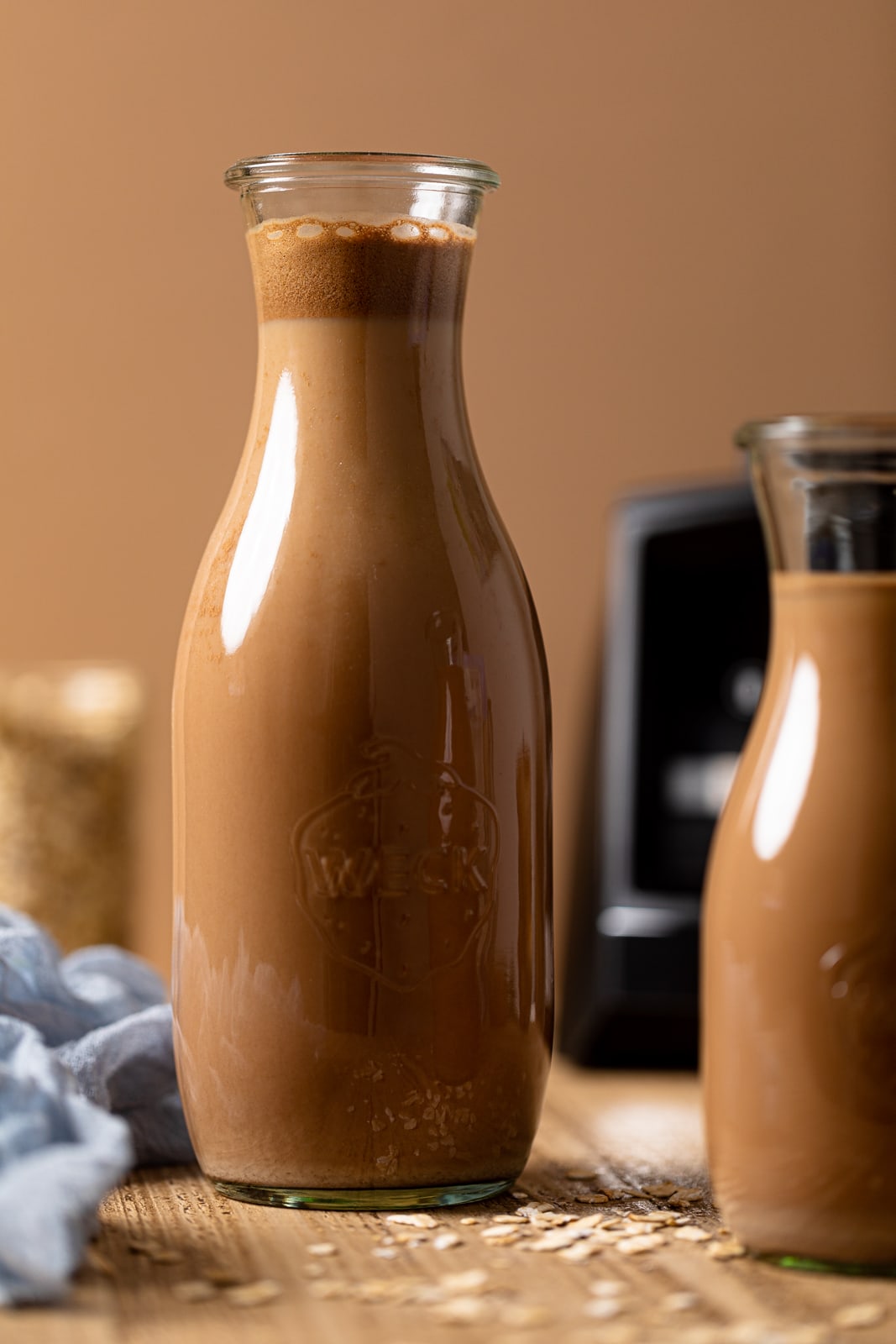 What Is Chocolate Oat Milk?
Meet Chocolate Oat Milk – The delicious offspring of my classic Easy Homemade Oat Milk recipe. Building upon the nourishing base of oats, this dairy-free delight takes a scrumptious twist with the infusion of velvety cocoa. Inspired by the success of my original oat milk creation. I ventured into the world of chocolate to create a beverage that's as indulgent as it is wholesome. Picture a creamy blend that harmoniously marries the goodness of oats with the rich allure of chocolate, creating a versatile option perfect for sipping, baking, and enhancing your favorite treats.

If you're trying to eat less or no dairy at all, it can get expensive to buy fresh bottles of nut milk all the time + making your own dairy-free milk at home is easier (and way cheaper) That's why I have created a list of The Best Milk Alternatives For Your Entire Household with easy recipes like Homemade Creamy Cashew Milk and some nut-free options like Creamy Vanilla Sesame Milk!
If I were to describe this chocolate oat milk, I'd say it's incredibly kid-friendly, delightfully delicious, and a breeze to prepare. With its simple yet wholesome ingredients, it's a surefire crowd-pleaser that can be enjoyed in tonnes of creative ways.
Jump to: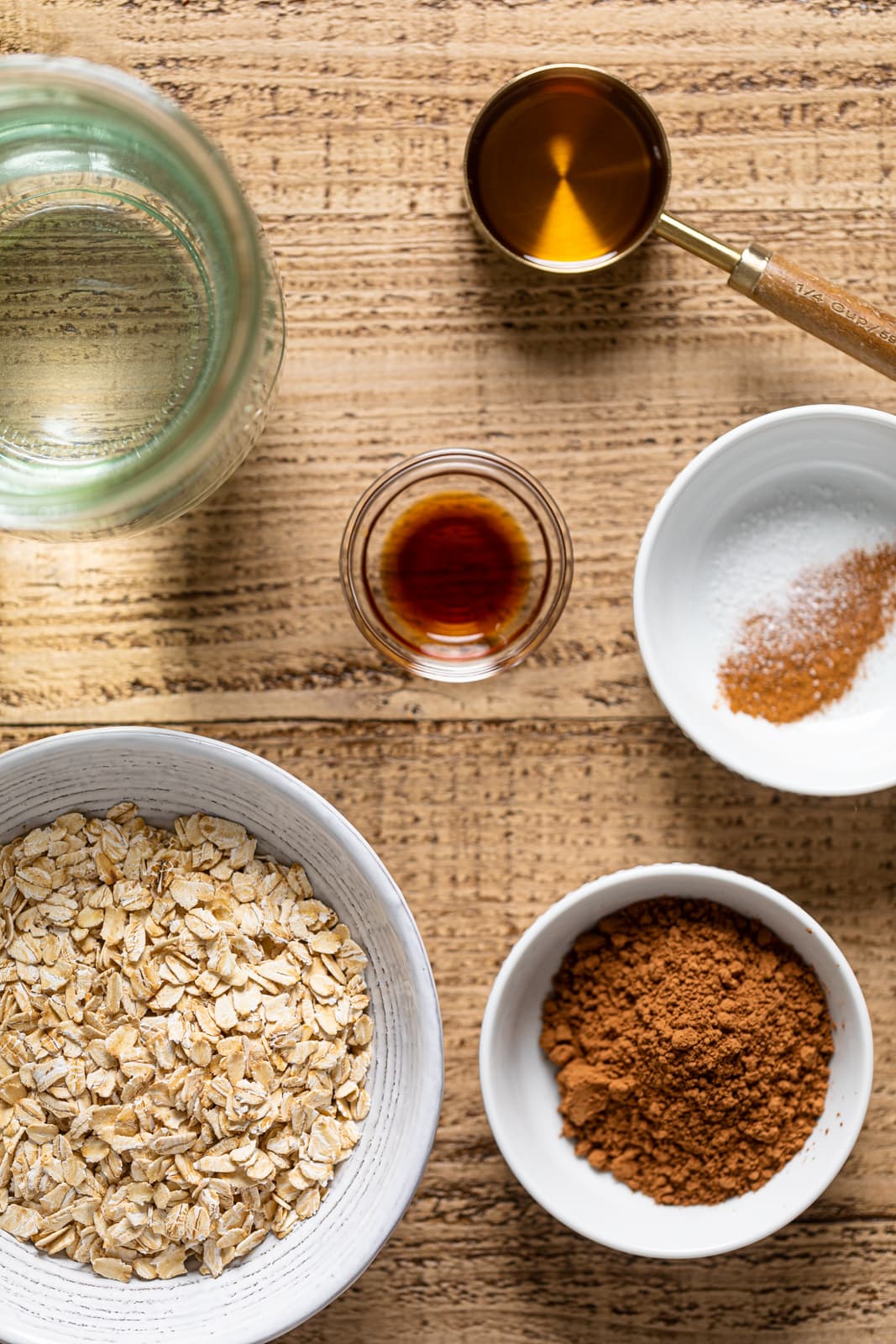 Ingredients for Chocolate Oat Milk
Here's what you need to make chocolate oat milk from scratch:
Rolled oats. Use gluten-free if necessary.
Filtered water. You can use filtered tap water or buy it from the store.
Agave. Feel free to use less for a less-sweet milk.
Vanilla. For a touch of added flavor.
Cocoa powder. You can also use organic unsweetened cacao powder.
Cinnamon. This adds a nice spice.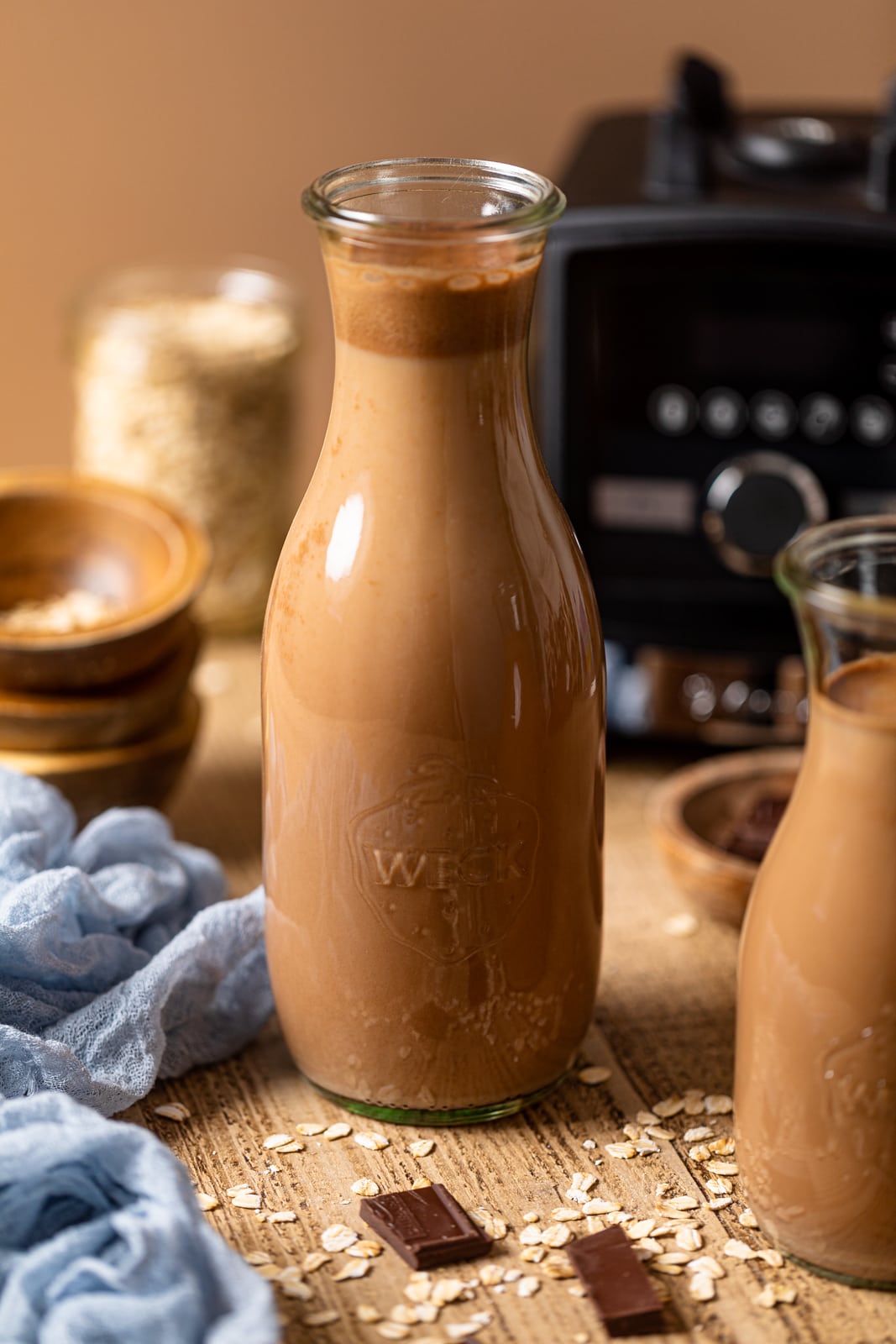 How to Make the Best Oat Milk
In just a few steps you will be sipping chocolate oat milk in no time!
The first step to making oat milk is to soak the oats. This softens them up for the creamiest texture.
Then, it's key to drain the oats very well and rinse them. This removes the excess starch on the outside of the oats, which can give your milk an odd, slimy texture.
Next, you'll put everything into a blender. A high-speed blender, such as a Vitamix, works best to really break everything down. Of course, you can do it with a regular blender, you may just need to blend a little longer. At this point, you can taste the milk and add extra sweetener or spices if you like.
Finally, it's time to strain the milk. You'll need a cheesecloth or a nut milk bag to do this step. You can hang the bag over a bowl and let it drain for a while, then squeeze out as much liquid as possible.
TIP -- I like to blend the milk one more time before storing for the smoothest texture.
TIPS TO AVOID SLIMY CHOCOLATE OAT MILK
Making my own Oat Milk was a learning curve. There are a few tricks I've learned that drastically affect the outcome. I'm talking about avoiding an ooey-gooey, slimy texture and getting a creamy oat milk masterpiece instead. With a little practice and finesse, I have mastered the perfect recipe of oaty goodness to share with you.
DONT OVER-BLEND! Blend for 10 seconds initially in a high-speed blender to prevent over-blending. If necessary, increase blending time gradually in 5-second intervals, but do not exceed 30 seconds.
USE ICE-COLD WATER. This seems to help in avoiding any slimy-ness!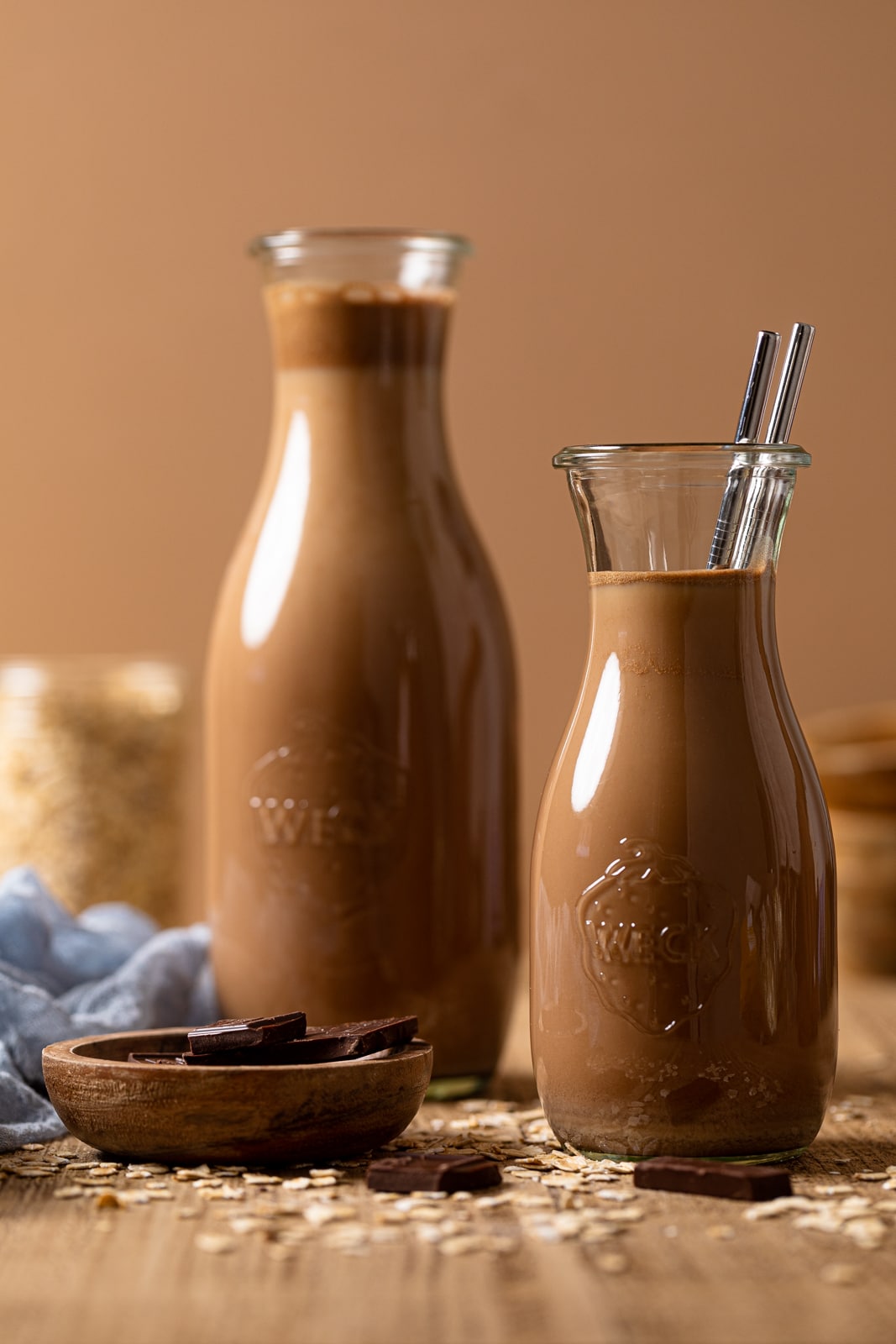 Homemade Vs Store Bought Oat Milk
This simple ingredient dairy-free Chocolate Oat Milk is definitely a staple in my fridge. Lately, I've noticed a major trend in homemade milk, especially when it comes to Oat Milk, with famous brands like Oatly taking center stage. It's a crowd favorite, and I can see why.
I have to admit I was a little late to the homemade plant-based milk train, opting for my favorite go-to brands like Califia Farms and So Delicious instead. They're amazing, so why make my own, right? Haha. Whelp. I've since given in to the trend, and I must say that I'm glad I did. There are a lot of great reasons to opt for homemade oat milk.
BENEFITS OF MAKING YOUR OWN HOMEMADE OAT MILK
You have complete control over the ingredients and can customize it to your liking aka making it chocolaty!
It is generally less expensive than store-bought oat milk
You can make smaller batches to avoid waste
It is fresh and free from preservatives.
It is a fun DIY project!
You can avoid added sugars, oils, thickeners, and salts!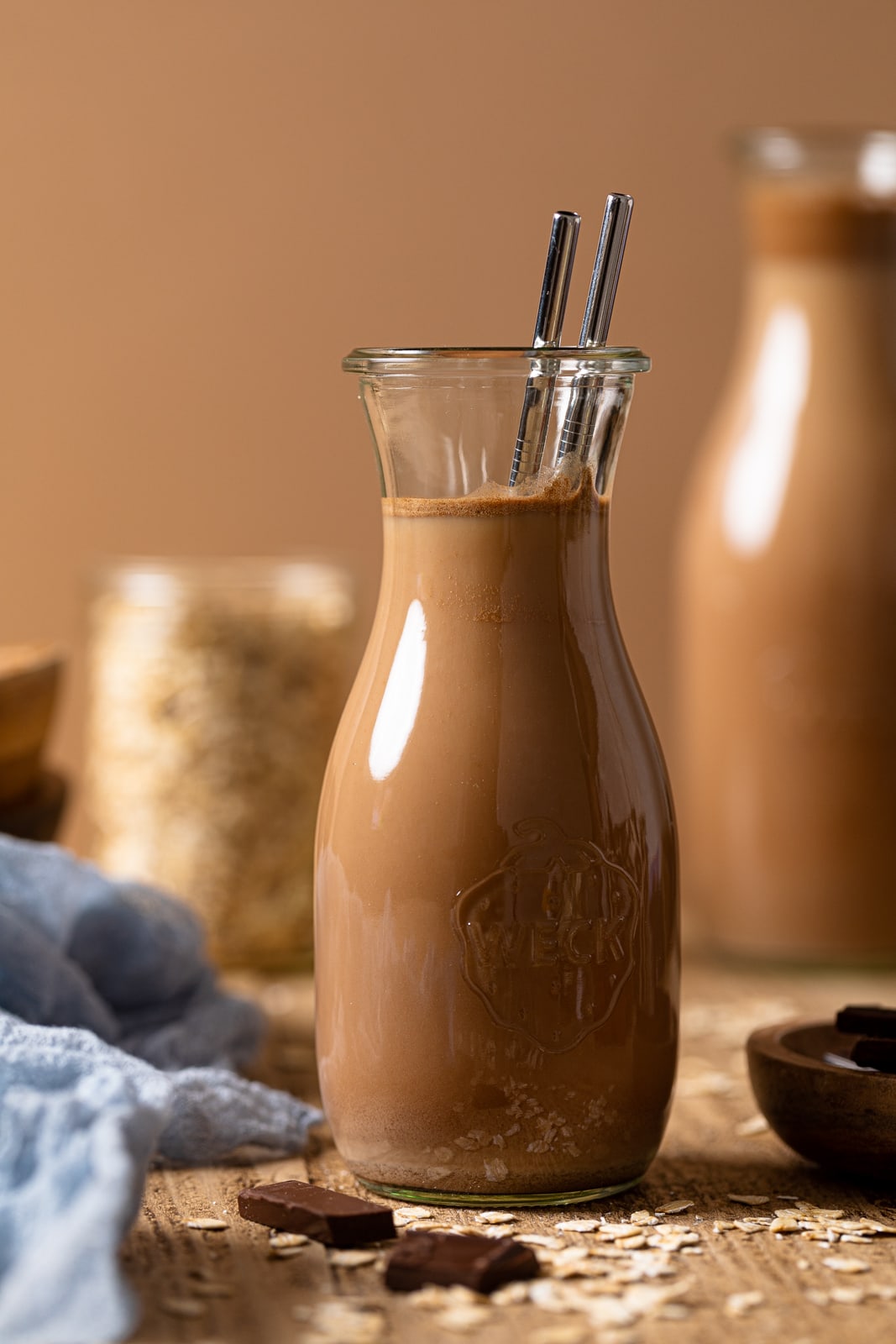 Why You Will LOVE This Chocolate Oat Milk
Smooth & creamy texture
Can be enjoyed chilled or as a warm cozy beverage!
A dreamy sip of chocolaty goodness
Super budget-friendly!
Versatile, can be used in so many ways!
Not to mention, it's just DELICIOUS!
Cacao vs. Cocoa
Did you know that Cacao AND Cocoa are the same thing?
Chocolate is derived from Cacao beans, which are essentially the seeds. 'Cacao' often refers to the beans, the pods, or the finely ground bean fragments. On the contrary, 'Cocoa' typically designates the powdered form, arising after the separation of fat from the beans. Of course, there's a whole process that happens and you can find out more about that here.
Note that to make cocoa powder, the fat must be removed from the chocolate. This means that cacao or cocoa powder is lower in fat and calories than regular chocolate.
So of course, it's always best to go with a brand of Cacao that contains those nutrients and are premium to ensure that your body actually receives all of those boosters. Navitas Organics' version of Cacao not only does that, but it's so delicious as well! You can always purchase it on their site or through a large retailer like Amazon.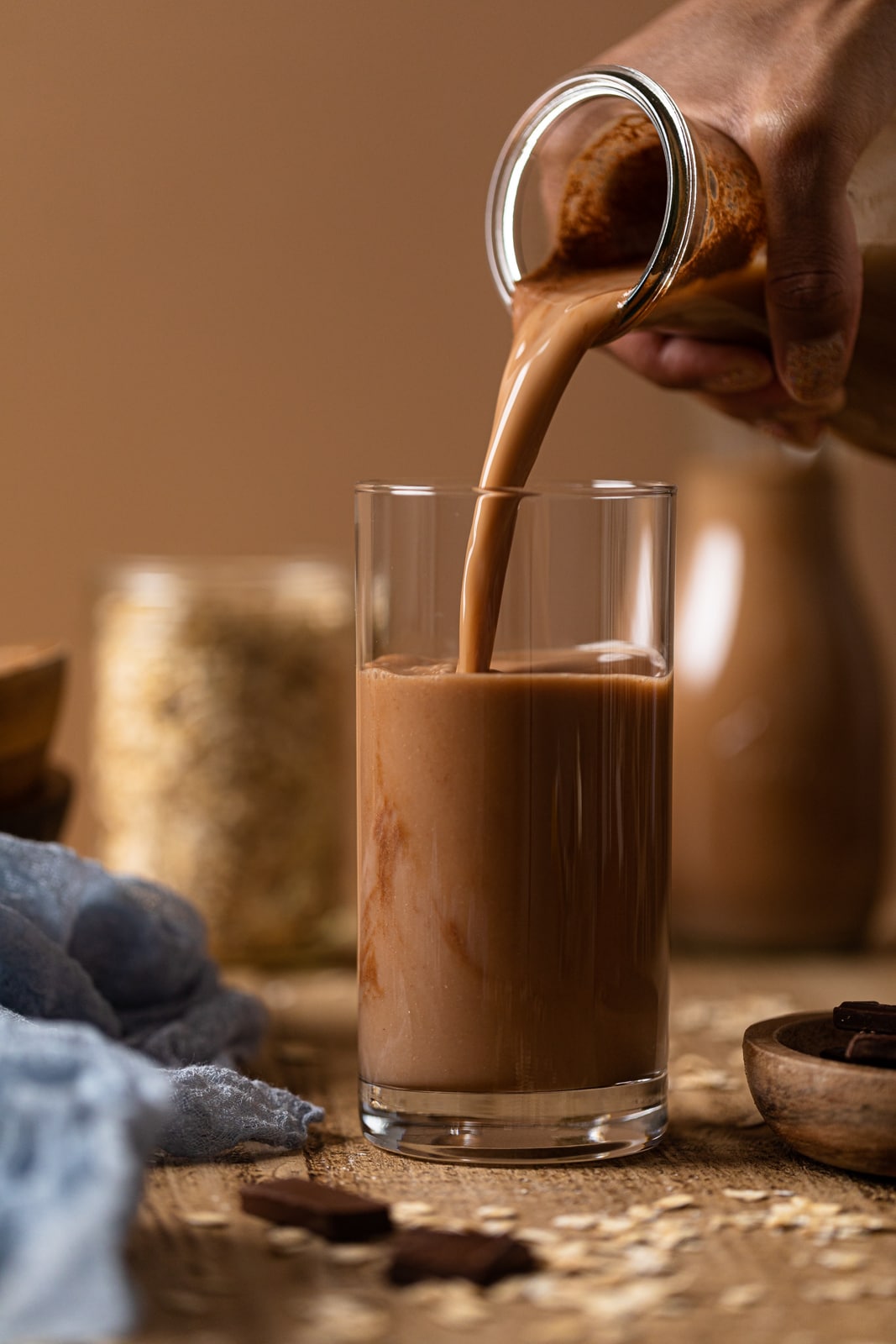 How To Use Homemade Chocolate Oat Milk
Once you have a supply of frothy and creamy chocolate oat milk on hand, you can make so many tasty things! Of course, it's delicious on its own + kids love it too.
It's SO versatile and can be used in so many ways. Here are some ideas!
Other Flavoring Ideas
The fun part about making your own nut or oat milk is that you're in control of the flavor. Feel free to use a different sweetener or spice to make your milk. Here are some options to change things up:
Use almond extract instead of vanilla (or try both)
Use cardamom or pumpkin pie spice
Sweeten with honey, or maple syrup. You can also use soaked dates if you like.
Lavender or rose essence.
Add a dash of maca or another herb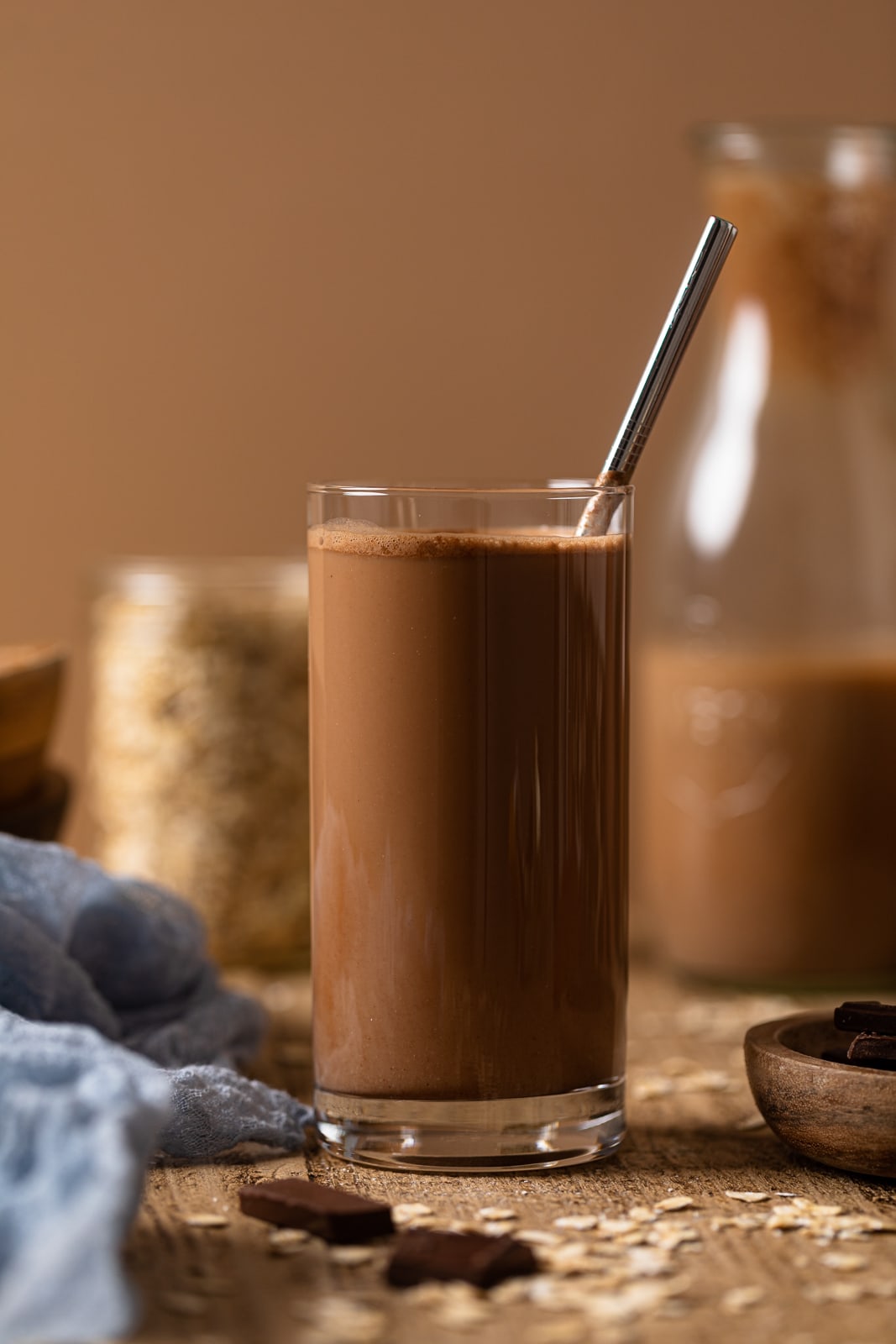 Chocolate Oat Milk Q + A's
How Long Can I Store Homemade Chocolate Oat Milk?
Store your chocolate oat milk in an airtight container or bottle. It will stay fresh for up to one week, but it's best within three days.
Can I Warm Up Chocolate Oat Milk?
Absolutely! You can heat up Chocolate Oat Milk just like regular milk. It's perfect for making warm and comforting beverages like hot chocolate or adding a delightful touch to your morning coffee. Just be sure to heat it gently over medium heat and stir occasionally to prevent scorching
Can I Use A Different Sweetener?
If Agave isn't desired, you can use dates, pure maple syrup, or date syrup, instead as a sweetener.
Do I Need To Strain My Oat Milk?
Yup! To ensure that your oats blend to an incredibly smooth consistency along with your other ingredients, it's super important that you let your oats soak in fresh water for 15-20 minutes.
Is Chocolate Oat Milk Healthy?
Yes! This dairy-free chocolate milk recipe boasts a low-fat profile while delivering ample fiber and protein. What's more, the infusion of cacao powder brings a treasure trove of nutrients, including iron, magnesium, and potassium, enhancing its nutritional value.
Is This Dairy-free Chocolate Milk Gluten-free?

Absolutely! While oats are naturally gluten-free, it's a good idea to opt for certified gluten-free oats to ensure there's no risk of cross-contamination. This way, you can savor every sip of this creamy and delightful chocolate oat milk without any worries.
More Sweet Chocolate Recipes To Try
MADE OUR RECIPE(S)?
If you make this Chocolate Oat Milk recipe, tag @orchidsnsweettea_ on Instagram and hashtag it #orchidsandsweettea
MILK:
1

cup

rolled oats, gluten-free

(You can also use a non-GF version!)

5

cups

filtered water

1-2

Tbsps

Agave

(See Notes!)

1

teaspoon

vanilla extract

3

Tbsps

cocoa powder or organic cacao

½

teaspoon

ground cinnamon

Pinch of

sea salt
In a large bowl, add dry rolled oats along with 2 cups of fresh water and soak for 15-20 minutes. Once oats have swollen and softened, drain out water, rinse with more fresh water, and drain again and set aside. NOTE: Be sure to discard all drained water.

Next, add the soaked oats, 5 cups of water, Agave, vanilla, cinnamon, and salt to a high-powered blender and blend on medium-high speed for about 30-45 SECONDS. NOTE: Do not over-blend; Adjust sweetness as needed.

Once done, slowly strain (using a cheesecloth) milk into a bowl, squeezing the oatmeal pulp to ensure that all milk is extracted. NOTE: You may have to repeat this process until all oat milk has been fully strained by re-pouring milk on top of pulp to extract more milk, if needed.

Once all milk has been extracted, add the milk back to the blender and add the cocoa powder and blend again for 1 minute or until it's thick and creamy.

Refrigerate milk (best if tightly sealed/covered) for up to 1 week. Stir before serving, if needed.

Sip and Enjoy!
STORAGE: When properly stored in the refrigerator, oat milk lasts for up to 1 week, at best. Usually, I like to consume my batch within the first 2-3 days.
REMAINING OAT PULP: You can always repurpose leftover 'oat pulp' by covering it in the refrigerator and using it in overnight oats, smoothies, etc.
SERVING SIZE: To make more, simply double or triple the measurement of ingredients, depending on your desired amount. 
SWEETENER: If Agave isn't desired, you can use dates, pure maple syrup, or date syrup, instead as a sweetener.
USES: Regular Oat milk's creamy consistency makes it perfect in lattes, cappuccinos, smoothies, creamy soups, and baked goods. Can also be used as regular milk for cereal, etc.
Calories:
53
kcal
|
Carbohydrates:
10
g
|
Protein:
2
g
|
Fat:
1
g
|
Saturated Fat:
0.3
g
|
Polyunsaturated Fat:
0.2
g
|
Monounsaturated Fat:
0.3
g
|
Sodium:
9
mg
|
Potassium:
67
mg
|
Fiber:
2
g
|
Sugar:
2
g
|
Vitamin A:
0.4
IU
|
Vitamin C:
0.5
mg
|
Calcium:
13
mg
|
Iron:
1
mg