Learn how to make the best Dairy-free Iced Mocha Latte at home with cocoa powder, vanilla, and your favorite cold brew! This recipe is for you if you're sick of blowing your budget on your weekly, er, everyday coffee indulgence! You only need basic ingredients and a few good shakes to make a wonderful and significantly less expensive mocha no need to go to the coffee shop! Totally Plant-based & Dairy-free.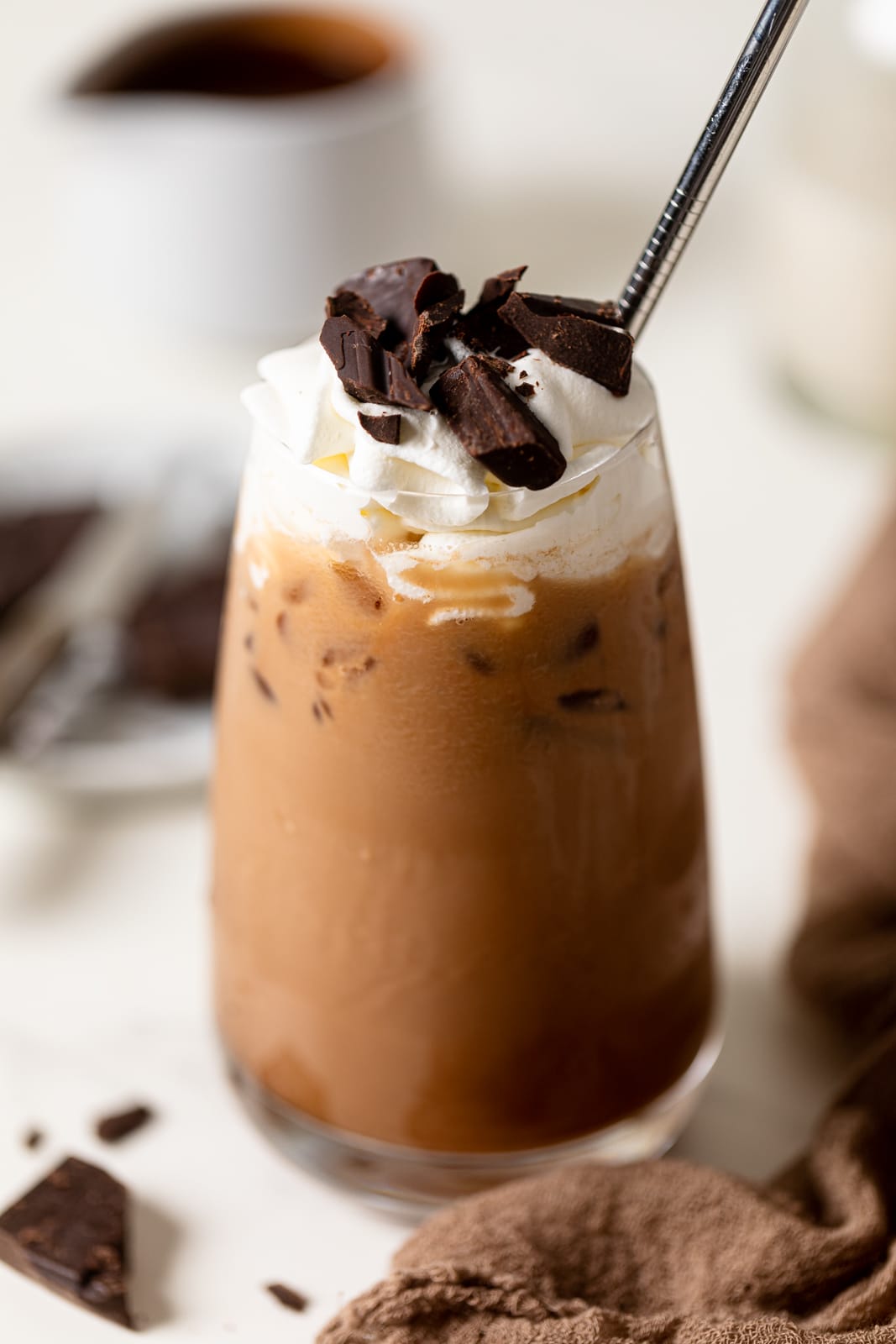 I love to start my day with a chilled cold dairy-free coffee. And when I'm craving something a little sweet and decadent, I prefer to make it at home rather than head to Starbucks. If you're with me and love chocolate and coffee then you're going to go crazy for this sweet, Dairy-free Iced Mocha Latte. It's made with plant-based dairy-free milk and has a gentle spice from the cinnamon. When you make this drink at home, you can control the sweetness and flavor to make it entirely your own -- better than any fancy coffee shop if you ask me.
Plus, I've been enjoying making all of my lattes at home, especially my faves from Starbucks like this Iced Vanilla Sweet Cream Latte [Starbucks Copycat], Starbucks Copycat Iced Sugar Cookie Latte, Starbucks Copycat Iced Brown Sugar Shaken Espresso, and Starbucks Copycat Apple Crisp Oatmilk Latte.
What Does a Mocha Latte Have in it?
Basically, an easy mocha latte consists of milk, coffee, and chocolate, which together adds a richness and velvety-ness that makes for the best sipping experience!
Homemade Coconut Whipped Cream
Making your own homemade coconut whipped cream is so easy! You'll need 1 cup of chilled full-fat coconut cream/milk and 1 teaspoon vanilla extract. On high-speed, whip everything using a whisk attached to an electric stand-mixer or hand-mixer until fluffy and stiff peaks are present. NOTE: Ensuring that your bowl is chilled definitely helps things to whip faster.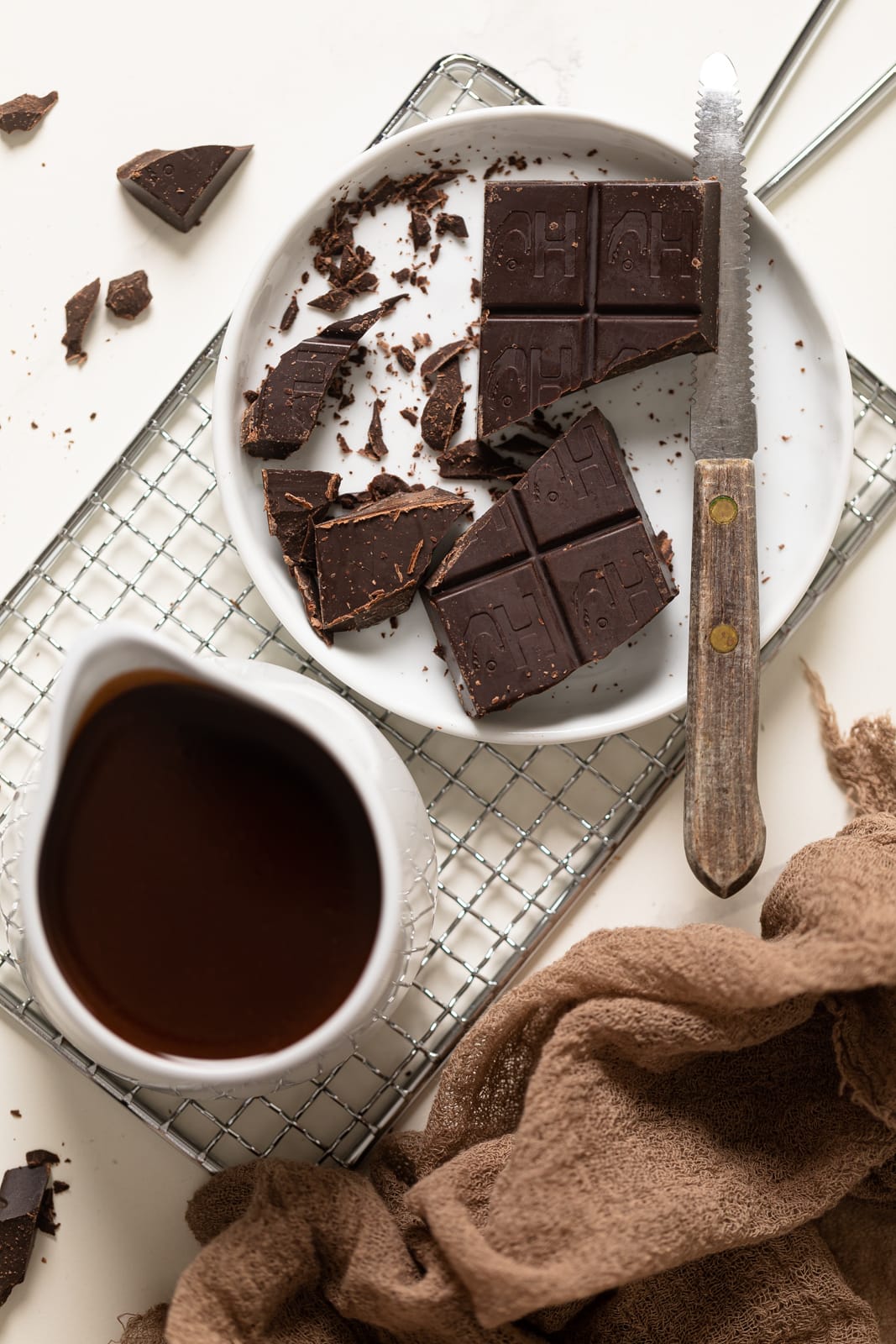 Ingredients for the Best Iced Mocha Latte
The key to the best, freshest-tasting mocha latte at home is high-quality ingredients. Here's what you need for homemade chocolate syrup and the latte:
Organic cocoa powder. You can also use cacao powder for a stronger flavor.
Cane sugar. I like to use organic sugar for the best quality.
Vanilla extract. This helps balance out the rich chocolate flavor.
Cinnamon adds a warm note
Cold-brew. You can make your own or use store-bought cold brew.
Oat milk. You can use any plant-based milk you like, or store-bought.
WHY YOU WILL LOVE THIS MOCHA ICED LATTE
Tasty & refreshing
Delicious and indulgent chocolatey flavor
Simple basic ingredients
No special equipment needed
Versatile
Plant-based and Dairy-free!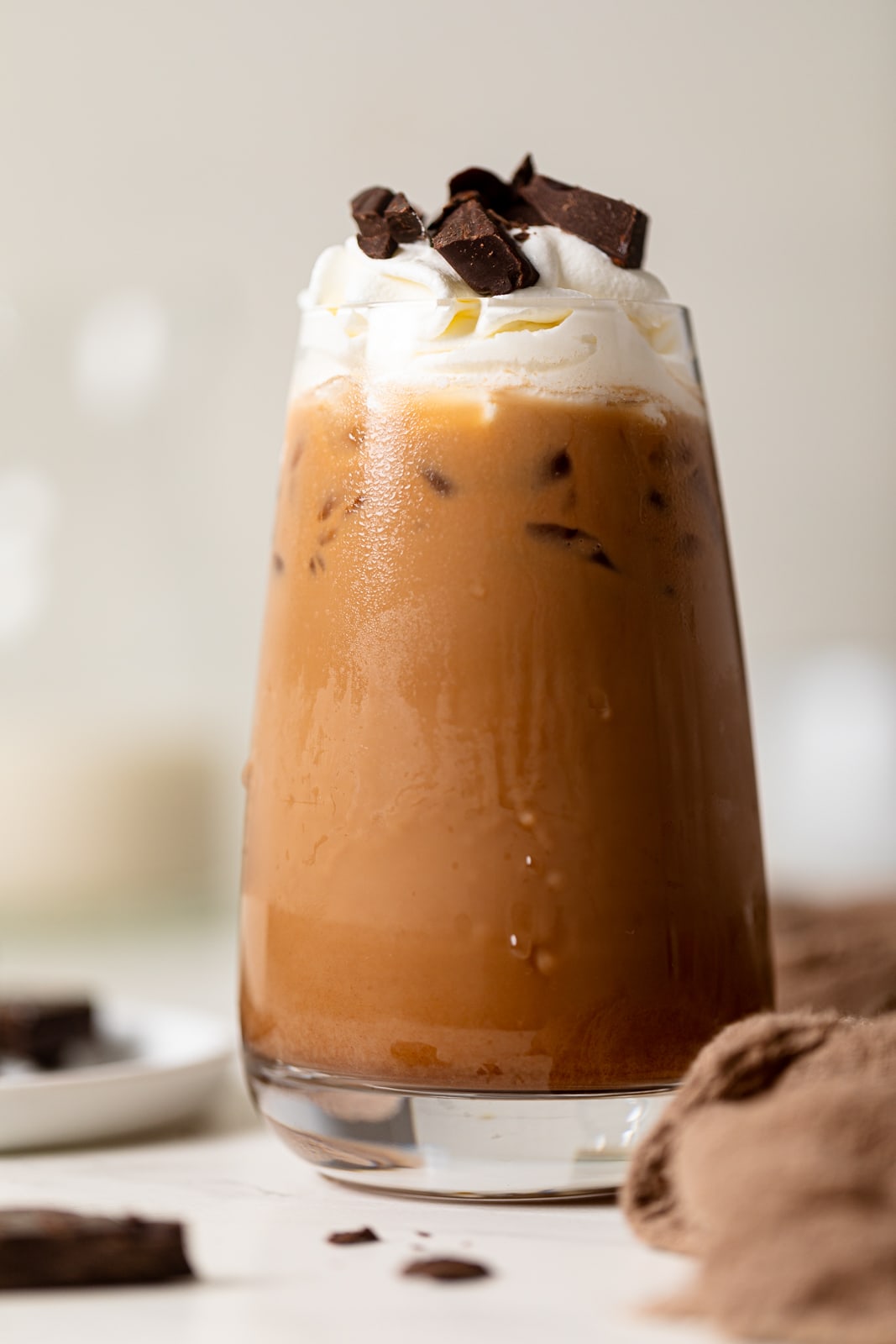 How to Quickly Chill Coffee
Using hot coffee in this recipe will result in a watered-down beverage that nobody wants, so instead, opt for cold coffee AKA cold brew and serve the mocha over ice. If you're adept at planning ahead, you can save time in the morning by storing some leftover coffee in the fridge the night before.
But here's what you can do if you're in dire need of an iced mocha right now but don't have any cold coffee in the fridge:
Pour double-strength coffee over ice cubes from a freshly brewed pot (about 1 heaping cup of ice per 1 cup of coffee). Since melting ice dilutes liquids, it will cool the coffee to a more manageable level as it does so.
If you have any leftover coffee, you can freeze it into ice cubes and utilize them in future cups of coffee without diluting the flavor.
OR, to chill your coffee quickly, pour it into a large cup and set it in the freezer for 15 to 20 minutes. In any case, don't let it slip your mind!
Topping Ideas
Turn this latte into a treat with some decadent coffee shop toppings like:
Coconut whipped cream
Chocolate shavings
More chocolate sauce
A dusting of cocoa powder or cinnamon – or both
Storage
You can store leftover chocolate syrup in an airtight container in the fridge for up to two weeks. Make more lattes or drizzle it over your favorite dessert like No-Churn Caramel Cone Ice Cream!
To reheat your syrup, simply pop it into the microwave until heated to your desired temperature.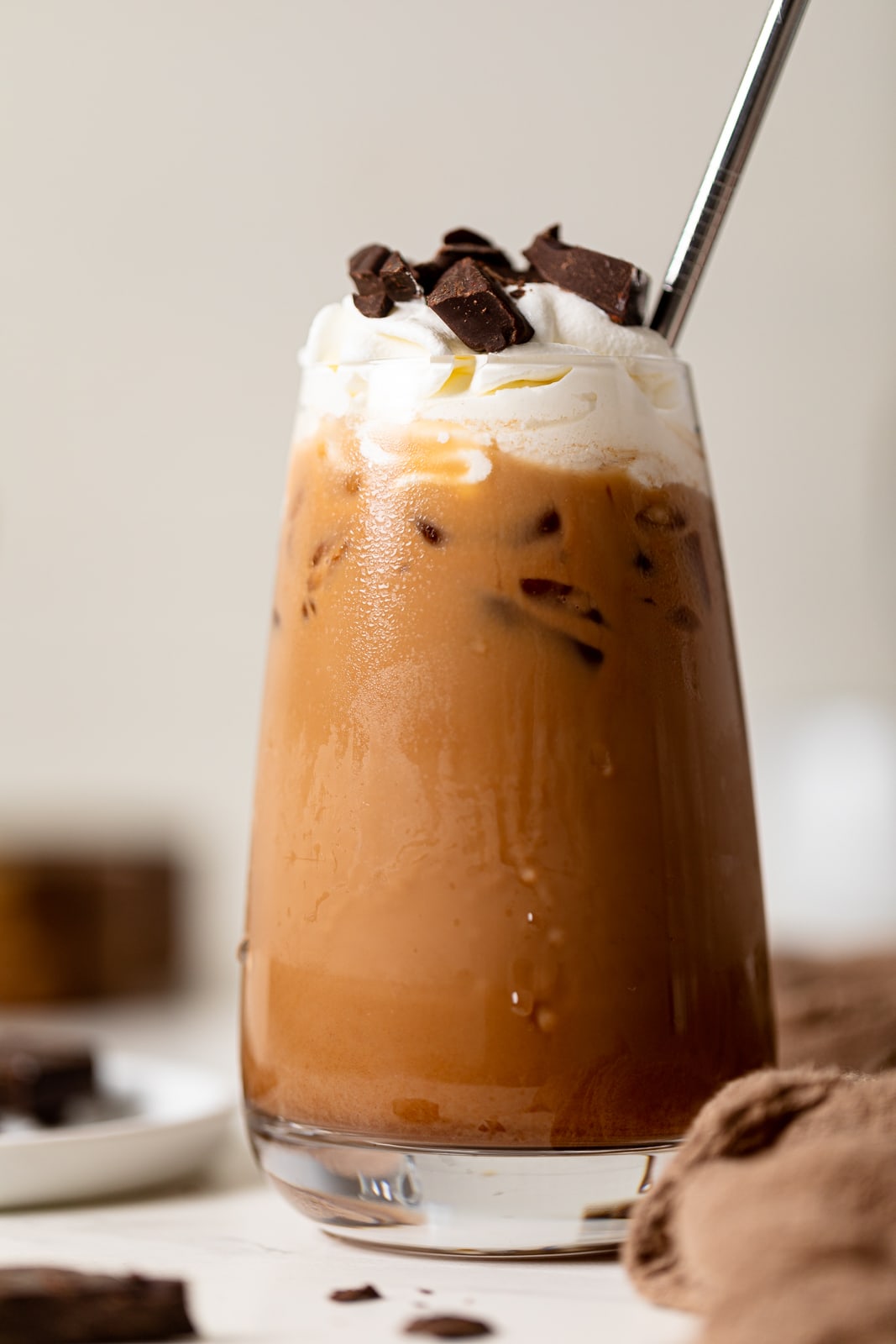 What Kind of Plant-Based Milk is Best for Lattes?
This recipe will work with any plant-based milk you love. And making your own is easier than you think! If you'd like to switch things up with the type of plant-based milk that you use—–that's totally fine! The world of plant-based milk is constantly expanding. From the classics like coconut milk, cashew milk, soy milk, and almond milk, we now have delicious options like oat milk, and even potato and quinoa milk.
SHOP MY FAVORITE DRINKWARE ITEMS AND ACCESSORIES!
Here, I've curated a list of drinkware and mocktail essentials that I use to achieve my favorite drinking experiences, especially with this Dairy-free Iced Mocha Latte. Everything from my fave glassware, cocktail shakers, ice cube trays, and more. SEE THEM HERE!
More Delicious Homemade Latte Recipes
MADE OUR RECIPE(S)?
If you tried this Dairy-free Iced Mocha Latte recipe or any other recipe on my website, please please leave a 🌟 star rating and let me know how you go in the 📝 comments below. I love hearing from you.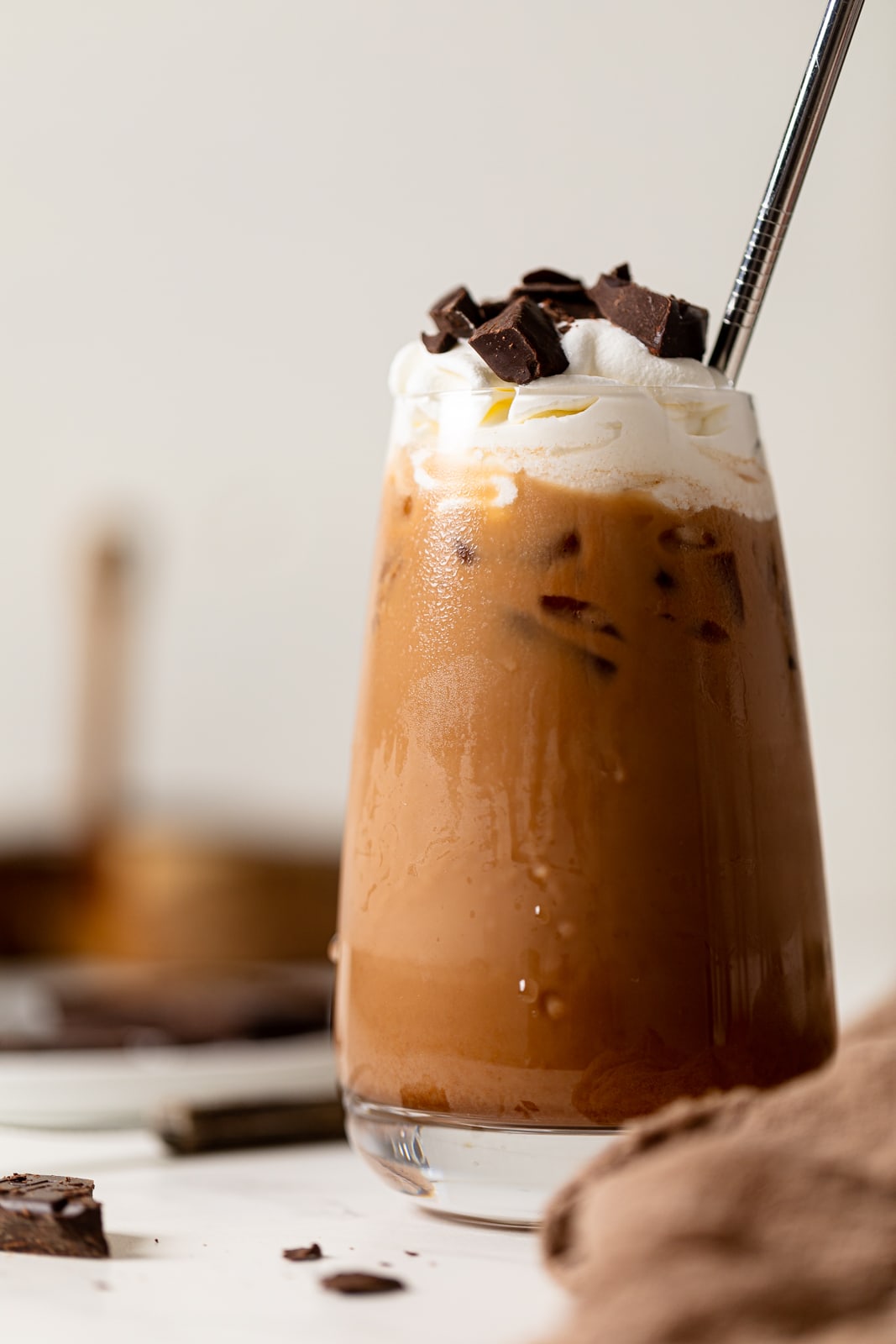 HOMEMADE CHOCOLATE SYRUP:
LATTE:
½

cup

cold brew

1 ½

cups

Oat milk, homemade or store-bought

(You can use your favorite plant-based milk; See Notes!)

3

Tbsps

chocolate syrup, homemade or store-bought

Ice cubes

Coconut Whipped cream

Chopped chocolate, optional

(Ensure that chocolate is dairy-free or vegan)
TO MAKE THE CHOCOLATE SYRUP:
In a saucepan over medium-high heat, add together all ingredients (whisking them to combine) and bring to a boil, about 1-2 minutes. Once fully combined and smooth, remove from heat and let cool.
TO MAKE THE LATTE:
To serve, fill ice into a 12 or 16-ounce glass and pour in the milk followed by the cold brew, 3 Tbsps of the homemade chocolate syrup, stirring them together until the mixture becomes a brown "chocolatey" color. Top with coconut whipped cream and chopped chocolate, if desired.

Sip and enjoy!
WHAT PLANT-BASED MILKS ARE GOOD FOR THIS RECIPE? My go-to plant-based brand for oat milk when using store-bought is the Forager Project. However, you can always use your fave or one of the following: Almond, coconut milk, homemade oat milk (froths/foams VERY WELL), homemade cashew milk, flax milk, potato milk, etc.
STORAGE (CHOCOLATE SYRUP): Leftover chocolate syrup can be stored in a tightly sealed mason jar for up to two weeks. When ready to use, simply reheat sauce in the microwave for a few seconds.
VEGAN OPTION: To ensure that this drink is entirely vegan, be sure to use vegan-friendly ingredients (i.e. chocolate, etc.).
Calories:
852
kcal
|
Carbohydrates:
212
g
|
Protein:
20
g
|
Fat:
13
g
|
Saturated Fat:
6
g
|
Polyunsaturated Fat:
0.3
g
|
Monounsaturated Fat:
3
g
|
Sodium:
241
mg
|
Potassium:
1389
mg
|
Fiber:
28
g
|
Sugar:
160
g
|
Vitamin A:
738
IU
|
Vitamin C:
0.1
mg
|
Calcium:
618
mg
|
Iron:
13
mg