This No-Churn Caramel Cone Ice Cream is a sure sweet treat and favorite for any ice cream lover! Extremely smooth, velvety, and full of crunch and flavor, this recipe ONLY requires FIVE ingredients. It's super easy to make and is done in as little as 10 minutes, except for the freezing time.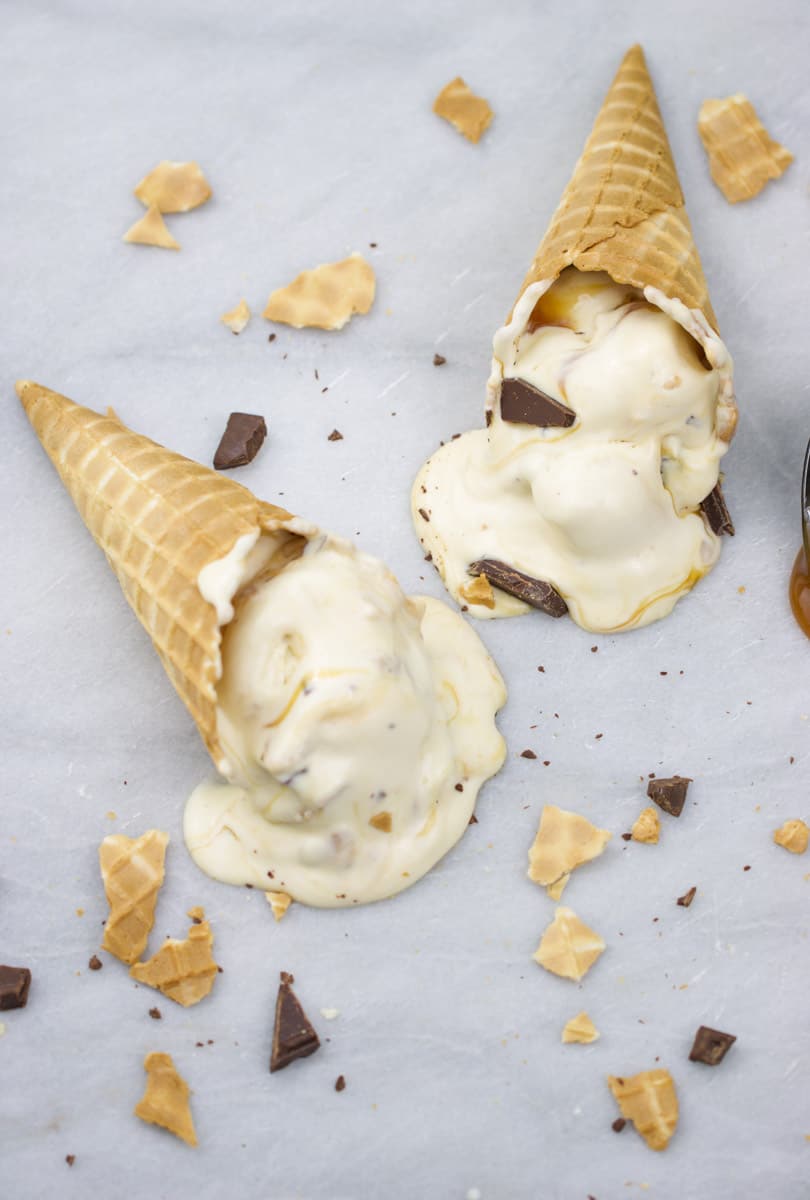 When it comes to ice cream, I'm a huge fan! I've always been a lover of ice cream, ever since I was able to rush to the ice truck as a child or the days my Grandfather would take me for a nicely whipped ice cream with sprinkles.
It's just been my thing! However, making my own ice cream is such a difference. While I do enjoy a nice bowl of store-bought ice cream, I must admit that homemade is better! It's just so velvety and I love the customization factor.
You literally can create ANY flavor your heart desires. Can't lose, right?
Yes! A time-saver, money-saver, and taste-bud pleaser!
The Ice cream's base for this recipe is vanilla with highlights of caramel, which I achieved by folding the caramel sauce (store-bought or homemade of course!) into the batter slightly, to avoid the entire base from being purely caramel.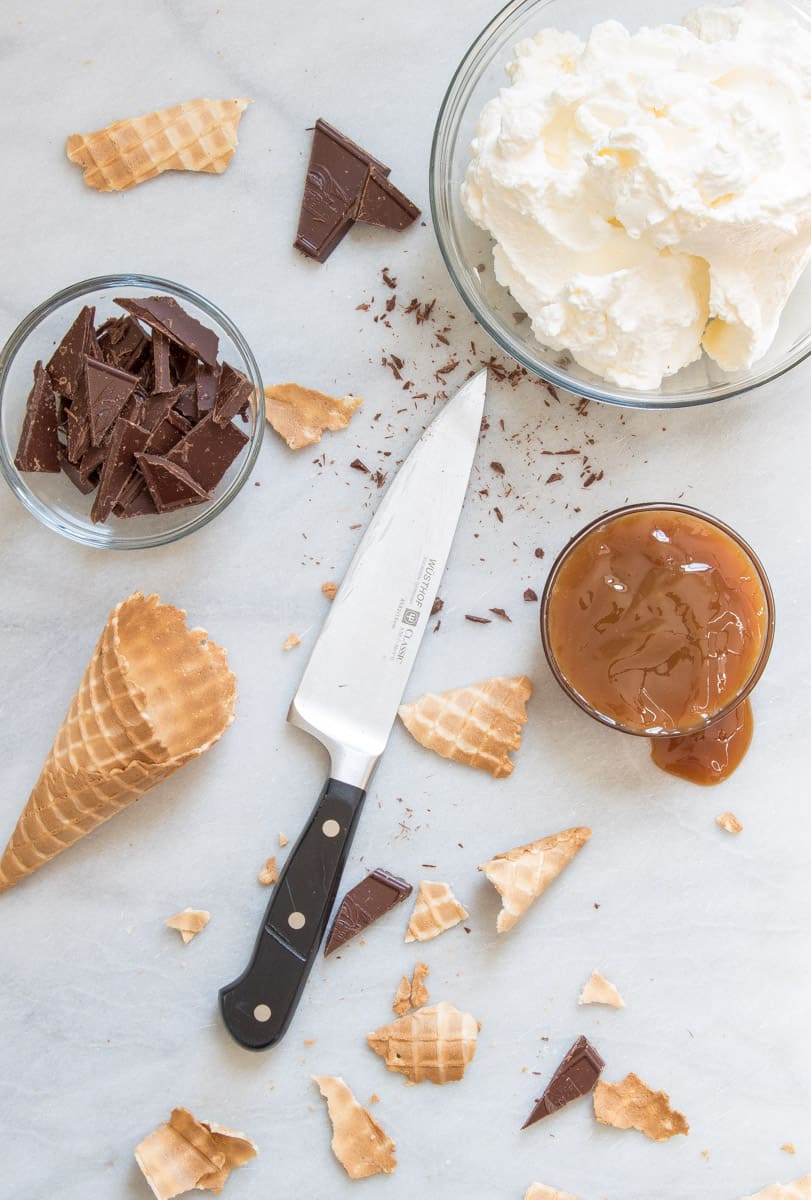 Then I chose to add a cup or so of chopped chocolate—Ghirardelli semi-sweet Chocolate Baking Bar to be exact! You can find it at Target, Amazon, and other retailers.
I actually fell in love with this brand's chocolate because the taste is so premium. You should definitely try it if you haven't done so.
Lastly, I roughly chopped (or crunched together with my hands) a few waffle cones and folded them into the batter gently.
Once all ingredients were nicely incorporated, I simply placed the batter into a loaf pan and let it freeze for at least 6 hours. The longer the better of course, but 6 hours will do!
Speaking of ice cream, don't forget to check out the other amazing homemade ice cream recipes on Orchids + Sweet Tea:
Don't believe me?—-check out some other great recipes I've done along the way: Banana Almond Butter Chocolate Swirl Ice Cream, No-Churn Butter Pecan Ice Cream, S'mores Ice Cream, or No-Churn Vanilla Ice Cream.
So many bold flavors, right?
Cheers to this creamy goodness!
It was a treat for the entire family! Even my little one enjoyed it. This is one of the reasons why I prefer making homemade dishes, because you can use much healthier alternatives when it comes to the ingredients! A win, win for me!
The other great thing about this recipe is that it uses only 4-5 ingredients and it's literally 2 quick steps. It's a great alternative for a dessert that you don't have to be worried about or feel guilty about indulging in.
Just use a can of Sweetened Condensed milk (I used the fat-free version), heavy cream (which was organic), chocolate, maple syrup, caramel, and waffle cones. That's it. And it makes such a difference when using healthier versions of the same ingredients, trust me!
MADE OUR RECIPE(S)?
If you choose to make this No-Churn Caramel Cone Ice Cream recipe or any other recipe from us, be sure to tag us on Instagram at #Orchidsandsweettea so that we can share the love, rate, comment below, + share!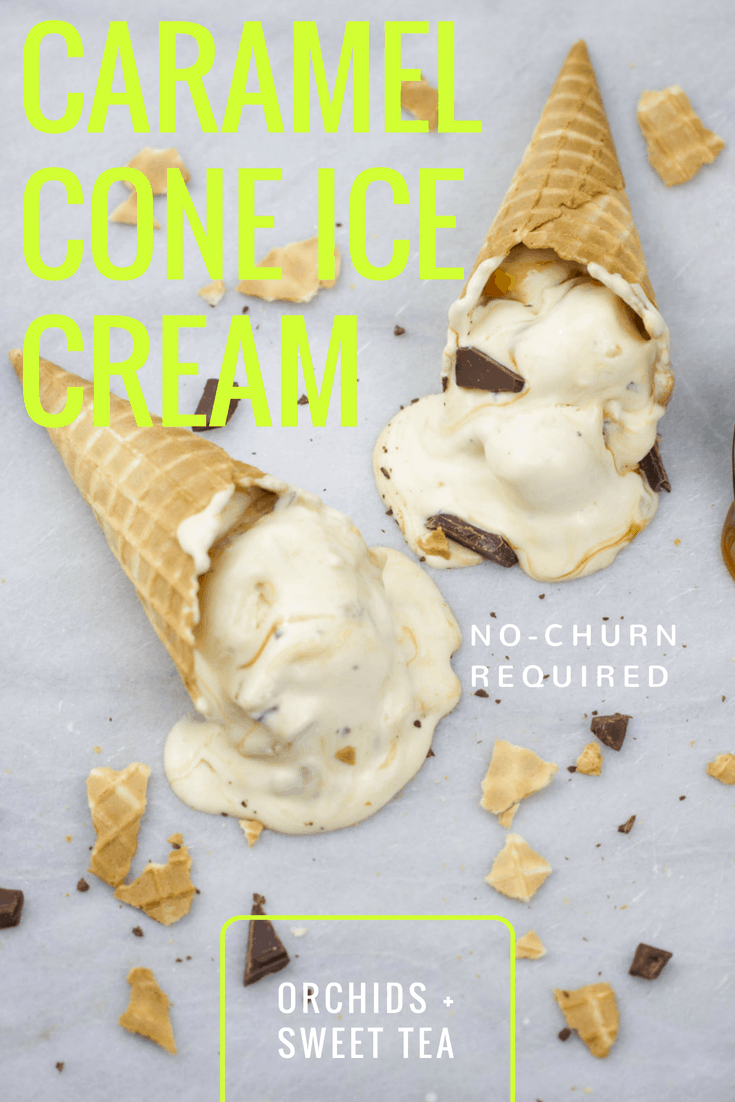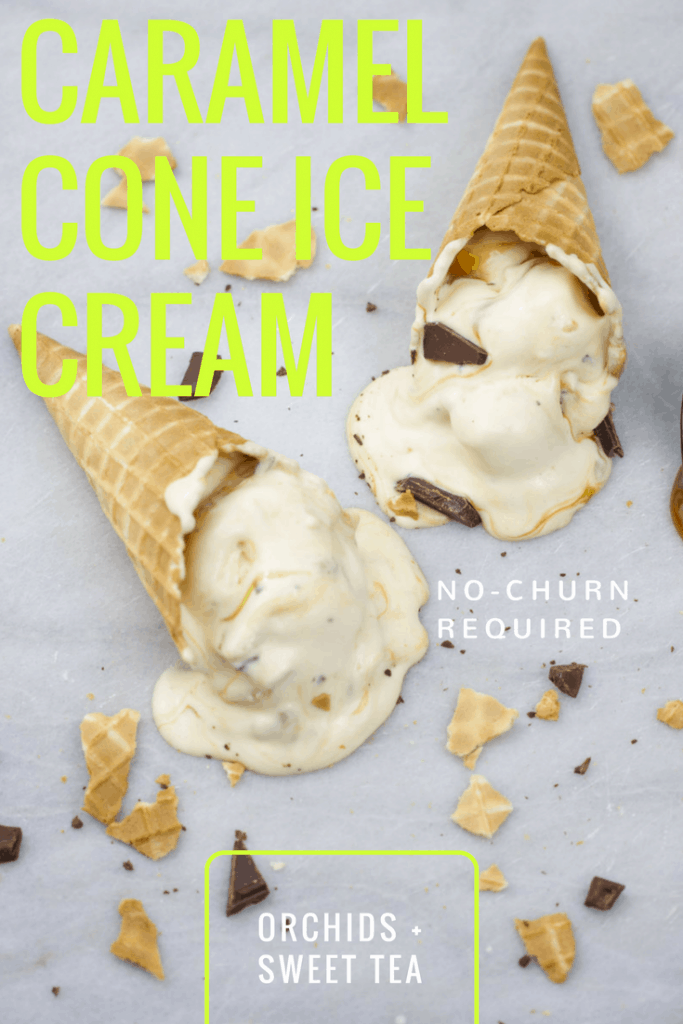 2

cups

organic heavy whipping cream, cold

(I use Organic Valley)

1

(14 oz.) can

sweetened condensed milk, low-fat

(I use the Eagle's brand)

1

Tbsp

pure maple syrup, to sweeten

(See Notes!)

1

brick of

semi-sweet chocolate bar, roughly chopped

(I use Ghirardelli)

4

medium

waffle cones, roughly chopped or broken

pinch of

sea salt
In the bowl of an electric mixer, whisk together the heavy whipping cream on high speed for about 5 minutes until fluffy and stiff peaks form.
For Caramel Sauce:
In a medium saucepan on medium-high heat, add the sugar and stir constantly until it melts into a dark-amber-like color and is fully liquid. Reduce the heat slightly and add in the butter, whisking constantly while it bubbles up and melts. Quickly add in the heavy cream and continue whisking until fully incorporated. Once it all boils for a minute or so, remove from heat and continue to whisk. Add pinch of salt and set aside for it to cool. **NOTE: caramel sauce will thicken as it cools.**

Next fold in the sweetened condensed milk, maple syrup, and sea salt with a spatula until well incorporated. Add caramel sauce and continue to fold until incorporated.

Add in half of the chopped chocolate bar and gently fold it in.

Pour into a 9x5 loaf pan (or small metal bowl) and freeze for 4-6 hours. 

To serve, remove from freezer and let sit for a couple of minutes to soften slightly and enjoy!

Scoop ice cream into prepared cups or bowls, top with caramel sauce (as a drizzle), followed by a handful of chocolate pieces, and more waffle cone pieces as garnish.

Bon Appetit!
SWEETENER: If you choose to opt out of pure maple syrup, you can always substitute with Agave as well.
STORAGE: When kept in an air-tight container, ice cream lasts for about 2 weeks.
STORAGE (CARAMEL SAUCE): Leftover caramel sauce can be stored in a tightly sealed mason jar for up to two weeks. When ready to use, simply reheat sauce in the microwave at 15 second intervals until softened and at room temp.
No-Churn Caramel Cone Ice Cream.