Today, ice cream is one of the most popular summertime desserts. With the perfect amount of creaminess and sweetness, it's hard to find someone who will turn down the frozen treat. So, it might be surprising to learn that until around 1800, ice cream was considered a rare and exotic dessert by most Americans as it was usually reserved for only the world's most powerful people.
With the invention of technology like insulated ice houses, mechanical refrigeration, and steam power, ice cream businesses started popping up and producing the delicious dessert for the general population.
Today, the average American eats more than 23 pounds of ice cream per year! So if you're going to be enjoying that much of something, you want to make sure you're getting the good stuff.

Top Unique Ice Cream Flavors Every Foodie Should Try This Summer
If you're a foodie, it's likely you have already enjoyed some delicious ice cream flavors, which is why I want to share some of the top unique ice cream flavors that should be on every foodie's radar this summer. I'll even throw in some of my favorite ice cream recipes so that you can tweak each flavor to your exact taste.
So whether you're more of a vanilla lover or a chocoholic, I am sure you'll find a flavor you'll love. Between floral ice creams like rose to cocktail-inspired ice cream flavors like piña colada, there is something for everyone.
The Best Floral Ice Cream Flavors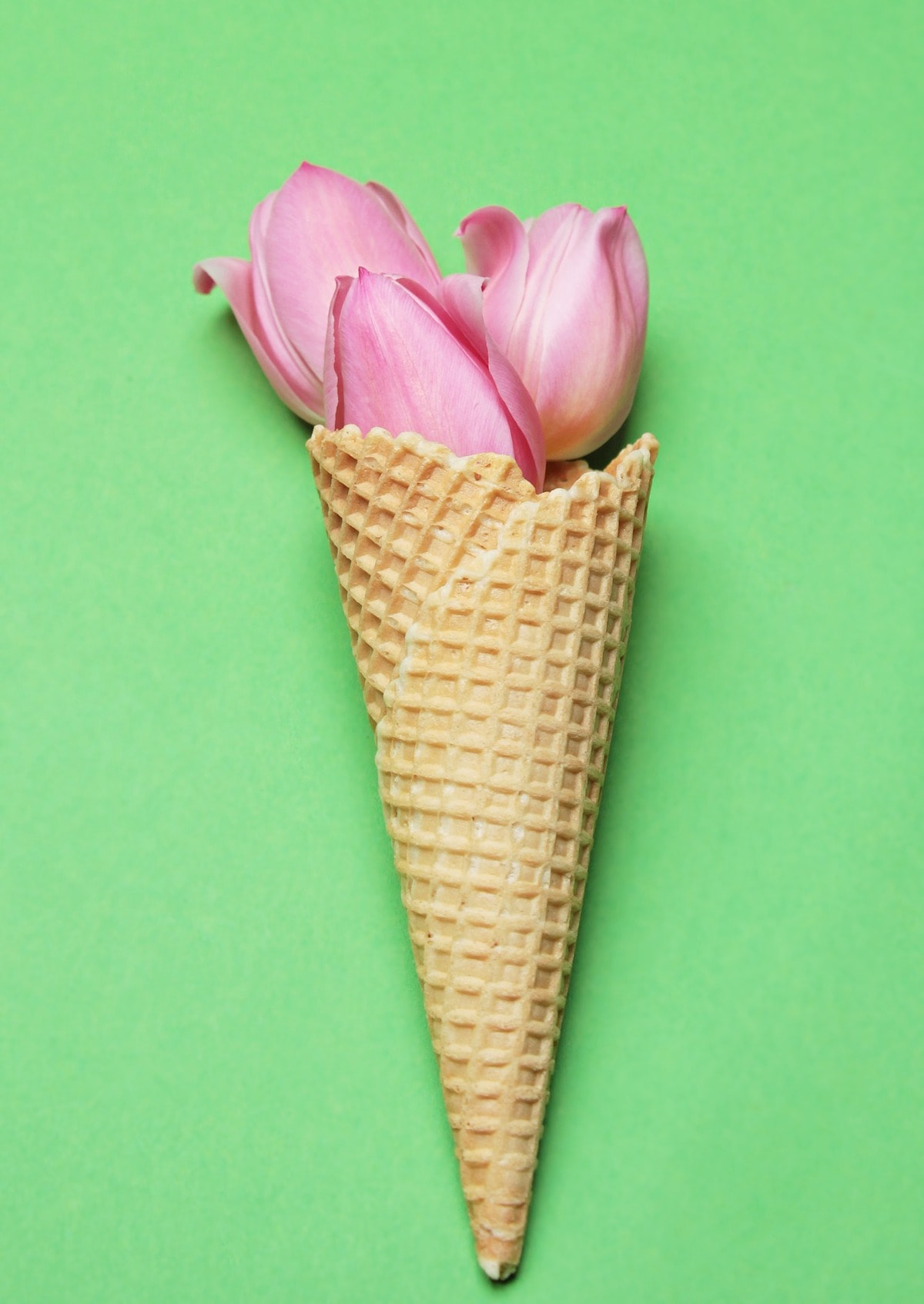 The details around the invention of ice cream are a little bit fuzzy. But, the first time "ice" and "cream" were used together to talk about dessert was around the time of King Charles II of England.
He was apparently crazy about what he referred to as "cream ice." Interestingly enough, his recipe contained "orange floral water," which means one of the first ever ice cream flavors was actually orange blossom! Today there are 100s of flower-inspired ice cream flavors, but here are some of the most unique.
Honey Lavender
Refreshing and herbaceous, Honey Lavender is delicious on its own or paired with a slice of buttery vanilla cake. Portland's famous Salt & Straw whips up the stuff by steeping hundreds of pounds of lavender petals in locally made honey.
Chamomile Crisp
These dainty white flowers aren't just for steeping in tea. Chamomile ice cream pairs subtle floral notes with fresh cream for a summertime ice cream you won't forget. Caffè Panna, found in New York City, serves it with a crispy topping for an even more complex flavor.
Lemon Shortbread Thyme
While thyme is more of an herb than a flower, I had to include this incredible combination. Thyme has herby, yet floral notes, which makes a good choice for anyone who isn't crazy about floral ice cream. Found at Odd Fellows in New York City, this flavor combines fresh, yet acidic lemon, buttery shortbread, and thyme, which is a combo any foodie should try.
Cherry Blossom (Sakura)
This seasonal flavor comes from one of Washington D.C.'s matcha bars that happens to sell Asian-inspired soft serve. Every year as the cherry blossoms, or sakura, bloom among the national monuments, Bôn Matcha shares this floral treat with the world. Interestingly enough, the majority of the flavor actually comes from the leaves and not the blooms!
Raspberry Rose Jelly Donut
Starting out in Columbus, OH, Jeni's Ice Cream was known for their unique ice cream flavors. Now a chain that ships across the country, anyone can get in on Jeni's goodness. Made with a base of vanilla custard, Raspberry Rose Jelly Donut includes soft donut flakes throughout and a swirl of raspberry rose jelly.
The Best Salty-Inspired Ice Cream Flavors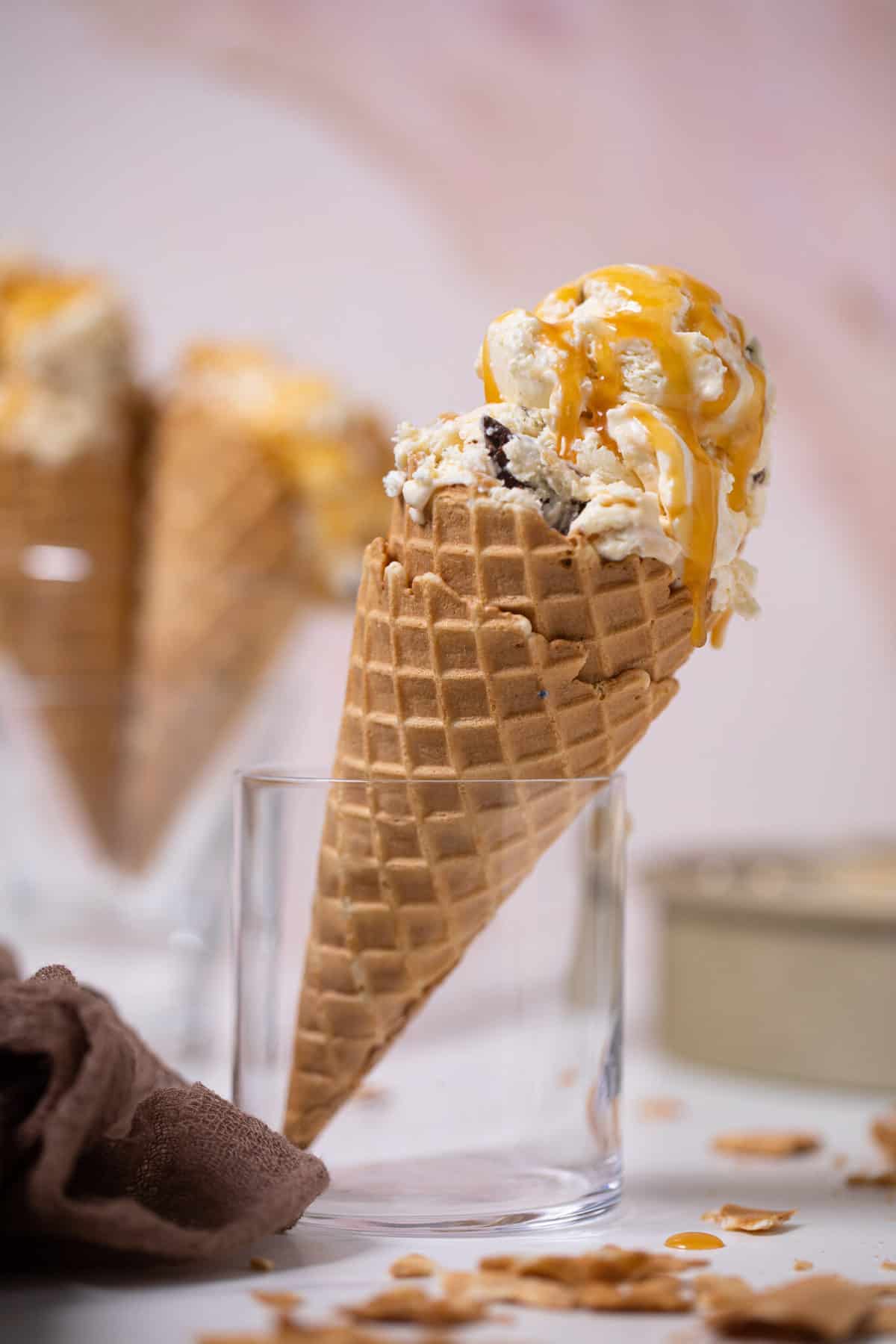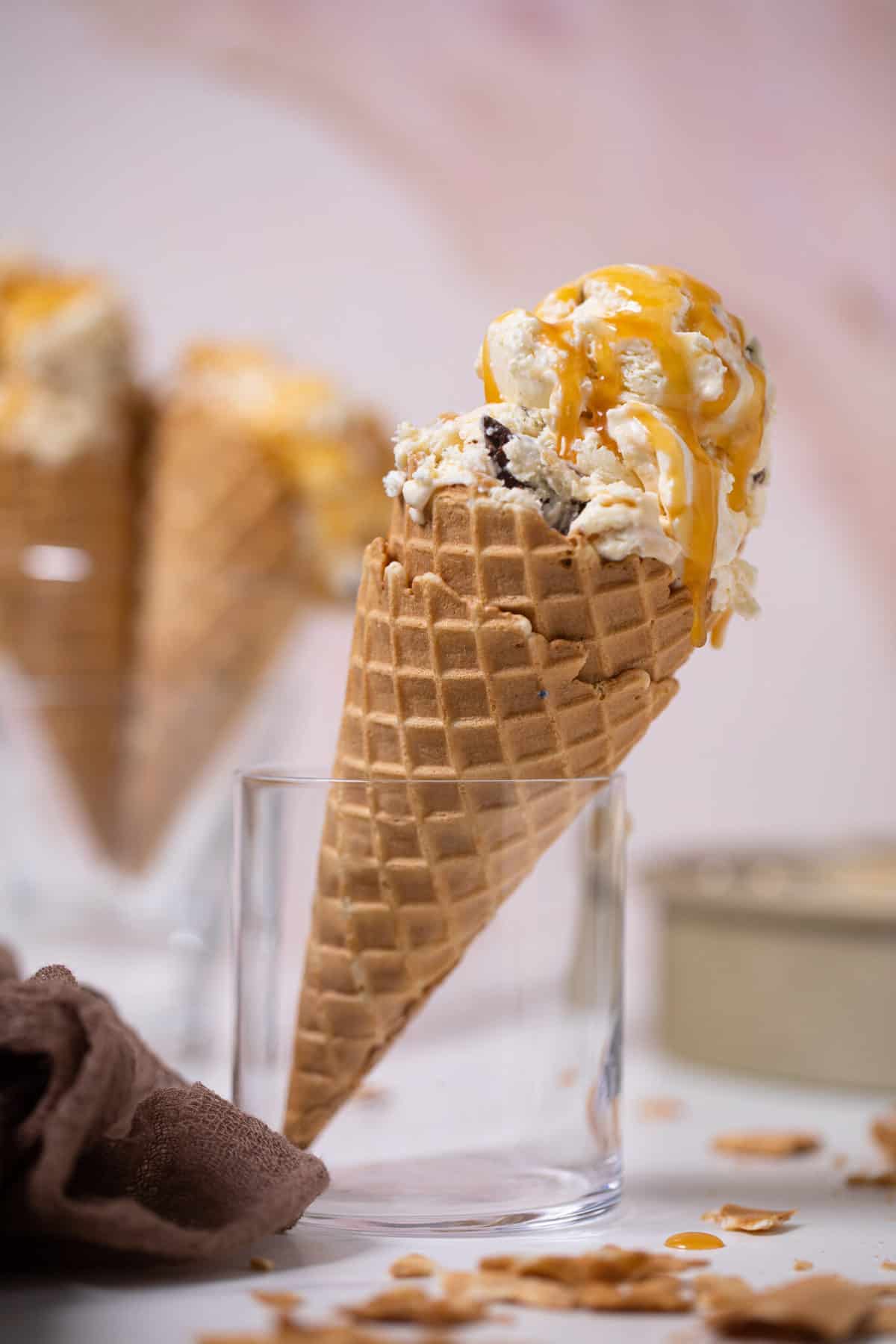 These salty-inspired ice cream flavors may not have your mouth watering at first, but you'll be in for a sweet surprise. While searching for some of the most unique ice cream flavors, I came across some pretty crazy ones.
Some of them were just outrageously creative, like the raspberry rose jelly donut, others were inspired by foods I didn't even consider dessert. But ice cream lovers around the country have tried each of these ice cream flavors and loved them, so they would definitely be worth a try yourself.
Mashed Peas & Rhubarb
If you live in New York City, you might have to give this flavor a try first-hand. Starting with a base of mashed peas and their classic vanilla ice cream, Sugar Hill Creamery adds even more complexity to this flavor with a rhubarb swirl and some chickpea brittle for some crunch. While this one might not be on the top of everyone's must-try list, it's certainly an interesting option for foodies who love unique flavor.
Salted Caramel
While these ice cream chains certainly know what they are doing, there is nothing quite like homemade ice cream. I have always been a big ice cream fan and this salted caramel ice cream recipe is one of my favorites. Complete with a homemade caramel sauce, sea salt, semi-sweet chocolate, and crunchy waffle cone pieces, you are sure to be the talk of the town if you bring this dessert to your next get together.
Olive Oil
I'm a big fan of the fruity and pungent taste that olive oil can add to something like a moist olive oil cake. So, this olive oil ice cream really piqued my interest. This flavor is another classic from Salt & Straw and is made with local Arbequina olive oil that is known for its grassy, yet tropical flavor and rich, buttery texture in ice cream.
Miso Peanut Butter
Chocolate covered pretzels, peanut butter and jelly, and maple syrup and bacon are all classic examples of our love for a salty and sweet combination. While miso and ice cream may not initially be your first salty and sweet choice, miso actually adds a complex saltiness that may even rival sea salt. The creamy peanut butter adds to the miso to create a unique treat. Best served with a side, miso ice cream pairs really well with apple crisp or gingerbread cookies.
Goat Cheese & Red Cherries
Another crowd-pleaser from Jeni's Ice Cream, this flavor might sound a little odd at first, but the description is sure to make your mouth water. Jeni's sources their goat cheese from a small-batch, family-run creamery that makes strong, fresh flavored goat cheese. When added to ice cream, it creates a tangy, yet light flavor that almost tastes like a rich, dense cheesecake. To top it off, Jeni's mixes in someone homemade red cherry sauce for some added flavor.
Unique Vegan Ice Cream Flavors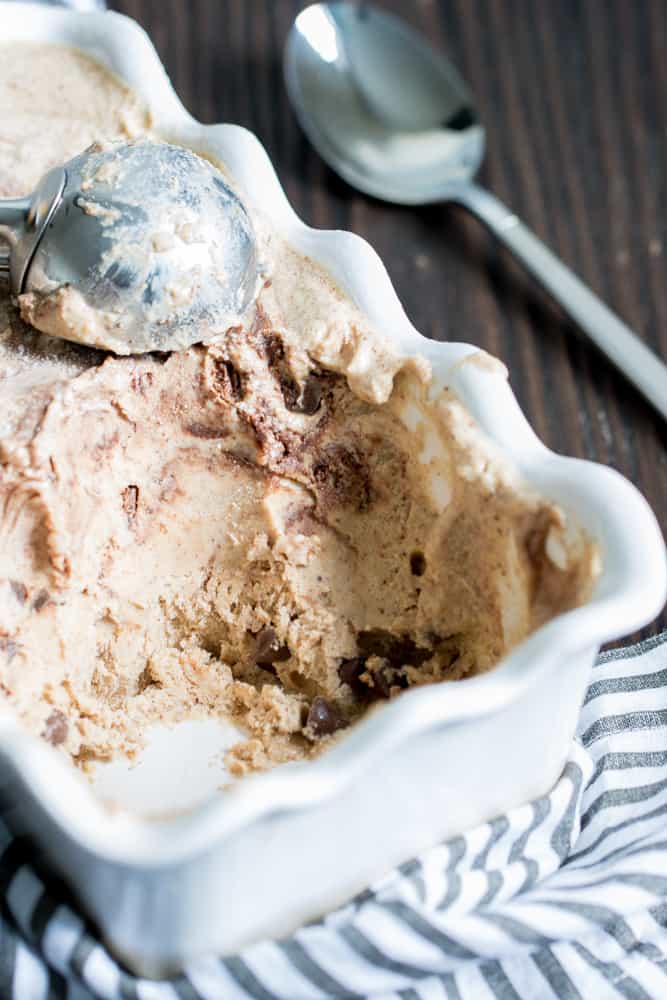 Just because you aren't eating dairy, doesn't mean you have to sacrifice the creamy deliciousness of ice cream. As someone who can't digest dairy like I used to, finding the perfect vegan ice cream flavors is a necessity. Years ago, frozen vegan desserts meant icy sorbet. Today, it means an indulgent treat without compromising your healthy food choice.
If you've been enjoying my recipes for a while now, you know that I tend to minimize ingredients like dairy and gluten. So, even though I'm only sharing a few vegan ice cream flavors here, any of the other flavors on this list can be used to inspire your next homemade vegan ice cream!
This five ingredient nice cream is the perfect place to start if you're looking to try making your own vegan ice cream. If you haven't tried SunButter, it's a creamy sunflower seed butter.
It contains a ton of beneficial vitamins and minerals so you can feel good about adding it to any recipe (even ice cream!). Made with coconut milk, bananas, pure maple syrup, and a little bit of sea salt, this unique ice cream flavor is simple and delicious.
Mint and Brown Sugar
If you're looking for the ultimate cooling ice cream flavor, mint takes the cake. Mint contains menthol which is what creates that cool sensation within any recipe. This flavor is a twist on a typical mint chocolate chip with its addition of brown sugar. Sometimes referred to as "dirty mint chocolate chip ice cream," there is nothing dirty about this clean treat.
This flavor tosses out any unnatural colorings and fake mint flavor and replaces it with fresh mint leaves and brown sugar. The brown sugar gives the ice cream an almost caramelized taste and a light brown hue. You can find this flavor at Coolhaus, a women-led frozen dessert brand that is stocked locally throughout the United States.
Coffee and Oat Milk
If you like oat milk, you're going to love Oatly's chocolate oat milk ice cream. Known as the cool girl of dairy-free milk, oat milk's thick and creamy taste makes a great base for vegan ice cream. If you enjoy a vegan latte topped with some frothy oat milk foam, you'll love this coffee and oat milk flavor. Taste-testers have been raving about its smooth texture and cappuccino-like flavor.
Chunky Monkey
If you're like me, you probably got pretty excited when you found out Ben & Jerry's was going to start making vegan ice cream. Their dairy-free line launched back in 2016 and since then they've created 17 vegan versions of their famous flavors including chunky monkey.
Ranked as one of Ben & Jerry's top 10 flavors, it's made with banana ice cream, fudge chunks, and walnuts. If this doesn't entice you, you're sure to find something you love among the other 16 vegan Ben & Jerry's flavors.
Caramel Pecan Sticky Buns
If Jeni's Ice Cream and their unique ice cream flavors intrigues you, any vegans out there will be happy to know that they do offer a few dairy-free options. They make this caramel pecan sticky bun flavor using a decadent coconut cream, chunks of sticky bun, caramel, and roasted pecans.
While this flavor is sure to please any vegan with a sweet tooth they also offer some subtler vegan ice cream flavors like Lemon Bar, Roasted Peanut Butter & Strawberry Jam, and Cold Brew.
The Best Chocolate Ice Cream Flavors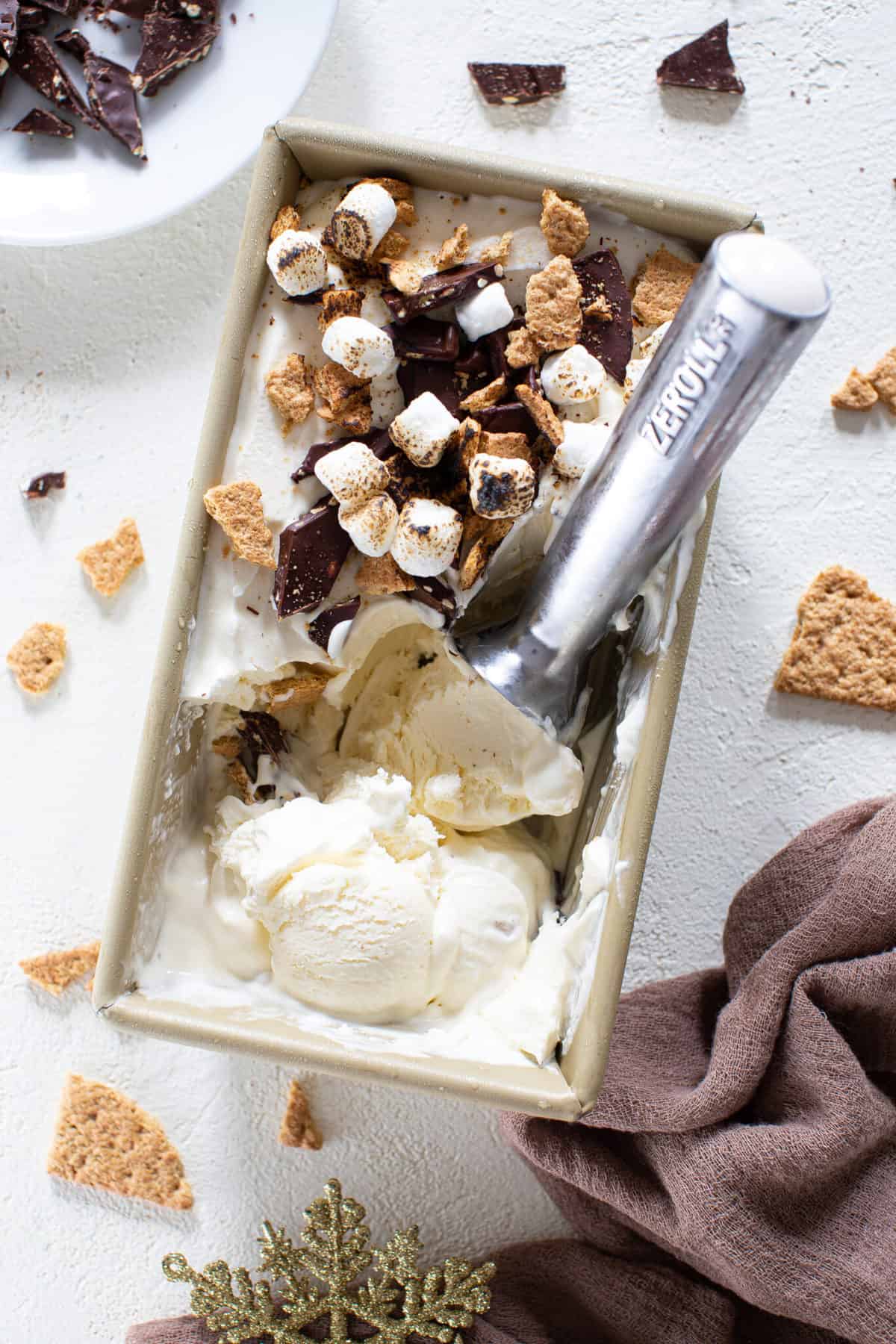 Every year, chocolate and vanilla rank as the most popular ice cream flavors in the United States. While they are both classic options, I'm more of a chocolate lover so I wanted to share some of my favorite unique chocolate ice cream flavors.
Right in time for summer, this s'mores ice cream makes the perfect desert for barbecues and block parties alike. It's no surprise this ice cream flavor is loaded with chocolate chunks, graham cracker pieces, and marshmallows, but what makes this ice cream flavor special is its marshmallow ice cream base. By mixing marshmallow fluff into the vanilla ice cream, you get a creamy, marshmallow-y taste throughout.
Cannoli
This classic Italian treat is pretty good on its own but mix it in ice cream and you create something special. Between the marscapone cheese, the chocolate chips, and the little chunks of cannoli shells you'll have the perfect mix of creaminess, crunch, and chocolate flavor. Perry's Ice Cream in Upstate New York offers this unique ice cream flavor in stores around the country.
Oreo Chocolate Chip & Cream
You can't go wrong with a combination like vanilla and chocolate chip. But, add a little oreo in there and you've got a special twist on a classic. Technically gelato and not ice cream, D'Ambrosio Gelato in Seattle created this interesting chocolatey flavor in their artisan gelato shop.
Chocolate Blondie
Even though this flavor comes with a chocolate base, if you're a vanilla lover you might enjoy this flavor too. What Sugar Hill Creamery calls the Brown Bombshell, this flavor combines milk chocolate with blondies, caramel, and pecans. As a chocolate lover, this is definitely a flavor I can get behind.
Banana Almond Butter Chocolate Swirl
I don't know about you, but this recipe had me at banana almond butter. The chocolate swirl is just a total bonus. The chocolate swirl adds texture while the banana adds a subtle sweetness. The great thing about this recipe is that it is no-churn which means less work and more reward.

There are 1000s of ice cream flavors out there and it's likely we've barely made a scratch on trying them all. But, that won't stop me from trying all of the unique ice cream flavors I can. So if you're looking for me this summer, you'll know where to find me.