Easy Vegan Gluten-free Skillet Apple Crisp---the epitome of Fall flavors. Nothing beats the smell of this Apple Crisp baking in the oven on a cool fall day (or any day for that matter). Made with wholesome staple ingredients. Based with tender cooked apples + well coated in creamy coconut cream and warming sweet fall spices.  This crisp comes topped with toasted gluten-free oats and is guaranteed to become a staple that will get you through those chilly days and nights.
Made in less than 1 hour total and is a great way to kick-start your day, snack in between lunch, or end the night off with a little something sweet! This recipe is so delicious you wouldn't even know it's Vegan, Gluten-free, and Dairy-free!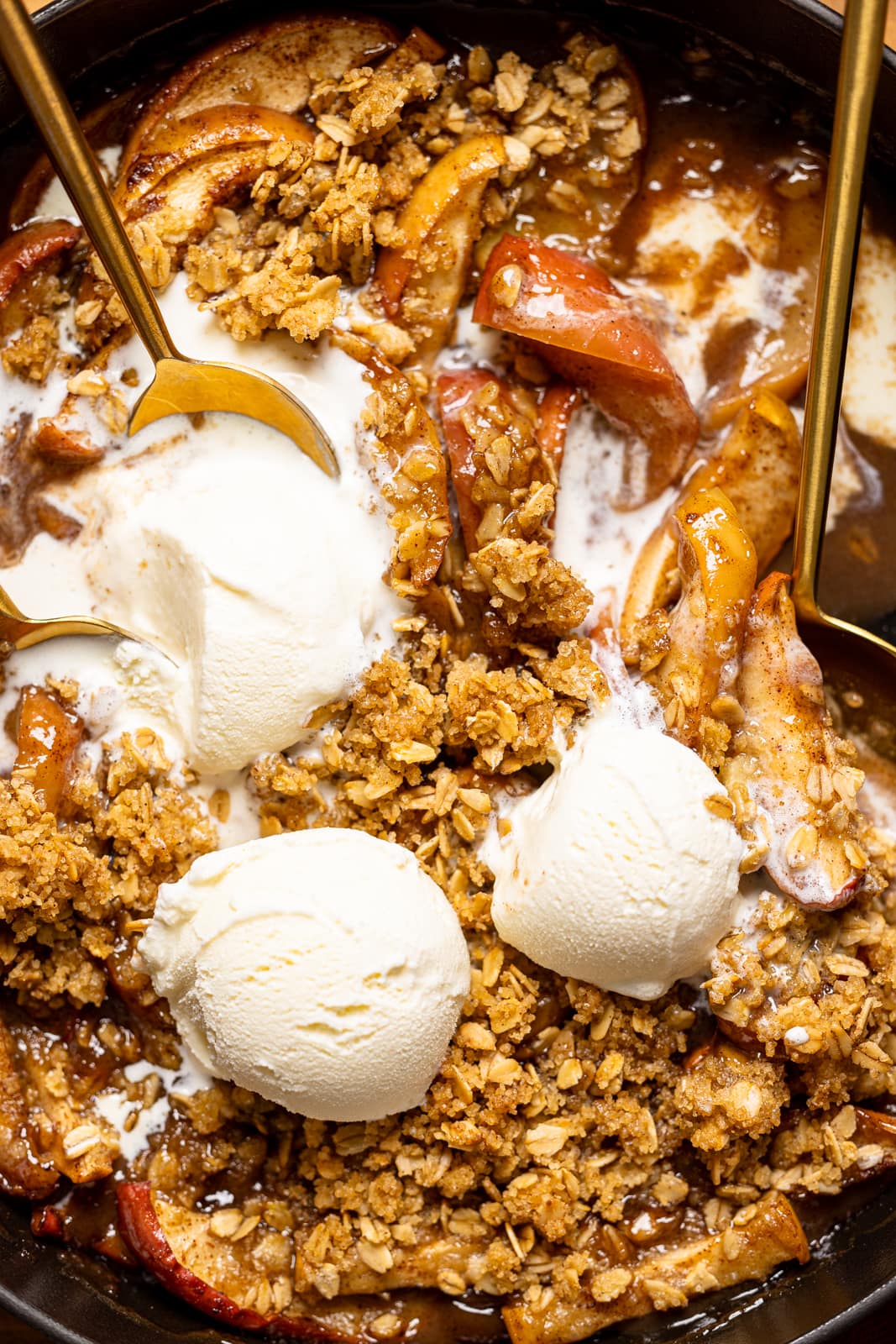 Disclaimer: This post contains affiliate links via Amazon for products that I wholeheartedly love and receive commission from.
Okay, not to toot my own horn, but my absolute favorite vegan + gluten-free Apple Crisp Recipe is this one, which also happens to Vegan and Gluten-free while still tasting amazing if I don't say so myself. Heck, I love any crisp.
I don't have a gluten sensitivity, but I know many people who are gluten intolerant or choose to live a gluten-free lifestyle. I created this Gluten-free Apple Crisp recipe so that we could all enjoy it during the holiday season! (Hence the ever-growing section on my website dedicated to gluten-free recipes, including this Gluten-free Pumpkin Smores Cookies recipe... YUM.. anyway, back to the crisp). But if you're loving this crisp, then you're sure to enjoy this Salted Caramel Apple Crisp, Sheet Pan Maple Roasted Pear Crisp, and Vegan Apple Cranberry Crisp.
Not only are crisps super easy to make, but they are so mouthwatering. This Vegan Gluten-Free Apple Crisp is my newest must-make during the Fall season. Although it's such a simple concept, the flavor profile in this dish is SO blissfully good!
Jump to: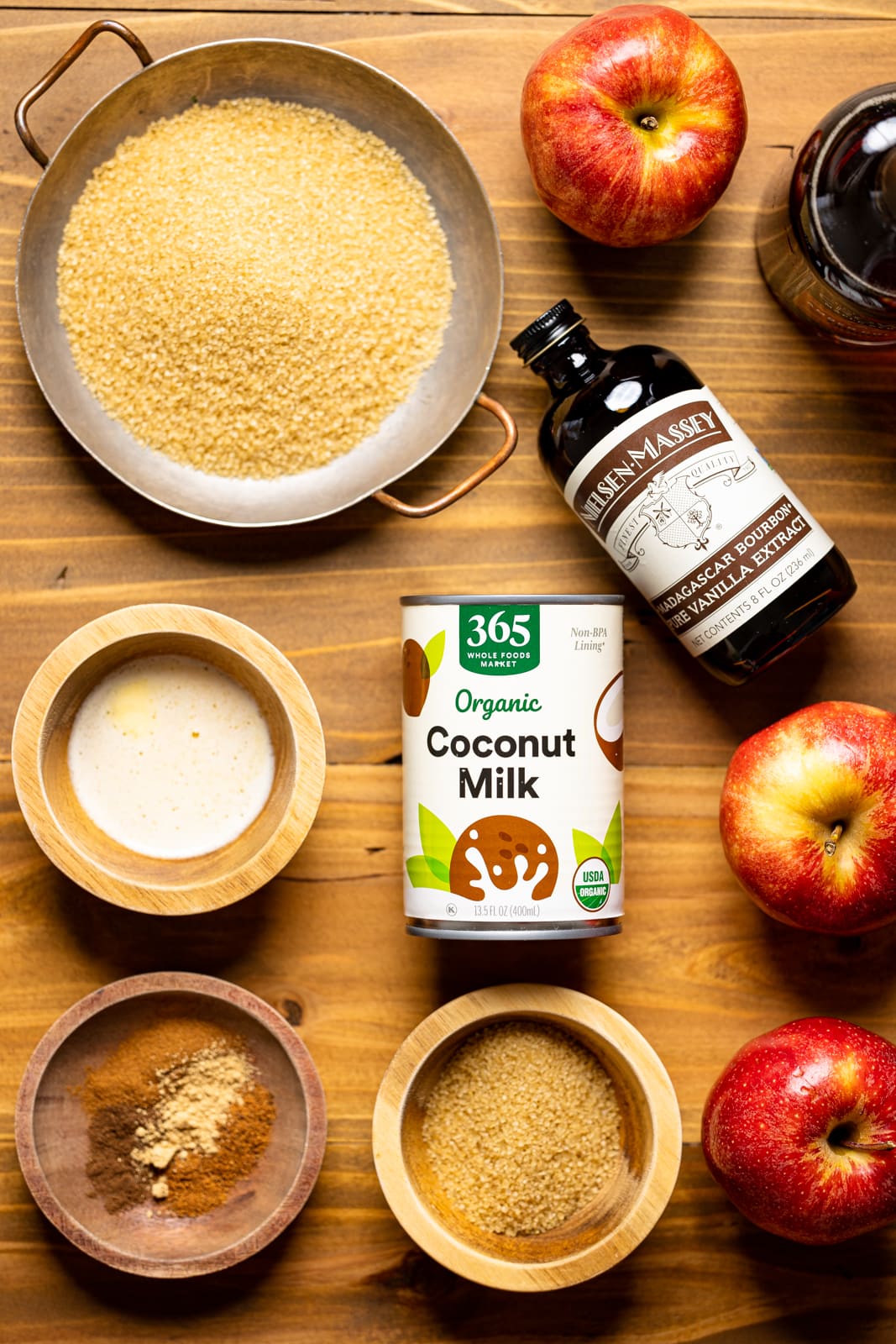 What You'll Need For This Crisp?
Apples. The absolute star of this dish; I tend to mix Gala Apples with Granny Apples for a nice ying-yang of flavor.
Canned Coconut Cream or Milk. Makes things nice + creamy; If using canned coconut milk, be sure to refrigerate overnight to make it thick.
Brown Sugar. Creates a beautiful caramelization and sweetness to the top layer. You can also use brown coconut sugar as a great alternative.
Maple Syrup. Used as a sweetener and creates a nice creaminess to apples. Can sub with brown sugar or Agave.
Spices. the epitome of Fall flavor, including: cinnamon, nutmeg, allspice, + ginger.
Vanilla. Another important flavor boost to this crisp.
Vegan butter. No need to have the butter at room temperature. You can take it right out the fridge if needed because you'll be melting it until it's half melted and very softened. Allows the topping to golden best; can be substituted with coconut oil.
Thick Cut Rolled Oats. I love thick cut oats for added texture and because they hold up better when baked. You can use quick oats or old fashioned. Ensure that they're gluten-friendly.
Flour. Used for the creation of the topping. I also love adding oat flour for a nice touch with the oats. You can also substitute with cornstarch, tapioca flour, etc.
How to Make Vegan Apple Crisp
I love creating foods and sweets with a healthy twist without compromising flavor. If you've tried some of my other work, you'll know that I'm always rooting for real, organic stuff as ingredients. I'm also always trying to come up with dairy-free, gluten-free, and vegan versions of your favorite recipes! This Easy Skillet Apple Crisp is no different and only requires that your mix together the apple filling, toss together the topping, assemble, and bake!
Benefits of Oats?!
If you aren't familiar, oats are super nutritious! They include a great source of carbs, fiber (the soluble kind!), protein, and fat. In addition, they are loaded with important vitamins, minerals, and antioxidants.
Other great benefits:
They can help to lower cholesterol.
Improves Blood Sugar levels.
May help with losing weight.
Great alternative for skincare.
Helps to relieve constipation.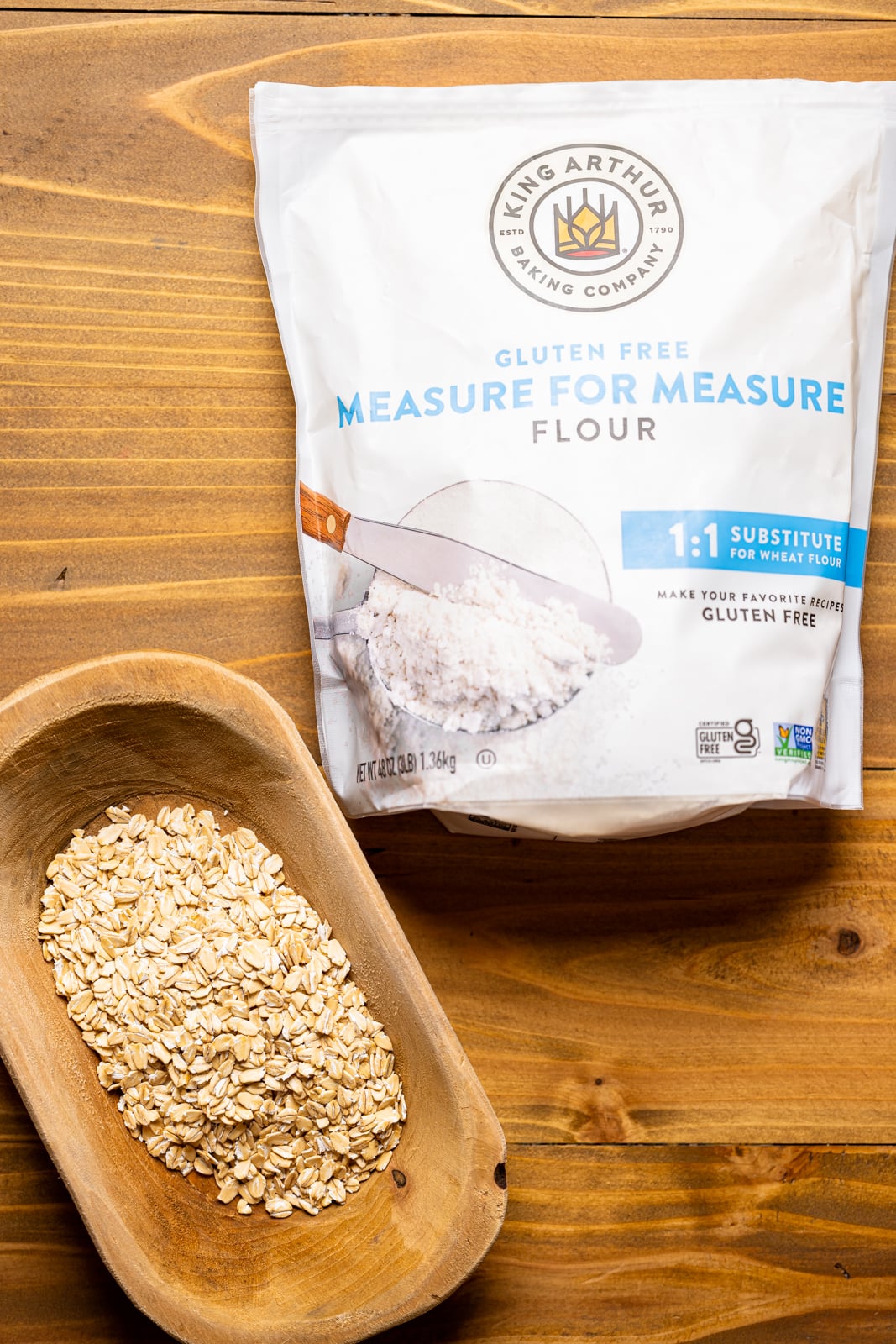 To Peel or To Not Peel Apples?
It is entirely up to you! I've made this recipe both ways and enjoy them both. I usually make this Vegan Gluten-Free Apple Crisp for my family, and my kids sometimes won't eat it with the skins on, so I peel them most of the time. I'm sure it goes without saying, but if you choose to leave the skins on, make sure to wash the apples thoroughly!
Best Types of Apples for this Crisp
Even though this skillet apple crisp is based on using Gala apples, you can also switch things up and add a slightly new flare in their flavor profile by adding any of the following apples for a bit more sweetness or tart:
Granny Smith
Honeycrisp
Fuji
Pink Lady
Golden Delicious
Braeburn
and more!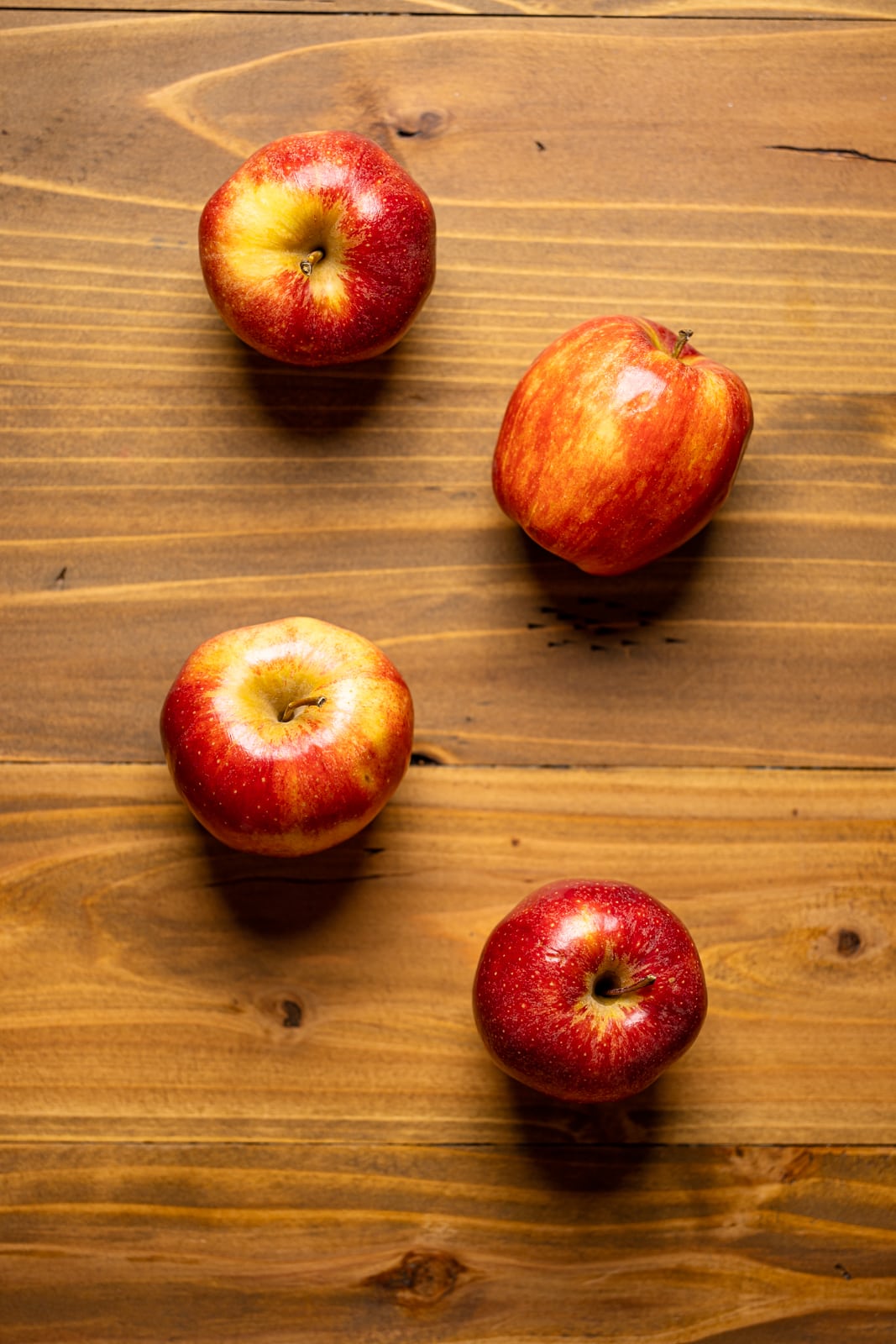 Common FAQs about this Apple Crisp
How do you store leftovers? How to reheat?
Best if served on the same day of making crisp. If made ahead of time (a few hours before serving), simply re-warm in the oven at 375 degrees Fahrenheit. Leftovers should be stored in an air-tight container in the refrigerator for 1-2 days.
Can I make this apple crisp ahead of time?
Absolutely! Simply prep all your ingredients separately: slicing the apples and tossing them in the coconut cream + spices and storing them in a separate bowl, and adding the oats and spices in a separate bowl. Once ready to bake, simply add the prepped apples in your baking dish or skillet, top with oats and drizzle with vegan butter. Wallah!
How many servings does this recipe make? Can I make more?
Honestly, it's really up to you. This standard recipe can be up to 4 servings, depending on how many scoops you choose to indulge in (I'm guilty of eating this stuff massively. Haha). However, to increase the servings, simply make twice as much or triple the amount of the ingredients.
Can I remix this crisp with other flavors?
Definitely! I'm a huge believer in making tweaks based on your tastebuds, and this recipe is no different. Simply, add blueberries, apricots, or cranberries for a little pizzazz. Try my Salted Caramel Apple Crisp recipe!
What other toppings can I add to this crisp?
Add-ons for Apple Crisp! You can serve apple crisp without ice cream, but a scoop of vanilla ice cream really makes this warm dessert shine. My favorite dairy-free vegan ice cream is by So Delicious Dairy-Free. Another option is a dairy-free whipped cream! Or a drizzle of maple syrup if you like things extra sweet! 
Does the skin need to removed off the apples?
Honestly, I like to sometimes keep on the skin (like in this recipe) and sometimes I peel it. The only difference between the two is the texture and consistency, which doesn't truly bother me. If you prefer a particular texture, definitely peel!
How long does apple crisp take to bake?
It usually takes about 35-40 minutes for everything to bubble and become golden. However, the automatic rule of thumb is once the topping is golden brown!
How to avoid apple crisp from getting soggy?
Once stored for later, it'll get soggy in the refrigerated, however, the trick is to re-heat it in the oven for it to crisp up nicely again.
Does the filling need a thickener?
Absolutely not! The amount of brown sugar will caramelize things up nicely, don't worry! No need to add any thickener at all.
How do you best serve apple crisp?
For the most simplest, but tasty way---I like to scoop my apple crisp in a bowl and top it with my favorite ice cream or whipped cream, but you can enjoy it by itself. Of course, you can always change things up with your breakfast by serving a few scoops of apple crisp atop your favorite yogurt as a yogurt bowl.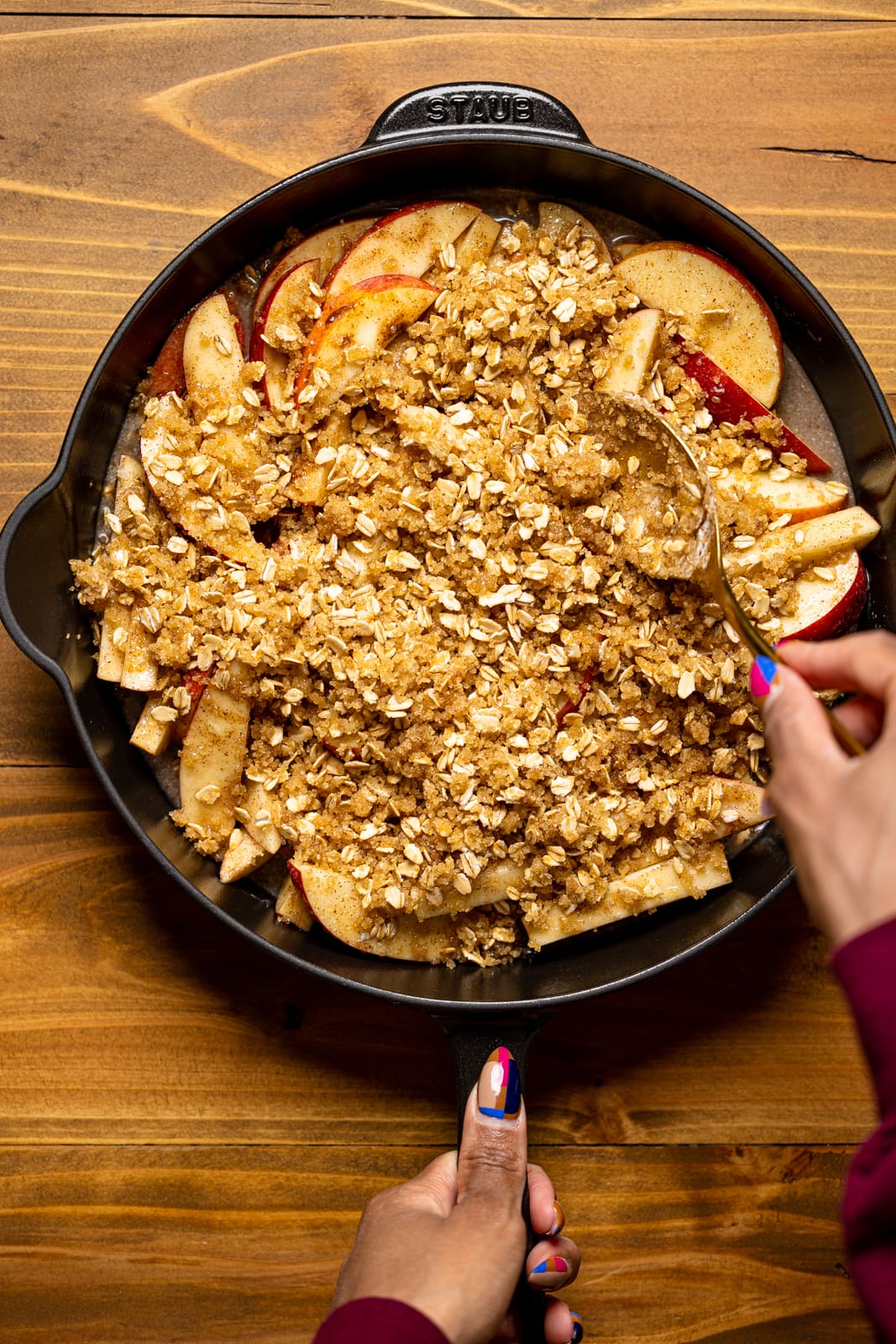 What You'll Love Most About this Skillet Apple Crisp.
Very easy to whip together and uses minimal main ingredients.
Ready in less than 1 hour and WORTH THE WAIT.
Warm and comforting with every bite.
Basic staple ingredients!
Loaded with delicious Fall/Winter spices.
All dairy-free, vegan, + GF.
Perfectly sliced apples that are ultra tender and soft.
Nicely crisp topping made from GF oats.
Makes for the perfect sweet treat for the entire family.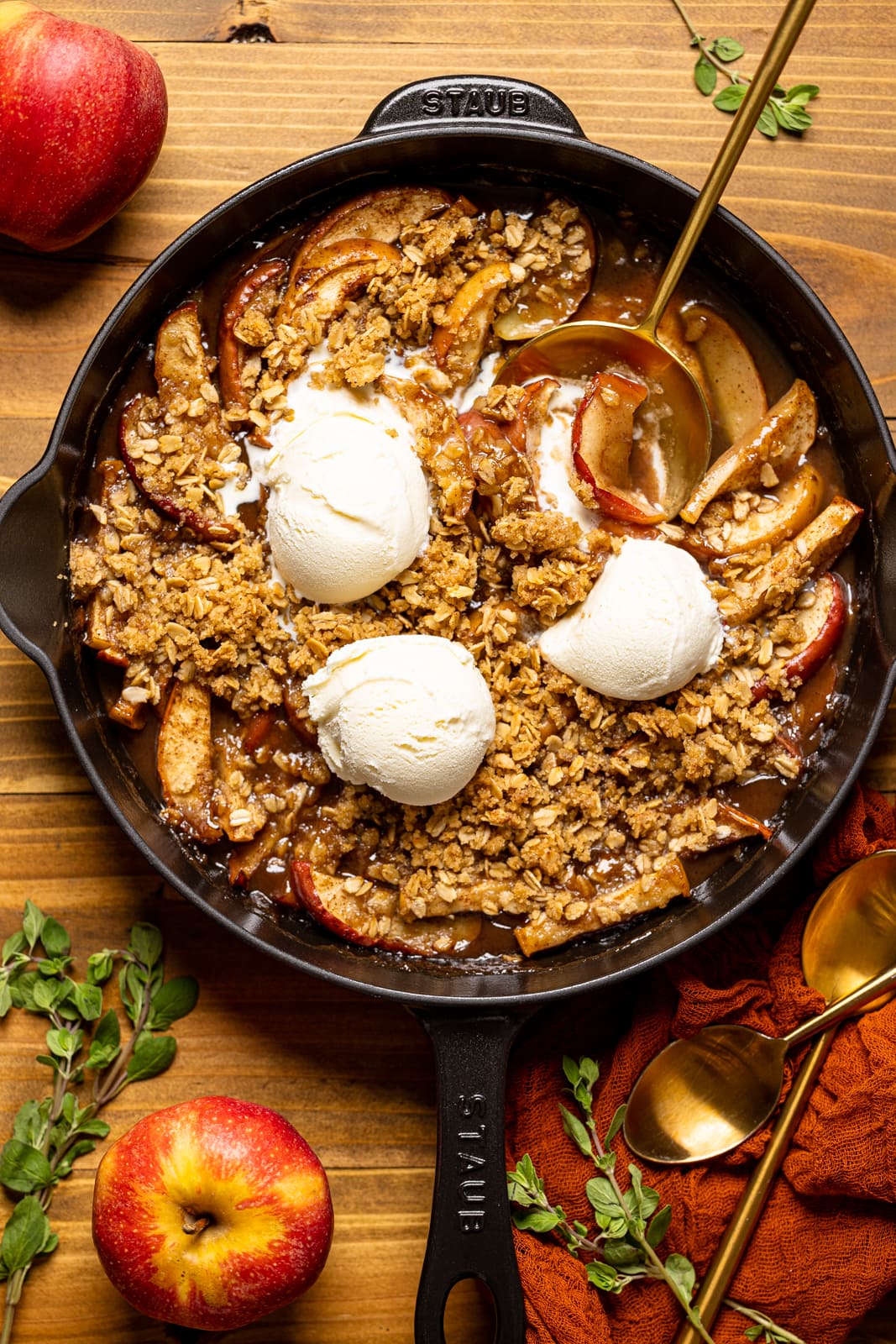 Tips for Making the Best Easy Apple Crisp
Here are my best tips for making sure this vegan + gluten-free apple crisp comes out perfectly:
Cut the apples into similar-sized chunks so they cook evenly. If they're cut too small, the filling may turn to mush. And be sure to peel your apples first to avoid any odd texture----if you're sensitive to textures!
I recommend greasing the baking dish or skillet (unless it's a high-quality non-stick) so your crisp is easy to scoop out and clean up is no big deal. 
You can make the oatmeal crumble for the top of your crisp with a pastry blender or with a big fork or a food processor. The key is to make a 'crumbly' mixture. You want some larger pieces and some smaller. 
Be sure to let the crisp cool for five to ten minutes at a minimum before serving. This helps the crisp cool and absorb some of the excess liquid in the baking dish.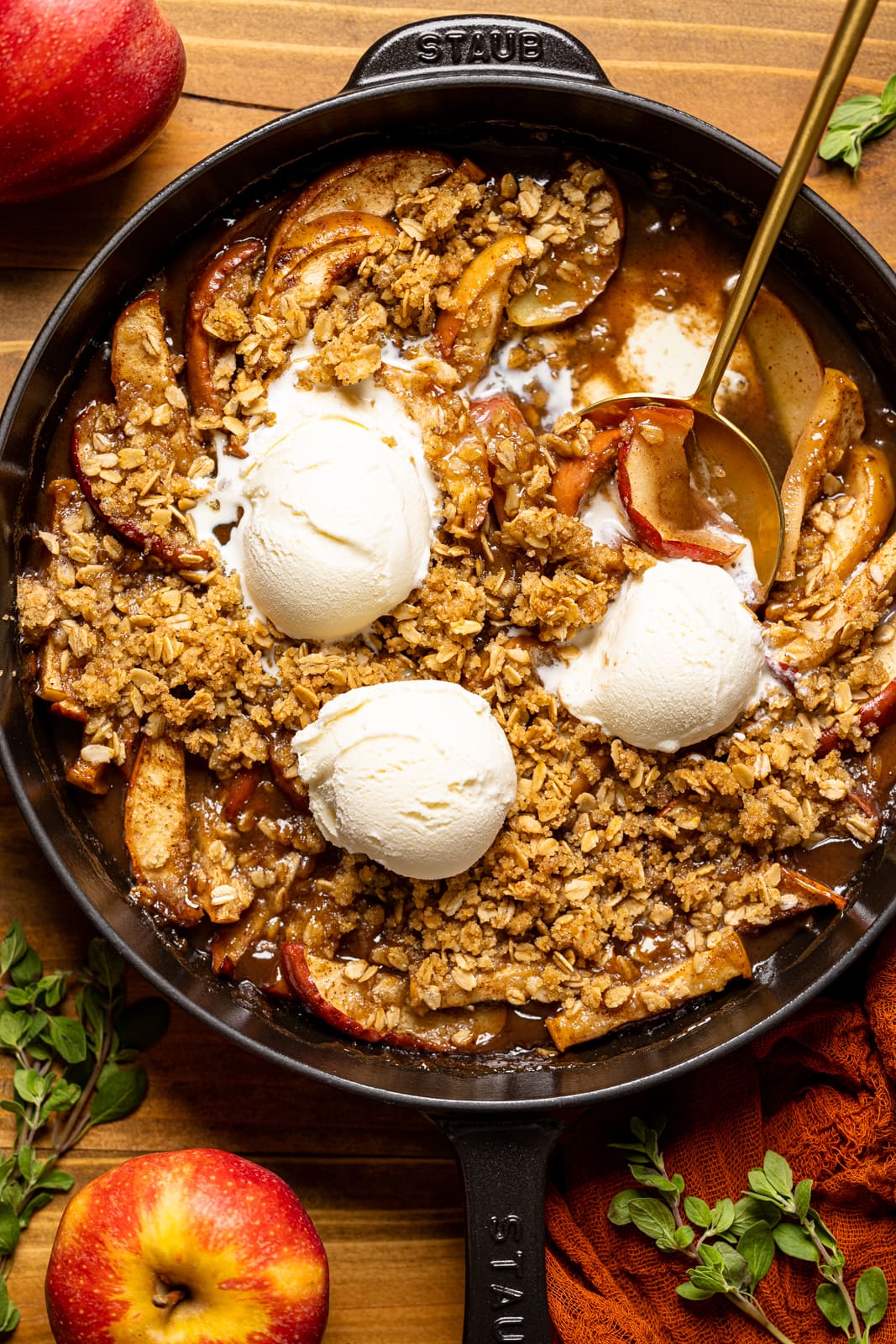 More Delicious Apple Recipes to Try Next!
MADE OUR RECIPE(S)?
If you tried this Easy Skillet Apple Crisp recipe or any other recipe on my website, please please leave a 🌟 star rating and let me know how you go in the 📝 comments below. I love hearing from you.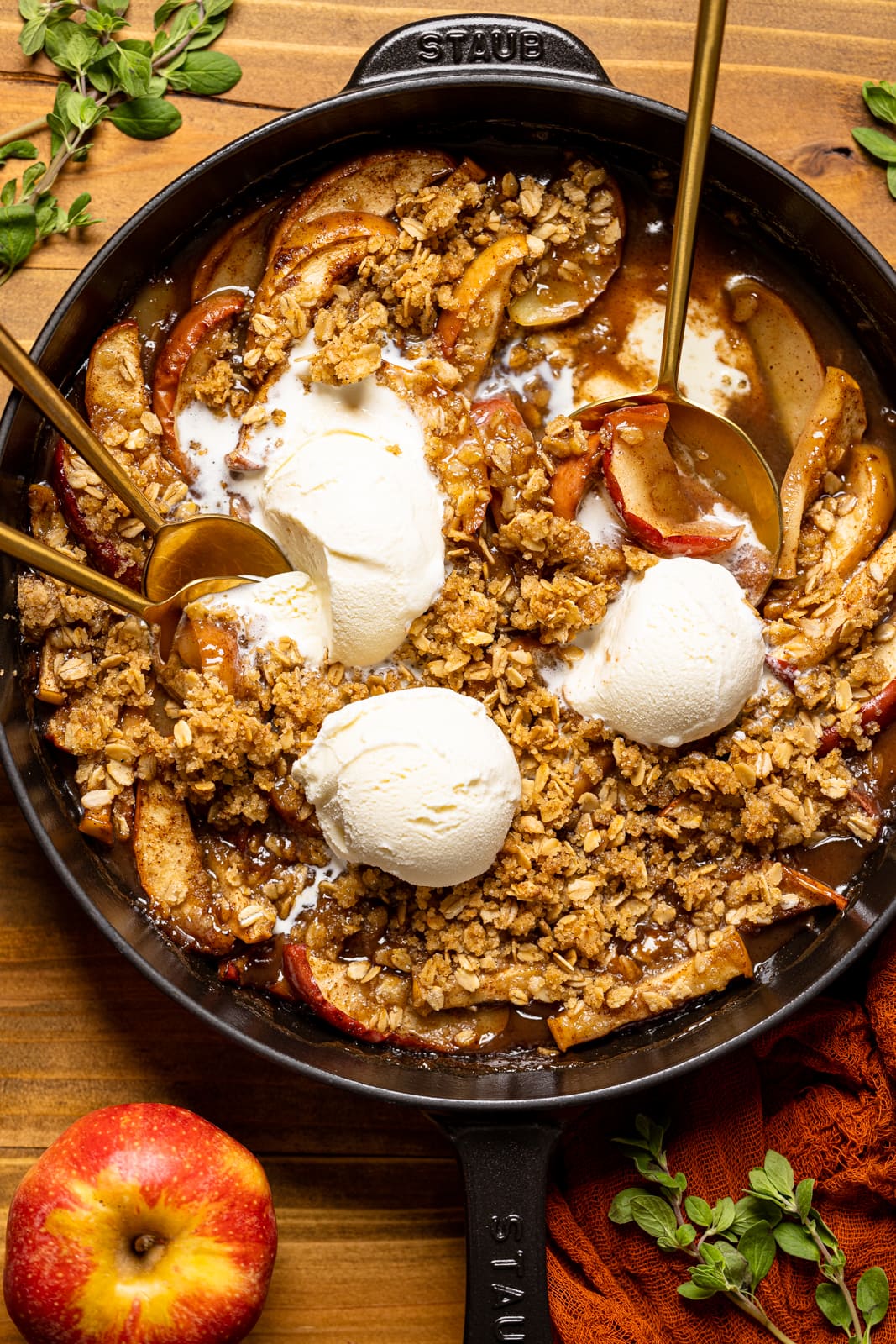 FILLING:
organic Gala apples, sliced

(You can keep the skin on or off)

¾

cup

full-fat coconut cream/milk

¼

cup

organic brown sugar

¼

cup

pure maple syrup

1

teaspoon

vanilla extract

1

teaspoon

ground cinnamon

½

teaspoon

ground nutmeg

⅛

teaspoon

ground allspice

⅛

teaspoon

ground ginger
TO MAKE THE FILLING:
In a large bowl, add the sliced apples, coconut milk/cream, maple syrup, brown sugar, cinnamon, nutmeg, allspice, ginger, and vanilla, stirring everything together until combined and the apples are completely coated.
TO MAKE THE TOPPING:
In a bowl, add the flour, oats, brown sugar, nutmeg, and cinnamon, stirring until combined. Add the partially melted butter and using a spatula, mix until combined and 'crumbly-like'.
ASSEMBLY:
Preheat your oven to 375 degrees Fahrenheit.

Spoon the coated apples into the bottom of your greased standard square baking dish or skillet and top with topping mixture. Bake for about 35-40 minutes or until apple filling becomes bubbly and topping is golden brown.

Once fully baked, remove from oven and let it cool for 5 minutes or so. Serve warm and enjoy with a scoop of your favorite dairy-free ice cream or coconut whipped cream!

Bon Appetit!
STORAGE: Best if served on the same day of making crisp. If made ahead of time (a few hours before serving), simply re-warm in the oven at 375 degrees Fahrenheit. Leftovers should be stored in an air-tight container in the refrigerator for 1-2 days.
APPLES: Best apples to use for this crisp are: Granny Smith, Gala, Honeycrisp, Fuji, etc.
COCONUT CREAM: I love using canned coconut cream from Thai Kitchen or Edwards & Sons, however, you can always use canned coconut milk as well and refrigerate it overnight to cream more creaminess.
GLUTEN-FREE FLOUR: To make this crisp GF, simply substitute the flour with GF All-Purpose flour or 1-to-1 GF Baking Flour, which Bob's Red Mill has a great one! Ensure that other ingredients are GF-friendly (i.e. stock, etc.). Also, ensure that the rolled oats are certified-GF.
Calories:
591
kcal
|
Carbohydrates:
86
g
|
Protein:
4
g
|
Fat:
28
g
|
Saturated Fat:
16
g
|
Polyunsaturated Fat:
4
g
|
Monounsaturated Fat:
6
g
|
Trans Fat:
2
g
|
Sodium:
111
mg
|
Potassium:
311
mg
|
Fiber:
4
g
|
Sugar:
66
g
|
Vitamin A:
3
IU
|
Vitamin C:
1
mg
|
Calcium:
94
mg
|
Iron:
2
mg