Make a classic Dutch Apple Pie with a flaky and buttery crust, sliced crisp apples, and buttery cinnamon crumble topping for the holidays, and you'll be sure to please every guest at your party.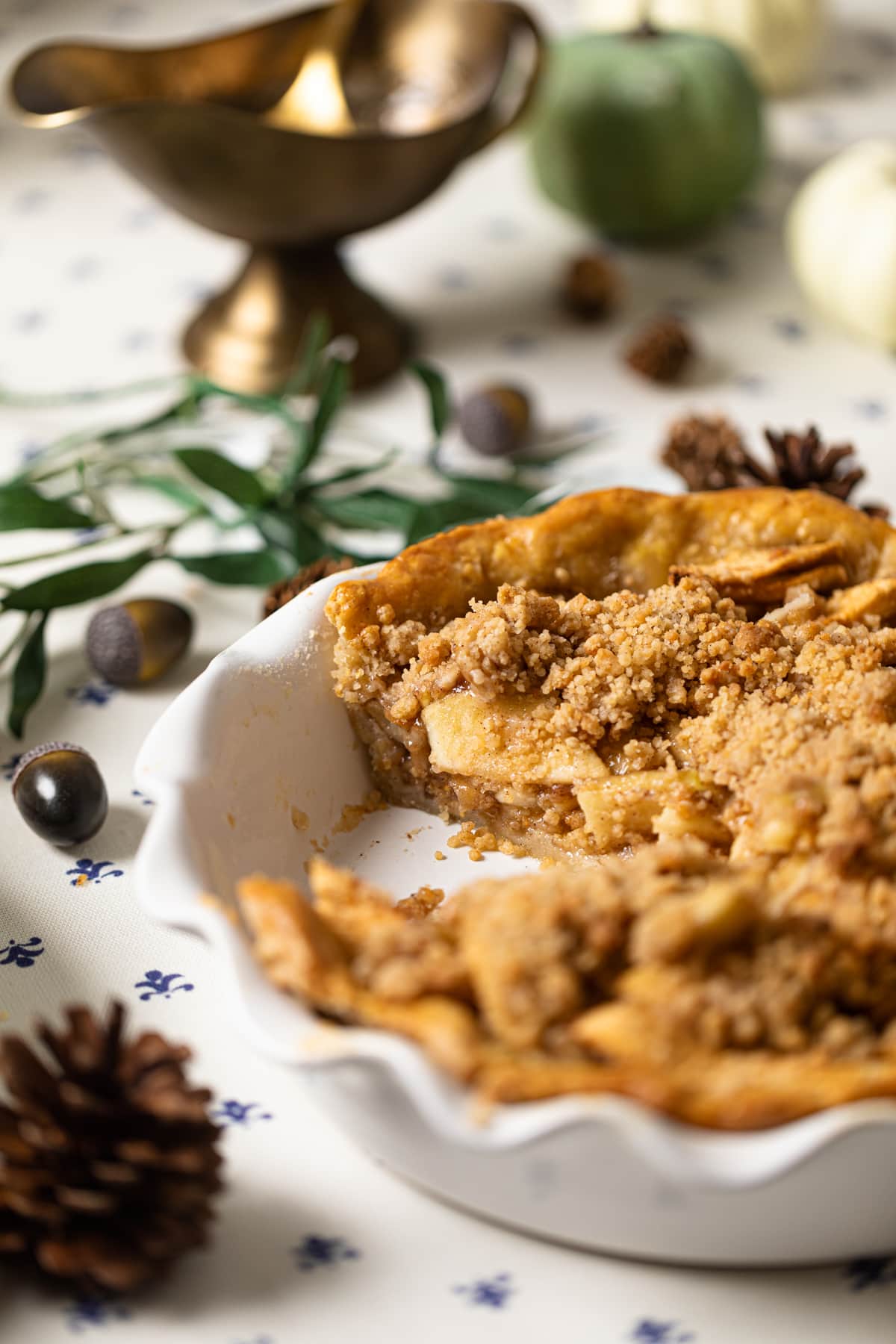 This show-stopping apple pie is a family tradition at my house. I'm thrilled to share my grandma's traditional recipe for a thick and hearty Dutch apple pie with you this year. With a stacked layer of Granny Smith apples, plenty of warming spices, and a crust and crumble topping, there's no going wrong with a good old-fashioned Dutch apple pie. I can't wait to hear what you and your family think of the recipe!
What is Dutch Apple Pie?
The difference between regular apple pie and Dutch apple pie is the crust. A traditional apple pie has two crusts. But a Dutch pie has one pie crust on the bottom and a crisp crumbling topping on top. Some Dutch apple pie recipes call for sour cream in the filling to add some tang. However, this recipe has a dairy-free filling that's heavy on the apples. 'Tis the season, after all!
Ingredients
You'll make three components for this holiday pie: the crust, the apple filling, and the crumble topping.
Pie Crust
Here's what you need for a flaky and buttery classic pie crust:
All-purpose flour. I use organic flour from Bob's Red Mill
Cane sure. Choose organic, if possible.
Cinnamon
Butter. Make sure your butter is very cold and cut into cubes so your pie gets really flaky.
Almond milk. You can use regular milk or another dairy-free option.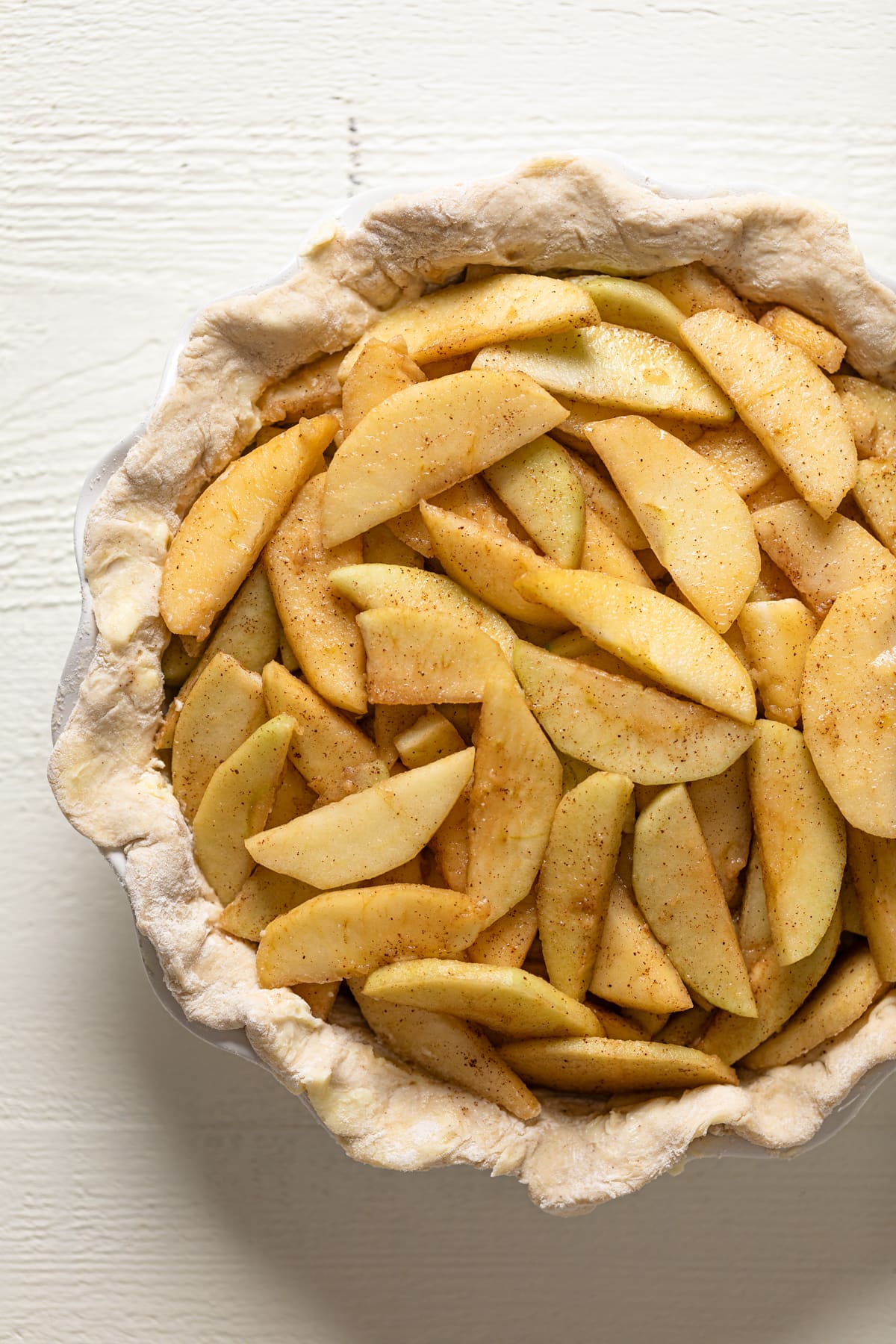 Apple Filling
While the pie crust is chilling, you can make the simple apple filling using these ingredients:
Apples. I recommend a firm, tart apple like Granny Smith.
Brown sugar. For an extra caramelized flavor.
Arrowroot starch. This is a gluten-free thickener. You can also use cornstarch or all-purpose flour.
Spices. I like to flavor this Dutch pie with cinnamon, nutmeg, cloves and allspice.
Vanilla extract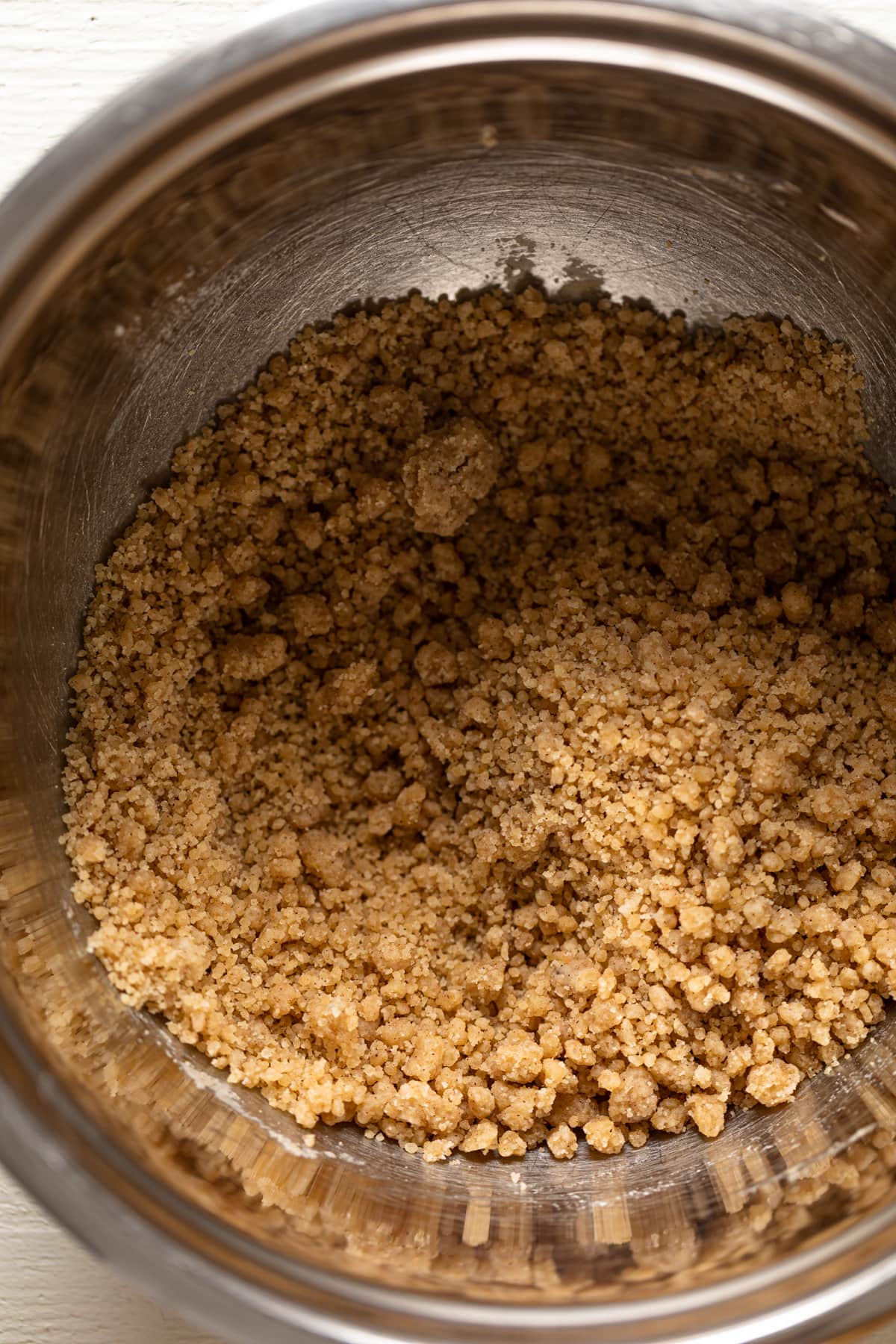 Dutch Apple Pie Crumble Topping
Finally, make the crumbly topping for your pie. You'll need:
All purpose flour
Brown sugar
Butter. This time, the butter should be soft and a bit melty.
Cinnamon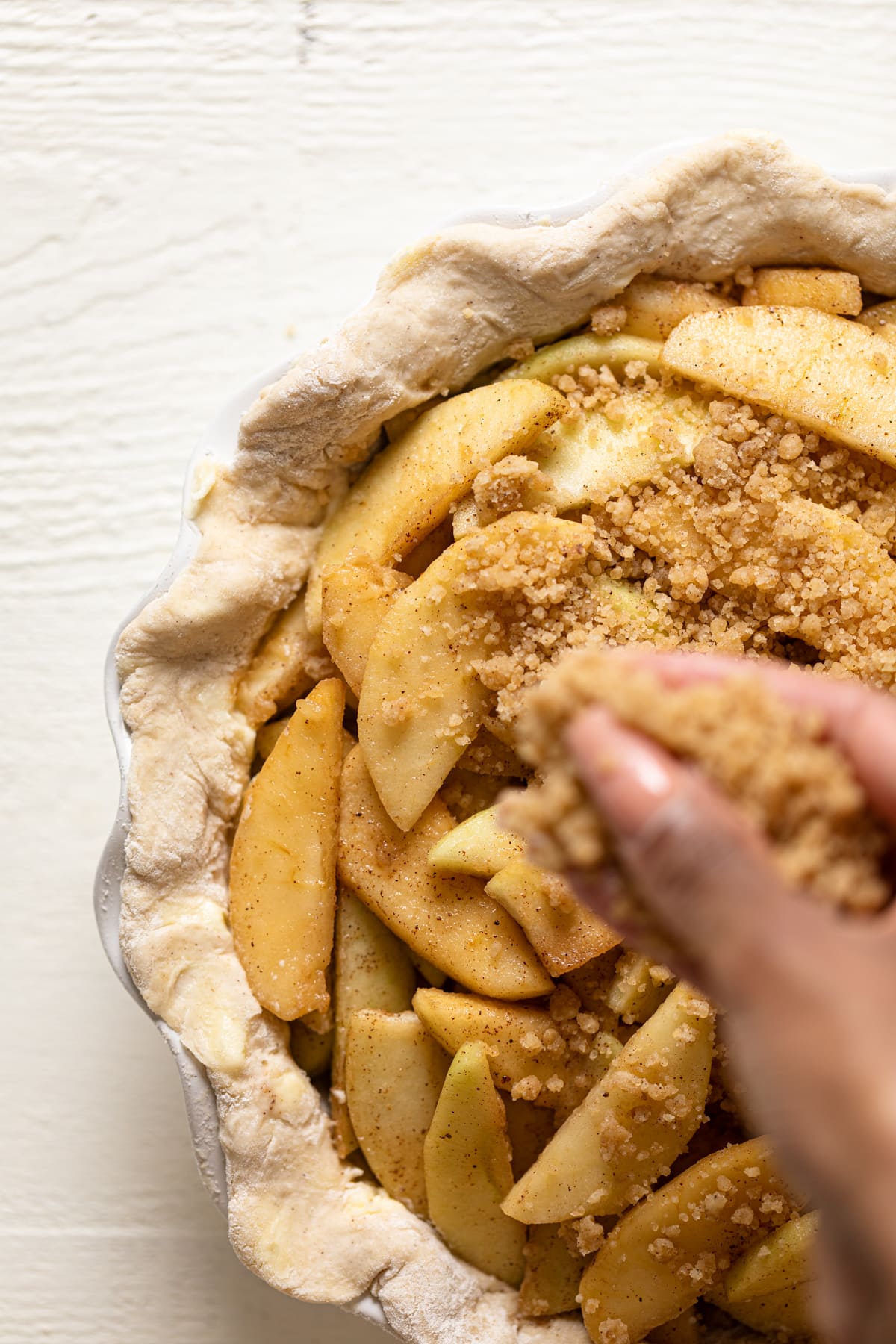 Making Apple Pie Crust
You can make this crust super quickly by using a food processor. Just remember not to overwork the dough. Pulse the dough just a few times, until it comes together and you can pinch pieces together.
If your pie crust is too dry, add ice-cold water, a tablespoon at a time, until it comes together.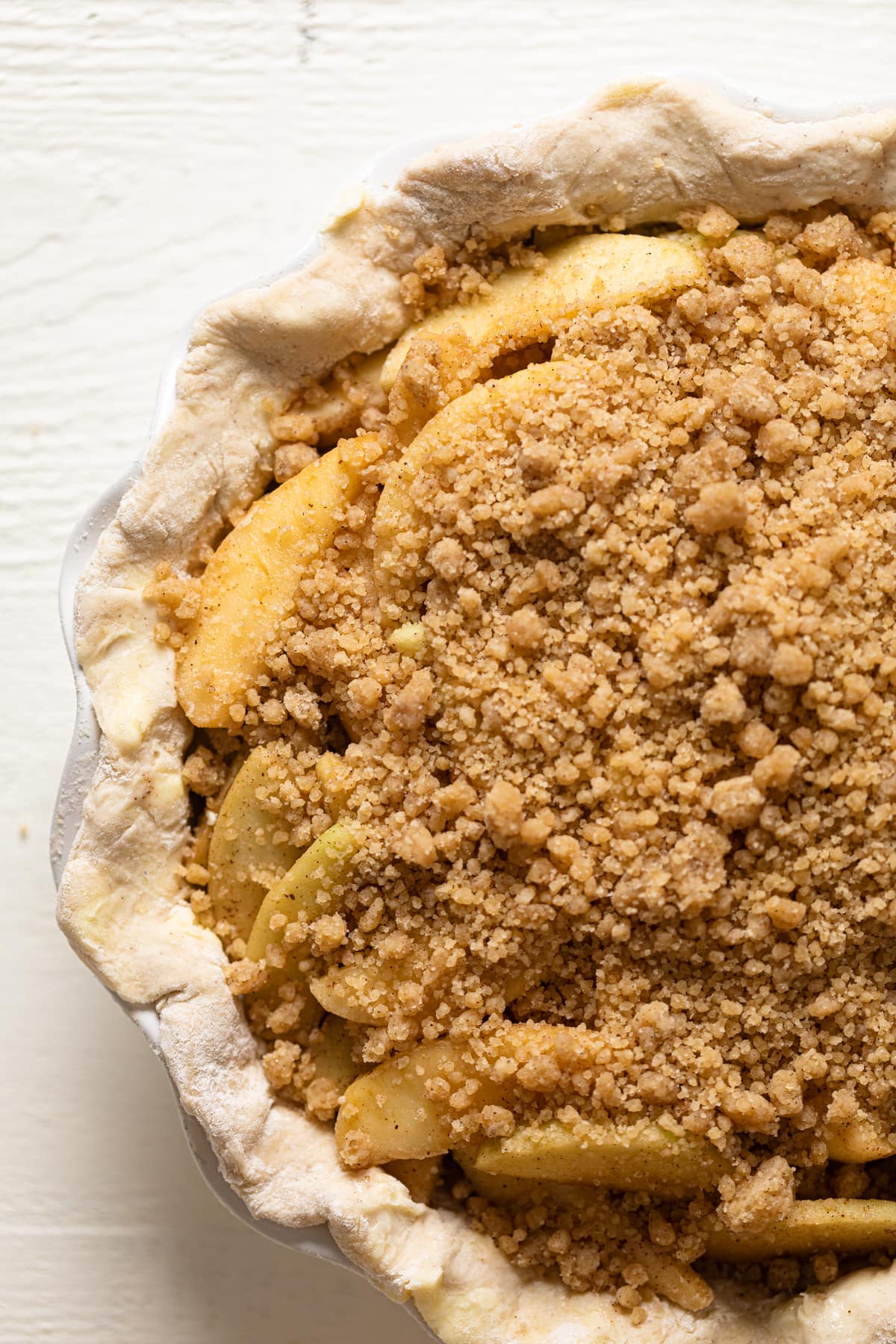 How to Serve Dutch Apple Pie
Serve generous slices of your homemade pie with a scoop of vanilla ice cream or a dollop of whipped cream on top. Some people even like their pie with a slice of cheddar cheese for a sweet and savory combination.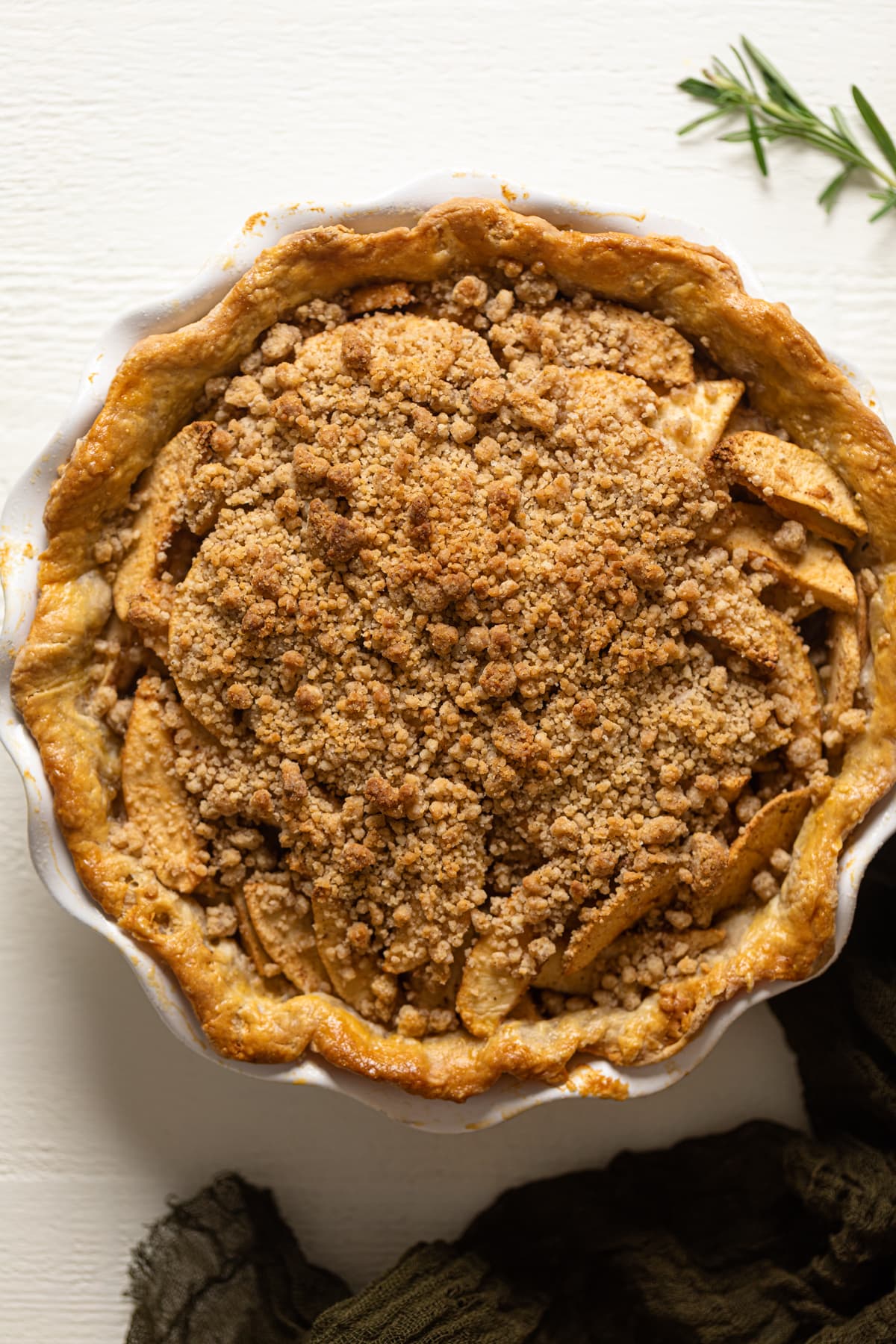 Storing Leftover Pie
Store any leftovers in an airtight container in the firdge for up to four days. For longer storage, keep the pie in the freezer for up to three months. Defrost the pie overnight in the fridge, then serve at room temperature or reheat in the microwave in 30-second intervals to serve warm. You can also reheat the entire pie in a 350°F oven for 10 to 15 minutes, until warmed through.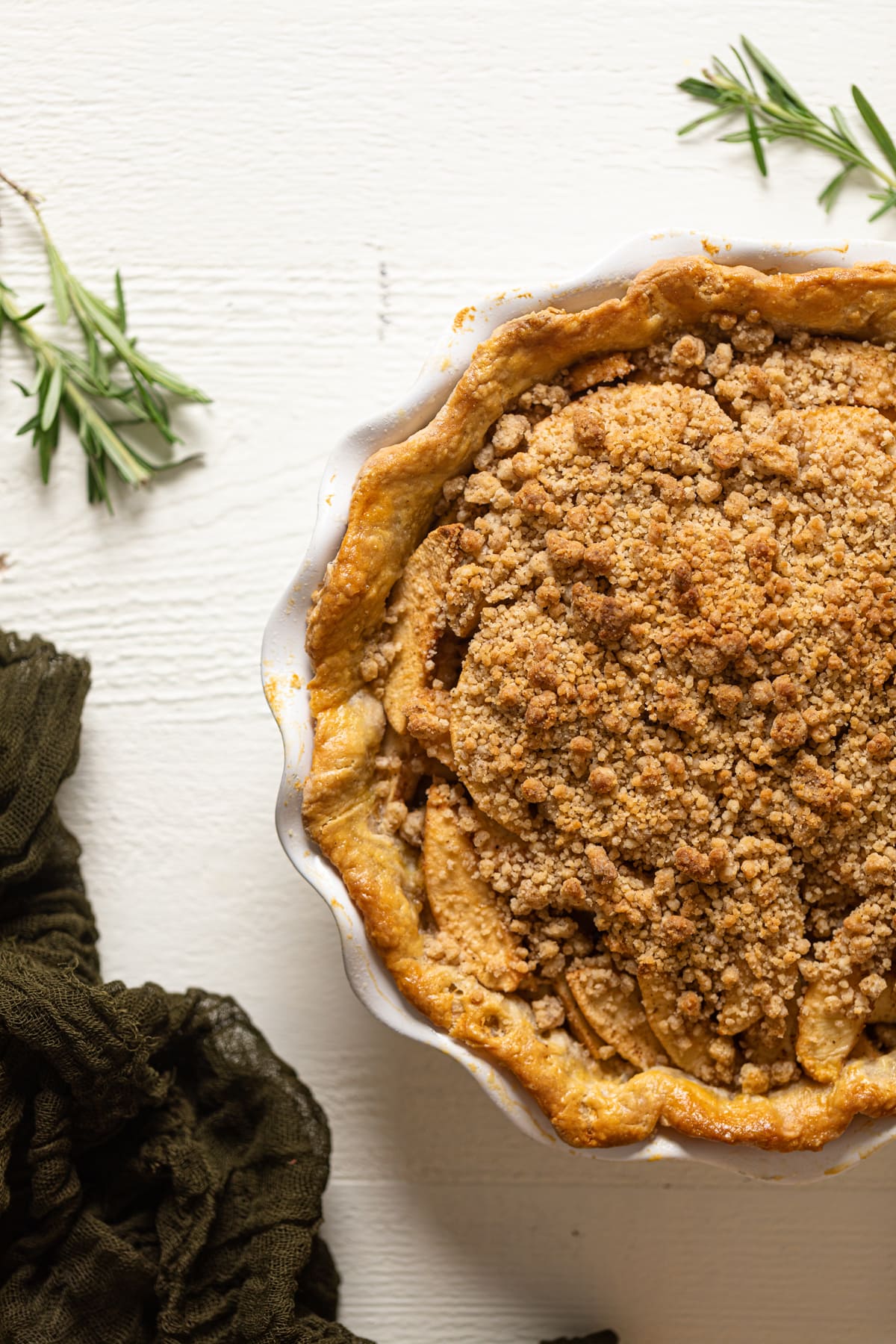 More Pie Recipes to Try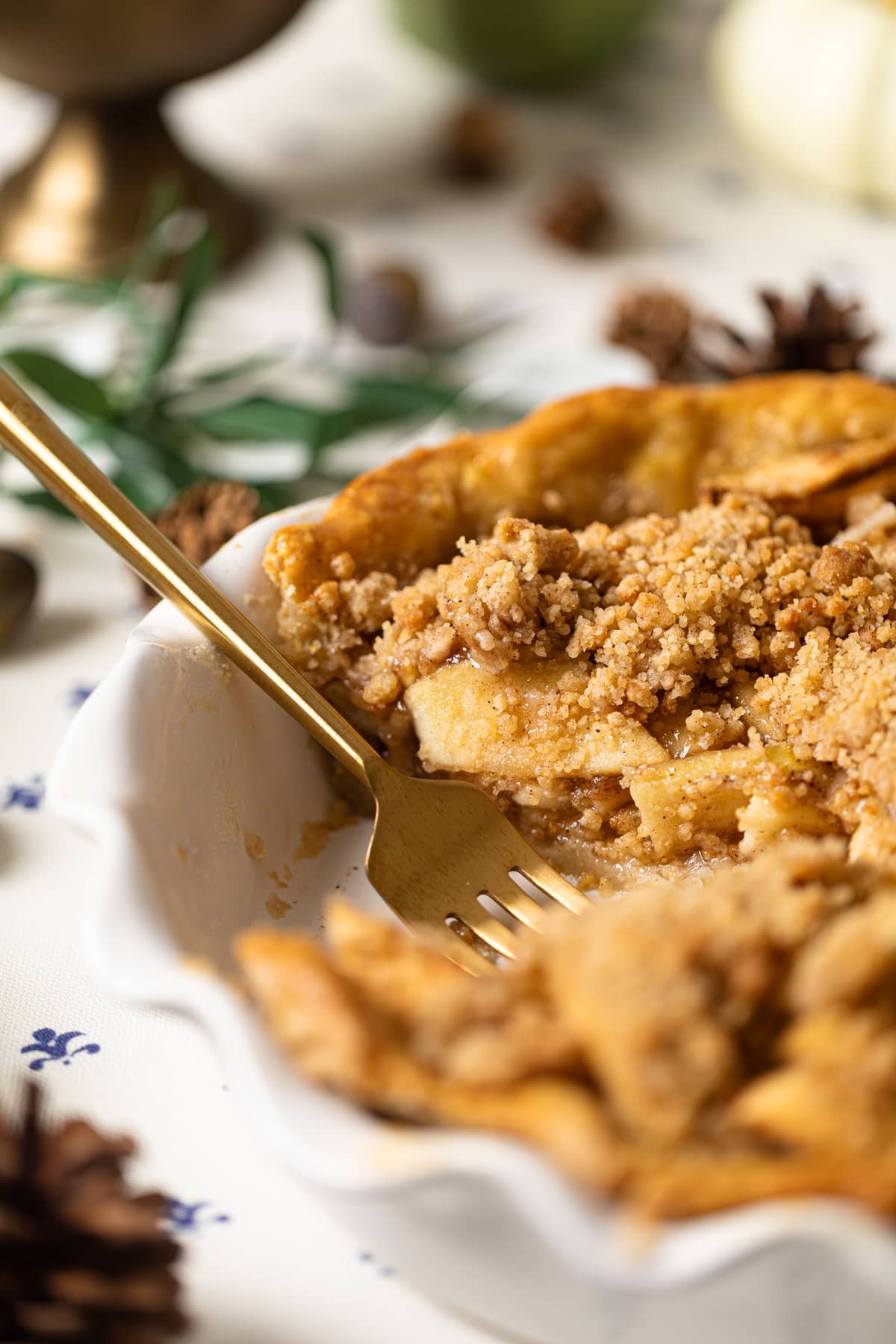 MADE OUR RECIPE?!
If you make this Dutch Apple Pie, tag @orchidsnsweettea_ on Instagram and hashtag it #orchidsandsweettea
CRUST:
1 1/2

cups

organic all-purpose flour

2

Tbsps

organic cane sugar

1

tsp

ground cinnamon

1/2

tsp

sea salt

1/2

cup

unsalted butter, cold + cubed

1/2

cup

Almond milk + 2 Tbsps, very cold 
CRUMBLE TOPPING:
3/4

cup

organic all-purpose flour

3/4

cup

organic brown sugar

1/4

cup

unsalted butter, partially melted + 1 Tbsp!

1

tsp

ground cinnamon

Pinch of

sea salt
TO MAKE THE CRUST:
In a large bowl, add the all-purpose flour, cinnamon, cane sugar, and salt, whisking them all together until combined.

Add the cubed butter sticks and using a pastry blender, blend butter into dry ingredients until the mixture becomes "peas-like" and crumbly.

Pour in the cold milk mixture (slowly) and stir (working it together with one hand) until the dry ingredients are moistened. NOTE: If the ingredients feels a little too dry, add 1 Tbsp of milk at a time, until it's moistened BUT not too wet!

Once you're able to form it into a ball and wrap it in plastic wrap and refrigerate for 1 hour (minimum), up to 1 and a half hours or of course overnight.

In the meantime, make the Pie Filling.
PIE FILLING:
In a bowl, add the sliced apples, brown sugar, vanilla, Arrowroot starch, cinnamon, nutmeg, cloves, and allspice, stirring everything together until combined and apples are coated.
ASSEMBLY:
Preheat the oven to 375 degrees Fahrenheit and lightly grease a standard pie dish with butter.

Remove dough ball from the refrigerator and place it onto a lightly floured surface. Roll out dough ball using a rolling pin (not making it too thin), about 1/2-inch thick and gently placing it in your pie dish; working it around evenly. Be sure to do any folding or tucking of any excess pie crust.

Pour pie filling mixture over crust and lightly brush the top of pie crust with melted butter.
TO MAKE THE CRUMBLE:
Add the flour, brown sugar, cinnamon, and salt into a medium bowl, stirring them together until combined.

Add the partially melted vegan butter and using a spatula, mix until well combined and 'crumbly-like'.

Now, evenly sprinkle the crumble topping atop the apple filling or until fully covered and place it in the oven.

Bake for 60-65 minutes, until crust becomes golden brown and the filling is bubbly. NOTE: If the crust begins to get too dark quickly, cover around the pie's crust with foil paper, leaving the middle opened and exposed.

Once done, remove from the the oven and let cool completely, about 30-45 minutes. When cooled, place pie in the refrigerator for at least 4 hours before serving and slicing.

To serve, add whipped cream or ice cream atop a slice of apple pie and enjoy!

Bon Appetit!
STORAGE: Keep leftover pie tightly wrapped with heavy duty plastic wrap or foil and refrigerated for 3-4 days. Re-heat each slice when serving.
FLOUR: If you don't have Pastry Flour available, simply substitute for All-Purpose Flour.
FOOD PROCESSOR FOR CRUST: If using a food processor to incorporate water to flour/butter mixture, ONLY ADD 1/4 cup of water AT A TIME to your dough, keeping it on "pulse" to avoid the dough from breaking down too much and it becoming "watery". With this method, you may not need the entire 1 cup of water.
GLUTEN-FREE VERSION: To make these GF, simply substitute All-Purpose Flour with 2 cups Gluten-Free Flour (Bob's Red Mill has a great one!) and the Pastry Flour with 1/2 cup coconut flour. If your GF Flour doesn't have Xanthan Gum included, add 1 tsp in recipe. Also, reduce butter to 1 3/4 sticks instead of 2. Continue all other steps!
ARROWROOT: If you don't have arrowroot starch, feel free to substitute with regular starch or all-purpose flour, which both act as a thickening agent.
Dutch Apple Pie