This Maple Vegan Pumpkin Pie is not too sweet, full of warming spices, and topped with a crumbly pecan and walnut crust. This pie is a perfect holiday baking recipe for Thanksgiving!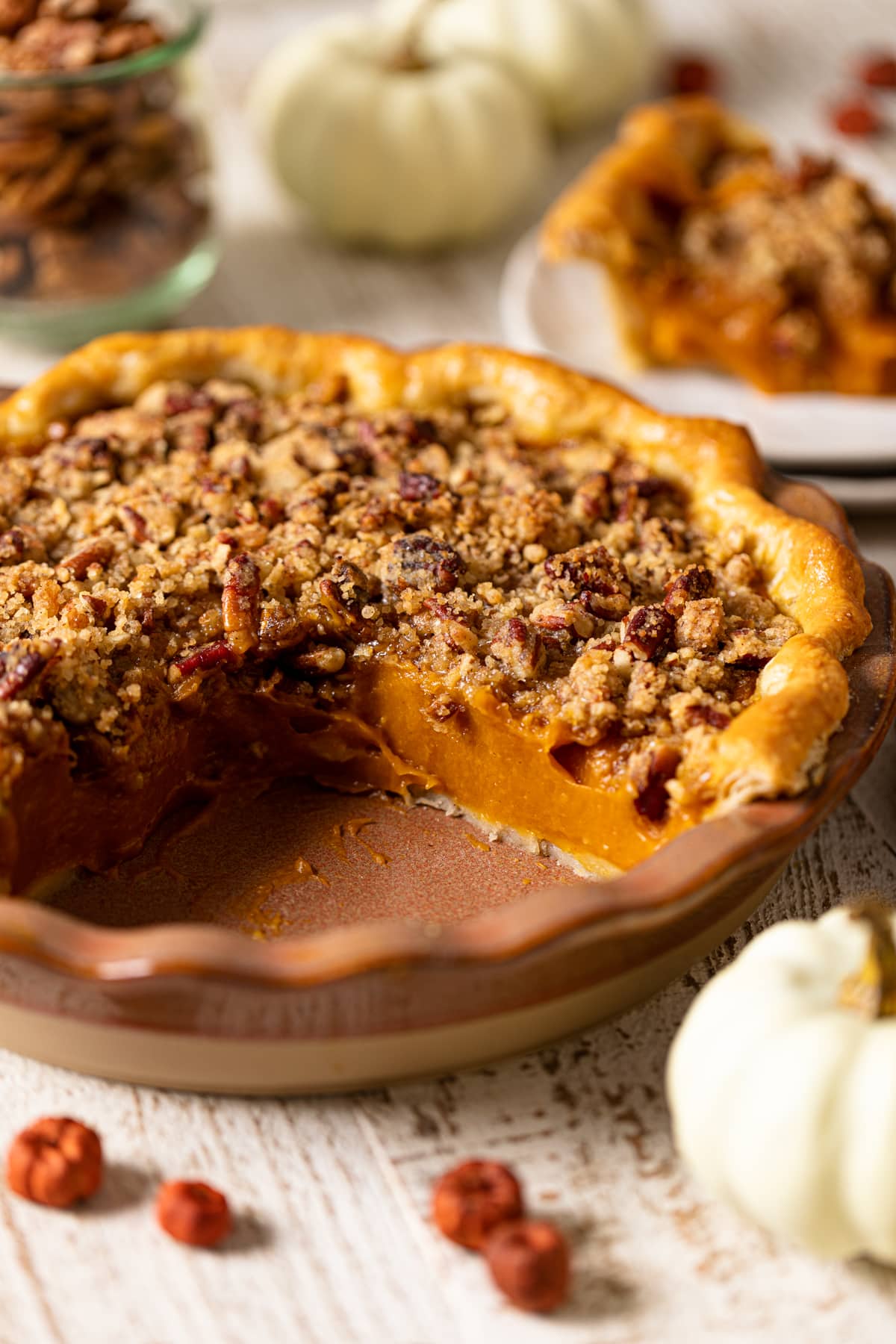 Sponsored Post: This post is sponsored by Bob's Red Mill but the content and opinions expressed are all based on my genuine love for this brand and are my own. Thanks so much for supporting the brands I love.
I'm so excited to be having Pumpkin 2.0 Week on Orchids + Sweet Tea this year, especially since last year's Pumpkin Week was such a hit! To be honest, this year's recipes will be that much more bold and filled with both savory + sweet. 
The interesting thing is that most people LOVE pumpkin, but never imagine how amazing it is in savory dishes because desserts and drinks are always at the forefront of everything Pumpkin Spice. But if you're intrigued with something savory + pumpkin lush-----then my recent Cajun Veggie Pumpkin Pizza is a MUST! Get your pumpkin spice + pie fix with this extremely delicious Easy Pumpkin Pie Iced Latte!
OK, so can I be honest? Making pumpkin or sweet potato pie is a bit challenging.
While sweet potato pie is my absolute favorite kind of pie, this vegan pumpkin version is a close runner-up. It has a smooth, creamy pumpkin custard center and a crisp buttery crust with a pecan-walnut topping. If you love nuts, maple and pumpkin, this is the perfect fall dessert for you! It's great for Thanksgiving, Christmas, or just any regular weeknight.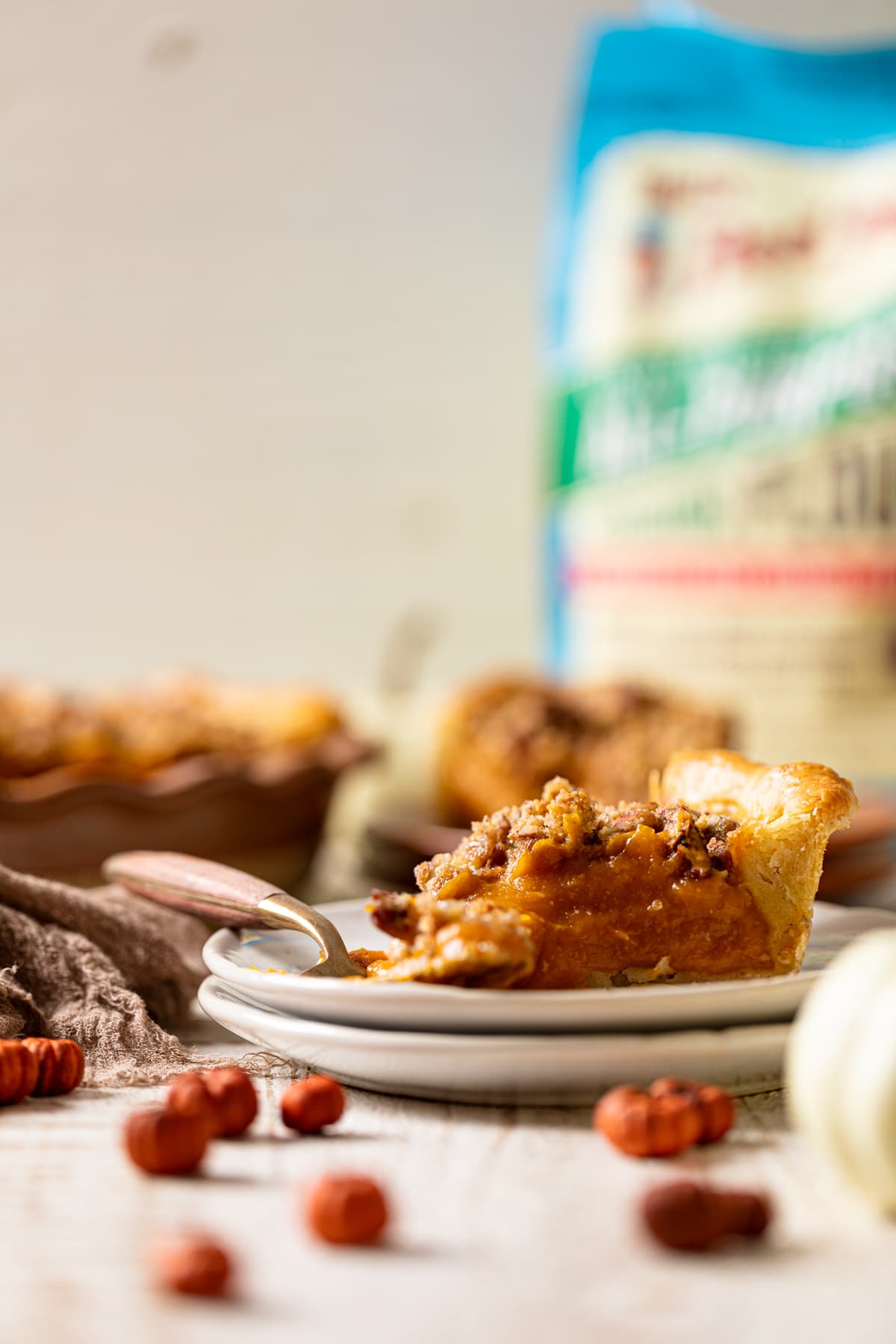 How to Make Vegan Pumpkin Pie
This is a super easy, laid-back pie recipe when it comes to whipping the ingredients together. For the filling, you'll make a simple pumpkin syrup first. Next, you'll turn it into a sweet and smooth pumpkin custard to fill your homemade vegan pie crust. Honestly, the filling can be a bit tricky and often times need to "set" for a long time before slicing, so it's always best to make this AHEAD OF TIME.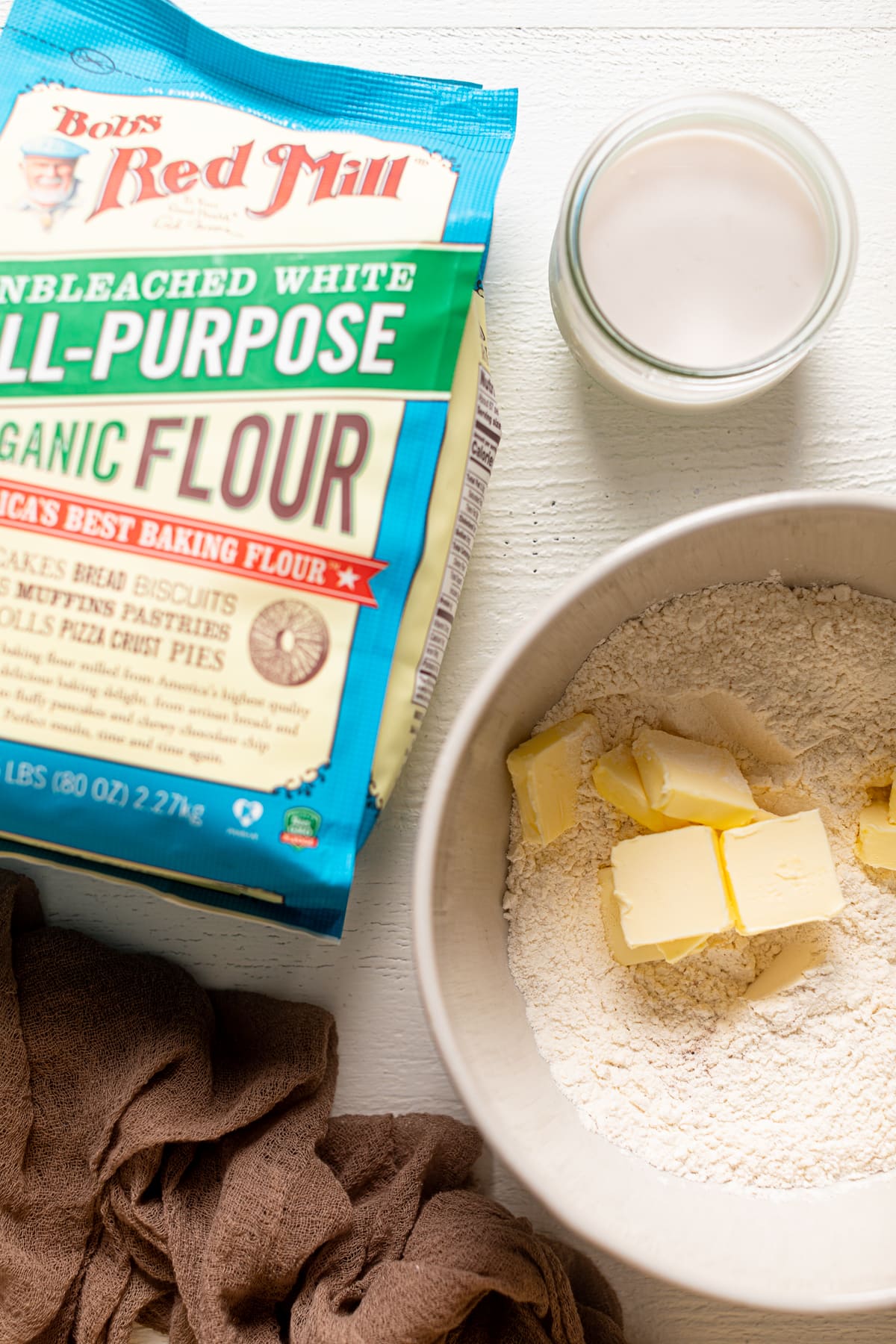 Vegan Pie Crust
Speaking of crust, I recommend starting the recipe by whipping up the simple pie crust. It's easy to do and has a delicious buttery flavor and crisp texture. Of course, if you don't have time, a store-about vegan (or gluten-free) crust will also work.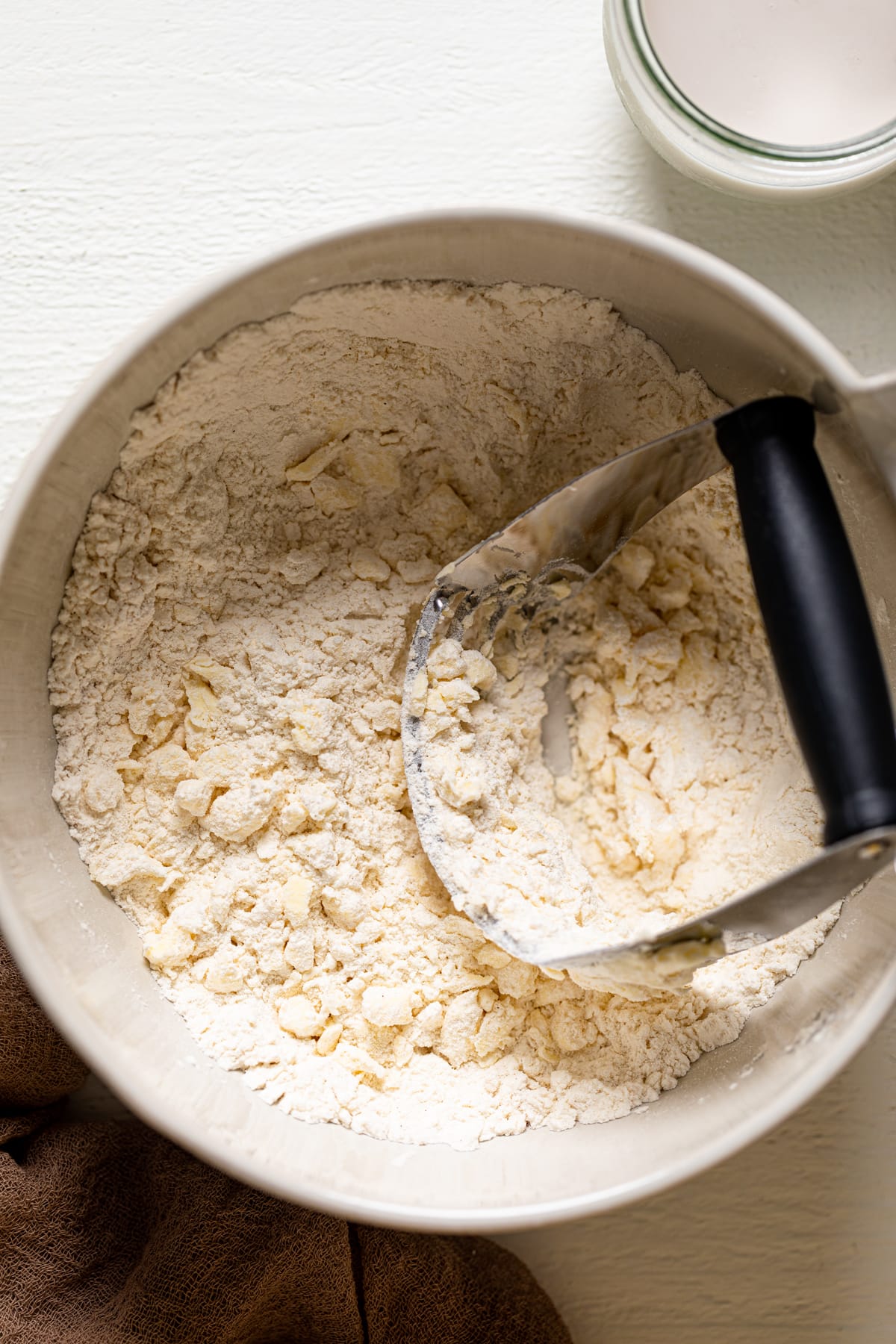 Here's what you need to make this pie crust:
Bob Red Mill's Unbleached All-Purpose Flour. This is my go-to favorite brand when it comes for all kinds of flour. 
Cane sugar. I always use organic sugar.
Cinnamon. A must for warming fall flavors. 
Vegan butter. Make sure it's nice and cold to get those crispy, flaky layers in your crust. 
Almond milk. Water will also work, just make sure it's cold. 
Apple cider vinegar. To add a tinge of tang to your crust.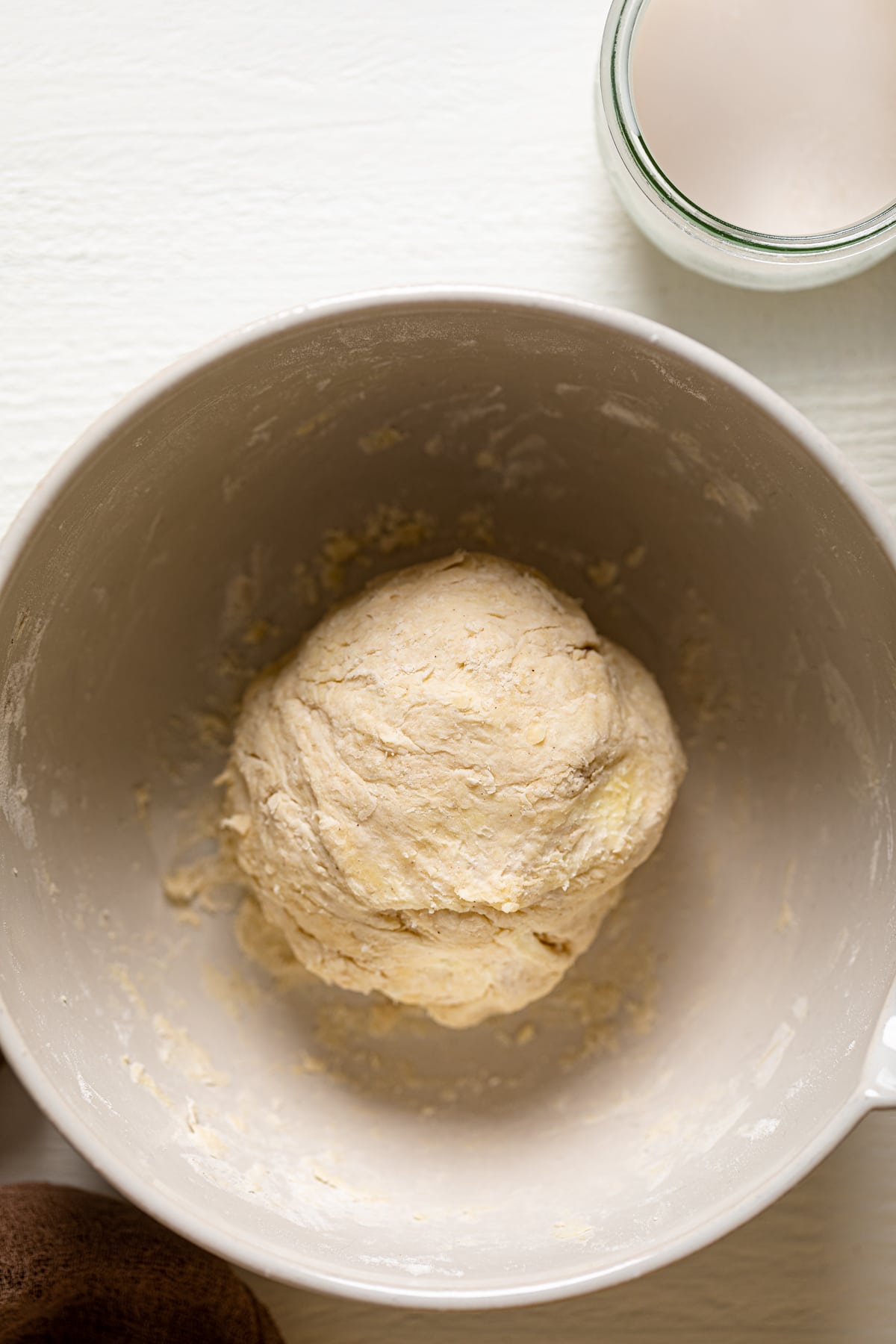 Pumpkin Filling Ingredients
While the pie crust bakes and cools, make the smooth pumpkin filling with these ingredients:
Pumpkin puree. Make sure it's pure pumpkin, not canned pie crust. 
Coconut cream. Full-fat coconut milk will also work. 
Brown sugar. Choose organic if possible!
Arrowroot starch. This is a gluten-free thickener for a nice firm pie texture. 
Maple syrup. Honey will also work.
Vanilla. For warming flavor. 
Cinnamon, nutmeg, ginger, cloves and allspice. The classic pumpkin spice flavors.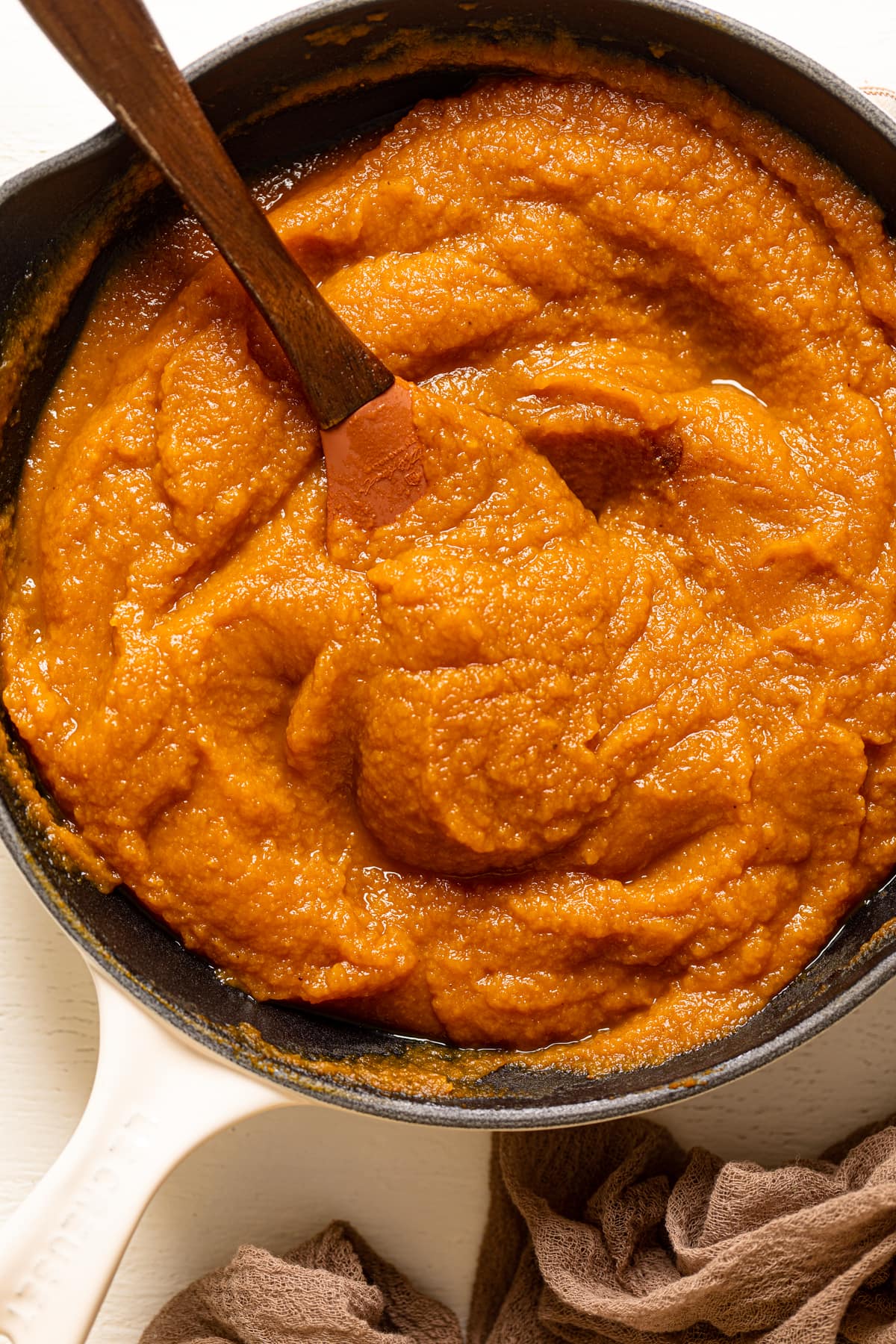 Pecan Crumble Pie Topping
Top off your decadent pumpkin dessert with a crunchy and nutty pecan-walnut crumble. Here's what you'll need:
Pecans and walnuts. Make sure they're toasted first for the best flavor. See the notes section below the recipe fo how to quickly toast your nuts. 
Brown sugar. For caramelization.
Cinnamon and nutmeg. Never too much spice!
Vegan butter. I like to use Earth Balance Vegan Buttery Sticks. 
Maple Syrup. Honey is a fine alternative, but you'll miss the delicious maple flavor.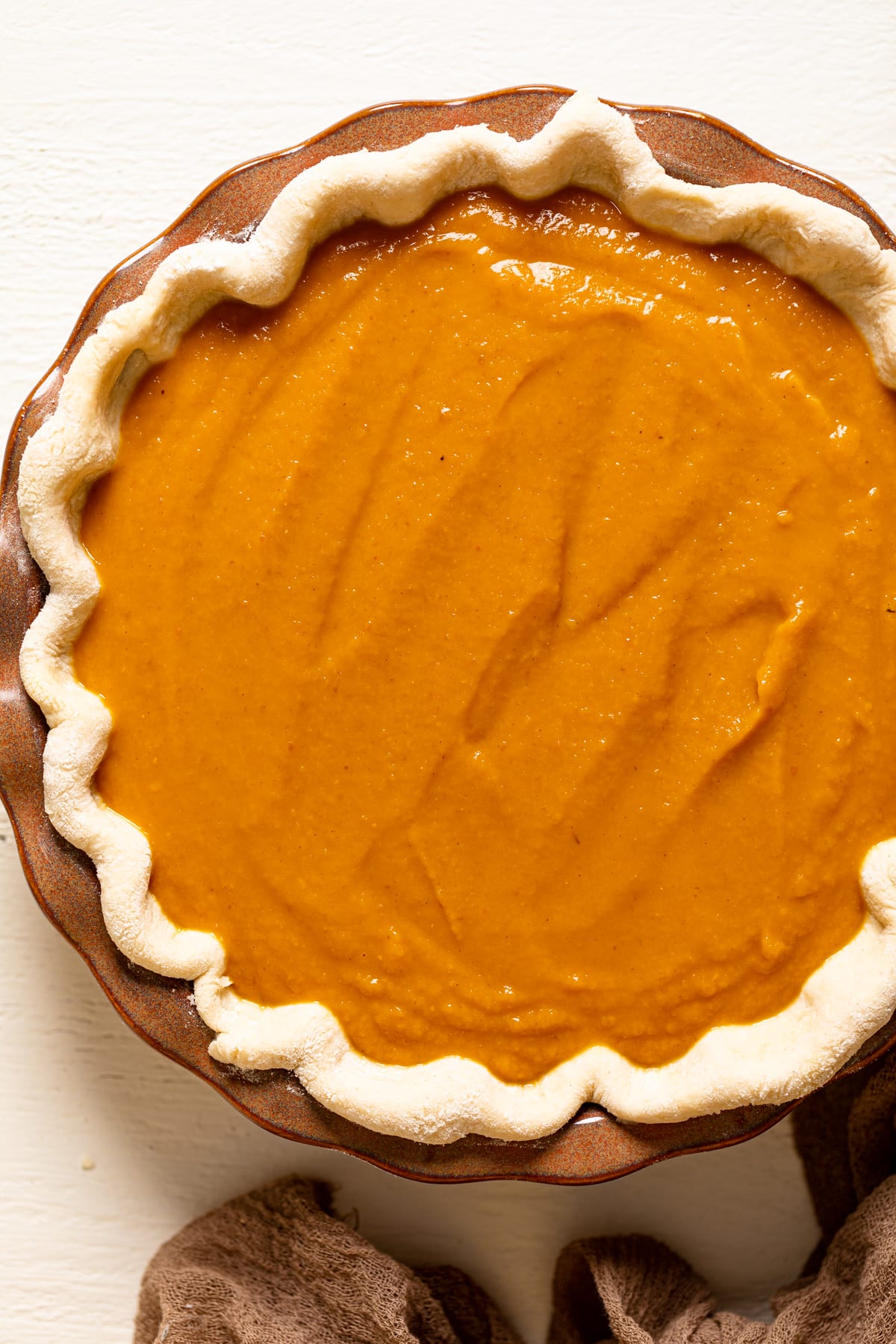 Why Use Organic Flour?
I always use Bob's Red Mill Organic flour for baking----it's my absolute GO-TO! Using organic flour is easier on my digestive system, because I am sensitive to gluten. It is also a very reliable and consistent product, so I'll always know exactly what to expect from my recipes when I use Bob's Red Mill flour. When I'm putting so much time and effort into developing baking recipes that work perfectly, it's important to be able to rely on my ingredients!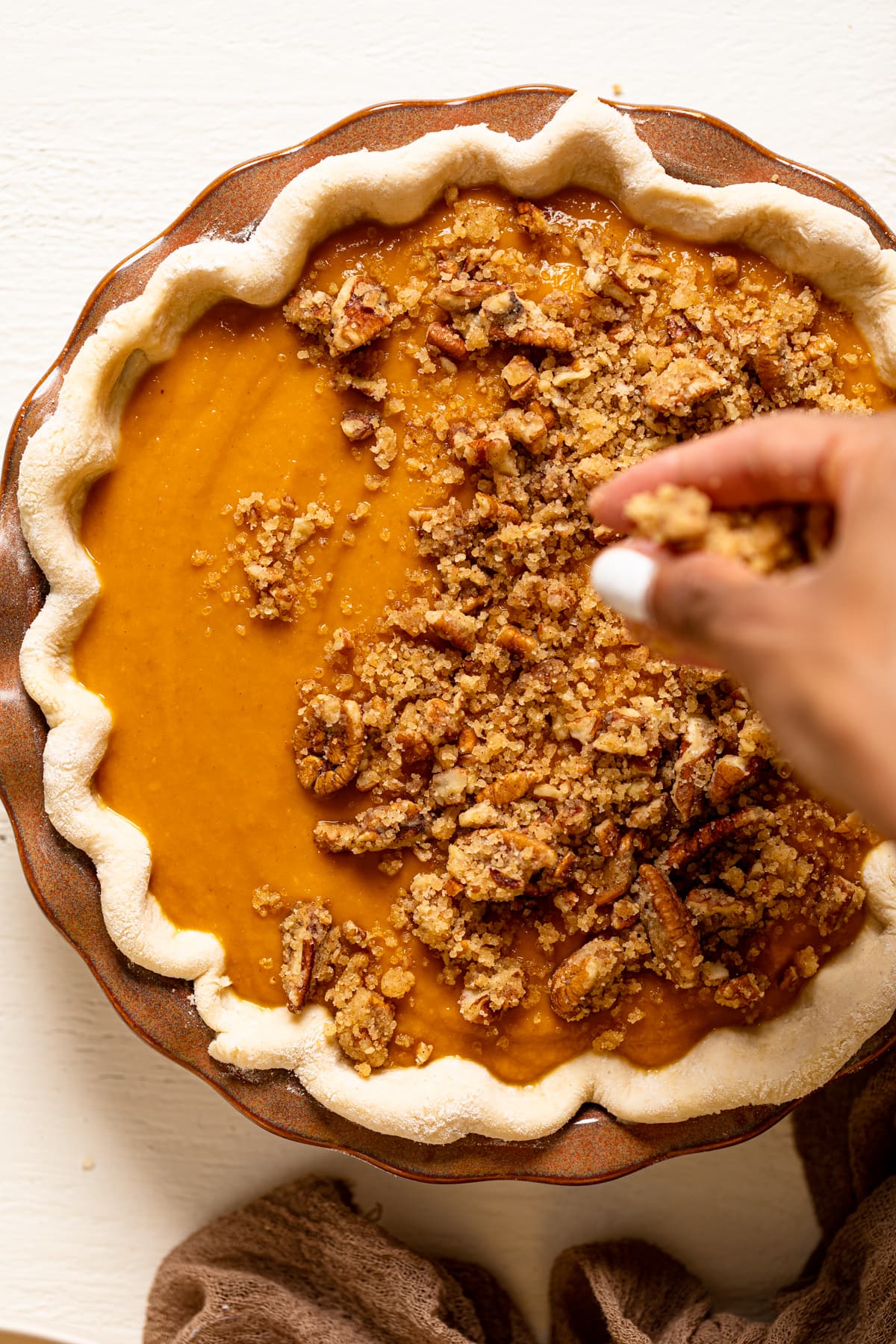 Can I Use Store-Bought Crust?
Certainly. If you end up using a pre-baked crust, simply add the filling and bake the assembled pie at 350°F. Add the nutty topping during the last 15 minutes of baking. 
Can I Make Gluten-Free Pumpkin Pie?
Yes, to make this recipe gluten free, substitute the flour with Bob's Red Mill gluten-free all-purpose flour. Also, reduce the vegan butter to 1 ¾ sticks instead of 2. 
Storing Leftover Pie
To store leftover pumpkin pie, wrap it tightly in plastic wrap and keep in the fridge for up to four days. You can serve the pie cold or heat it in the microwave for a few seconds before serving. 
Serving Suggestions
Pile your walnut-topped pumpkin pie with vegan whipped cream or vanilla ice cream to serve the perfect Thanksgiving feast.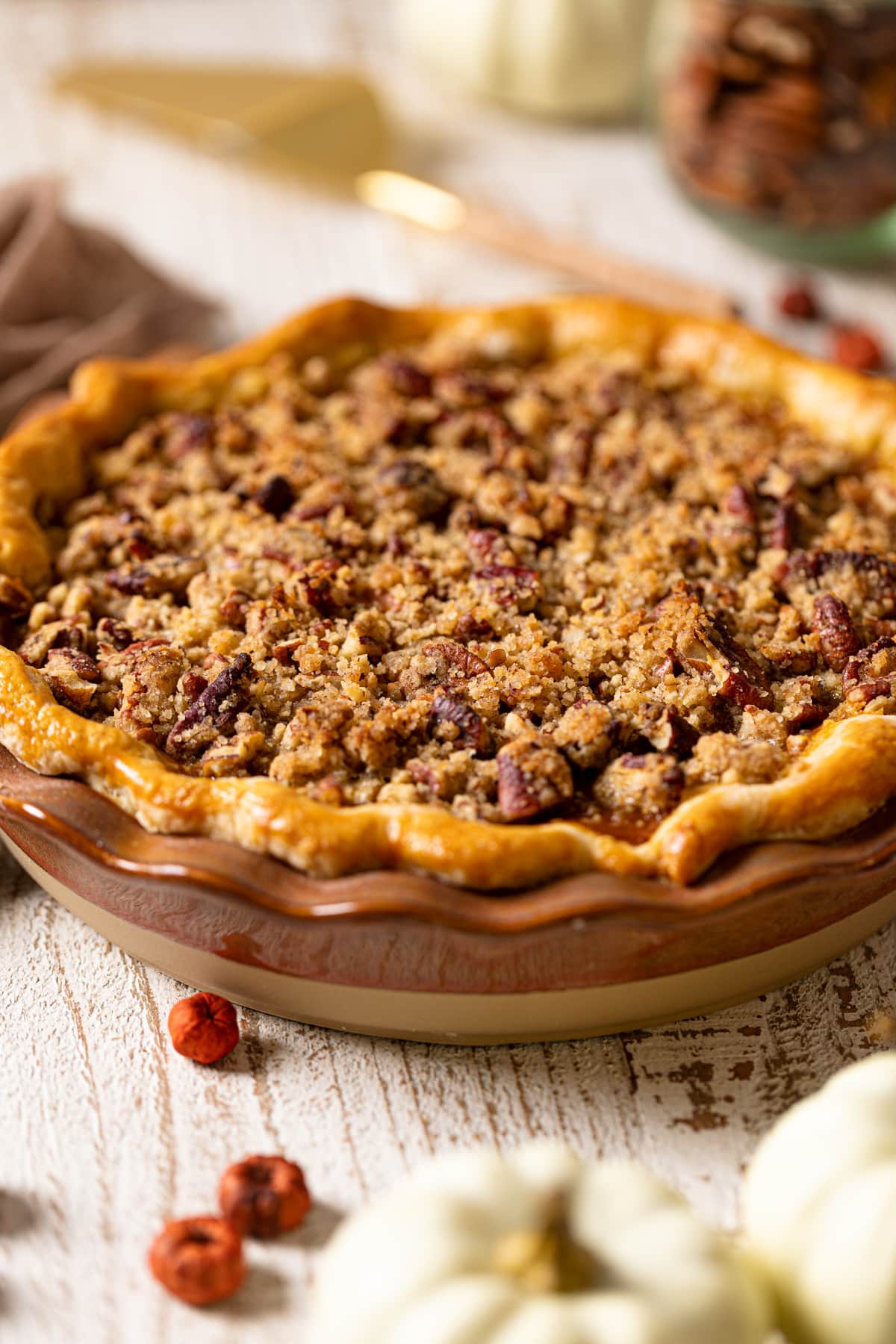 6 Interesting Facts About Pumpkin Pie
Pumpkin pie was not served at the first Thanksgiving, though pumpkins were used in other recipes at the time.
The first recorded recipe for "modern" pumpkin pie was published in 1796 in American Cookery by Amelia Simmons. It was called 'Pumpkin Pudding.' The cookbook was the first one devoted to foods native to the Americas.
Every year, 50 million pumpkin pies are made using Libby's canned product.
Nestle bought Libby's in 1971.
Morton, Illinois, where the main Libby's processing plant is located, calls itself the pumpkin capital of the world.
The world's largest pumpkin pie weighed over 350 pounds and was made with 80 pounds of pumpkin, 36 pounds of sugar, and 144 eggs.

More Must-Try Pumpkin Recipes
Gluten-Free Pumpkin S'Mores Cookies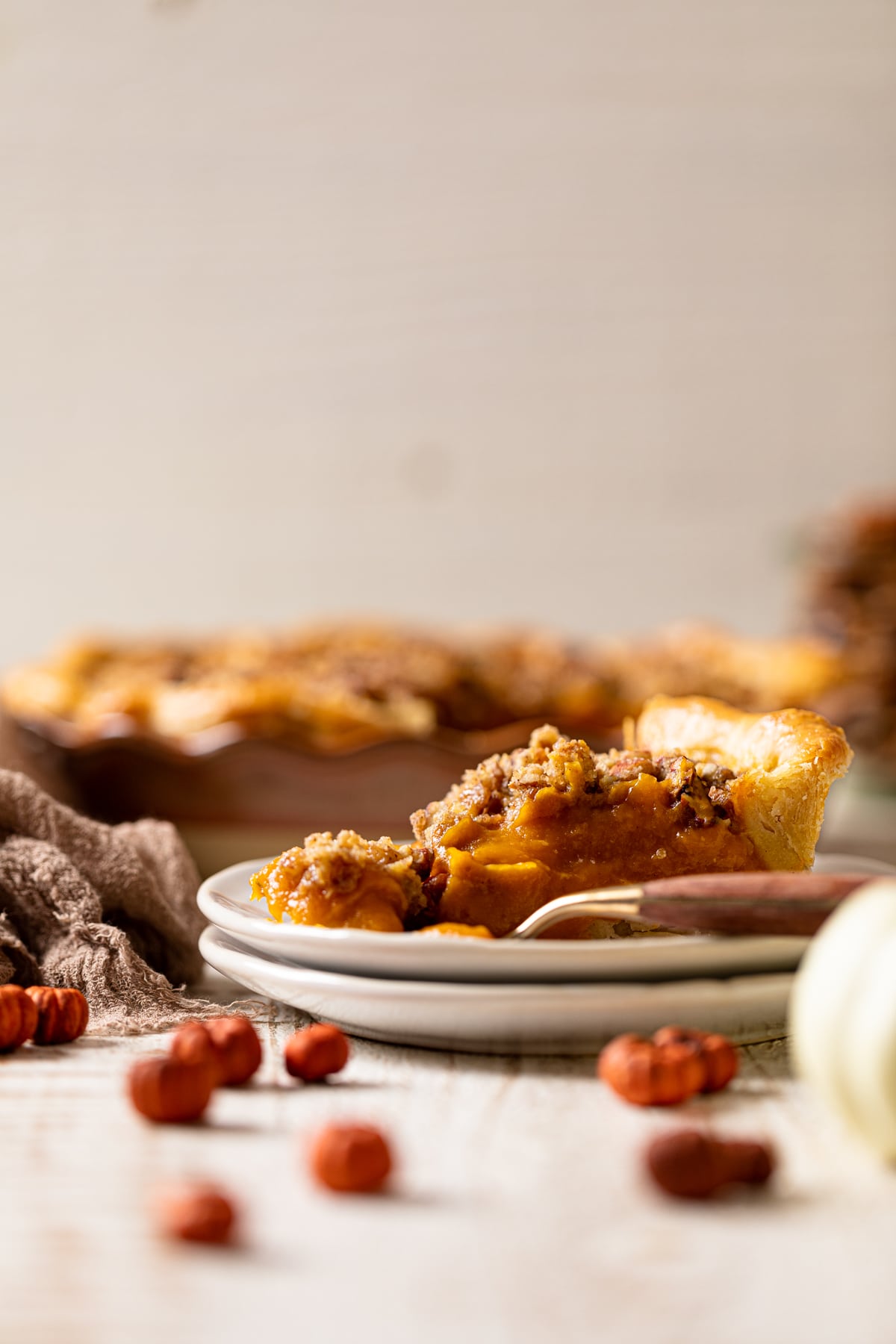 MADE OUR RECIPE(S)?
If you make this Maple Vegan Pumpkin Pie or any other recipe from us, be sure to tag us on Instagram at #Orchidsandsweettea so that we can share the love!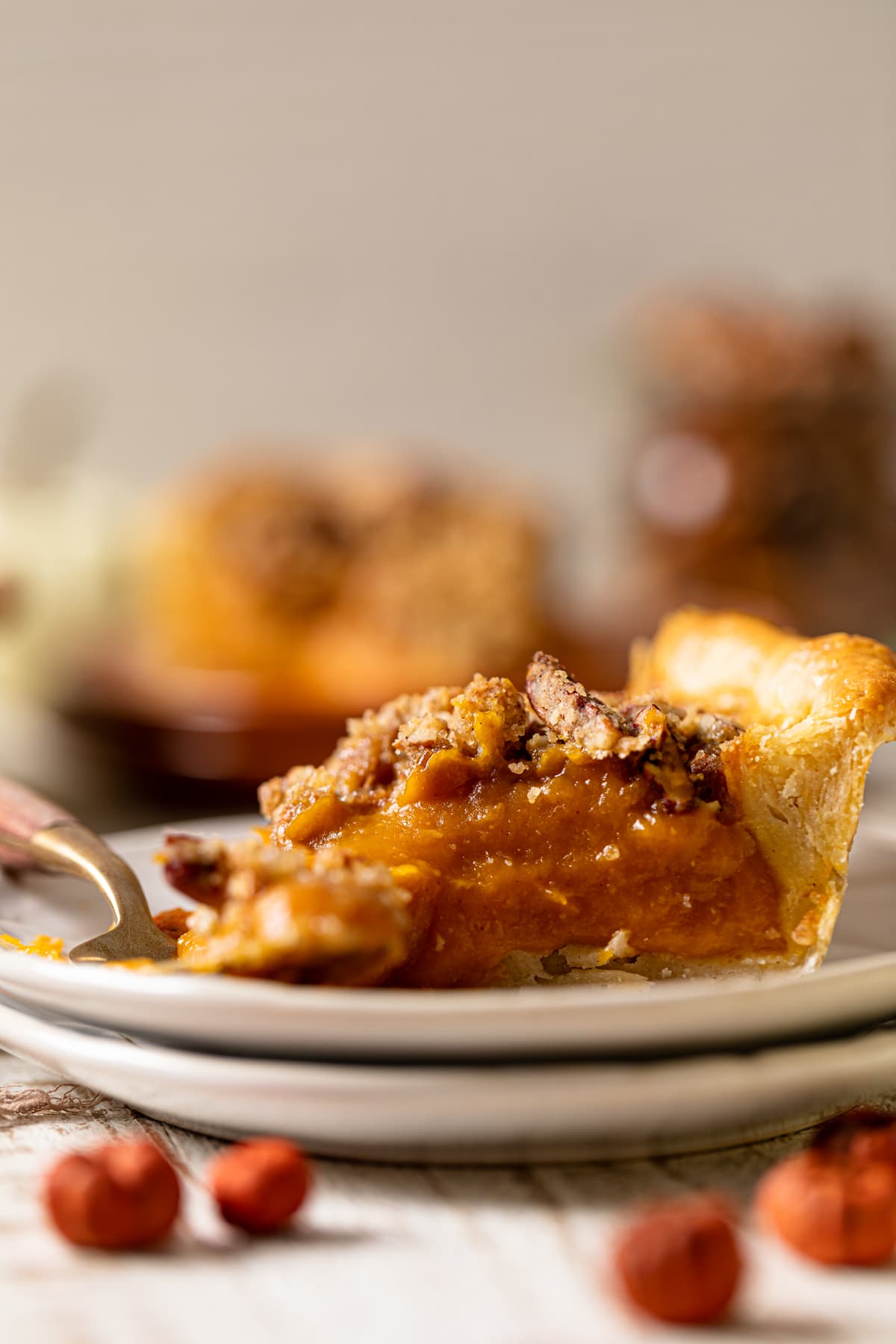 Total Time:
1

hour
15

minutes
CRUST:
1 ½

cups

Bob's Red Mill organic all-purpose flour

2

Tbsps

organic cane sugar 

1

teaspoon

ground cinnamon

pinch of

sea salt

½

cup

vegan butter, COLD!

½

cup

Almond milk + 2 Tbsps, very cold

(You can also use water, if preferred!)

1

teaspoon

apple cider vinegar
PUMPKIN FILLING:
2

(15 oz.) cans

organic 100% pumpkin puree

(NOT pie filling!)

½

cup

canned full-fat coconut cream

(You can also use canned full-fat coconut milk)

½

cup

organic brown sugar

¼

cup

Arrowroot starch 

(See Notes!)

¼

cup

pure maple syrup

1

teaspoon

vanilla extract

2

tsps

Homemade pumpkin spice
CRUMBLE TOPPING:
½

cup

Bob's Red Mill organic all-purpose flour

1

cup

pecans, roughly chopped

(See Notes for toasted option)

1

cup

walnuts, roughly chopped

(See Notes for toasted option)

½

cup

organic brown sugar

1

teaspoon

ground cinnamon

½

teaspoon

ground nutmeg

¼

cup

vegan butter, partially melted 

2

Tbsps

pure maple syrup
TO MAKE CRUST:
In a measuring cup, add the milk and apple cider vinegar, stir and set aside.

In a large bowl, add the all-purpose flour, cinnamon, salt, and cane sugar, whisking them all together.

Add the cubed vegan butter sticks (or regular vegan butter) and using a pastry blender, blend butter into dry ingredients until the mixture becomes "peas-like" and crumbly.

Pour the cold apple cider vinegar-milk mixture (slowly) and stir (working it together with one hand) until the dry ingredients are moistened. NOTE: If the ingredients feels a little too dry, add 1 tablespoon of milk at a time, until it's moistened BUT not too wet!

Once you're able to form it into a ball and wrap it in plastic wrap and refrigerate for 1 hour (minimum), up to 1 and a half hours or of course overnight.

In the meantime, make the Pie Filling.
PIE FILLING:
In a medium saucepan on medium-high heat, add the pumpkin puree, brown sugar, and maple syrup, whisking until well combined and sugar has fully dissolved, about 2-3 minutes. Remove from heat and set aside and let cool.

In a large bowl, add the cooled pumpkin puree mixture along with: coconut cream/milk, vanilla extract, pumpkin spice, sea salt, and arrowroot starch mixture, whisking until combined and smooth. Filling mixture should be thickened at this point.
TO MAKE THE CRUMBLE TOPPING:
Add the flour, brown sugar, chopped pecans, walnuts, maple syrup, cinnamon, and nutmeg into a medium bowl, combining them together using a pastry blender. NOTE: This helps to breakdown the nuts into smaller pieces as well, if preferred.

Add the partially melted vegan butter and using a spatula, mix until well combined and 'crumbly-like'. Set aside.

Preheat the oven to 375 degrees Fahrenheit and lightly grease a standard pie dish with vegan butter.
ASSEMBLY:
Remove dough ball from the refrigerator and place it onto a lightly floured surface. Roll out dough ball using a rolling pin (not making it too thin), about ½-inch thick and gently placing it in your pie dish; working it around evenly. Be sure to do any folding or tucking of any excess pie crust.

Pour pie filling mixture over crust and lightly brush the top of pie crust with melted vegan butter.

Now, evenly sprinkle the crumble topping atop pie filling until fully covered and place it in the oven.

Bake for 60-65 minutes, until crust becomes golden brown and the center of the filling is only 'slightly jiggly'. NOTE: If the crust begins to get too dark quickly, cover around the pie's crust with foil paper, leaving the middle opened and exposed.

Once done, remove from the the oven and let cool completely, about 30-45 minutes. When cooled, place pie in the refrigerator for at least 4 hours before serving and slicing.

To serve, slice the pumpkin pie and enjoy!

Bon Appetit!
STORAGE: Keep leftover pie tightly wrapped with heavy duty plastic wrap or foil and refrigerated for 3-4 days. Re-heat each slice when serving.
FOOD PROCESSOR FOR CRUST: If using a food processor to incorporate water (or milk) to flour/butter mixture, ONLY ADD ¼ cup of water/milk AT A TIME to your dough, keeping it on "pulse" to avoid the dough from breaking down too much and it becoming "watery". With this method, you may not need the entire 1 cup of water/milk.
GLUTEN-FREE VERSION: To make these GF, simply substitute All-Purpose Flour with 2 cups Gluten-Free Flour or GF All-Purpose Flour (Bob's Red Mill has a great one!) and the Pastry Flour with ½ cup coconut flour. If your GF Flour doesn't have Xanthan Gum included, add 1tsp in recipe. Also, reduce vegan butter to 1 ¾ sticks instead of 2. Continue all other steps!
ARROWROOT: If you don't have arrowroot starch, feel free to substitute with regular starch or all-purpose flour, which both act as a thickening agent. Simply mix starch into WARM water until it becomes 'milky' and liquified.

COCONUT CREAM: If you don't have Thai Kitchen's Coconut Cream on hand, you can use canned Coconut Milk and refrigerate it overnight so that it thickens into a cream.

TOASTED NUTS: Add chopped pecans and walnuts to a baking sheet and toasting them in the oven (400 degrees Fahrenheit) for 5-10 minutes, tossing them halfway to avoid browning on one side.
Calories:
666
kcal
|
Carbohydrates:
74
g
|
Protein:
7
g
|
Fat:
40
g
|
Saturated Fat:
9
g
|
Polyunsaturated Fat:
15
g
|
Monounsaturated Fat:
14
g
|
Trans Fat:
3
g
|
Sodium:
161
mg
|
Potassium:
283
mg
|
Fiber:
4
g
|
Sugar:
40
g
|
Vitamin A:
53
IU
|
Vitamin C:
1
mg
|
Calcium:
101
mg
|
Iron:
3
mg