Get ready for a summery treat with this Easy Vegan Cinnamon Berry Galette recipe! Bursting with an abundance of fresh blackberries + strawberries and a delectable dairy-free cinnamon-infused crust that's both warm and comforting this delightful easy open pie dessert is the perfect way to celebrate the season. Unlike traditional pies and cobblers, this galette brings a laid-back and fuss-free approach to baking, making it a must-try for berry lovers everywhere. Savor the deliciousness of summer with this easy and vegan-friendly berry galette that will leave you craving for more! Gluten-free option.
Why Vegan Cinnamon Berry Galette?
Oh, let me tell you, there's no greater feeling than whipping up a brand-new recipe that my family LOVES especially when it's an easy one! And y'all, I still remember that glorious summer afternoon when I first made this incredible Vegan Berry Galette. The moment we bit into that crisp, buttery crust oozing with gooey summer berries... I'm drooling thinking about it!

It's summertime, and berries are everywhere in mocktails, salads, and of course desserts like the classic Easy Summer Peach Apple Galette or Homemade Apple Berry Crumble Pie– You all know how much I love experimenting with pies, cobblers, and crumbles on Orchids + Sweet Tea.
Well, this time, I wanted to create something special, something easy-going that would make you feel all warm and fuzzy inside without much fuss. And this Galette was the perfect thing! It's so simple to make and filled with all the delightful flavors of summer. Oh, and if you're a Galette lover then you have to try this Salted Caramel Apple Skillet Galette next!
Jump to: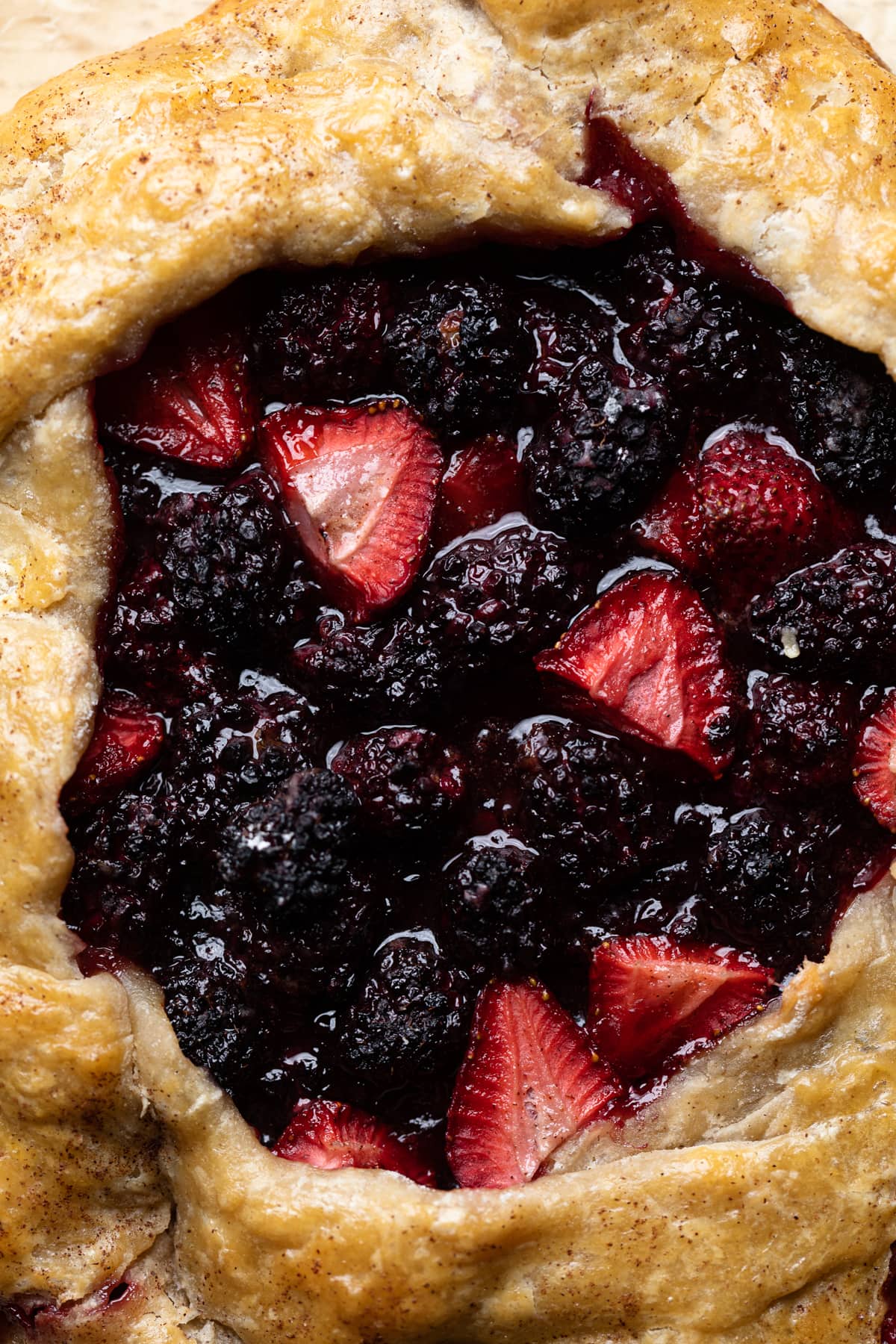 What is a Galette?
A galette is like a slice of heaven wrapped in a warm pastry hug! It's a French delight that's as charming and rustic as it sounds. Imagine a flat, round cake, either made of flaky pastry dough or those thin, pancake-like pastries – both equally delightful. In our case, we're talking about a scrumptious fruit-filled galette, encased in a dairy-free cinnamon crust that's bursting with juicy goodness. Just think of it as a cozy, casual way to enjoy all those beautiful seasonal fruits. It's one of those desserts that feel like a warm embrace on a lazy summer day or any day, really!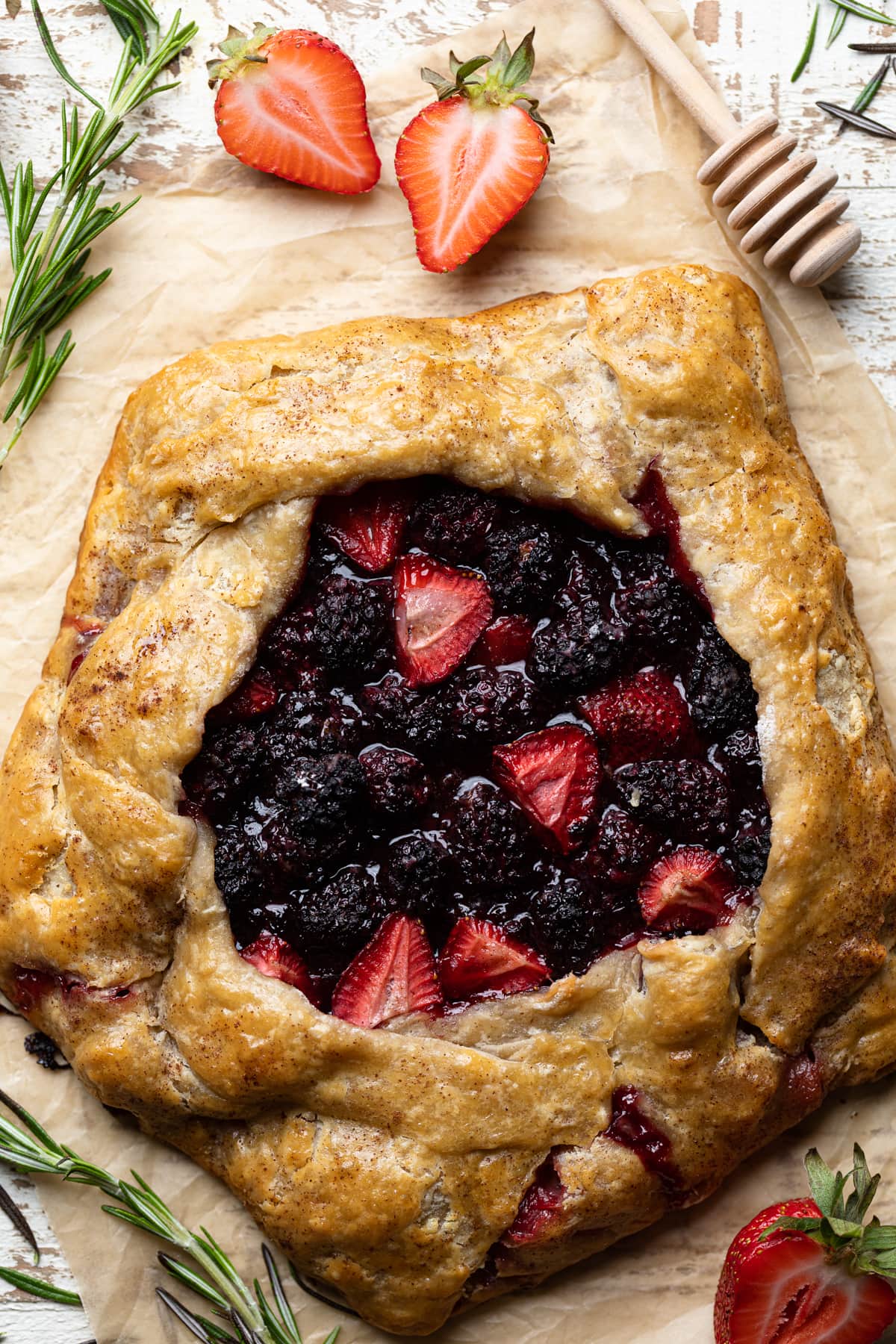 How to Make Vegan Cinnamon Pie Crust
The first step in this recipe is to assemble the delicious vegan pastry crust. Here's what you'll need:
All-purpose flour.
Cane sugar. Choose organic to ensure it's vegan
Vegan buttery sticks. Cube them into ¼-inch pieces and make sure they're nice and cold first. I like to use the brand Earth Balance
That's it! Ice-cold water helps the pie dough come together.
Tip: When mixing the pie dough, be careful not to overmix it. If you knead it too much, you'll end up with tough dough because too much gluten will develop.
Berry Filling
While the vegan pie dough rests in the fridge, you can make the simple berry filling for your galette.
All it takes is tossing together a few ingredients:
Fresh strawberries and blackberries. I love this combination, but you can also use raspberries, blueberries or cherries.
Maple syrup. Feel free to use agave or coconut sugar as an alternative sweetener.
All-purpose flour. This helps thicken the galette filling.
Cinnamon, ginger and nutmeg. For a gentle spice to match the sweetness of fruit.
Lemon juice. This adds a nice tart flavor and brightness.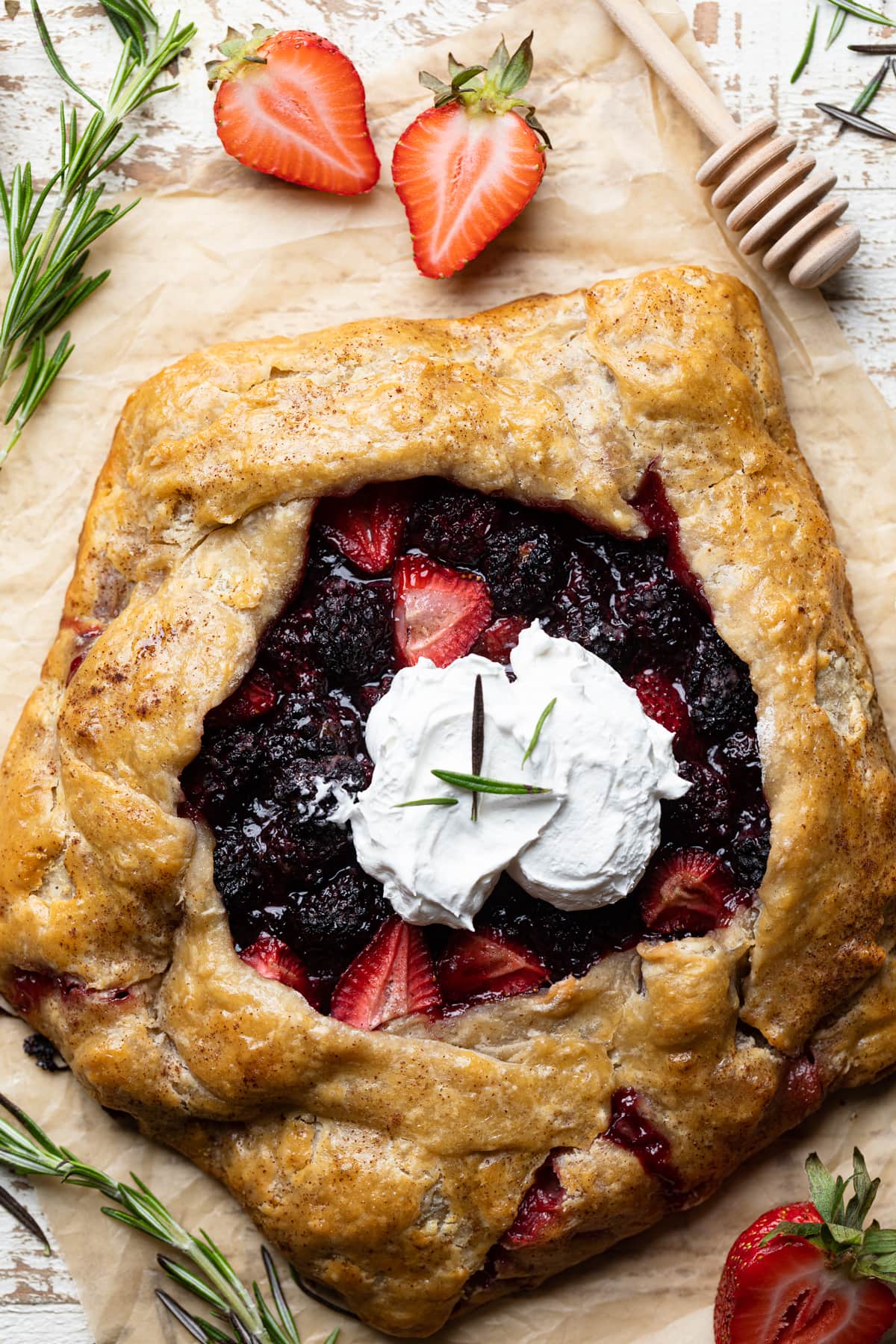 Fresh Berries VS. Frozen Berries
I love using fresh berries when they are in season-- But you can most definitely use frozen berries for the galette too. Frozen berries are a great option because they are readily available all year round. Just make sure to thaw frozen berries before using them in the galette. You can do this by placing them in a colander and letting them sit at room temperature for a little while until they are partially thawed and any excess liquid has drained off. Then, simply proceed with the galette recipe as usual!
Assembling the Berry Galette
When you're ready to build your summer vegan galette, start with a lightly floured work surface.
If you're having trouble rolling the dough, cover it and let it rest on the counter for a few minutes. This relaxes the gluten so it's easier to roll.
Tip: When filling the dough, leave the juices behind in the bowl. Instead, use a slotted spoon to transfer just the solids to the rolled-out pastry crust.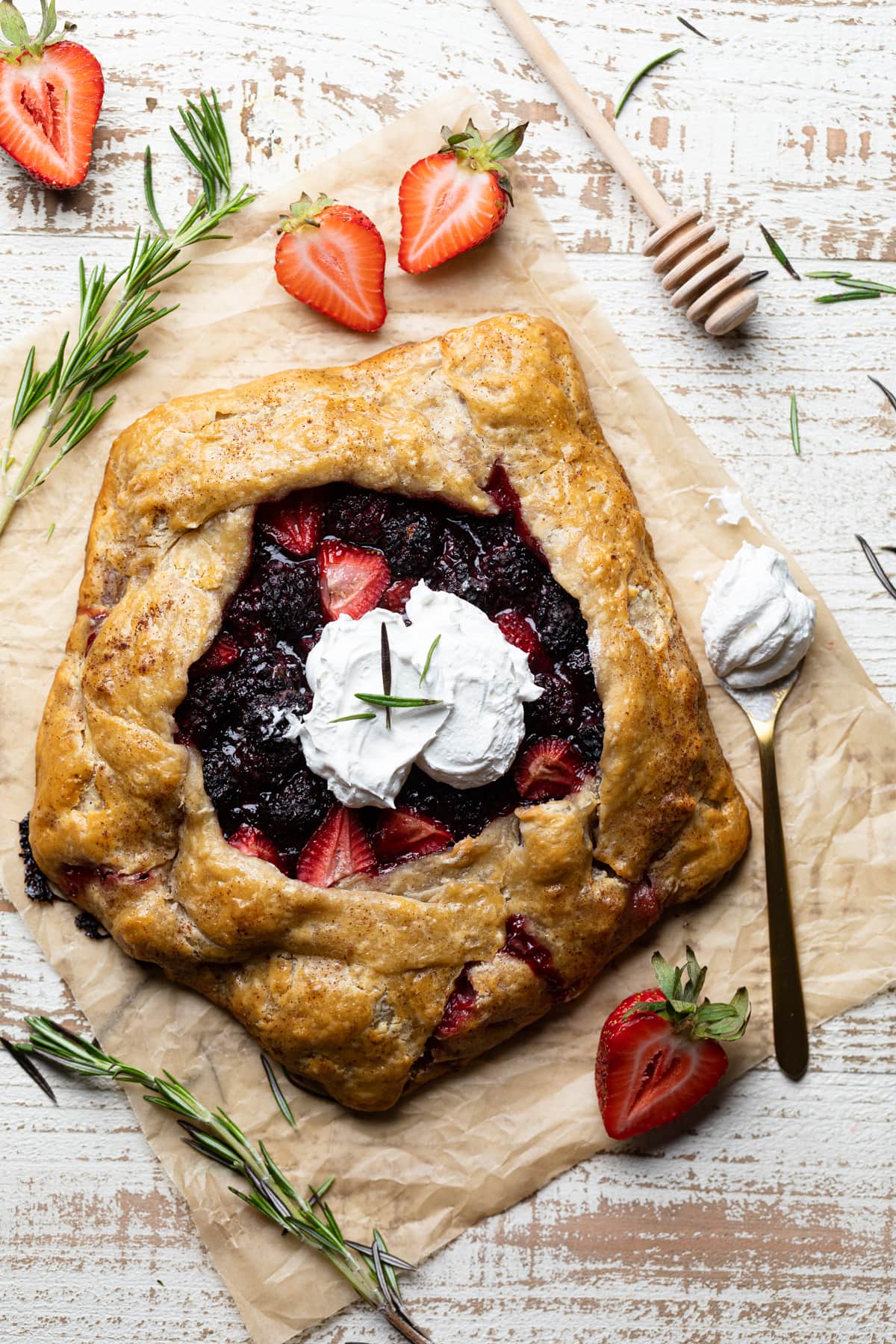 Why You'll Love This Vegan Berry Galette Recipe
It's flaky + buttery with a subtle sweetness.
The filling is the perfect balance of sweet + tart
Easy to make. You probably already have the ingredients on hand.
Customizable-- You can whatever fruits you have at home for the filling, including other berries, apples, stone fruit, or even chocolate.
Perfect for sharing!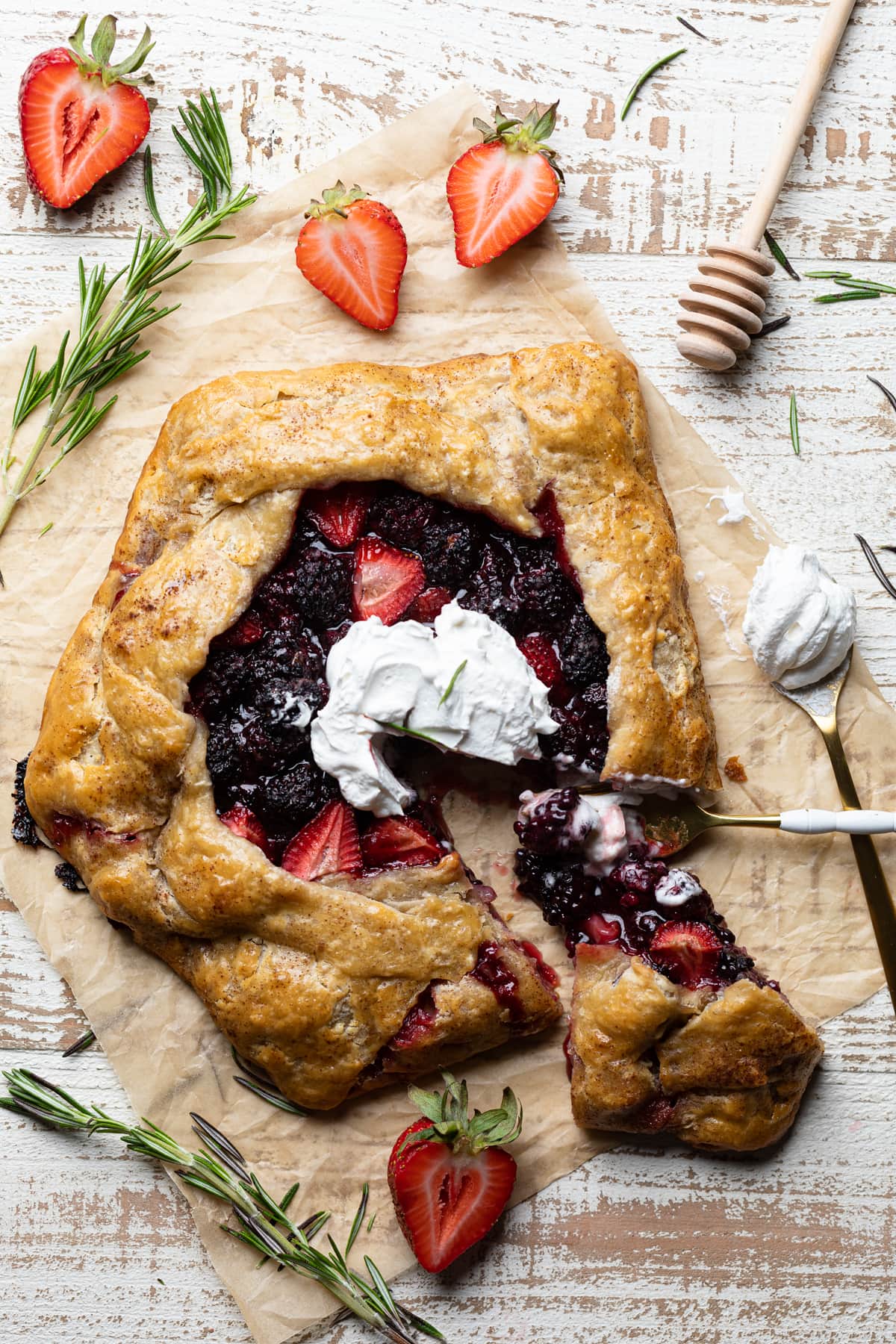 Is This Vegan Berry Galette Recipe Difficult to Make?
Not at all! The Vegan Berry Galette recipe is surprisingly easy to make, and you don't need to be a seasoned baker! The preparation process is straightforward, and the steps are simple to follow. Even if you're new to baking, this galette will make you feel like a pro in no time.
Can I Make Mini Galettes Instead?
Absolutely! Making mini galettes is a fun and adorable twist on the classic. Simply divide the dough into smaller portions and shape individual galettes with your berry filling.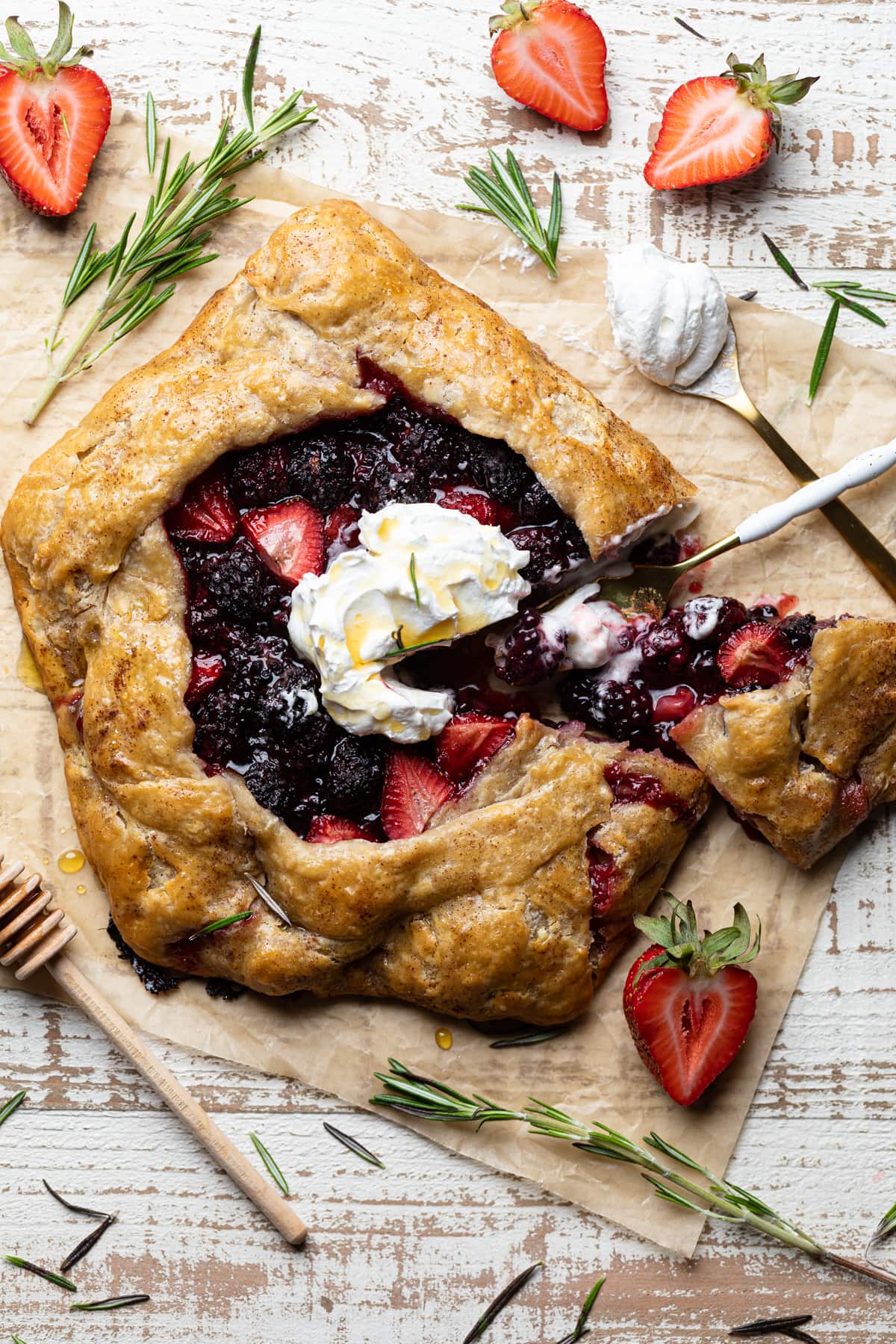 Perfect Ocassions For Galette
This Vegan Berry Galette is perfect for any time of the day or any occasion! Here are some ideas where to enjoy it -
Potluck gatherings
Picnics in the park
Dinner parties
Romantic date nights
Family brunch
Lazy breakfasts
Celebrations: Whether it's a birthday, anniversary, or any special occasion, this galette adds joy to the festivities.
Anytime dessert: Honestly, there's no wrong time to enjoy this Vegan Berry Galette – it's perfect all day, every day!
What To Serve With Vegan Berry Galette?
Galette is amazing on its own, but it gets even better with these epic combos:
Add a scoop of your favorite vegan ice cream on top for a flavor explosion.
Drizzle some vegan caramel sauce for pure indulgence.
Crunchy chopped nuts for some extra texture!
Whip up some coconut cream with a touch of sweetener to create a light and fluffy topping that adds a tropical twist to the galette.
Enjoy alongside a refreshing drink like this Loaded Hibiscus Mocktail
Take it up a notch by sipping a Dairy-free Iced Mocha Latte or tea in between bites – it's a little party in your mouth!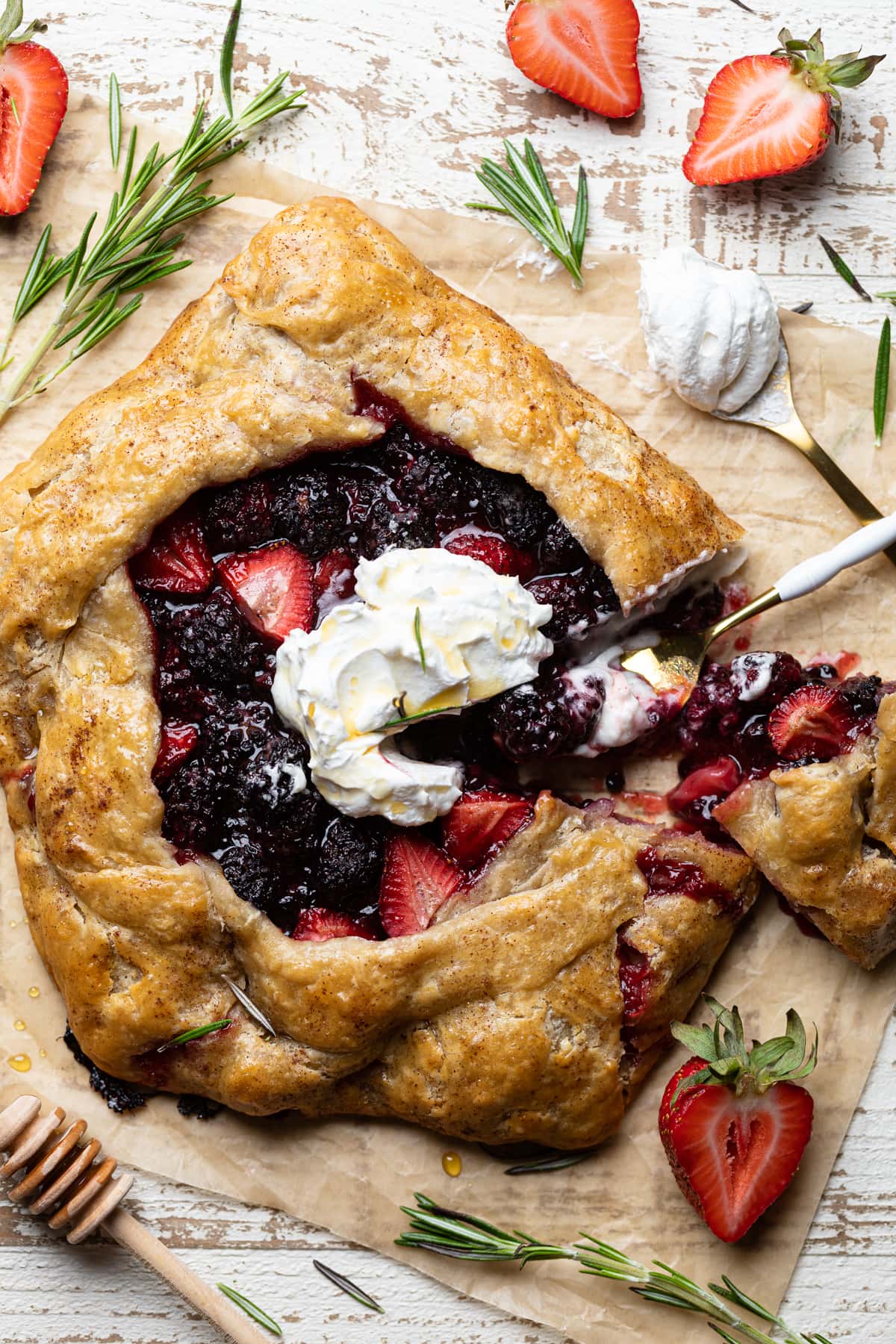 Vegan Berry Galette Q + A's
How To Store This Berry Galette?
Keep leftover galette tightly wrapped with heavy duty plastic wrap and foil paper refrigerated for 3-4 days. Re-heat each slice when serving.
Can I Use Store-bought Pie Crust For The Galette?
Yes, you can use store-bought vegan pie crust if you prefer. It will save you some time in the kitchen, and the galette will still turn out delicious. However, making the pastry from scratch adds a personal touch and gives you full control over the ingredients.
Can I Make This Galette Gluten-free?
Absolutely! You can use a gluten-free pie crust or make your own gluten-free pastry using alternative flours like Bob's Red Mill 1-to-1 Baking Flour.
Can I Use Other Fruits Instead of Berries?
Yes, you can certainly experiment with different fruits! While the recipe is specifically for a Vegan Berry Galette, you can use other fruits like apples, peaches, plums, or even a mix of seasonal fruits. The galette's flaky crust and rustic charm work well with various fruit fillings.

More Fruity Summer Desserts
MADE OUR RECIPE(S)?
If you make this Vegan Berry Galette recipe or any other recipe from us, be sure to tag us on Instagram at #Orchidsandsweettea so that we can share the love!
OTHER:
¼

cup

vegan butter, melted

(For brushing)
CINNAMON CRUST:
Whisk the all-purpose flour, pure cane sugar, cinnamon, and sea salt together in a medium bowl. Add the vegan butter and using a pastry blender, blend butter in until the mixture becomes "peas-like.

Add the cold milk and apple cider vinegar and stir until the dry ingredients are moistened. NOTE: If the ingredients feels a little too dry, add 1 tablespoon of milk until it's moistened and can formulate into a ball.

Once you're able to form it into a ball, wrap it in plastic wrap and refrigerate for 1 hour (minimum), or overnight if not using right away.
FILLING:
In a large bowl, combine the blackberries, strawberries, maple syrup, vanilla, arrowroot, cinnamon, nutmeg, and ginger, mixing using a rubber spatula until combined and fruits are coated. Let sit until ready to use.
ASSEMBLY:
Preheat oven to 425 degrees Fahrenheit and line a large baking sheet with parchment paper.

Remove dough ball from the refrigerator and place it on a lightly floured surface. Roll out the dough ball (not making it too thin), about ½-inch thick and gently placing it onto the prepared baking sheet.

Add the fruit filing mixture and minimal amount of juices from the bowl to the center of the crust, evenly spreading it out but keeping it in the middle. Fold the excess dough upward all around until they overlap and the galette becomes a nice circular shape.

Lightly brush top of crust with melted butter and bake galette for 35 minutes or until the crust is golden brown and center is bubbling.

Once done, remove from the oven and allow it to cool slightly for 10-15 minutes before slicing.

Bon Appetit!
STORAGE: Keep leftover galette tightly wrapped with heavy duty plastic wrap and foil paper refrigerated for 3-4 days. Re-heat each slice when serving.
FLOUR: You can use Pastry Flour in substitute of All-Purpose flour for extra flakiness.
FOOD PROCESSOR FOR CRUST: If using a food processor to incorporate milk to flour/butter mixture, ONLY ADD ¼ cup of milk AT A TIME to your dough, keeping it on "pulse" to avoid the dough from breaking down too much and it becoming "watery". With this method, you may not need the entire ½ cup of milk mixture.
Calories:
305
kcal
|
Carbohydrates:
37
g
|
Protein:
4
g
|
Fat:
17
g
|
Saturated Fat:
3
g
|
Polyunsaturated Fat:
5
g
|
Monounsaturated Fat:
8
g
|
Trans Fat:
3
g
|
Sodium:
225
mg
|
Potassium:
188
mg
|
Fiber:
5
g
|
Sugar:
12
g
|
Vitamin A:
124
IU
|
Vitamin C:
33
mg
|
Calcium:
61
mg
|
Iron:
2
mg