Prepare for a taste of summer delight with this Easy Summer Apple Peach Galette with puff pastry recipe! Overflowing with the goodness of fresh peaches and apples, encased in a scrumptious puff pastry that's both cozy and comforting, this charming open-pie dessert is a wonderful ode to the season. Unlike traditional pies and cobblers, this galette offers a relaxed and straightforward baking experience. Relish the flavors of summer with this effortless galette recipe that will surely leave you wanting another slice! Gluten-free + Vegan Option.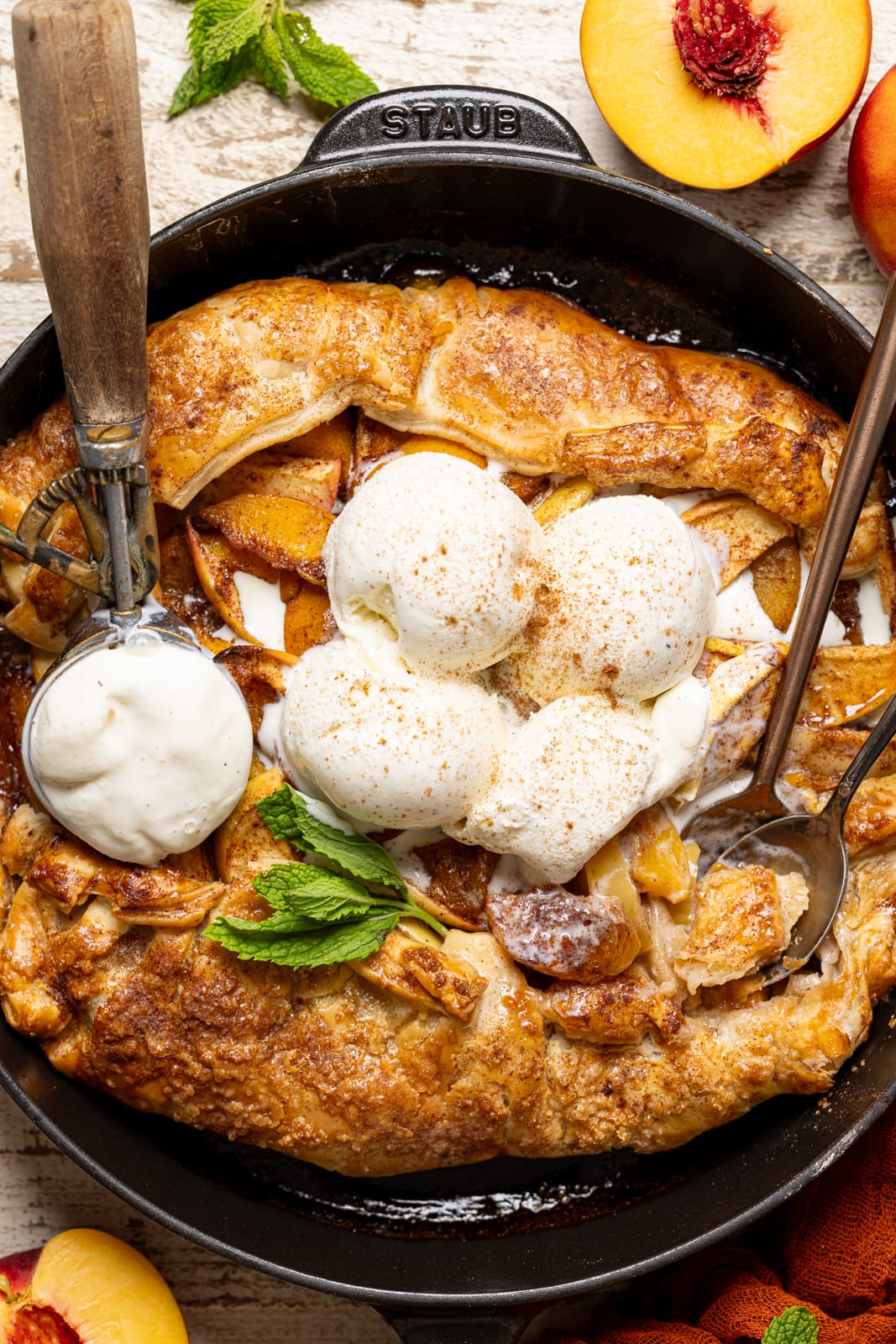 What Makes This Easy Summer Apple Peach Galette So Good?
There is no summer slowdown in my baking game. When those sunny days bring out the best in fruits, you can bet I'm all about making the most of fruity delicious crumbles and pies, like My Favorite Peach Crumble Pie. And while I've got a soft spot for traditional pies --Let's be real, they're not exactly speedy. That's where this rustic galette with puffy pastry comes to the rescue!

I've already got a couple of galette recipes up my sleeve, like my Vegan Berry Galette and this Salted Caramel Apple Skillet Galette. But you know what? I wanted to whip up one that's as effortless + speedy as can be! And this Easy Summer Apple Peach Galette is the perfect way to combine summer peaches with the impending juicy fall apples. Trust me, it's a move that'll have you enjoying the best of both worlds. Plus, this Vegan Peach Crisp Oatmeal Porridge is so comforting for breakfast and worth trying.

As you take that first bite of this Apple Peach Galette, you'll feel the delightful combination of the buttery puff pastry mingling with the cozy spices and the juicy summer fruits. With basic, easy-to-find ingredients and a fuss-free process, you'll have this gorgeous galette baked to perfection in under an hour.
Jump to: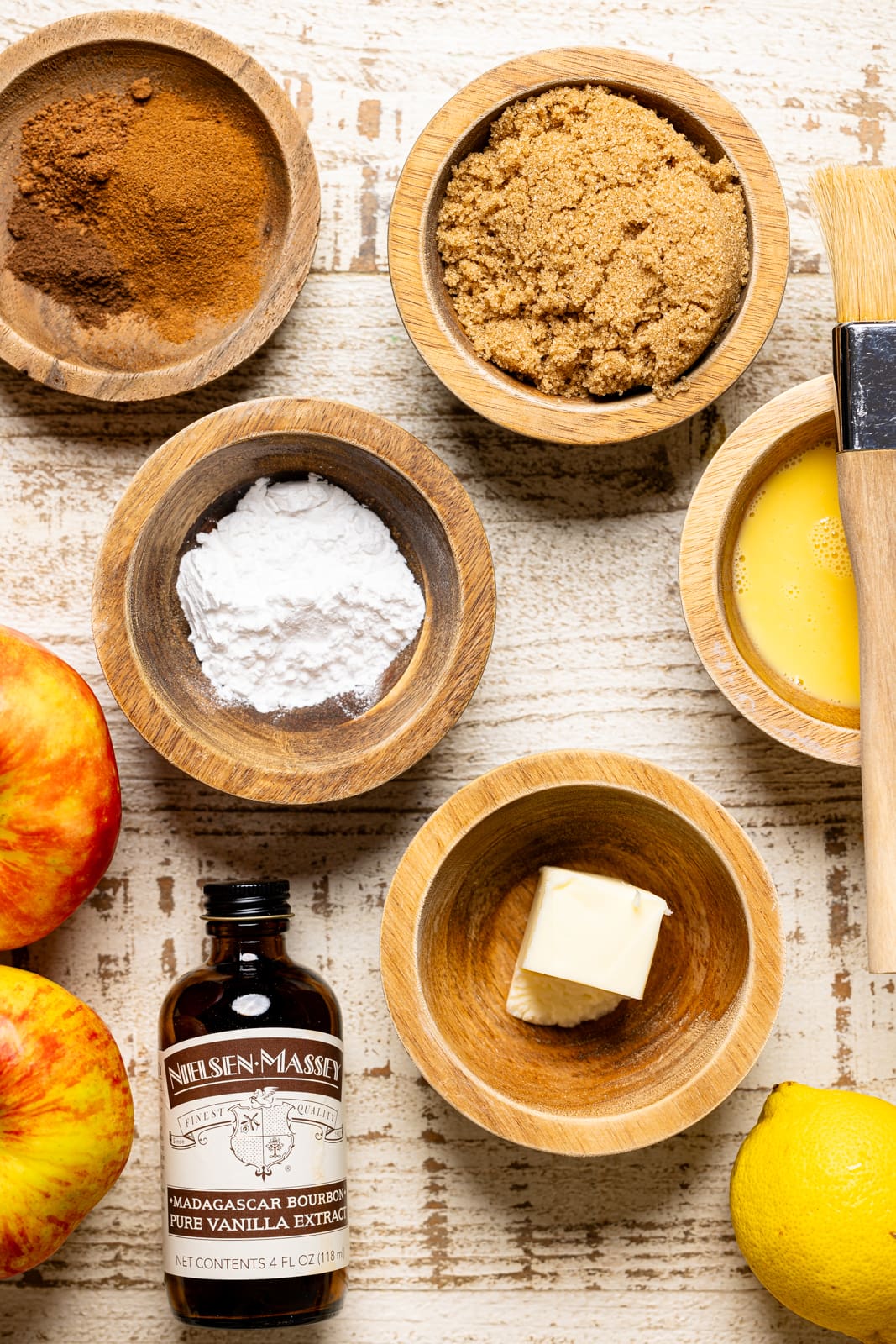 What is a Galette?
A galette is like a slice of heaven wrapped in a warm pastry hug! It's a French delight that's as charming and rustic as it sounds. Imagine a flat, round cake, either made of flaky pastry dough or those thin, pancake-like pastries – both equally delightful.
In our case, we're talking about a scrumptious fruit-filled galette, encased in a buttery puff pastry crust that's bursting with juicy goodness. Just think of it as a cozy, casual way to enjoy all those beautiful seasonal fruits. It's one of those desserts that feel like a warm embrace on a lazy summer day or any day, really!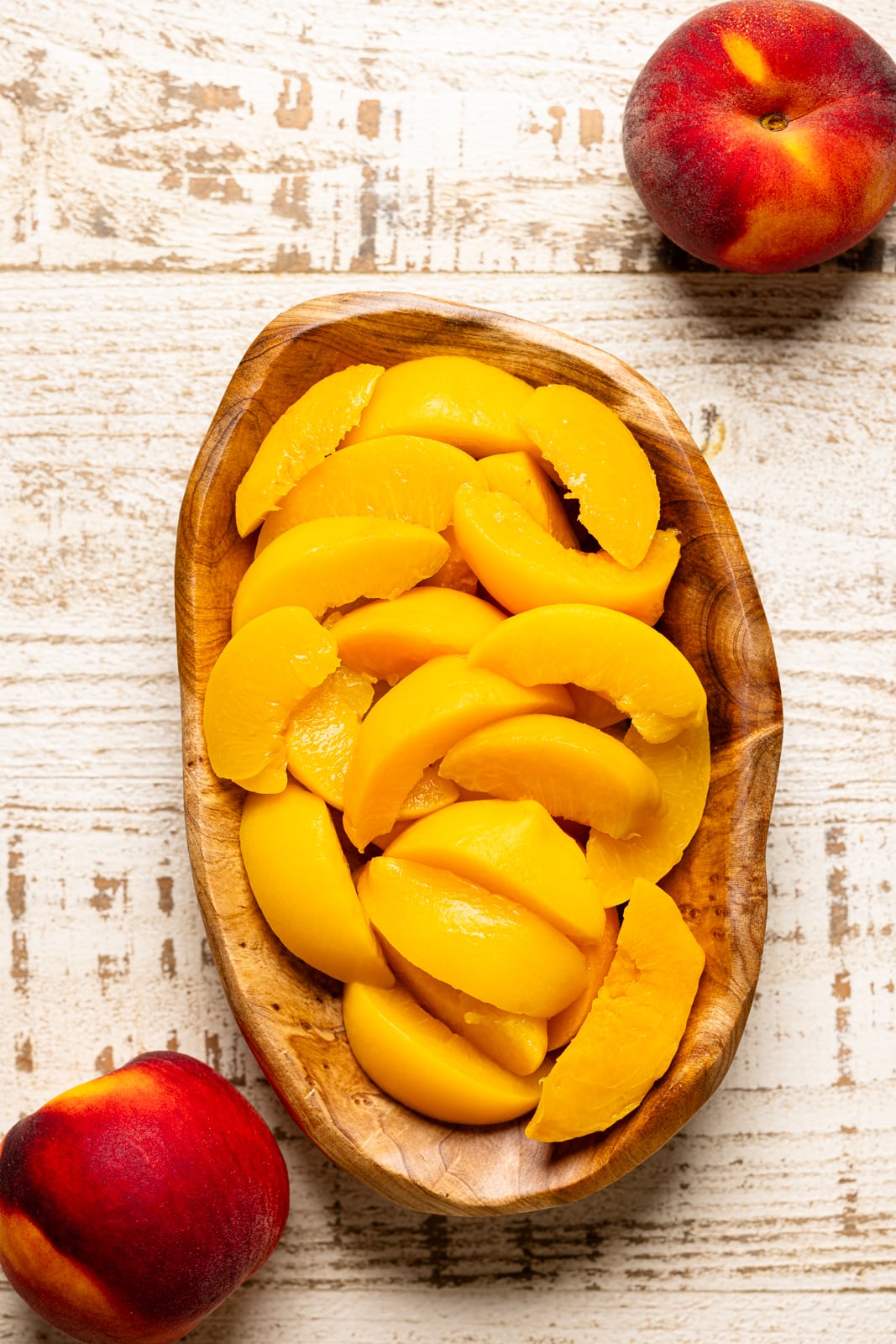 How to Make Apple Peach Galette
The first step in this Summer Galette recipe is to assemble the delicious ingredients. Here's what you'll need:
Ingredients
Crust:
Premium puff pastry sheets: Flaky base for perfect texture.
Egg wash (1 egg + 1 tablespoon milk): Adds a golden, glossy finish.
Organic brown sugar: Sweetness with a hint of caramel.
Ground cinnamon: Warmth and depth of flavor.
Filling:
Organic Gala apples: Thin slices for natural sweetness.
Medium peaches: Juicy essence of summer.
Organic brown sugar: Enhances fruit's natural taste.
Organic flour or arrowroot: Thicken and bind the filling.
Ground cinnamon, nutmeg, allspice: Layers of aromatic richness.
Sea salt: Balances and elevates flavors.
Vanilla extract: Infuses warmth and sweetness.
Unsalted butter: Melts into the filling for richness.
Freshly-squeezed lemon juice: This adds a nice tart flavor and brightness.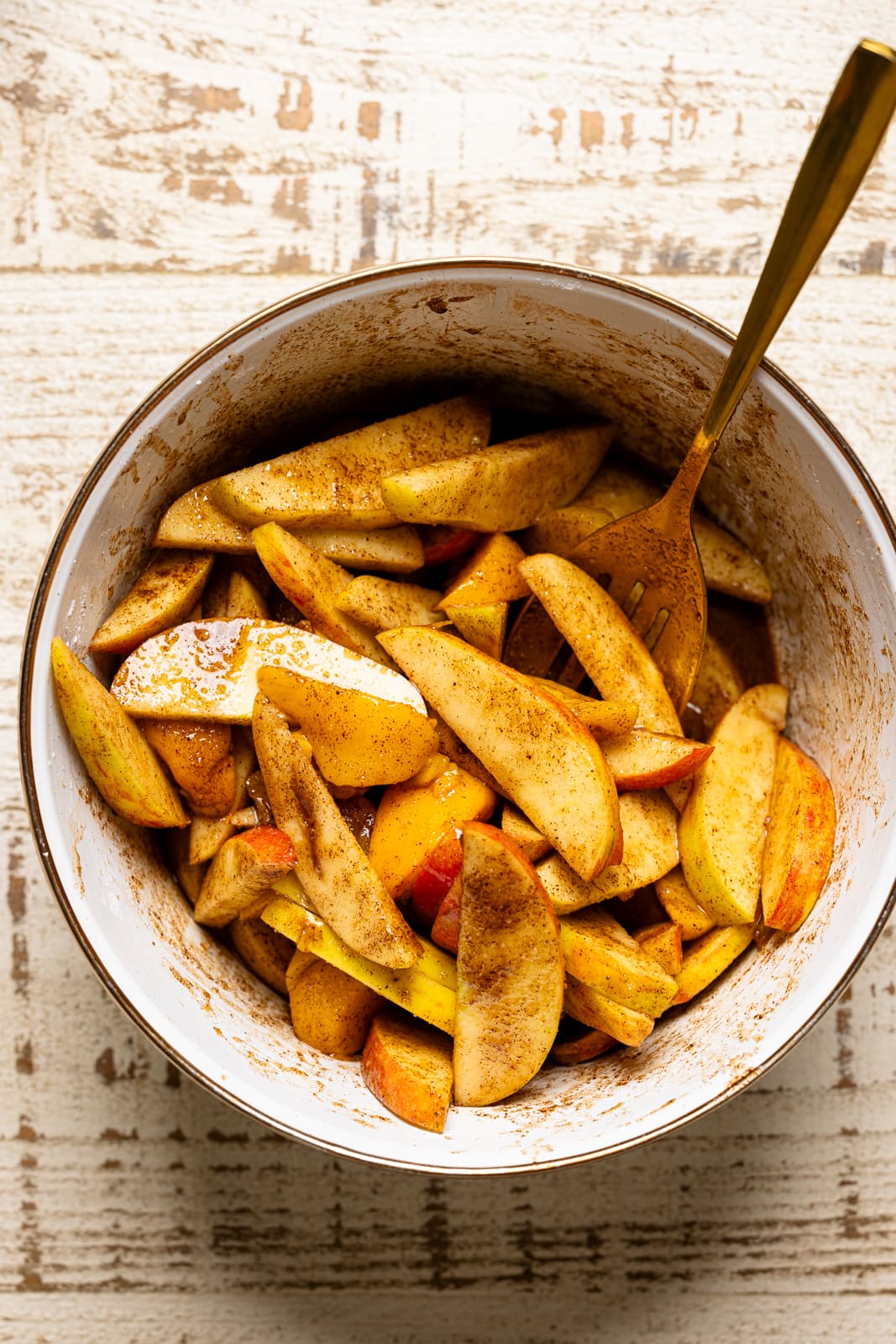 Is This Peach Apple Galette Recipe Difficult to Make?
Not at all! This Summer Galette with puff pastry recipe is surprisingly easy to make, and you don't need to be a seasoned baker! The preparation process is straightforward, and the steps are simple to follow-- Even if you're new to baking, this galette will make you feel like a pro in no time.
Can I Make Mini Galettes Instead?
Absolutely! Making mini galettes is a fun and adorable twist on the classic. Simply divide the puffy pastry dough into smaller portions and shape individual galettes with your peach + apple filling.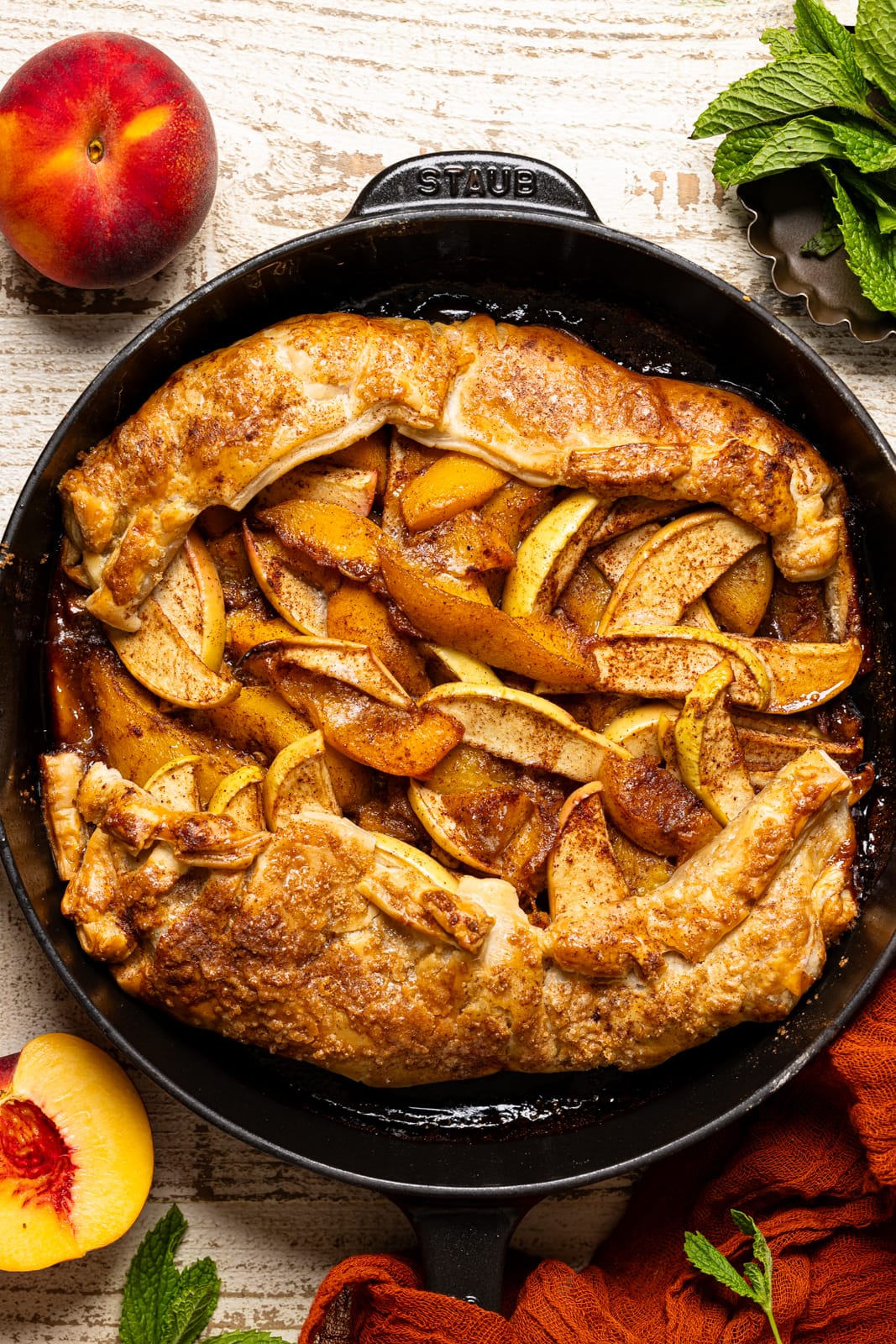 Why You'll Love This Summer Galette Recipe
It's flaky + buttery with a subtle sweetness.
The filling is the perfect balance of sweet + tart
Easy to make. You probably already have the ingredients on hand.
Customizable-- You can whatever fruits you have at home for the filling, including berries, different apples + stone fruits, or even chocolate.
Perfect for sharing!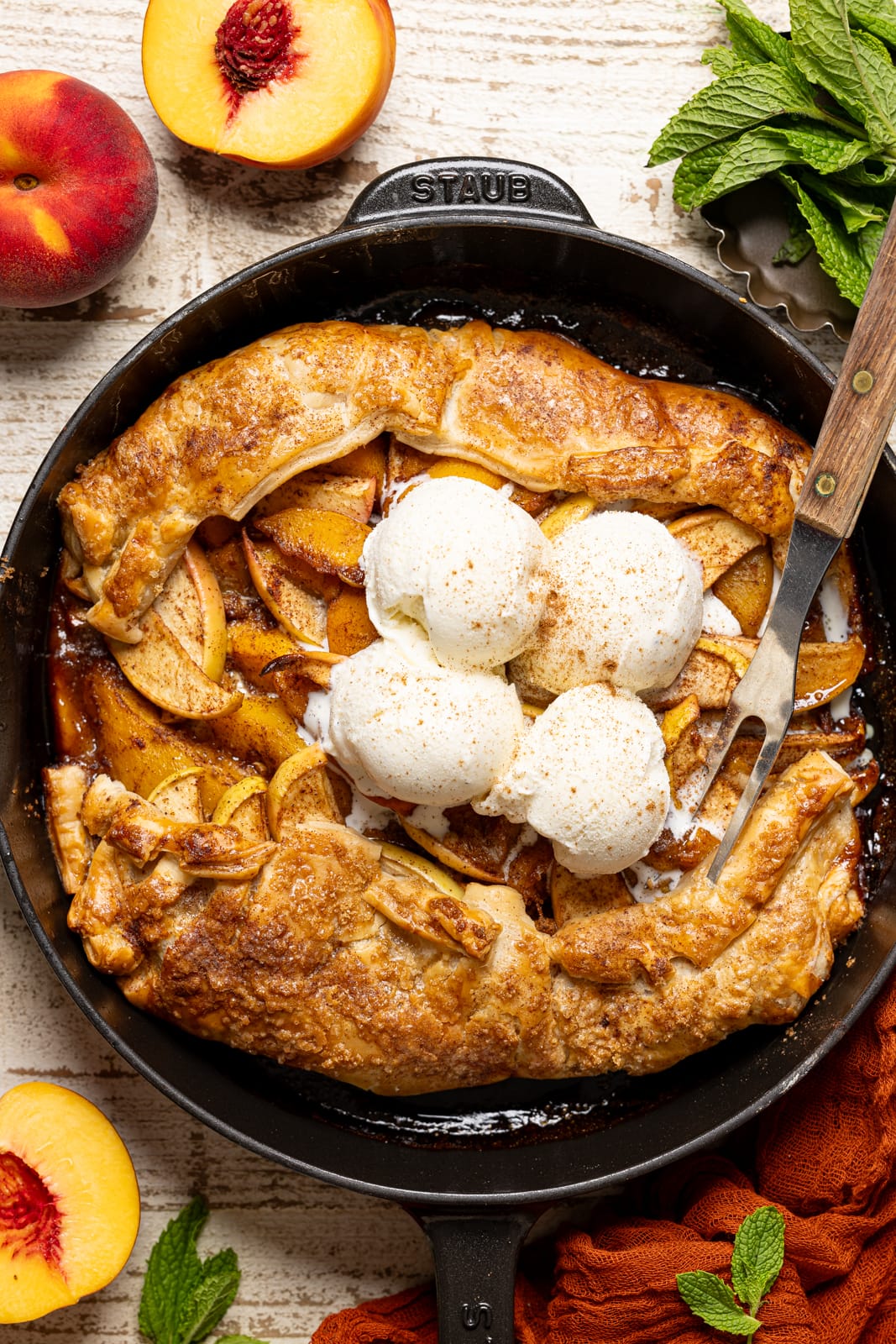 Perfect Ocassions For Peach Galette
This Easy Peach Apple Galette is perfect for any time of the day or any occasion! Here are some ideas where to enjoy it -
Potluck gatherings
Picnics in the park
Dinner parties
Romantic date nights
Family brunch
Lazy breakfasts
Celebrations: Whether it's a birthday, anniversary, or any special occasion, this galette adds joy to the festivities.
Anytime dessert: Honestly, there's no wrong time to enjoy this Peach + Apple Galette – it's perfect all day, every day!
What To Serve With Easy Peach Apple Galette?
Galette is amazing on its own, but it gets even better with these epic combos: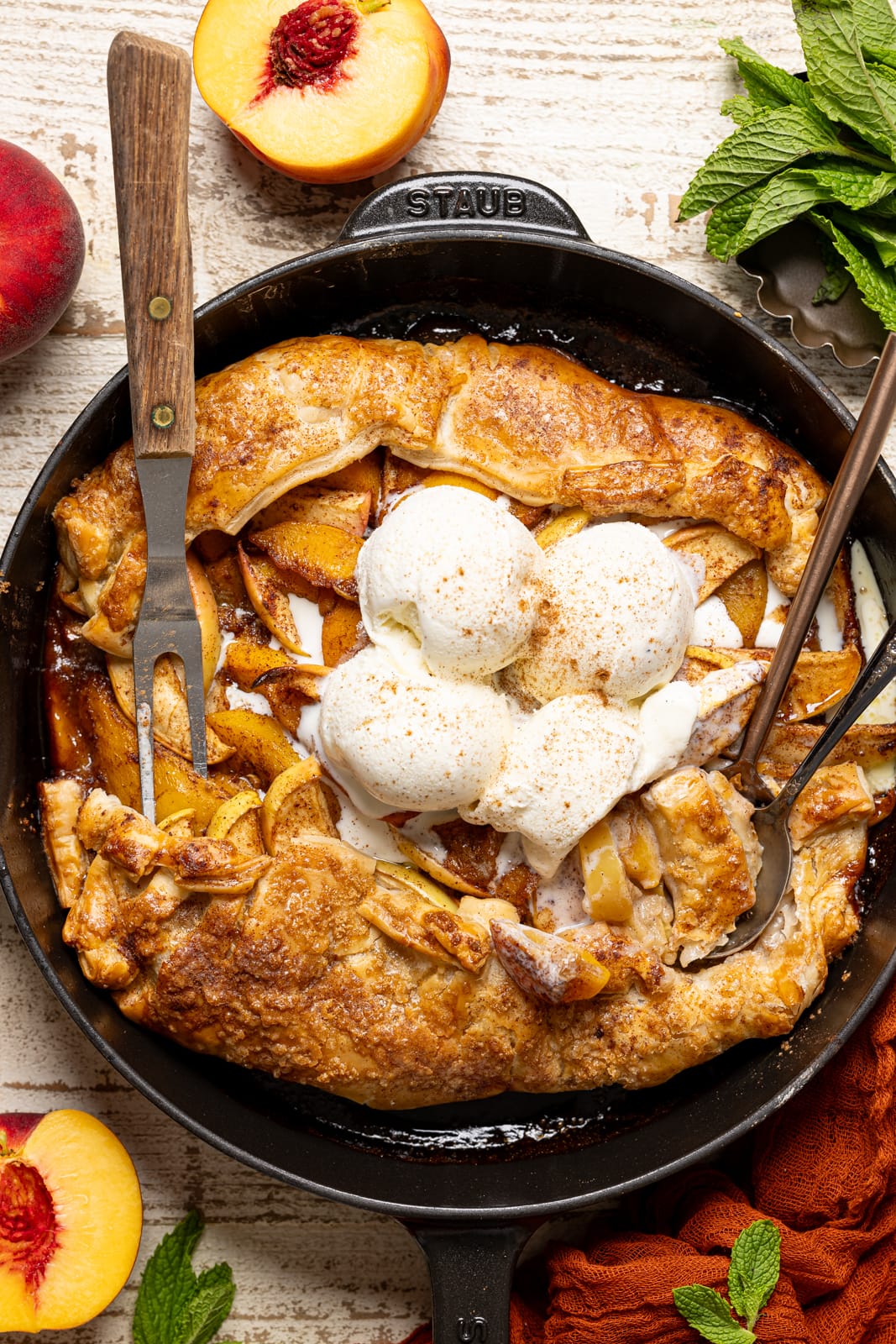 Fresh Peaches VS. Frozen/Canned Peaches
I love working with fresh peaches, harnessing their juicy and vibrant essence to elevate the galette's taste. However, versatility is key, as you can absolutely embrace the option of frozen peaches. These little gems are available throughout the year, offering the taste of summer regardless of the calendar.
Tips For Using Frozen/Canned Peaches
If opting for a frozen approach, prioritize peaches without added sugar, and ensure a thorough thawing process before incorporation. Canned peaches, packed in their natural juices, are also a great choice—just give them a rinse and gentle pat to minimize excess moisture. Although their texture might slightly vary, they provide both convenience and a year-round hint of that cherished summer taste.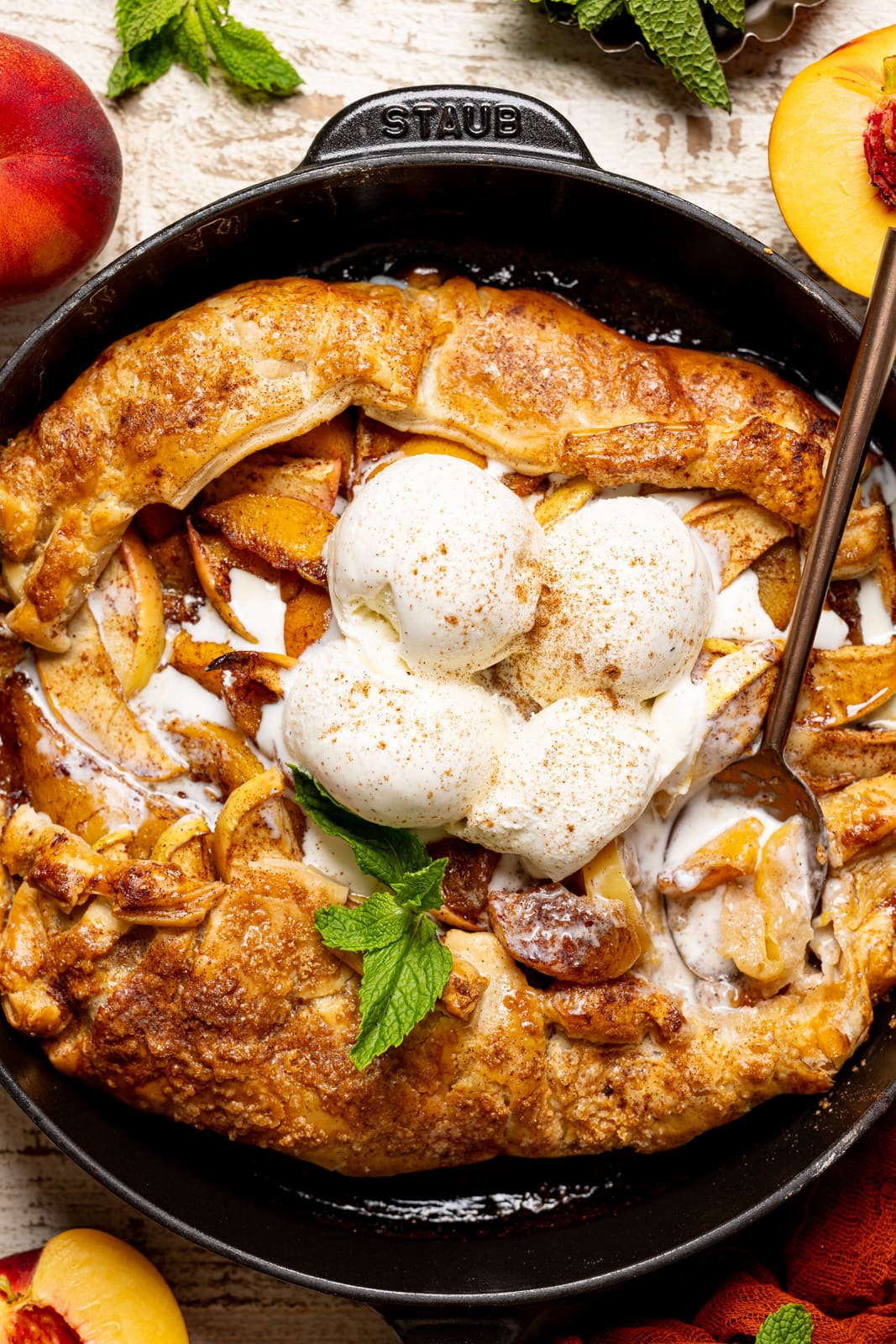 Summer Peach Apple Galette Q + A's
How to store this Peach Galette
Keep the leftover galette tightly wrapped with heavy-duty plastic wrap and foil paper and refrigerated for 3-4 days. Re-heat each slice when serving.
Can I make this galette recipe vegan?
To make this galette entirely vegan and dairy-free, simply ensure that the puff pastry brand used is vegan-friendly, sub the butter with vegan butter ( I love using the brand Earth Balance), add melted vegan butter (w/ 1 tablespoon of maple syrup mixed together) in place of the egg wash.
Can I use other fruits?
Yes, you can certainly experiment with different fruits! While the recipe is specifically for a Peach + Apple Galette, you can use other fruits like berries, plums, or even a mix of seasonal fruits. The galette's flaky crust and rustic charm work well with various fruit fillings.
Can I make this galette with a homemade crust?
Absolutely, you can find details in my Vegan Berry Galette recipe, about crafting your own homemade crust for an extra touch of customization.
Can I make this gluten-free?
Certainly! Just swap out the regular puff pastry sheets with gluten-free ones, and you're all set to enjoy a delicious GF version of the Summer Peach Apple Galette.
More Fruity Desserts
MADE OUR RECIPE(S)?
If you make this Easy Summer Peach Apple Galette recipe or any other recipe from us, be sure to tag us on Instagram at
CRUST:
1

(14 oz.) package

premium puff pastry sheets

(You may use two packages for a thicker/fuller crust; See Post for Homemade Crust details!)

1

egg wash

(That's 1 egg + 1 tablespoon milk)

2

Tbsps

organic brown sugar

1

teaspoon

ground cinnamon
FILLING:
2

organic Gala apples, sliced thin

(See Post for best types of Apples to use)

3

medium

peaches, sliced thin

(If using canned peaches, 2 (15oz.) cans drained, rinsed, + patted dry will do!)

½

cup

organic brown sugar

1

tablespoon

organic flour or arrowroot

1

teaspoon

ground cinnamon

½

teaspoon

ground nutmeg

⅛

teaspoon

ground allspice

Pinch of

sea salt

1

teaspoon

vanilla extract

1

tablespoon

unsalted butter, cut into pieces

1

teaspoon

freshly-squeezed lemon juice
Preheat the oven to 400 degrees Fahrenheit and lightly grease a medium 10-inch non-stick skillet with butter or oil.
TO MAKE THE FILLING:
In a large bowl, add the sliced apples + peaches and toss together with the lemon juice, brown sugar, flour or arrowroot, cinnamon, nutmeg, allspice, salt, and vanilla, mixing until combined and peaches + apples are fully coated.
ASSEMBLY:
Remove pastry sheets from packaging and roll out in the greased skillet, stretching it a bit all around so that you can fold upward. Spoon the peaches + apple filling (omitting the juices) into the center of the puff pastry and spread evenly. Then, tuck in the pieces of butter in between the peaches + apples. Using your hands, gently fold the excess dough upwards all around until they overlap and the galette becomes a nice circular shape in the skillet. NOTE: You can use 2 packages of puff pastry for a thicker/fuller crust if desired. You may only need 1 ½ of the pastry sheets if you do.

Lightly brush the tops + edges puff pastry crust with egg wash to create a nice seal, gently pressing the overlapped edges down so that it's "closed".
BAKE THE GALETTE:
Bake galette for 30-35 minutes or until the crust is golden brown + become puffy and the filling in the center is bubbling.

Once done, remove from the oven and allow it to cool slightly for 10-15 minutes before slicing and serving with your favorite ice cream or whipped cream.

Bon Appetit!
STORAGE: Store any leftovers in a tightly covered container or glass dish (sliced) covered and refrigerated for 3-4 days. To reheat, simply add leftover peach cobbler to a preheated oven of 375 degrees until warmed through.
SALTED VS. UNSALTED BUTTER: You can always substitute the salted butter with unsalted butter. When doing so, you can omit the salt as an ingredient.
VEGAN OPTION: To make this galette entirely vegan and dairy-free, simply ensure that the puff pastry brand used is vegan-friendly, sub the butter with vegan butter, and melted vegan butter (w/ 1 tablespoon of maple syrup mixed together) in place of the egg wash.
Calories:
413
kcal
|
Carbohydrates:
45
g
|
Protein:
5
g
|
Fat:
24
g
|
Saturated Fat:
6
g
|
Polyunsaturated Fat:
3
g
|
Monounsaturated Fat:
13
g
|
Trans Fat:
0.003
g
|
Cholesterol:
20
mg
|
Sodium:
165
mg
|
Potassium:
72
mg
|
Fiber:
1
g
|
Sugar:
17
g
|
Vitamin A:
32
IU
|
Vitamin C:
0.3
mg
|
Calcium:
29
mg
|
Iron:
2
mg