Make this decadent homemade Dirty Chai Maple Iced Latte with bold amounts of maple and chai flavors coupled with cold brew and oat milk that creates the perfect pick-me-up in the mornings! All Dairy-free and vegan. Serve hot or cold.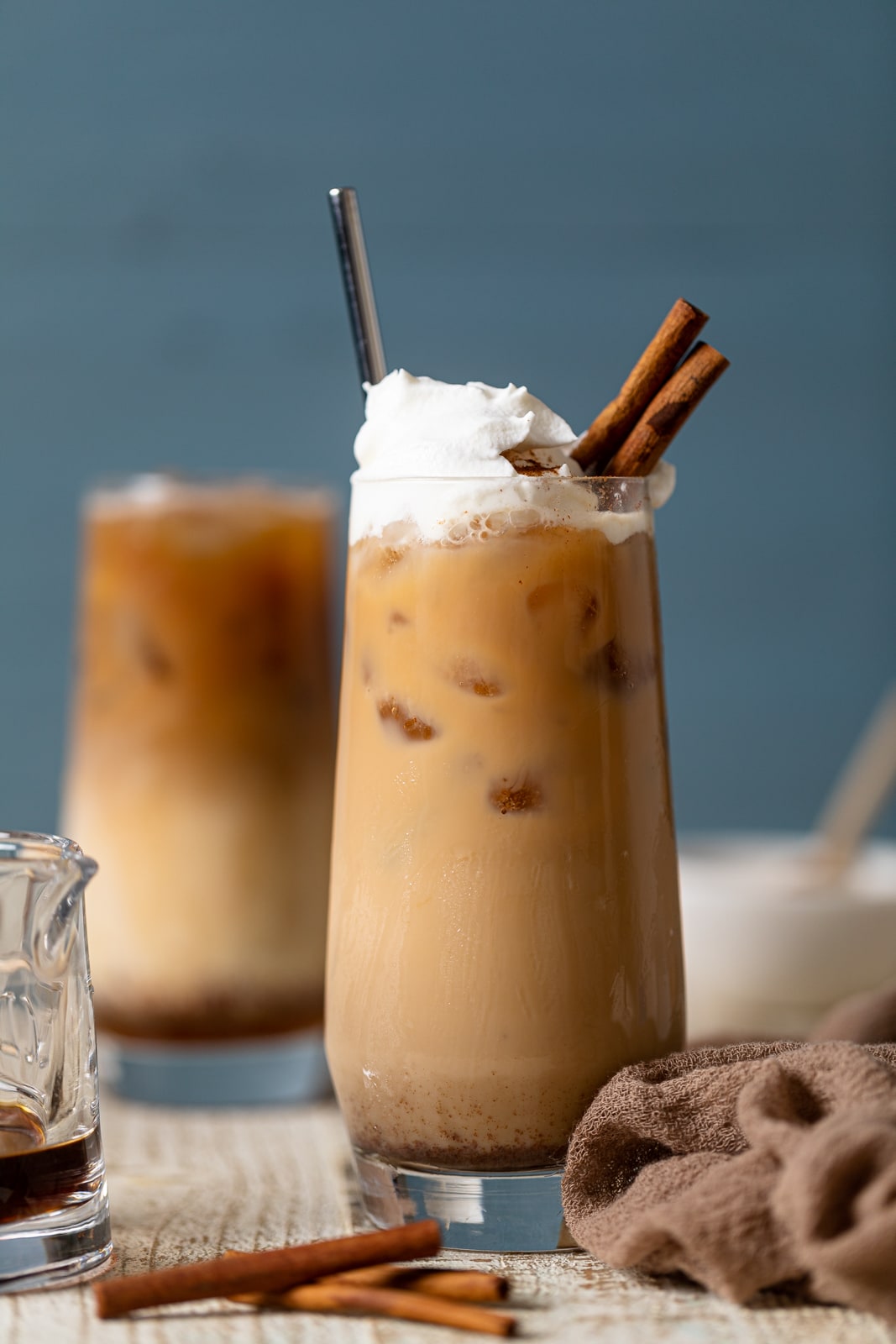 There's honestly not much to say about this Dirty Chai Maple Iced Latte except for the fact that it's AMAZING! I've been enjoying the moments of making my lattes at home lately because they're not only so easy to make, but I get to control the ingredients that I add to them.
Recently, I decided to try the dirty version of chai tea because I realized that it was a thing and I'm so glad that I did. The Chai spices mixed in with the bold flavors of coffee is a delicious combo for sure.
However, if you're cutting out coffee or want a lower-caffeine drink to sip in the morning, you'll want to try my Iced Chai Tea Latte recipe ASAP. And while you're at it, make a big batch and keep it in the fridge to pour over ice all week long.
How to Make Dirty Chai Maple Iced Latte
Once you see how easy it is to make your own tea lattes at home, you'll never have to go back to the coffee shop again. You'll save money for sure. But your drinks will also taste just how you like them. It's a win-win.
This tea latte recipe comes together in a saucepan on the stove for the chai tea component and then stirred together with the remaining ingredients. It's full of classic chai spices and black tea.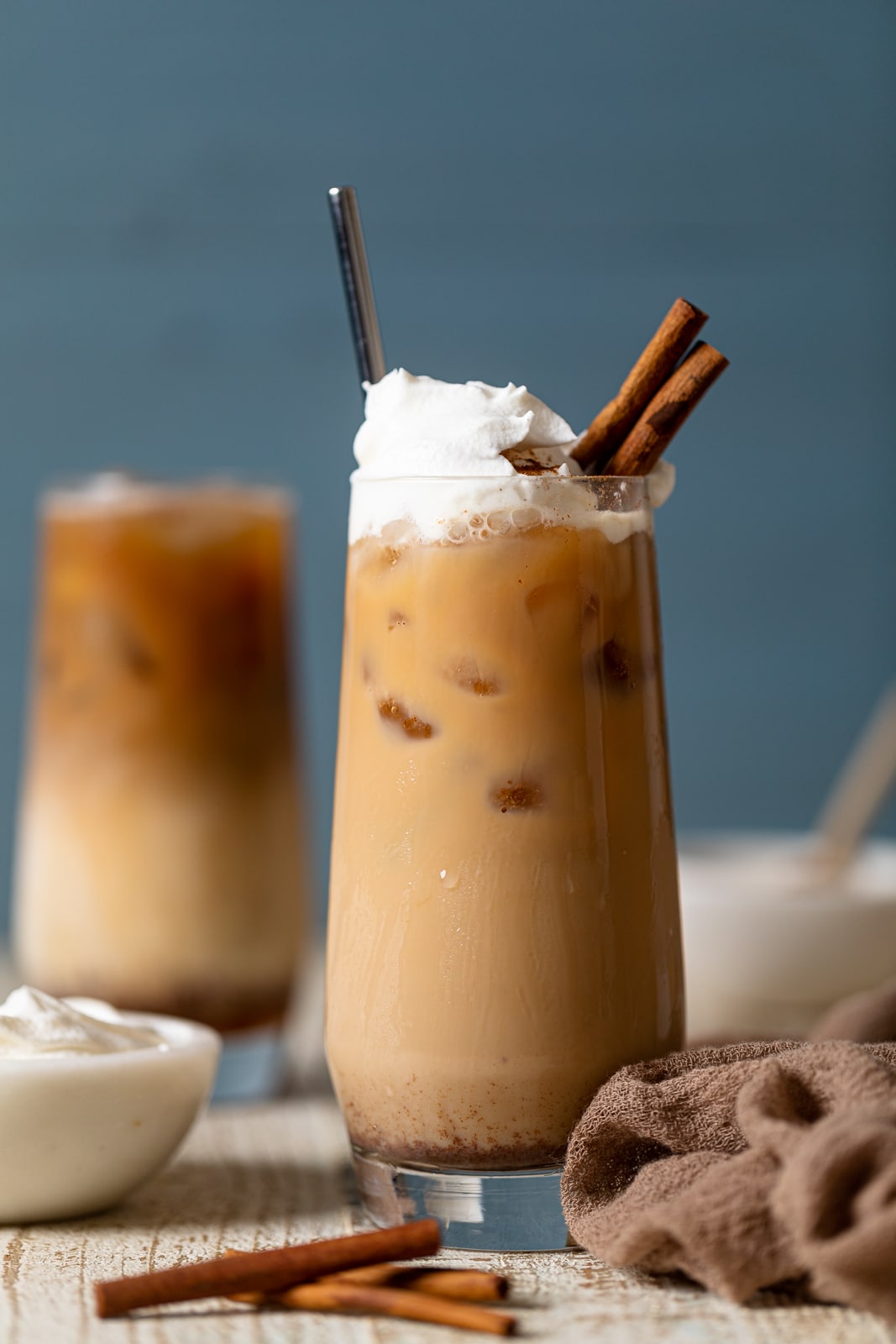 Homemade Chai Tea Blend
While you can purchase chai tea mixes in stores, it's definitely a blend that is easy to find, but also easy to make. Your Dirty Chai Maple Iced Latte will taste amazing, whichever you use.
If you do plan on making your own spice blend, you will need:
Cinnamon
Nutmeg
Ground ginger
Allspice
Ground cardamom
Ground cloves
Black pepper
Dirty Chai Maple Iced Latte Ingredients
The main component in this simple homemade is chai tea flavor and the coffee. To make your lattes, you'll use:
Cold brew. You can also use chilled brewed coffee.
Oat milk. Make your own! Or use store-bought oat milk.
Maple syrup. The best sweetener that I enjoy using. I like to use pure maple syrup that's premium and organic.
Black tea bags. You can use any plain black tea you like. Caffeine-free will also work if you avoid caffeine.
Chai spices. This latte is all about the spice blend, which includes cinnamon, nutmeg, ginger, allspice, cardamom, cloves, and black pepper.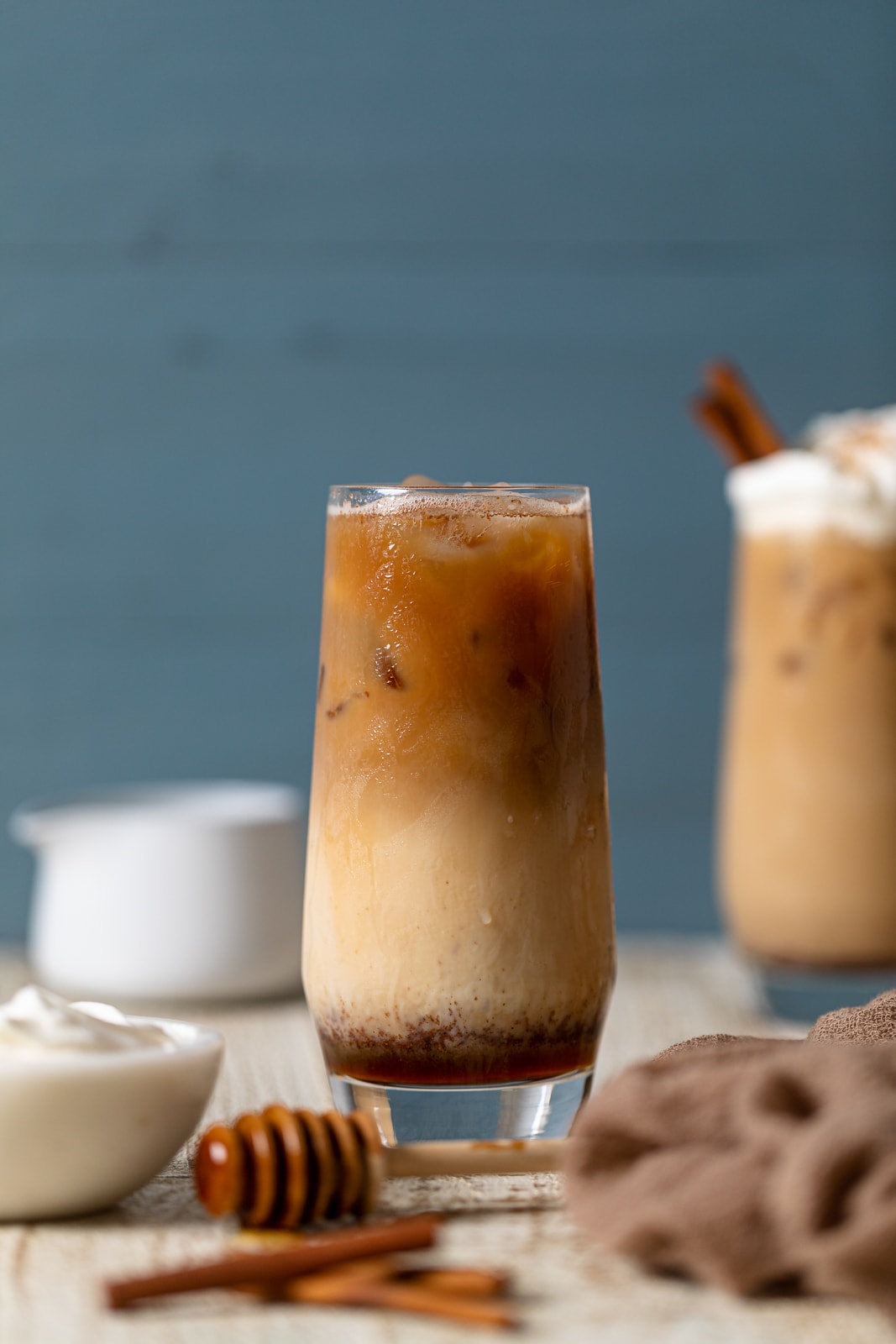 Is This Dirty Chai Latte Dairy-Free?
Absolutely! Everything in this latte is completely dairy-free and if you'd like to switch things up with the type of plant-based milk that you use—–that's totally fine! The world of plant-based milk is constantly expanding. From the classics like cashew milk, soy milk and almond milk, we now have delicious options like oat milk, coconut, and even potato and quinoa milk.
Can I Serve this Hot or Cold?
Yes! You can definitely switch things up by serving this latte hot or cold whenever you chose to. To serve hot, simply warm all latte ingredients together in a small saucepan until heated through. Pour in a mug and top with coconut whipped cream and a few sprinkles of chai tea mix, if desired.
Caramel Coffee Ice Cubes: The Perfect Way to Avoid Waste
Making coffee throughout the week can sometimes mean that you won't always use up your coffee, especially when making coffee from ground coffee beans. Yes—you can add leftover coffee in other ways (i.e. baking, making a mocktail, etc.), why not just freeze them and re-create a new latte each day? Haha.
Plus, it's really simple to make, so there's that. Therefore, if you're like me and you're a homemade latte lover, then use these Caramel Coffee Ice Cubes for any flavored latte, including in this Dirty Chai Maple Iced Latte----simply replace the caramel in the ice cubes with maple syrup instead.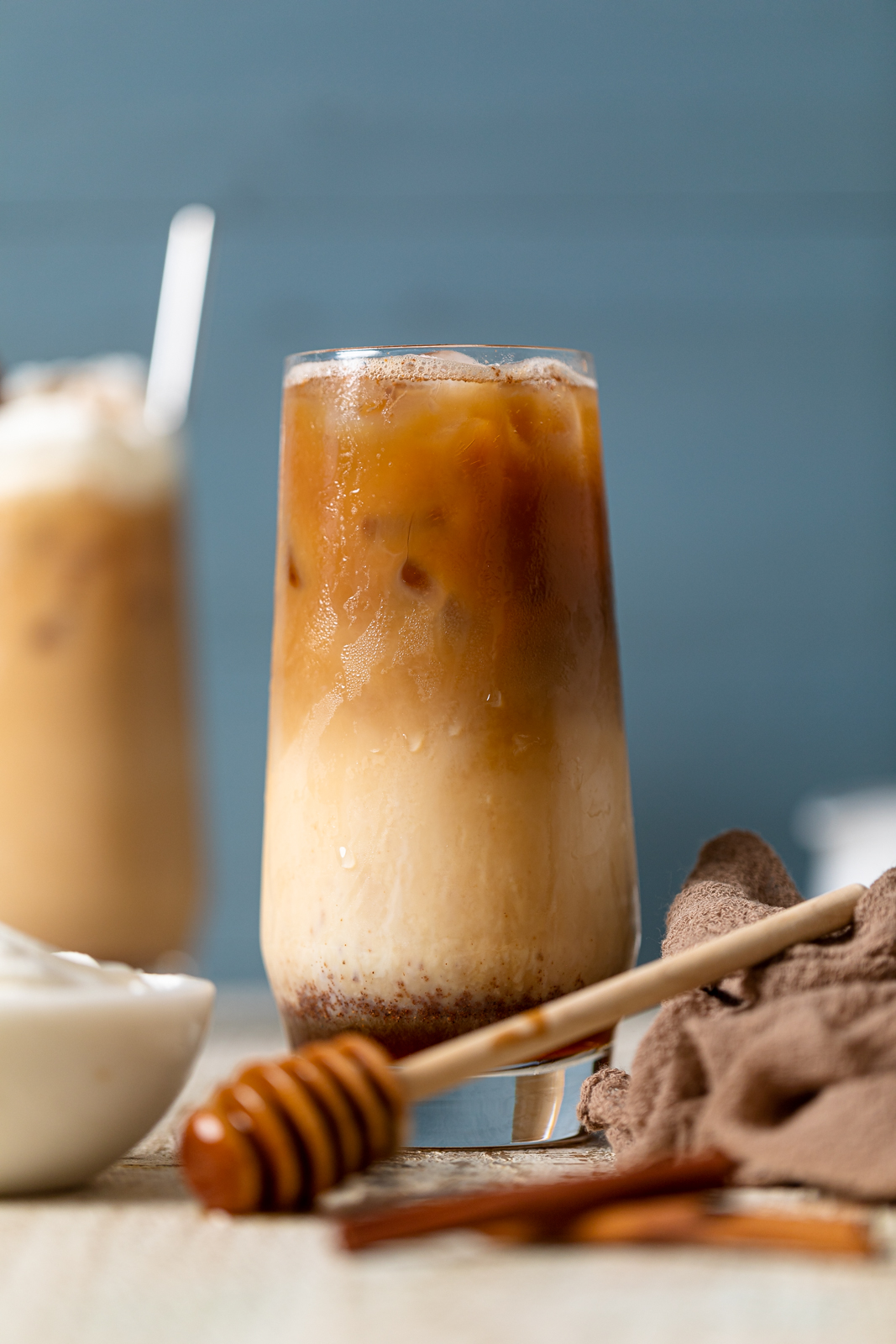 More Homemade Latte Recipes to Try
MADE OUR RECIPE(S)?
If you make this Dirty Chai Maple Iced Latte, tag @orchidsnsweettea_ on Instagram and hashtag it #orchidsandsweettea!
LATTE:
Crushed ice

1

cup

Oat milk

(You can use your fave plant-based milk)

¾

cup

Chai tea

½

cup

cold brew

(You can also use freshly brewed coffee, cooled)

3

Tbsps

pure maple syrup

Coconut whipped cream, optional
TO MAKE THE CHAI TEA:
In a medium saucepan on medium-high heat, add the water and bring to a boil for 1-2 minutes. Add the tea bags and let it boil for another 1-2 minutes. Remove from heat and let everything steep for 5-6 minutes.

Once fully steeped, remove tea bags and whisk in cinnamon, nutmeg, ground ginger, allspice, cardamom, ground cloves, and black pepper until dissolved and combined. Let cool completely.
TO MAKE THE LATTE:
In a bowl, add together all latte ingredients (including chai tea), mixing until combined.

To serve, fill ice into a 12 or 16-ounce glass and pour the latte mixture atop crushed ice until completely filled. Top with coconut whipped cream, if desired.

Sip and enjoy!
WHAT PLANT-BASED MILKS ARE GOOD FOR THIS RECIPE? My go-to plant-based brand for Oat milk when using store-bought is the Forager Project. However, you can always use your fave or one of the following: Almond, coconut milk, homemade oat milk (froths/foams VERY WELL), homemade cashew milk, flax milk, potato milk, quinoa milk, etc.
SWEETENER: You can adjust the amount of sweetener depending on how sweet or unsweet you'd like for your latte to be.
TEA BAG: You can also use a chai tea bag blend instead if preferred.
Calories:
291
kcal
|
Carbohydrates:
64
g
|
Protein:
4
g
|
Fat:
2
g
|
Monounsaturated Fat:
0.02
g
|
Sodium:
121
mg
|
Potassium:
311
mg
|
Fiber:
2
g
|
Sugar:
55
g
|
Vitamin A:
492
IU
|
Calcium:
413
mg
|
Iron:
2
mg
Dirty Chai Maple Iced Latte.