Spiced Chai Cheesecake + Gingersnap Crust---the best rendition of chai tea latte in cheesecake form in addition to delicious ginger flavor. This cheesecake comes completely based with a thick, tasty Gingersnap + Graham Cracker mixed crust, followed by a velvety spiced chai cheesecake filling and a simple whipped topping to pull it all together. You can't have a family gathering or special occasion during this season without this dessert recipe.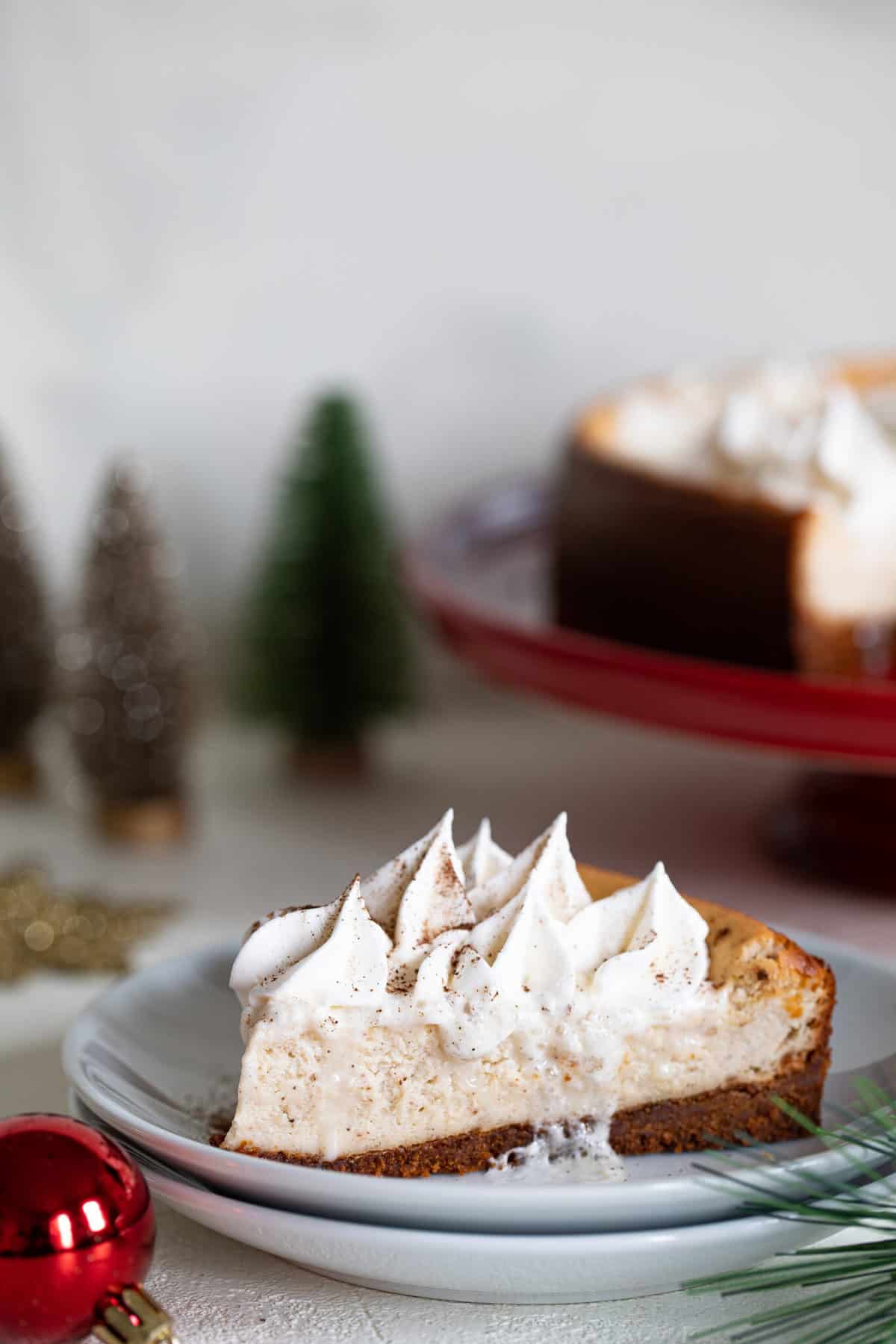 Spiced Chai Cheesecake + Gingersnap Crust. What more can I say about this? If you know me, then you know that cheesecakes have a specific special place in my heart. Why you ask? Well, for starters, cheesecake was the very first dessert that I learned to make and perfect, so I'm not sure if it's my confidence level or what, BUT I LOVE cheesecake! Haha.
Secondly, what is there not to love about cheesecake? I mean, honestly, who ever invented this stuff got it RIGHT. Am I alone in my thinking?
No? Ok, good.
Back to the subject of this recipe. If you've been an avid follower of Orchids + Sweet Tea, then you're probably already aware of my absolute obsession with Starbuck's Chai Latte. If not, then let me fill you in. I literally start my day with a Venti-size on most days and while my breakfast item (i.e. bagel, sandwich, etc.) might change, my drink choice never does. Haha.
So of course, I had to make a Chai-based cheesecake this season to both showcase my love for the Chai flavor AND to remind you of just how amazing Chai is!
Lover of All Things Chai? These Are a Must!
This Vegan Chai Tea Latte with Turmeric is made with only a handful of ingredients and is the perfect warmth + coziness to any day, especially during the Holidays. Literally whipped together in a few short minutes, this homemade latte comes bursting with chai spices + turmeric flavors that work so well together and is fully dairy-free, vegan, + gluten-free. A great caffeine alternative to coffee and works as a pick me up.
This Vegan Pumpkin Chai Latte is made with only a handful of ingredients and is the perfect warmth + coziness to any day. Literally whipped together in a few short minutes, this homemade latte comes fully dairy-free, vegan, + gluten-free. Enjoy this coffee-free cup of goodness every morning.
This Easy Warm Apple Chai Latte is made with only a handful of ingredients and is the perfect warmth + coziness during the cooler season. Believe it or not, apple + chai flavors go together so well and will surely become your newest obsession! Literally whipped together in a few short minutes, this homemade latte comes fully dairy-free, vegan, + gluten-free.
These Vegan Chai Tea Latte Cinnamon Rolls are something right on point for the Fall/Winter season. They are fluffy, soft, thick, sweet, and surely does just melt in your mouth with every bite. Not being your typical Cinnamon Roll, this recipe is topped with a mouth-watering Black Tea-infused Chai Tea glaze that will leave you 'Cinnamon Roll obsessed'.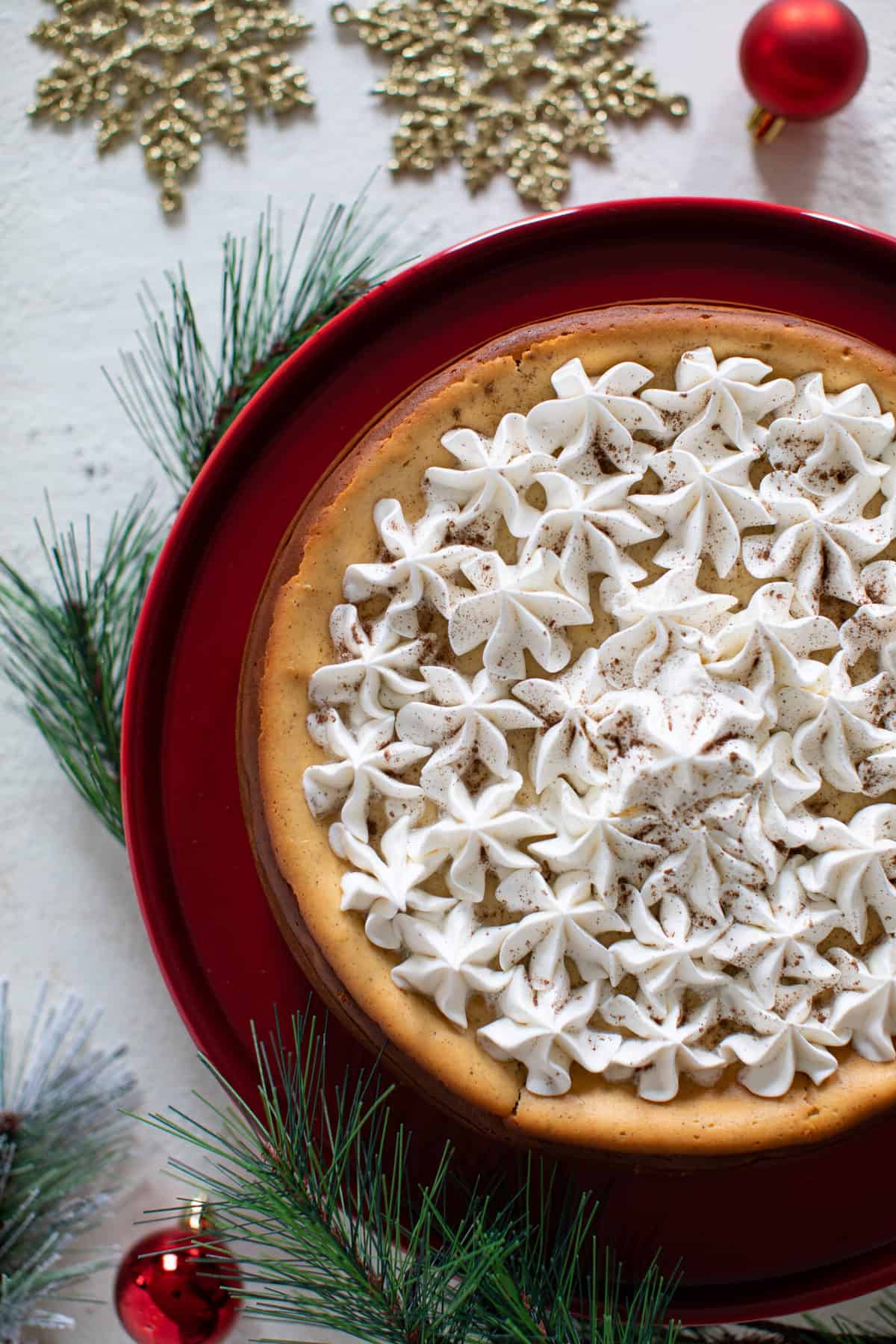 Mini Backstory to My Love For Cheesecake.
Moving to NYC at the age of 13 was such a huge transition (in more ways than one), but more importantly, the food was a major transition.
Fast forward to a year or two later, when I first introduced to my first real slice of Cheesecake and never putting down a fork whenever I see one close enough to grab a bite. Haha. Yup. My obsession is that real!
Don't believe me? Try these cheesecake recipes that I've included below.
My Top 4 Fave Cheesecakes.
These Delicious Pecan Pie Cheesecake Bites are one of my faves! They are an awesome rendition of traditional Southern pecan pie except for the velvety texture of cheesecake.
Oh and then there are these Southerner's Banana Pudding Cheesecake Bites, which of course pays a great homage to the ultimate dessert that I grew up eating ALL the time—- Banana pudding!
This Cranberry Cheesecake + Gingersnap Crust recipe is the perfect Holiday dessert for the entire family. This cheesecake comes completely based with a thick tasty Gingersnap Cookie crust, a velvety delicious NY Style filling and a scrumptious sweet + tart cranberry glaze on top and Graham Cracker crumble. The epitome of an easy, yet delicious sweet treat.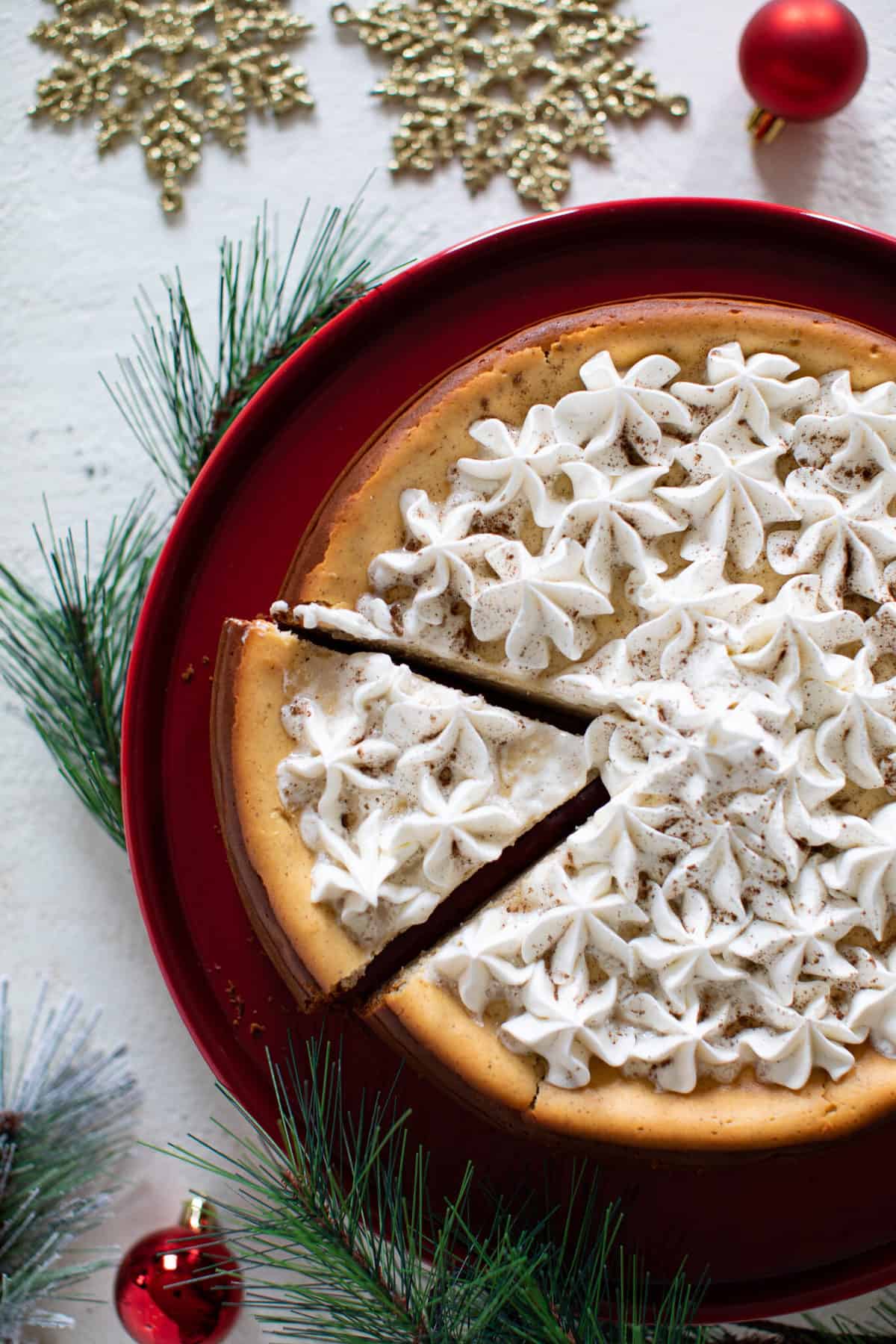 Why Gingersnap + Graham Cracker Together?
Honestly, I know that most people usually either make a gingersnap or graham cracker crust for their cheesecake and while I do also, I fund myself wanting to go the extra mile of adding both together. And oh boy, am I glad that I did! They work so WELL together.
As we know, gingersnap is made with molasses which has sweet notes, but also tastes slightly bitter. Add this distinctive taste along with the ginger flavor and the sweetness from the graham crackers and you've got yourself a BOMB flavor match, trust me!
What You'll Love Most About this Cheesecake.
It's super easy to make.
Done in under 1 hour.
Only requires ONE baking dish—a Cheesecake Baking Pan allows for an easy slip out!
The epitome of DELICIOUS.
Super velvety and smooth.
Jam-packed with Chai Spices!
The bold flavors from crust to filling are EVERYTHING!
Did I mention that it's just TOO GOOD TO PASS UP!?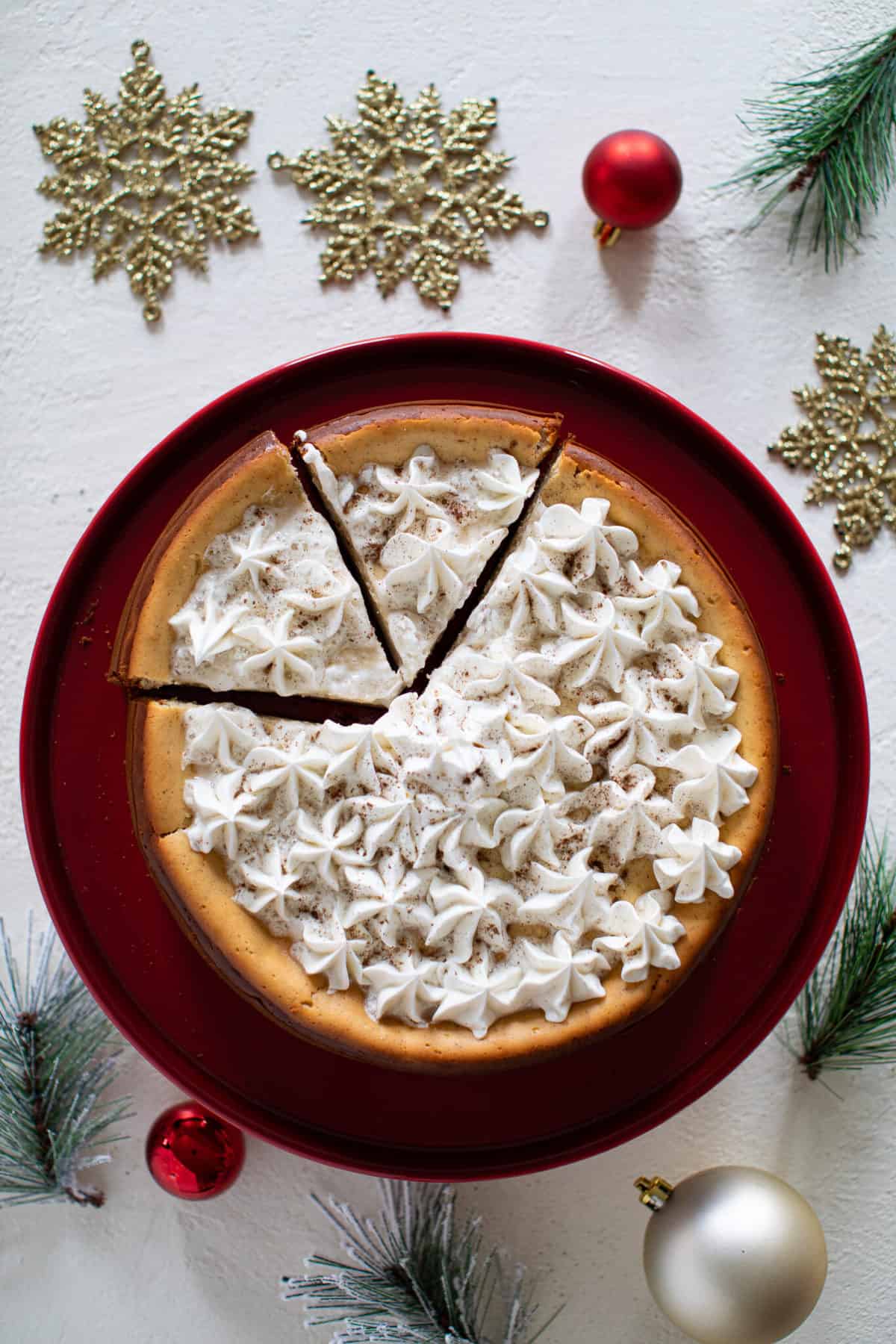 7 TIPS FOR MAKING THE PERFECT CHEESECAKE.
Tip #1: Avoid those Lumps!
Always, ALWAYS soften your cream cheese at room temperature for a minimum of 30 minutes to ensure that it can be fully smooth when you beat it in an electric mixer.
Tip #2: Combine Carefully + Slowly.
Be sure to add in the eggs ONE AT A TIME and always keep the mixer's speed on low to avoid over-mixing. A light mix always does the trick!
Tip #3: Use the Right Pan.
I find that using the correct baking pan helps to make a great cheesecake as well. I like using the traditional cheesecake pans that pop out at the bottom for whole cheesecakes. When making cheesecake bites, I prefer lining the pan with cupcake liners for ease.
Tip #4: Always Add a Water Bath.
I like to add a small pot of water on the lower rack of the oven while I bake my cheesecakes, cakes, cupcakes, etc. However, you can always add your cheesecake pan within another pan that has a small amount of water as your bath. Either way, it keeps in the proper moisture and helps everything to bake nicely.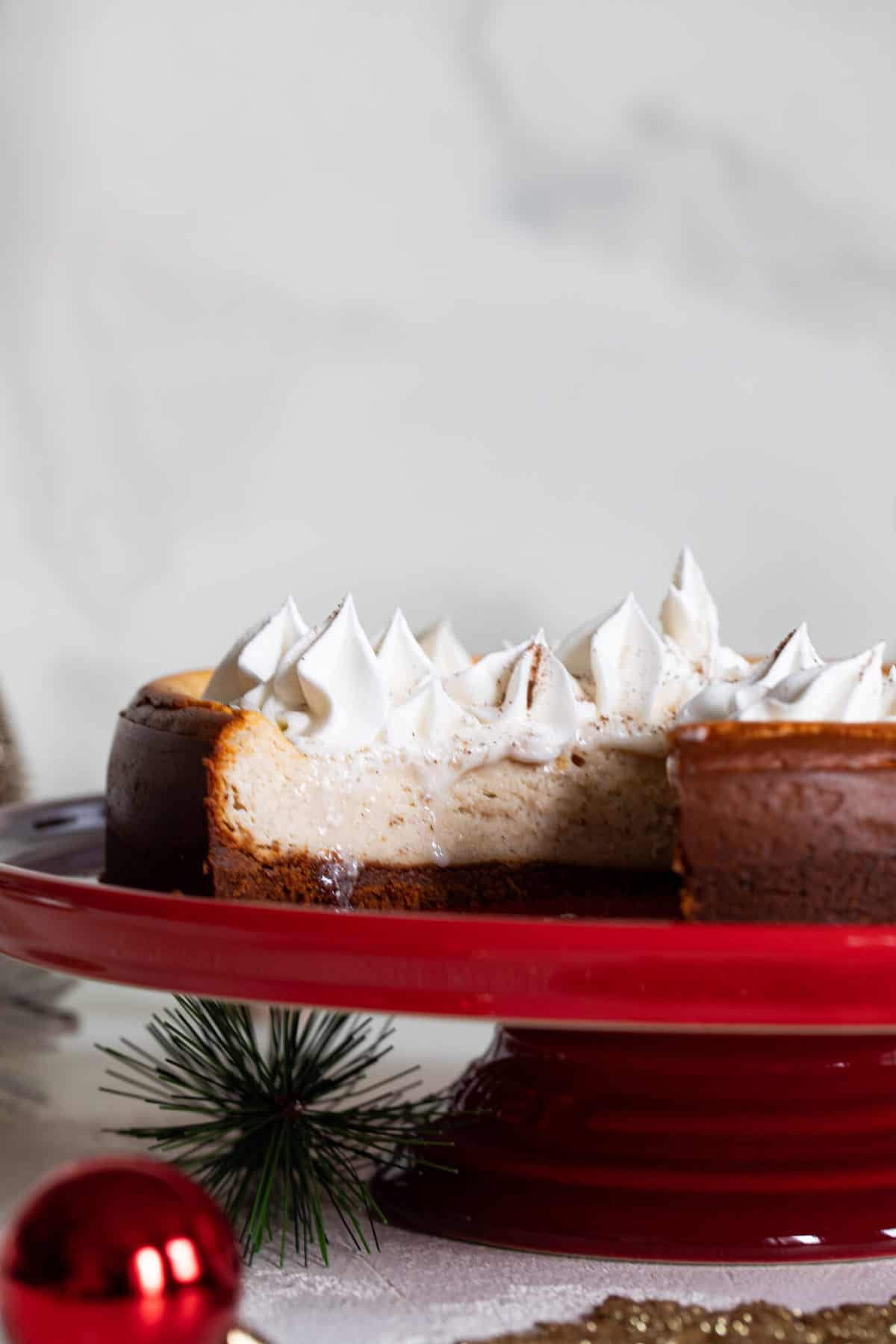 Tip #5: Keep the Opening of the Oven Door at a Minimum.
Yup, that's right. No quick peeking every few minutes. Every time that the oven door is open, it causes your cheesecakes to inflate from the sudden shift in temperature. That's why it's imperative to end the baking of your cheesecakes by turning off the oven and cracking open the oven door slightly for a few minutes before removing them out of it entirely.
Tip #6: Do the Wobble, Wobble Test!
When checking to see if your cheesecake is done, always do the jiggle test to ensure that it only jiggles slightly in the middle. Don't worry—while it cools, the trapped heat will continue to cook the center nicely.
Tip #7: Cool, Cool, and COOL!
Lastly, be sure that your cheesecake is FULLY cooled before covered. This avoids condensation form forming and that not so great wetness that happens on the tops when covered before cooled. Once fully cooled at room temperature, you're free to refrigerate it for an hour (uncovered) and then you can place foil or plastic wrap over it after that.
In addition to these tips, there are common mistakes that we might often make without realizing that according to Taste of Home, can be absolutely life-changing. For instance, ensuring that the ingredients that require being at room temp actually are, avoid over baking, using a hand mixer instead of an electric mixer (which beats a lot better), and a host of other things that are so worth reading about!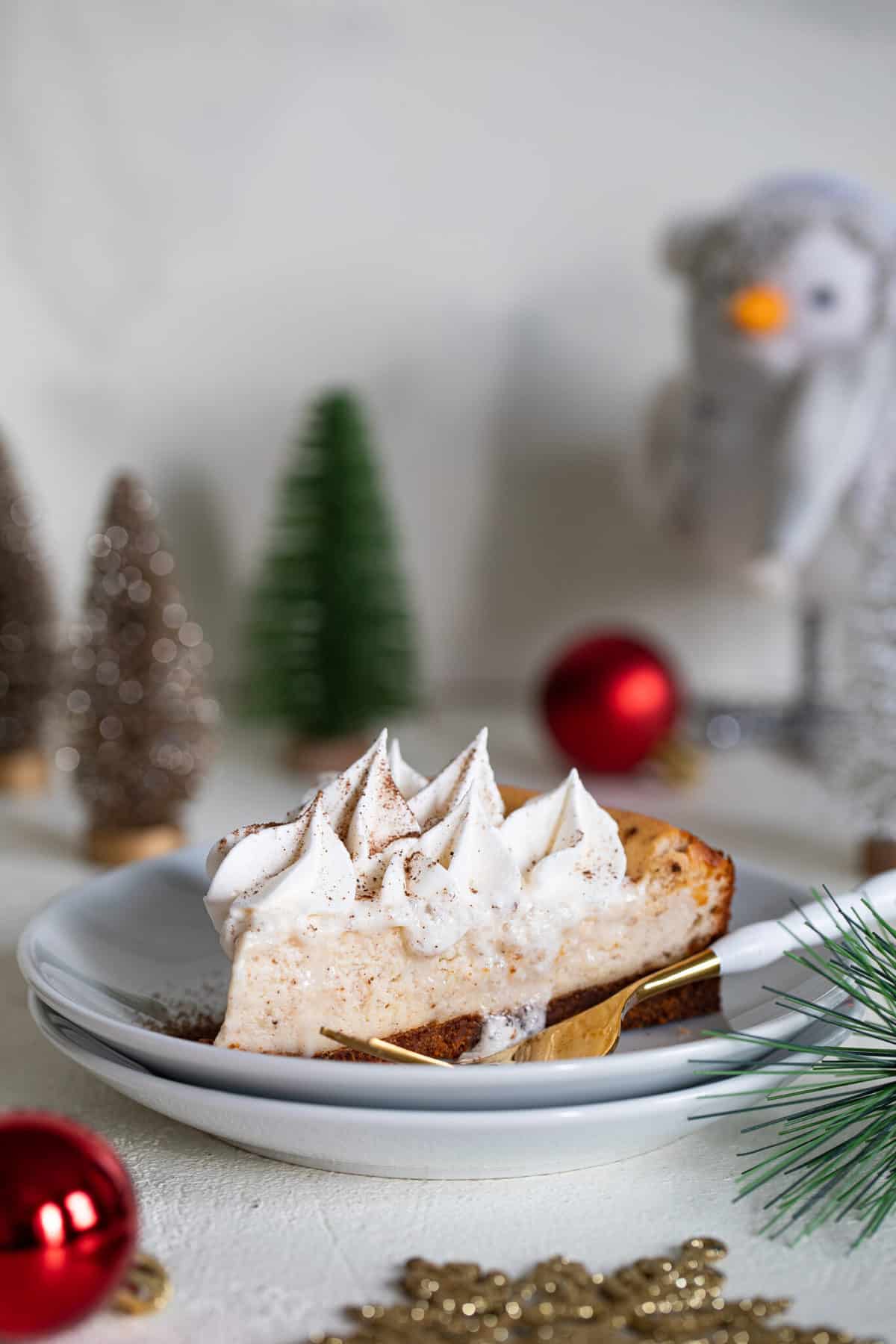 Gingersnap Graham Cracker Crust:
½

(14 oz.) box

organic Gingersnap cookies, chopped

(About 15-20 Cookies)

1 ½

cups

Graham crackers, chopped

(About 8-10 Graham Crackers)

3

Tbsps

organic brown sugar

1

tablespoon

ground cinnamon

4-5

Tbsps

unsalted butter, melted
Cheesecake Filling:
3

(8 oz.) packages

organic cream cheese, softened at room temp.

1

cup

organic pure cane sugar

4

Tbsps

organic all-purpose flour

2

tsps

vanilla extract

3

large

organic eggs, room temp.

½

cup

greek yogurt

(See Notes!)

¼

teaspoon

sea salt
Chai Spice Mix:
1

tablespoon

ground cinnamon

1

teaspoon

ground nutmeg

½

teaspoon

ground ginger

½

teaspoon

ground cloves

¼

teaspoon

ground allspice

⅛

teaspoon

ground cardamom
Crust:
Preheat oven to 350 degrees Fahrenheit and prepare a 7 or 8-inch cheesecake pan by lightly greasing it with butter.

Grind the gingersnap cookies and graham crackers until almost finely ground (it's OK to leave a few medium chunks, if your'e a lover a little crunch!). Combine the gingersnap-graham cracker mixture, cinnamon, brown sugar and melted butter in a small bowl and mix with a spatula until well incorporated.

Add the mixture into the prepared pan and press down into the bottom with your fingers (focusing on the middle) to ensure that it's perfectly covering the bottom and sides (like a deep well).

Bake the crust for about 5 minutes and then remove from oven and allow it to cool until you're ready to use.
Cheesecake Filling:
In the bowl of an electric mixer, mix together on low speed: the cream cheese, pure cane sugar, and flour until combined. Be sure to scrape the sides and bottom of the bowl if needed.

Next, add the vanilla extract and the first egg and beat slowly until mostly combined. Then add the remaining 2 eggs (one at a time) and mix until combined, on low speed. Now, add the yogurt, salt, and spices, and continue mixing.

Change mixer attachment to a whisk and beat on medium-high speed for 1-2 minutes or so until completely smooth and lump-free. NOTE: DO NOT OVER-MIX. Be sure to stop once the batter becomes smooth.

Pour the batter into the prepared pan until just about filled. **NOTE: Leaving a little room at the top prevents the cheesecake from spilling over while baking.**

Bake the cheesecake for 35-40 minutes (until center comes out mostly clean when tested with a toothpick or knife), then turn off the oven and allow it to sit in the oven for another 5 minutes with the oven door halfway open to avoid cheesecake from deflating. **NOTE: When baking, I always prepare a medium pot with water and add it to the oven as well, to keep cheesecake temperature even and to add moisture.**

Remove cheesecake from the oven and allow it to continue to cool for another 15-20 minutes, before putting it in the refrigerator for at least an hour. Once cooled, top with whipped cream (optional) and sprinkle with additional chai spice mix.

Bon Appetit!
STORAGE: Leftover Cheesecake can be stored (tightly wrapped) in the refrigerator for up to 5 days. For best results, keep cheesecake in the freezer until the night before you're ready to serve. Defrost by refrigerating.
YOGURT: If you don't want to use yogurt for this recipe, you can substitute with low-fat sour cream. 
HOMEMADE WHIPPED CREAM: In the bowl of an electric mixer on medium-high speed, whip the organic heavy cream (2 cups), using the whisk attachment for 4-5 minutes, until fluffy peaks begin to form. **NOTE: When it begins to thicken after the first 2-3 minutes, gradually add in 1 tablespoon vanilla extract and a pinch of sea salt.*
Calories:
473
kcal
|
Carbohydrates:
73
g
|
Protein:
20
g
|
Fat:
13
g
|
Saturated Fat:
6
g
|
Polyunsaturated Fat:
1
g
|
Monounsaturated Fat:
4
g
|
Trans Fat:
0.2
g
|
Cholesterol:
96
mg
|
Sodium:
953
mg
|
Potassium:
430
mg
|
Fiber:
2
g
|
Sugar:
44
g
|
Vitamin A:
329
IU
|
Vitamin C:
0.1
mg
|
Calcium:
383
mg
|
Iron:
3
mg
Spiced Chai Cheesecake + Gingersnap Crust.