This velvety and creamy Mango Cheesecake with Chocolate Graham Cracker Crust is full of tropical flavor, topped with a mango glaze and fresh strawberries for a nice balance of fruitiness and tartness all atop a sweet and crisp chocolate crust.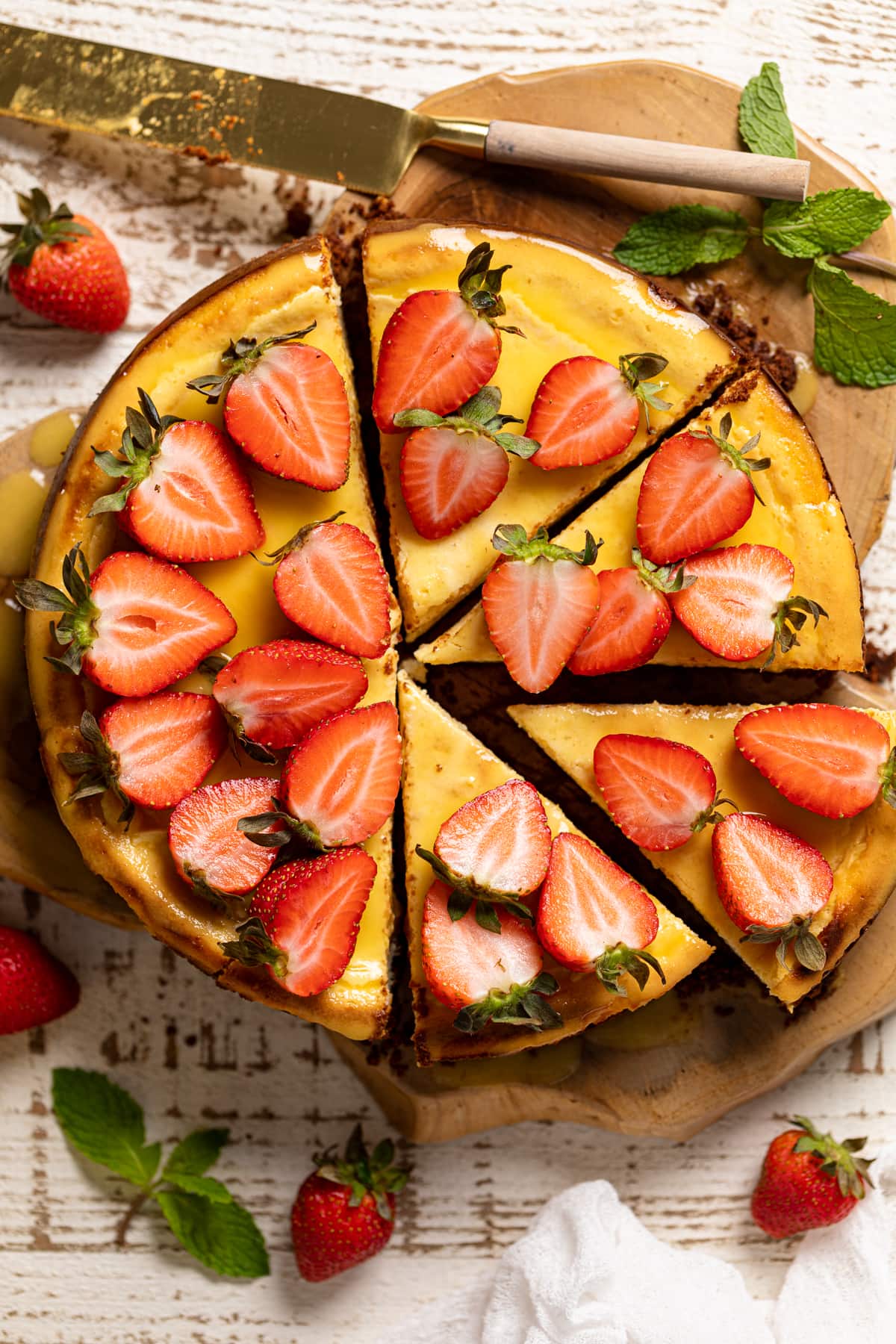 I've loved making this stunning mango cheesecake for my birthday the past few years. It has a sweet-tart flavor and a rich chocolate crust. On top, drizzle sweet mango glaze and plenty of fresh strawberries for extra fruity flavor. This may not be your typical birthday cake, but it certainly satisfies my sweet tooth!
OF course, if you're looking for a more traditional birthday treat, you'll love my One-Bowl Double Chocolate Sheet Cake or Vegan Funfetti Cupcakes.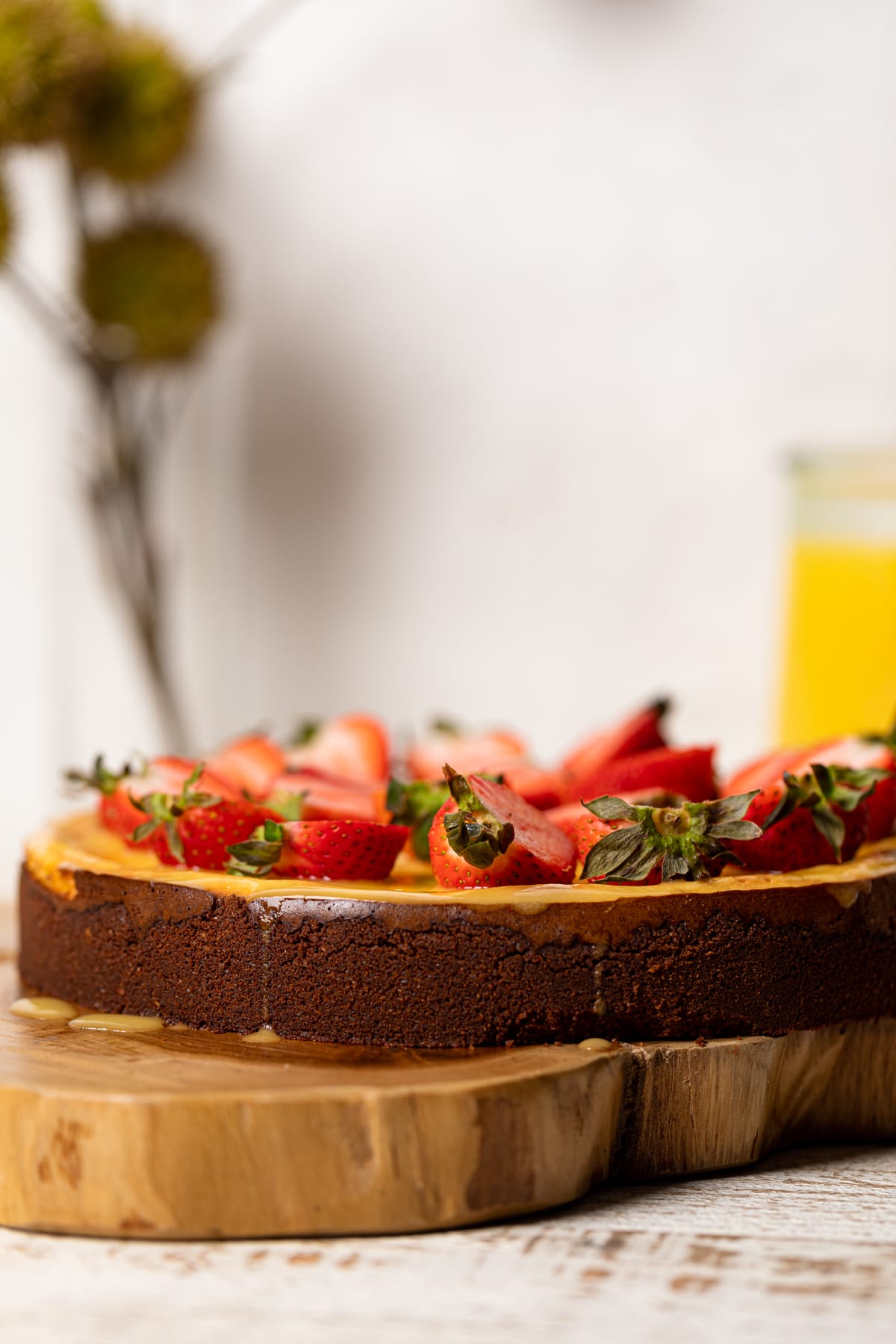 How to Make Mango Cheesecake
The three components to this cheesecake are the chocolate graham cracker crust, the tangy mango filling and the simple mango puree on top. Start by making the crust, which needs to bake for about 5 mintues before you can add the filling. Next, make the cheesecake layer. And finally, while the cheesecake chills, make the mango glaze. Finally, put everything together and serve up your crowd-pleasing tropical dessert!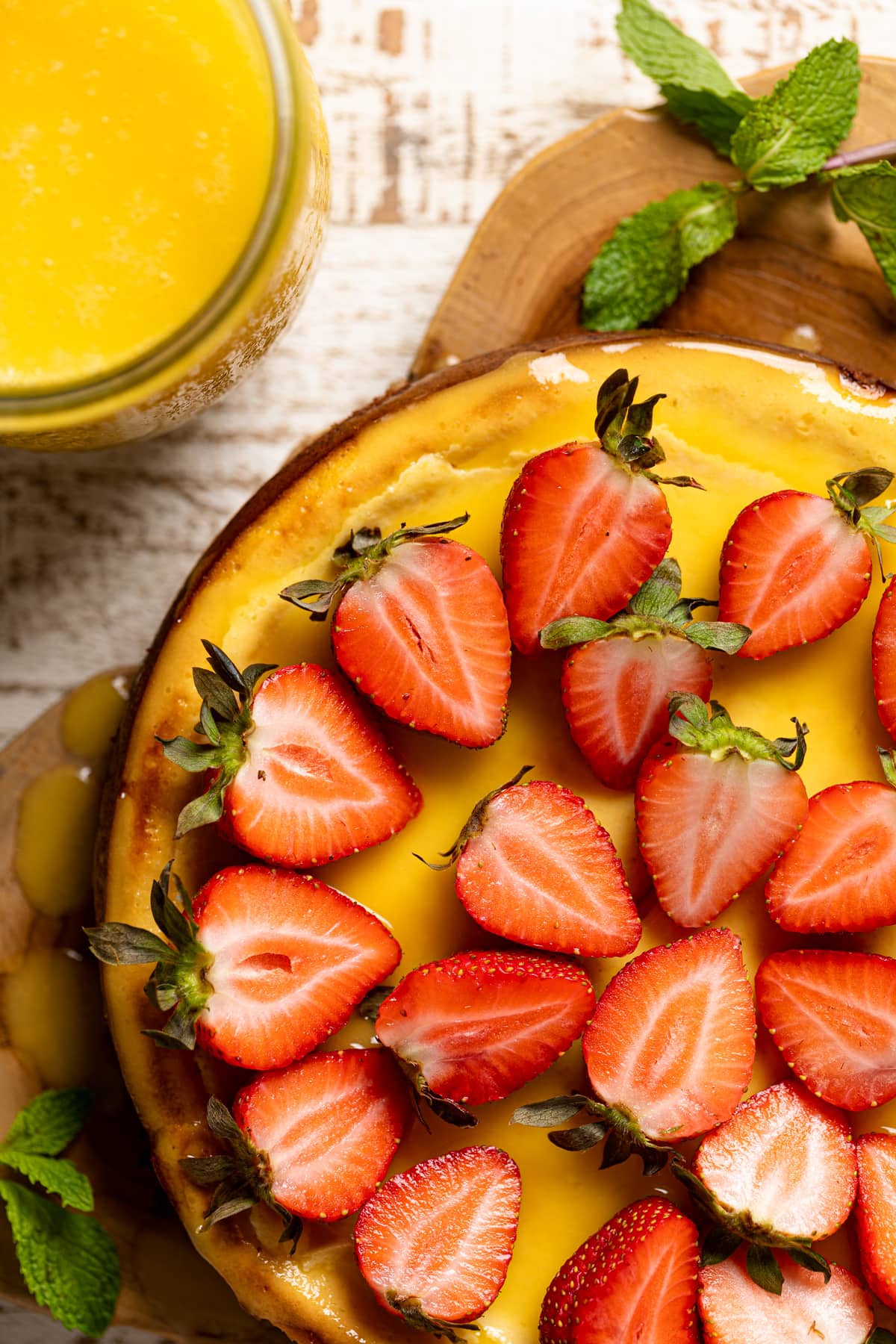 Ingredients for Cheesecake Filling
Here's what you need for the mango cheesecake filling:
Cream cheese. Make sure your cream cheese is nice and soft for the best texture and easy blending.
Cane sugar. You can also use coconut sugar if you prefer.
Flour. This thickens up the mango custard for a firm texture.
Mango puree. You can find this frozen in many grocery stores.
Vanilla. For a touch of warm flavor with the mango.
Eggs. Let your eggs come to room temperature before you start cooking.
Sour cream. This should also be at room temperature. Full- or low-fat both work.
Cinnamon. You just need a pinch for this cheesecake.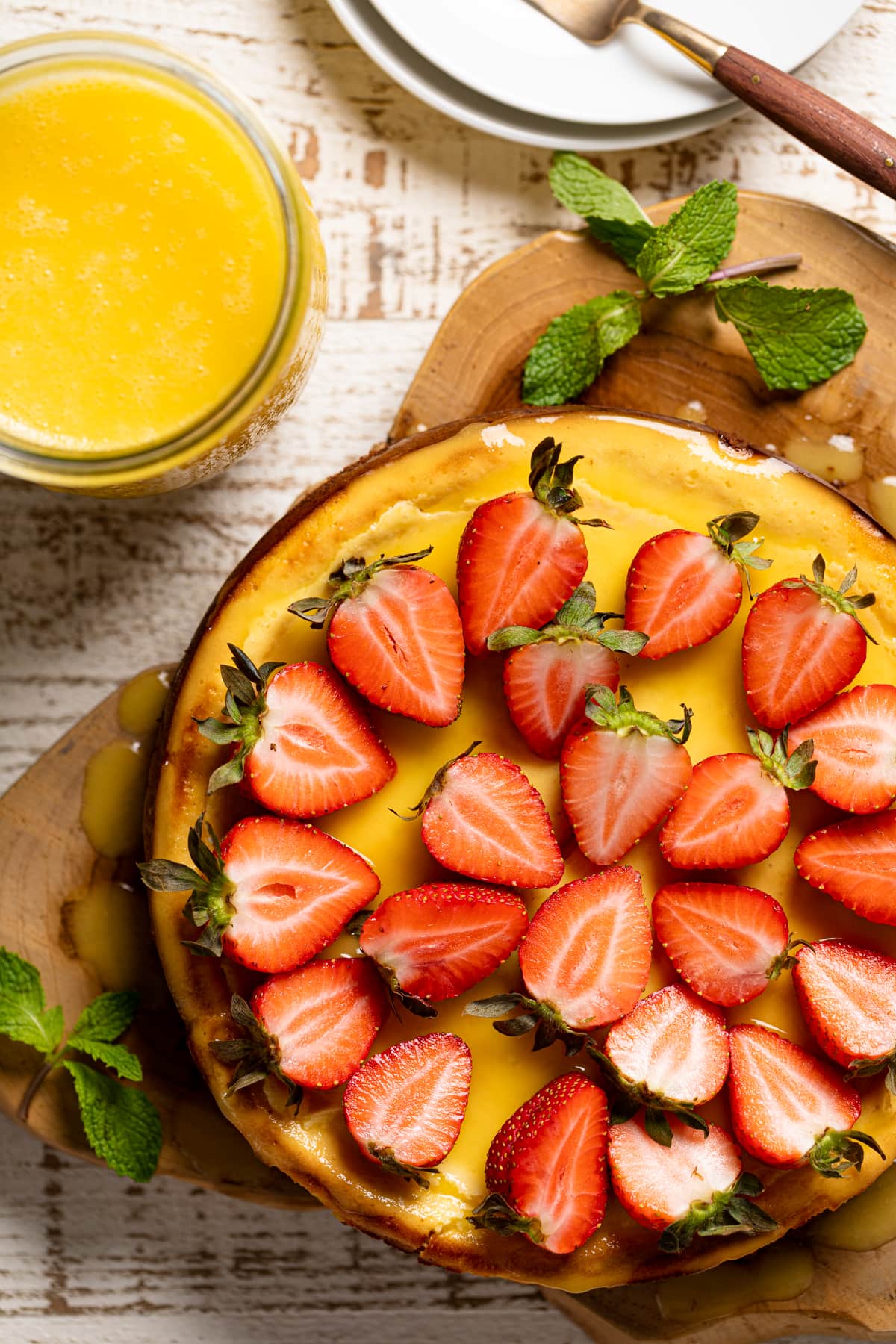 Chocolate Graham Cracker Crust
I like to round out the bright and sweet flavors of the mango custard filling with rich chocolate crust. Here's what you need to make the simple crust:
Graham crackers. You can also use gluten-free graham crackers if you like.
Cocoa powder. You can also use cacao powder.
Brown sugar. I like to use organic sugar to ensure it's vegan.
Cinnamon. For a bit of warming flavor. If you don't like cinnamon, you can omit it.
Butter. Use unsalted butter for this crust.
Make this easy crust in a food processor or blender, then bake the crust for about 5 minutes to help it set before you add the mango filling.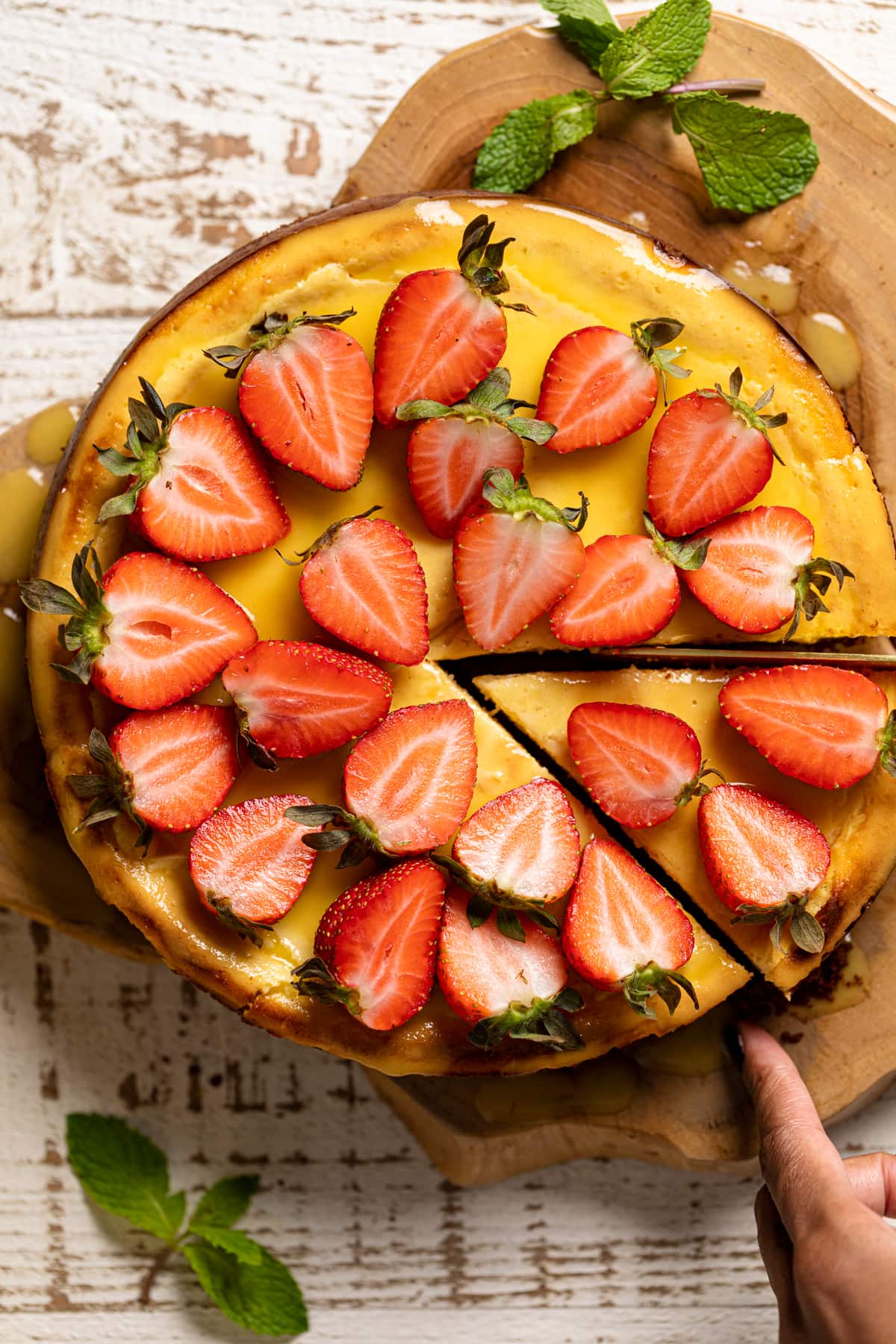 How to Bake a Cheesecake that Doesn't Crack
To avoid cracks in your cheesecake, place a baking dish filled with hot water into the bottom of the oven. This creates steam that slowly bakes the cheesecake evenly. When you're done cooking, turn off the oven and leave the door cracked open. This helps the cheesecake cool slowly so no cracks form.
It's also important that none of your ingredients are too cold when you start making the cheesecake filling. The abrupt change in temperature when you put the cake in the oven can cause cracks.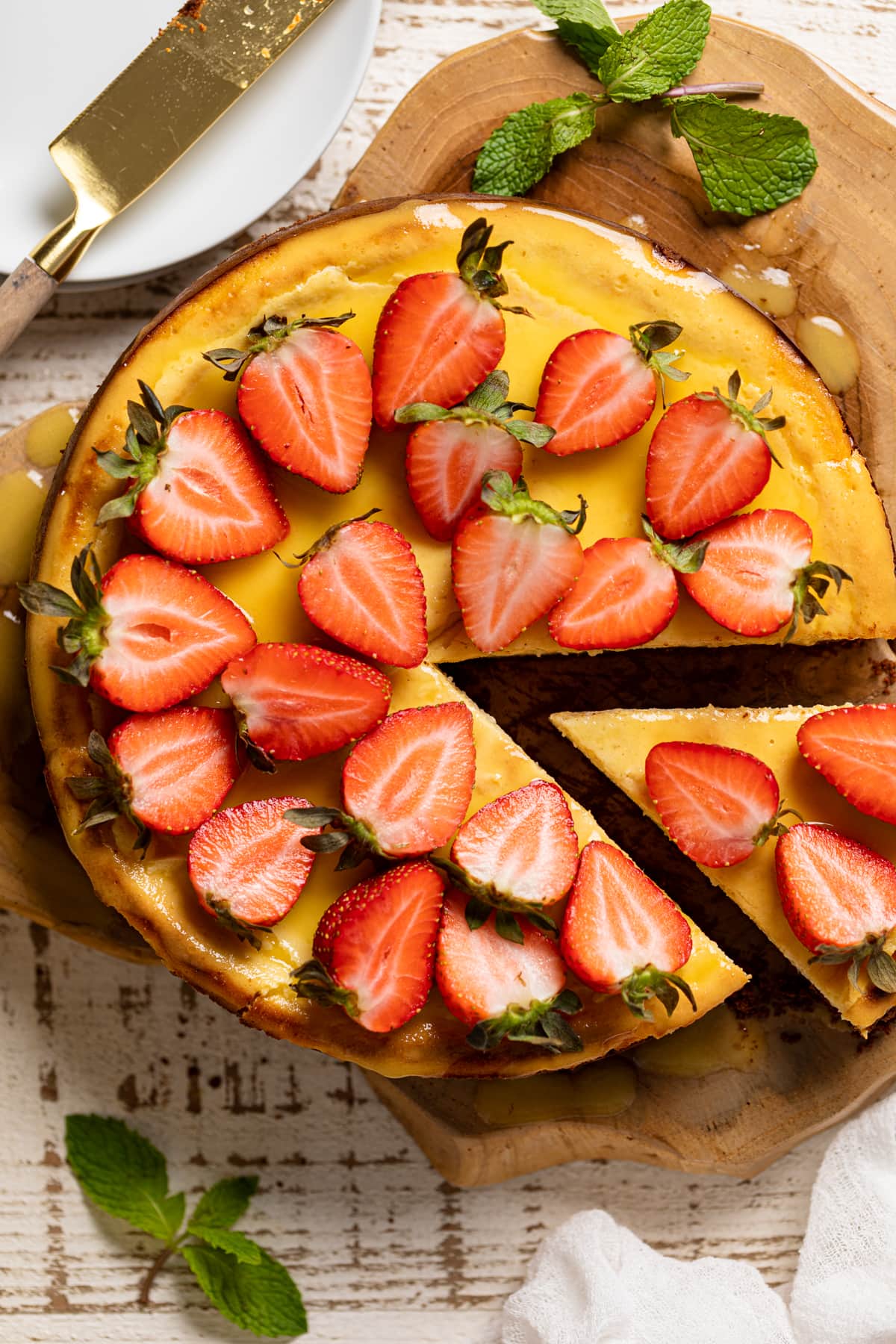 Mango Glaze for Cheesecake
The cherry on top of the cheesecake is the sweet and shiny mango glaze. All you need ot make it is:
Mango. You can use fresh or frozen fruit.
Cane sugar. Organic is best!
Lemon juice. For added brightness.
Water. You'll need a little less water if you're using fresh fruit.
Serving Suggestions
In addition to the mango glaze, I like to add more color to this cheesecake for serving. Top each slice with:
Fresh sliced strawberries (or another fresh berry like raspberries or blackberries)
Fresh mint leaves
If you like, no one will say not to a dollop of whipped cream! Coconut chips also add a nice crunch and extra tropical flair.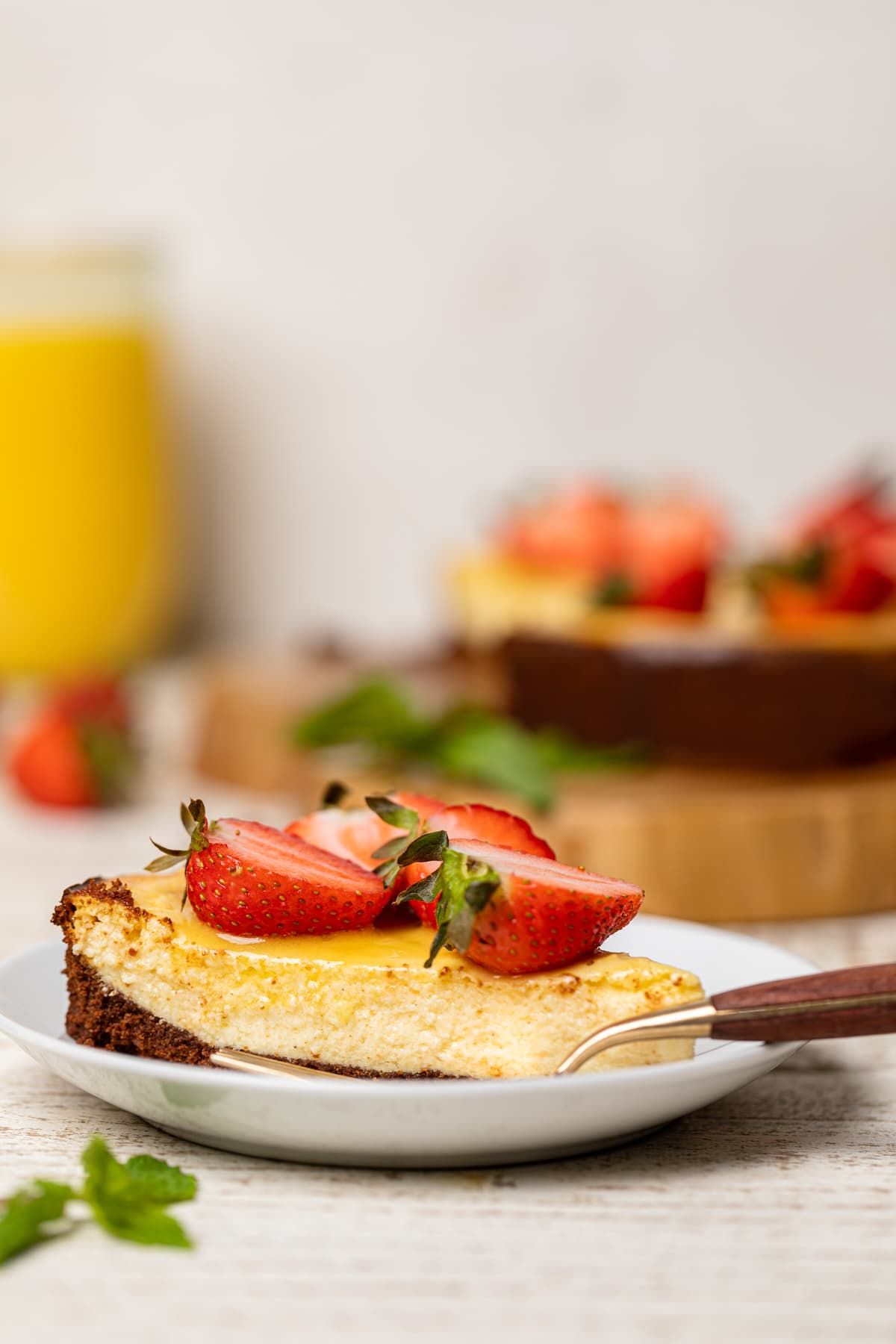 Cheesecake Bites
You can turn this cheesecake into cute bite-sized mini cakes. Simply use a muffin tin to assemble and bake the cake. It will make about 2 dozen cheesecake bites. You will need to reduce the baking time because the cakes are smaller, so check on things after about 20 minutes.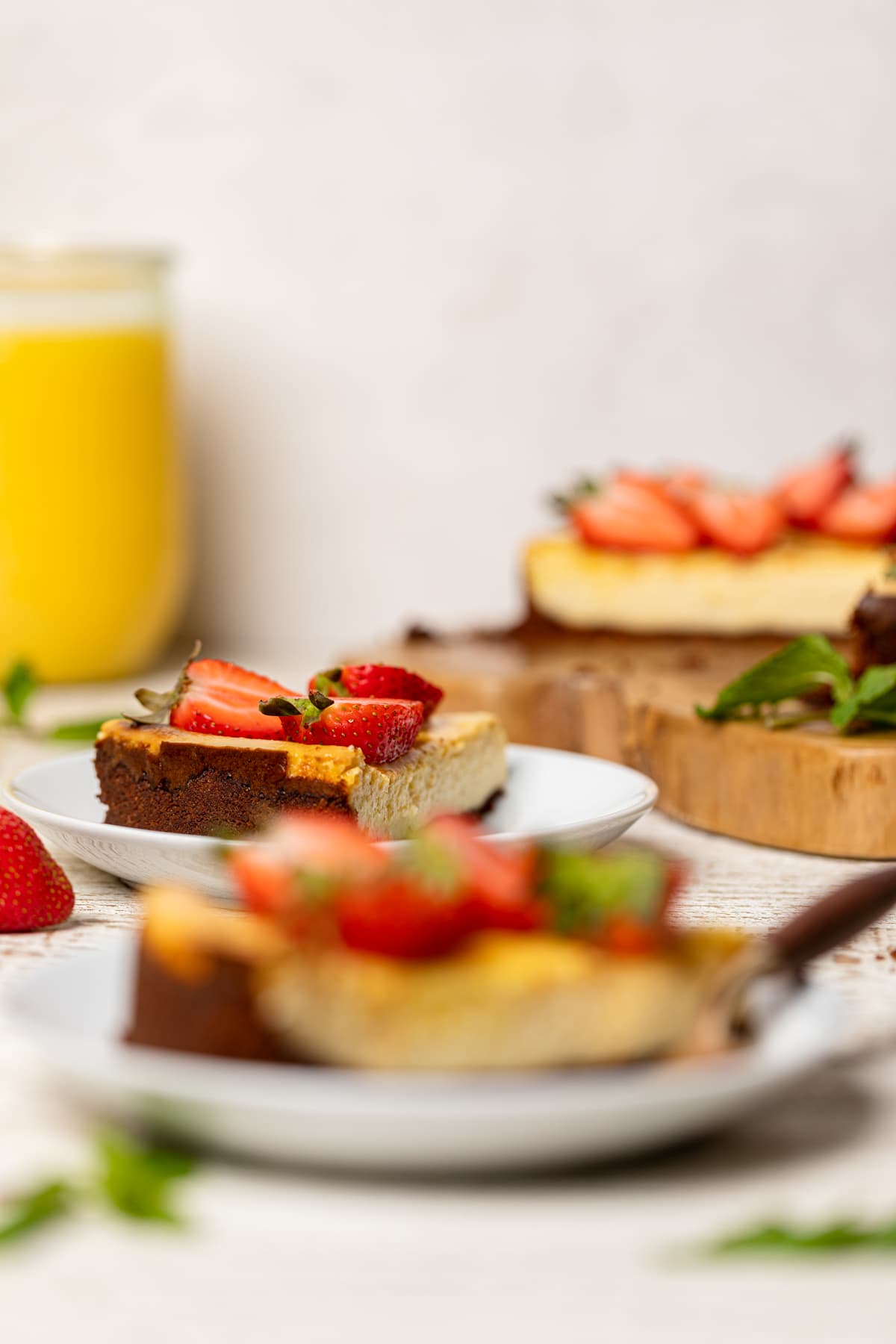 Storage
Store leftover mango cheesecake in an airtight container in the fridge for up to 5 days. You can also freeze the cheesecake for up to three months. Defros the cake overnight in the fridge before serving.
More Favorite Cheesecake Recipes to Try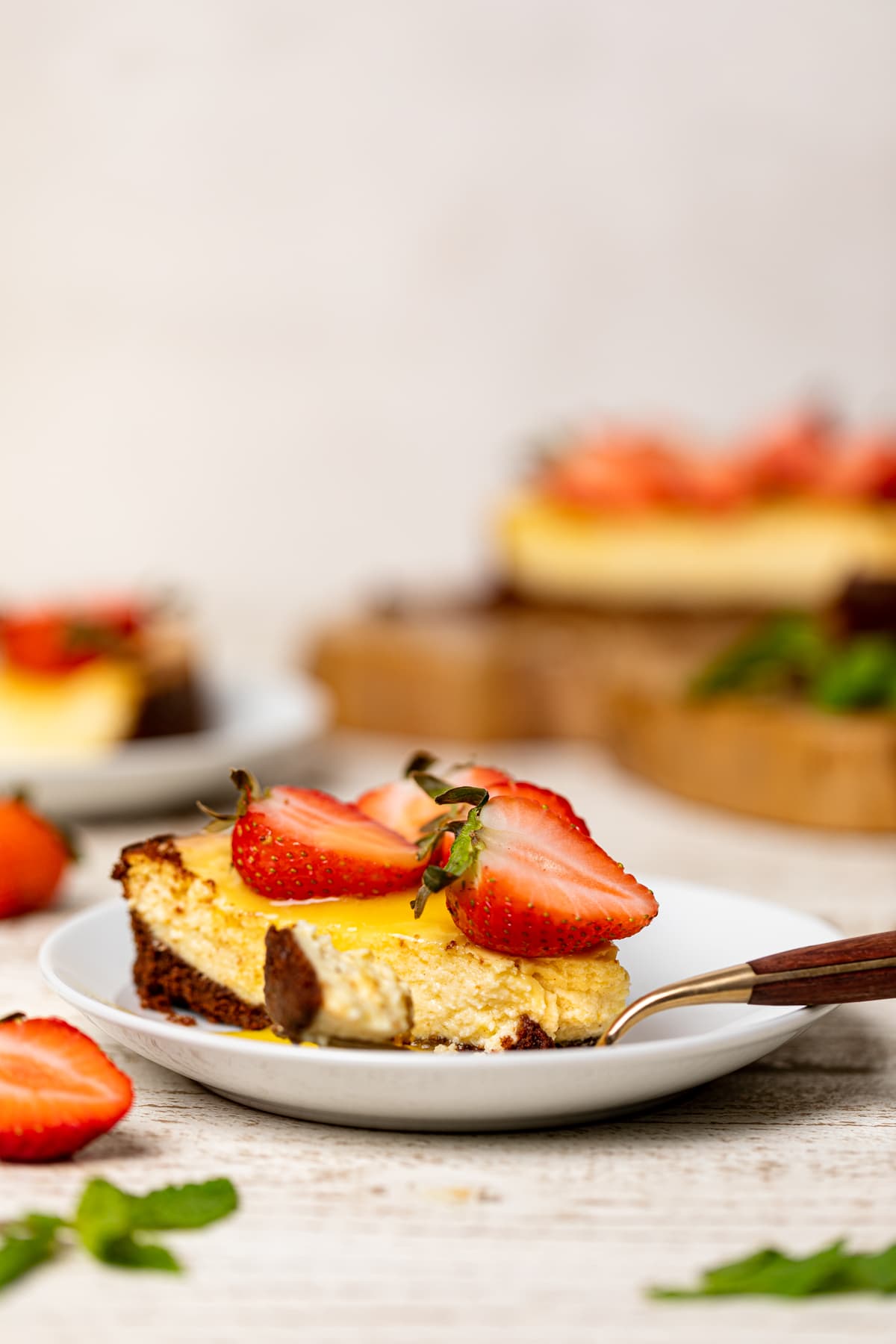 MADE OUR RECIPE(S)?
If you make this Mango Cheesecake + Chocolate Graham Cracker Crust recipe or any other recipe from us, be sure to tag us on Instagram at #Orchidsandsweettea so that we can share the love!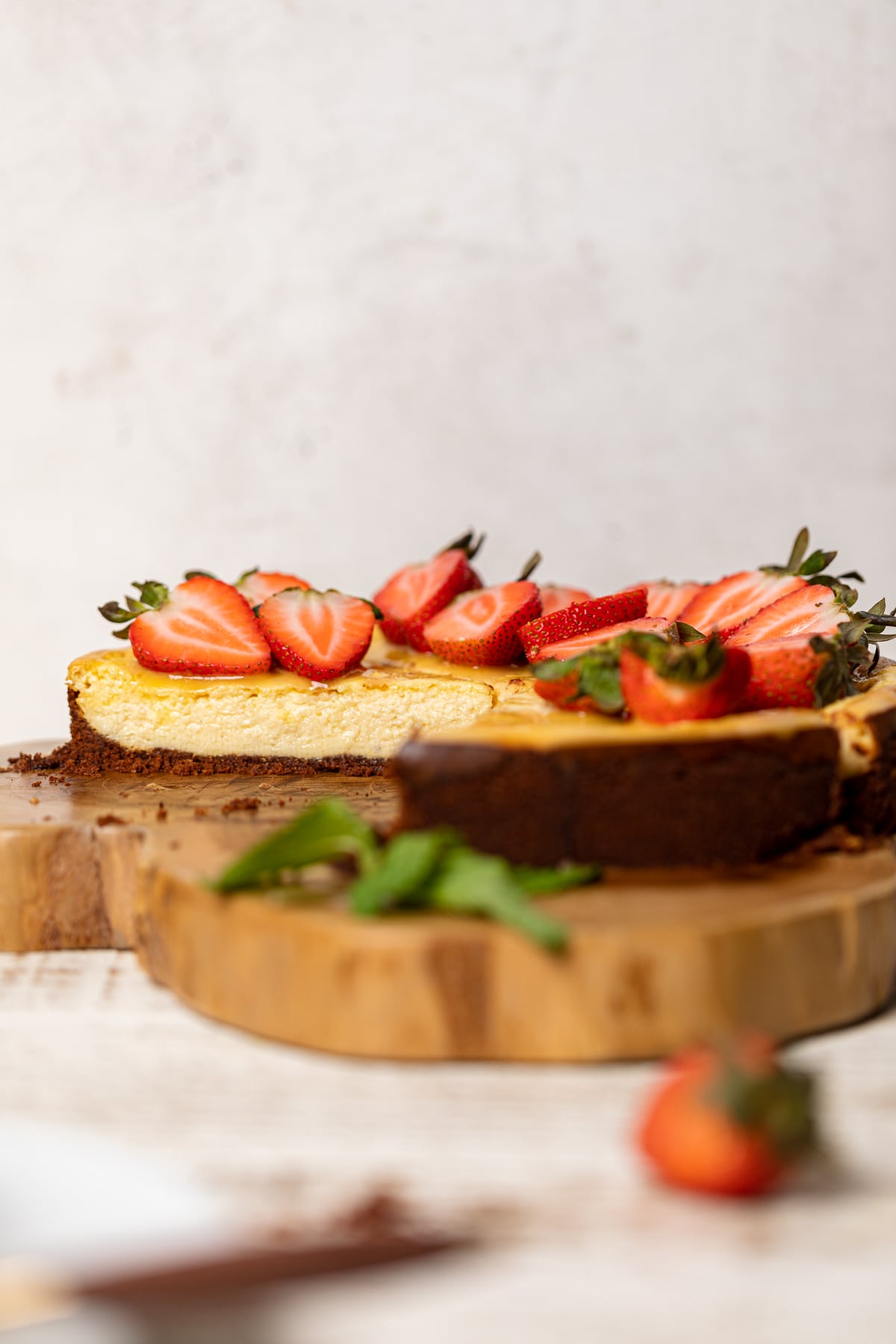 CHOCOLATE GRAHAM CRACKER CRUST:
2

cups

Graham crackers, chopped

(About 12-14 Graham Crackers)

2

Tbsps

organic cocoa powder

3

Tbsps

organic brown sugar

¼

teaspoon

ground cinnamon

4

Tbsps

unsalted butter, melted + more, if needed
MANGO PUREE:
2

cups

mangos, fresh or frozen

(See Notes!)

¼

cup

organic cane sugar

2

Tbsps

freshly-squeezed lemon juice

½

cup

water

(Reduce amount if using fresh mangoes)
MANGO FILLING:
16

oz.

organic cream cheese, softened at room temp. 

(That's 2 packs!)

¾

cup

organic cane sugar

4

Tbsps

organic all-purpose flour 

¾

cup

mango puree

2

tsps

vanilla extract

2

large

organic eggs, at room temp. 

3

Tbsps

low-fat or full-fat sour cream

Pinch of

ground cinnamon

¼

teaspoon

finely-ground sea salt
TOPPINGS:
Fresh mint leaves

Sliced strawberries
FOR THE CRUST:
Preheat oven to 350 degrees Fahrenheit and prepare a 7 or 8-inch springform cheesecake pan by lightly greasing it with butter or oil spray.

Grind the graham crackers, until almost finely ground (it's OK to leave a few medium chunks, if your'e a lover a little crunch!). Combine the Graham crackers, cocoa powder, cinnamon, brown sugar and melted butter in a small bowl and mix with a spatula until well incorporated.

Add the mixture into the prepared pan and press down into the bottom with your fingers (focusing on the middle) to ensure that it's perfectly covering the bottom and sides (like a deep well).

Bake the crust for about 5 minutes and then remove from oven and allow it to cool until you're ready to use.
FOR THE CHEESECAKE FILLING:
In the bowl of an electric mixer, mix together on low speed: the cream cheese, sugar, and flour until combined. Be sure to scrape the sides and bottom of the bowl if needed.

Next, add the vanilla extract and the first egg and beat slowly until mostly combined. Then add the remaining egg and mix until well combined, still mixing everything on low speed. Now, add the mango puree and sour cream, pinch of cinnamon, and continue mixing until combined.

Change mixer attachment to a whisk and beat on medium-high speed for 1-2 minutes or so until completely smooth and lump-free. NOTE: DO NOT OVER-MIX. Be sure to stop once the batter becomes smooth.

Pour the batter into the prepared pan until ¾ filled. NOTE: Leaving a bit of room at the top prevents the cheesecake from spilling over while baking.

Bake the cheesecake for 35-40 minutes (until center comes out mostly clean when tested with a toothpick or knife) and not as jiggly in the center, then turn off the oven and allow it to sit in the oven for another 5 minutes with the oven door halfway open to avoid cheesecake from deflating. NOTE: When baking, I always prepare a medium pot with water and add it to the oven as well, to keep cheesecake temperature even and to add moisture.

Bon Appetit!
STORAGE: Leftover Cheesecake can be stored (tightly wrapped) in the refrigerator for up to 5 days. For best results, keep cheesecake in the freezer until the night before you're ready to serve. Defrost by refrigerating.
CHEESECAKE BITES: If you turn this recipe into cheesecake bites, you'll make about 2 dozen bites.
MANGO PUREE: If using frozen mangos, be sure to blend with ½ cup of cold water, adding an additional 1 tablespoon of water until consistency is met; continue to follow remaining steps in recipe. If using fresh mangoes, begin with ¼ cup of water instead.
Calories:
392
kcal
|
Carbohydrates:
65
g
|
Protein:
13
g
|
Fat:
11
g
|
Saturated Fat:
5
g
|
Polyunsaturated Fat:
1
g
|
Monounsaturated Fat:
3
g
|
Trans Fat:
0.2
g
|
Cholesterol:
71
mg
|
Sodium:
642
mg
|
Potassium:
374
mg
|
Fiber:
2
g
|
Sugar:
47
g
|
Vitamin A:
1006
IU
|
Vitamin C:
25
mg
|
Calcium:
245
mg
|
Iron:
2
mg