This Caramel Apple Cheesecake is has a thick pecan and graham cracker crust, a velvety caramel cheesecake filling, and a scrumptious caramelized apple spice glaze on top. The perfect fall dessert for any occasion.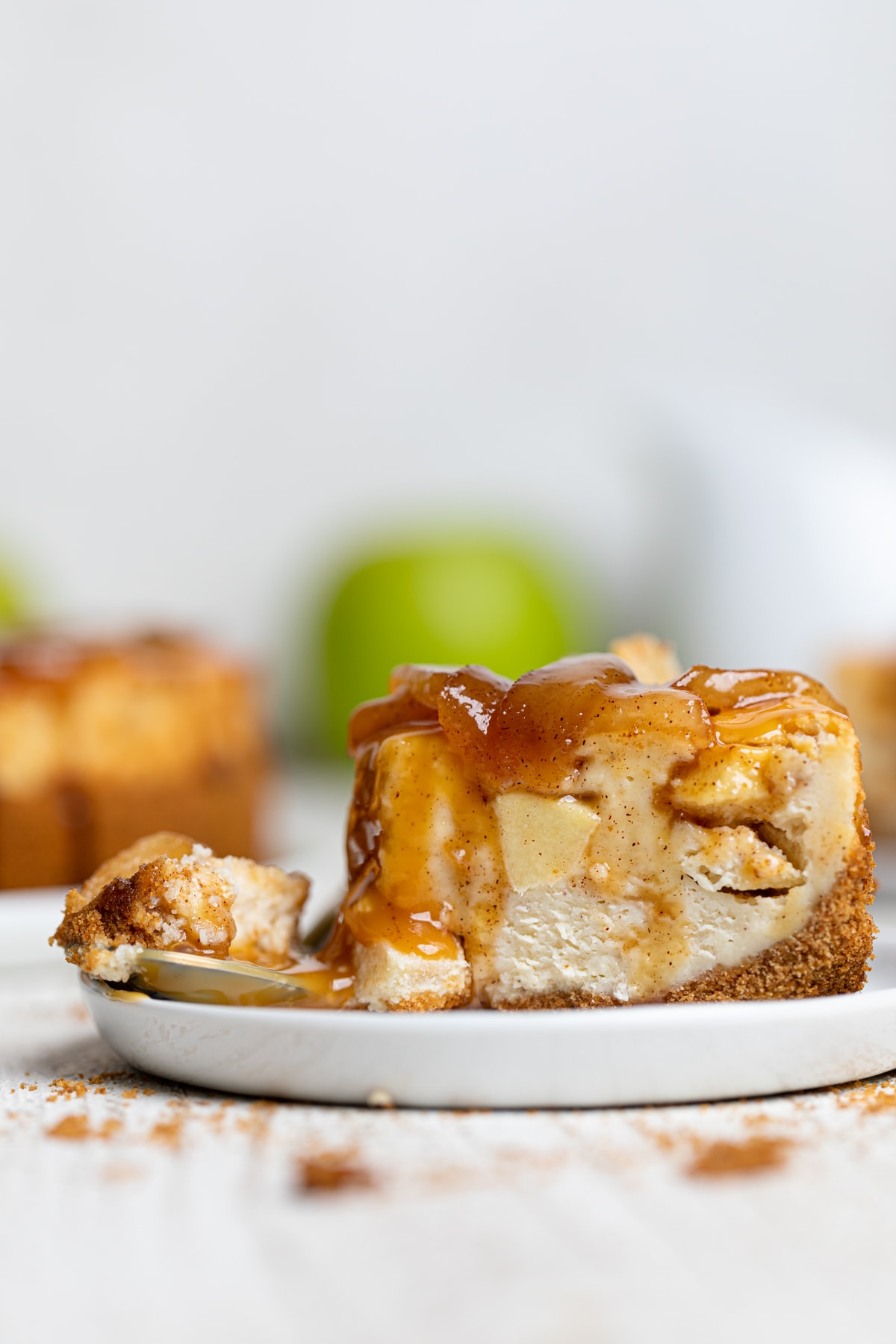 Cheesecake was one of the first desserts I ever mastered. When I graduated from store-bought crusts and canned toppings to making my own from-scratch cheesecakes, I fell in love with the process of baking and experimenting with flavors and this Best Caramel Apple Cheesecake is one of my faves by far. Now, I look for any opportunity to share a cheesecake, from my Gluten-Free Peanut Butter Cookies & Cream Brownie Cheesecake to Chocolate Chip Cheesecake with Lucky Charms, the possibilities are so endless and fun. 
For me, cheesecake is a delicious expression of my southern roots and New York City pride. See for yourself in my southern-inspired Sweet Potato Caramel Cheesecake or my Not So Classic New York-Style Cheesecake.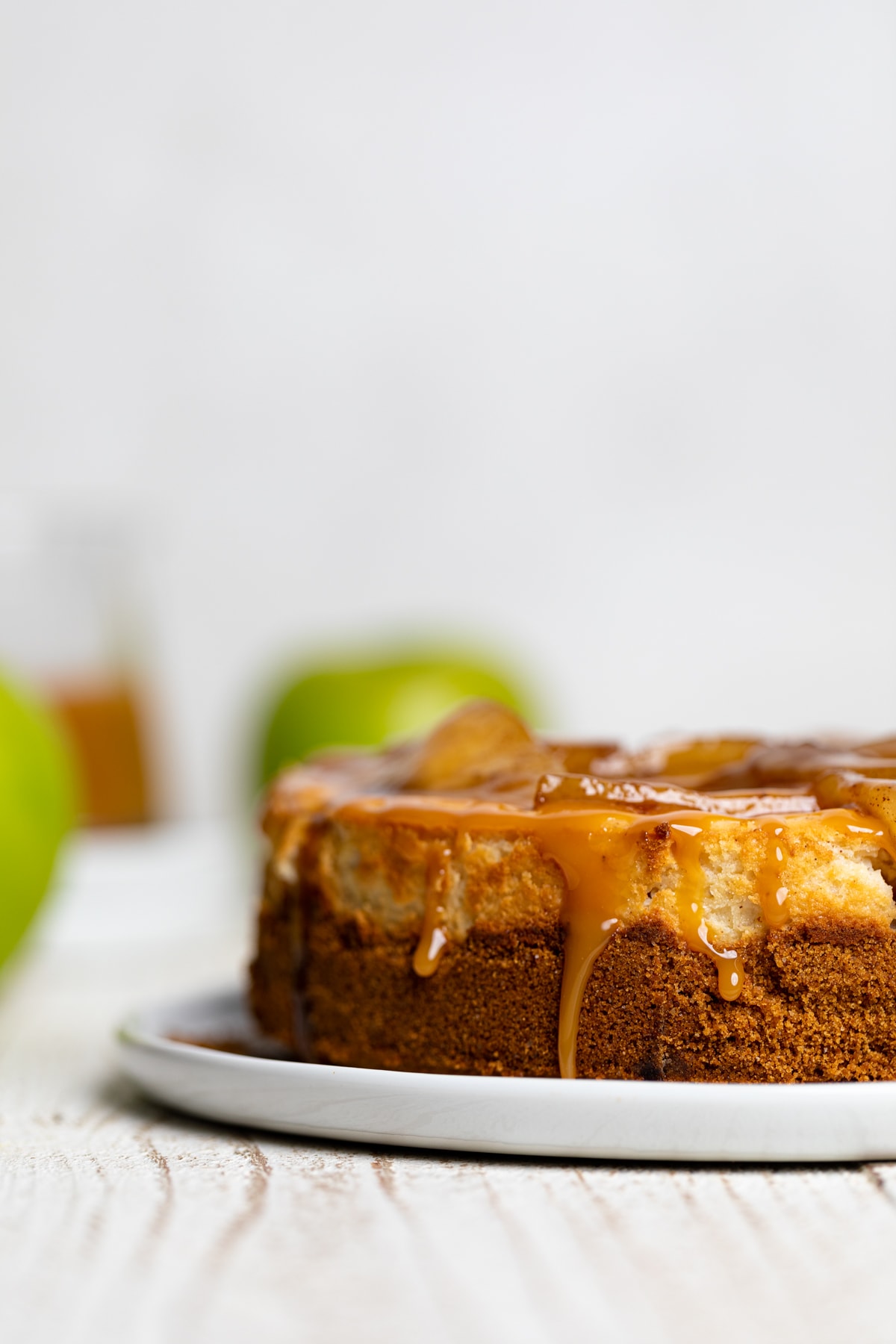 Why You'll Love This Recipe
It's super easy to make.
Ready in less than 45 minutes.
Only requires ONE baking dish---a Cheesecake Baking Pan allows for an easy slip out!
The epitome of DELICIOUS.
Super velvety and smooth texture.
Jam-packed with fall spices!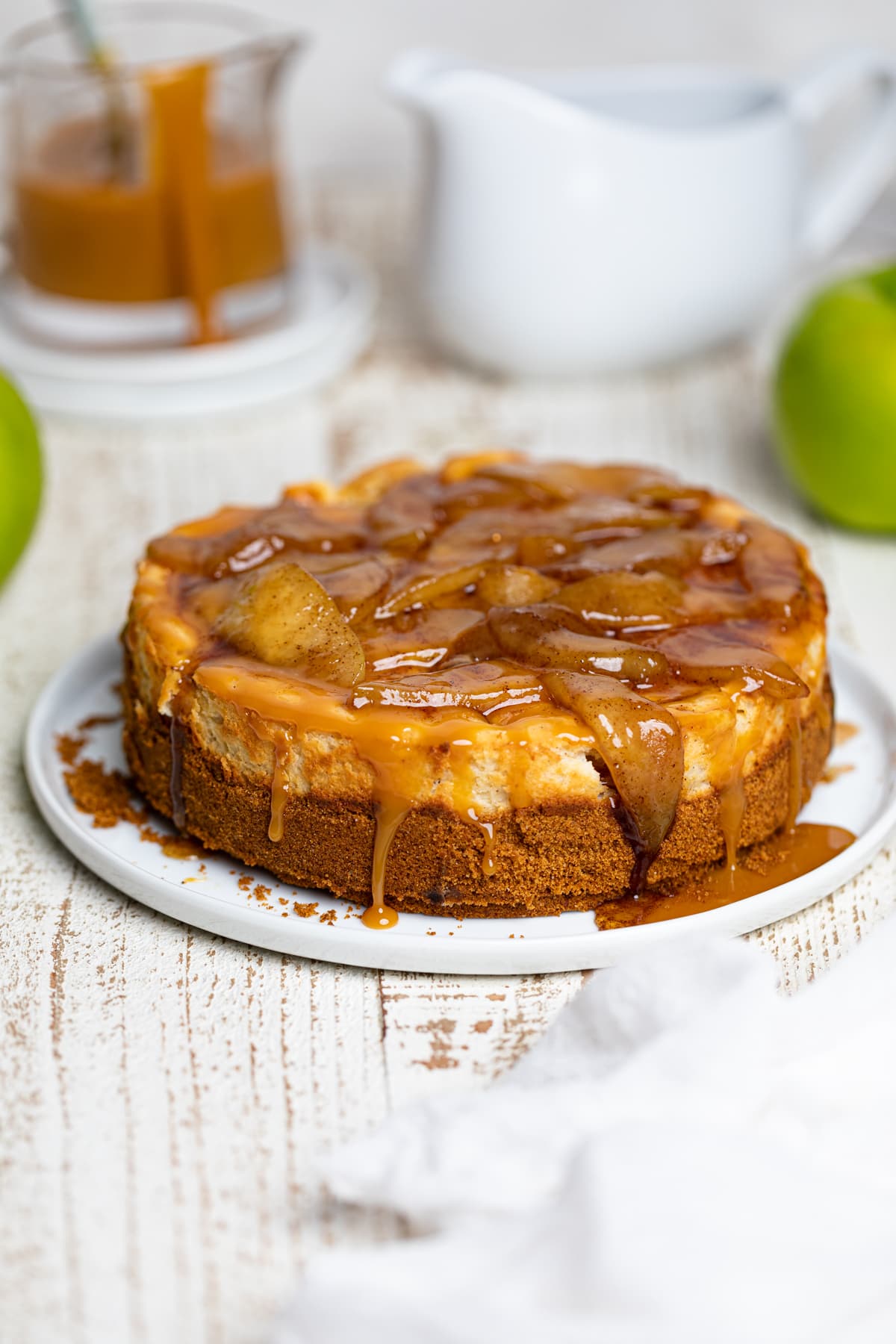 How to Make Caramel Apple Cheesecake
There are four components to this layered cheesecake recipe: the crust, the filling, caramelized apples, and the caramel sauce topping. I recommend making the components in that order.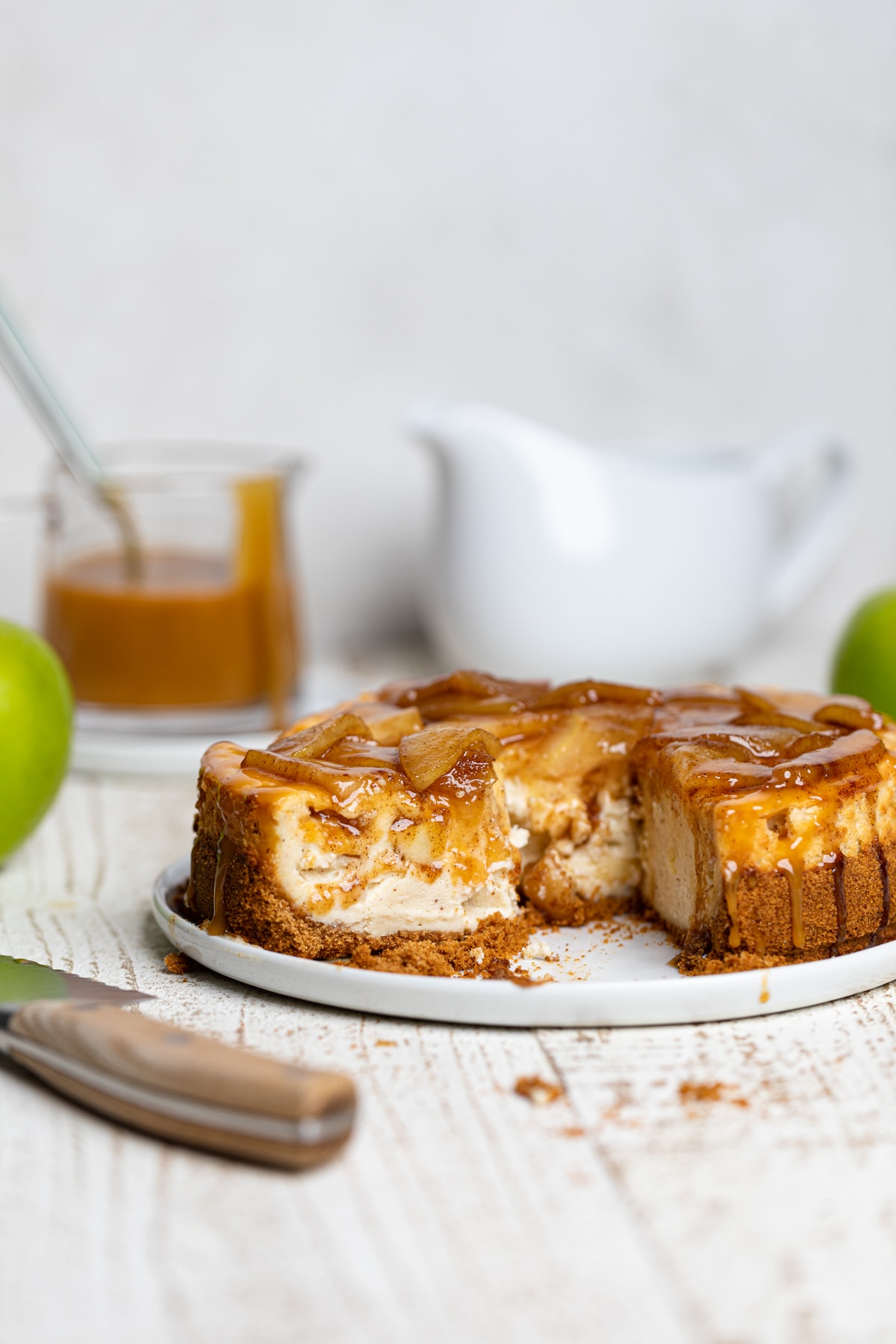 Pecan-Graham Cracker Crust
First, make the crust. This needs to cool fully before you add the filling. Here's what you'll need:
Graham crackers. You'll need 12 to 14 crackers, and you can use gluten-free if necessary.
Brown sugar. I always use organic. 
Cinnamon for a touch of spice
Butter. Use unsalted, melted butter.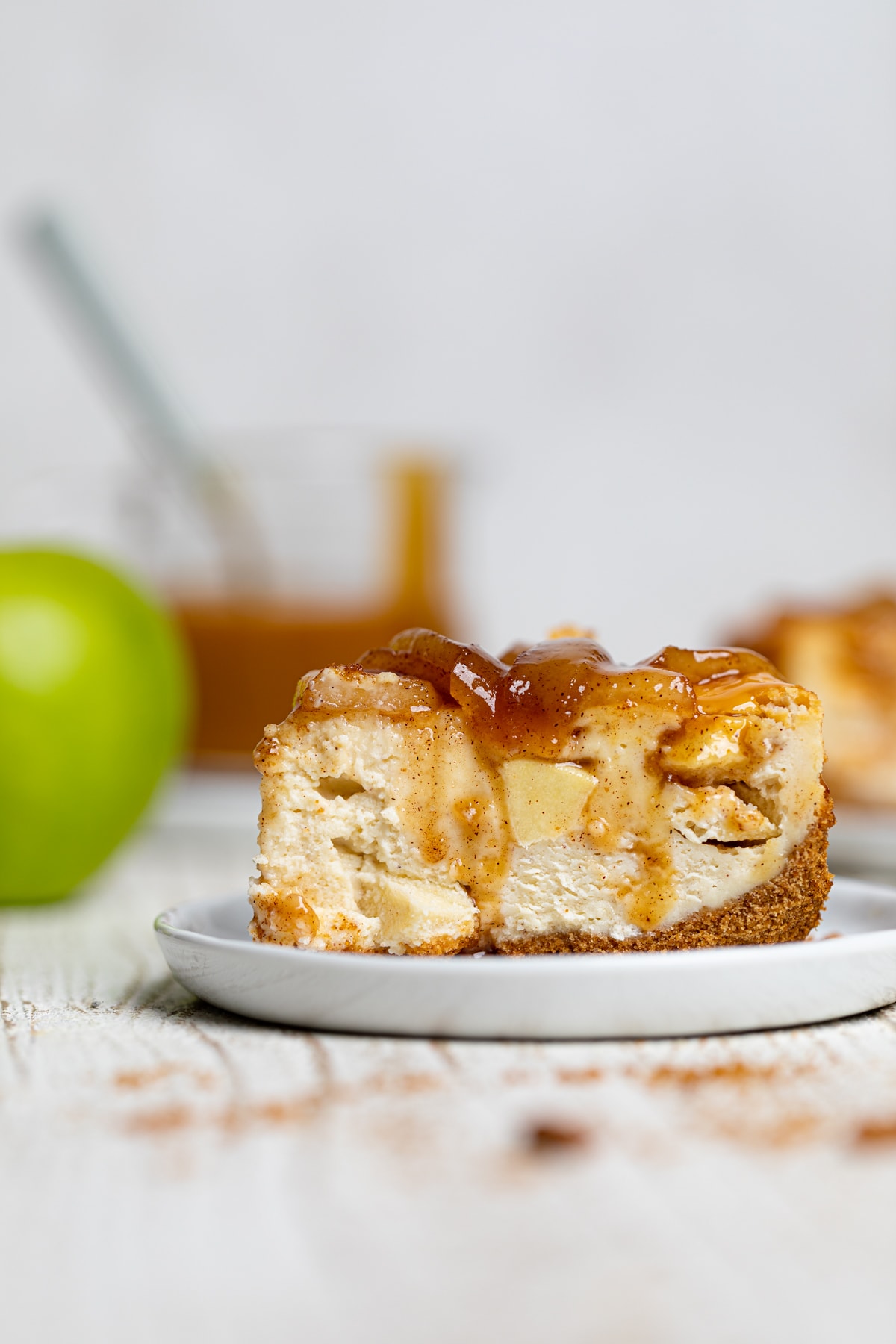 Caramel Cheesecake Filling
Next, make the light, creamy and airy cheesecake filling. Here's what you need:
Cream cheese. Make sure it's softened to room temperature. 
Cane sugar. I recommend organic. 
All-purpose flour. You can substitute gluten-free 1:1 flour. 
Vanilla extract
Eggs. These should also be at room temperature.
Sour cream. Full-fat or low-fat will both work. For best results, use room-temperature sour cream.
Cinnamon and nutmeg. For fall spiced flavor. 
Apple. Use Granny Smith for its tart flavor and firm texture.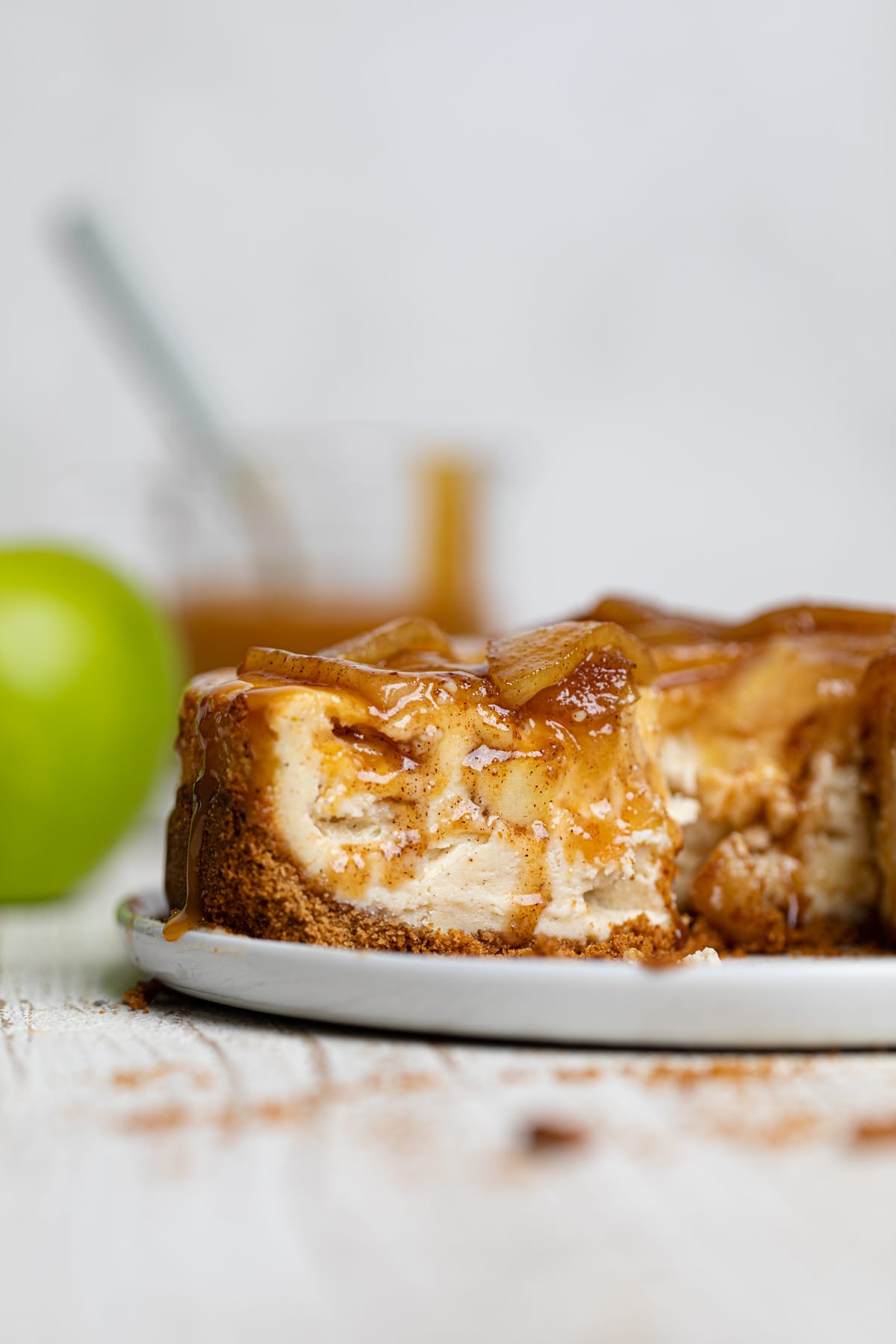 Caramelized Apples
Next, make the golden-brown and buttery caramelized apples with:
Granny Smith apples, sliced into thick wedges
Butter. Unsalted is best, but if you only have salted butter, omit the salt.
Brown sugar for extra caramelized flavor
Cinnamon, nutmeg and allspice
Homemade Caramel Sauce
Finally, this buttery and sweet caramel sauce ties this decadent apple cheesecake together. You can make a double batch and save some for drizzling on homemade ice cream later. You'll need:
Brown sugar
Unsalted butter. Cold butter is best here. Cut it into small cubes
Heavy cream. I also use organic dairy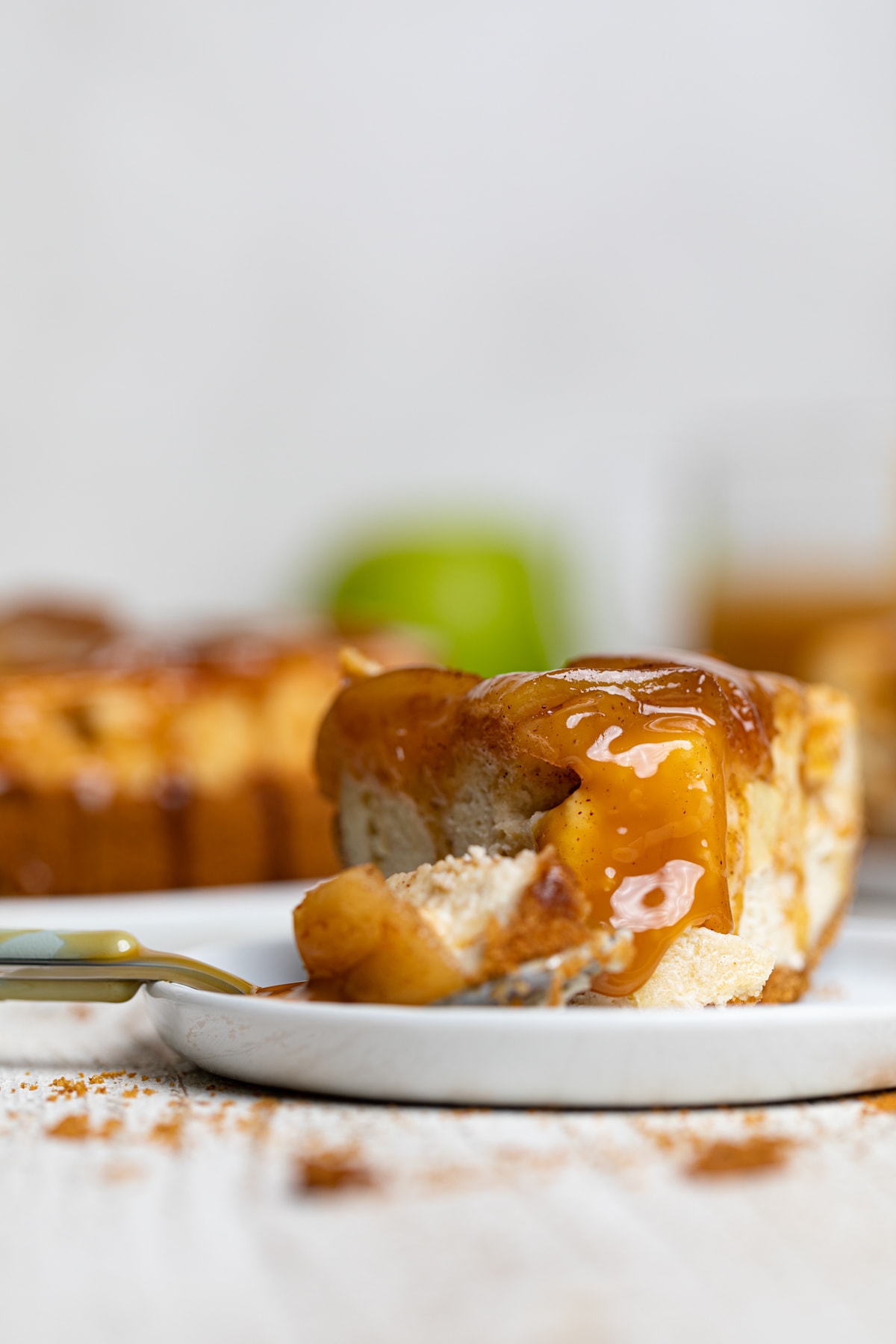 Serving and Storing Caramel Apple Cheesecake
This cheesecake is best served chilled. You'll need to pop it into the fridge for at least an hour before you serve it. Ideally, it should chill overnight to firm up all the way through. 
Store the leftover cheesecake in an airtight container or wrapped in plastic in the fridge for up to four days. 
More Favorite Cheesecake Recipes
MADE OUR RECIPE(S)?
If you make this Caramel Apple Cheesecake or any other recipe from us, be sure to tag us on Instagram at #Orchidsandsweettea so that we can share the love!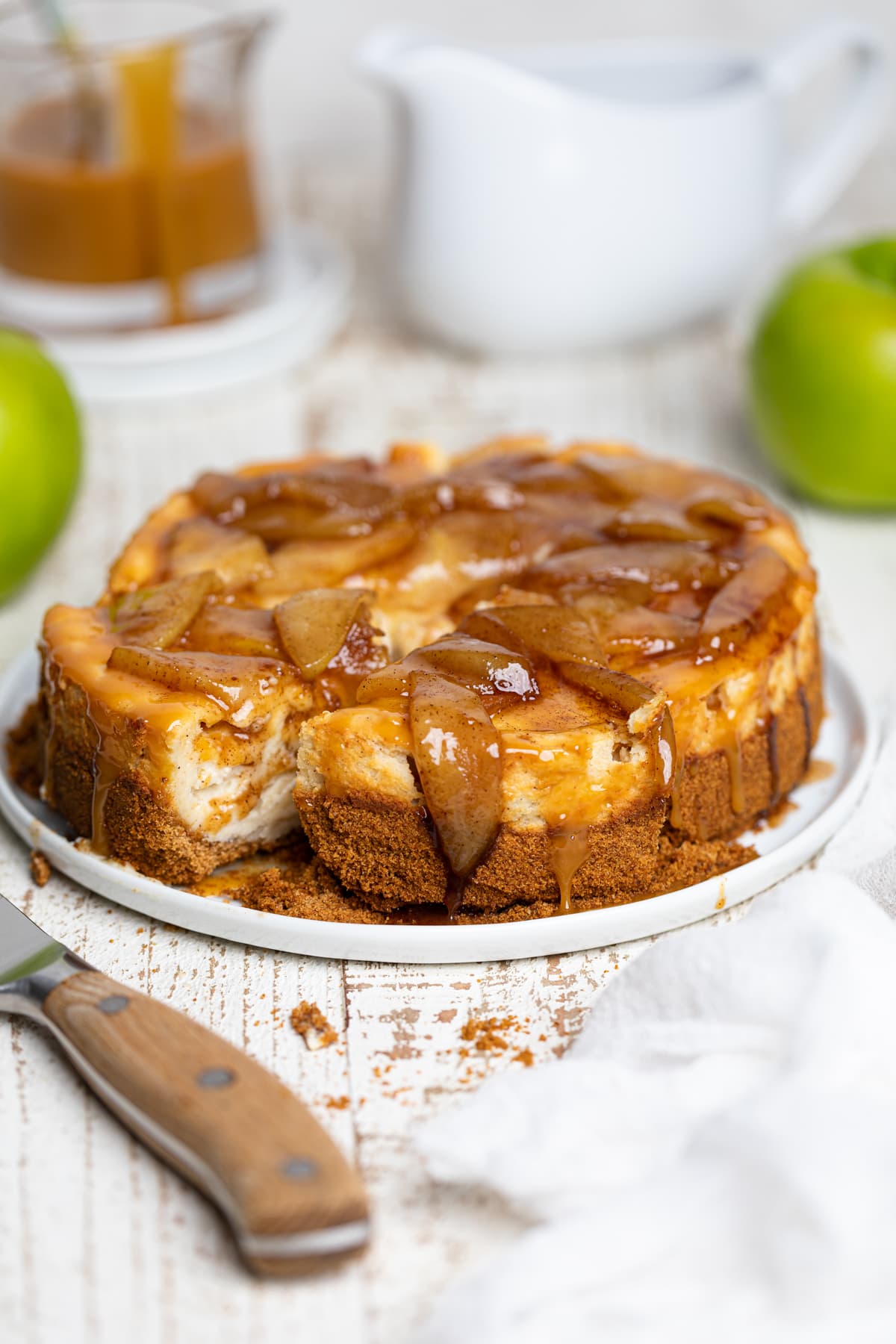 GRAHAM CRACKER CRUST:
2

cups

Graham crackers, chopped

(About 12-14 Graham Crackers)

3

Tbsps

organic brown sugar

1

teaspoon

ground cinnamon

3

Tbsps

unsalted butter, melted + more, if needed
CHEESECAKE + FILLING:
16

ozs.

organic cream cheese, softened at room temp.

(That's 2 packs!)

¾

cup

organic cane sugar

4

Tbsps

organic all-purpose flour 

2

tsps

vanilla extract

2

large

organic eggs, at room temp. 

3

Tbsps

low-fat or full-fat sour cream

¼

teaspoon

finely-ground sea salt

1

teaspoon

ground cinnamon

½

teaspoon

ground nutmeg

1

medium

Granny smith apple, peeled + chopped
HOMEMADE CARAMEL SAUCE:
1

cup

organic brown sugar

6

Tbsps

unsalted butter, cut into cubes

½

cup

organic heavy whipping cream

pinch of

finely-ground sea salt
PECAN GRAHAM CRACKER CRUST:
Preheat oven to 350 degrees Fahrenheit and prepare a 7 or 8-inch springform cheesecake pan by lightly greasing it with butter or oil spray.

Grind the graham crackers, until almost finely ground (it's OK to leave a few medium chunks, if your'e a lover a little crunch!). Combine the Graham crackers, cinnamon, brown sugar and melted butter in a small bowl and mix with a spatula until well incorporated.

Add the mixture into the prepared pan and press down into the bottom with your fingers (focusing on the middle) to ensure that it's perfectly covering the bottom and sides (like a deep well).

Bake the crust for about 5 minutes and then remove from oven and allow it to cool until you're ready to use.
CHEESECAKE + FILLING:
In the bowl of an electric mixer, mix together on low speed: the cream cheese, sugar, and flour until combined. Be sure to scrape the sides and bottom of the bowl if needed.

Next, add the vanilla extract and the first egg and beat slowly until mostly combined. Then add the remaining egg and mix until well combined, still mixing everything on low speed. Now, add the sour cream and spices and continue mixing until combined.

Change mixer attachment to a whisk and beat on medium-high speed for 1-2 minutes or so until completely smooth and lump-free. NOTE: DO NOT OVER-MIX. Be sure to stop once the batter becomes smooth. Fold in chopped apples.

Pour the batter into the prepared pan until ¾ filled. NOTE: Leaving a bit of room at the top prevents the cheesecake from spilling over while baking.

Bake the cheesecake for 35-40 minutes (until center comes out mostly clean when tested with a toothpick or knife), then turn off the oven and allow it to sit in the oven for another 5 minutes with the oven door halfway open to avoid cheesecake from deflating. NOTE: When baking, I always prepare a medium pot with water and add it to the oven as well, to keep cheesecake temperature even and to add moisture.

In the meantime, make the caramelized apples and caramel sauce.
HOMEMADE CARAMEL SAUCE:
Heat the brown sugar in a medium skillet over medium-high heat and stir constantly using a rubber spatula until clumps are formed. Add butter and continue to stir until everything has melted and become a dark 'amber-like' color. Continue to stir consistently until fully melted and bubbly, about 2-3 minutes.

Now, slowly whisk in the heavy cream and continue stirring until well incorporated and sauce has fully thickened. Remove from heat and allow to cool slightly before using. Set aside.
CARAMELIZED APPLE TOPPING:
In a medium saucepan over medium-high heat, add the butter and heat until melted. Add the brown sugar, cinnamon, nutmeg, allspice, and sea salt and stir until combined and everything begins to bubble a bit, about 2-3 minutes.

Add the sliced apples and toss until well coated and cook for 8-10 minutes, until tender and the sauce has thickened. Remove from heat.
STORAGE: Leftover Cheesecake can be stored (tightly wrapped) in the refrigerator for up to 5 days. For best results, keep cheesecake in the freezer until the night before you're ready to serve. Defrost by refrigerating.
STORAGE (CARAMEL SAUCE): Leftover caramel sauce can be stored in a tightly sealed mason jar for up to two weeks. When ready to use, simply reheat sauce in the microwave at 15 second intervals until softened and at room temp.
CHEESECAKE BITES: If you turn this recipe into cheesecake bites, you'll make about 2 dozen bites.
Calories:
647
kcal
|
Carbohydrates:
92
g
|
Protein:
13
g
|
Fat:
28
g
|
Saturated Fat:
16
g
|
Polyunsaturated Fat:
1
g
|
Monounsaturated Fat:
7
g
|
Trans Fat:
1
g
|
Cholesterol:
118
mg
|
Sodium:
656
mg
|
Potassium:
383
mg
|
Fiber:
3
g
|
Sugar:
72
g
|
Vitamin A:
911
IU
|
Vitamin C:
3
mg
|
Calcium:
295
mg
|
Iron:
2
mg