This is the best White Chocolate Cheesecake with Cranberries and a gingersnap crust for the holidays, complete with fresh berries and decadent white chocolate.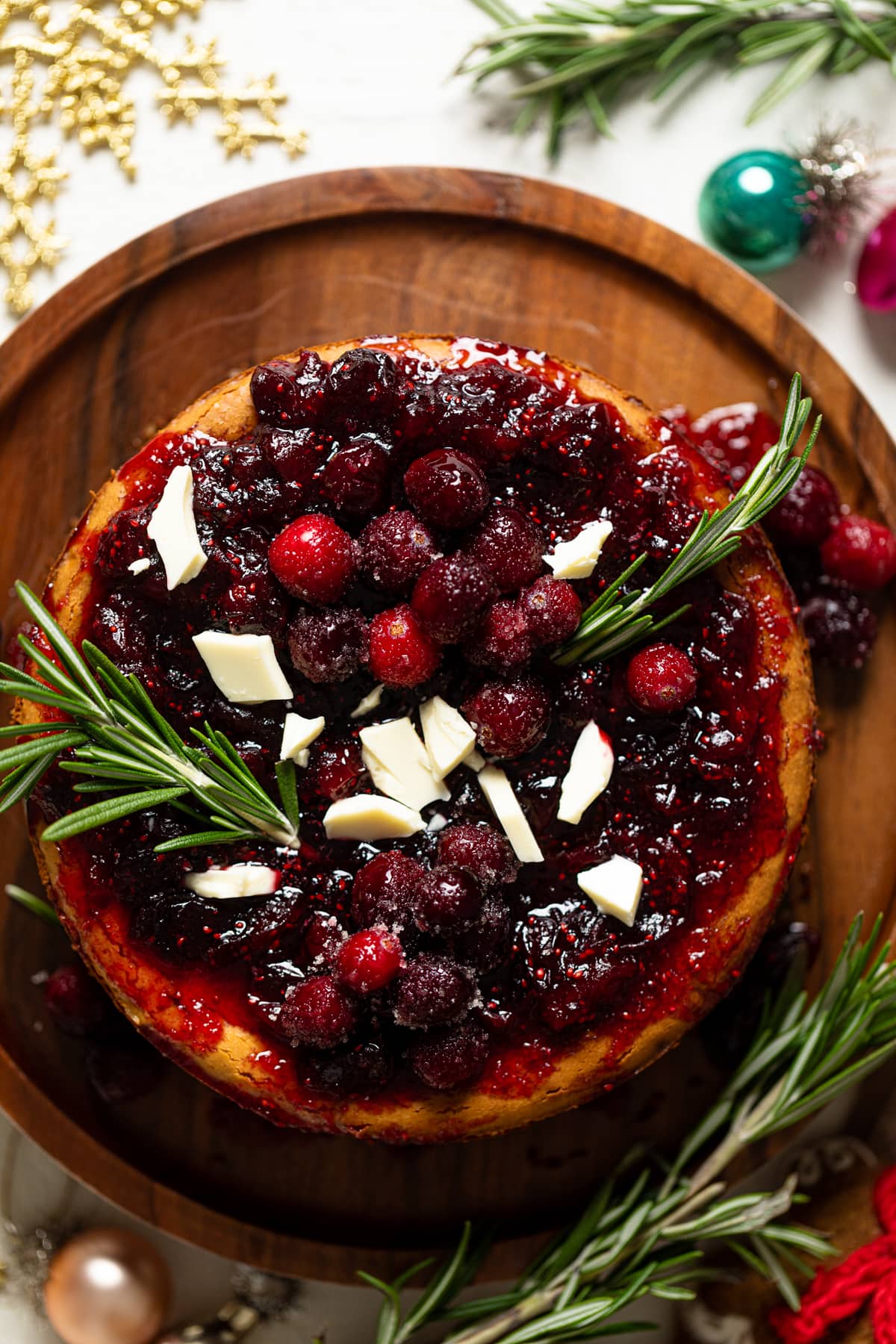 Whether you're a cheesecake pro or this is your first time trying one, don't worry. This recipe is simple, straightforward and so delicious. Plus, I've included plenty of tips below to help you bring your stunning white chocolate cheesecake to life for your holiday party.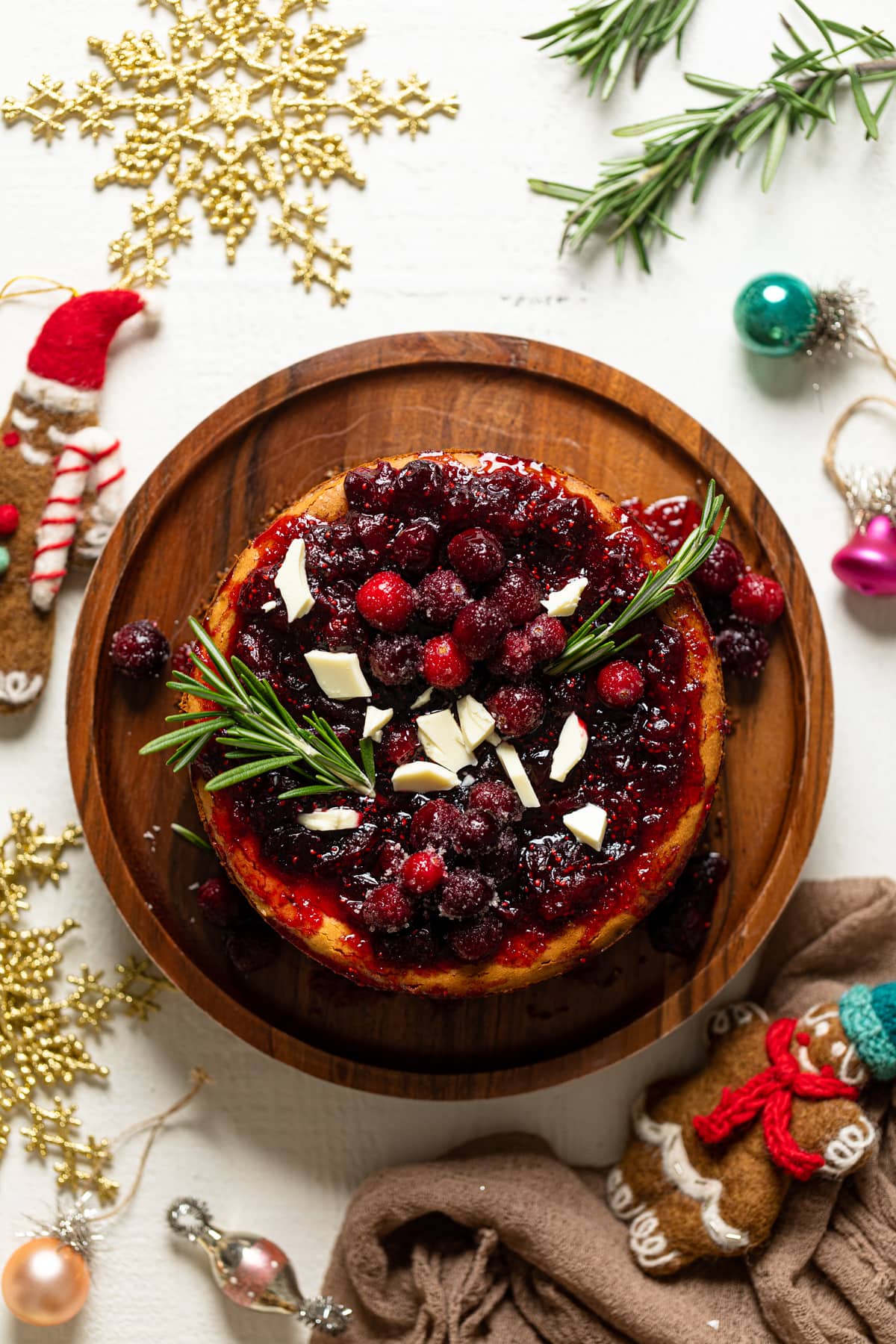 Why You'll Love This Recipe
It's super easy to make.
Done in under 45 minutes.
Only requires ONE baking dish—a Cheesecake Baking Pan allows for an easy slip out!
The epitome of DELICIOUS.
Super velvety and smooth.
Bursting with Ginger + Cranberry Flavors!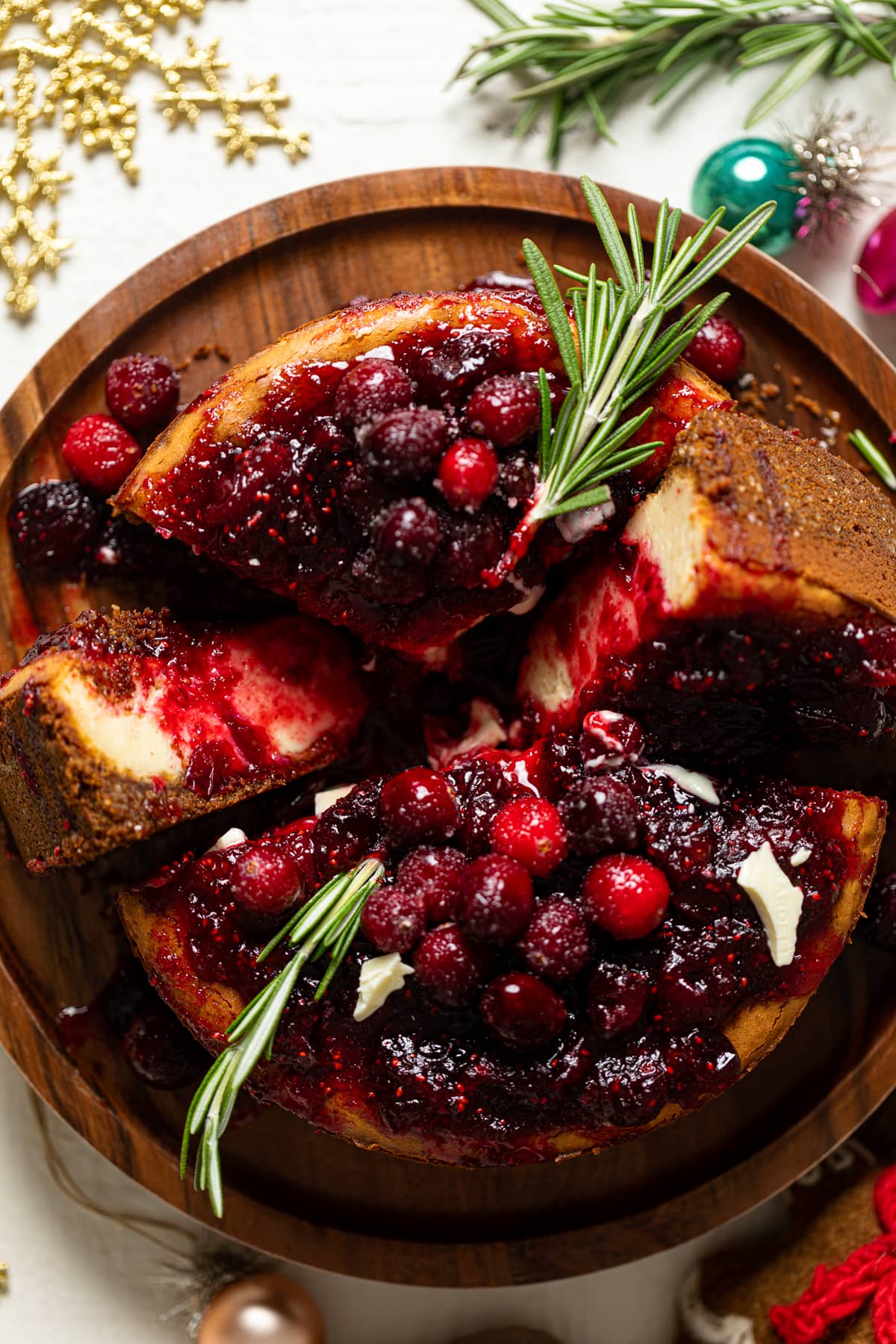 White Chocolate Cheesecake Ingredients
To make this cheesecake, you'll need to make a gingersnap crust, filling and cranberry topping. the good news is that everything comes together quickly and the ingredients are simple. Here's what you'll need for each component of the cake:
Gingersnap Crust
Gingersnap cookies. You can use homemade or store bought cookies, but make sure they're crisp, not chewy. 
Brown sugar. I recommend organic sugar if possible. 
Cinnamon
Butter. Use unsalted, melted butter to hold the crust together.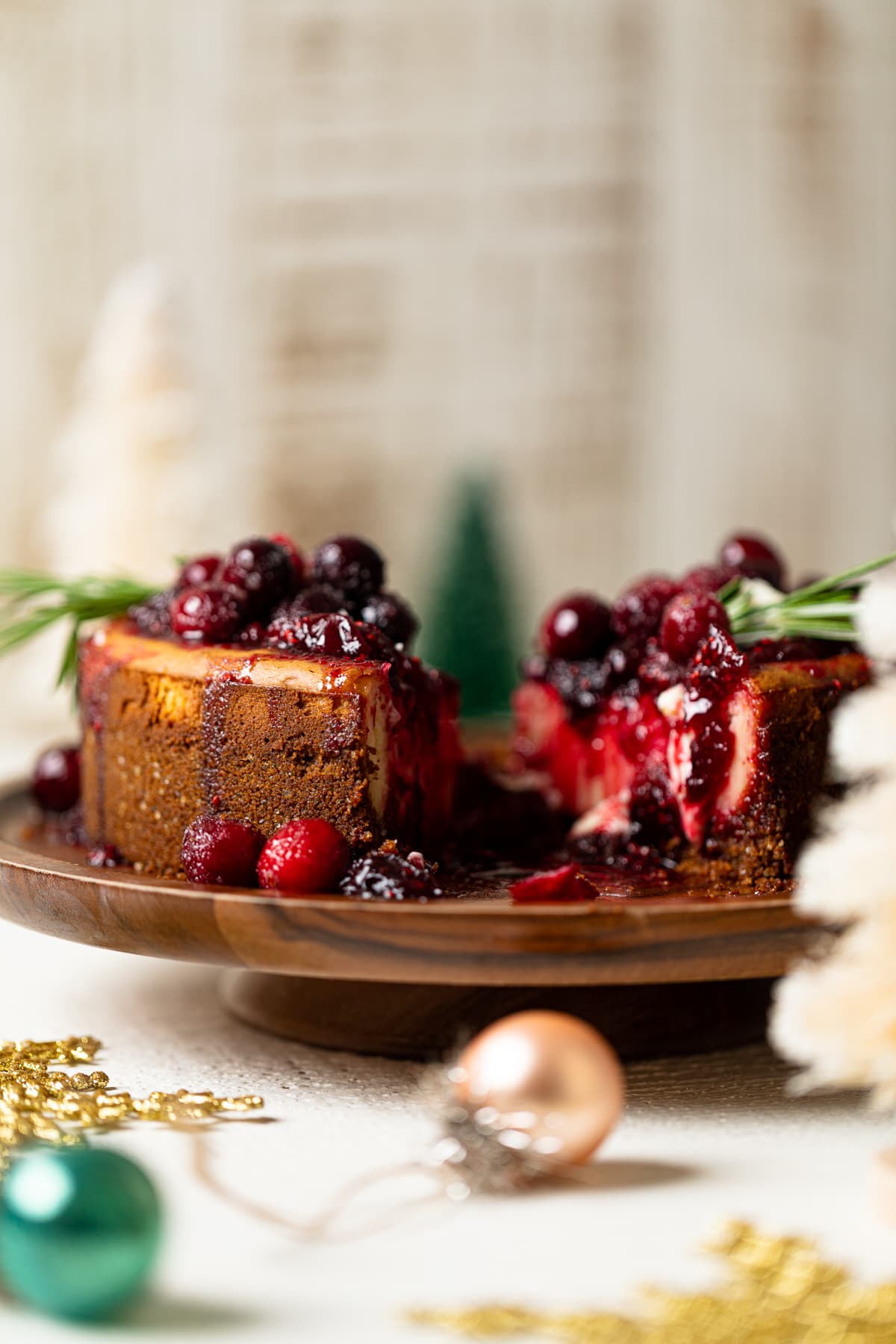 Cranberry Cheesecake Filling
Next, make the light and fluffy cheesecake filling with these ingredients:
Cream cheese. Make sure it's softened to room temperature, or you might end up with lumps in your cheesecake. 
White chocolate. Look for white baking chocolate bars. 
Heavy cream
Cane sugar
All-purpose flour. This thickens your baked cheesecake. 
Vanilla extract. Make sure to use pure vanilla, not imitation. 
Eggs. These should also be at room temperature. 
Greek yogurt. Use full-fat for the best flavor and texture. 
Cinnamon and nutmeg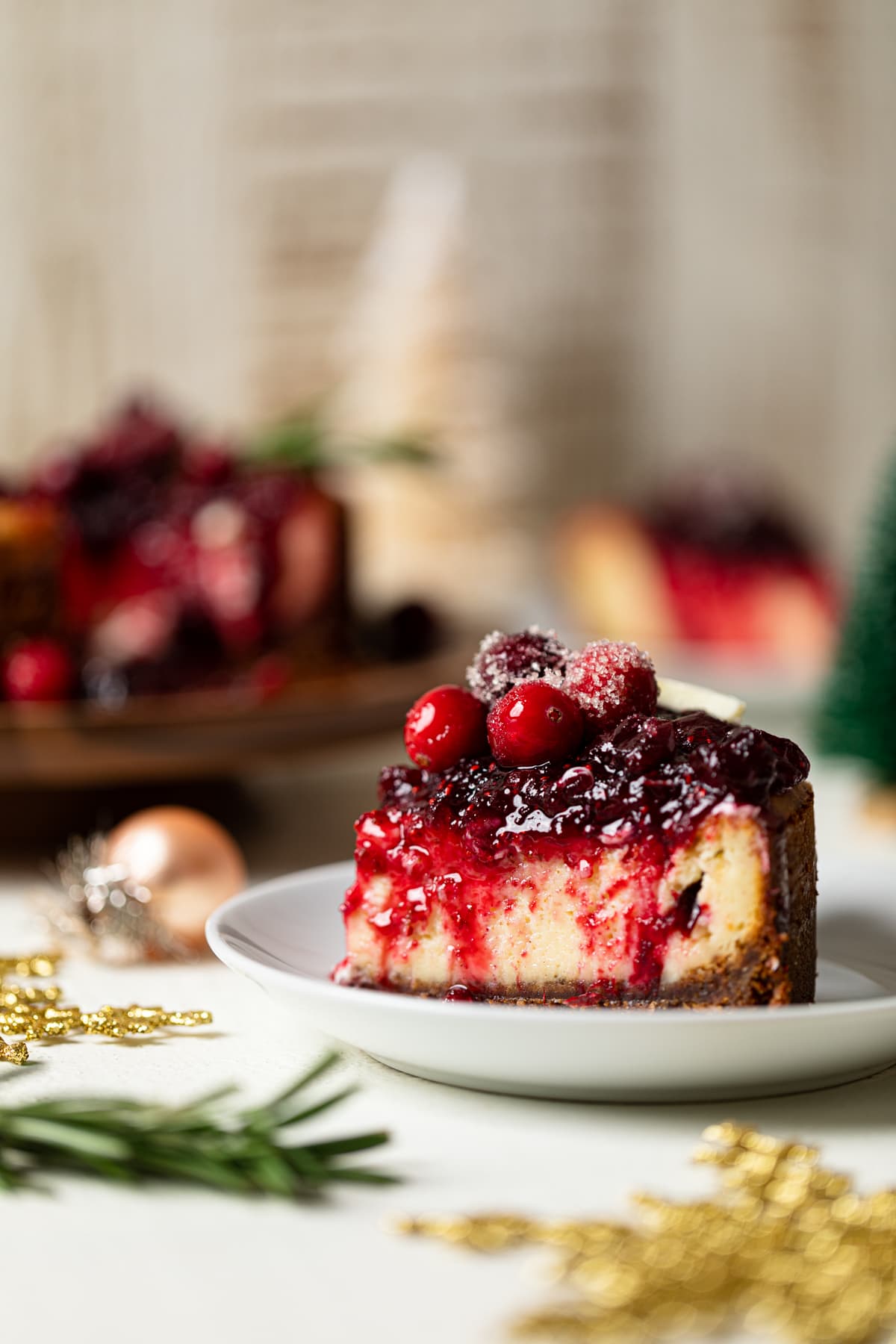 Cranberry Topping
Finish off this stunning Christmas cheesecake with a bright and tart cranberry sauce made with:
Whole cranberries. Fresh or frozen both work. 
Cane sugar
Maple syrup. You could also use honey if you prefer.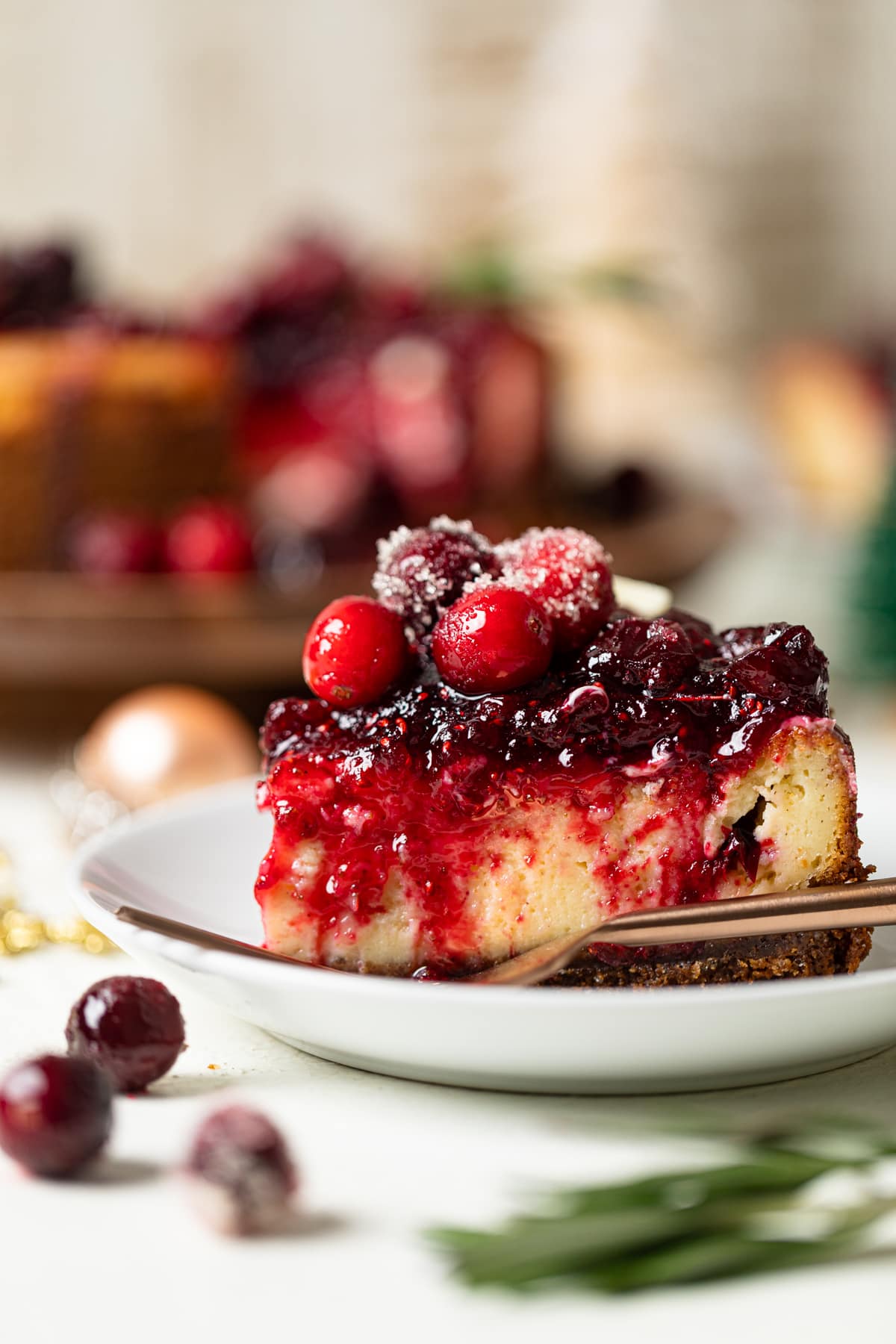 Are Cranberries Good for You?
Did you know that cranberries are closely related to blueberries? That's why these little red fruits are jam-packed with nutrients and health benefits.
Cranberries were mostly composed of carbohydrates and dietary fiber? The carbs are mostly simple sugars (which means that they only have 1 or 2 molecular structures).
Cranberries also contain plenty of fiber, which can help with digestion, as long as you don't overdo it! Eating an excess amount of Cranberries can cause digestive symptoms such as diarrhea.
Cranberries are jam-packed with essential nutrients like vitamin C, manganese (essential for growth, metabolism, and antioxidant function), vitamin E, vitamin K1, and Copper.
In addition, cranberries contain good amounts of plant compounds and are great at preventing the following:
Urinary Tract Infections
Stomach Cancer + Ulcers
Heart Disease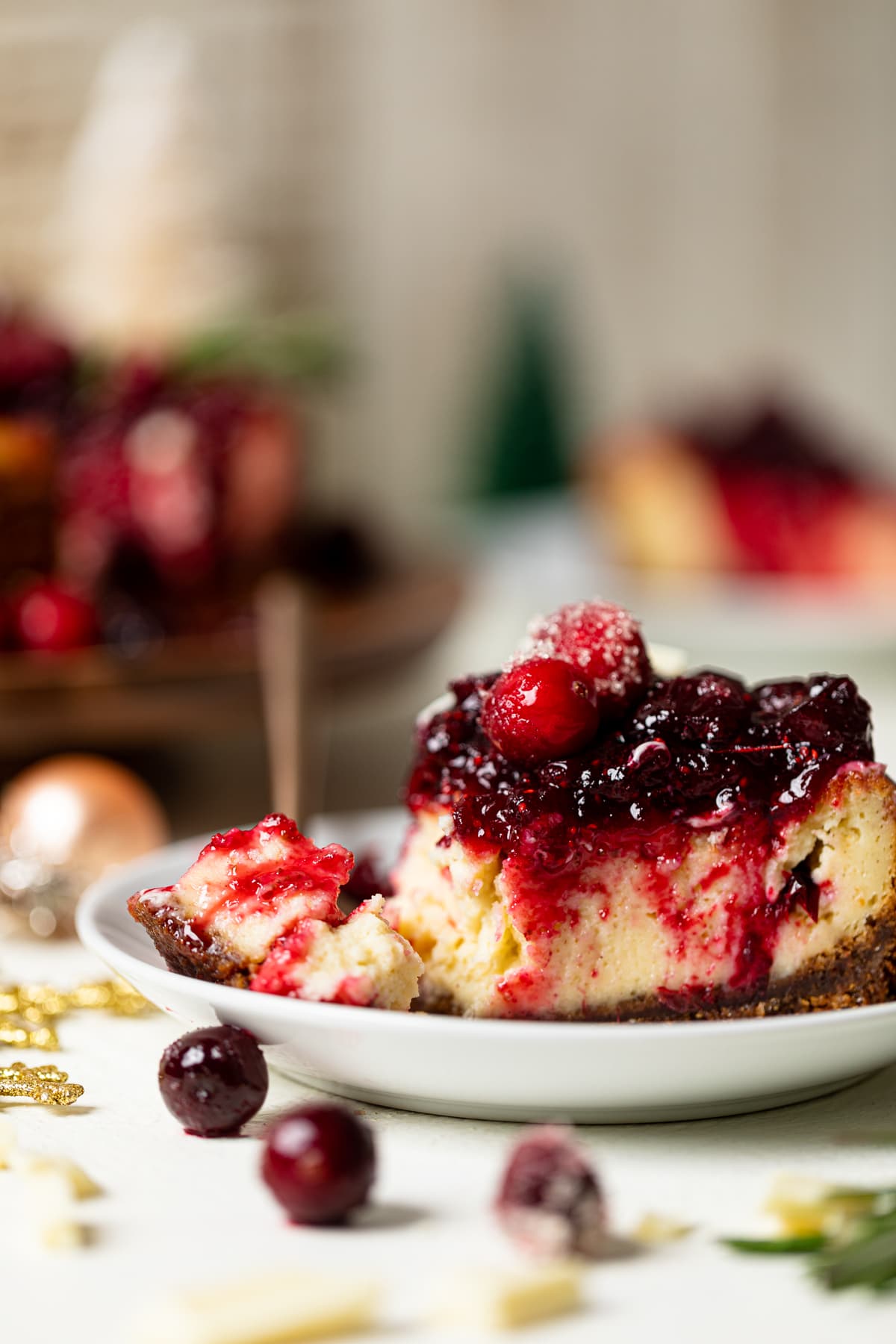 Tips for Making the Perfect Cheesecake.
Avoid those Lumps!
Always, ALWAYS soften your cream cheese at room temperature for a minimum of 30 minutes to ensure that it can be fully smooth when you beat it in an electric mixer.
Combine Carefully + Slowly.
Be sure to add in the eggs ONE AT A TIME and always keep the mixer's speed on low to avoid over-mixing. A light mix always does the trick!
Use the Right Pan.
I find that using the correct baking pan helps to make a great cheesecake as well. I like using the traditional cheesecake pans that pop out at the bottom for whole cheesecakes. When making cheesecake bites, I prefer lining the pan with cupcake liners for ease.
Always Add a Water Bath.
I like to add a small pot of water on the lower rack of the oven while I bake my cheesecakes, cakes, cupcakes, etc. However, you can always add your cheesecake pan within another pan that has a small amount of water as your bath. Either way, it keeps in the proper moisture and helps everything to bake nicely.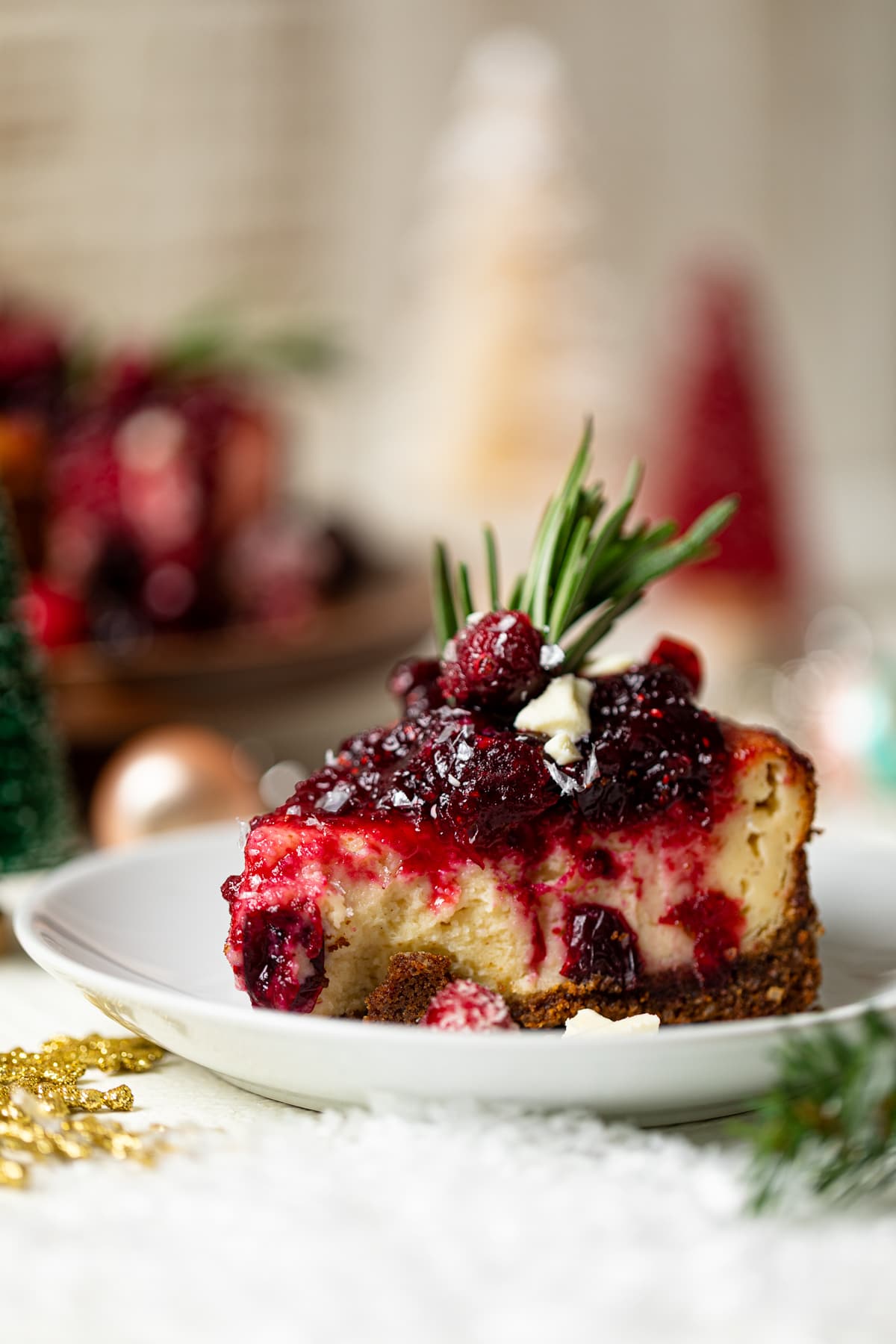 Keep the Opening of the Oven Door at a Minimum.
Yup, that's right. No quick peeking every few minutes. Every time that the oven door is open, it causes your cheesecakes to inflate from the sudden shift in temperature. That's why it's imperative to end the baking of your cheesecakes by turning off the oven and cracking open the oven door slightly for a few minutes before removing them from it entirely.
Do the Wobble, Wobble Test!
When checking to see if your cheesecake is done, always do the jiggle test to ensure that it only jiggles slightly in the middle. Don't worry---while it cools, the trapped heat will continue to cook the center nicely.
Cool, Cool, and COOL!
Lastly, be sure that your cheesecake is FULLY cooled before covering. This avoids condensation from forming. Once fully cooled at room temperature, you're free to refrigerate it for an hour (uncovered) and then you can place foil or plastic wrap over it after that.
More Holiday Recipes with Cranberries
Fluffy Vegan Quinoa Pancakes + Cranberry 
Cranberry Apple Cider Orange Sangria 
Vegan Apple Cranberry Crumble Pie 
 Cranberry Maple Roast Chicken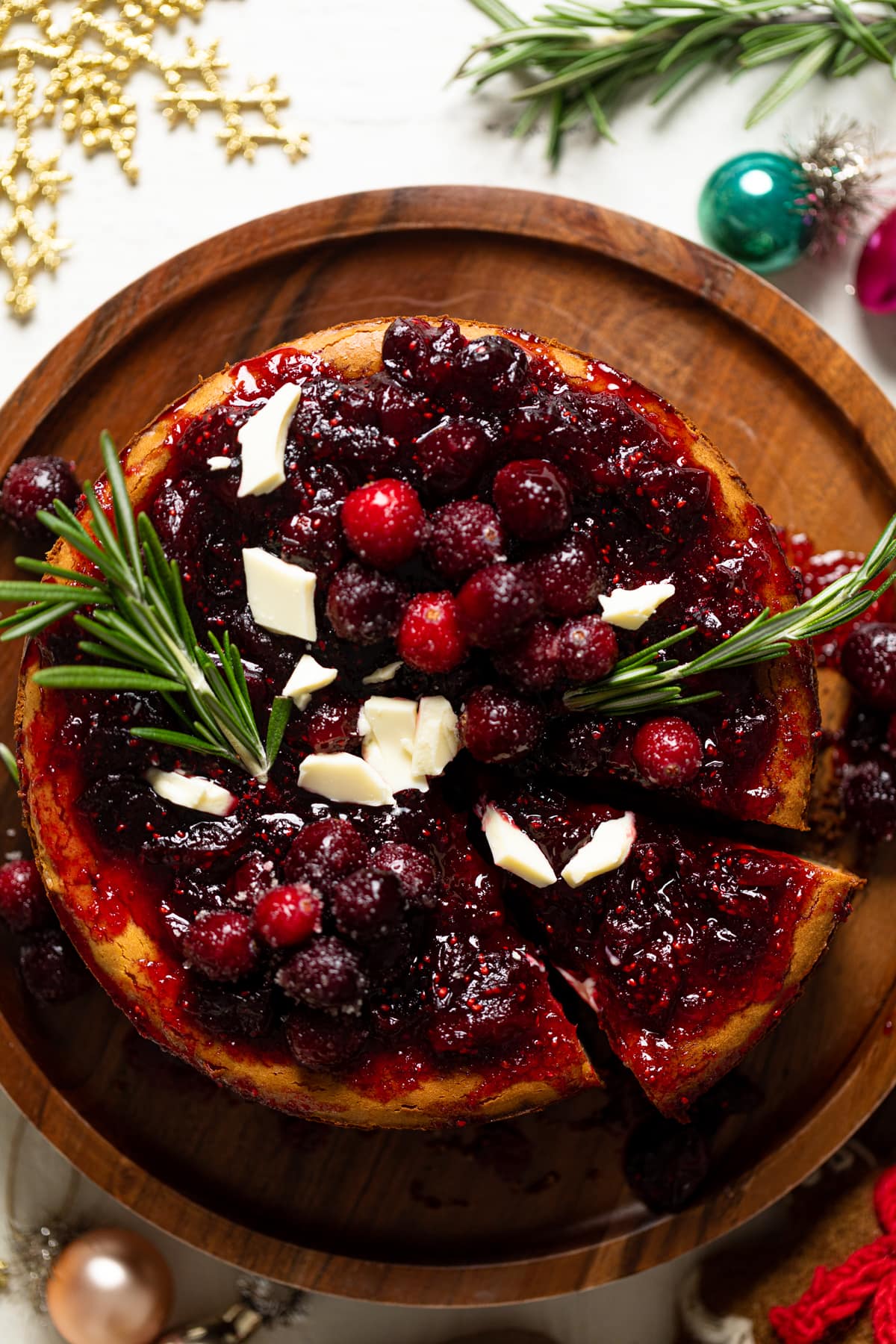 MADE OUR RECIPE(S)?
If you make this White Chocolate Cheesecake recipe or any other recipe from us, be sure to tag us on Instagram at #Orchidsandsweettea so that we can share the love!
GINGERSNAP COOKIE CRUST:
1

(14 oz.) box

organic Gingersnap cookies, chopped

(About 30-32 Cookies)

3

Tbsps

organic brown sugar

½

teaspoon

ground cinnamon

3-4

Tbsps

unsalted butter, melted + more, if needed
CHEESECAKE FILLING:
16

oz.

organic cream cheese, softened at room temp.

(That's 2 packs!)

8

oz.

baking white chocolate bars

¼

cup

organic heavy cream

¾

cup

organic cane sugar

4

Tbsps

organic all-purpose flour 

2

tsps

vanilla extract

2

large

organic eggs, at room temp. 

3

Tbsps

full-fat plain Greek yogurt

½

teaspoon

ground cinnamon

½

teaspoon

ground nutmeg

¼

teaspoon

sea salt
GINGERSNAP COOKIE CRUST:
Preheat oven to 350 degrees Fahrenheit and prepare a 7 or 8-inch cheesecake pan by lightly greasing it with butter.

Grind the gingersnap cookies and graham crackers until almost finely ground (it's OK to leave a few medium chunks, if your'e a lover a little crunch!). Combine the gingersnap-graham cracker mixture, cinnamon, brown sugar and melted butter in a small bowl and mix with a spatula until well incorporated.

Add the mixture into the prepared pan and press down into the bottom with your fingers (focusing on the middle) to ensure that it's perfectly covering the bottom and sides (like a deep well).

Bake the crust for about 5 minutes and then remove from oven and allow it to cool until you're ready to use.
BEAT TOGETHER THE CHEESECAKE FILLING:
In a saucepan over medium-high heat, add the heavy cream and white chocolate bars together and stir until fully melted. Once melted and smooth, remove from heat and let cool completely.

In the bowl of an electric mixer, mix together on low speed: the cream cheese, sugar, and flour until combined. Be sure to scrape the sides and bottom of the bowl if needed.

Next, add the vanilla extract and the first egg and beat slowly until mostly combined. Then add the remaining egg and mix until well combined, still mixing everything on low speed. Now, add the yogurt and spices and continue mixing until combined. Fold in the melted white chocolate.

Change mixer attachment to a whisk and beat on medium-high speed for 1-2 minutes or so until completely smooth and lump-free. NOTE: DO NOT OVER-MIX. Be sure to stop once the batter becomes smooth.

Pour the batter into the prepared pan until ¾ filled. NOTE: Leaving a bit of room at the top prevents the cheesecake from spilling over while baking.

Bake the cheesecake for 35-40 minutes (until center comes out mostly clean when tested with a toothpick or knife), then turn off the oven and allow it to sit in the oven for another 5 minutes with the oven door halfway open to avoid cheesecake from deflating. NOTE: When baking, I always prepare a medium pot with water and add it to the oven as well, to keep cheesecake temperature even and to add moisture.

In the meantime, make the cranberry topping.
TO MAKE THE CRANBERRY TOPPING:
In a saucepan, add together all ingredients over medium-high heat, stirring until combined. Once cranberries begin to pop/burst, continue stirring until mixture begins to thicken a bit and cranberries are broken down. Remove from heat and let cool completely.
STORAGE: Leftover Cheesecake can be stored (tightly wrapped) in the refrigerator for up to 5 days. For best results, keep cheesecake in the freezer until the night before you're ready to serve. Defrost by refrigerating.
CHEESECAKE BITES: If you turn this recipe into cheesecake bites, you'll make about 2 dozen bites.
YOGURT: If you don't want to use yogurt for this recipe, you can substitute with low-fat sour cream. 
Calories:
570
kcal
|
Carbohydrates:
87
g
|
Protein:
15
g
|
Fat:
21
g
|
Saturated Fat:
11
g
|
Polyunsaturated Fat:
1
g
|
Monounsaturated Fat:
6
g
|
Trans Fat:
0.2
g
|
Cholesterol:
79
mg
|
Sodium:
667
mg
|
Potassium:
418
mg
|
Fiber:
2
g
|
Sugar:
65
g
|
Vitamin A:
363
IU
|
Vitamin C:
4
mg
|
Calcium:
310
mg
|
Iron:
2
mg