This decadent Sweet Potato Caramel Cheesecake is a must-try dessert recipe for anyone who loves the warming flavors of pecan pie. A buttery pecan graham cracker crust, creamy sweet potato cheesecake, and a drool-worthy homemade caramel sauce makes the perfect trifecta of textures and flavors. A dreamy fall-flavored melody that tastes like the holidays.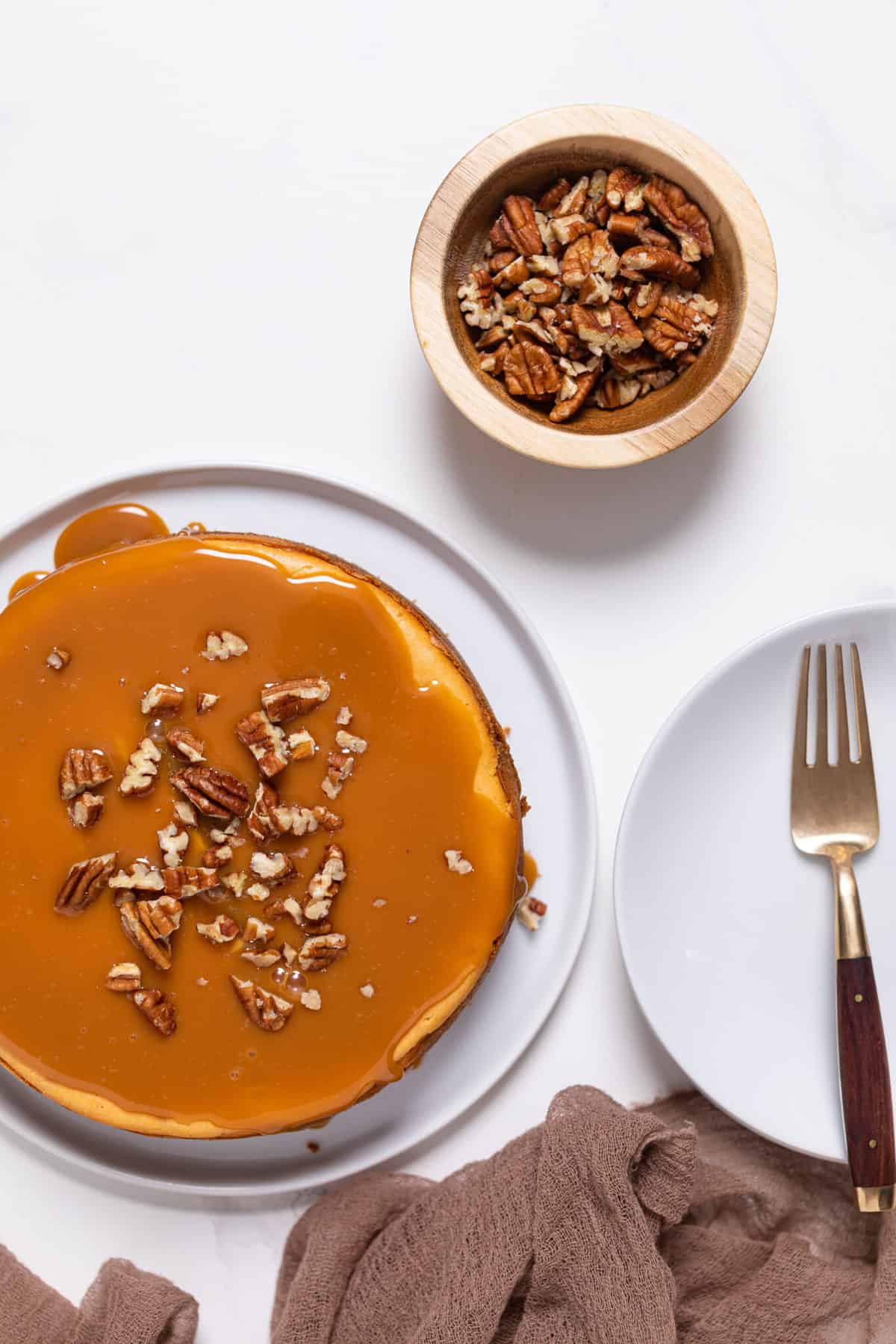 Sweet Potato Lovin'
Sweet potatoes are one of my favorite ingredients to work with in the kitchen. They're a great root vegetable that can be used in both sweet and savory dishes due to their vibrant orange color and mild sweetness.
Similar to pumpkin in texture and flavor, sweet potatoes pair well with the warming spices we all know and love. Compared to pumpkin, sweet potatoes are less watery and thicker, making them ideal for this Sweet Potato Caramel Cheesecake recipe.
Lover of Sweet Potato? These Are a Must Try!
Sweet Potato Pie Smoothie - This recipe will have you swooning. It'll become your next breakfast smoothie obsession. Made with sweet potatoes, bananas, protein-rich dairy-free yogurt, plant-based milk, almond butter, sweet vanilla, oh, and how could I forget our spices of cinnamon and nutmeg giving off major pie-like aromas!
Vegan Sweet Potato Crumble Bread - This bread is rich, moist, and crumbly in all the right places. Enjoy this delightfully warmly spiced egg-free bread any time of the year! Perfect breakfast, dessert, or a snack!
Vegan Sweet Potato Maple Herb Cornbread - This recipe is the perfect skillet cornbread that you'll ever taste! Unlike traditional cornbread, this version boasts of delicious sweet potato, maple, and herb flavors, all of which creates a sweet + savory taste that will leave you wanting another slice.
Vegan Sweet Potato Pasta w/ Kale + Spinach - This is the perfect way to enjoy a good plate of creamy pasta much like the classic Alfredo version, without the dairy and cheese and of course with the amazing texture of Pappardelle noddles. This recipe is easy to make, light, bursting with 'cheesy flavor' from the use of nutritional yeast, dairy-free, and so healthy!
Vegan Sweet Potato Cinnamon Rolls + Maple Pecan Glaze - These are something right out of a sweet treat magazine. They are fluffy, soft, thick, sweet, and surely do just melt in your mouth with every bite. Not being your typical Cinnamon Roll, this recipe is topped with a mouth-watering Maple Pecan Glaze that will leave you 'Cinnamon Roll obsessed'.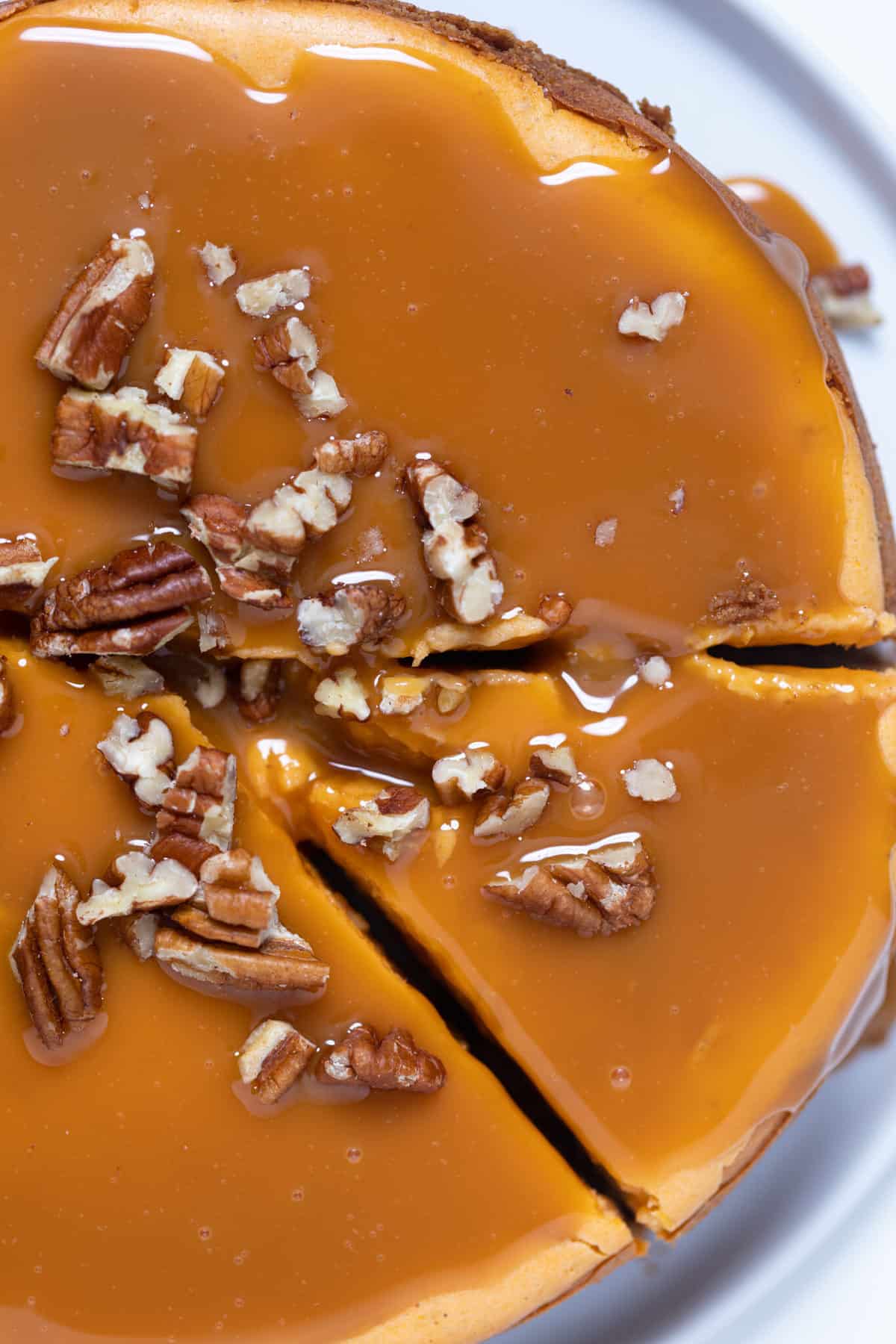 Due to my Southern roots, growing up in Florida, I've always had a fondness for pecan pie. In fact, I've made several versions of this classic Southern dish before. Try this delightful dairy-free Classic Southern Vegan Pecan Pie or my Pecan Pie Cheesecake Bites if you're in the mood for more buttery, nutty goodness after trying this sweet potato caramel cheesecake.
Sweet potatoes are another popular and beloved Southern dish. So I decided to unite these two family favorites into one delectable caramel-covered pecan sweet potato cheesecake.
I think you'll be glad I did! Every bite has a bit of buttery crunch from the nutty graham cracker crust, creamy luscious sweet potato cheesecake filling, and a slick of sticky-sweet homemade caramel sauce on top. It's the perfect combination of flavors for the sweet lover in your life.
When To Indulge in Sweet Potato Caramel Cheesecake?
You can serve this sweet treat for birthday celebrations, Thanksgiving, or just on a Tuesday night because why not? It's a dessert that works any time of year and is always a crowd-pleaser with kids and adults. But since Thanksgiving is just around the corner, here are my favorite 30 Ultimate Plant-Based Thanksgiving Recipes- Check out the recipes for drinks, sides, main courses, and desserts!
Pecan-Graham Cracker Cheesecake Crust
The first layer of this three-layered masterpiece is the nutty graham cracker crust.
Ingredients
To make the crust, you'll need:
Graham crackers. Use 12-14 cracker sheets for this recipe.
Toasted pecans. you can use more pecans if you like, just reduce the amount of graham crackers accordingly so you have 3 cups total. See the recipe notes for how to toast your pecans. Toasting the nuts is important to bring out their deep, rich flavor.
Brown sugar. Use organic for the best flavor and quality. Brown sugar gives just the right amount of caramel flavor to the crust.
Cinnamon. For a hint of warmth to compliment the pecans.
Butter. Choose unsalted and make sure your butter is melted so it can bind the nuts and crackers together for the crust.
Instructions
To make the crust, you'll need a food processor. Simply blend everything together until you have a coarse meal. Don't worry if there are a few chunks, that will only add to the crunchiness of the cheesecake crust.
Press your crust into the bottom of a 7 to 8-inch springform pan that's been well greased with butter for easy removal. Then pre-bake the crust for just five minutes. The crust shouldn't darken too much, but it should set nicely. Then let the crust cool while you make the sweet potato cheesecake filling.
Sweet Potato Caramel Cheesecake
While your butter crust bakes and cools, get to work mixing up the sweet potato cheesecake layer.
Ingredients
Cream cheese. Make sure your cream cheese is fully softened to room temperature for easy blending.
Sweet potato puree. You can make your own easy sweet potato puree, see how below. Or, f you're short on time, you can substitute canned pumpkin puree.
Brown sugar. Again, organic is best here.
All-purpose flour. I use Bob's Red Mill flour for all baking projects.
Vanilla extract. A hint of vanilla highlights the natural buttery flavor of pecans.
Eggs. Use room-temperature eggs so that your cheesecake filling doesn't break when it's mixed.
Low-fat sour cream. This adds tons of delicious tangy flavor to the mix.
Sea salt. I love the play of salty and sweet here!
Cinnamon, nutmeg, and allspice. These three add the perfect amount of warming spice without overwhelming the nutty flavor of pecans.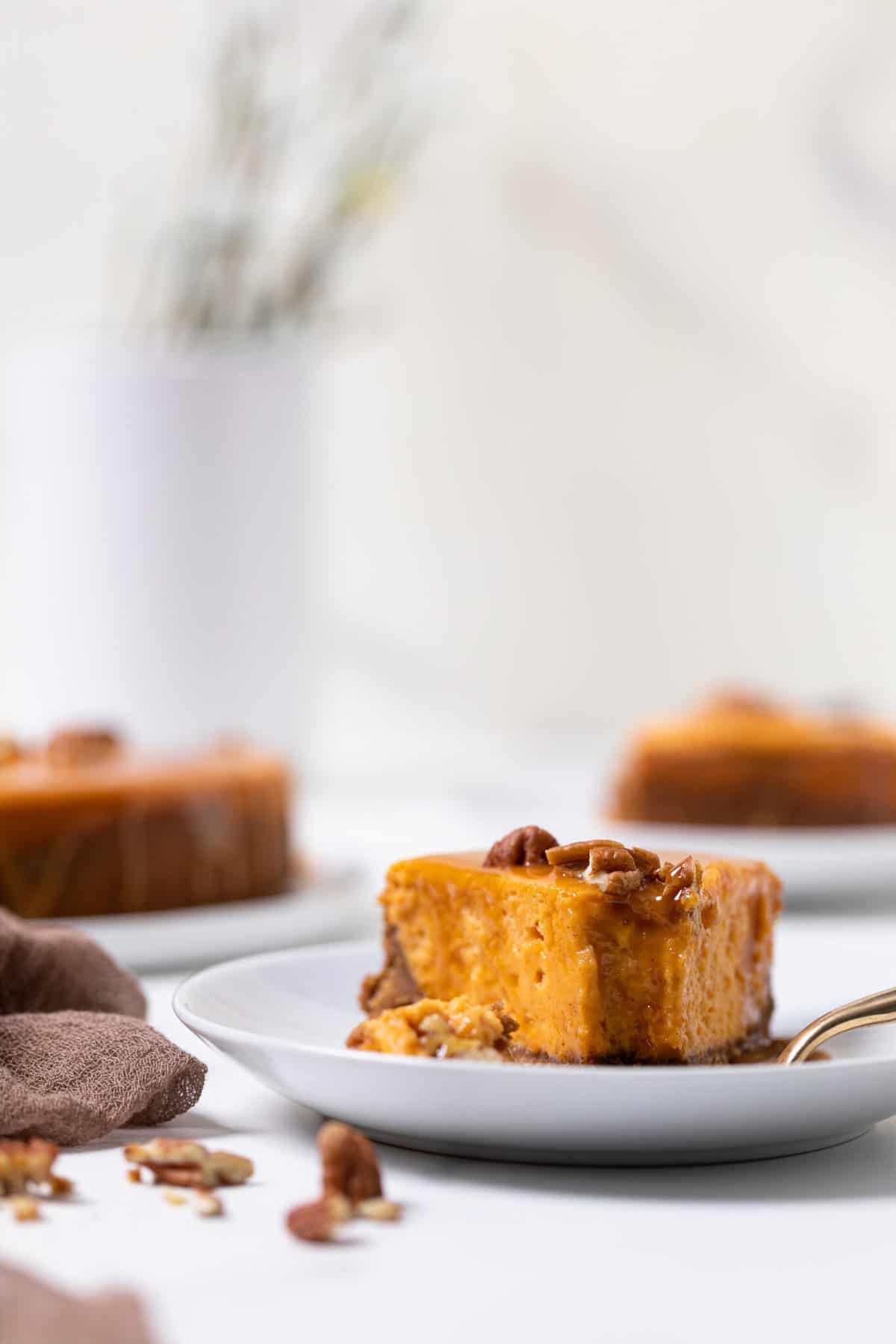 Instructions
I recommend making the cheesecake layer with an electric mixer. Either a stand mixer or a hand-held mixer will do the trick. I like to start using the paddle attachment to cream the cream cheese, brown sugar and flour. I'll continue with the paddle to work in the sweet potato, vanilla, eggs, sour cream, and spices.
At this point, the mixture will be light and fluffy. Then, to really work air into the batter for a light and creamy cheesecake, I'll switch to the whisk attachment and beat for a good five minutes.
Finally, transfer the sweet potato cheesecake mixture into the cake pan with your pecan crust and bake!
The cake is done when the center is mostly set and a toothpick comes out clean.
WHY WE LOVE THIS SWEET POTATO CARAMEL CHEESECAKE
Two desserts in one! Regular cheesecake and sweet potato worlds collide, creating a creamy, decadent dessert.
A change up from the classic pumpkin dessert world. (While we still love pumpkin spiced everything, the humble sweet spud is so underrated!
Gooey caramel (Need I say more?)
Great to make ahead of time. This is the perfect Thanksgiving dessert recipe because it can be made in advance.
Family-friendly (Well, everyone in my family seems to love it, Haha)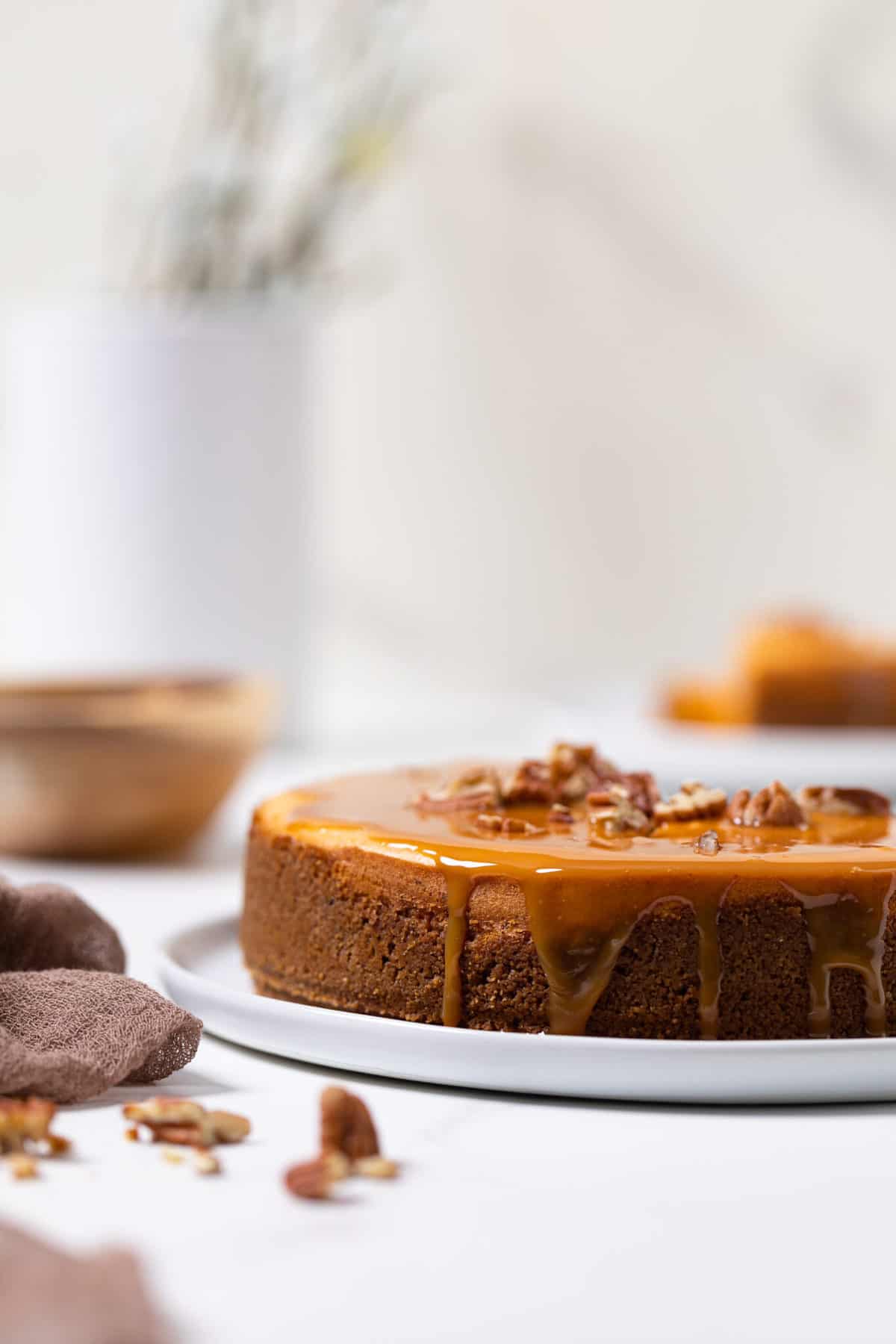 How to Keep Cheesecake from Cracking
I have a few tricks to prevent cracks in a cheesecake:
I recommend placing a pot or baking dish of water in the oven when the cheesecake cooks. The steam evaporates and helps the custard cook evenly all the way through. Otherwise, if your cooking environment is too dry, the edges may cook quickly and dry out before the center cooks through, which can cause cracking.
After the cheesecake is done baking, turn the oven off and leave the cake inside for five minutes with the door halfway open.
Then remove the cake from the oven and let it cool in the pan for up to 15 minutes on a wire rack.
When it's fully cooled out of the cake pan, wrap the cake with plastic wrap and let it set in the fridge. If you have time, the cheesecake will have the best texture if it chills in the fridge overnight.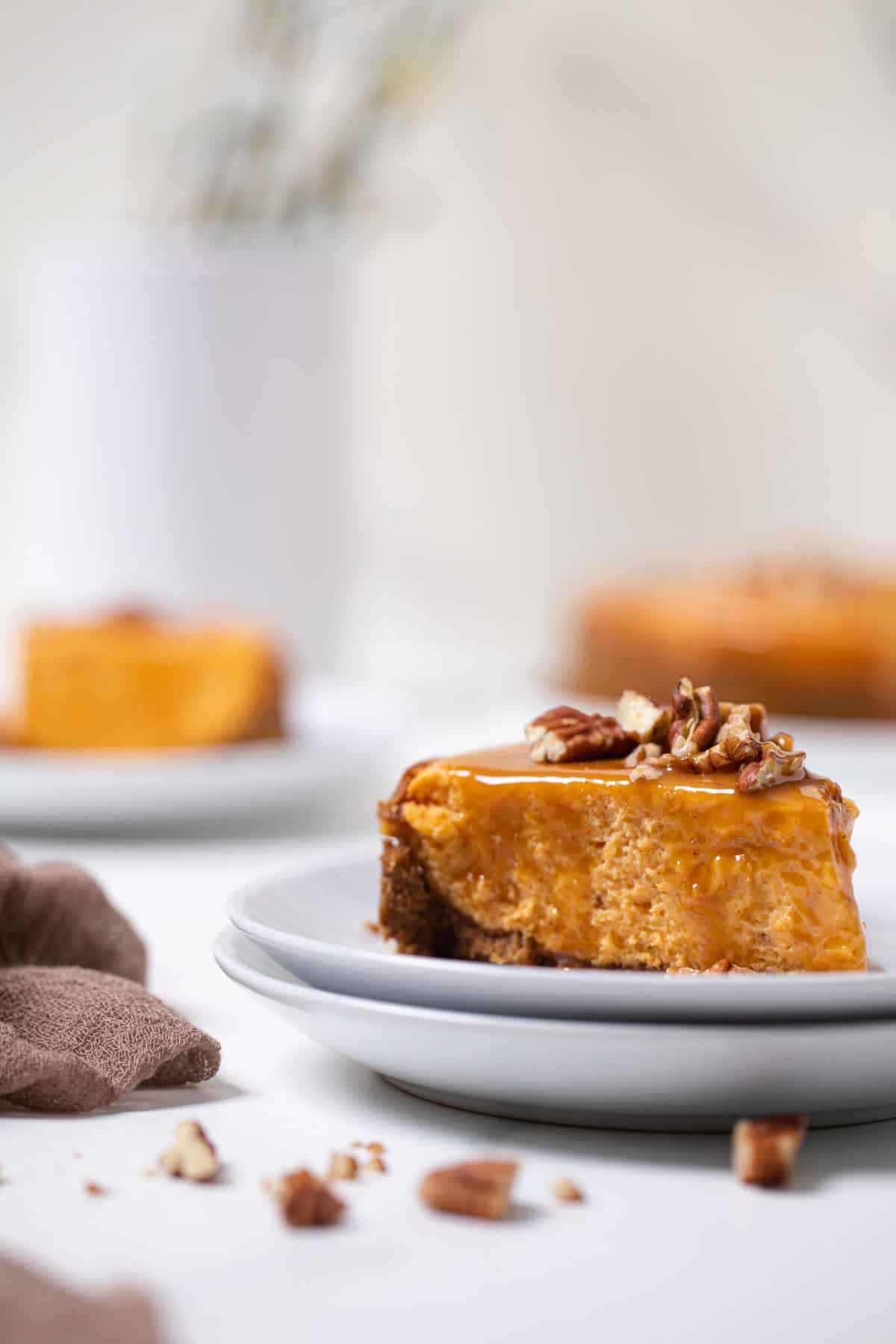 Homemade Caramel Sauce to Decorate Sweet Potato Cheesecake
The final step in this recipe is a dreamy and luxe homemade caramel sauce.
You'll need:
Brown sugar
Unsalted butter
Heavy whipping cream
A pinch of sea salt
Making caramel is like a fun science experiment. It does require close attention to the stove, however, as caramel can go from solid sugar to burnt in no time. I recommend using low heat once your brown sugar is well melted. And when you add the cold cream, be prepared for some splattering. If you have young helpers in the kitchen, have them stand away from the stove for this step.
This silky smooth caramel sauce should cool for about 20 minutes on the counter, then in the fridge for at least an hour before you decorate your sweet potato cheesecake with it.
To decorate this masterpiece, pour the sauce over the cheesecake. I like to place the cake on a baking sheet lined with parchment paper to catch any drips. The caramel sauce should spread out into a smooth, glossy layer. You can add a sprinkle of toasted pecans on top for a nice garnish and a bit more texture if you like.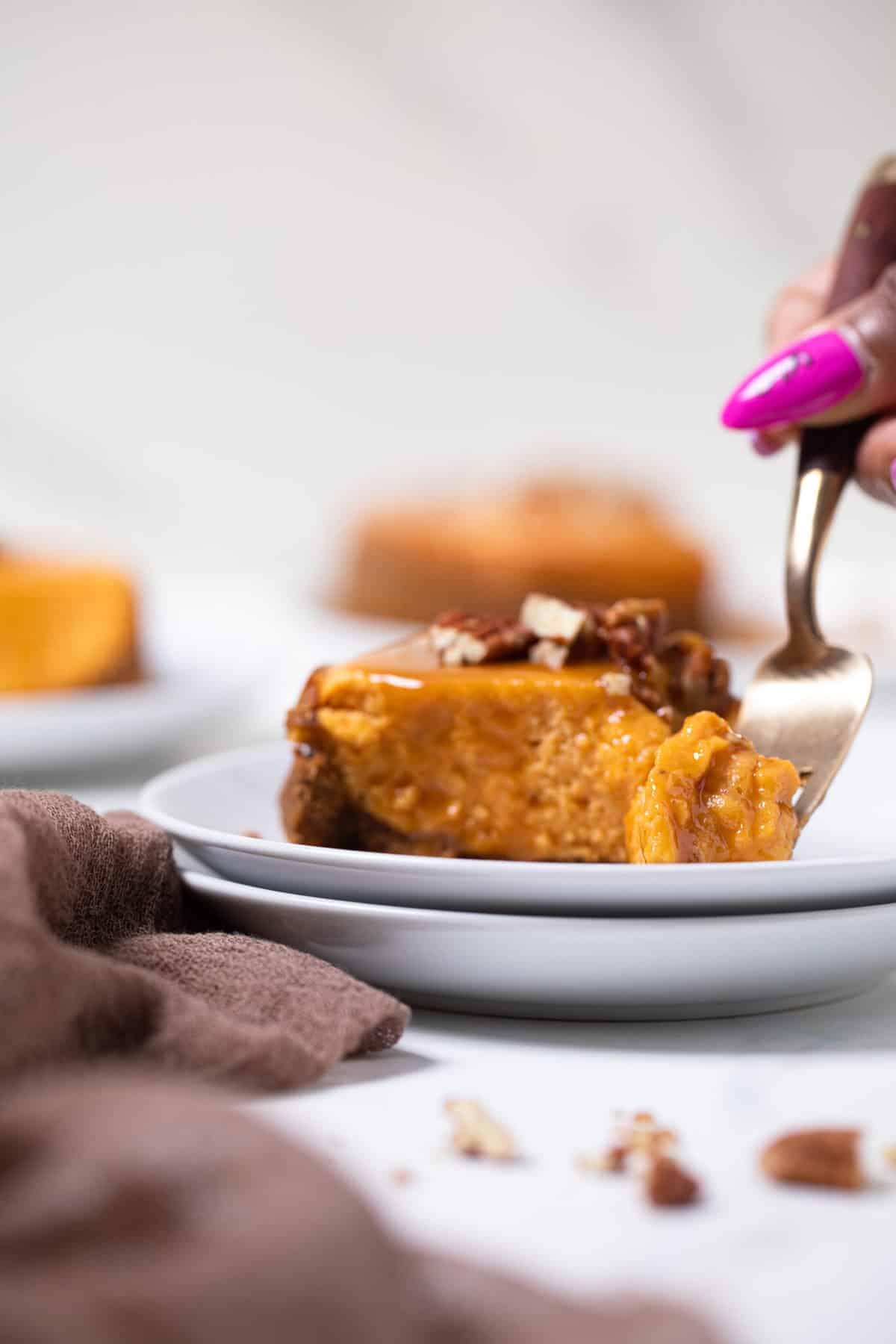 Sweet Potato Health Benefits
Not to brag, but the humble sweet potato is kind of a health MVP. I enjoy eating sweet potatoes all year round, but in the fall, they take on a special allure since they make a hearty side dish and can be used as an ingredient in pies.. Say hello to the Best Vegan Sweet Potato Pie recipe and other desserts like my Sweet Potato Caramel Cheesecake in addition to soups like this Fall Detox Sweet Potato Veggie Soup
Ok, ok, enough bragging about my fellow starchy root veggie. These vibrant gems have some really great health benefits.
Here are a few
Good Source of Vitamins C and A (Just one sweet potato gives you 400% of the vitamin A you need each day)

Antioxidant Powerhouses

Anti-Inflammatory Properties
OKAY, I KNOW I'M NERDING OUT NOW, BUT THEY ARE RICH IN:
B vitamins
Vitamin C
Calcium
Iron
Magnesium
Phosphorus
Potassium
Thiamin
Zinc
So....Who's ready for Sweet Potato Caramel Cheesecake?
Fall-Inspired Comfort Food Recipes
Want more fall recipe inspiration? Try these delicious recipes!
MADE OUR RECIPE(S)?
If you make this Sweet Potato Caramel Cheesecake or any other recipe from us, be sure to tag us on Instagram at #Orchidsandsweettea so that we can share the love, rate, comment below, + share!
PECAN GRAHAM CRACKER CRUST:
2

cups

Graham crackers, chopped

(About 12-14 Graham Crackers)

1

cup

toasted pecans

(Add more if desired; just reduce Graham Crackers amount; See Notes!)

3

Tbsps

organic brown sugar

1

teaspoon

ground cinnamon

4-5

Tbsps

unsalted butter, melted
SWEET POTATO CHEESECAKE:
16

ozs.

organic cream cheese, softened at room temp.

(That's 2 packs!)

1

cup

sweet potato puree

(See Notes!)

¾

cup

organic brown sugar

4

Tbsps

organic all-purpose flour 

2

tsps

vanilla extract

2

large

organic eggs, at room temp. 

3

Tbsps

low-fat or full-fat sour cream

¼

teaspoon

sea salt

1

teaspoon

ground cinnamon

½

teaspoon

ground nutmeg

¼

teaspoon

allspice
HOMEMADE CARAMEL SAUCE:
1

cup

organic brown sugar

6

Tbsps

unsalted butter, cut into cubes

½

cup

organic heavy whipping cream

pinch of

sea salt
OPTIONAL TOPPING:
Toasted pecans

(See Notes!)
PECAN GRAHAM CRACKER CRUST:
Preheat oven to 350 degrees Fahrenheit and prepare a 7 or 8-inch cheesecake pan by lightly greasing it with butter.

Grind the pecans + graham crackers, until almost finely ground (it's OK to leave a few medium chunks, if your'e a lover a little crunch!). Combine the Pecan-Graham cracker mixture, cinnamon, brown sugar and melted butter in a small bowl and mix with a spatula until well incorporated.

Add the mixture into the prepared pan and press down into the bottom with your fingers (focusing on the middle) to ensure that it's perfectly covering the bottom and sides (like a deep well).

Bake the crust for about 5 minutes and then remove from oven and allow it to cool until you're ready to use.
SWEET POTATO CHEESECAKE:
In the bowl of an electric mixer, mix together on low speed: the cream cheese, brown sugar, and flour until combined. Be sure to scrape the sides and bottom of the bowl if needed.

Next, add the sweet potato puree, vanilla extract and the first egg and beat slowly until mostly combined. Then add the remaining egg and mix until well combined, still mixing everything on low speed. Now, add the sour cream and spices, and continue mixing.

Change mixer attachment to a whisk and beat on medium-high speed for 1-2 minutes or so until completely smooth and lump-free. NOTE: DO NOT OVER-MIX. Be sure to stop once the batter becomes smooth.

Pour the batter into the prepared pan until ¾ filled. NOTE: Leaving a bit of room at the top prevents the cheesecake from spilling over while baking.

Bake the cheesecake for 35-40 minutes (until center comes out mostly clean when tested with a toothpick or knife), then turn off the oven and allow it to sit in the oven for another 5 minutes with the oven door halfway open to avoid cheesecake from deflating. NOTE: When baking, I always prepare a medium pot with water and add it to the oven as well, to keep cheesecake temperature even and to add moisture.

in the meantime, make your caramel sauce.
HOMEMADE CARAMEL SAUCE:
Heat the brown sugar in a medium skillet over medium-high heat and stir constantly using a rubber spatula until clumps are formed. Add butter and continue to stir until everything has melted and become a dark 'amber-like' color. Continue to stir consistently until fully melted and bubbly, about 2-3 minutes.

Now, slowly whisk in the heavy cream and continue stirring until well incorporated and sauce has fully thickened. Remove from heat and allow to cool slightly before using. Set aside.

Bon Appetit!
STORAGE: Leftover Cheesecake can be stored (tightly wrapped) in the refrigerator for up to 5 days. For best results, keep cheesecake in the freezer until the night before you're ready to serve. Defrost by refrigerating.
STORAGE (CARAMEL SAUCE): Leftover caramel sauce can be stored in a tightly sealed mason jar for up to two weeks. When ready to use, simply reheat sauce in the microwave at 15 second intervals until softened and at room temp.
TOASTED PECANS: Add chopped pecans to a baking sheet and toasting them in the oven (400 degrees Fahrenheit) for 5-10 minutes, tossing them halfway to avoid browning on one side.
SWEET POTATOES: Preheat oven to 425 degrees Fahrenheit and line a baking sheet with parchment paper or foil. Rinse sweet potatoes (about 2 medium-sized) and pat dry. Lightly coat potato with Extra Virgin Olive Oil and place in oven, baking for 45 minutes to 1 hour, until tender and juices begin to bubble outside of skin. Remove from oven, let cool for 10-15 minutes and slice in half. Remove sweet potato insides and place in a bowl, mashing it until "pureed". Continue recipe.
Calories:
693
kcal
|
Carbohydrates:
86
g
|
Protein:
15
g
|
Fat:
33
g
|
Saturated Fat:
15
g
|
Polyunsaturated Fat:
4
g
|
Monounsaturated Fat:
12
g
|
Trans Fat:
1
g
|
Cholesterol:
110
mg
|
Sodium:
672
mg
|
Potassium:
534
mg
|
Fiber:
4
g
|
Sugar:
63
g
|
Vitamin A:
7517
IU
|
Vitamin C:
7
mg
|
Calcium:
314
mg
|
Iron:
2
mg