When it comes to these Fall Harvest Apple Bacon Crostini, the word 'delicious' is an understatement. The combination of apples and cheese is a winning one. Trust me. Give it a shot before you knock it... This appetizer is incredibly versatile and simple to prepare. Complex in flavor, this recipe is the perfect little bite for any occasion or gathering, especially during the Fall season. Lightly crisp sliced french bread topped with a Dairy-free & Vegan 'cream cheese' made from cashews and topped with candied bacon, sautéed spiced apples, and a pinch of thyme.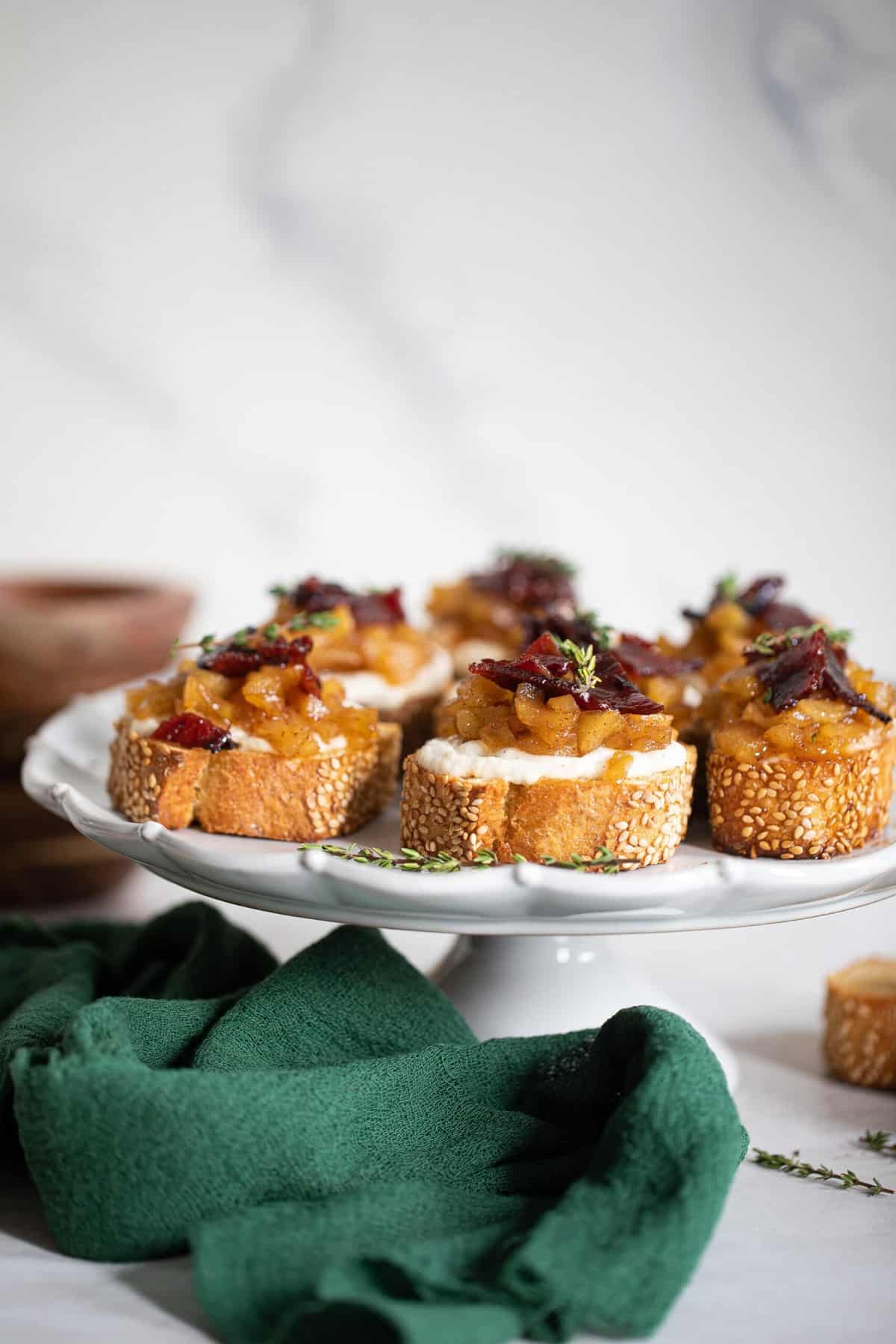 Who doesn't LOVE fresh french bread toasted? AKA crostini. The word crostini means "little crusts" in Italian. Cute right? It's no secret that I love toast bread in ALL forms like my Vegan Blueberry Crostinis or my classic Mind-blowing Avocado Toast. Because who wouldn't you want to put everything toast?
This Fall Crostini recipe is a nod to the holiday season and the delicious apple harvests that accompany it. I know you guys are going to love this one!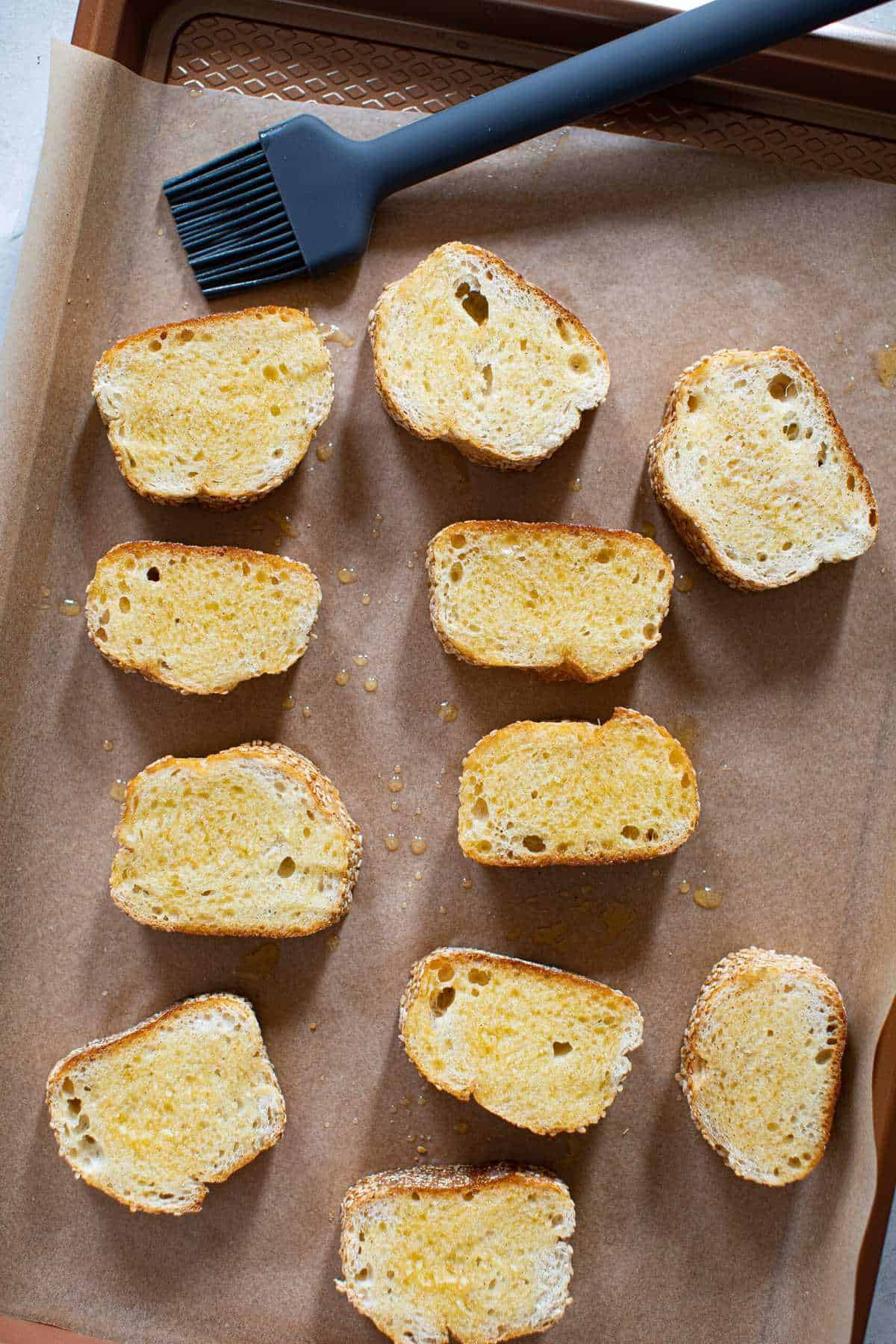 In the fall, it seems like recipes forget about apples and jump right to, well, pumpkin everything. Well not in my home. Particularly when we're still savoring those final warm days, I'm Team Apple (Ok I'm team Apple and Pumpkin.. Don't make a gal choose).
These Fall Harvest Apple Bacon Crostini are not only a great way to celebrate fall but these ingredients can easily be found all year round! I used candied bacon because of course, it's the Southern girl in me and candied bacon is a serious thing! Plus, the sweet + smokiness from the bacon goes really well with the spices from the apples.
WHAT IS A CROSTINI?
In essence, crostini are thin, crispy toasts that you may top with whatever you like. Crostini are often formed from a baguette or other similar bread, drizzled with oil, and baked until crisp.
They can be topped with cheese, cured meats, or a combination of several other items. These Fall Harvest Apple Bacon Crostini, are the perfect example of the latter. Wonderful flavors of sweet and savory that blend so seamlessly.
Need Other Delicious Ways to Use Up Those Apples?
Okay now that we are on the topic of apples, here is some more apple recipe inspiration.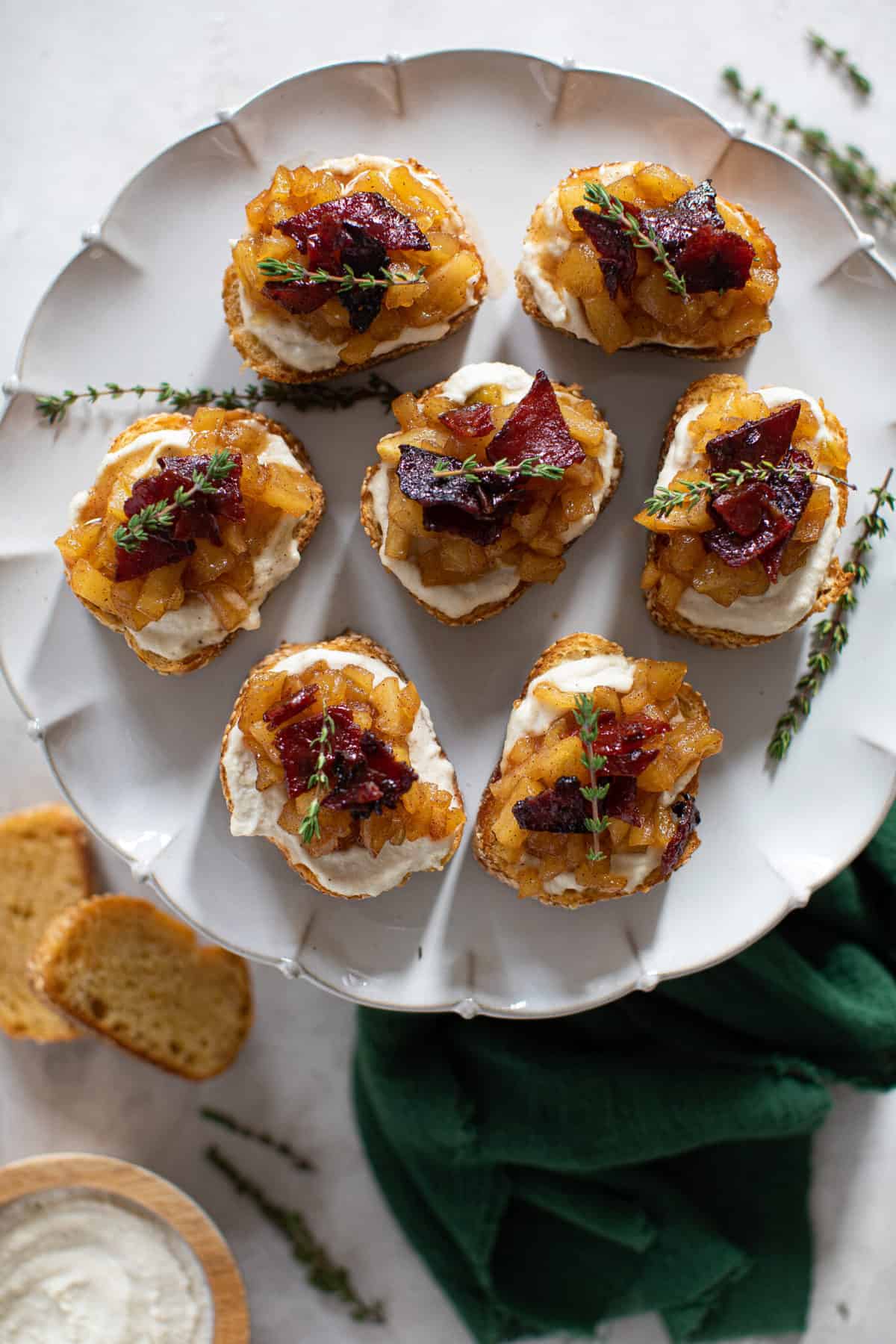 What You'll Love Most About This Recipe.
Super easy to whip together and uses minimal main ingredients.
Perfect quick recipe for all our busy people out there. Ready in less than 30 minutes!
Warm and comforting with every bite.
Loaded with delicious Fall/Winter spices.
Entirely dairy-free.
A perfect dance between sweet + savory.
Makes for the perfect little bite for the entire family.
Crostinis Are Perfect For the Holidays!
Now that we're officially in Fall, I'm thinking about Thanksgiving which is super close. These crostinis are perfect for Thanksgiving and will definitely be a hit with guests.
Check out my Tips And Tricks To Hosting Thanksgiving. You'll not only learn some of my favorite vegan and non-vegan Thanksgiving recipes, but you'll also get my Thanksgiving planning guide and my streamlined Thanksgiving day schedule.
Usually, most crostini recipes are topped with a cheese spread, whether goat cheese, cream cheese, burrata cheese, etc. However, with this recipe, I chose to make my go-to vegan cream cheese so the recipe is dairy-free friendly for our dairy sensitive pals.
It's literally a quick blend in the blender, and wallah! Delicious creamy vegan cheese awaits.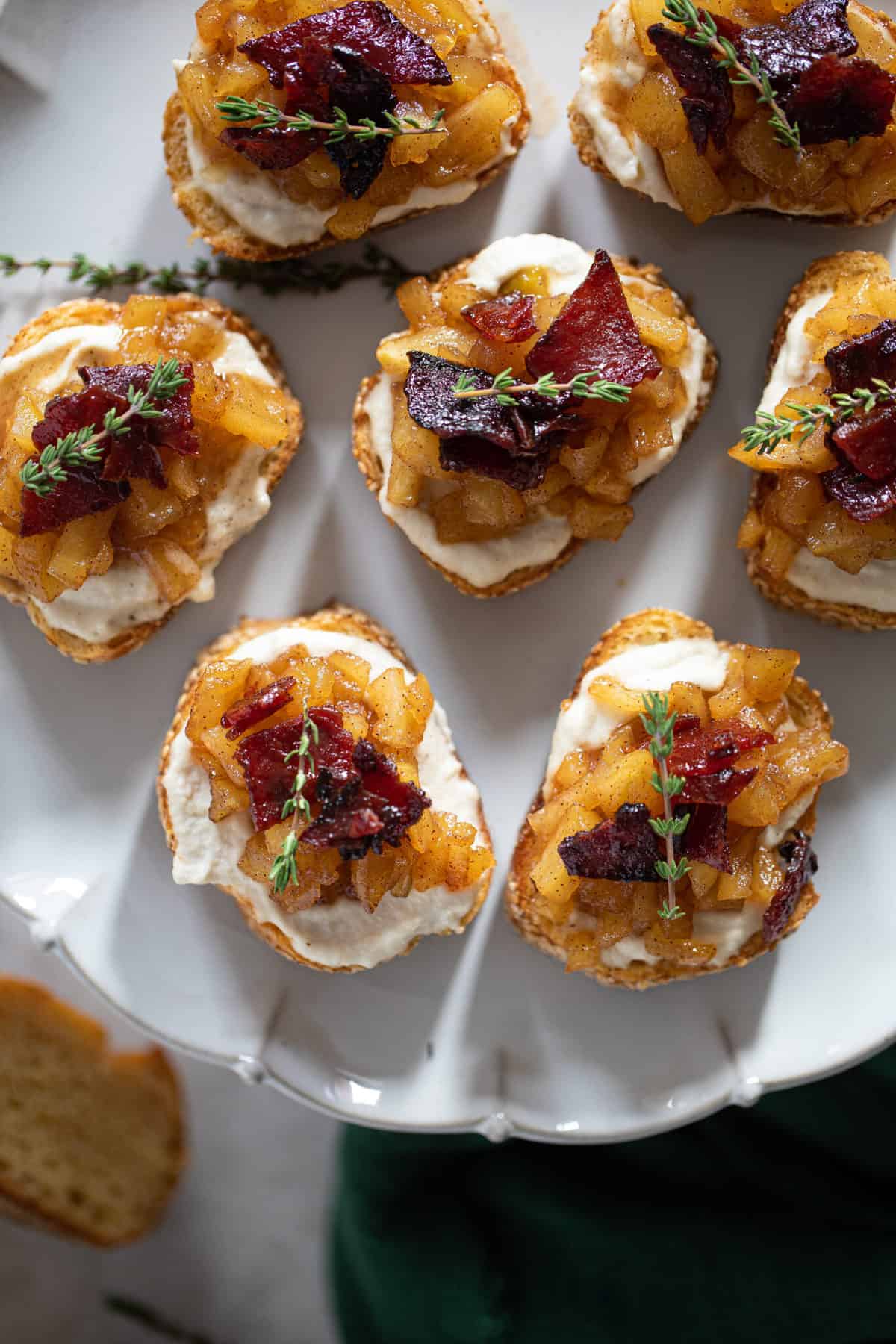 Ingredients for Fall Harvest Apple Bacon Crostini
For the best toast, it's all about the toppings! It's about whether you want to load up your toast or keep it really simple. Either way, it'll be a quick fix in the morning.
Here's what you need:
Bread. I love using rustic bread such as sourdough, however, any type of bread works just fine!
Apple. I love using Granny Smith for a nice tartness. You can also use a firm, sweeter apple like Gala or Honeycrisp for best results.
Apple spices. This adds a warming spice profile to these crostinis. You'll need cinnamon, nutmeg, and allspice.
Brown sugar. I use organic to make sure it's vegan.
Candied Bacon. Pre-cook the bacon in the microwave, on the stove, or in the oven. It's the brown sugar topping that creates a beautiful caramelization. Then chop it up to top on these little bites.
Extra virgin olive oil. This is a neutral oil, but you could also use grapeseed oil.
Vegan lemon cream 'cheese'. Made from soaked cashews, lemon juice, lemon zest, apple cider vinegar, olive oil, water, salt and cinnamon.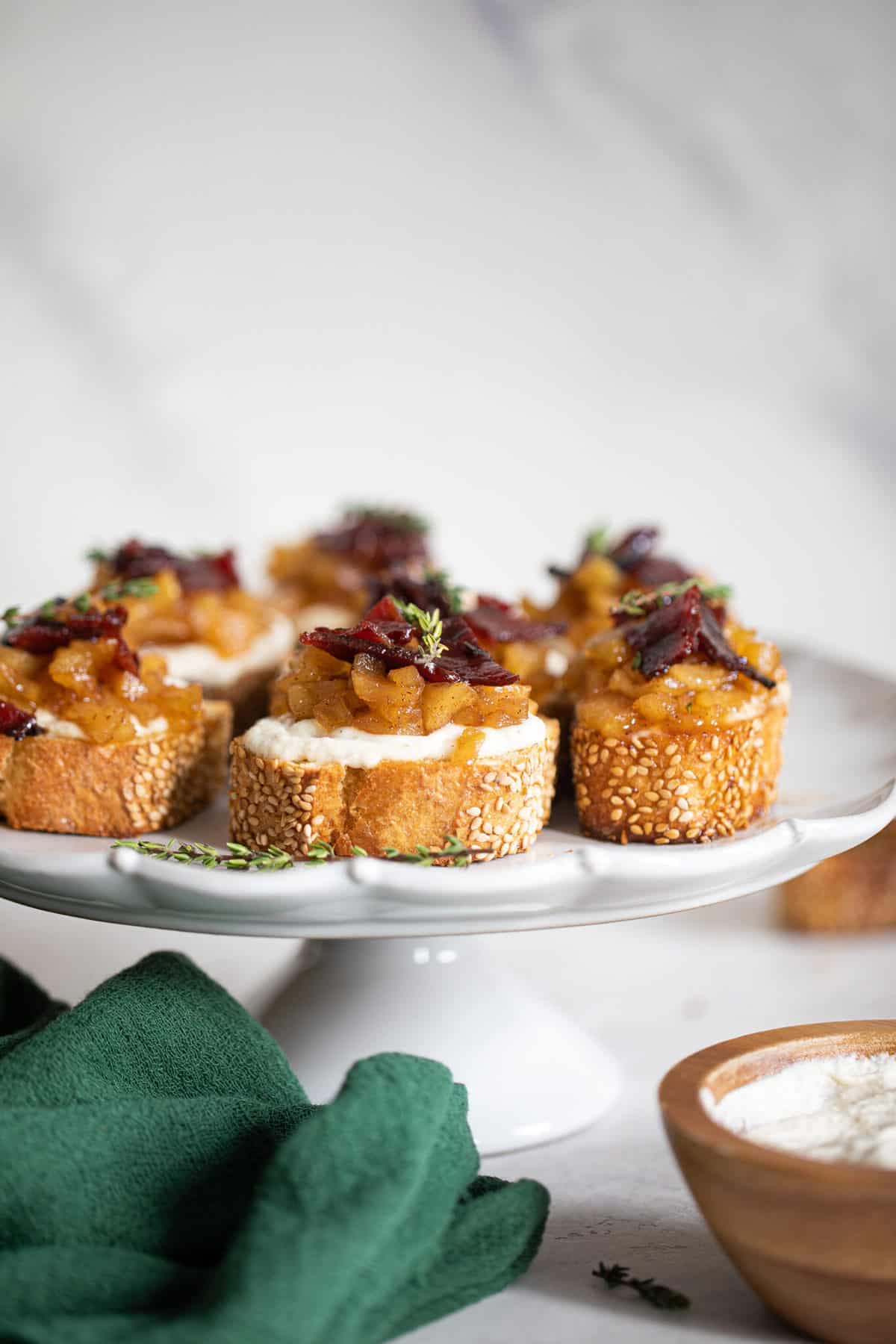 How to Make the Perfect Toasts
The toast itself is pretty important in these Fall Harvest Apple Bacon Crostini. You want something small enough to hold, tiny enough to eat in two bites, but sturdy enough to hold toppings.
A crusty baguette is a perfect bread for these toasts. They are naturally thin, so the slices end up being perfectly sized. They are light and airy, so the toast is not too dense upon biting. Because of the large air pockets in the bread, they make for a lovely mouthfeel.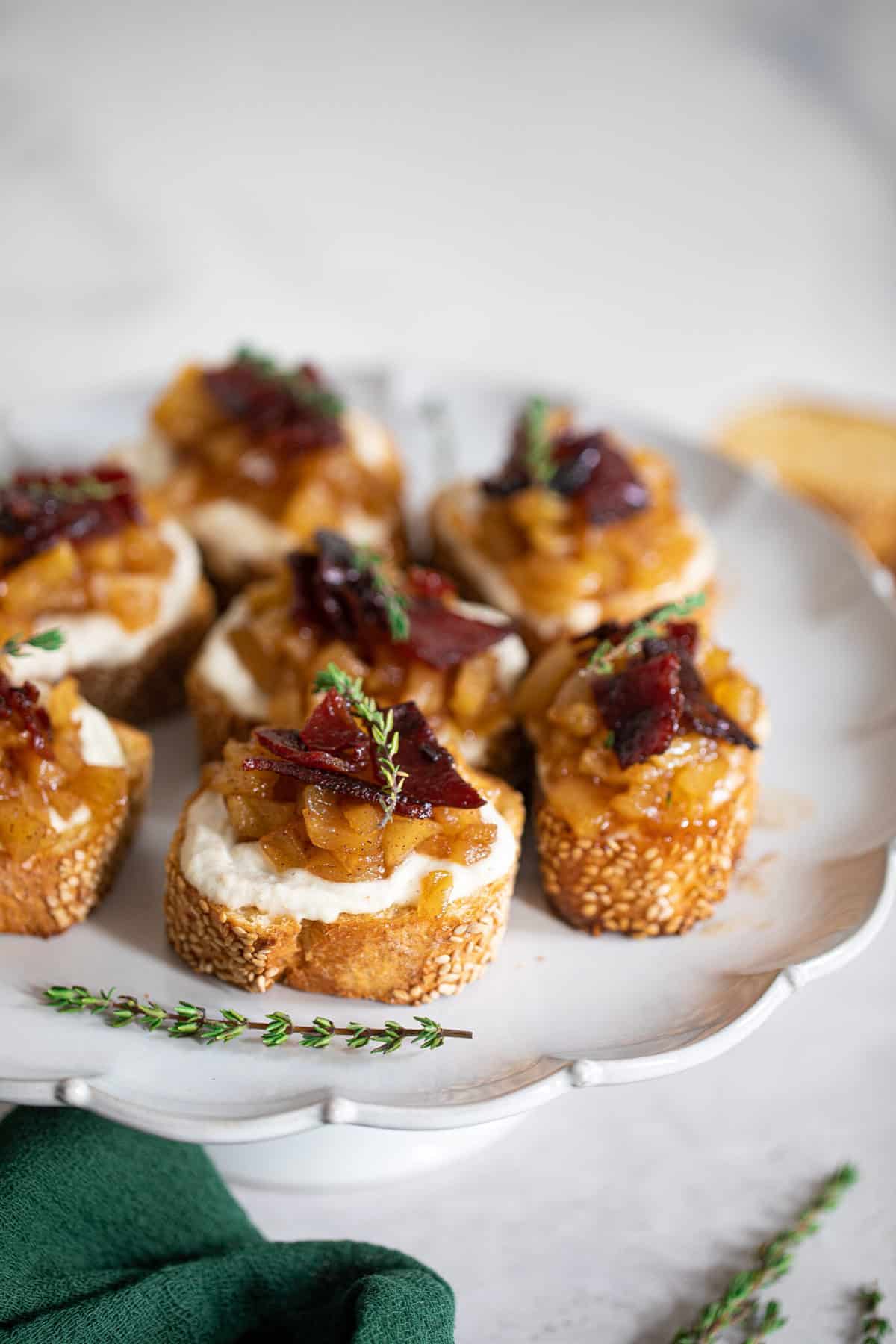 Best Types of Apples for these Fall Harvest Apple Bacon Crostinis
Even though this Fall Harvest Apple Bacon Crostini is based on using Granny Smith apples, you can also switch things up and add a slightly new flare in their flavor profile by adding any of the following apples for a bit more sweetness or tart:
Gala
Honeycrisp
Fuji
Pink Lady
Golden Delicious
Braeburn
and more!
Storage for Vegan Lemon Cream Cheese
Leftover cream cheese can be stored in an airtight container or jar and refrigerated for up to 2-3 days. Stir to smoothen when ready to use.
Ingredient Swaps and Substitutions
Here are a few simple swaps in case you don't have every ingredient on the list:
Use another neutral oil (coconut oil, grapeseed oil, etc.) instead of olive oil.
Swap apples with cranberries, figs, pears, grapes, blueberries, etc. They all stated great roasted.
Use almond slices, other chopped nuts (pecans, walnuts), nut butter, etc. as topping.
Add additional flavor with balsamic vinegar
Omit the bacon and add other meats like prosciutto, shredded pork roast, shredded beef ribs, shredded chicken breasts, or other meat alternatives.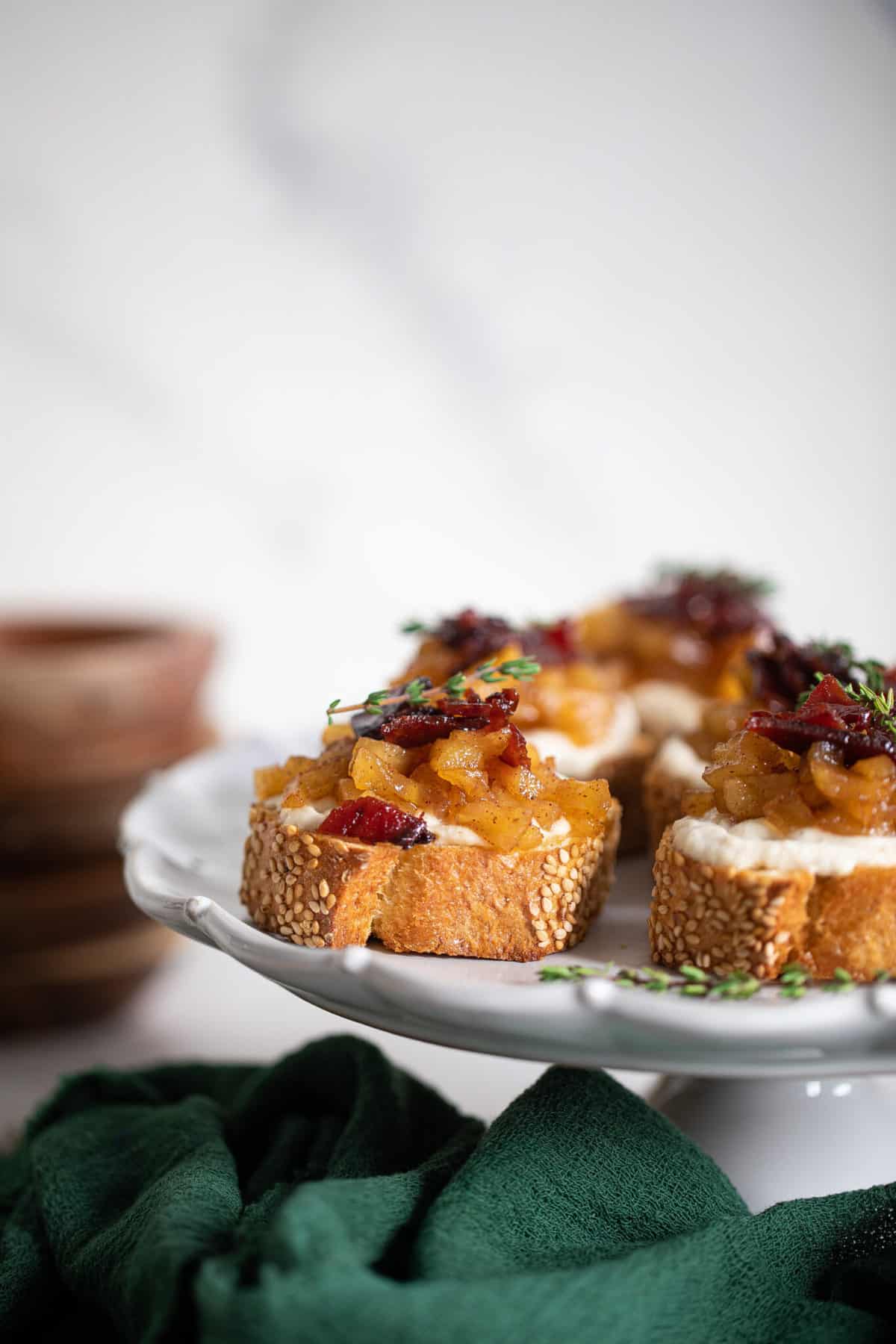 Common Q + A's About Crostinis.
CAN I MAKE THESE AHEAD OF TIME?
Absolutely! You can always prep the ingredients separately and store them: cook the bacon and chop before storing, make your vegan cream cheese and store in an airtight container in the fridge, peel + slice your apples and added lemon juice (to prevent browning) along with spices for the perfect marination.
WHAT TOPPINGS CAN I ADD?
Honestly, anything! The awesome thing about a crostini is that you can add whatever topping you'd like. To make these vegan, simply omit the bacon and add mushrooms, tempeh, or seitan for a smoky flavor.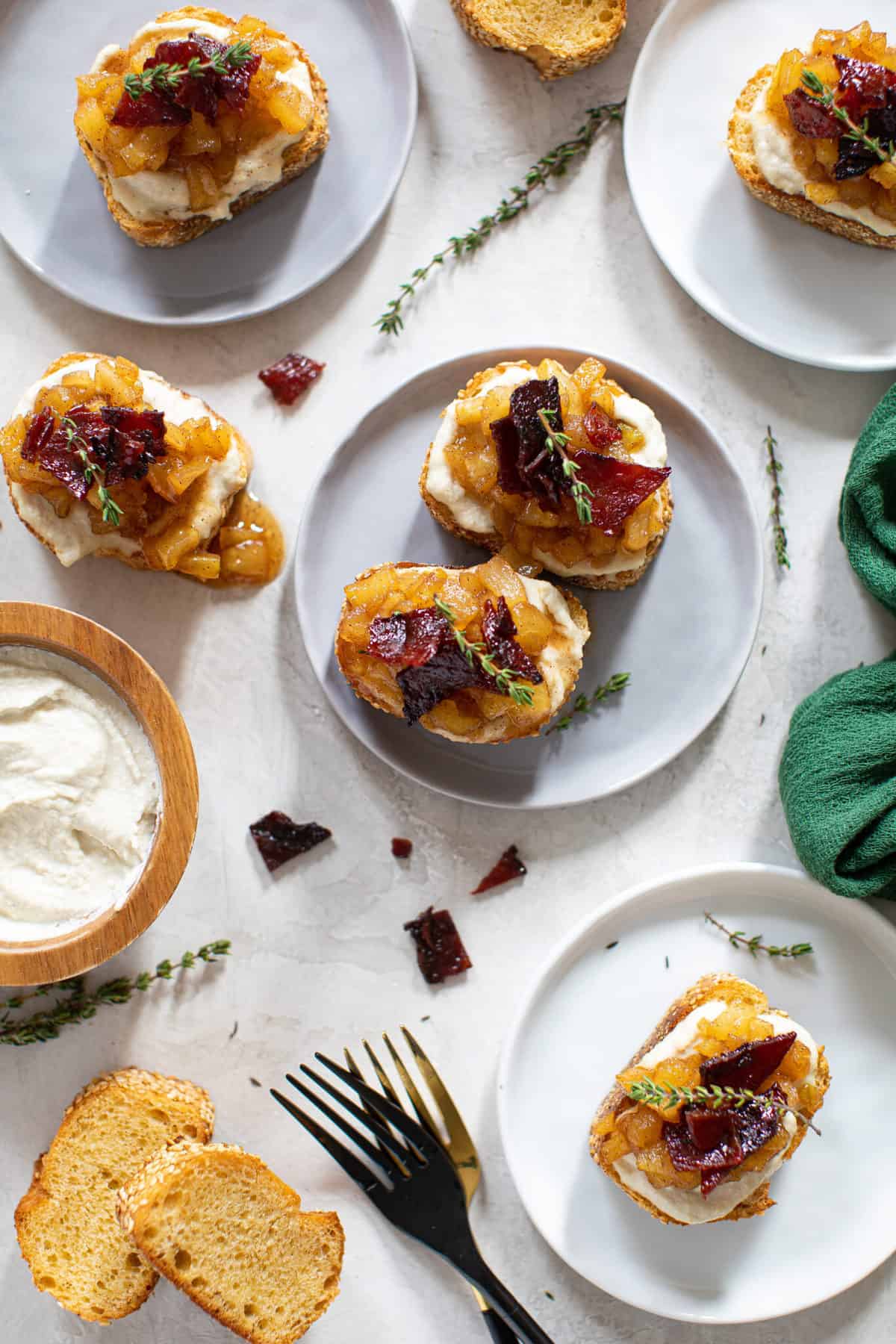 HOW MANY OF THESE CROSTINIS CAN I SERVE?
Typically, at a gathering or event, I would aim to serve 3-4 of these to each person. Therefore, doubling or tripling the ingredients will help to best serve everyone, depending on the size of the crowd.
HOW TO PREVENT CROSTINIS FROM GETTING SOGGY.
If you're not ready to eat them just yet, I always recommend saving the 'wet' ingredients, such as the sautéed apples, until a few minutes before you're ready to serve. This ensures that they are just as crisp as they started.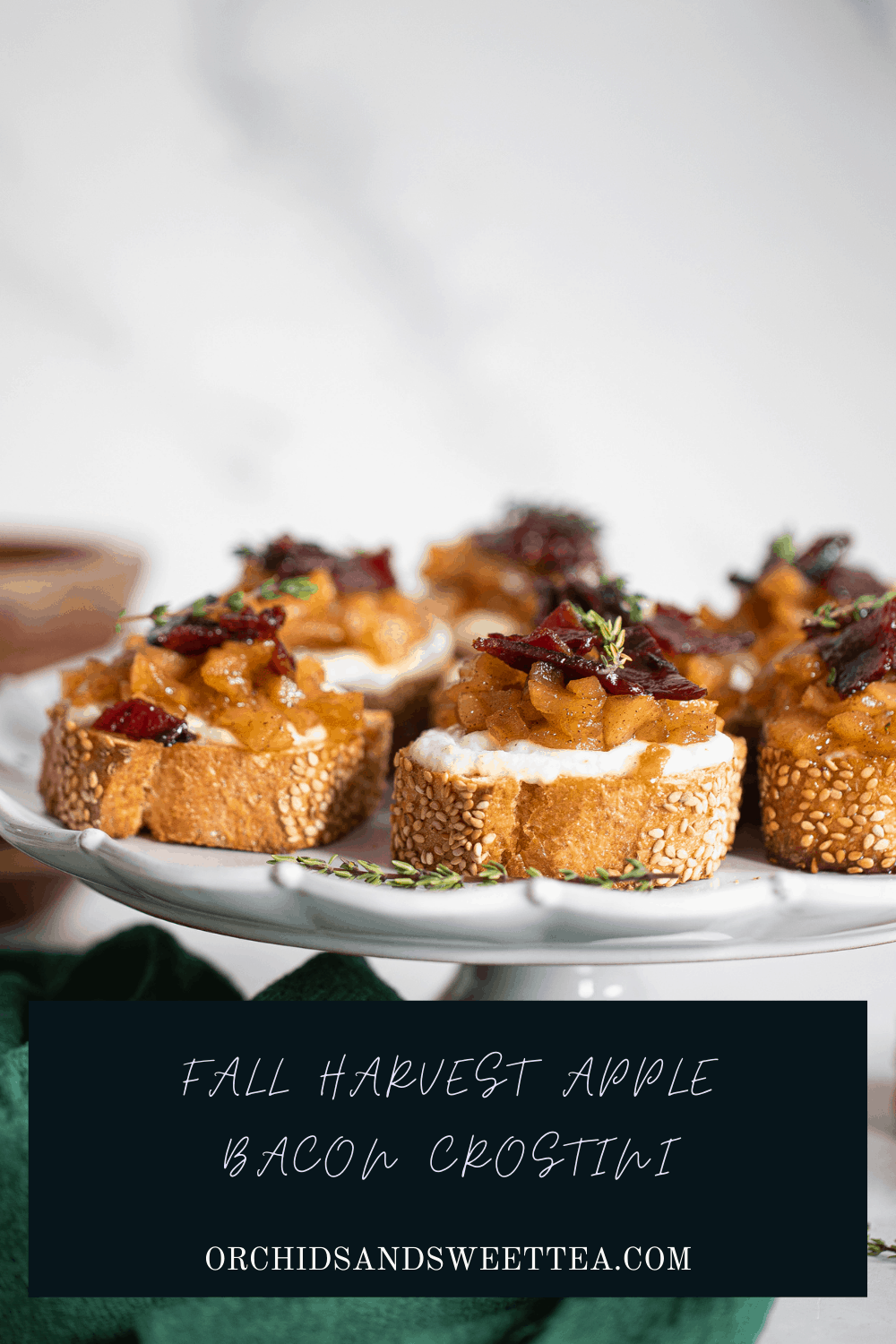 More Delicious Apple Recipes
MADE OUR RECIPE(S)?
If you make these Fall Harvest Apple Bacon Crostini be sure to tag me on Instagram @orchidsandsweettea!
VEGAM LEMON CREAM 'CHEESE':
TO TOAST THE BREAD:
Preheat the oven to 425 degrees Fahrenheit and prepare a baking sheet, lining it with parchment paper.

In a small bowl, mix together the melted butter, olive oil, dried parsley, and garlic powder until combined.

Place slices of baguette flat unto your baking sheet and brush with mixture and bake them in the oven for 10-15 minutes, until golden brown and crisp around the edges.

Meanwhile, make the vegan cream cheese sauce.
TO MAKE THE VEGAN CREAM CHEESE SAUCE:
Add all ingredients into a high-powdered blender (cashews first) and blend until sauce becomes creamy. NOTE: If needed, add a bit more water (1 tablespoon at a time), until desired consistency is met. Place it in the refrigerator until ready to use.
TO SAUTE THE APPLES:
In a medium saucepan over medium-high heat, add the butter and heat until melted. Add the brown sugar, cinnamon, nutmeg, allspice, and sea salt and stir until combined and everything begins to bubble a bit, about 2-3 minutes.

Add the diced apples and toss until well coated and cook for 8-10 minutes, until tender and the sauce has thickened. Remove from heat and let it cool completely.
ASSEMBLY:
Once bread slices are toasted, remove them from oven, letting them cool for 1-2 minutes or until they are safe to handle.

Generously spread the vegan cream cheese sauce unto each slice of bread followed by 1-2 Tbsps of the spiced diced apples and sprinkles of chopped candied bacon. Repeat until all crostinis are made. Garnish with thyme leaves, if desired.

Bon Appetit!
STORAGE: Crostini toppings can be stored in the refrigerator in an airtight container (separately) for up to 3 days; crostinis are best consumed within the same day once made.
CANDIED BACON: Place the bacon on a parchment paper lined baking sheet and brush the tops of the bacon with maple syrup and sprinkle on some brown sugar. Bake in a pre-heated 400 degree Fahrenheit oven for 10-15 minutes or so, flipping the bacon and brushing the opposite side with maple syrup and sprinkling the brown sugar as well. Bake for another 10-15 minutes or until it is completely caramelized and crispy. 
SOAKED CASHEWS: Add cashews to a bowl or measuring cup, cover with fresh cold water and cover with plastic wrap and let sit at room temp overnight. If soaking for 3-4 hours, add cashews to measuring cup and cover with boiling water instead.
Calories:
290
kcal
|
Carbohydrates:
16
g
|
Protein:
7
g
|
Fat:
22
g
|
Saturated Fat:
6
g
|
Polyunsaturated Fat:
5
g
|
Monounsaturated Fat:
11
g
|
Trans Fat:
1
g
|
Cholesterol:
20
mg
|
Sodium:
364
mg
|
Potassium:
164
mg
|
Fiber:
1
g
|
Sugar:
6
g
|
Vitamin A:
24
IU
|
Vitamin C:
2
mg
|
Calcium:
26
mg
|
Iron:
1
mg
Fall Harvest Apple Bacon Crostini.