When it comes to these Fall Harvest Apple Bacon Crostinis, the word 'delicious' is an understatement. This simple in method, yet complex in flavor recipe is the perfect little bite for any occasion or gathering, especially during the Fall season. Lightly crisp sliced french bread topped with vegan 'cream cheese' made from cashews, candied bacon, sautéed spiced apples, and a pinch of thyme. The epitome of savory + sweet.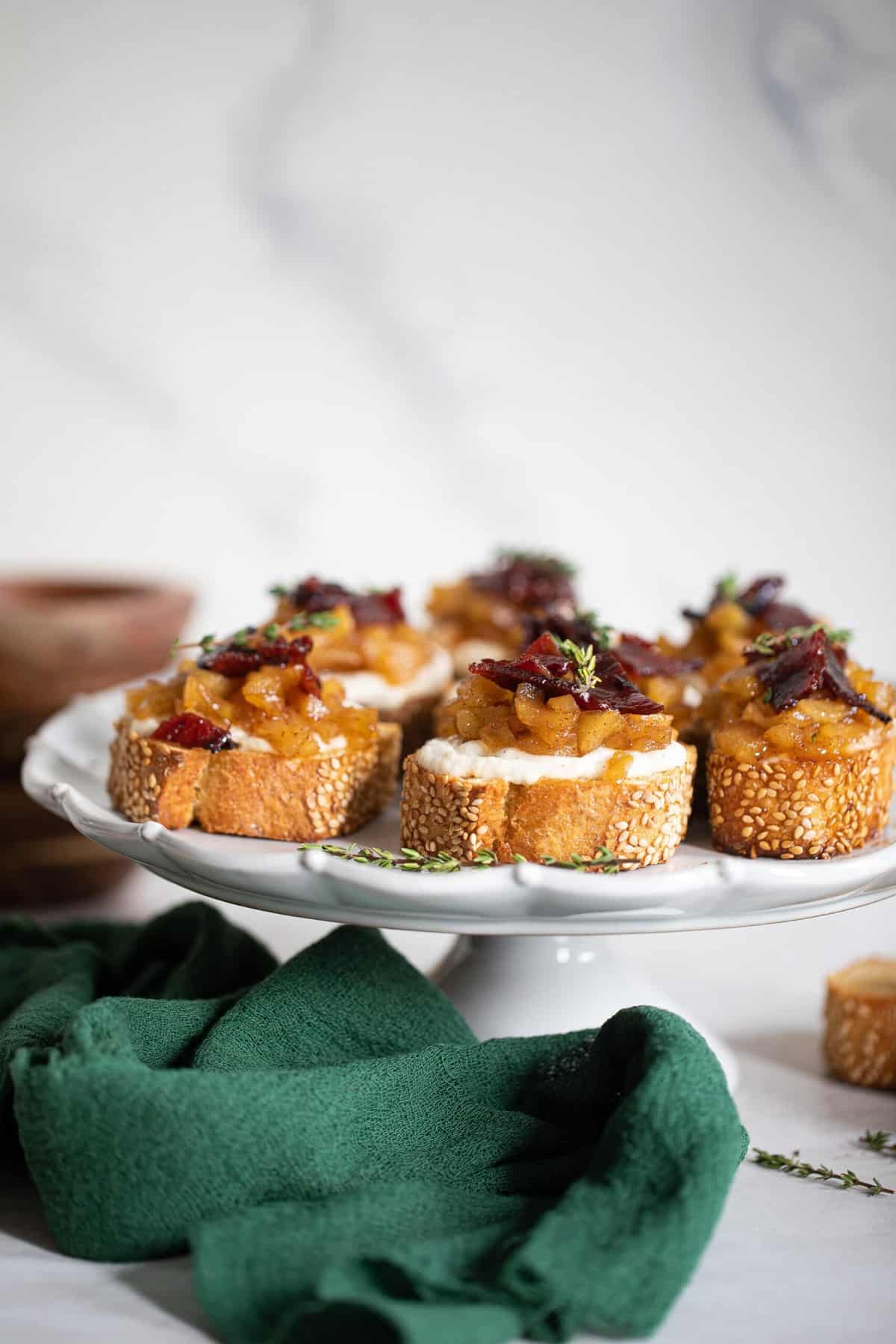 Fall Harvest Apple Bacon Crostini — such beautiful four words. With #AppleWeek in full swing, I wanted to share this recipe because it is the epitome of Fall season eats. Haha. Do you like how I put that mini phrase together?
OK, so in all seriousness, I'm so ecstatic about the way that #AppleWeek has been going and I've already begun creating future Themed Weeks because "why not right?".
Apple Spice + Everything Nice. That's the Theme.
To recap, thus far, I've created a few delicious Apple recipes that truly showcase classic dishes and fun twists on the way that you can use apples. Everything from savory to sweet and in between.
Homemade Gluten-Free Apple Crisp—the epitome of warm, sweet, rich in Fall spices, and absolutely creamy.
This Sheet Pan Maple Apple Chicken + Veggies recipe is the perfect easy weeknight meal on any given day for the entire family.
This Easy Warm Apple Chai Latte is made with only a handful of ingredients and is the perfect warmth + coziness during the cooler season.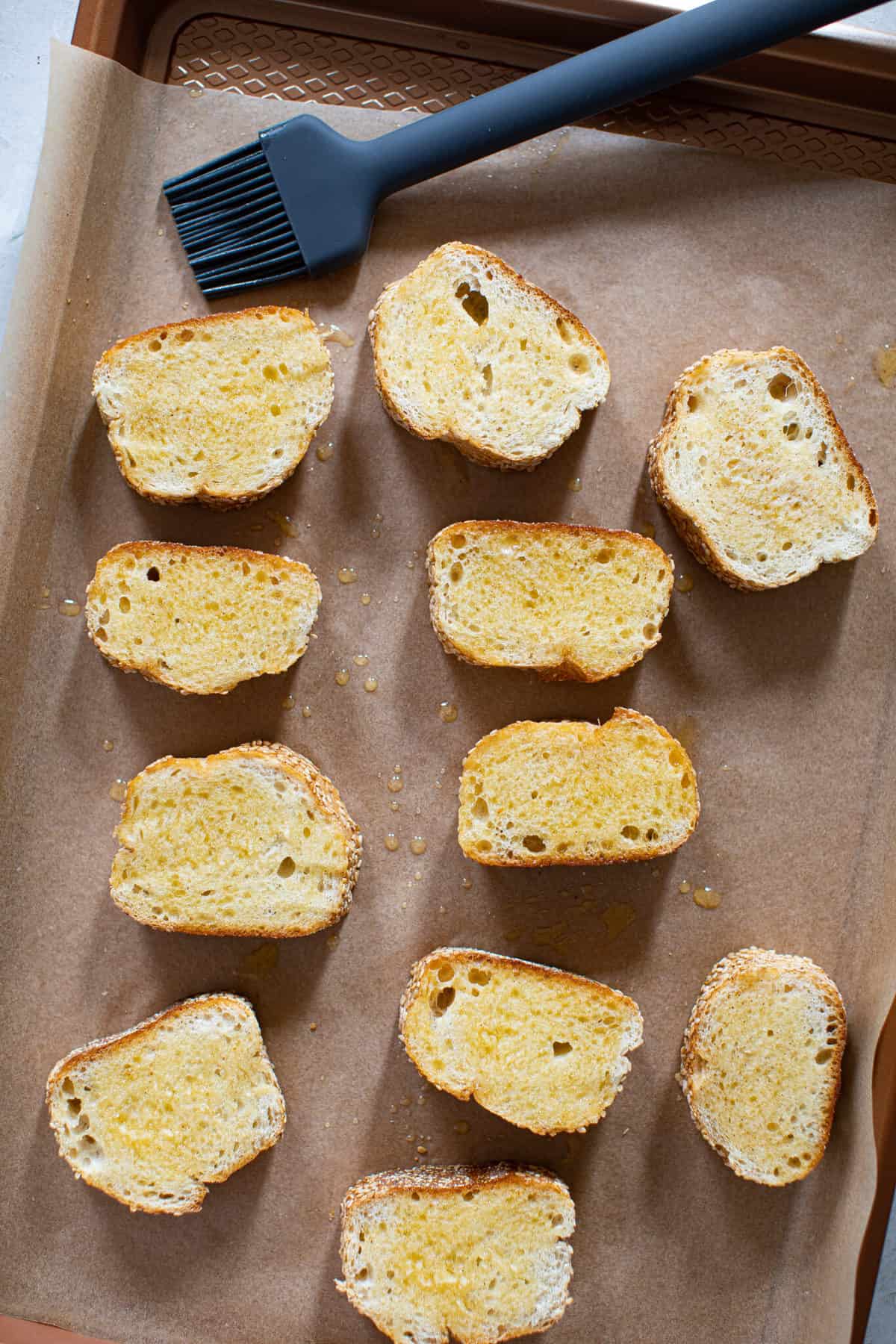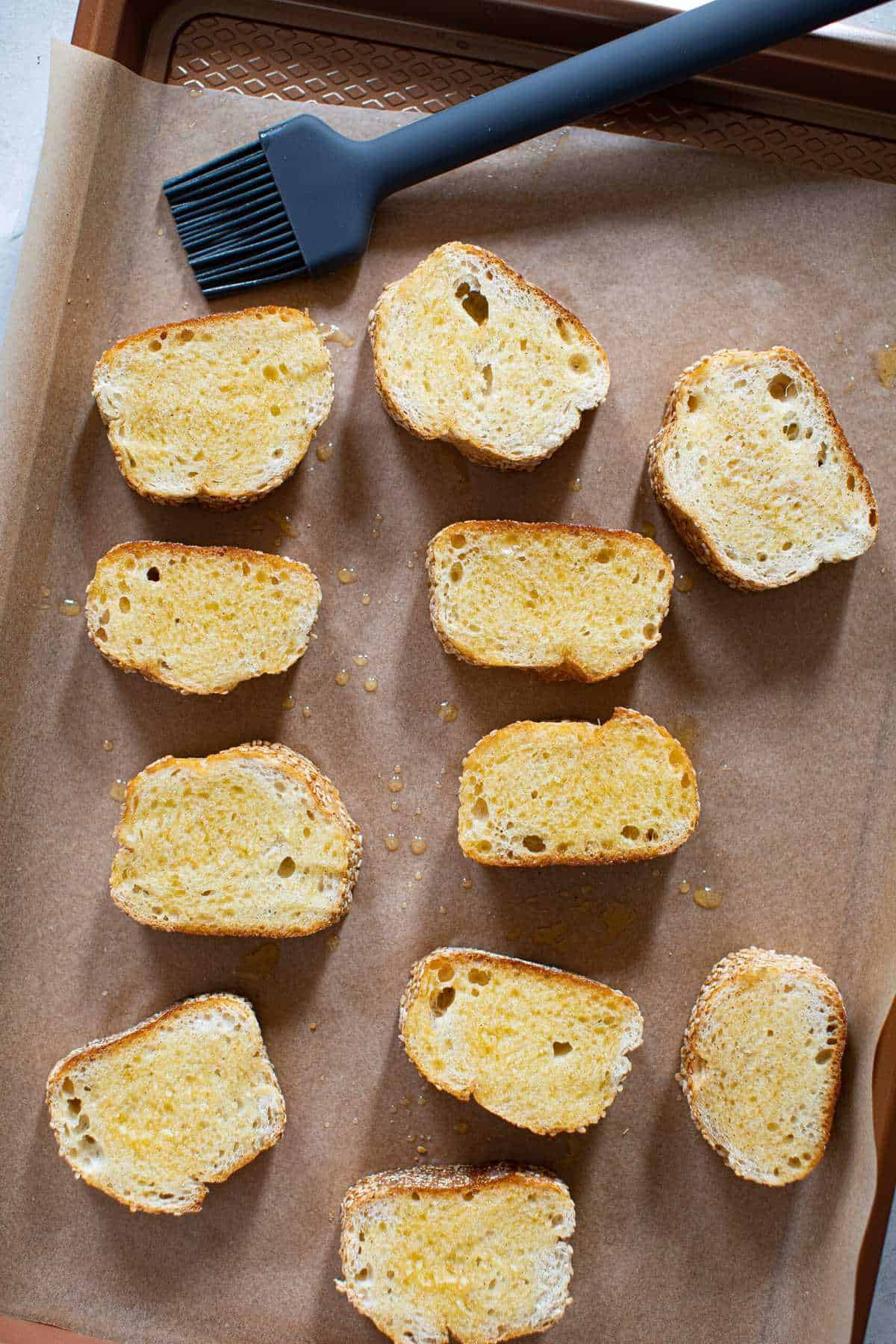 Need Other Delicious Ways to Use Apples?
These Warm Vegan Apple Cinnamon Pancakes are the perfect, healthy twist to kick start your day! Completely fluffy, airy, and oil-free, these pancakes are truly irresistible—especially with the burst of Fall spices and bold apple flavor.
These Chewy Apple Oatmeal Raisin Breakfast Cookies are just that—soft and chewy! More importantly, these cookies are a notch up from the classic oatmeal raisin flavor.
When it comes to this Apple Cranberry Ginger Lemon Detox Juice, it's all about the spicy ginger and cranberry flavors paired with the bit of tartness from the lemon and granny apples.
A sweet and comforting recipe for homemade Apple Blueberry Hand Pies + Maple-Brown Sugar Glaze, wrapped in a buttery, flaky crust and stuffed gently with a spiced filling, these sweet treats are a sure favorite to anyone who dares to a take big bite.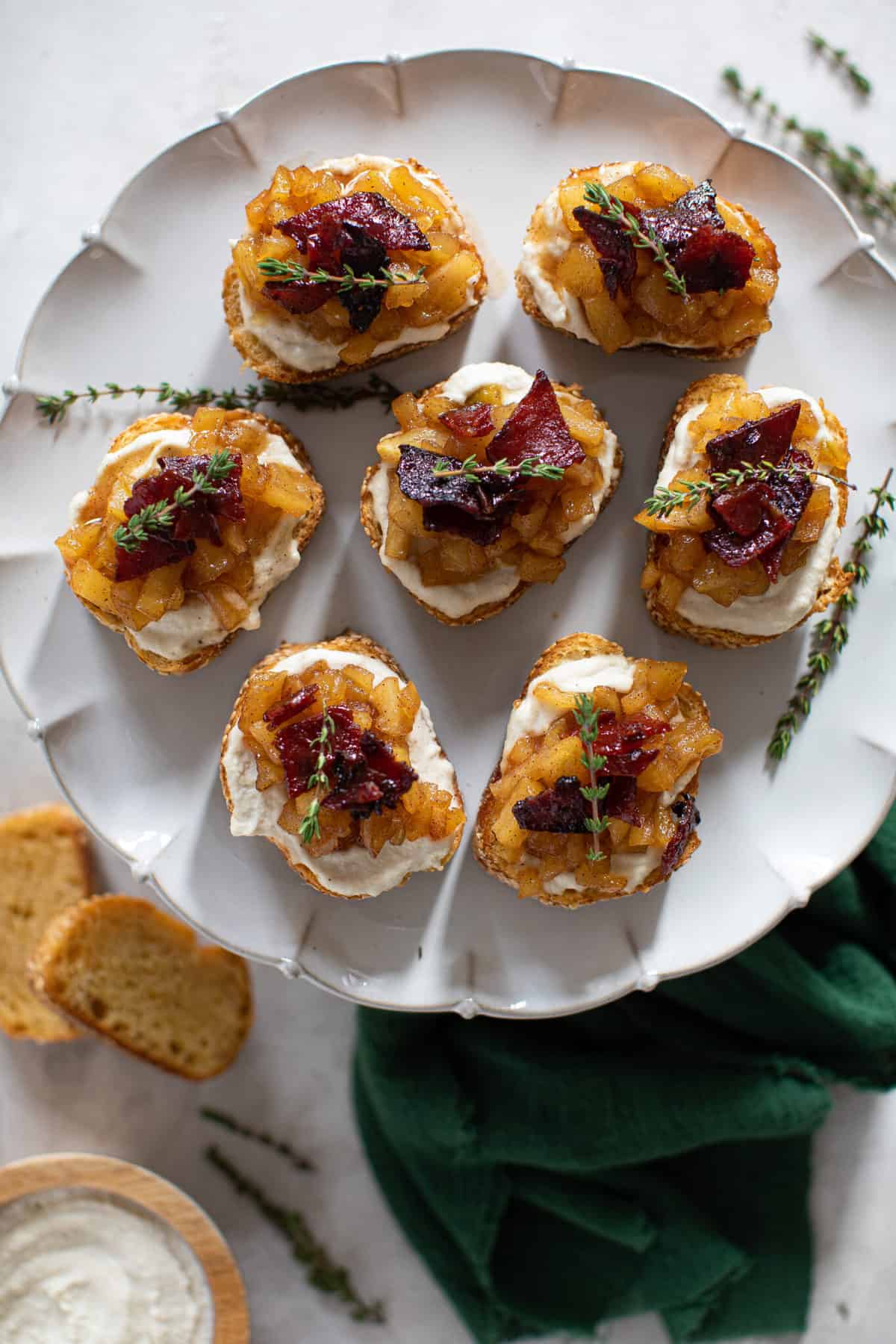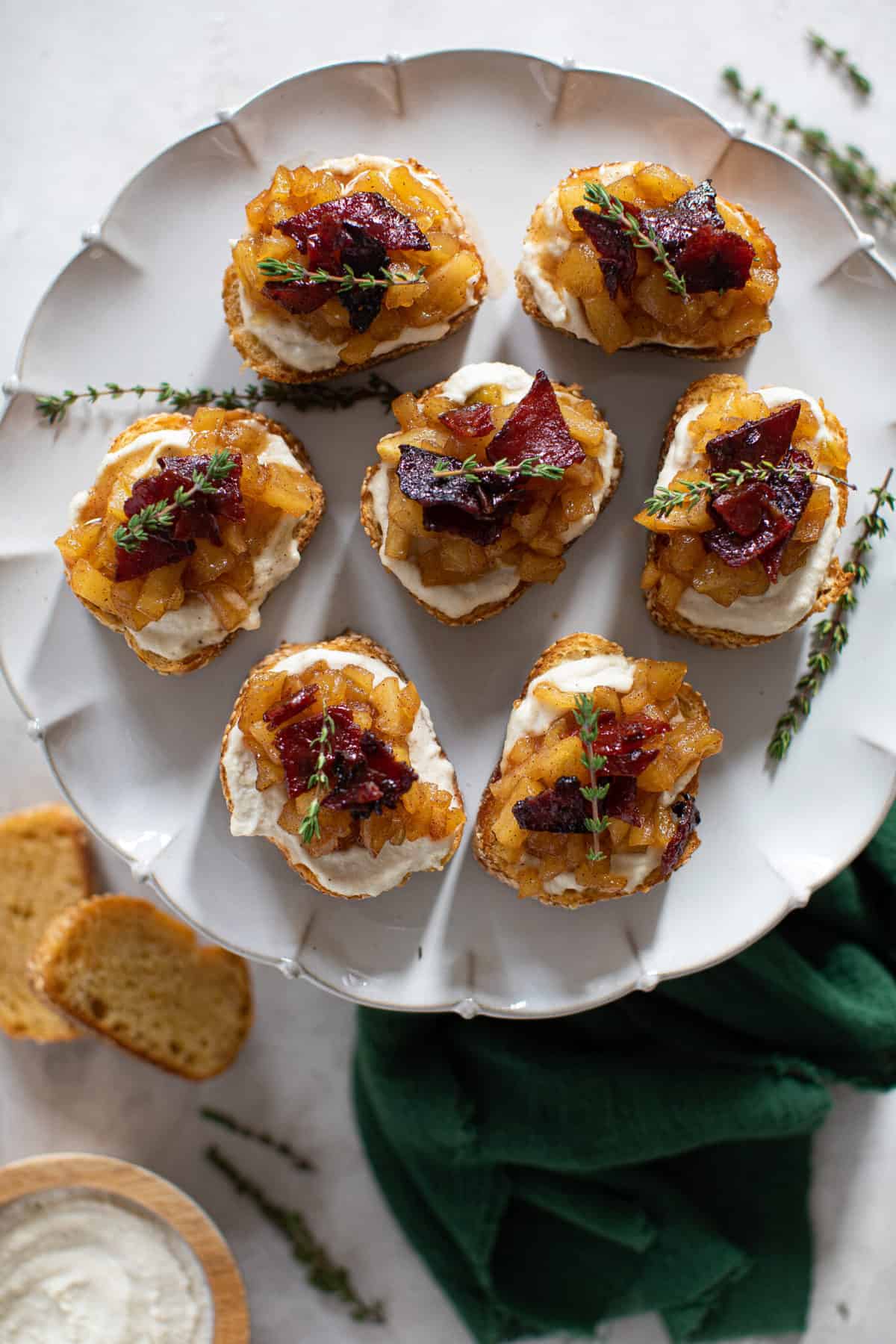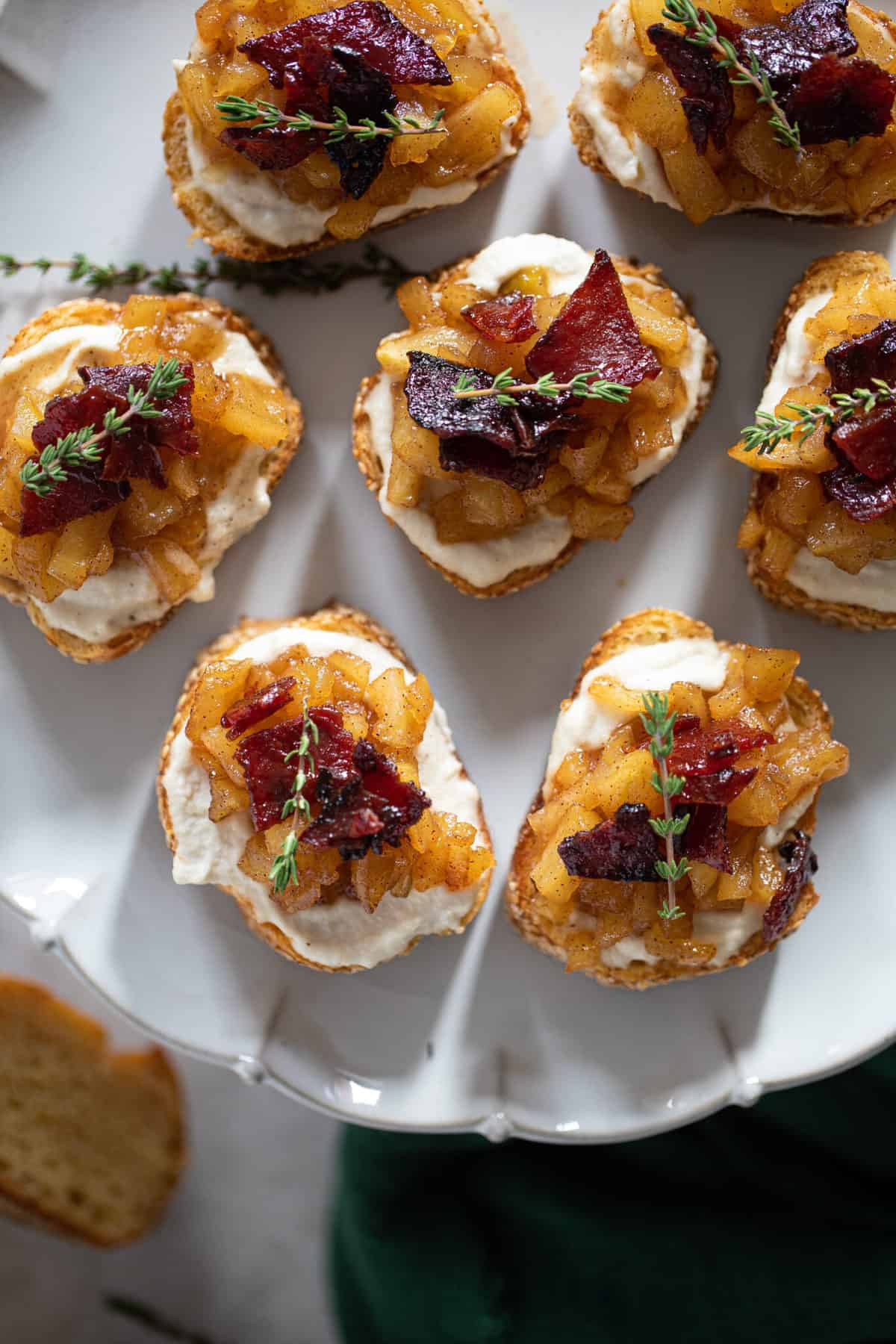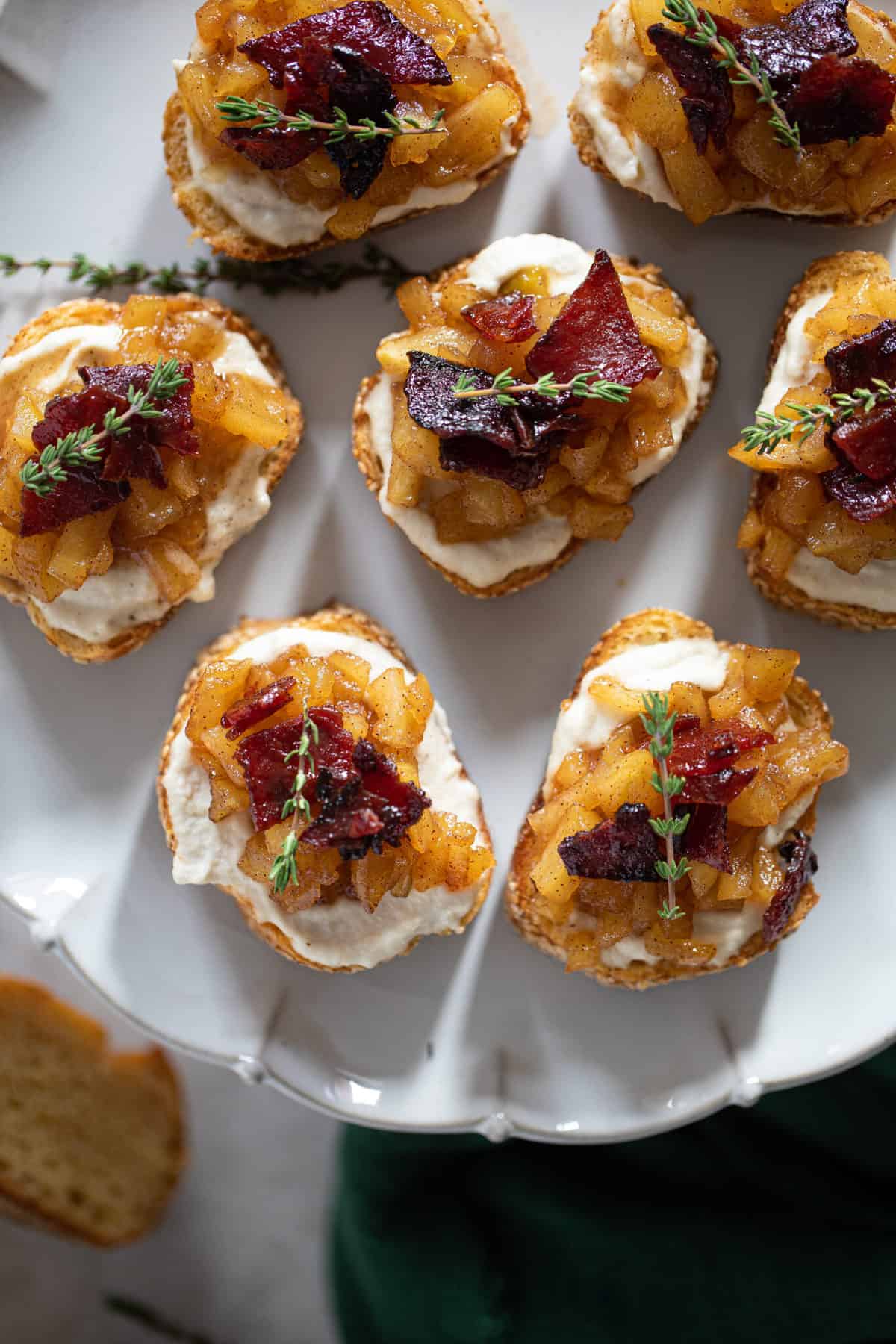 Now that we're officially in Fall, I'm thinking about Thanksgiving which is super close. These crostinis are perfect for Thanksgiving and will definitely be a hit.
I used candied bacon because of course, it's the Southern girl in me and candied bacon is a serious thing! Plus, the sweet + smokiness from the bacon goes really well with the spices from the apples.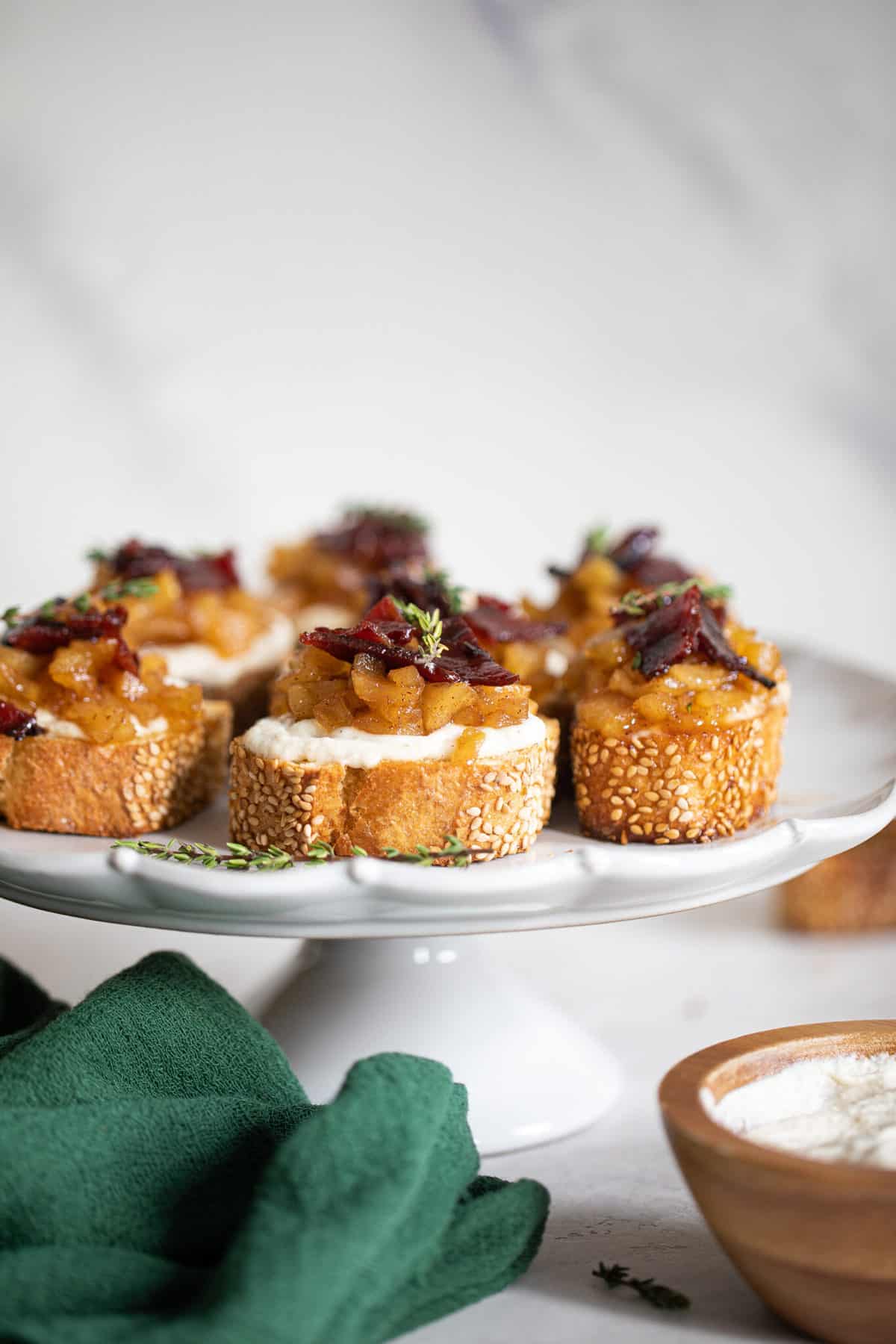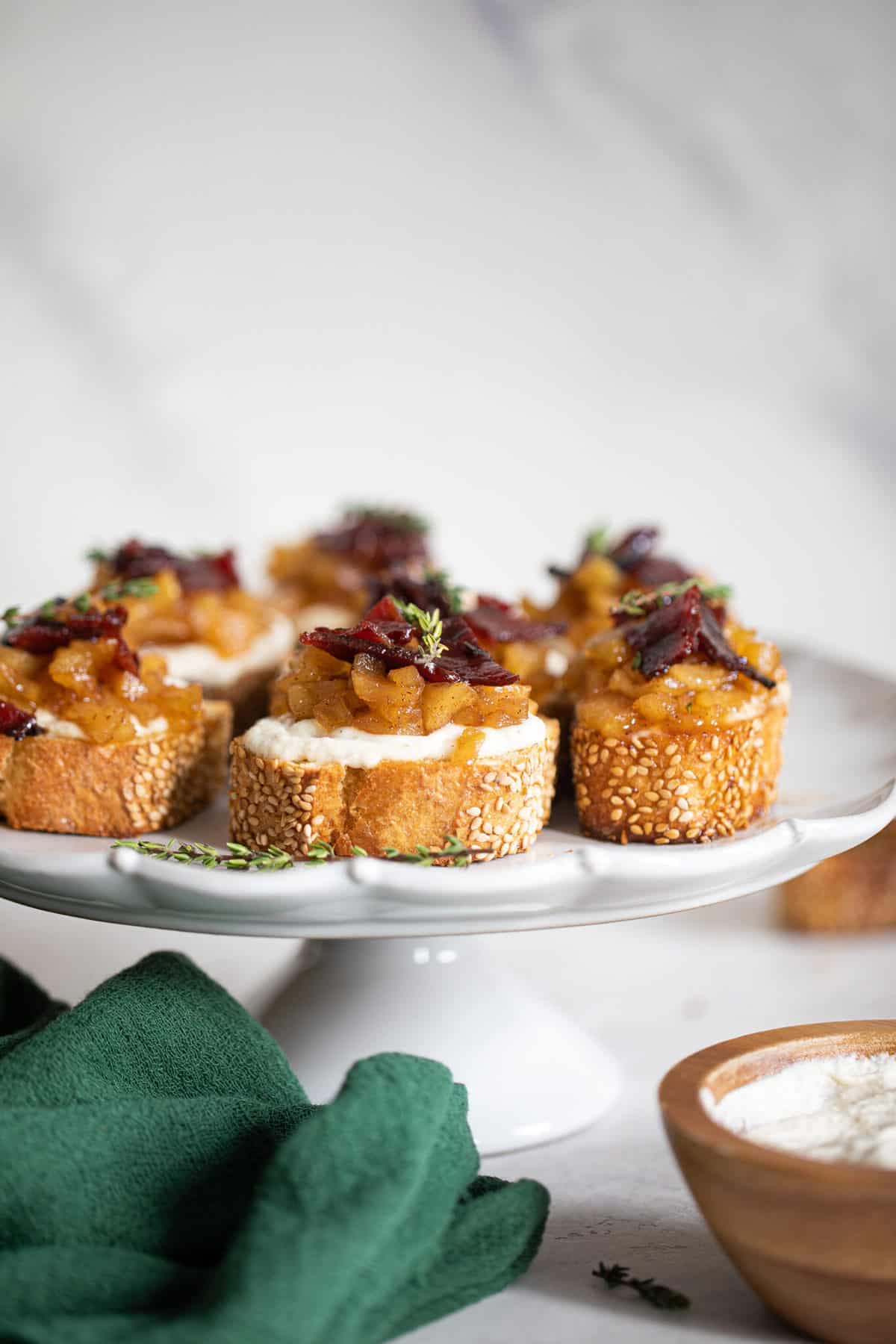 Usually, most crostini recipes are topped with a cheese spread, whether goat cheese, cream cheese, burrata cheese, etc. However, with this recipe, I chose to make my go-to vegan cream cheese.
It's literally a quick blend in the blender and wallah!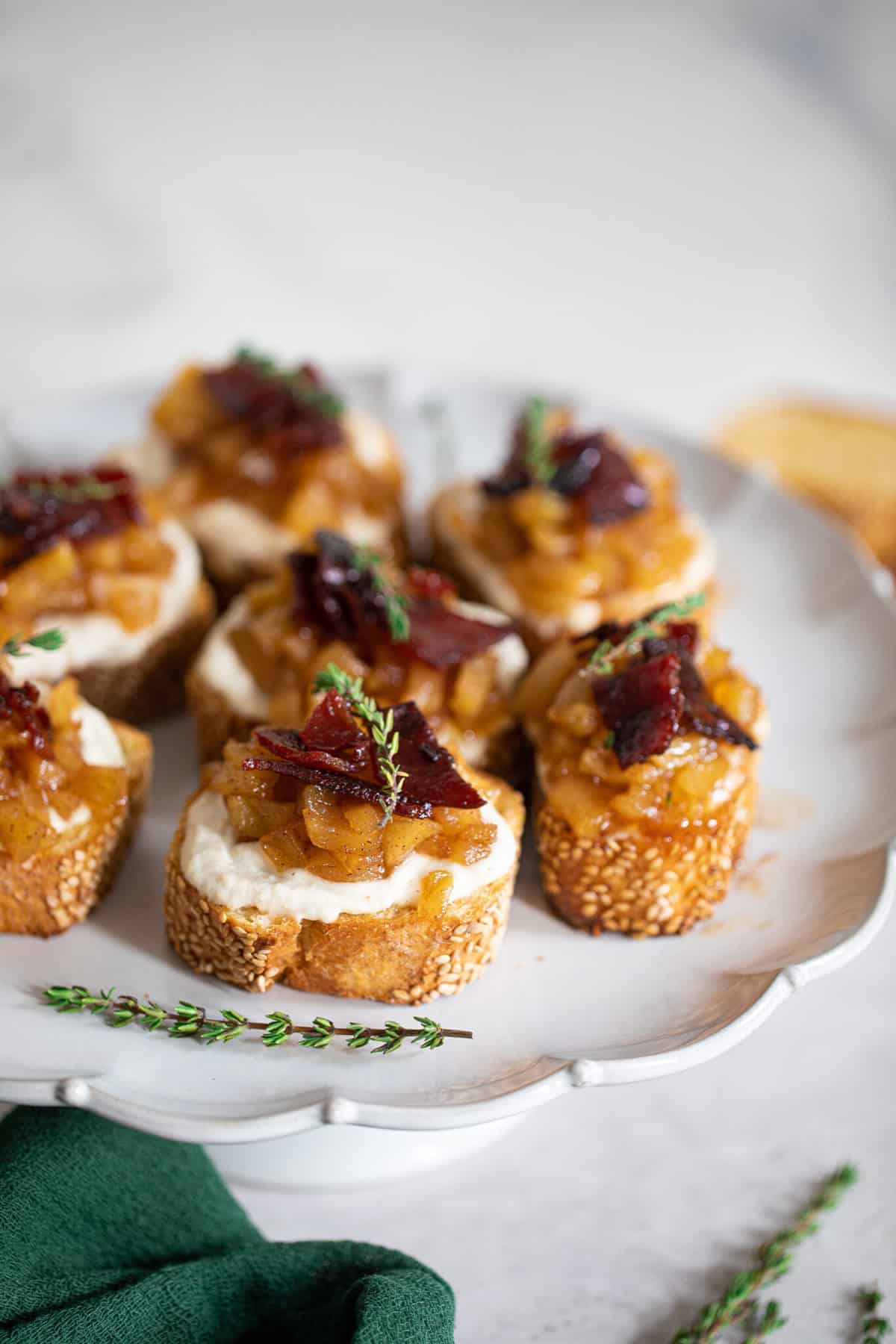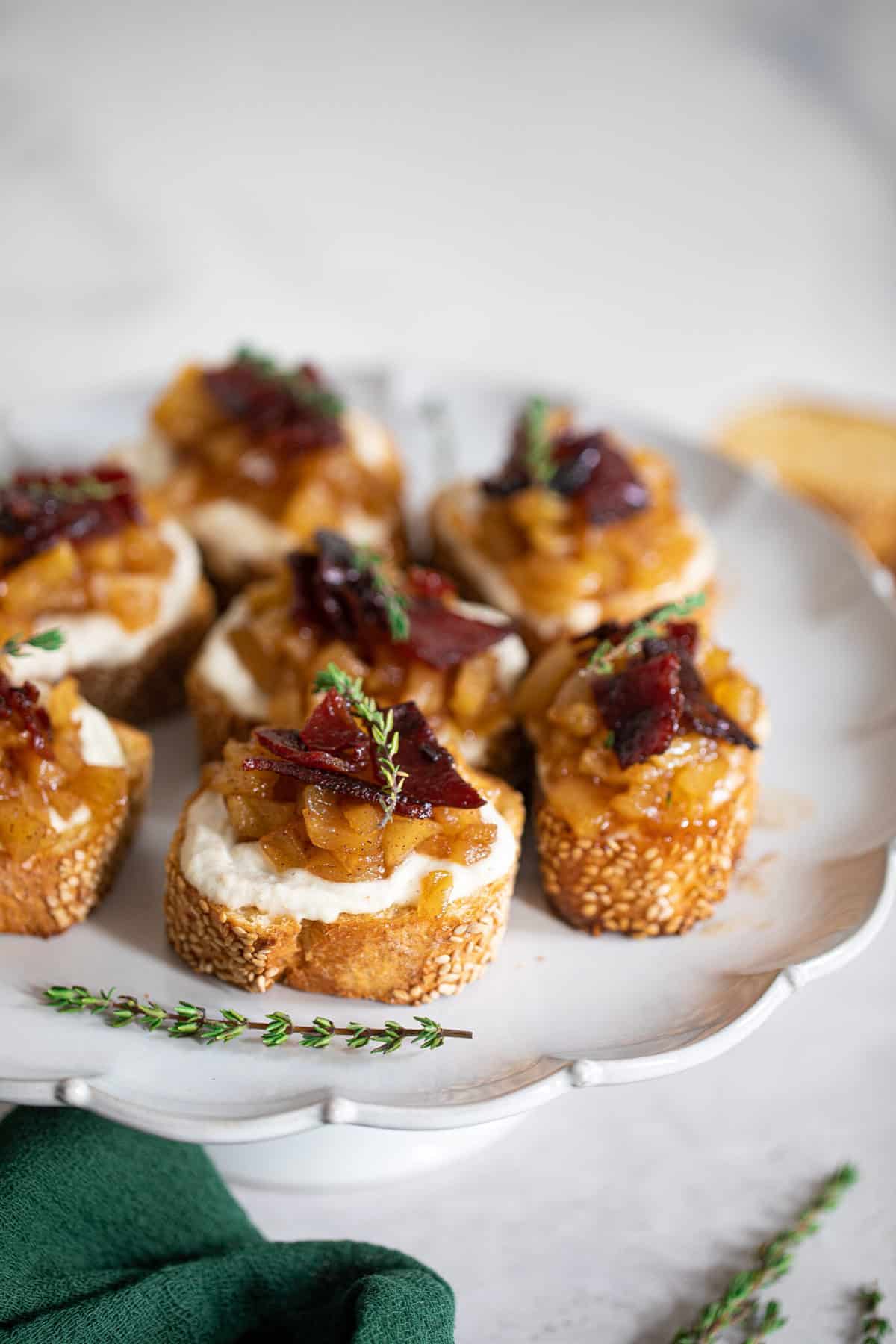 What You'll Love Most About This Recipe.
Very easy to whip together and uses minimal main ingredients.
Ready in less than 30 minutes!
Warm and comforting with every bite.
Loaded with delicious Fall/Winter spices.
Entirely dairy-free.
Perfect dance between sweet + savory.
Makes for the perfect little bite for the entire family.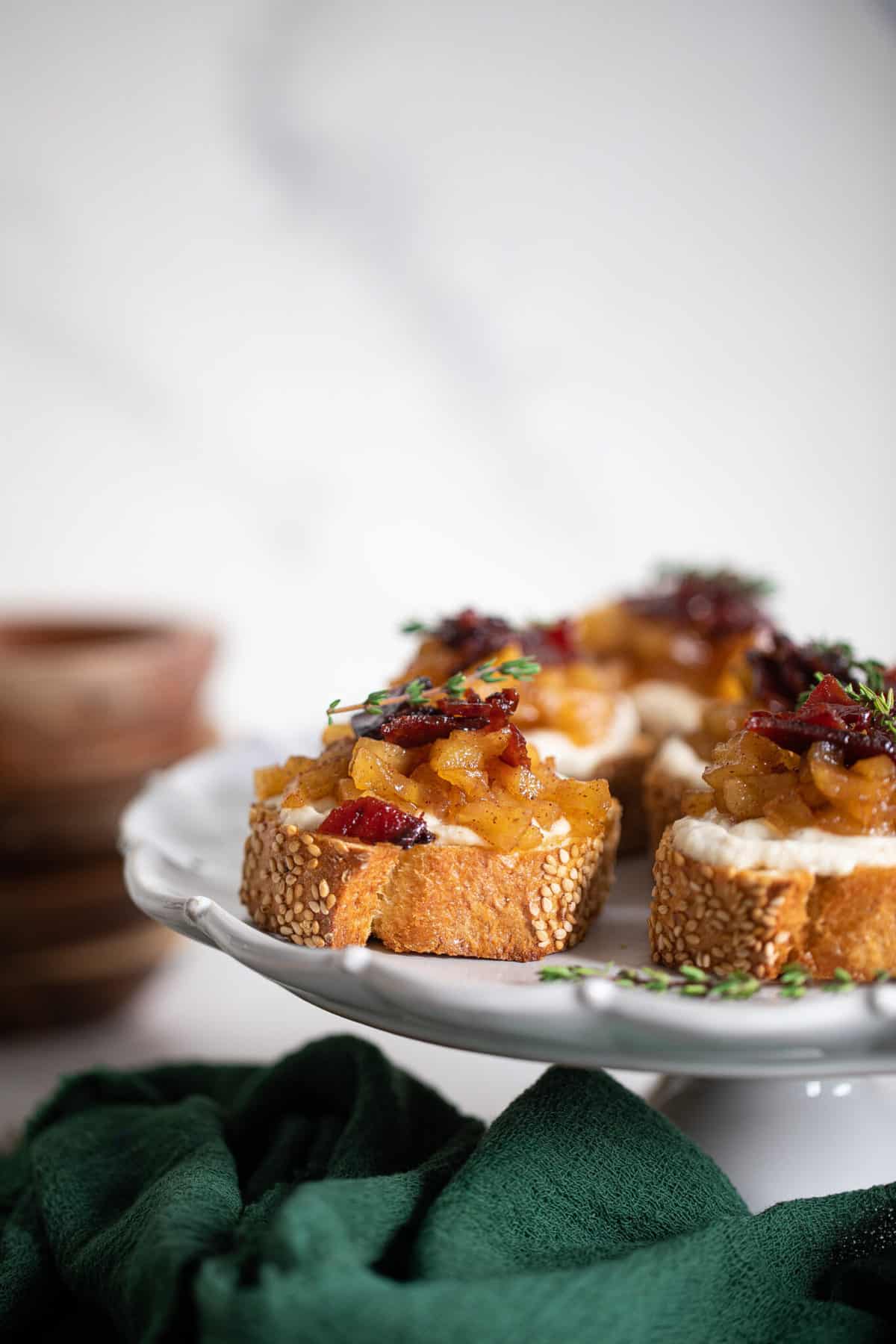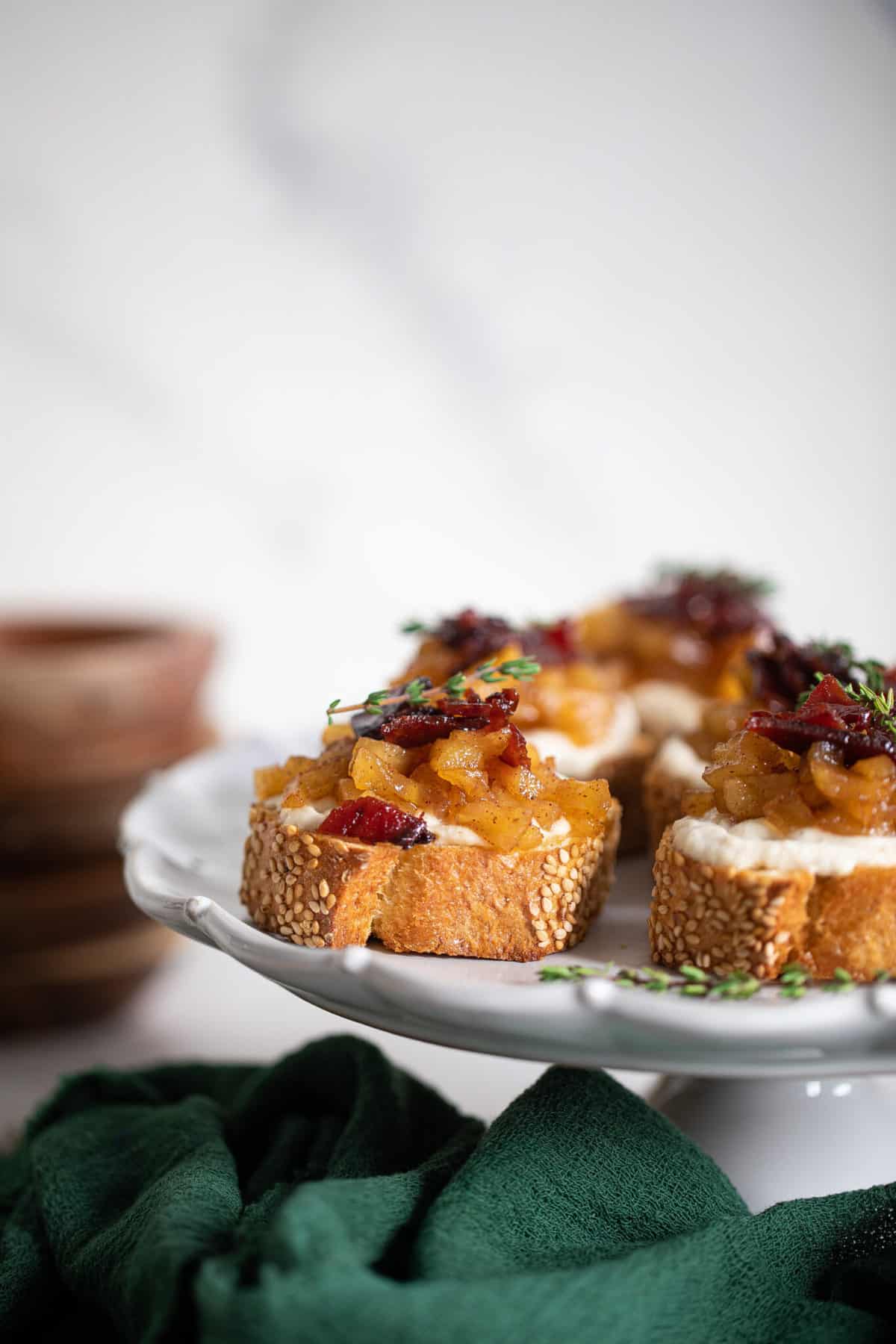 Common Q + A's About Crostinis.
CAN I MAKE THESE AHEAD OF TIME?
Absolutely! You can always prep the ingredients separately and store them: cook the bacon and chop before storing, make your vegan cream cheese and store in an airtight container in the fridge, peel + slice your apples and added lemon juice (to prevent browning) along with spices for the perfect marination.
WHAT TOPPINGS CAN I ADD?
Honestly, anything! The awesome thing about a crostini is that you can add whatever topping you'd like. To make these vegan, simply omit the bacon and add mushrooms, tempeh, or seitan for a smoky flavor.
HOW MANY OF THESE CAN I SERVE?
Typically, at a gathering or event, I would aim to serve 3-4 of these to each person. Therefore, doubling or tripling the ingredients will help to best serve everyone, depending on the size of the crowd.
HOW TO PREVENT THEM FROM GETTING SOGGY.
If you're not ready to eat them just yet, I always recommend saving the 'wet' ingredients such as the sautéed apples until a few minutes before you're ready to serve. This ensures that they are just as crisp as they started.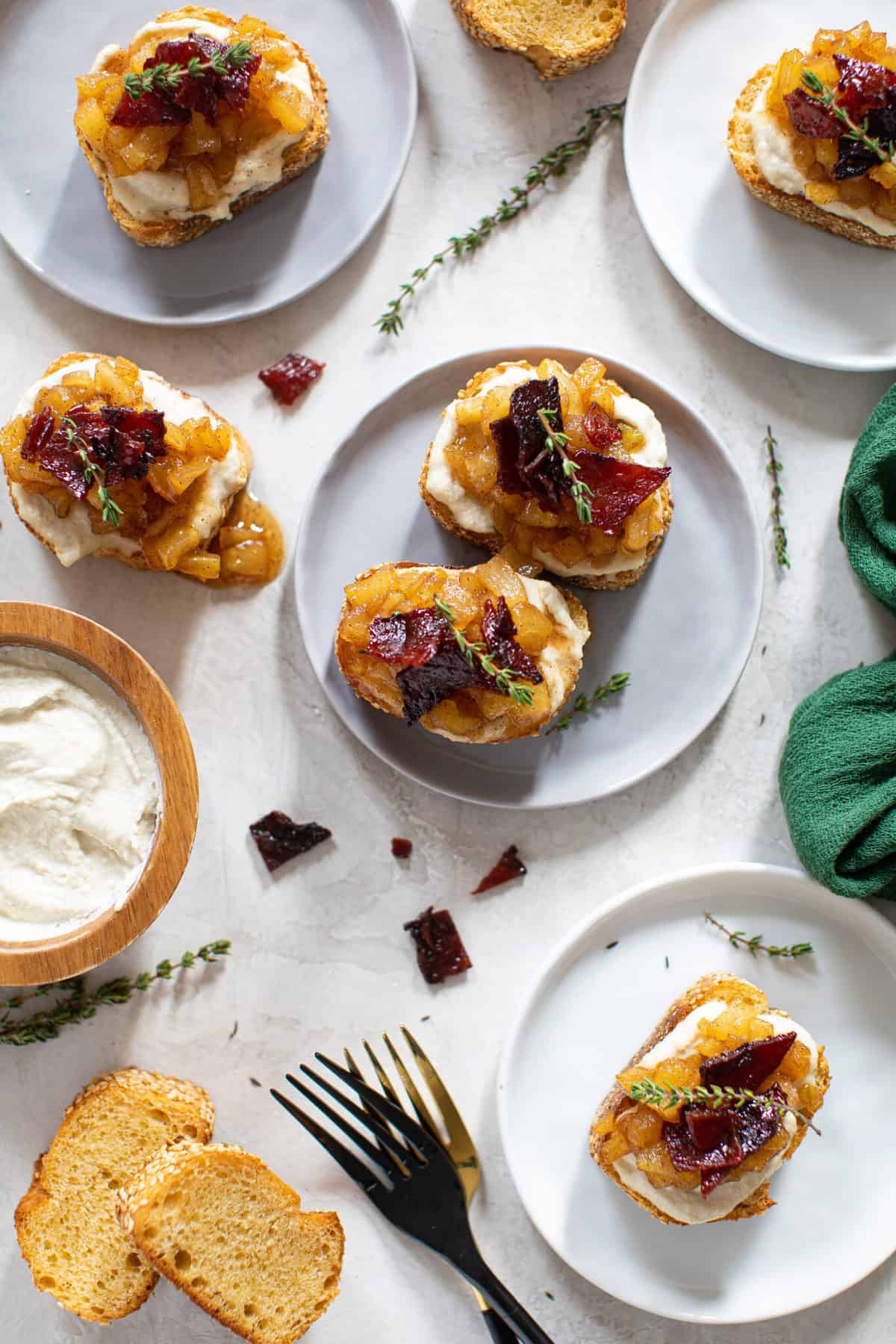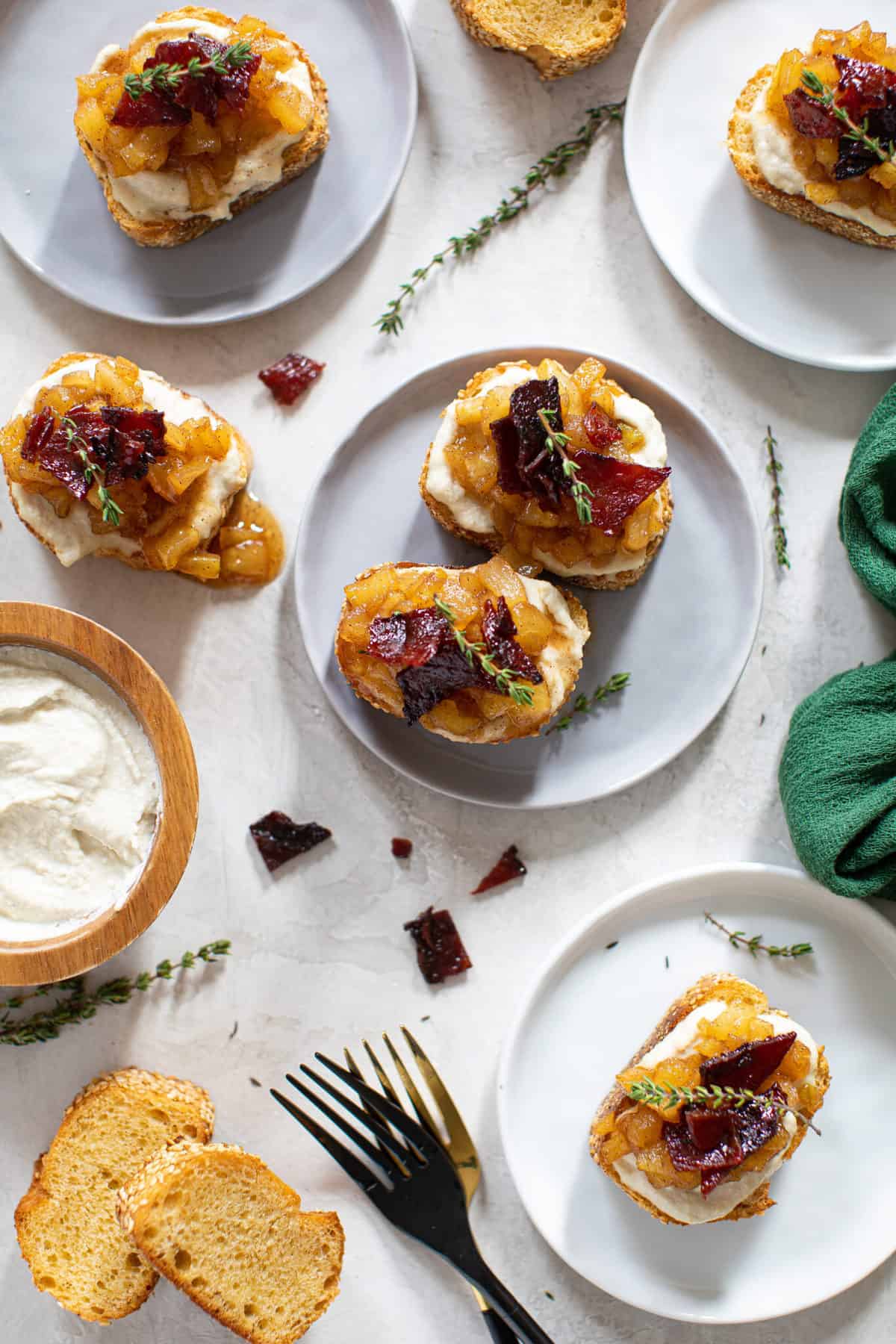 Let's dig right into this recipe, shall we?
Preheat your oven to 425 degrees Fahrenheit and prepare a baking sheet, lining it with parchment paper.
Place slices of baguette flat unto your baking sheet and brush with melted butter and bake them in the oven for 10-15 minutes, until golden brown and crisp.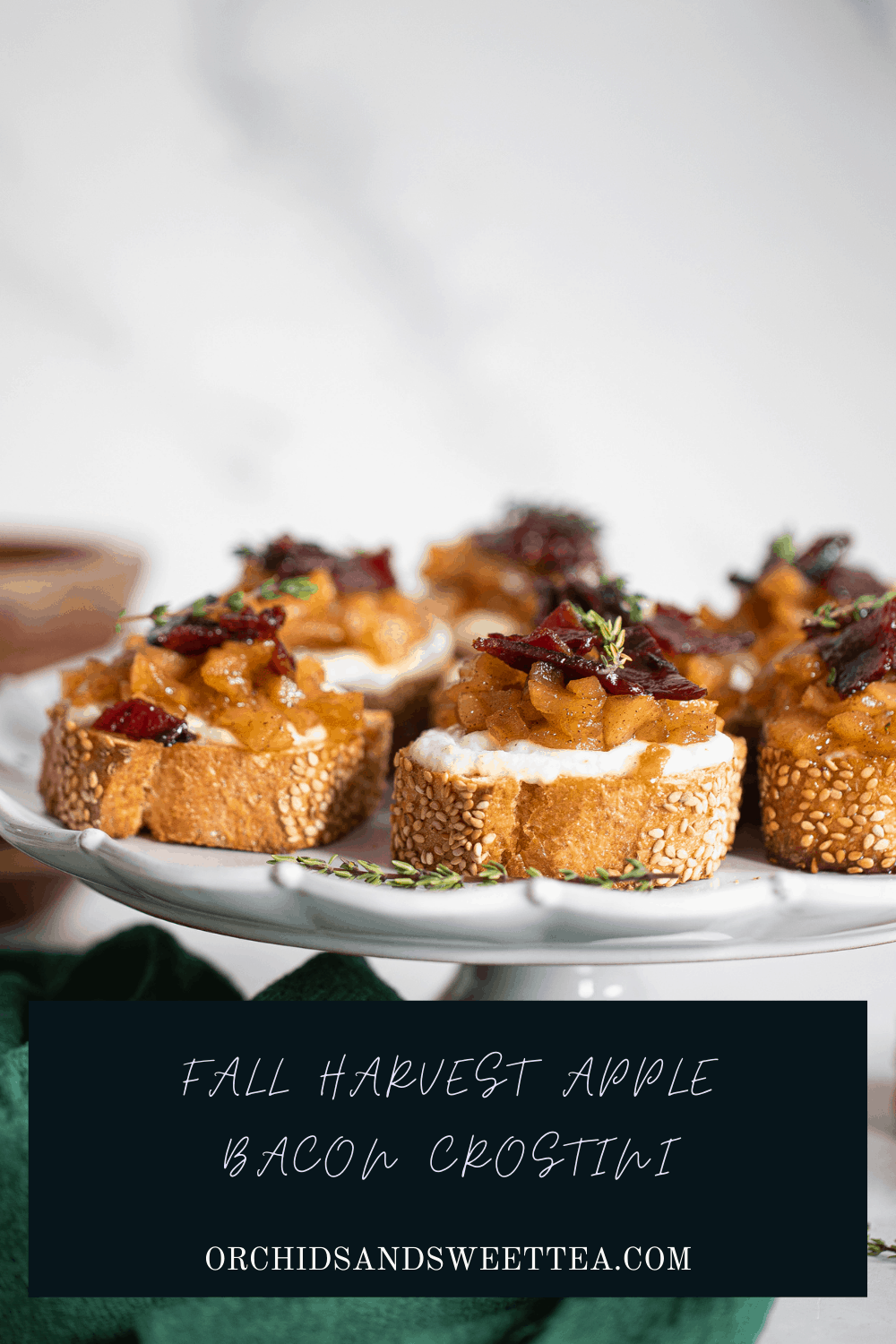 1

long

french baguette, sliced 1-inch thick

1/4

cup

vegan butter, melted

(I use Earth Balance)

2

cups

chopped cooked candied bacon

(See Notes!)
Vegan Cream Cheese:
1

cup

Raw cashews, soaked

(See Notes!)

1

Tbsp

grapeseed oil

1

Tbsp

juice of a lemon

1/2

tsp

apple cider vinegar

1/4

tsp

sea salt

1/4

cup

water
Preheat your oven to 425 degrees Fahrenheit and prepare a baking sheet, lining it with parchment paper.

Place slices of baguette flat unto your baking sheet and brush with melted butter and bake them in the oven for 10-15 minutes, until golden brown and crisp.

Meanwhile, make the sautéed apples.
To Make Sautéed Spiced Apples:
In a large skillet of medium-high heat, add the butter and heat until melted. Add brown sugar, cinnamon, nutmeg, allspice, and sea salt and stir until well combined and 'bubbly'.

Add the apples and toss until well coated and cook for 8-10 minutes, until tender and the sauce has thickened.
To Make Vegan Cream Cheese:
Add all ingredients into a blender and blend until sauce becomes creamy. **NOTE: If needed, add a bit more lemon juice or water (1 Tbsp at a time), until desired consistency is met. Set aside.
Assembly:
Once bread slices are toasted, remove them from oven, letting them cool for 1-2 minutes.

Generously spread the vegan cream cheese unto each slice. Add the. sautéed apples atop spread followed by 1 Tbsp or so candied bacon. Repeat until all crostinis are made. Garnish with thyme leaves, if desired.

Bon Appetit!
CANDIED BACON: Place the bacon on a parchment paper lined baking sheet and brush the tops of the bacon with maple syrup and sprinkle on some brown sugar. Bake in a pre-heated 400 degree Fahrenheit oven for 10-15 minutes or so, flipping the bacon and brushing the opposite side with maple syrup and sprinkling the brown sugar as well. Bake for another 10-15 minutes or until it is completely caramelized and crispy. 
STORAGE: Crostini toppings can be stored in the refrigerator in an airtight container (separately) for up to 2 days; crostinis are best consumed within the same day once made.
SOAKED CASHEWS: Add cashews to a bowl or measuring cup, cover with fresh cold water and cover with plastic wrap and let sit at room temp overnight. If soaking for 3-4 hours, add cashews to measuring cup and cover with boiling water instead.
Fall Harvest Apple Bacon Crostini.