Whether you're hosting your first ever Thanksgiving or you're a Thanksgiving pro, preparing for Thanksgiving is a big task. Between organizing the get-together, running errands, and whipping up the most delicious Thanksgiving recipes, if you come into Thanksgiving week unprepared it can be a little bit overwhelming. Luckily, I'm just a little Thanksgiving obsessed so I have about a million tips and tricks to hosting Thanksgiving that I have learned over the years and want to share with you.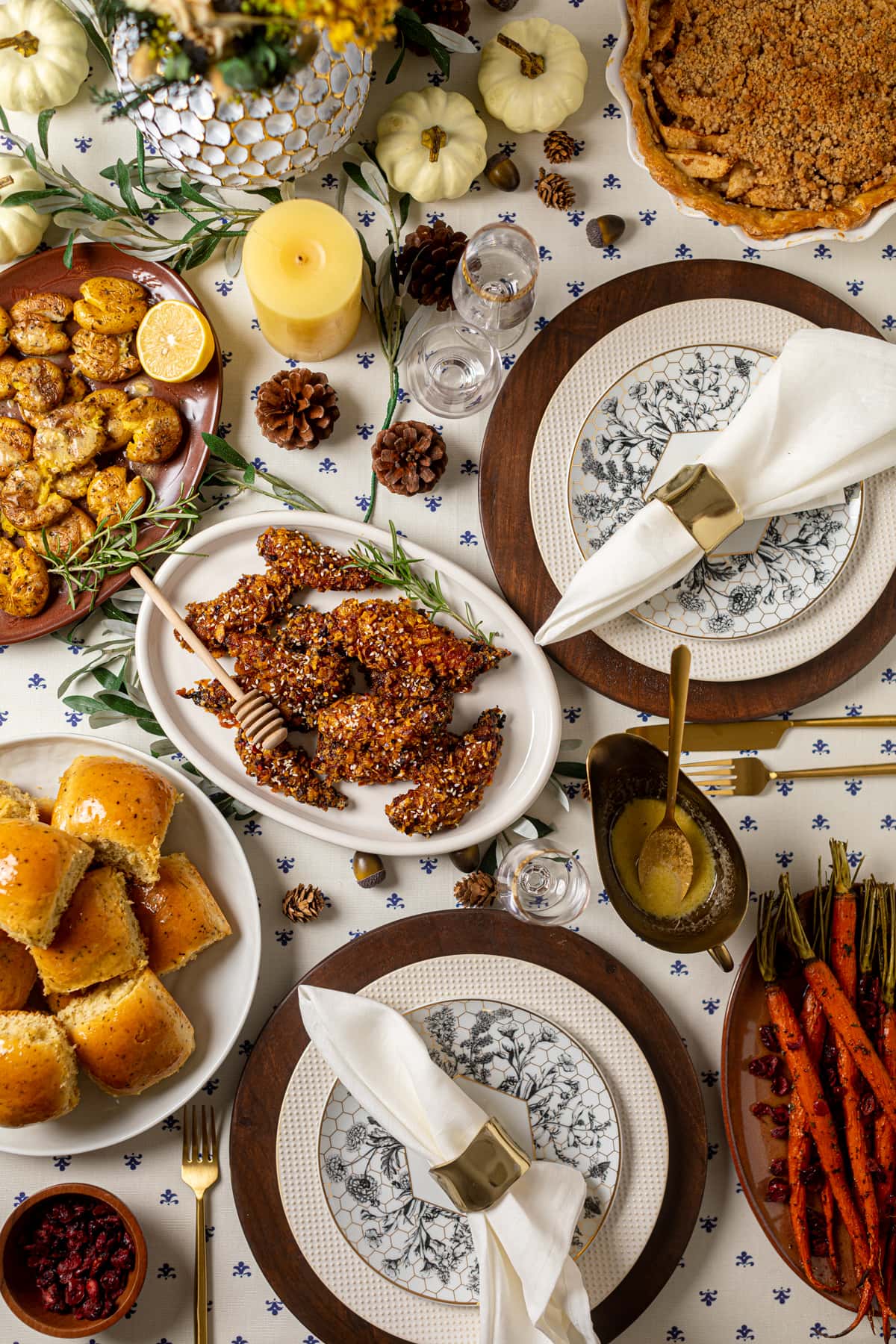 When thinking of Thanksgiving the first things that come to mind are the mouthwatering meals, comforting scents of fall, and time with loved ones. But there is a lot that goes on behind the scenes, which is why I'll walk you through not only some of my most-loved Thanksgiving recipes, but also my go-to Thanksgiving planning guide, a streamlined Thanksgiving day schedule, and more! I'm also going to share some extra tips like how to craft a beautiful Thanksgiving table and a few Thanksgiving dishes you can make ahead.
Thanksgiving Appetizers
On a day like Thanksgiving, you're going to have to keep your guests hungry, but not too hungry before the main meal. Since most people eat Thanksgiving dinner in the early or late afternoon, they probably won't eat lunch beforehand. This means your guests will love having little bites to snack on before the main event. I personally like to keep Thanksgiving appetizers light and spice things up a fun drink so as not to spoil anyone's appetite.
This Fall Harvest Apple Bacon Crostini is a crowd pleaser. Plus, you can easily make it vegetarian to please anyone with dietary restrictions. I love this appetizer option because it's simple to make, which means less stress for you. But, it has a complex flavor palette, which means your guests will love it too. 
Drinks wise, this Roasted Apple Pear Mocktail will pair really nicely with the crostinis. I personally love this recipe for its sweet, jammy flavors and its ability to compliment a variety of fall flavors. You can also easily transform it into an adult drink so that anyone can enjoy this unique Thanksgiving drink!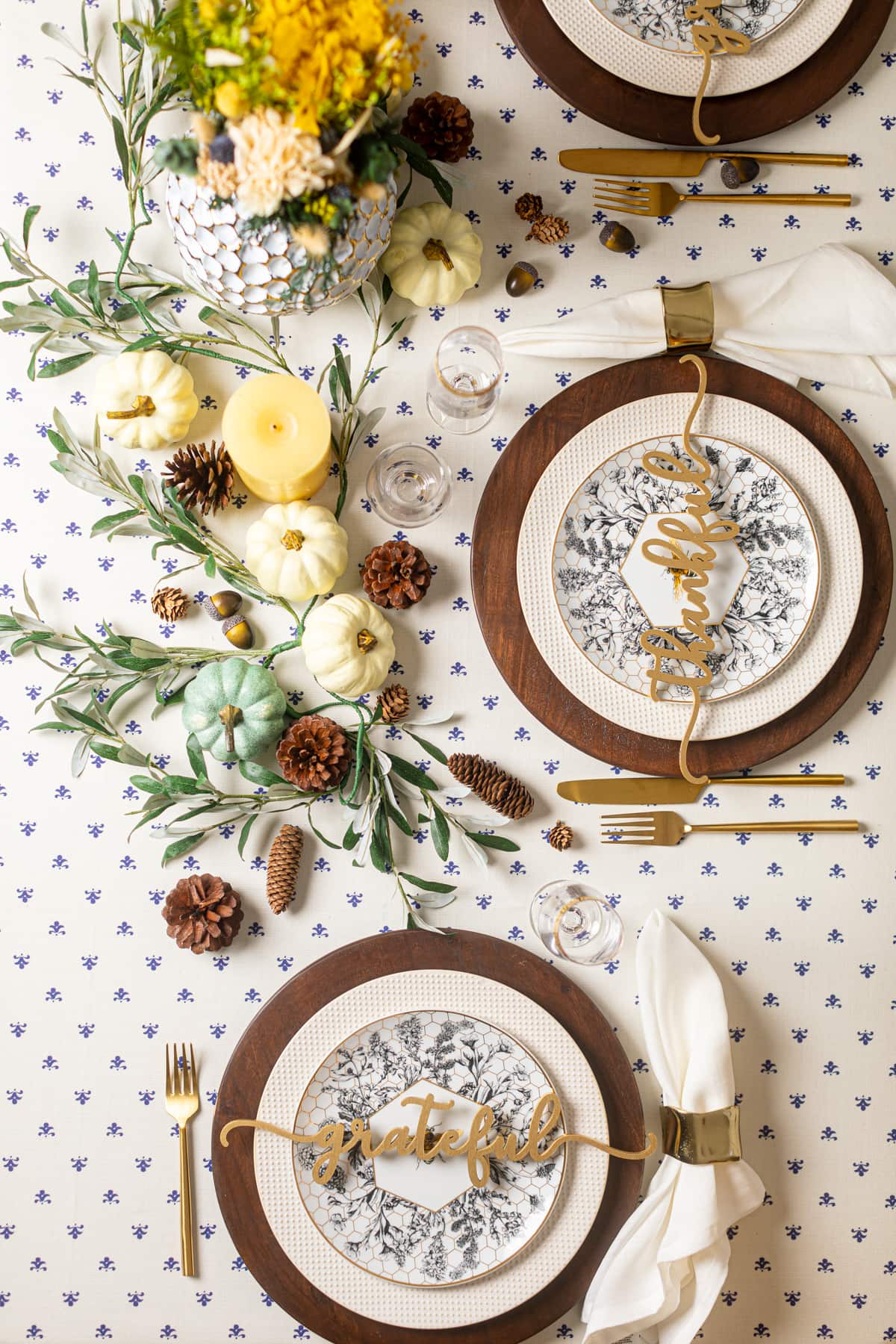 Thanksgiving Sides
Ah, Thanksgiving sides. They might not be the main performance, but Thanksgiving sides have a fan club of their own. I personally have a soft spot for creamy mashed potatoes and cornbread, but it's hard to choose a favorite. 
While dinner rolls are always a delicious option for Thanksgiving, if you're looking for something a little more unique or something with some fun flavors, this Vegan Sweet Potato Maple Herb Cornbread recipe is a great option. Otherwise this Easy Vegan Pumpkin Mac & Cheese is another delicious replacement for your typical Mac & Cheese dish. 
Thanksgiving Main Course
A perfectly golden roasted turkey is a classic Thanksgiving main course that some might argue is the star of the show. But turkey on Thanksgiving isn't a must-have on every dining room table. Whether you're vegan, vegetarian, or just looking to switch it up this year, I have a few healthy, vegetarian/vegan recipes that also make a delicious Thanksgiving main course.
This Vegan Lentil Wellington makes a great holiday entree for vegans and non-vegans alike. Topped with an herb-infused, flaky crust, and stuffed with a meaty filling, it definitely rivals your typical turkey. If you're looking for a centerpiece as beautiful as a crispy, brown turkey, this Sticky Teriyaki and Maple Whole Roasted Cauliflower is sure to wow as well.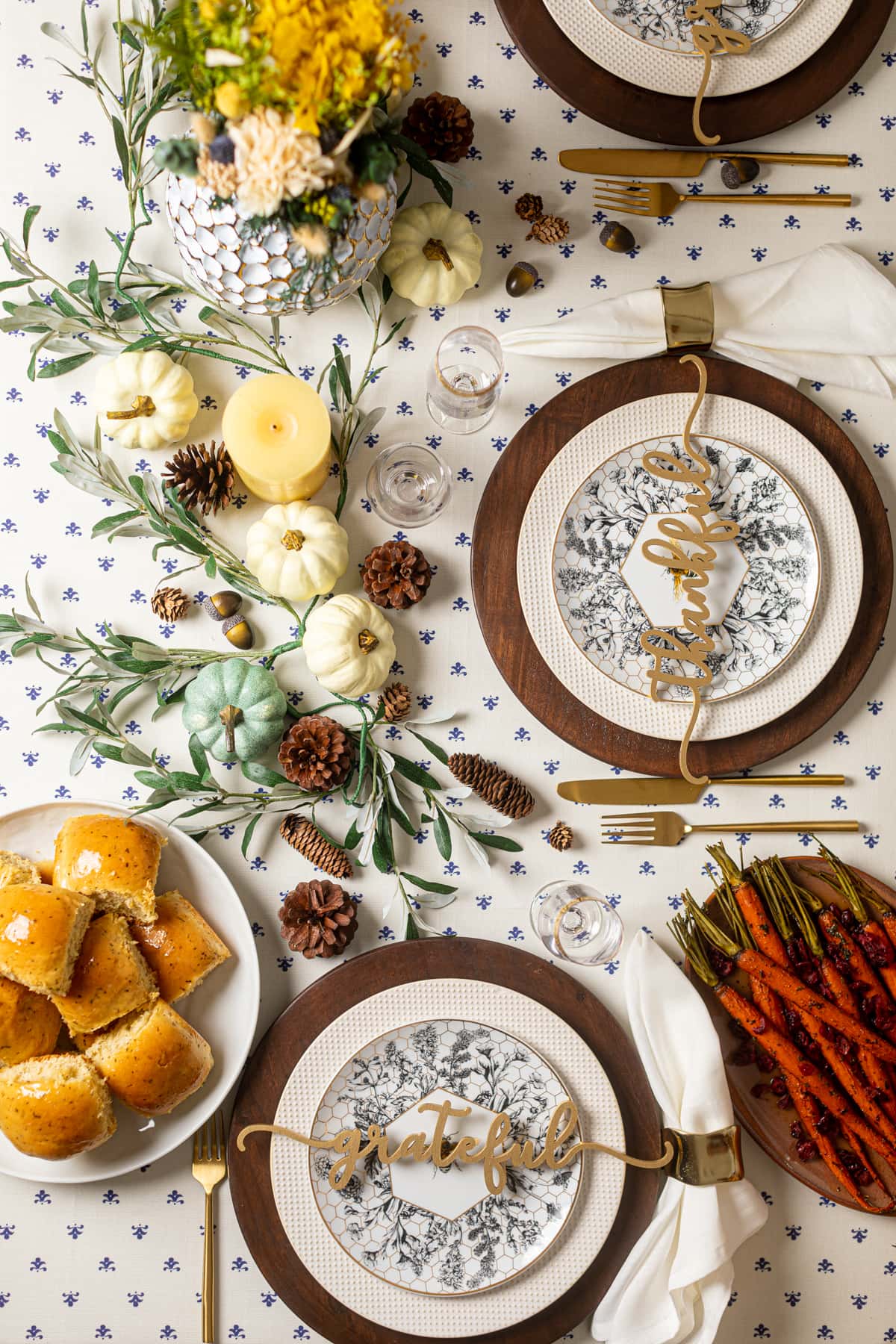 Thanksgiving Dessert
There is nothing quite like Thanksgiving dessert. With its medley of fall flavors, it can satisfy almost any sweet tooth. Besides your usual pumpkin and pecan pie there are tons of delicious fall-themed desserts that you might want to add to your Thanksgiving menu this year.
If you're looking for a classic comfort food with a slight twist, this Vegan Maple Pumpkin Pie might be the perfect option for you. Otherwise, these Pecan Pie Cheesecake Bites also offer some well-loved Thanksgiving flavors that will surprise and delight your guests. Finally, you can't go wrong with this Classic Southern Vegan Pecan Pie.
Thanksgiving Planning Guide
Now that you have an idea of what you might make for Thanksgiving, it's time to get our hands a little dirty. And by that I mean it's time to really start planning! First, I'm going to break down my Thanksgiving planning guide week by week as well as some of my extra tips and tricks to hosting Thanksgiving.
Once we get through some of the pre-Thanksgiving logistics I'll also share my day of cooking schedule and everything you need to know for a smooth, delicious, and fun Thanksgiving.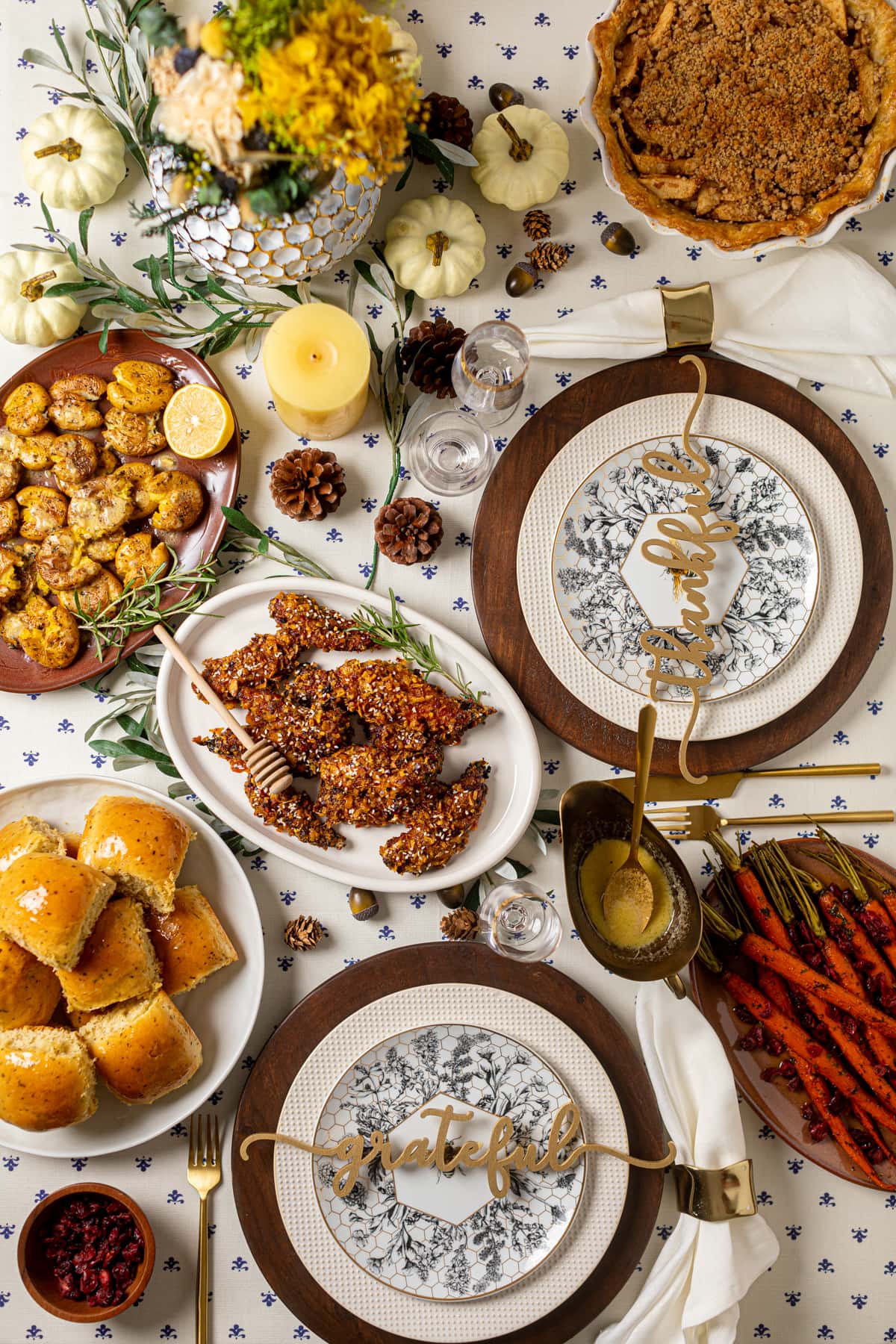 3-4 Weeks Before
Depending on how big your Thanksgiving celebration is going to be, you can adjust this timing as needed. For bigger get togethers that require more logistics you might want to plan as early as six weeks out. But, if you're hosting something smaller with the same group of people you normally celebrate with, you might only need two weeks.
Either way, the early bird gets the worm (and the turkey!) so planning ahead is key for any successful Thanksgiving. At this point, it's usually a good idea to start thinking about your menu as well as inviting loved ones. If you're planning to have your loved ones bring appetizers or sides, it's a good idea to keep this in mind as you plan your own menu. You don't want to end up with three pumpkin pies and no gravy.
Another tip you might consider is investing in an instant pot or pressure cooker. Cooking all of your dishes on Thanksgiving can take a lot of time. But, using something like a pressure cooker might be able to save you a few hours of time, which can be worth it. You might also want to think about purchasing (or borrowing) any extra items you might need like extra mixing bowls or other time saving tools like a garlic press.
Finally, if you can, try to reserve your turkey. Turkeys can fly off the grocery store shelves pretty quickly so it's a good idea to order ahead of time. This also helps guarantee a quality turkey and the right size turkey for your get-together.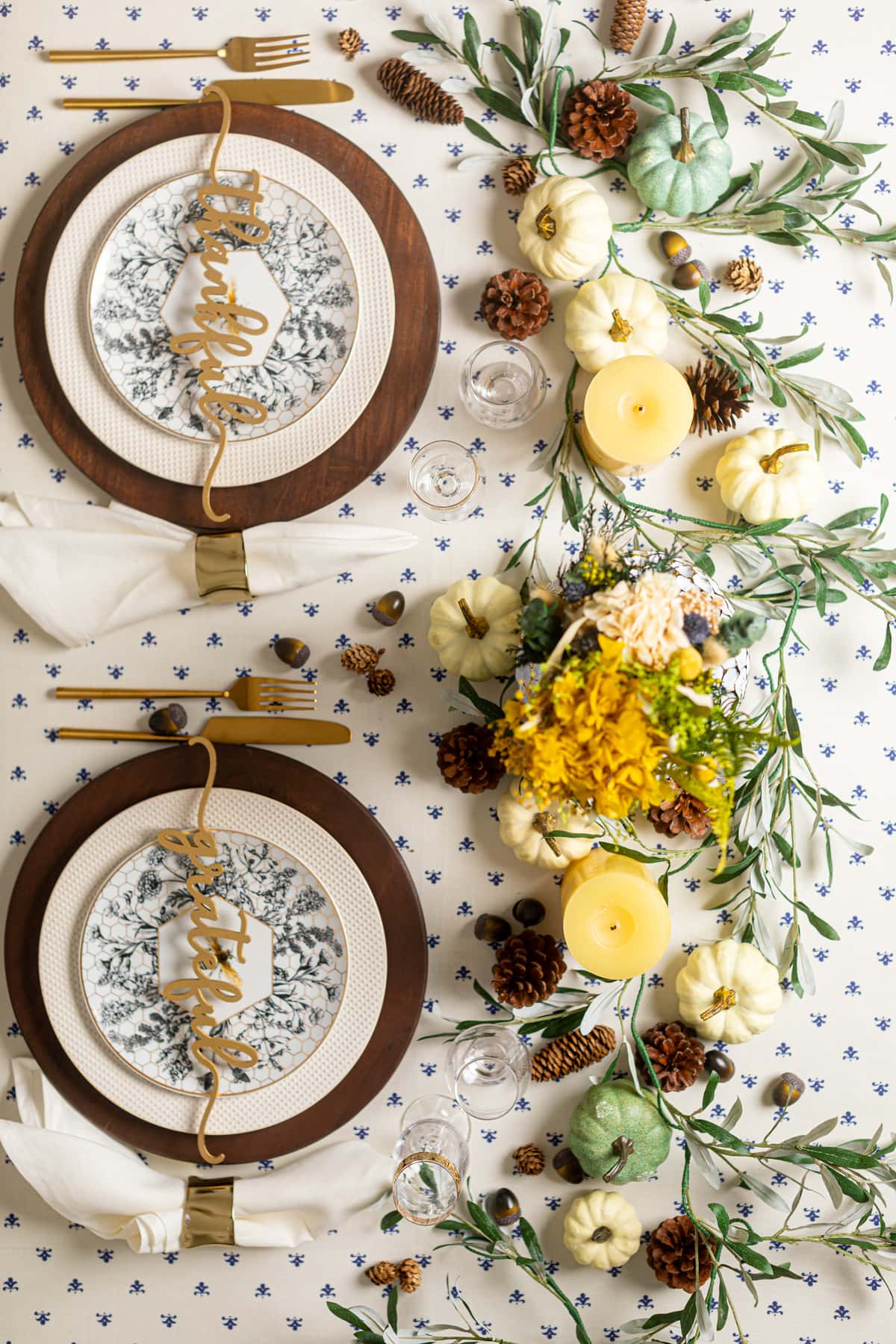 1 Week Before
Now that you have some of your main details worked out, it's time to get into the nitty gritty. This is one of my favorite parts of the Thanksgiving planning process because it's time to plan your table and your decor! If you've been around for a while, you'll know I love interior design so table design during Thanksgiving is really fun for me. If it's not your think, don't worry. I'm going to share some easy tips to designing an impressive Thanksgiving table. 
How to Arrange a Beautiful Thanksgiving Table
Your Thanksgiving table can be as simple or as elaborate as you like. A classic Thanksgiving table doesn't need anything more than a tablecloth, a table runner, and one or two Thanksgiving decor items. But, a beautifully decorated table can add a little extra something to your Thanksgiving get-together. 
Natural accents can be an easy and inexpensive way to upgrade your typical Thanksgiving decorations. Anything from pumpkins to pinecones to fall fruits and vegetables will add color, texture, and fun to a table arrangement. Fresh magnolia can also add a touch of luxury with its dark, green leaves and velvet underbelly. Finally, flowers are a welcome addition to any Thanksgiving table.
If you want a cozier set-up, consider lighting a few different candles. Different heights and colors can add dimension and complexity, which will definitely impress your guests. You can also add fun patterns and colors by including place mats, napkins, and fun dinnerware. Overall, just remember to have fun, check out Pinterest for some inspiration, and consider heading to Target or Home Goods if you need some extra decor. 
By planning your table in advance, you'll also get a chance to make sure you have enough plates, silverware, etc. Waiting until the last minute can add more stress to your Thanksgiving, but luckily, if you follow these tips and tricks to hosting Thanksgiving, you'll be on your way to your most enjoyable Thanksgiving yet.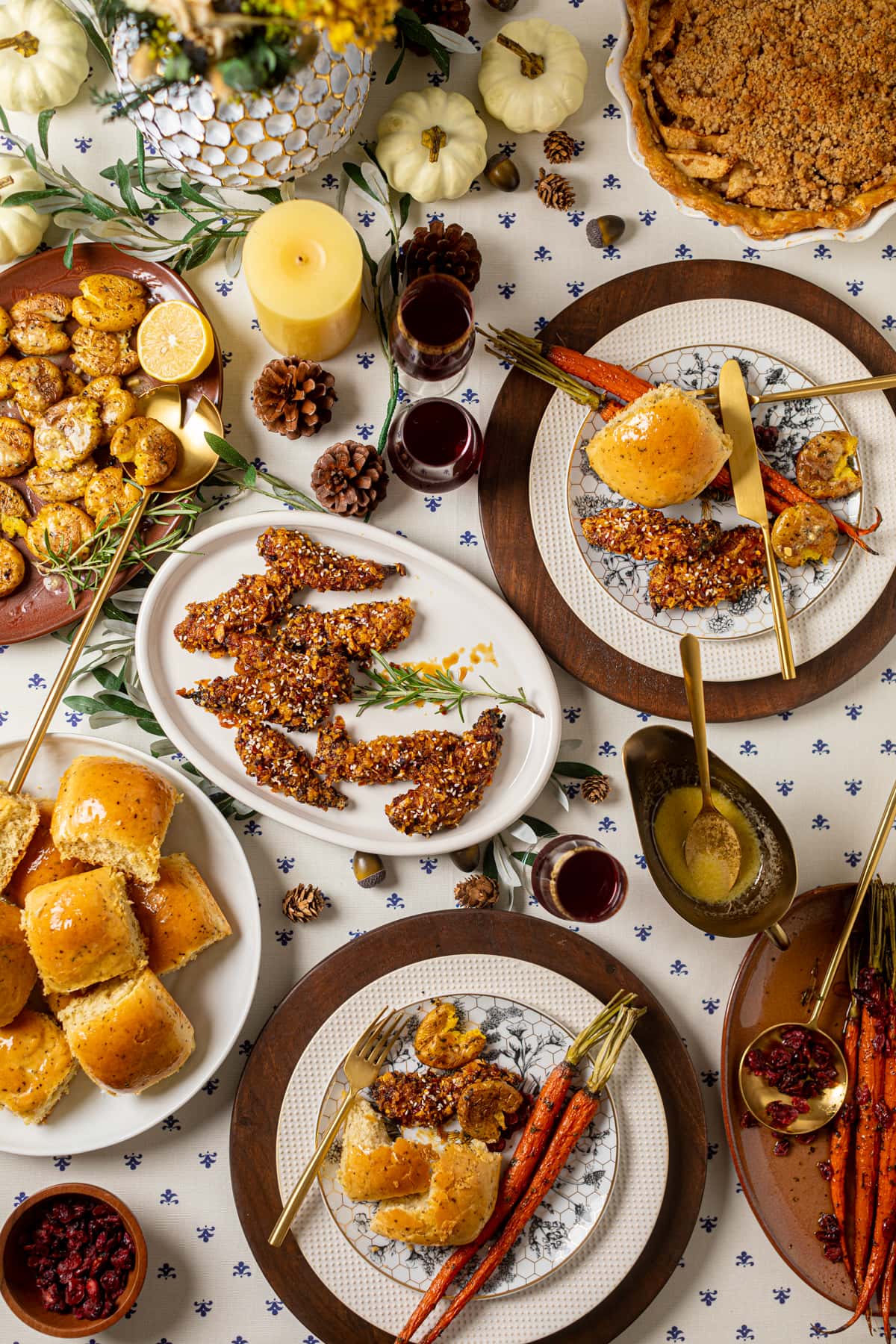 2-3 Days Before
The first thing you'll want to do on the final days leading up to Thanksgiving is figure out how long your turkey needs to defrost. A smaller turkey can take just 1-2 days, but a bigger turkey can take up to 4 days. You can learn more about turkey defrosting times here. Once you know when to move your turkey from the freezer to the fridge, you can begin tackling some other tasks. 
Besides defrosting the turkey, you can also begin grocery shopping, making certain dishes, and doing prep for day-of cooking. When you do your grocery shopping will depend on your schedule, but if it works for you the day before Thanksgiving is actually the least busy day in the supermarket. 
Personally, I like shopping a little earlier so that I can start making some dishes ahead of time and prep for Thanksgiving day cooking. You might consider chopping up veggies or cutting up bread for stuffing in the days that lead up to Thanksgiving to make things a little easier for you day-of.
Thanksgiving Dishes You Can Make Ahead
Besides cooking prep, there are also certain Thanksgiving dishes that you can make ahead. Most desserts will last a few days in the fridge or on your countertop and will be just as delicious the day of Thanksgiving. Pumpkin pies specifically can last a few days in the fridge so that can be a great thing to check off your list before Thursday. Other Thanksgiving dishes you can prepare before Thanksgiving day include things like gravy, compound butter, cranberry sauce, and dips.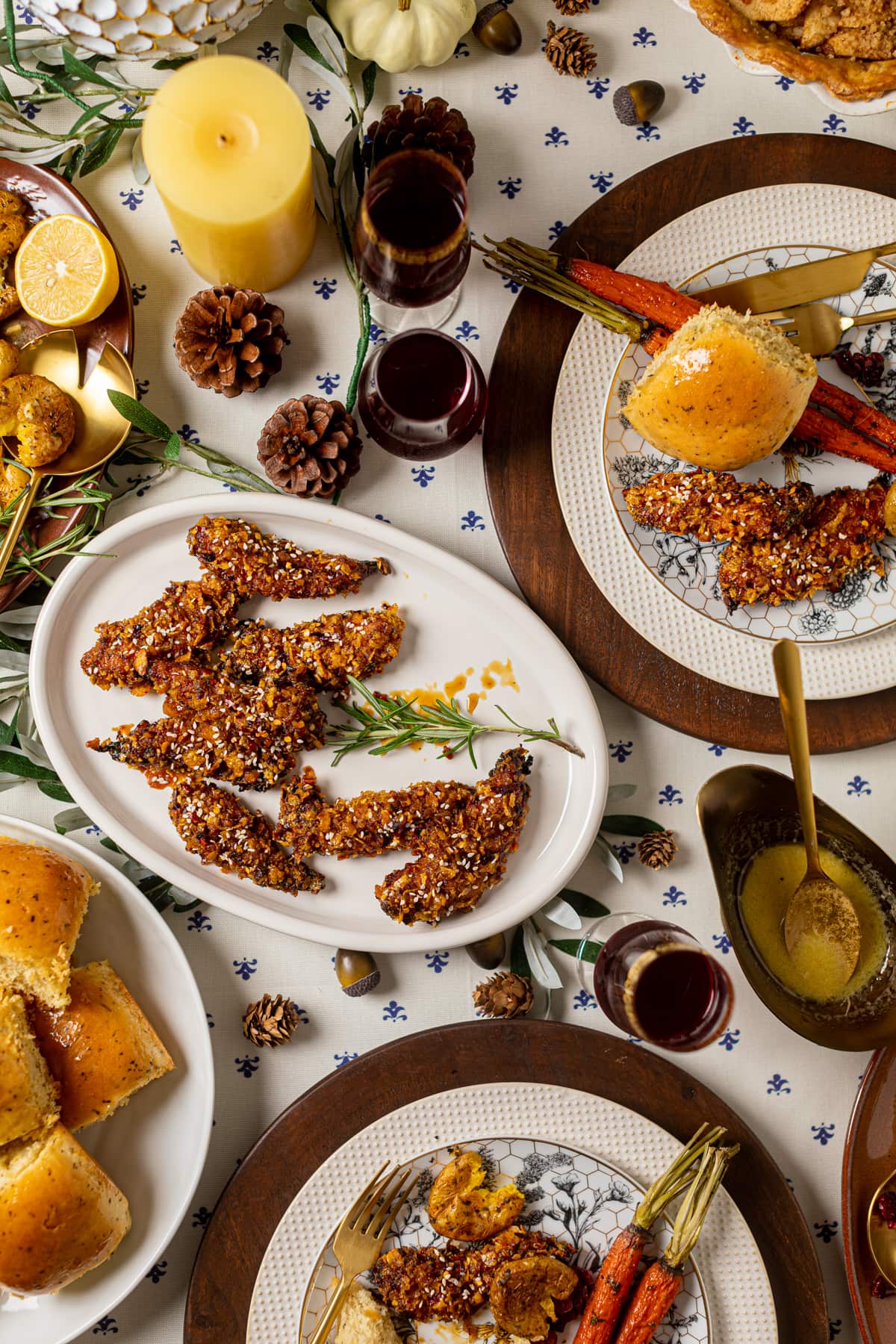 Day of Thanksgiving Cooking Schedule
Woohoo you made it! It's Thanksgiving day and you are all ready to have an incredible day with all of your tips and tricks to hosting Thanksgiving. You've arrived at the final stretch, but the prep isn't over yet so it's important to have an idea of how you're going to conquer the day.
Morning 
In the early morning, make sure you fuel yourself with a delicious and nutritious breakfast. Something quick like this Vegan Breakfast Parfait with Blueberry and Granola will give you what you need to power through the day. Once you're ready to tackle the day, you can start off by taking care of some of your side dishes. Start with anything that won't get soggy or dry by the afternoon and if you can try to enlist the help of your family to help things move more quickly.
As things begin to cook, you can begin setting the table and adding any final touches to your Thanksgiving decorations. This is also a good time to do any last minute clean up, light some fall candles, and open a window to let in some fresh air. You can also pull your turkey out of the fridge around mid-morning because it should reach room temperature before you cook it. Depending on its size, that will take about one to two hours.
Late-Morning/Noon
Depending on when your guests arrive, noon is usually a good time to put your turkey in the oven or your vegan main course, depending on how long it takes to prepare. It's always nice having your main course be ready around meal time so try to start prep accordingly. Just remember that your turkey will need to sit out for about 30 minutes before you carve it. Once you have your sides ready and your main course in the oven, you can take anything out of the fridge that you made beforehand (besides dessert). 
Leave anything served at room temperature out on the countertop and then put everything that needs to be reheated together so that there won't be any mixups when it's time to eat. Bringing your food to room temperature beforehand will help it heat up faster, which means a smoother prep for you. If your guests are arriving soon, this is also a great time to begin making your appetizers and drinks.
Early Afternoon
Once you start welcoming guests, you take a little break to say hello to your loved ones. Your guests will want to mingle and enjoy any appetizers and you deserve to take a little break too. As soon as your turkey is done cooking and it needs to cool, you can start reheating your side dishes. Since the turkey will cool for about 30-45 minutes you'll have plenty of time to heat everything up even if you take a break to chit-chat.
Finally, before you sit down to the table, take out any desserts from the refrigerator, put out the bread, and add any finishing touches.
Overall, this day is going to feel like it flies by so make sure you take the time to spend time with your guests. Don't feel awkward about enlisting your loved ones to help you, most guests love to provide a helping hand.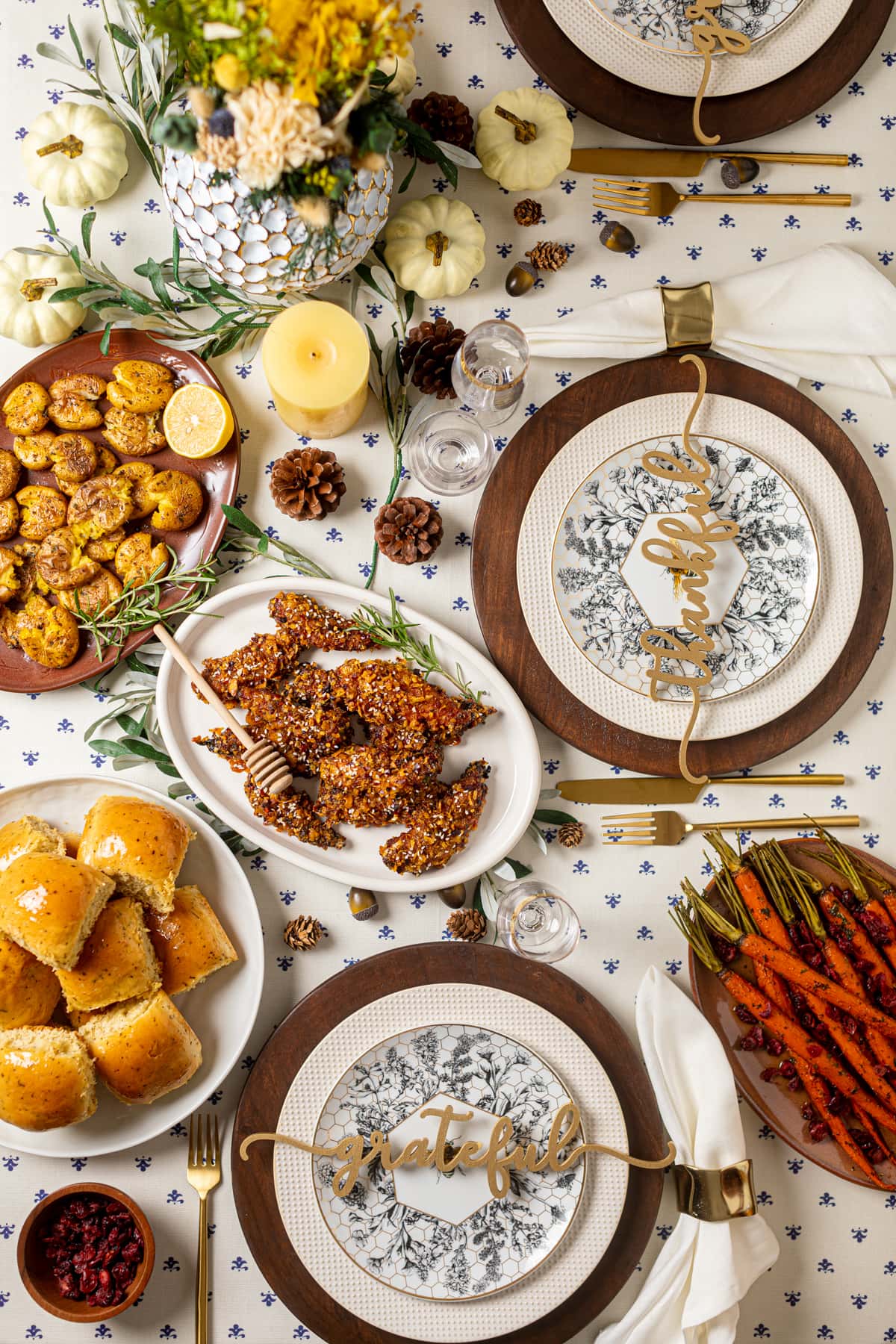 Extra Tips and Tricks to Hosting Thanksgiving
1. Make your very own food schedule
Figuring out when you're going to cook everything can get a little tricky. This is why I always suggest writing up an oven schedule/cooking schedule beforehand. Just writing down all of your dishes on a sticky note with their cooking time and the hour you plan to cook them will make things go so much more smoothly. 
2. Make dishes you've made before or test them beforehand
Introducing a new dish on Thanksgiving can be a fun way to switch things up. But it's always a good idea to try things yourself before you serve them to your loved ones. This is also why it's nice to plan your menu ahead of time because you can enjoy some delicious fall meals throughout the month of November as your plan for Thanksgiving.
3. Be aware of dietary restrictions
When inviting your guests it's always a good idea to check on any dietary restrictions. Thanksgiving is a meal everyone should be able to enjoy no matter if they're vegan, vegetarian or gluten-free. If the idea of making different dishes for different dietary restrictions is overwhelming, consider making one dish that suits a few different dietary restrictions. You can also always ask your guests to bring something to Thanksgiving to help lighten your cooking duties.
At the end of the day, Thanksgiving is a holiday created to celebrate what we're grateful for and spend time with family and friends. These tips and tricks to hosting Thanksgiving are here to help make things a little easier, but don't feel pressured to be perfect. I'm sure your Thanksgiving will be just great no matter what!