A cute berry-topped parfait is one of my favorite ways to start the day and this Vegan Breakfast Parfait with Blueberries & Granola is perfect. It has just the right amount of sweetness balanced by creamy yogurt for filling protein and fresh berries for fiber. This simple recipe is just another perfect balance of crunchy, tangy, and fruity, all with a dairy-free yogurt base.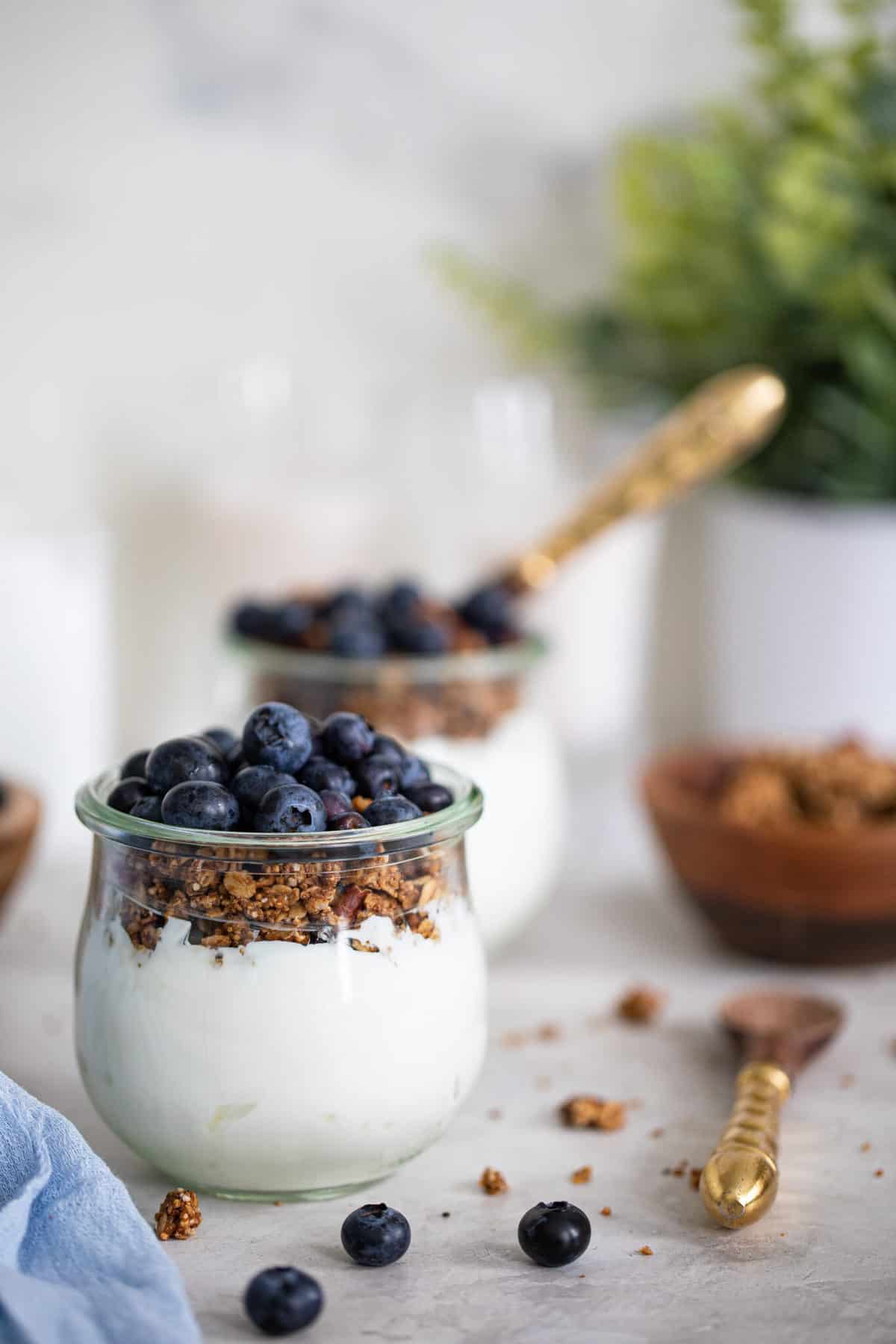 And the best part about this recipe is that it's incredibly fast and easy to put together and customizable. Use your favorite healthy granola, dairy-free yogurt, and even switch out the blueberries for another seasonal fruit. This DIY breakfast is a winner for every palate, including kids! Whether it's a busy morning before school or work or even a leisurely weekend meal, this breakfast feels luxurious but comes together in less than 5 minutes.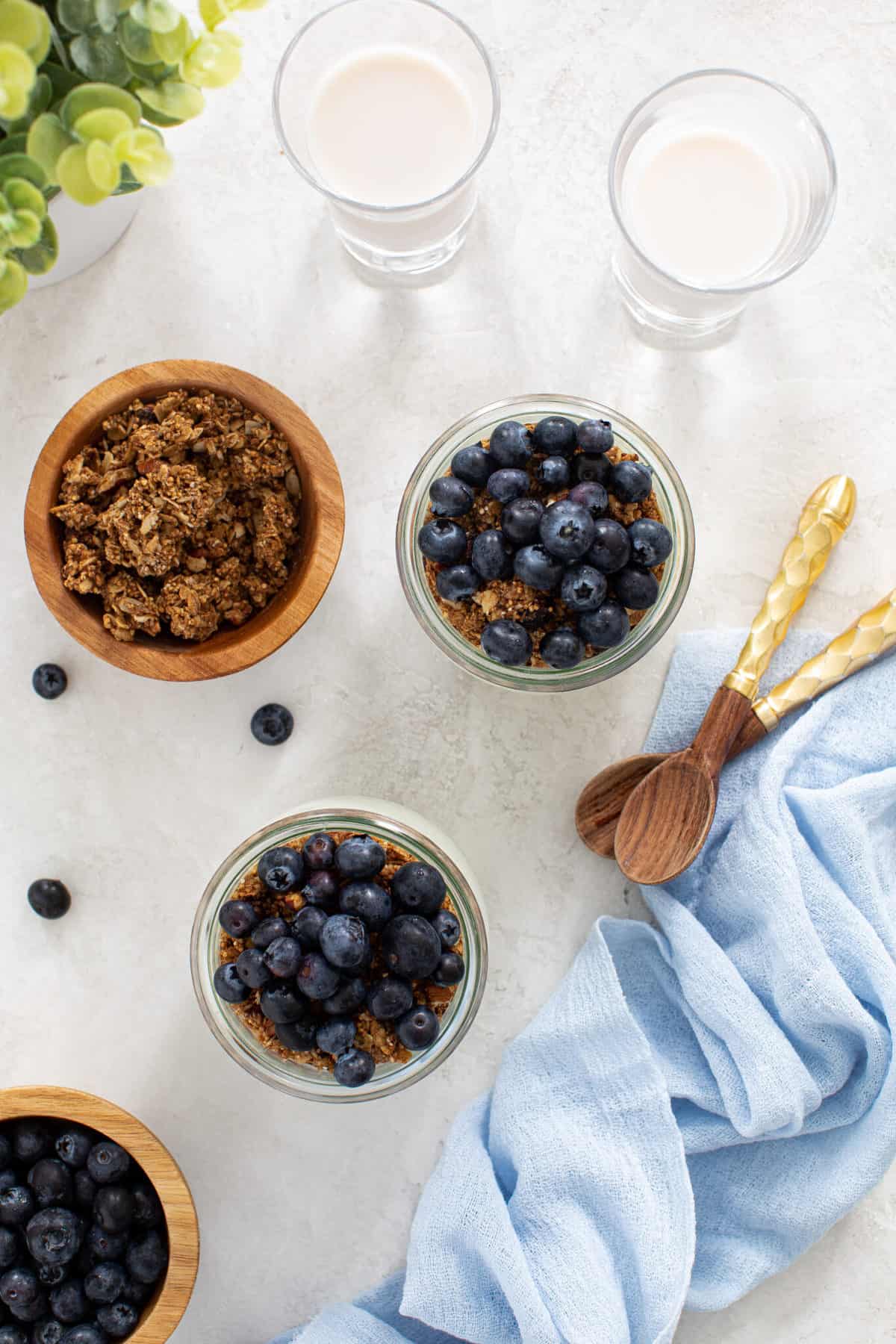 How to Make Vegan Breakfast Parfaits with Blueberries and Granola
This healthy breakfast recipe may just become your new go-to morning meal.
Ingredients
You only need a few simple ingredients to assemble these parfaits for one, two, or 10 hungry bellies:
Dairy-free yogurt. You can use any flavored yogurt you like. If you're cutting back on sugar, opt for plain, unsweetened yogurt.
Agave syrup. this is my favorite liquid sweetener that's vegan. You can also use maple syrup or honey if you're not vegan.
Lemon juice. This adds brightness and is the ideal pairing with fresh berries.
Blueberries. Choose ripe, plump organic berries, and always rinse them well! If berries aren't in season, you can also use diced mango, ripe pear, banana or stone fruits like peaches or cherries.
Granola. Use your favorite crunchy cereal or homemade granola to top your vegan breakfast parfaits.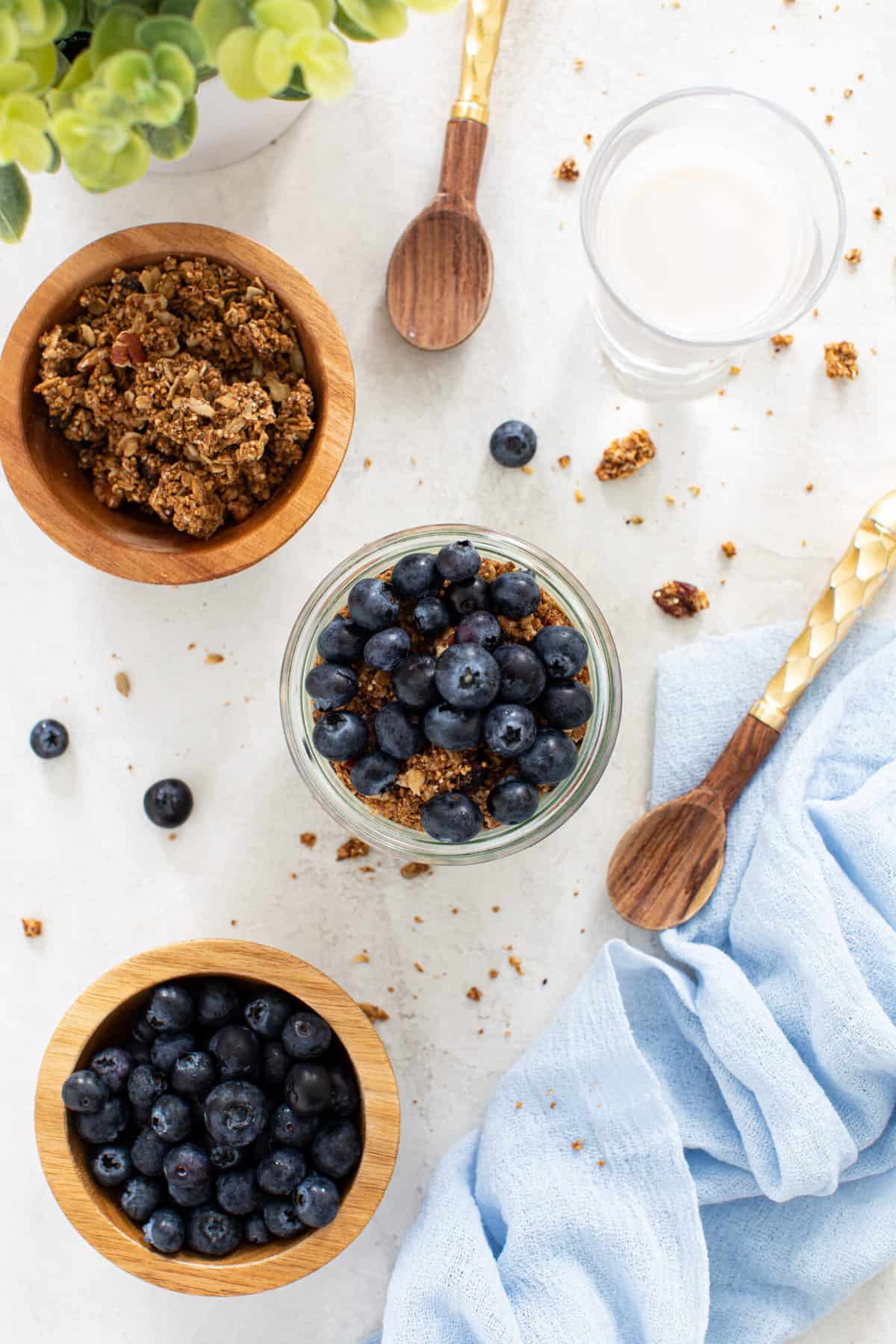 Assembling Homemade Yogurt Parfaits
You can get as fancy as you like when you're building your blueberry-granola parfaits, or keep things simple and straightforward. I like a classic triple layer of dairy-free yogurt mixed with lemon juice and sweetener, topped with granola, and finished with a handful of blueberries. If you like a more intricate layer pattern, alternate with yogurt, granola, and berries to fill your bowl or jar.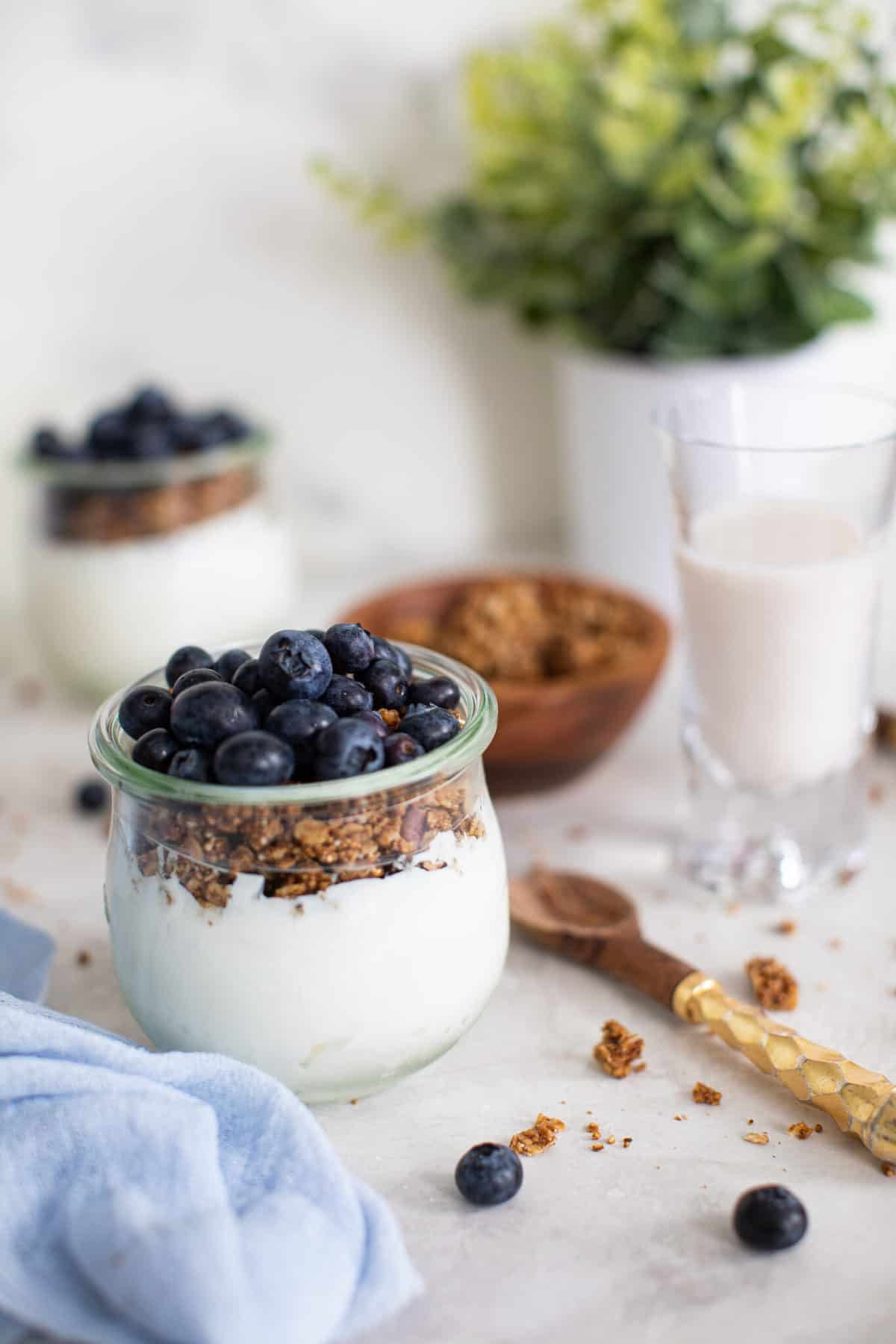 Make-Ahead Vegan Parfaits
You can prepare the lemon-yogurt mixture up to three days ahead of time. Just before enjoying, top your yogurt with granola and berries. I don't recommend storing the yogurt with granola on top, as the granola may turn soggy and lose its crunchy texture.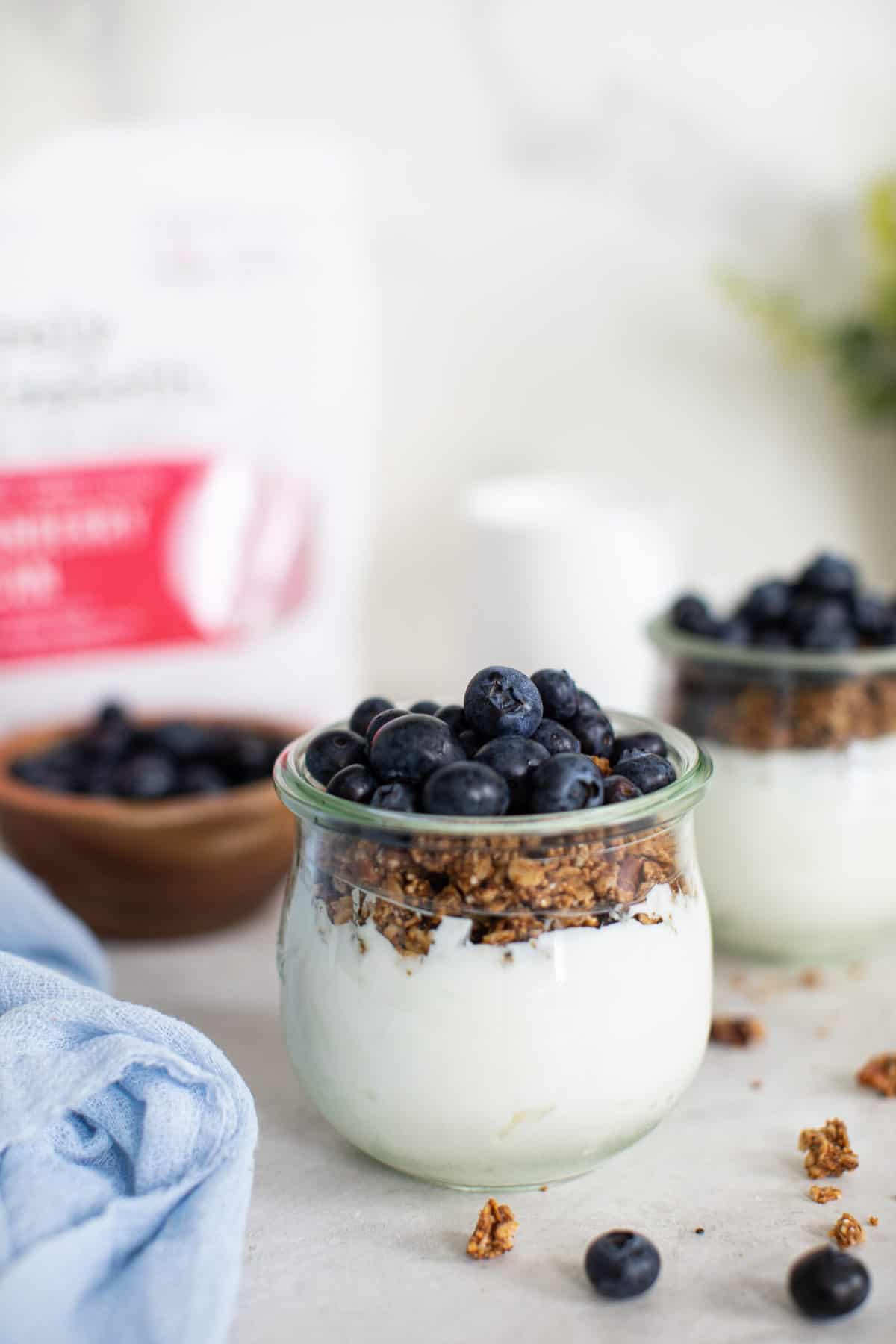 What is the Best Vegan Yogurt for Breakfast?
There are dozens of delicious varieties of vegan yogurt, and really any will do for these parfaits. If you're looking for nut-free yogurt, choose oat or soy-based yogurt. Otherwise, almond, coconut and cashew-based yogurts are all creamy, thick and deliciously tangy. Of course, if you're not vegan, you can also make this recipe with regular plain unsweetened yogurt.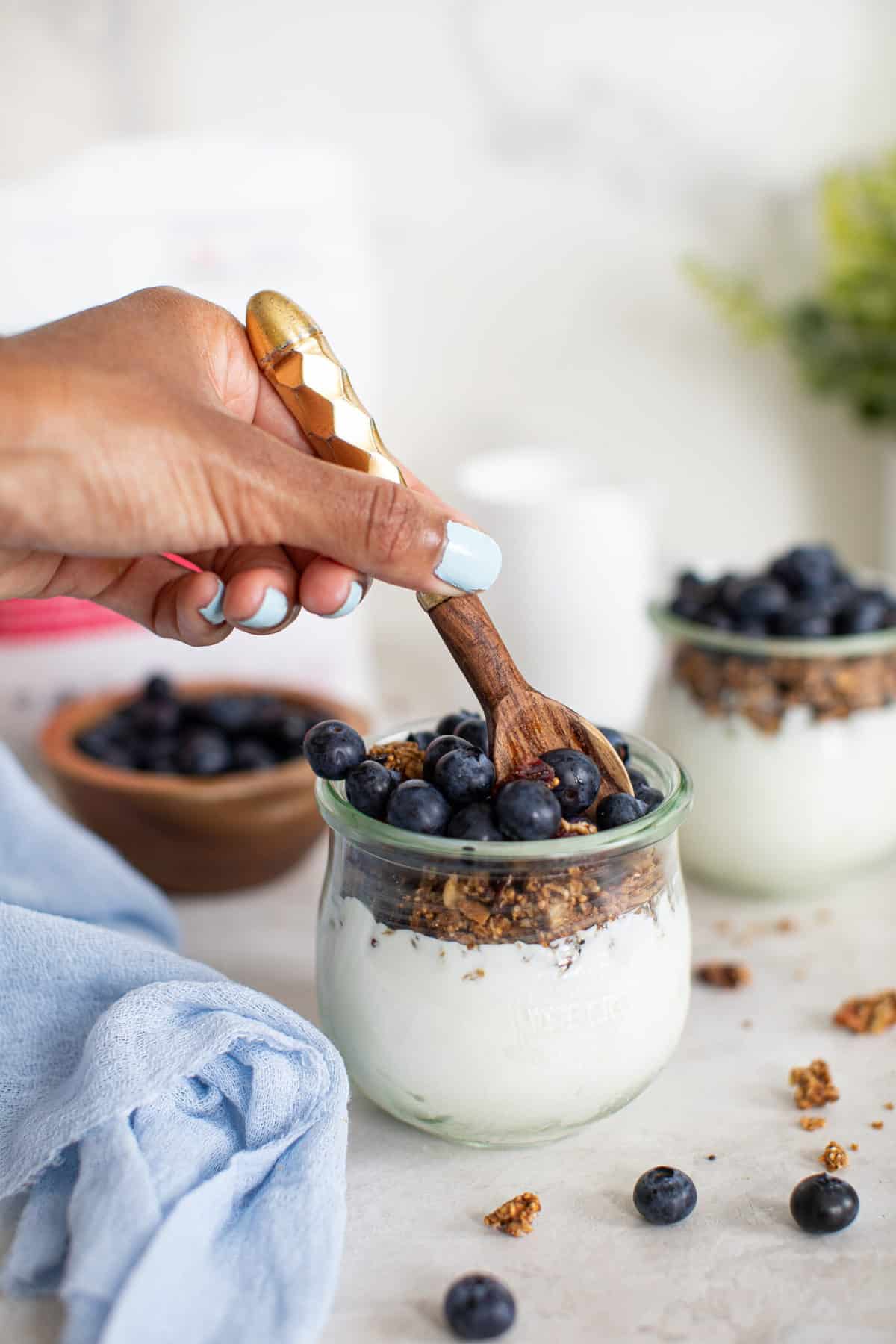 Best Granolas for Parfaits
You can use any store-bought granola you like. From nut-free to grain-free to paleo, there are so many tasty granola and cereal options out there.
But if you prefer to know exactly what's in your granola, I recommend making it yourself! These are my favorite granola recipes to top these vegan parfaits:
Healthy Chocolate Hazelnut Granola with Cranberries
you can always add more crunch to your homemade parfaits with chopped nuts, nut butter, or even chocolate chips! It's your breakfast, after all!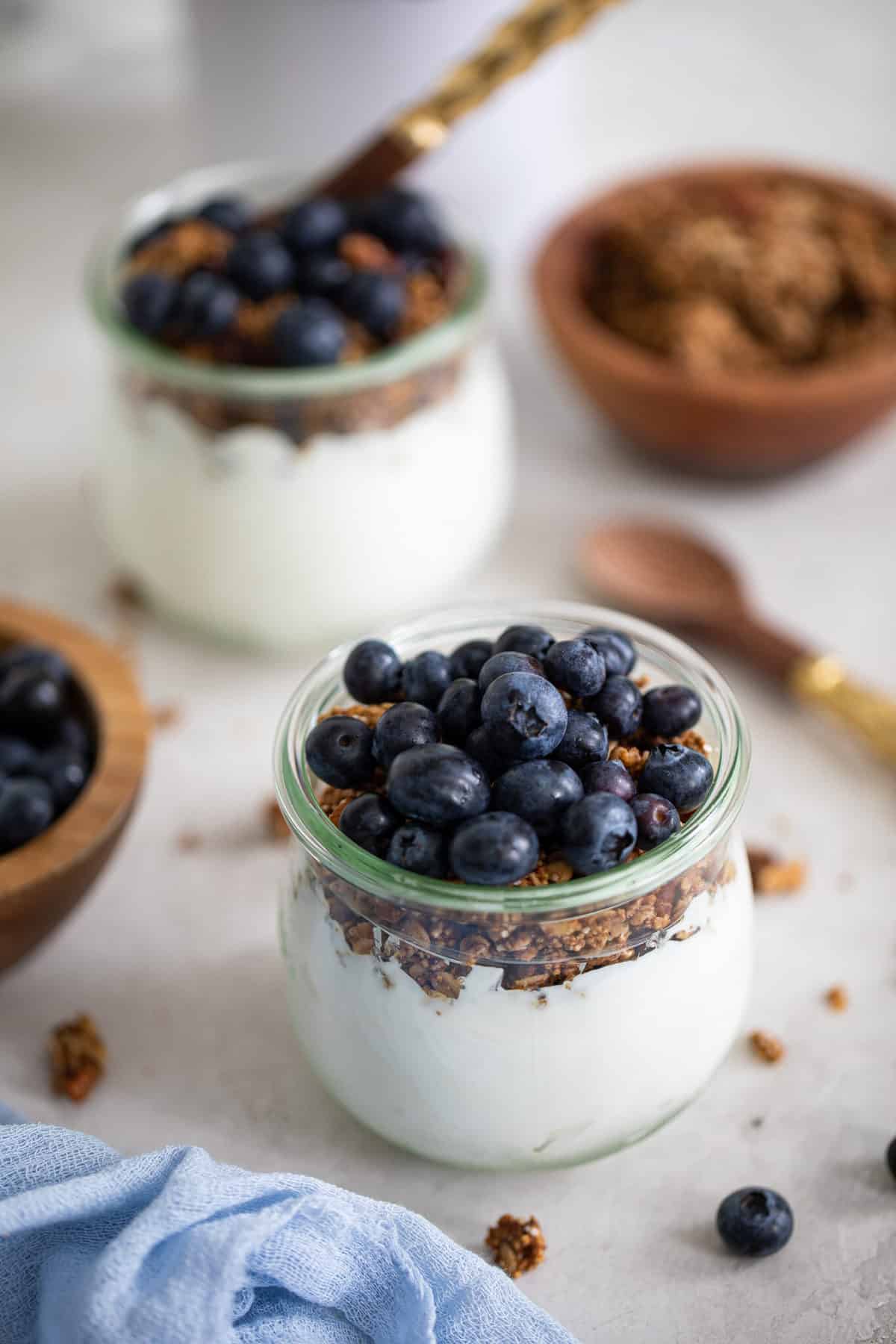 More Vegan Breakfast Ideas
If you're looking for more healthy dairy-free breakfast inspo, you're in the right place! From sweet to savory, here are some of my favorite plant-based morning meals: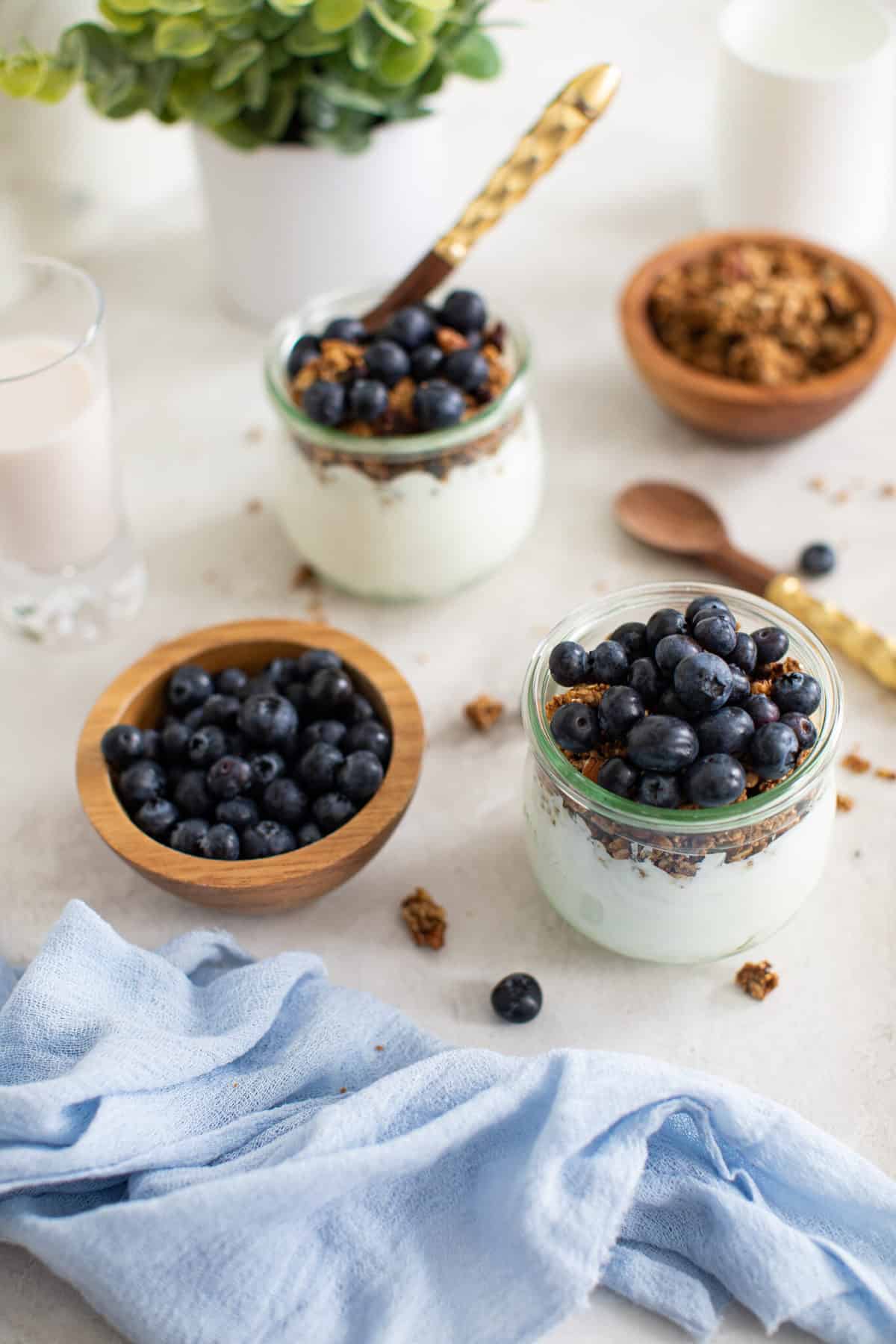 MADE OUR RECIPE(S)?
If you make these Vegan Breakfast Parfaits with Granola and Blueberries or any other recipe from us, be sure to tag us on Instagram at #Orchidsandsweettea so that we can share the love, rate, comment below, + share!
In a medium-size bowl, add yogurt, lemon juice, and Agave together and stir until well combined and yogurt becomes smooth.

To assembly, get one (8 oz.) mason jar and scoop 1-2 Tbsps of yogurt at the bottom followed by granola and blueberries. NOTE: You can feel free to create 'layers' of each ingredient if desired.

Bon Appetit!
Calories:
368
kcal
|
Carbohydrates:
74
g
|
Protein:
11
g
|
Fat:
6
g
|
Saturated Fat:
1
g
|
Polyunsaturated Fat:
1
g
|
Monounsaturated Fat:
1
g
|
Sodium:
129
mg
|
Potassium:
267
mg
|
Fiber:
6
g
|
Sugar:
39
g
|
Vitamin A:
273
IU
|
Vitamin C:
40
mg
|
Calcium:
305
mg
|
Iron:
4
mg