The greatest breakfast for Valentine's day or any day ever------has arrived! Your next start to the morning needs this Broiled Maple Cinnamon Grapefruit + Strawberries, made with roasted grapefruit, a cinnamon-infused maple sauce, yogurt, granola, and fresh strawberry slices. Perfect for any grapefruit lover! All dairy-free and vegan ingredients.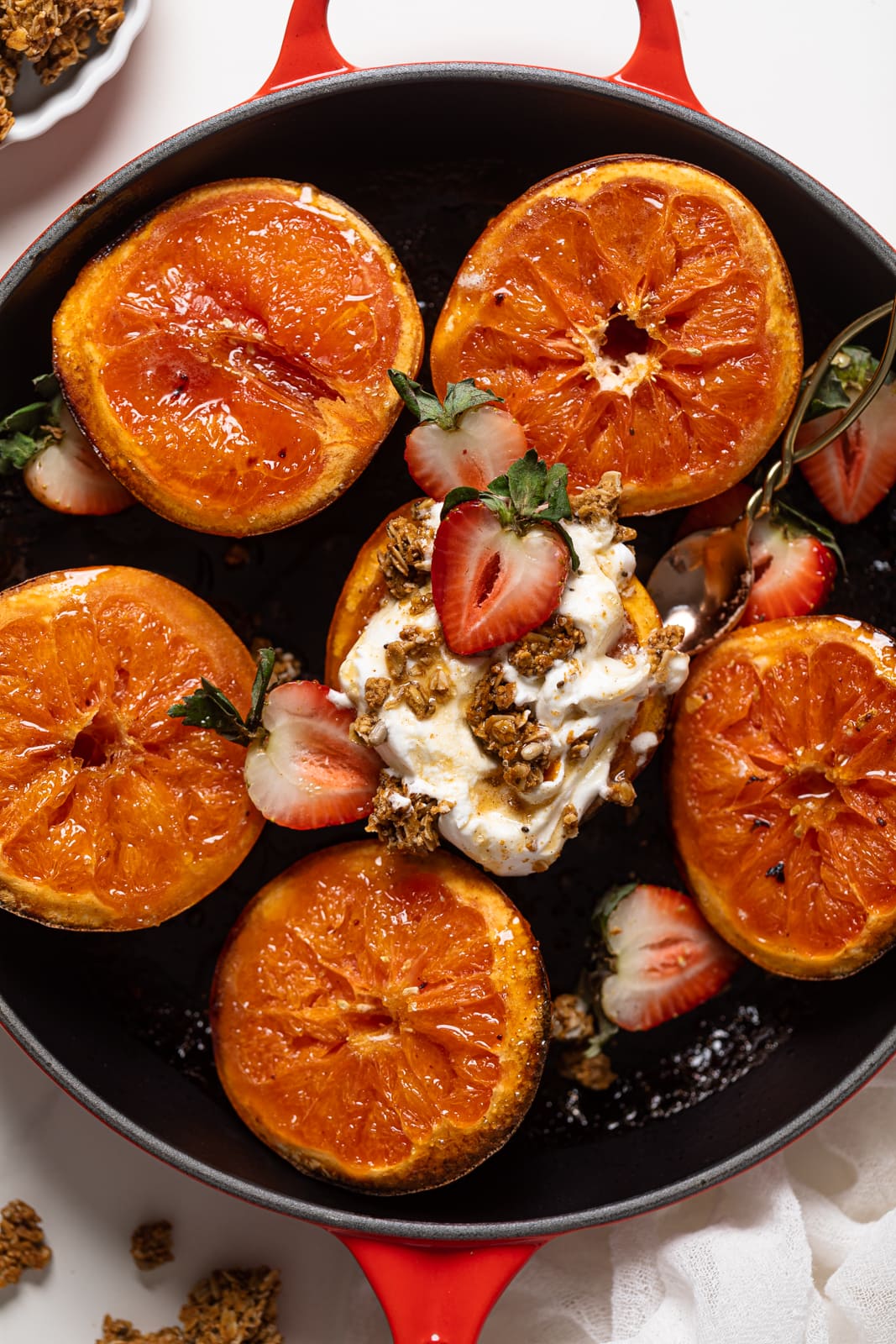 I know that Valentine's day often comes with stacks of deliciously, fluffy pancakes, waffles, french toast, or the whole works! However, if you're thinking about doing things a bit different this year for a more health-conscious approach or it's a solo affair, then this Broiled Maple Cinnamon Grapefruit + Strawberries recipe is one to try! Of course, I have plenty of amazing options for the traditional dishes and I'll be linking/listing them further down the post.
Honestly, I was presently surprised by how amazing this dish was. Granted, I grew up loving grapefruit and often ate them every time I visited my grandfather because he had an entire grapefruit tree in his backyard. If you're loving grapefruit right now, you'll definitely want to try this Strawberry Grapefruit Mocktail, Strawberry Grapefruit Mint Spring Sodas, Honey Grapefruit Cucumber Thyme Tea, and Grapefruit Olive Oil Cake.
And I truly didn't know that my love for grapefruit could be any greater until I had them roasted/broiled. The baking just enhances the flavors even more and there's something about eating them slightly warm. Gosh-----I definitely recommend giving this a try.
What is Roasted Fruit? Why Broiled Grapefruit?
We all know that roasted vegetables are common and delicious, but have you ever thought about roasting your fruit?
As I mentioned earlier, roasting intensifies the flavor of whatever you are cooking. The outside of the food caramelizes while the natural sugars brown and get delicious in the oven.
That means roasting makes sweet fruit even sweeter, with a more complex and nuanced flavor. By roasting the grapefruit with spices (within the simple sauce) in this Broiled Maple Cinnamon Grapefruits+ Strawberries, you get a well-developed and unique balance.
To roast fruit, use the same method as roasting veggies. First, coat in olive oil. Then, roast in a preheated oven until the fruit is caramelized, but in this case, we'll be putting the oven setting on broil.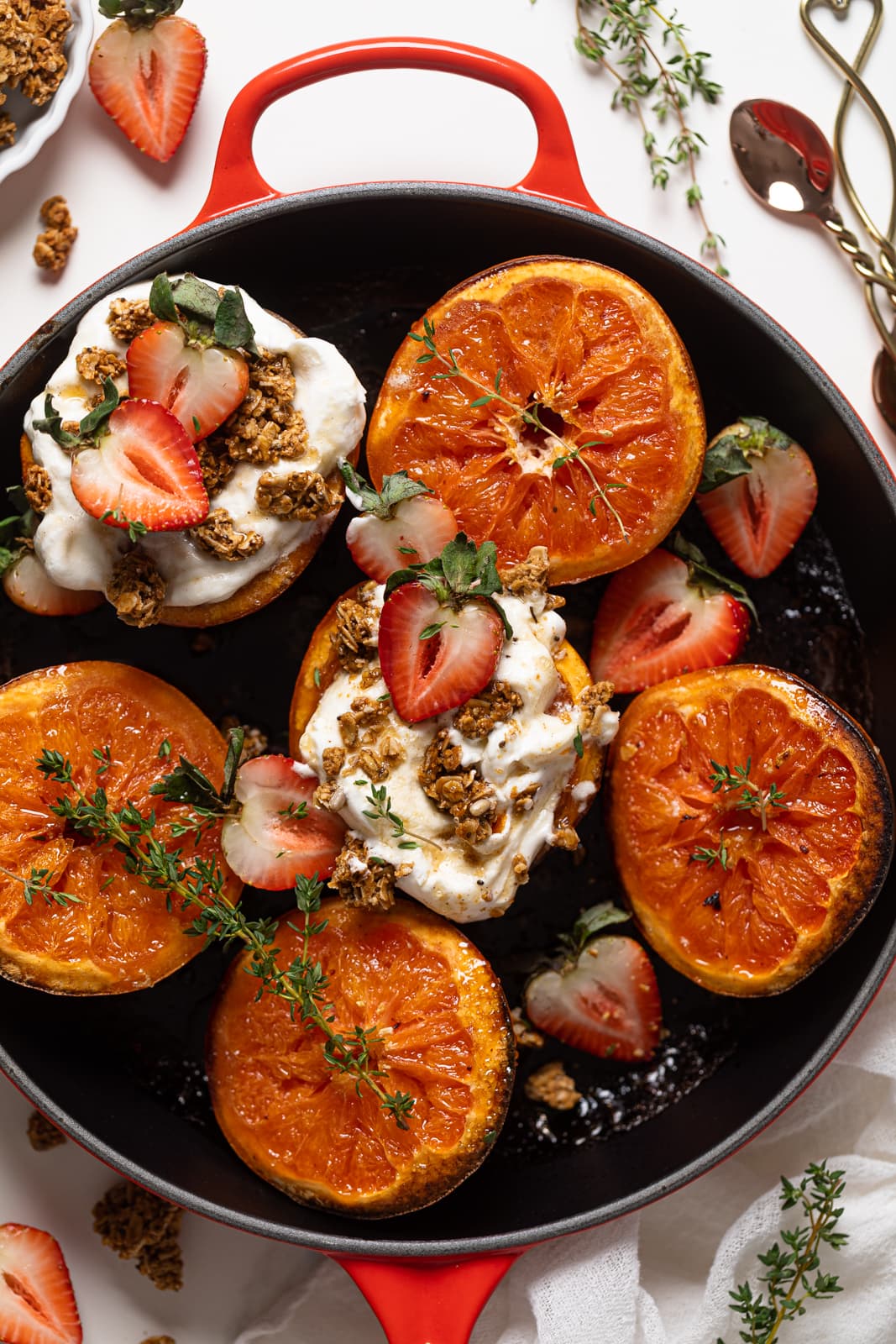 What Toppings are Best for Broiled Grapefruit + Strawberries?
When it comes to this Broiled Maple Cinnamon Grapefruit + Strawberries dish, there are so many options for the toppings. You can keep things traditional like this recipe with granola, yogurt and coconut whipped cream or you can spruce things up with any of the following:
Nuts (pecans, almonds, walnuts, pumpkin seeds, etc.)
Whipped ricotta cheese
Sautéed greens (like kale or spinach)
Other fresh fruit (like orange, pineapple, pomegranate, raspberry)
Fresh herbs (basil, thyme, rosemary, parsley)
Chickpea, feta cheese, shrimp (prawns), scallops, etc.)
Coconut flakes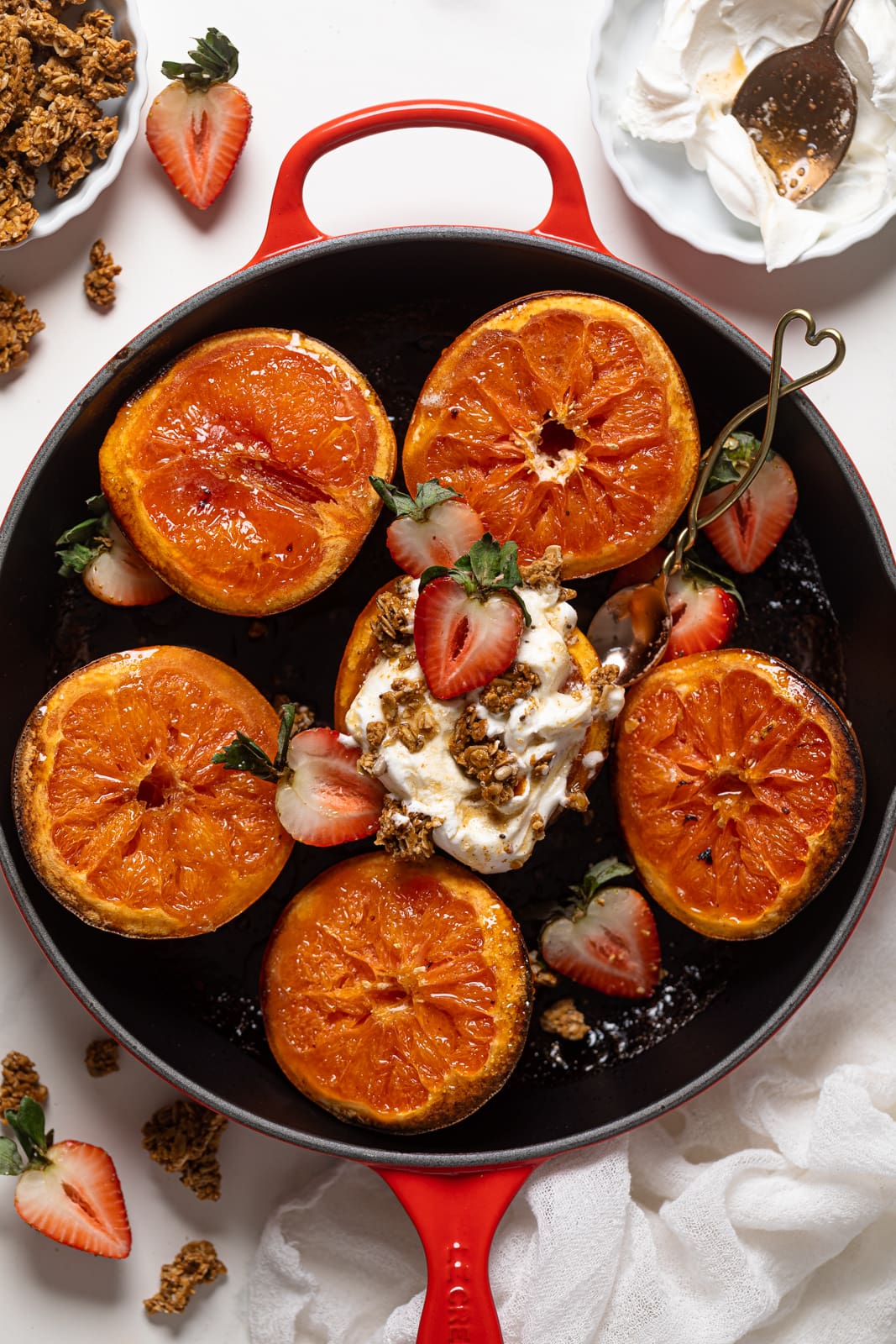 Ingredients in Broiled Maple Cinnamon Grapefruit + Strawberries
3 large Red grapefruits, halved
2 Tbsps Extra virgin olive oil (See Notes!)
CINNAMON MAPLE SAUCE:
1 cup pure maple syrup
1 Tbsp organic brown sugar
1 tsp ground cinnamon
TOPPINGS:
½ cup granola, homemade or store-bought (See Notes!)
1 cup dairy-free yogurt or coconut whipped cream
Sliced strawberries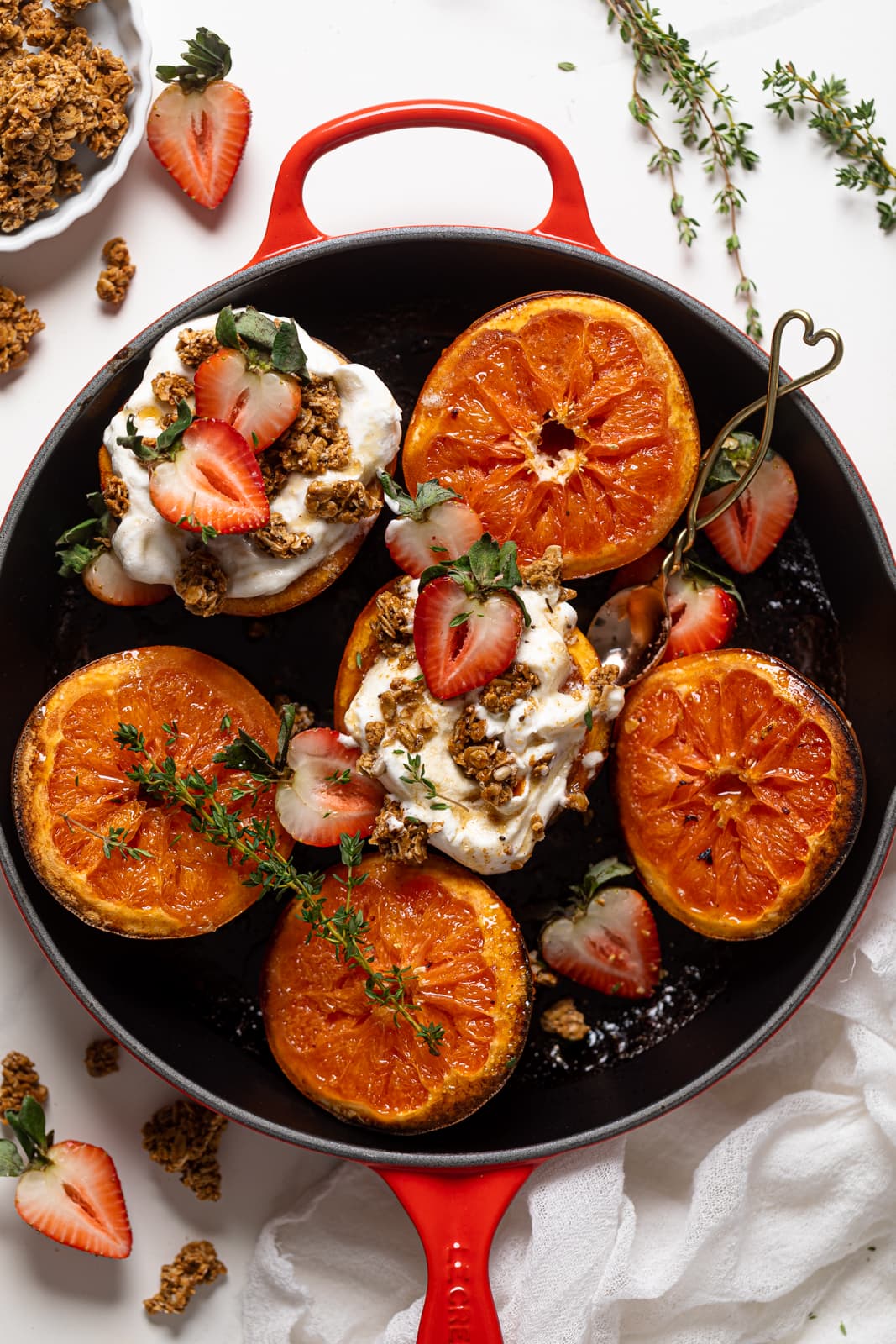 ANY BENEFITS OF GRAPEFRUIT?
The main plus about consuming Grapefruit is that is has high nutritional value but is low in carbs. In addition, it has a decent amount of fiber and comes jam-packed with Vitamins.
Other benefits:
Great for your Immune System. (Think high sources of Vitamin C!)
May help to promote Appetite Control. (Diets high in fiber helps to keep you more full, resulting in less frequent eating!)
Can help with weight loss. (Since they are few in calories and contain more water, they aide in weight loss!)
Possibility of preventing Insulin Resistance. (This generally reduces your chances of Diabetes.)
Possibly improves Heart Health! (Consuming Grapefruit daily may help to prevent Blood Pressure and reduce Cholesterol.)
High in Powerful Antioxidants!
Very Hydrating. (Think high water content which is awesome for our bodies!)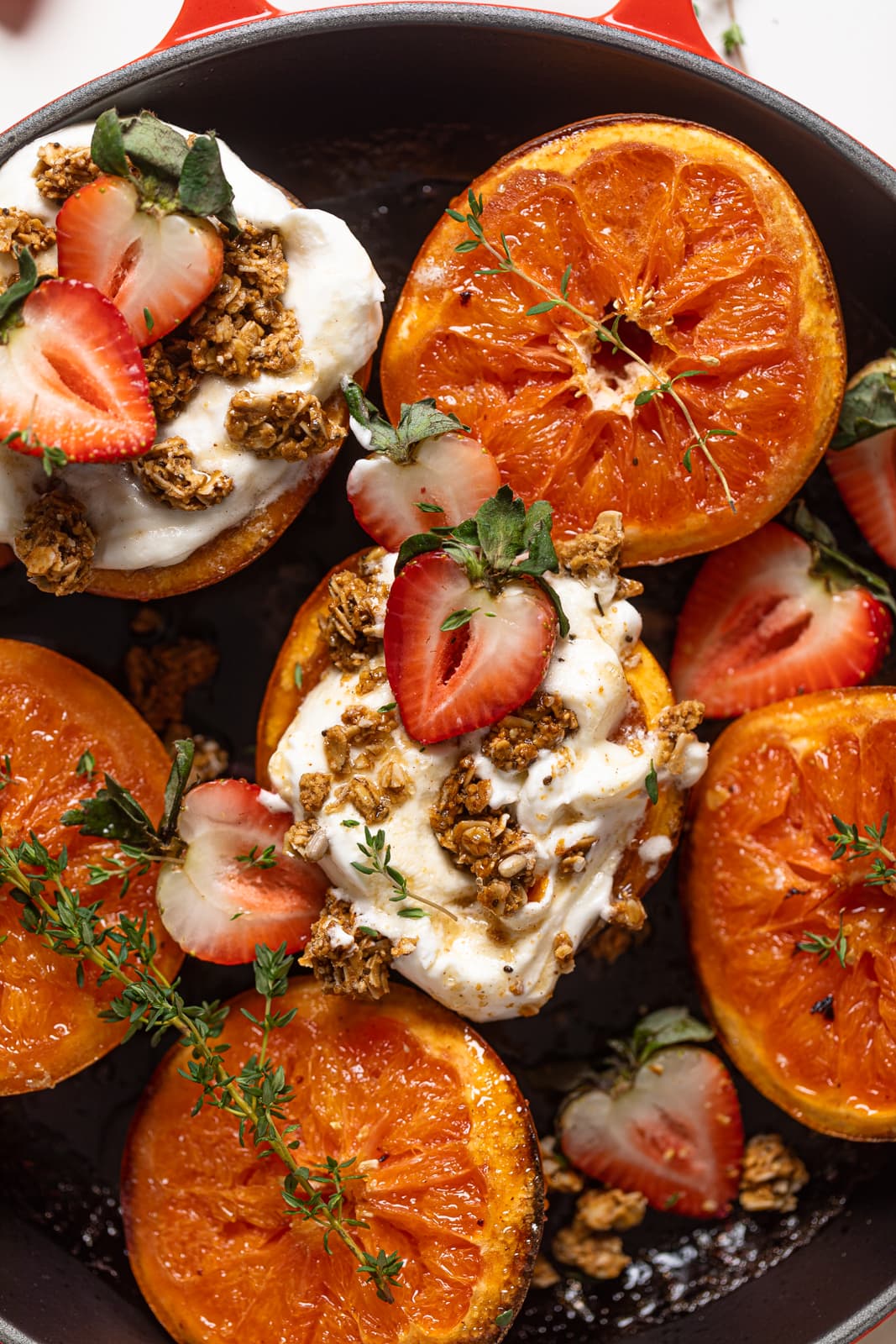 Other Great Valentine's Day Dish Ideas
MADE OUR RECIPE(S)?
If you make this Broiled Maple Cinnamon Grapefruit + Strawberries recipe or any other recipe from us, be sure to tag us on Instagram at #Orchidsandsweettea so that we can share the love!
3

large

Red grapefruits, halved

2

Tbsps

Extra virgin olive oil

(See Notes!)
CINNAMON MAPLE SAUCE:
1

cup

pure maple syrup

1

tablespoon

organic brown sugar

1

teaspoon

ground cinnamon
TOPPINGS:
½

cup

granola, homemade or store-bought

(See Notes!)

1

cup

dairy-free yogurt or coconut whipped cream

Sliced strawberries
MAKE THE SIMPLE CINNAMON MAPLE SAUCE:
In a small saucepan over medium-high heat, add the maple syrup, cinnamon, and brown sugar together, whisking until the sugar has dissolved. Remove from heat.
TO BROIL THE GRAPEFRUIT:
Arrange a rack in the middle of the oven and heat the oven to the Broil setting. Line a baking sheet with parchment paper. OPTION 2: Prepare a 12-inch oven-safe cast iron skillet by greasing it lightly with oil or parchment paper (for greater ease).

Place each half of grapefruit unto the prepared baking sheet (sliced side up), making sure that they are side by side. Drizzle olive oil atop each slice.

Spoon half of the cinnamon maple sauce atop the grapefruit slices and add them to the oven on broil for 5-10 minutes. NOTE: Be sure to monitor the grapefruit to ensure that they don't brown too quickly or burn.

Remove grapefruits from the oven and let cool slightly before serving.

To serve, add 1-2 Tbsps of yogurt or whipped cream, granola, and strawberries followed by 1 tablespoon of the remaining cinnamon maple sauce. Repeat for each grapefruit served.

Bon Appetit!
OIL: If you choose to opt out of Extra virgin olive oil, feel free to substitute with coconut oil, grapeseed oil, or your favorite neutral oil.
TOPPINGS: You can always top your broiled grapefruit with your favorite things like: nuts, oats, other fresh fruit, ricotta cheese, sautéed greens (like kale or spinach), etc.
GRANOLA: If you're looking for a great store-bought granola, I love using Purely Elizabeth's line of granolas.
Calories:
337
kcal
|
Carbohydrates:
67
g
|
Protein:
3
g
|
Fat:
7
g
|
Saturated Fat:
1
g
|
Polyunsaturated Fat:
1
g
|
Monounsaturated Fat:
4
g
|
Sodium:
14
mg
|
Potassium:
388
mg
|
Fiber:
4
g
|
Sugar:
50
g
|
Vitamin A:
1910
IU
|
Vitamin C:
57
mg
|
Calcium:
159
mg
|
Iron:
1
mg