This Balsamic Strawberry Brioche French Toast pulls together all flavor as a great option for breakfast or brunch. This French Toast is thick, delicious, uses a handful of ingredients, naturally sweetened, and completely dairy-free and vegan. Fully laced with decadent balsamic flavor, this french toast dish comes completely ready to be your family's new staple.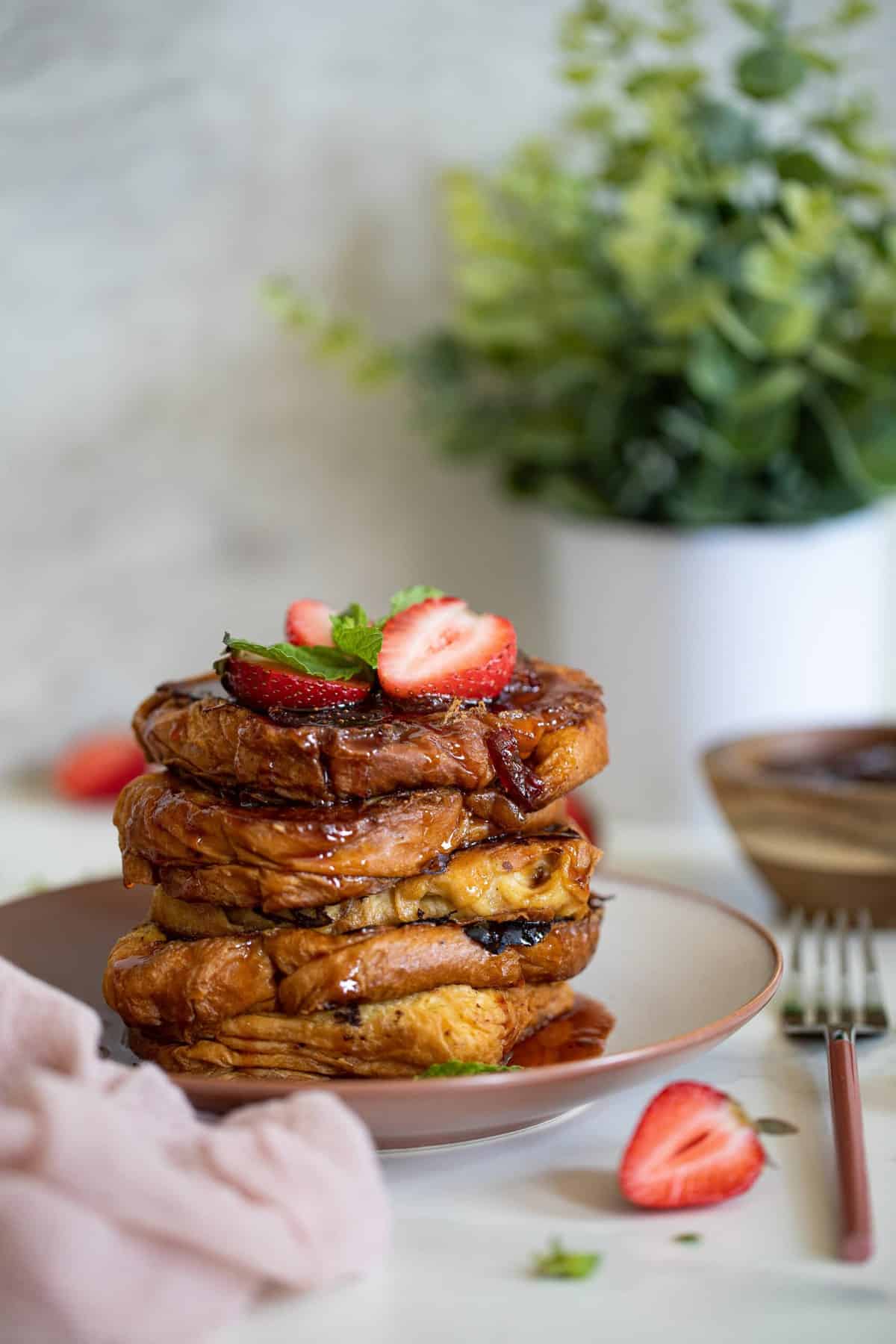 OK, so I'm super ecstatic to be sharing this Balsamic Strawberry Brioche French Toast recipe with you guys. I'm usually not one to delve into balsamic vinegar that often, but with this recipe, I'm swooning over the fact that I did.
Honestly, I didn't think that balsamic vinegar would taste so great with strawberries, but it does. OMG.
What Goes Well with Balsamic Vinegar?
If you're familiar with balsamic, then you're aware that this dark, concentrated, + intensely flavored vinegar can be extremely bold (and perhaps off-putting) if it's not paired correctly.
However, I am learning that pairing it with sweeter things like apples, pears, honey, strawberries, etc. can be the best choice for the perfect pairing—as seen with this scrumptious Balsamic Strawberry Brioche French Toast recipe!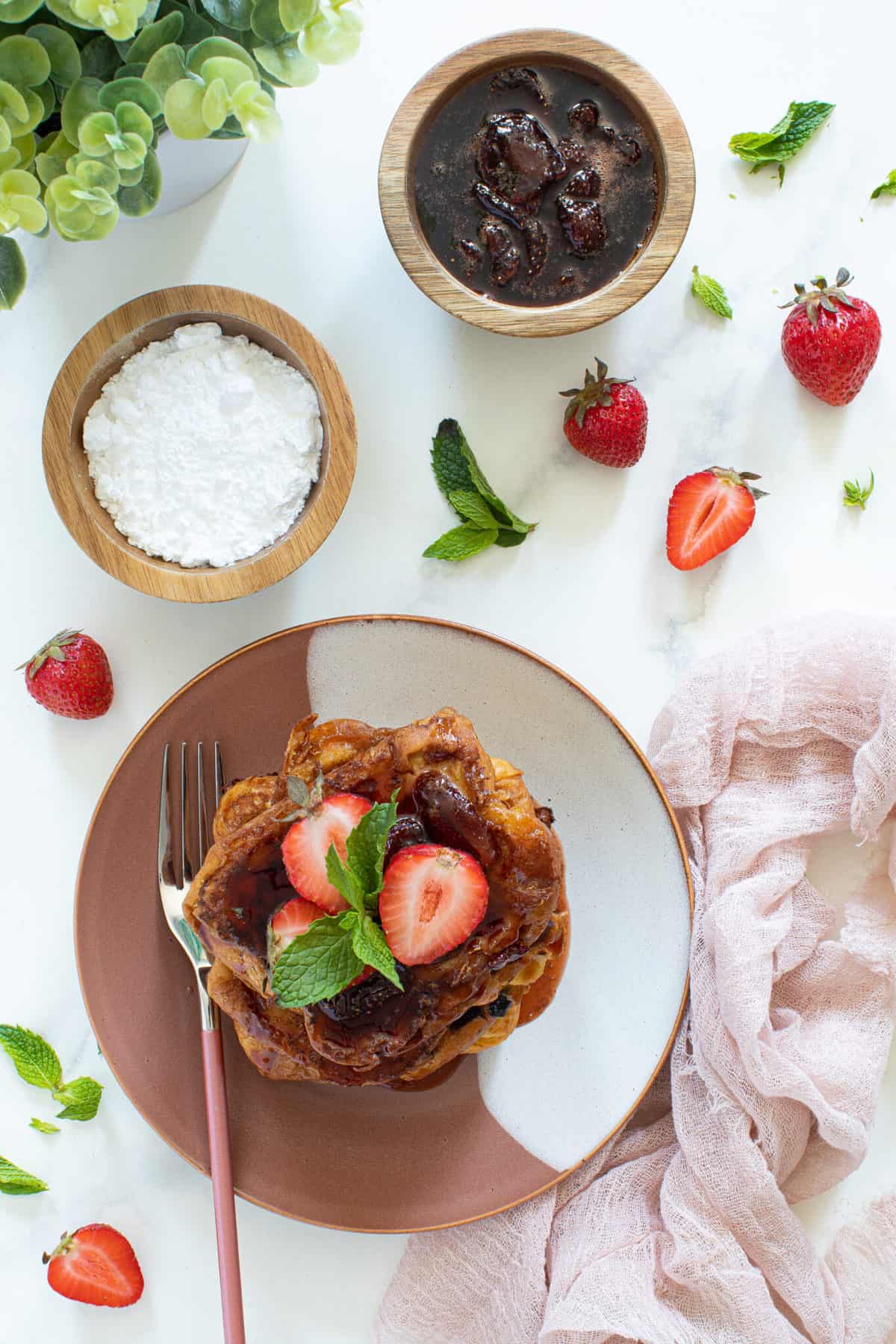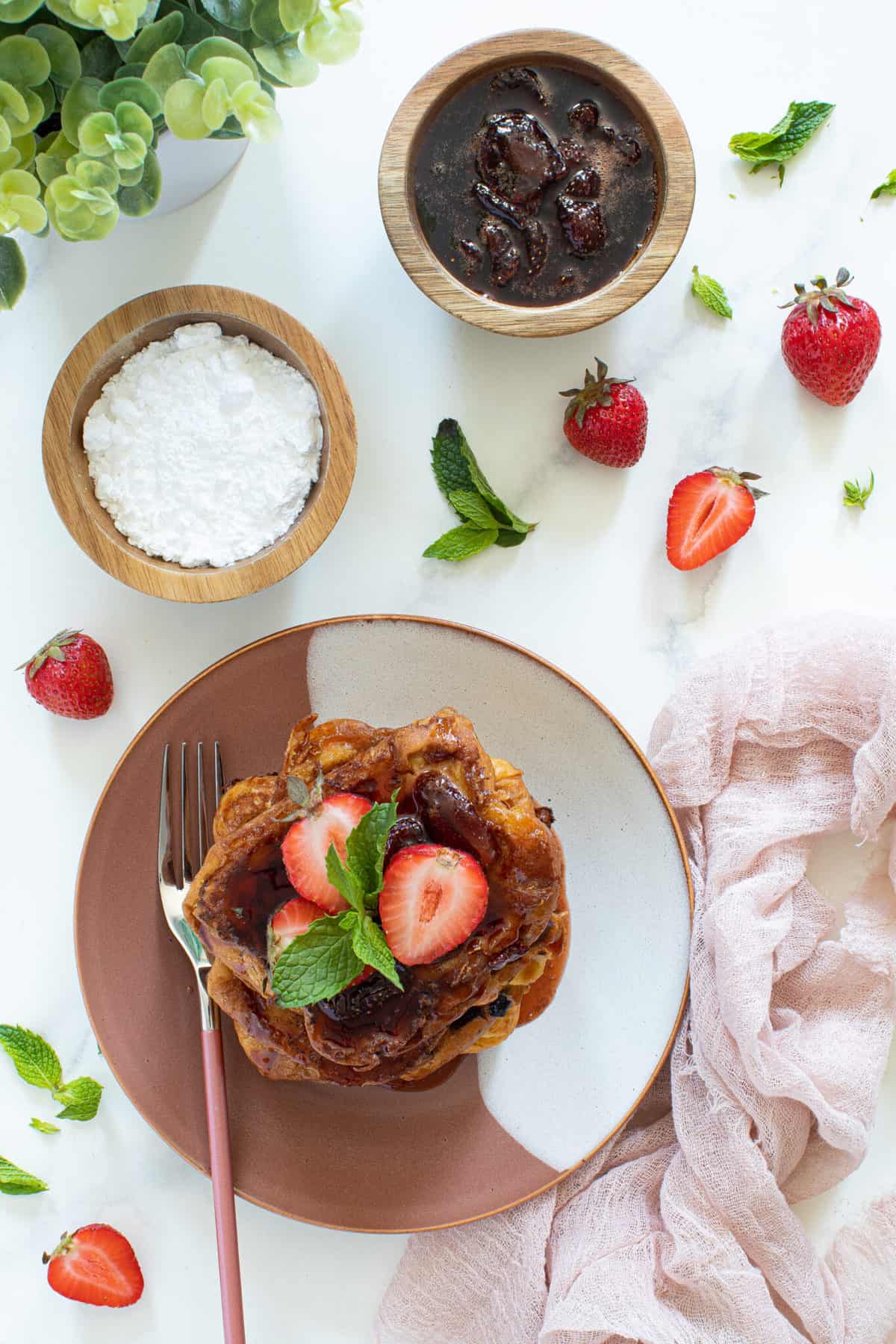 WHAT YOU'LL LOVE MOST ABOUT THIS RECIPE:
It's SUPER EASY to make.
Velvety texture. Soft. Tender.
Warm + Comforting.
Bold flavors—Sweet + Vinegar go so well together!
Just ONE bowl required.
Completely dairy-free and vegan.
That glaze is everything!
Great healthy option for breakfast or brunch.
Just too delicious to pass up.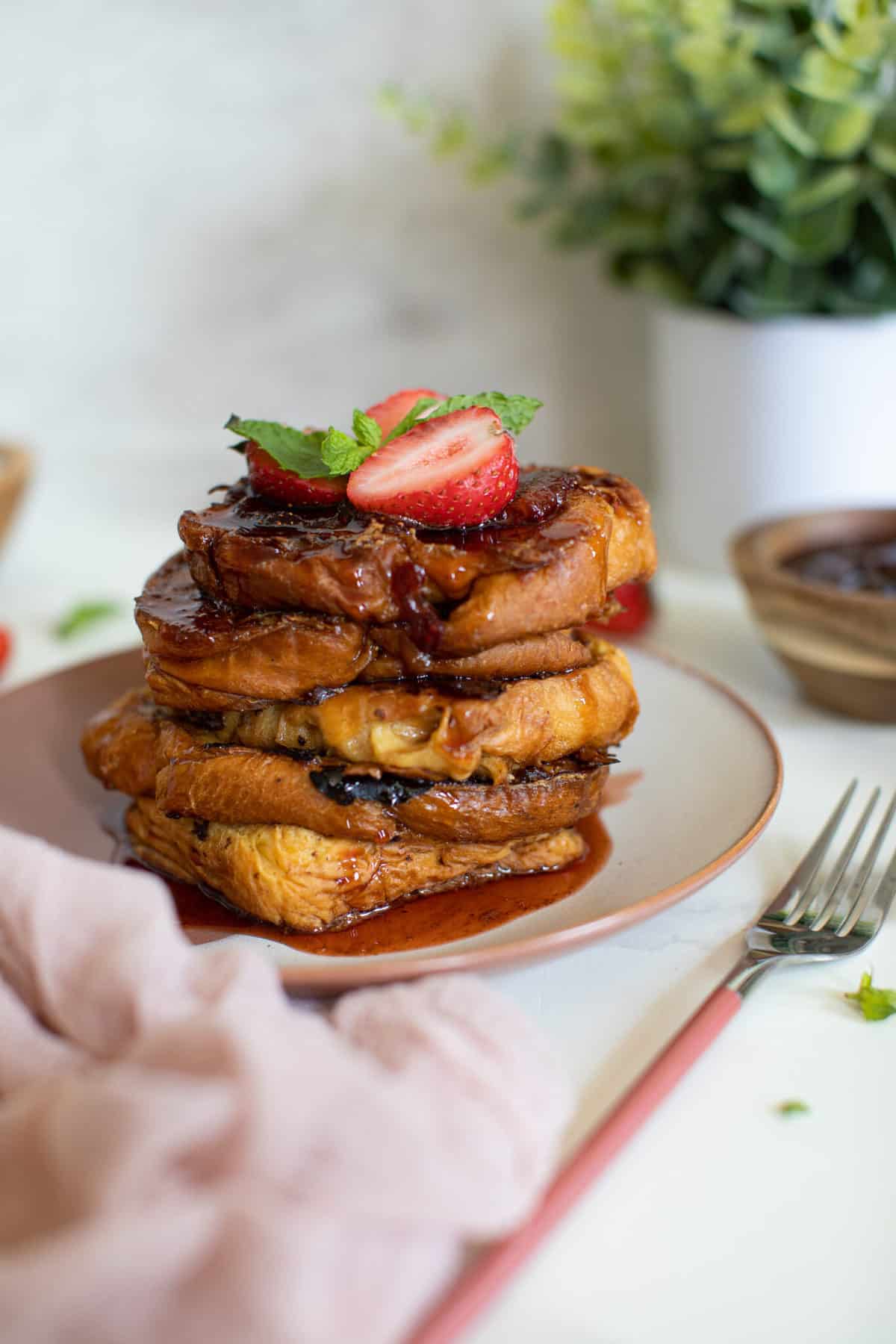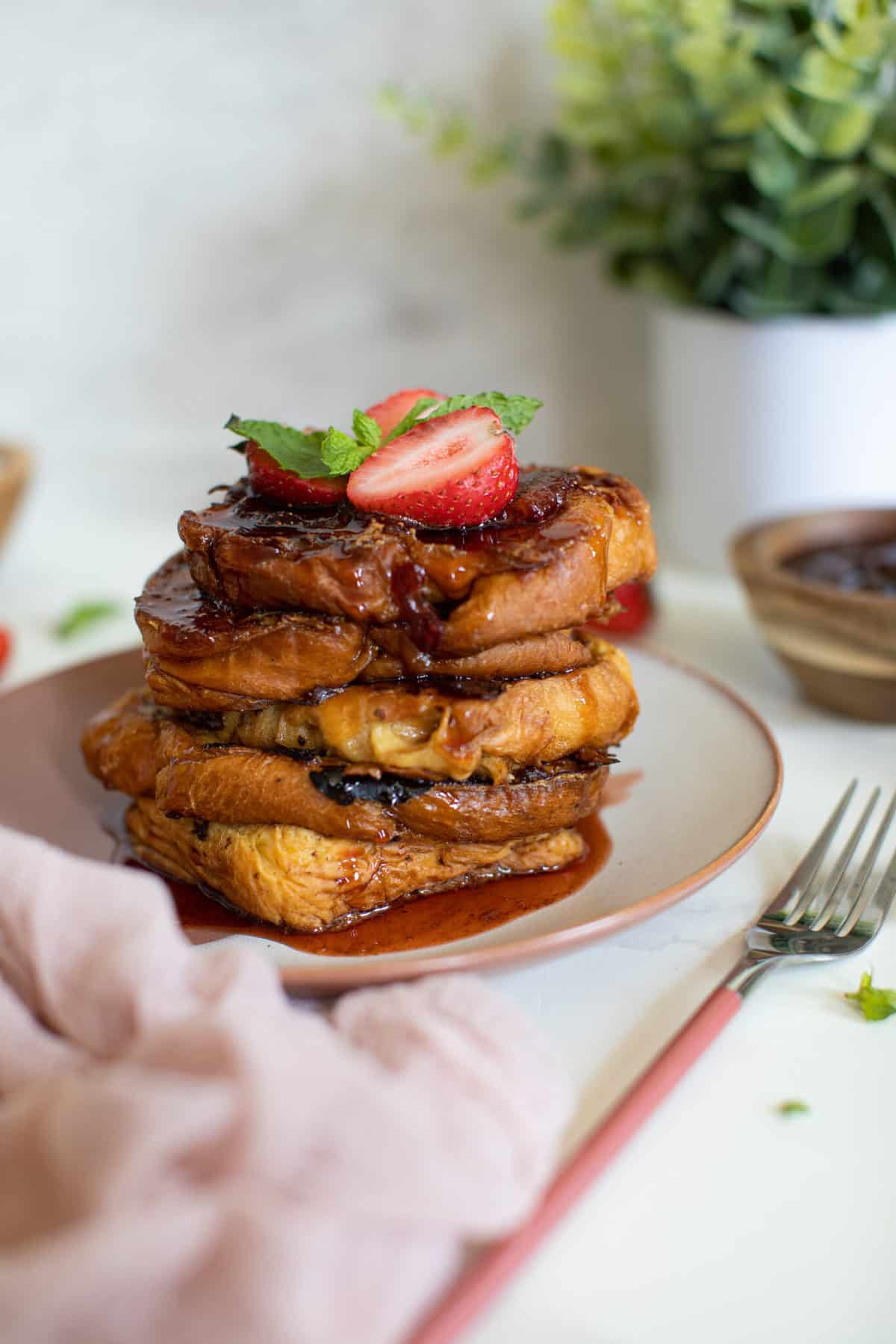 Life Updates & Stress Management
To go a bit off tangent, I must admit that it's been a crazy week thus far. With the new website launching, a few brand partnerships, and other things related to the blog, I've found myself extremely tired from all of the work that I've had to do.
Granted, it's so rewarding to get so many things done and accomplished, however, I've been intentional in creating time for self-care, even if it's just for a few short minutes.
In my post, 9 Natural Ways to Manage Stress + Anxiety, I talk about evergreen ways to manage stress + anxiety and reduce those unpleasant feelings.
In addition, I discuss 20 Go-To Immune Boosting Home Remedies which can help to keep your body strong throughout any time of the year. It's important to understand that simple everyday practices from exercise to sleep, eating healthy, hot steams, essential oils, and more; all play a role in strengthening your body's entire system.
Self-Care
Self-care is all about taking little steps to keep your mind + body thriving and while we might assume that those things have to be major, truth is, they don't.
I'm learning that and practicing that, daily.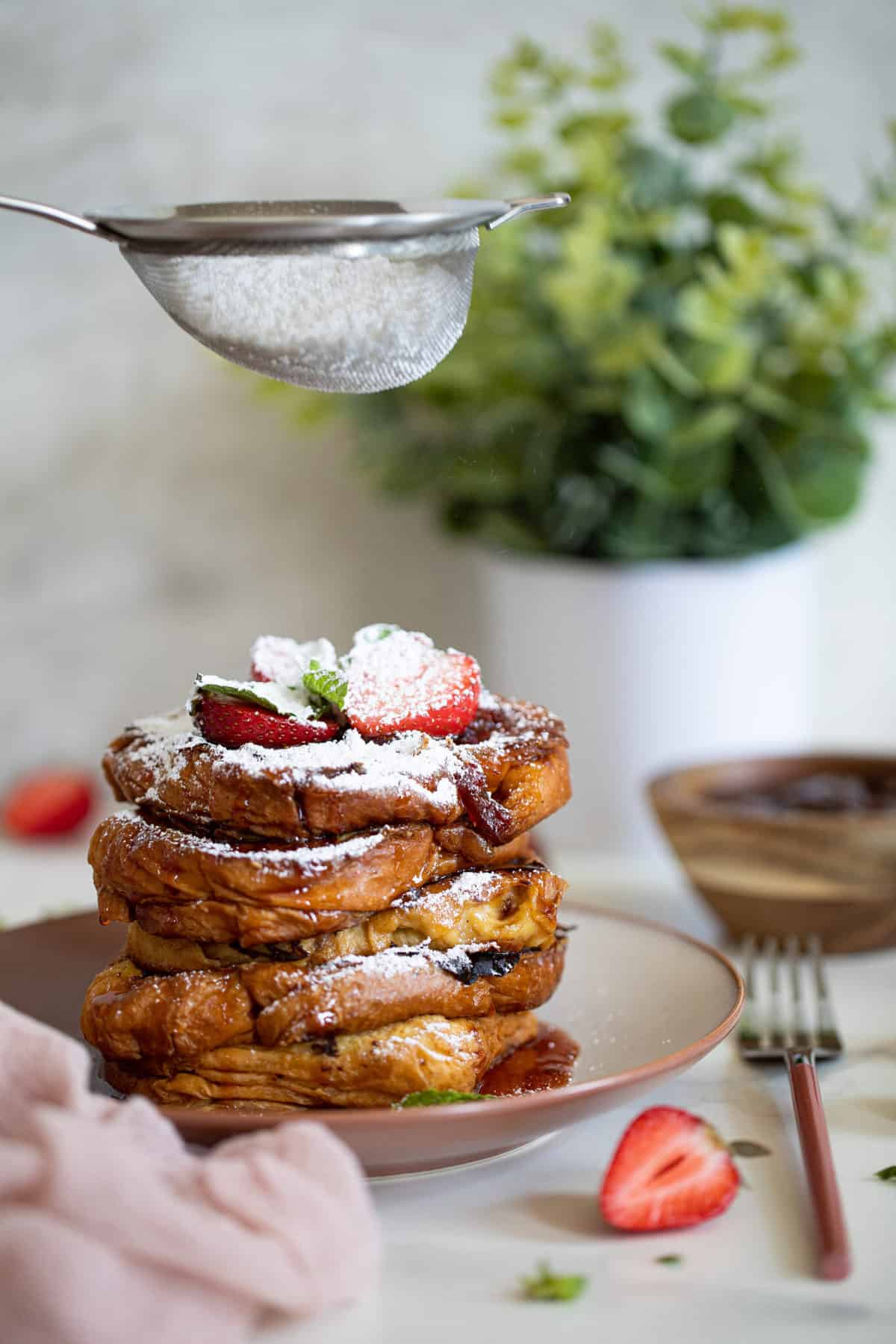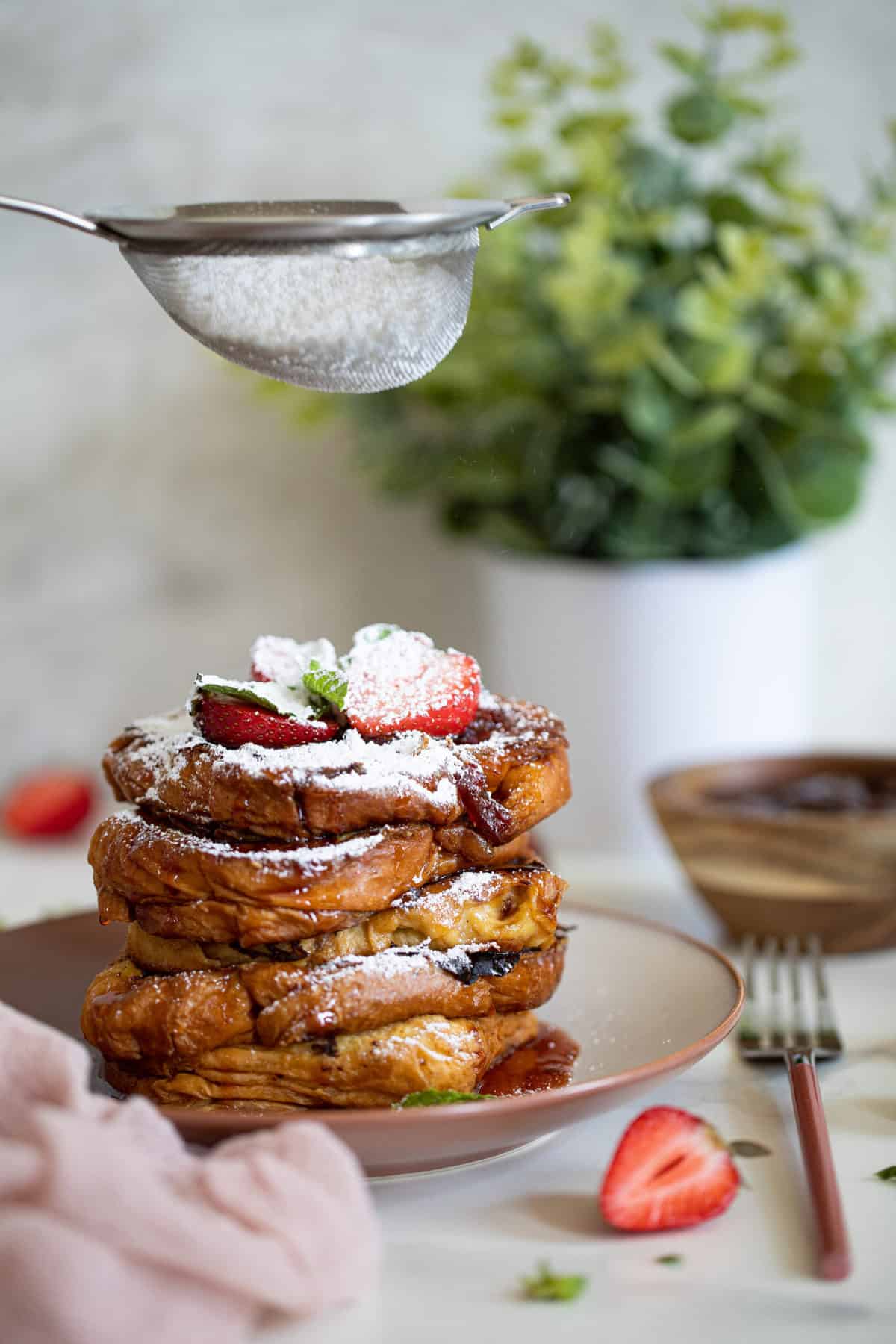 Usually, French Toast is my go-to on the weekends. It's something that I enjoy a lot with my family when we're not eating waffles or pancakes.
However, I've never truly delved into making a savory french toast, so this Balsamic Strawberry Brioche French Toast recipe was different. A good different. In addition, this is vegan, which is even better and different.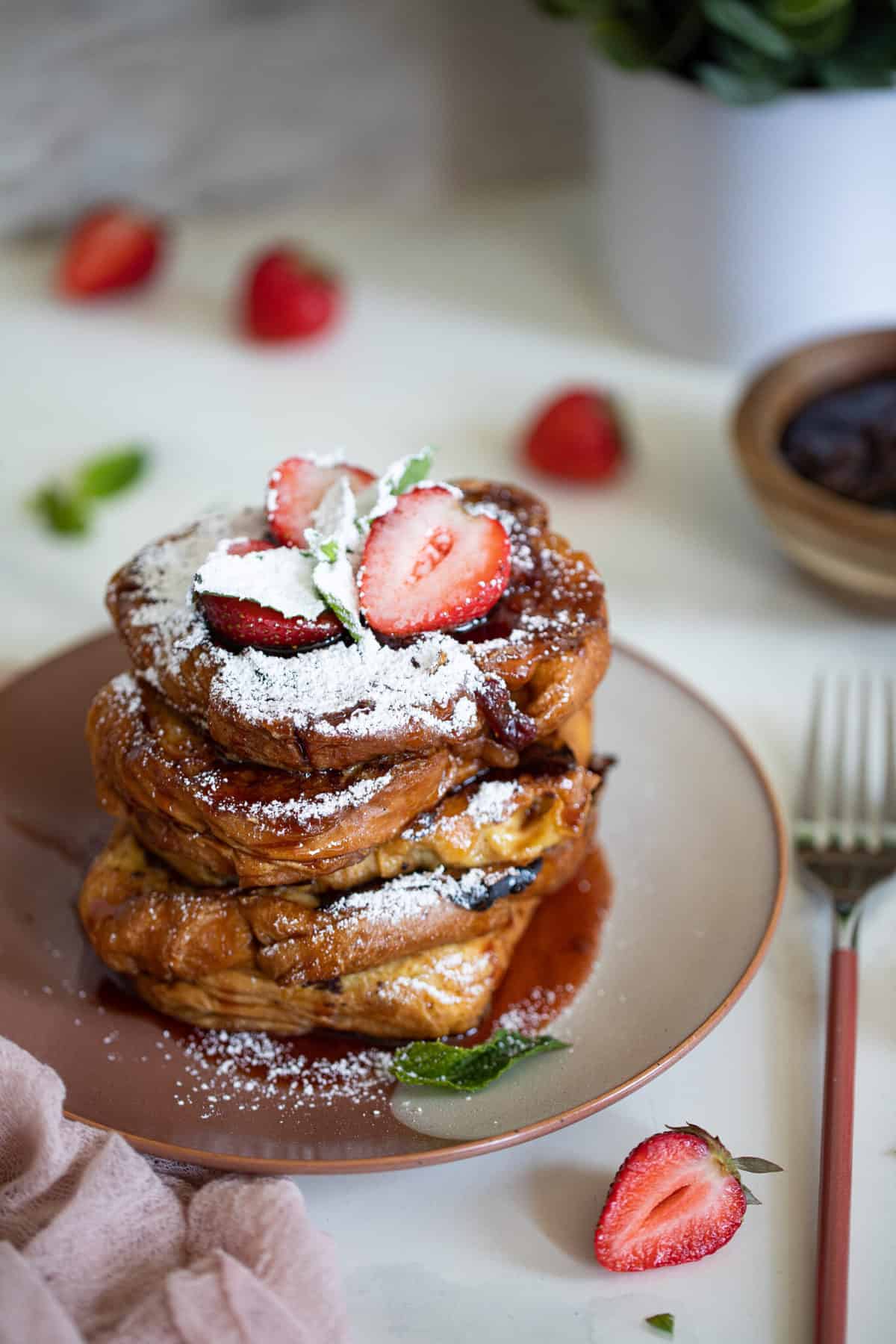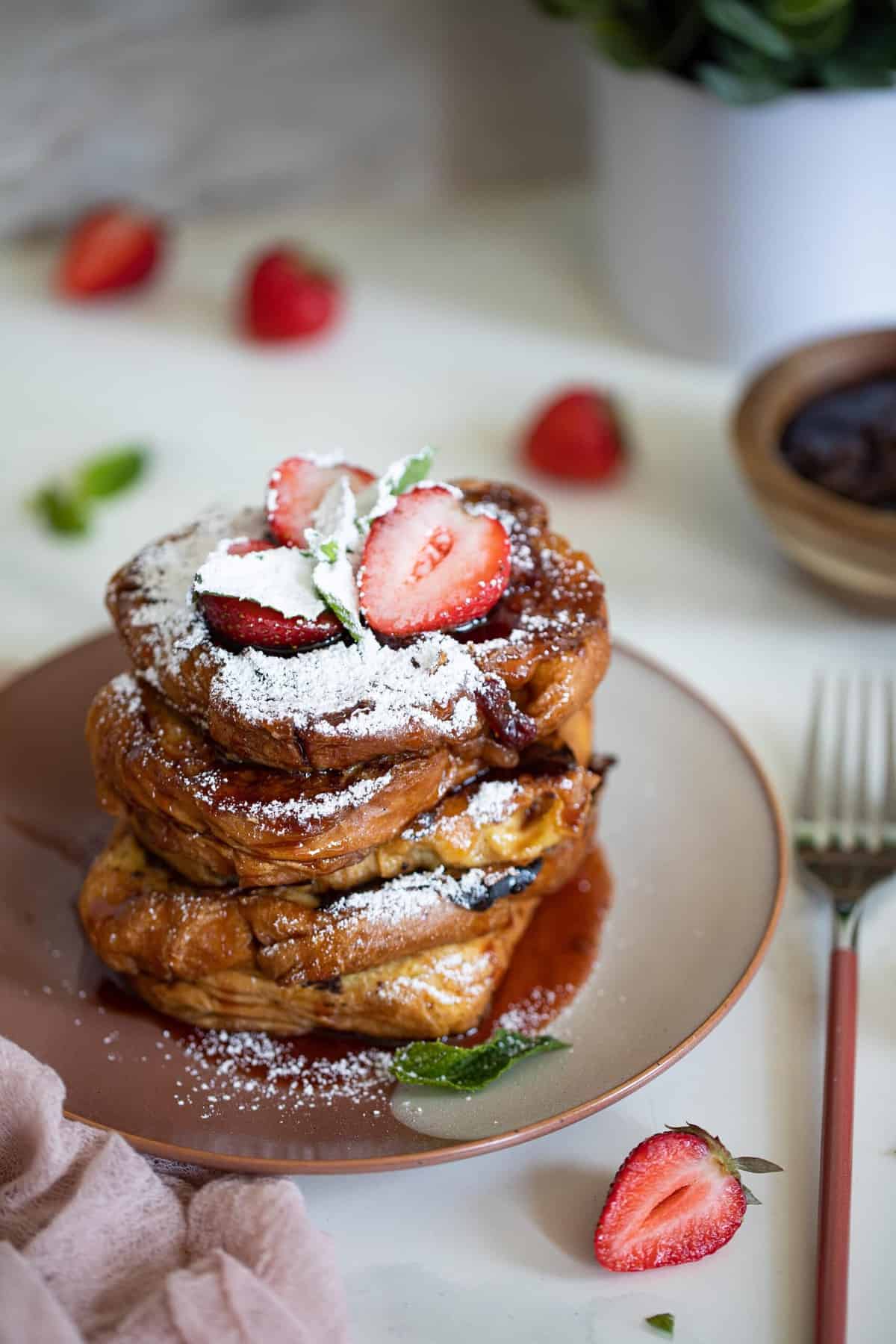 TIPS FOR MAKING THE PERFECT FRENCH TOAST.
When it comes to making the perfect French Toast, I wasn't always a master at it. To be honest, I often ruined my toast pretty badly because it would stick to the pan and become this mush. Haha.
Now that I've practiced a TON, I was able to learn a few tricks along the way which hopefully can help you when making this Balsamic Strawberry Brioche French Toast recipe:
Tip 1: The Bread Quality Matters.
One of my first mistakes was thinking that I could use any type of bread when it came to french toast. However, I was wrong. For the best, fluffy french toast, using the correct bread matters A LOT!
Personally, I've found that the following breads work perfectly: brioche, challah, french bread, etc. Basically, you want a bread that produces a dense crumb and that can hold up well in the custard.
Tip 2: Ingredients at Room Temp is King!
Yup. You definitely want to make sure that all of your ingredients (whether using eggs or not) are at room temperature and not cold. This ensures that your melted butter doesn't become grainy or hardened in the process and that the custard is smooth, which helps your french toast to cook nicely and remain smooth.
Tip 3: Soak it REAL GOOD!
The other important tip is to ensure that your bread slices are soaked nicely within the custard. This is why using quality bread every time matters. Getting a good soaked bread makes everything perfectly fried and less sticky for the frying mess!
Tip 4: Fry it + Then Bake it.
Yup. You read that right. To make my french toast perfect, especially vegan ones, I often fry it standardly within a frying pan or skillet and then place each cooked toast onto a baking sheet and bake them at 400 degrees Fahrenheit for 10-15 minutes. Wallah! Perfect french toast!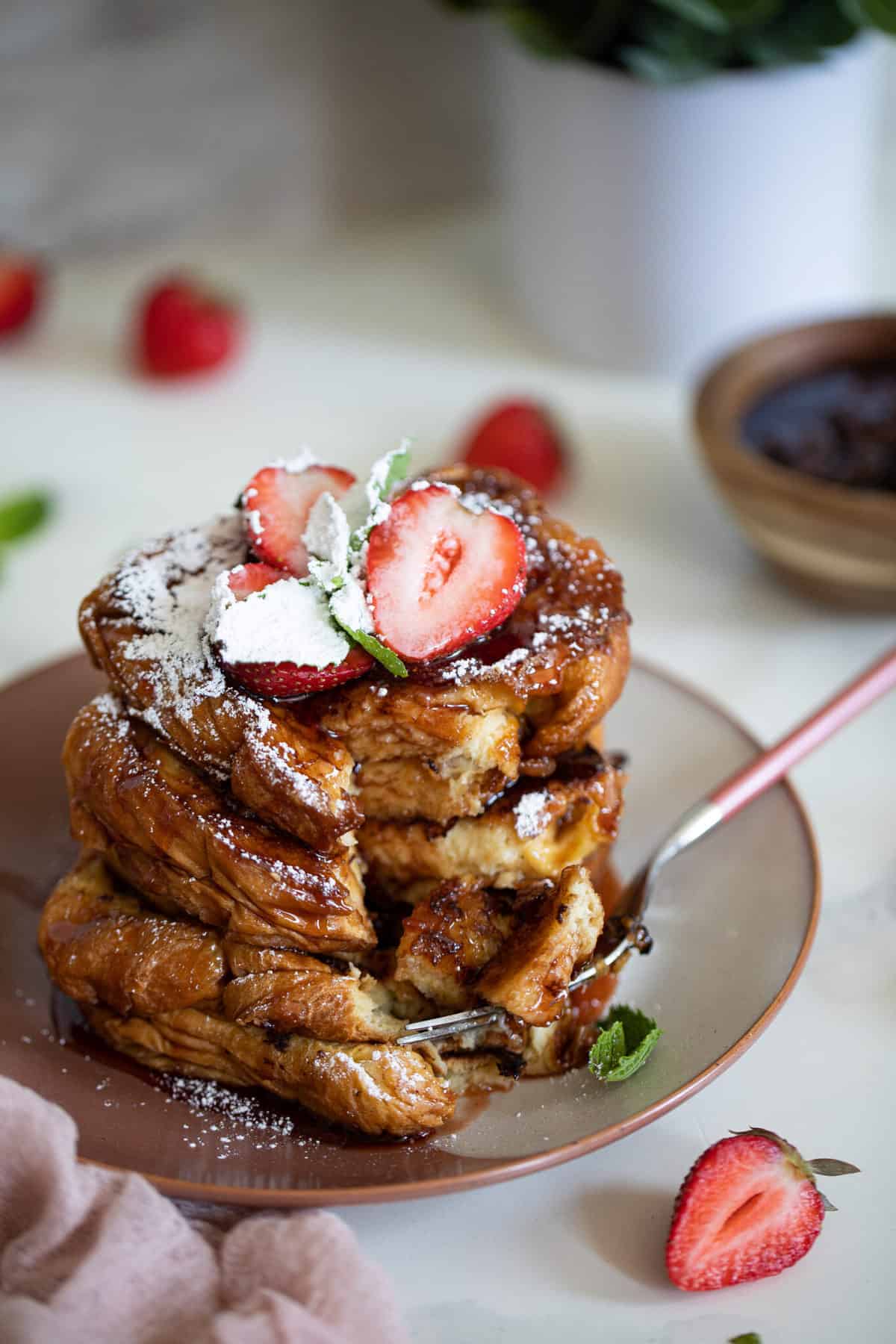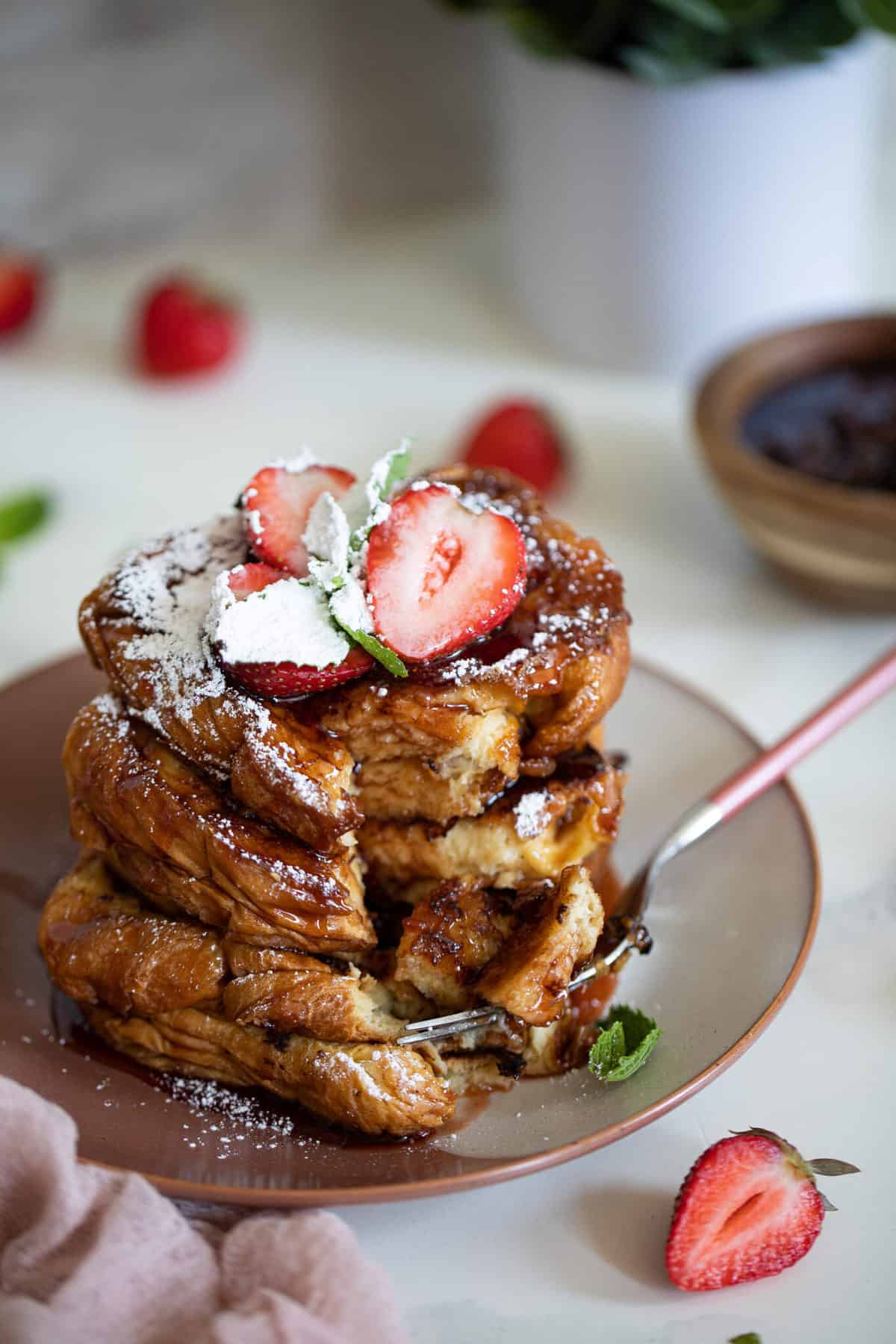 Fall Season Recipes Are Coming Soon!
With the Fall season just ahead, I am dying to share the pumpkin recipes that I've been conjuring up in the kitchen! I'm definitely stepping out on bold flavors and doing this differently this Fall season.
But since we're in the last few weeks of Summer, I am happy to highlight some awesome Summer recipes for you below.
BEST OF SUMMER VEGAN RECIPES TO TRY!
This Savory Chickpea Quinoa Buddha Bowl is a healthy option for a quick lunch or dinner and comes packed with nutrients and works perfectly for meal prep. This bowl consists of quinoa, mashed sweet potatoes, carrots, broccolini, roasted chickpea, and drizzled with a creamy cashew sauce.
This Summer Vegan Donut Board is the perfect way to entertain friends and family. Each donut is super fluffy, soft, moist, and completely dairy-free/vegan. This board includes mini vanilla donut holes with sprinkles, vanilla donuts with strawberry glaze + walnuts, and vanilla pecan donuts with wild blueberry glaze; all of which are sure to become a new favorite in your house.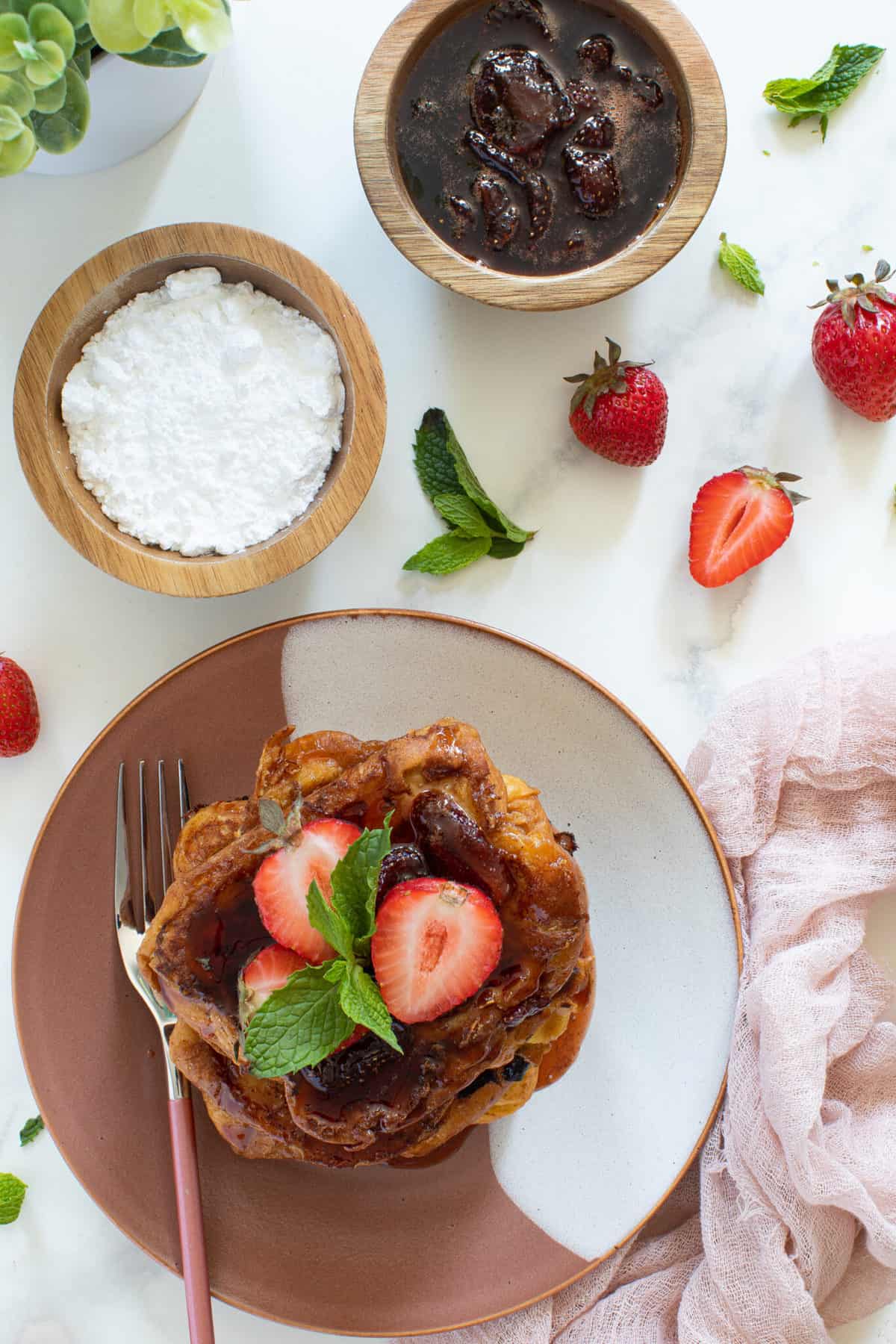 This Buffalo Cauliflower Kale Grilled Pizza is absolutely the most perfect family-friendly recipe for the summer! It comes topped with buffalo sauce, mozzarella cheese, kale, and buffalo cauliflower bites and comes based with a crispy, fluffy gluten-free GRILLED crust. Yes, I said Grilled! It's just that simple, yet it's bursting with savoriness and flavor.
These Easy Vegan Apricot Pop Tarts are nothing short of flaky, perfectly sweetened, bursting with the fresh summer flavor of apricots, and topped with a simple vanilla frosting. Complete homage to the classic childhood favorite, these pop tarts are a sure crowd-pleaser, even for picky eaters. The perfect bite for breakfast, brunch, or a nice in between snack.
These Loaded Vegan Queso Skillet Nachos are the best you'll ever taste! This recipe comes loaded with chickpeas, red kidney beans, onions, tomatoes, jalapeños, and a delicious vegan cashew-based queso over crispy organic tortilla chips. Never spend another occasion or weeknight contemplating the best vegan dish that works for the entire family—-this is it!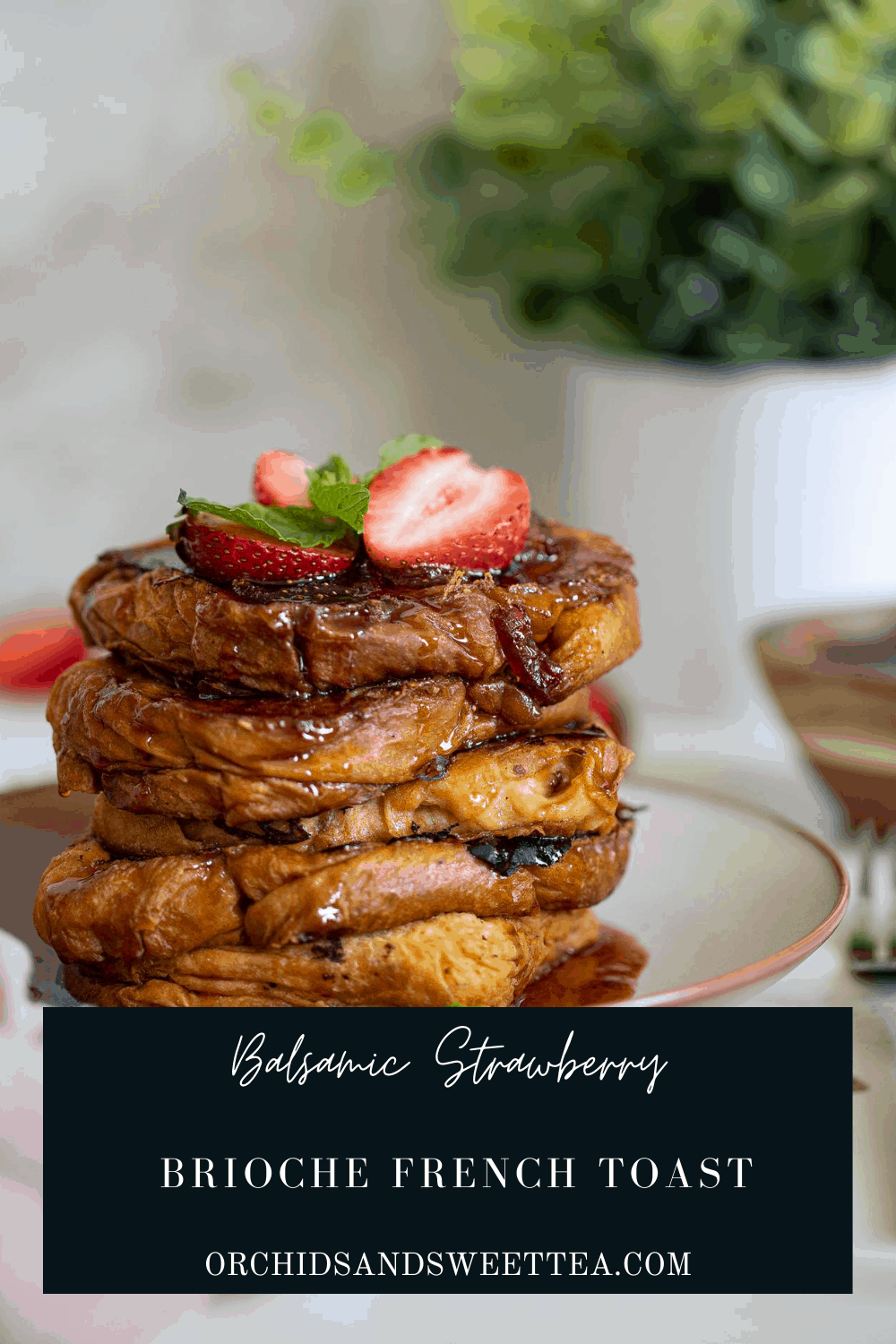 My Fave French Toast Recipes
MADE OUR RECIPE(S)?
If you choose to make this Balsamic Strawberry Brioche French Toast recipe or any other recipe from us, be sure to tag us on Instagram at #Orchidsandsweettea so that we can share the love!
French Toast:
1

loaf

vegan brioche bread

(Preferably a day old; See Notes!)

1

cup

Almond milk, Unsweetened (Room Temp.)

(I use Califia Farms; You can use your fave plant-based milk!)

1

tsp

vanilla

1

Tbsp

flaxseed meal

2

Tbsps

Arrowroot Starch

(See Notes!)

1

tsp

ground cinnamon

pinch of

sea salt

1

Tbsp

vegan butter, for cooking + 1 Tbsp
Balsamic Strawberry Compote:
Begin by combining the strawberries, sugar, vinegar, and vanilla in a medium-sized pot over medium-high heat. Let simmer until sugar dissolves, stirring occasionally. After 4-5 minutes, remove from heat and let cool so that sauce thickens. Set aside.

Whisk together all the ingredients (except for the bread) into a large bowl and set aside so that everything marries together and activates, about 5 minutes.

Preheat griddle to medium-high heat and add 1 Tbsp of vegan butter, melting it.

Also, preheat oven to 400 degrees Fahrenheit and prep a large baking sheet by lining with parchment paper. 

Dip 1 slice of bread into the batter, soaking it in for a few seconds on each side. Place slice unto the heated griddle, cooking on each side for about 3-4 minutes until golden brown. Repeat until all french toast has been made.

Once done, add all french toast onto baking sheet (side by side) and bake for 10-15 minutes until crisp on the edges. Remove and serve.

To serve—stack french toast atop each other, spoon a generous amount of balsamic glazed strawberries and drizzle with date pure maple syrup, if desired.

Bon Appetit!
BREAD: Instead of brioche bread, you can also use vegan challah or ciabatta bread or any other rustic bread. In most cases, day old bread works best! STARCH: As a substitute, you can always use cornstarch or tapioca flour instead of arrowroot starch. SUGAR: You can also use organic brown sugar, coconut sugar, or pure maple syrup as a substitute for pure cane sugar. 
Balsamic Strawberry Brioche French Toast.