This Mind-blowing Avocado Toast is by far one of my favorite ways to have toast lately. A great balance between spicy and savory from the deliciously roasted chickpeas and tomatoes and it's super easy to make! Spruce things up by adding additional toppings for a nice crunch or flavor! Gluten-free option available.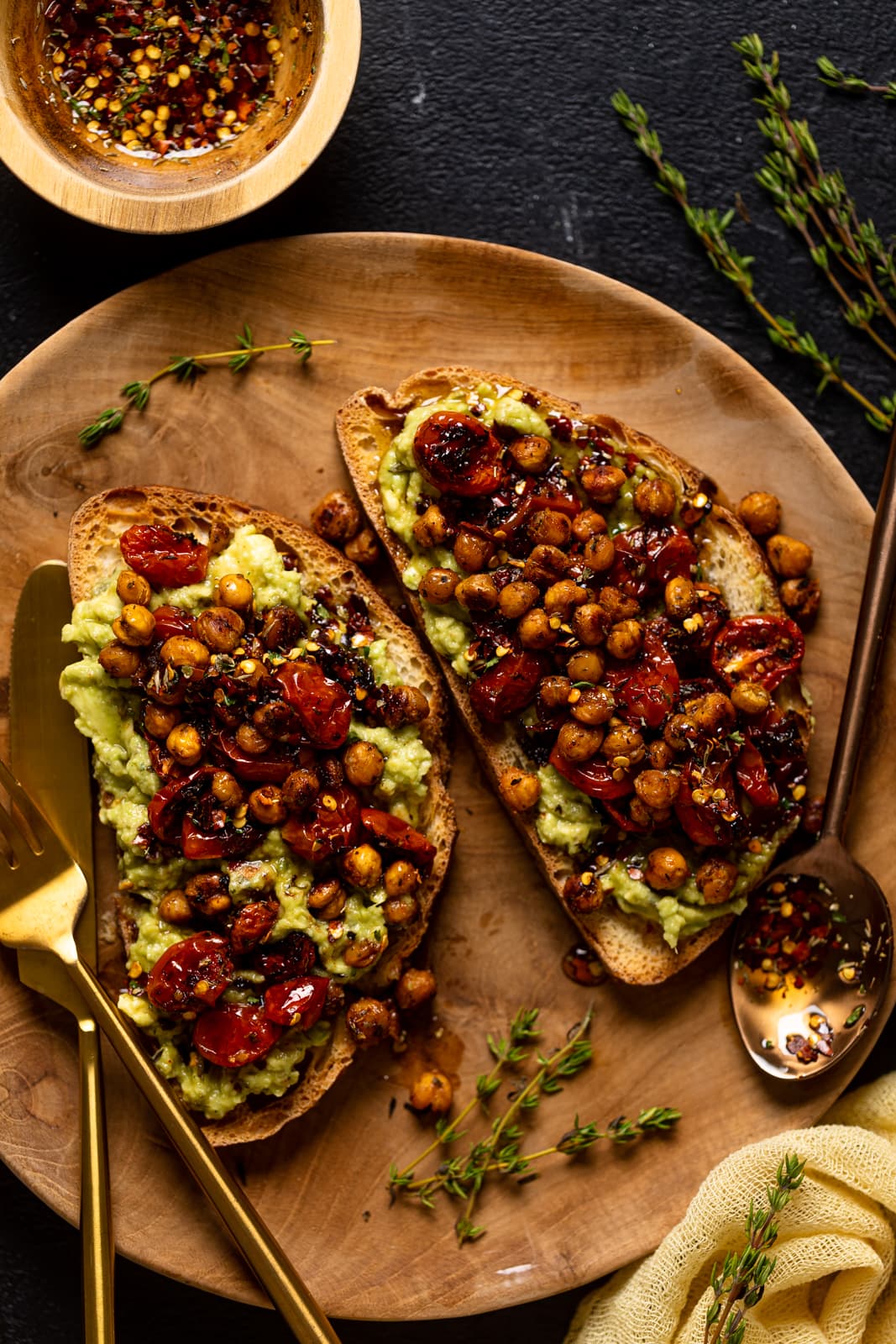 Disclaimer: This post contains affiliate links via Amazon for products that I wholeheartedly love.
I've FINALLY gotten into avocado toast, ya'll. INSANE, I know. It's taken me the longest time to get into the mix because I wasn't too confident about whether I would like mashed avocados on toast as a meal in the mornings.
This Mind-blowing Avocado Toast is my take of avocado toast and it's certainly jam-packed with flavor. Eating this toast for breakfast, lunch, or dinner (if that's your thing) will be enjoyable----I promise.
Whether you're in a hurry in the mornings or you're looking for a laid-back ease as a way to start your day, this avocado toast is super easy to make, only uses a handful of ingredients, and goes with any cup of coffee or tea that your heart desires.
It only consists of three main components: the toasted bread, mashed avocados, and roasted chickpeas + tomatoes. So good!
What is Avocado Toast?
Basically, avocado toast is an open sandwich that consists of some sort of toasted bread that comes topped with mashed avocado and a few pinches of seasonings. Of course, in recent time, avocado toast has been re-invented and has included many other toppings in addition to mashed avocados, which has made it a true morning staple.
SHOP MY FAVORITE TOOLS FOR COOKING, ESPECIALLY FOR AVOCADO TOAST!
Here, I've curated a list of cooking + baking essentials that I use to achieve my favorite baked goods or cooked meals, especially with this avocado toast. Everything from my fave baking sheet, liners, pastry blender (for mashing too), mixing bowls, and more. SEE THEM HERE!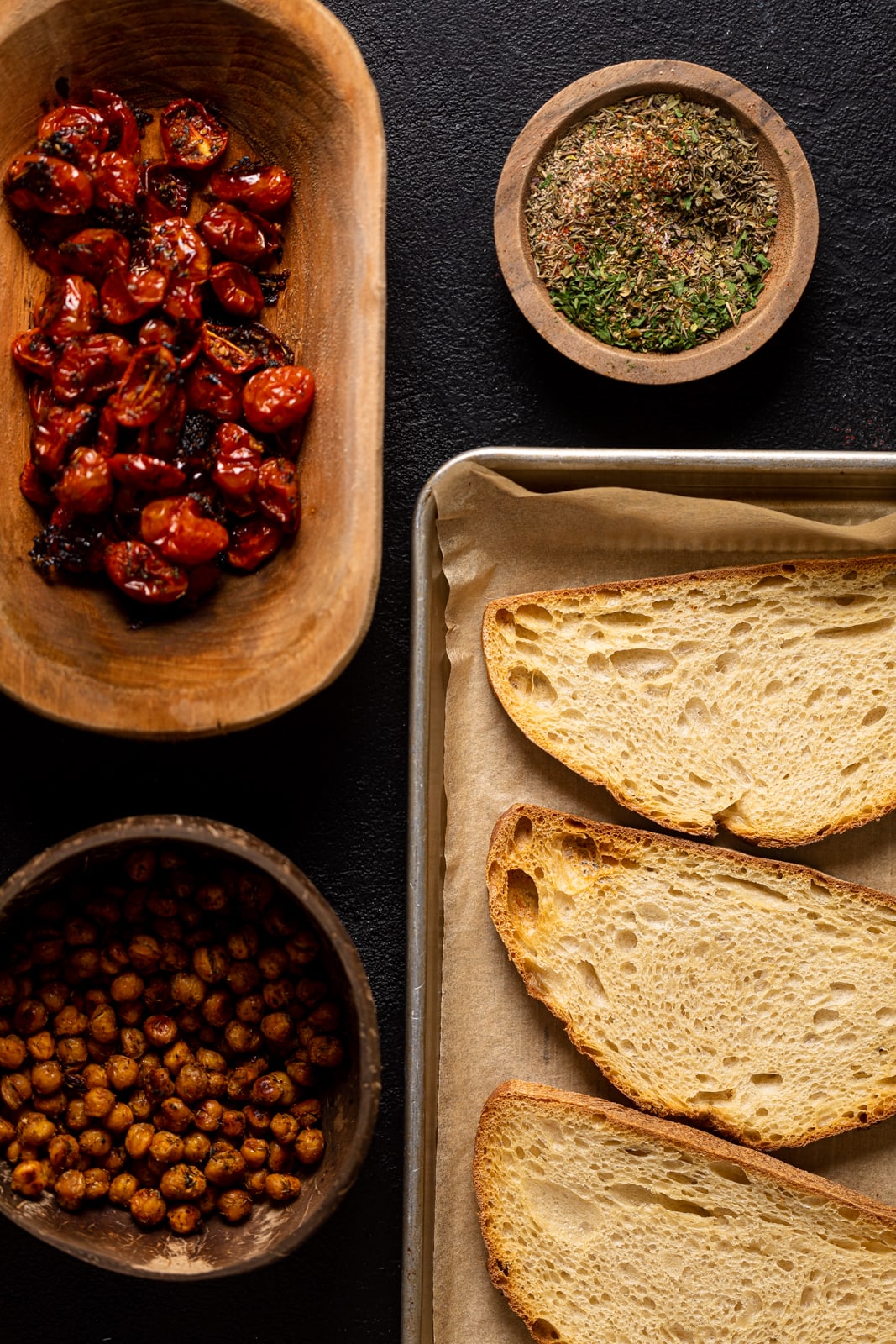 Ingredients for Avocado Toast
For the best avocado toast, it's all about the toppings! It's about whether you want to load up your toast or keep it really simple. Either way, it'll be a quick fix in the morning.
Here's what you need for the toast:
Bread. I love using rustic bread such as sourdough, however, any type of bread works just fine!
Avocados. I like to use organic Hass avocados.
Maple syrup. A great natural sweetener.
Red pepper flakes.
Sea salt + black pepper.
Here's what you need for the roasted chickpeas and tomatoes:
Tomatoes. You can add as many tomatoes as will fit on your baking sheet.
Chickpeas. I like to use organic canned chickpeas. Just drain + rinse.
Olive oil. Don't skimp on the oil! It helps concentrate the tomato flavor and makes a nice jammy texture. You can use these roasted tomatoes like a dressing or sauce.
Dried herbs. I like a mixture of Italian herbs like oregano, basil and parsley. But you can mix up the seasonings with other fresh or dried herbs. Thyme, rosemary, marjoram and tarragon are all delicious with tomatoes.
Spices. Likewise, feel free to play with different spices in your roasted tomatoes. I like paprika, garlic powder and a pinch of red pepper flakes for a slight kick.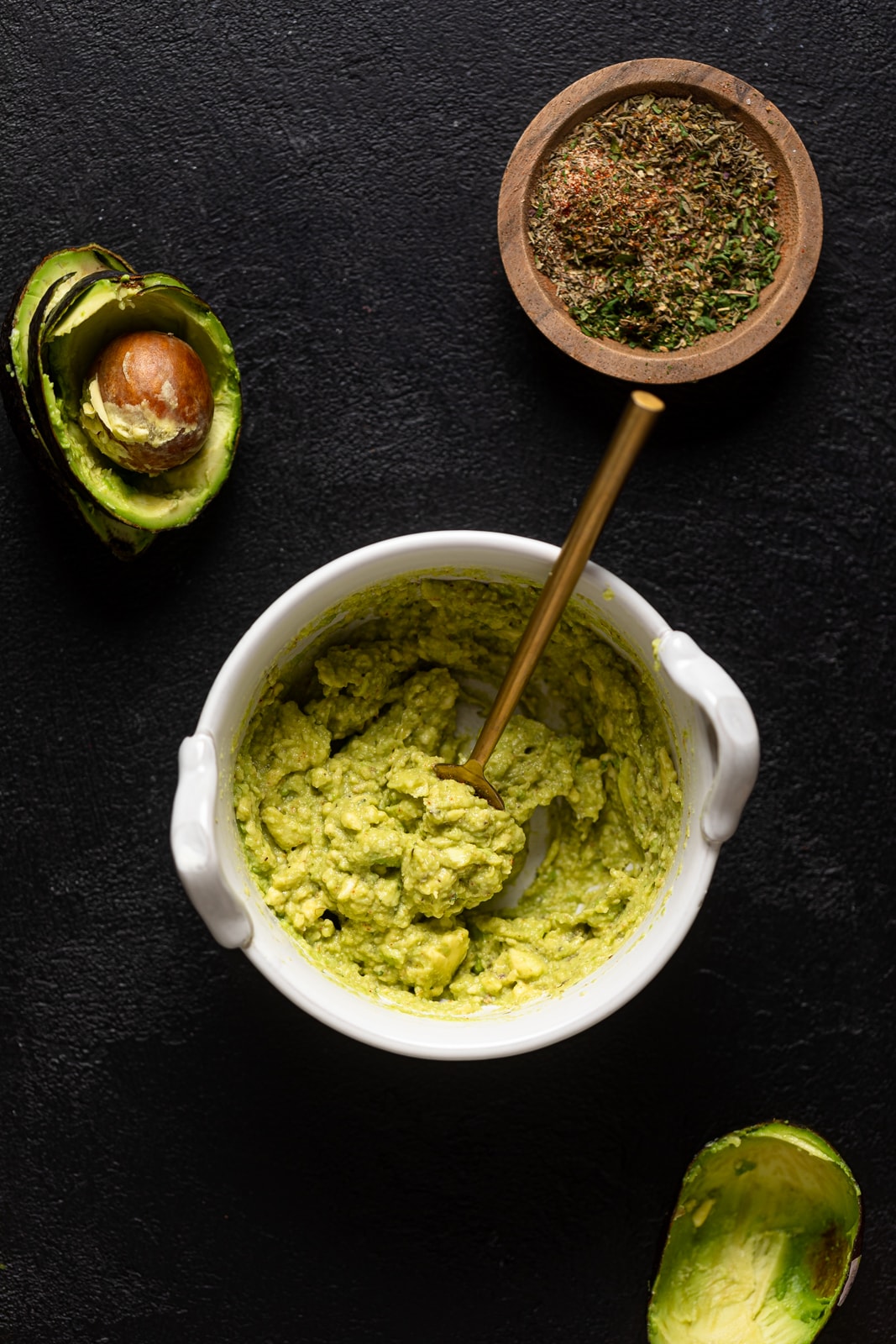 How to Make Mind-blowing Avocado Toast
In just a few short steps, you'll have the most delicious breakfast toast —- Mind-blowing Avocado Toast that'll satisfy each morning craving possible. Here's how to make everything:
First, roast the chickpeas and tomatoes by using two baking sheets, parchment paper, and a drizzle of olive oil and season with all herbs and seasonings.
Then in a bowl, add the avocados (by removing the flesh from their pits and skin) along with lemon juice, salt, black pepper, and cayenne pepper---mixing everything together until smooth and combined. Chunks are definitely OK!
Toast your bread and mix together the spicy maple syrup in the meantime.
Once everything is perfectly prepped, add dollops of mashed avocado to the tops of toast followed by roasted chickpeas and tomatoes and drizzle of spicy maple syrup.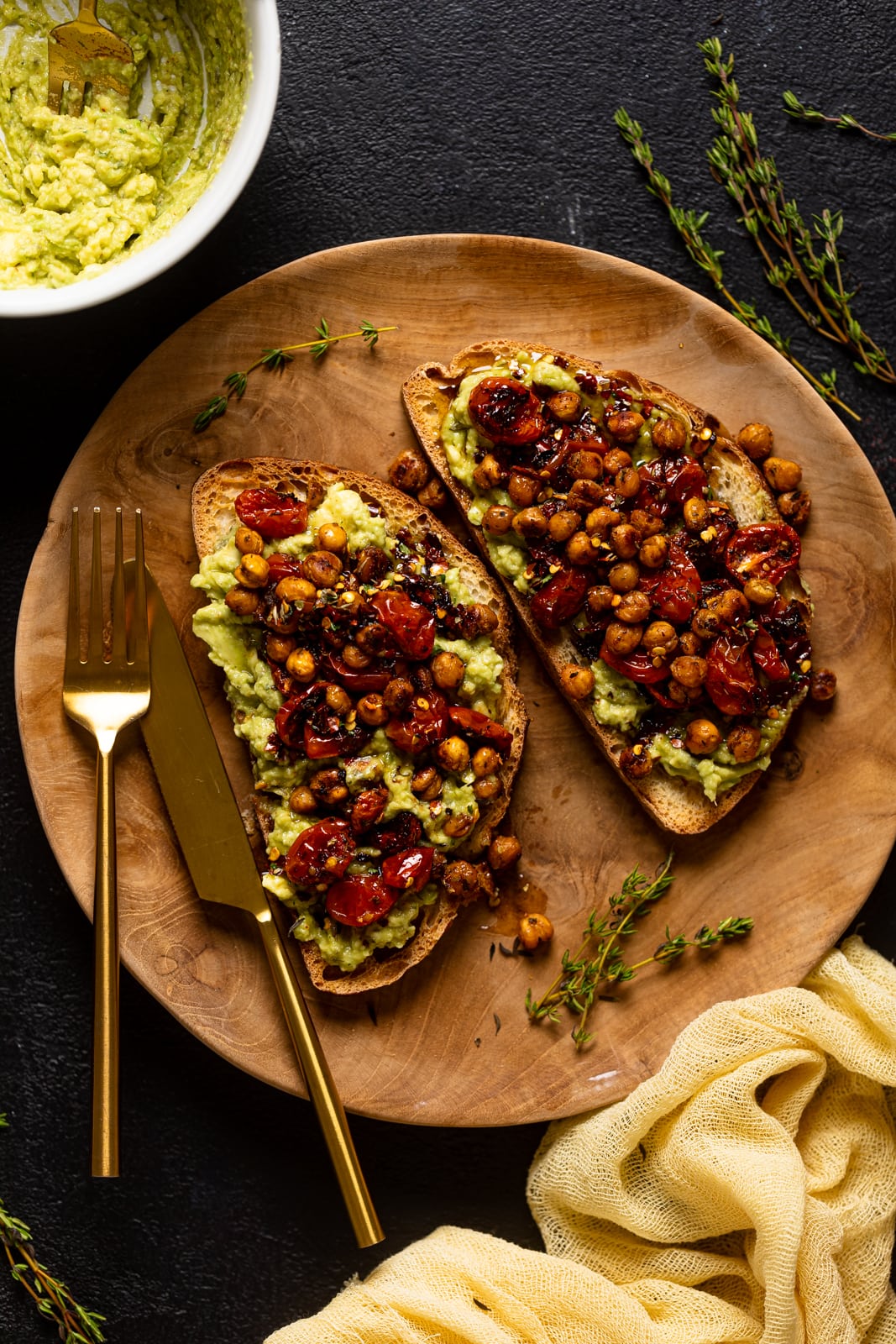 Tips to Making the Perfect Avocado Toast
When it comes to making avocado toast, there are just a few small steps that you can take to ensure that it comes out perfectly every time.
Pick the Best Avocados from the Start
Picking the best avocados is by far the most important part of this entire toast. I love using Hass avocados, however, you can use other types. Always make sure that they are fully ripe but over-ripe (meaning it's extremely soft to the touch). For the best check---always look for avocados that have a good squeeze and isn't too hard or too mushy/soft.
Also, once open, if you find that there are brown bits or sections, be sure to cut those out and discard of them before you mash everything.
Your Bread Matters
Again, I mention the best types of bread when making avocado toast, however, understanding just how important it is to choose the right bread is a must! I always like using thin sliced bread that hold up well, which is why I often opt for rustic bread. You can read further down as I go more into this. In addition, be sure to always toast your bread for a nice crunch and a strong foundation to hold your toppings.
Mashed Avocado is Best
I know that avocado toast has it's many variations these days, however, I've come to conclude that mashed avocado on toast is a lot better (and easier to eat) than sliced avocado. Granted, you can always switch things up based on preference, but if I'm honest, I found that having my avocados mashed allowed for more real estate when adding additional toppings.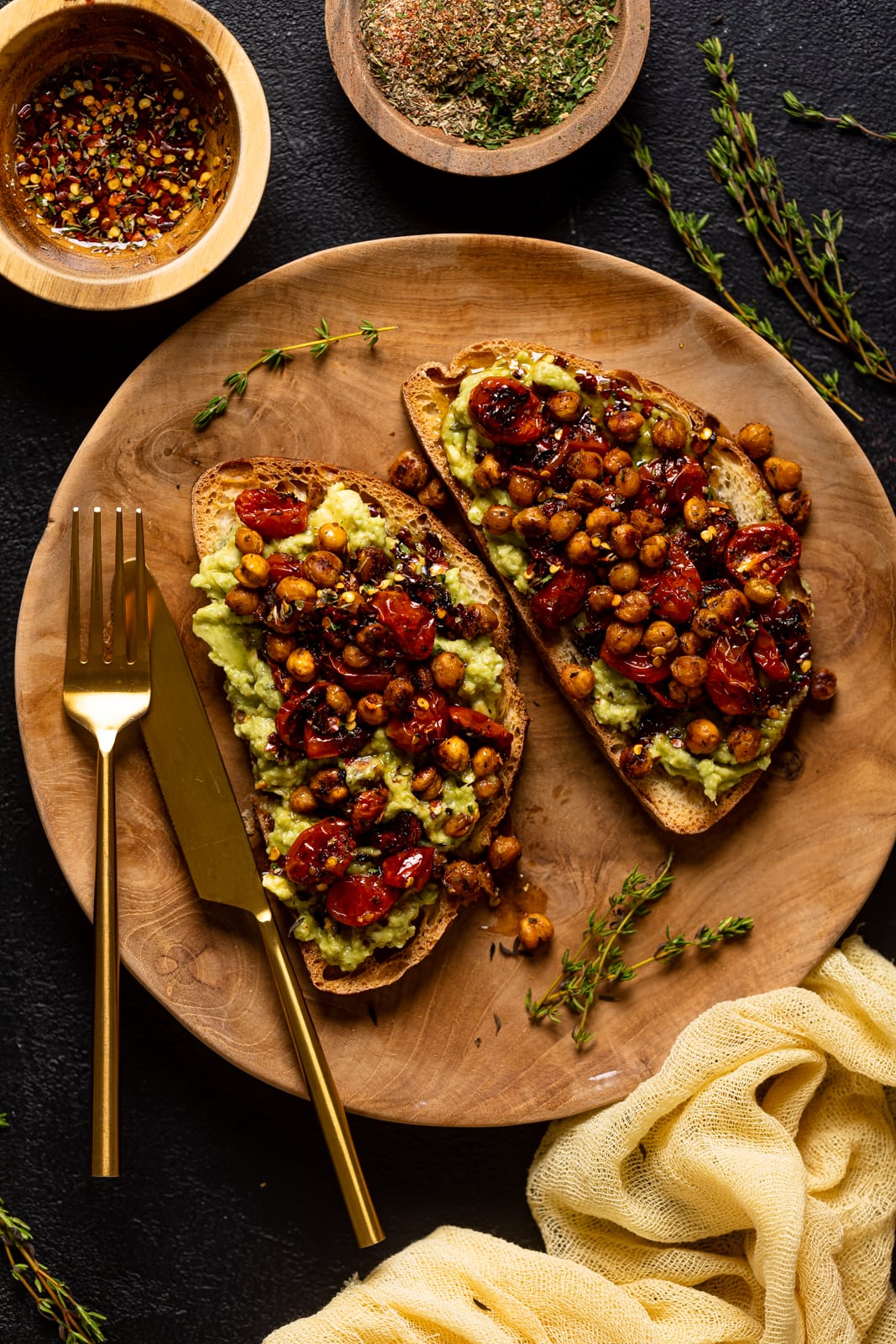 The Best Bread for Avocado Toast
A crusty rustic bread is perfect bread for this avocado toast. They are naturally thin, so the slices end up being perfectly sized. They are light and airy, so the toast is not too dense upon biting. Because of the large air pockets in the bread, they make for a lovely mouthfeel. Lastly, they have a heavy crust which helps to hold up toppings as well. Here's the best breads:
sourdough
challah
ciabatta
semolina bread
baguettes
What Goes on Avocado Toast
Topping your avocado toast is an important step to me. While you can enjoy this avocado toast in it's classic form without additional toppings, I just love adding more flavor to everything, especially my toast.
On avocado toast, you can add any of the following toppings which include protein, herbs, etc:
Egg (fried or scrambled)
Leafy greens (like kale, spinach, etc.)
Fresh Herbs (like basil, cilantro, parsley, thyme, oregano, etc.)
Jalapeños or chopped onions
Roasted veggies (like tomatoes, garlic, bell peppers, etc.)
Beans (like chickpeas, black beans, etc.)
Radish
Seafood (like salmon, shrimp, etc.)
Meat (like bacon, shredded chicken, etc.)
Ways to Best Serve Avocado Toast
Again, enjoying your avocado toast in the mornings, for lunch or dinner is an easy task. Once you've made the perfect avocado toast topped with your favorite ingredients, here are drinks that you can serve it with depending on the time of day: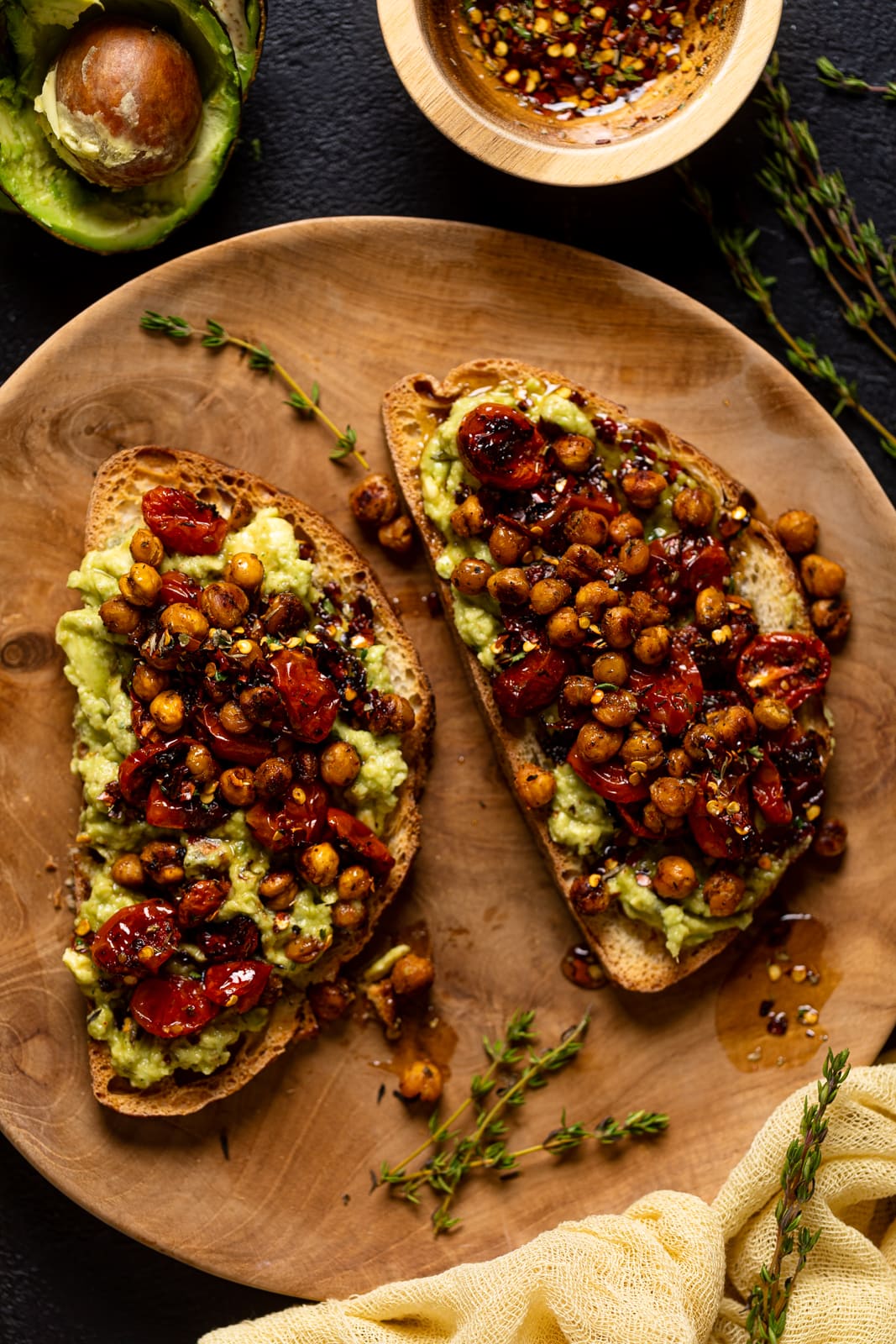 My Favorite Breakfast Recipes
MADE OUR RECIPE(S)?
If you make this Mind-blowing Avocado Toast, be sure to tag me on Instagram @orchidsandsweettea!
TOAST:
2

slices

rustic bread, toasted

(I like to use sourdough bread)

2

organic Hass avocados, pitted + mashed

1

teaspoon

freshly-squeezed lemon juice

Pinch of

sea salt + black pepper

¼

teaspoon

cayenne pepper
ROASTED CHICKPEAS + TOMATOES:
2

Tbsps

Extra Virgin Olive Oil

1

(15 oz.) can

chickpeas, drained + rinsed

1

cup

grape tomatoes, halved or whole

1

teaspoon

sea salt + black pepper, each

1

teaspoon

garlic powder

1

teaspoon

smoked paprika

1

teaspoon

dried oregano

1

teaspoon

dried basil

1

tablespoon

dried parsley
SPICY MAPLE SYRUP:
½

cup

pure maple syrup

1

teaspoon

red pepper flakes

Pinch of

sea salt + black pepper
TO ROAST CHICKPEAS + TOMATOES:
Preheat your oven to 400 degrees Fahrenheit and prepare TWO baking sheets by lining it with parchment paper.

In separate bowls, add the tomatoes and chickpeas followed by an equal amount of each seasoning: salt, black pepper, garlic powder, smoked paprika, oregano, basil, and parsley. Drizzle both tomatoes and chickpeas with 1 tablespoon of olive oil (each).

Add the tomatoes and chickpeas unto their own baking sheets (in a single layer) and bake for 15-20 minutes or until tomatoes are charred, wilted, and tender and the chickpeas are crispy. Remove and let cool slightly.
MASH THE AVOCADOS:
In a bowl, add the flesh of each avocado (by removing the flesh from their pits and skin) along with lemon juice, salt, black pepper, and cayenne pepper, mashing everything together using a fork until combined and smooth. NOTE: chunks are OK to have if desired.
MAKE THE SPICY MAPLE SYRUP:
In a bowl, mix together the maple syrup, red pepper flakes, salt, and black pepper until combined.
ASSEMBLY:
On a plate, add your toasted bread followed by spoonfuls of mashed avocado atop, spreading it evenly. Top with 1-2 Tbsps of roasted chickpeas and tomatoes. Drizzle with spicy maple syrup. Repeat until all servings are made.

Bon Appetit!
GLUTEN-FREE OPTION: To make this recipe gluten-free, simply substitute bread with a GF-friendly bread. SERVINGS: For additional servings, simply DOUBLE or TRIPLE the ingredients.
Calories:
870
kcal
|
Carbohydrates:
112
g
|
Protein:
13
g
|
Fat:
46
g
|
Saturated Fat:
7
g
|
Polyunsaturated Fat:
6
g
|
Monounsaturated Fat:
30
g
|
Sodium:
1597
mg
|
Potassium:
1530
mg
|
Fiber:
18
g
|
Sugar:
55
g
|
Vitamin A:
1848
IU
|
Vitamin C:
33
mg
|
Calcium:
200
mg
|
Iron:
6
mg
Mind-blowing Avocado Toast.