This Southern Peach Iced Tea is a refreshing home-brewed sweet iced tea made from black tea, infused with peaches and easy mint ice cubes. This bold flavor combo makes for a delicious, fresh and crisp taste. The perfect drink for the sunniest of days regardless of the season!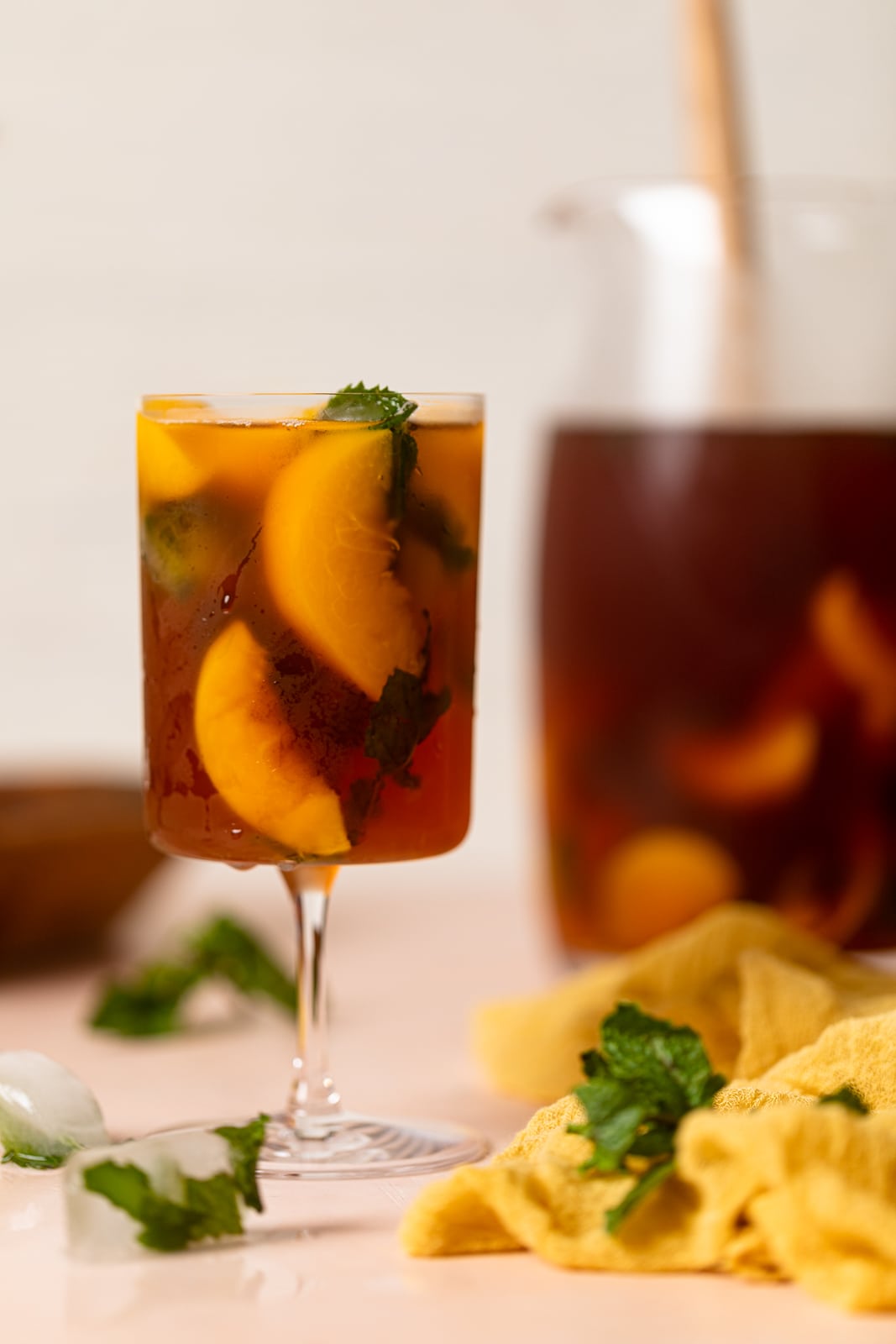 I'm such a HUGE fan of sweet tea or iced tea which is why this Southern Peach Iced Tea is something for the books. I literally get excited whenever Starbucks comes out with new summer flavors for their iced teas because there's something about a delicious drink filled with tons of ice for a refreshing cold drinking moment. Haha.
Growing up in the South, classic Sweet Tea was a must. Traditionally, it's a refreshing tea-like taste with a ton of sweetness. Making sweet tea or iced tea at home has become one of my favorite things to do and I just love that I can use quality, healthier ingredients while still creating the same experience. And if you're loving this iced tea, then you're sure to enjoy My Favorite Peach Crumble Pie, Sparkling Lemon Blackberry Mint Iced Tea and Strawberry Iced Sweet Tea (without Brown Sugar). Plus, this Vegan Peach Crisp Oatmeal Porridge is so comforting for breakfast and worth trying. Need some food inspiration? Look no further than our lineup of 21 Soul-Satisfying Southern Comfort Food Recipes.
While you can use any brand of black tea that you prefer, I find that the Lipton brand of tea serves the best variation of sweet tea, in my opinion. Oh and they actually have an organic version which makes things even better for me since I'm all about eating healthier and living a healthier lifestyle.
Generally, when drinking black tea, whether to make my homemade chai tea latte or drink black tea regularly, I always stick with my go-to brand, Bigelow tea.
Why Sweet Tea? What is Southern Sweet Tea?
Much like Lemonade (for many people), this sweet iced tea is the epitome of a Spring, Summer, Fall, or Winter—– an all around MUST HAVE in the south. Yes, ya'll—it's that serious!
For those of you who aren't familiar, Sweet Tea is not just sugar and water with a tea bag. I know. CRAZY! There's a specific process that has to happen: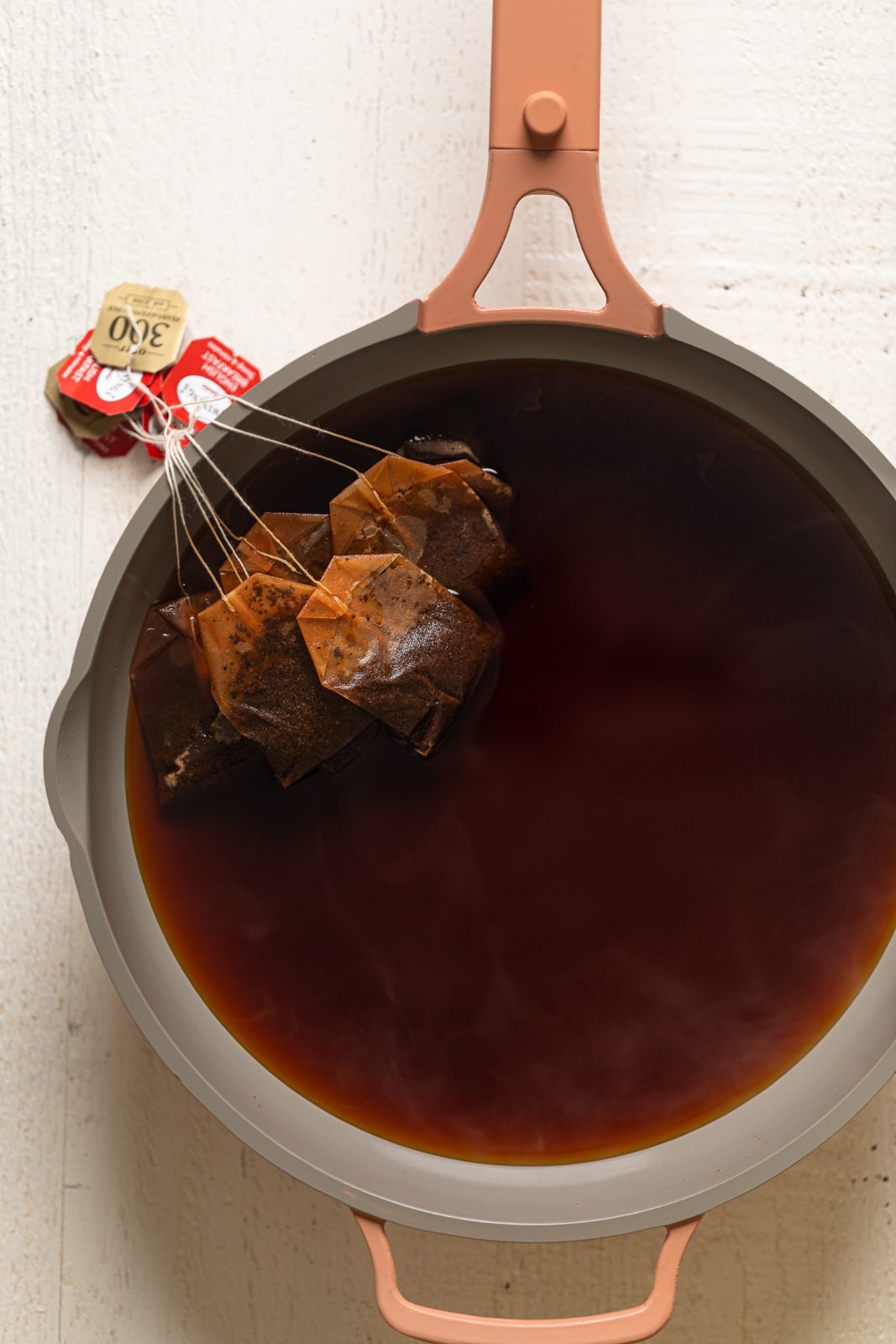 Steep (the longer the stronger the flavor).
Mix in sugar for a complete dissolve.
Add to pitcher, add lemons for added taste, and CHILL COMPLETELY before serving it with ice.
Add your favorite liquor or bourbon for a bit of pizazz (Adults-only)!
So you see, there's a complete science to this stuff, especially with the chilling of it since Sweet Tea MUST BE COLD for it to be considered the true Southern staple! Haha. Sorry if this sounds dramatic, but us Southerners are serous about our sweets——cakes, pies, banana pudding, sweet tea—you name it.
Ingredients for Southern Peach Iced Tea
Here's what you need for this Peach Iced Tea:
Peaches. You can find these in the grocery store, or slice and use fresh peaches at home. You can also use organic canned sliced peaches as well.
Lemon juice. Adds a hint of tanginess to drink.
Black tea bags. I like to use organic black tea bags, however, you can always keep things traditional with Lipton or use Peach Black tea bags.
Brown sugar. You could also sweeten this iced tea with natural sweeteners like Agave syrup or maple.
Baking soda. This is optional, but adds freshness. Learn more in this post.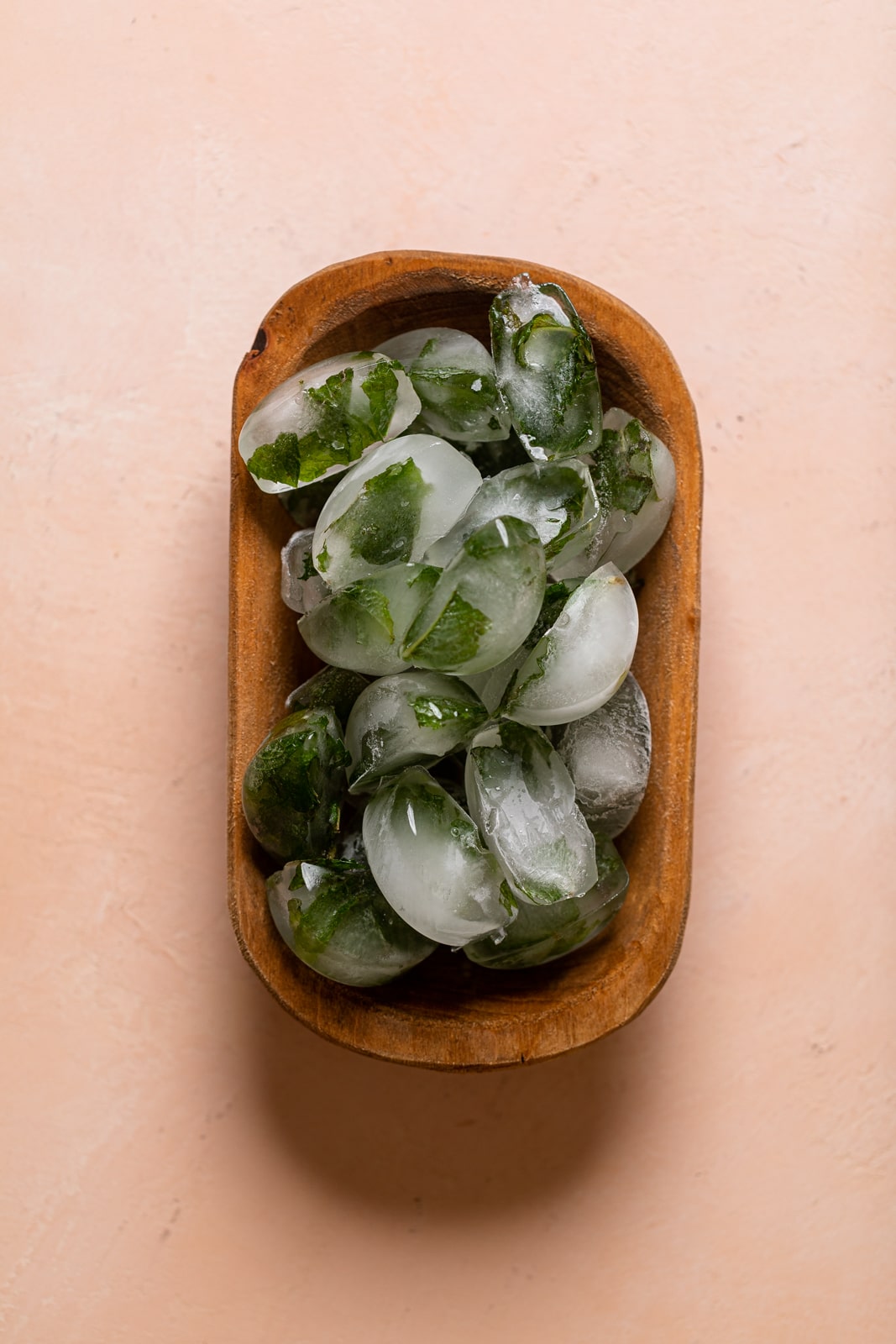 How to Make Peach Iced Tea
The most important part about this peach iced tea recipe is the brewing process for the tea along with the peaches (for a more infused flavor), letting it cool, and then mixing together the remaining ingredients. Serve this drink over the mint ice cubes and garnish with additional sliced peaches and wallah.
Mint Ice Cubes: The Perfect Way to Avoid Waste
Making any kind of drink throughout the week can sometimes mean that you might want to switch things up a bit for a different taste or fancier feel, especially when it comes to fresh mint leaves that you might have lying around unused. Yes—instead of letting your fresh mint leaves get spoiled, why not just freeze them and re-create a new drink infused with fresh mint each day? Right? Haha.
Plus, it's really simple to make, so there's that.
Here's what you need for the Mint ice cubes:
Fresh mint leaves. You can just mince these to make them easier to stuff in each ice cube tray cavity.
Agave or Honey. Adds a hint of sweetness. You can also use maple syrup.
Water.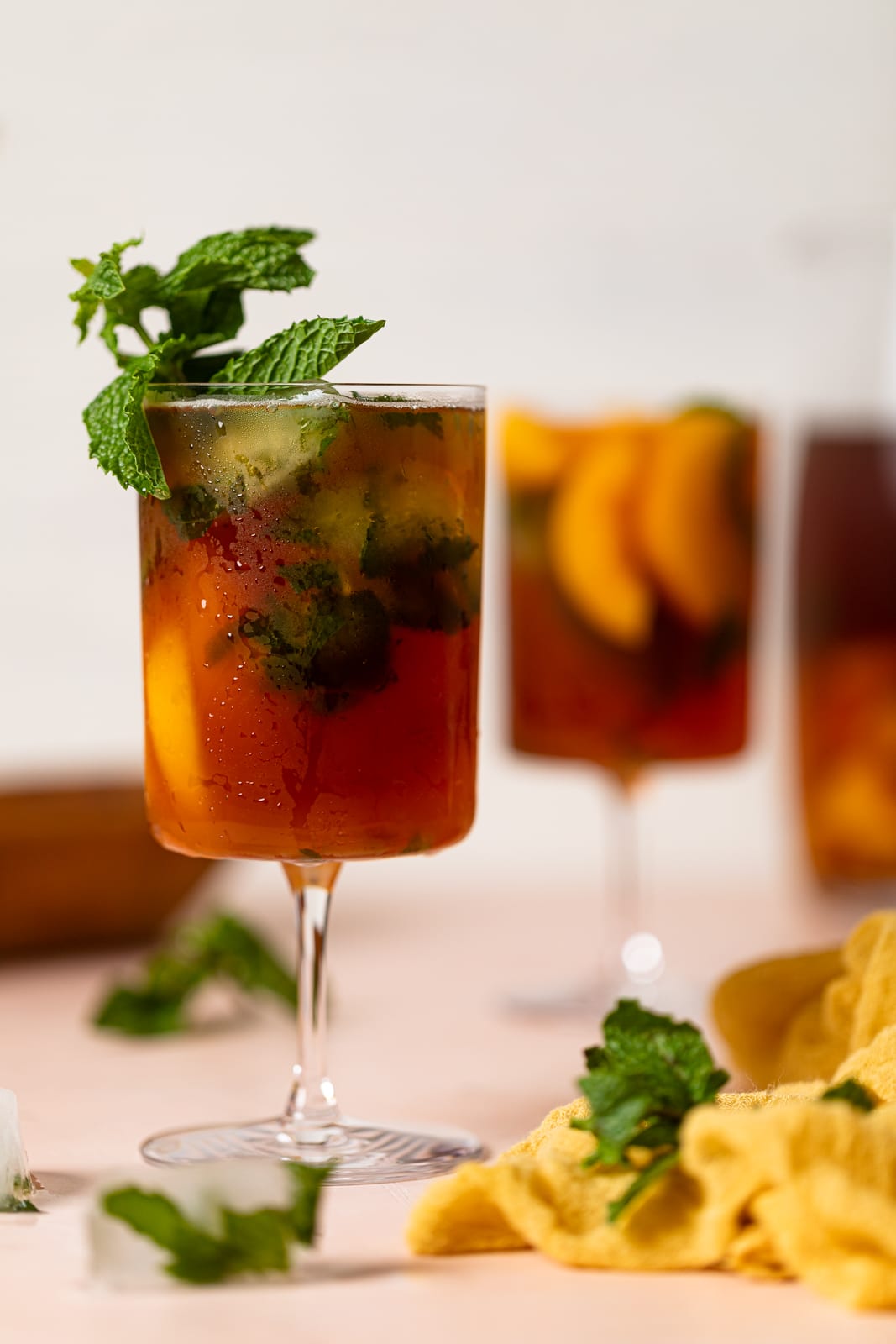 Why Add Baking Soda to Sweet Tea?
OK, so I know that this must be a shocker, but yes—you do add baking soda to sweet tea. Why? Whelp, although it seems super weird to do so, adding baking soda to your sweet tea prevents it from getting cloudy and bitter.
If you've ever tried leaving your leftover sweet tea in the refrigerator for a few days, only to find out that after a day or so, it's bitter and not as enjoyable—-then know that adding a small amount of baking soda does the trick!
In addition, just know that baking soda has health benefits as well, so it won't harm you! For one, baking soda is great for helping with indigestion and acid reflux. Also, it's great for keeping your mouth healthy among other benefits. So, the next time you add a pinch of baking soda to your sweet tea, just know that you're not adding something harmful to this glass of goodness!
Turning Peach Iced Tea into an Adult Beverage
If you'd like to make this fruity sweet iced tea a boozy cocktail-like iced tea, go for it! You can add a shot of clear liquor, like tequila or vodka in each glass of ice. Then pour in the sweet iced tea and serve! Or you can add it completely to the entire pitch of sweet tea, if desired.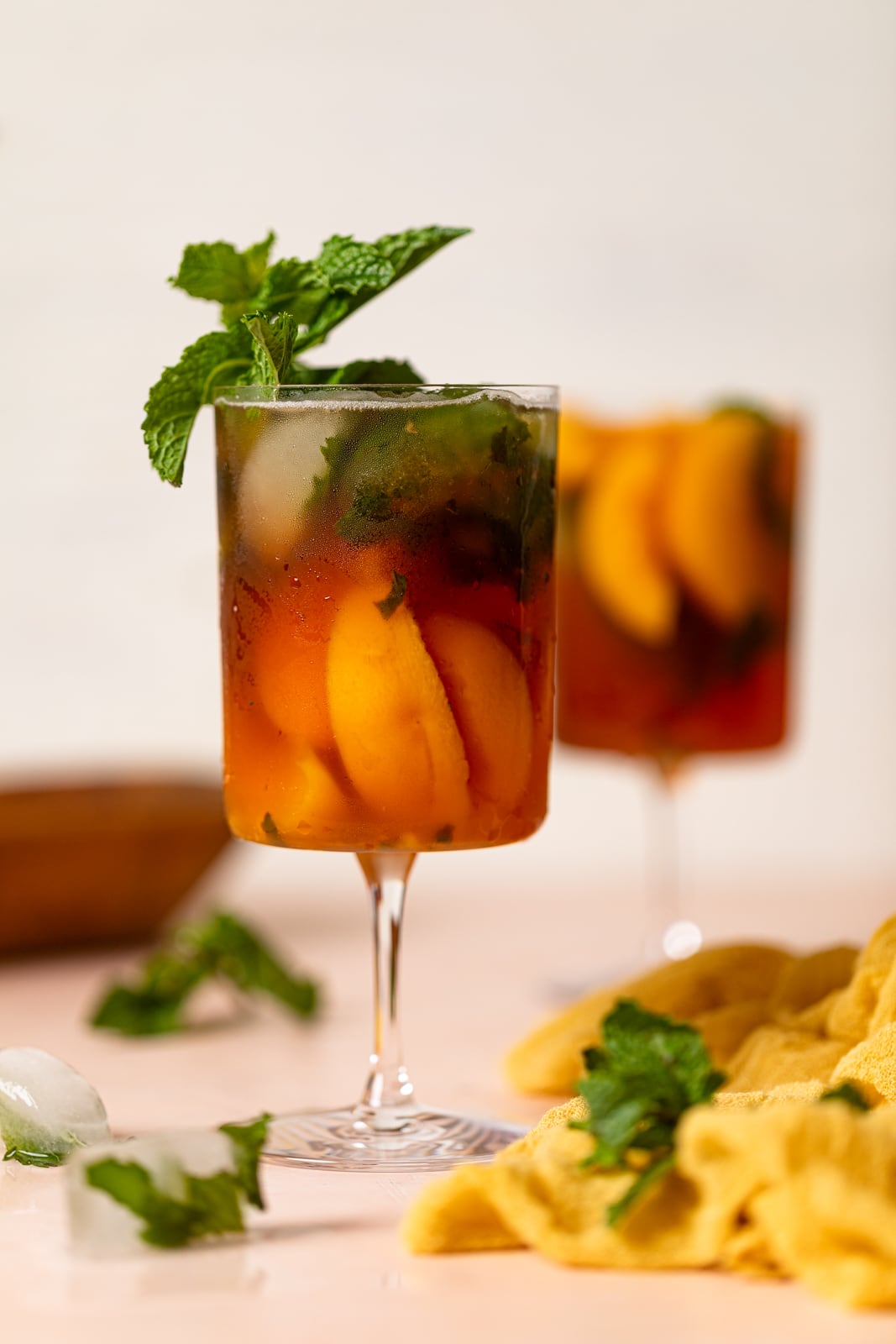 How Much Sugar for 1 Gallon of Sweet Tea?
Yes, so the major question here is—-what about all of that sugar—how much do I need to add for optimal sweetness? Firstly, I'll start by saying, there are plenty of sugar substitutes that can work for this recipe without compromising taste!
To start, you can use organic brown sugar or organic cane sugar instead of regular white sugar to keep things healthier. Also, you can substitute sugar for stevia or allulose for an even healthier option. While I haven't tried this recipe with maple syrup (because I believe that the overall taste would change), I do think that using Agave works as a great option as well.
Overall, I start out with 1 cup of sweetener and then add additional to taste depending on how "fresh" tasting the sweet tea is after adding the steeped black tea mixture and simple strawberry syrup—-usually no more than an additional ½ cup.
Garnish Ideas for Peach Iced Tea
To put a finishing touch on your peach iced tea, I recommend adding sliced peaches, lemon slices, or fresh mint leaves to your glass(es) when serving.
Can I Enjoy this Peach Tea Hot or Cold?
Of course! You can always drink this peach iced tea hot as an actual tea whenever you choose to. Just warm things up in a saucepan over the stove top when serving for greater ease. If not, you can always keep things chilled as per the instructions of this recipe.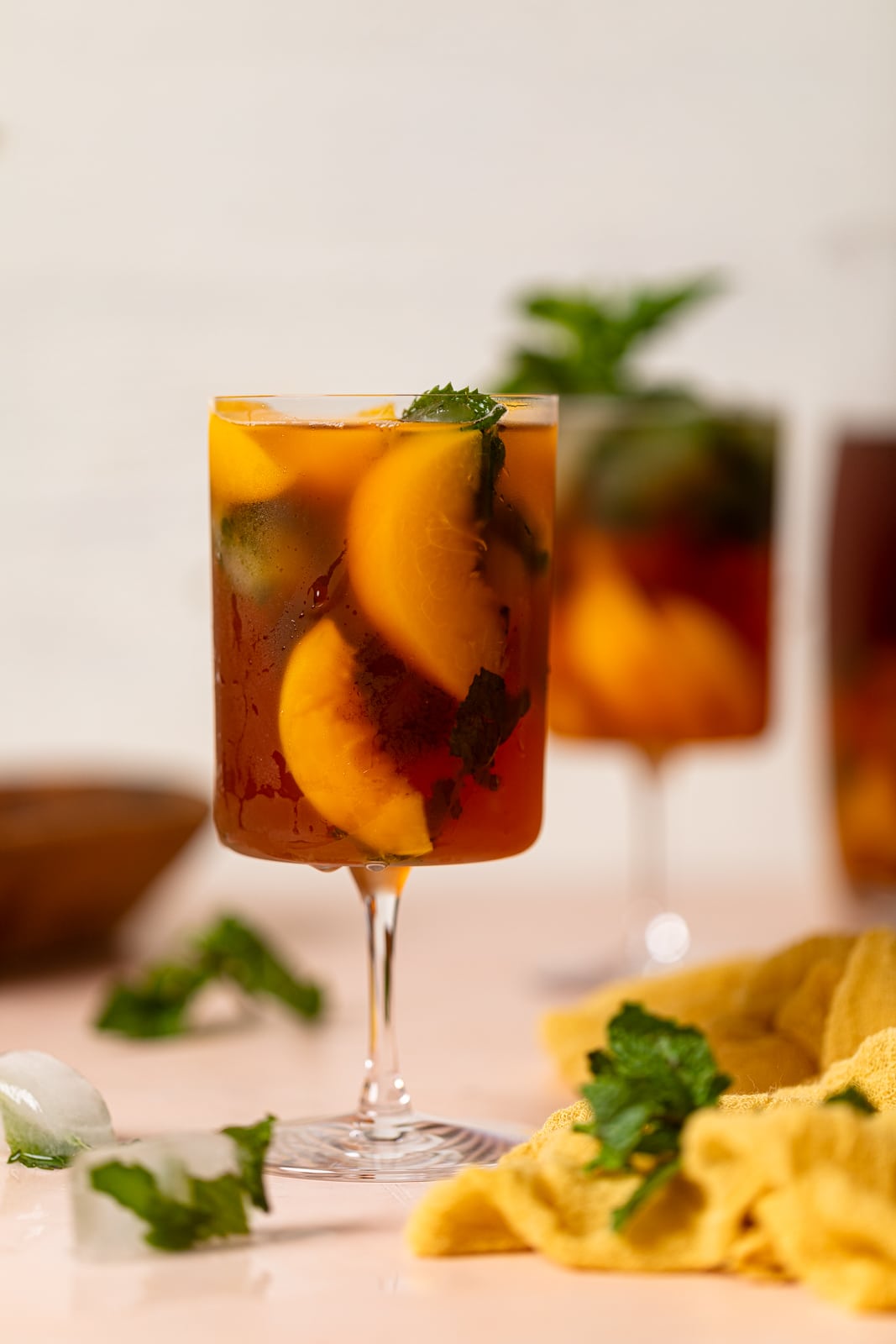 Benefits of Fresh Lemon Juice
The lemons in this drink pack some important health benefits, including:
Vitamin C, for a strong immune system
Citric acid, which can help prevent blood disorders like anemia
Soluble fiber if you include some of the lemon pulp, which helps promote healthy digestion
Can I Add Additional Flavors to this Peach Iced Tea?
Absolutely! You can always switch things up with this peach iced tea by adding additional ingredients for a nice twist of flavor such as: green tea, lemonade, raspberry, strawberry, fruit juice, etc.
How to Make Starbucks Iced Peach Green Tea Lemonade
It's truly simple to make this homemade version of Starbuck's Iced peach green tea lemonade. In a just a few steps, you'll have a nice refreshing drink:
Substitute the black tea bags for green tea bags. Brew them and let everything cool completely.
Mix together the brewed green tea and peach juice (or peach syrup).
Add in the lemonade.
Serve the drink in crushed iced and wallah!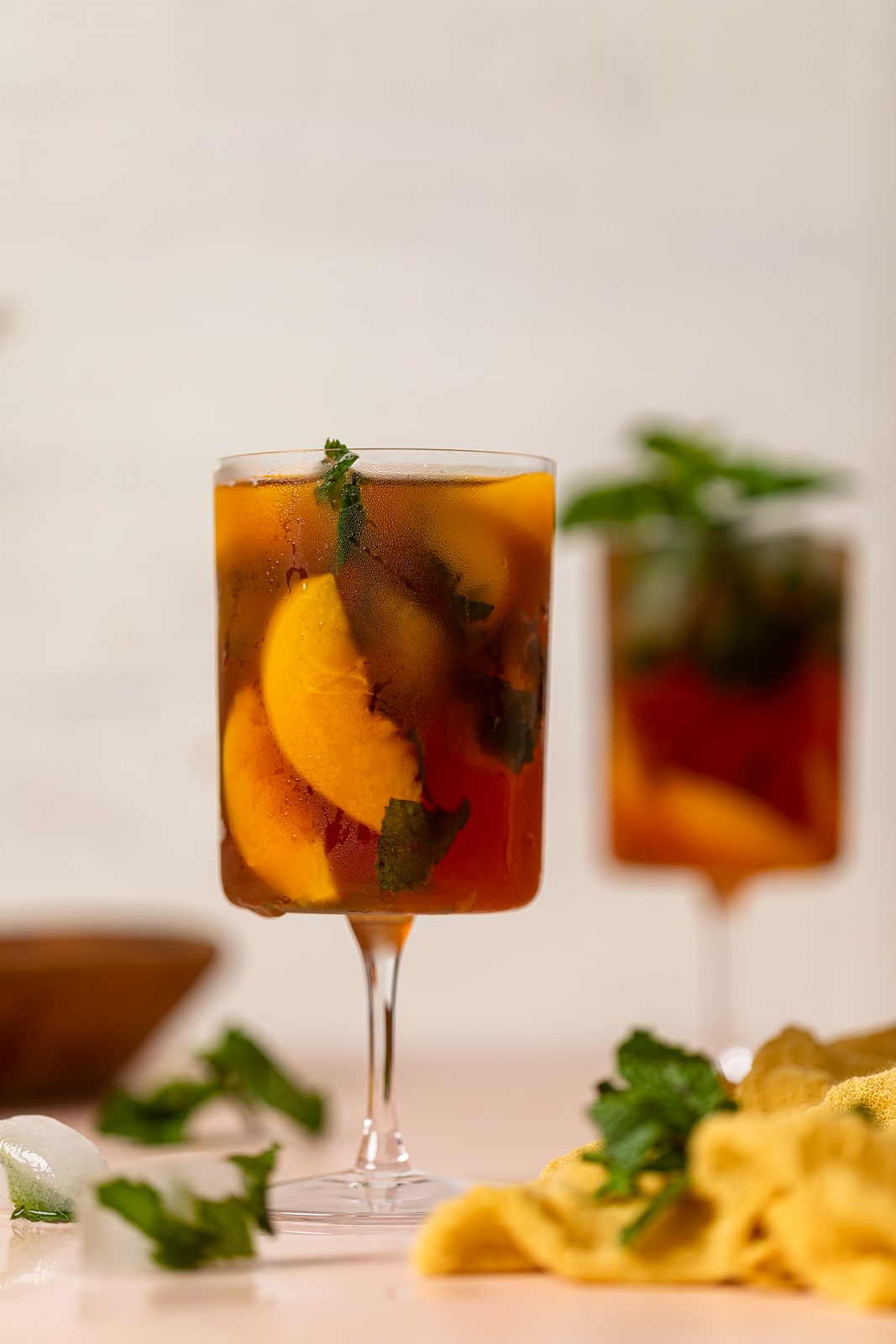 More Peach Recipes to Try!
If you love this Peach Iced Tea, then here are a few other peach infused recipes to try ASAP:
MADE OUR RECIPE(S)?
If you make this Southern Peach Iced Tea, be sure to tag me on Instagram @orchidsandsweettea!
SWEET TEA:
3

cups

water, for boiling

8-10

black tea bags, organic

(You can use 6-7 for less black tea strength)

1

gallon

filtered water

2

Tbsps

freshly-squeezed lemon juice

1

cup

organic brown sugar

¼

teaspoon

baking soda

4

medium

peaches, sliced with skin on

(See Notes!)

Sliced peaches, for garnish
TO MAKE THE MINT ICE CUBES:
In a bowl, add the water, sweetener, and minced mint leaves, whisking together until combined. In your favorite ice tray----carefully pour the mint mixture into each cavity, filling them completely full. Repeat until all ice cube cavities are filled. Add the tray(s) to the freezer and freeze for 3-4 hours (or overnight) until ice is formed.
BOIL + STEEP THE TEA:
Add 3 cups of water to a saucepan over high heat and bringing it to a boil. Add the tea bags to the boiling water and peaches and let it continue to boil for another 1-2 minutes. Turn off heat, add in the brown sugar and stir until combined and dissolved. Let tea bags continue to steep for 15-20 minutes. NOTE: The longer that the tea bags steep, the stronger the flavor. You can let them steep up to 30 minutes before it begins to get bitter.

Remove the tea bags and let the tea and peach mixture cool completely, about 1 hour or so.
ASSEMBLY:
In a large pitcher, add the gallon of water, steeped tea-peach mixture (discarding of the peach slices), lemon juice, baking soda, and mint ice cubes and refrigerate immediately to keep it cold until ready to serve. NOTE: It's best to have the sweet tea sit in the refrigerator for about 30 minutes or so.

Once sweet tea has chilled considerably, serve by pouring the sweet tea into prepared glass(es) and adding a few slices of peaches, if desired.
STORAGE: Keep any leftovers in the refrigerator, tightly covered in your pitcher or in a sealed mason jar (for smaller leftover amounts). Best if consumed within a few days.
SWEETENER: Traditionally, sweet tea is made with brown sugar, however, you can always use organic cane sugar, allulose, and stevia, instead of brown sugar.
BAKING SODA: Adding baking soda to your sweet tea prevents it from getting cloudy and bitter. If you've ever tried leaving your leftover sweet tea in the refrigerator for a few days, only to find out that after a day or so, it's bitter and not as enjoyable----then know that adding a small amount of baking soda does the trick!
PEACHES: I like to use freshly sliced peaches, however, if you don't have any---feel free to use 2-3 (15 oz.) cans of sliced peaches.
Calories:
105
kcal
|
Carbohydrates:
27
g
|
Protein:
0.5
g
|
Fat:
0.2
g
|
Saturated Fat:
0.01
g
|
Polyunsaturated Fat:
0.04
g
|
Monounsaturated Fat:
0.03
g
|
Sodium:
55
mg
|
Potassium:
88
mg
|
Fiber:
1
g
|
Sugar:
25
g
|
Vitamin A:
163
IU
|
Vitamin C:
4
mg
|
Calcium:
30
mg
|
Iron:
0.3
mg
Southern Peach Iced Tea.