This Roasted Dandelion Strawberry Tea is a delicious and good for you summertime drink with fresh berries, agave syrup and lemon juice for brightness.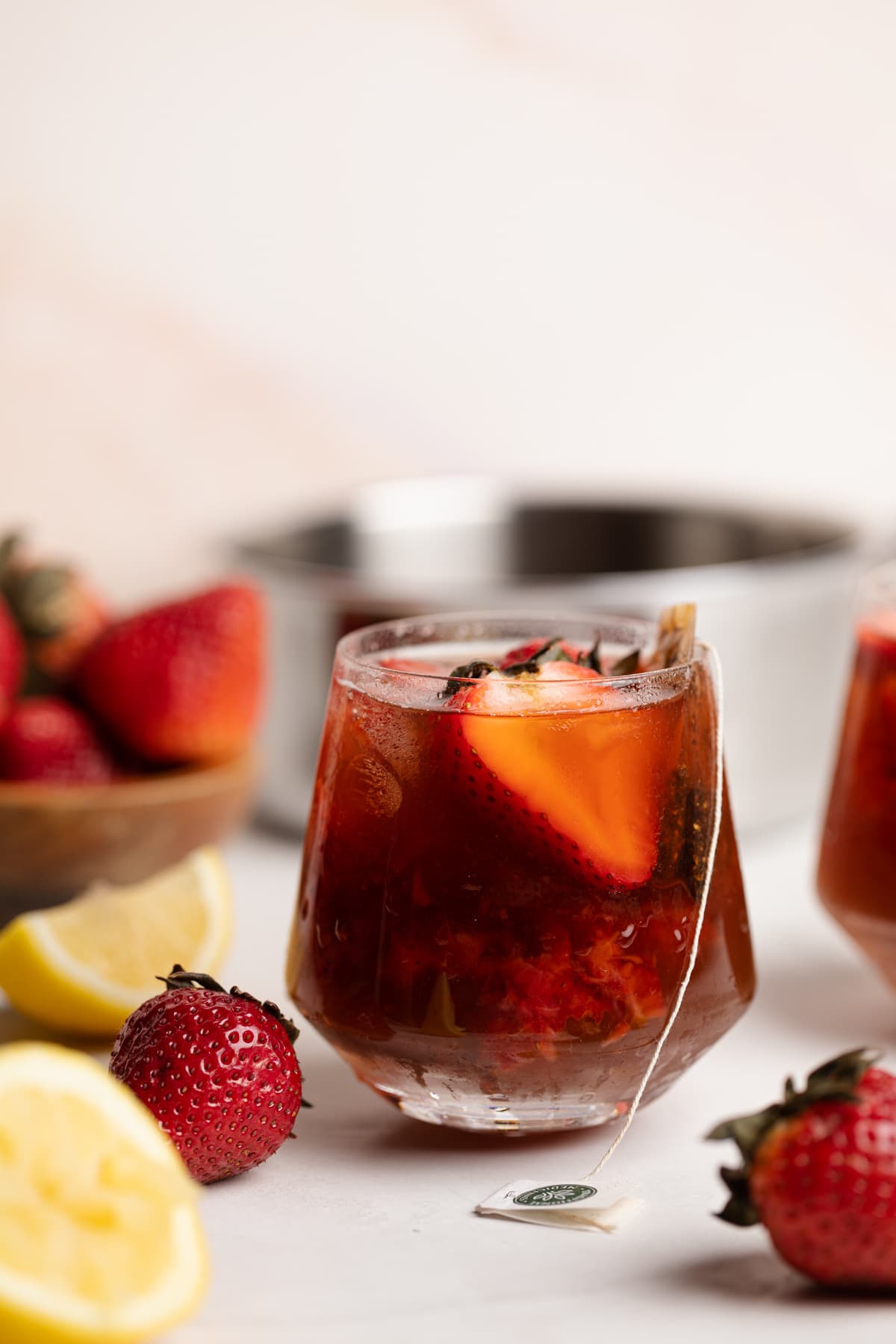 There's something so soothing and healthy-feeling about freshly brewed tea. Whether it's a steaming mug of a Vegan Chai Tea Latte with Turmeric in the winter or a refreshing Iced Chai Tea Latte when the weather is hot, I'm a total tea person.
Now that strawberries are in season and as sweet as ever, I wanted to combine my favorite berries with my favorite drink! This roasted dandelion strawberry tea is a bit bitter, a bit sweet, and a bit sour. It's the perfect balance for a sophisticated and detox-friendly afternoon pick-me-up.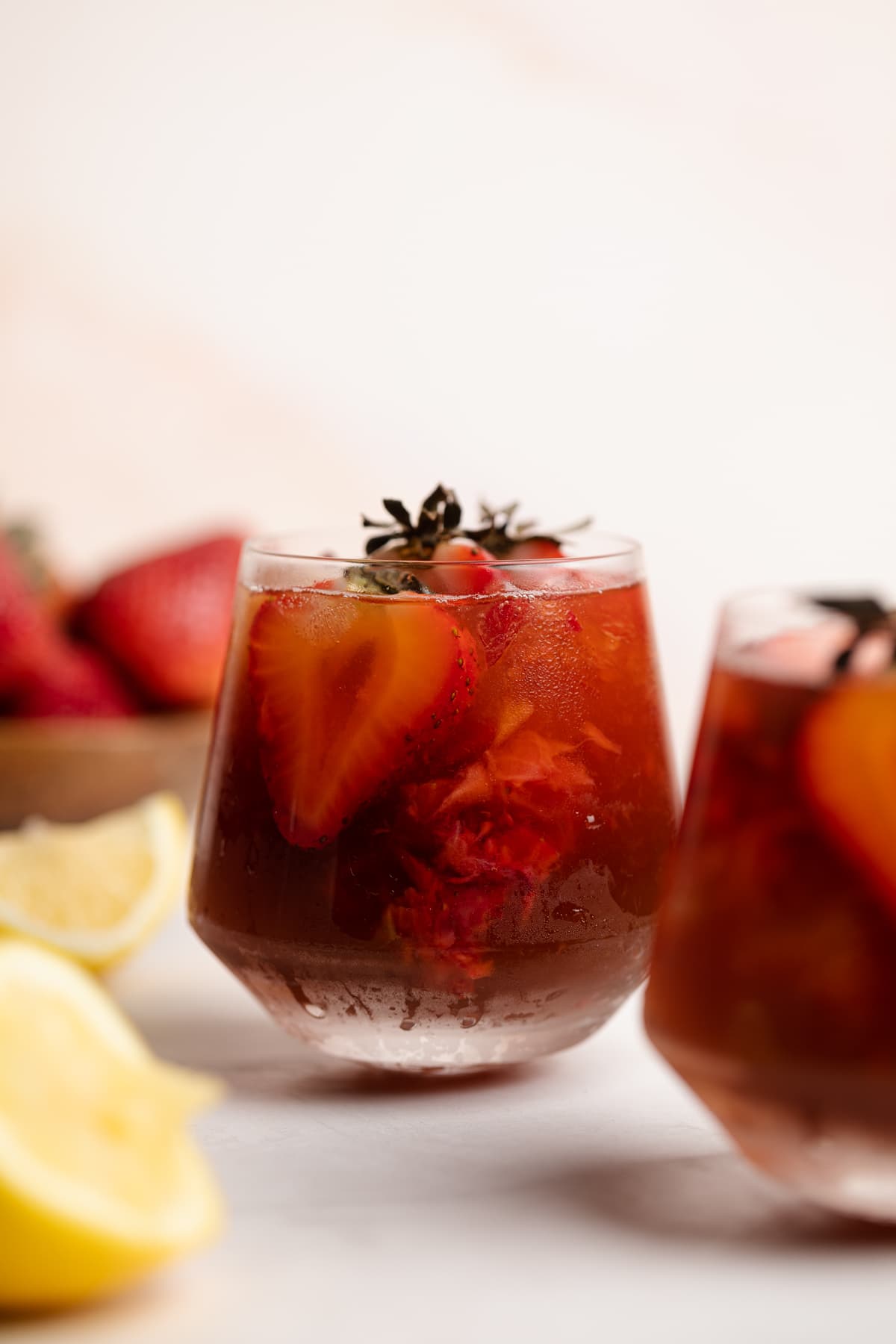 How to Make Roasted Dandelion Tea
This tea looks impressive, but it's just as easy to make as your classic brewed tea. Grab some summer berries, and you're well on your way to making a delicious homemade drink.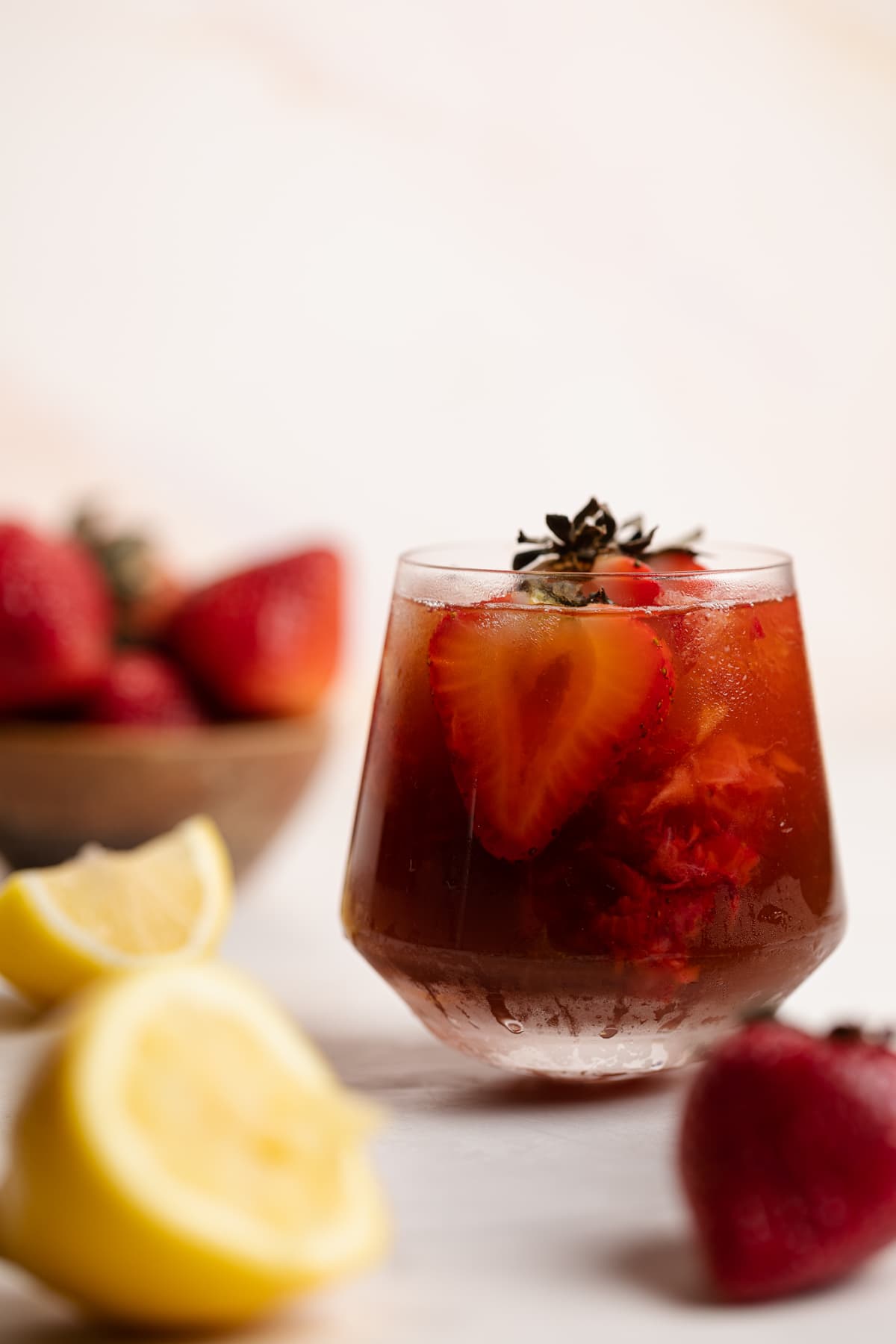 Ingredients
Here's what you need to brew a batch of dandelion and strawberry tea:
Fresh strawberries. If you can, choose organic local berries for the best flavor and nutrition. Slice them evenly so they get plenty of fruit flavor in each glass.
Roasted dandelion tea. This is a delicious herby and grassy tea that's the perfect complement to sweet, juicy berries.
Agave syrup. This is just for sweetness. You can also use honey or maple syrup.
Lemon juice. Lemon adds brightness and acidity. You can also use lime or fresh orange juice.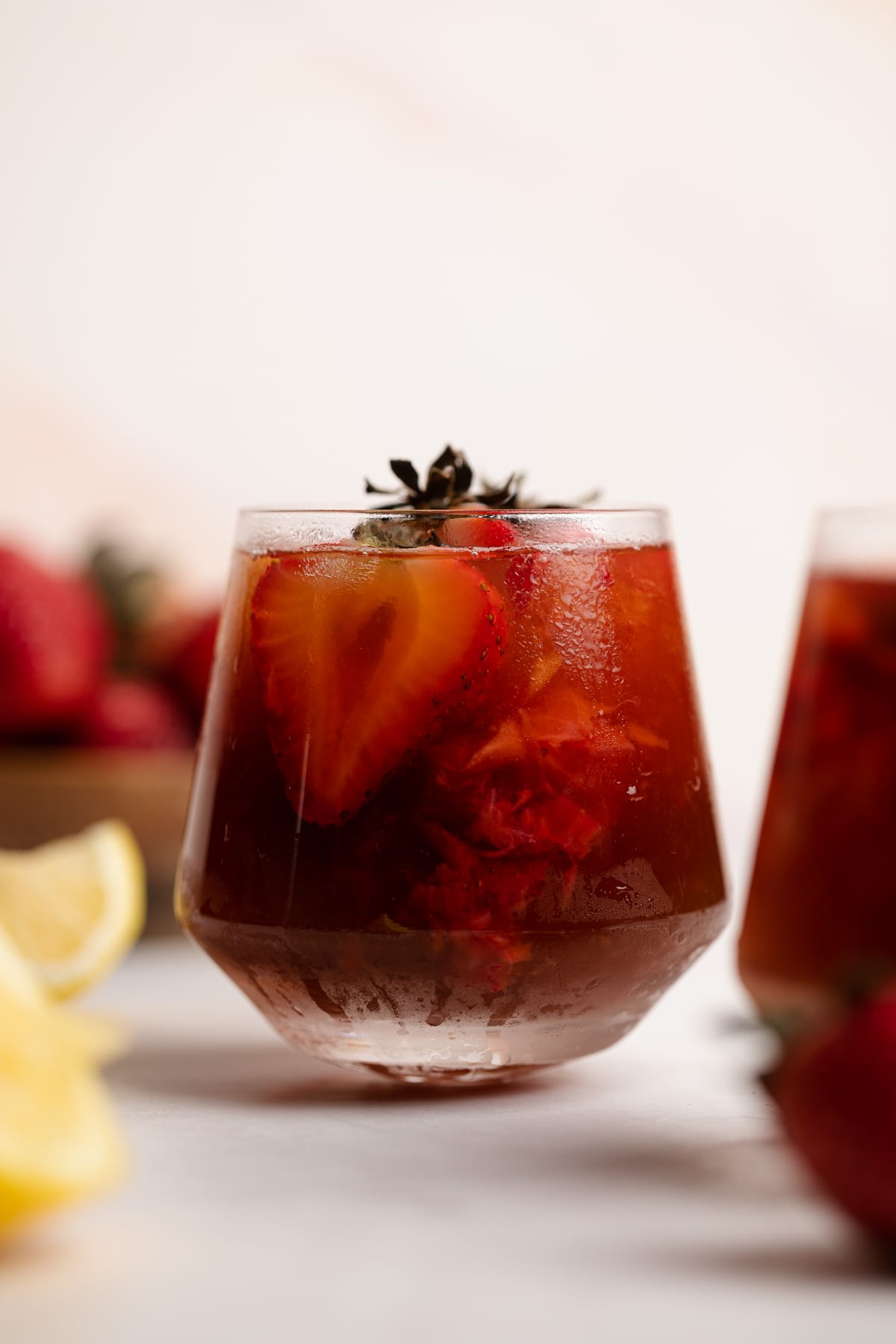 Serving
I like to add fresh strawberry slices to the serving glasses for this tea. They add a nice color, presentation and texture to the tea.
You can also add a slice of lemon and a sprig of fresh herbs like mint or basil if you like.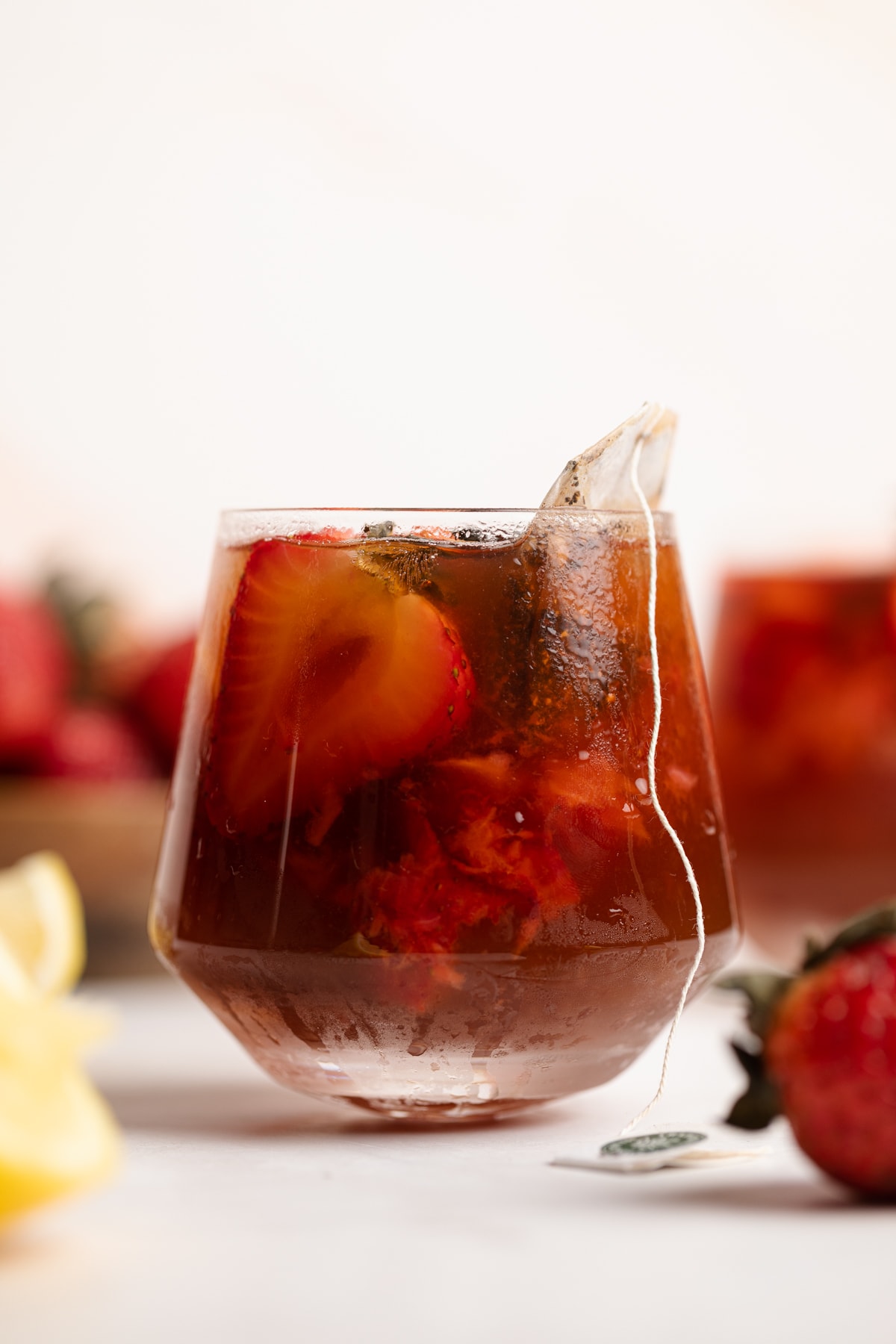 Big-Batch Strawberry Tea
You can make this tea in a big batch ahead of time. Store it in the fridge in a pitcher and reach for it whenever you want a cool, refreshing drink.
The tea will stay fresh in the fridge for up to three days.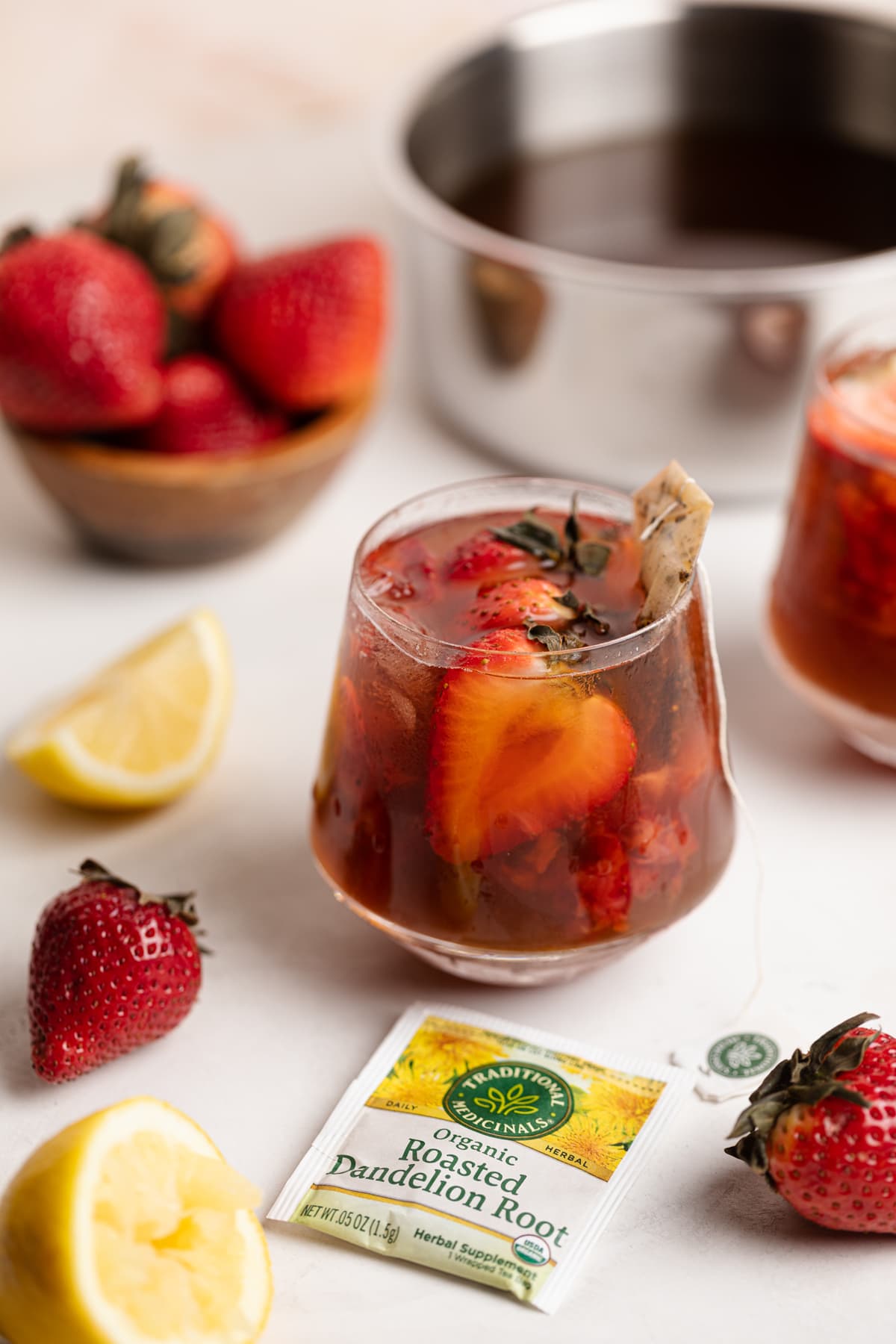 More Refreshing Drink Recipes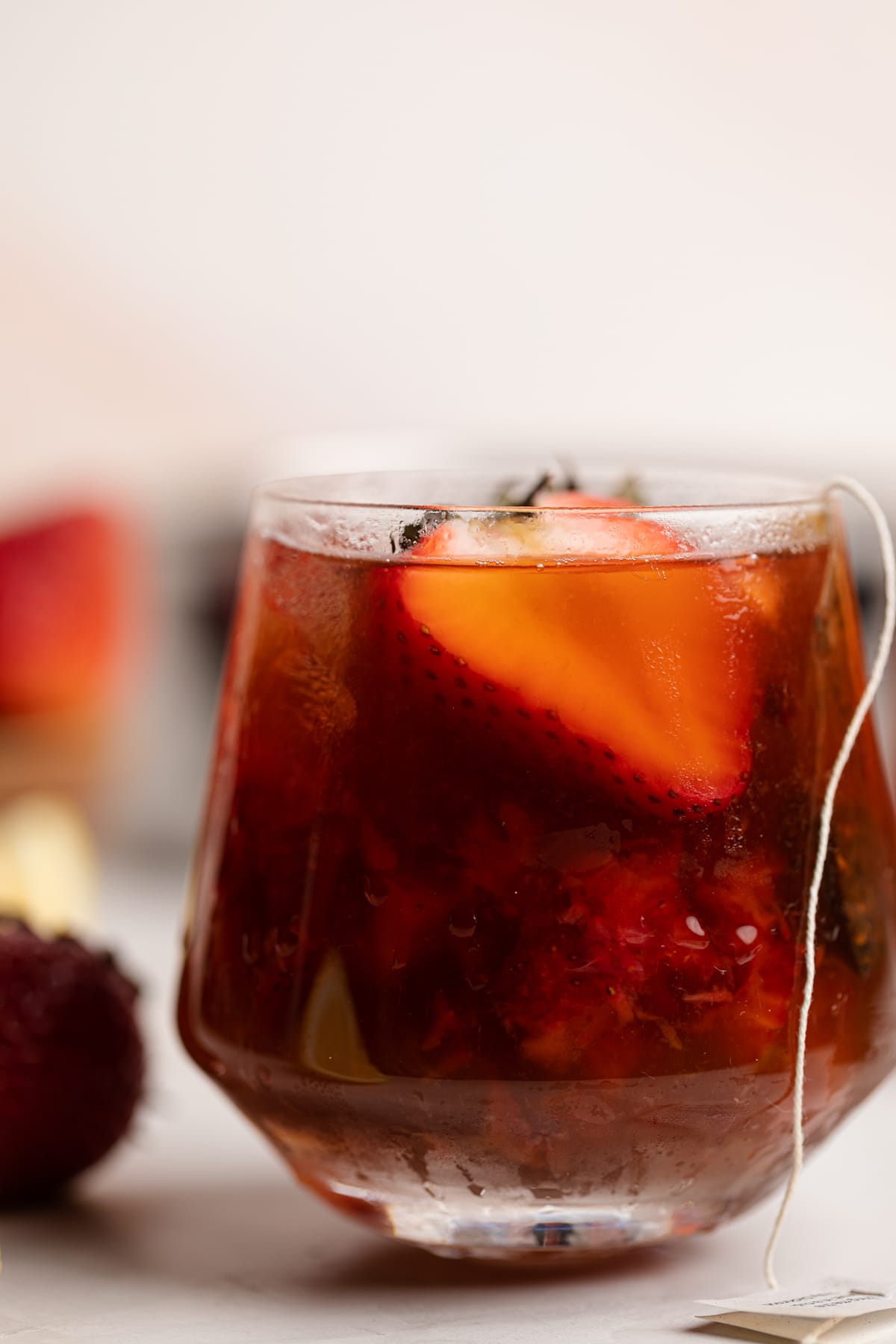 MADE OUR RECIPE(S)?
If you make this Roasted Dandelion Strawberry Tea or any other recipe from us, be sure to tag us on Instagram at #Orchidsandsweettea so that we can share the love!
4

cups

fresh water

2

cups

strawberries, stems removed + sliced

3

Roasted dandelion tea bags, organic

(You can use 4 tea bags for more strength in flavor)

4

Tbsps

Agave syrup

2

medium

lemons, freshly-squeezed
Start by adding water to a large pot over high-heat and bringing it to a boil. Add your tea bags to the boiling water and let it continue to boil for another 1-2 minutes. Turn off heat and let tea bags continue to steep for 15-20 minutes. **NOTE: The longer that the tea bags steep, the stronger the flavor. You can let them steep up to 30 minutes before it begins to get bitter.**

Meanwhile, add in the Agave and stir until it's fully incorporated. Let the mixture cool completely, about 30 minutes to 1 hour.

In a bowl, add the fresh sliced strawberries along with freshly-squeezed lemon juice, mulling (crushing) everything together until strawberries are fully broken down. Add mulled strawberry mixture to pot with cooled brewed dandelion tea, stirring until combined.

To serve, add crushed ice to glass(es), pour dandelion tea-strawberry mixture until glasses are 3/4 filled and for additional garnish, add sliced strawberries, and lemon slices. Repeat for every serving. 

Sip and Enjoy!
STORAGE: Keep any leftovers in the refrigerator, tightly covered in your pitcher or in a sealed mason jar (for smaller leftover amounts). Best if consumed within a few days.
SWEETENER: Instead of Agave syrup, you can substitute with pure maple syrup, organic brown sugar, or organic cane sugar as a syrup (sugar + water boiled over the stove top).
SERVING: You can feel free to enjoy this drink cold as is or hot as a tea. Either way is tasty.
Roasted Dandelion Strawberry Tea