This Fancy Hot Honey Lemon Mocktail has a tart finish from the lemon flavors and just the right amount of sweetness + heat from the hot honey, and fizz. This mocktail is sure to be the next big thing during any occasion and makes for a really celebratory experience for the entire family! Vegan option.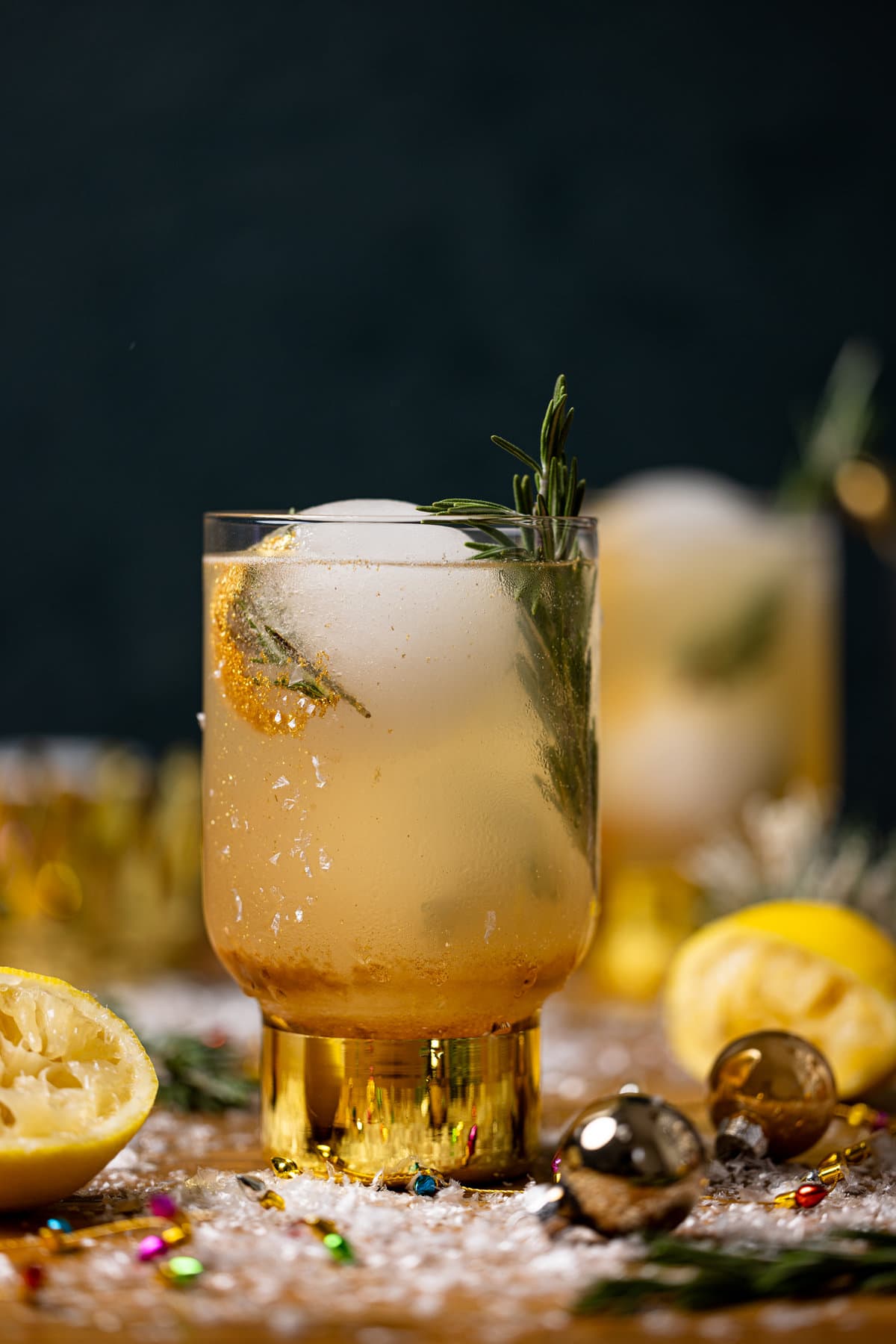 Disclaimer: This post contains affiliate links via Amazon for products that I wholeheartedly love.
As you might have already realized, mocktails are my jam and I enjoy every variation, flavor combination of mocktails that are "dressed up" (packed with fruit + garnish) or "dressed down" (less fruit + garnish). Either way---I love a good mocktail and this Fancy Hot Honey Lemon Mocktail is just one of those simple, but not simple (when it comes to looks) recipes.
This lemon + hot honey number is so fun for the entire family to enjoy, easy to make, bursting with sweet, heat, + tart flavors, has the perfect fizz, and is just delicious. It's one that I enjoyed for the New Year and plan on making throughout the rest of the year if you ask me.
As you can tell, one of the fun highlights of this mocktail is the ice cubes. Usually, I like to make fun and infused ice cubes for an extra pizazz with my mocktails, but to make things really "fancy", I chose to add edible gold glitter because why not?! Haha. I seriously think that my son enjoyed adding the glitter to the ice cube tray more than I did and he really treated it like a science experiment which was so funny.
Anyway, I truly love this mocktail and really enjoy hot honey which goes on SO MANY things by the way!
Need Hot Honey Recipe Ideas? Try These!
Southern Hot Honey Cauliflower Bites
Southern Hot Honey Fried Chicken
How to Make Fancy Hot Honey Lemon Mocktail
The first thing you need to make for these tasty drinks are the sparkle lemon ice cubes. You literally stir together the ingredients, pour it in your favorite ice cube tray, set it and forget it for a minimum of 3-4 hours (or overnight) until ice cubes are formed.
Then, you whip together the mocktail ingredients and assemble. Serve and enjoy!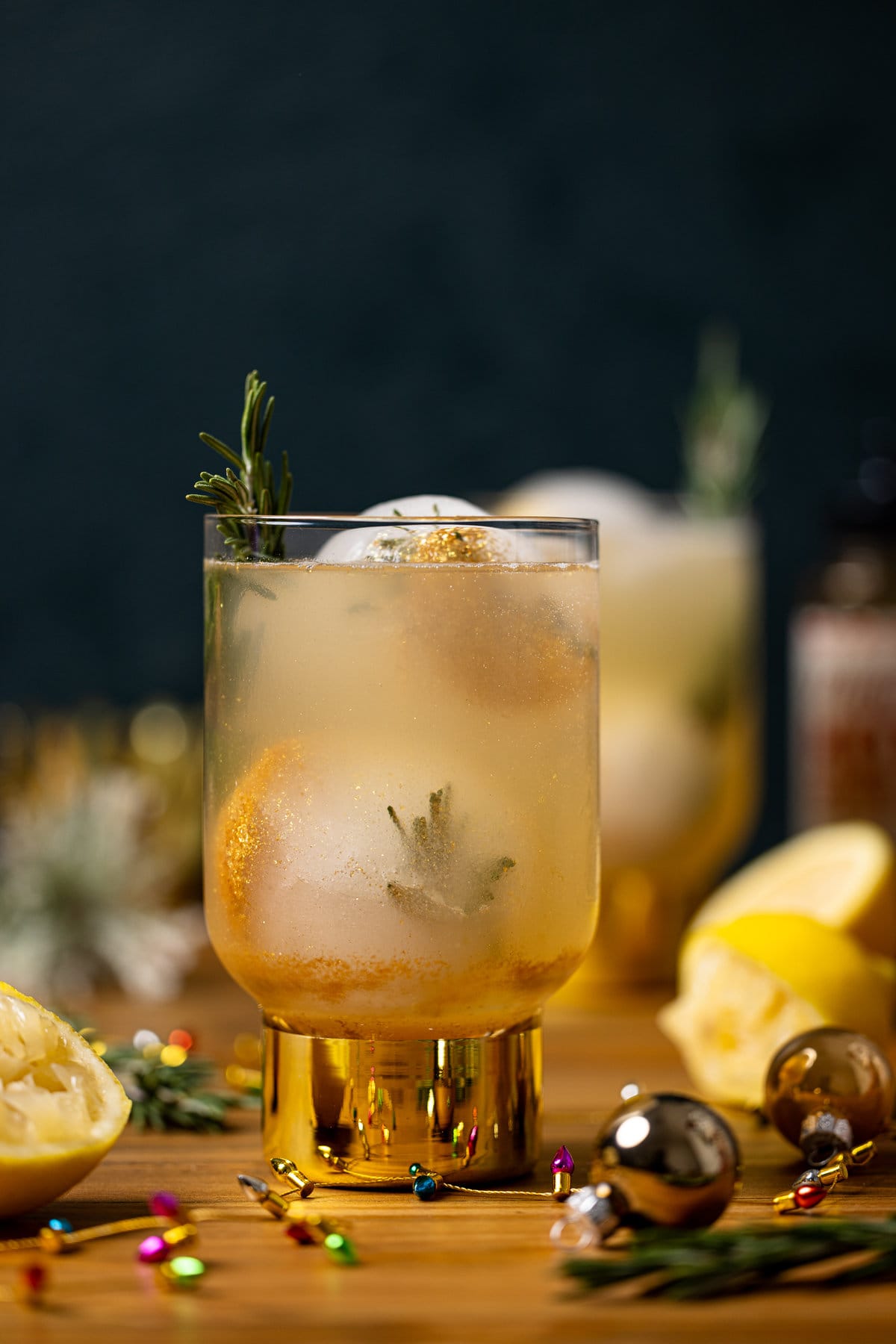 Ingredients for Fancy Hot Honey Lemon Mocktail
The main TWO components in this simple Fancy Hot Honey Lemon Mocktail recipe are ice cubes and infusion of other ingredients for the drink itself. To make your mocktail, you'll use:
Lemons. Use big, juicy lemons to add a tart pop of flavor. You need about 4 or so lemons freshly-squeezed.
Hot Honey. You can substitute with regular raw honey + 1 teaspoon red pepper flakes if that's what you have on hand. I like Mike's Hot Honey.
Lemon soda. I love using the Whole Foods brand because it's organic. You can also use ginger ale, ginger beer, club soda, etc for your topping if preferred.
Garnish. This creates a nice, fancy experience for your mocktails. I love using lemon slices and rosemary sprigs.
Water. For clearer ice cubes, it's best to use store-bought "pure" water. See post for more info!
Lemon juice. You need about 1 lemon freshly-squeezed for the ice cubes.
Gold glitter. This is totally optional but adds a nice touch to your ice cubes. I purchased edible glitter from Amazon. Head to my Amazon Shop in my "Fave Food Brands" list to grab one!
Why You'll Love This Hot Honey Lemon Mocktail
First and foremost, the flavors in this simple and easy Hot Honey Lemon Mocktail is enough to convince anyone, however, here are a few more reasons why you'll love this recipe:
It's Very Similar to the real 'feel' of a cocktail. Yes, while this mocktail doesn't have actual alcohol, I promise that it's just as complex in flavor, with a slight "burn" (very minimal), and tasty as any cocktail----obviously with additional bold flavors from the tart lemony flavor and the nice fizz.
It's super fun to make! I literally love the creation of the ice cubes and the shaking of all of the ingredients the cocktail shaker.
You save money! This by far is one of my biggest reasons for making my own drinks at home (minus the last point to come). You definitely save more money purchasing the ingredients and making your own servings at home.
It's healthier. Most of all, this is my biggest plus! I love when I am able to know what ingredients I use whenever making drinks, cooking, or baking. Making my mocktails and drinks in general at home has definitely allowed me to switch to healthier, organic ingredients which is a win, win!
How to Make Clear Ice Cubes without a a Clear Ice Cube Mold
One of the greatest phenomenons when it comes to ice cubes has been seeing super clear ice cubes from those clear ice cube systems or molds and wanting to try it, but not necessarily wanting to have a huge contraption in my freezer. Haha. Anyone else feel my pain? Whelp, no need to worry----I've done my research and tested it out a bit and have found some solutions to help those of us who don't have any fancy system to making clear ice cubes. Here are a few ways:
Tip #1: It's best to use water that is distilled or super filtered to avoid gasses and dissolved oxygen, which are the two things that cause our ice to "fog up" when frozen.
Tip #2: Boil your water and freeze your water hot. Again, much to my previous point, this removes any dissolved oxygen or gasses. Just be sure to carefully pour the hot water into your ice cube tray or mold-----preferably one made from materials that naturally insulates like silicone. Also, ensure that your tray lays FLAT while freezing.
Tip #3: Slow freeze your ice cubes. This should be done for about 24 hours, which allows any impurities to be forced out of the ice---resulting in much clearer ice.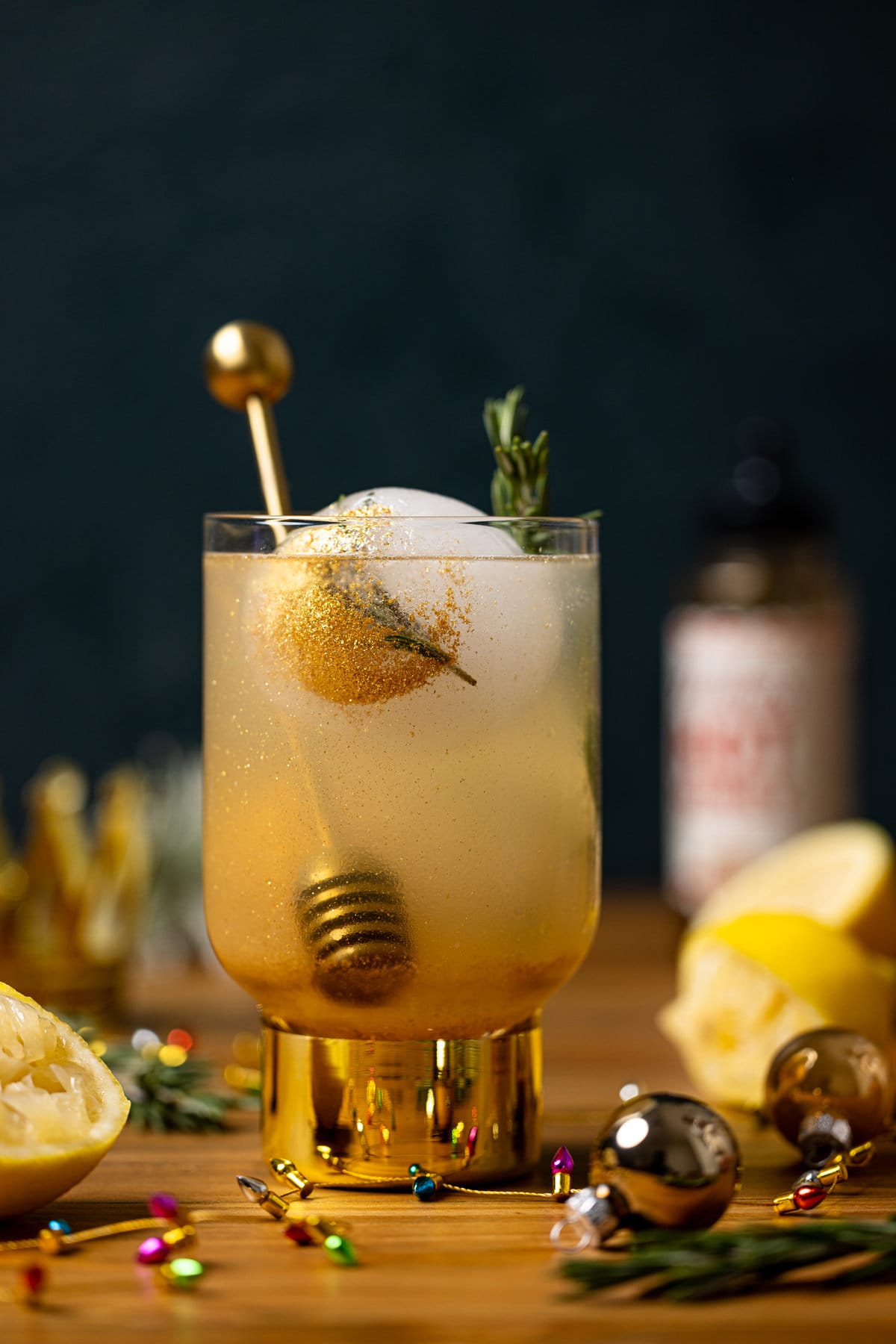 How to Make Your Own Hot Honey
If you don't have any hot honey on hand or you simply just want to make your own hot honey, no worries! It's really simple and only requires a few ingredients. You'll need: 1 cup raw organic honey (or regular honey), 1 teaspoon red pepper flakes, and 1 tablespoon apple cider vinegar. To create your own hot honey, just bring to a simmer all ingredients in a saucepan and then remove it from heat and let it cool completely before adding it to your mocktail(s). Feel free to store any remaining hot honey in an airtight glass jar (straining red pepper flakes) if desired and keep stored for up to 6 months at room temp.
Creating Additional Mocktail Servings
This Fancy Hot Honey Lemon Mocktail recipe serves two. But you'll probably want more and I can't blame you! You can easily double or triple the recipe to serve a crowd or your entire family.
The sparkle lemon mixture make about 1 ½ dozen small circular ice cubes or 4 large circular ice cubes. The amount depends on the size of your ice cubes.
Benefits of Fresh Lemon Juice
The lemons in this drink pack some important health benefits, including:
Vitamin C, for a strong immune system
Citric acid, which can help prevent blood disorders like anemia
Soluble fiber if you include some of the lemon pulp, which helps promote healthy digestion
Can I Add Alcohol?
Of course! If you'd like to serve this as a cocktail, you can add your favorite alcohol to the mixture. The best types of alcohols (just about 1 ounce or so) that work great with this hot honey-lemon flavor combo is:
Gin
Rum
Champagne
Tequila
Whiskey
Vodka
Sweetener Options? Vegan-friendly?
Absolutely! I like to add a bit of natural sweetener to most things that I drink, including this Fancy Hot Honey Lemon Mocktail. Maple syrup is a great option because it's vegan and has antioxidants, much like honey which adds additional nutrients. However, you can try any healthy sweetener substitutions you like. For the added heat, simply add 1 teaspoon or so of red pepper flakes and follow the "how to make your own hot honey" instructions for your substitute.
In fact, this post about The Best Healthy Sugar Alternatives + Substitutes is a great place to start! For example, you can use agave or maple syrup to sweeten your ice cubes in general when using other ingredients.
More Festive Mocktail Recipes
MADE OUR RECIPE(S)?
If you make this Fancy Hot Honey Lemon Mocktail, tag @orchidsnsweettea_ on Instagram and hashtag it #orchidsandsweettea!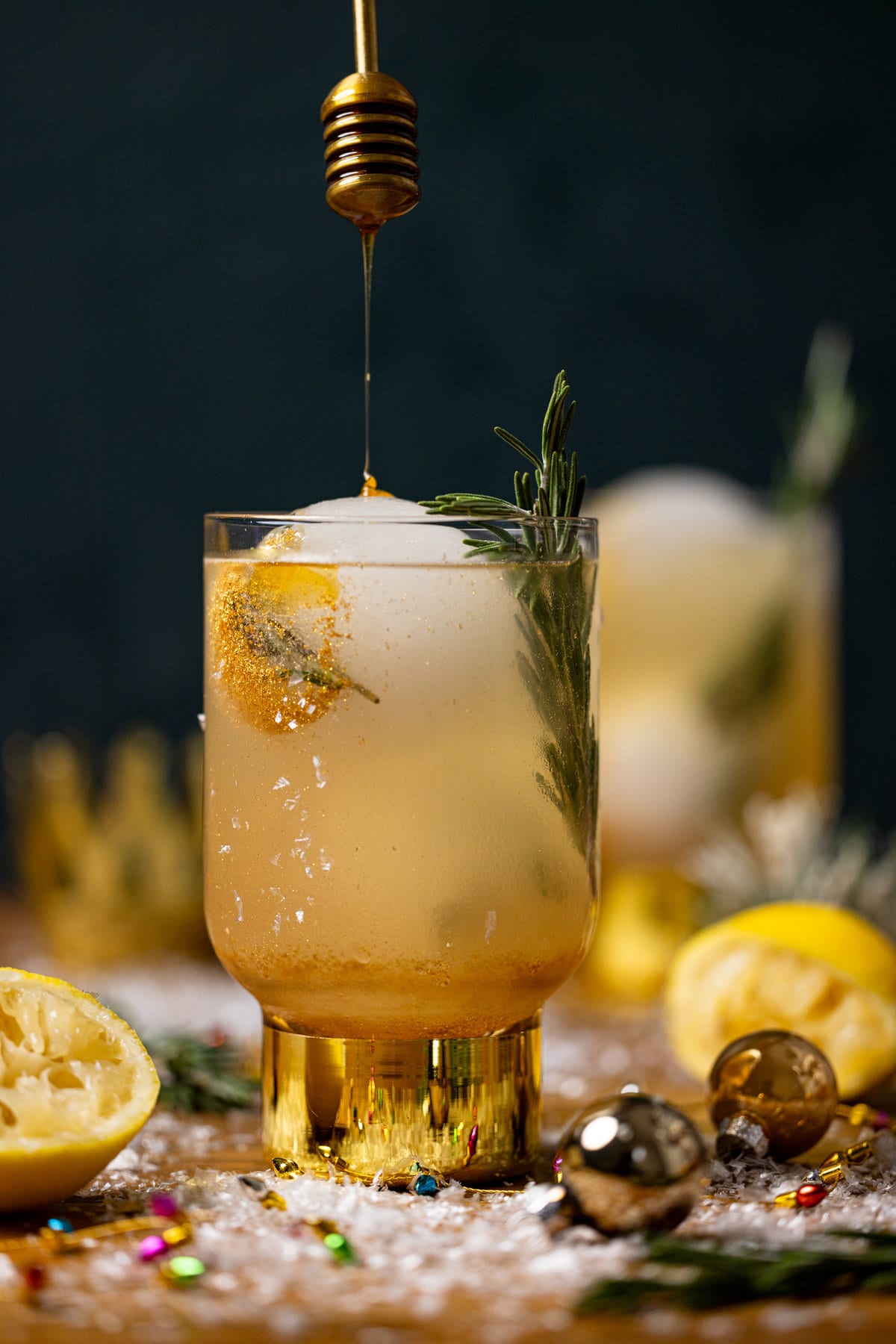 LEMON SPARKLE ICE CUBES:
2

cups

filtered water

(For clearer ice, it's best to use purified water; See Posts for more!)

1

lemon, freshly-squeezed

handful

fresh rosemary sprigs, cut into pieces

Sprinkles of edible gold glitter, optional
MOCKTAIL:
3-4

lemons, freshly-squeezed

½

cup

hot honey

(I like using Mike's Hot Honey; Adjust based on sweet/heat preference!)

Lemon soda, for topping

(You can also use another bubbly drink like ginger ale, ginger beer, or sparkling water)
TO MAKE THE LEMON SPARKLE ICE CUBES:
In a bowl, add the water, edible gold glitter (if using), and lemon juice, whisking together until combined. In your favorite ice tray----carefully pour the lemonade mixture into each cavity, filling them ¾ full followed by a few pieces of the cut rosemary sprigs. Repeat until all ice cube cavities are filled. Add the tray(s) to the freezer and freeze for 3-4 hours (or overnight) until ice is formed.
TO MAKE THE MOCKTAIL:
In a cocktail shaker, add the freshly-squeezed lemon juice and hot honey, shaking it together until combined. NOTE: You can also whisk everything together in a bowl if it's easier.

ASSEMBLY: Add lemon sparkle ice cubes to glass(es), Add the mocktail mixture until ½ filled followed by the lemon soda or bubbly of your choice. For additional garnish, add lemon slices, and/or rosemary sprigs, if desired. Repeat for every serving. 

Sip and Enjoy!
SERVINGS: To make additional mocktails, simply double or triple ingredients, depending on need.
ALCOHOL: If you'd like to keep this recipe dairy-free, but want to spruce things up with alcohol, feel free to add 1 ounce of rum, vodka, etc.
EQUIPMENT: Here, I've curated a list of drinkware and mocktail essentials that I use to achieve my favorite drinking experiences, especially with this Fancy Hot Honey Lemon Mocktail. Everything from my fave glassware, cocktail shakers, ice cube trays, and more. SEE THEM HERE!
Calories:
320
kcal
|
Carbohydrates:
90
g
|
Protein:
3
g
|
Fat:
1
g
|
Saturated Fat:
0.1
g
|
Polyunsaturated Fat:
0.2
g
|
Monounsaturated Fat:
0.03
g
|
Sodium:
20
mg
|
Potassium:
342
mg
|
Fiber:
6
g
|
Sugar:
75
g
|
Vitamin A:
48
IU
|
Vitamin C:
115
mg
|
Calcium:
68
mg
|
Iron:
2
mg
Fancy Hot Honey Lemon Mocktail.