You can now enjoy the Best White Russian Mocktail, which is a creamy, sweet, and unique drink that highlights the delights of a nice pick-me-up with the inclusion of coffee. This recipe only takes 5 quick minutes and is perfect for non-drinkers, kids, or anyone else who enjoys a creamy drink! Dairy-free option.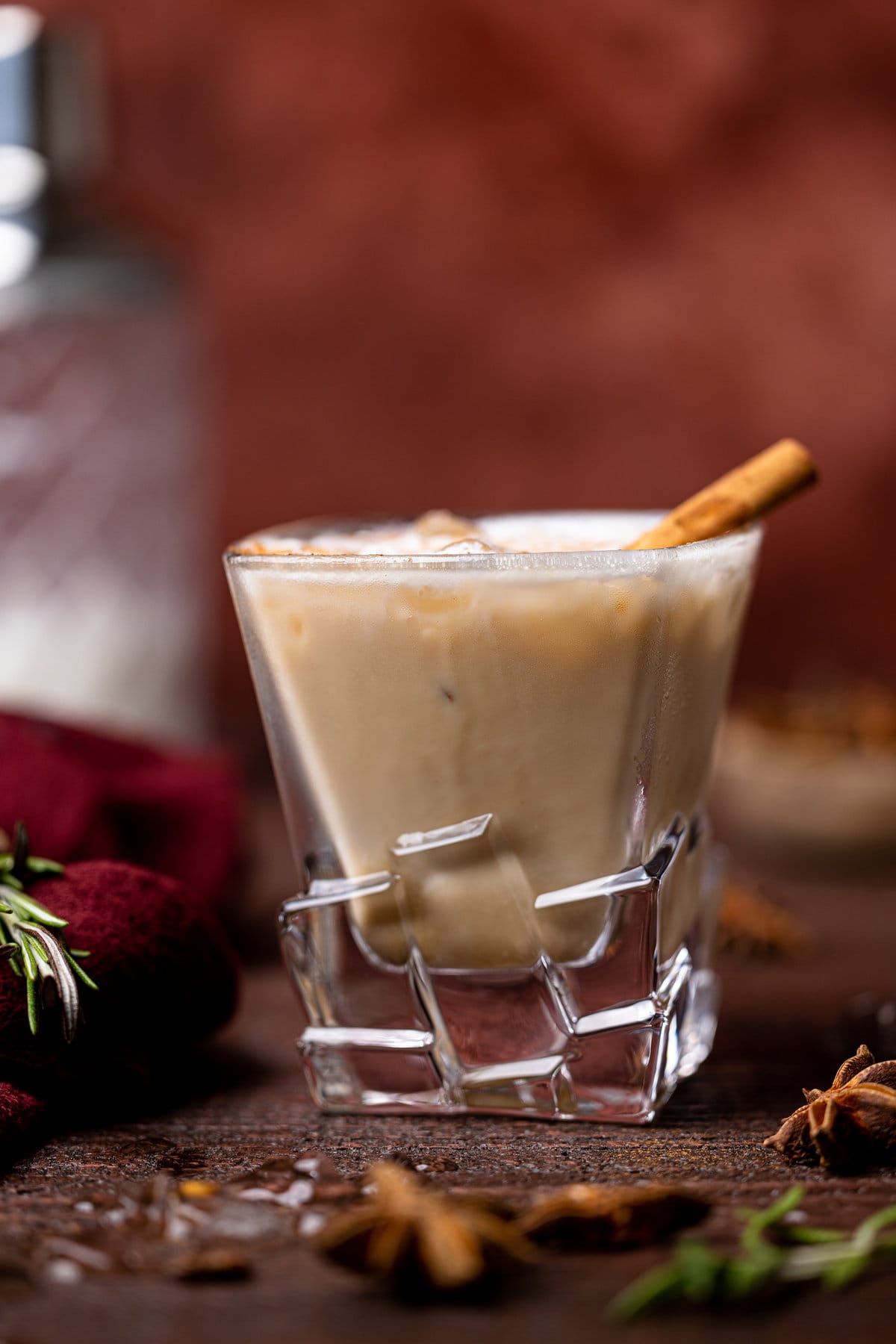 Disclaimer: This post contains affiliate links via Amazon for products that I wholeheartedly love.
Any time I get a chance to share a coffee-based drink or mocktail like this White Russian Mocktail, I get ultra excited. While there are many classic and traditional cocktails available all over the internet, I know that if you're looking for something without alcohol without feeling like you're missing out----then these mocktails are for you!
Honestly, I can count the amount of times I've tried alcohol of some sort. Literally, I can count of one hand, which I know if truly insane for some people. Haha. However, I've just never been a fan, which is why I chose to create mocktails on Orchids + Sweet Tea. Plus, this Brown Sugar Peach Mint Julep Mocktail is such a refreshing twist on a classic also!
I can't tell you how many messages, emails, and comments I get about how thrilled many of you are with the options that I provide for mocktails. As always, I love giving you the option of adding alcohol if you feel like it because why not?! I'm not about restricting you based on my own preference because I am a believer that we all have a preference.
So, if you're into creamier mocktails like this one, then this Sugar Cookie Mocktail and Jamaican Rum Cream (Alcohol-Free) are amazing drinks to give a try next!
What is in a Classic White Russian?
Basically, a White Russian is a cocktail made with vodka, coffee liqueur, and cream served in an old fashioned glass.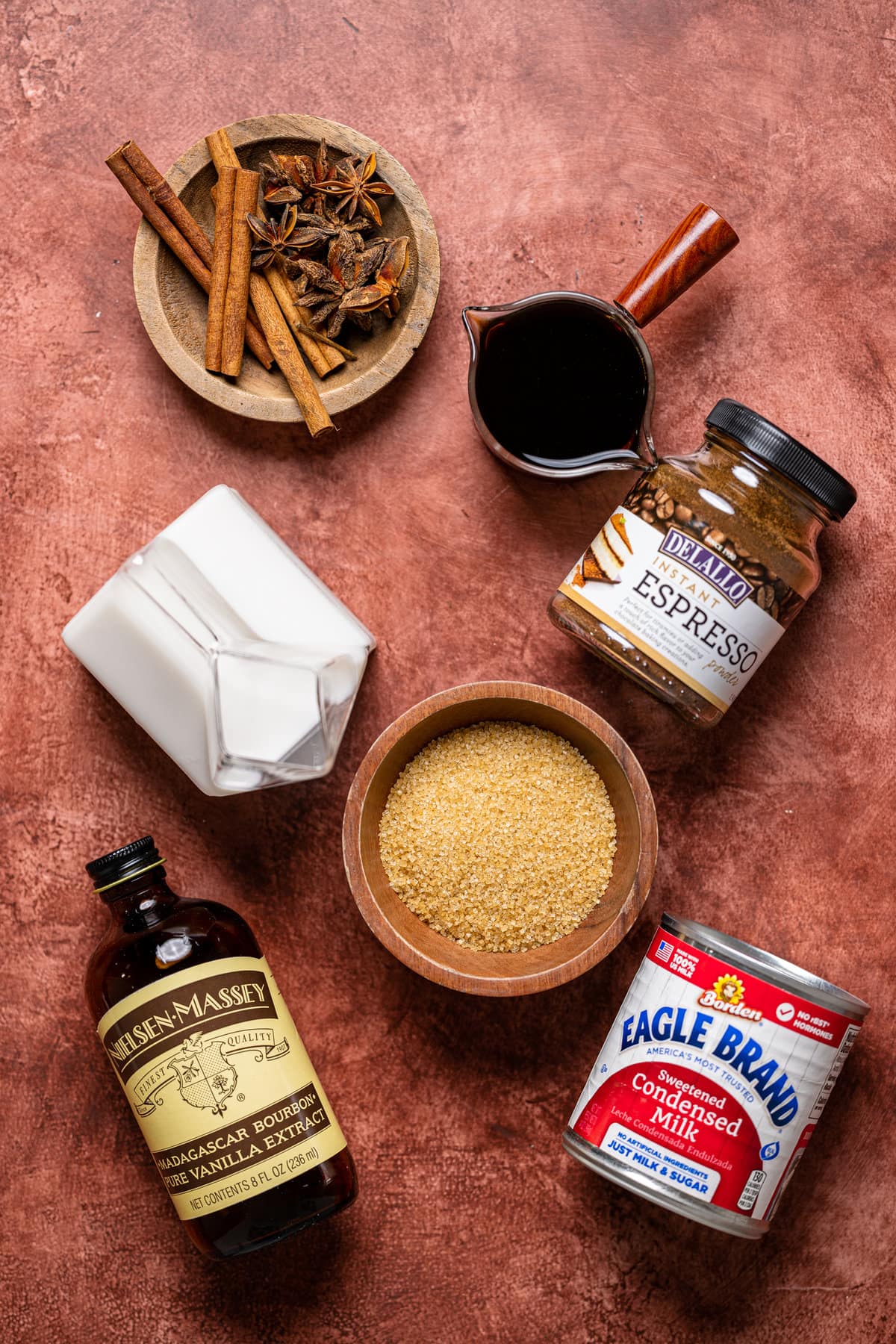 How to Make the Best White Russian Mocktail
Ingredients for Alcohol-Free Kahlua Substitute
The tangy flavor in these drinks comes from a homemade Kahlua substitute. And guess what? You only need four ingredients (plus water) to make this specific version.
Brown sugar. I use organic to make sure it's vegan
Instant coffee. Espresso powder also works.
Vanilla. Creates a nice addition of flavor.
Cinnamon. This adds a slight warming spice profile to this drink.
Best White Russian Mocktail Ingredients
The main component in this simple homemade White Russian Mocktail recipe is the simple Khalua substitute, sweetened milk mixture, and the coffee. To make your drink, you'll use:
Khalua substitute. I recommend using instant coffee if you don't want to include any form of espresso in this drink.
Vanilla. to balance the richness of coffee.
Cold brew. For a sweeter, milder taste than espresso or strong coffee.
Condensed milk. For this recipe, I used regular condensed milk, however, you can totally substitute with a dairy-free version by Let's Do....Organic (Edwards & Sons). Such a nice creamy substitute.
Almond milk. Adds a nice smoothness to drink. You can also use coconut, oat, or cashew milk.
Crushed or whole ice. The best highlight of this drink to keep things cold. Crush your ice or use a nice ice cub tray.
Coconut whipped cream. For a nice smoothness after every sip, I like to top with coconut whipped cream. Make your own or use a store-bought version like So Delicious Dairy-Free.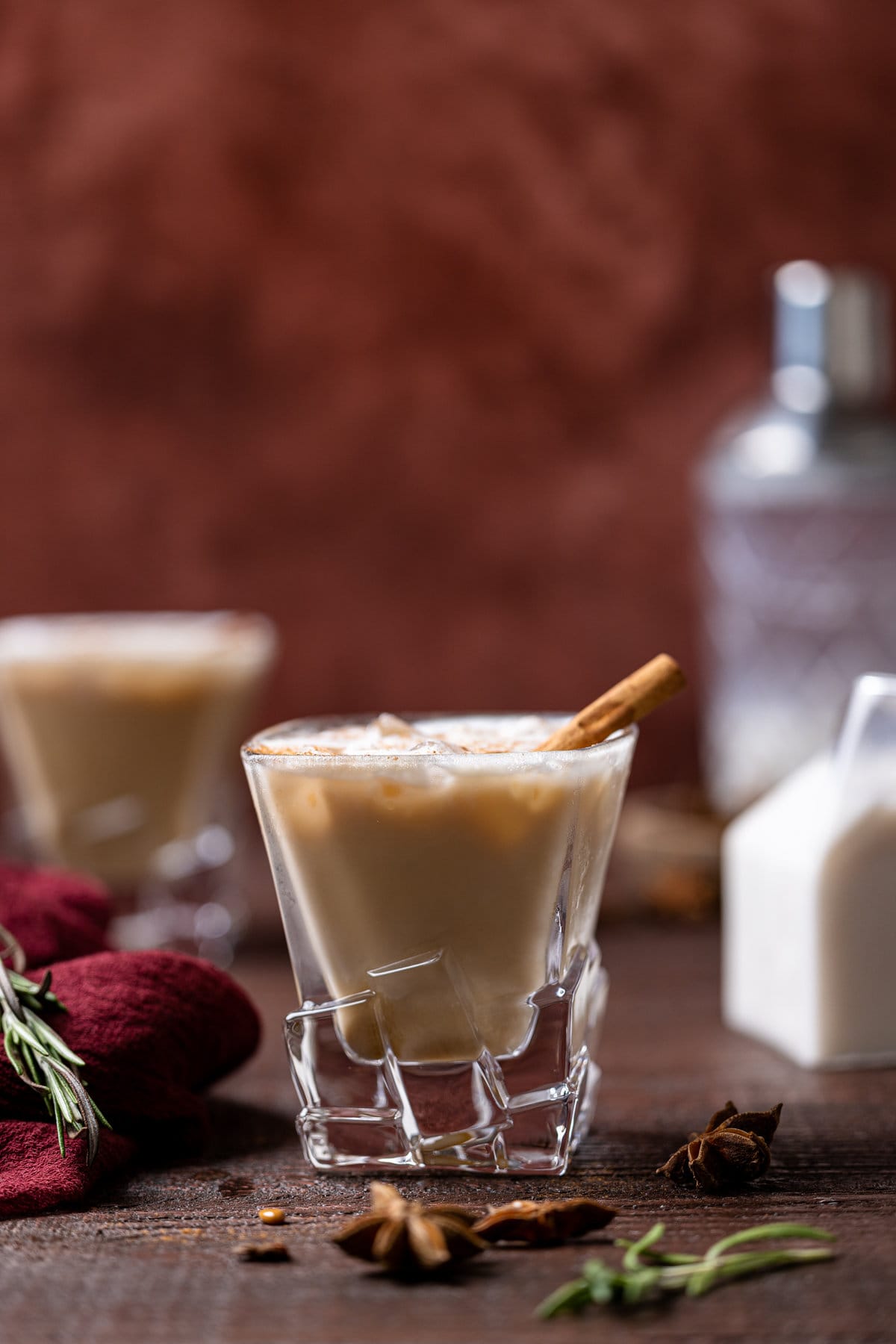 Traditional White Russian with Alcohol
If you don't mind making this White Russian the traditional way with alcohol, then feel free to add 2 ounces of vodka in place of cold brew and 1 ounce of Khalua instead of the substitute. In addition, no need to use Almond milk. Just note that if adding alcohol, I highly recommend using full-fat dairy like heavy cream, etc. to prevent "curdling".
Garnishes and Serving White Russian Mocktail
These Best White Russian Mocktails are sure to be a show-stopper, therefore, understanding how to best spruce them up for a special occasion is important. Before serving, you can dress them up even more with festive toppings like:
Coconut whipped cream. You can use regular dairy whipped cream if you aren't concerned with it being dairy-free.
Cinnamon stick. A stick of two of cinnamon adds a nice kick of flavor and makes for a simple garnish.
Cinnamon. This add a dramatic touch and I love adding a bit more warm spice to my drinks.
Can I Use Other Types of Milk?
Absolutely! If you'd like to switch things up with the type of plant-based milk that you use—–that's totally fine! The world of plant-based milk is constantly expanding. From the classics like coconut milk, cashew milk, soy milk and almond milk, we now have delicious options like oat milk, and even potato and quinoa milk.
SHOP MY FAVORITE DRINKWARE ITEMS AND ACCESSORIES!
Here, I've curated a list of drinkware and mocktail essentials that I use to achieve my favorite drinking experiences, especially with this White Russian Mocktail. Everything from my fave glassware, cocktail shakers, ice cube trays, and more. SEE THEM HERE!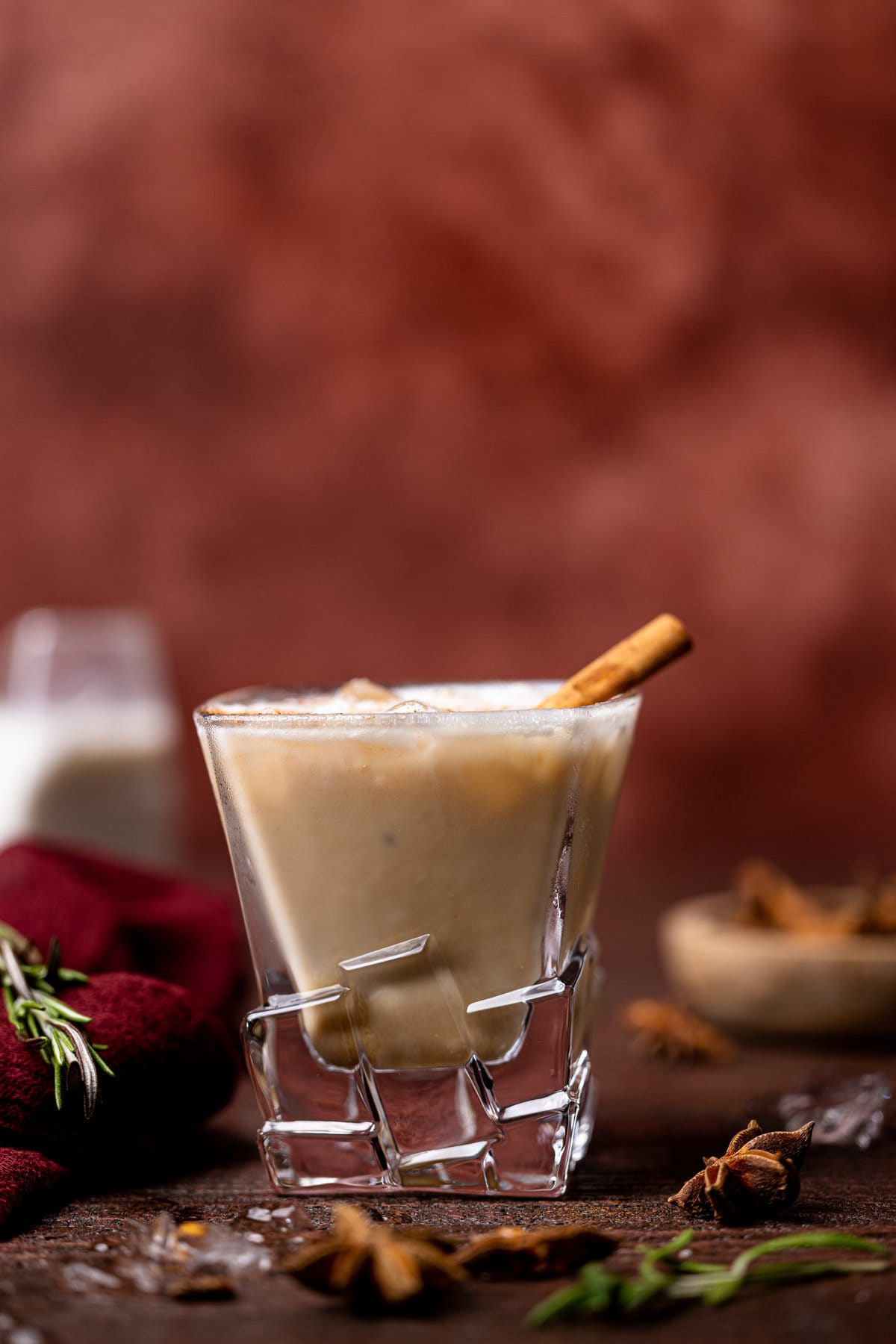 Need A Pick-Me-Up without Coffee?
I decided to do a bit of research and I found a few great healthy alternatives to coffee. Now, you'll be surprised to know that these options give you the same added boost that you need along with some other additional benefits, so be sure to give them a try when you get a chance.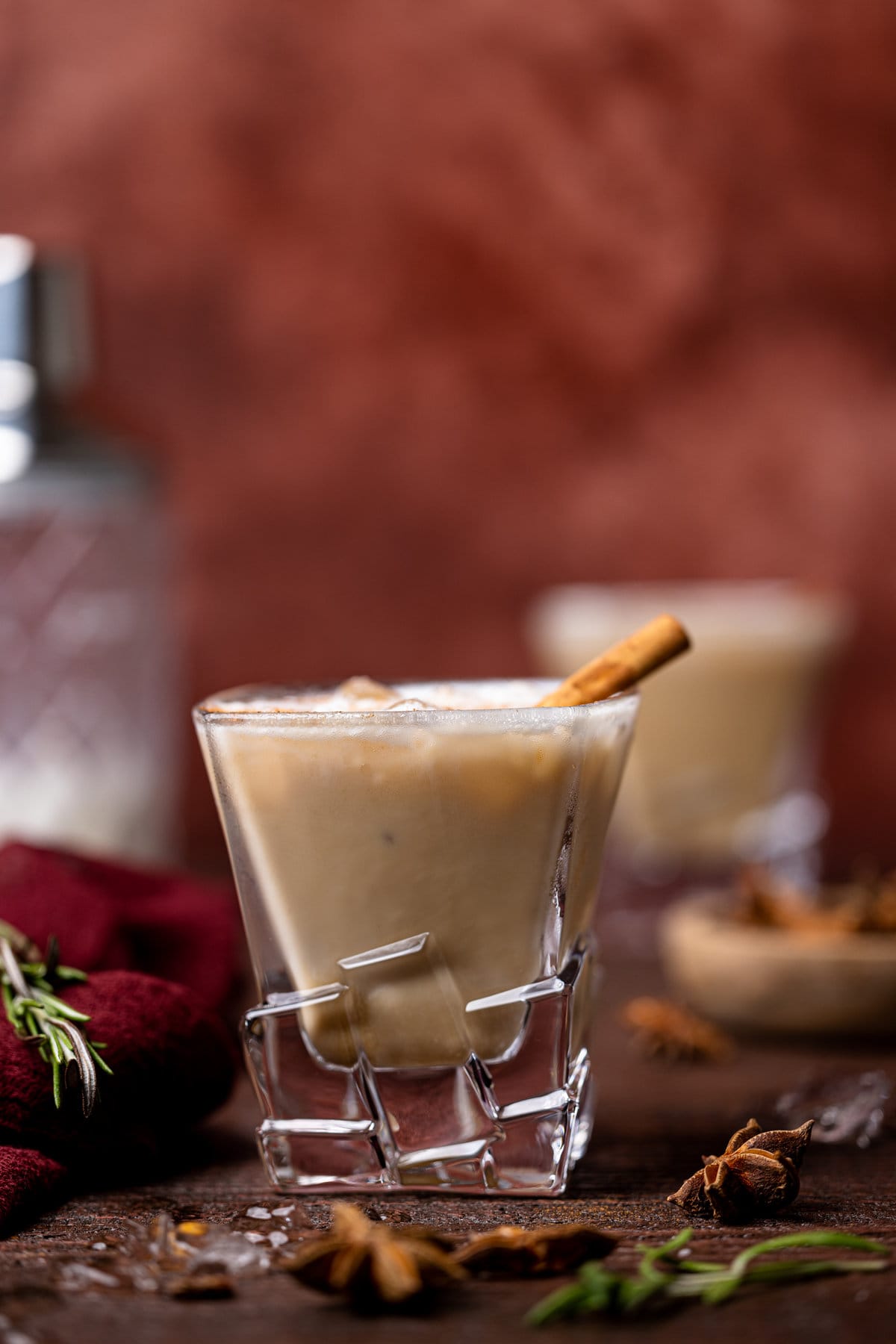 Can I Make this White Russian Dairy-Free?
Absolutely! To make this white russian mocktail entirely dairy-free, you can substitute the condensed milk with dairy-free sweetened condensed coconut milk (I love Edward & Son's). Everything should be vegan-friendly.
What Recipes to Serve this White Russian Mocktail With?
When it comes to serving this Best White Russian Mocktail with a meal, the possibilities are endless, however, the flavors pair very well with chocolate, spices, and meals such as: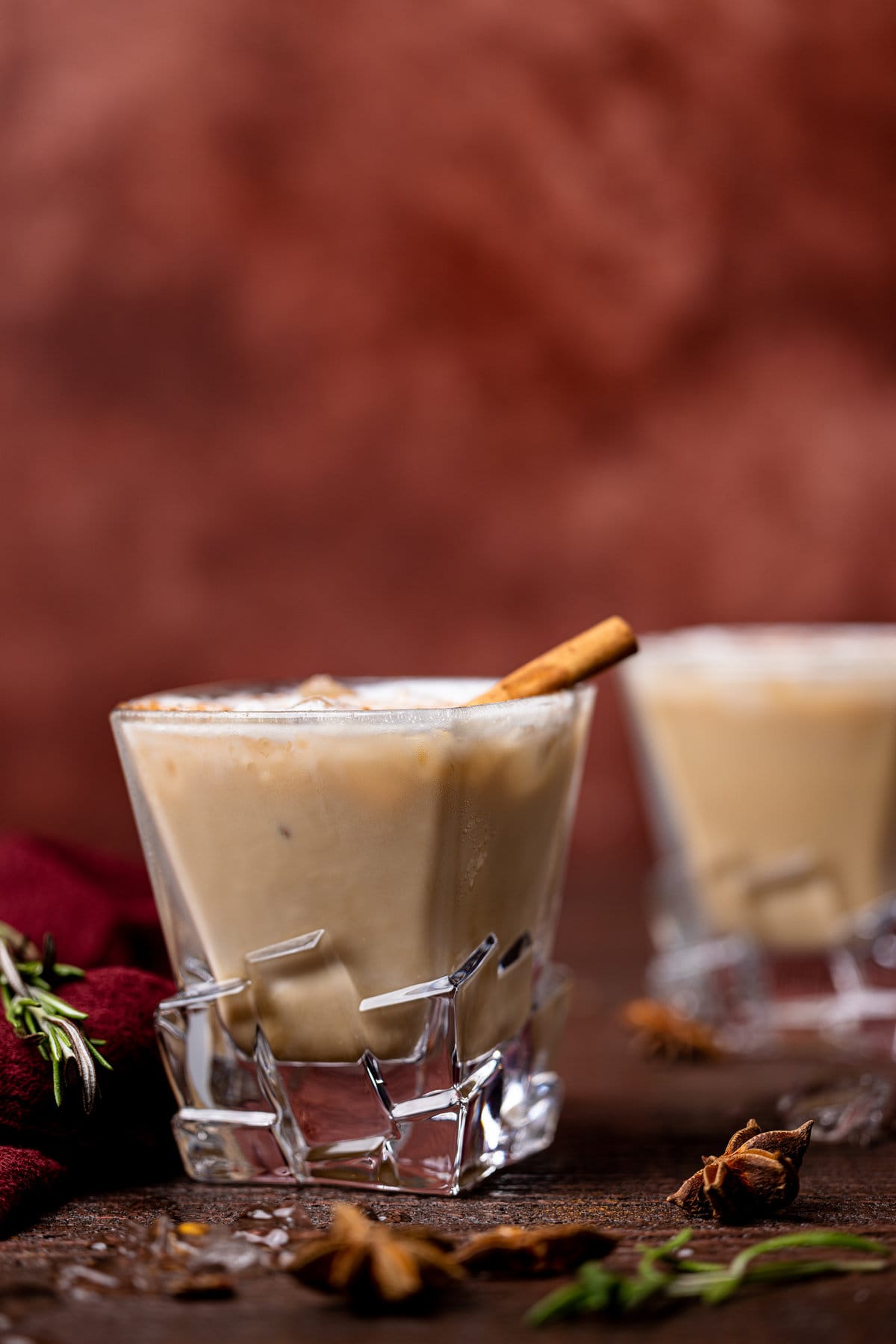 More Decadent Drink Recipes
Once you've mastered this espresso martini drink, try these other homemade sips should be next on your list:
MADE OUR RECIPE(S)?
If you make this Best White Russian Mocktail, tag @orchidsnsweettea_ on Instagram and hashtag it #orchidsandsweettea
KAHLUA SUBSTITUTE W/ CINNAMON:
TO MAKE THE KAHLUA SUBSTITUTE SIMPLE SYRUP:
In a saucepan over medium-high heat, add the water, cinnamon sticks and brown sugar, stirring until sugar has dissolved completely, about 1-2 minutes. Remove from heat and whisk in the espresso powder and vanilla until dissolved. Let cool completely.
TO MAKE THE MOCKTAIL:
In a mason jar or cocktail shaker, add a bit of crushed ice along with the sweetened condensed milk and Almond milk and shake for 1-2 minutes until combined.

Assemble the mocktails: For each mocktail, fill a good cocktail glass (11 oz.) halfway with crushed ice and pour half the amount of the following per glass: cold brew, khalua substitute, and the shaken sweetened condensed milk mixture in until glass(es) is filled. Top with a dollop (or two) of coconut whipped cream and stir slightly followed by cinnamon sticks and sprinkles of ground cinnamon, if desired.

Sip and Enjoy!
KAHLUA: Kahlúa coffee liqueur is one of the main ingredients in many of the world's favorite cocktails. Therefore, to make this recipe non-alcoholic----I created a great simple syrup substitute.
ALCOHOL: If you'd like to spruce things up with alcohol, feel free to add 1 ounce of rum, vodka, etc.
SERVING: To make additional mocktails, simply double or triple ingredients, depending on need.
SWEETENED CONDENSED MILK: For this recipe, I used regular sweetened condensed milk, however, to make it fully dairy-free---you can use a dairy-free version by Edwards & Son.
WHAT PLANT-BASED MILKS ARE GOOD FOR THIS RECIPE?You can always use your fave or one of the following: Almond, coconut milk, homemade oat milk (froths/foams VERY WELL), homemade cashew milk, flax milk, potato milk, quinoa milk, etc.