These Big Brown Butter Chocolate Chip Cookies are the perfect sweet indulge right after dinner or as a pick-me-up in the mornings with your favorite cup of coffee or tea. The best kid-approved, adult-loving cookies you'll ever try—–made with rich chocolate flavor and a bold flavor of brown butter. Gluten-free option available.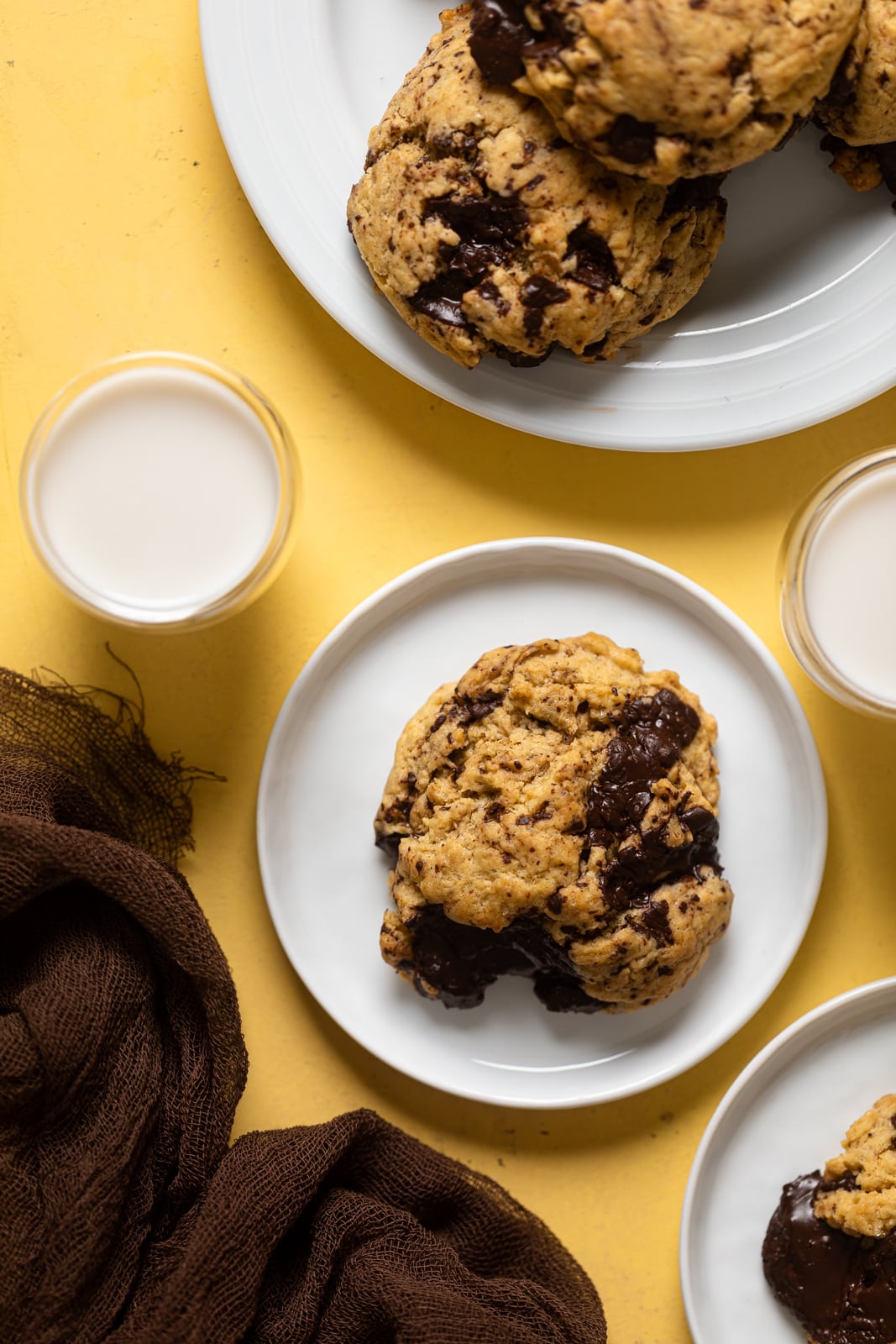 Disclaimer: This post contains affiliate links via Amazon for products that I wholeheartedly love.
I seriously can't get enough of these Big Brown Butter Chocolate Chip Cookies. There's just something about the savory brown butter bold flavor and sweetness from the chocolate--especially when you use semi-sweet chocolate.
In the past, cookies were SO hard for me to master. While they seem so easy to whip together, personally I struggled---mostly because I was over-thinking the process because I wanted them to be so perfect. Haha.
However, in the recent months, I've become a lot more comfortable with making cookies because I no longer focus on them "being perfect", but instead I care more about how they taste. Whelp, I guess that removing the stress of the whole thing now has opened up the door for them actually being perfect. CRAZY!
When it comes to these brown butter chocolate chip cookies, I wanted to create a "big" bite experience like with my Big Bakery-Style Oatmeal Chocolate Chip Cookies.
I thoroughly enjoy the chunkiness of these chocolate chip cookies as well as the larger size which makes a single cookie the perfect amount of sweetness to indulge in with your favorite milk or ice cream. It's just a win, win situation.
How to Make Big Brown Butter Chocolate Chip Cookies
These brown butter chocolate chip cookies take just less than 20 minutes (in total) to whip up. You'll need a few important ingredients to achieve the thick, chewy texture perfectly:
Unsalted butter. No need to have the butter at room temperature. You can take it right out the fridge if needed because you'll be melting it in a skillet until darkened and fragrant.
Brown sugar. Choose organic sugar to ensure it's vegan and healthier.
Cane sugar. I like to use organic cane sugar as well. Using this hand in hand with brown sugar allows the cookies to have a nice color, spread nicely, while keeping firm as well.
Vanilla. To balance the rich chocolate flavor.
Egg. This is the binder for your cookies.
Flour. I use Bob's Red Mill or King Arthur Flour all-purpose (organic). For GF, just substitute with GF all-purpose flour or 1-to-1 GF Baking flour.
Baking soda + baking powder. To help your cookies rise in the oven.
Cinnamon. Helps to enhance the chocolate flavor in these cookies. Just a pinch if needed.
Chocolate. I use 4 oz. or so chocolate bars from Ghirardelli or Hu Kitchen and chopped them roughly into medium sized pieces. You can also use chocolate chips as well.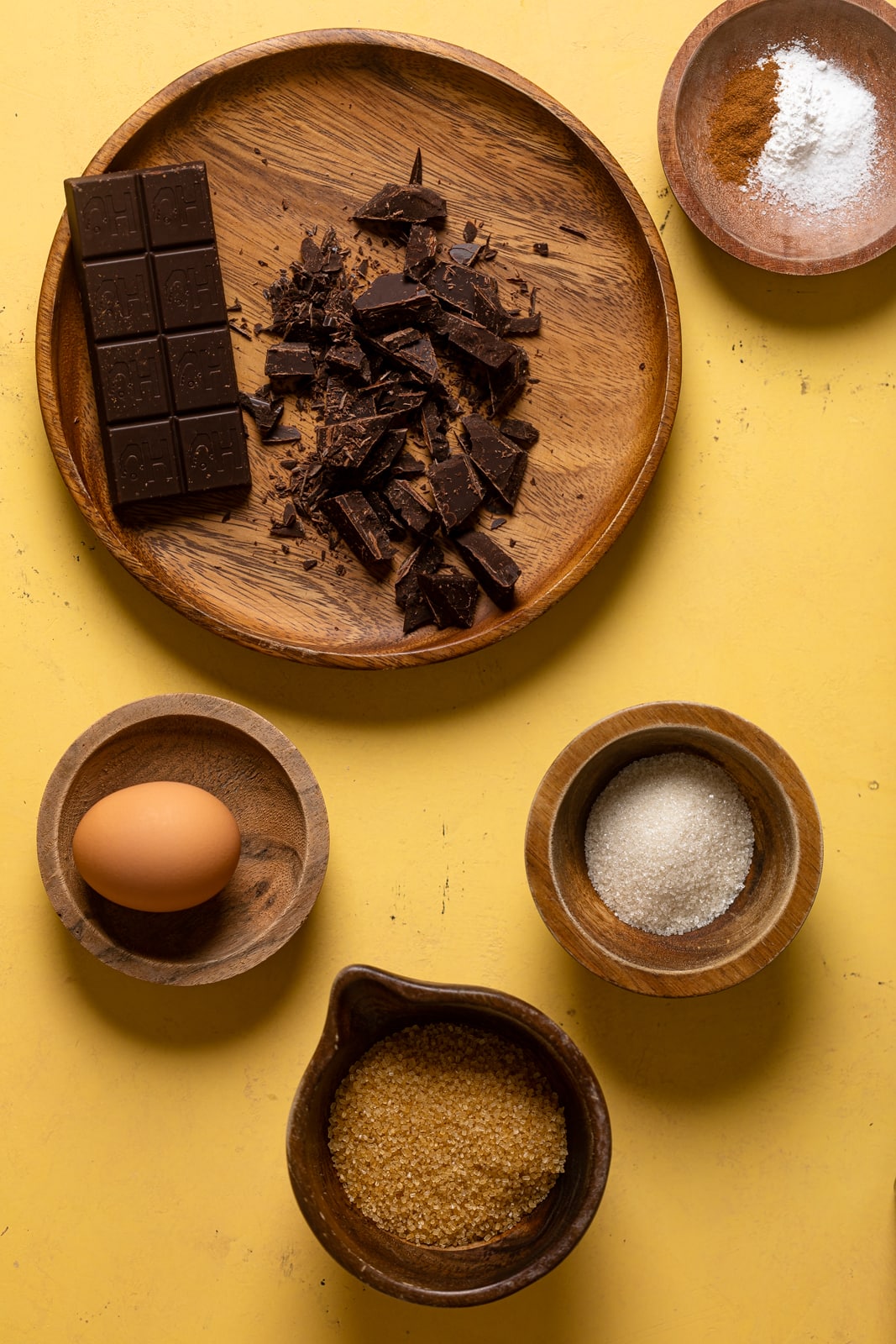 How to Brown Butter
Once you get the hang of browning butter, the process becomes second nature. At first, however, it might be a challenge to perfect the technique on your first try. Butter can burn quickly and easily, so you cannot step away during this process!
First, melt your butter in a skillet over medium to medium-low heat.
Once the butter has melted completely, allow it to begin bubbling. If the butter spatters, the heat source is too hot!
Allow the butter to cook for 3-4 minutes until you begin to see toasted bits at the bottom. This is the milk solids browning!
Once a rich brown color has been achieved and the butter smells nutty, it is ready. Remove the butter from the heat immediately.
Allow to cool and store in the fridge. Or, use it right away!
Shop My Favorite Tools for Baking, Especially for these Cookies!
Here, I've curated a list of baking essentials that I use to achieve my favorite baked goods, especially with these brown butter chocolate chip cookies. Everything from my fave large scoop, baking sheet, liners, and more. SEE THEM HERE!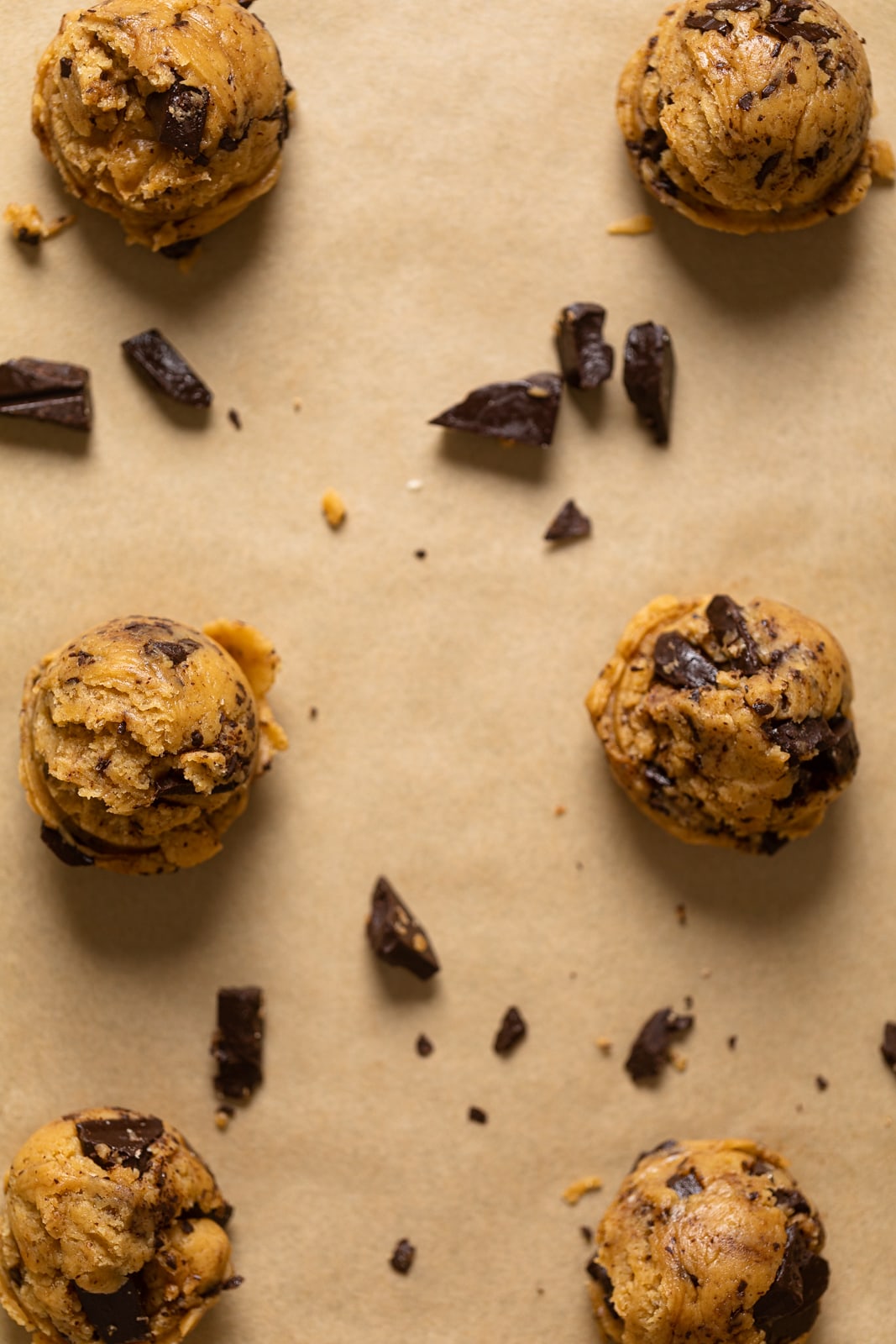 The Secret to Making the Best Bakery-Style Cookies
Baking the best cookies in general (especially these brown butter chocolate chip cookies) as I stated before is kind of like a science, however, I've gathered a few tips that have helped me to master them along the years:
TIP 1: SOFTEN YOUR BUTTER.
This is a must! In the past, I never understood how important this step was, but I've now realized that it is. I like to let my butter sit out for at least 1-2 hours so that it's the softest it can get without melting. If you forget to leave your butter out, I sometimes add hot water to a glass, pour it out, and then add the butter to that heated glass for a few minutes and it works!
TIP 2: CREAM THE BUTTER.
Yet another step that I often overlooked, however, creaming your butter with a mixer until pale and fluffy, helps to make the most softest cookies ever! While you won't be needing this step with these brown butter chocolate chip cookies, it's definitely important to remember for all other cookies.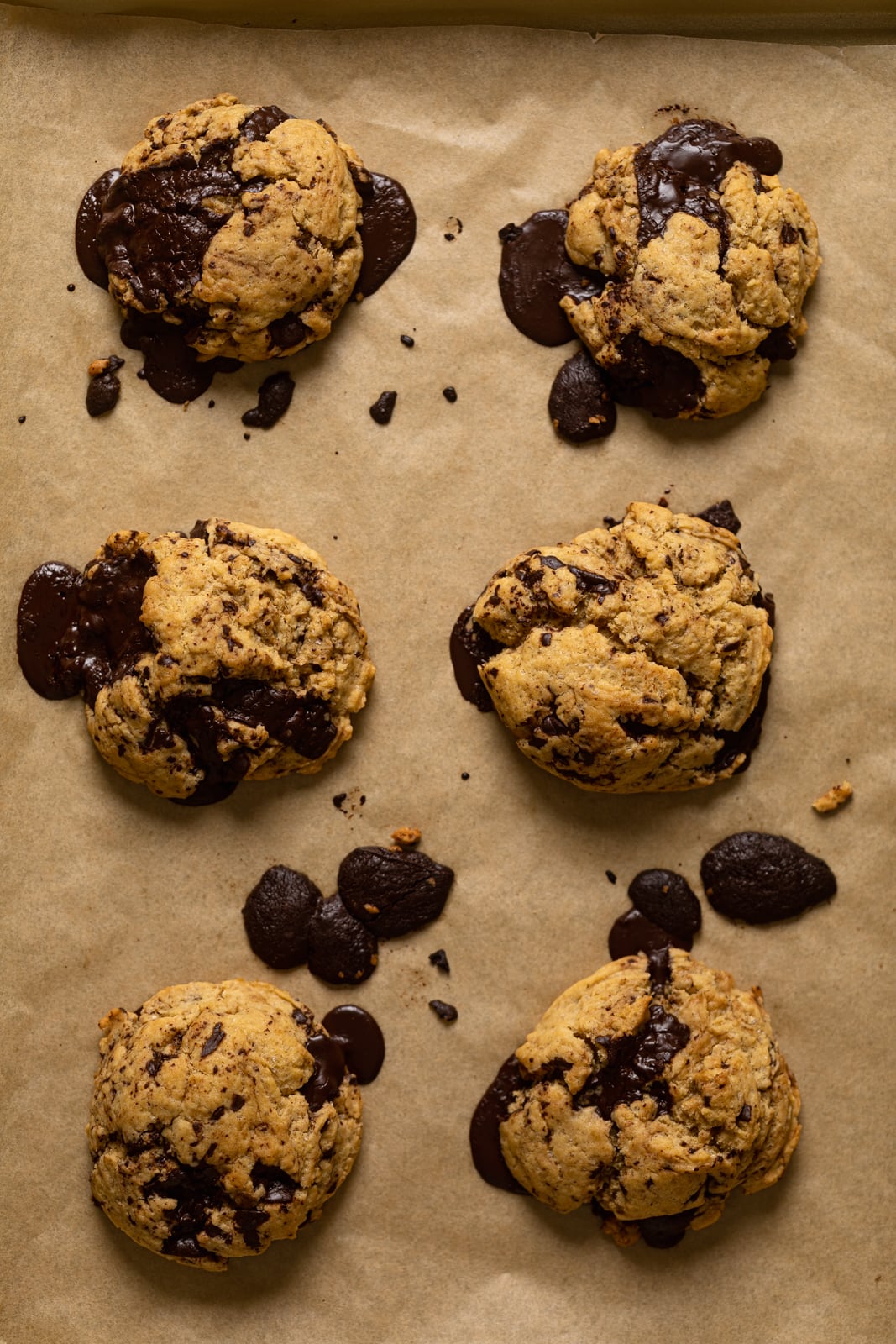 TIP 3: ALWAYS, ALWAYS USE PARCHMENT PAPER!
I can't stress this enough. Lining your baking sheet with parchment makes things seamless and avoids your cookies from browning too quickly and sticking to the pan.
TIP 4: ADD IN THE FLOUR IN BATCHES.
We might think that dumping in all the dry ingredients to the wet ingredients at once might seem right, but it's not the best thing to do. I definitely recommend adding in the flour/dry ingredients in increments, mixing as you add to create a nicely combined batter without having to over-mix.
TIP 5: FOLD IN CHOCOLATE OR CHOCOLATE CHIPS.
Never use a mixer when adding in chopped chocolate or chocolate chips. For one—-you risk breaking the chocolate up into small pieces while mixing and two—-again, you end up making the chocolate melt or get a little moist, which affects the batter. Simply fold in chocolate by hand a few times and you're done!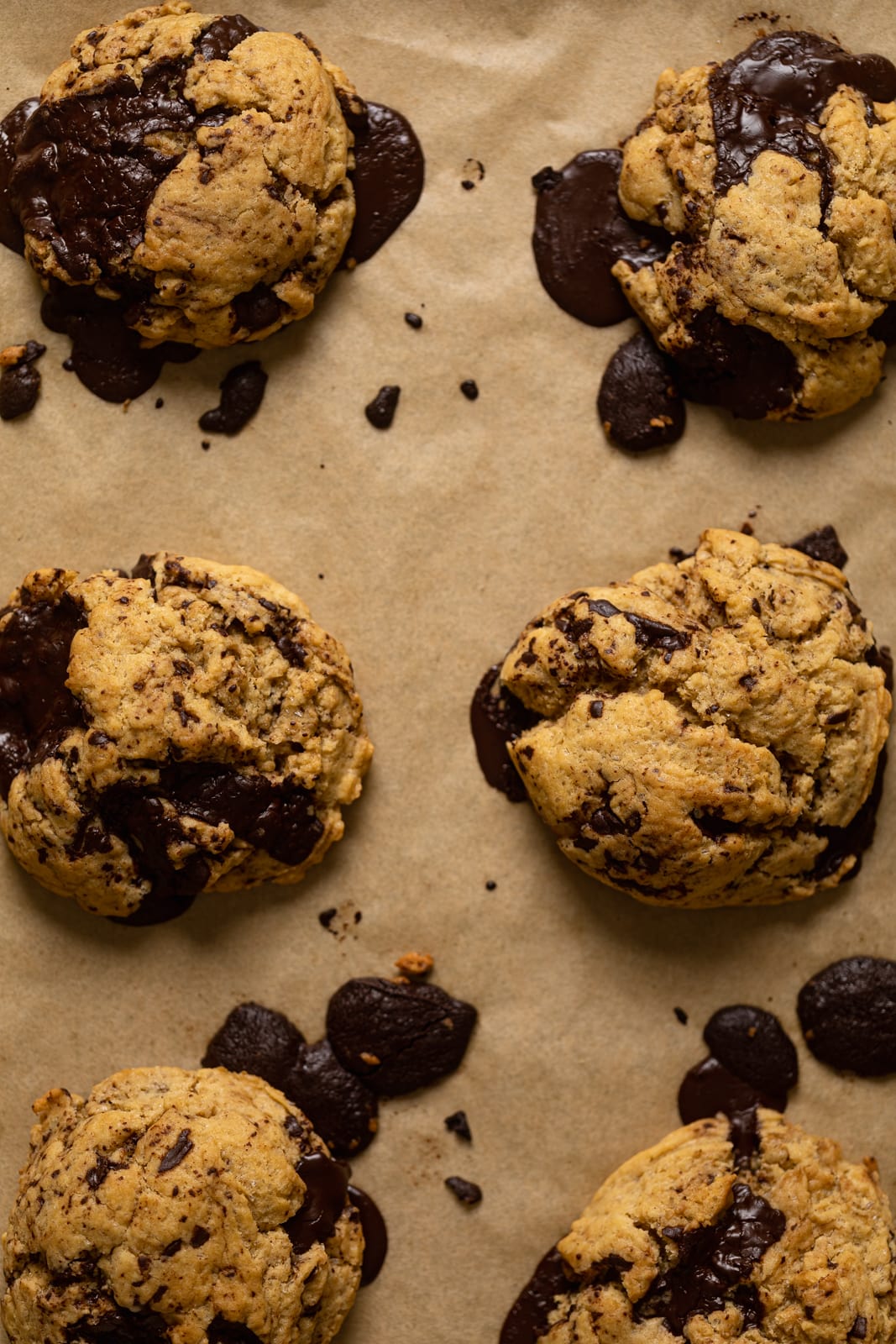 What is the Banging Process?
The trick with how beautiful these big brown butter chocolate chip cookies look is in the banging. While this process is optional (and you prefer chunky, dome-like cookies), I definitely like doing it a bit to flatten them and have them spread out a bit more.
During the baking process, you have to bang the baking sheet with your cookies a few times before they are fully baked.
Therefore, the "crinkling" comes as a result of the center of the cookies falling inward, pushing the rest of it outward. I know, it sounds pretty crazy, but it's so cool!
Combining this "crinkling" process with the flavor combo of chocolate and butterscotch (something that I felt inspired by based on my childhood), plus the fact that you get a bigger sized cookie is like heaven on Earth.
And don't worry—theses cookies aren't too big! OK, so they may be too big to dip in a glass full of milk, but they aren't too big to enjoy, for sure! Cheers to that!
Storing Leftover Cookies
You can store these brown butter chocolate chip cookies in an airtight container on the counter for up to four days. To keep them really fresh, I recommend popping them into the freezer. You can freeze brown butter chocolate chip cookies for up to six months (if they last that long!).
You can also freeze the uncooked dough. When you want to bake a batch, let the dough defrost in the fridge overnight before scooping out your cookies and baking as directed in the recipe.
Can I Make the Cookies Gluten-Free?
Absolutely! You can substitute the all-purpose flour with GF all-purpose flour or 1:1 gluten-free flour if you're avoiding gluten.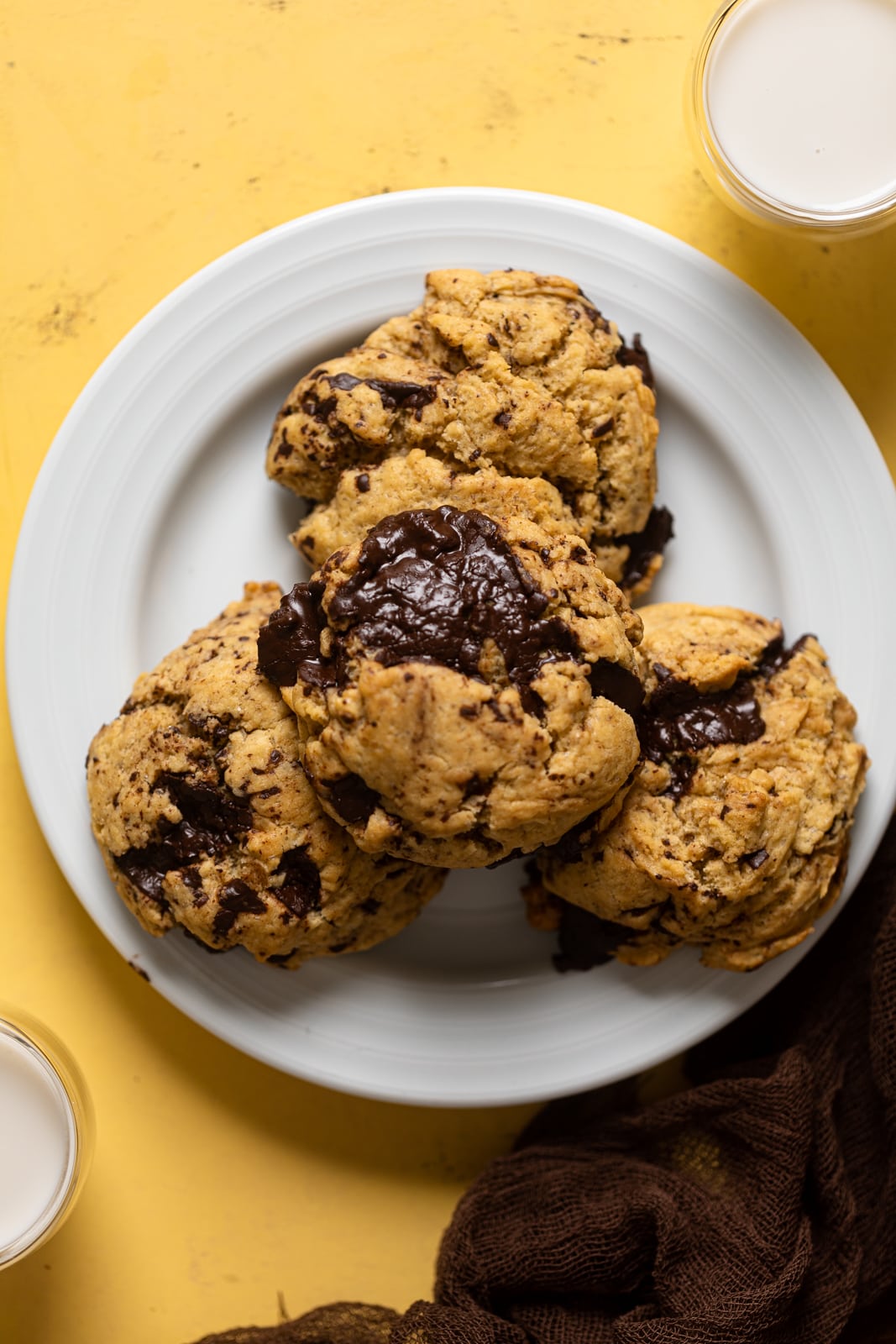 The Main Event – The Cookie Recipe
In a bowl of an electric stand mixer (fitted w/ a paddle attachment), add the cooled brown butter and both sugars and mix together medium-high speed until combined and wet (it should look like "wet sand").
Add in the egg and vanilla extract and reduce the speed to medium, ensuring that everything is well combined. Scrape down the sides of the bowl to incorporate as needed.
In a separate bowl, whisk together the all-purpose flour, baking powder, baking soda, cinnamon, and sea salt.
Reducing the mixer's speed to low, slowly add the dry ingredients to the butter-sugar mixture and continue mixing until well-incorporated.
Once combined, fold in the chopped chocolate using a rubber spatula.
I don't chill my dough for these cookies, but if you need to: cover the dough in the mixing bowl and refrigerate for 1-2 hours.
Once chilled, remove it from the refrigerator and let it sit at room temperature for a few minutes if the dough has hardened a lot.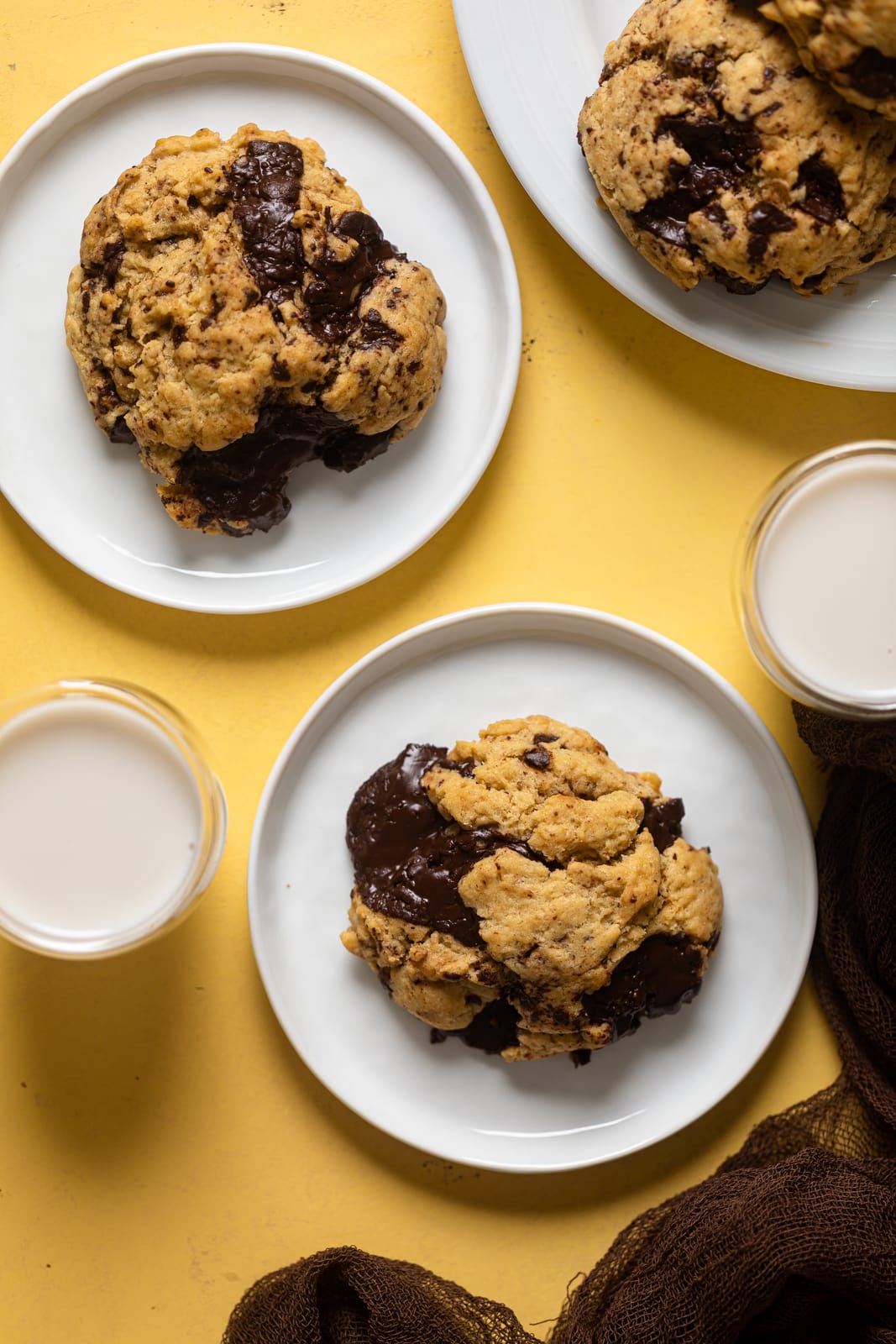 My Favorite Brown Butter Recipes
MADE OUR RECIPE(S)?
If you make this Big Brown Butter Chocolate Chip Cookies, be sure to tag me on Instagram @orchidsandsweettea!
COOKIES:
1 ½

cups

organic all-purpose flour

1

teaspoon

baking soda

½

teaspoon

baking powder

Pinch of

ground cinnamon

½

cup

unsalted butter

½

cup

organic brown sugar

¼

cup

organic cane sugar

1

egg, at room temp.

1

teaspoon

vanilla extract

1

(4 oz.)

chocolate bar, chopped

(I like to use semi-sweet; You can also use chocolate chips)
TO MAKE THE BROWN BUTTER:
TO MAKE THE COOKIES:
Preheat the oven to 375 degrees Fahrenheit and line a baking sheet with parchment paper.

In a large bowl, add in the cooled brown butter and both sugars, beating them together using a hand mixer (or electric stand mixer)until the mixture becomes combined and wet. Add in the egg and vanilla, and continue to mix until combined.

In a bowl, add together the flour, baking soda, baking powder, and cinnamon, whisking together until combined.

With the mixer on low-speed, add in the dry ingredients to the wet ingredients, mixing until  the mixture becomes smooth, moistened, and holds together well. Fold in the amount of chopped chocolate.

Using a medium-size scoop, scoop (about 2 Tbsps or so) each cookie dough onto the prepared baking sheet, leaving 1-2 inches between each cookie for spreading when they bake. Lightly press down on each cookie to help it spread nicely. Add additional chopped chocolate (if desired), pressing them in each cookie slightly----for extra fudge.

Bake for 13 to 15 minutes (checking it after about 10 minutes), or until the edges are golden brown. NOTE: I like to do the "banging method" 1-2 times (once during the 10 minute mark) to help the cookies drop down a bit. See Notes!

Remove the cookies from the oven and cool cookies onto the baking sheet for a few minutes before transferring them unto a cooling rack to cool completely.

Enjoy with your favorite glass of dairy-free milk.

Bon Appetit!
STORAGE: Once properly stored in an air-tight container, cookies last for 3-4 days at room temperature or in the refrigerator for a little longer. Reheat slightly (a few seconds) in the oven, toaster oven, or microwave when ready to serve.
FREEZE: You can also freeze your cookie dough (once formed into a ball) so that you can store them longer and bake as needed.
BANGING METHOD: I love making my cookies chunky, however, if you chose to use the "banging method" in this recipe to avoid cookies from being too puffy, it's definitely optional-----this is only needed if you decide to chill the dough prior to baking.
LARGER BATCHES: To make more cookies, simply double or triple the amount of ingredients!
GLUTEN-FREE OPTION: To make these cookies GF, simply substitute flour with all-purpose GF flour or 1-to-1 Baking flour. 
Calories:
472
kcal
|
Carbohydrates:
59
g
|
Protein:
6
g
|
Fat:
24
g
|
Saturated Fat:
15
g
|
Polyunsaturated Fat:
1
g
|
Monounsaturated Fat:
7
g
|
Trans Fat:
1
g
|
Cholesterol:
69
mg
|
Sodium:
240
mg
|
Potassium:
211
mg
|
Fiber:
3
g
|
Sugar:
31
g
|
Vitamin A:
520
IU
|
Calcium:
62
mg
|
Iron:
4
mg