Indulge in the warm, comforting embrace of our Brown Butter Pumpkin Cornbread recipe—a delightful holiday side dish that seamlessly marries the fluffy sweetness of pumpkin with the savory goodness of cornbread. Crafted to perfection, this dish is tailor-made for sharing, making it the ideal addition to your festive gatherings. Dairy-free, Gluten-free + Vegan option!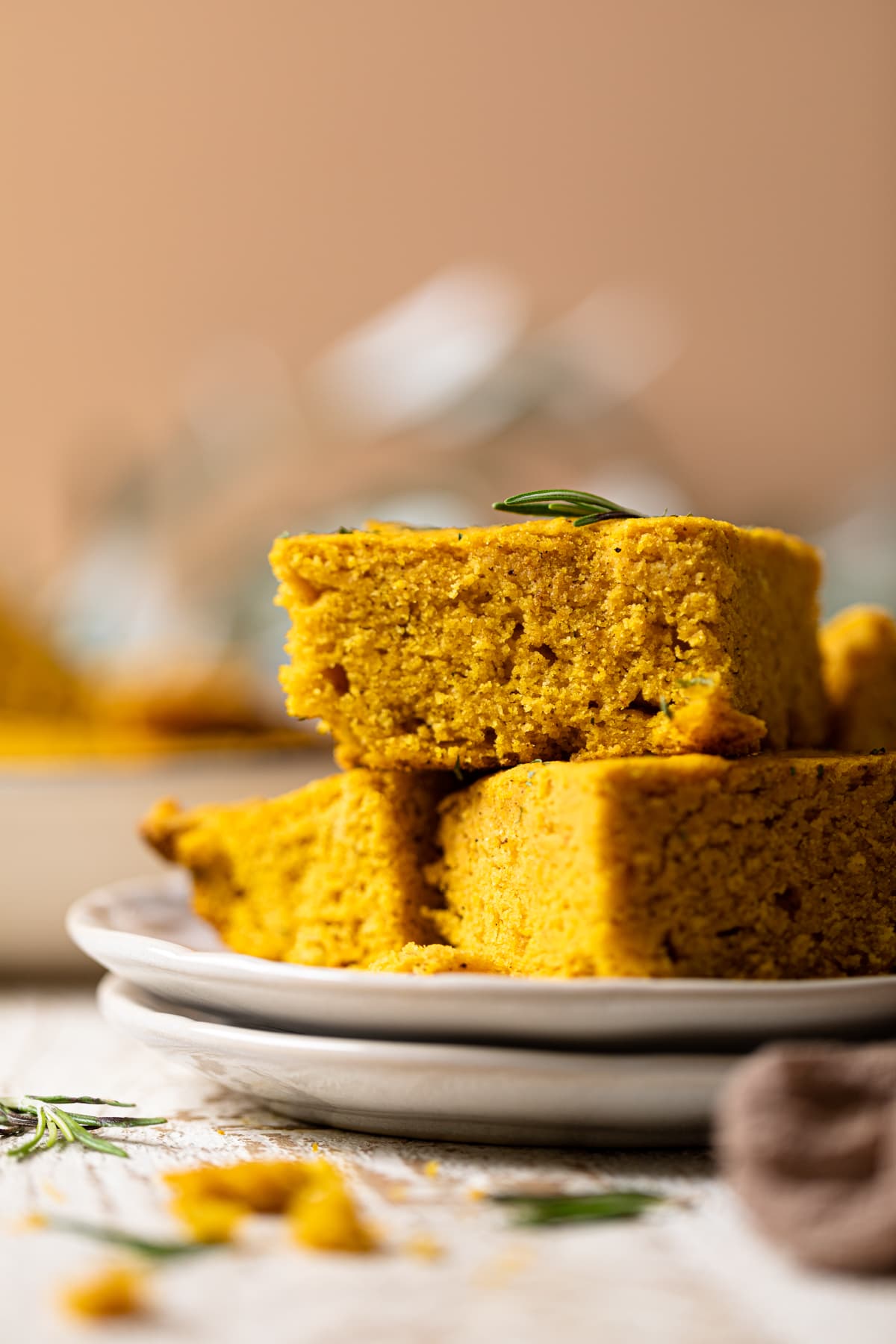 Why Brown Butter Pumpkin Cornbread Is The PERFECT Side Dish
As the holiday season rapidly approaches, my mind is already buzzing with Thanksgiving menu ideas, and one dish that's sure to be a staple is this irresistible sweet + savory Brown Butter Pumpkin Cornbread. It's become a beloved favorite among my family, especially during the cozy season! The texture is simply divine, boasting the ideal balance of moistness and fluffiness, crowned with a delightful crisp golden crust.

This cornbread recipe is the perfect balance of moistness and tenderness, blurring the line between bread and cake. If you love cornbread, you definitely need to try my Honey Butter Cornbread Drop Biscuits and this Southern-Style Cornbread Stuffing next! There's nothing quite like baking it right in your trusty skillet-- a classic dish that begs to be shared right at the table.

And the best part is that it's easily adaptable to gluten-free or vegan for guests with dietary preferences. This versatile delight effortlessly adapts to both sweet + savory preparations, making it a welcomed addition to your table as a tempting appetizer, complementary side dish, or a satisfying snack.
Jump to: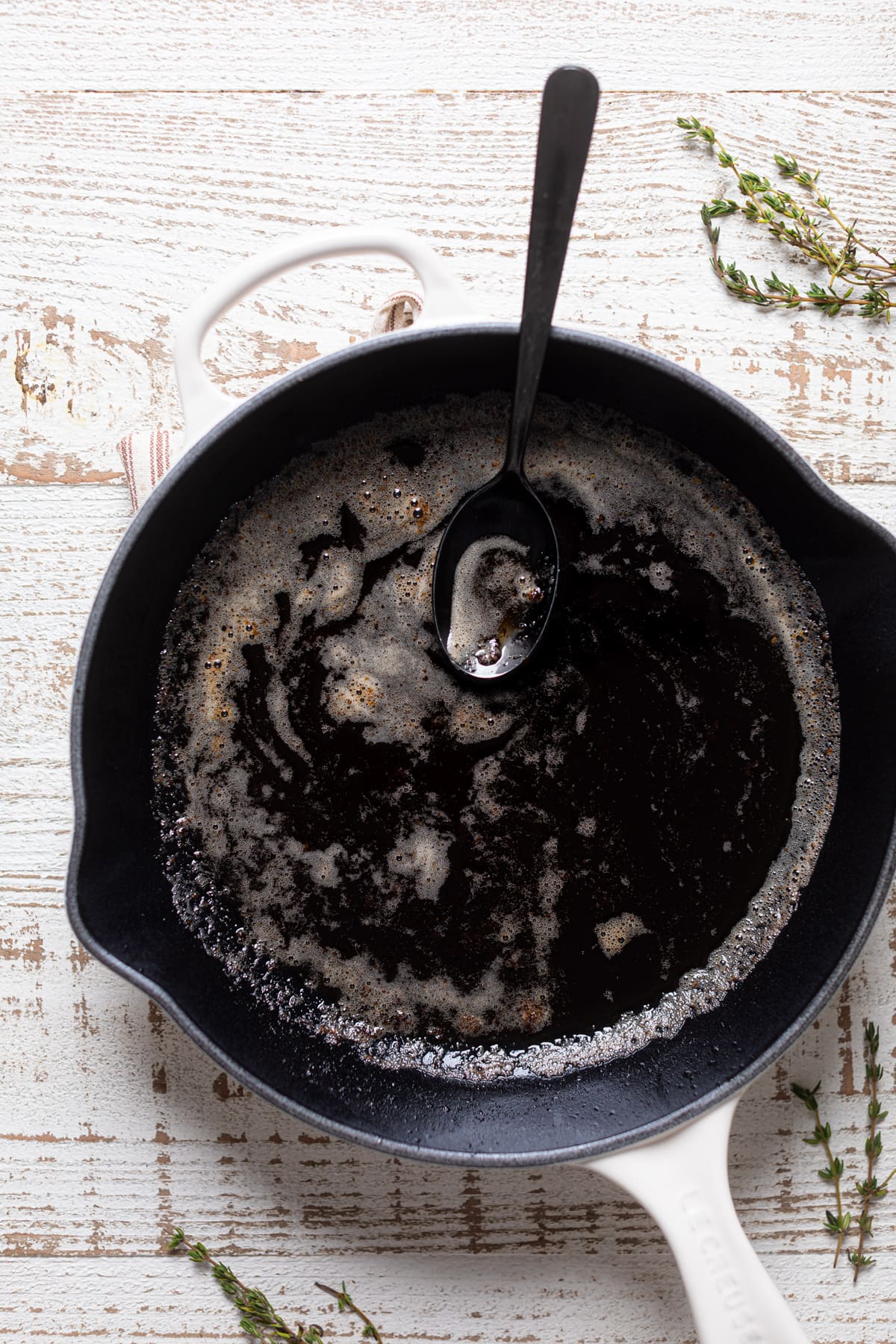 What Is Cornbread?
Alright, let's talk cornbread – the ultimate Southern bread sensation! Picture this: it's made from cornmeal, and it's got this charming, slightly sweet, and nutty flavor. Down South, it's like an essential part of the culinary DNA. But here's the cool part – it's incredibly versatile. You can bake it up in all sorts of flavor, shapes and sizes. Whether it's cozying up to other dishes or going solo, cornbread is basically the Southern must-have you'll want on your plate.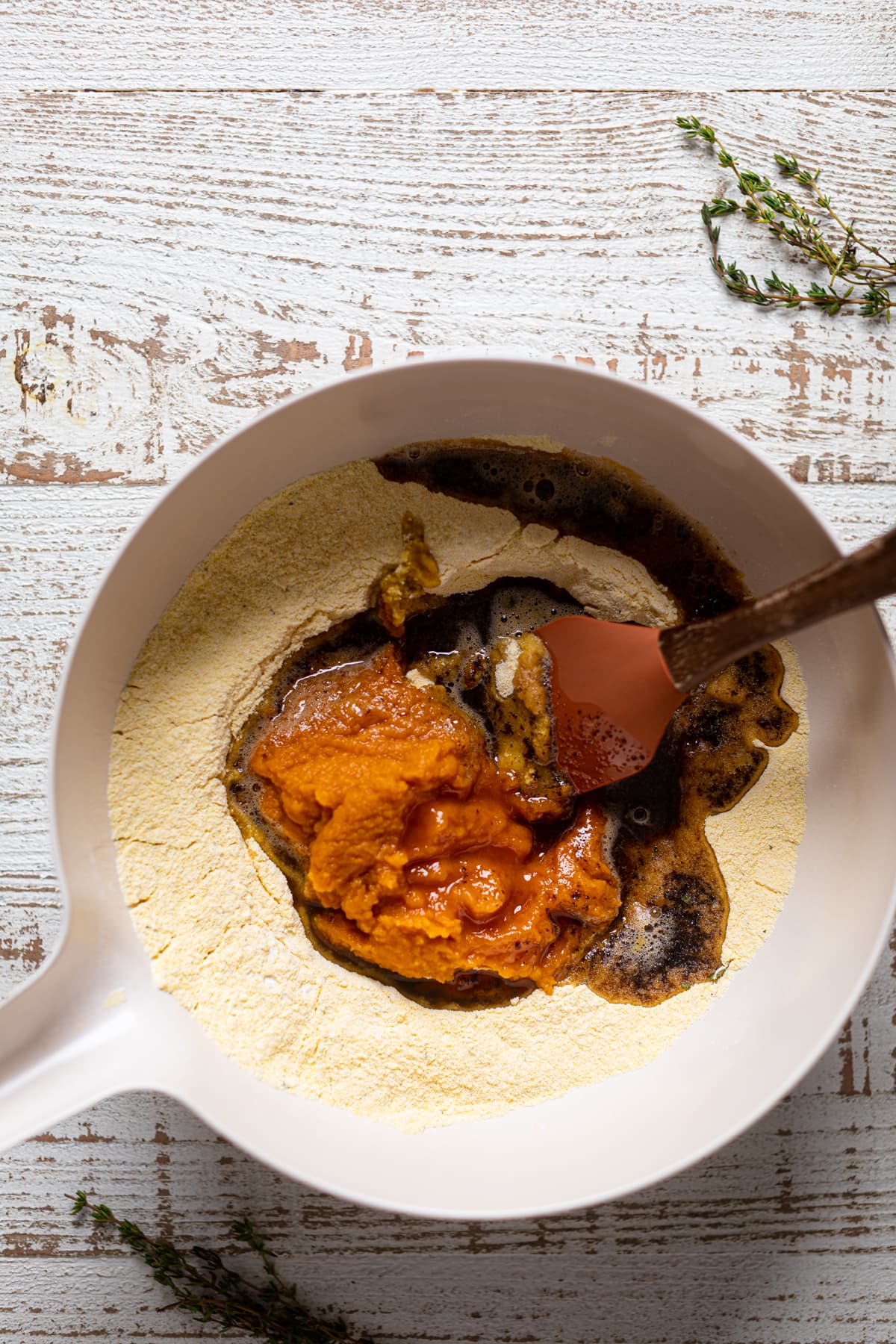 How to Make Pumpkin Cornbread
To make this cornbread, you'll start by making the browned butter. Make sure to keep an eye on the butter as it's on the stove, as butter can burn quickly. Stay safe by keeping the heat pretty low. When the butter is a nice caramelized color, remove it from the heat and let it cool before you make the rest of the cornbread batter.
The rest of the batter comes together in a mixing bowl. It's a straightforward baking recipe with ingredients you probably already have on hand!
Ingredients
Here's what you need to market this Thanksgiving side dish:
Cornmeal. Use yellow cornmeal from Bob's Red Mill if you can. Most cornmeal is already gluten-free, but if necessary, double check that yours is certified.
All-purpose flour. I like organic flour from Bob's Red Mill.
Baking powder.
Pumpkin spice. You can find this special blend in the spice aisle. You can also make your own homemade pumpkin spice.
Dried parsley. This adds nice little specs of green and herby flavor throughout the brad.
Butter. Use unsalted butter to control the flavor of your bread. Choose vegan butter to keep things dairy-free.
Pumpkin puree. Make sure you're not using pumpkin pie filling! I like the brand Libby's
Maple syrup. You could also use agave, but maple adds a delicious flavor.
Almond milk. Any vegan milk will work!
Here, I've curated a list of cooking + baking essentials that I use to achieve my favorite baked goods or cooked meals, especially with this Brown Butter Pumpkin Cornbread. Everything from my fave baking sheet, skillet, mixing bowls, high-powered blender, cooking utensils, and more. SEE THEM HERE!
Why You Will LOVE This Brown Butter Pumpkin Cornbread
Moist + tender crumb, combined with a crispy golden crust!
Super easy to make + quick
Loaded with savory holiday pumpkin-y flavors!
Comes with a dairy-free + gluten-free option!
PERFECT for Thanksgiving OR any time of the year!
A total crowd-pleaser for all eaters!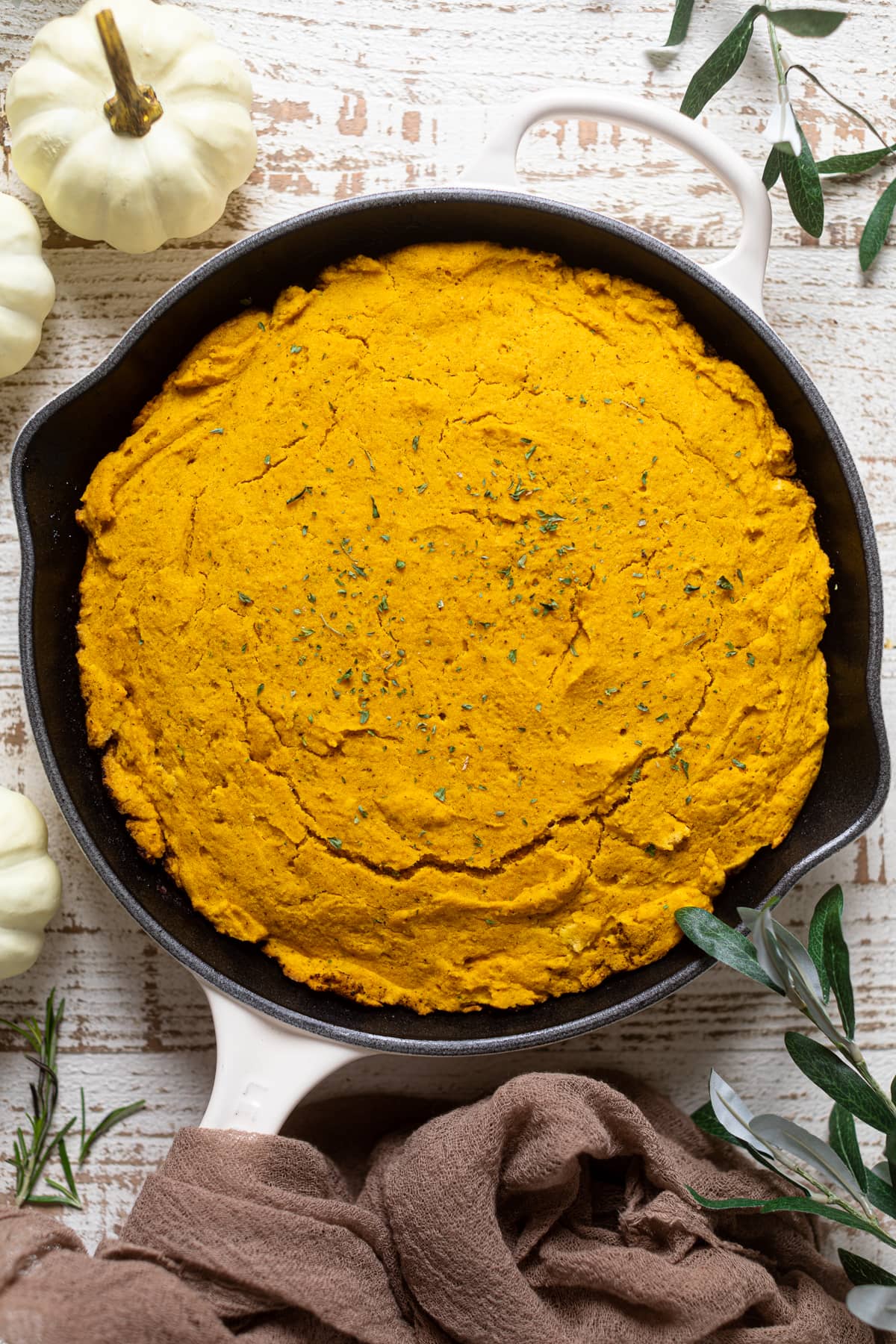 Tips For The ULTIMATE Pumpkin Cornbread
Follow these tips to make your pumpkin cornbread recipe absolutely perfect:
Gentle mixing for fluffiness:
To ensure a light and fluffy texture, take care not to overmix the dough. Overmixing can lead to gluten development, resulting in a denser cornbread. Aim to mix until just combined, with no visible streaks of flour.
Golden brown indicator:
Keep an eye on the cornbread as it bakes. It's ready when the center is set and a toothpick or knife inserted into the middle comes out clean. Additionally, the top should sport a beautiful golden-brown hue, indicating it's perfectly baked.
Even distribution
Since the cornbread batter is relatively thick, it may need some assistance to spread evenly in the pan. Use a spatula or the back of a spoon to gently spread the batter from the center towards the edges, ensuring an even thickness throughout
Grease for easy release:
A well-greased pan is your ally when it comes to removing the cornbread effortlessly after baking. Use butter, oil, or a cooking spray to coat the pan's interior thoroughly. This not only prevents sticking but also imparts a delightful crispy crust to the edges!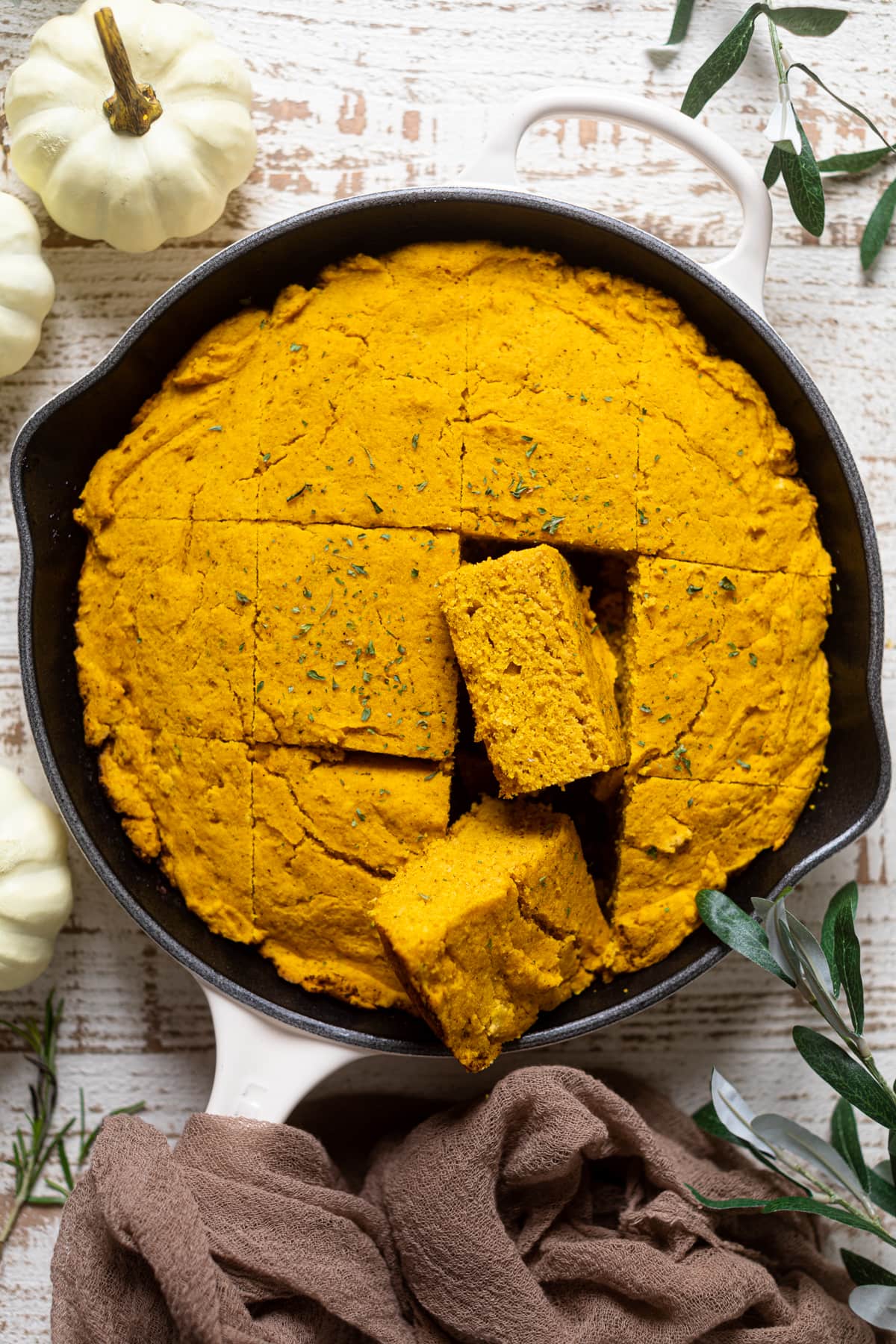 What to Serve with Brown Butter Cornbread
This pumpkin cornbread recipe is a definite must-have on my Thanksgiving menu, and it's a versatile choice that I'll enjoy throughout the fall season and beyond. Here are some tasty options to serve with your cornbread: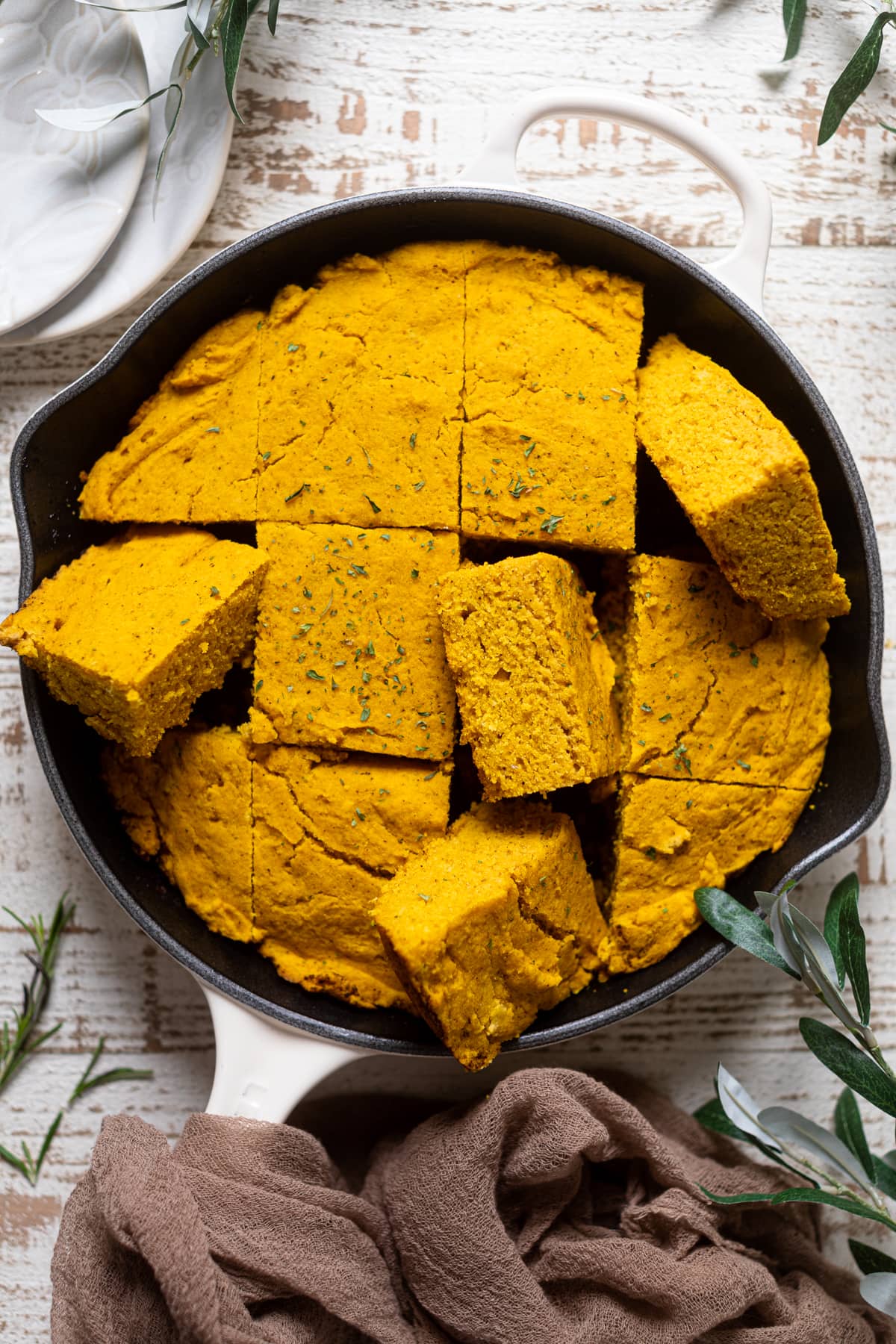 Non-Thanksgiving Pumpkin Cornbread Serving Ideas
Now that you have a glimpse of how this cornbread complements your Thanksgiving table, here are some additional ideas for enjoying it throughout the fall season and beyond:
Southern Fried Chicken: For a southern-inspired meal, serve cornbread alongside crispy fried chicken. The combination of savory and sweet is simply irresistible.
Soups: Serve cornbread with a comforting soup, such as Chicken Noodle Soup, Apple Cheddar Sweet Potato Soup it adds substance and a pleasant sweetness to the meal. And if you need more fall soup inspiration simply type in 'soup' into Orchid + Sweet Tea's search bar.
Cheese + charcuterie: Create a delightful cheese and charcuterie board with slices of cornbread. The sweet and savory notes of the cornbread complement various cheeses and cured meats. Be sure to check out my tips on How To Make the Best Charcuterie Board
Brunch: Incorporate cornbread into your brunch menu by serving it alongside scrambled eggs, bacon (or candied bacon), and fresh fruit for a sweet and savory brunch experience.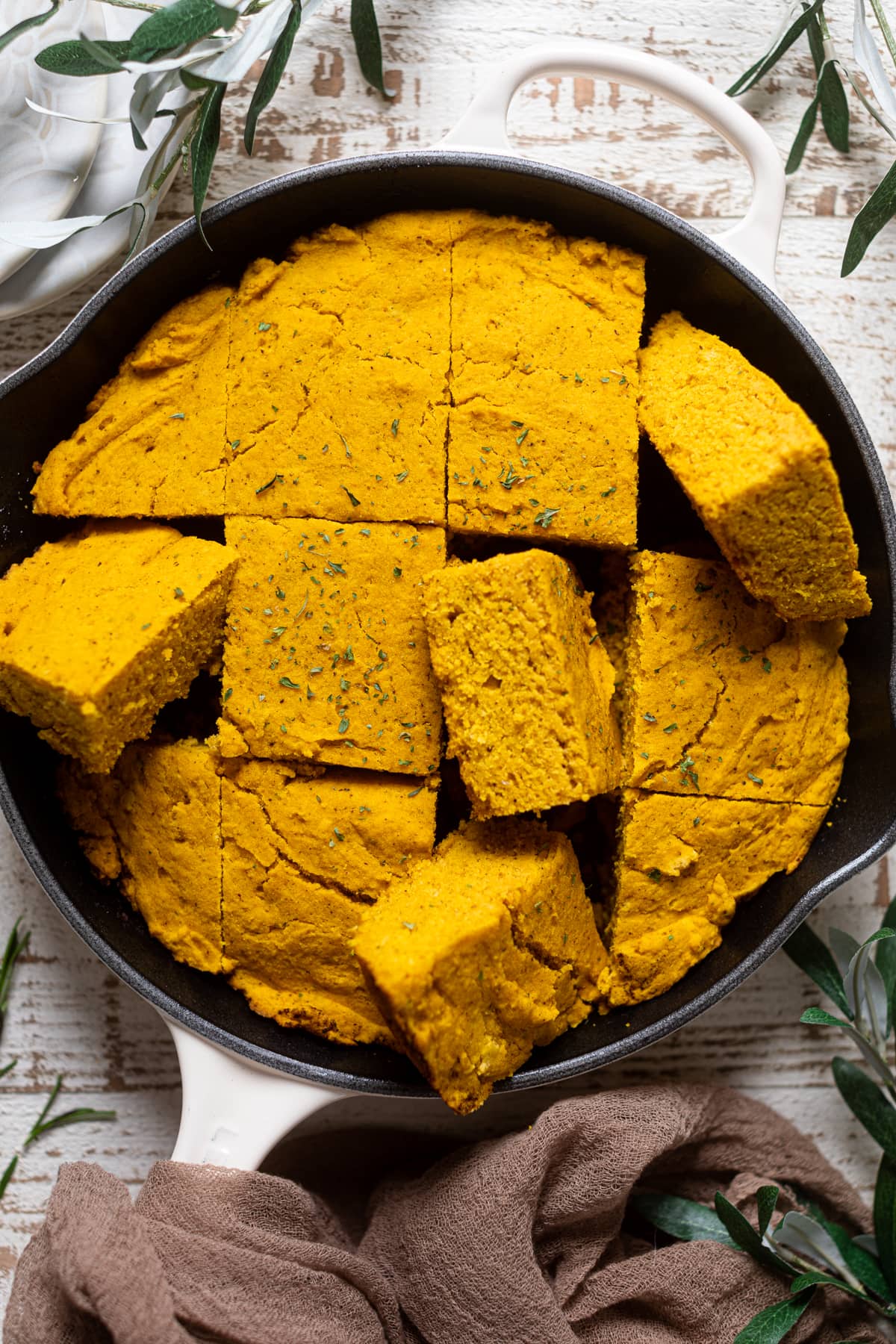 How to Make Your Own Pumpkin Puree
If you're thinking about making your own pumpkin puree instead of using a store-bought canned version, then you'll be happy to know that it is rather simple:
Step 1: Cut your pumpkins in half and scoop out the seeds. Be sure to save the seeds for another time because you can definitely use those!
Step 2: Feel free to cube the pumpkins into medium-large chunks and then place them unto a baking sheet lined with parchment paper. NOTE: ensure that the skin of pumpkin are peeled off at this point.
Step 3: Always season your pumpkin pieces (pinch of salt and cinnamon in this case for the recipe) and lightly grease with olive oil until coated.
Step 4: Roast in the oven at 375 degrees Fahrenheit for about 40-45 minutes or until the edges are golden and they become super tender once tested with a fork or knife.
Step 5: Using a food processor or blender, puree your pumpkin along with water or veggie stock, until smooth. You can either use this immediately in whatever pumpkin recipe you'd like, store it in the freezer for later use.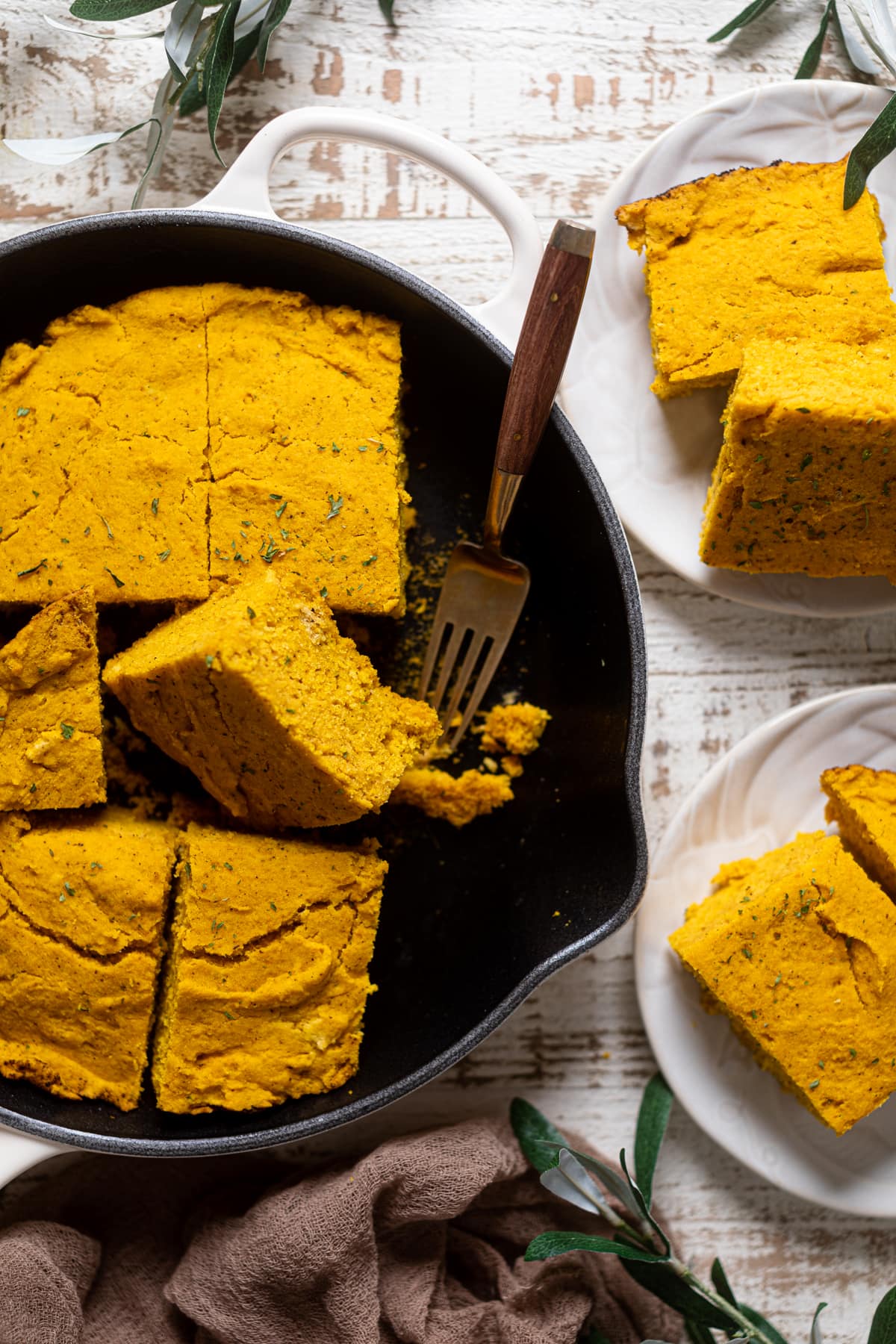 How to Add Pumpkin Flavor to Any Recipe
If you can sneak pumpkin into cornbread, you can infuse it into an array of dishes! It plays the role of a binding agent in sweet delights, much like applesauce or eggs, ensuring moistness and flavor.
And then, it effortlessly transitions into the savory realm, where its earthy notes can elevate your pasta sauces, transform your pizza toppings, or even add depth to soups and stews. In essence, pumpkin opens up a world of culinary possibilities, bridging the gap between sweet and savory with its natural richness and character!
I'd love to share some of my favorite pumpkin-infused recipes with you! When it comes to savory dishes, like the Creamy Vegan Cajun Pumpkin Alfredo Pasta, you can incorporate a can of pure pumpkin for that perfect twist. And for sweet delights, you can add a smaller quantity --you won't want to miss out on The Best Vegan Pumpkin Bread, a fluffy serving of Pumpkin French Toast, or the irresistible Baked Pumpkin French Toast Casserole.
TIP
Be sure to avoid buying canned pumpkin pie filling on accident. Pumpkin pie filling already has spices, sugar, and binders in them, which would change the flavor of your recipe entirely. I prefer to add my own spices and sugar, so 100% pure pumpkin is the way to go.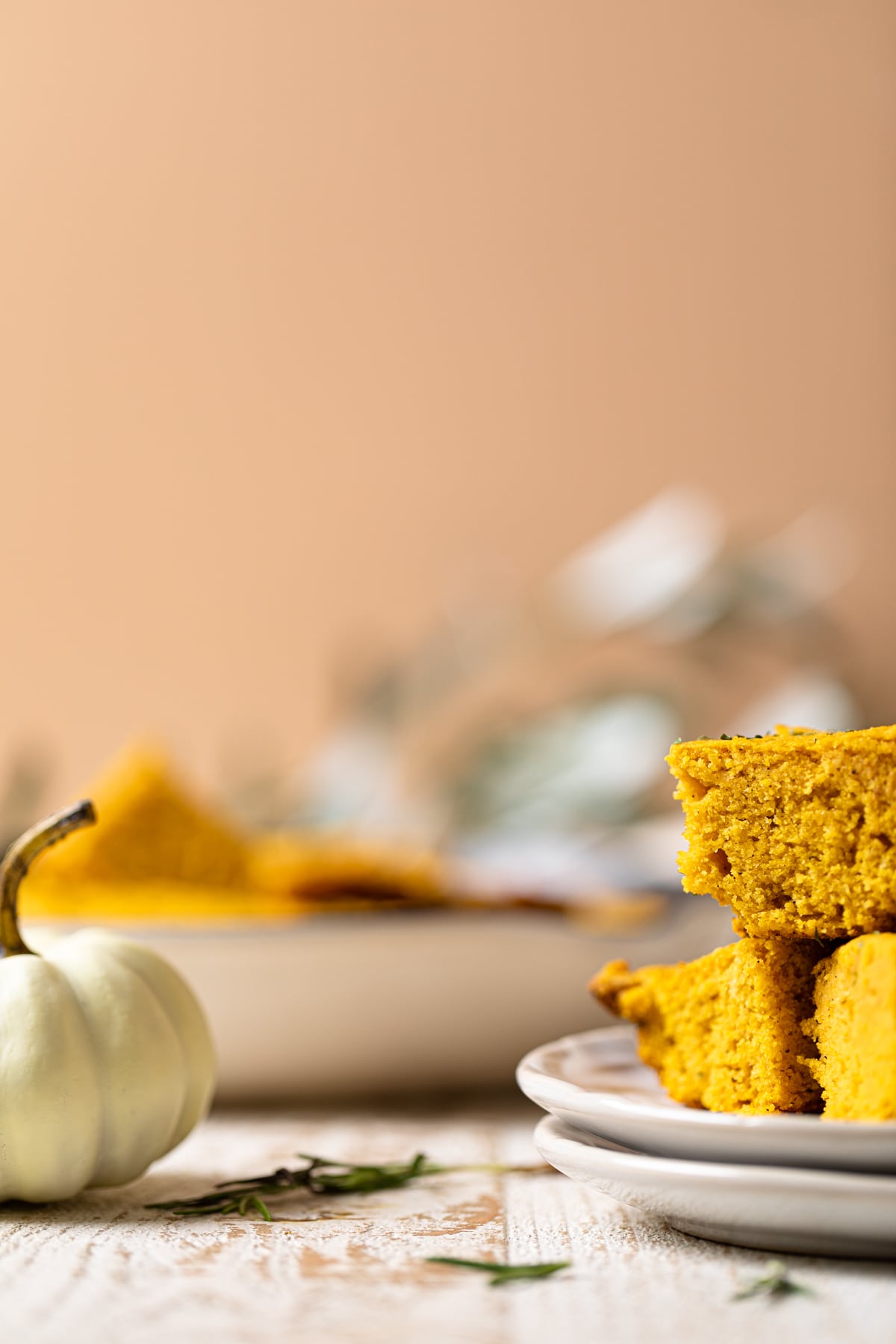 Brown Butter Pumpkin Cornbread Q + A's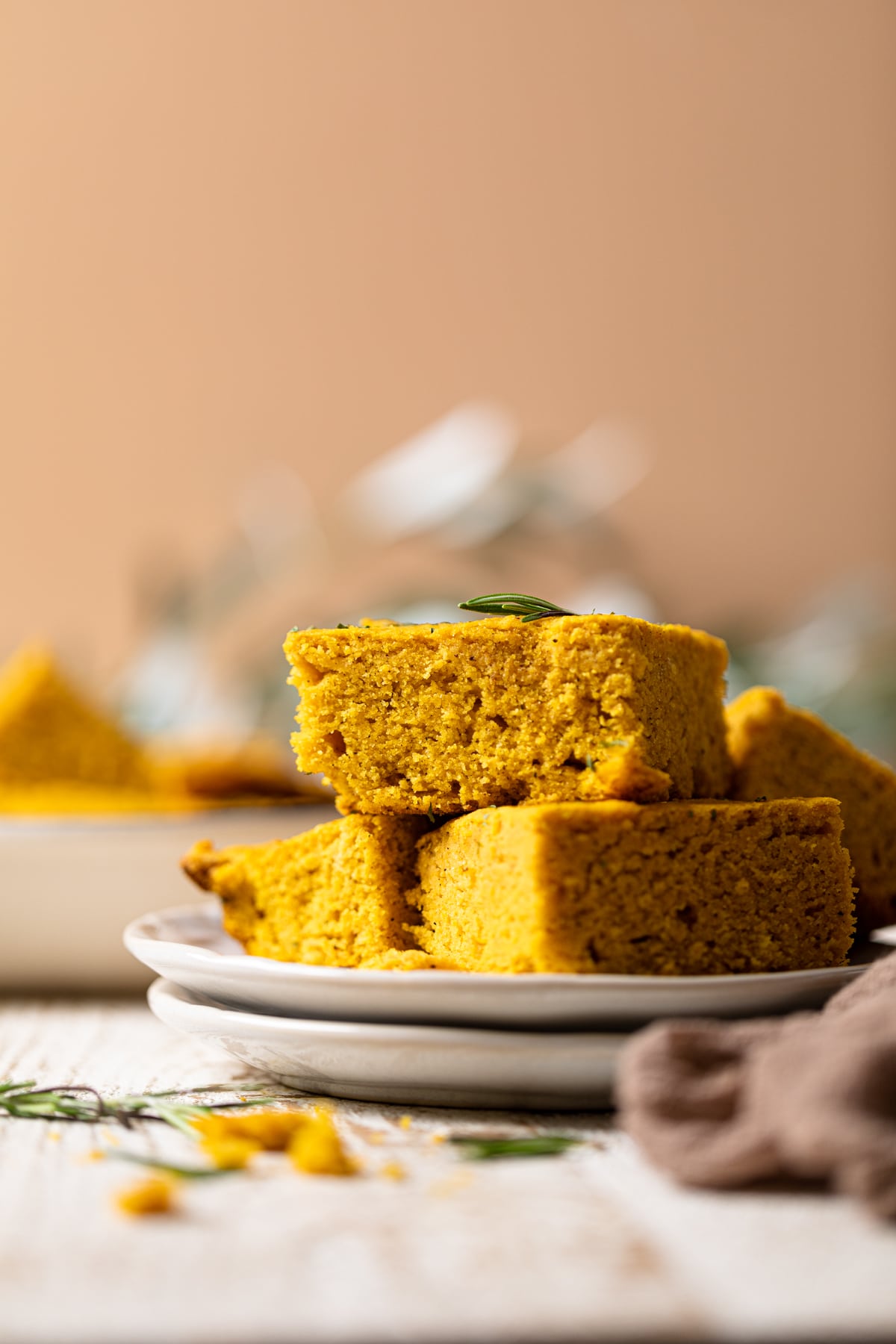 Other Fall-Inspired Pumpkin Recipes You'll Love
If you love this Brown Butter Pumpkin Cornbread recipe, you'll love my other pumpkin Fall recipes!
MADE OUR RECIPE(S)?
If you tried this Brown Butter Pumpkin Cornbread recipe or any other recipe on my website, please please leave a 🌟 star rating and let me know how you go in the 📝 comments below. I love hearing from you.
CORNBREAD:
1 ½

cups

Yellow cornmeal, GF if needed!

1 ½

cups

organic all-purpose flour 

1

tablespoon

baking powder

½

teaspoon

pumpkin spice

1

tablespoon

dried parsley

½

teaspoon

sea salt

½

cup

unsalted butter

¾

cup

organic 100% pumpkin puree

(NOT pie filling!)

½

cup

pure maple syrup

1

cup

Almond milk

(You can use your fave plant-based milk)
TO MAKE THE CORNBREAD:
Preheat oven to 400 degrees Fahrenheit and generously grease your cast iron skillet and line the bottom with parchment paper. Set aside.

In a large mixing bowl, add the cornmeal, flour, baking powder, salt, pumpkin spice, and parsley, whisking them together until well combined.

Add the pumpkin puree, milk, maple syrup, and cooled brown butter, stirring everything together using a rubber spatula until well incorporated and the batter becomes thick yet easy to stir.

Scoop batter into prepared skillet and evenly spread around.

Bake for 25-30 minutes, or until the center is fully cooked through. NOTE: I usually check the middle after 25 minutes with a sharp knife to test how clean it comes out. Once fully done, the center will come out entirely clean.

Remove cornbread from oven and let it cool for 10-15 minutes before slicing and serving.

Bon Appetit!
STORAGE: You can store your leftover cornbread in an airtight container in the refrigerator for 2-3 days for optimal freshness. Simply reheat cornbread in the oven at 350 degrees Fahrenheit when ready to serve again. In addition, you can freeze leftovers for up to 3 months. Just thaw it overnight in the refrigerator and reheat in the oven when ready to serve.
Calories:
371
kcal
|
Carbohydrates:
56
g
|
Protein:
6
g
|
Fat:
14
g
|
Saturated Fat:
8
g
|
Polyunsaturated Fat:
1
g
|
Monounsaturated Fat:
4
g
|
Trans Fat:
0.5
g
|
Cholesterol:
31
mg
|
Sodium:
352
mg
|
Potassium:
224
mg
|
Fiber:
4
g
|
Sugar:
14
g
|
Vitamin A:
3934
IU
|
Vitamin C:
1
mg
|
Calcium:
165
mg
|
Iron:
3
mg