These Garlic Herb Smashed Potatoes are the perfect easy weeknight meal on any given day for the entire family. Baby potatoes tossed in an easy butter-herb mixture and roasted to perfection, come jam-packed with bold flavors when drizzled with a creamy dressing. Plus, this recipe makes for a great meal prep option throughout the week for lunch or dinner and can be spruced up with a substitution of different types of potatoes.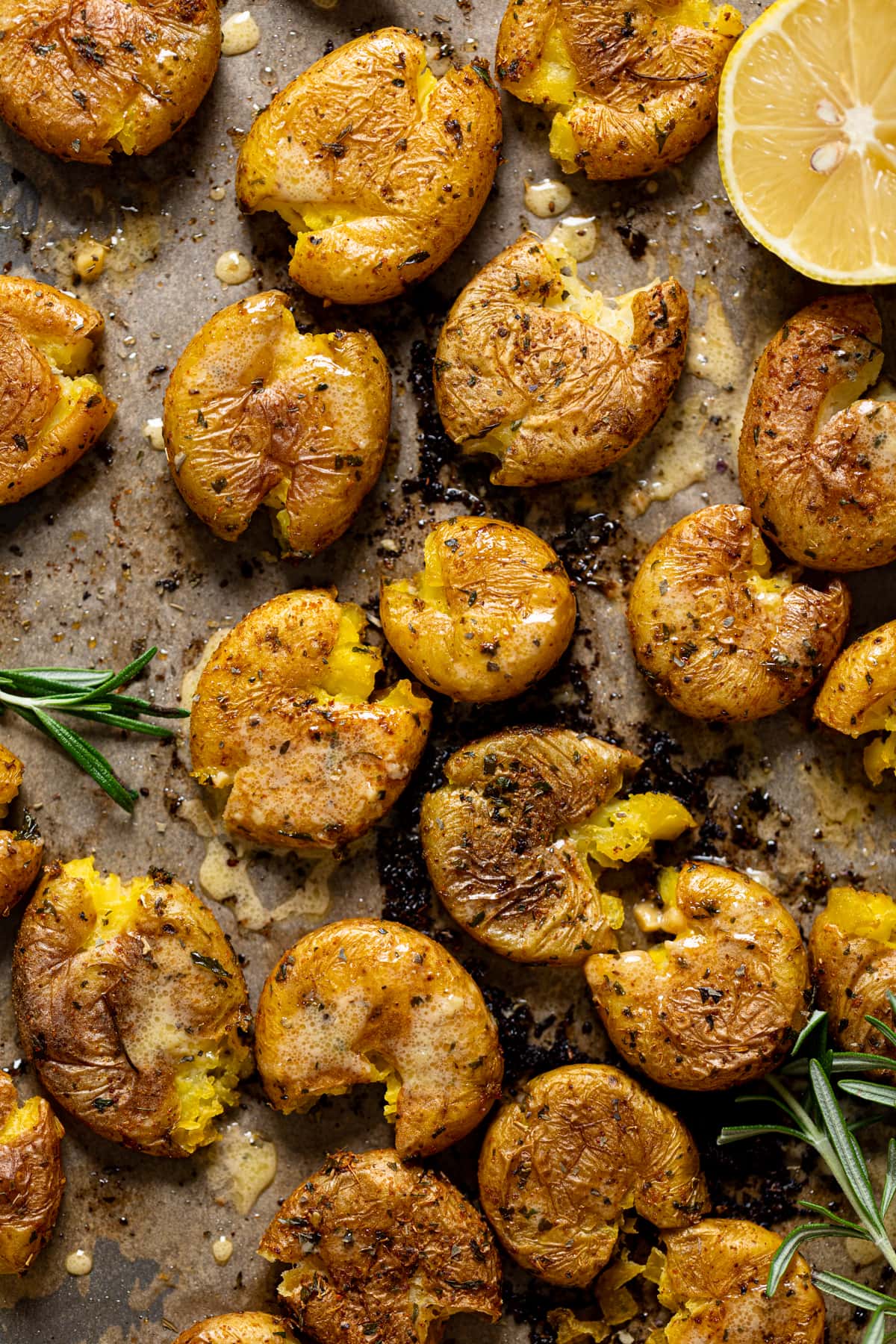 We're in January and with 2022 finally settling in with day 2, I am so excited to share these smashed potatoes with you guys. This recipe is by far one of my go-to's in our house and I love having them as a side dish or as a main dish by adding veggies to roast them with. Regardless of how you like to make these, I promise that they won't disappoint.
This year, I'm all about eating to be free while keeping things healthy to ensure that I am the best version of myself. I know that many of you have voiced your needs as it relates to recipes and I am so happy that you align with my personal views on the types of food that I love and enjoy as well.
Surprisingly, many of you wanted more meatless options as opposed to all vegan, and I'm so excited to bring you more of those options. Cheers to an amazing 2022!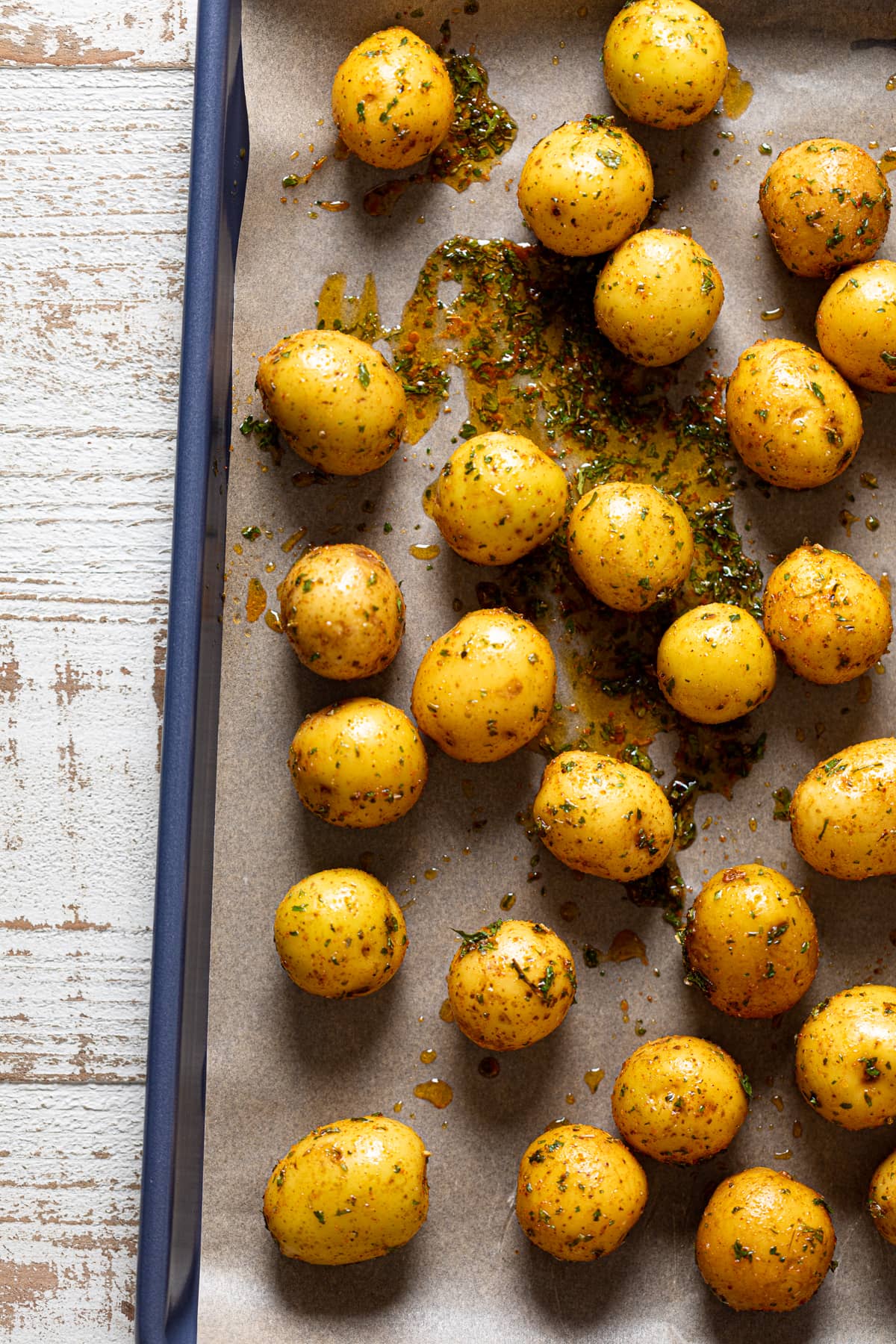 Perfectly Roasted Potatoes
Knowing how to roast all vegetables (in general) perfectly is definitely a learned skill. All veggies are different and they all have vast cooking times.
The most common rule of thumb is to roast thicker vegetables at a higher temperature because they can handle the heat. For example, potatoes or sweet potatoes can roast at a higher temp because of their thickness. Broccoli, on the other hand, lends well to a lower heat when cut into florets.
The other common rule when roasting is to use lots of olive oil and a rimmed baking sheet. The oil flavors the veggies and prevents them from sticking to the pan. You can also use a heavy pinch of salt and pepper for perfectly seasoned vegetables. In this recipe, I chose to use melted vegan butter in place of oil.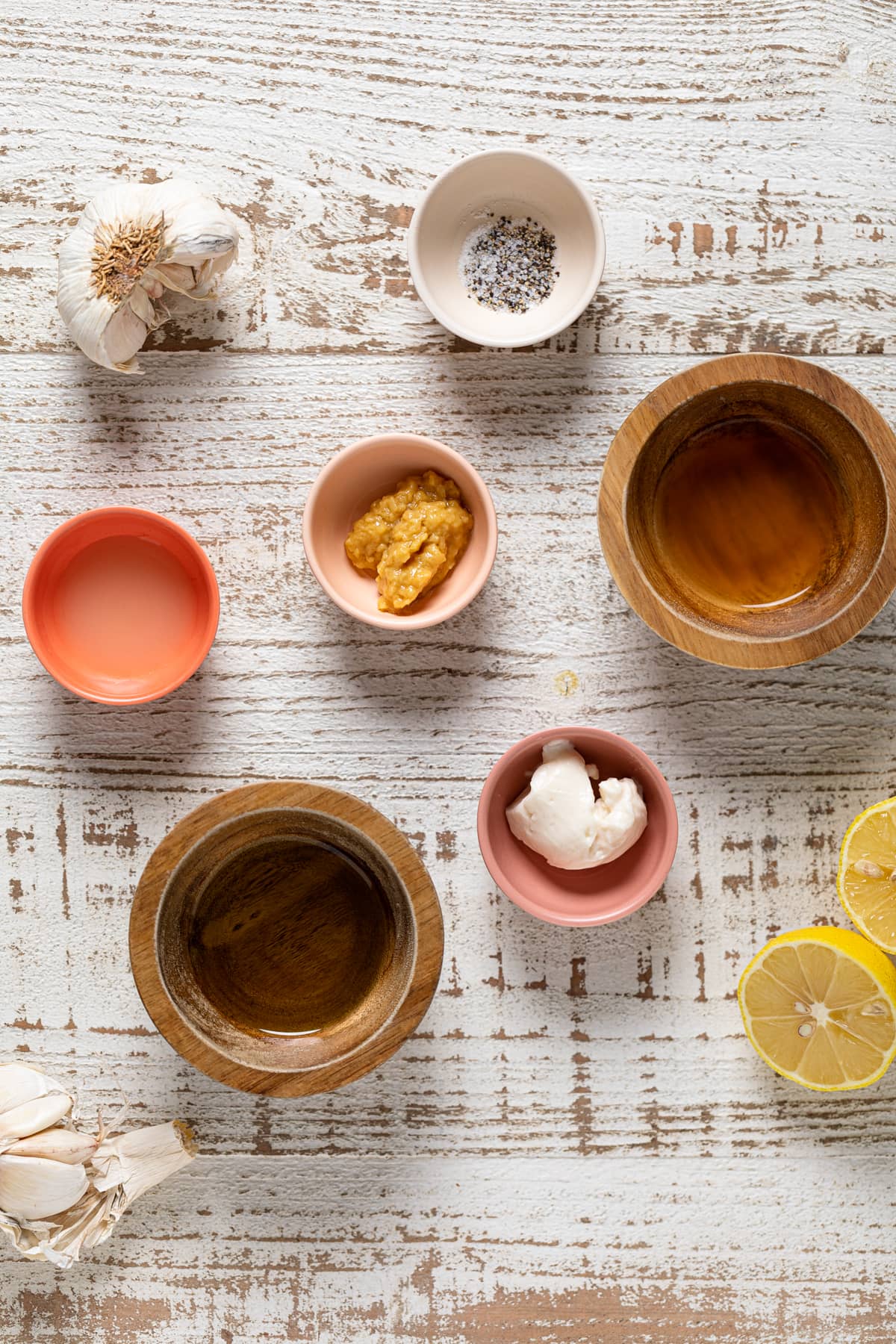 Ingredients in Creamy Apple Cider Vinegar Dressing
¼ cup Apple Cider Vinegar
¼ cup vegan mayonnaise
⅓ cup Extra virgin olive oil
2 garlic cloves, minced
1 Tbsp freshly-squeezed lemon juice
¼ tsp sea salt
¼ tsp black pepper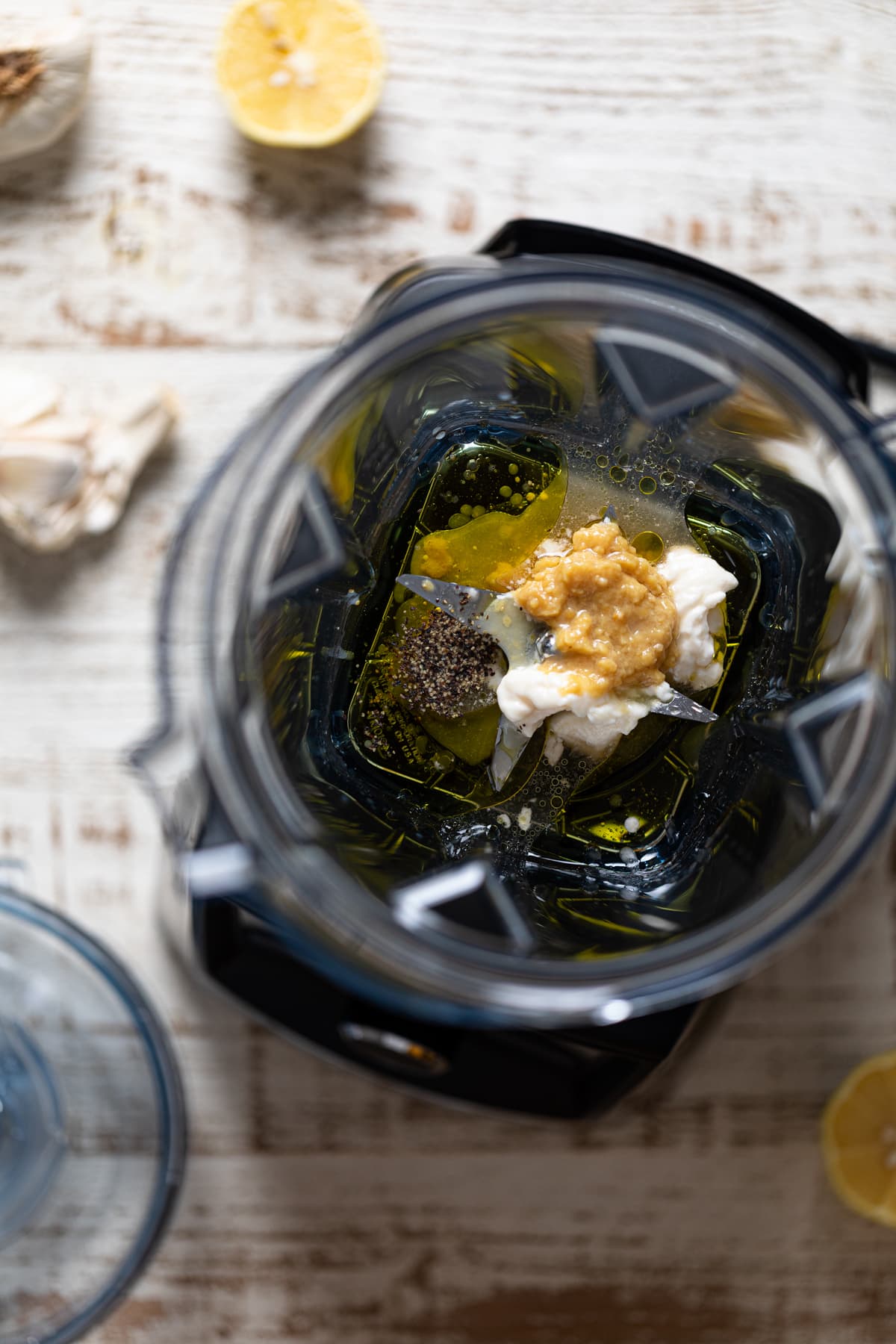 Ingredients in Garlic Herb Smashed Potatoes
1 ½ lbs. baby yukon potatoes
6 Tbsps vegan butter, melted
1 Tbsp sea salt
1 Tbsp black pepper
1 Tbsp dried oregano
1 Tbsp dried basil
1 Tbsp garlic powder
1 Tbsp dried parsley
1 ½ tsps smoked paprika
1 tsp red pepper flakes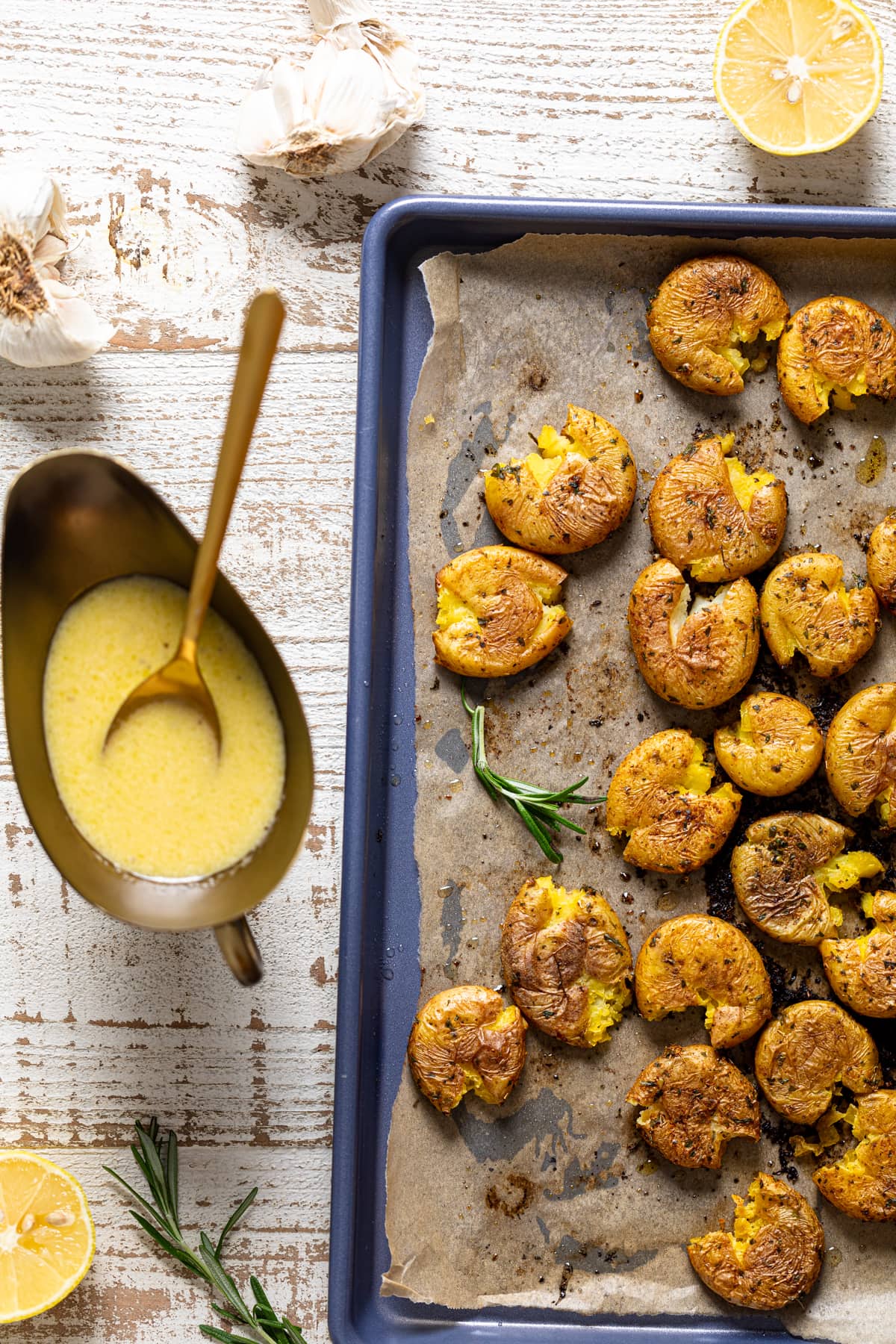 Boiling vs. Roasting Potatoes
I know that many people usually boil their potatoes to cook them and then smash them  before roasting them so that they are crisp. However, I love roasting my potatoes from start to finish because I love having the butter/oil along with the herbs infuse into the potatoes as it bakes through.
Plus, I find that the potatoes are less moist when roasted as opposed to boiling them where they might retain water. Either way----you can do whichever method works for you or feels more convenient.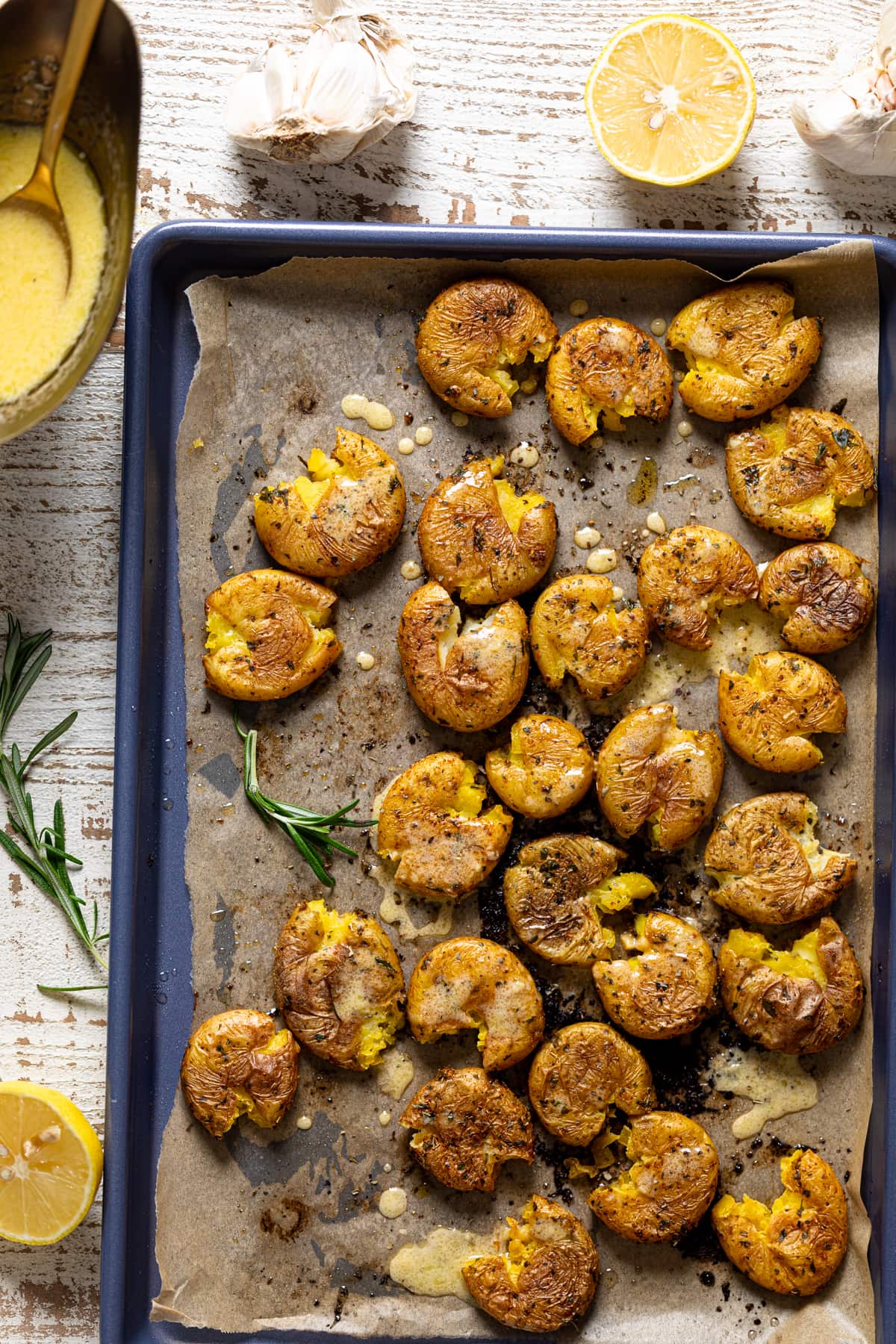 Other Recipes You'll Love in January
If you are a fan of these Garlic Herb Smashed Potatoes, you will also love these!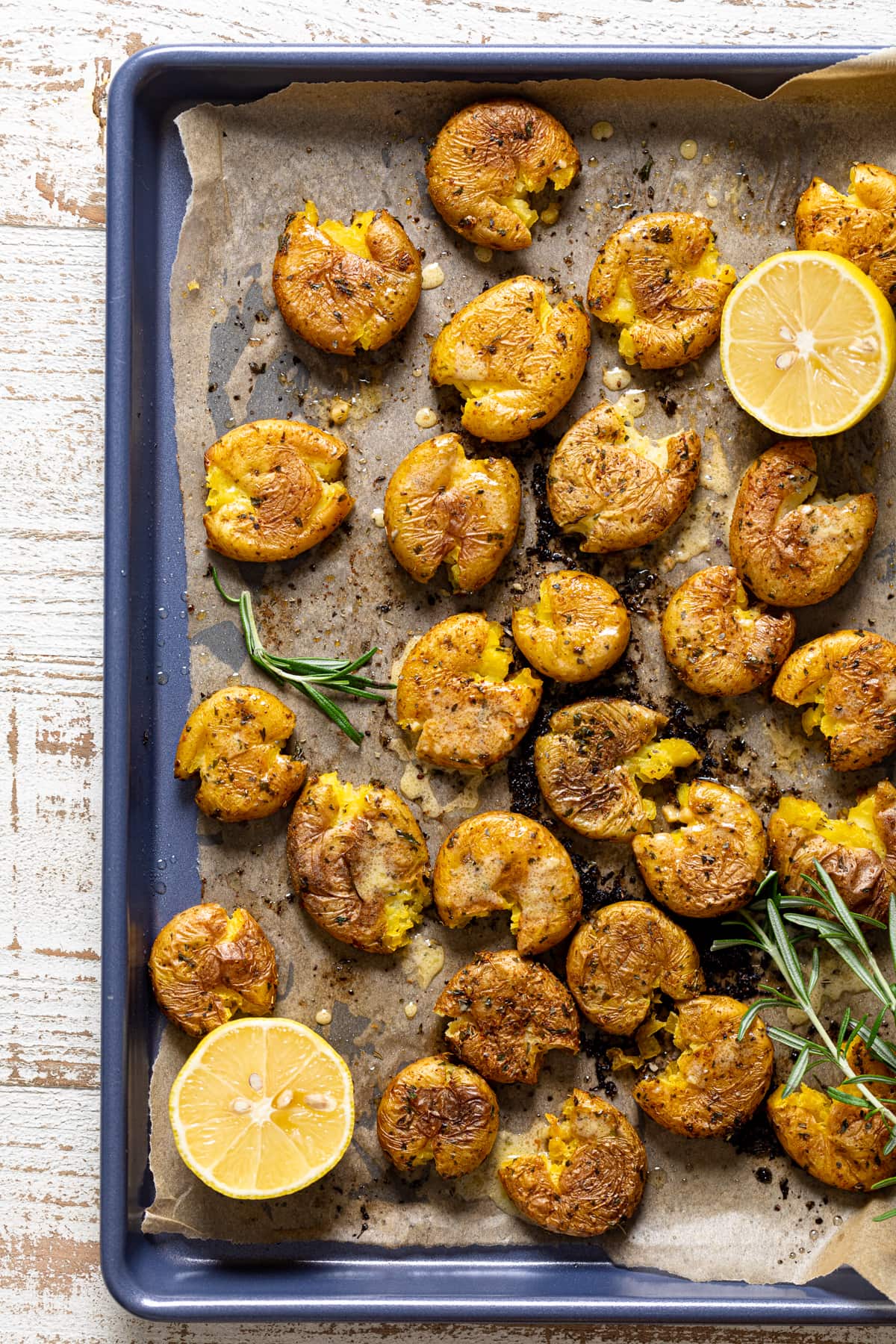 POTATOES:
1 ½

lbs.

baby yukon potatoes

(See Notes!)

10

Tbsps

vegan butter, melted

(See Notes!)

1 ½

Tbsps

sea salt

1 ½

Tbsps

black pepper

1 ½

Tbsps

dried oregano

1 ½

Tbsps

dried basil

1 ½

Tbsps

garlic powder

1 ½

Tbsps

dried parsley

1 ½

tsps

smoked paprika

1

teaspoon

red pepper flakes
APPLE CIDER VINEGAR DRESSING:
PREP + BAKE THE POTATOES:
Preheat your oven to 400 degrees Fahrenheit and prepare a baking sheet by lining it with parchment paper.

Thoroughly scrub and rinse the baby potatoes until clean and pat dry.

In a bowl, add the melted butter and herbs together, mixing until combined.

In a large bowl, add the clean potatoes along with half the amount of the butter-herb mixture, mixing everything together with both hands until fully coated. NOTE: You can always use gloves if you don't want to get your hands messy.

Add coated potatoes to prepared baking sheet and bake for 25-30 minutes or until the potatoes are tender. Once tender, carefully press the tops of each potato (using the bottom of a bowl or cup) until flattened and "smashed". After all potatoes are smashed, top each potato with the remaining butter-herb mixture and continue to bake for another 10-15 minutes or until the edges are crisp and golden.
TO MAKE THE APPLE CIDER VINEGAR DRESSING:
Add all ingredients to high-powered blender and blend on high-speed until foamy and smooth, about 1-2 minutes. For more creaminess, add additional vegan mayo. Add dressing to your favorite gravy boat or bowl.

Remove from oven and let them cool slightly before serving and drizzling the tops with the dressing!

Bon Appetit!
STORAGE: Place any leftovers in a tightly sealed container in the refrigerator for 3-4 days.
POTATOES: For an extra kick, you can always substitute Yukon potatoes with baby red potatoes, sweet potatoes (sliced in rounds), etc.
OIL: If you'd like to use oil instead of butter, you can also use extra virgin olive oil, coconut oil, or grapeseed oil.
DRESSING (STORAGE): To store any leftovers of dressing, add it to a tightly sealed container or mason jar for up to 1 month.
DRESSING METHOD: If you don't have a high-powered blender or don't care to use it---you can always whisk together the ingredients. 
Calories:
667
kcal
|
Carbohydrates:
39
g
|
Protein:
5
g
|
Fat:
56
g
|
Saturated Fat:
9
g
|
Polyunsaturated Fat:
11
g
|
Monounsaturated Fat:
27
g
|
Trans Fat:
5
g
|
Sodium:
3098
mg
|
Potassium:
921
mg
|
Fiber:
7
g
|
Sugar:
2
g
|
Vitamin A:
592
IU
|
Vitamin C:
36
mg
|
Calcium:
116
mg
|
Iron:
4
mg
Garlic Herb Smashed Potatoes.