Potato lovers, brace yourselves for a flavor sensation – this Crispy Garlic Herb Smashed Potatoes recipe is the real deal. Crispy exteriors, tender interiors, and an explosion of garlic and herb goodness make these spuds a mouthwatering appetizer or a perfect weeknight side dish for the whole family. These baby potatoes are bathed in a delightful butter-herb concoction, roasted to crispy perfection, and elevated to flavor heaven when drizzled with a creamy dressing. Vegan + Gluten-free.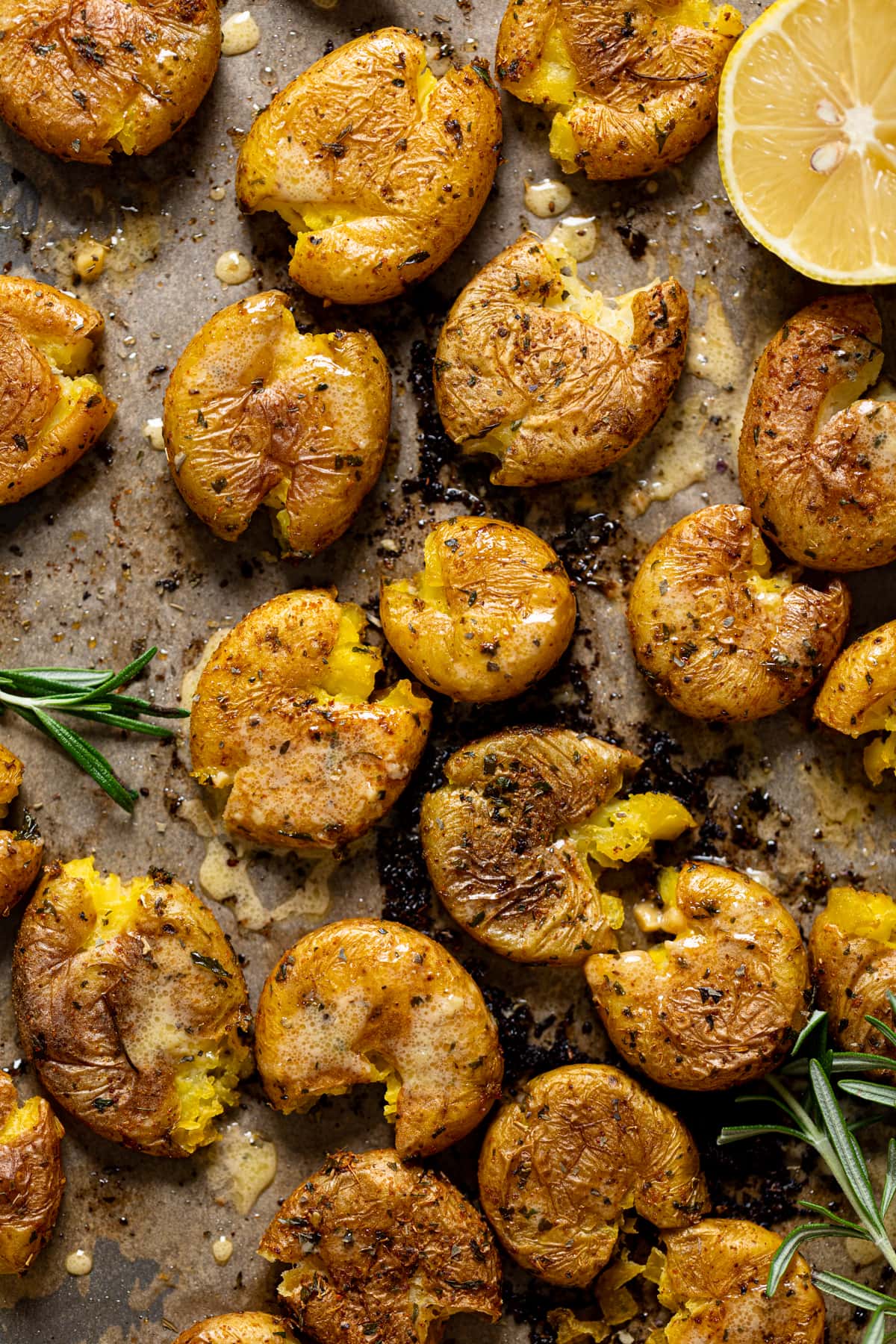 What Makes Crispy Garlic Herb Smashed Potatoes SO GOOD?
In our household, we've got a soft spot for all things potato-related – Mashed Potato, Crinkle Cut French Fries, Potato Milk, and one of my personal faves --Our starchy friend swimming in a cozy bowl of Cheddar Garlic Herb Potato Soup to name a few... You name it, we're fans!

But then, I realized I was missing something crucial on Orchids + Sweet Tea – A delicious fool-proof smashed potato recipe. So, I decided it was high time to rectify that. And the best part? This recipe is incredibly easy, I promise! With just a few simple ingredients and a few minutes of prep, these smashed potatoes are a delightful treat that anyone, including potato recipe enthusiasts like us, can whip up without a hitch!
This smashed potato recipe is by far one of my go-to's in our house and I love having them as a side dish or as a main dish by adding veggies to roast them with all year round. Perfect side dish or appetizer for barbeques, holiday feasts, or just as an afternoon snack!
Jump to: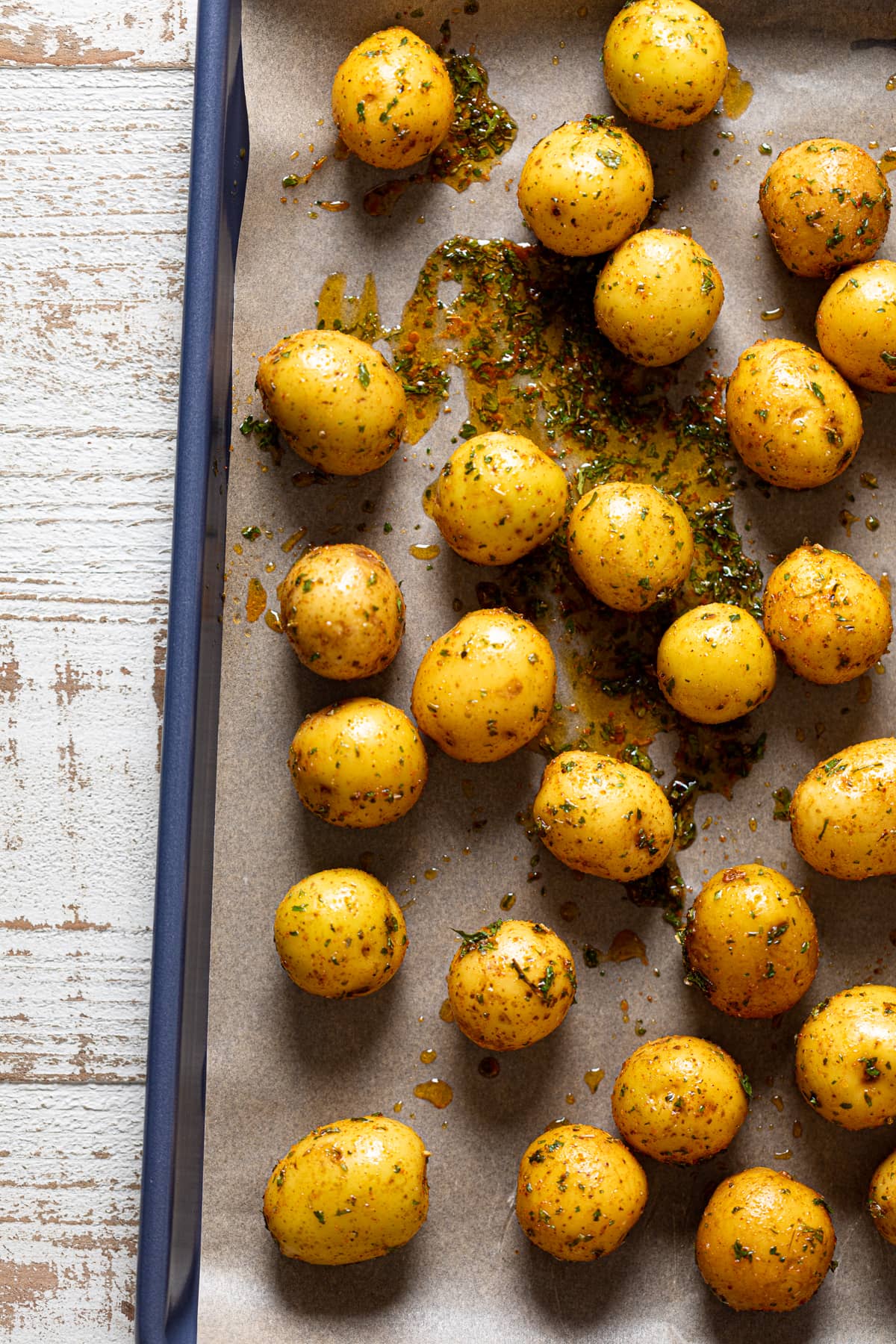 How To Make Garlic Herb Smashed Potatoes
Simply start by scrubbing and rinsing those adorable baby potatoes. Then, generously brush them with melted butter + flavorful herbs. Pop them in the oven to bake until they're perfectly tender, then give each one a gentle smash. (I use the underside of a glass) Back into the oven, they go to crisp up, and voilà!
Ingredients
Aside from getting your smashed potatoes nice and crispy in the oven, you'll want to be sure to season the potatoes very well. Here's what you need for this Garlic Herb Smashed Potatoes Recipe:
Baby Yukon potatoes. These potatoes create a create fluffy center and crispy outer!
Vegan butter. I love using the brand Earth Balance--but any will work fine. Be sure to melt beforehand!
Sea salt + Pepper. Himalayan pink salt also works.
Dried parsley + basil + oregano. For some herby flavor.
Garlic powder. This is easier to distribute evenly over the potatoes, plus it won't burn easily like fresh garlic.
Smoked paprika. For some smokiness and spice.
Red pepper flakes. A pinch more spiciness.
Creamy Apple Cider Vinegar Dressing Ingredients
Apple Cider Vinegar: Adds a tangy, fruity flavor and a hint of acidity to balance the richness.
Vegan Mayonnaise: Provides creaminess and body to the dressing without the need for dairy.
Extra Virgin Olive Oil: Enhances the overall texture and richness of the dressing.
Garlic: Infuses a delightful garlicky aroma and flavor.
Freshly-Squeezed Lemon Juice: Offers a zesty and citrusy kick.
Sea Salt: Elevates the flavors with its gentle salinity.
Black Pepper: Adds a touch of mild spice and depth to the dressing.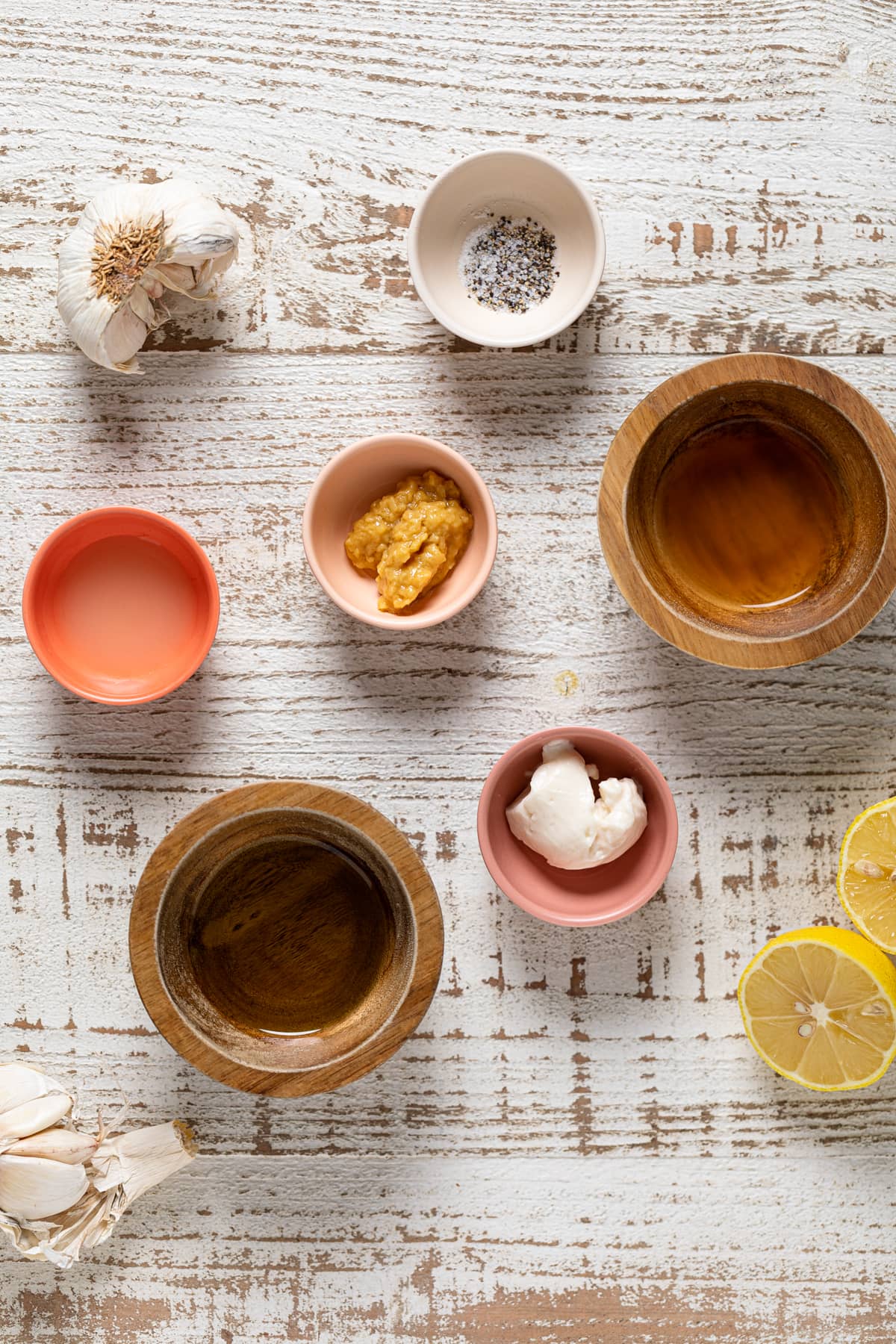 Why You Will Completely LOVE These Crispy Smashed Potatoes
Crispy exterior, tender interior – the perfect potato texture.
Bursting with garlic and herb flavors!
Ideal side dish for the whole family to enjoy.
Versatile--complements various main courses.
A total crowd-pleaser at gatherings and dinner parties.
Elevates your potato game to a whole new level.
Best Condiments To Dip Smashed Potatoes Into
Dipping these Garlic Herb Smashed Potatoes is a must and while there are many options out there, I highly recommend serving this potato recipe with any of the following:
Ketchup
Vegan Mayo
Chili Sauce
Tartar Sauce
Garlic Sauce
Burger Sauce + more!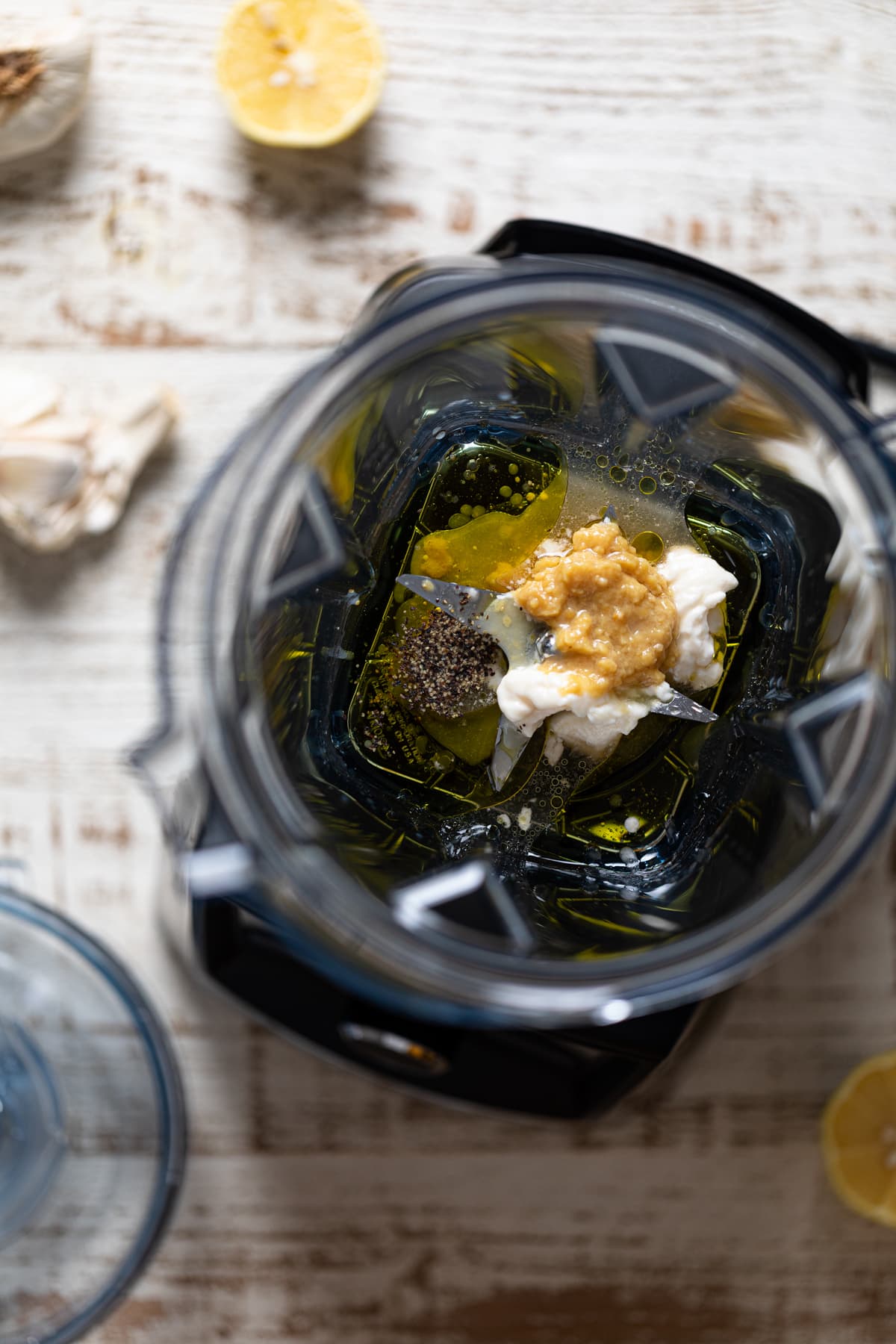 Boiling vs. Roasting Potatoes
I know that many people usually boil their potatoes to cook them and then smash them before roasting them so that they are crisp. However, I love roasting my potatoes from start to finish because I love having the butter/oil along with the herbs infuse into the potatoes as it bakes through.
Plus, I find that the potatoes are less moist when roasted as opposed to boiling them where they might retain water. Either way----you can do whichever method works for you or feels more convenient.
Can I Add Additional Ingredients for Flavor?
Absolutely! When it comes to food, I can be pretty over the top on most occasions, so adding extra flavor is ALWAYS WELCOMED! With this smashed potatoes recipe, for more deliciousness, you can candied bacon on top, or season with different spices like Homemade Lemon Pepper Seasoning or Cajun Seasoning and for an extra crunch panko breadcrumbs make a delicious topping!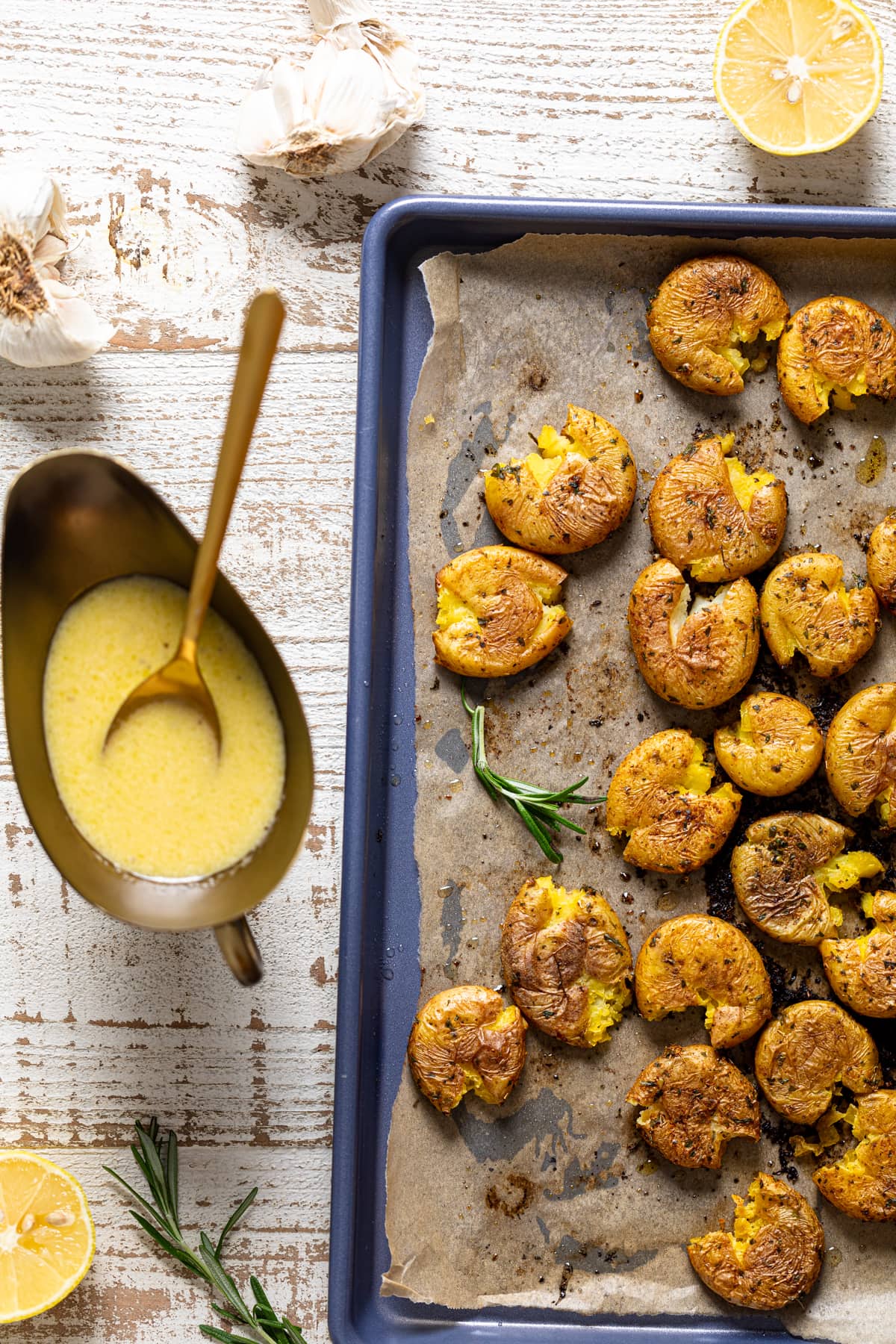 How To Serve Crispy Smashed Potatoes?
These homemade Crispy Garlic Herb Smashed Potatoes are so incredibly tasty that they can stand tall as a delicious snack all by themselves. They're a crunchy and satisfying treat that will have you reaching for more.
But if you want a little more, consider pairing them with these delightful options:
On The Holiday Table:
Elevate your holiday table, a delightful vegan + gluten-free side dish that perfectly complements your festive feast.
Burgers + Sandwiches:
Match the crave-worthy crunch of the smashed potatoes with a juicy, flavorful burger or sandwich. It's a match made in culinary heaven! Try alongside this Jerk Turkey Burger, Southern-Style Bacon Grilled Cheese Sandwich or this vegan-friendly Vegan 'Tuna' Melt Sandwich
Wings:
Serve with another favorite side like these juicy tender Orange Chicken Wings or with a veggie alternative like Lemon Pepper Cauliflower Wings
Loaded Smashed Potatoes:
Top the potatoes with a generous helping of hearty chili, gooey melted cheese, and a dollop of sour cream. It's a flavor explosion that combines the indulgence of comfort food with the irresistible crunch of crispy potatoes. Use this Loaded Potatoes with Spicy Beans or this Meatless Buffalo Ranch Kettle Chip Nachos for nacho fries inspiration!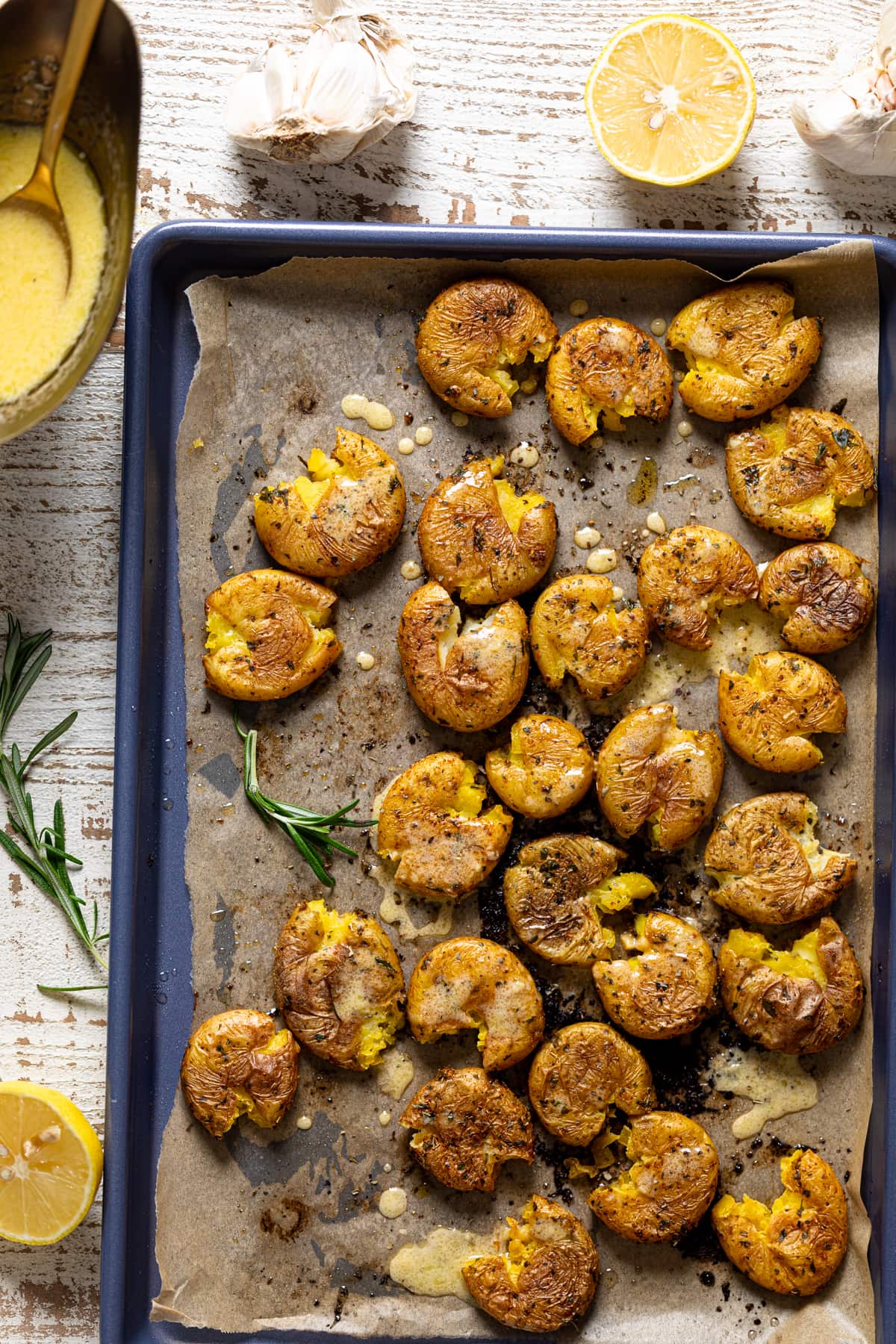 Crispy Garlic Herb Smashed Potatoes Q + A's
How To Store?
Place any leftovers in a tightly sealed container in the refrigerator for 3-4 days.
Can I Air-Fry These Smashed Potatoes?
While I made these smashed potatoes originally in the oven, this recipe will also work in your air fryer.
I have found that cooking with an air fryer is fast and fairly easy. Air fryers tend to get hotter and have better air circulation than your oven, so the homemade potatoes might need a slightly shorter cook time.
Can I Use Other Seasonings?
Absolutely! You can get creative with your seasoning choices. Just be mindful of the quantities to ensure the seasoning complements the potatoes without overpowering them.
Why Won't My Potatoes Get Crispy?
This issue is rather common if you use very starchy potatoes, Yukon gold, baby red potatoes, sweet potatoes (sliced in rounds) is the best to avoid this!
Can i use oil instead of butter?
Yes! If you'd like to use oil instead of butter, you can also use extra virgin olive oil, coconut oil, or grapeseed oil.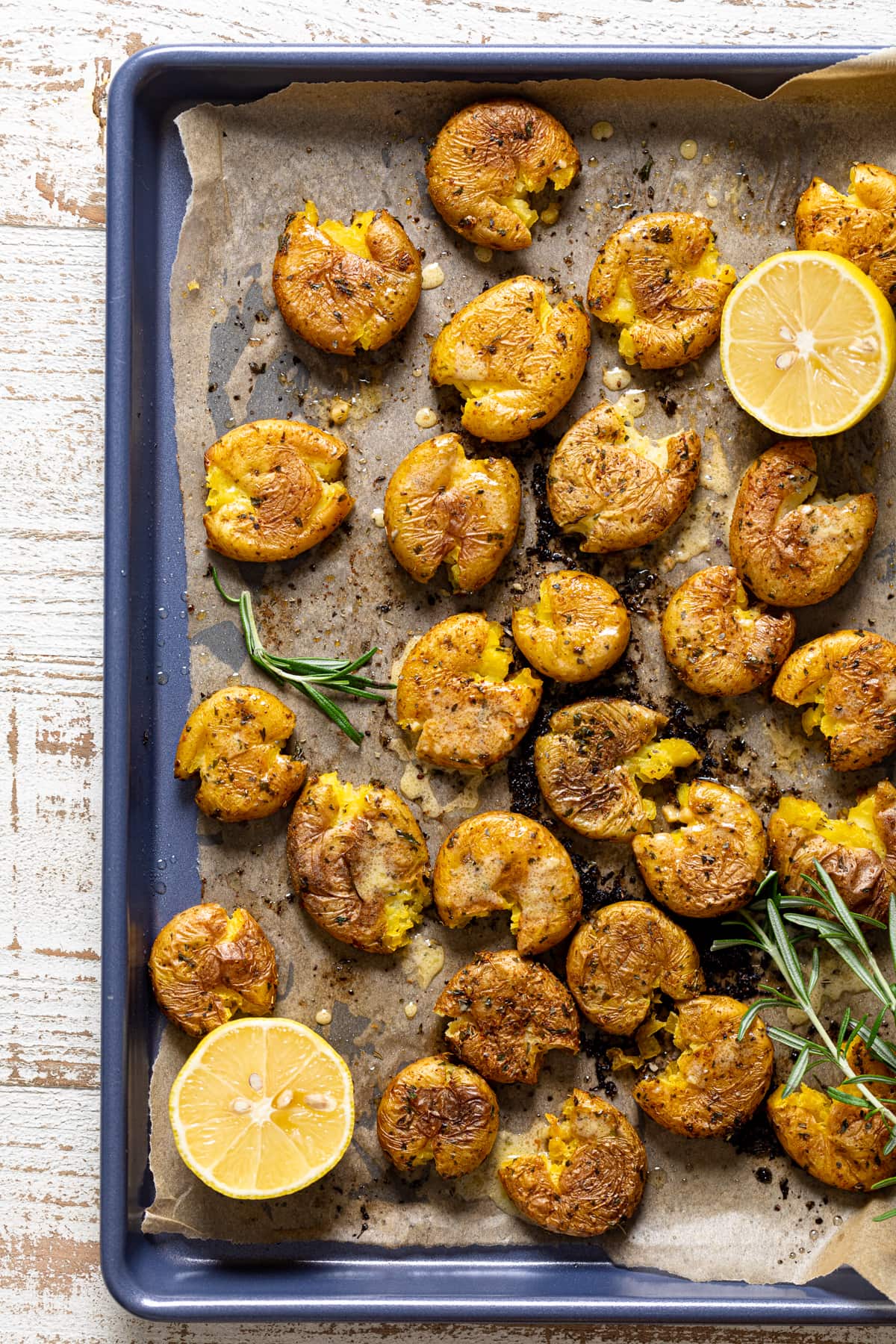 Other Side Dishes You'll Love
If you are a fan of these Garlic Herb Smashed Potatoes, you will also love these sides!
MADE OUR RECIPE(S)?
If you tried this Garlic Herb Smashed Potatoes recipe or any other recipe on my website, please please leave a 🌟 star rating and let me know how you go in the 📝 comments below. I love hearing from you.
POTATOES:
1 ½

lbs.

baby yukon potatoes

(See Notes!)

10

Tbsps

vegan butter, melted

(See Notes!)

1 ½

Tbsps

sea salt

1 ½

Tbsps

black pepper

1 ½

Tbsps

dried oregano

1 ½

Tbsps

dried basil

1 ½

Tbsps

garlic powder

1 ½

Tbsps

dried parsley

1 ½

tsps

smoked paprika

1

teaspoon

red pepper flakes
APPLE CIDER VINEGAR DRESSING:
PREP + BAKE THE POTATOES:
Preheat your oven to 400 degrees Fahrenheit and prepare a baking sheet by lining it with parchment paper.

Thoroughly scrub and rinse the baby potatoes until clean and pat dry.

In a bowl, add the melted butter and herbs together, mixing until combined.

In a large bowl, add the clean potatoes along with half the amount of the butter-herb mixture, mixing everything together with both hands until fully coated. NOTE: You can always use gloves if you don't want to get your hands messy.

Add coated potatoes to prepared baking sheet and bake for 25-30 minutes or until the potatoes are tender. Once tender, carefully press the tops of each potato (using the bottom of a bowl or cup) until flattened and "smashed". After all potatoes are smashed, top each potato with the remaining butter-herb mixture and continue to bake for another 10-15 minutes or until the edges are crisp and golden.
TO MAKE THE APPLE CIDER VINEGAR DRESSING:
Add all ingredients to high-powered blender and blend on high-speed until foamy and smooth, about 1-2 minutes. For more creaminess, add additional vegan mayo. Add dressing to your favorite gravy boat or bowl.

Remove from oven and let them cool slightly before serving and drizzling the tops with the dressing!

Bon Appetit!
STORAGE: Place any leftovers in a tightly sealed container in the refrigerator for 3-4 days.
POTATOES: For an extra kick, you can always substitute Yukon potatoes with baby red potatoes, sweet potatoes (sliced in rounds), etc.
OIL: If you'd like to use oil instead of butter, you can also use extra virgin olive oil, coconut oil, or grapeseed oil.
DRESSING (STORAGE): To store any leftovers of dressing, add it to a tightly sealed container or mason jar for up to 1 month.
DRESSING METHOD: If you don't have a high-powered blender or don't care to use it---you can always whisk together the ingredients. 
Calories:
667
kcal
|
Carbohydrates:
39
g
|
Protein:
5
g
|
Fat:
56
g
|
Saturated Fat:
9
g
|
Polyunsaturated Fat:
11
g
|
Monounsaturated Fat:
27
g
|
Trans Fat:
5
g
|
Sodium:
3098
mg
|
Potassium:
921
mg
|
Fiber:
7
g
|
Sugar:
2
g
|
Vitamin A:
592
IU
|
Vitamin C:
36
mg
|
Calcium:
116
mg
|
Iron:
4
mg