Vegans (and non-vegans) should not miss out on the deliciousness that nachos offer and my Loaded Potatoes with Spicy Beans are the perfect solution! A delicious Buffalo + Garlic combo sauce atop tender roasted potatoes, roasted tomatoes, poblano peppers, sweet pepper, and beans turn this dish into the perfect healthy comfort food for the entire family.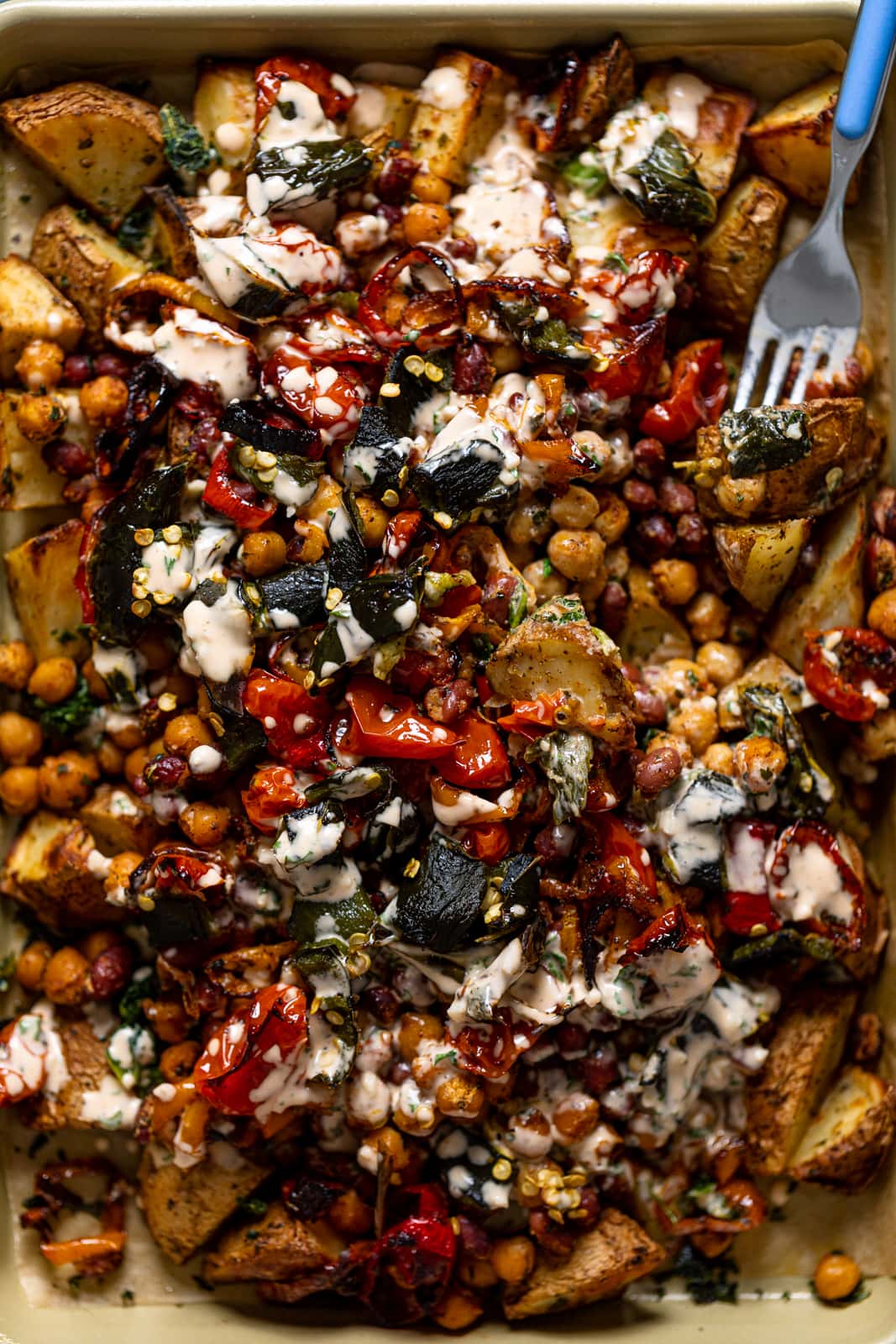 Potatoes have always been my THING since during my childhood and this Loaded Potatoes dish is by far on my top faves for the summer and beyond. I'm always down for something easy and roasted potatoes and veggies are not only easy, but full of bold flavor.
Personally, I love creating my own simple dressing, however, topping these loaded potatoes with something like store-bought ranch sauce by Follow Your Heart is just as amazing.
Plus, I just love adding a nice spicy element to any dish and this load potatoes dish is no different.
How to Make this Loaded Potatoes with Spicy Beans
This Loaded Potatoes with Spicy Beans is literally made in a matter of minutes once all of the ingredients have been prepped and/or roasted to perfection. All you need is baking sheet lined with parchment paper and the rest is history!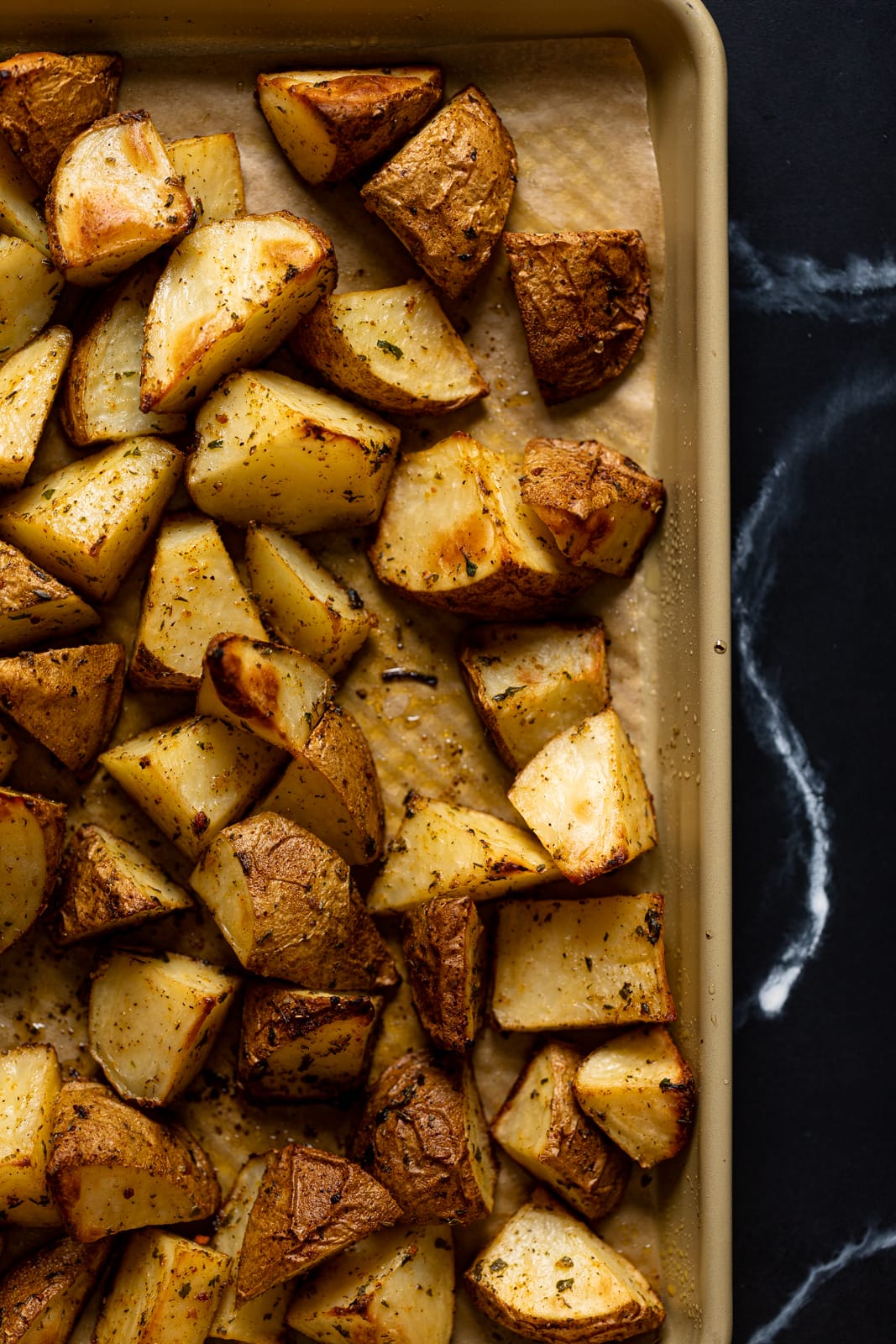 PERFECTLY ROASTED POTATOES + VEGGIES
Knowing how to roast all vegetables (in general) perfectly is definitely a learned skill. All veggies are different and they all have vast cooking times.
The most common rule of thumb is to roast thicker vegetables at a higher temperature because they can handle the heat. For example, potatoes or sweet potatoes can roast at a higher temp because of their thickness. Broccoli, on the other hand, lends well to a lower heat when cut into florets.
How to Make Herb Roasted Tomatoes
The key for this recipe is to start with great-quality tomatoes. Choose a mix of large and cherries, and several different colors if you can find them.
INGREDIENTS
Tomatoes. You can add as many tomatoes as will fit on your baking sheet.
Olive oil. Don't skimp on the oil! It helps concentrate the tomato flavor and makes a nice jammy texture. You can use these roasted tomatoes like a dressing or sauce.
Dried herbs. I like a mixture of Italian herbs like oregano, basil and parsley. But you can mix up the seasonings with other fresh or dried herbs. Thyme, rosemary, marjoram and tarragon are all delicious with tomatoes.
Spices. Likewise, feel free to play with different spices in your roasted tomatoes. I like paprika, garlic powder and a pinch of red pepper flakes for a slight kick.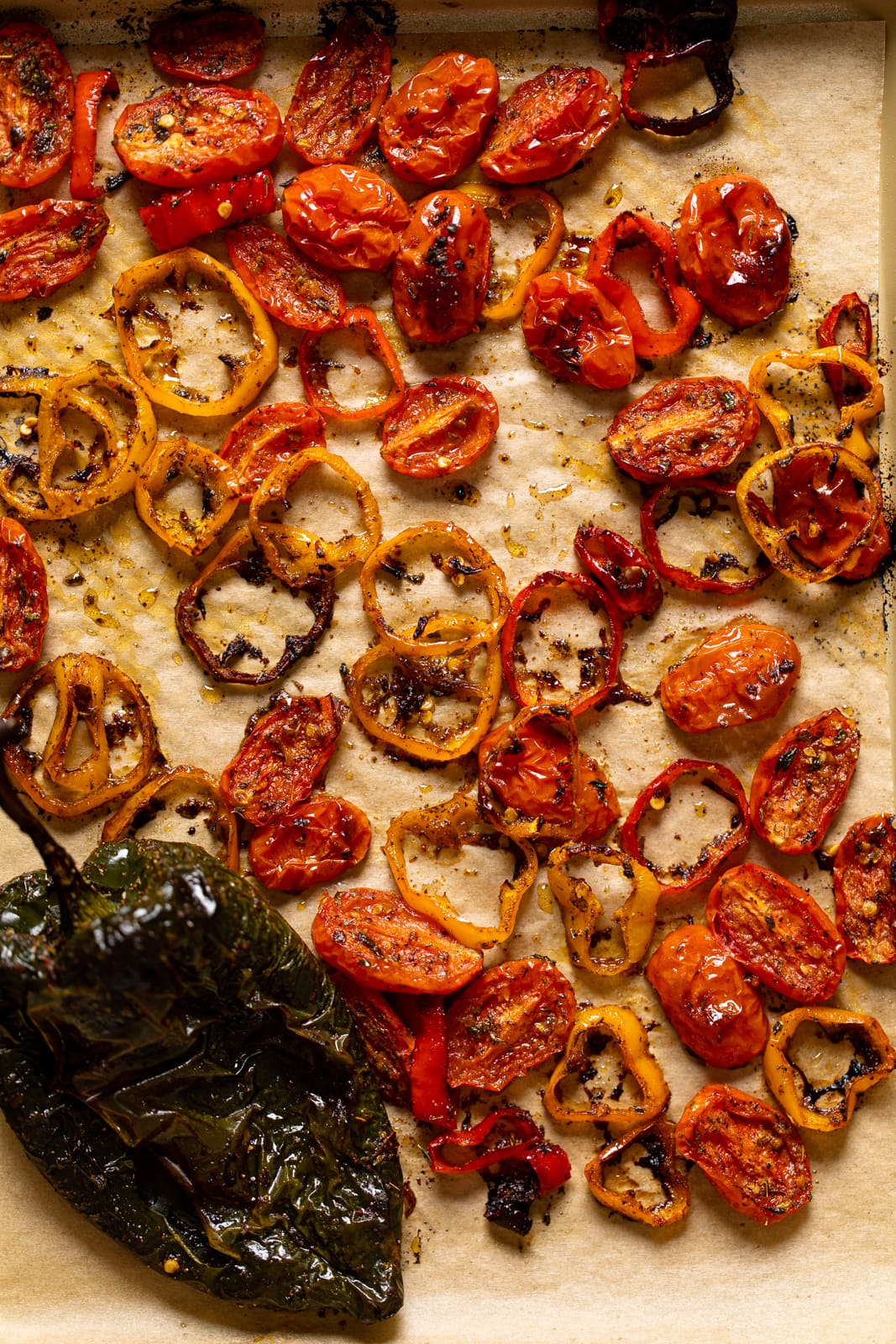 Dairy-Free Garlic Buffalo Dressing for Loaded Potatoes
This creamy and vegan dressing ties these loaded potatoes together without all of the dairy. It gives it body, heft and a silky-smooth texture you'll love.
Here's what you need to make dairy-free dressing:
Garlic. I amp up the garlic flavor by using both fresh and dried.
Vegan mayonnaise. You can use any brand you like. If you're not vegan, feel free to use regular mayo.
Sea salt + black pepper.
Buffalo sauce. I like to use a great vegan store-bought version by The New Primal, however, you can also make your own if desired.
Almond milk. Gives the dressing it's creaminess. You can use your fave plant-based milk.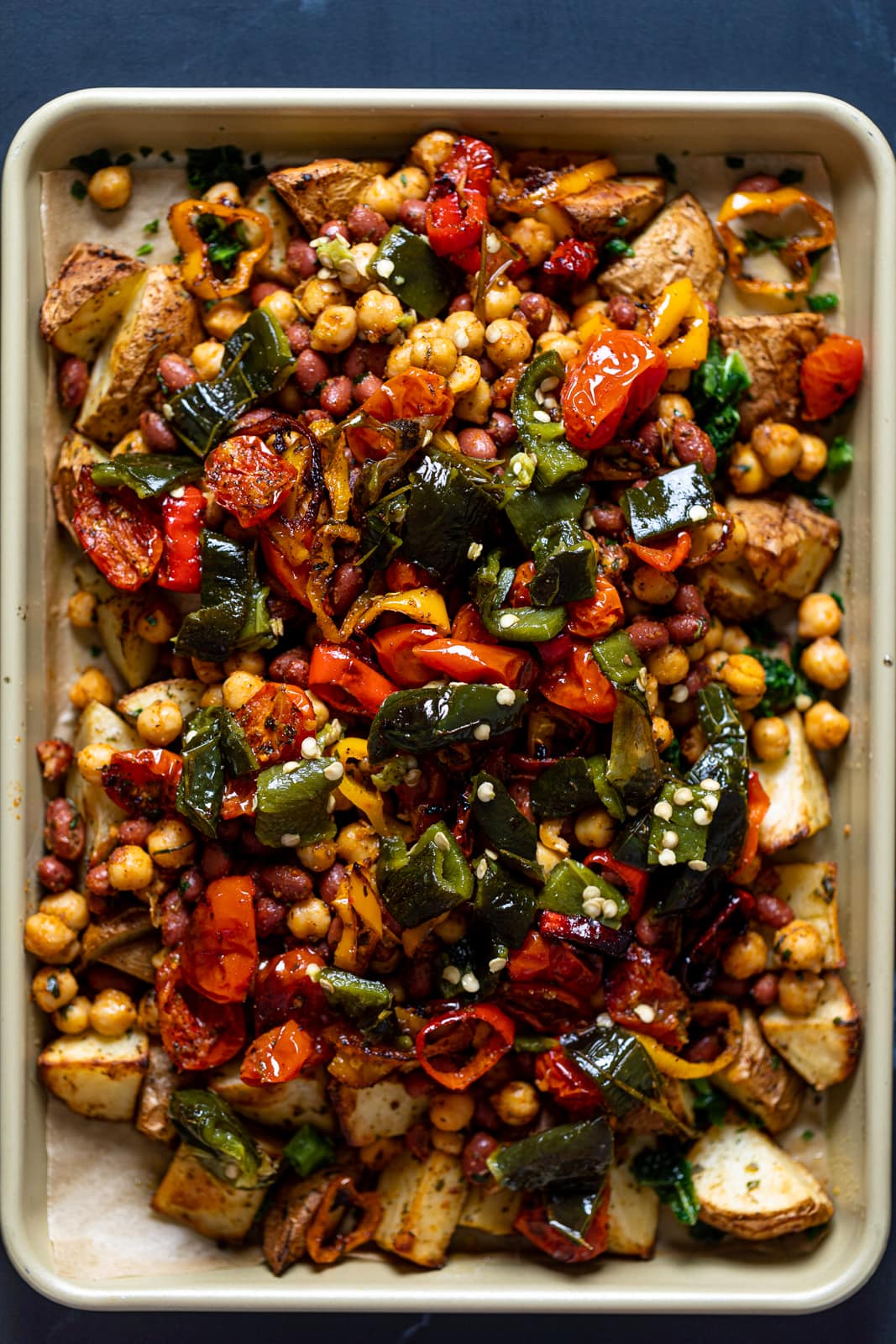 Make-Ahead Tips
You can make these loaded potatoes ahead of time if you like. All ingredients can be made and individually stored as meal prep and assembled and heated in the oven when ready to serve.
What Goes on Loaded Baked Potatoes?
While the protein and potatoes are the bulk of what makes these loaded potatoes so spectacular, the toppings are often overlooked. Toppings on loaded potatoes are essential for freshness and additional crunch.
To me, the crunch of the roasted potatoes is not enough. I also want a nice balance between crispy and soft—-which is where the roasted veggies come in handy!
As you may be able to tell, I love a wide variety of toppings on my loaded potatoes. Usually toppings for many of my sheet pan 'nachos' are kale, enchilada sauce, onions, garlic, buffalo chickpeas, tomatoes, jalapeños, and of course, cheese. However, in this recipe, I chose to use chickpeas, small red beans, poblano peppers, mini sweet peppers, tomatoes, and chopped kale.
You can add additional toppings such as plain Greek yogurt, sour cream, avocado, hot sauce, or anything else you like on nachos or loaded potatoes—-or perhaps my easy homemade sauce like in this recipe.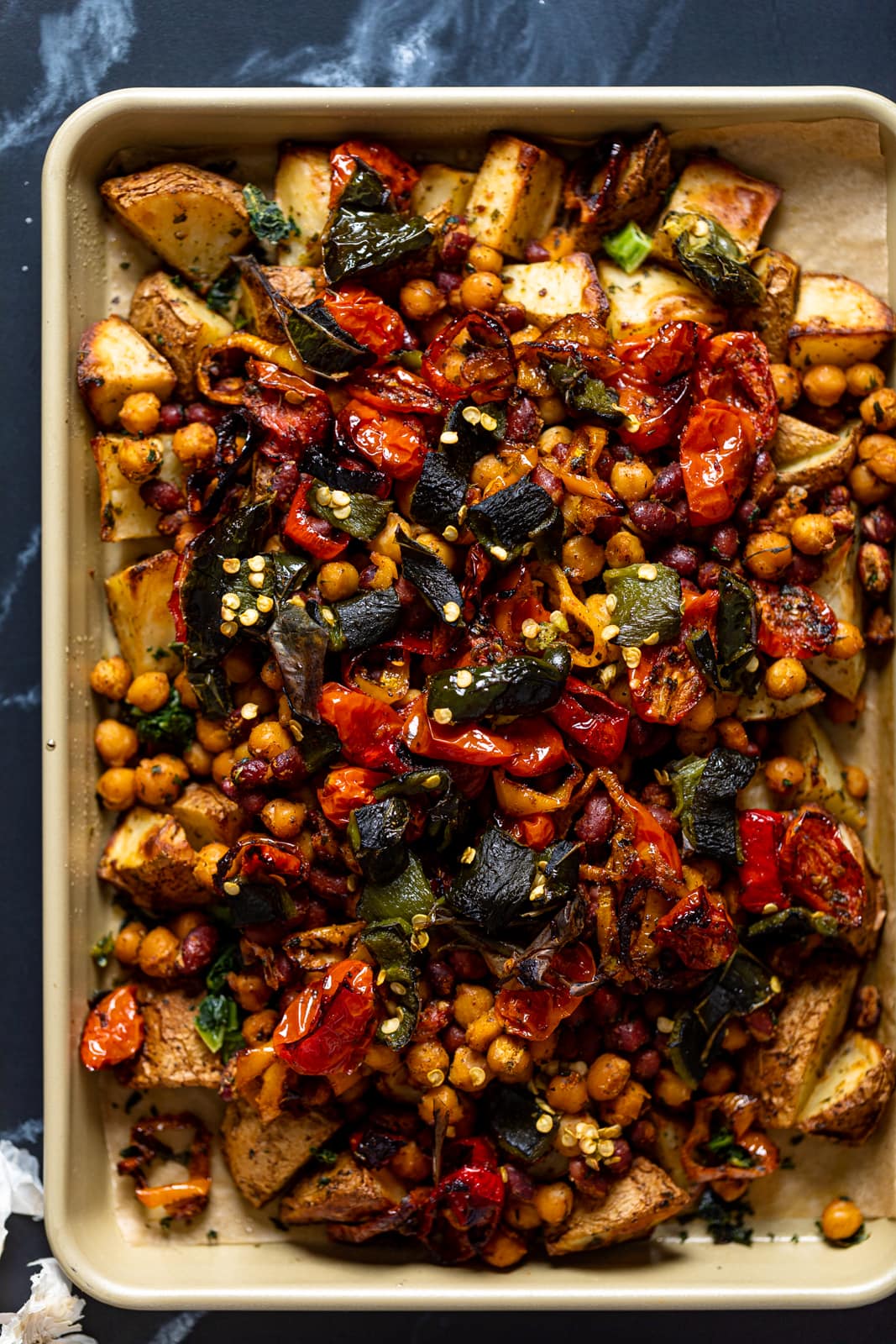 Top Reasons Why You'll Love These Loaded Potatoes
Once you make and eat these Loaded Potatoes—– you'll fall in absolute love. Haha. More importantly, here are also the reasons why you'll love it the most:
It's ALL Vegan + Plant-based.
Super easy to make and requires a baking sheet.
So creamy and full of texture.
Great for meal prepping and make aheads for the week!
Full of comforting flavors, hints of spiciness + savoriness (The best reason!)
Perfect for any time of day—Snack, Appetizer, Lunch/Dinner, Breakfast (if that's your thing), whatever!
Boiling vs. Roasting Potatoes
I know that many people usually boil their potatoes to cook them before roasting them so that they are crisp. However, I love roasting my potatoes from start to finish because I love having the butter/oil along with the herbs infuse into the potatoes as it bakes through.
Plus, I find that the potatoes are less moist when roasted as opposed to boiling them where they might retain water. Either way—-you can do whichever method works for you or feels more convenient.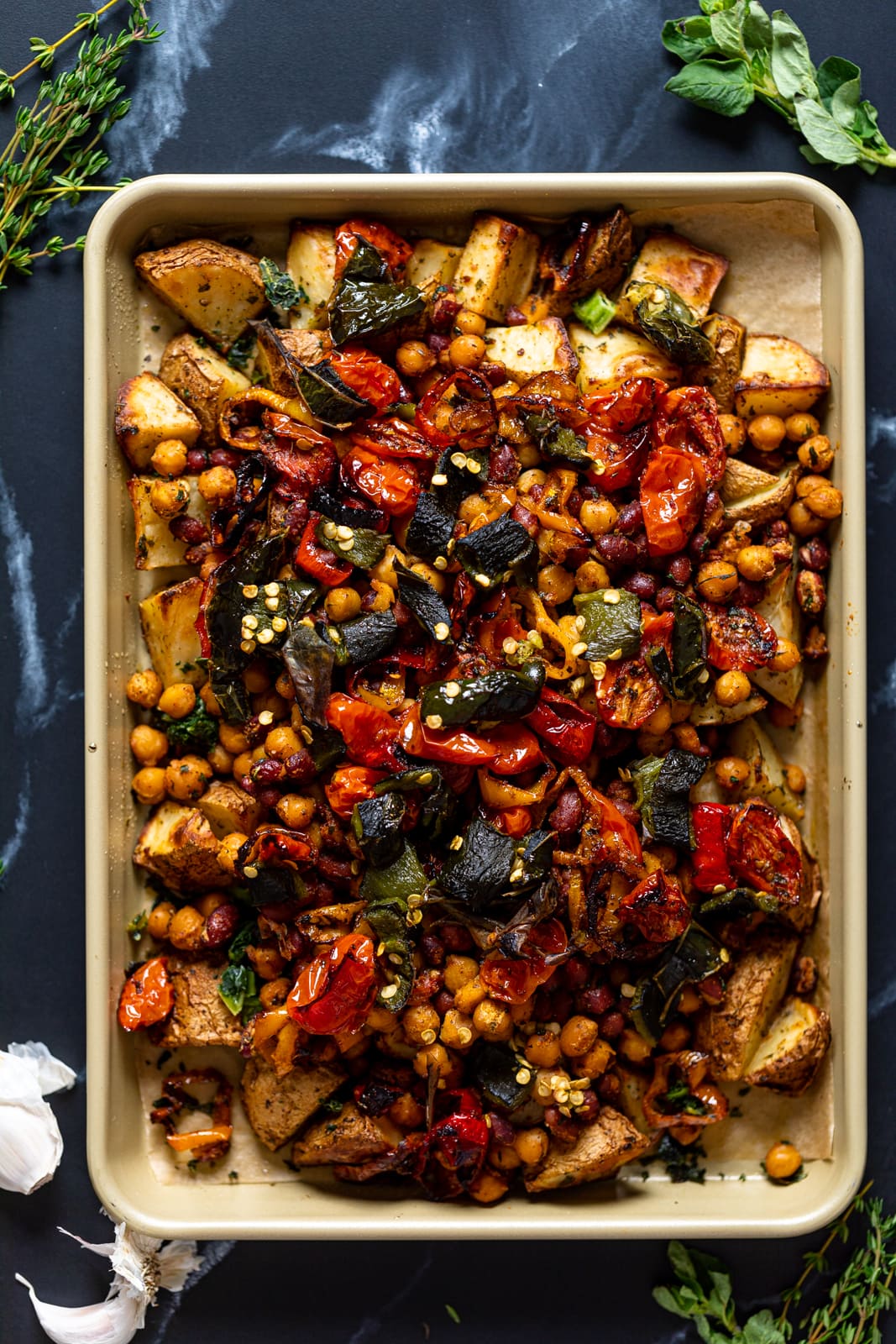 Are these Loaded Potatoes Dairy-Free + Vegan?
Absolutely! Everything on these loaded potatoes are completely dairy-free + vegan and if you'd like to switch things up with the type of plant-based milk that you use—–that's totally fine! The world of plant-based milk is constantly expanding. From the classics like cashew milk, soy milk and almond milk, we now have delicious options like oat milk, coconut, and even potato and quinoa milk. It's totally up to you!
How to Store Leftover Loaded Potatoes
Like other dishes, any leftover loaded potatoes can be stored in an air-tight container for up to 3 days. Reheat in the oven when ready serve.
As for the homemade Garlic Buffalo Sauce, any leftovers can be kept in a tightly sealed jar and refrigerated for up to 2 weeks.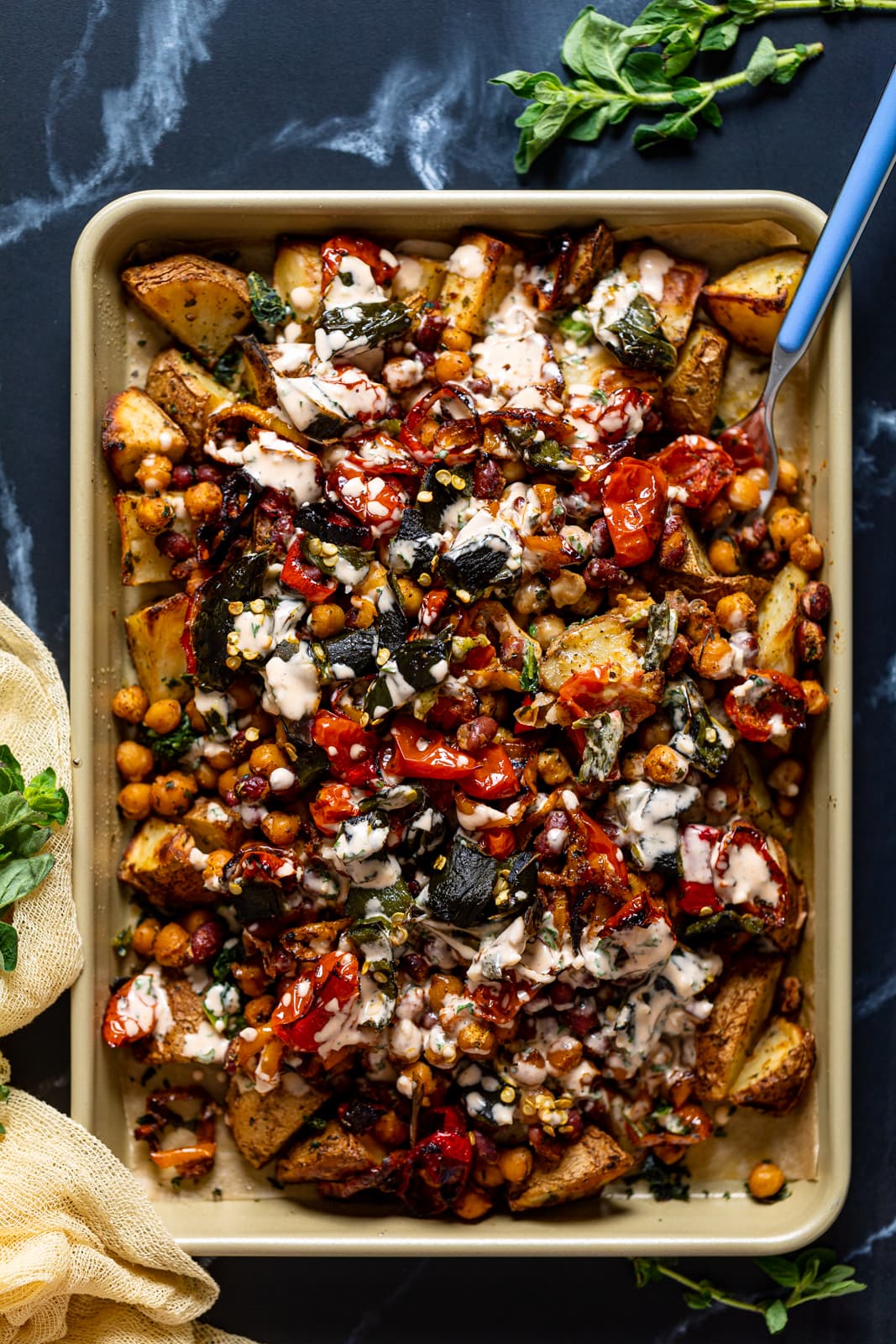 More Fan-Favorite Meatless Meals:
If you're a true lover of these loaded potatoes like I am (and my readers), then these other meatless meals will surely be a new staple in your house:
Meatless Baked Ziti with Ricotta + Mozzarella 
Vegan Jamaican Jerk Walnut Tacos
 Best Vegan Chickpea Meatball Subs
Easy Weeknight Creamy Tuscan Ravioli
Sheet Pan Roasted Garlic Buffalo Chickpea Pizza
Black Bean + Quinoa Skillet Nachos
MADE OUR RECIPE(S)?
If you make these Loaded Potatoes with Spicy Beans, be sure to tag me on Instagram @orchidsandsweettea!
TOPPINGS:
1

(15 oz.) can

chickpeas, drained + rinsed

1

(15 oz.) can

small red beans, drained + rinsed

1

tablespoon

Extra virgin olive oil

1

teaspoon

sea salt, black pepper, smoked paprika, garlic powder, red pepper flakes, dried oregano

1

cup

kale, de-stemmed + chopped

1-2

poblano peppers

2

cups

Roasted herb tomatoes

2-3

cups

mini sweet bell peppers, chopped

2

cups

buffalo sauce, store-bought or homemade
DAIRY-FREE GARLIC BUFFALO SAUCE:
PREP + BAKE THE POTATOES:
Preheat your oven to 400 degrees Fahrenheit and prepare TWO baking sheets by lining it with parchment paper.

Once you've scrubbed and rinsed the potatoes until clean and pat dried them, cut them into medium-sized chunks.

In a bowl, add the olive oil along with salt, black pepper, garlic powder, thyme, smoked paprika, oregano, and parsley, mixing together until combined.

Add coated potatoes unto one of the prepared baking sheets and bake for 30-35 minutes or until the potatoes are tender. Once done, remove from oven.
ROAST THE VEGGIES:
To see the recipe for the roasted herb tomatoes, click here.

Add the poblano peppers and mini bell peppers, unto the other baking sheets (in a single layer) and drizzle with olive oil and season with seasonings (1 teaspoon each: salt, black pepper, garlic powder, smoked paprika, oregano, basil, parsley, and red pepper flakes) and bake for 10-15 minutes or until veggies are charred, wilted, and tender. Remove and let cool slightly-----chopping poblano peppers.
PREP THE BEANS:
In a bowl, add the drained chickpeas + red beans, along with 1 tablespoon olive oil, sea salt, garlic powder, black pepper, red pepper flakes, smoked paprika, oregano, and buffalo sauce, mixing together until combined.
ASSEMBLY:
Add the crispy baked potatoes unto a baking sheet, spreading them out evenly, followed by: beans, (spread generously atop all potatoes), chopped kale, roasted mini sweet peppers, tomatoes, and poblano peppers.

Bake for 5-10 minutes, until veggies are even more tender. Remove from oven once done.
TO MAKE GARLIC BUFFALO SAUCE:
In a bowl or measuring cup, mix together all sauce ingredients until creamy and smooth. Refrigerate until ready to use.

To serve, top everything with garlic buffalo sauce and guacamole (if desired), if desired.

Bon Appetit!
STORAGE: Leftovers can be stored in an air-tight container for up to 3 days. Reheat in the oven when ready serve.
STORAGE (GARLIC BUFFALO SAUCE): Any leftovers can be kept in a tightly sealed jar and refrigerated for up to 2 weeks. 
WHAT PLANT-BASED MILKS ARE GOOD FOR THIS RECIPE? You can always use your fave plant-based milk or one of the following: Almond, coconut milk, homemade oat milk (froths/foams VERY WELL), homemade cashew milk, flax milk, etc.
SPICES/HERBS: If desired, you can reduce the amounts slightly. Please know that this recipe is bold in flavor, so feel free to adjust based on your tastebuds.
MAKE AHEAD: All ingredients can be made and individually stored as meal prep and assembled and heated in the oven when ready to serve.
Calories:
810
kcal
|
Carbohydrates:
80
g
|
Protein:
15
g
|
Fat:
49
g
|
Saturated Fat:
6
g
|
Polyunsaturated Fat:
2
g
|
Monounsaturated Fat:
8
g
|
Sodium:
6139
mg
|
Potassium:
1943
mg
|
Fiber:
16
g
|
Sugar:
15
g
|
Vitamin A:
6017
IU
|
Vitamin C:
216
mg
|
Calcium:
215
mg
|
Iron:
7
mg
Loaded Potatoes with Spicy Beans.