Get ready to ignite your taste buds with our homemade Spicy Restaurant Style Salsa recipe! Bursting with the freshest ingredients, zesty chilies, and tangy lime, this tantalizing homemade salsa recipe captures the essence of your favorite restaurant's flavors. Quick + easy blender salsa! Its vibrant colors and bold textures make it an irresistible companion for gatherings, movie nights, or satisfying snack cravings. Completely Gluten-free + Dairy-free!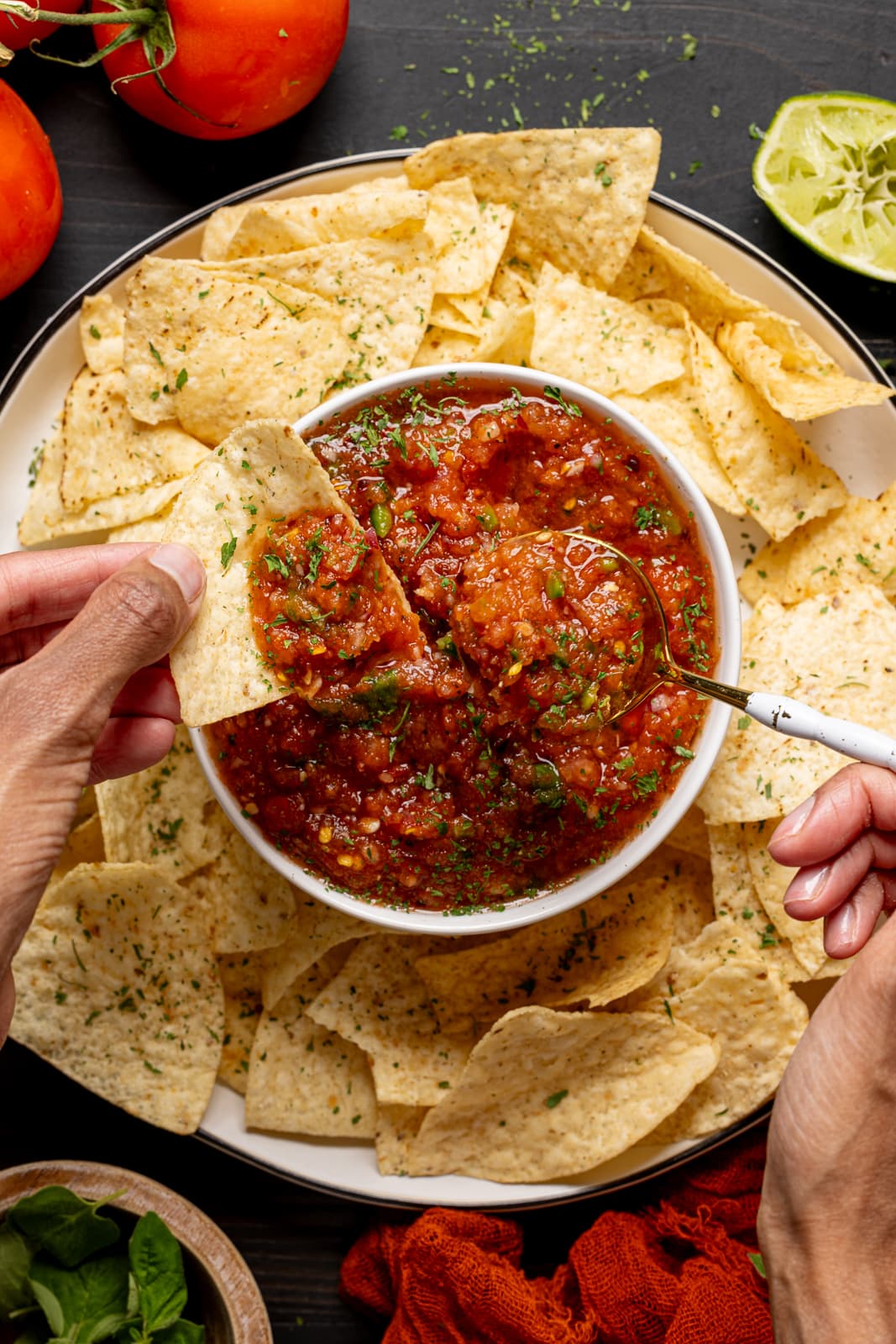 Why Spicy Restaurant Style Salsa?
If you've ever found yourself craving that unforgettable salsa you tasted at your favorite restaurant, fear not because I've got you covered! This homemade salsa recipe is all about savoring the freshest ingredients, embracing the perfect balance of heat and tang, and creating a salsa that will elevate your taste buds to new heights. Every bite will make you close your eyes and say, "Now, that's the salsa I've been searching for!"

If you're a dip lover, then you absolutely have to try these next. Easy Garlic Herb Three Bean Dip and this Healthy Green Goddess Salad Dip or, if you are a big lover of spicy flavors, then this smooth and velvety Vegan Jalapeños Queso Dip is for you! Dip your chips, veggies, or even spread it on toast; the possibilities are endless! Get ready to elevate your dipping game to a whole new level of goodness!

This easy salsa recipe is not only delicious, but it's also a total crowd-pleaser! With just a few simple steps you'll be transported to flavor paradise - juicy tomatoes, zesty chilies, and a burst of fresh herbs dancing on your taste buds. The perfect snack for any gathering!
Jump to: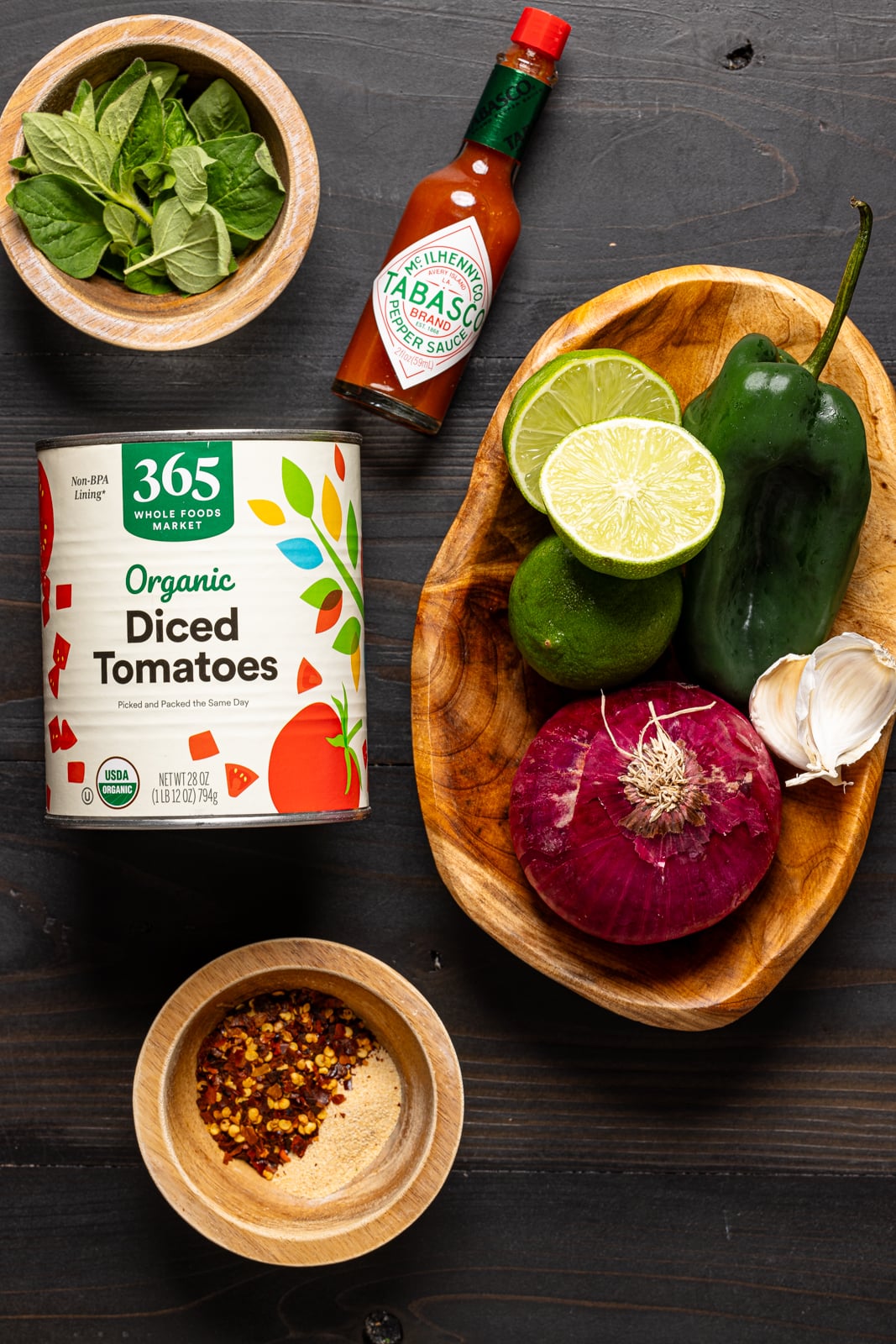 How To Make Spicy Restaurant Style Salsa
Simply add all ingredients to a food processor, and blend! Be sure to leave a few visible chucks! And just like that your homemade salsa is ready to enjoy! Quick and delicious!
Here is what you need to make this restaurant style salsa -
Ingredients
Canned diced organic tomatoes. The rich tomato base. (Do not drain)
Red onion. Sweet and tangy crunch.
Fresh cilantro. Adds a bright herbaceousness.
Garlic cloves. Intense savory flavors.
Lime freshly squeezed + zest. Zesty tanginess.
Poblano pepper. Mild smoky kick.
Sea salt + Pepper. Enhances overall taste and adds subtle spice.
Garlic powder. Extra garlicky goodness.
Cayenne pepper. Introduces fiery heat.
Red pepper flakes. More heat and texture.
Cumin. Warm and earthy notes.
Hot sauce. Optional for adjustable heat level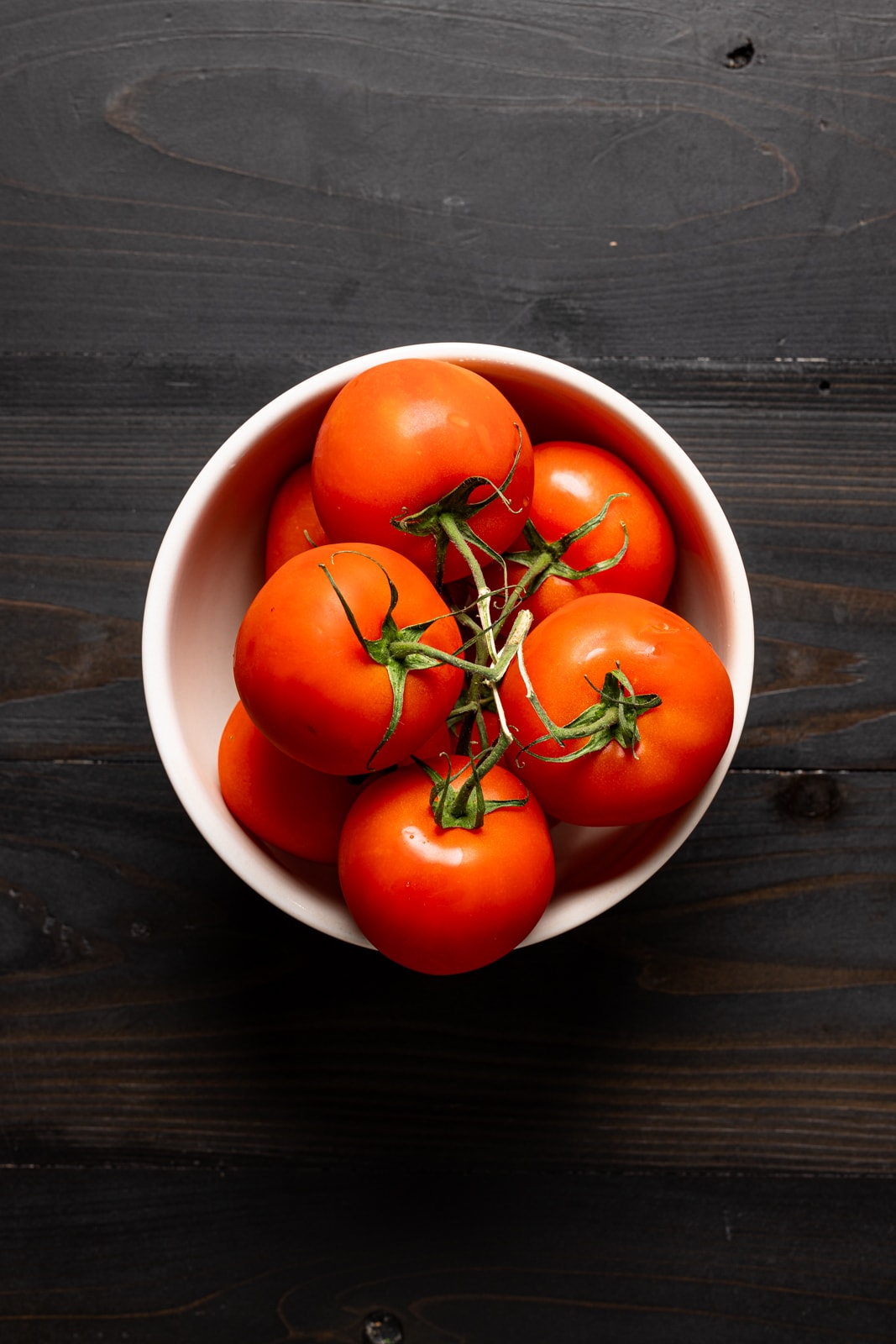 Blender Salsa?
Yes, I know, blender salsa might sound a bit unusual at first, but trust me, it's a game-changer! Picture this - smooth and slightly spicy, just like the mouthwatering salsa you adore from your go-to Mexican restaurant. Packed with the freshest flavors of garlic, onion, and cilantro, it's an explosion of taste that will have you reaching for more. And guess what?
The best part is, you get all this deliciousness with the convenience of canned tomatoes, meaning you can enjoy it anytime, all year round! Give this restaurant style salsa recipe a try, and I promise you'll be hooked!
Why You Will LOVE This Spicy Restaurant Style Salsa
Bursting with bold + fiery flavors.
Elevates any dish to a flavor fiesta.
Quick + Easy
Fresh, tangy, and oh-so-addictive taste.
The perfect crowd-pleasing party dip!
So much better than store-bought!
Versatile - Great on nachos, tacos, salads, and more.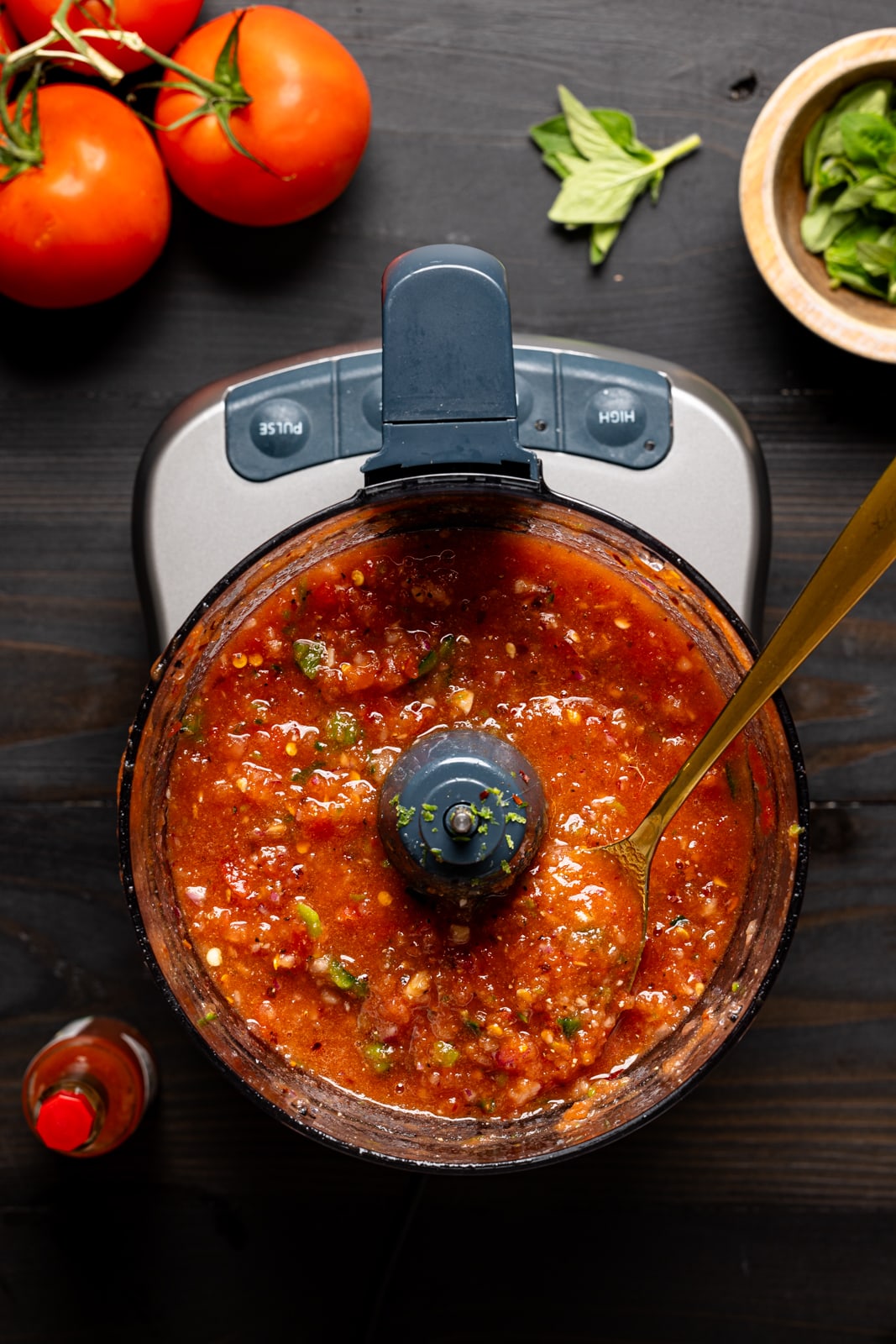 Tips + Tricks For The Best Spicy Restaurant Style Salsa
Consistency
For a thicker homemade salsa, drain the juices from the canned tomatoes before blending. If you prefer a smoother texture like restaurant-style salsa, blend the tomatoes along with their juices and other ingredients until you achieve the desired consistency. If you like it chunkier, pulse the blender for a shorter time.
Blender or Food Processor
A high-speed blender is not necessary for this restaurant style salsa recipe. If you're using a regular blender or a food processor, you might need to blend for longer than a minute. Use your judgment and stop when the salsa ingredients are well minced and combined.
Flavor Development
Allow the salsa to sit for a while to let the flavors meld and blossom. If possible, make it a day or two in advance, storing it in the refrigerator. The salsa's taste will improve with time.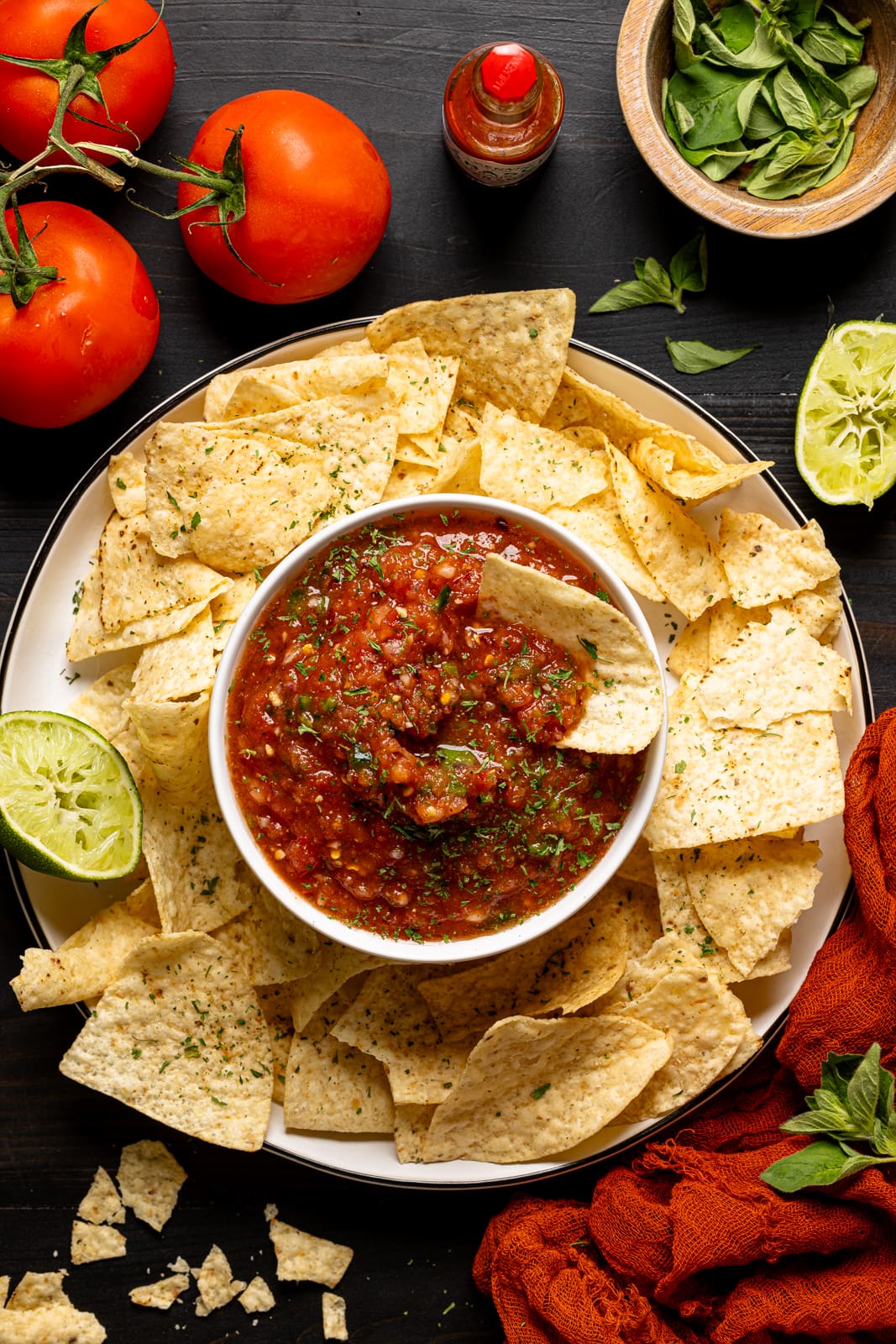 Fresh Vs. Canned Tomatoes
Personally, as a New Yorker, I appreciate the convenience and consistency that canned tomatoes offer, especially when the availability of juicy ripe tomatoes is limited for part of the year.
However, if you prefer using fresh tomatoes, I recommend using them when they're in season and try to find varieties like beefsteak or Roma tomatoes, as they tend to have the best flavors for making salsa. And if you ever find yourself with an abundance of fresh tomatoes, don't forget to check out my Herb Roasted Tomatoes recipe for another delicious way to enjoy them! Whether fresh or canned, you can create a delightful spicy restaurant style salsa recipe to enjoy year-round.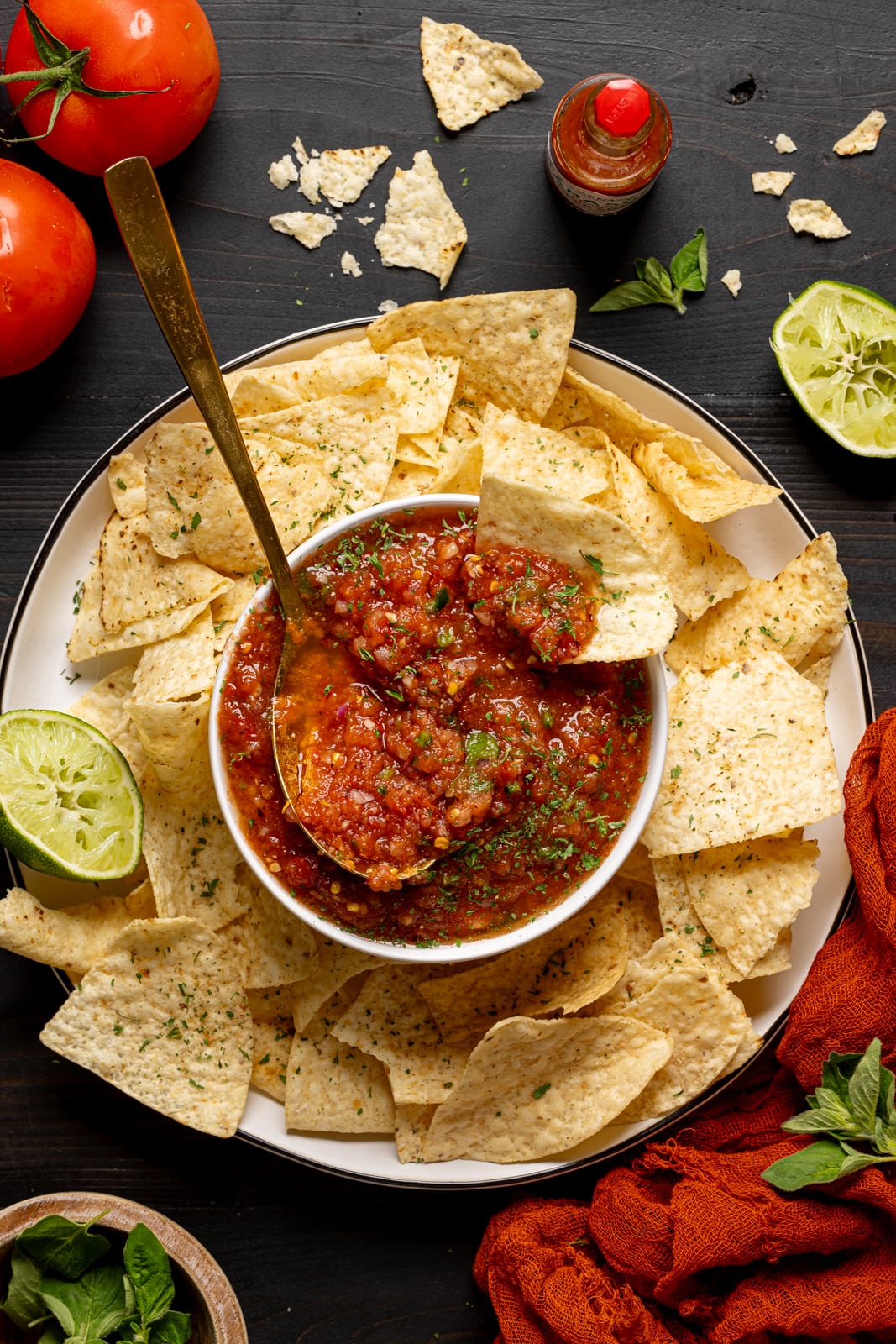 How To Serve Spicy Restaurant Style Salsa
To serve this spicy restaurant-style salsa recipe, you can pair it with a variety of foods to create a delightful and satisfying experience. Here are some classic options:
Tortilla Chips: The most common and popular choice to enjoy salsa is with tortilla chips. The crispy and salty chips complement the spiciness of the salsa perfectly.
Nachos: Create a mouthwatering plate of nachos like these Loaded Vegan Queso Skillet Nachos or these Dairy-Free Mexican Street Corn Nachos. Serve the homemade salsa on the side or drizzle it over the nachos for an extra kick.
Tacos: Fill soft or hard shell tacos with your favorite fillings like this Baked Buffalo Chicken Tacos or try a veggie option like these Baked Vegan Black Bean Tacos and then top them with spicy salsa!
Quesadillas: Serve salsa alongside cheesy quesadillas for dipping. Cut the quesadillas into wedges and watch them disappear when paired with the spicy salsa recipe.
Burritos or Burrito Bowls: Whether you're wrapping a burrito or assembling a burrito bowl, salsa is a fantastic addition to enhance the flavors of the fillings!
Dipping Sauce: This salsa can also be used as a dipping sauce for veggies. It makes for a tasty and healthy snack or appetizer. Perfect with these Crispiest Jumbo Garlic Herb Fries, Seasoned French Fries, Crispy Oven Fried Chicken, or Crispy Buffalo Chicken Tenders.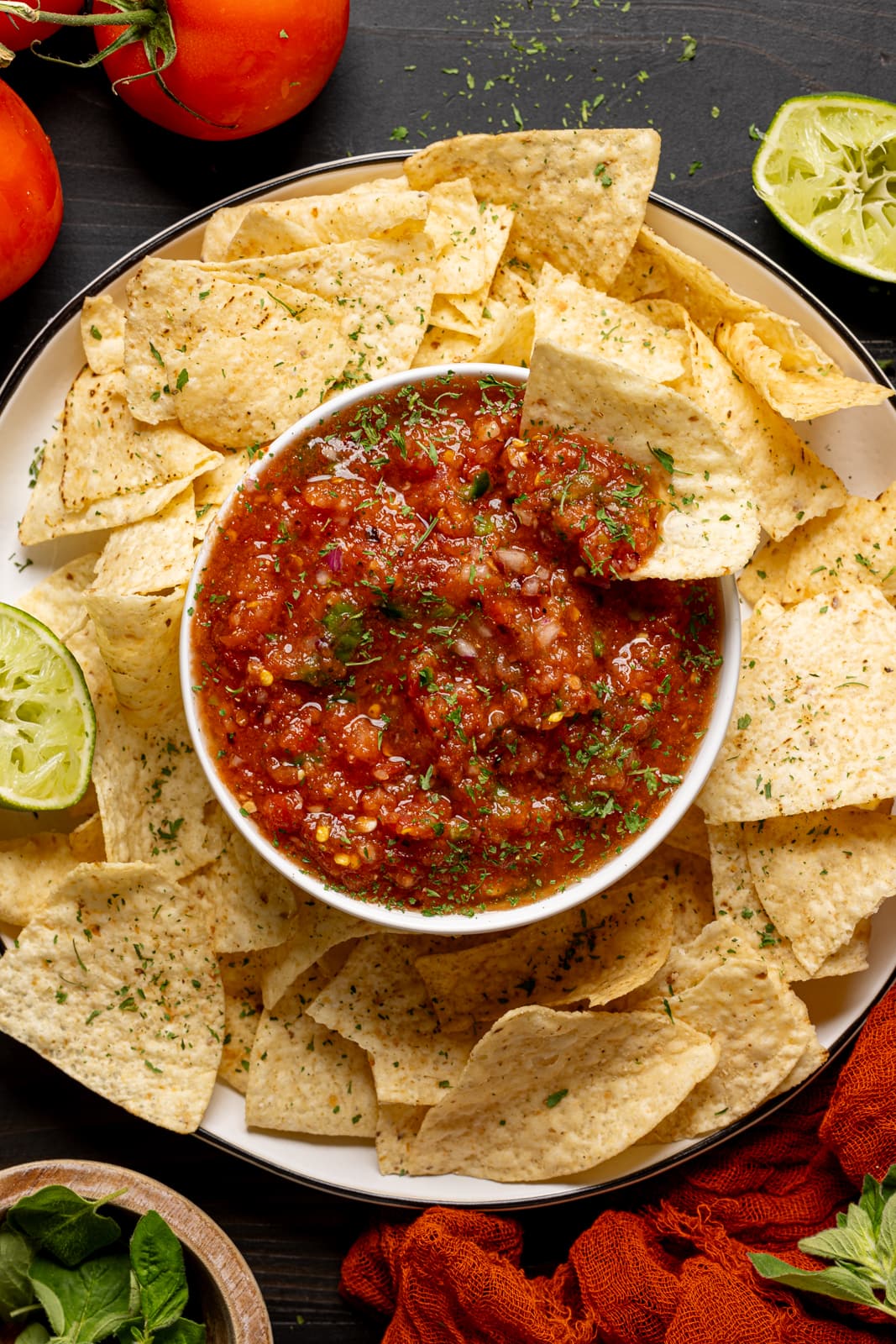 Spicy Restaurant Style Salsa Q + A's
How long does homemade salsa last? 
Homemade green goddess dressing can last for up to a week in the refrigerator as long as it's stored in an airtight container.
Can this restaurant style salsa recipe be made ahead of time?
Yup! In fact, spicy salsa can benefit from some time in the fridge to allow the flavors to meld together. You can make it up to a day ahead of time and store it in the fridge until you're ready to use it. Just give it a good stir before serving.
Can I freeze this salsa?
While salsa can be frozen, the texture of this particular restaurant-style salsa may change slightly upon thawing due to the fresh ingredients used. It is generally best to consume it fresh or store it in the refrigerator for optimal taste and texture.
Can I adjust the spiciness after making the salsa?
Yes, absolutely! If you find that the salsa is not spicy enough for your taste, you can add more chili peppers, hot sauce, or a pinch of cayenne pepper to amp up the heat. Conversely, if it turns out too spicy, you can balance the flavors by adding more tomatoes, onions, or even a touch of honey to mellow the spiciness.
Can I use this salsa as a marinade?
Absolutely! This spicy salsa can double as a flavorful marinade for various proteins, such as chicken, shrimp, or tofu. Simply coat the protein with the salsa and let it marinate in the refrigerator for a few hours (or overnight) before grilling or cooking.
More Fan-Favorite Spicy Dishes
Now that you're on a real spicy kick with this restaurant style salsa recipe, give these other delicious spicy recipes a try next:
MADE OUR RECIPE(S)?
If you make this Spicy Restaurant Style Salsa, be sure to Tag me @orchidsandsweettea and #orchidsandsweettea
SALSA:
1

(28 oz.) can

diced tomatoes, organic

(DO NOT drain)

½

red onion, roughly chopped

¼

cup

fresh cilantro

(You can also use parsley)

3

garlic cloves

1

lime, freshly-squeezed

1

teaspoon

lime zest

1

poblano pepper, roughly chopped

1

teaspoon

sea salt

1

teaspoon

black pepper

1

teaspoon

garlic powder

½

teaspoon

cayenne pepper

½

teaspoon

red pepper flakes

¼

teaspoon

cumin

hot sauce, optional
TO MAKE THE SALSA:
Add all ingredients to a food processor and process until broken down and mostly smooth with a few chunks visible, about 2-3 minutes. NOTE: Adjust herbs + seasonings based on your tastebuds, especially the spices that bring heat like the cumin, cayenne pepper, and red pepper flakes.

To serve, add salsa to a bowl and garnish with fresh cilantro or parsley, if desired. Enjoy with your favorite tortilla chips, over nachos, burrito bowls, in quesadillas, etc.

Bon Appetit!
STORAGE: Leftovers can be stored in an airtight container in the refrigerator for 5-7 days. When serving, either enjoy cold or heated.
MAKE AHEAD: You can make this salsa ahead of time and store it in an air-tight container in the refrigerator prior to serving. Also, you can prep ingredients and store them in separate airtight containers until ready to make the salsa as well.
Calories:
14
kcal
|
Carbohydrates:
4
g
|
Protein:
1
g
|
Fat:
0.2
g
|
Saturated Fat:
0.03
g
|
Polyunsaturated Fat:
0.1
g
|
Monounsaturated Fat:
0.04
g
|
Sodium:
587
mg
|
Potassium:
60
mg
|
Fiber:
1
g
|
Sugar:
0.4
g
|
Vitamin A:
259
IU
|
Vitamin C:
6
mg
|
Calcium:
16
mg
|
Iron:
0.4
mg