Make the Crispiest Jumbo Garlic Herb Fries in the oven as a family-friendly side dish or snack. Just a few simple steps and you'll be surprised at how ultra crisp, seasoned, and delicious these fries are. All vegan ingredients.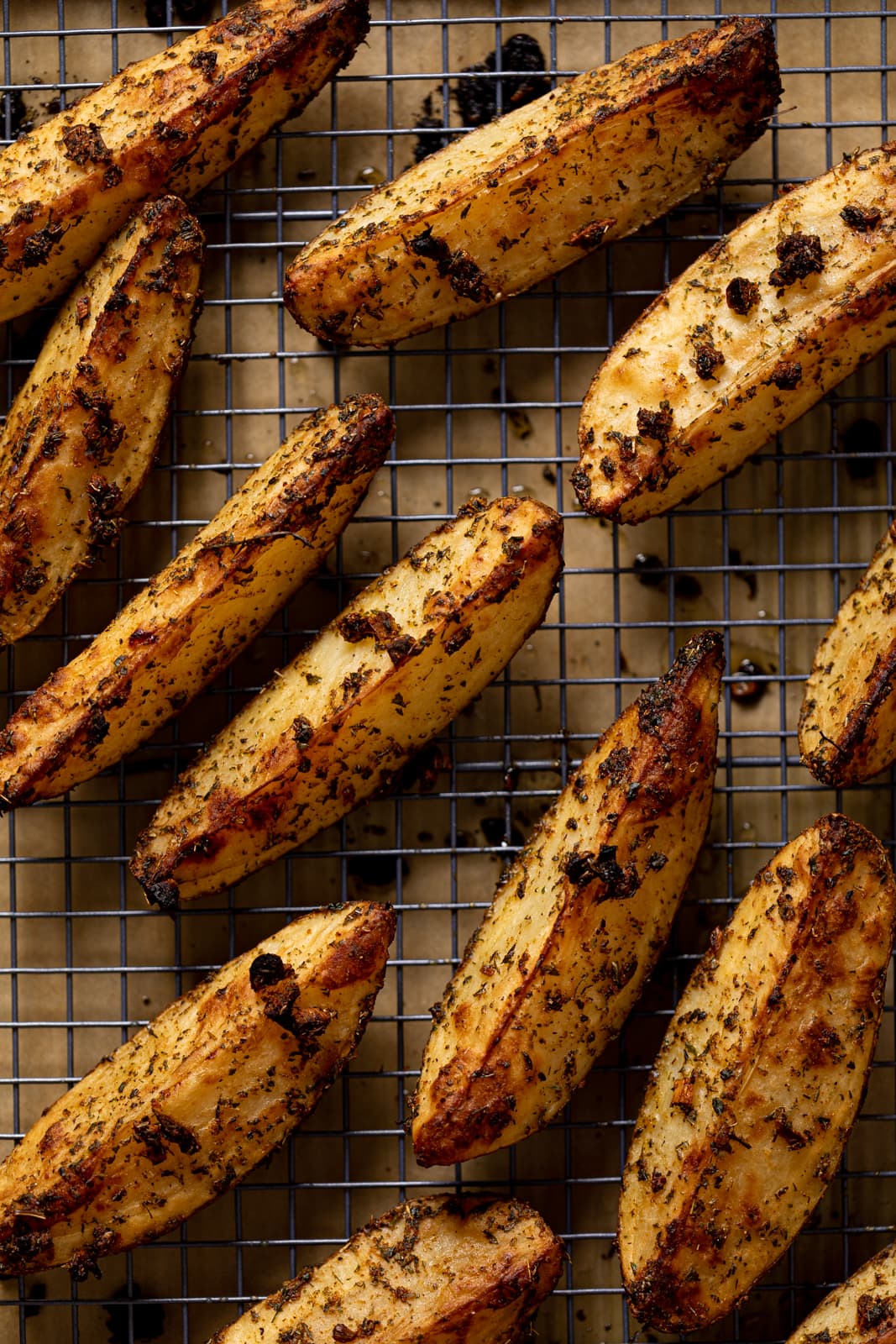 Fries are one of my favorite little handheld indulges by far. Growing up, I was obsessed with McDonald's fries and are crispy and golden they were. Of course now that I am all about eating healthier, I no longer participate in enjoying such fries, but I do love that I can easily make my own fries and indulge as much as I want.
Let's be honest----the dipping sauce is just as important as the actual food being dipped into it which is why I chose to make this super easy BBQ aioli sauce for these Crispy Jumbo Garlic Herb Fries. Trust me---they go together! Plus, these Seasoned Crinkle Cut Fries are truly a great side dish to enjoy as well for your next meal!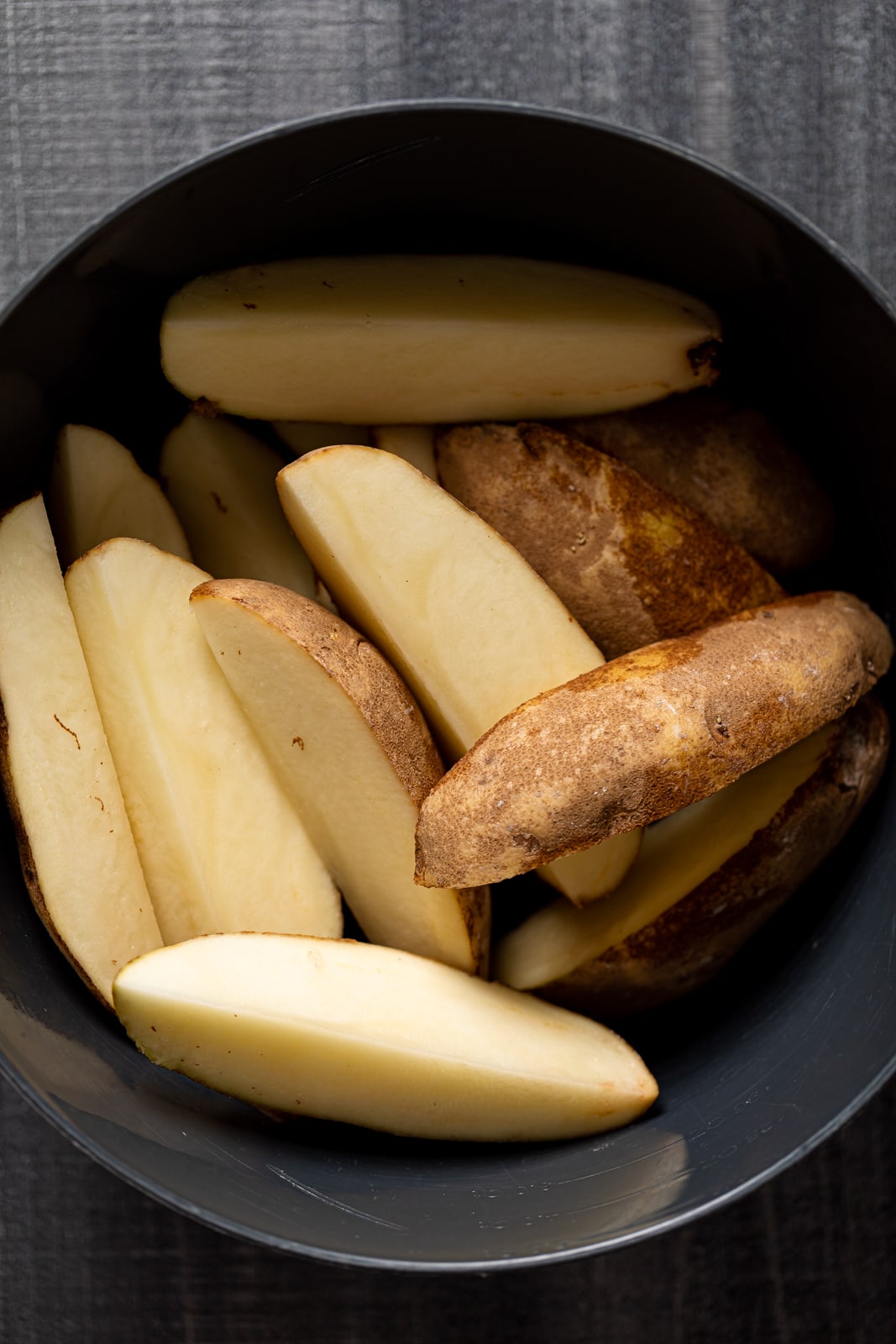 Why Crispy Jumbo Garlic Herb Fries
Honestly, when it comes to fries, I'm used to eating them in their standard size, however, I'm a big believer in pushing the food envelope and trying something different. Jumbo fries might seem intimidating, but they make for the perfect side dish to so many dishes. Besides, my son loves them because they're so fun and unique and they're seasoned to perfection. If you're loving the standard fries, these Crispiest Seasoned French Fries are the perfect little bites for you!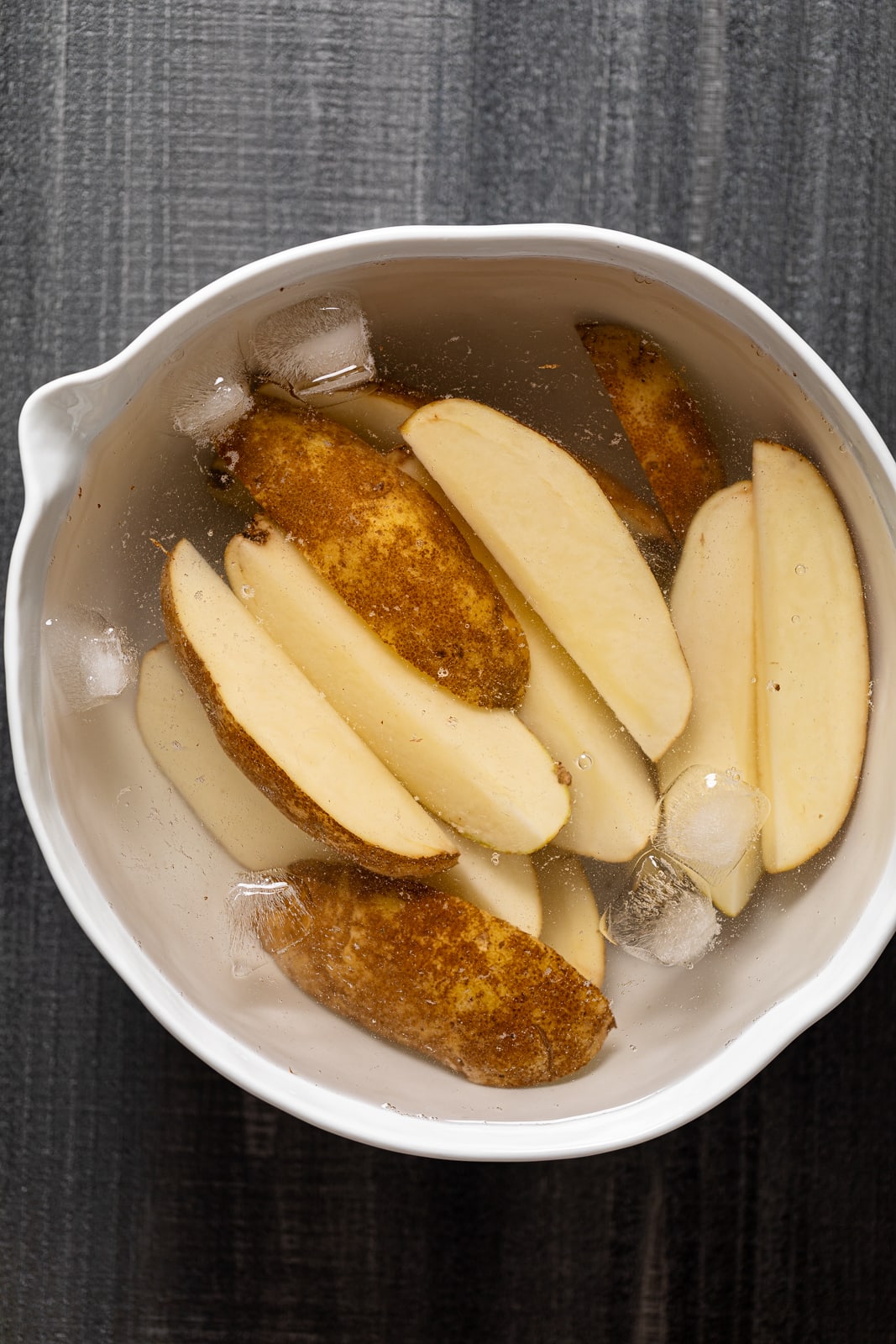 Ingredients for Seasoning Crispy Jumbo Garlic Herb Fries
Aside from getting your fries nice and crispy in the oven, you'll want to be sure to season the potatoes very well. Here's how I like to add flavor to my homemade garlic herb fries:
Garlic powder
Smoked paprika
Dried thyme
Dried parsley
Dried basil
Dried oregano
Dried dill weed
Sea salt
Black pepper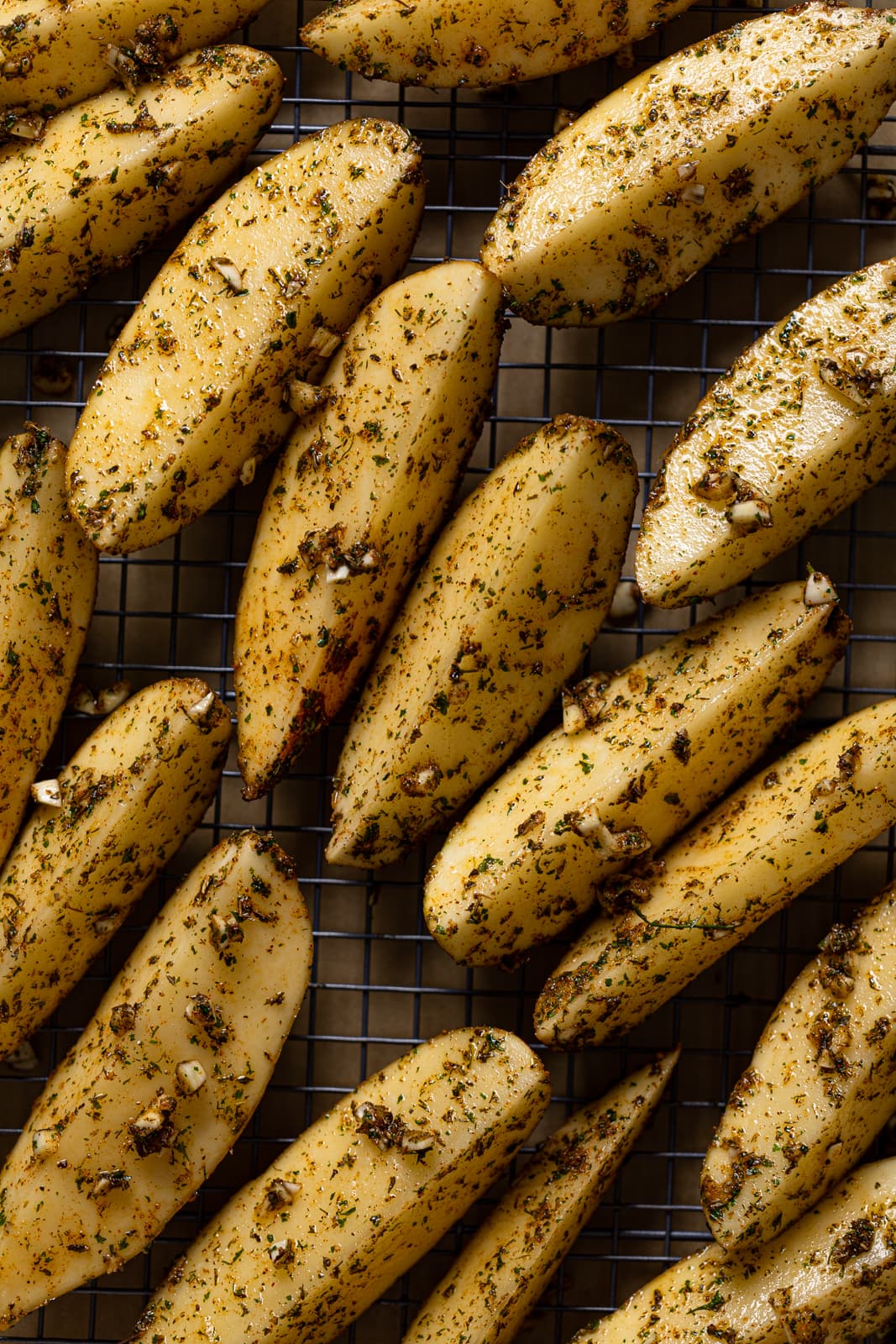 Easy Homemade Dairy-Free BBQ Aioli Sauce for Fries
As the fries are roasting in the I've oven, I like to make a quick and creamy dairy-free homemade BBQ aioli sauce for dipping these jumbo fries in. To make it, you'll need:
Mayonnaise. I use organic and vegan-certified.
BBQ sauce. I use an organic and vegan-friendly brand and version.
Garlic. You can certainly can't not have too much garlic flavor.
Lemon juice
Dried herbs. This classic BBQ aioli sauce includes oregano, dill weed, salt, and black pepper.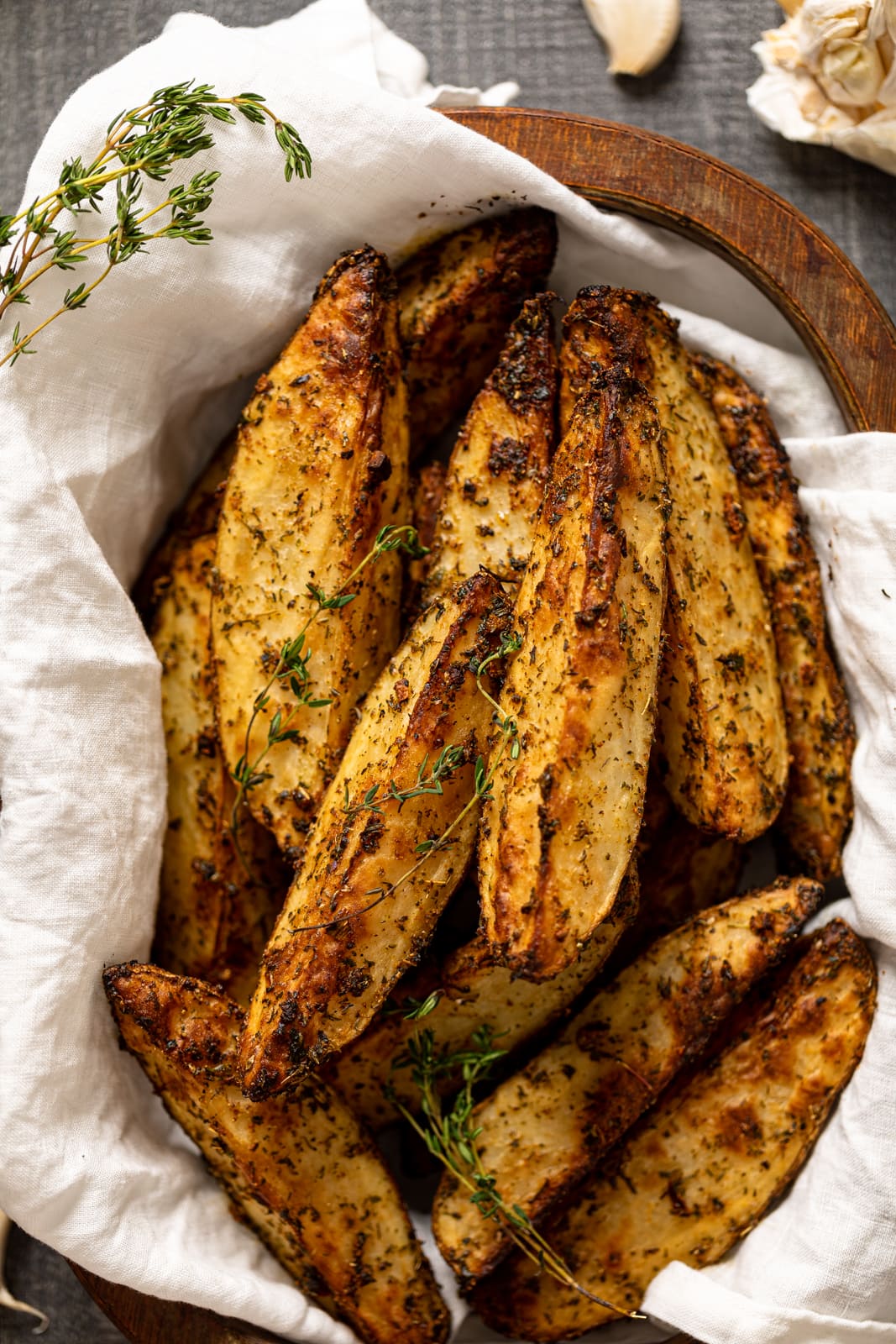 Great Tips for Super Crispy Baked French Fries
These are my top tips to make sure your Crispy Jumbo Garlic Herb Fries are as crisp as possible:
Cut the potatoes to equal sizes as much as possible. This way, they cook at the same rate. In this case, you'll be cutting them rather large.
Soak the potatoes for at least 20 minutes in cool water. This removes excess starch on the outside of the potatoes that prevent them from crisping up.
Let the potatoes dry for at least 30 minutes. moisture is the enemy of crispiness! For good measure, blot them dry with a towel as well.
Don't be afraid to season well!
Let the oven come fully to temperature before you add the fries to the oven. It needs to be a nice and hot environment.
Spread the potato pieces out well on the baking sheet lined with wire rack to let the hot air circulate around each individual fry.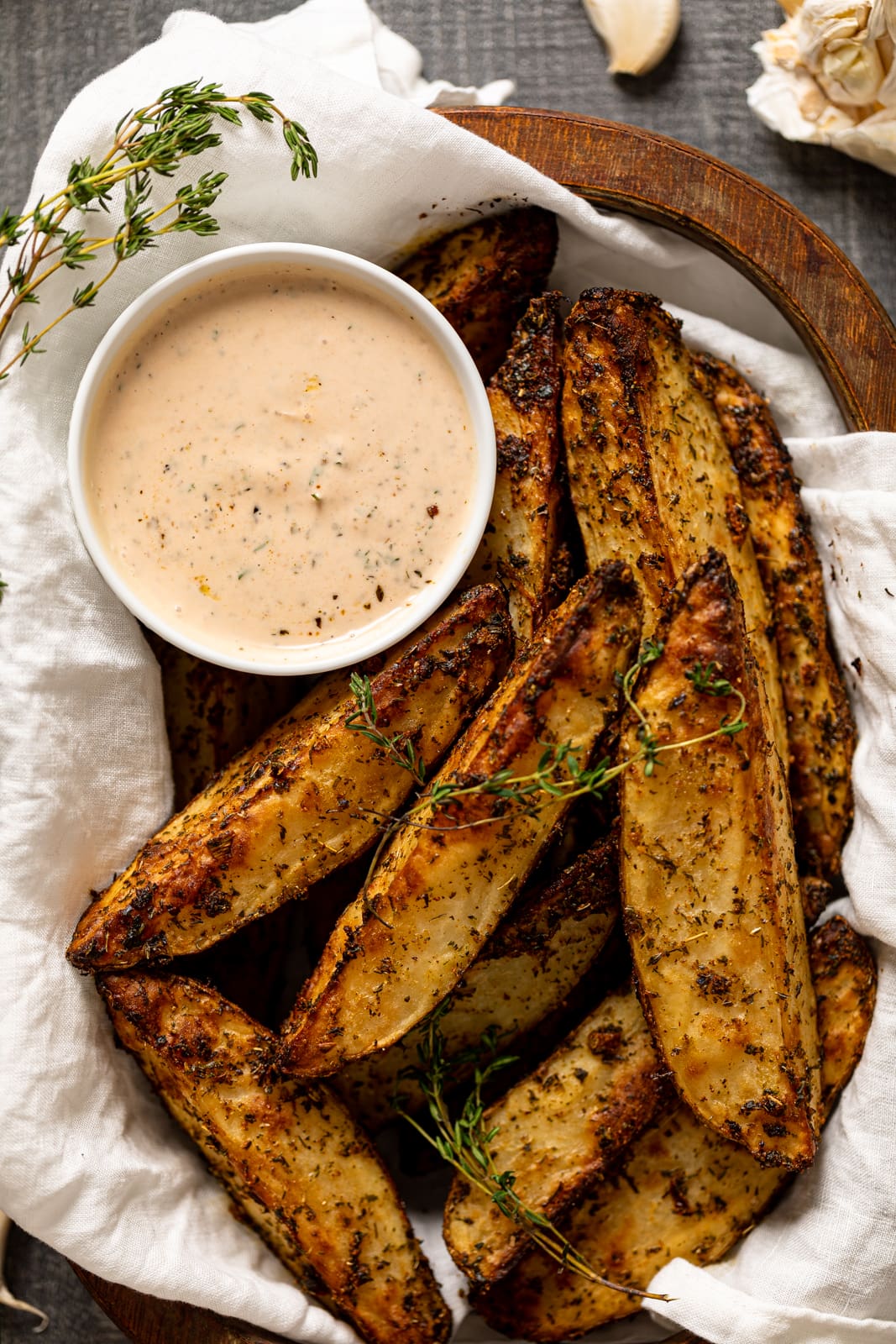 Can I Air-Fry These Fries?
I made these Jumbo Garlic Herb Fries originally in the oven, but this recipe will also work in your air fryer.
Cooking with an air fryer is fast and fairly easy and they tend to get hotter and have better air circulation than your oven, so the wedgies might need a slightly shorter cook time.
If air frying, check on the fries every 10 minutes to shake the potatoes so they do not stick. After 30 mins, check for doneness every few minutes. Both the oven and the air fryer make excellent crispy potato french fries!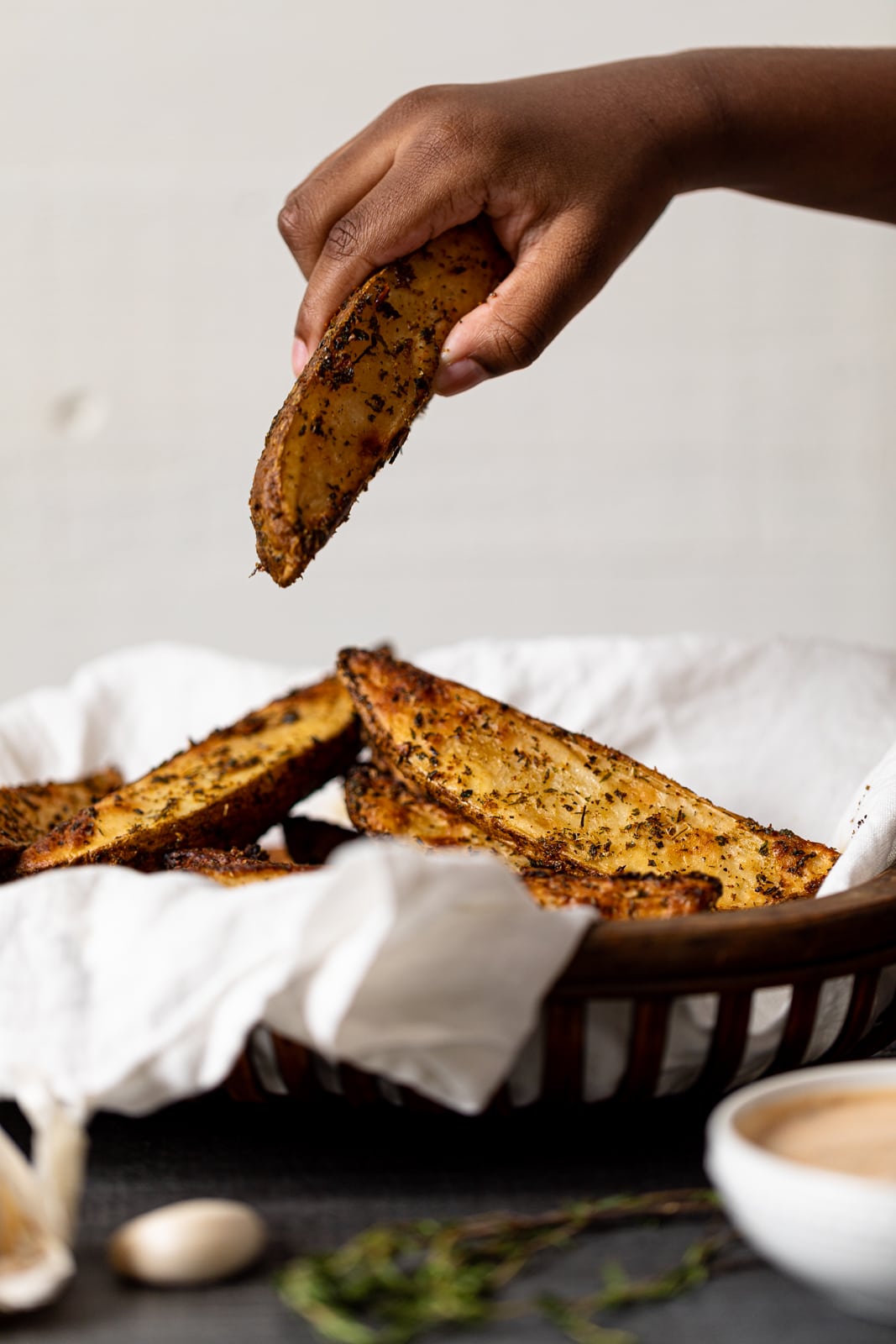 Do These Jumbo Fries Take a Longer Time to Cook?
Absolutely not! Although these Crispy Jumbo Garlic Herb Fries are on the thicker and bigger side, they don't take longer to cook, especially whenever you use a wire rack which allows for both sides to evenly cook right through.
More Easy Side Dish Recipes
Roasted Brussels Sprouts with Grapes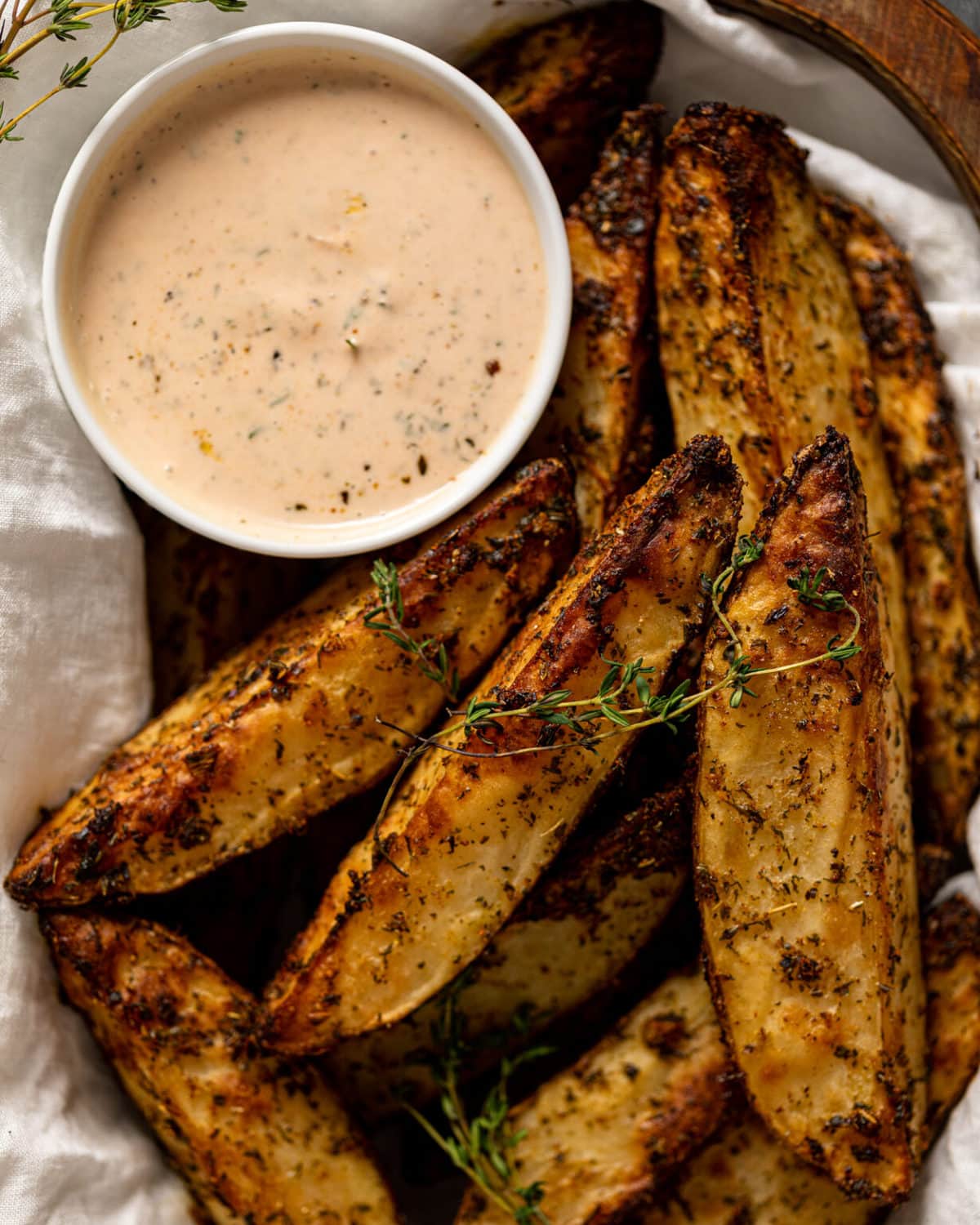 What to Serve with Crispy Jumbo Garlic Herb Fries
These Crispy Jumbo Garlic Herb Fries make for an excellent foundation for any number of dishes. At my house, we love to eat these well seasoned garlicky fries with:
Storage Suggestions
Place any leftovers in a tightly sealed container in the refrigerator for 3-4 days. To reheat, do so in the microwave, but for best results, I would suggest reheating in the oven atop a baking sheet until warmed through.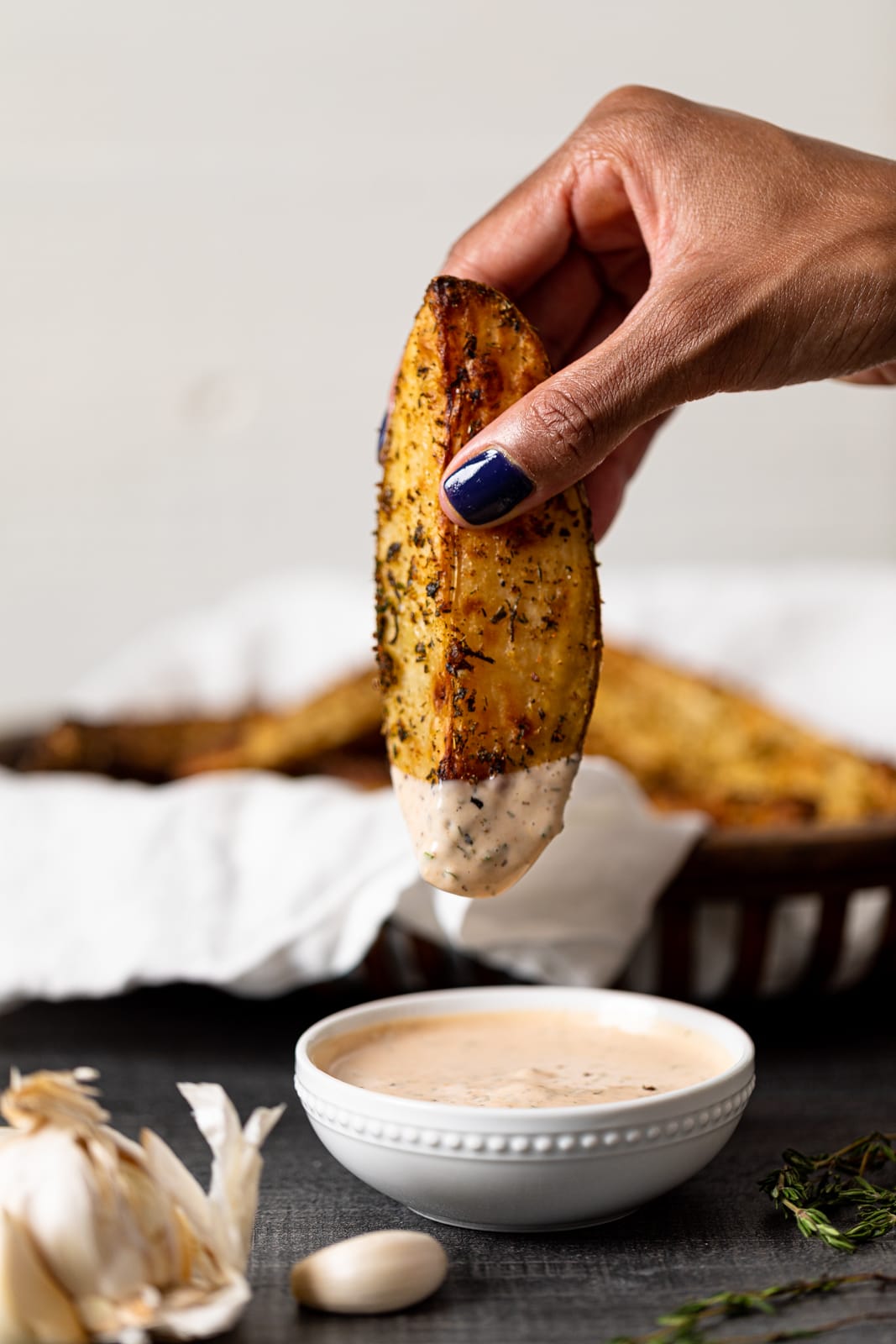 MADE OUR RECIPE(S)?
If you make these Crispy Jumbo Garlic Herb Fries, tag @orchidsnsweettea_ on Instagram and hashtag it #orchidsandsweettea.
Prep Time:
1

hour
20

minutes
JUMBO FRIES:
4

large

russet potatoes

3-4

Tbsps

Extar virgin olive oil

4

garlic cloves, minced
GARLIC HERB BLEND:
2

Tbsps

garlic powder

1

tablespoon

smoked paprika

1

teaspoon

dried thyme

2

tsps

dried dill weed

2

tsps

dried parsely

2

tsps

dried basil

2

tsps

dried oregano

Pinch of

sea salt + black pepper
DAIRY-FREE BBQ AIOLI SAUCE:
½

cup

vegan mayonnaise

¼

cup

BBQ sauce, homemade or store-bought

(Ensure that this is vegan-friendly)

1

tablespoon

minced garlic

1

teaspoon

freshly-squeezed lemon juice

½

teaspoon

dried oregano

½

teaspoon

dried dill weed

½

teaspoon

sea salt

Pinch of

black pepper
OPTIONAL SAUCE:
Preheat the oven to 400 degrees Fahrenheit and line a rimmed baking sheet with parchment paper and add a wire rack on top.
PREP + SOAK POTATOES:
Rinse and pat dry each potato and cut lengthways into halves and then in halves lengthways again----this should create a jumbo (very large) wedge-like shape. You should have about 4 pieces of fries when done for each potato. Repeat until all potatoes are cut.

In a bowl, add cold water until ¾ filled along with a few ice cubes to keep things cold. Add cut potatoes into bowl and let soak for 20 minutes.

Once soak time is complete, drain potatoes and pat dry thoroughly before adding them unto a flat surface (i.e. countertop, cutting board, etc.) lined with paper towels for them to "dry" out for a bit (about 30-minutes to 1 hour). NOTE: This process helps them to be extra crispy.
PREP THE SEASONING BLEND:
In a bowl, mix together the garlic powder, smoked paprika, dried thyme, parsely, basil, oregano, dill weed, salt, and black pepper until combined.
BAKE THE FRIES:
Add the dry cut slices of potatoes into a large bowl along with the Garlic Herb seasonings and minced garlic, mixing everything together with your hands until fries are full coated.

Transfer the fries to the prepared baking sheet (with the wire rack) and bake for 35-40 minutes or until fries are golden and crispy. NOTE: Test the doneness of potatoes by using a fork to insert into the centers. If it goes through easily, they are done.
MAKE THE BBQ AIOLI SAUCE:
In a bowl or measuring cup, mix together all sauce ingredients until creamy and smooth. Refrigerate until ready to use.

Remove from oven and serve with a side of the BBQ Aioli sauce.

Bon Appetit!
STORAGE: Place any leftovers in a tightly sealed container in the refrigerator for 3-4 days.
GARLIC HERB SEASONING BLEND (STORAGE): This original recipe makes about ¼ cup, however, you can always make a larger batch of this and store it in an airtight container in a dry, cool place for up to 6 months.
STORAGE (BBQ AIOLI SAUCE): Any leftovers can be kept in a tightly sealed jar and refrigerated for up to 2 weeks. 
Calories:
419
kcal
|
Carbohydrates:
55
g
|
Protein:
6
g
|
Fat:
20
g
|
Saturated Fat:
2
g
|
Polyunsaturated Fat:
1
g
|
Monounsaturated Fat:
5
g
|
Sodium:
440
mg
|
Potassium:
1162
mg
|
Fiber:
5
g
|
Sugar:
6
g
|
Vitamin A:
652
IU
|
Vitamin C:
16
mg
|
Calcium:
79
mg
|
Iron:
4
mg
Crispy Jumbo Garlic Herb Fries.