This Vegan Nashville Hot Chicken Sandwich is just as good (if not better) than the real thing. In true Southern fashion, this sandwich offers a great kick of spicy flavor, crispy "meat", simple toppings, but loads of intense umami. The perfect crowd-pleasing sandwich for weeknights or entertaining or just a savory lunch.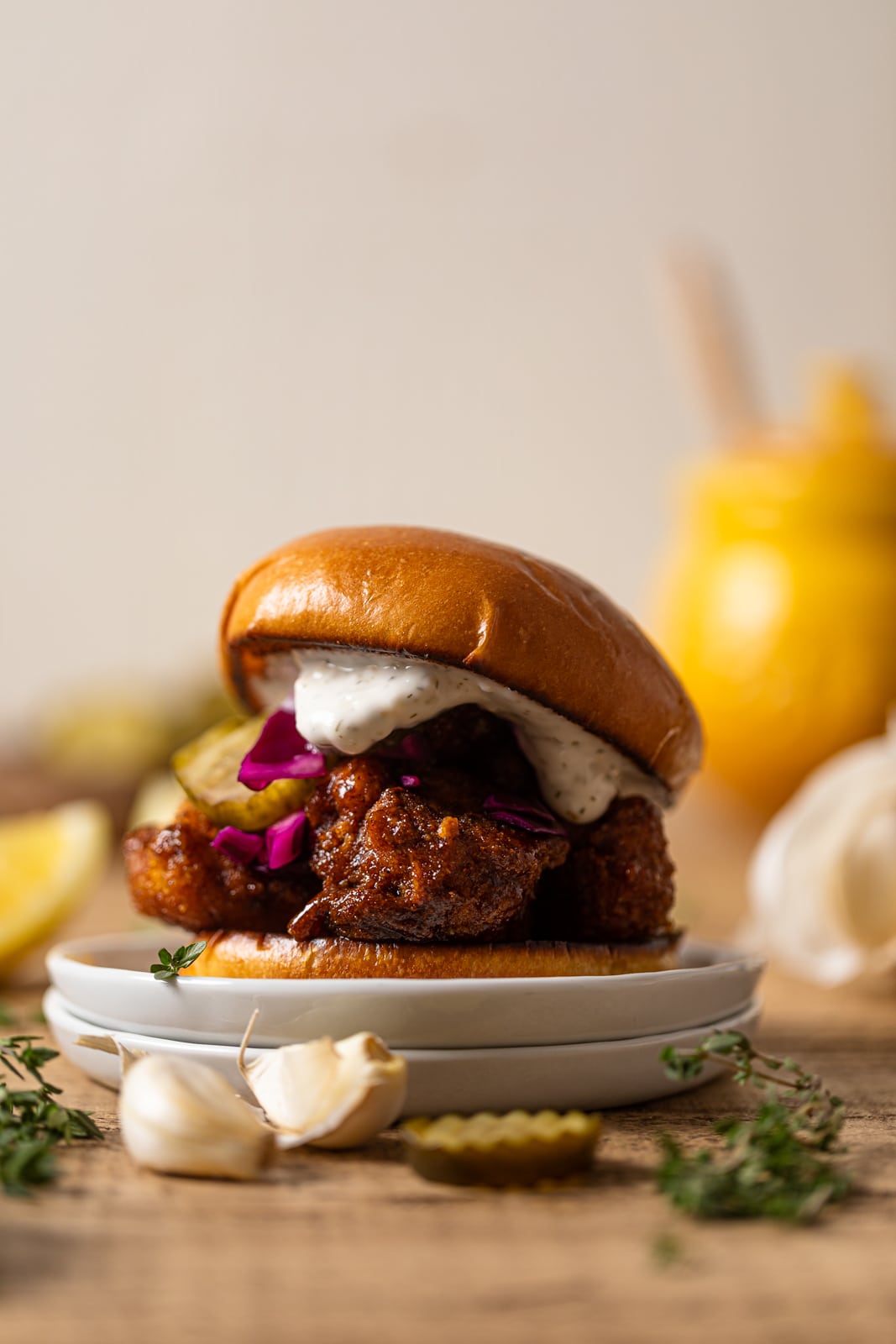 There's something so satisfying about a good sandwich, ya'll. I don't know if it's the Southerner in me, but I'm such a sucker for sandwiches, pastas, chicken, and most things that include cheese-----although I'm intentional about reducing dairy. Haha.
Oh and then there's pizza too. Ugh----I'm just all about big flavors and bold combos.
Of course, I'm not one to stick to the same-old classic sandwich or burger. I love to take my sandwiches over the top with flavor, toppings and texture without weighing you down and this recipe for Vegan Nashville Hot Chicken Sandwich is just that:
Hearty meaty cauliflower bites flavored with intense homemade Nashville Hot sauce
Freshly shredded red cabbage for a soft crunch
Creamy, herby aioli sauce to infuse the sandwich with more flavor
Toasted buns and your favorite additional toppings to round things out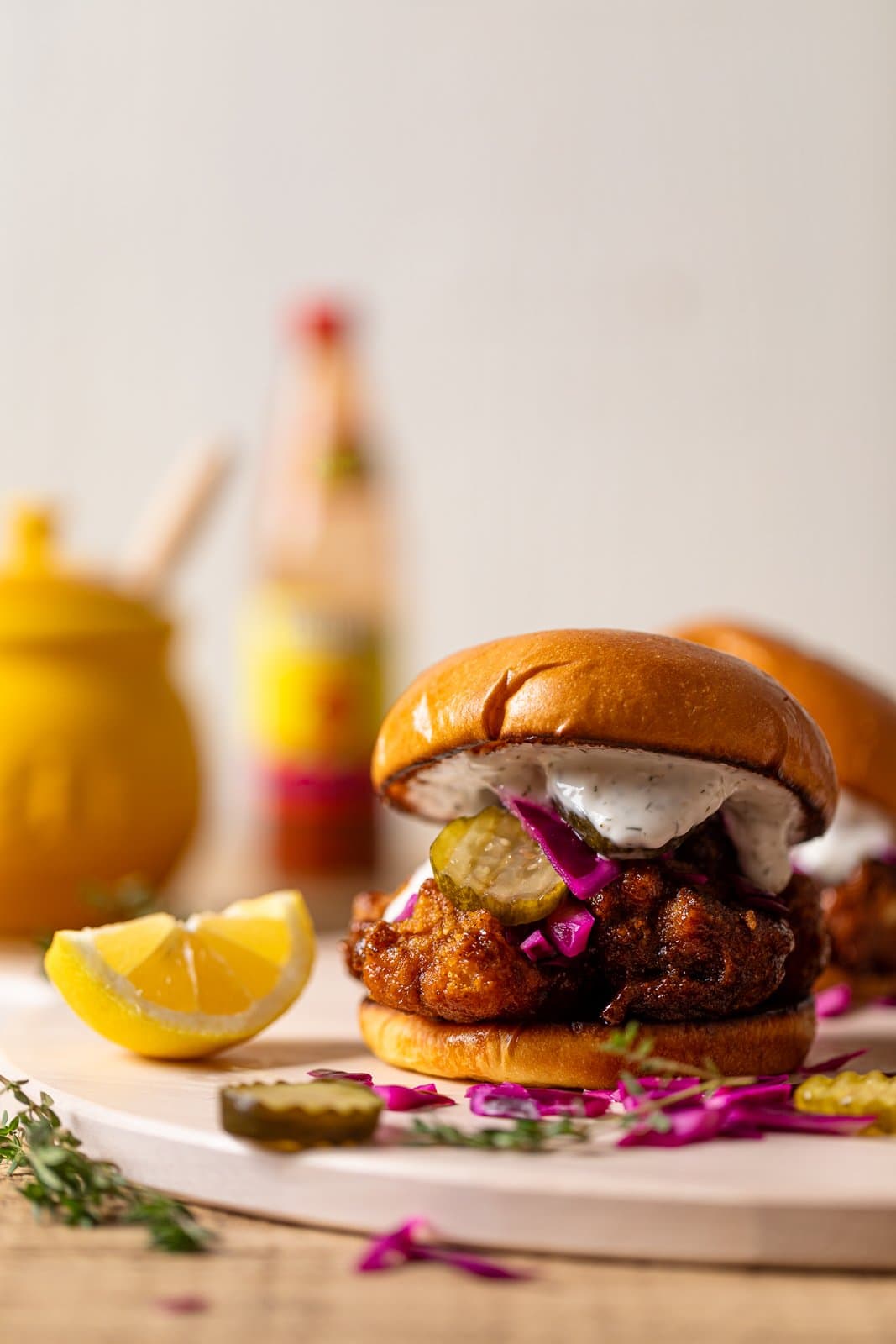 How to Make Vegan Nashville Hot Sandwiches
This recipe has a few different components. I recommend making things in the following order:
Cauliflower bites made in the oven
Nashville Hot sauce on the stove
Finally, whip up the vegan herb aioli sauce
And serve!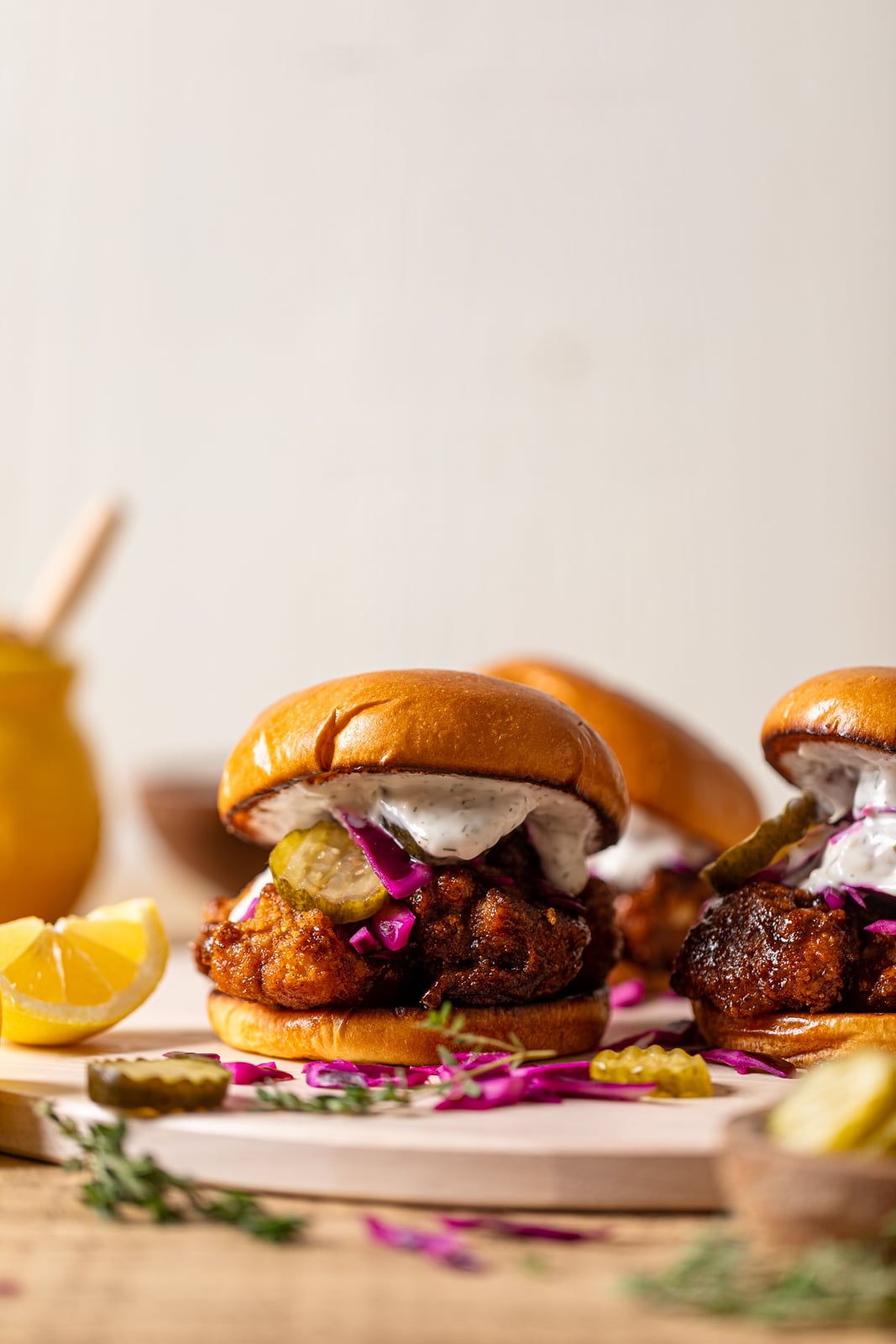 Crispy, crunchy cauliflower florets coated in a spicy and sweet Southern Nashville Hot sauce. Everyone (vegetarian and not) will be eager to dig into these bites as a snack or in this sandwich.
Plus, this recipe isn't just for this sandwich. These hot and sticky cauliflower bites are endlessly versatile! From grain bowls to pizzas, you can enjoy this flavorful roasted cauliflower in so many delicious ways.
Tricks to The Crispiest Cauliflower Wings
To make sure your wings get as crispy as possible, follow these simple tips:
Make sure each wing has plenty of space on the baking sheet. The airflow helps things crisp up.
Make sure you're using fresh, not soggy or stale, breadcrumbs.
Line the baking sheet with parchment paper.
Let the wings cool for 5 to 10 minutes before serving them.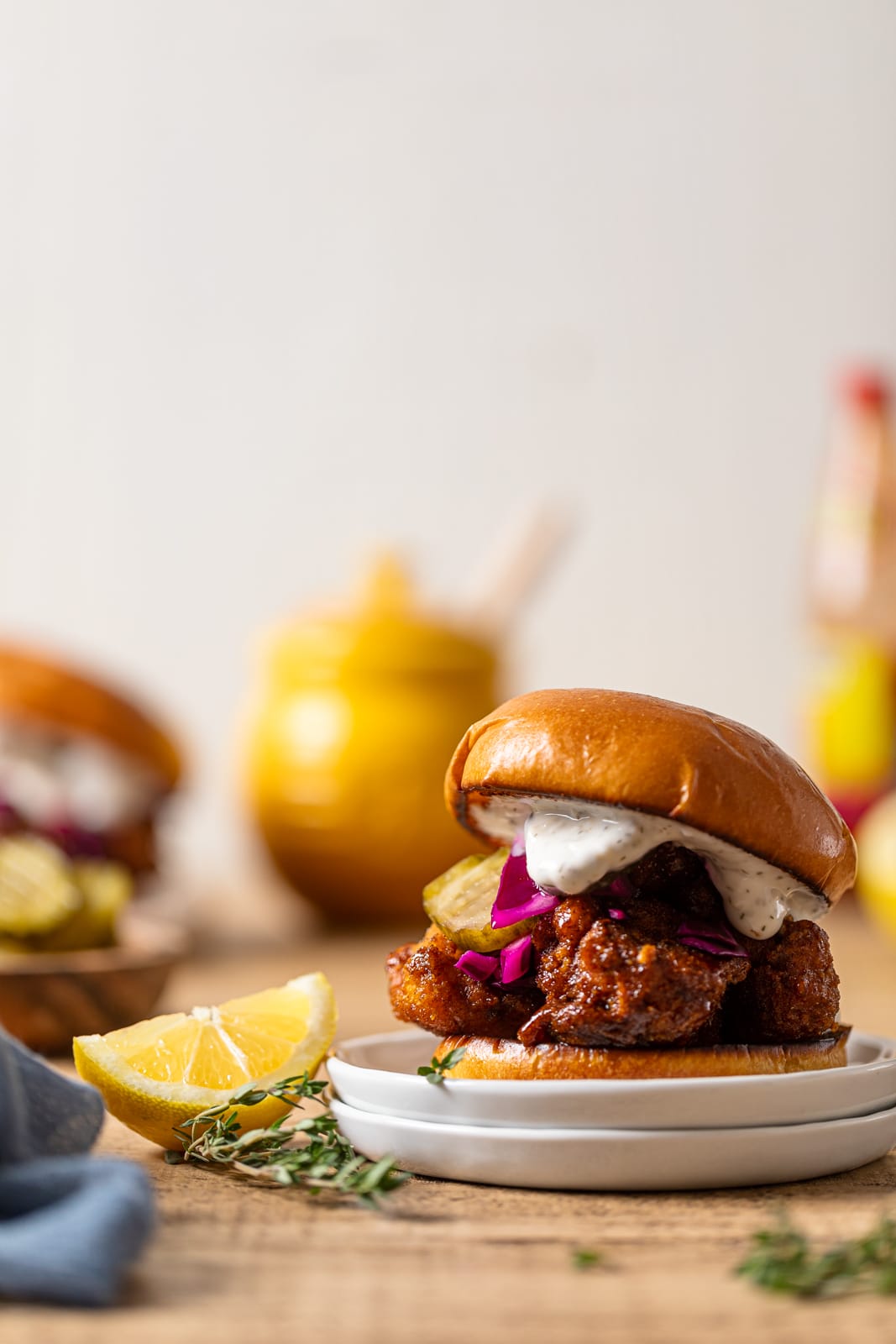 Ingredients for Nashville Hot Cauliflower
Here's what you need to make these baked cauliflower bites:
Cauliflower. Cut the head into evenly-sized medium florets.
Bread crumbs. You can make your own seasoned breadcrumbs for the most crispiness. See the notes below the recipe for how-to. Store-bought organic panko also works.
Flour. I use organic all-purpose from Bob's Red Mill or King Arthur's.
Almond milk. Or another plant-based milk (unsweetened).
Pure maple syrup. My favorite is from the Coomb's Family.
Spices. I use red pepper flakes, cayenne pepper, garlic powder and smoked paprika.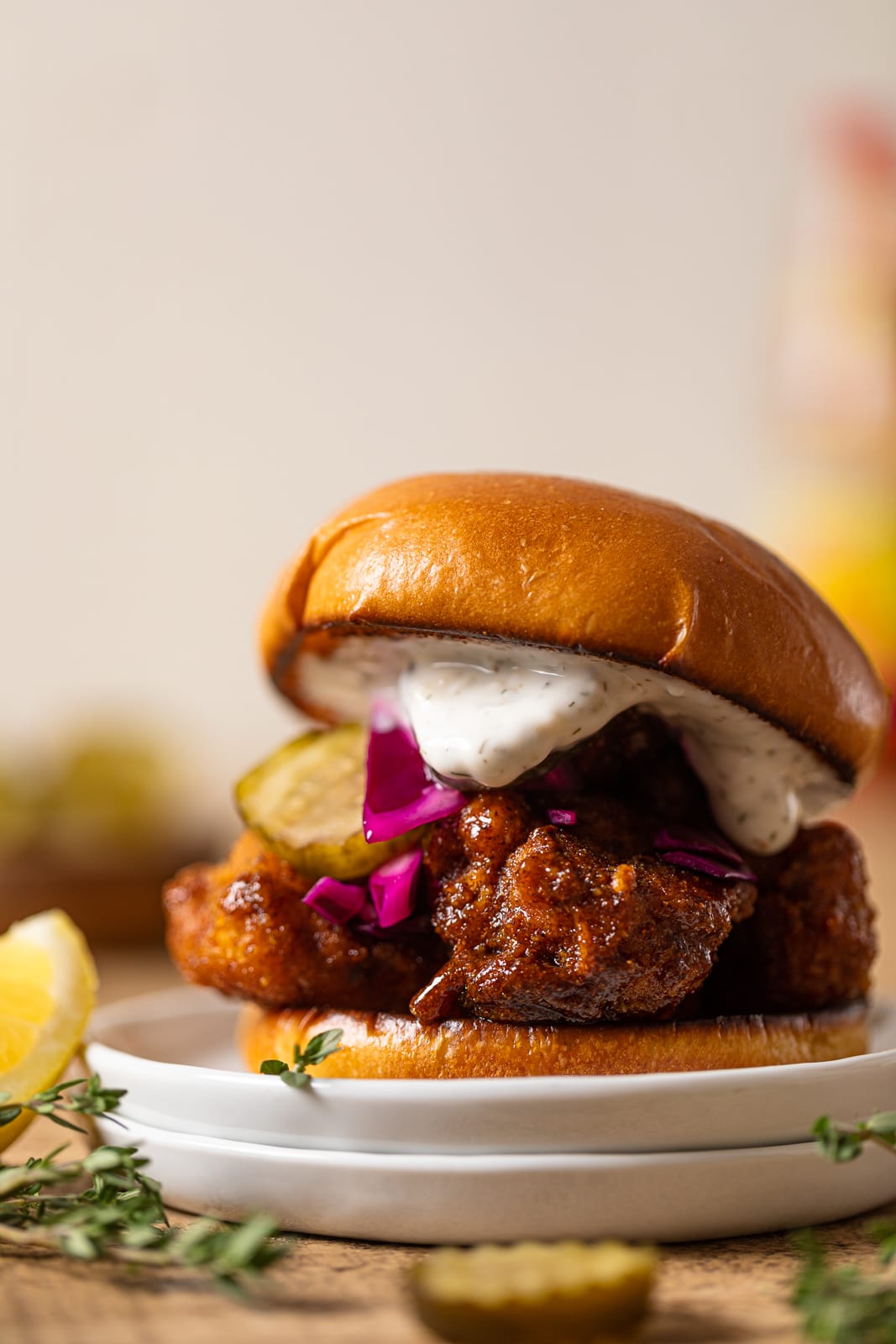 Dairy-Free Herb Aioli Sauce
To round out the sweet and spicy flavors in your Vegan Nashville Hot Chicken Sandwiches, don't skip the creamy and savory herb aioli sauce. I keep it vegan because I'm avoiding too much dairy and of course, this recipe is all vegan.
You can use regular mayo if you're not avoiding dairy. Otherwise, this sauce is quick and easy to make with fresh and powdered garlic, lemon juice, and a bit of dried dill, oregano, and cilantro.
If you love this creamy herb aioli sauce as much as I do, try it on: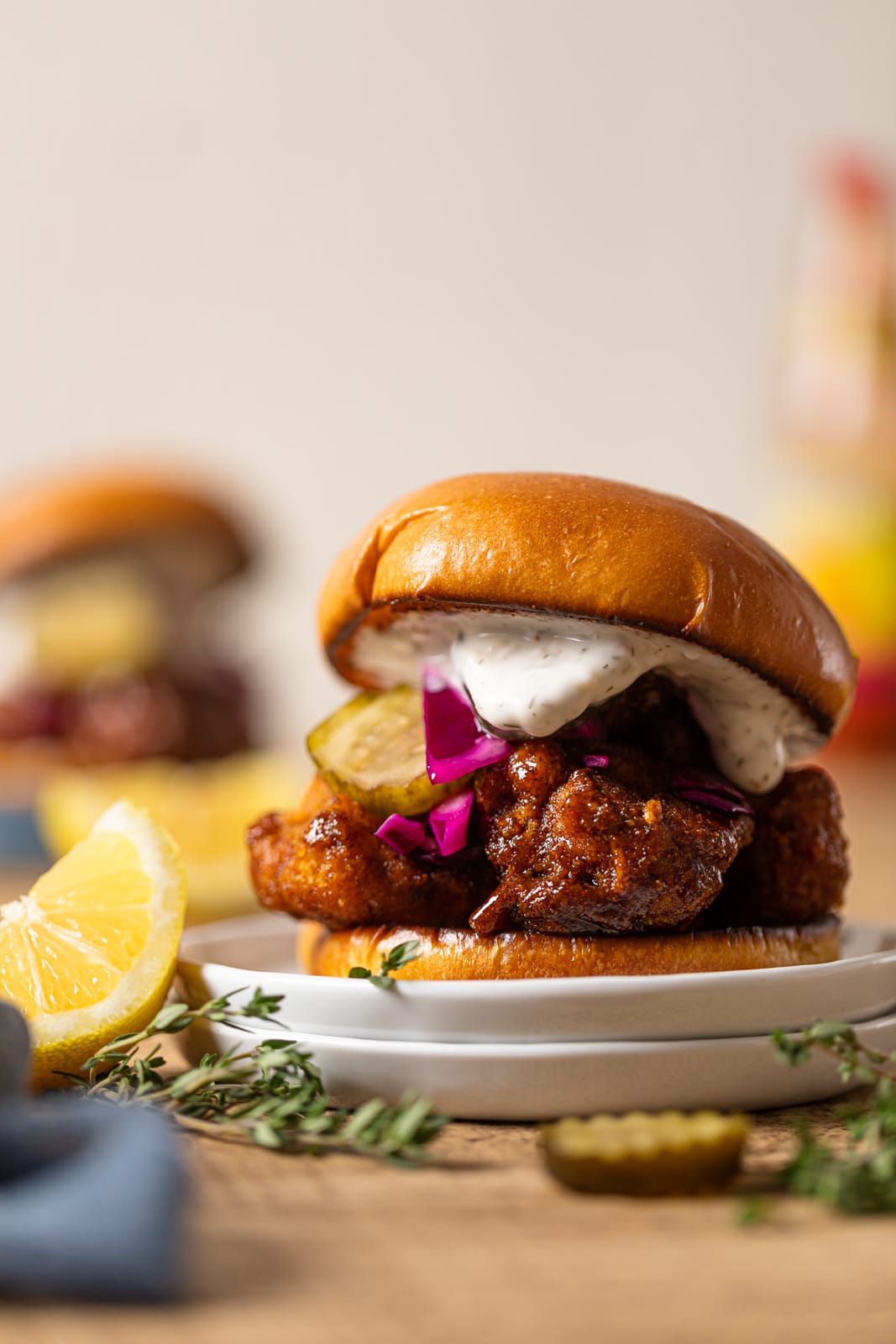 Topping Ideas
Pile these flavorful Vegan Nashville Hot Chicken Sandwiches with your favorite toppings, including:
Tomato slices
Shredded lettuce
Pickles
Sliced jalapeños
Red onion
Slaw
More Must-Try Burger Recipes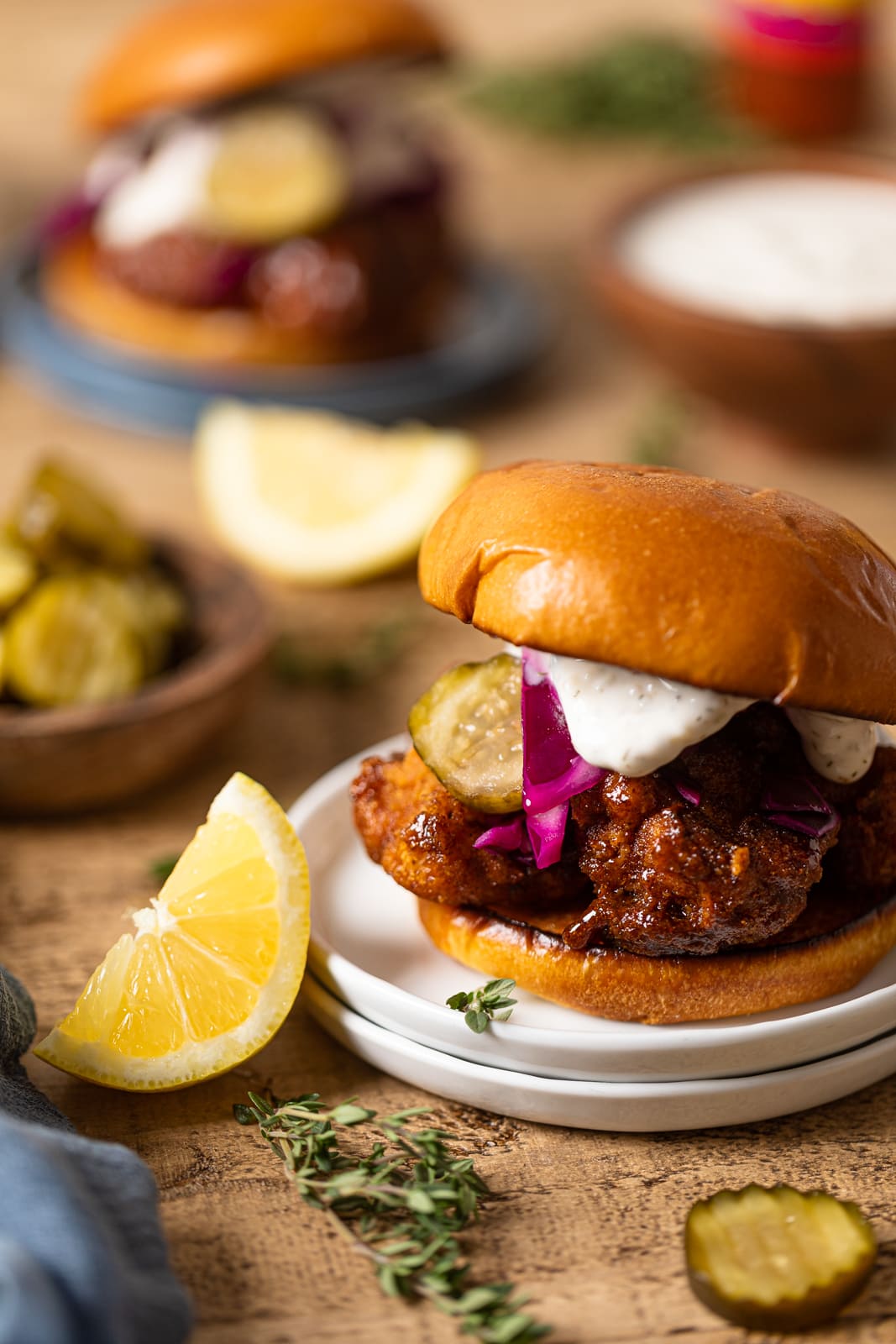 MADE OUR RECIPE(S)?
If you make these Vegan Nashville Hot Chicken Sandwich or any other recipe from us, be sure to tag us on Instagram at #Orchidsandsweettea so that we can share the love, rate, comment below, + share!
CAULIFLOWER BITES:
1

head of

Cauliflower, chopped in medium chunks

3

cups

bread crumbs

¾

cup

organic all-purpose flour

1

cup

Almond milk

¼

cup

pure maple syrup

1

tablespoon

red pepper flakes

1

teaspoon

smoked paprika

1

teaspoon

garlic powder

½

teaspoon

sea salt + black pepper, each
NASHVILLE HOT SAUCE (VEGAN):
HERB AIOLI:
½

cup

vegan mayonnaise

1

tablespoon

minced garlic

1

teaspoon

freshly-squeezed juice

1

teaspoon

dried dill weeds

½

teaspoon

dried oregano

½

teaspoon

dried cilantro
TO MAKE THE CAULIFLOWER BITES:
Preheat your oven to 450 degrees Fahrenheit and line your baking sheet with parchment paper. NOTE: Doing this step is a MUST to prevent sticking.

In a medium bowl, add the milk, flour, maple syrup, garlic powder, salt, black pepper, smoked paprika, and red pepper flakes, and whisk together until fully combined. Set aside.

In a separate bowl, add bread crumbs and set aside also. 

Now, dip each cauliflower into batter (shaking off any excess) and then toss into bread crumbs. Then lay each cauliflower side by side on the baking sheet (about an inch apart). Repeat until all cauliflower are coated.

Bake for 30-35 minutes or until golden brown and "crunchy" looking. NOTE: If not crispy enough, turn on broil and bake for another 5-10 minutes.
TO MAKE THE HERB AIOLI:
In a bowl, add together the vegan mayo, mince garlic, lemon juice, salt, dill, oregano, and cilantro and whisk until smooth and creamy. Refrigerate until ready to use.
TO MAKE THE NASHVILLE HOT SAUCE:
Place all ingredients in a medium saucepan over medium-high heat and whisk together until it begins to boil. Reduce heat to low and let everything simmer for about 15 minutes or so, stirring occasionally. Once thickened enough to desired consistency, remove from heat and let cool.

Once cauliflowers are crisp, remove from oven and toss them in the sauce until fully coated.
ASSEMBLY:
To assemble, prepare your burger buns, top with 3-4 cauliflower bites, shredded cabbage, dill pickles, and the herb aoili sauce. Serve with your favorite side----fries, sweet potato fries, salad, or whatever. 

Bon Appetit!
STORAGE (CAULIFLOWER BITES): Best if consumed within the same day. Store leftovers in a tightly sealed container in the refrigerator for up to 2 days. Reheat in oven when ready to serve.
HOMEMADE BREADCRUMBS: To make your own breadcrumbs, simply grind 1-2 cups of cubed bread into a food processor until finely chopped. Place crumbs onto a parchment lined baking sheet and spread out evenly. Bake for 5-6 minutes in the oven set at 350 degrees Fahrenheit, stirring occasionally. Once brown + crisp, remove from oven and let cool. Continue recipe steps and store remaining breadcrumbs in a tightly sealed container. 
TOPPINGS: You can always add your favorite toppings such as greens, tomatoes, pineapple, etc. 
Calories:
1066
kcal
|
Carbohydrates:
139
g
|
Protein:
19
g
|
Fat:
47
g
|
Saturated Fat:
8
g
|
Polyunsaturated Fat:
10
g
|
Monounsaturated Fat:
12
g
|
Trans Fat:
4
g
|
Sodium:
2161
mg
|
Potassium:
511
mg
|
Fiber:
7
g
|
Sugar:
39
g
|
Vitamin A:
2154
IU
|
Vitamin C:
5
mg
|
Calcium:
368
mg
|
Iron:
8
mg
Vegan Nashville Hot Chicken Sandwich.