Get ready to be blown away by this Vegan Nashville Hot Chicken Sandwich—it's a game-changer! Seriously, it's just as good, if not better, than the real deal. This sandwich is all about Southern charm, packing a spicy punch, crunchy "meat," and a burst of intense umami flavor. It's the ultimate crowd-pleaser, whether you're gathering with friends for a weeknight feast, hosting a backyard barbecue, or simply looking to treat yourself to a savory lunch. Trust me, once you take a bite, you'll be hooked. This sandwich is perfection on a plate! Gluten-free option.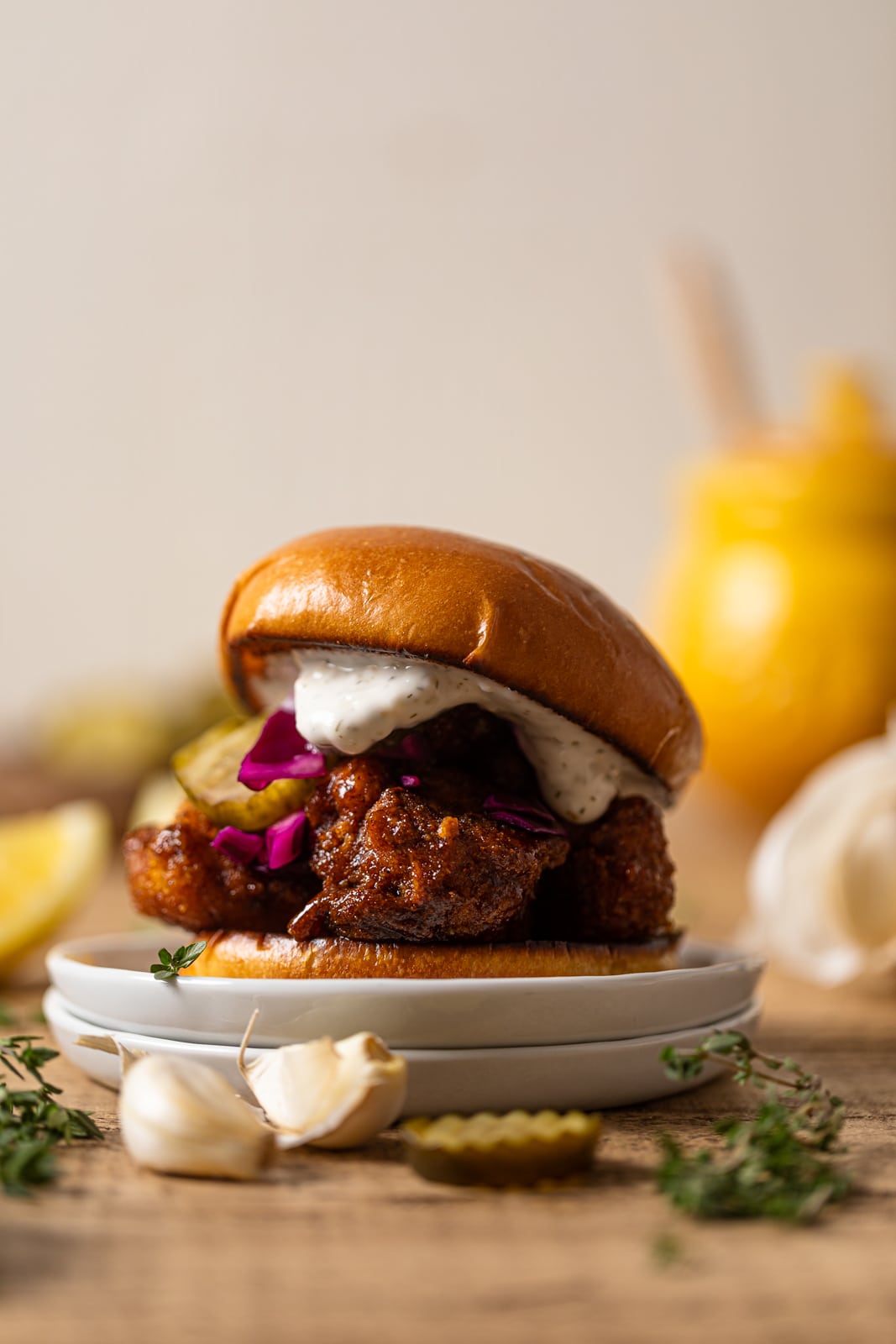 What Makes This Vegan Nashville Hot Chicken Sandwich So Good?
There's something so satisfying about a good sandwich, ya'll. I don't know if it's the Southerner in me, but I'm such a sucker for sandwiches, pastas, chicken, and most things that include cheese-----although I'm intentional about reducing dairy and meat so that's why I decided to create the ultimate vegan sandwich.
Get ready for the crème de la crème of vegan sandwich recipes! I swap out the traditional chicken for crispy flavor-packed cauliflower bites. I have to admit I'm absolutely obsessed with creating cauliflower wing/bites recipes like Lemon Pepper Cauliflower Wings, Everything Bagel Cauliflower Bites, and these Sticky Coca-Cola Cauliflower Wings. So with all that practice, I have masted the art of making sure they are deliciously flavor-packed--- It proves that plant-based creations can outshine even the most beloved classics.

These Vegan Nashville Hot Chicken Sandwiches make for the perfect summer dinner or lunch option. They are super easy to make + the perfect crowd-pleasing meal. And they are entirely dairy-free with a gluten-free option so that it works for those with sensitivities. If you're thinking of making your own bread, check out my Soft Buttery Vegan Brioche Bread!
Jump to: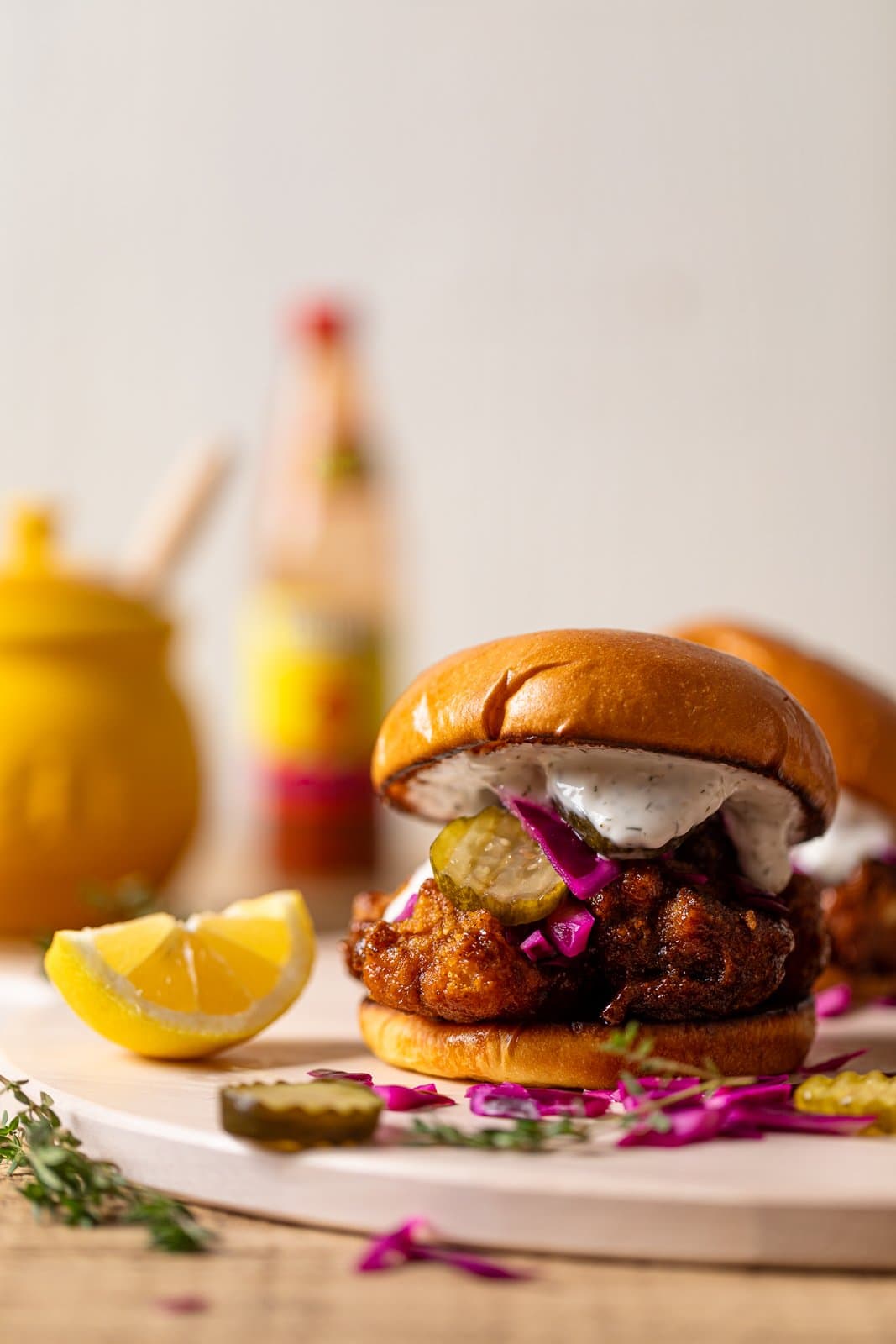 How to Make Vegan Nashville Hot Sandwiches
This vegan sandwich recipe has a few different components. I recommend making things in the following order:
Cauliflower bites made in the oven
Nashville Hot sauce on the stove
Finally, whip up the vegan herb aioli sauce
Ingredients
Nashville Hot Cauliflower
Here's what you need to make these baked cauliflower bites:
Cauliflower. Cut the head into evenly-sized medium florets.
Bread crumbs. You can make your own seasoned breadcrumbs for the most crispiness. See the notes below the recipe for how-to. Store-bought organic panko also works.
Flour. I use organic all-purpose from Bob's Red Mill or King Arthur's.
Almond milk. Or another plant-based milk (unsweetened).
Pure maple syrup. My favorite is from the Coomb's Family.
Spices. I use red pepper flakes, cayenne pepper, garlic powder and smoked paprika.
NASHVILLE HOT SAUCE:
Vegan butter. Provides a rich and creamy base for the sauce, adding a luscious texture and buttery flavor.
Pure maple syrup. Adds a touch of natural sweetness that helps balance the heat of the sauce.
Cayenne pepper. Offers the signature fiery kick that Nashville Hot Chicken is known for. Adjust the quantity to your desired level of spiciness.
Organic brown sugar. A subtle sweetness and depth of flavor, complementing the heat and adding a hint of caramel-like notes.
Sea salt + Black pepper. Enhances the overall taste and helps bring out the flavors of the other ingredients.
Smoked paprika. Infuses a smoky and slightly sweet undertone.
Garlic powder. Imparts a savory, aromatic essence adding depth to the sauce.
Louisiana hot sauce. Gives an extra kick of heat and tanginess, contributing to the authentic Nashville Hot Chicken flavor experience.
Together, these ingredients create a harmonious blend of sweet, spicy, smoky, and savory flavors, elevating the entire sandwich to a whole new level of deliciousness.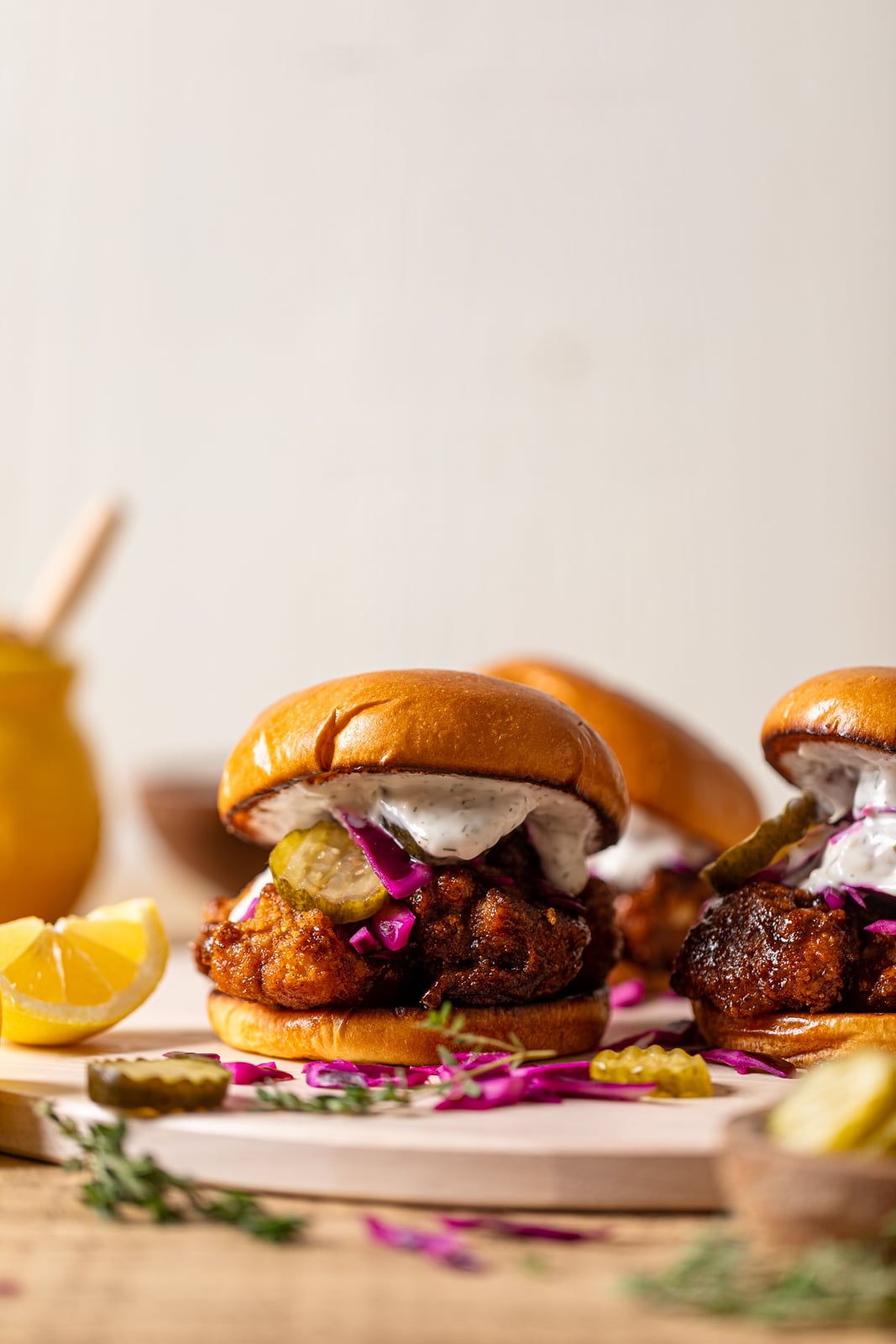 Tricks For The Crispiest Cauliflower Wings
Crispy, crunchy cauliflower florets coated in a spicy and sweet Southern Nashville Hot sauce. Everyone (vegetarian and not) will be eager to dig into these bites as a snack or in this vegan sandwich.
To make sure your wings get as crispy as possible, follow these simple tips:
Prepping the Cauliflower
Remove excess moisture by patting the florets dry with a paper towel.
Ensuring the florets are dry helps in achieving a crispier texture.
SPACE IT OUT
Make sure each wing has plenty of space on the baking sheet. The airflow helps things crisp up.
CHECK YOUR BREADCRUMBS
Make sure you're using fresh, not soggy or stale, breadcrumbs to achieve the crispiest + tastiest cauliflower bites.
How Can I Make My Own Breadcrumbs?
To make your own breadcrumbs, simply grind 1-2 cups of cubed bread into a food processor until finely chopped. Place crumbs onto a parchment-lined baking sheet and spread out evenly. Bake for 5-6 minutes in the oven set at 350 degrees Fahrenheit, stirring occasionally. Once brown + crisp, remove from oven and let cool. Continue the recipe steps and store the remaining breadcrumbs in a tightly sealed container.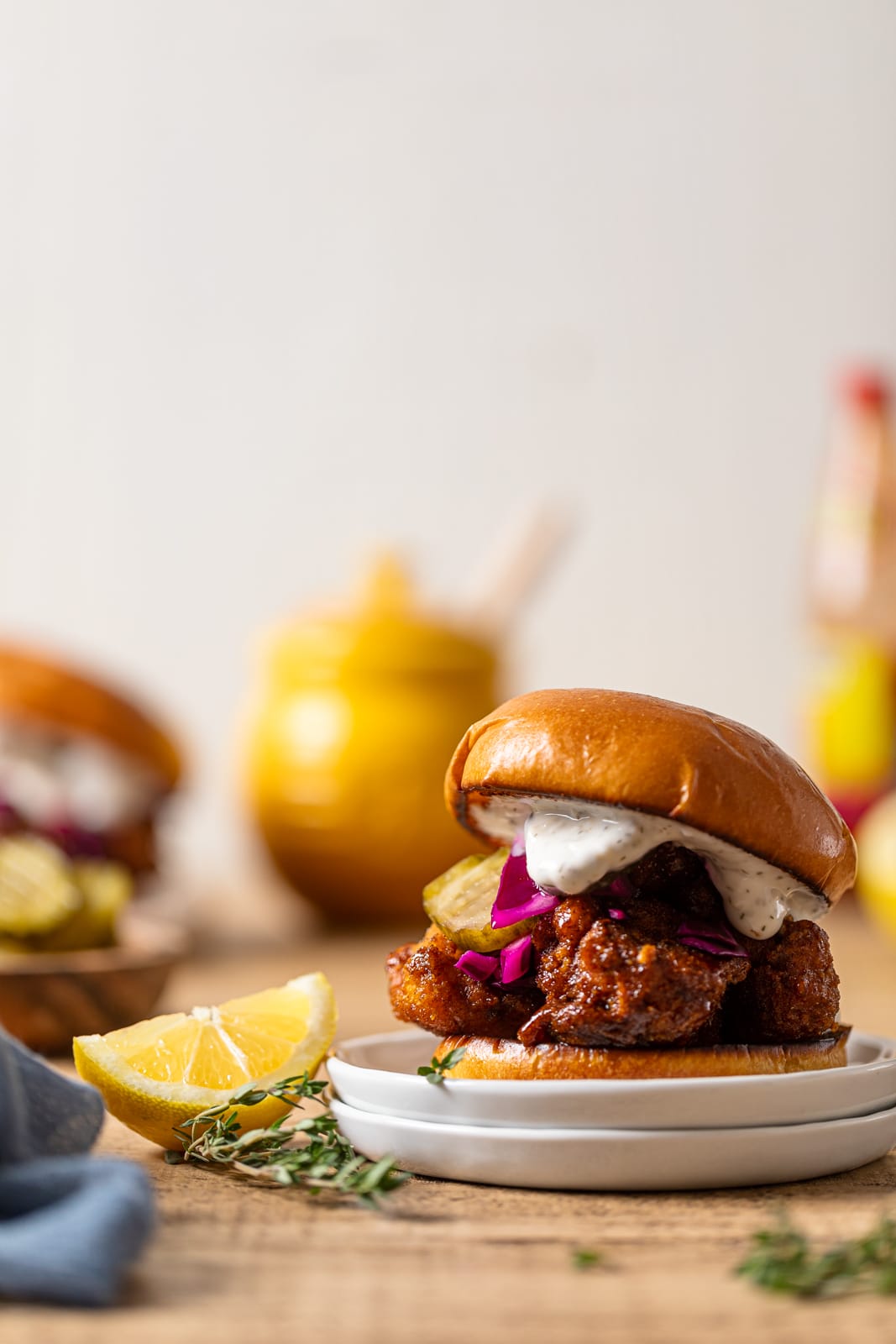 How to Best Use Cauliflower Bites
Not making these Vegan Sandwiches? No worries----cauliflower bites are so versatile that the possibilities are endless! Here are a few ideas to get you started:
Appetizer Platter: Arrange your cauliflower bites on a platter alongside some dipping sauces like Ranch + Creamy Honey Mustard. It's the perfect finger food for gatherings or parties.
Salad Topping: Add some crunch and flavor to your salads like this Easy Loaded Corn Salad by using cauliflower wings as a delicious topping.
Tacos or Wraps: Stuff some cauliflower bites into warm tortillas or wraps along with your favorite veggies, sauces, and toppings. It's a fantastic way to create a satisfying and plant-based meal.
Buddha Bowl: Build a nourishing Buddha bowl like this Healthy Pesto Buddha Bowl by combining cauliflower bites with grains, leafy greens, roasted vegetables, and a flavorful dressing. It's a wholesome and balanced meal in a bowl.
Side Dish: Serve cauliflower bites as a tasty and nutritious vegetarian side dish alongside your favorite main course. They complement a variety of dishes, from roasted chicken to pizza.
Remember, you can always get creative and experiment with different serving ideas. So, go ahead and enjoy these delectable bites in whichever way tickles your taste buds!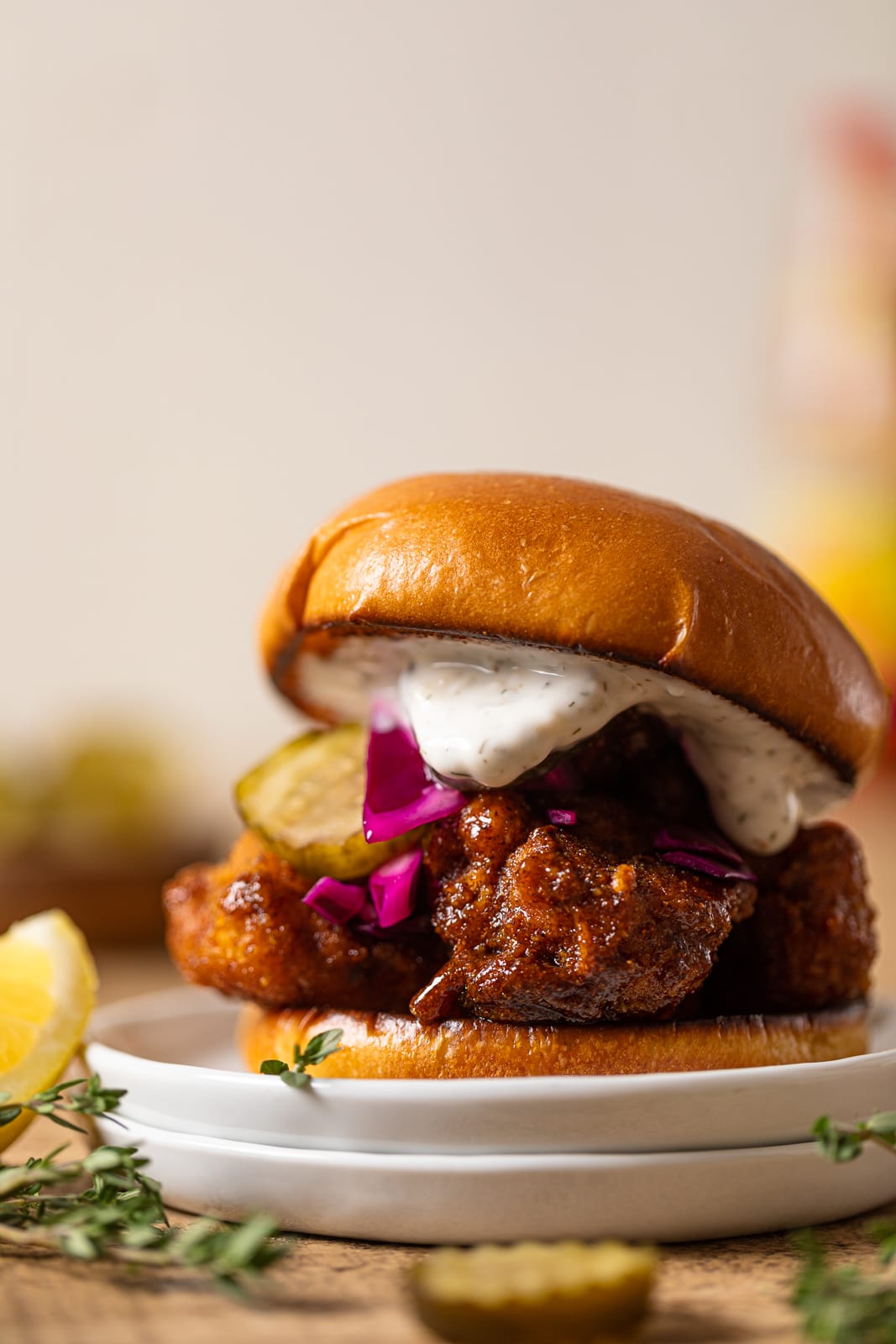 Why You Will LOVE This Vegan Sandwich
It's a flavor explosion-- Tangy, smoky + sweet and downright addictive!
Tender + Crispy melt-in-your-mouth cauliflower 'chicken'
Crowd-pleasing--perfect for gatherings!
Textural bliss, the perfect balance of soft and crunchy.
Happiness wrapped between two buns
The perfect vegan sandwich
Is Cauliflower Healthy?
Cauliflower is a nutrient-rich vegetable that offers tonnes of health benefits which is one of the reasons I LOVE creating recipes with it!
HEALTH BENEFITS OF CAULIFLOWER
Packed with vitamins C, K, and folate.
Excellent source of antioxidants.
Supports digestion and gut health.
Promotes bone health with vitamin K.
Anti-inflammatory properties.
Helps regulate blood sugar levels.
Incorporating cauliflower into your diet is a great way to boost your nutrient intake and promote overall health and well-being, and what better way than in a vegan sandwich?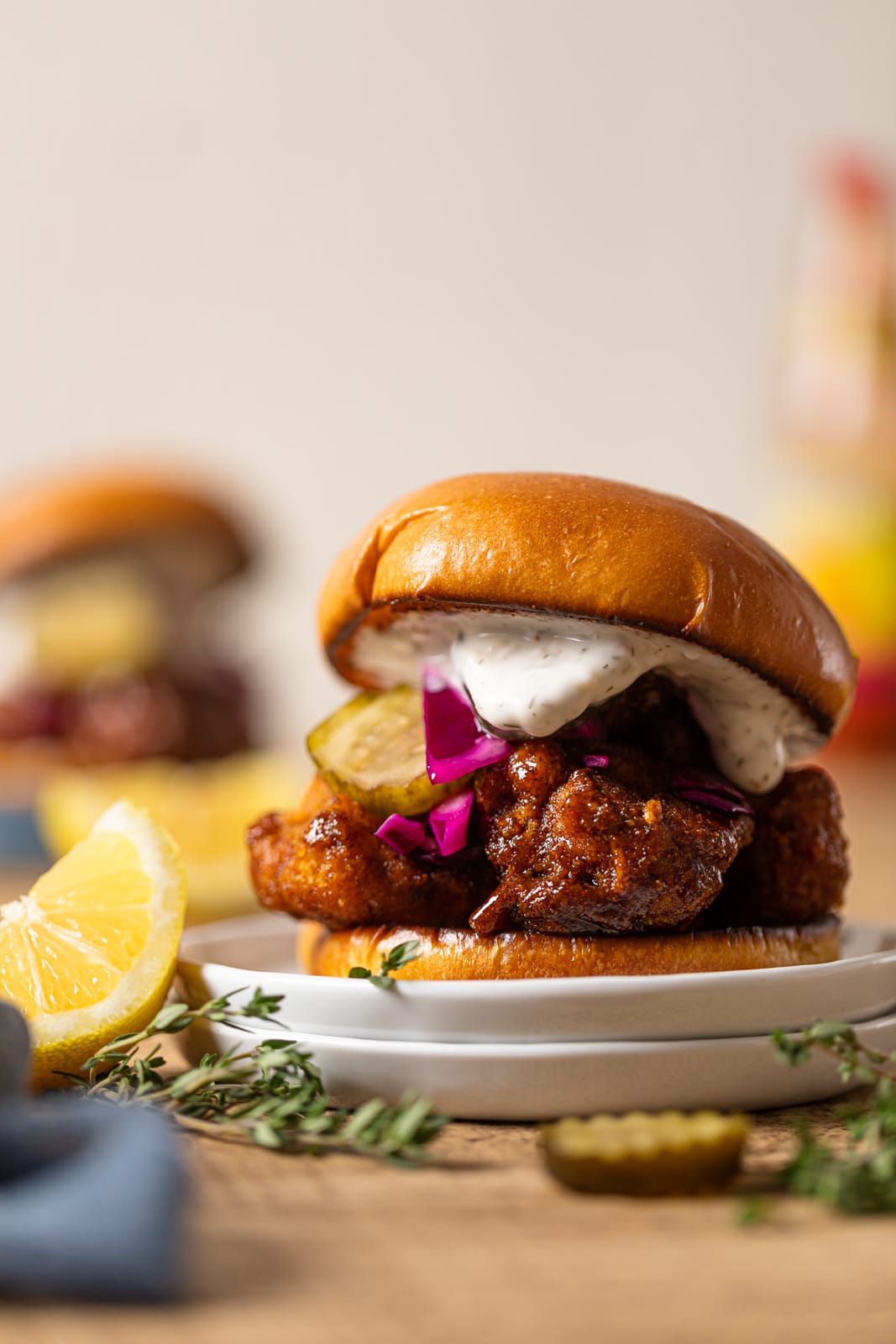 What To Serve With Vegan Nashville Hot Chicken Sandwich
Although this Vegan Nashville Hot Chicken Sandwich is AMAZING all on its own--These additions really elevate this meal to the next level.
FRIES - Add Spicy Honey Sweet Potato Wedges or Seasoned Crinkle Cut Fries for a classic and satisfying side.
Creamy Coleslaw- Provides a refreshing and crunchy contrast.
Grilled Corn- On the cob for a summery and charred side dish, or try this Easy Loaded Corn Salad
Salad- Adds another element of freshness! Try the Roasted Cauliflower Green Goddess Salad
Macaroni + Cheese - Because who can resist the combination of cheesy goodness with Nashville Hot 'Chicken'? Try one of my many Mac + Cheese Recipes HERE
DRINKS - Don't forget refreshing beverages like Southern Peach Iced Tea or this Mango Lemonade Kombucha Mocktail.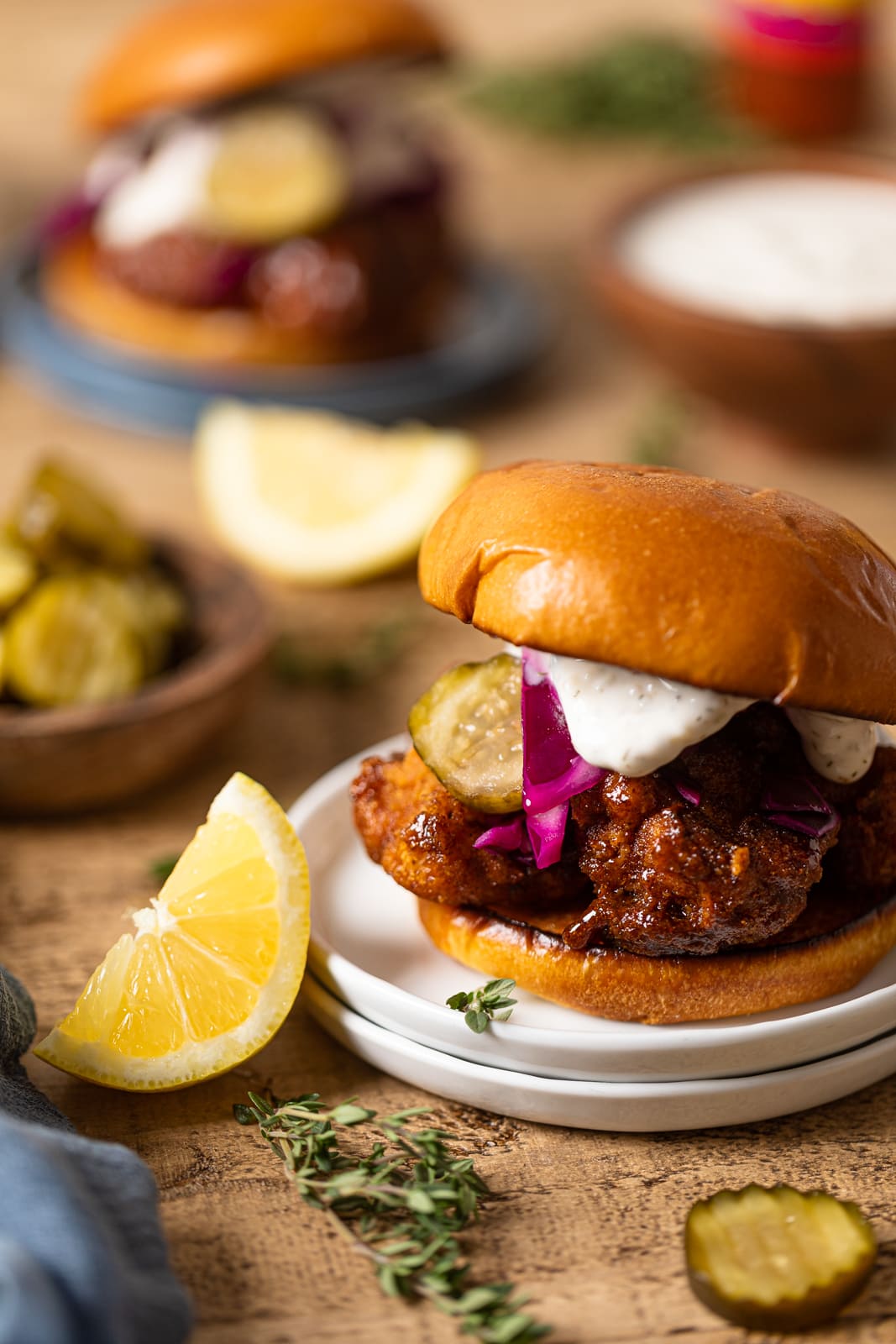 Vegan Nashville Hot Chicken Sandwich Q + A's
Can I Make This Vegan Chicken Sandwich Gluten-Free?
Yes! To make these sandwiches entirely GF, simply ensure that the bread is GF-Friendly + Use GF breadcrumbs.
Can I Customize This Sandwich?
Absolutely! The sandwich can be personalized according to individual tastes. Whether you prefer a spicier kick or a sweeter flavor, you have the freedom to experiment and add your own twist.
How Spicy Is the Sandwich?
It's a little spicy y'all. The level of spiciness can be adjusted according to personal preference. The amount of cayenne pepper and hot sauce can be increased or reduced to control the heat. Feel free to customize it to suit your taste buds.
More Must-Try Burger + Sandwich Recipes
MADE OUR RECIPE(S)?
If you make these Vegan Nashville Hot Chicken Sandwich or any other recipe from us, be sure to tag us on Instagram at #Orchidsandsweettea so that we can share the love, rate, comment below, + share!!
CAULIFLOWER BITES:
1

head of

Cauliflower, chopped in medium chunks

3

cups

bread crumbs

¾

cup

organic all-purpose flour

1

cup

Almond milk

¼

cup

pure maple syrup

1

tablespoon

red pepper flakes

1

teaspoon

smoked paprika

1

teaspoon

garlic powder

½

teaspoon

sea salt + black pepper, each
NASHVILLE HOT SAUCE (VEGAN):
HERB AIOLI:
½

cup

vegan mayonnaise

1

tablespoon

minced garlic

1

teaspoon

freshly-squeezed juice

1

teaspoon

dried dill weeds

½

teaspoon

dried oregano

½

teaspoon

dried cilantro
OPTIONAL SAUCE:
TO MAKE THE CAULIFLOWER BITES:
Preheat your oven to 450 degrees Fahrenheit and line your baking sheet with parchment paper. NOTE: Doing this step is a MUST to prevent sticking.

In a medium bowl, add the milk, flour, maple syrup, garlic powder, salt, black pepper, smoked paprika, and red pepper flakes, and whisk together until fully combined. Set aside.

In a separate bowl, add bread crumbs and set aside also. 

Now, dip each cauliflower into batter (shaking off any excess) and then toss into bread crumbs. Then lay each cauliflower side by side on the baking sheet (about an inch apart). Repeat until all cauliflower are coated.

Bake for 30-35 minutes or until golden brown and "crunchy" looking. NOTE: If not crispy enough, turn on broil and bake for another 5-10 minutes.
TO MAKE THE HERB AIOLI:
In a bowl, add together the vegan mayo, mince garlic, lemon juice, salt, dill, oregano, and cilantro and whisk until smooth and creamy. Refrigerate until ready to use. NOTE: You can also add my Vegan Ranch Dressing to these sandwiches as well!
TO MAKE THE NASHVILLE HOT SAUCE:
Place all ingredients in a medium saucepan over medium-high heat and whisk together until it begins to boil. Reduce heat to low and let everything simmer for about 15 minutes or so, stirring occasionally. Once thickened enough to desired consistency, remove from heat and let cool.

Once cauliflowers are crisp, remove from oven and toss them in the sauce until fully coated.
ASSEMBLY:
To assemble, prepare your burger buns, top with 3-4 cauliflower bites, shredded cabbage, dill pickles, and the herb aoili sauce. Serve with your favorite side----fries, sweet potato fries, salad, or whatever. 

Bon Appetit!
STORAGE (CAULIFLOWER BITES): Best if consumed within the same day. Store leftovers in a tightly sealed container in the refrigerator for up to 2 days. Reheat in oven when ready to serve.
HOMEMADE BREADCRUMBS: To make your own breadcrumbs, simply grind 1-2 cups of cubed bread into a food processor until finely chopped. Place crumbs onto a parchment lined baking sheet and spread out evenly. Bake for 5-6 minutes in the oven set at 350 degrees Fahrenheit, stirring occasionally. Once brown + crisp, remove from oven and let cool. Continue recipe steps and store remaining breadcrumbs in a tightly sealed container. 
TOPPINGS: You can always add your favorite toppings such as greens, tomatoes, pineapple, etc. 
Calories:
1066
kcal
|
Carbohydrates:
139
g
|
Protein:
19
g
|
Fat:
47
g
|
Saturated Fat:
8
g
|
Polyunsaturated Fat:
10
g
|
Monounsaturated Fat:
12
g
|
Trans Fat:
4
g
|
Sodium:
2161
mg
|
Potassium:
511
mg
|
Fiber:
7
g
|
Sugar:
39
g
|
Vitamin A:
2154
IU
|
Vitamin C:
5
mg
|
Calcium:
368
mg
|
Iron:
8
mg
Vegan Nashville Hot Chicken Sandwich.