Learn how to make Creamy Southern Cheese Grits--A side dish fit for any meal, be it lunch, dinner, or a breakfast extravaganza! This timeless Southern grits recipe boasts an irresistibly creamy texture, enhanced with a medley of spices and an abundance of luscious melty cheddar cheese. Plus my top tips for making the best grits you've ever had. Completely Gluten-free + Vegan Option.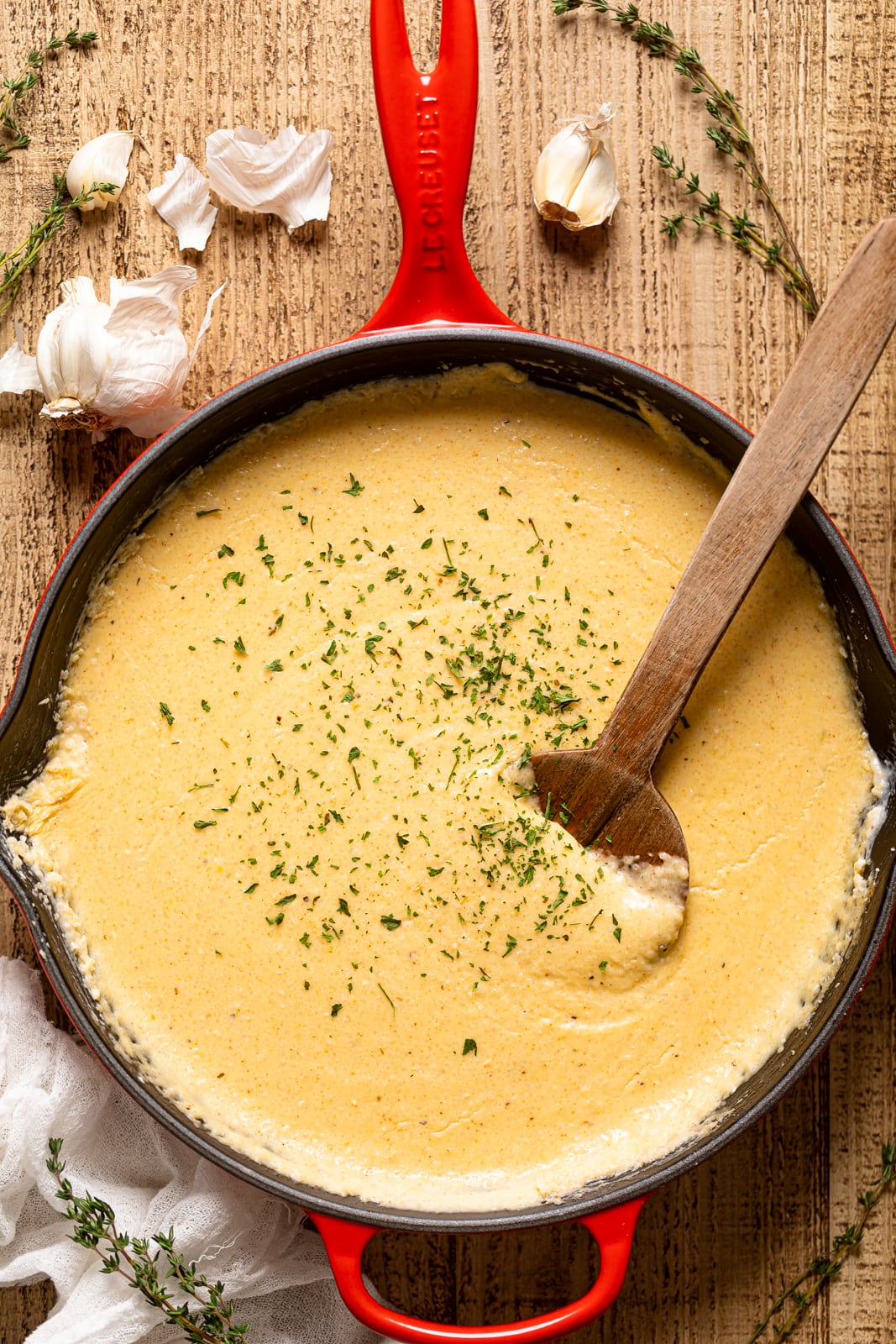 Why Make Creamy Southern Cheese Grits?
Grits, much like the beloved Crispy Oven Fried Chicken, hold a cherished spot at Southern family tables. Whether they're served with plump and juicy shrimp or piled into a bowl for a hot breakfast, you truly can't go wrong with the creamy, pudding-like texture and decadent creamy cheesy flavor of classic grits.

While there are dozens of ways to cook grits, this Southern-style version is my family's go-to. I think you'll love it as much as I do! And If you're on the hunt for a fresh twist on the classic then this Nashville Hot Cauliflower + Kale Grits recipe is a must try + a guaranteed crowd-pleaser. Plus, this version with pesto is incredible-----Vegan Cheese Polenta with Pesto + Chickpea.
This grits recipe is loaded with cheesy goodness. Whipping it up is an absolute breeze + it comes loaded with that delightful Southern charm. The best part? It's incredibly versatile, making them the perfect sidekick for any meal, no matter the time of day!
Jump to: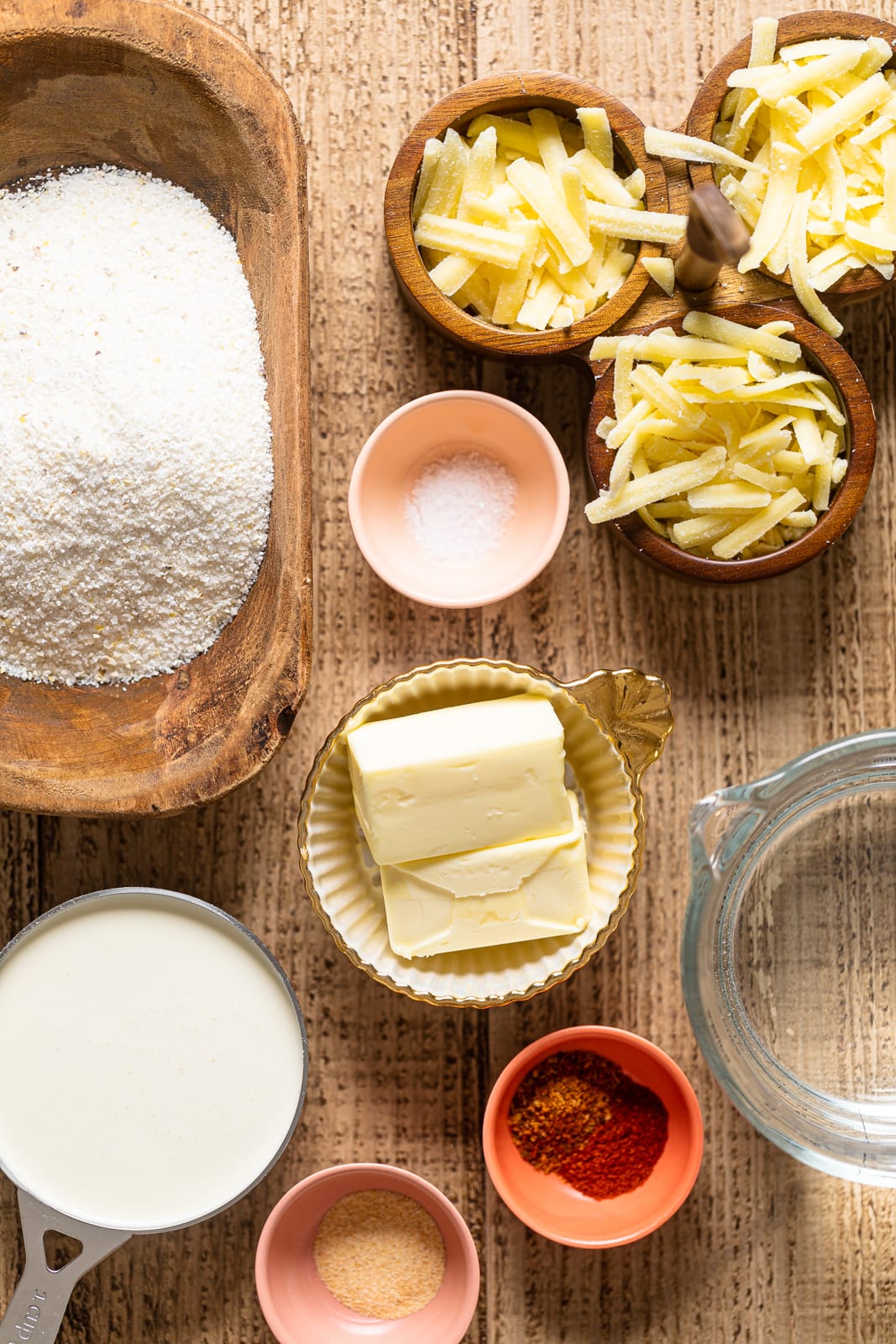 What Is Grits?
Ever wondered, "What is grits?" Well, if you didn't grow up in the South, this might be a delicious revelation for you!
Grits, my friend, are a Southern culinary treasure! They're like a warm, comforting hug in a bowl – made from ground, dried corn, and they're a staple in Southern cuisine. Think of them as a creamy, dreamy porridge that can be enjoyed sweet or savory, depending on your mood. They've got a rich, buttery flavor and a smooth, slightly grainy texture that's just oh-so-comforting
Is Grits the Same as Polenta?
Basically, because polenta and grits are both made from ground corn, you can use them interchangeably. However, grits are higher in starch than polenta, so if you do choose to substitute in polenta for grits, you won't have to stir it as frequently, but it won't cook up as creamy as grits.
My Top Five Tips for Perfect Grits
#1: Heat + Soak Grits: Much like cashews, this allows grits to soften, cook faster, and become more creamy.
#2: Boil grits for 20-30 minutes uncovered, but make sure to stir regularly to avoid lumps.
#3: It's all about adding milk, water, + heavy cream with cheese for the ultimate creaminess.
#4: Don't be afraid to season your girts. It amplifies the flavors more.
#5: Low + slow is always best. This allows the grits to slowly release their starches for a decadent, silky texture.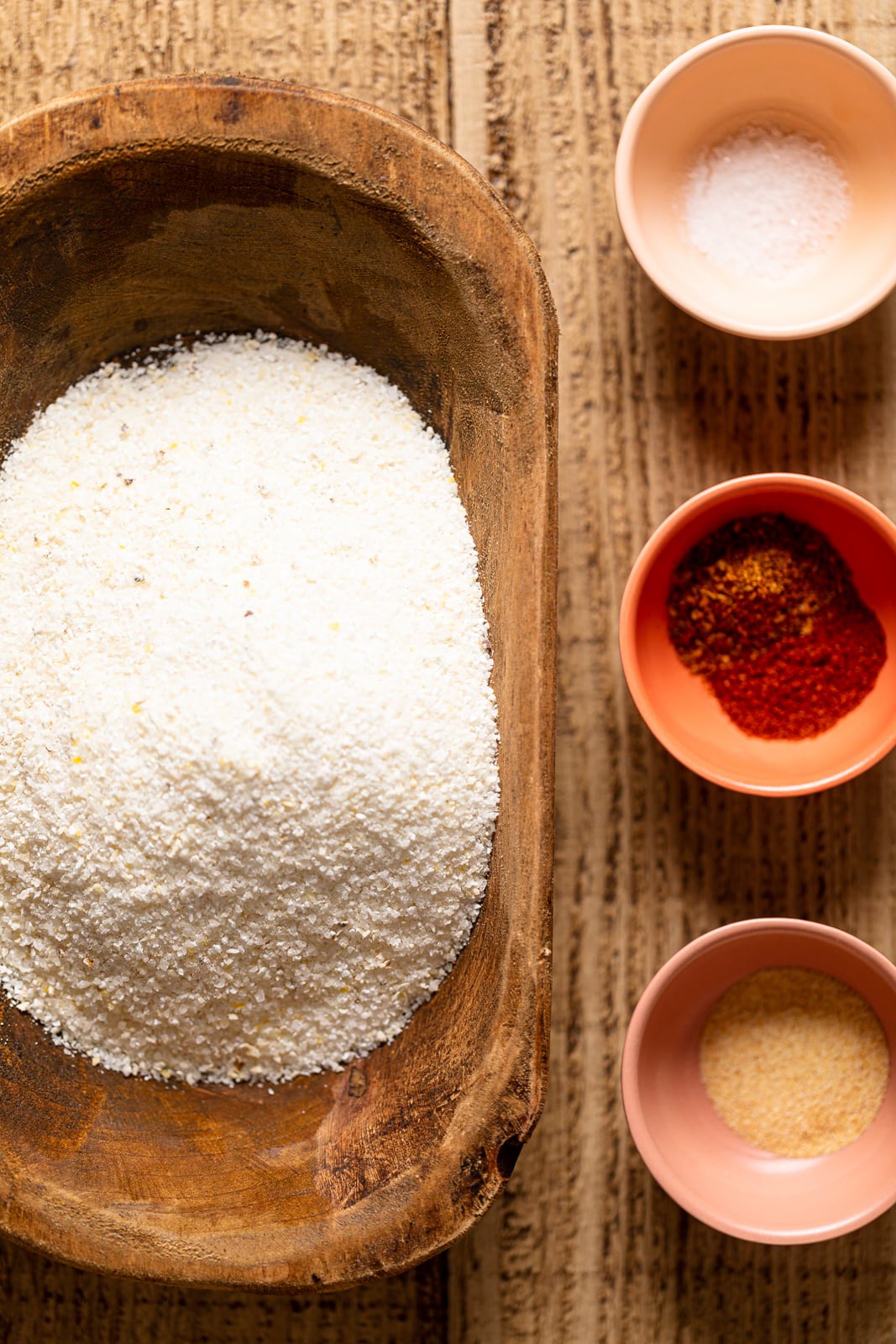 Ingredients for Cheesy Southern Grits
Here's what you need to make these creamy, rich grits at home:
White corn grits. You can find these at most well-stocked grocery stores, often in the grains aisle.
Almond milk. You can use regular milk or another non-dairy version. Just make sure it's unsweetened. Making your own is also a good idea! I love Easy Homemade Creamy Cashew Milk or Almond Milk Without Soaking.
Heavy cream. I like to use organic dairy.
Seasonings. I spice my grits with smoked paprika and Cajun seasoning.
Butter. Use unsalted to better control the seasoning of your grits.
Cheddar cheese. I like to use mild, but if you like a stronger flavor, use sharp or extra-sharp.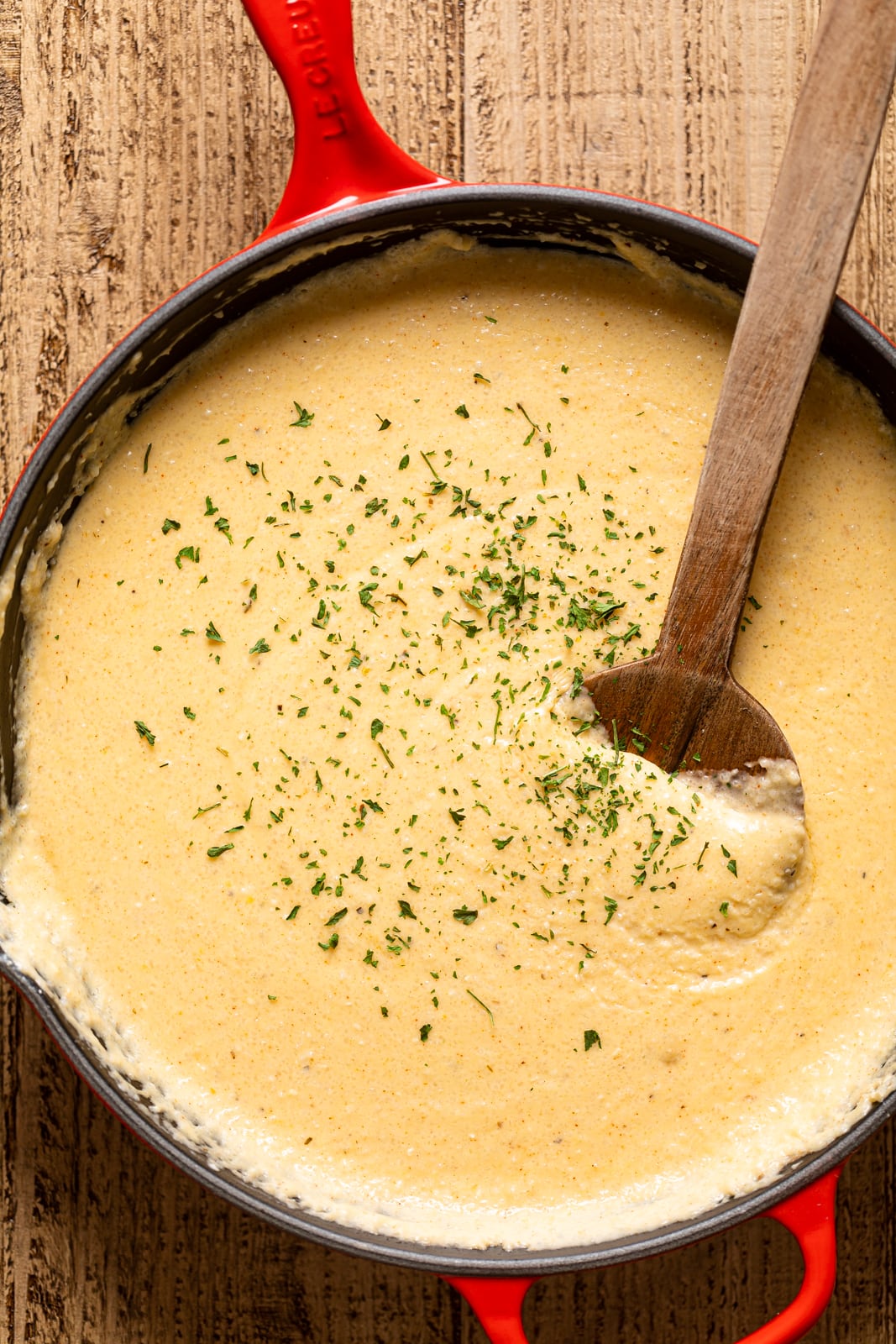 Why You'll Love this Creamy Southern Grits Recipe!
Bold + rich flavor
Easy to make. Easy weeknight meal or brunch option.
Uses simple ingredients, but has deliciously complex flavors.
Completely meal-prep friendly!
Great gluten-free option for everyone!
Fun cooking activity for entire family.
And just absolutely wholesome and perfect for any kind of weather.
Can I Add Veggies to this Dish?
Definitely! This is a great recipe to mix and match the ingredients/toppings. For added nutrients, fiber, and color, add your favorite veggies.
You can add roasted cauliflower, brussels sprouts, bell peppers, asparagus, green peas, roasted herb tomatoes, mushrooms, or leafy greens (kale, spinach, collard greens). All will be delicious!
If you want to add some greens to your grits, you certainly can. My article, Our Top 12 Favorite Healthy Green Leafy Vegetables shares a list of great greens! Off the top—-kale, spinach or collard greens make great additions. Also, roasted broccolini is one of my faves to adds.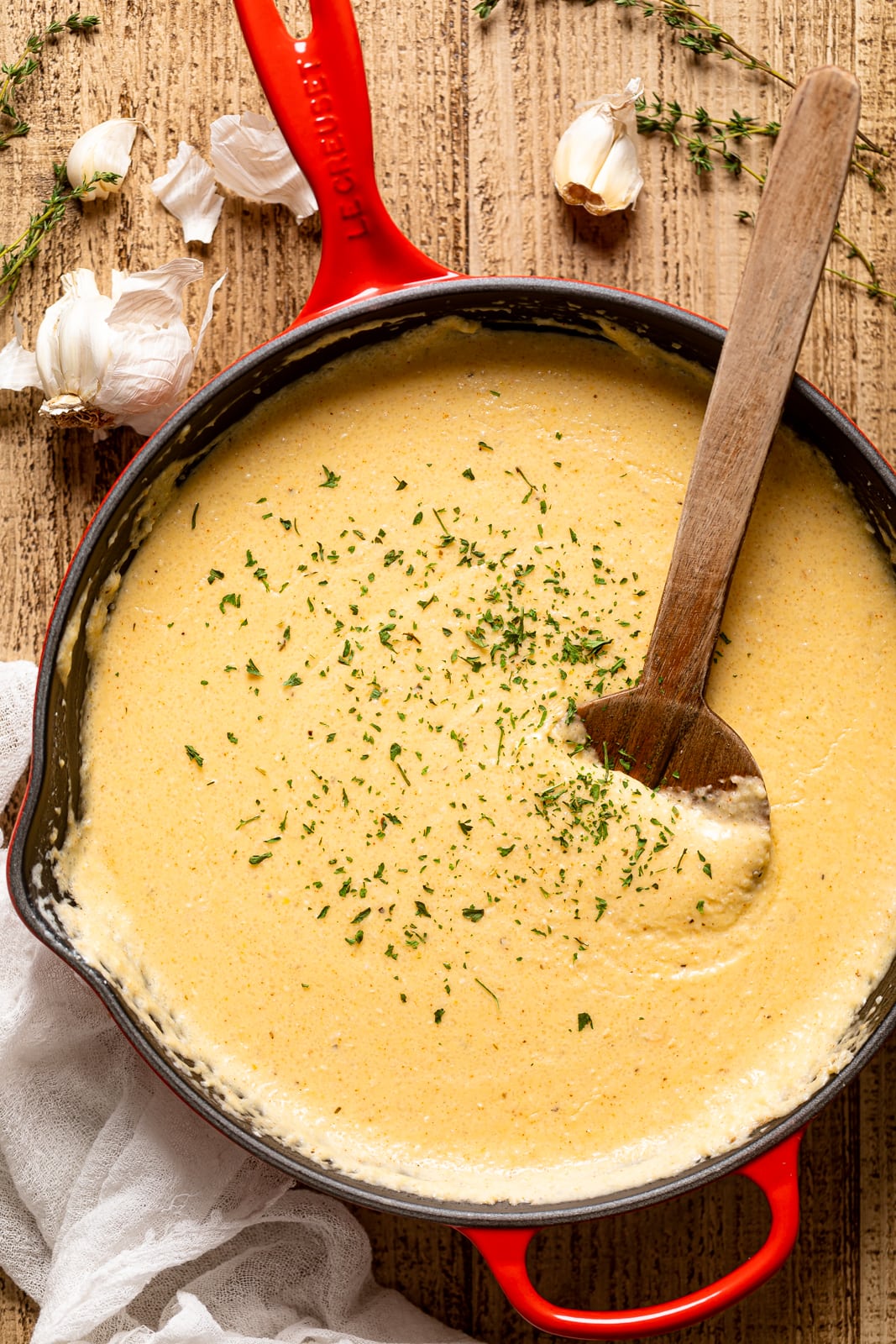 Are Grits as Good for You as Oatmeal?
Overall, oats are higher in calories, but they also contain more fiber and protein than grits, making them a much better choice if you're looking to lose weight. However, grits do provide fewer calories overall which may be beneficial for those with diabetes, etc.
How Do Southerners Eat Grits?
Because grits are a fork food, they are often enjoyed on a plate with a type of protein like eggs, meat, or seafood. Oftentimes, grits are a part of a Southerner's breakfast routine which might consist of eggs, bacon, sausage, etc. along with grits and perhaps a biscuit. In general, Southerners enjoy grits as a savory side dish to other foods for a complete meal.
How To Make Vegan Southern Grits
To make this grits recipe dairy-free, use these swaps:
Use vegan butter instead of unsalted butter
Swap the cream for coconut milk (full-fat)
Use vegan cheese instead of cheddar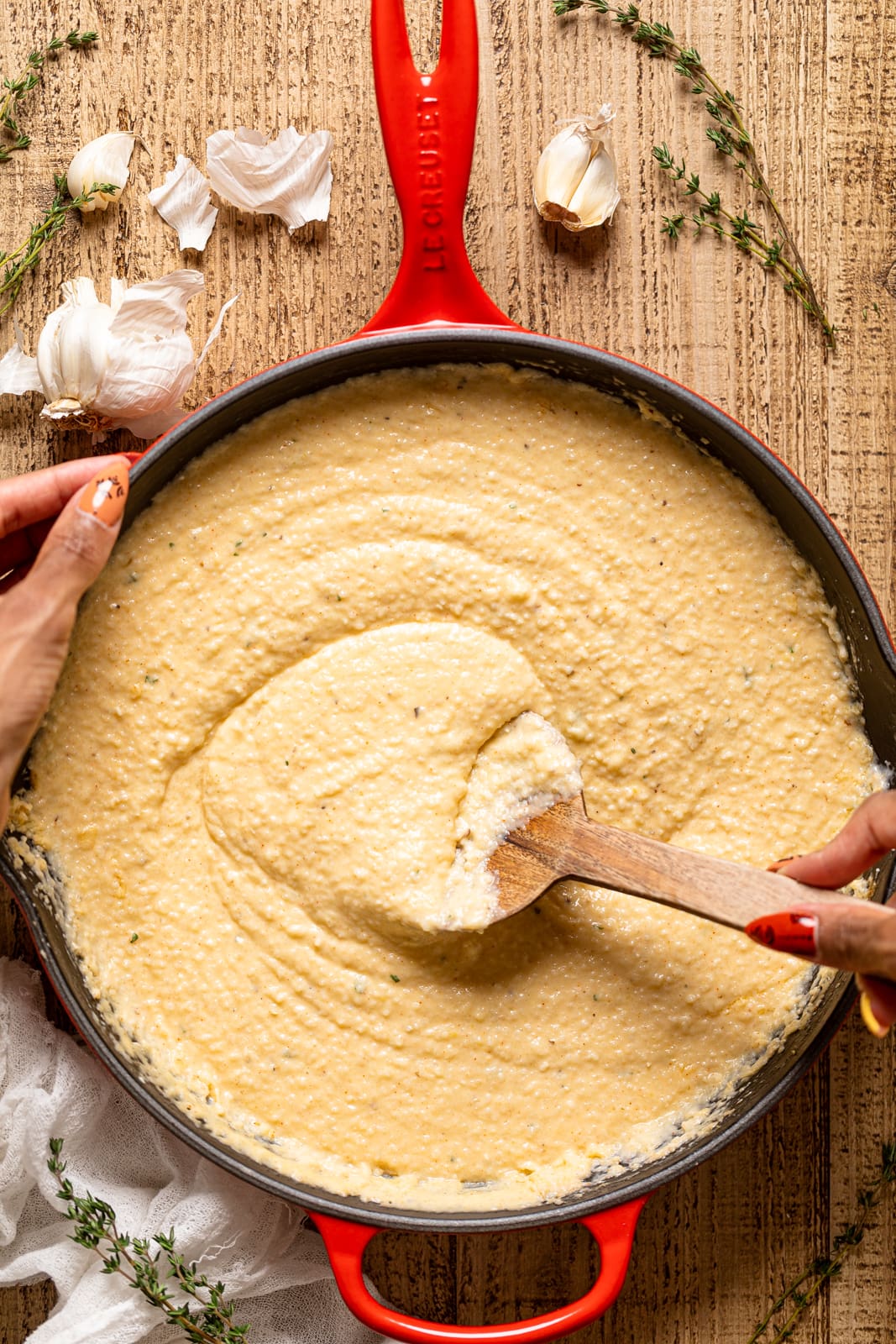 What to Serve with Southern Grits
Grits with cheese make an excellent foundation for any number of dishes. At my house, we love to eat these creamy cheddar grits with:
Other topping ideas include:
Roasted broccolini, broccoli, or veggies
Crispy bacon (if you're not plant-based, of course)
Meat (chicken, beef, etc.)
Seafood (Shrimp, lobster, etc.) Try this Spicy Southern Shrimp + Grits recipe!
Roasted Nuts, such as pecans, hazelnuts or walnuts
Crispy sage leaves
Chickpeas and beans
Grits Ingredient Swaps
To change up the flavors of this southern grits recipe or if you don't have all of the ingredients on this list, here are a few simple swaps:
Creamy Southern Cheese Grits Q + A's
Are Grits Gluten Free?
Yes! Grits are made from corn, so this recipe is fully gluten-free.
How to store + reheat leftovers?
Leftovers can be kept in an air-tight container (separately) in the refrigerator for 3-4 days. Re-heat the girts or polenta over the stovetop or in a microwave when ready to serve. You may need to add a bit of milk to make things creamy again, but that is easily achieved as you whisk.
Can I make this ahead of time?
Of course! All ingredients can be made and individually stored as meal prep (up to 2 days prior) and assembled when ready to serve.
Are there any health benefits to eating grits?
According to research, as a whole grain, grits provides several antioxidants that help mitigate cellular damage from free radicals + unstable atoms in the body. Two of the antioxidants found in grits, lutein and zeaxanthin, are known to contribute to better vision and eye health, protecting against age-related eye diseases
More Southern Recipes to Try
MADE OUR RECIPE(S)?
If you tried this Creamy Southern Cheese Grits recipe or any other recipe on my website, please please leave a 🌟 star rating and let me know how you go in the 📝 comments below. I love hearing from you
1 ¼

cup

white corn grits

2

cups

filtered water

2

cups

Almond milk

1

cup

organic heavy cream

1 ½

tsps

sea salt

1

teaspoon

garlic powder

¼

teaspoon

smoked paprika

¼

teaspoon

cajun seasoning blend, optional

½

cup

unsalted butter

(See Notes for Vegan option!)

1

cup

mild cheddar cheese

(See Notes!)
HEAT + SOAK THE GRITS FIRST:
In a large pot or dutch pot over medium-high heat, add the water, white corn grits, and salt and stir until combined. Once it begin to boil, turn off the heat and let the grits sit for 15 minutes so that it soaks a bit. NOTE: See Post for the reasoning for this, etc.
COOK THE GRITS:
Once the time has ended, turn on the heat to medium-high and add the milk, heavy cream, garlic powder, smoked paprika, and cajun seasoning (optional), whisking regularly to avoid lumps or sticking to the bottom. After the first 10 minutes, reduce heat to medium-low so that it can cook more slowly for the ultimate creaminess.
FINISH THE GRITS:
In the last 5 minutes, add the butter and cheese, whisking until combined and completely smooth. The grits are ready once it thickens, most of the liquid has reduced, becomes creamy, and the grits are al dente when tested. Remove from heat and serve immediately with your favorite protein.

Bon Appétit!
STORAGE: Leftovers can be kept in an air-tight container in the refrigerator for 3-4 days. Re-heat over the stovetop or in a microwave when ready to serve.
HOMEMADE CAJUN BLEND: To make your own cajun blend, visit my Cajun Sweet Potato Grits + Chickpea recipe.
VEGAN OPTION: To make these grits entirely dairy-free or vegan, just substitute the unsalted butter with vegan butter, the heavy cream with full-fat coconut cream/milk,  and the cheese with dairy-free shreds or nutritional yeast.
WHAT PLANT-BASED MILKS ARE GOOD FOR THIS RECIPE? You can very much use regular cow's milk. However, for less dairy or for the vegan option, you can always use your fave or one of the following: Almond, coconut milk, homemade oat milk (froths/foams VERY WELL), homemade cashew milk, potato milk, flax milk, etc.
BEST CHEESES TO USE: I love using Mild Cheddar cheese, however, you can also use the following: Gouda, Freshly-grated Parmesan, Sharp Cheddar, Pepper Jack, etc.
Calories:
723
kcal
|
Carbohydrates:
42
g
|
Protein:
14
g
|
Fat:
56
g
|
Saturated Fat:
34
g
|
Polyunsaturated Fat:
3
g
|
Monounsaturated Fat:
14
g
|
Trans Fat:
1
g
|
Cholesterol:
156
mg
|
Sodium:
1246
mg
|
Potassium:
167
mg
|
Fiber:
1
g
|
Sugar:
2
g
|
Vitamin A:
2094
IU
|
Vitamin C:
0.4
mg
|
Calcium:
402
mg
|
Iron:
1
mg
How to Make Creamy Southern Cheese Grits.