This Creamy Southern Sweet Potato Grits with Chickpeas recipe will be ranked one of the best dishes eaten in your household, believe me! It's based with a creamy cheesy Southern-style sweet potato grits and topped with crispy roasted cajun chickpeas that creates a beautiful texture with every bite. This dish surely boasts of bold, rich flavors that marry so well together for one great bowl of goodness, which can be enjoyed as a weeknight meal or savory brunch. Entirely dairy-free and vegan. Air Fryer, Make Ahead, + Gluten-free options.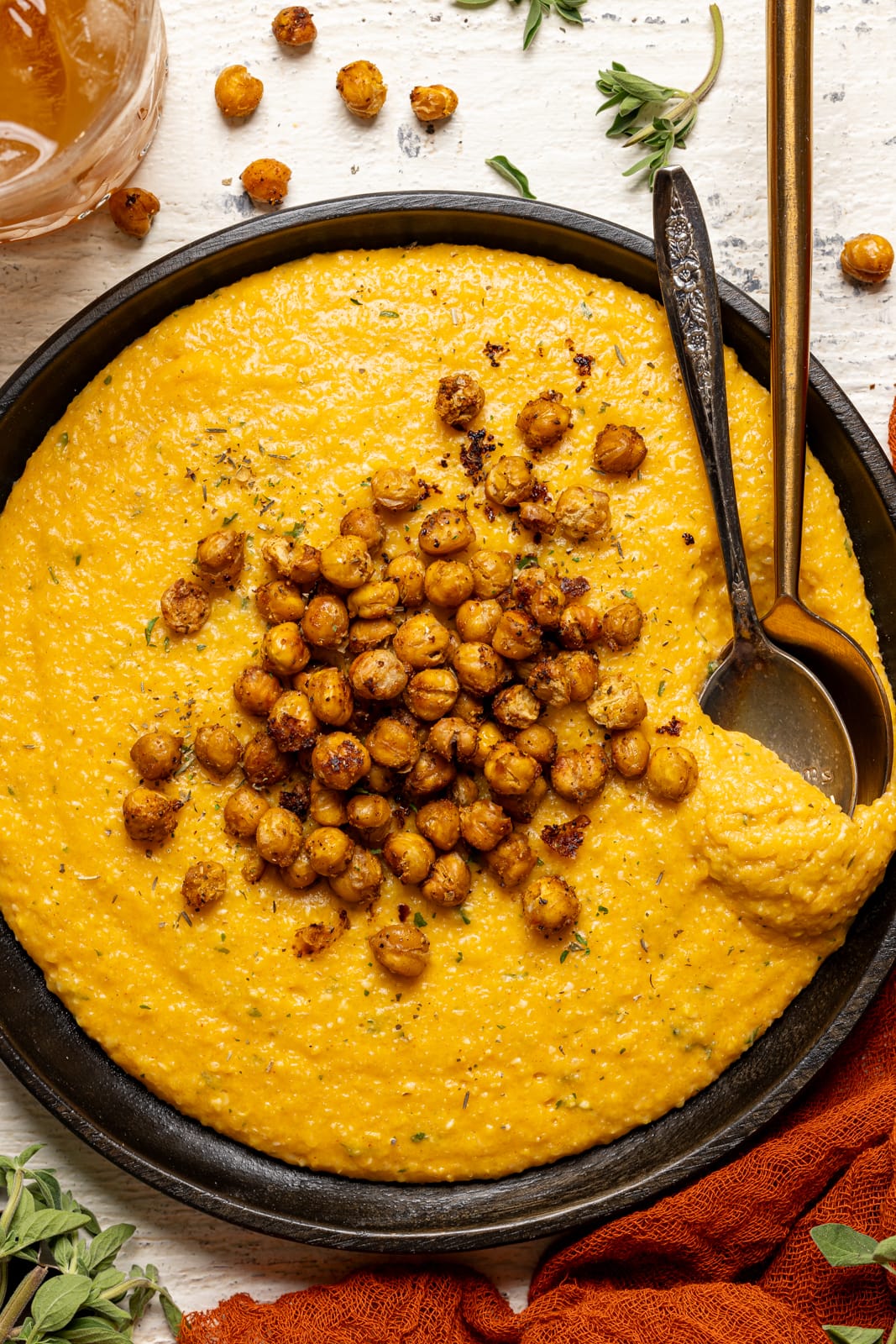 Disclaimer: This post contains affiliate links via Amazon for products that I wholeheartedly love and receive commission from.
I wanted to showcase my Southern roots with this grits + chickpeas recipe and the results are beautiful. Grits are a classic Southern food that shows up at breakfast, lunch and dinner. And Cajun seasoning is the familiar herby and spicy seasoning that always reminds me of a good down south vibe and flavor. Together, this Creamy Southern Sweet Potato Grits with Chickpeas recipe is one that has been a beloved family dish and it's sure to become your newest family staple.
When it comes to grits, many people often wonder about the secret to ultra creamy results and I'm here to tell you that it can easily be achieved. If you're whipping together traditional grits, then these Ultra-Creamy Southern Cheese Grits are one to try! And if you're looking for something savory with a meatless option, then this Nashville Hot Cauliflower + Kale Grits recipe is a guaranteed crowd-pleaser. Plus, this version with pesto is incredible-----Vegan Cheese Polenta with Pesto + Chickpea.
Be sure to watch all recipes via IG Reels for a nice visual.
Overall, this dairy-free + vegan dish is perfect for any time of day, any day of the week, and any season. It's so bold + rich in flavor, easy to make (which makes it perfect for weeknight meals or brunch), the perfect balance of sweet + savory, whipped together in just a few short minutes (less than 40), super versatile, and is a fit for the entire family, even those with gluten sensitivity.
Is Polenta the Same as Grits?
Basically, because polenta and grits are both made from ground corn, you can use them interchangeably. However, grits are higher in starch than polenta, so if you do choose to substitute in polenta for grits, you won't have to stir it as frequently, but it won't cook up as creamy as grits. The great news is that I have tips below that can still result in ultra creamy polenta.
Jump to:
Top Five Tips for Perfect Grits
These tips are the best way to make the creamiest, thickest Southern-style grits for breakfast, lunch or dinner!
#1: Heat + Soak Grits: Much like cashews, this allows grits to soften, cook faster, and become more creamy.
#2: Boil grits for 20-30 minutes uncovered, but make sure to stir regularly to avoid lumps.
#3: It's all about adding milk, water, + heavy cream (if using) with cheese for the ultimate creaminess.
#4: Don't be afraid to season your girts. It amplifies the flavors more.
#5: Low + slow is always best. This allows the grits to slowly release their starches for a decadent, silky texture.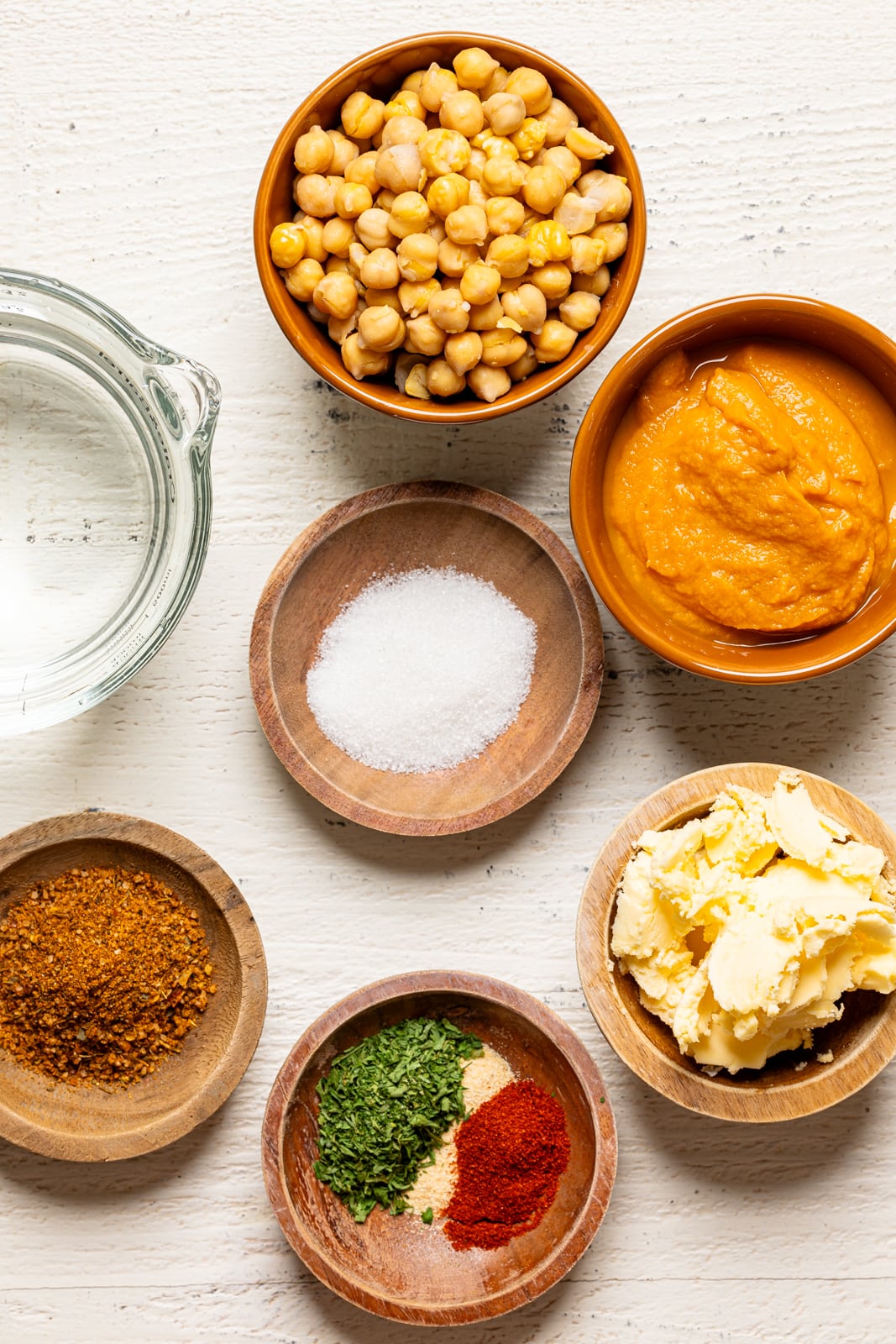 How to Make Creamy Southern Sweet Potato Grits with Chickpeas
This recipe has a few different components, therefore, I recommend making things in the following order:
Roasted chickpeas made in the oven
Cook sweet potato grits to creamy perfection
Finally, serve with grits as the base + chickpeas on top.
When it comes to making this plant-based chickpea + grits recipe, the process is fairly simple and easy! You'll need to:
Part 1: Roast the chickpeas. This done by adding drained + rinsed chickpeas unto a baking sheet, drizzling with olive oil and seasoning. Then baking until crisp.
Part 2: Cook your grits. Simply combine the ingredients for the grits as directed in the instructions, whisking always to keep things smooth and creamy.
Part 3: Assemble. This is the easy part----just serve the grits in your fave bowl or plate and top with roasted chickpeas. Wallah!
Ingredients for Chickpeas + Grits
This chickpeas + grits dish is totally creamy and decadent with pockets of crunchiness and is such a great addition to your next family meal. Plus, to reheat any leftover grits is rather easy and is best done over the stovetop (including polenta) while adding a bit of water or milk until creamy and smooth again.
Here's what you'll need to make this recipe:
Grits or polenta. Use organic white or yellow corn for the best flavor. I love Bob's Red Mill. Organic yellow polenta is great too. For a gluten-free option, ensure that it's GF-friendly.
Chickpeas. Remove as much moisture from the chickpeas as possible for the crispiest texture. These will be roasted in the oven. Can also be done in an air fryer.
Cajun seasoning. Use store-bought or my homemade seasoning blend.
Sweet potato puree. I like to make this advance by roasting sweet potatoes, removing the insides, and mashing them until pureed. You can also use a canned organic version.
Almond milk. You can use any fave dairy-free milk you like. You can also use whole milk, if preferred.
Butter. I love using vegan butter from Earth Balance.
Cheese shreds. I love using high-quality dairy-free cheese shred options. You can use mozzarella, sharp cheddar, Mexican mix, or a combination of any for the most bold cheesy flavor. As a substitute, you can also use Nutritional yeast for a "cheesy feel".
Herbs + seasonings. For a bit of earthy flavor, I like to add salt, garlic powder, smoked paprika, and parsley.
Olive oil. Always use a high-quality olive oil---I love Brightland and California Olive Ranch. You can also use Avocado oil, Grapeseed oil or coconut oil as well.
Sugar. While this is highly debated amongst grits eaters, adding sugar in these grits truly amplifies the savoriness in the flavor with a hint of sweetness that compliments things well. I love using organic cane sugar or brown sugar.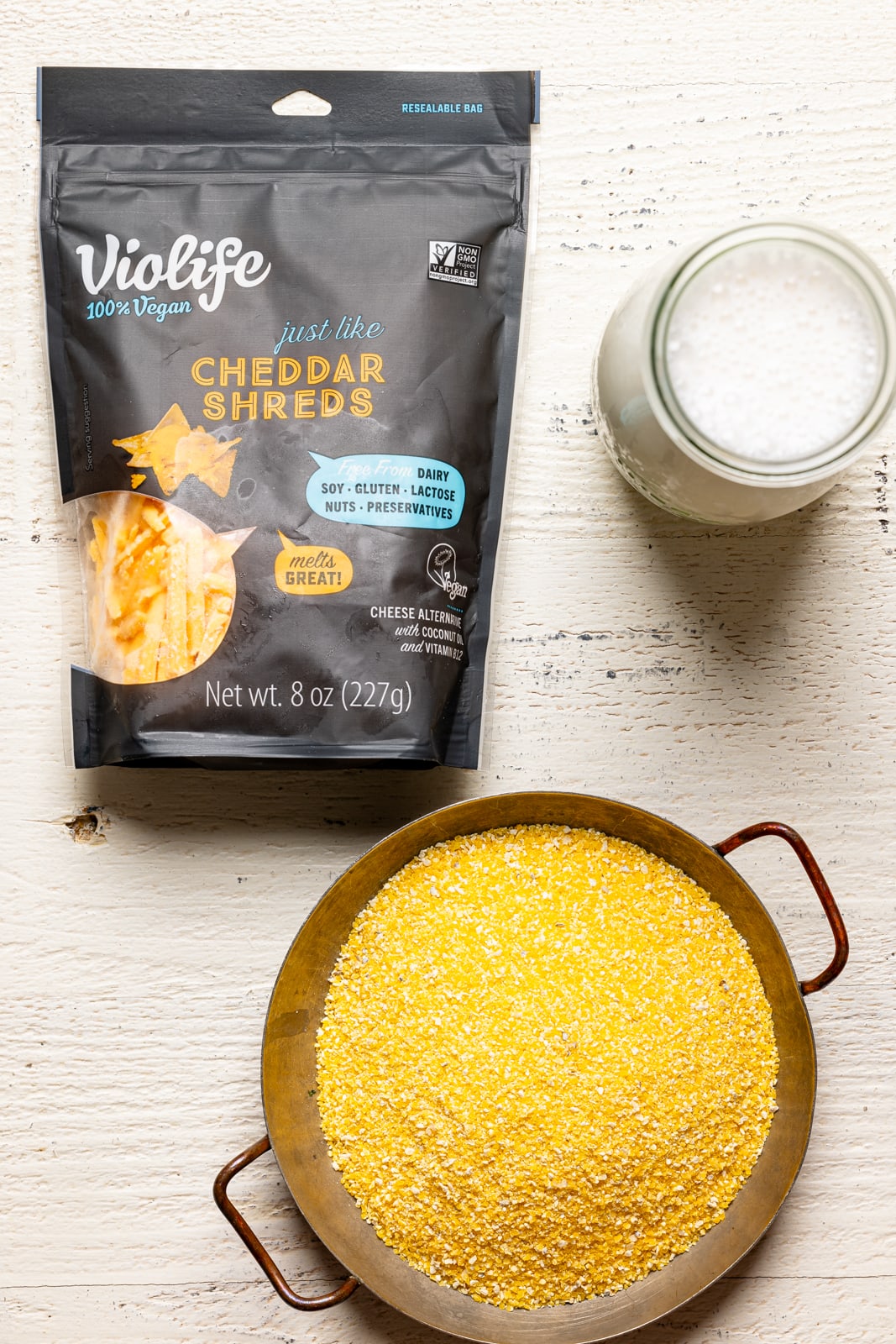 Why You'll Love this Chickpeas + Grits Combo!
Bold, rich flavors—Savory + hints of sweetness, marry so well together!
Easy to make. Easy weeknight meal or brunch option.
Chickpeas are just so delicious as topping!
Uses simple ingredients, but has deliciously complex flavors.
Completely meal-prep friendly!
Great gluten-free option for everyone!
Fun cooking activity for entire family.
And just absolutely wholesome and perfect for any kind of weather.
Homemade Cajun Seasoning Blend
Sure, you can find pre-made seasoning blends at the grocery store. But there's nothing like the fresh, customized flavor you get by making your own blend. The herbs and spices in the cajun spice mix for this recipe are inspired by the fresh herbs that work so beautifully together to create a bold, spicy flavor (from the cayenne + paprika).
You can store the seasoning blend in an airtight container at room temperature for up to six months. Use it on anything from simple roasted vegetables to salad dressing to herb oil for dipping bread.
CAJUN SEASONING BLEND
To make your seasoning, combine about 1 teaspoon of each:
Garlic powder
Italian seasoning
Smoked paprika
Sea salt
Black pepper
Cayenne
Dried thyme
Onion powder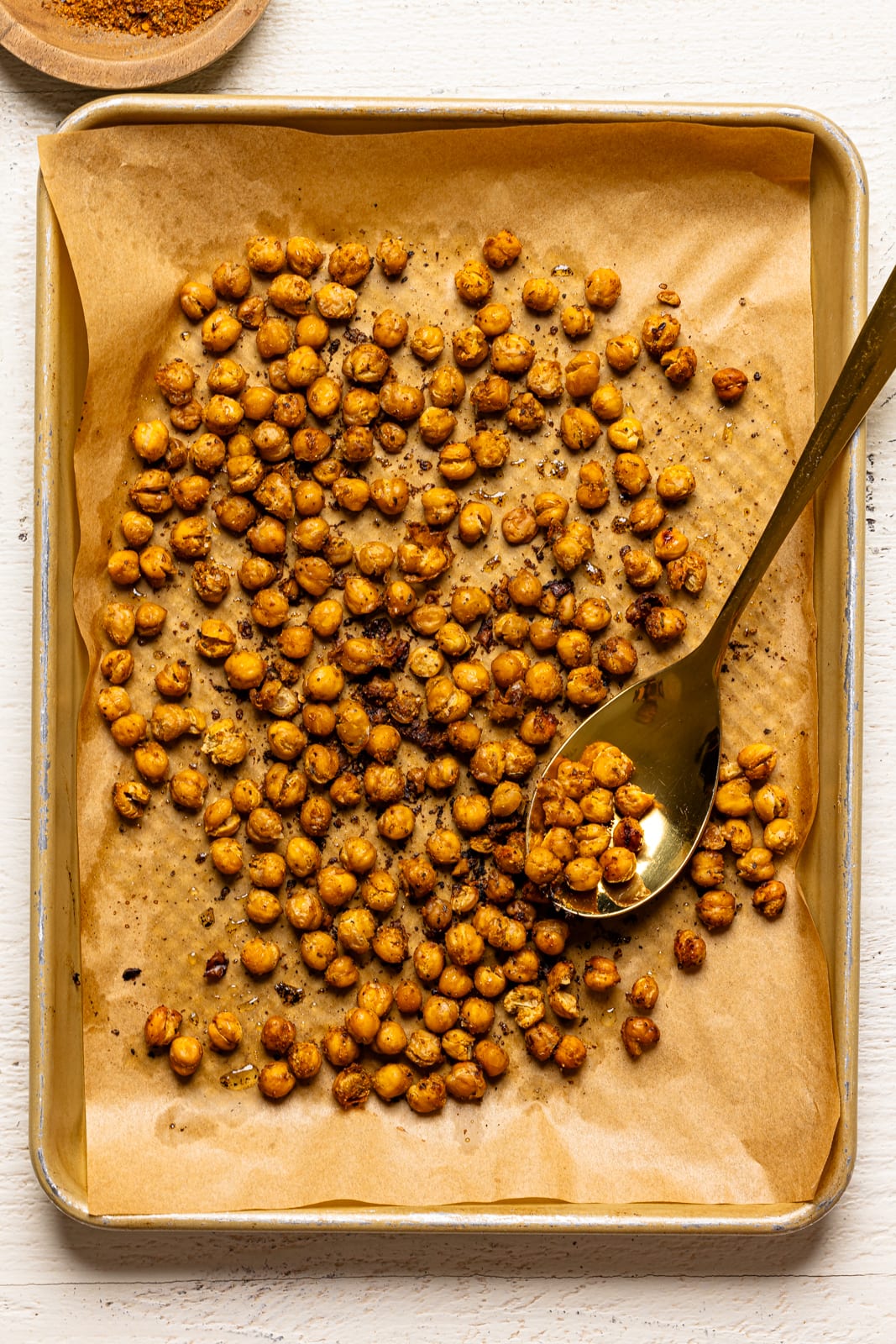 Why Chickpea? Any Health Benefits?
For those of you who aren't aware, another name for Chickpeas are Garbanzo Beans. Despite the most recent craze, chickpeas have been around for thousand of years and originate from the Middle East.
Chickpeas have such a great texture and nutty flavor, which allows them to successfully pair well with a lot of other ingredients, especially in vegan and/or vegetarian recipes.
When it comes to the health benefits of Chickpea, here a few awesome reasons why you should probably add this simple ingredient to your diet more often:
Packed with Nutrients + have a moderate amount of calories!
Rich in Plant-Based Proteins!
Support Blood Sugar Control.
Full of Fiber + might aide digestion.
May protect against Chronic Diseases (such as heart Disease, Cancer, Diabetes, etc.)
May Help keep your appetite under control (Think about how protein + fiber helps to slow down digestion, therefore keeping you full longer!).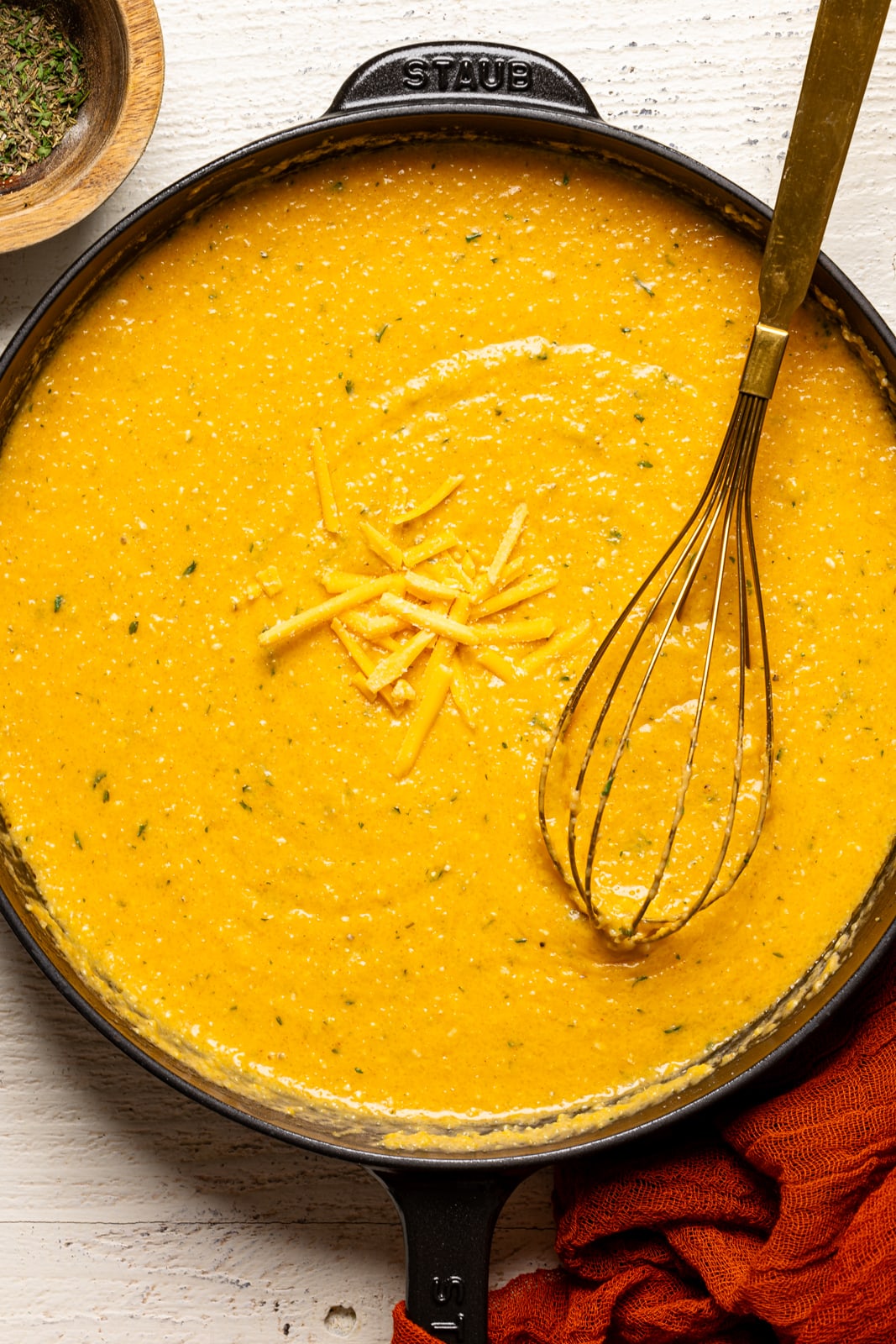 How to Make Your Own Sweet Potato Puree
If you're thinking about making your own sweet potato puree instead of using a store-bought canned version, then you'll be happy to know that it is rather simple:
Step 1: Gather about 3-4 medium sweet potatoes, rinse the skins, and poke a few holes all around them using a knife or fork.
Step 2: Prepare a baking sheet with foil or parchment and place the sweet potato side-by-side. Rub each sweet potato with olive oil until fully coated.
Step 3: Roast in the oven at 375 degrees Fahrenheit for about 40-45 minutes or until their insides begin to bubble outwardly and they become super tender once tested with a fork or knife. Let cool until easily handle when cutting them open and scooping out the flesh.
Step 4: Using a food processor or blender, puree the flesh of the sweet potato along with water or veggie stock, until smooth. You can either use this immediately in whatever sweet potato recipe you'd like, store it in the refrigerator or freezer for later use.
Can I Roast the Chickpeas in an Air Fryer?
Absolutely! To make your crispy roasted chickpeas in an air fryer, it's very similar to doing it the oven. The only difference would be the cook time and adding them to a basket versus a baking sheet. Once you've drizzled olive oil + seasoned your chickpeas, add them to your air fryer basket, and cook them at 360 degrees for 5-10 minutes to start. NOTE: You might want to spray your basket with cooking oil to ensure that your chickpeas don't stick to it during cooking.
Can I Add Veggies to this Dish?
Definitely! This is a great recipe to mix and match the ingredients/toppings. For added nutrients, fiber, and color, add your favorite veggies.
You can add roasted cauliflower, brussels sprouts, bell peppers, asparagus, green peas, roasted herb tomatoes, mushrooms, or leafy greens (kale, spinach, collard greens). All will be delicious!
If you want to add some greens to your grits, you certainly can. My article, Our Top 12 Favorite Healthy Green Leafy Vegetables shares a list of great greens! Off the top—-kale, spinach or collard greens make great additions. Also, roasted broccolini is one of my faves to adds.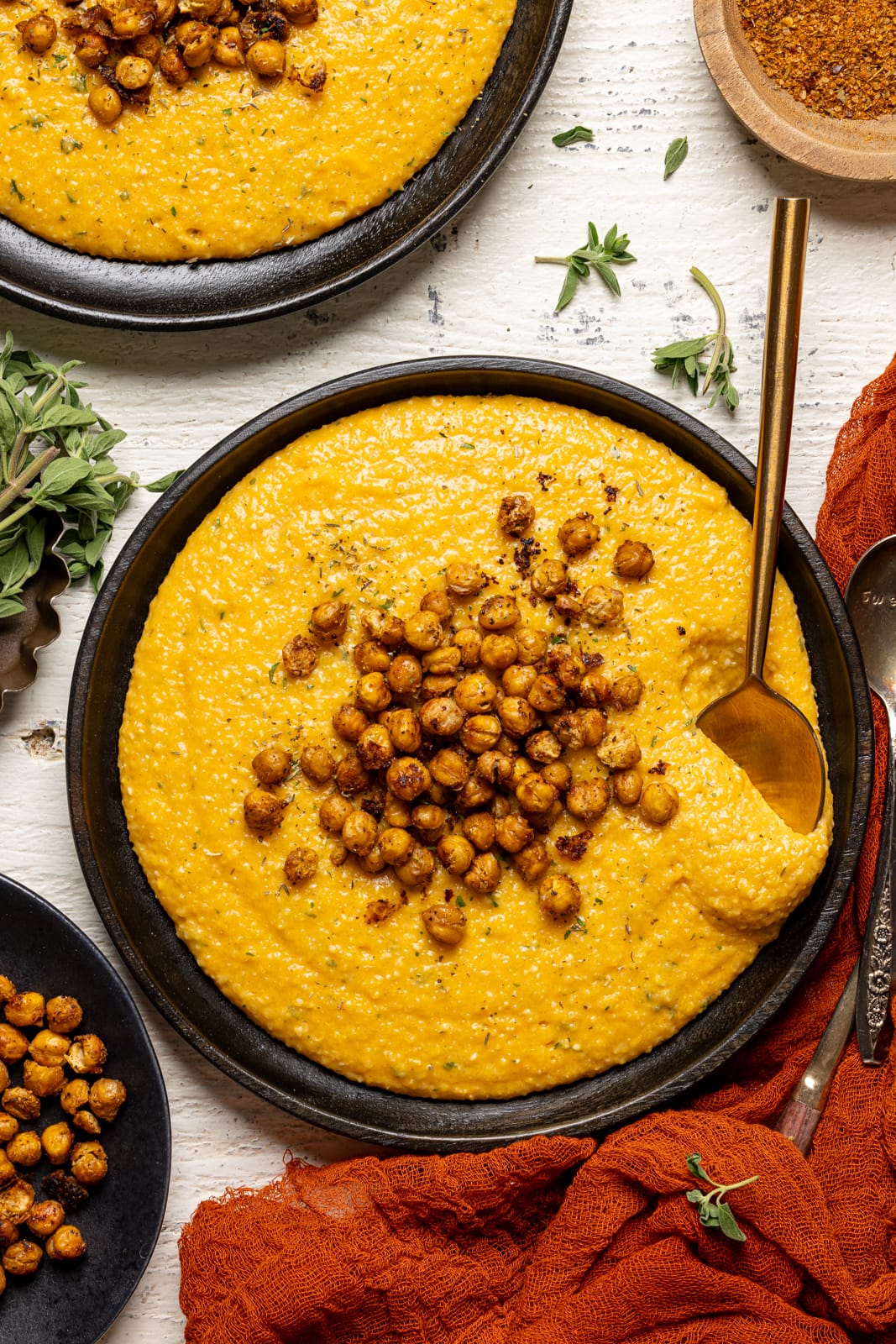 Topping Suggestions for Sweet Potato Grits or Polenta
I like to add some extra texture to my grits or polenta like with this chickpeas + grits dish. Most people might enjoy this vegan dish as is, which is totally fine. But I wanted to share a few more ideas incase you make this creamy grits or polenta more than once and want to switch things up outside of using roasted chickpeas.
Other topping ideas include:
Roasted broccolini, broccoli, or veggies
Tofu or tempeh
Mushrooms
Cauliflower or Cauliflower wings
Crispy bacon (if you're not plant-based, of course)
Meat (chicken, beef, etc.)
Seafood (Shrimp, lobster, etc.)
Roasted Nuts, such as pecans, hazelnuts or walnuts
Crispy sage leaves
Other beans
Are Grits as Good for You as Oatmeal?
Overall, oats are higher in calories, but they also contain more fiber and protein than grits, making them a much better choice if you're looking to lose weight. However, grits do provide fewer calories overall which may be beneficial for those with diabetes, etc.
How Do Southerners Eat Grits?
Because grits are a fork food, they are often enjoyed on a plate with a type of protein like eggs, meat, or seafood. Oftentimes, grits are a part of a Southerner's breakfast routine which might consist of eggs, bacon, sausage, etc. along with grits and perhaps a biscuit. In general, Southerners enjoy grits as a savory side dish to other foods for a complete meal.
What State Eats the Most Grits [Fun Fact]?
According to research, the South consumes so many grits that the stretch of country from southern Virginia down to south Texas has become known as the "Grits Belt", and the states it encompasses are home to the grittiest folks in America. In addition, grits have even been designated the official prepared food of Georgia.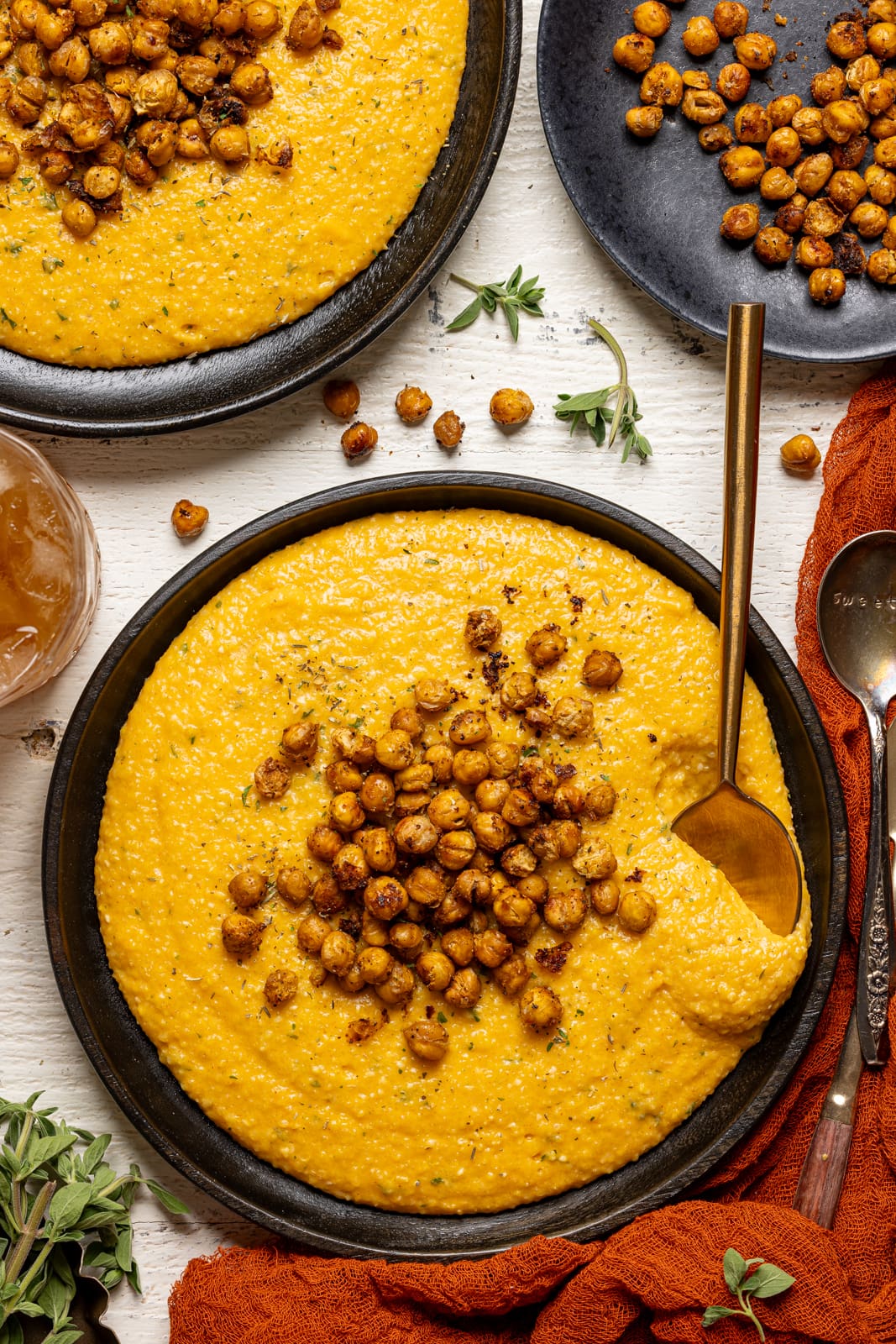 Salt versus Sugar in Grits Debate
OK, so if you're an avid grits eater (or not), I'm sure that you've heard about the widespread debate around about whether salt or sugar belongs in grits. Admittedly, I can admit that I'm a salt in grits kind of girl, but with this recipe, I chose to take a leap of faith and add a bit of sugar too. And the results were amazing. Granted, I figured that sweet potato would work great with the sugar and it does.
But, the real divide still remains and if I'm honest, I still stick beside salt, but the sugar wasn't a bad touch in this one. Haha.
Common Q + A's for Creamy Southern Sweet Potato Grits with Chickpeas
How to store + reheat leftovers?
Leftovers can be kept in an air-tight container (separately) in the refrigerator for 3-4 days. Re-heat the girts or polenta over the stovetop or in a microwave when ready to serve. You may need to add a bit of milk to make things creamy again, but that is easily achieved as you whisk. For the chickpeas, you can reheat in the oven for the perfect crispiness.
What are the best dairy-free cheeses to use?
I love using dairy-free cheddar cheese shreds, however, you can also use the following: dairy-free parmesan, mozzarella, Mexican blend, etc.
Can I make this chickpeas + grits gluten-free?
To make this dish GF-friendly, simply ensure that the grits are GF-friendly.
Is Polenta just yellow cornmeal?
Basically, polenta is a dish that originated in Northern Italy and is made of coarsely ground yellow cornmeal and it's super versatile and can be prepared in a variety of ways.
What are Southern grits?
Grits, like polenta, are made from dried corn that has been stone-ground. When cooked slowly in water and/or milk, grits release their starch and make a creamy porridge that can be eaten for breakfast, lunch, or dinner.
Can I make this ahead of time?
Of course! All ingredients can be made and individually stored as meal prep (up to 2 days prior) and assembled when ready to serve. Be sure to follow reheating instructions for both chickpeas + grits for the best results.
Are there any health benefits to eating grits?
According to research, as a whole grain, grits provides several antioxidants that help mitigate cellular damage from free radicals + unstable atoms in the body. Two of the antioxidants found in grits, lutein and zeaxanthin, are known to contribute to better vision and eye health, protecting against age-related eye diseases.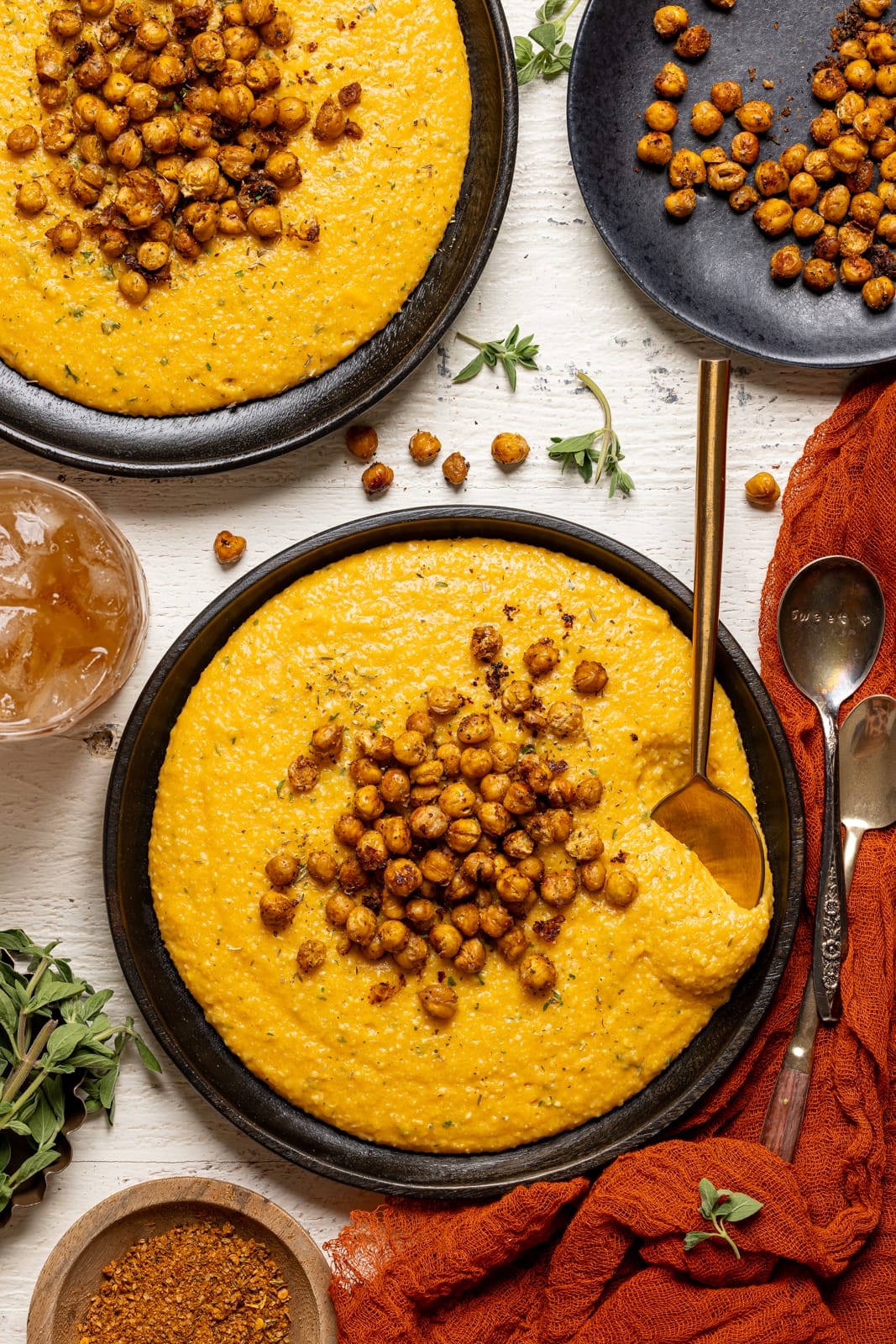 More Fave Sweet Potato Recipes
MADE OUR RECIPE(S)?
If you make this Creamy Southern Sweet Potato Grits with Chickpeas recipe or any other recipe from us, be sure to tag us on Instagram at #Orchidsandsweettea so that we can share the love!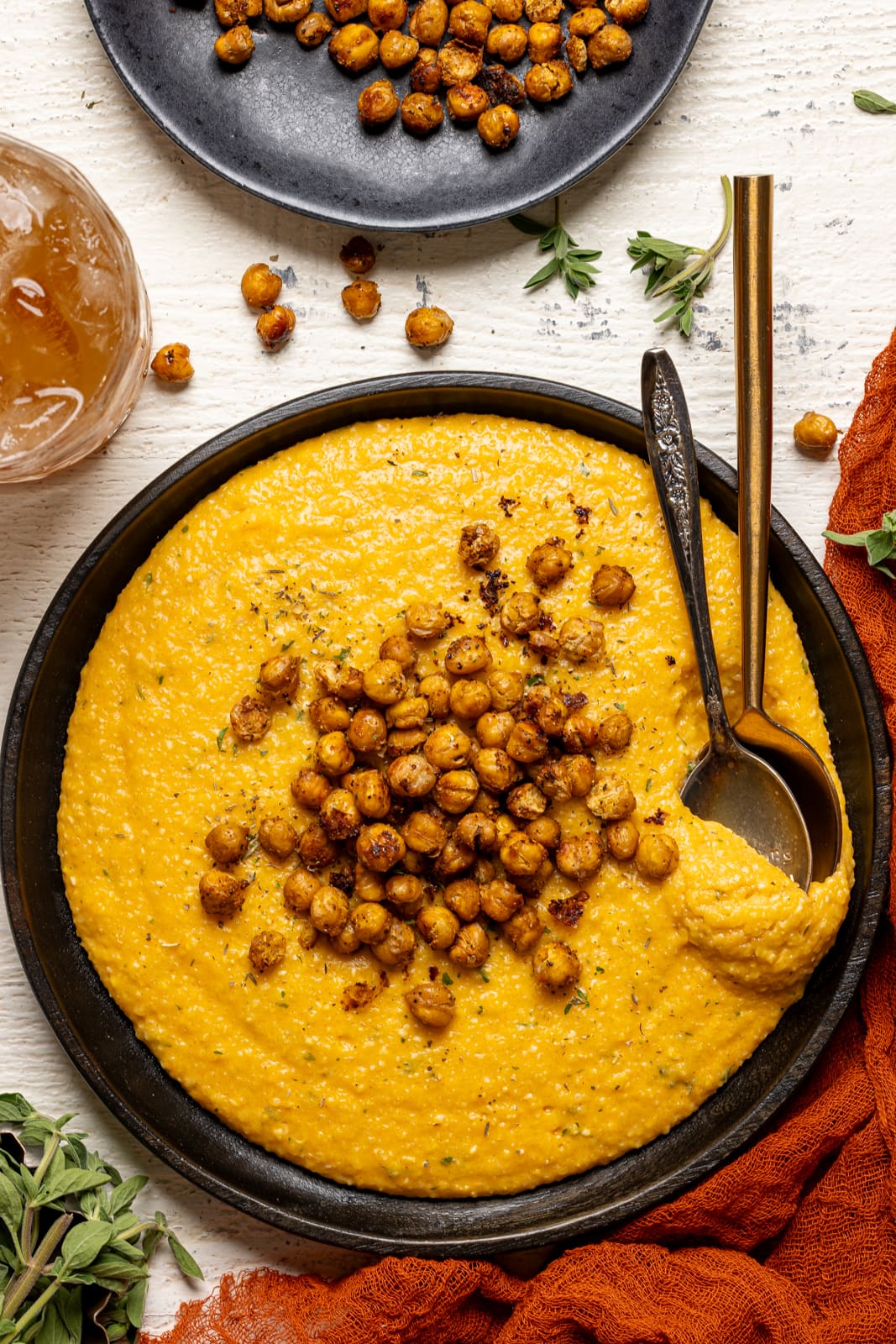 ROASTED CAJUN CHICKPEAS:
1

(15 oz.) can

chickpeas, drained + rinsed

1

tablespoon

Extra Virgin Olive Oil

1-2

Tbsps

cajun seasoning blend

(See Post for cajun blend info)
SWEET POTATO GRITS:
1 ¼

cup

yellow corn grits or polenta

3

cups

Almond milk

(You can use your fave plant-based milk)

2

cups

filtered water

1

cup

sweet potato puree

(See Post for homemade puree info)

2

tsps

organic cane sugar, optional

1

teaspoon

sea salt

1

teaspoon

garlic powder

½

teaspoon

smoked paprika

½

teaspoon

dried parsley

½

cup

vegan butter

1-2

cups

dairy-free cheese shreds

(I love using a mix of mozzarella + shard cheddar)
TO MAKE THE ROASTED CHICKPEAS:
Begin by preheating the oven to 400 degrees Fahrenheit and preparing a baking sheet with parchment paper.

Add the chickpeas unto the prepared baking sheet and drizzle with olive oil and cajun seasoning, stirring until combined. Arrange in a single layer so that they roast + crisp up evenly.

Bake chickpeas for 10-15 minutes or until chickpeas are crisp. Remove from oven.
TO MAKE THE CREAMY SWEET POTATO GRITS:
Bring the water, milk, and salt to a low boil in a medium-sized pot or deep skillet. Once boiling, whisk in the grits/polenta and cook 15-20 minutes, stirring frequently until thickened and there isn't any liquid left. Add in the sweet potato puree, continuing to whisk until combined. Continuously whisk in the vegan butter, garlic powder, parsley, smoked paprika, sugar (if using), and cheese shreds, until melted and the grits become ultra creamy.
ASSEMBLY:
To serve, spoon the grits into your prepared plate(s) or bowl(s) and top with a few spoonfuls of roasted chickpeas. Garnish with parsley, if desired. Repeat for all servings.

Bon Appetit!
STORAGE:Leftovers can be kept in an air-tight container (separately) in the refrigerator for 3-4 days. Re-heat the girts or polenta over the stovetop or in a microwave when ready to serve. You may need to add a bit of milk to make things creamy again, but that is easily achieved as you whisk. For the chickpeas, you can reheat in the oven for the perfect crispiness.
HOMEMADE CAJUN BLEND: See the post for how to make your own cajun blend!
BEST CHEESES TO USE: I love using dairy-free cheddar cheese shreds, however, you can also use the following: dairy-free parmesan, mozzarella, Mexican blend, etc.
GLUTEN-FREE OPTION: To make this dish GF-friendly, simply ensure that the grits are GF-friendly.
SPICES/HERBS: If desired, you can reduce the amounts slightly. Please know that this recipe is bold in flavor, so feel free to adjust based on your tastebuds.
Calories:
638
kcal
|
Carbohydrates:
34
g
|
Protein:
6
g
|
Fat:
55
g
|
Saturated Fat:
9
g
|
Polyunsaturated Fat:
16
g
|
Monounsaturated Fat:
28
g
|
Trans Fat:
8
g
|
Sodium:
2063
mg
|
Potassium:
786
mg
|
Fiber:
7
g
|
Sugar:
10
g
|
Vitamin A:
28876
IU
|
Vitamin C:
28
mg
|
Calcium:
524
mg
|
Iron:
2
mg