This Easy Vegan Wild Rice Stuffing is a great healthy alternative to traditional Thanksgiving stuffing without compromising flavor or having your guests feel like there's something missing.
It's festive, filling, and totally nutritious. Make the holidays complete with this hearty and comforting dish. This classic plant-based Thanksgiving side dish is completely Vegan, Dairy-free & Gluten free all while perfectly in keeping with the flavors of the festive season!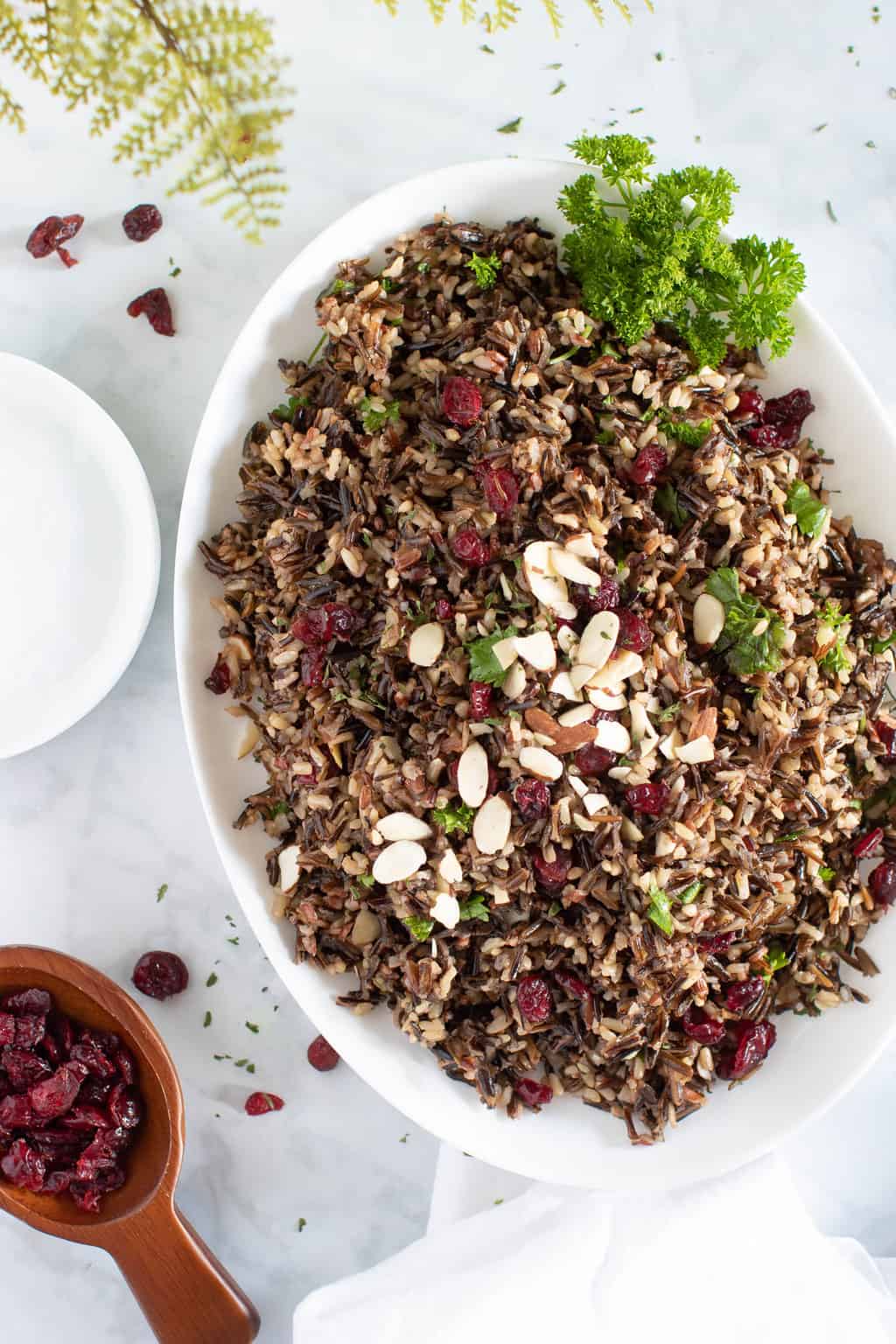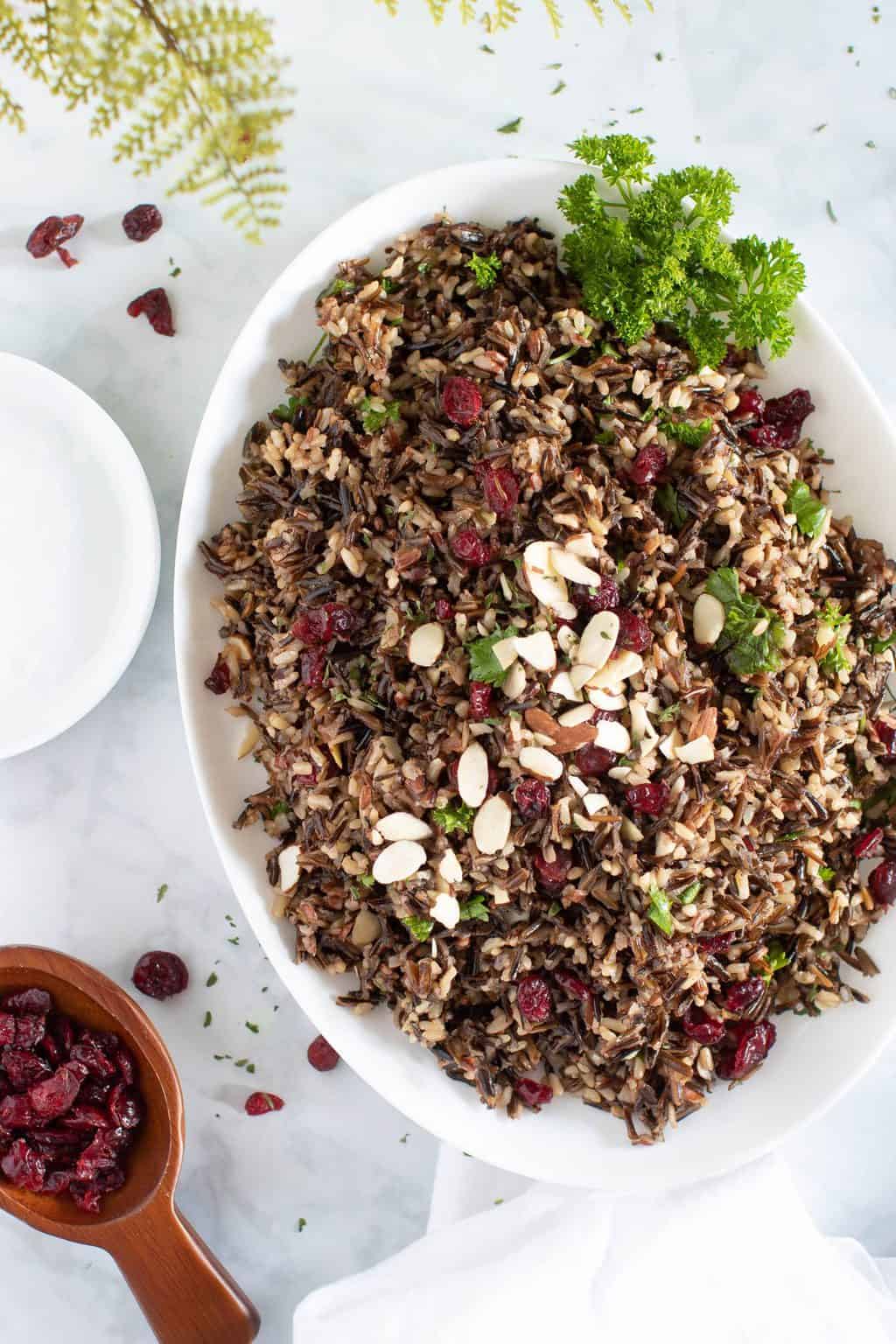 This year y'all have to try my Easy Vegan Wild Rice Stuffing if you're looking for a recipe for stuffing that is both completely wholesome and tasty for Thanksgiving or Christmas! This simple stuffing recipe is Vegetarian, Vegan & Gluten-free, and it is sure to be a hit with everyone. Sure, the classic bread stuffing is fantastic, but I like to offer alternatives so that there is something for everyone at our holiday table. Every time I serve it, people LOVE it so i had to share this one with you all!
WILD RICE IS OH SO NICE
Wild rice is one of the healthiest rices out there. While it's described as hard to cook by some, this rice is truly worth the wait. Honestly, I don't eat wild rice that often, but when I do, it's always been good especially since I like to make mine well-seasoned. Much like Basmati rice, wild rice takes a bit longer to make, and for the perfect rice, requires a crucial step or two.
Nevertheless, it's not that bad in terms of the process and is full of health benefits making it the perfect side dish.
Speaking of Thanksgiving side dishes, here are some of my favorite Vegan sides that everyone will be sure to love.
VEGAN THANKSGIING SIDES
Crispy Buffalo Cauliflower Bites - These are a guaranteed showstopper! At first glance, these beauties truly remind you of buffalo boneless chicken (and trust me, they taste just as good, if not better!), however, they aren't! Just know that your taste buds won't be able to tell the difference either!
Vegan Sweet Potato Maple Herb Cornbread - This recipe is the most perfect skillet cornbread that you'll ever taste! This cornbread is the ultimate fluffy, crumbly, and airy side dish that fits right in with your other Thanksgiving dishes. Unlike traditional cornbread, this version boasts of delicious sweet potato, maple, and herb flavors, all of which creates a sweet + savory taste that will leave you wanting another slice. All vegan ingredients
Easy Skillet Vegan Stuffing - This is a great vegan alternative to traditional Thanksgiving stuffing without compromising flavor. Complete your holiday table with this recipe which comes loaded with a blend of cubed rustic bread, onion, celery, apples, garlic, cranberries, pecans, and herbs. This vegan stuffing is perfect for all eaters. Super easy to make. Made in just one skillet. Make ahead option.
Easy Vegan Roasted Potato Salad - This is the ultimate plant-based side dish for the entire family on any occasion. Jam-packed with veggies and a creamy texture from a homemade dairy-free dressing----this potato salad is sure to be the star on any table.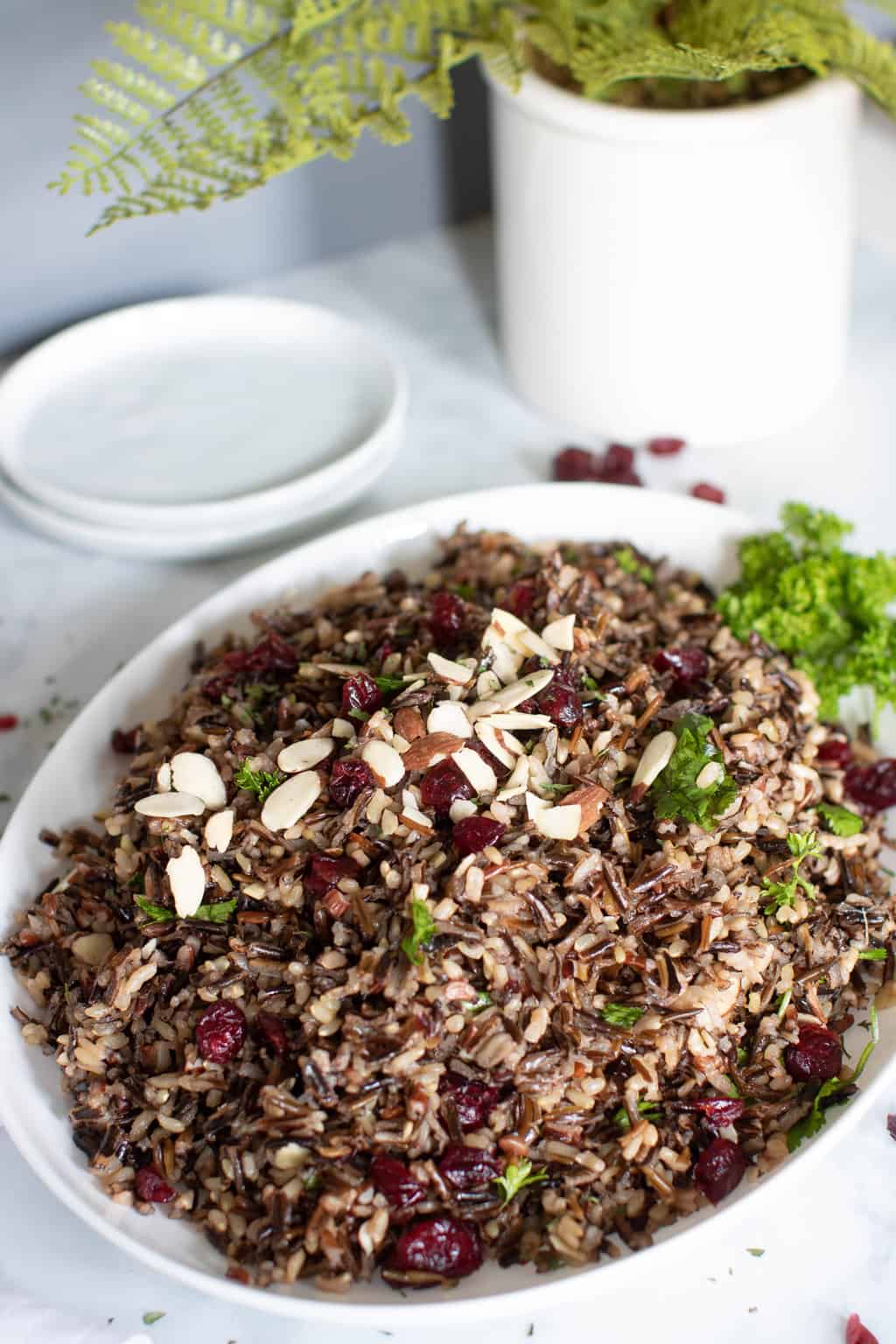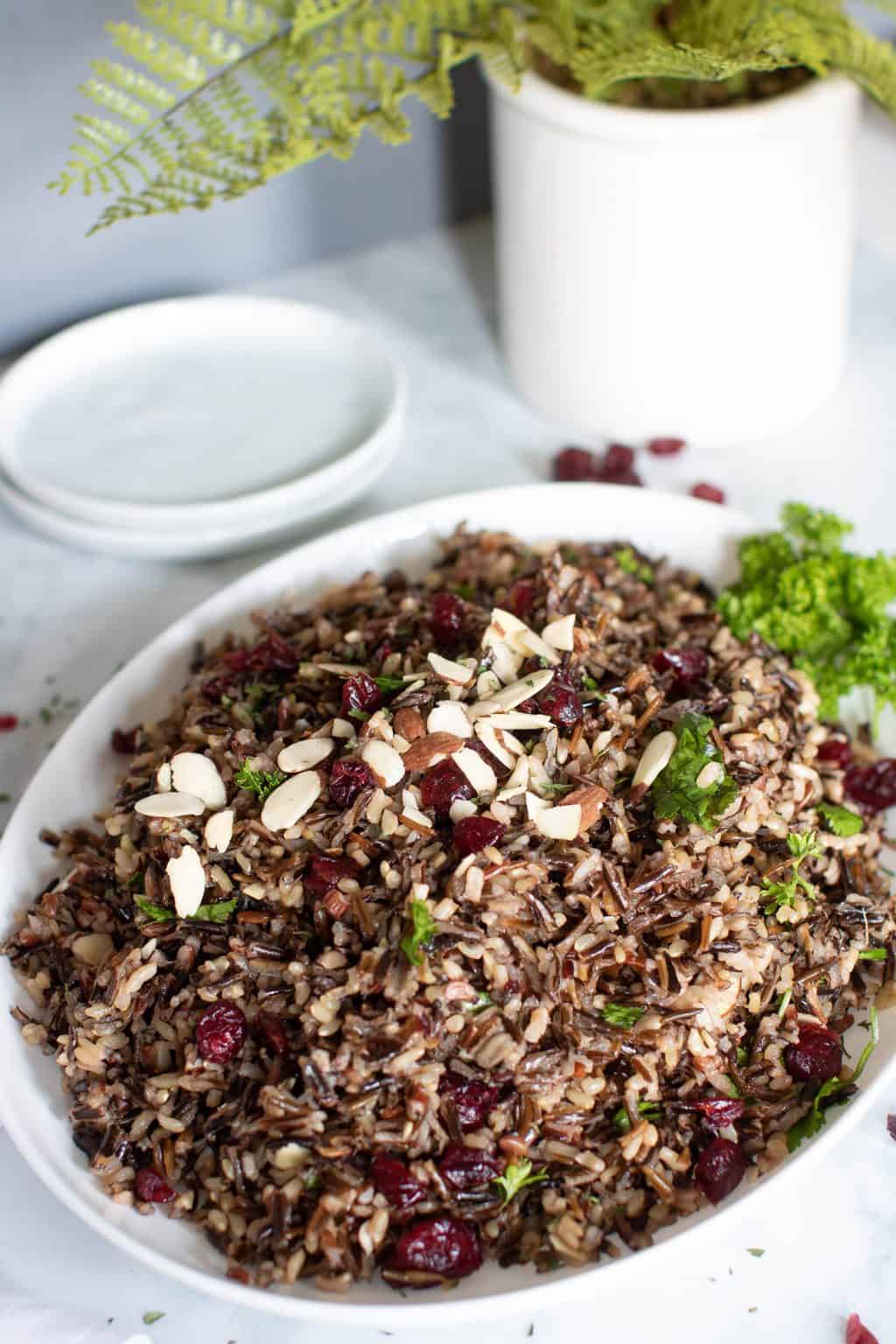 Why is Wild Rice Considered One of the Healthiest?
It's actually not rice, it's a seed.
It's a whole grain that works especially for those with a gluten sensitivity.
It's one of the highest in protein and fiber.
Contains powerful antioxidants.
May help to decrease your risk of heart disease.
May help to lower your risk of Type 2 Diabetes.
Contains other great nutrients such as Folate, Vitamin B6, Zinc, and more.
With all those health benefits it sounds like I need to start using wild rice in my recipes more!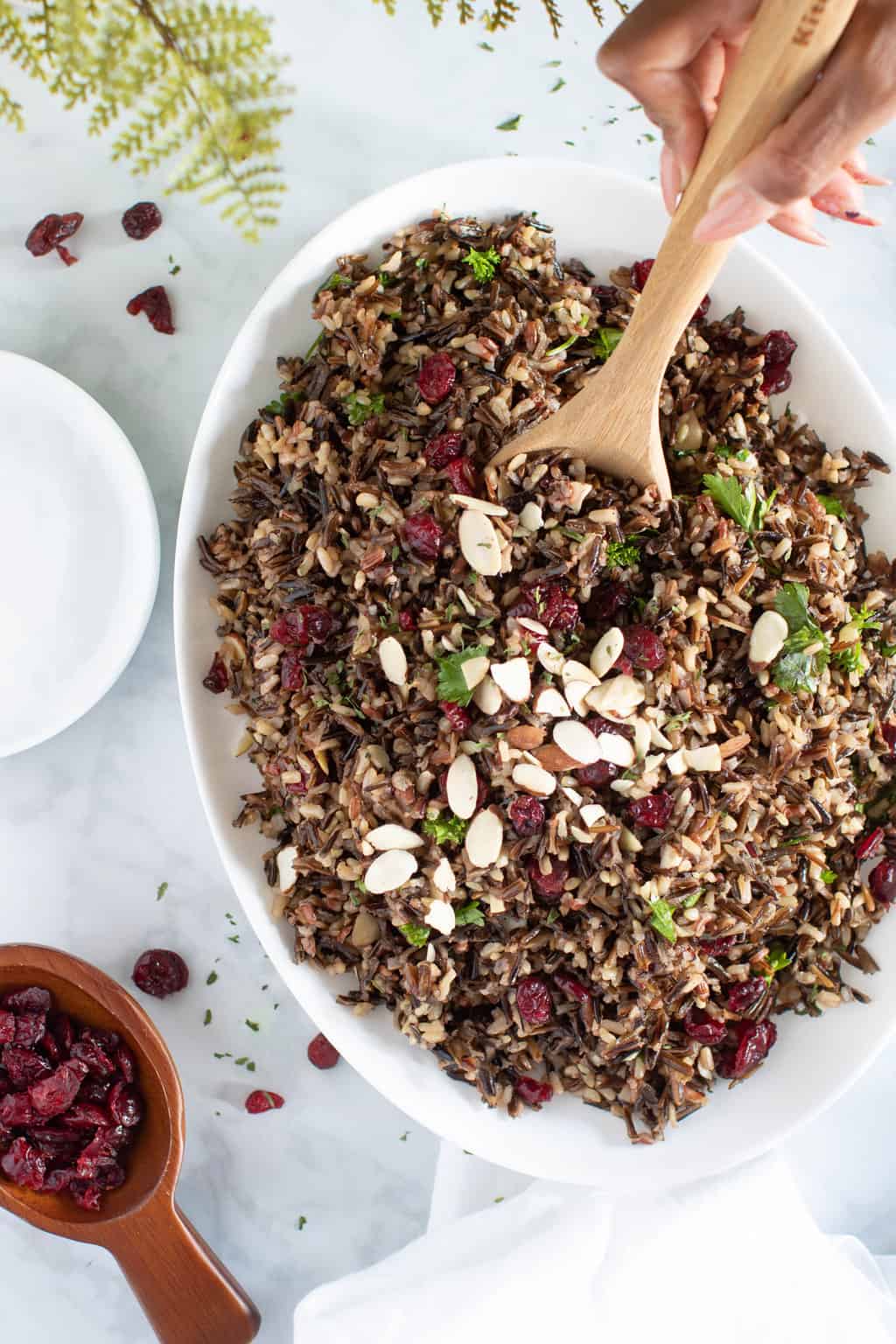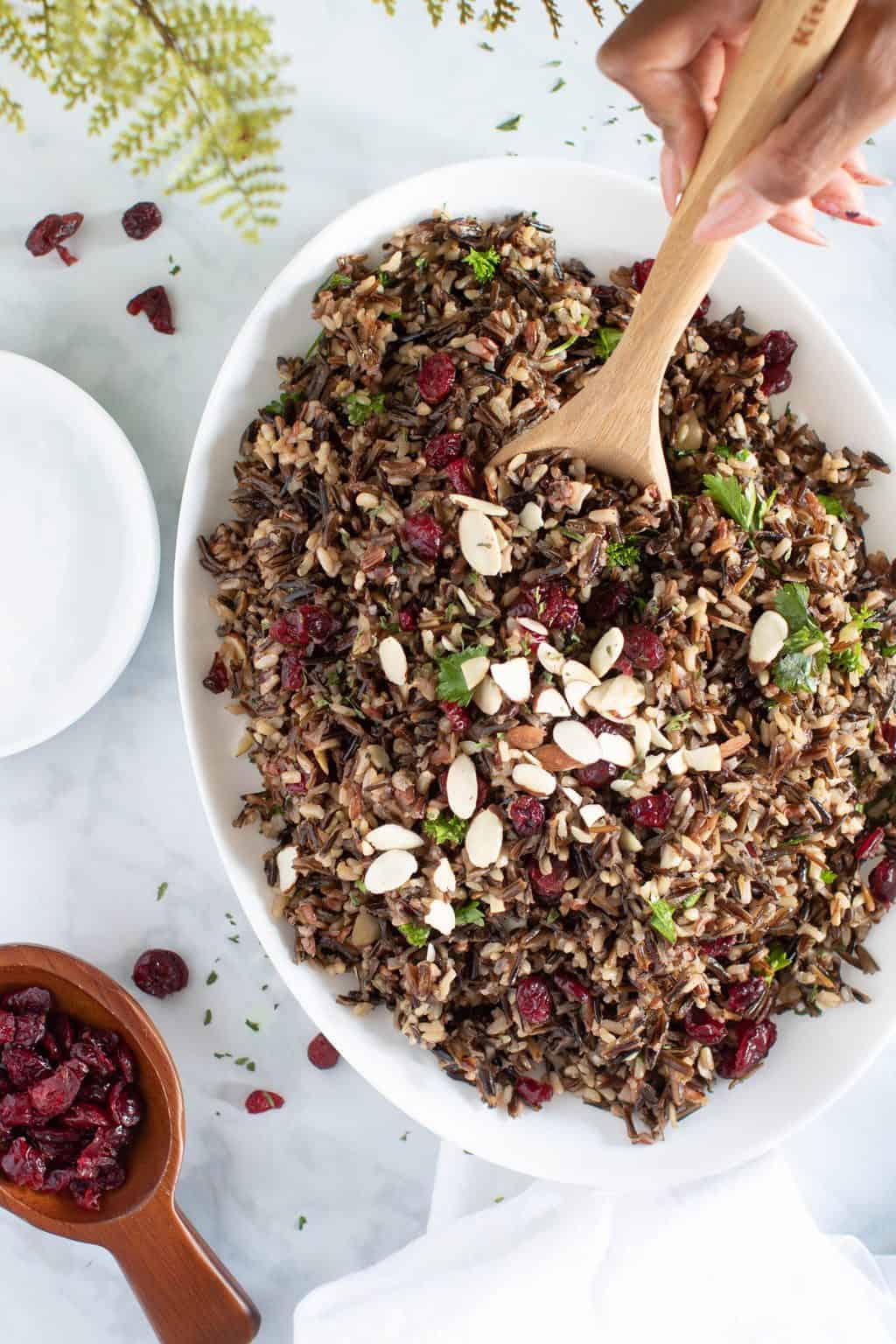 Tips & Tricks For Making Wild Rice
Because wild rice is a special grain, it's super important to note that it takes longer to cook. Unlike other rice which are cooked within a few minutes, wild rice takes at least 45-60 minutes to be fully cooked.
I usually cook my wild rice with a spoon of butter and half water and half veggie stock (or chicken stock if not a vegan recipe).
Once cooked, the wild rice should begin to 'open up' and curl a bit, which indicates that it's done. The amount of water to rice ratio depends on the packaging instructions, so be sure to follow it well.
Lastly, when the rice is fully cooked and you've turned off the heat, be sure to leave the pot cover tightly sealed for 10-15 minutes, before opening it again. This allows the rice to absorb all the moisture and create a nice texture.
This Easy Vegan Stuffing Recipe Is THE BEST Because It's -
Ideal for the holidays
Full of veggies and festive flavor
Totally plant-based
Vegan
Gluten-free & Dariy free
Super hearty
Savory, and delicious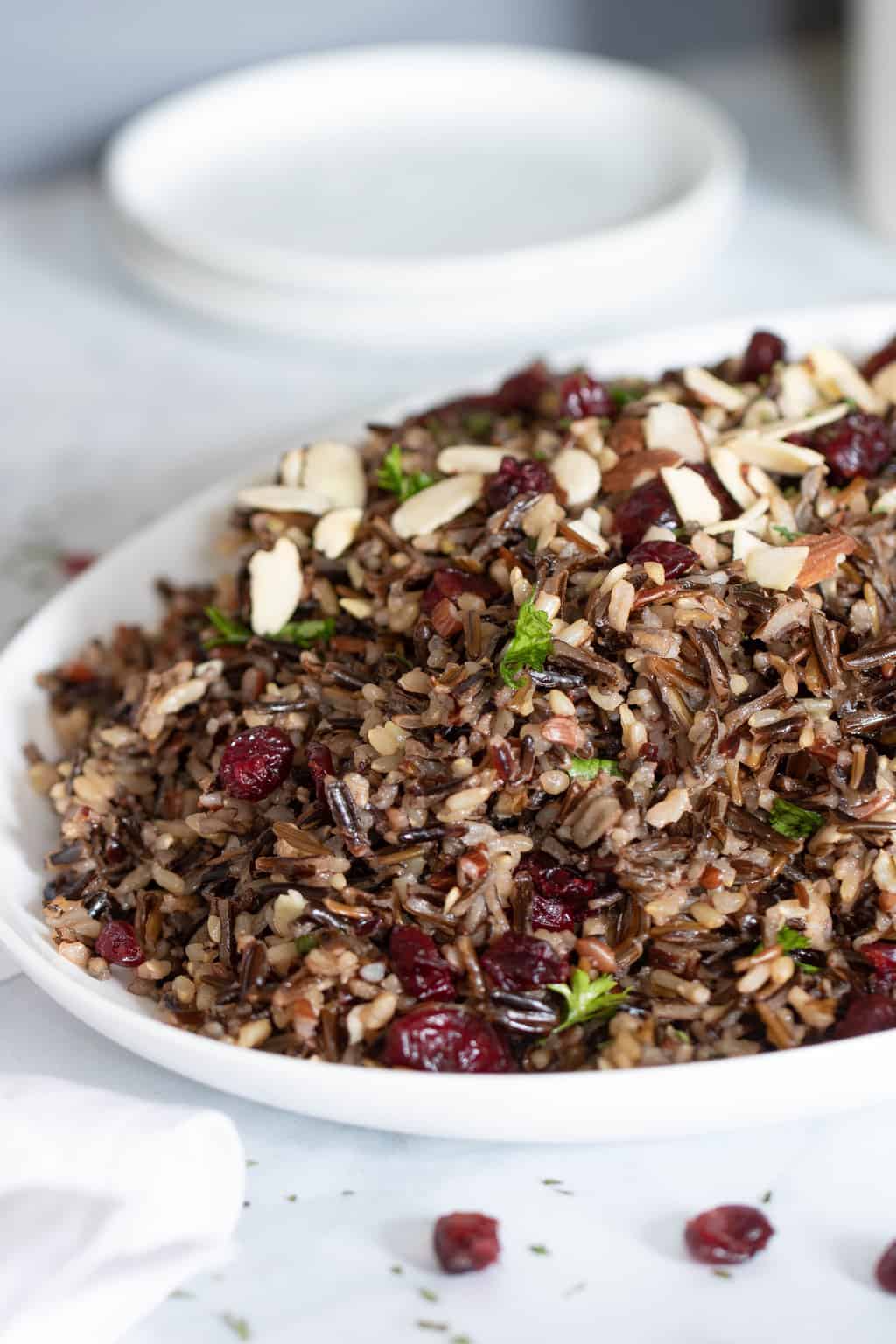 HOW TO HOST THE PERFECT VEGAN FRIENDSGIVING
Unlike traditional Thanksgiving dinner, Friendsgiving is the place where you get to enjoy good times with close friends and extended family. For many, Friendsgiving has become their new tradition and with more people wanting to maintain a healthier lifestyle, this list of How to Host the Perfect Vegan Friendsgiving comes in handy. It's all about creating simple ways to make this moment the most memorable.

Host Thanksgiving Like A Pro
If you are anything like me and cannot believe its holiday season already and feel a little overwhelmed by thing 'thanksgiving duties' I have created a list for Tips & Tricks To Hosting Thanksgiving. Whether you're hosting your first ever Thanksgiving or you're a Thanksgiving pro, preparing for Thanksgiving is a big task.
Between organizing the get-together, running errands, and whipping up the most delicious Thanksgiving recipes, if you come into Thanksgiving week unprepared it can be a little bit overwhelming. Luckily, I'm just a little Thanksgiving obsessed so I have about a million tips and tricks to hosting Thanksgiving that I have learned over the years and want to share with you.
More Delicious Vegan Fall + Holiday Recipes
MADE OUR RECIPE(S)?
If you choose to make this Easy Vegan Wild Rice Stuffing recipe or any other recipe from us, be sure to tag us on Instagram at #Orchidsandsweettea so that we can share the love!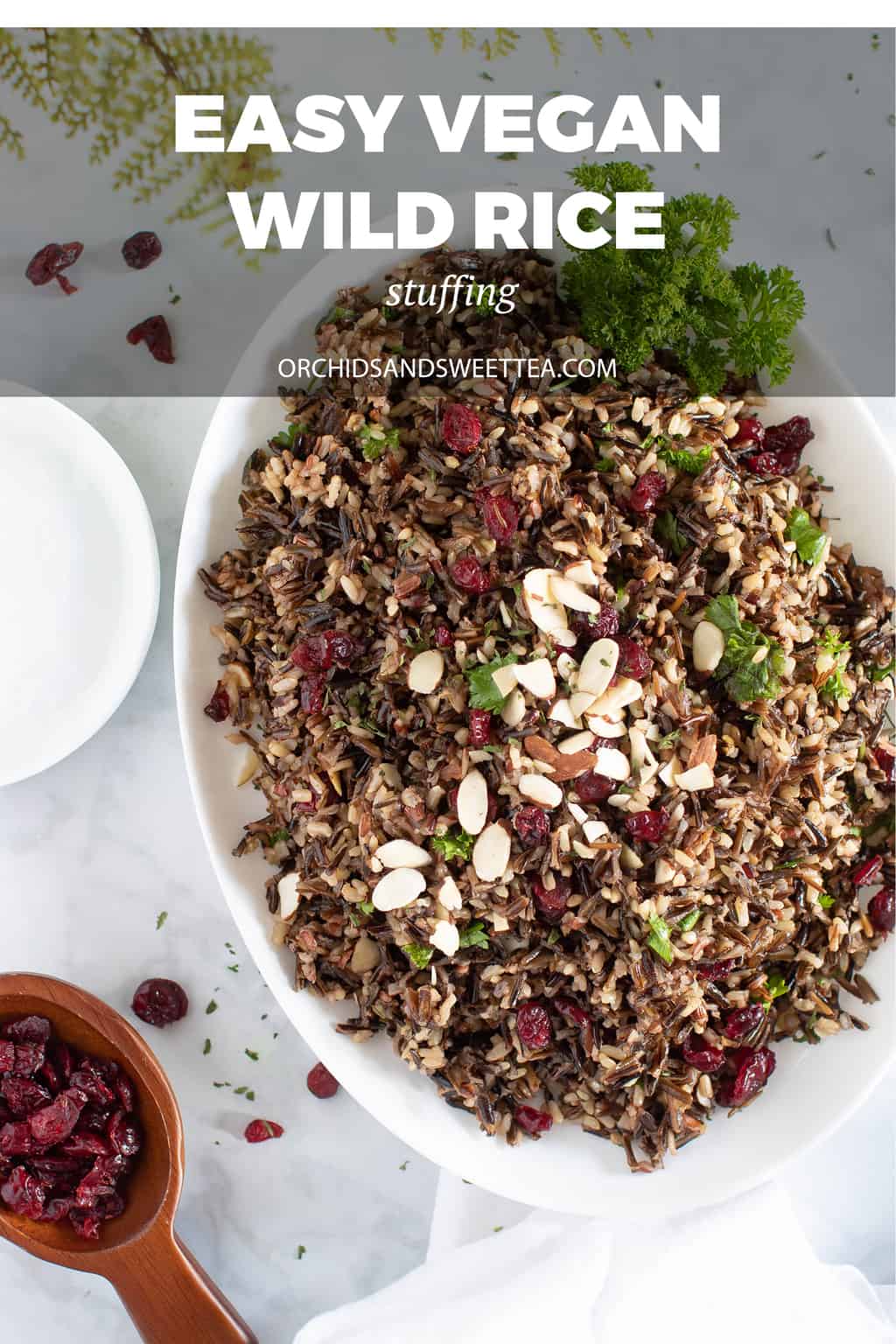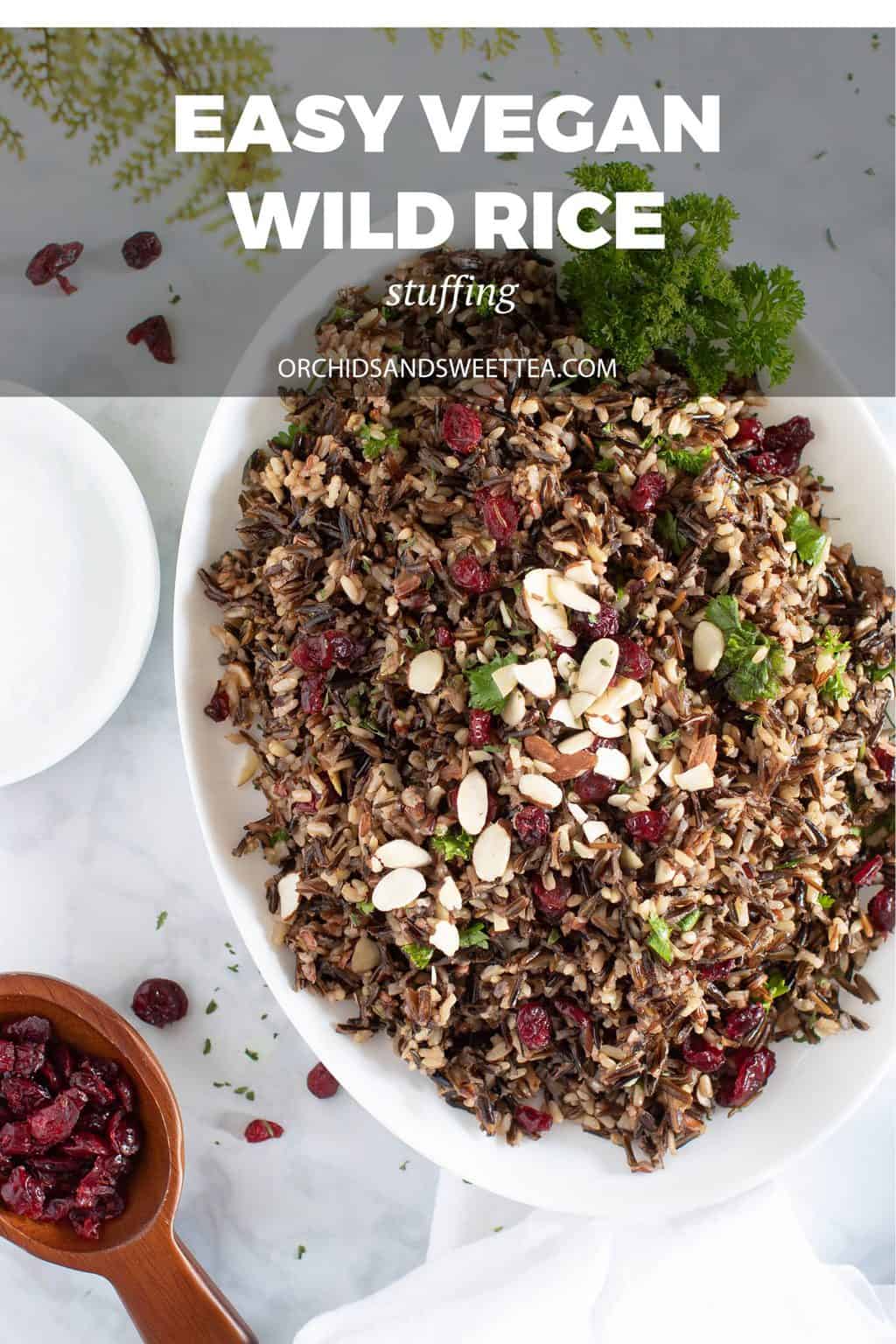 Total Time:
1

hour
15

minutes
1

cup

organic wild rice

1

cup

organic wild blend rice, optional

(See Notes!)

organic veggie stock

(You can also use water if preferred; Depends on packaging amounts/measurements)

1

tablespoon

vegan butter

1

tablespoon

dried parsley

2

tsps

garlic powder

1

teaspoon

dried thyme

1

teaspoon

black pepper

1

teaspoon

sea salt

pinch of

ground turmeric
TOPPINGS:
1

cup

dried cranberries

1

cup

halved almonds

(See Notes!)

handful of

fresh cilantro leaves
COOK THE WILD RICE:
Rinse the wild rice in fresh cold water once or twice and shake to drain.

In a medium pot over medium-high heat, add the rinsed wild rice (whether 2 cups or both the blend + original) along with 8 cups of veggie broth or water, bringing to a boil, about 2-3 minutes. Reduce heat to simmer and follow packaging instructions for remaining cooking time. While simmering, add vegan butter.

When the rice is fully cooked and you've turned off the heat, be sure to leave the pot cover tightly sealed for 10-15 minutes, before opening it again. This allows the rice to absorb all the moisture and create a nice texture.

NOTE: If all liquid hasn't been absorbed, drain cooked wild rice using a mesh strainer. Fluff the rice with a fork.
ASSEMBLY:
In a large bowl, add all the wild rice, parsley, garlic powder, thyme, black pepper, salt, and pinch of turmeric, tossing/mixing everything together until combined.

To serve, add wild rice stuffing to a serving platter and top with garnish ingredients-----cranberries, almonds, and cilantro. Serve and enjoy!

Bon Appetit!
TURMERIC: While adding turmeric is optional, it definitely has benefits: powerful medicinal properties, natural anti-inflammatory ingredient, increases antioxidant activity in the body, and more.
STORAGE: Leftovers can be stored in a tightly sealed container in the refrigerator for up to 4-5 days, for optimal freshness.
ADDITIONAL TOPPINGS: If you'd like to spruce this stuffing up a bit more, you can add other topping ingredients such as: chopped bacon (if not vegan), fresh parsley, hazelnuts, pistachios, apricots or cherries, sage, sautéed onions, etc.
WILD RICE BLEND: If you don't have a wild rice blend or don't feel like using it, just substitute with the regular wild rice.
Calories:
276
kcal
|
Carbohydrates:
40
g
|
Protein:
12
g
|
Fat:
9
g
|
Saturated Fat:
1
g
|
Polyunsaturated Fat:
2
g
|
Monounsaturated Fat:
5
g
|
Trans Fat:
0.2
g
|
Sodium:
247
mg
|
Potassium:
517
mg
|
Fiber:
9
g
|
Sugar:
1
g
|
Vitamin A:
15
IU
|
Vitamin C:
0.3
mg
|
Calcium:
76
mg
|
Iron:
2
mg
Easy Vegan Wild Rice Stuffing.