Get ready to savor this Vegan Skillet Sweet Potato Casserole – A wholesome masterpiece featuring fluffy mashed sweet potatoes naturally sweetened to perfection, and crowned with a delectable buttery pecan crumble topping. It's a dish that deserves a spot on your Thanksgiving table or any occasion really! This vegan sweet potato casserole recipe seamlessly marries sweet and savory elements, offering a delightful balance of flavor and texture that's both easy to make and utterly irresistible! Gluten-free option.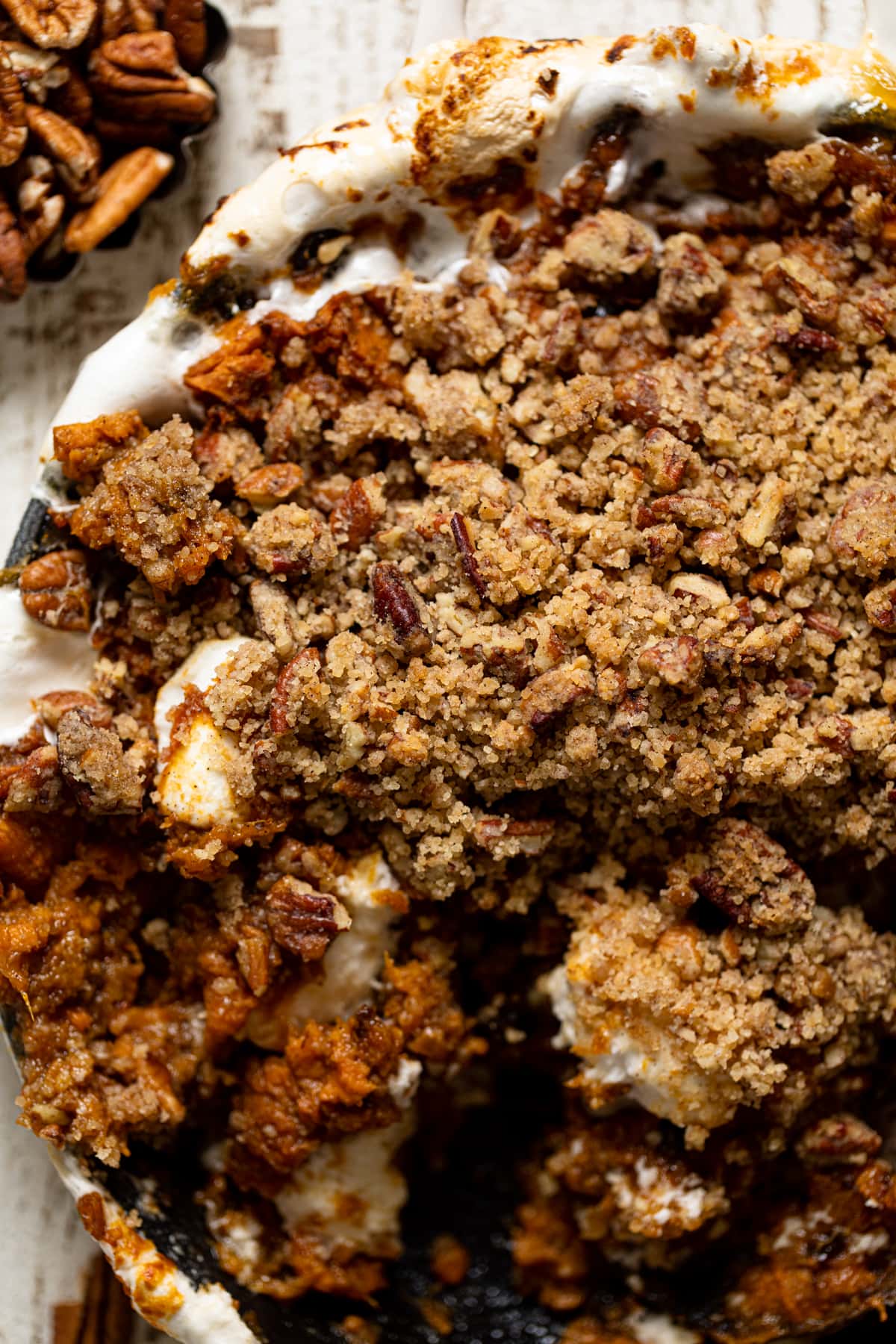 What Makes This Vegan Skillet Sweet Potato Casserole SO GOOD?
My love for this Vegan Sweet Potato Casserole knows no bounds. I've always had a soft spot for sweet potatoes, and this casserole recipe takes their natural sweetness and transforms it into something truly extraordinary.

If you are a lover of sweet potato not only is this dish incredibly delicious, but it's also ridiculously easy to make. It's the kind of recipe that effortlessly shines on your holiday table, leaving everyone impressed without you breaking a sweat. If you're looking for more holiday recipes like this one I recommend trying this Southern Maple Sweet Potato Casserole and Best Vegan Sweet Potato Pie next!
Picture this: creamy, lightly spiced, brown sugar-kissed sweet potato mash that marries both sweet and savory flavors, all crowned with a golden, buttery, herb-infused, and delightfully crumbly pecan crust. It's not just a dish; it's a symphony of deliciousness. And the best part? It's incredibly easy to make, making it an ideal addition to your holiday spread.
Jump to: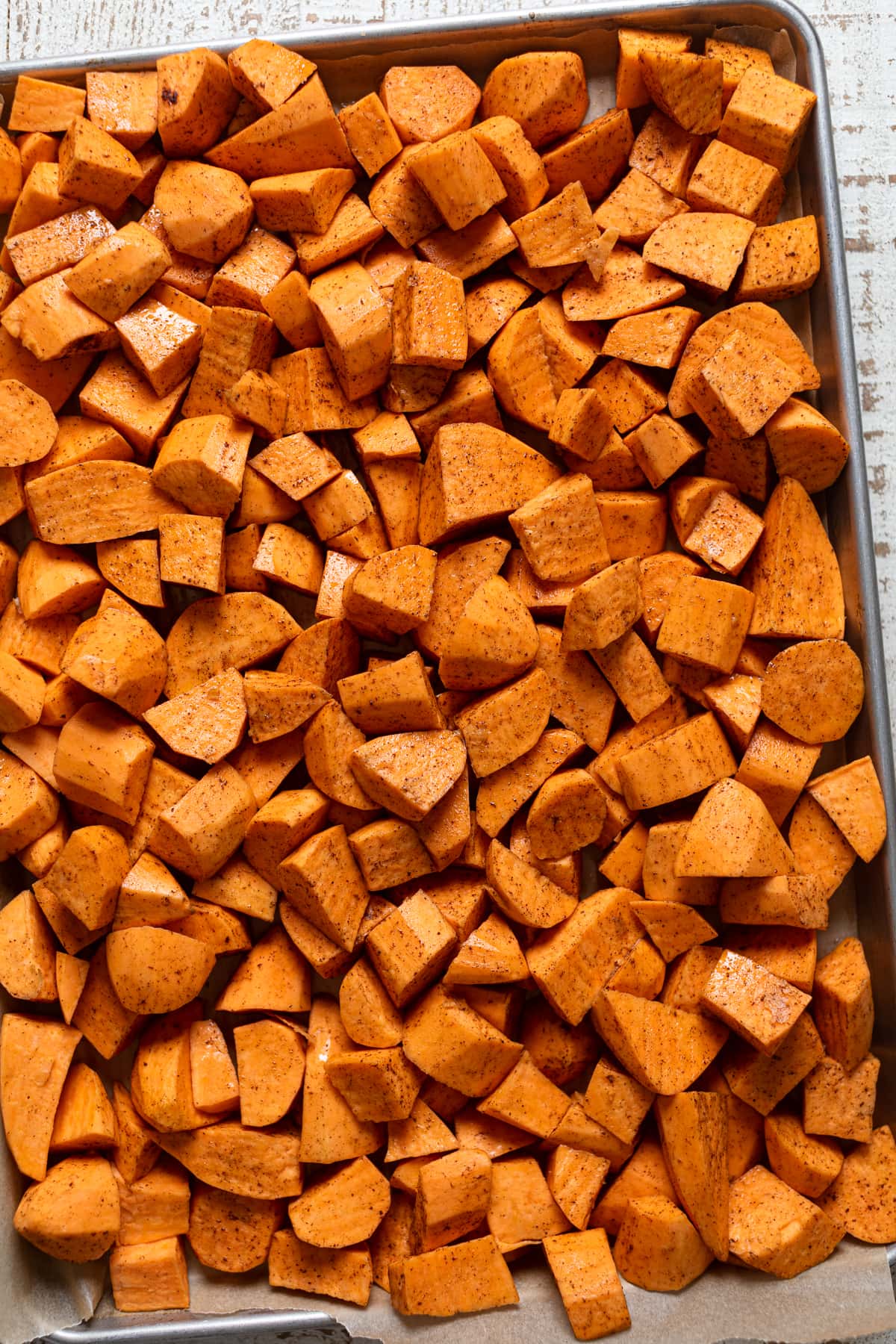 Why This Sweet Potato Casserole Is A Holiday Table MUST HAVE!?
Thanksgiving is coming up, which means I'm menu planning. If you're on the same page, check out my Best Thanksgiving Menu Recipes + Ideas to get your creativity going! And my Tips + Tricks To Hosting Thanksgiving. While I always have turkey on my table, I also like to include some totally vegan and gluten-free options to make sure everyone has something to enjoy. This vegan sweet potato casserole recipe is a must and trust me, vegans and non-vegans are going to LOVE this. I have tested it out with my family the last few years and it's safe to say it's a HUGE hit.
You can make the components for this casserole ahead of time too, so do yourself a favor and get some prep workout out of the way the day before Thanksgiving so you can spend more time with friends and family!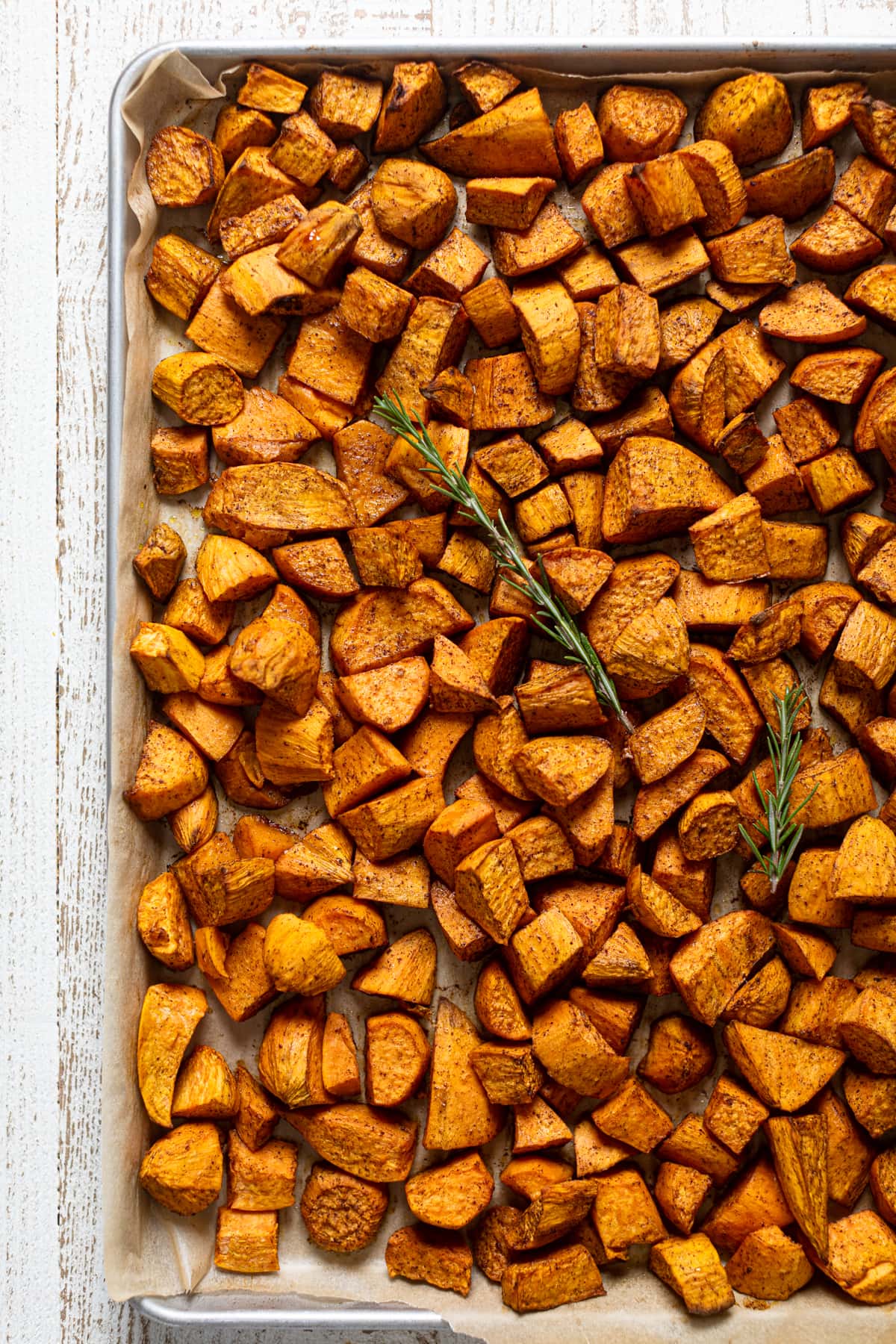 How to Make Vegan Skillet Sweet Potato Casserole
This skillet casserole recipe is made with fluffy and creamy mashed sweet potatoes with a sweet and crunchy topping. Start by making the mashed sweet potatoes, then make the nutty pecan topping. Put everything together into one skillet, bake, and enjoy a dairy-free and healthy side dish!
Ingredients
Here's what you need to assemble this vegan casserole for the holidays:
Mashed sweet potatoes: Cooked until smooth, either in the oven or on the stove. (Check the notes section for oven-roasted mashed sweet potato instructions.)
Canned coconut cream: Alternatively, you can use canned full-fat coconut milk.
Vegan butter: I love the brand Earth Balance.
Brown sugar: Make sure it's organic for a vegan-friendly option.
Maple syrup: Opt for pure syrup, not imitation or pancake syrup.
Vanilla extract: Use pure vanilla, not imitation.
Vegan marshmallows: Ensure they're free from animal gelatin.
Raisins: You can also substitute with dried cranberries, cherries, or golden raisins.
Warming spices: The recommended spices include cinnamon, nutmeg, and allspice.
Nutty Casserole Topping
After you make the creamy, smooth sweet potato filling, whip up the nutty and crunchy topping. Here's what you need:
Pecans. Use toasted nuts for the boldest flavor.
Flour. Use organic flour to make sure it's vegan.
Brown sugar. You can use dark or light brown sugar.
Vegan butter
Cinnamon
Tip: Pecans can burn easily, so keep a close eye on the casserole in the oven. Once you start to see color, they'll keep cooking, so don't be afraid to remove the pan from the oven early.
SHOP MY FAVORITE TOOLS FOR COOKING, ESPECIALLY FOR THIS CASSEROLE!
Here, I've curated a list of cooking + baking essentials that I use to achieve my favorite baked goods or cooked meals, especially with this Vegan Skillet Sweet Potato Casserole. Everything from my fave baking dishes, baking sheets, wooden spoons, mixing bowls, and more. SEE THEM HERE!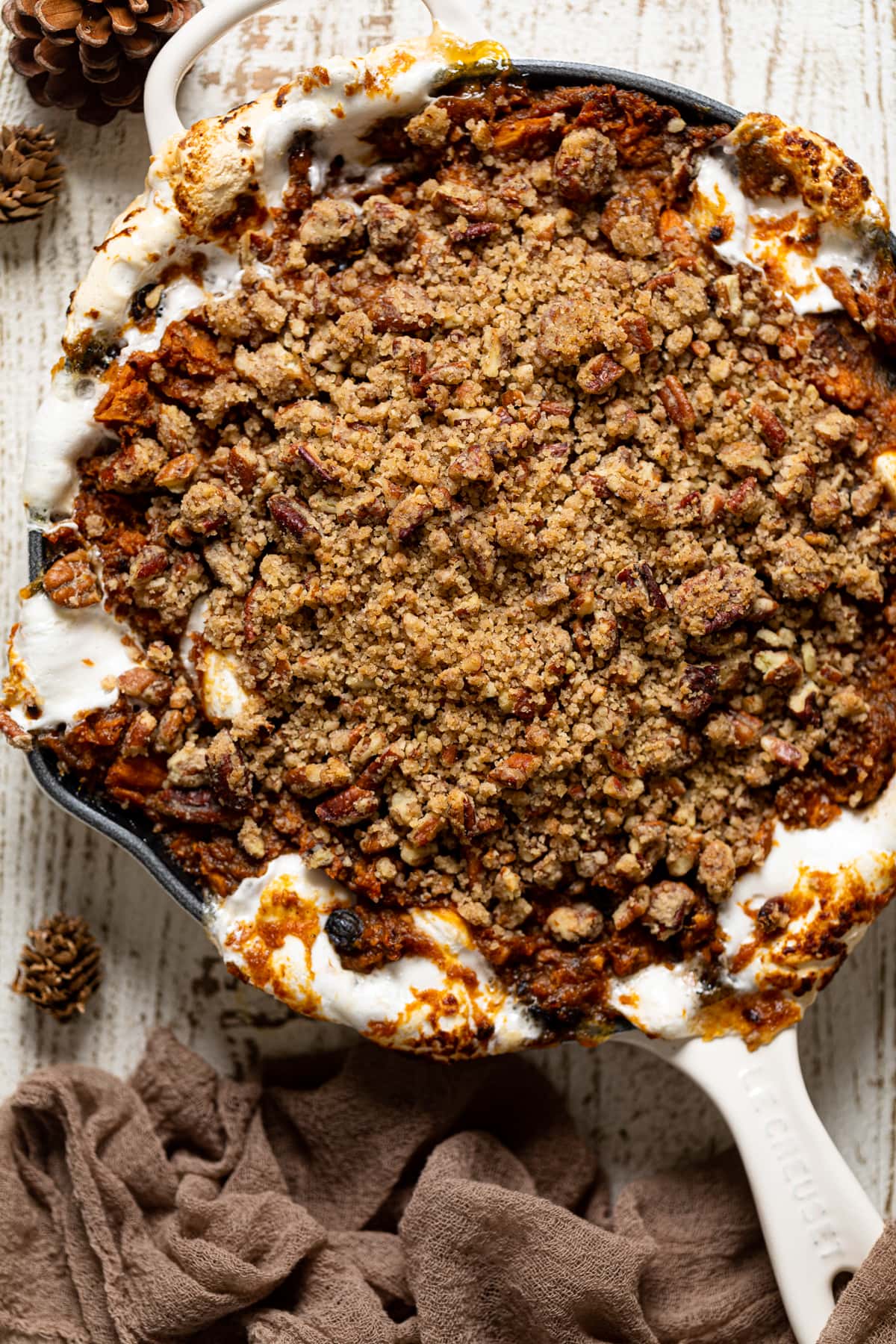 Why You'll Love This Sweet Potato Casserole
It's super easy to make.
Perfectly balanced sweet + savory flavors.
Buttery, golden, herby pecan-crusted topping
A true staple during Thanksgiving and the holiday season.
Velvety, soft, and perfectly sweet!
Makes for the perfect side or dessert situation.
Perfect Fall vibes---thanks to the sweet potato + spices!
Did I mention, it's just TOO good to pass up?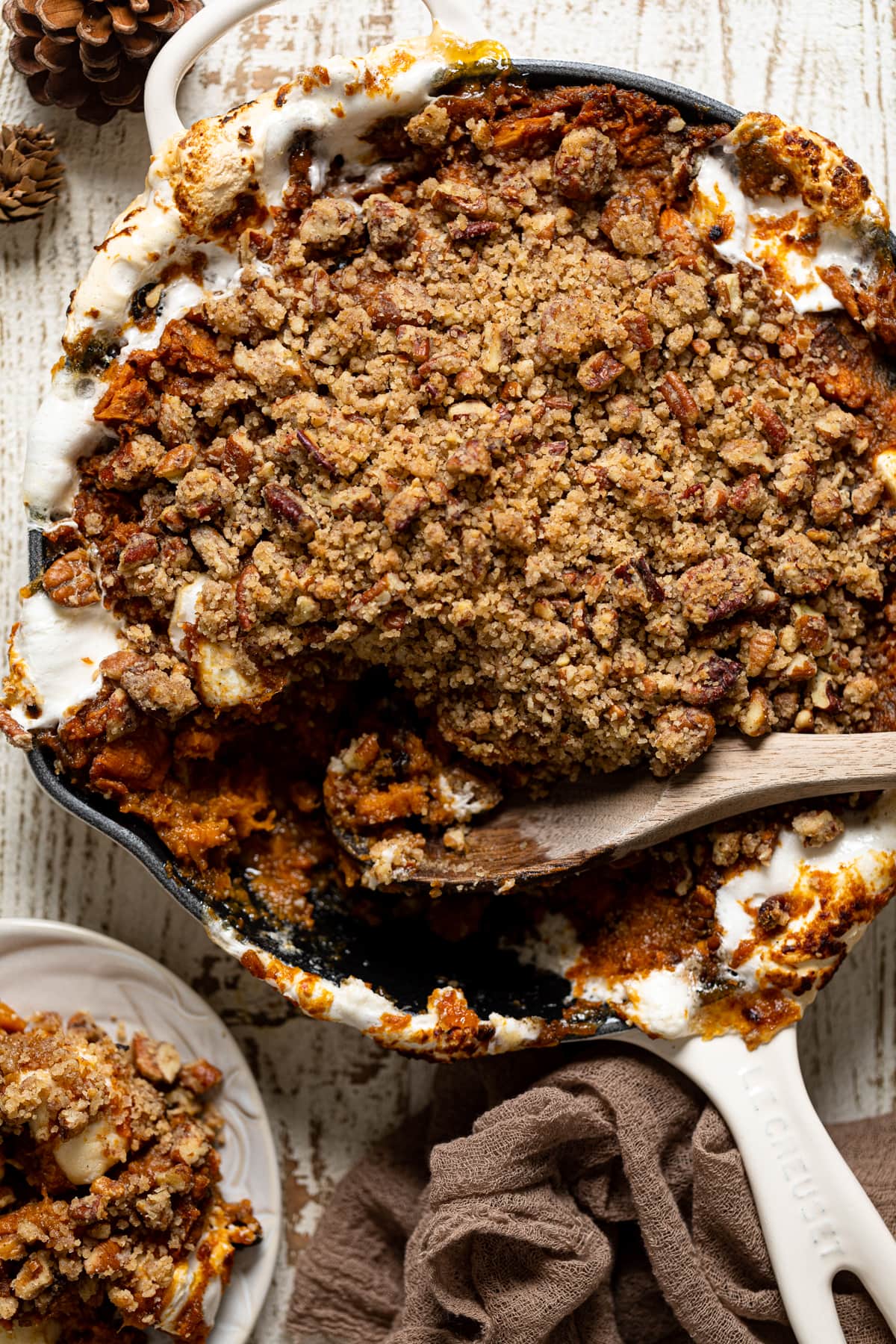 How Many Sweet Potatoes for This Casserole? Larger Batches?
When it comes to this Vegan Sweet Potato Casserole, I used two large sweet potatoes which fit nicely in a standard 9x13 baking dish and serves about 8. However, you can definitely make a larger batch by doubling or even tripling the ingredients (including the amount of sweet potatoes) if you're entertaining a larger crowd! You might need to use a casserole dish instead of a skillet in that case!
Health Benefits of Sweet Potatoes
Starting your day with a serving of sweet potatoes is more than just delicious. These root veggies are also great for your health. Some important health benefits of sweet potatoes include:
Improved digestion. They actually contain more fiber than regular potatoes! Sweet potatoes are also a great source of magnesium, which helps aid digestion.
Boost Your Immune System. Sweet potatoes are rich in beta-carotene (a major antioxidant). This fuels your immune system to help protect your body against illness and foreign invaders. You'll also find plenty of vitamin C and B-complex, iron, and phosphorus in these tubers.
Treat Stomach Ulcers. Sweet Potatoes can help soothe and repair the stomach and intestines. The immune-boosting vitamins also help cure stomach ulcers. In addition, the dietary fiber helps prevent constipation and acid formation. This can reduce the risk of ulcers.
Other Benefits: Sweet potatoes are also naturally anti-inflammatory and can reduce arthritis, pain.
When to Add Marshmallows to Sweet Potato Casserole
Knowing when to add the marshmallows to your sweet potato casserole is super important, especially when you're trying to avoid holes within your casserole from the marshmallows cooking too much and basically "disappearing". Yes, that does happen and has happened to me a few times. Haha.
However, I've learned that you can combat this in two ways: Bake your casserole covered with foil for the first half of the time and then remove it for the remaining time OR you can add half of the marshmallows initially and then in the last 10 minutes or so, tuck the remaining ones in the casserole so that it melted just enough to still be in tact.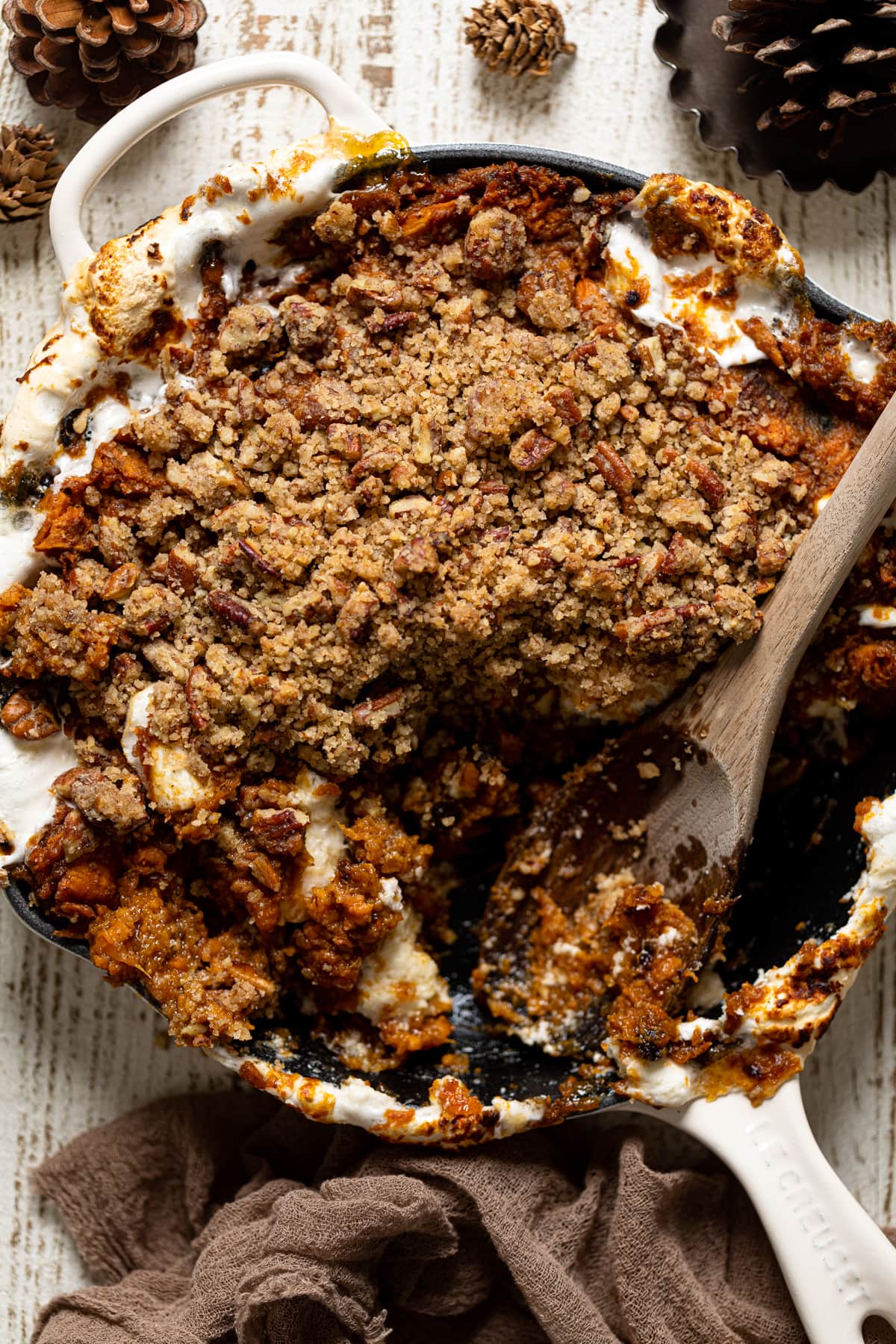 Topping + Ingredient Suggestions for This Sweet Potato Casserole
I like to add a bit of crunchiness to the top of my sweet potato casserole, which is why I chose to use this simple pecan option as well as the straight-forward filling ingredients. But I wanted to share a few more ideas incase you make this casserole more than once and want to switch things up!
Other topping + ingredient ideas include:
Candied bacon (You can add this to a crumble topping)
Additional nuts (i.e. walnuts, hazelnuts, etc.)
Bourbon (For a nice adult kick)
Orange zest to brighten up the flavors.
Toasted coconut flakes for a tropical twist.
Pineapple chunks
Dried cranberries
Serving Suggestions
This timeless classic is an ideal choice to grace your Thanksgiving or holiday table. It's a vegan side dish that truly shines when served with: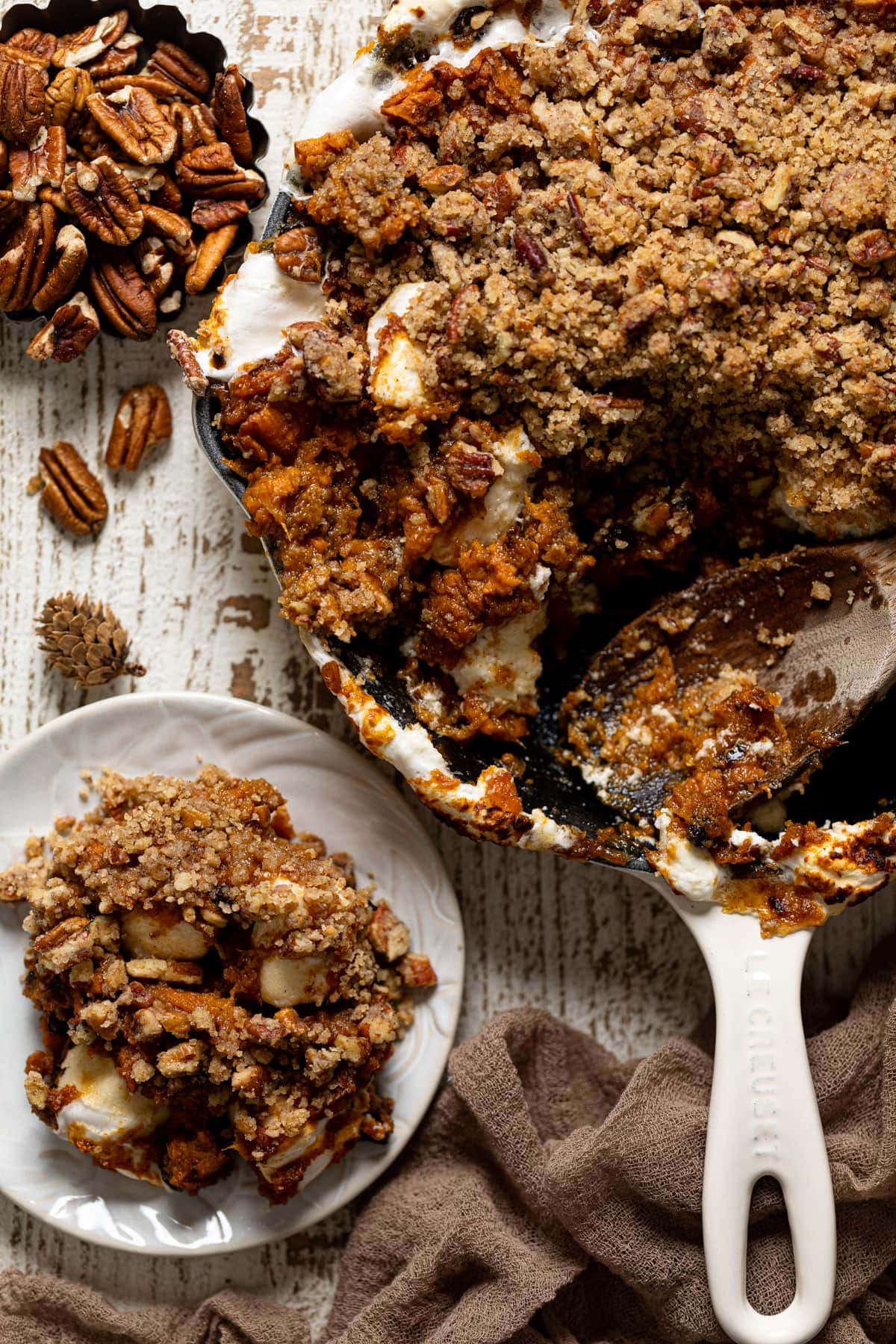 Vegan Skillet Sweet Potato Casserole Q + A's
How Long Can Sweet Potato Casserole Sit Out?
According to research, it's recommended that you don't leave cooked sweet potatoes out for more than 2 hours as this can promote bacterial growth. Therefore, if you aren't serving your casserole right away, be sure to let it cool and then refrigerate it until ready. You can easily reheat it in the oven when serving for that nice warm scoop.
Can I Make Ahead Vegan Sweet Potato Casserole?
Absolutely! You can prep and roast the sweet potatoes in advance, let cool completely, and store in an airtight container and refrigerated until the day of. Let it sit at room temp. for a few minutes and assemble per the recipe.
How to Store + Reheat Southern Maple Sweet Potato Casserole
Leftovers can be stored in a tightly sealed container in the refrigerator for up to 4 days, for optimal freshness. To reheat, simply add the casserole to the preheated oven at 375 degrees Fahrenheit and let it warm through. Again, you may need to add additional marshmallows if desired.
Can I Make This Vegan Casserole Gluten-free?
Yes! Simply replace the flour in the delicious crumble topping with gluten-free flour. I love Bob's Red Mill GF Flour.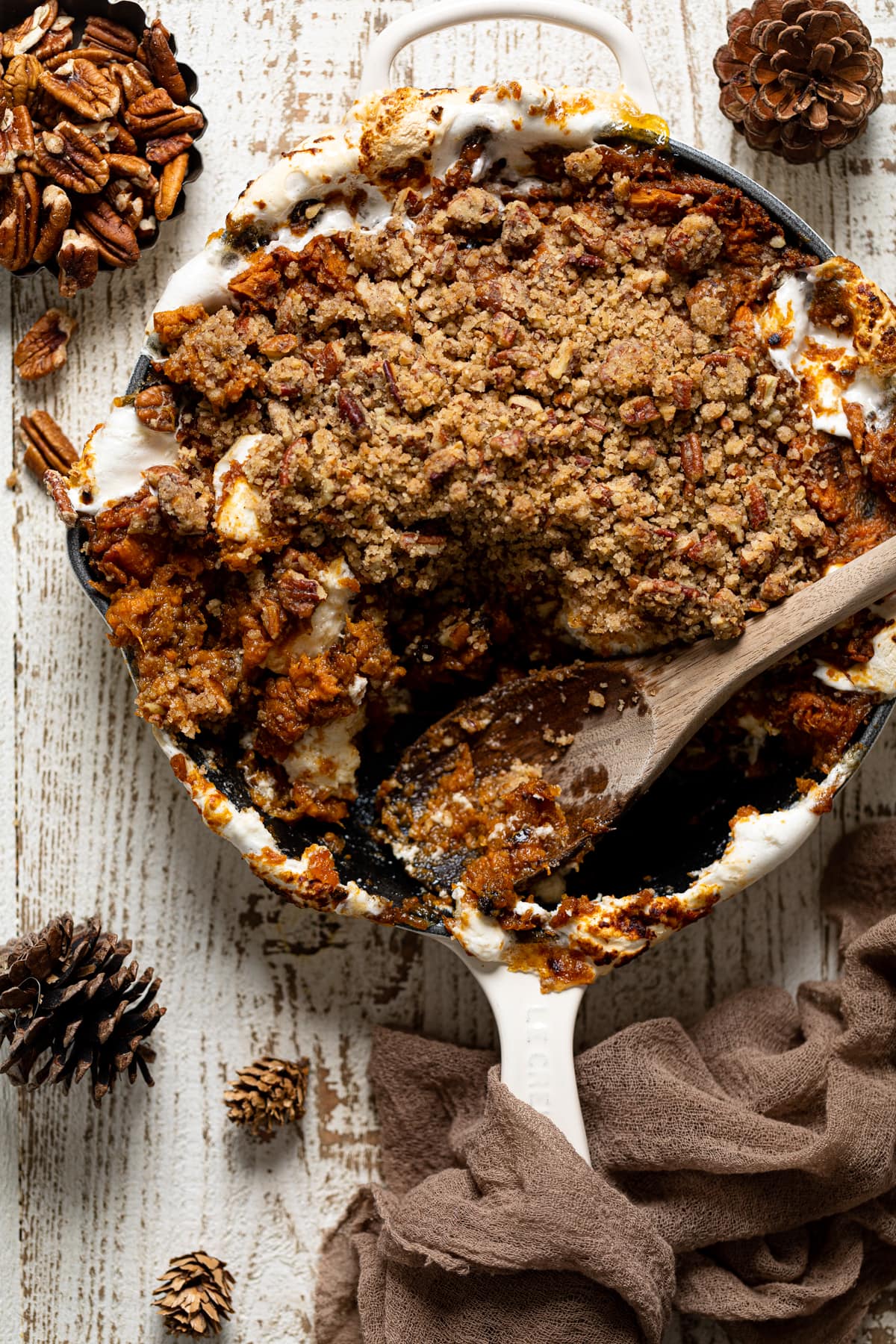 More Holiday Recipes You Will Love
If you're a fan of this amazing Vegan Skillet Sweet Potato Casserole check out these other holiday favorites!
MADE OUR RECIPE(S)?
If you make this Vegan Skillet Sweet Potato Casserole recipe or any other recipe from us, be sure to tag us on Instagram at #Orchidsandsweettea so that we can share the love!
TOPPING:
1

cup

pecans, roughly chopped + toasted

½

cup

organic all-purpose flour

½

cup

organic brown sugar

¼

cup

vegan butter, partially melted 

(See Notes!)

1

teaspoon

ground cinnamon

pinch of

sea salt
TO MAKE CASSEROLE:
Preheat the oven to 375 degrees Fahrenheit and grease a medium oven-safe cast iron skillet with vegan butter.

In a bowl, add all casserole ingredients, mixing everything together until combined.

Scoop the mixture into prepared skillet, evenly spreading everything out. For a little extra goodness-----tuck in a few additional marshmallows into the mashed sweet potatoes, pressing them gently all around.
TO MAKE THE TOPPING:
Add the flour, brown sugar, chopped pecans and cinnamon, into a medium bowl, combining them together using a pastry blender. NOTE: This helps to breakdown the nuts into smaller pieces as well, if preferred.

Add the partially melted vegan butter and using a spatula, mix until well combined and 'crumbly-like'.

Now, evenly sprinkle the crumble topping atop the casserole or until fully covered and place it in the oven.

Bake the casserole for 30-40 minutes or until the top is golden brown and the marshmallows have melted in the centers. Remove from oven and serve.

Bon Appetit!
STORAGE: Leftovers can be stored in a tightly sealed container in the refrigerator for up to 4 days, for optimal freshness. 
SWEET POTATOES: Preheat oven to 425 degrees Fahrenheit and line a baking sheet with parchment paper or foil. Rinse sweet potatoes (about 2 large ones) and pat dry. Lightly coat potato with Extra Virgin Olive Oil and place in oven, baking for 45 minutes to 1 hour, until tender and juices begin to bubble outside of skin. Remove from oven, let cool for 10-15 minutes and slice in half. Remove sweet potato insides and place in a bowl, mashing it until "pureed". Continue recipe.
TOASTED PECANS: Add chopped pecans to a baking sheet and toasting them in the oven (400 degrees Fahrenheit) for 5-10 minutes, tossing them halfway to avoid browning on one side.
SWEETENER: If you choose to opt out of pure maple syrup, you can always substitute with Agave as well.
Calories:
649
kcal
|
Carbohydrates:
93
g
|
Protein:
6
g
|
Fat:
31
g
|
Saturated Fat:
9
g
|
Polyunsaturated Fat:
8
g
|
Monounsaturated Fat:
13
g
|
Trans Fat:
3
g
|
Sodium:
490
mg
|
Potassium:
857
mg
|
Fiber:
7
g
|
Sugar:
60
g
|
Vitamin A:
26917
IU
|
Vitamin C:
28
mg
|
Calcium:
119
mg
|
Iron:
2
mg
Vegan Skillet Sweet Potato Casserole.