This Easy Chicken Pot Pie with Cheddar Herb Biscuits recipe is a childhood favorite that never gets old. While it's classic version contains a top and bottom crust with the filling wrapped inside, this recipe is a nice play on tradition meets modern. Don't worry–you'll still be satisfied with the flakiness of these cheddar herb biscuits and the extra cheese in the filling adds a great creaminess that's really hard to resist. Nothing short of flavor. Super easy to whip together and all made in one skillet.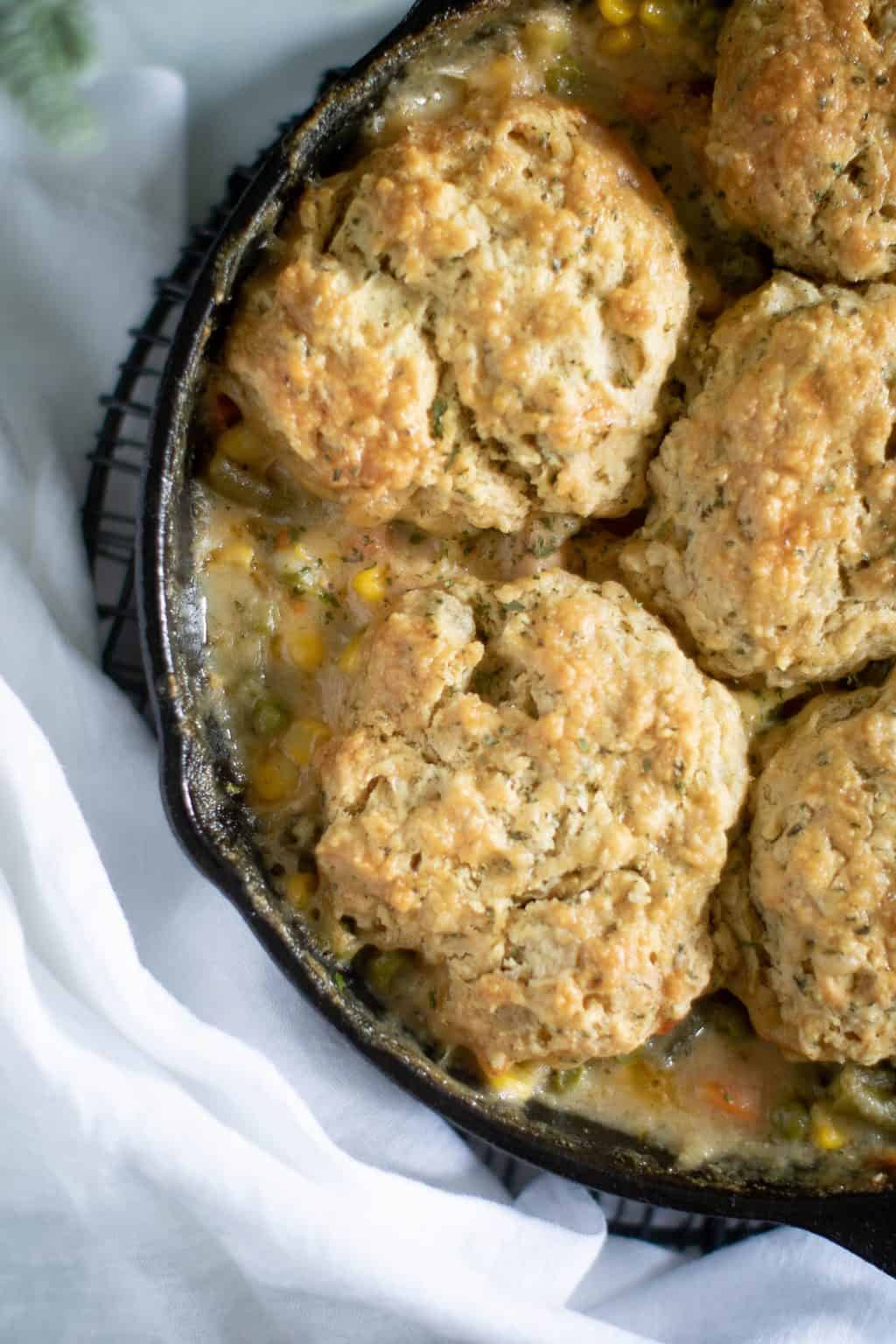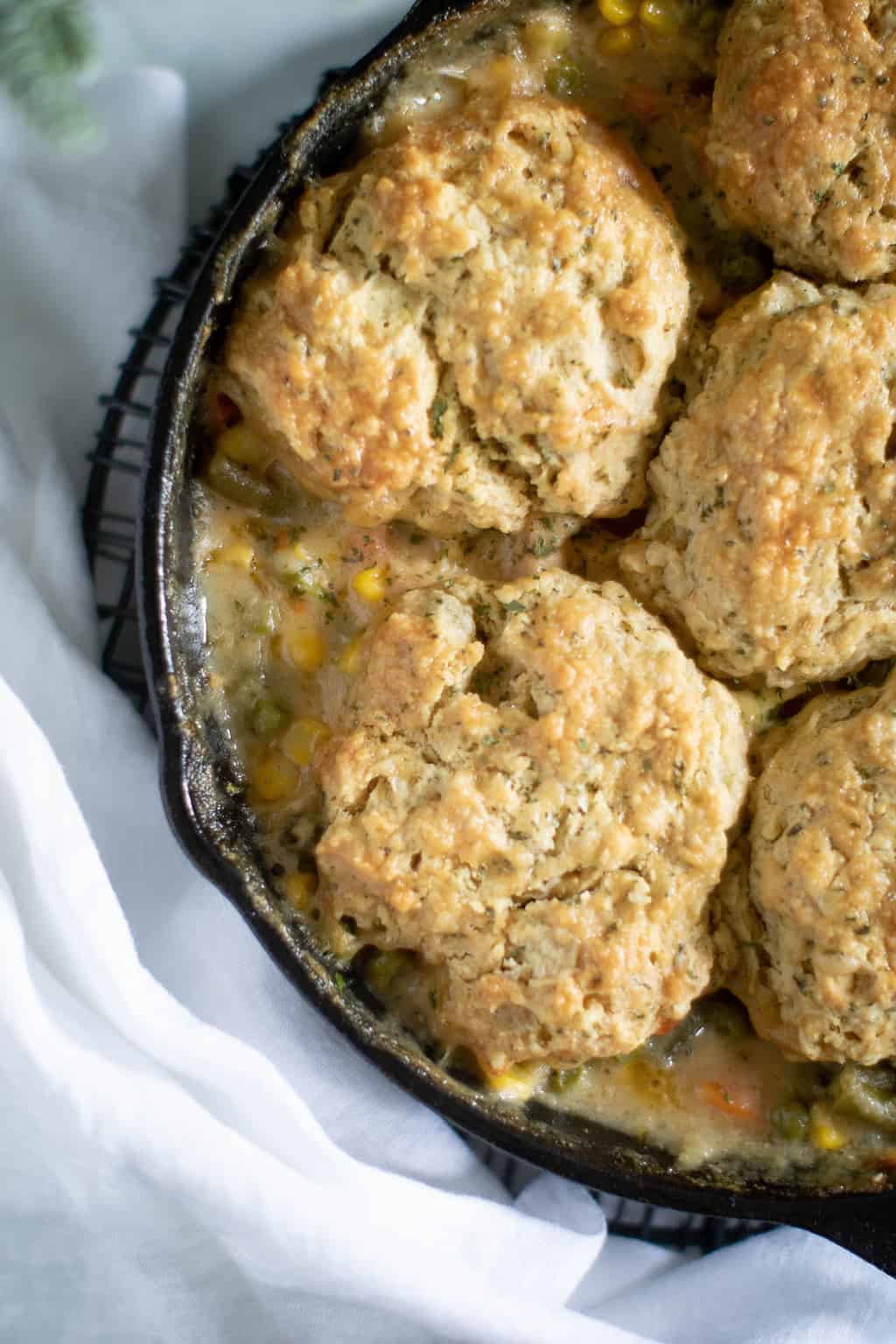 Kicking things off in January with is this childhood favorite of mine.
I remember eating the microwavable version of chicken pot pie and loving every bit of it, especially the flaky crust on the outside.
It's like eating a bowl of warm goodness.
But now that I've made this from scratch and slightly different from the classic version, I must admit that this is WAY BETTER! Totally better.
I'm definitely making this recipe again. Plus, my little guy LOVED it. That's always a plus in my book since my little guy is super picky with food. Haha.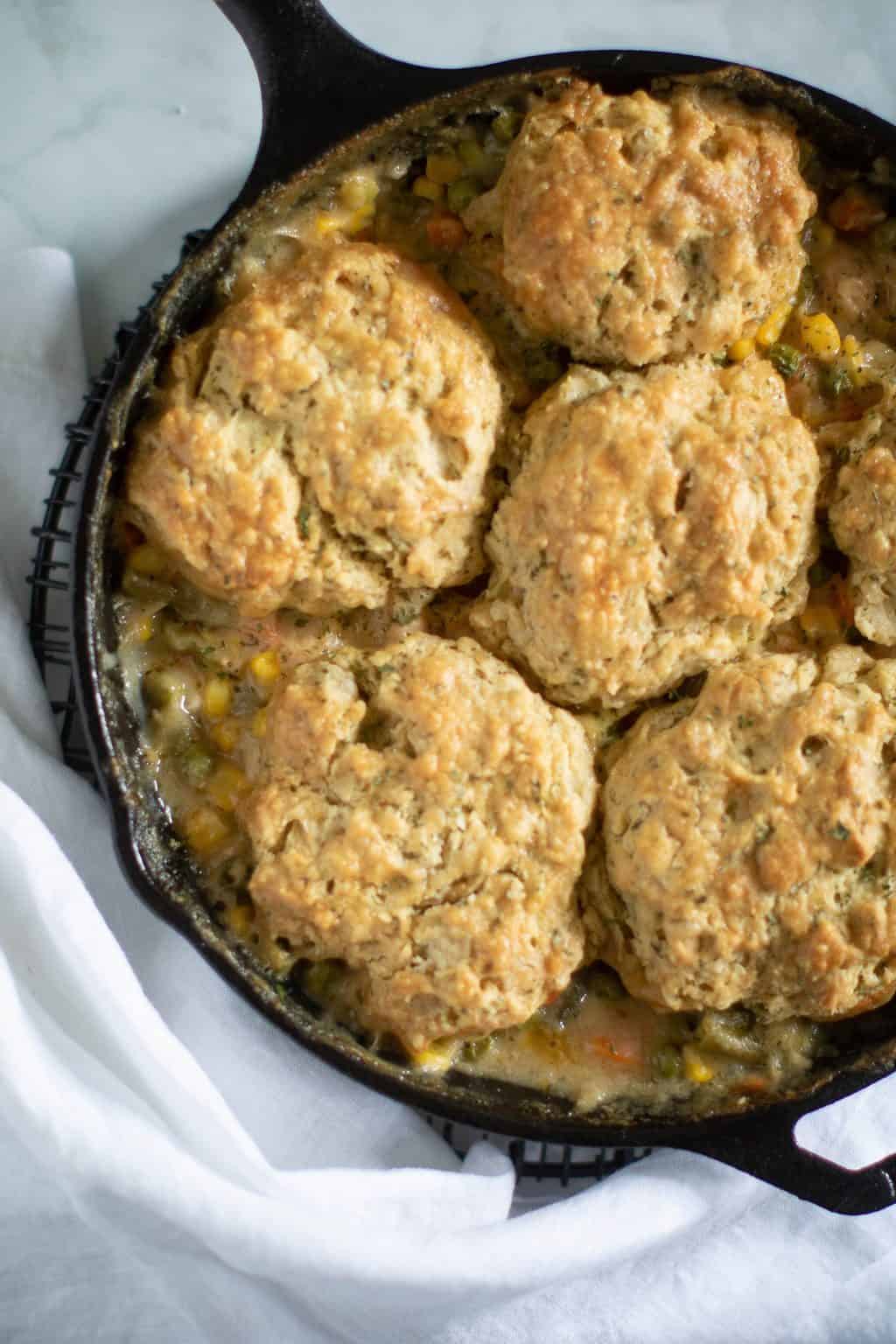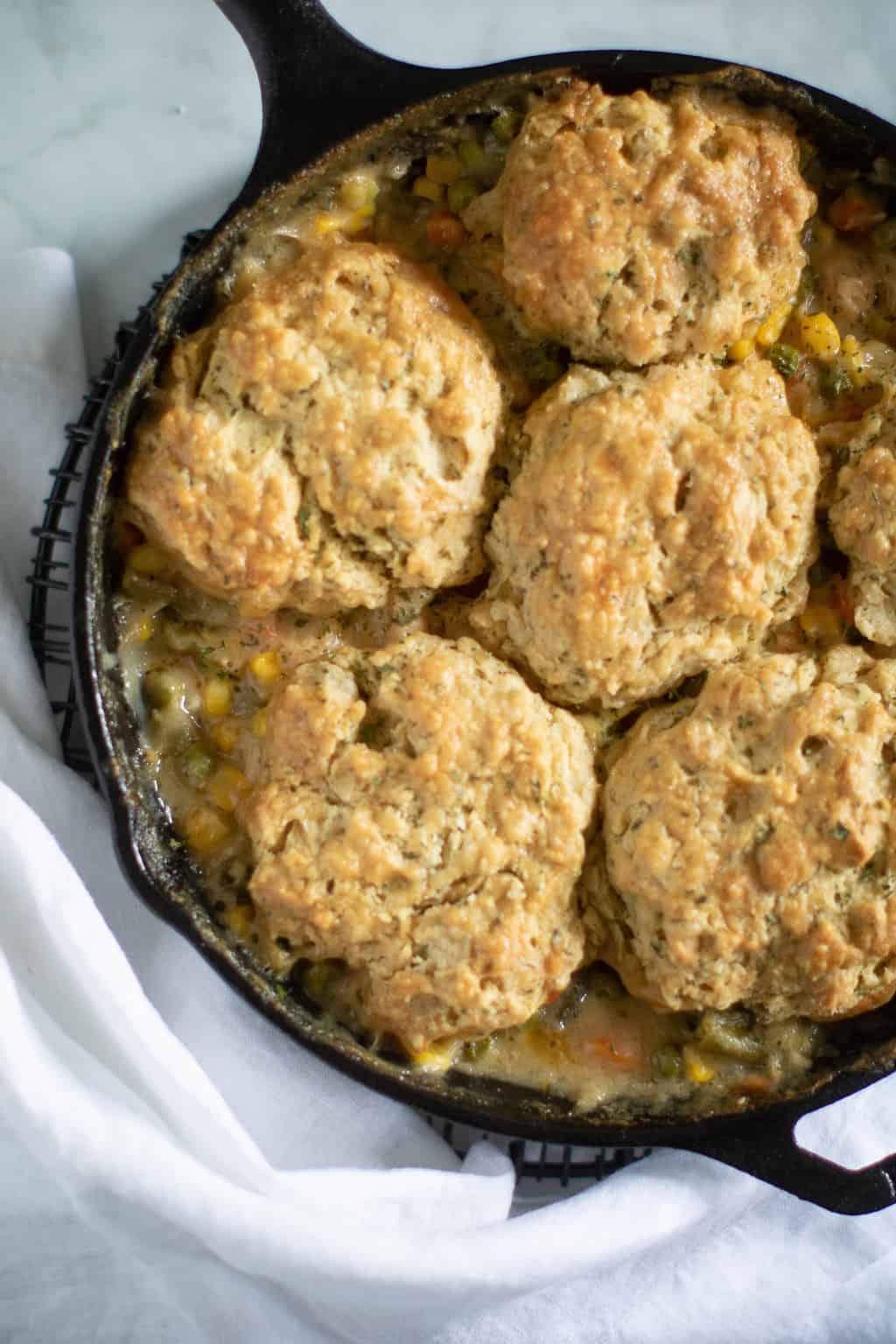 So the filling starts with making the chicken.
I simply used 2 medium organic chicken breasts and chopped them up into small cubes.
Then I seasoned my chicken with paprika, salt, pepper, dried parsley, and a pinch of red pepper flakes (optional if you like spice). Once seasoned, simply add your chopped chicken to a baking sheet (lined with parchment paper to prevent sticking) and bake for 30-45 minutes in your oven on 400 degrees Fahrenheit.
Be sure to toss your chicken at the half-way mark to ensure that the opposite side becomes brown as well.
In the meantime, I made the chicken pot pie filling by adding the onions, carrots, green beans, corn and snow peas to my cast iron skillet with a little bit of butter on medium heat.
Once the veggies are softened, a ¼ cup of all-purpose flour is mixed in, and then the white cooking wine, chicken stock and Almond milk are added in. The mixture comes to a boil, is reduced to a simmer and thickened, before adding in the diced cooked chicken. Wallah!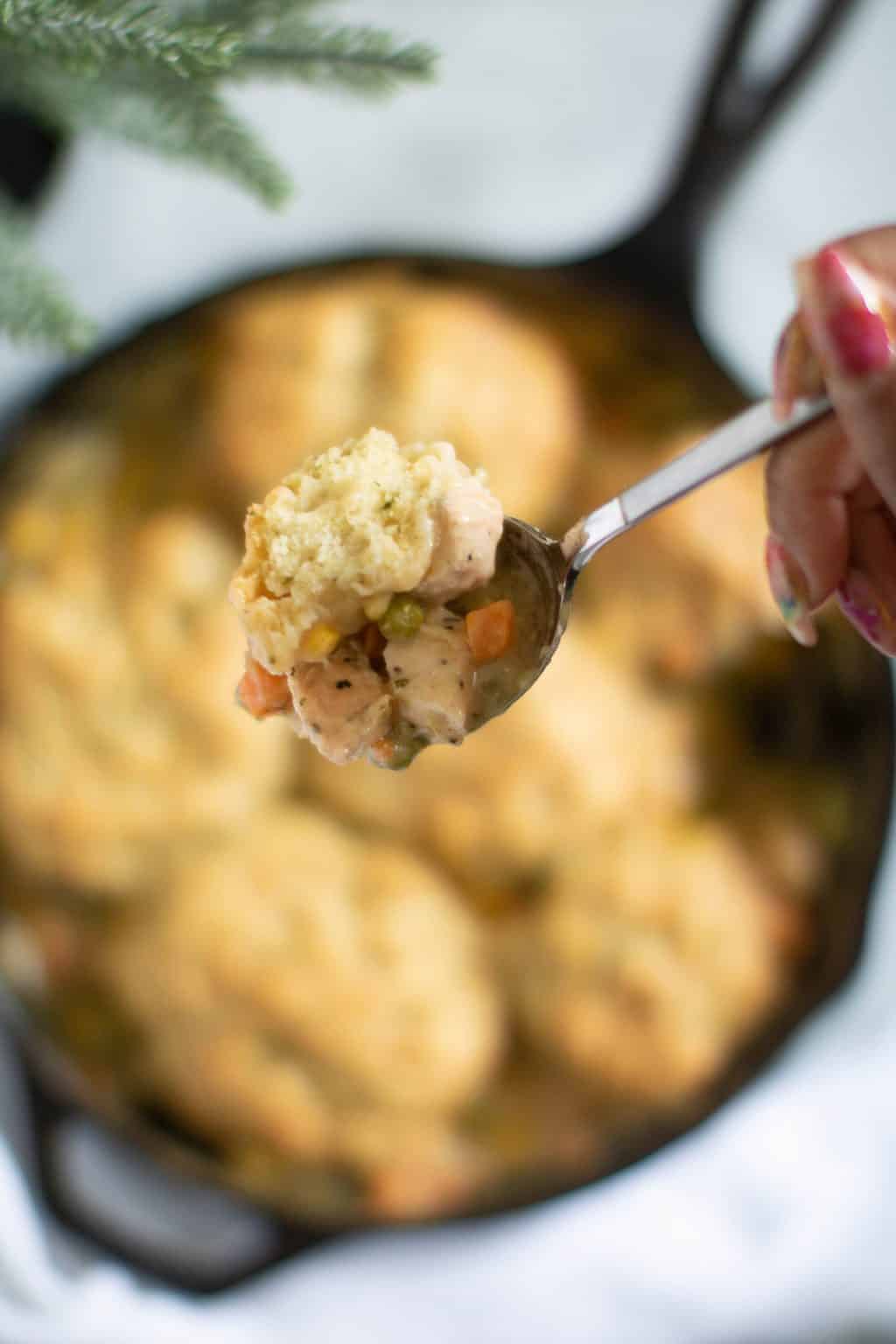 From there, I add in the shredded cheese and allow the filling to thicken and the cheese to melt a bit more (about 2 minutes or so), before removing it from the heat.
Making the biscuits are an easy and the steps are super quick, which once completed–you simply top your pot pie filling with groups of biscuit batter and BAM! Easy Chicken Pot Pie with Cheddar Herb Biscuits is on it's way to being in full fruition!
Let the oven do it's thing and watch all of the magic in action.
Looking for other amazing comfort Food Recipes To Try?
Comforting Southern Food Recipes to Try This Fall highlights amazing recipes that are absolutely rich in flavor, unique in ingredients/combinations, nothing short of comforting, range from savory to sweet, and much more. This roundup offers healthy, easy methods that are cozy for those chilly Fall days ahead.
This Vegan Southern Maple Peach Cobbler is a beautiful rendition of a classic cobbler with a twist. Not only does it boast of it's Southern touch, but it's also entirely vegan and dairy-free, and comes topped with perfectly imperfect dollops of sweet maple-cinnamon biscuits; adding a nice kick of flavor to the creamy peach filling. Gluten-Free option available.
Classic Southern Banana Pudding is the one bowl of goodness that gets everyone smiling. This creamy sweet treat filled with banana chunks, whipped vanilla pudding, and delicious vanilla wafers nestled in between each layer, certainly makes for the best dessert choice after a good meal or even as a quick "pick me up" snack.
With the end of the Year being just a few hours away, I wanted to share the Top 30 Most Favorite Recipes in 2019—-chosen by YOU! Throughout the year, we've shared some pretty great recipes that came rich in flavor, unique in ingredients/combinations, savory + sweet, and the whole bit. So, of course, we wanted to showcase your personal favorites which are some of our ultimate favorites as well.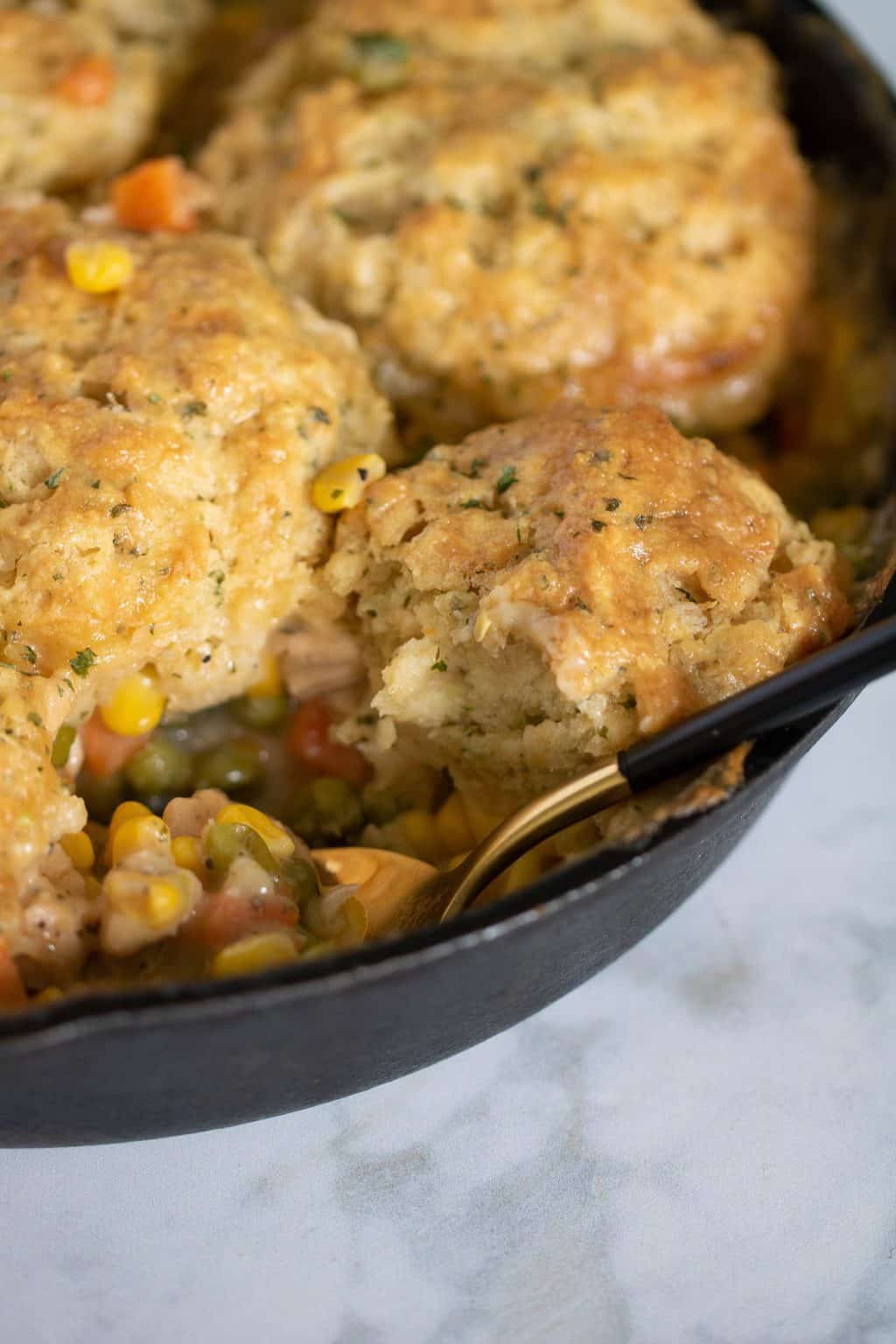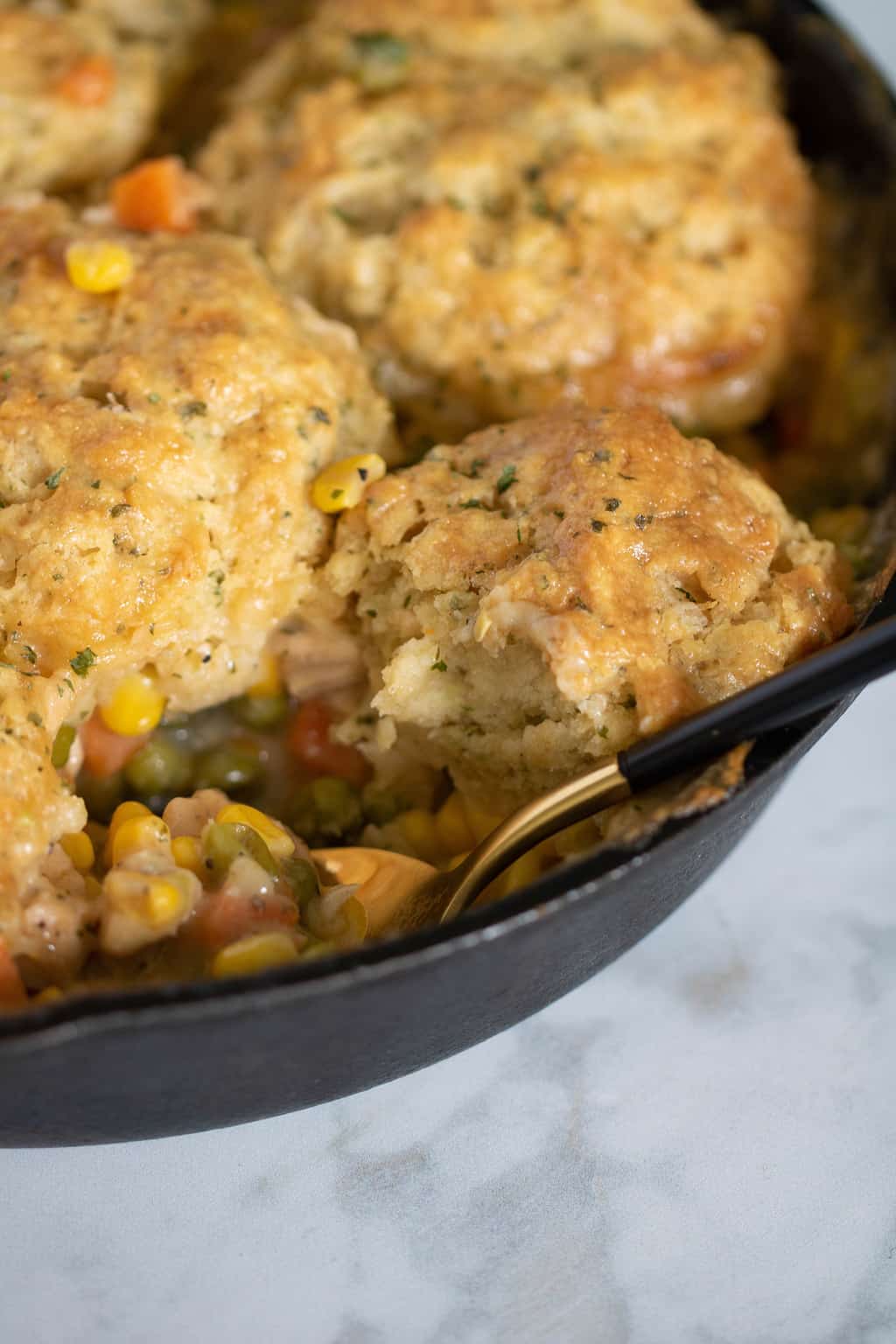 What You'll Enjoy Most About This Recipe:
It's super easy to make.
Full of flavor.
A classic recipe with a twist.
Made in just 45 minutes.
Great savory option for lunch or dinner for the entire family.
All deliciousness in one bite.
MADE OUR RECIPE(S)?
If you choose to make this Easy Chicken Pot Pie with Cheddar Herb Biscuits recipe or any other recipe from us, be sure to tag us on Instagram at #Orchidsandsweettea so that we can share the love!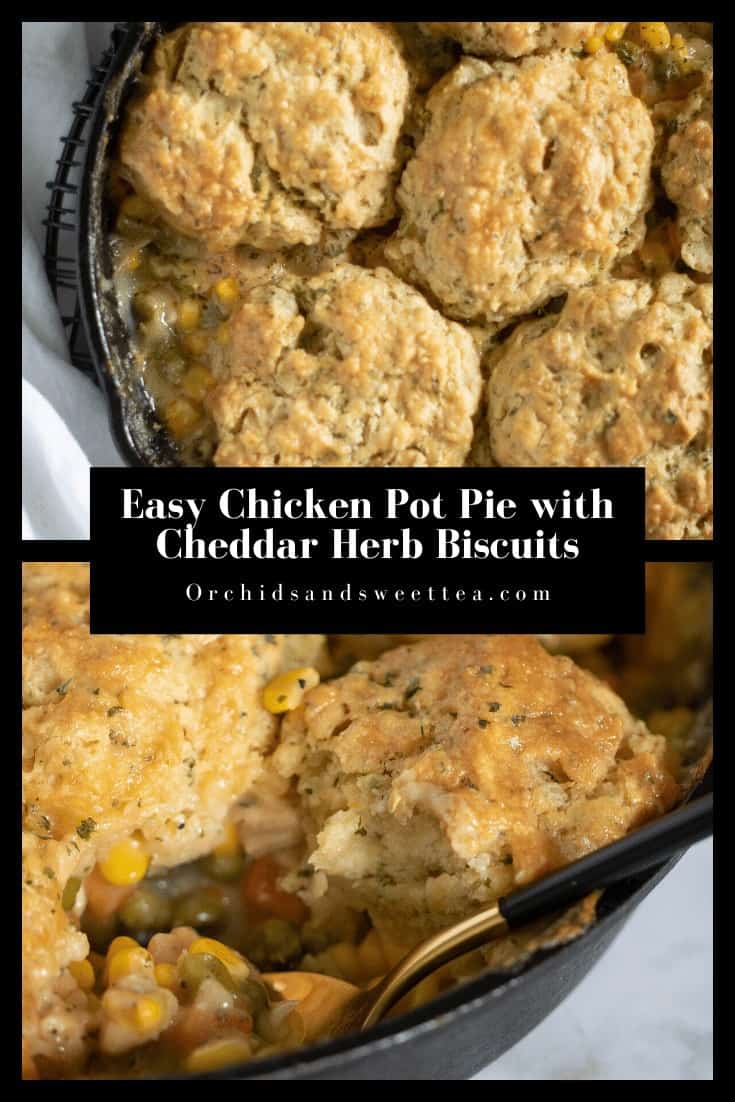 Pot Pie:
3

Tbsps

unsalted butter

(I use Land O'Lakes)

4-5

cups

mixed vegetables, frozen

(Includes peas, carrots, corn, and green beans)

1

Medium

red onion, chopped finely

2

Medium

organic chicken breasts, cooked + diced

(See Notes!)

1/4

cup

organic all-purpose flour + 2 Tbsps!

(I use Bob's Red Mill)

sea salt + black pepper, to taste

2

Tbsps

white cooking wine

1

cup

organic chicken stock, low-sodium

(I use Pacific Foods)

3/4

cup

Almond milk

(I use So Delicious Dairy-Free; You can use your fave plant-based milk!)

1

cup

organic shredded cheddar cheese

(I use Organic Valley)
Cheddar Herb Biscuits:
2

cups

organic all-purpose flour

(I use Bob's Red Mill)

3

Tbsps

baking powder

1/2

tsp

baking soda

1

tsp

sea salt

2

Tbsps

dried parsley

1

tsp

dried thyme

1/2

tsp

dried oregano

1

tsp

garlic powder

1

cup

organic shredded cheddar cheese

(I use Organic Valley)

1/2

cup

unsalted butter, cold + cubed

(I use Land O'Lakes; That's 1 stick!)

1

cup

organic heavy whipping cream + 1 Tbsp lemon juice

(For Buttermilk; Keep it COLD!)

1

large

organic egg + 2 tsps fresh water!

(I use Organic Valley)
Preheat oven to 400 degrees Fahrenheit and grease a medium skillet. Set aside.

Next, add butter to a medium pot on medium-high heat and once butter melts, add mixed vegetables and onions. Add sea salt + black pepper, to taste. Toss and cook vegetables until softened, about 5-6 minutes. 

Add flour to veggies, stirring until well incorporated and cooking everything for 1 minute or so, until fully coated. Add in white cooking wine, chicken stock and milk.  **NOTE: Be sure to whisk in the liquid with the vegetables as soon as it's poured in to ensure that NO lumps are formed.**

Once well incorporated, increase the heat to high heat so that the mixture begins to boil for about 3-4 minutes, then reduce to a simmer. Finally, add in the diced chicken, tossing it in to ensure that it's well incorporated and then simmer until sauce thickens, about 5-6 minutes. 

Once thickened, turn off the heat and stir in shredded cheese, until fully melted and creamy. Set aside.
For Cheddar Herb Biscuits:
Whisk together the all-purpose flour, baking powder, baking soda and sea salt in a medium bowl. Then add in the parsley, thyme, oregano, garlic powder and shredded cheese and whisk everything together.

Add in cubed cold butter. Using a pastry cutter or fork, cut the butter into the flour mixture until it looks like 'pea-sized' clumps. 

Slowly add in the buttermilk and gently stir everything together until well combined. **NOTE: DON'T OVER-MIX!**
Assembly:
Pour the pot pie filling into the prepared skillet and top with biscuits by grabbing 2 Tbsps of biscuit dough into your hands, gently rolling into an imperfectly semi-round shape and placing it atop mixture. Repeat until all biscuits are formed.

Brush biscuits with egg wash mixture (egg + 2 tsps water) and bake for 18-20 minutes or until biscuits are golden brown and fully baked through. 

Once biscuits are golden and pot pie filling is bubbly, remove from oven and serve.

Bon Appetit!
BISCUITS (TIP): If making perfect, traditional biscuits, make sure that you don't twist the biscuit cutter into the dough to avoid the biscuits from baking awkwardly; try to remove biscuit cutter straight up. Directions: Place dough mixture onto a lightly floured surface and use a rolling pin to gently form it into a large rectangle. Fold the dough in half over itself and roll into another rectangle the same size. Repeat this process twice again. Using a 1/4 cup-sized measuring cup (if you don't have a biscuit cutter) to cut 12 biscuits. **If needed, re-roll scraps of dough to make any remaining biscuits**. 
BUTTERMILK: Instead of traditional buttermilk, you can make 'dairy-free' buttermilk by adding 1 cup of your fave plant-based milk + 1 Tbsp of lemon juice, mixing everything well. Set aside for 5-10 minutes for the acids to activate and slightly thickening mixture.
CHICKEN: Wash and season chicken breasts with sea salt and pepper. Roast (at 400 degrees Fahrenheit) in foil paper for about 25-30 minutes, or until cooked through and cut into cubes.
STORAGE: Place any leftovers in a tightly sealed container in the refrigerator for up to 3 days.
Easy Chicken Pot Pie with Cheddar Herb Biscuits.