This Maple Herb Roasted Carrots recipe is the epitome of simplicity and deliciousness. Whether you're serving them at a holiday gathering or as a quick side dish for a weeknight dinner, they never fail to impress. Caramelized to perfection in a sweet and buttery maple syrup glaze, these carrots boast a harmonious blend of flavors. They offer a delightful balance of savory and sweet. It comes together effortlessly with just 10 ingredients and a mere 25 minutes. Completely Vegan + Gluten-free.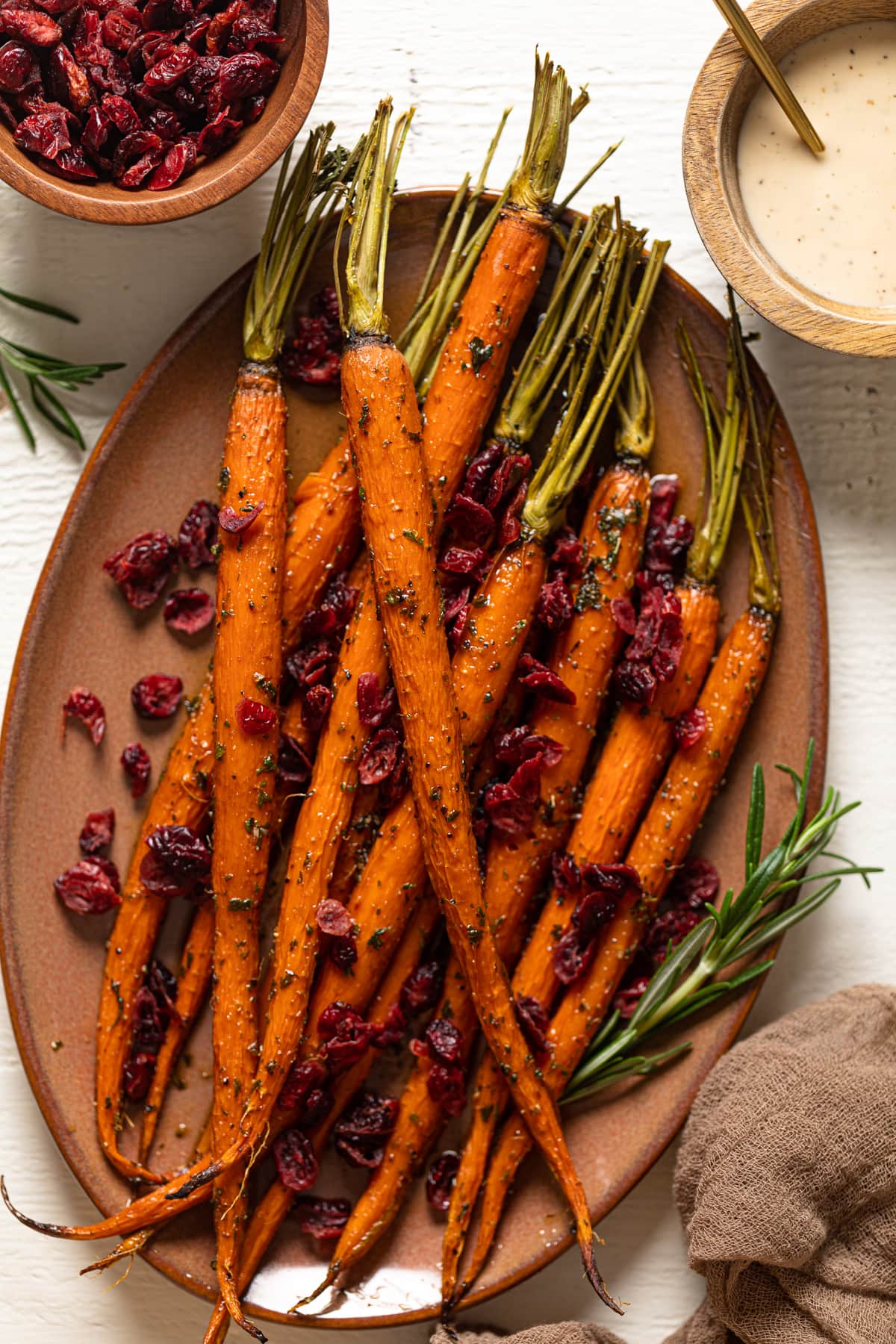 Why Maple Herb Glazed Carrots Makes THE BEST Side Dish
When I'm planning a holiday menu, or really any menu for entertaining, I always want to include something that's vegetarian and gluten-free. Sometimes that means a dessert like Gluten-Free Apple Crisp or an entree like Butternut Squash Sweet Potato Shepard's Pie.
But almost always, I like to include a side dish that everyone can enjoy, regardless of dietary restrictions. This beautiful Maple Herb Glazed Carrot recipe fits that bill. Plus, carrots are in season in the fall and winter so you can enjoy the sweetest and most flavorful veggies. Another few crowd-favorite sides are Garlic Herb Smashed Potatoes and Loaded Mashed Potatoes because I mean is it even a holiday table without some form of potato?
In this maple-roasted carrot recipe, they're topped with tart-sweet dried cranberries for an extra dose of festivity and texture. Add these carrots to your holiday menu and your guests will be delighted! And the best part is it takes just a few simple ingredients and is ready in under 30 minutes!
Jump to: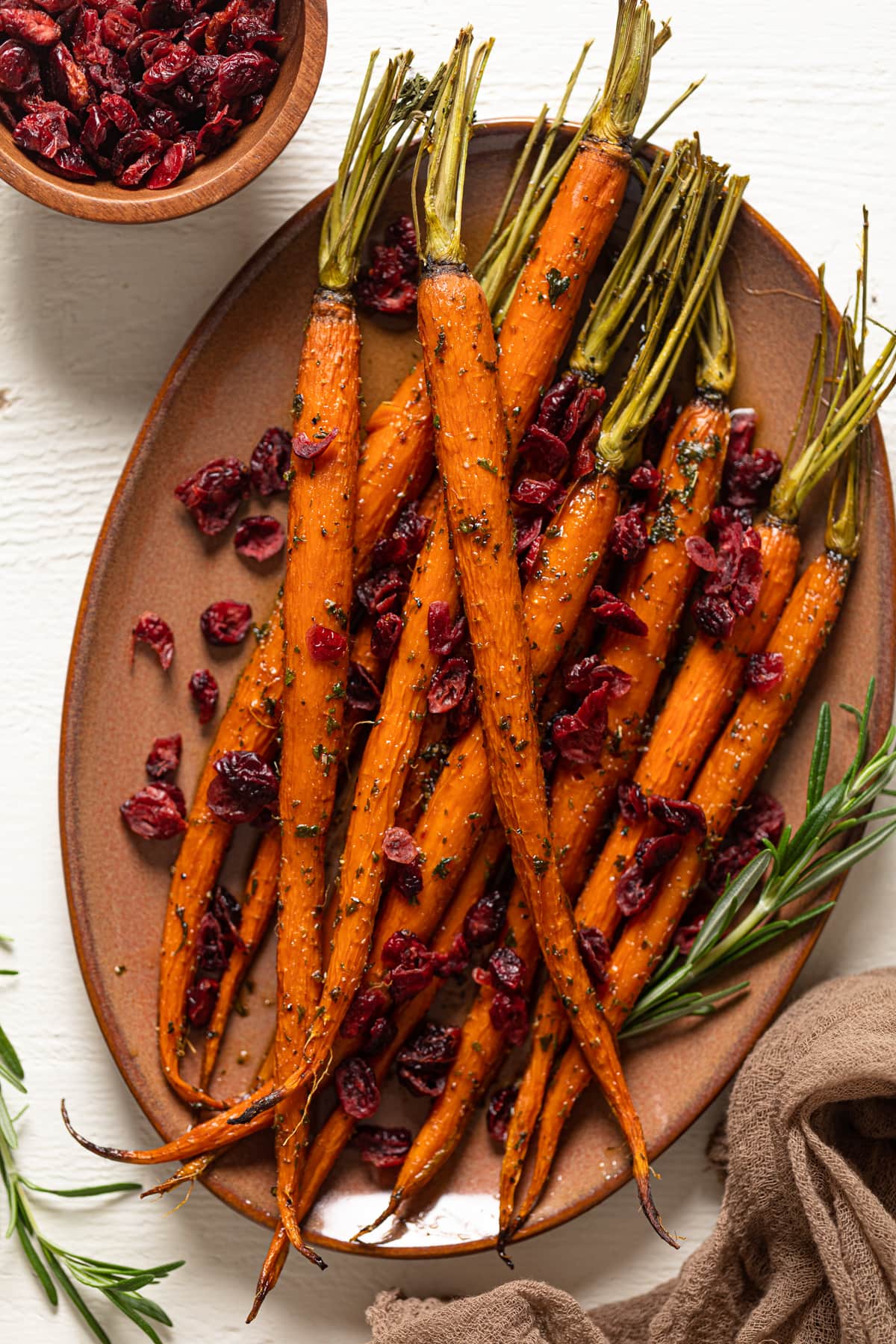 How to Make Maple Herb Glazed Carrots
This is a 25-minute side dish with just 10 ingredients. Here's what you need to make this roasted carrots recipe:
Carrots. You can leave the carrot skin on, just make sure to wash them well.
Olive oil. You can also use avocado oil if you prefer.
Maple syrup. Make sure to use real maple syrup, not imitation, for the best flavor.
Dried herbs. I like oregano, parsley, and basil.
Spices. The savory and spiced flavor in this glazed carrot recipe comes from cinnamon, allspice, and garlic powder.
Dried cranberries. For pops of tart-sweet flavor and ruby red color.
Why You Will LOVE This Maple Herb Glazed Carrots Recipe
Deliciously sweet + savory--strikes the perfect balance of flavors.
The perfect holiday + weeknight side dish!
Versatile side dish for any occasion
Perfect for meal prep or leftovers
Elevates your vegetable game with minimal effort
Vegan + gluten-free-- Perfect for diverse eaters.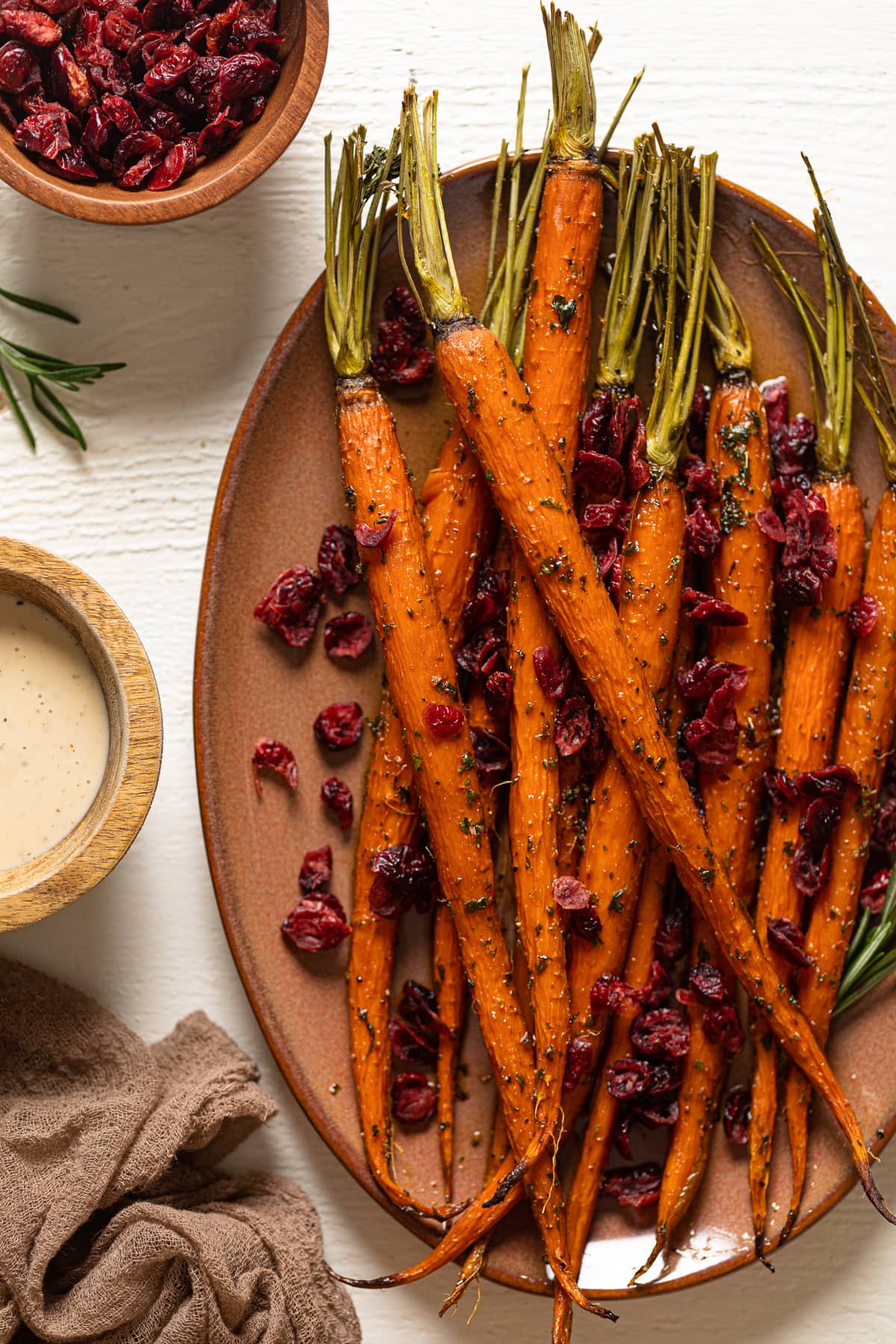 Ingredient Substitutions + Swaps
If you don't have every ingredient on the list for this roasted carrots recipe, don't worry! Here are some simple ingredient substitutions and swaps that make this recipe your own:
Substitute oregano, parsley, and basil with other dried herbs like tarragon, thyme, or rosemary.
Use fresh minced garlic instead of garlic powder.
Swap out cinnamon and allspice for nutmeg, cardamom, or a dash of cloves.
Use dried cherries or chopped dates instead of cranberries.
How to Serve Glazed Carrots
This recipe makes total sense at a holiday table. It's a healthy vegan and gluten-free addition to your Thanksgiving or Christmas menu. But it's also quick and easy enough to whip up on a weeknight. If you're planning a holiday meal, try serving your herb-glazed carrots with these other festive dishes:
Can I Add Additional Ingredients for Flavor?
Absolutely! When it comes to food, I can be pretty over the top on most occasions, so adding extra flavor is ALWAYS WELCOMED! With these roasted carrots, for more deliciousness, you can candied bacon (or add on the side so it's still vegan-friendly), and for an extra crunch panko breadcrumbs make a delicious topping!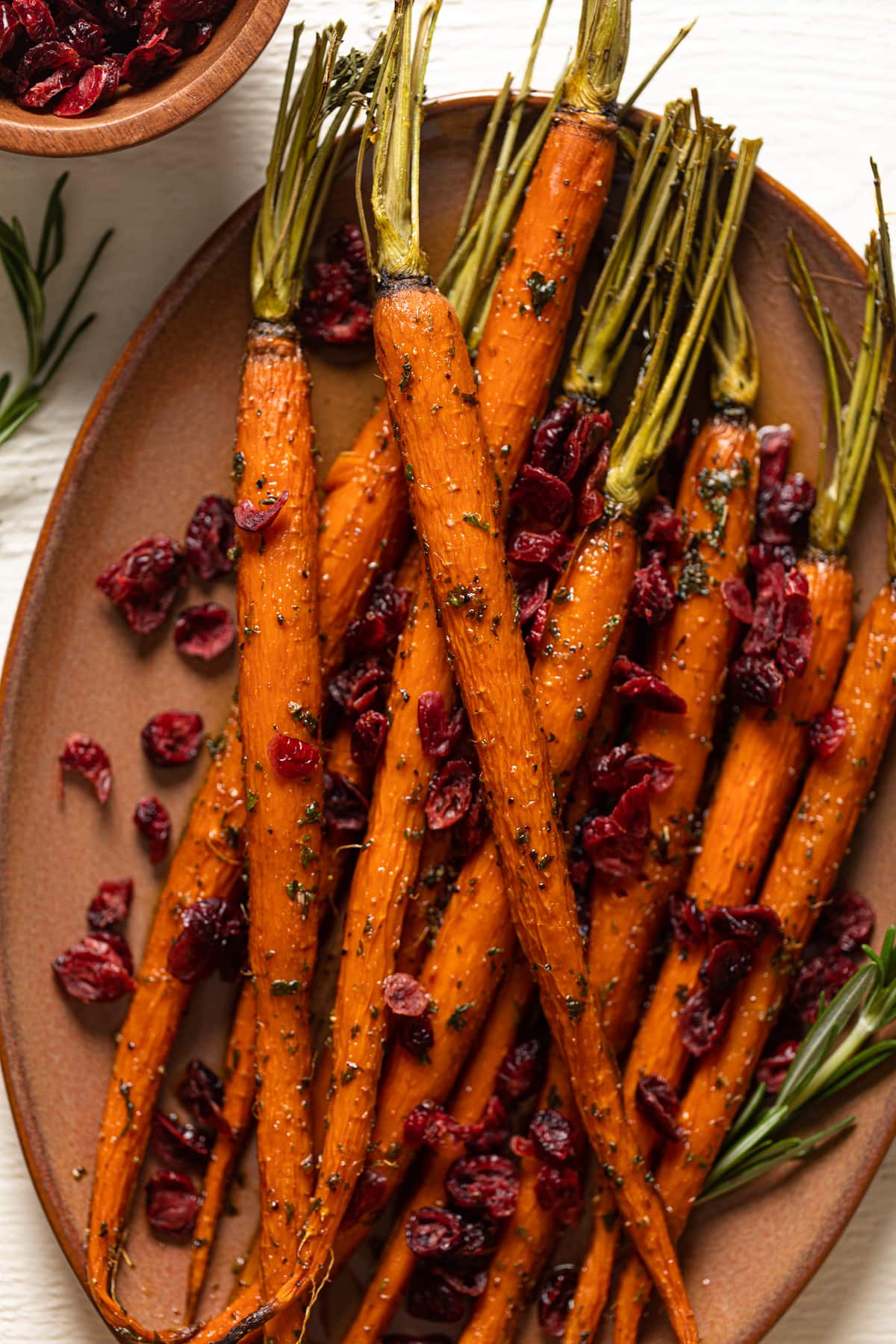 Are Carrots Good For You?
Yes! Here are some of their amazing health benefits!
Eye Health: Rich in vitamin A and beta-carotene, carrots promote good vision and eye health.
Antioxidants: Carrots contain antioxidants that combat oxidative stress and reduce disease risk.
Heart Health: Fiber and potassium in carrots support heart health.
Digestive Health: Dietary fiber aids digestion and promotes gut health.
Skin Health: Vitamins and antioxidants in carrots contribute to healthy skin.
Immune Support: Vitamins and minerals, including vitamin C, boost the immune system.
What a perfect reason to include carrots on your holiday table or as a delightful side dish any time of the year!
Maple Herb Glazed Carrots Q + A's
How to store roasted glazed carrots?
Store leftover roasted carrots put in an airtight container for 3 to 4 days. You can reheat the carrots on the stove or in the microwave to serve.
Can I double this roasted carrots recipe?
Certainly! This recipe makes enough to feed six people as a side dish. But you can simply scale the ingredients up or down to adjust for your party size.
How do I prevent the carrots from getting too soft?
Be mindful of the cooking time to avoid overcooking. Check for doneness by testing the carrots with a fork—they should be tender but not mushy.
Can I make this roasted carrots recipe with baby carrots?
Yes, baby carrots can be used. Adjust the cooking time as they may cook faster due to their smaller size.
Can I use frozen carrots for this recipe?
While fresh carrots are recommended, you can use frozen carrots in a pinch, but the texture may be slightly different.

Can I use honey instead of maple syrup?
Certainly, honey can be a delicious substitute for maple syrup if you prefer its flavor! However, it won't be suitable for any vegans at the holiday table so keep that in mind!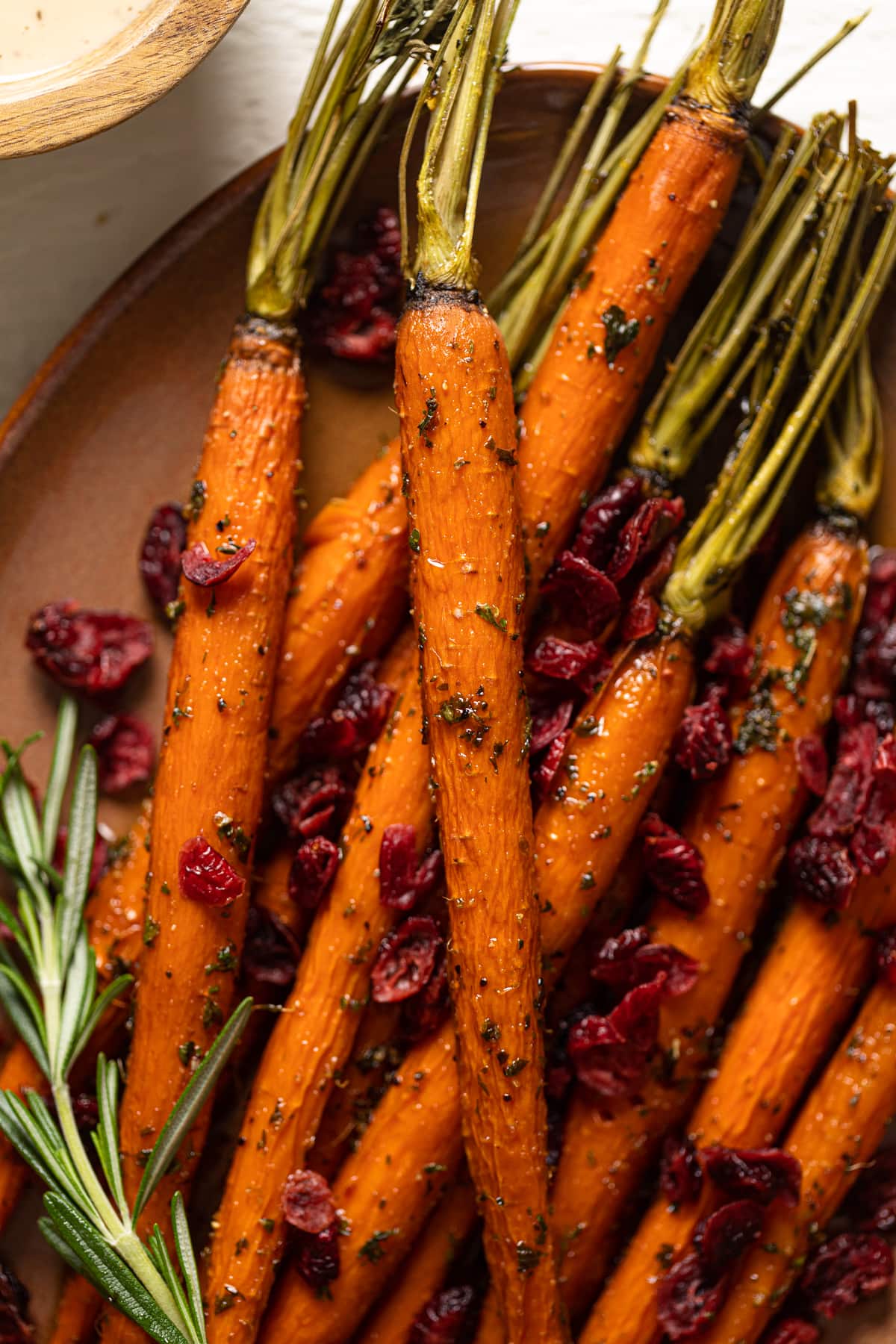 More Flavorsome Holiday-Inspired Recipes
If you enjoyed this Maple Herb Glazed Carrots recipe, make sure to explore these other holiday-inspired dishes!
MADE OUR RECIPE(S)?
If you tried this Maple Herb Glazed Carrots recipe or any other recipe on my website, please please leave a 🌟 star rating and let me know how you go in the 📝 comments below. I love hearing from you.
Preheat the oven to 400 degrees Fahrenheit and prepare a baking sheet by lining it with parchment paper.

In a large bowl, add the carrots along with the maple syrup + herb seasonings (save about 2-3 Tbsps and set aside), mixing everything together with your hands (you can use gloves if preferred) until carrots are fully coated. Place the carrots unto the prepared baking sheet (lined sided by side) and bake for 15-20 minutes or until carrots are golden, slightly wilted, and tender.

Brush the tops with remaining maple herb mixture and serve unto a platter. Sprinkle dried cranberries atop and on the sides of carrots.

Bon Appetit!
STORAGE: Any leftovers can be kept in a tightly sealed container and refrigerated for 3-4 days.
SERVING: To make this dish for a bigger family, simply double (or triple) all ingredients.
Calories:
375
kcal
|
Carbohydrates:
72
g
|
Protein:
16
g
|
Fat:
4
g
|
Saturated Fat:
1
g
|
Polyunsaturated Fat:
1
g
|
Monounsaturated Fat:
2
g
|
Sodium:
111
mg
|
Potassium:
1423
mg
|
Fiber:
21
g
|
Sugar:
23
g
|
Vitamin A:
25268
IU
|
Vitamin C:
9
mg
|
Calcium:
173
mg
|
Iron:
4
mg
Maple Herb Glazed Carrots