When it comes to food options for the Holidays, this 2022 Thanksgiving Menu + Guide for ALL Eaters comes rich in flavor, unique in ingredients/combinations, and is the perfect addition to your Thanksgiving plans. This roundup offers everything from main dishes to appetizers to desserts to mocktails and soups---that fit almost any diet. A super comprehensive list with many healthy options this season!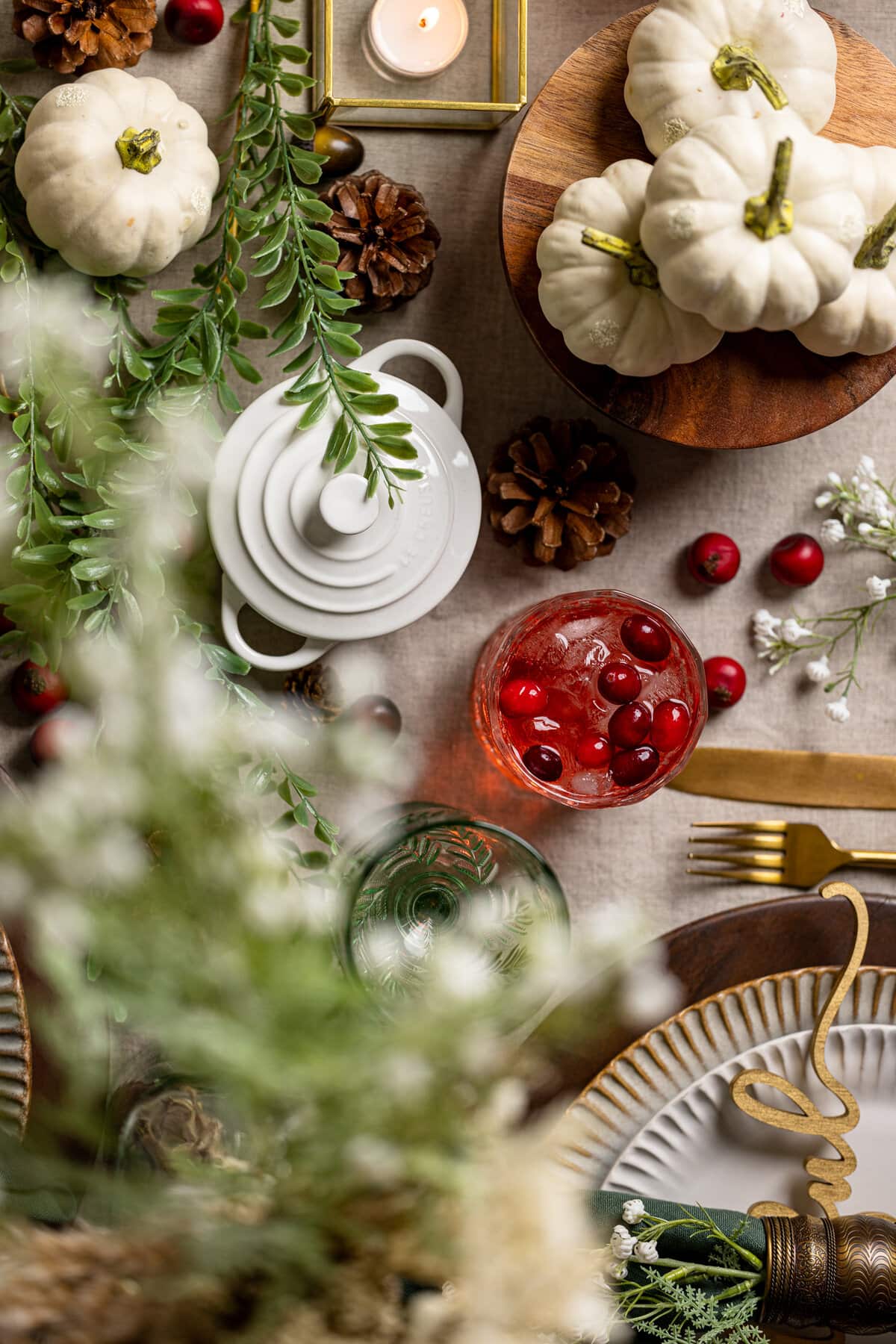 Disclaimer: This post contains affiliate links via Amazon for products that I wholeheartedly love.
Our 2022 Thanksgiving Menu + Guide for ALL Eaters----the perfect roundup for everyone that's in need of great vegan options this year during the Holidays! Although these recipes include both vegan + non-vegan options, the recipes absolutely work for every type of eater----believe me!
Last year's roundup, 30 Ultimate Plant-Based Thanksgiving Recipes was a good list of general Thanksgiving menu recipes, however, many of you have been wanting a more concise, organized list, so HERE IT IS! FINALLY!
If I'm honest, I'm so not prepared for Thanksgiving this year. I don't know about you, but this year has been so crazy that it has flown by absolutely fast, but I will be whipping together a few dishes and spending time with my family in full gratitude. Simple, but amazing!
Be sure to follow Orchids + Sweet Tea on my Instagram to see a lot of my recipes come to life via video.
HOW TO HOST THE PERFECT VEGAN FRIENDSGIVING
Unlike traditional Thanksgiving dinner, Friendsgiving is the place where you get to enjoy good times with close friends and extended family. For many, Friendsgiving has become their new tradition and with more people wanting to maintain a healthier lifestyle, this list of How to Host the Perfect Vegan Friendsgiving comes in handy. It's all about creating simple ways to make this moment the most memorable.
Thanksgiving Table Setting Decor:
Mini white cocottes: Le Crueset
Napkins, napkin holders, pumpkins, cranberries, + flowers: Crate & Barrel
Wood chargers: William Sonoma
Candle holders, table linen, 'thankful' engraved plate holder (gold): Etsy
Plates + wooden platter: Pottery Barn
Utensils: Anthropologie Home
Green goblets + glassware: Amazon
Acorns + other accessories: Target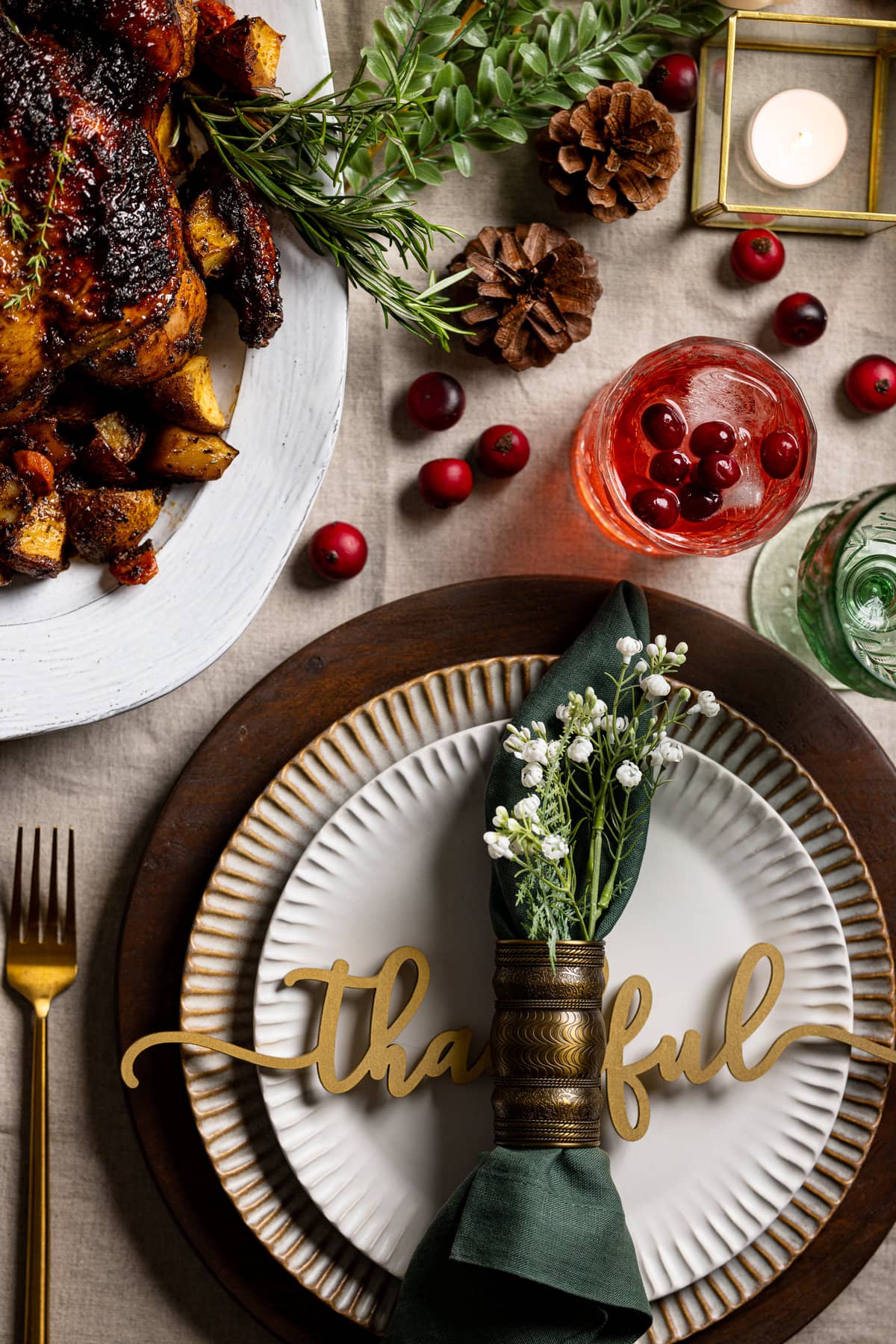 NEED TIPS + TRICKS FOR HOSTING THANKSGIVING?
Whether you're hosting your first ever Thanksgiving or you're a Thanksgiving pro, preparing for Thanksgiving is a big task. Between organizing the get-together, running errands, and whipping up the most delicious Thanksgiving recipes, if you come into Thanksgiving week unprepared it can be a little bit overwhelming. Luckily, I'm just a little Thanksgiving obsessed so I have about a million tips and tricks to hosting Thanksgiving that I have learned over the years and want to share with you.
2-3 Days Before
Clean your house

Plan your table setting + seating arrangements

Defrost your turkey (A smaller turkey can take just 1-2 days, but a bigger turkey can take up to 4 days.)

Begin grocery shopping

2 days before, make all of your pies

Prep ingredients that require chopping, mincing, etc.
1 Day Before
Prepare make-ahead dishes (i.e. compound butter, cranberry sauce, etc.)

Prep appetizers

Defrost all meat that will be served + season overnight (Refrigerated)

Set the table and plan which foods will go on which serverware

Clean + Brine the turkey or whole chicken overnight (For best results)

Bake any additional desserts (i.e. cakes, cookies, etc.)
Thanksgiving Day
Remove the turkey/chicken out of the fridge to get at room temp. for at least 1 hour.

Put turkey or chicken in the oven + cook

Cook/warm side dishes

Add any final touches to your Thanksgiving decorations/table (i.e. candles, florals, etc.)

Set out appetizers

Make the gravy

Create any drinks + refrigerate until ready to serve (Prep enough ice for serving)

Serve your guests and enjoy!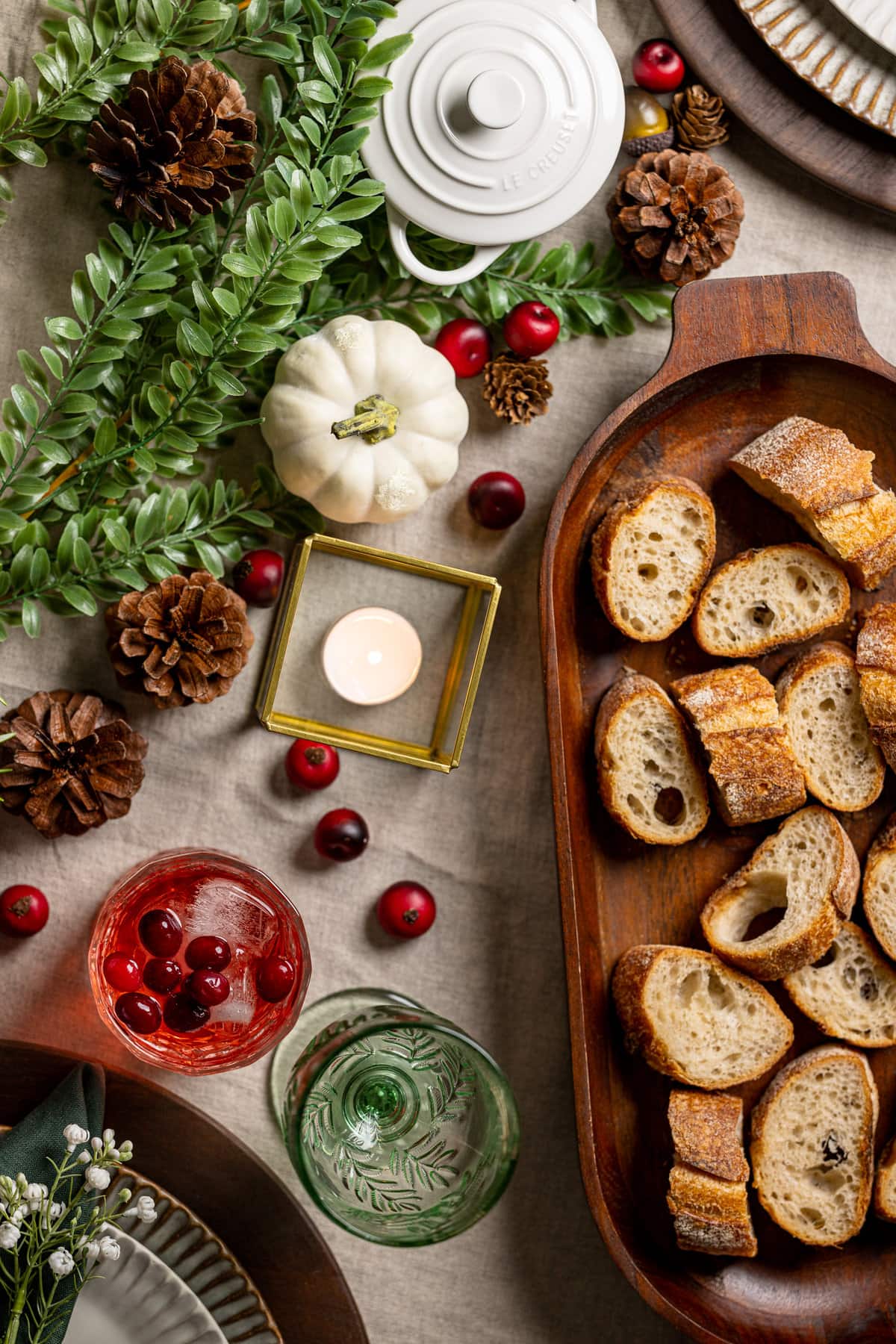 Orchids + Sweet Tea 2022 Thanksgiving Menu
Let's jump right into this delicious Our 2022 Thanksgiving Menu + Guide for ALL Eaters, shall we? OK, good!
Breakfast
Yes, we definitely still do breakfast over here and for great reason! One-----you can't start the day off without it and two, you'll need a bit of fuel for the work ahead on Thanksgiving, especially if you're hosting or preparing any meals! But we're definitely keeping it easy and light for you!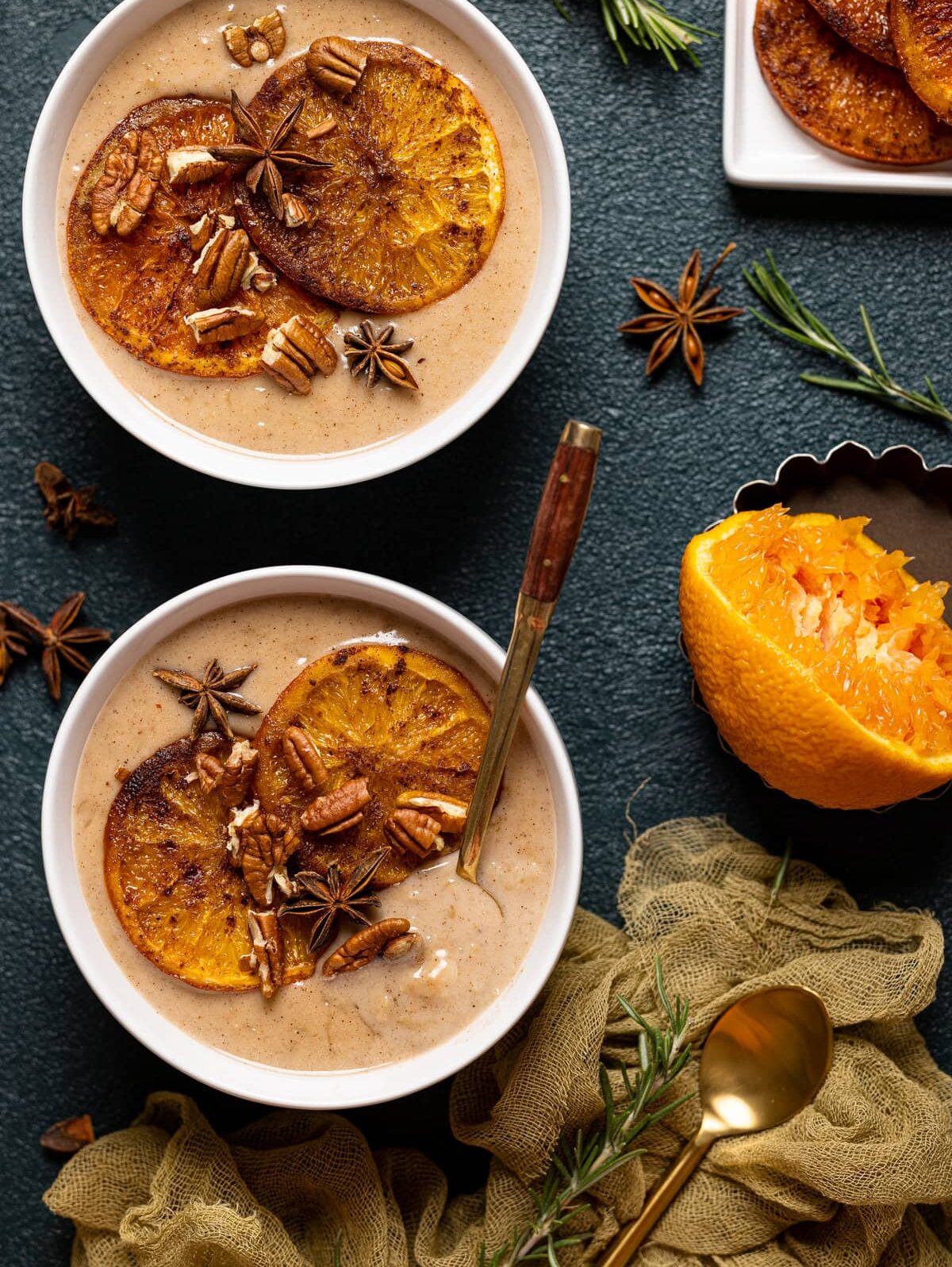 Maple Cinnamon Oatmeal + Roasted Oranges
Second option: Healthy Banana Bread Pancakes
Third option: Southern Caprese Biscuit Breakfast Strata
Fourth option: Veggie Breakfast Strata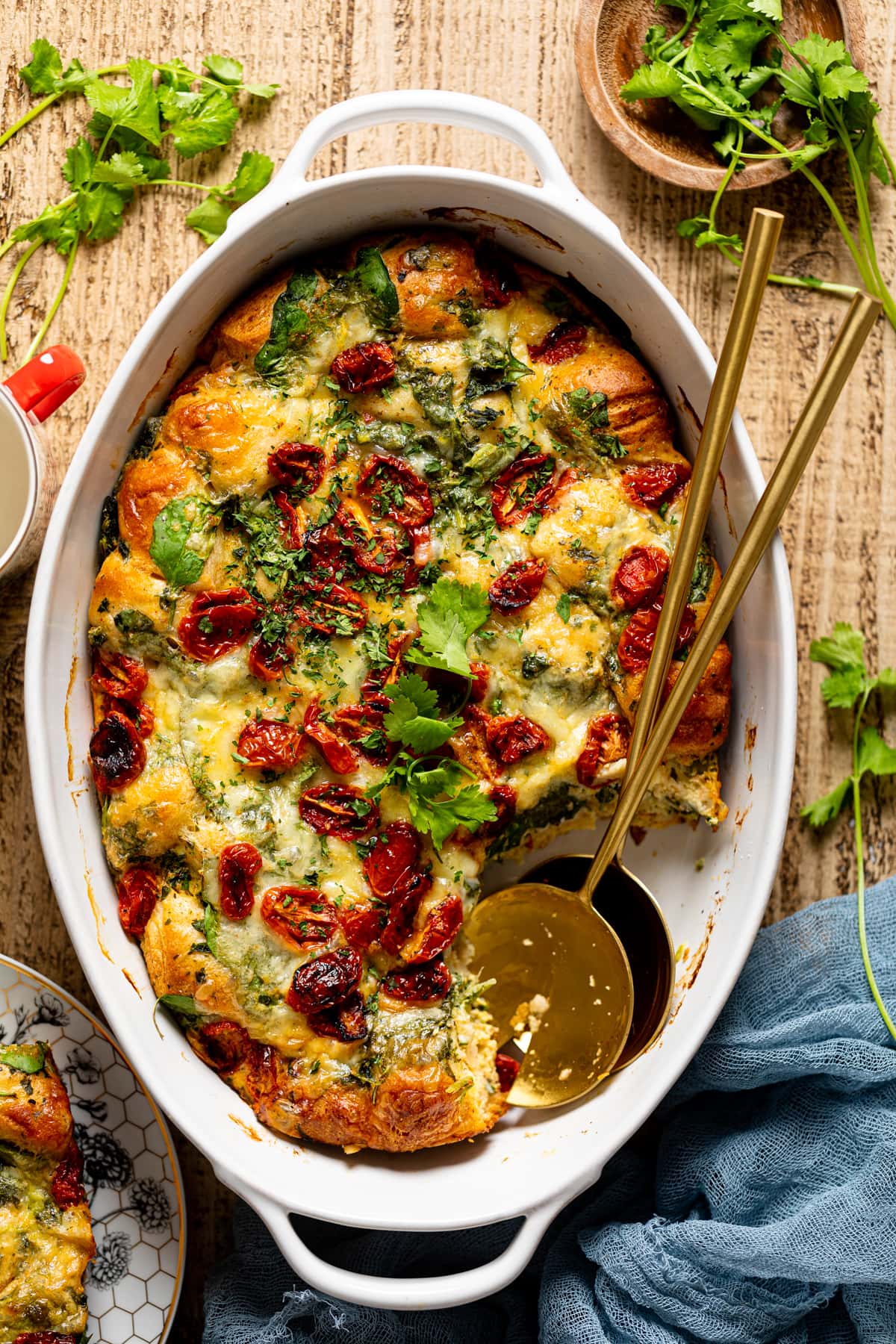 Mocktails
Drinks are by far one of the recipes that you can make 1-2 days in advance for greater ease! Also, I always give the option of adding alcohol to these mocktails in the event that you want to spruce things up!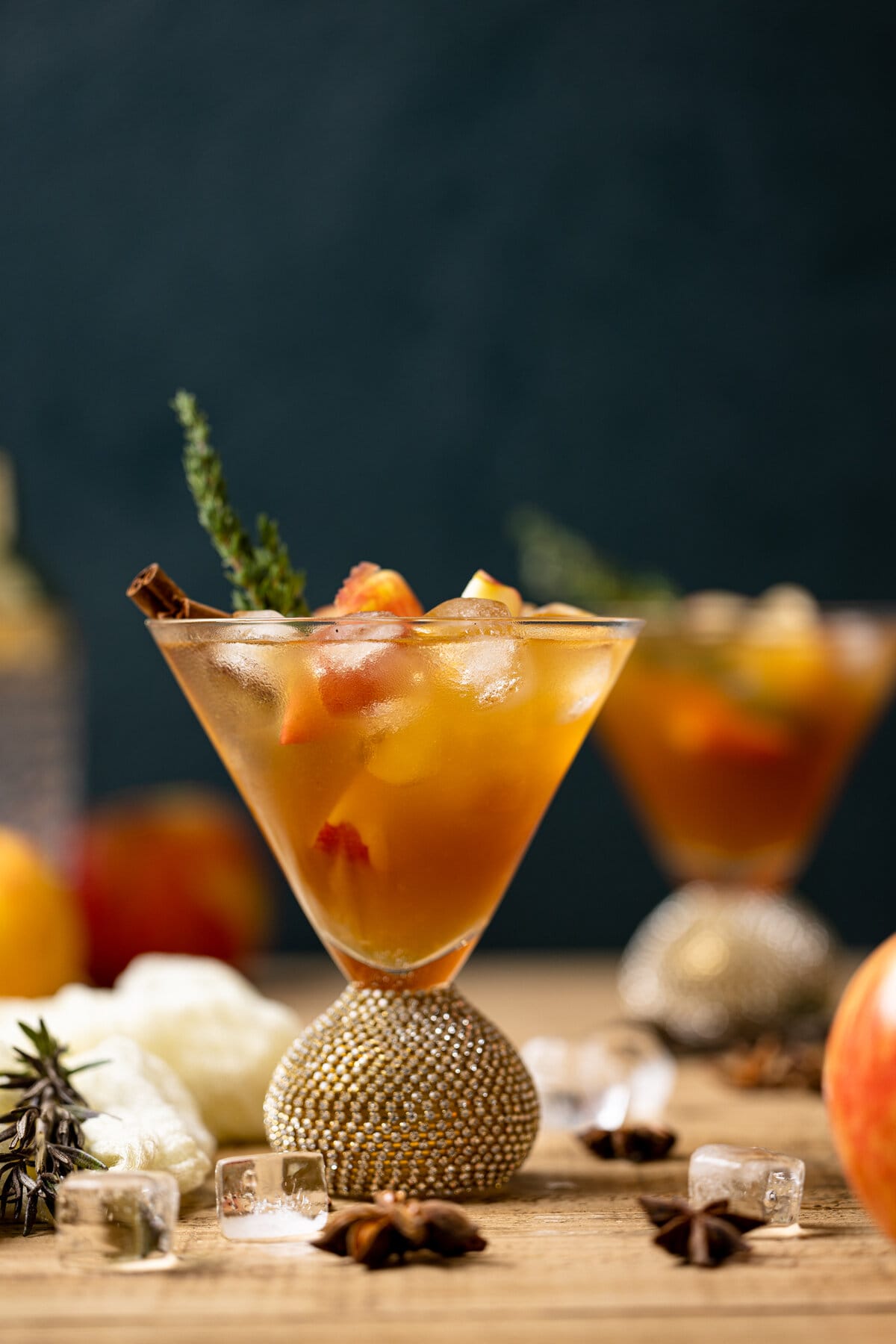 Second option: Thanksgiving Punch Mocktail
Third option: Roasted Apple Pear Mocktail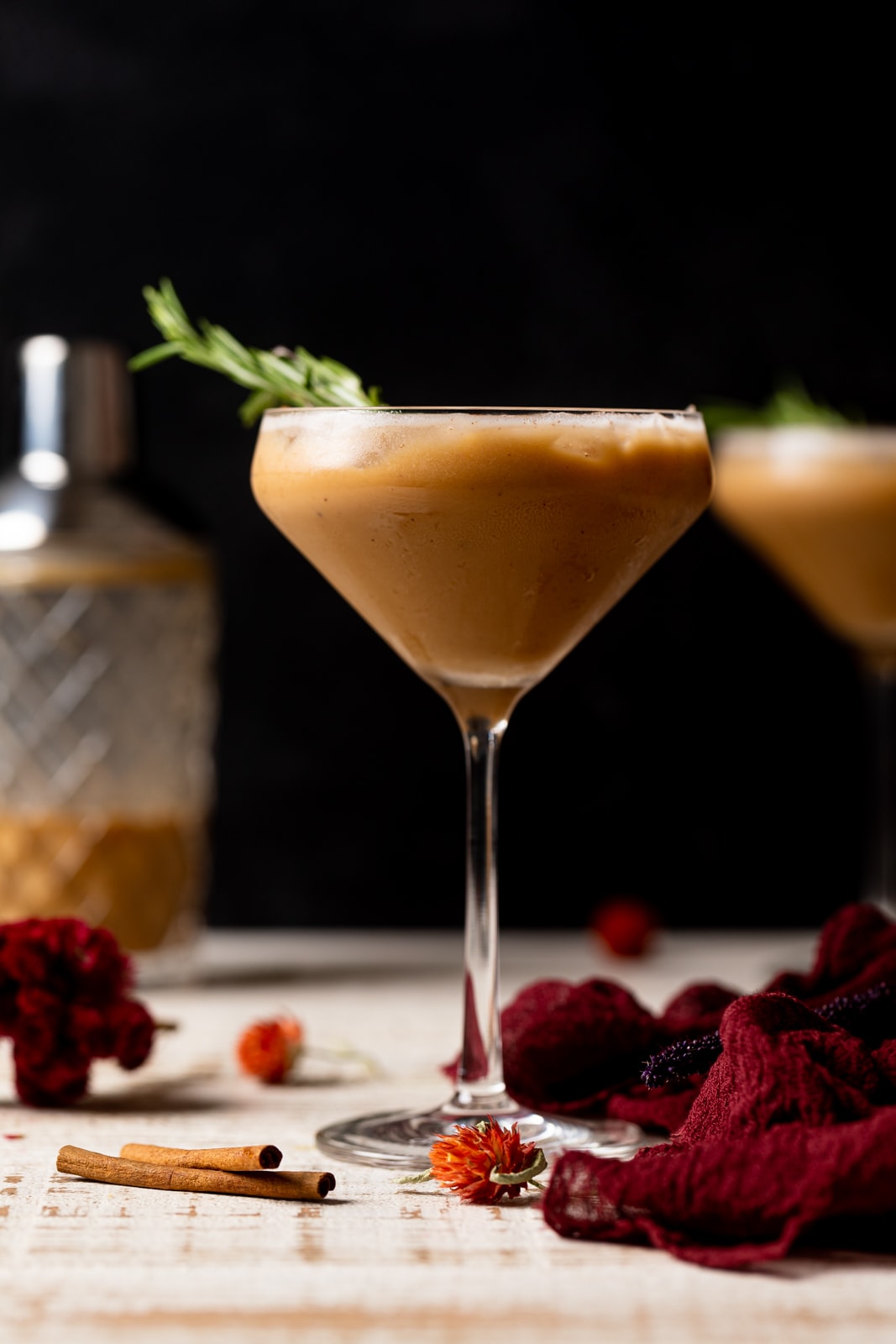 Dairy-Free Espresso Martini with No Kahlua
Second option: Apple Caramel Espresso Martini
Appetizers
While there are so many options for appetizers, I wanted to share the absolute delicious options that are sure to please the crowd. These handheld foods are perfect for giving to your guests as they arrive to keep the engaged and "teased" for what's to come in the actual spread!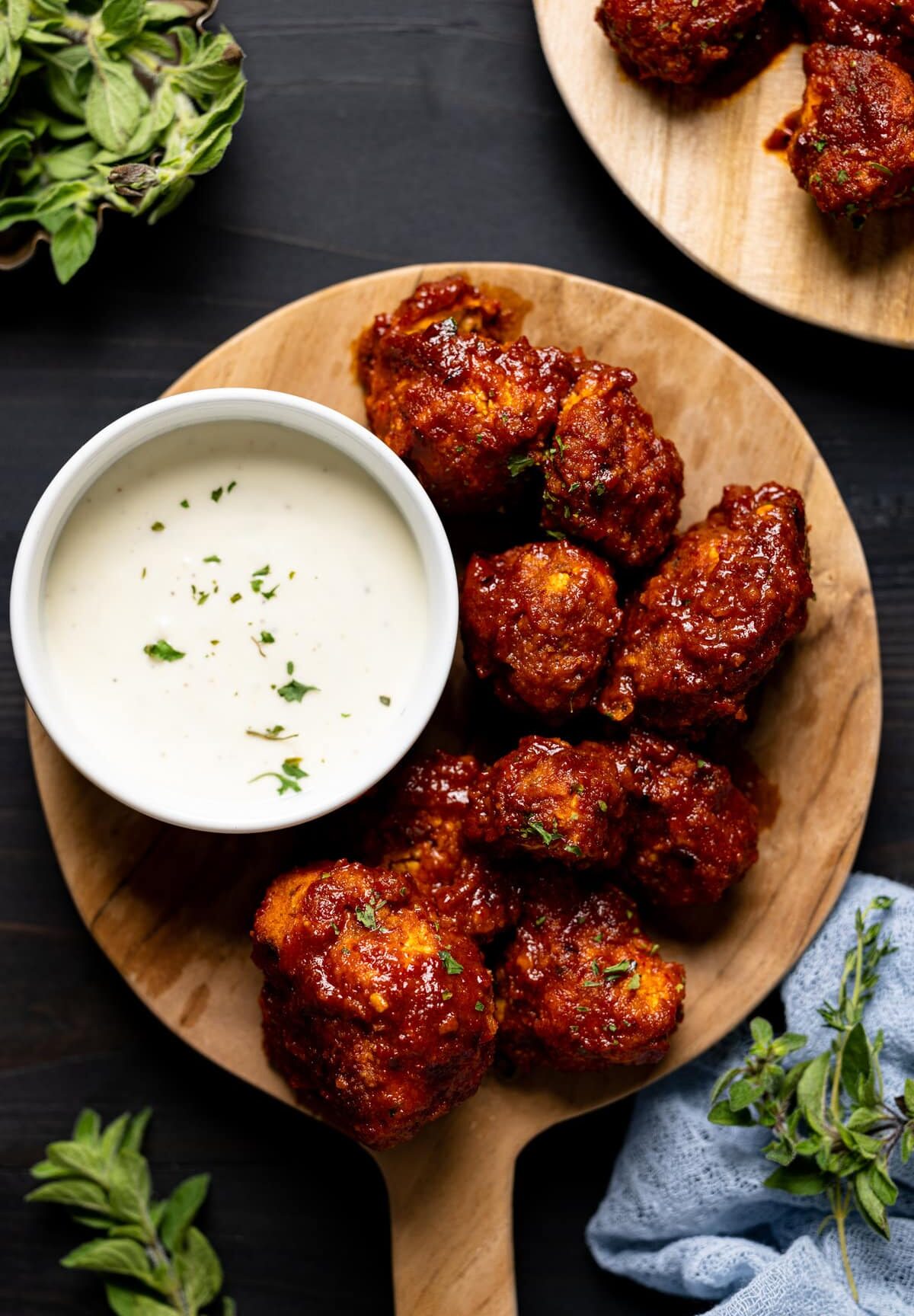 Crispy Buffalo Cauliflower Wings/Bites
Second option: Everything Bagel Cauliflower Bites
Third option: Crispy Baked Orange Cauliflower Bites 
Fourth option: Fall Harvest Apple Bacon Crostini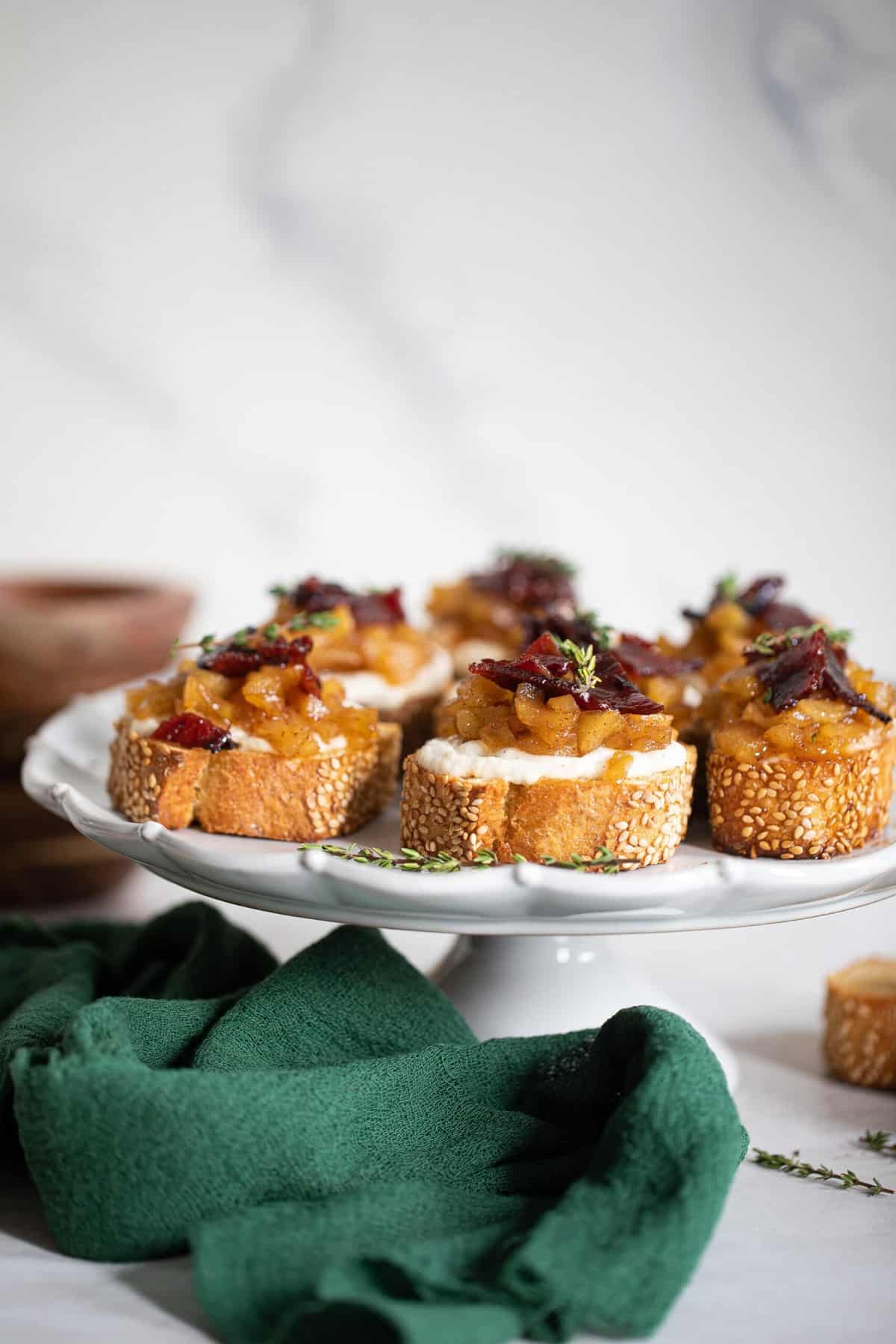 Mains
When it comes to mains, there are so many amazing recipes and because I know that many of you enjoy both meat options and vegan ones, I've created two separate types of mains for you----that way it works for everyone involved!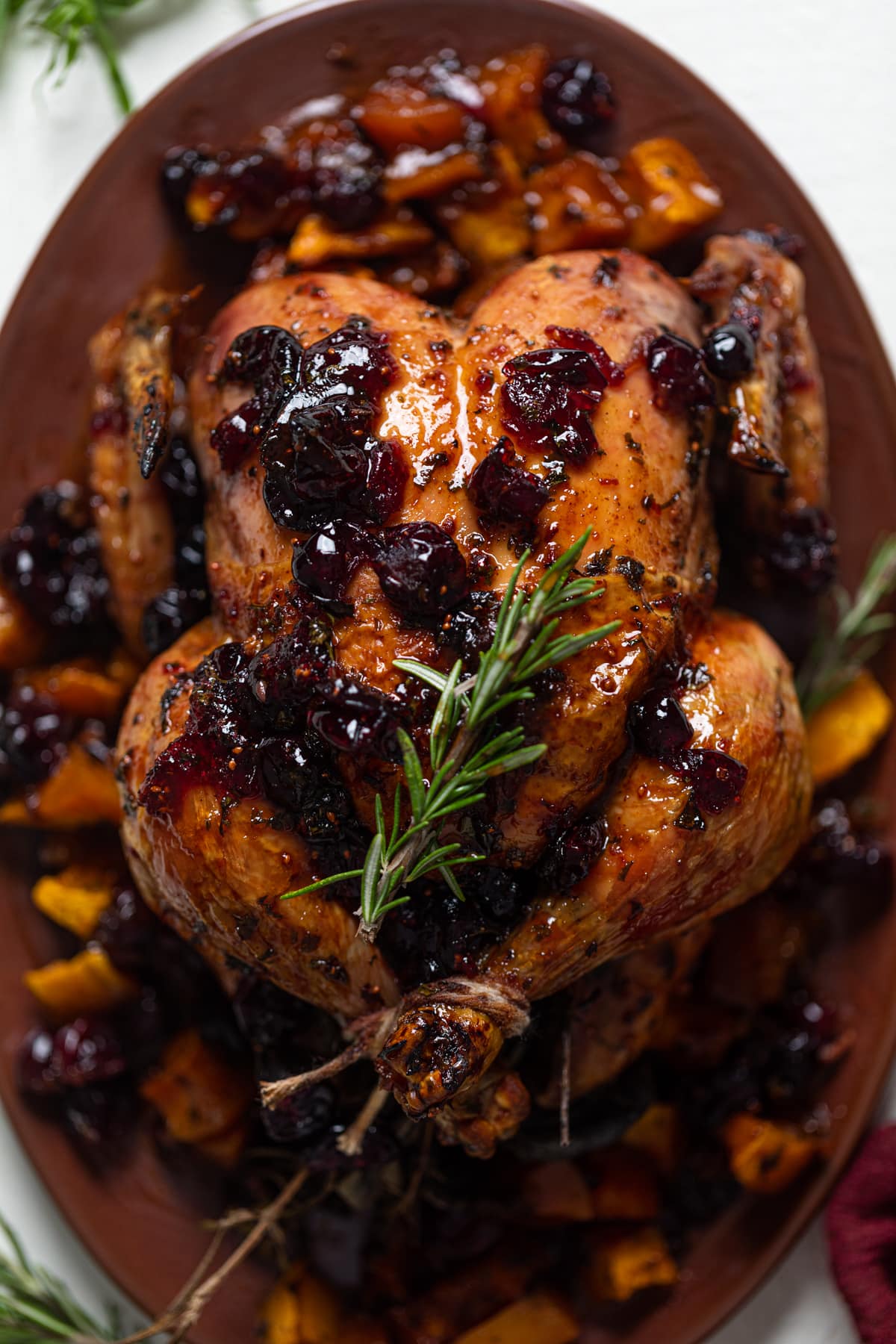 Second option: Jerk Whole Roast Chicken
Third option: Southern Hot Honey Fried Chicken
Fourth option: Chicken Pot Pie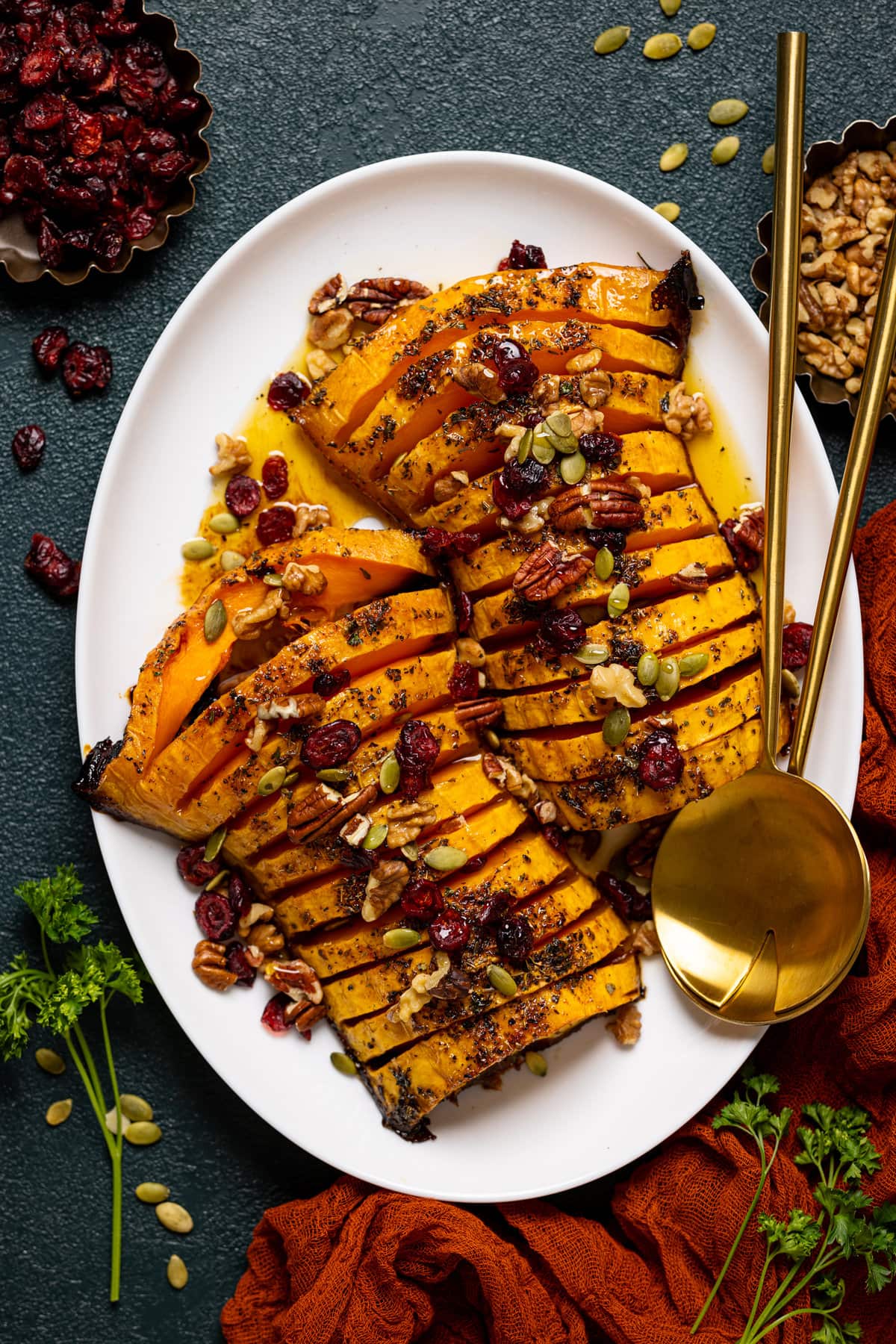 Maple Herb Roasted Butternut Squash
Second option: Vegan BBQ Wellington
Third option: Vegan Pot Pie
Fourth option: Butternut Squash Sweet Potato Shepherd's Pie
Fifth option: Sticky Teriyaki + Maple Whole Roasted Cauliflower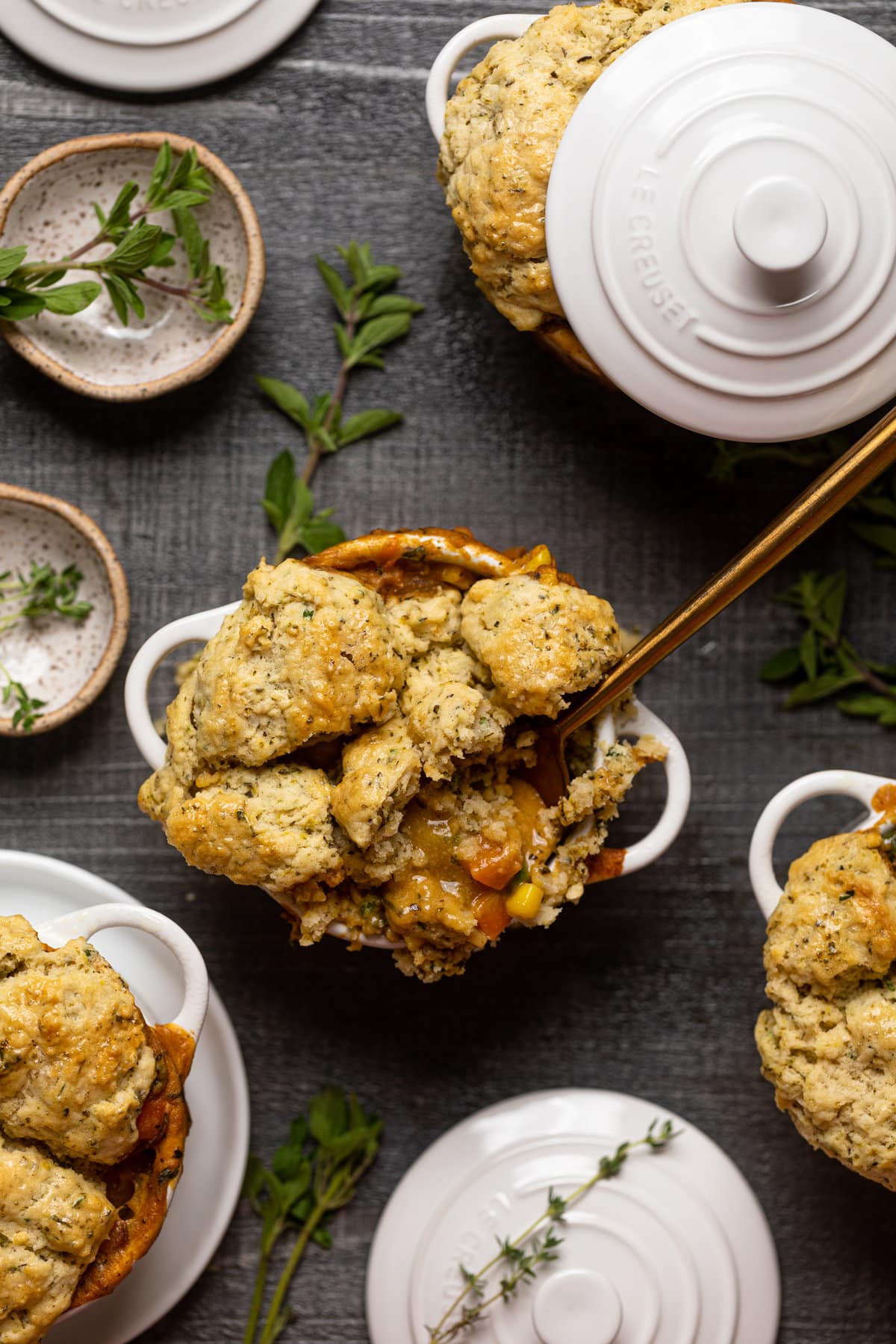 Sides
Again, I've created a list of side that comes separated into a list for vegan and non-vegans to make things easier! Of course, we know that sides are the next important thing on Thanksgiving so I'm giving you the best of the best on our site! Some of these dishes have a make ahead option where you can prep the ingredients are actually cook the dish 1-2 days prior.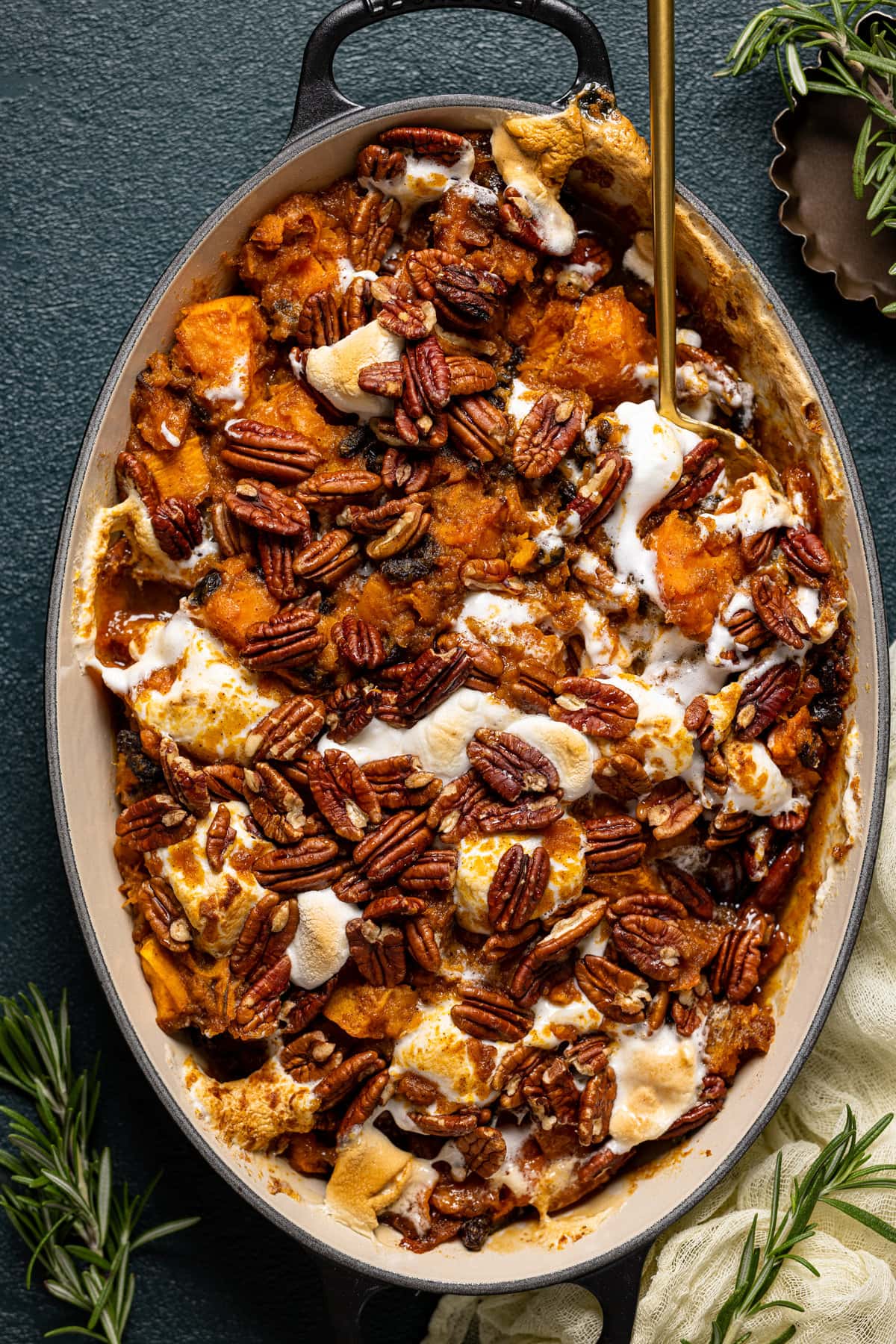 Southern Maple Sweet Potato Casserole
Second option: Stovetop Southern Mac and Cheese
Third option: Southern-Style Cornbread Stuffing
Fourth option: Leftover Turkey Southern Collard Greens
Fifth option: Flaky Sweet Potato Biscuits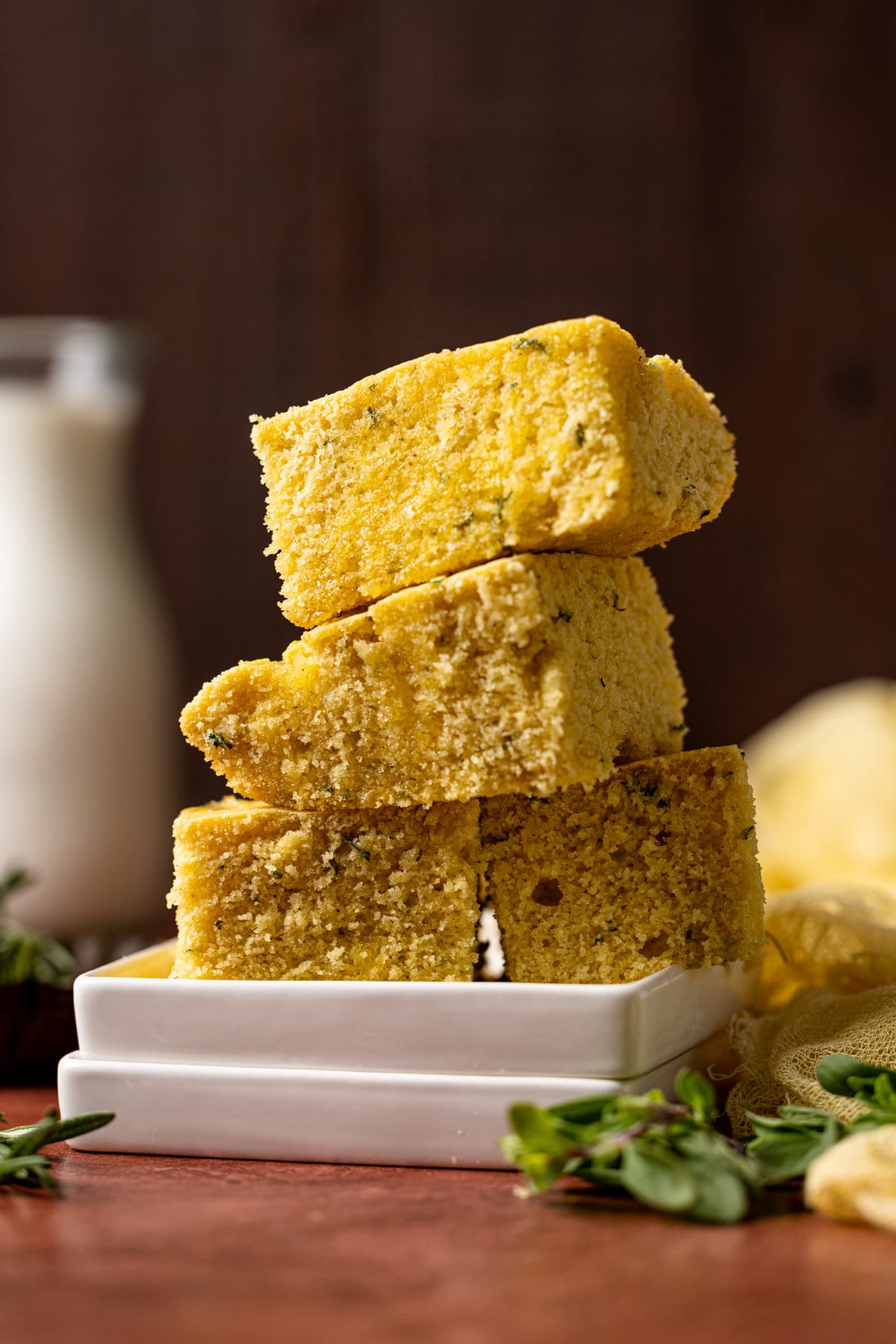 Second option: Homemade Vegan Stuffing
Third option: Perfect Apple Cranberry Sauce
Fourth option: Vegan Skillet Sweet Potato Casserole
Fifth option: Easy Vegan Roasted Potato Salad
Sixth option: Ultimate Vegan Mac + Cheese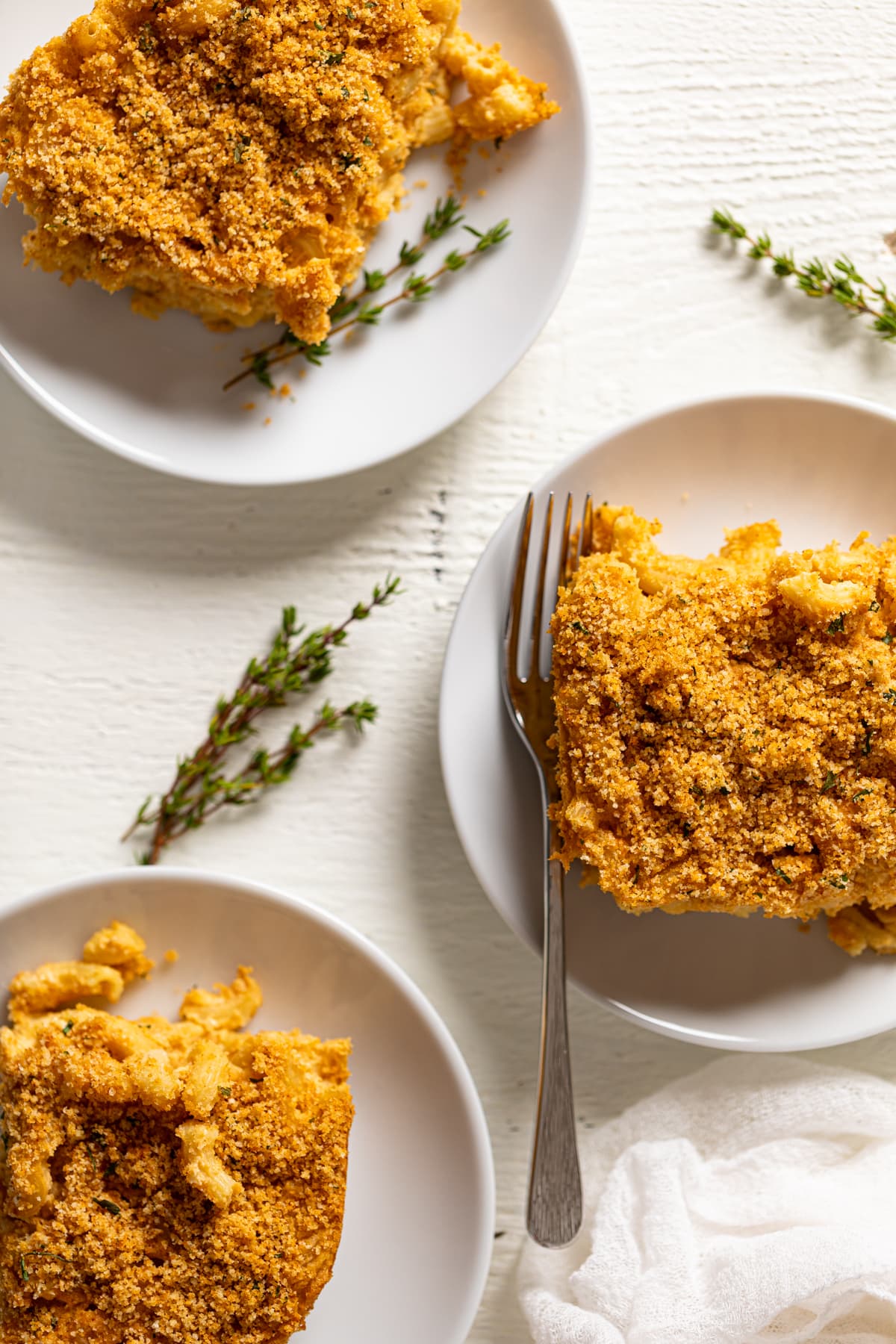 Baked Vegan Buffalo Mac + Cheese
Vegan Sweet Potato Maple Herb Cornbread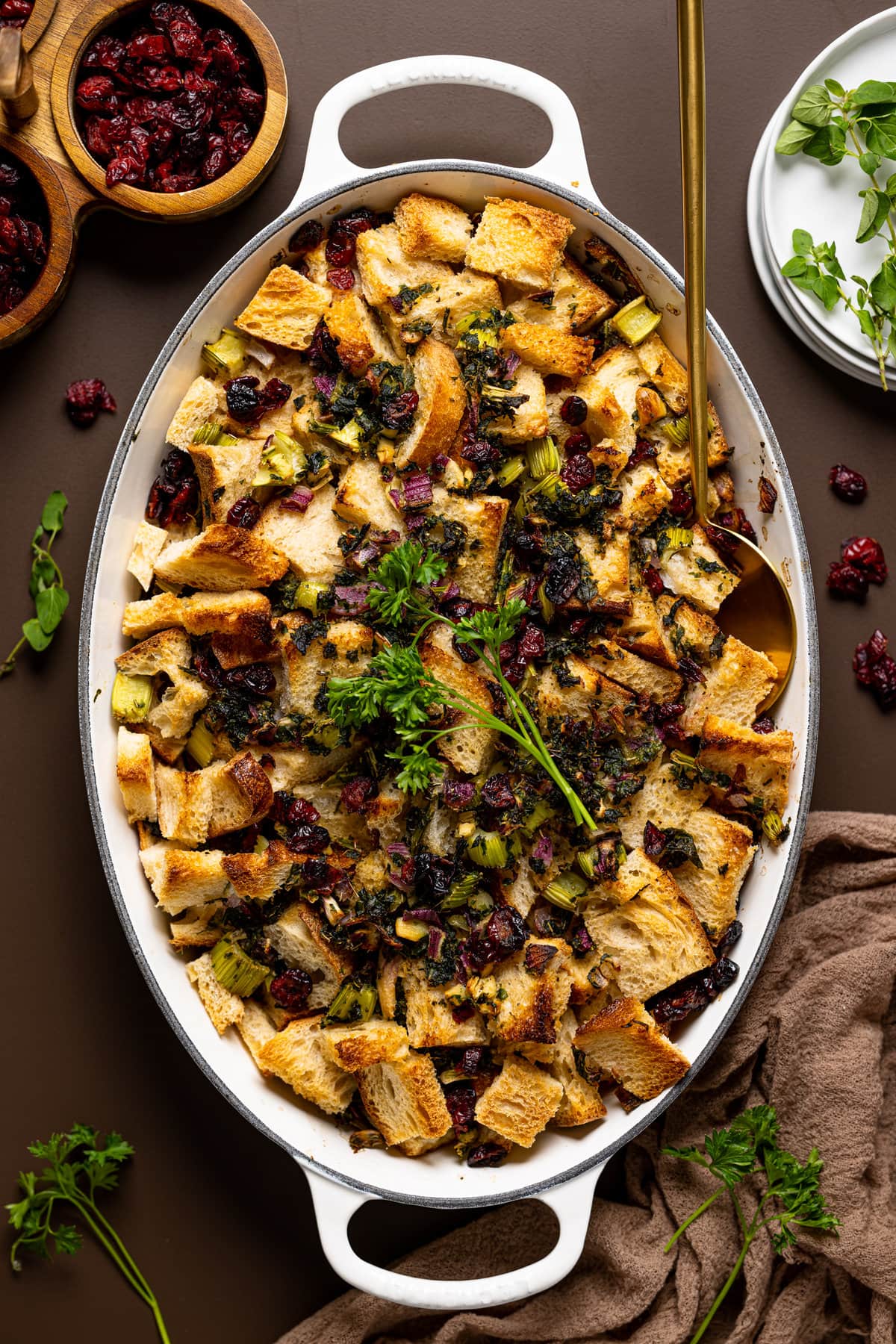 Desserts
Of course, this section is the sweetest! You can't have a good meal without a great dessert and so I've rounded up some of my personal faves in the mix! Again, you can make a few of these ahead of time and if so, it'll be mentioned in the recipe.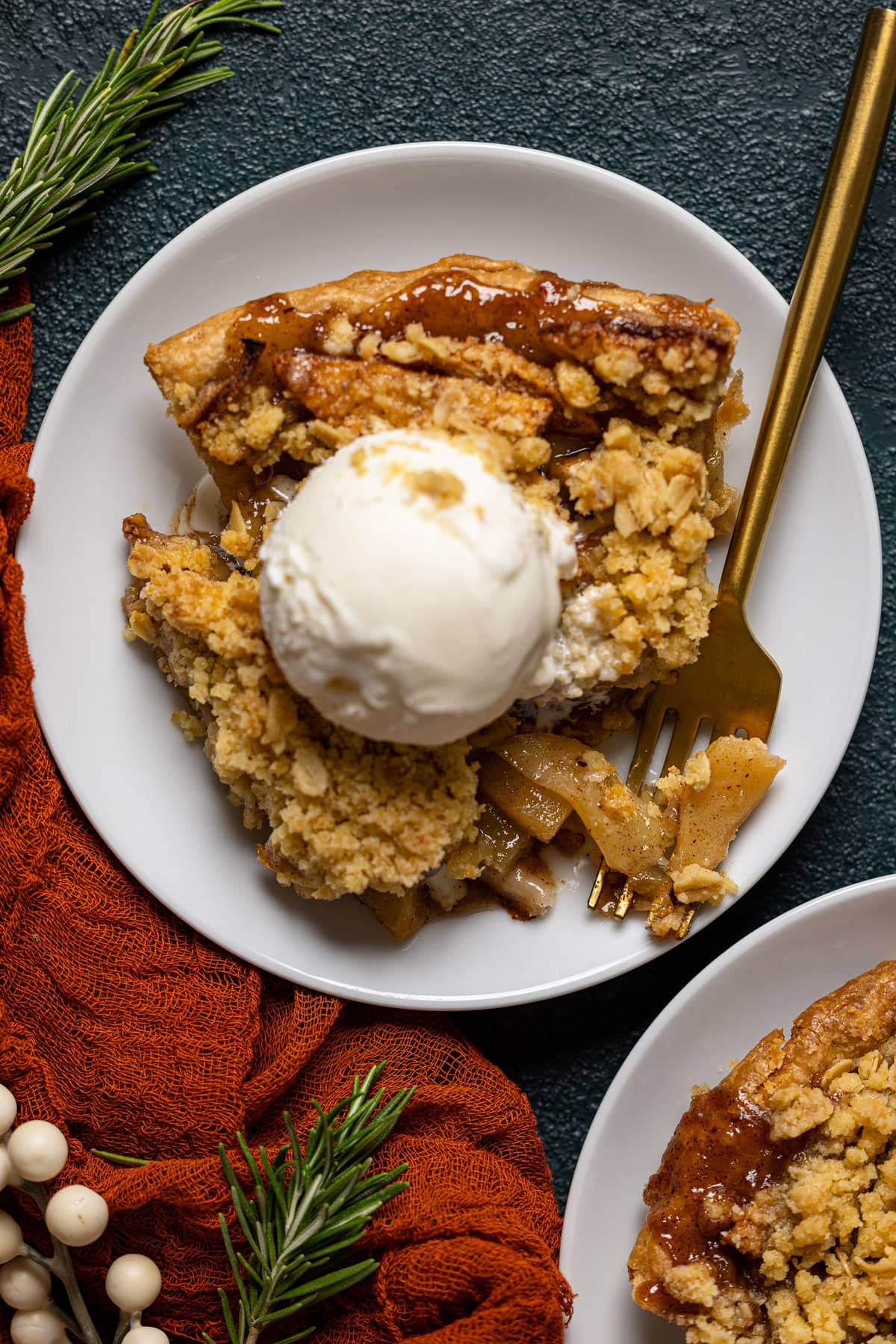 Second option: Caramel Pumpkin Cheesecake + Pecan Crust
Third option: Apple Cider Cake + Cinnamon Maple Buttercream
Fourth option: Classic Southern Banana Pudding
Fifth option: Southern Salted Caramel Cake
Sixth option: Pecan Pie Cheesecake Bites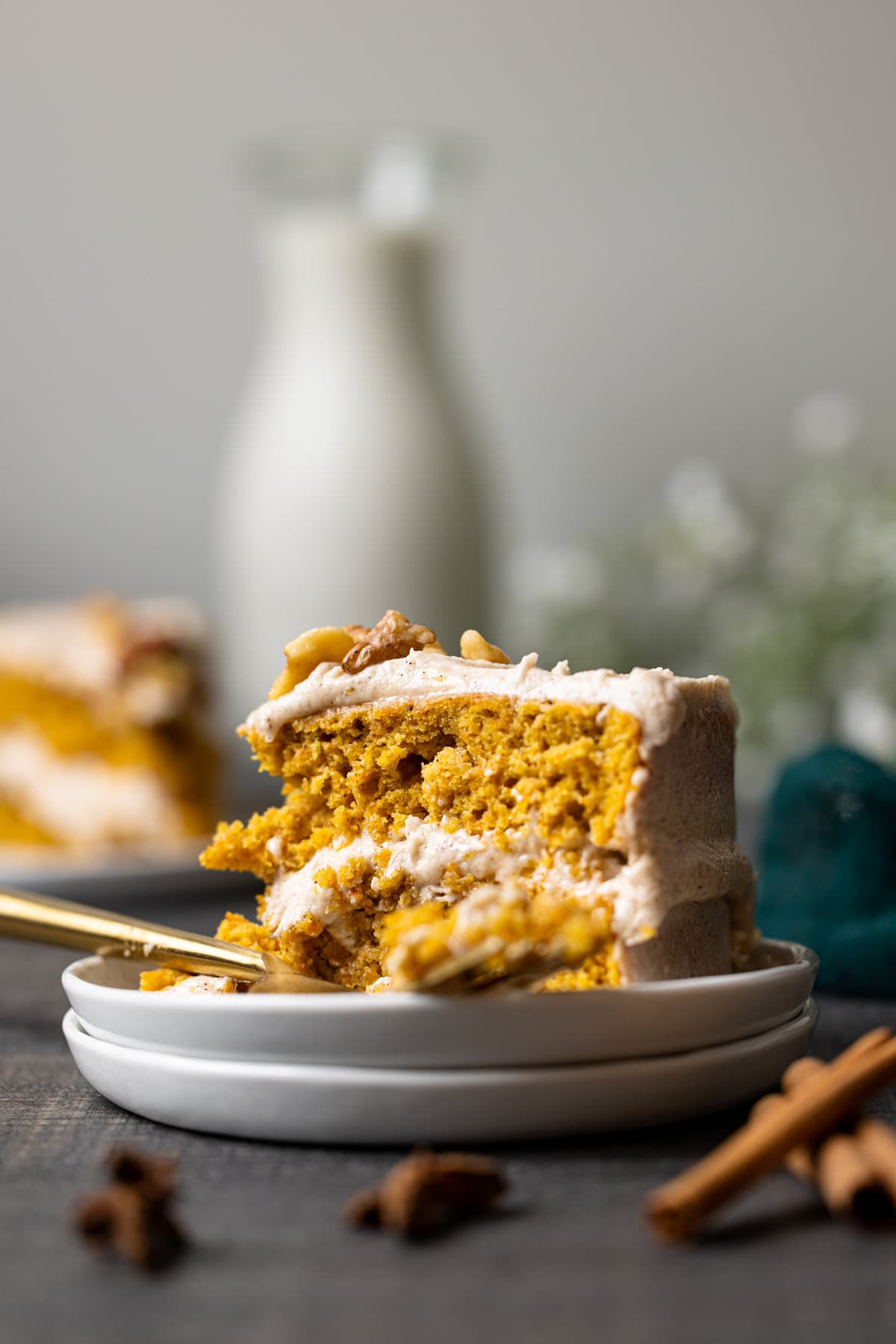 Dairy-Free Carrot Cake + Chai Buttercream
Second option: Sheet Pan Maple Roasted Pear Crisp
Third option: Best Vegan Sweet Potato Pie
Fourth option: Apple Cinnamon Olive Oil Cake
Fifth option: Apple Cranberry Crisp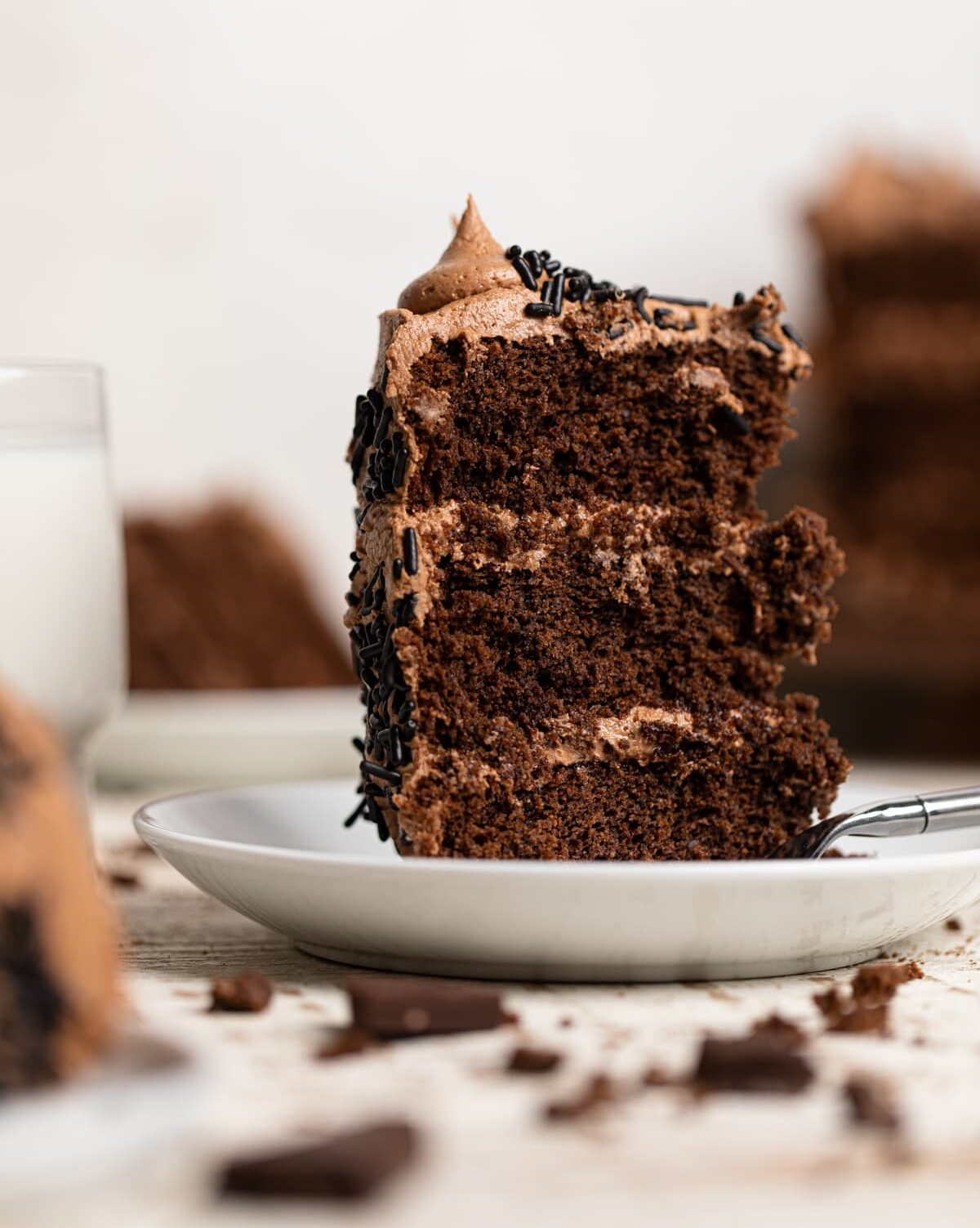 Vegan Sweet Potato Cinnamon Rolls
Soups + Salads
Last but not least, I'm sharing a few soup and salad options that will be sure to keep your guests satisfied until the main foods arrive. You can simply serve these in small portions to reduce the amount of work that it would take to batch these and also so that your guests aren't already full before the entire spread is served.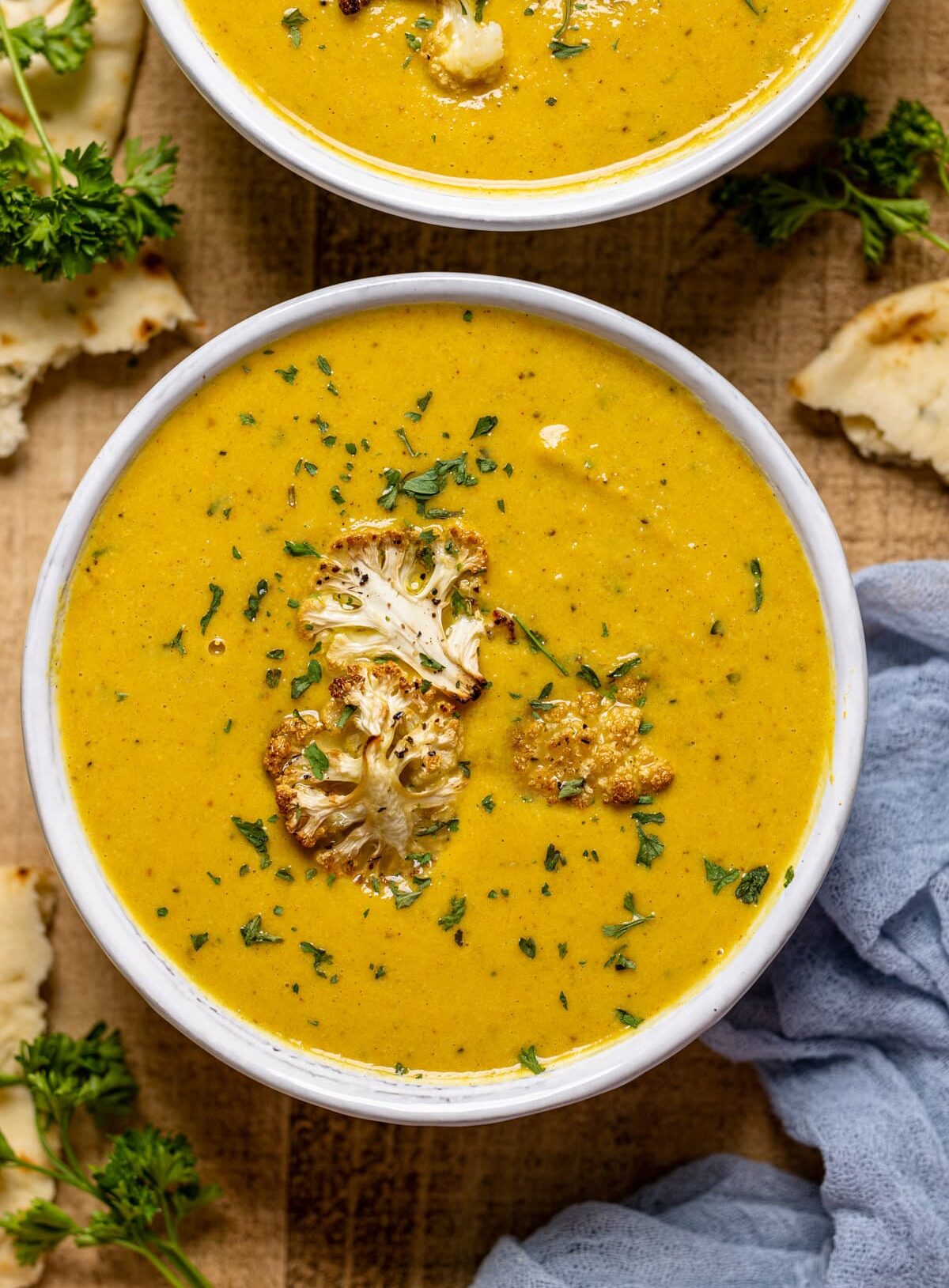 Creamy Roasted Garlic Cauliflower Chickpea Soup
Second option: Spicy Curry Pumpkin Soup with Chickpeas
Third option: Creamy Roasted Garlic Tomato Soup
Fourth option: Apple Cheddar Sweet Potato Soup
Fifth option: Easy Roasted Butternut Squash Soup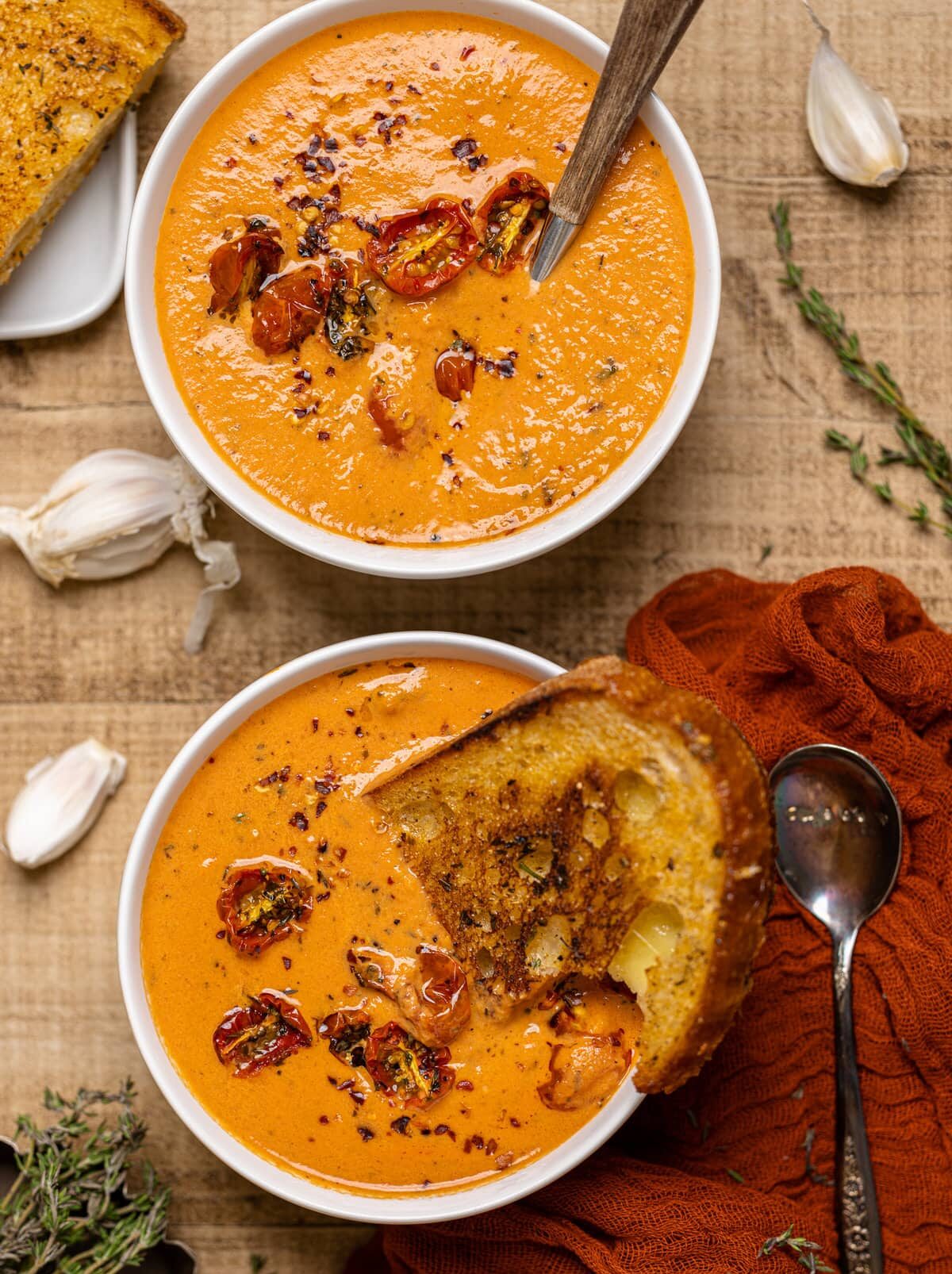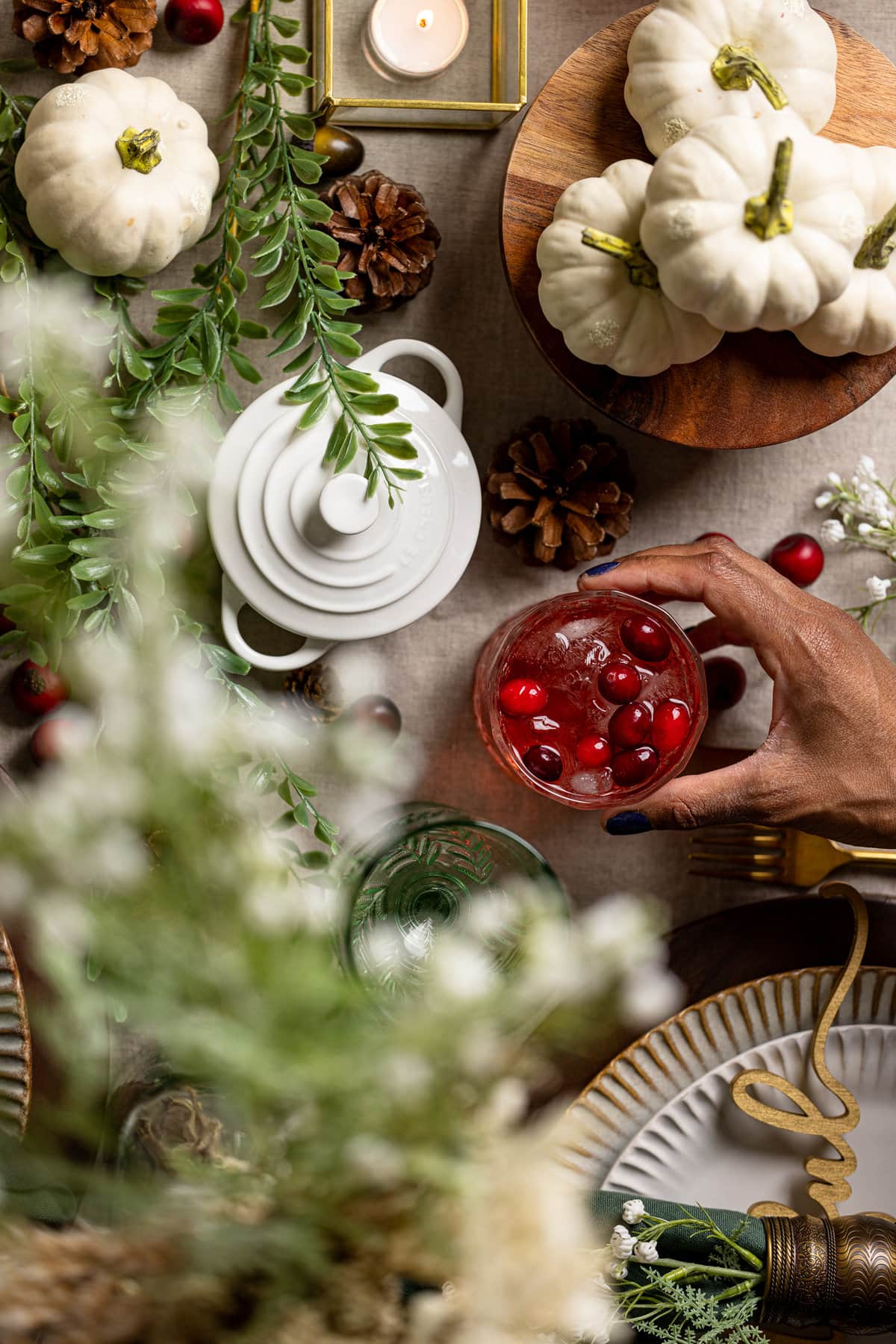 SHOP MY FAVORITE TOOLS FOR COOKING, ESPECIALLY FOR THE RECIPES ON THIS LIST!
Here, I've curated a list of cooking + baking essentials that I use to achieve my favorite baked goods or cooked meals, especially with many of the recipes on this list. Everything from my fave glassware, baking sheet, skillet, mixing bowls, cooking thongs, cooking utensils, skillets, dutch ovens, and more. SEE THEM HERE!
And that's a wrap! There you have it—our list in the flesh! As you can see, we have an array of flavors and ingredient combos that made Our 2022 Thanksgiving Menu + Guide for ALL Eaters list.